On this Labor Day, I'm struck by how it has been one heck of a laborious summer! I actually looked forward to weeding the garden beds if only because I could breathe fresh air and step away from the long to-do lists! I miss seasons affording enough quiet time to simply close my eyes at the keyboard and type stream of consciousness musings from my heart to yours. Yet I know the noise and imbalance of the moment will make way for balance, will become a memory. When you live long enough, you more clearly understand seasons and see how each belongs. Fresh growth experiences from change and renovation are shaping me into something new. Courage earned now will sustain me later. If this philosophizing sounds like naïveté ("bless her lil' heart, girlfriend's coping skills and arsenal of silver linings are on fleek"), I hear you. But wisdom frequently resembles naïveté, kittens. So let's chat. Maybe you'll discover interiors, paint colors, and encouragement quotes to PIN (are you following my boards?) Say Hello Lovely to Best of Late Summer Beauty & Encouragement.
Late Summer Posts You May Have Missed + Encouragement Quotes
The summer is a little bit of a blur since we worked hard on indoor projects almost every single day and didn't travel. Work for this blog has truly been my refuge since it doesn't entail physical stamina or drywall dust. For example, daydreaming of ideas for a relaxing bedroom retreat? Yes, please.
Dreaming of a Tranquil Bedroom?
They're hard to beat – see stunning examples HERE.
The last time we tackled a whole house renovation ourselves, I blogged almost weekly, chronicling all of the projects. But I was still a hobby blogger, and blogging was a whole different enchilada back then. I look forward to the day when most of the rooms are done, and I can create before/after posts, revealing the highlights and helpful bits.
I Finally Shared Peeks at Our Renovated Kitchen
This farm sink (Nantucket Sinks) is dreamy to use in the kitchen which is nearly done. Good gracious, it feels like we have been camping in chaos forever, and now we're adding the finishing touches like window coverings and pretty decor. See the sink in THIS.
Not sure you know this, but posts on the blog about white paint colors and white countertops are THE most popular ones. And if you only knew how much this makes sense!!!! Since I became a homeowner, I have been painting things–alllllll kinds of things white. A brush dripping with white paint in my hand has been the most natural thing for nearly 30 years! I'm a painter…a meditative, peaceful, joyful one.
Need a Bright White?
White paint colors to consider if you're seeking a bright white are HERE.
Thinking about decorating for Christmas is always a mixed bag for me personally. I'm not great at holiday decor since I tend to be a minimalist, yet I know how much magic it brings to my family members who visit. I also know my readers LOVE inspiration and ideas. How I would love for a magazine stylist and crew to show up and do it all for me!
Holiday Inspiration to Get Planning Now
Readers of this blog love collecting ideas and holiday vibes all year round…go HERE if you're in the mood for jingles and tingles.
Autumn Crafts & Quotes
Aren't these leaf animals (spotted on Hello Wonderful's FB page) darling? More autumn decor and craft ideas were spotlighted in THIS.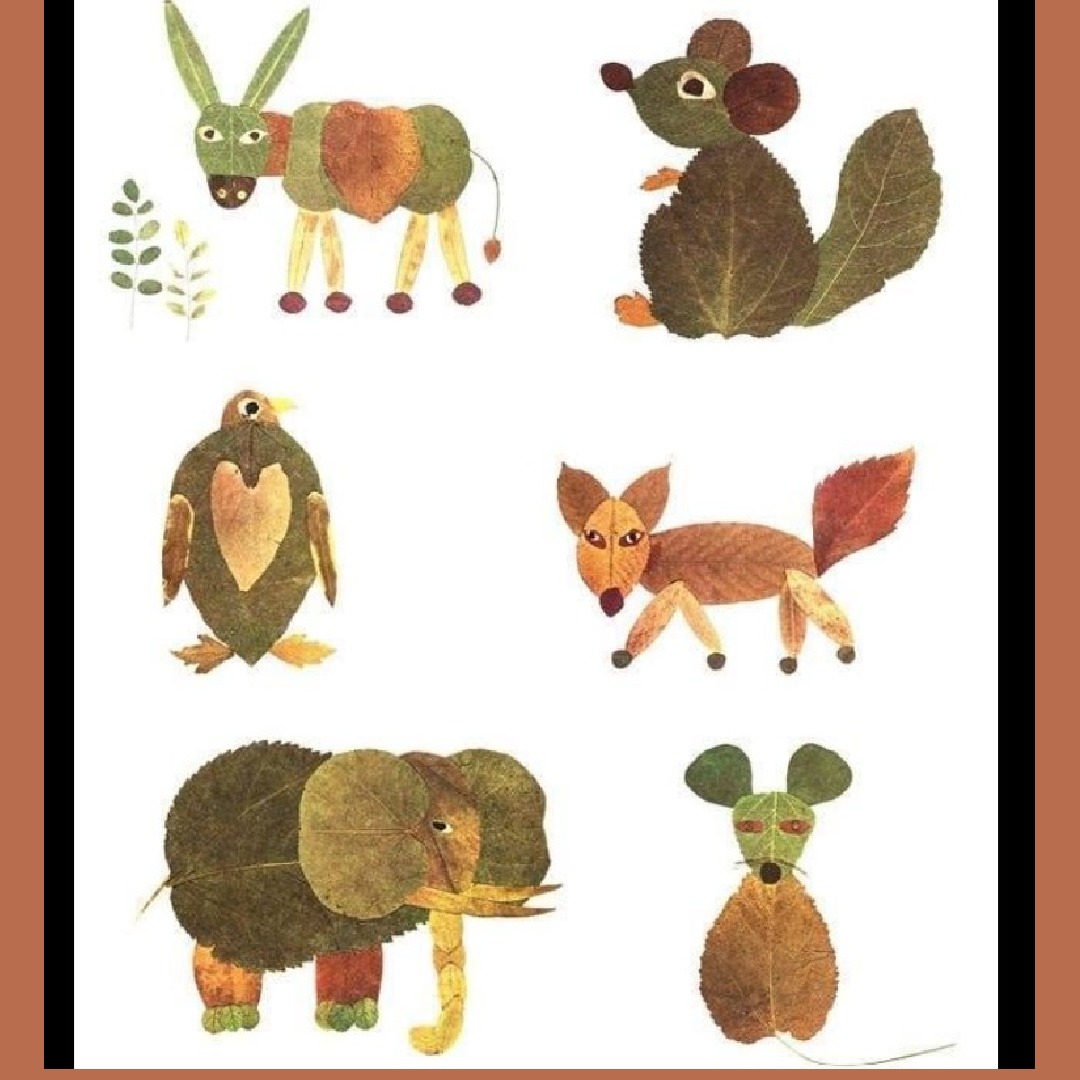 I independently selected products in this post—if you buy from one of my links, I may earn a commission.
There are so many ways to warm up white interiors, and my favorite tried and true strategy is to simply mix warm whites with cool whites, greyed whites, and all the other whites on the spectrum.
Ideas for Warmer White Kitchens
No need to be nervous about a white kitchen feeling cold with ideas HERE.
If it seems like there are extra posts about kitchen design inspiration, that's because we have been busy with ours. As a result, beautiful kitchens are on my radar!
European Country Kitchens
I wonder what my readers from Europe think sometimes about what we term European Country. Most of the images are of spaces outside of Europe! Find lovely kitchen inspiration HERE.
It's not just my fatigue that makes it tough to post images of our rooms in progress. I feel allergic to "process" photos of spaces that are obviously incomplete and awkward. It takes time to find the right antique for that wall or rug or lamp, ya know? So I feel vulnerable sharing all of the undone glimpses even though most folks understand and won't criticize.
We've Made Great Progress at Our New House!
See a few glimpses in THIS UPDATE.
I didn't inherit a pretty laundry room, but it IS a step above our last one. It's still one of those pass through from the garage spaces, but it has a sink and a counter for folding clothes. We relocated kitchen cabinets to this galley-shaped room, and I put my vintage crystal chandelier from Sweden where there was a fluorescent ceiling light. I'm thinking about painting the floor tile and maybe upgrading some of the finishes, but aren't laundry rooms without natural light hard!?!
Laundry Room Inspo
Score lovely ideas for laundry room and mud room design in THIS.
One of the things I realized early on after we bought this Georgian house is how I don't want it to be a theme house. It isn't going to be purely modern French or purely classic Hamptons or even purely European country (although it IS in the country and European-inspired). I crave design freedom to do what feels right intuitively and what feels right for the house. (Oh, this house is talkin!).
Modern French Style in Jill Egan's Home
Lose yourself in luxurious lovelyland within this designer's own home in THIS.
We plan to vacation next month, and I can only imagine how wonderful Tennessee country is that time of year!
Rustic Tennessee Country Cottage
Tour the American country rustic interiors (with their sunny yellow checkered floors!) of Storybook Cottage where we vacationed in Leiper's Fork.
The Early Beauty apples at our local orchard are beyond delicious this year. We have already spent time at the orchard, and I may or may not have prepared apple crisp five times in recent weeks (essentially on the days it rained!).
Apple Recipes
As soon as August rolls around, I start dreaming about baking apples – find a few recipes HERE.
I'm such a fan of Suzanne Kasler!
Suzanne Kasler Inspo
She has a new book (Edited Style) coming out, and THIS is a look at the last amazing one (Sophisticated Simplicity)!
While I'm not certain our living room (more of a casual den since it is small and cozy) will stay as it is now, I love a California-cool, tranquil, airy space that is luxe but not fancy. So I'm naturally drawn to Amber Lewis and Jenni Kayne. At our house, historically, the living room is the calm zen space where you take a nap.
Amber Lewis + Anthropologie
Whether you love easy California style, Amber Lewis, or Anthro, find lovely finds and ideas HERE.
Who likes getting their holiday shopping done before the rush? And who likes unique gifts? Don't forget about Etsy.
Handmade Art & Decor Ideas from Etsy
Such a fun romp! Come see Etsy Design Award winners and finalists in THIS.
Kitchen Carts & Small Work Tables for a Kitchen
Sometimes you don't have space for a sprawling island in the kitchen, but there are plenty of fun-sized alternatives – discover a few HERE.
Who wouldn't want to check in at this amazing boutique hotel!?!
Inspiration from Heckfield Place
Read more about Heckfield Place HERE.
Someday I will visit this region when the lavender is blooming!
Travel to the Cotswold Region
Until you can vacation there, enjoy a virtual escape with this tour of cottages.
Designers Inspiring Me This Moment
Prepare to sigh and stare and pin these amazing designs by a few favorite creatives in THIS.
Blue Kitchen Paint Color Ideas
What a timeless combination blue and white are for a kitchen–a collection of them with paint color ideas awaits in THIS.
Nancy Meyers "The Holiday" Sets
It just never gets old! Do you love the homes in the movie as much as watching Kate Winslet, Jude Law, Cameron Diaz and Jack Black in "The Holiday?" Then you'll love THIS.
Romantic & Relaxed Interiors
Peek at these laid back luxe rooms that invite you to slow down and rest HERE.
Love an Earthy Green?
Plenty of paint color ideas for olive, sage, and more in THIS.
Dining Rooms With European Country Charm
Whether you love rustic French farmhouse style or more elegant dining options, find inspiring examples HERE.
Timeless Kitchen Inspiration for Our Renovation
Find the story HERE.
"Home Again" Movie: Ideas to Get the Look!
There are some movies worth watching just for the amazing sets, and the ones from Nancy Meyers are hard to beat – get more details about this Reese Witherspoon hit HERE.
Inspiration from Patina Farm's Interiors
Peace to you right where you are.
-michele
Shop for items you already intended to buy on Amazon RIGHT HERE, and also find home decor here to keep decor inspiration flowing on Hello Lovely!
Hello Lovely is a participant in the Amazon Services LLC Associates Program, an affiliate advertising program designed to provide a means for sites to earn fees by linking to Amazon.com and affiliated sites.