Am I the only one who thinks we need a bunch of new design style genres to describe beautiful interiors? For example, modern farmhouse is still popular, but there are so many variations of the theme! Some folks just associate it with white walls, black trim, and farm tables. Maybe I'll try to carve out a career naming all the different iterations. For today's design inspiration, we'll explore Romantic Relaxed Interiors to arrive at savvy actionable ideas we can use at home to add natural texture and a livable luxe vibe.
What I mean by "livable luxe" is an elegant yet laid back look which is unfussy and invites others to touch everything and instantly relax.
Unfussy Romantic Relaxed Interiors & Livable Luxe
I independently selected products in this post—if you buy from one of my links, I may earn a commission.
Infuse a Room With Natural Texture
Interior designer Michael Del Piero is brilliant with introducing texture from natural materials, new and old. She mixes ancient with modern, yet there is so much lovely restraint that the effect feels fresh and luxurious.
Actionable Tip: If you have a room that feels uninspired to you, study it closely (maybe snap a photo) with an eye for texture. What can you bring into the space to introduce a bunch of different textures? In the space above, we see earthenware, smooth plaster, sumptuous upholstery, velvet, and more. If everything was soft and smooth, the look would fall flat.
Collect Rustic Antiques
While it would be nearly impossible to recreate a look for your kitchen that approaches Ruth Gay's romantic one in Houston, you can begin to hunt for pieces that tell a story.
This rustic kitchen table has a distressed top that is so much more interesting and romantic than a shiny polished one.
While Swedish antiques are pricey, there's something so romantic about how these pieces look with their peely paint and pale appearance.
Actionable Tip: When you're shopping antique stores, the flea market and online marketplaces like Etsy, search for pieces with interesting textures. Lots of folks will advertise furniture in need of re-painting, but the imperfect look may be just right for you without any refinishing! You can still snag rustic handmade pottery, vases, and urns without breaking the bank.
Transform a Sad Small Space With Romance
Sometimes more is just more, and making the most of vertical space can add function and FUN to your space. Leanne Ford created a magical guest house in a short time on a shoestring budget, mostly by using and repurposing what she had on hand.
Actionable Tip: Don't you love the liberties she took with the kitchen's base cabinets? Instead of refacing or buying new, fabric skirts: soften the look, function for hiding kitchen stuff, and create an unfitted romantic look. Have a cabinet or closet or area you can add a skirt?
Add Romantic Texture to a Ceiling
Desiree Ashworth's interiors always take my breath away, and it's hard to believe they are new spaces and not centuries old homes in Europe.
Even though it is fairly uncommon to see homeowners ADDING texture to the ceiling rather than subtracting it (I'm lookin' at YOU, popcorn), when you have an otherwise boring box of a room, it may be the way to go.
Another way to add romance and texture to a bedroom is with a dramatic bed – here's one I love for an Old World look: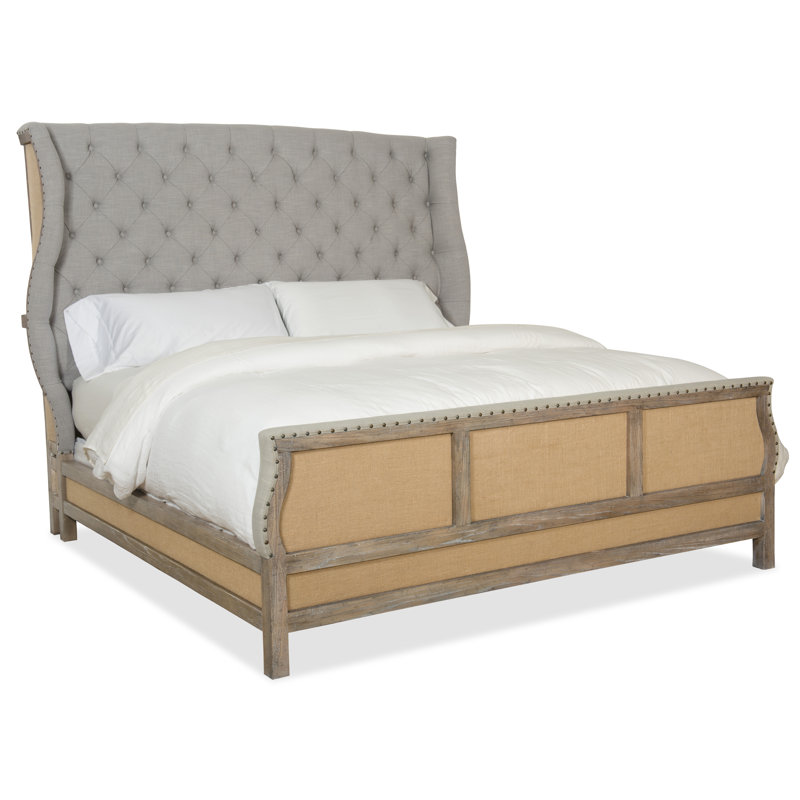 Nubby Upholstery & Boucle Texture for Furniture
There are sofas that invite you to relax, and then there are sofas like this…
which dare you NOT to relax! I'm sleepy just gazing at this glorious pillowy cloud. In my own home, I'm a huge fan of nubby, thick Belgian linen. As far as I'm concerned, it just gets better with age.
Actionable Tip: Shop for upholstered pieces and fabric made from natural materials such as wool, cotton, linen, and velvet. While synthetics may be more affordable and boast that they are "easy care," they probably won't go the distance. Buy once, cry once applies here!
Tone on Tone Luxury
Interior designer Jill Egan's own home is a master class in tone on tone! What makes it feel so relaxing is the quietness of the color story and the balance of shapes and texture.
This relaxed, organic, earthy chic space by Amber Lewis is further evidence you don't need pops of color to achieve balance and interest.
You need not be a minimalist for tone on tone schemes that feel livable and luxurious. The living room and dining area at Patina Farm are layered with antiques and art, yet contrast is low.
Actionable Tip: If you're after a more serene romantic luxe look, study tonal interiors and notice whether you lean toward more minimal or maximal style.
Bring in Colors from Nature
Sage greens are definitely having their moment (we looked at gorgeous examples HERE), and can bring natural flavor to any room in the home.
Try a pretty green paint color or introduce nature-themed wallpaper:
Raw or Rustic Wood Finishes Add Instant Character
There's something so relaxed, casual, and unfussy about spaces incorporating rustic raw wood elements like this amazing kitchen with its cozy sink nook:
While most of us cannot easily add reclaimed beams to the kitchen, there are plenty of practical ways we can bring in the warmth of wood.
I loved this moment from Brooke Giannetti on the fireplace mantel in her Patina Farm kitchen:
It's fun to hunt for boards like these:
Chairs Need Not Match
A more relaxed look for dining? Mix up the chairs. In my breakfast area below, metal chairs share space with linen slipcovered ones.
Use Woven Textures to Prevent "Preciousness"
I love how Finding Lovely wrapped the pendant light (below) in rope to customize it and keep things feeling rustically rich with character.
A glossy finish on the light or glam crystal chandelier might be pretty, but it could also easily get too precious, too cute, and too dollhouse-like. In my own home, I opt for more industrial finishes like galvanized metal to balance out all the pretty white and to keep things from being fussy.
Romantic Yet Rustic Kitchens
Can a pantry be romantic? When it is this thoughtfully designed it can!
I love how Artichoke outfitted this utilitarian space with open shelves that aren't overcrowded. Also, note how those minimal Shaker-style peg hooks are unfussy yet somehow chic.
Peace to you right where you are.
-michele
Shop for items you already intended to buy on Amazon RIGHT HERE, and also find home decor here to keep decor inspiration flowing on Hello Lovely!
Hello Lovely is a participant in the Amazon Services LLC Associates Program, an affiliate advertising program designed to provide a means for sites to earn fees by linking to Amazon.com and affiliated sites.