It's a romantic, refined, rustic yet timeless look unconcerned with TikTok hashtags or trending wallpaper patterns. The color stories emerging from modern French interiors I favor most? Whispery atmospheric pale tones glowing with calm ethereal quiet. At its best, European country antiques and contemporary forms combine to create lovely tension. Fresh flowers in a vintage urn seem more at home than floral fabrics. Linen, velvet, and natural materials often play starring roles. The Modern French Interiors below inspire and soothe the senses.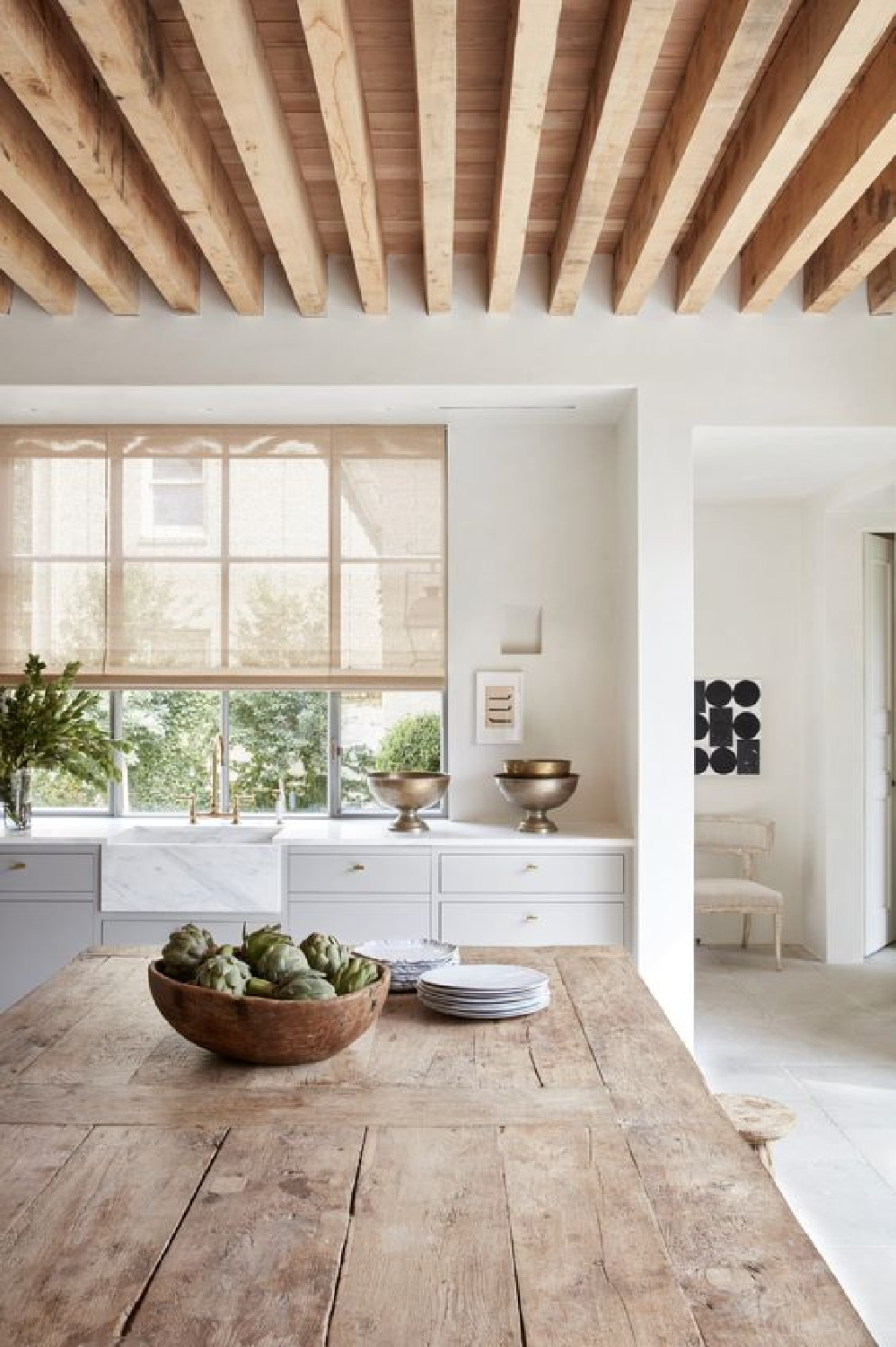 While I'm no expert on this design style, I remain committed to its charms and mystique as a student.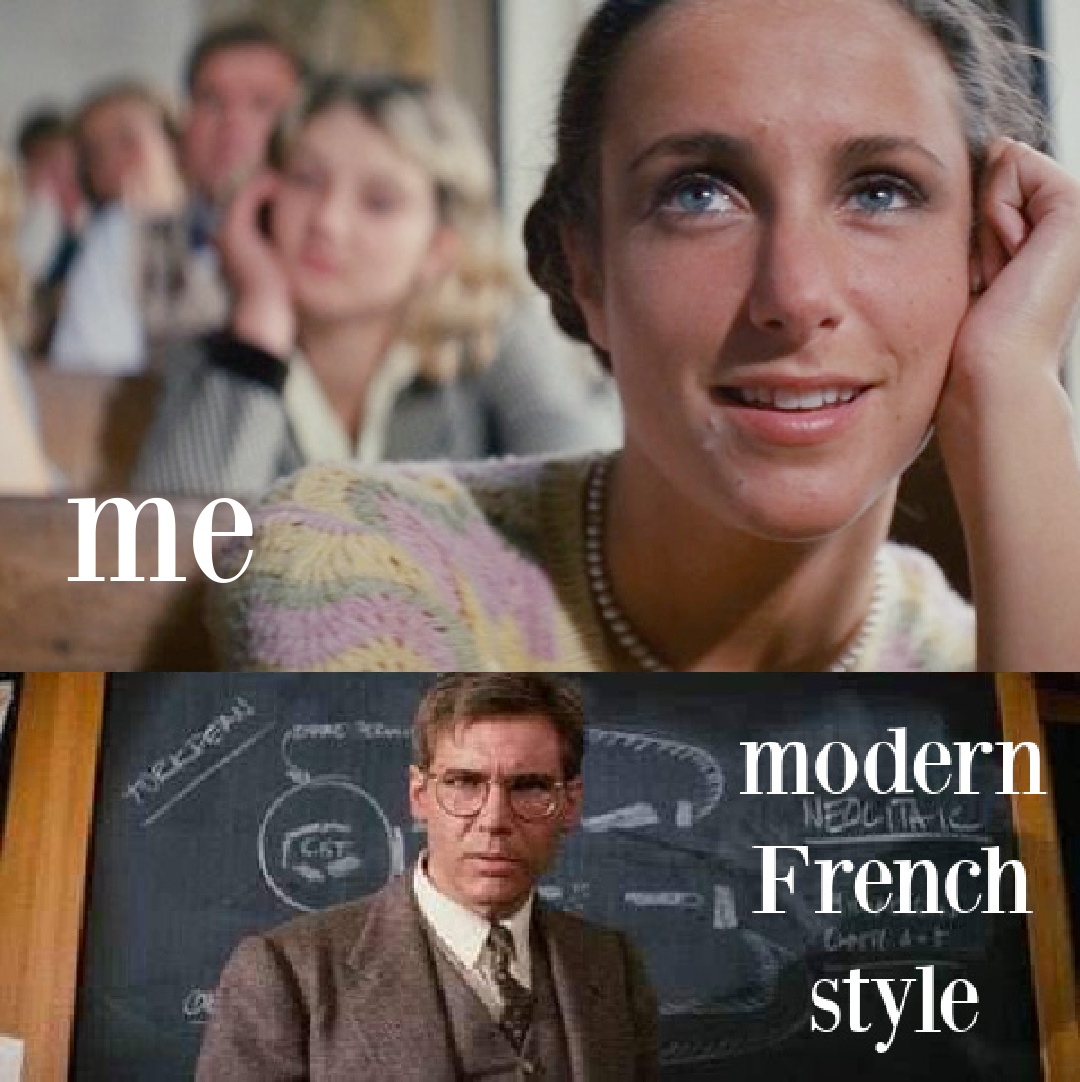 Serene Modern French Interiors
Jill Egan's Houston Home
My favorite designer, MILIEU's Pamela Pierce, featured an amazing newly built home by interior designer Jill Egan and architect Kirby Mears in this 2019 issue: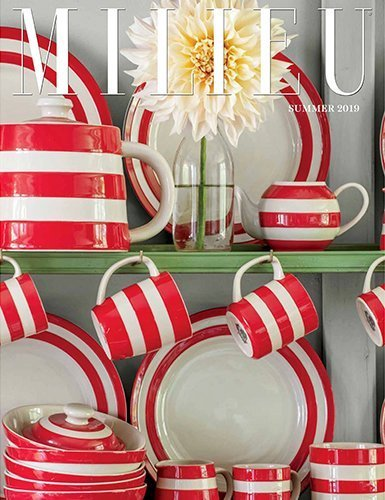 I have yet to recover from the beauty.
The thoughtful design details are simply transcendent. It's not the sort of dreamy new build where you muse, "ahhhh, we could do THAT…"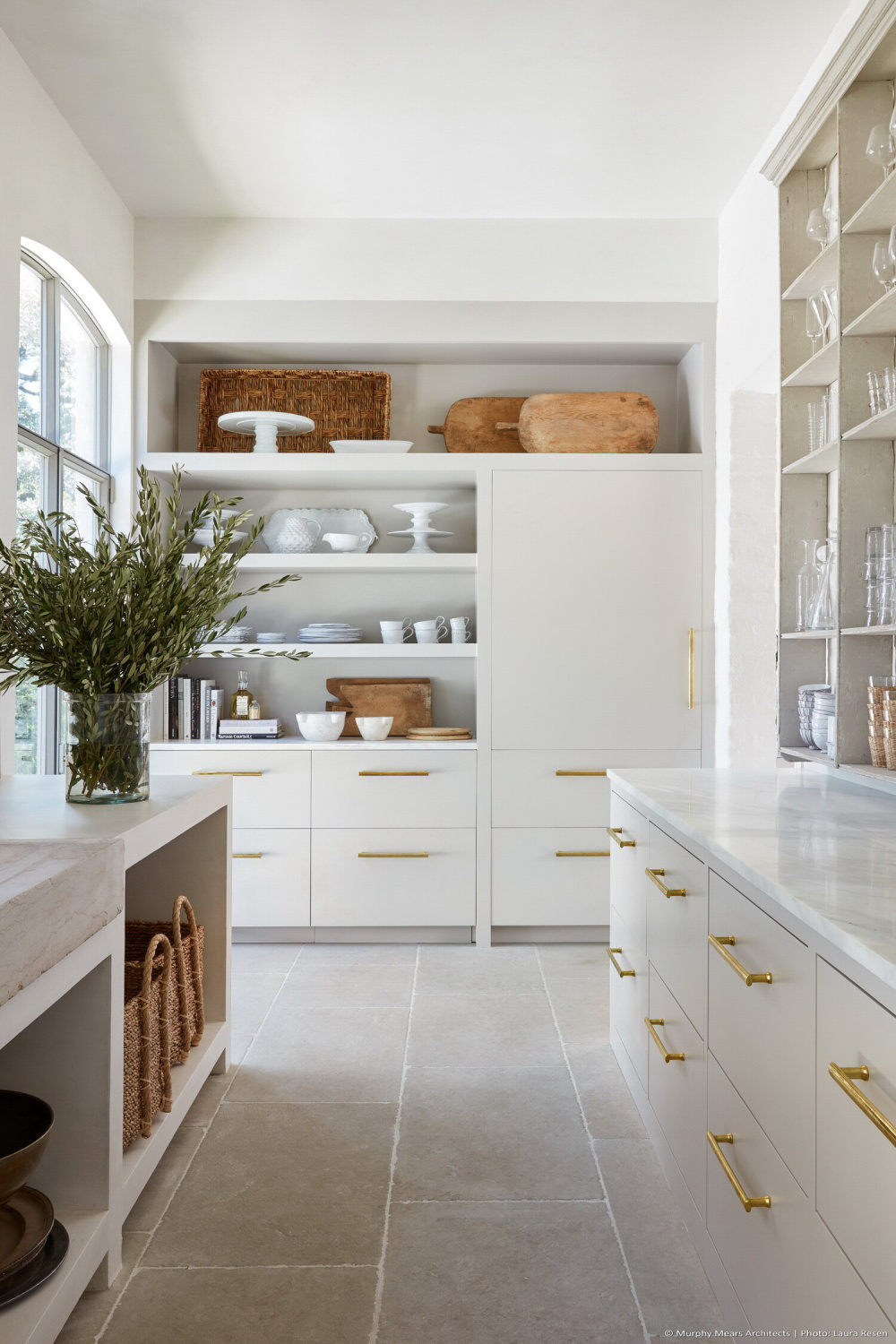 Rather, it invokes the sort of reverence and awe that whispers:
"Look at the care these hearts and souls took with precious, natural, timeworn materials to bless them with presence, love, and purpose."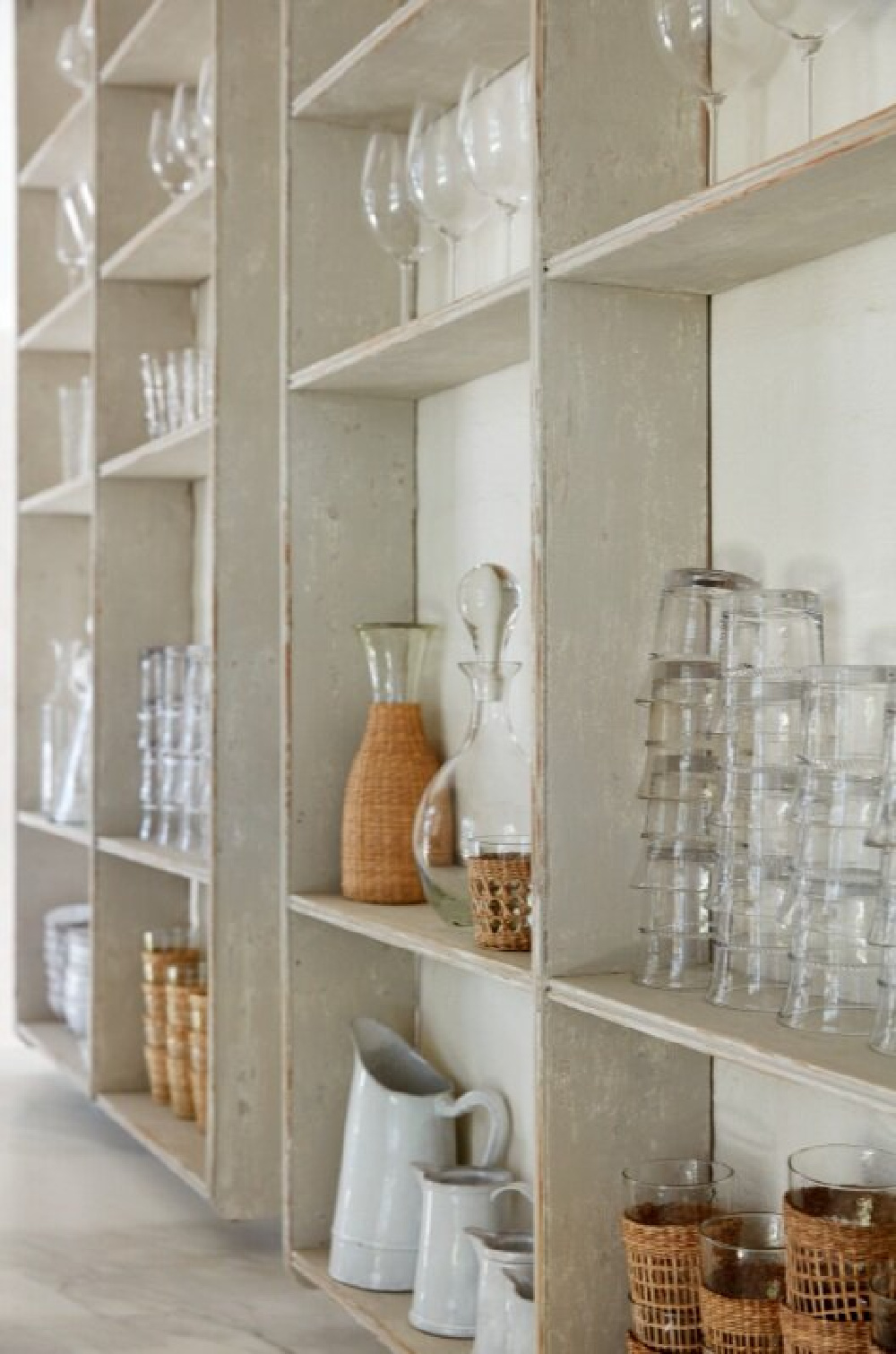 The sense of restraint in the design is admirable. It's one thing to make a million decisions as a private curator and quite another when all earthly grammers are watching!
Let's face it. Creating an effortless mood is an exhausting process!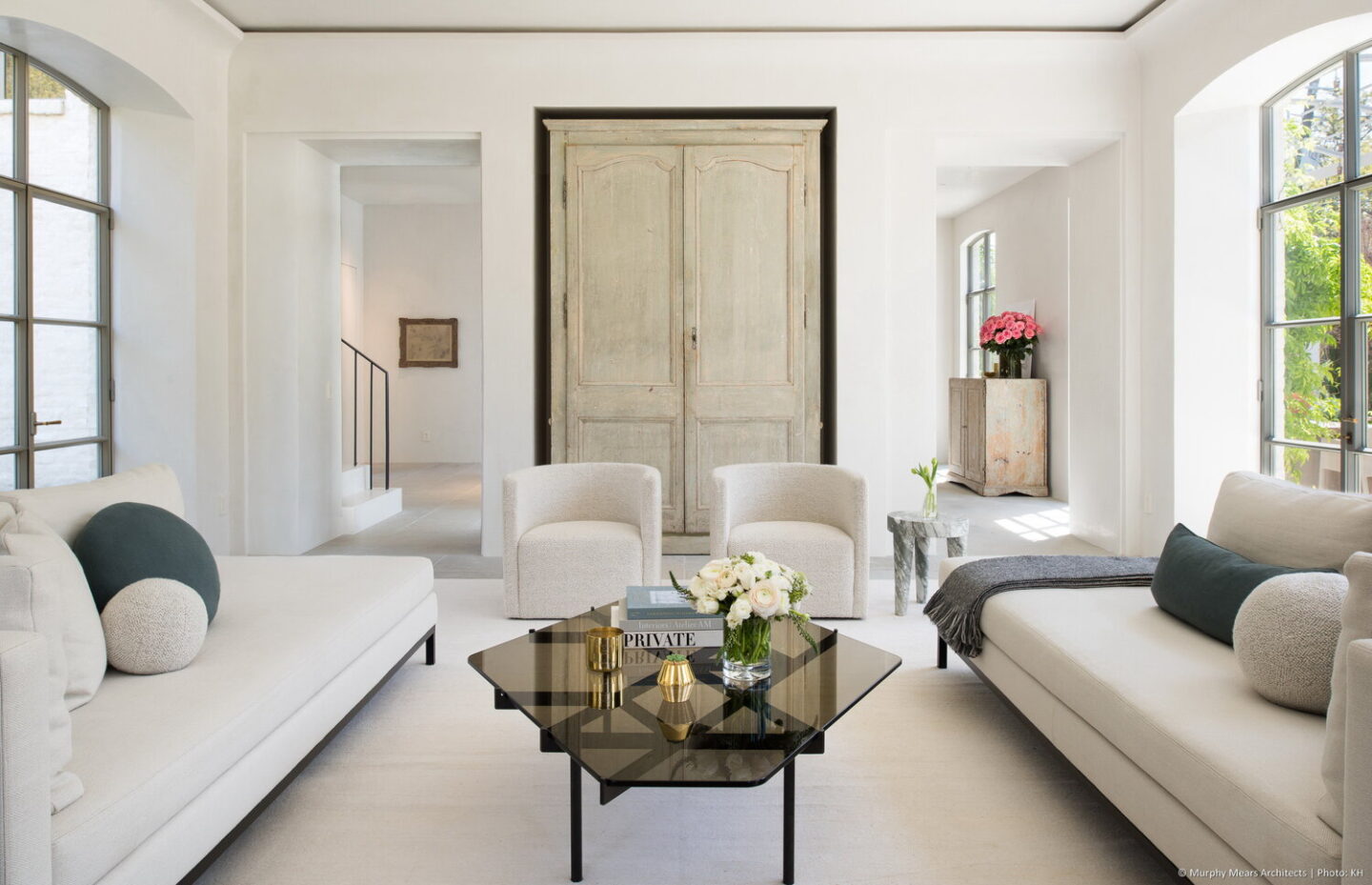 Contemporary Art With Old World Style
Perhaps that is why I also admire the subtle magnificence of art pieces collected by the owner. In the entry, a framed work by Lauren Collin is prominently displayed in the entry. The artist carved watercolor paper with a surgical scalpel to create it.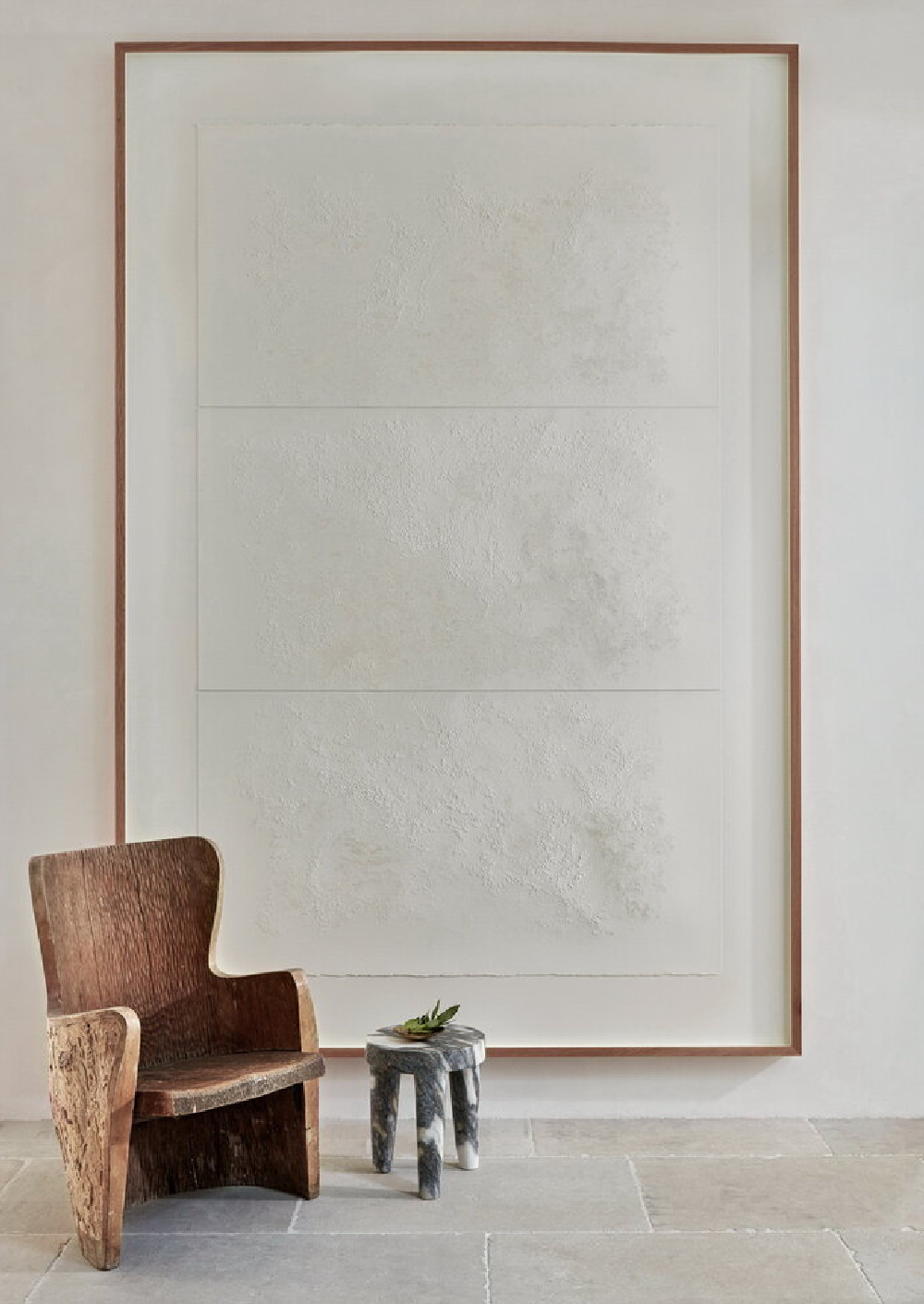 Isn't the work incredible? Simple paper is repeatedly pierced and transforms into something lyrically alive and soulfully energetic.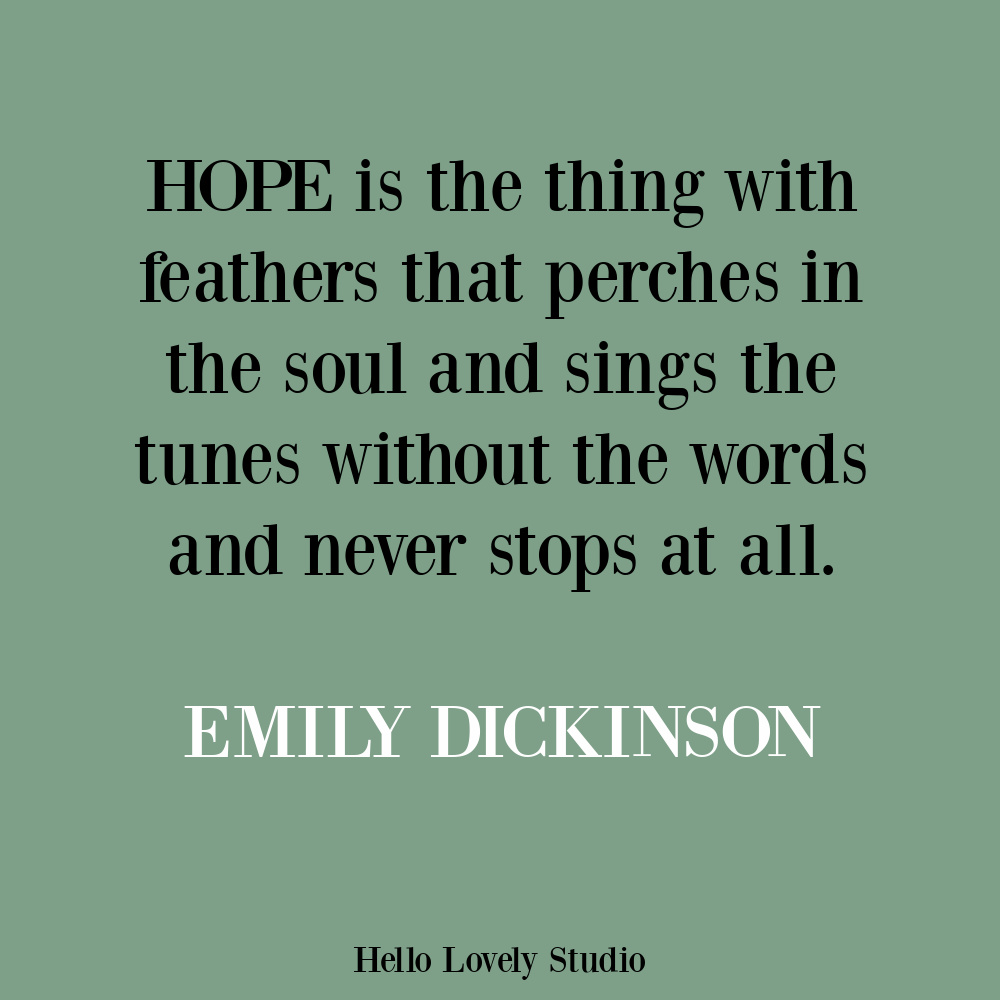 For me personally, the paper sculpture reveals nearly forgotten beauty from my past. Ragtime sheet music from a player piano the child me enjoyed in the 70s. French knot embroidery on a white linen curtain. An elderly next door neighbor's slender fingers gliding over Braille pages. Delicate bas-relief on white iced wedding cake tiers.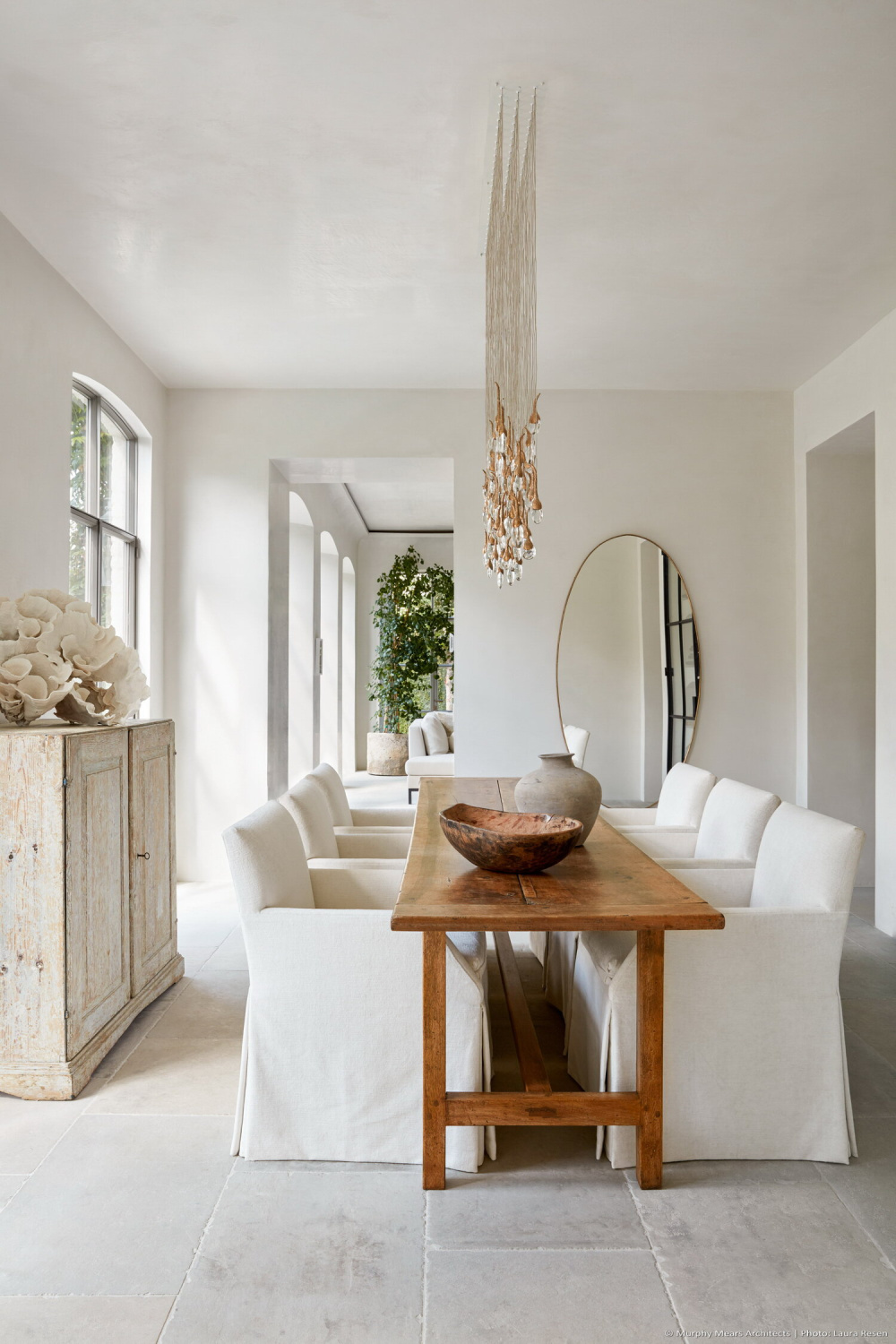 Artfully Designed Lighting
With a minimal approach to Modern French, lighting and texture play starring roles. This dining room chandelier appears to be an artful masterpiece during the day so I can only imagine the magic it brings to the space in the evening!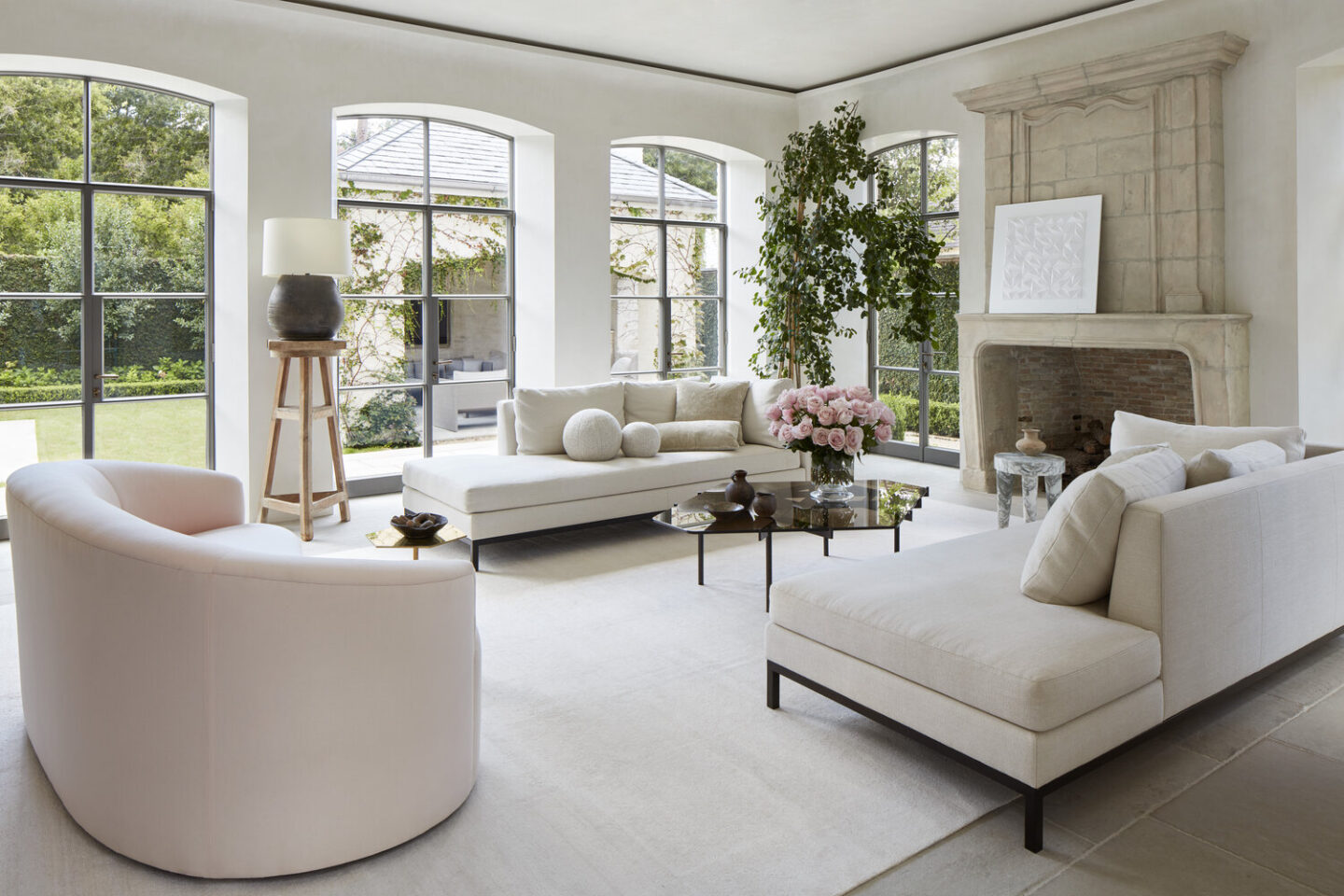 As someone who blogs ad nauseam about paint colors, I would be gleeful to inherit plaster walls this warm and luminous.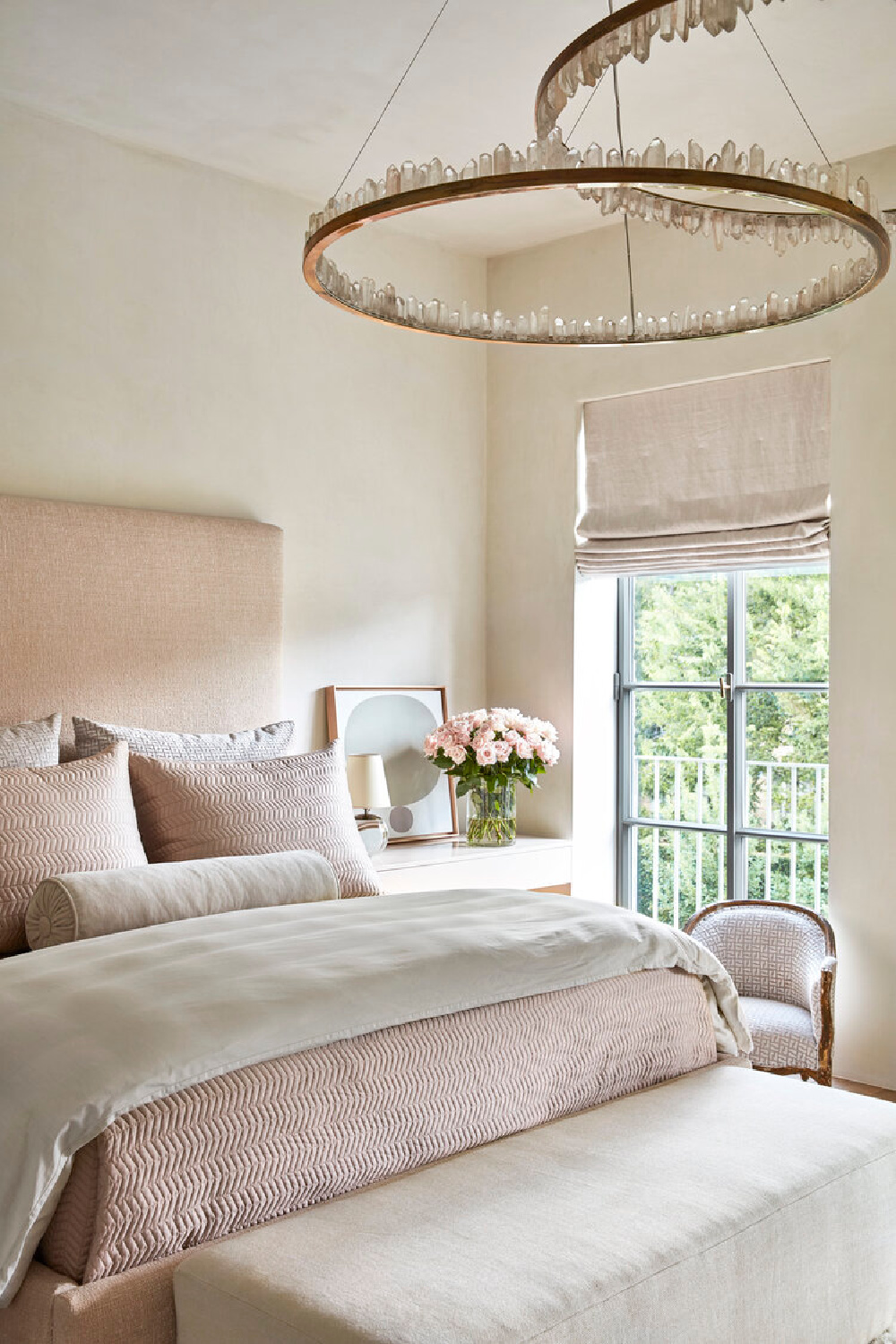 The drama need not be minimal in a Modern French space!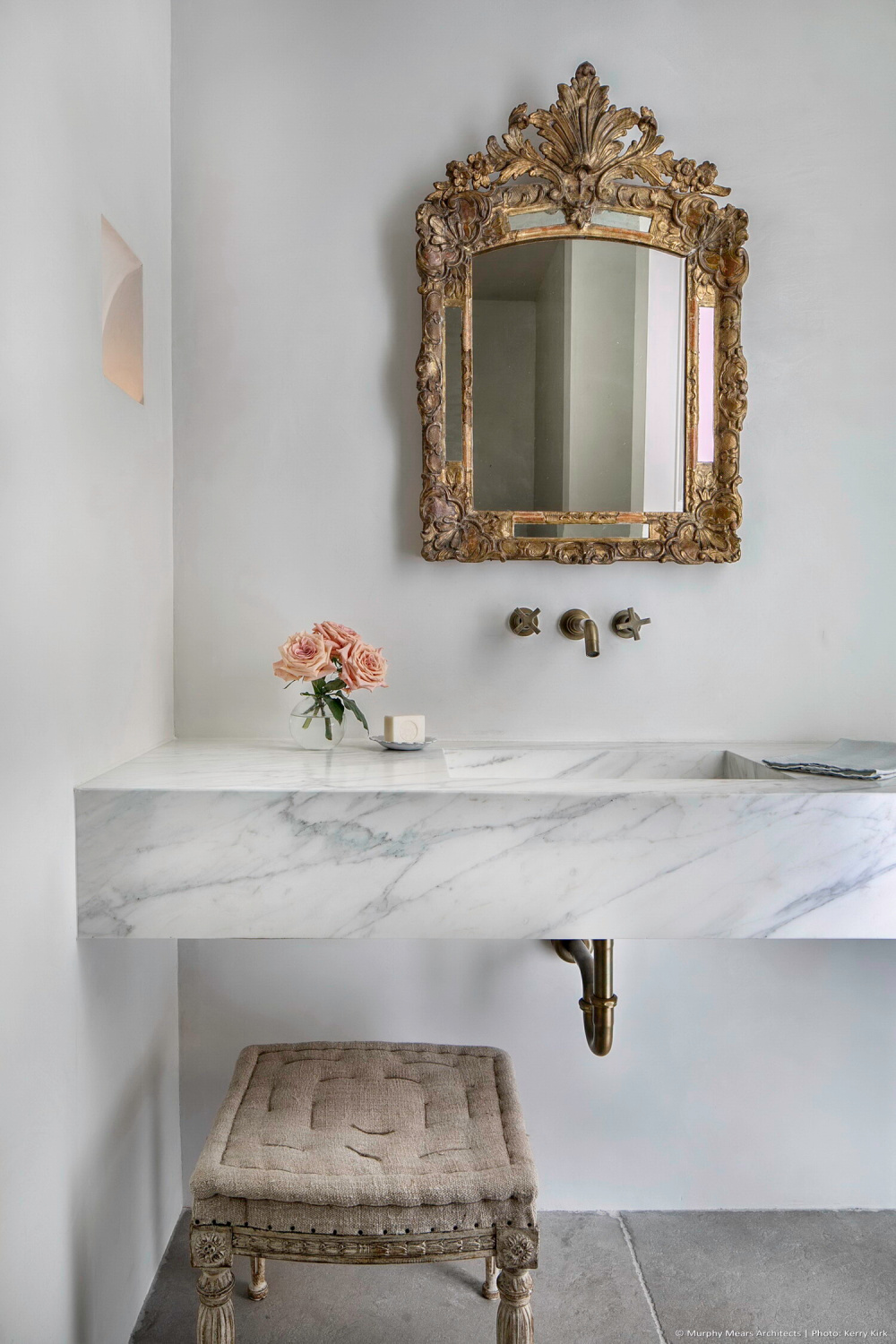 Perhaps my favorite aspect of a Modern French aesthetic is the intelligence required to successfully live with the look. For it to be livable, all sorts of everyday clutter and essentials must have their place. And such a place is often hidden…so I wonder if there are shelves for medicine, makeup, or potions behind that breathtaking bathroom mirror!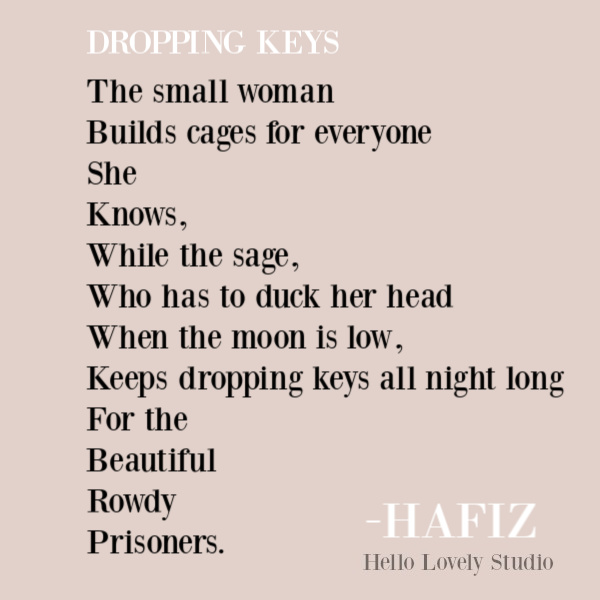 More Jill Egan Designed Modern French Moments
Modern yet classic lighting designs can freshen traditional French country spaces that feel one note.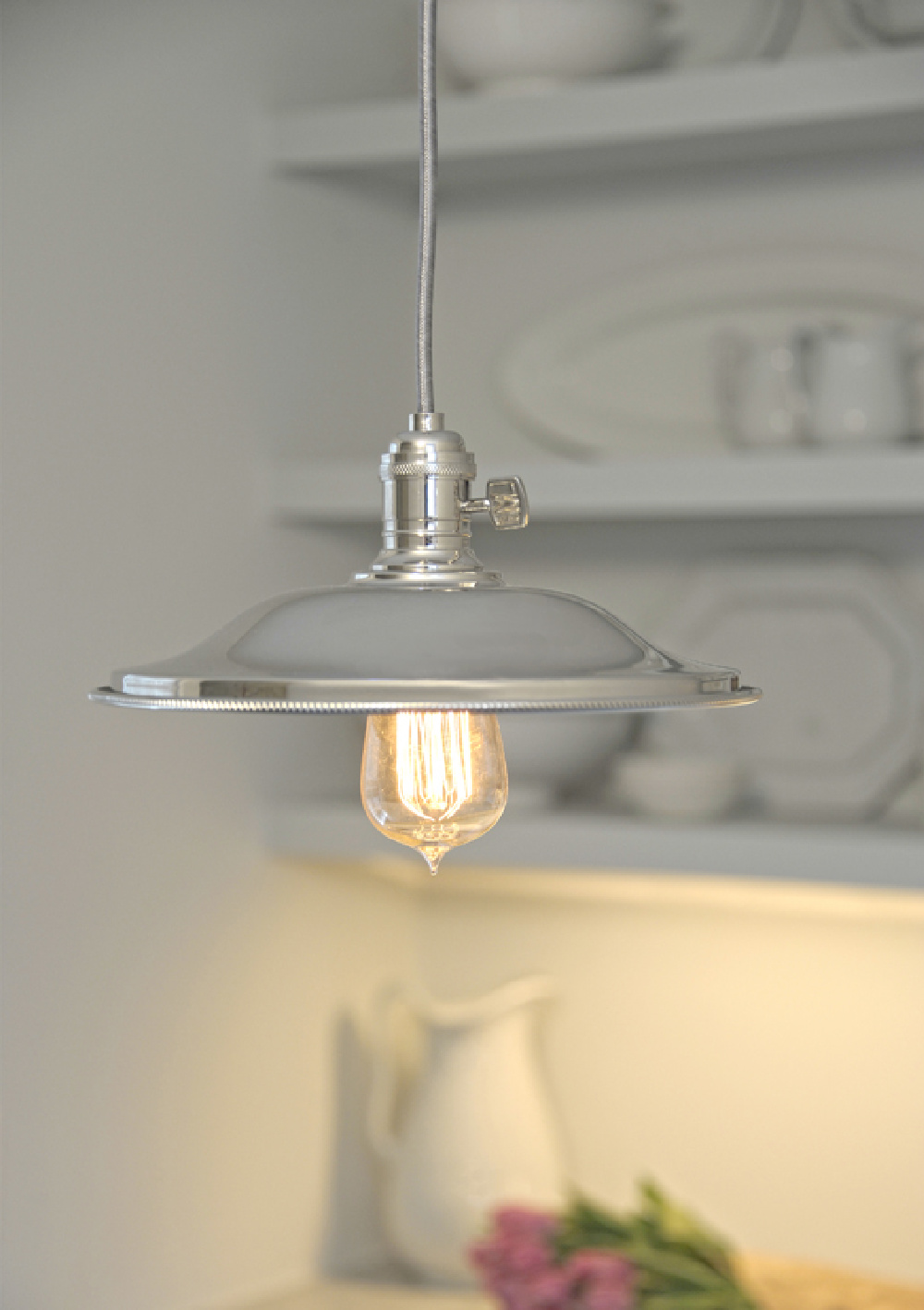 Trading heavy stained wood trim and mantels for light toned painted ones (or none at all) imparts a look that feels serene and calm.
Gilded iron and unlaquered brass work well with all of the cool greys and whites.
Patina and texture elevate Modern French interiors so distress from age and use is very welcome!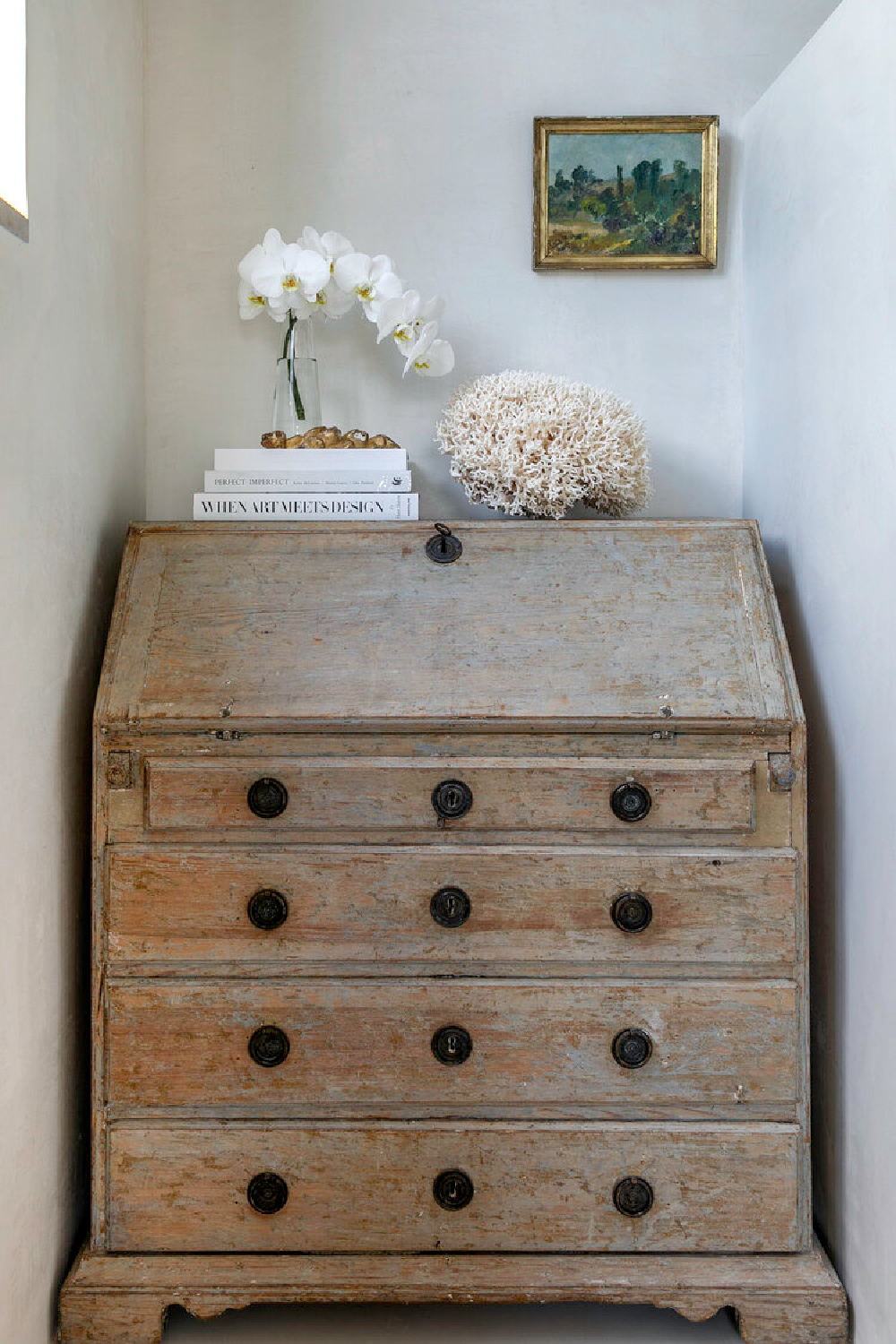 Wait. Patina?
Patina Rich Interiors from Steve and Brooke Giannetti
Because Brooke and Steve Giannetti know their way around both patina and modern French allure. If you haven't already snagged a copy, this is their most recent book and a MUST OWN.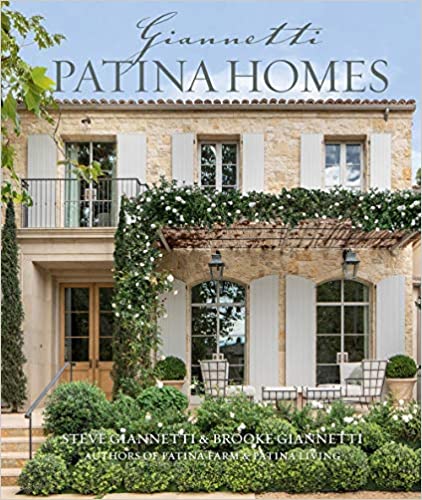 If you search online for examples of this design dream team's work (Velvet and Linen is a treasure trove!), you'll find it often characterized as "rustic."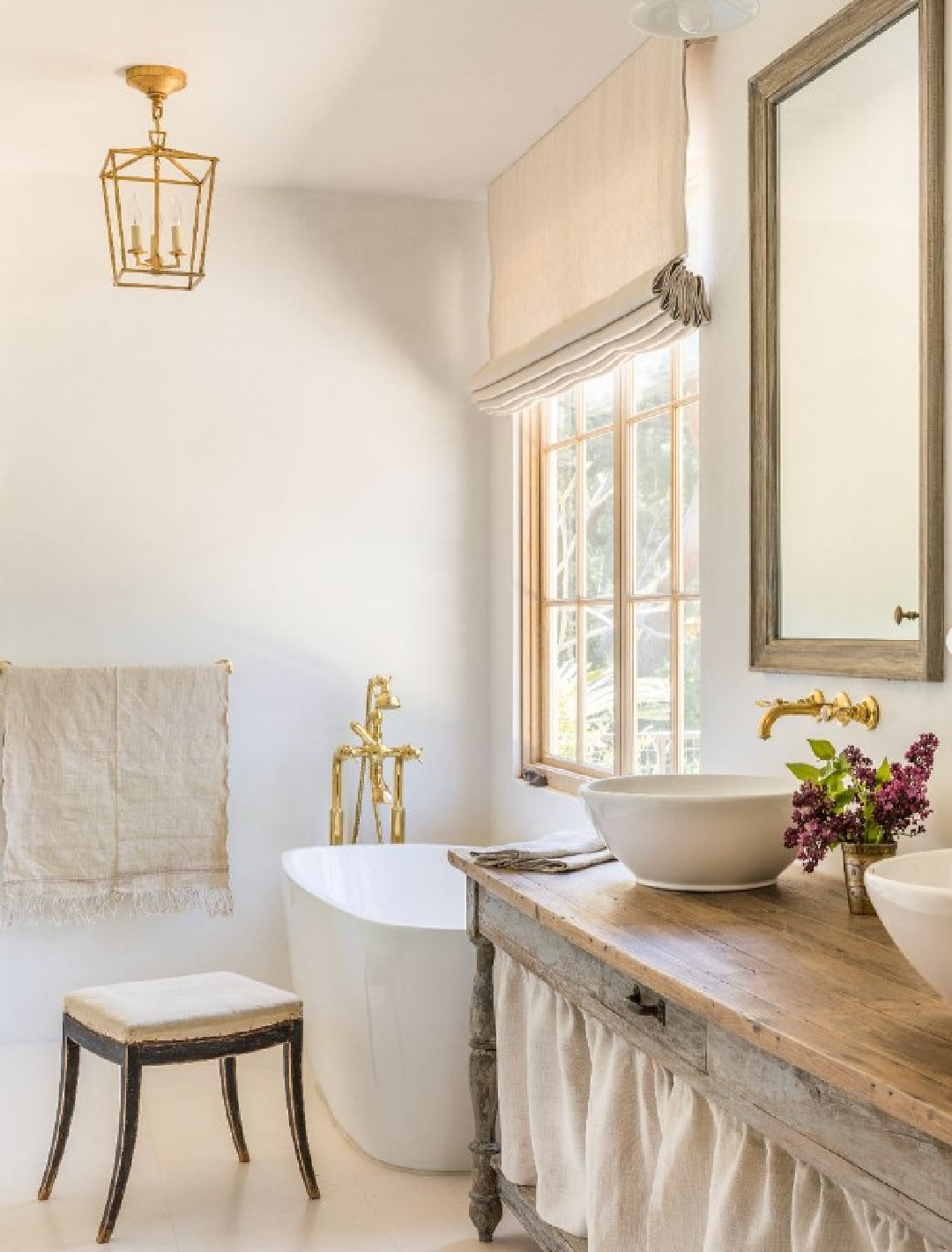 But is that accurate?
Another label slapped on their beautifully layered, organic, Napa-Euro inspired romantic interiors is "modern farmhouse." Also inadequate!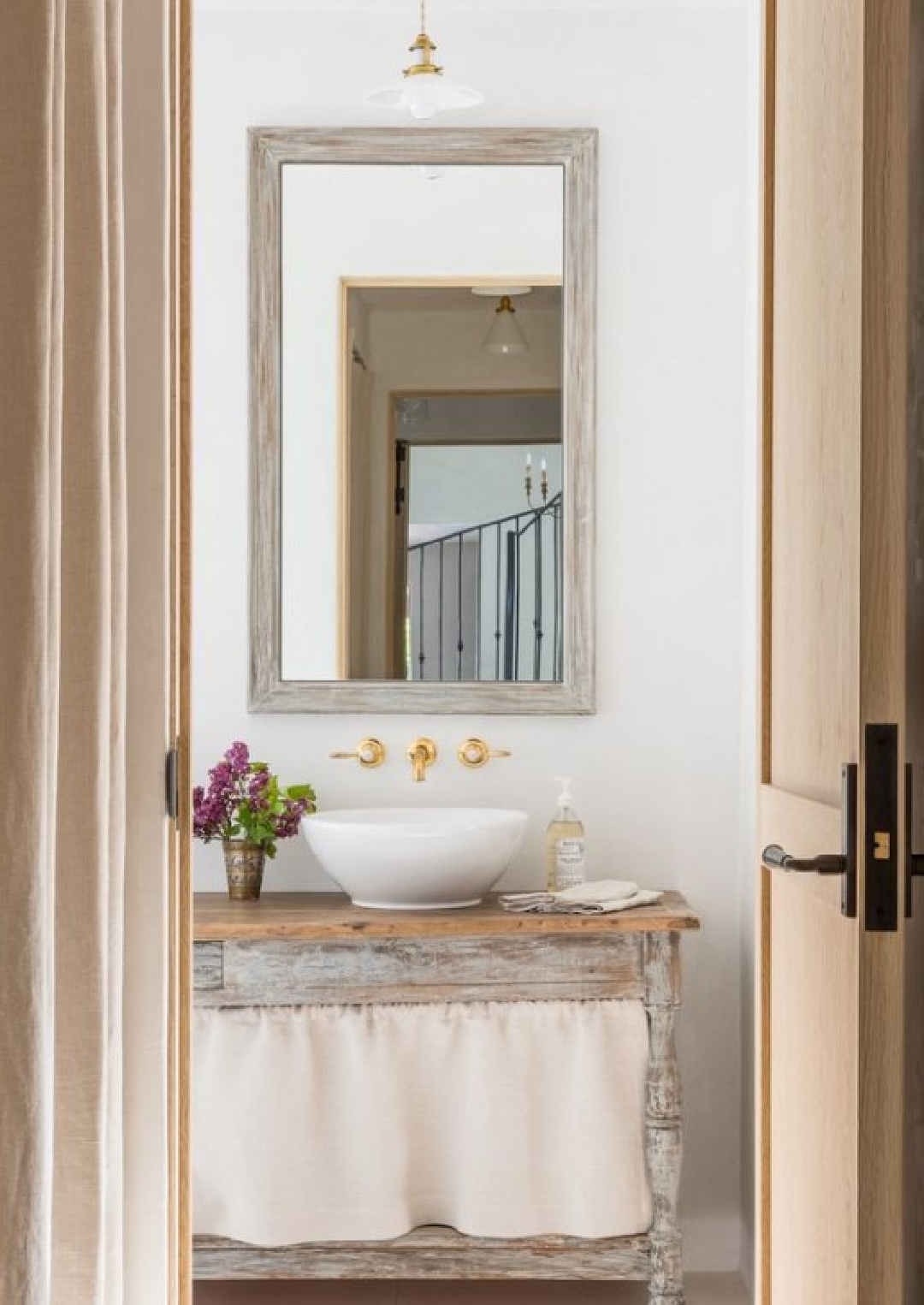 Freshened French & European Country Romantic Homes
I find their work to be gloriously timeless, timelessly romantic, and romantically unfussy. There's a gentle grandeur permeating all those authentic layers of natural materials.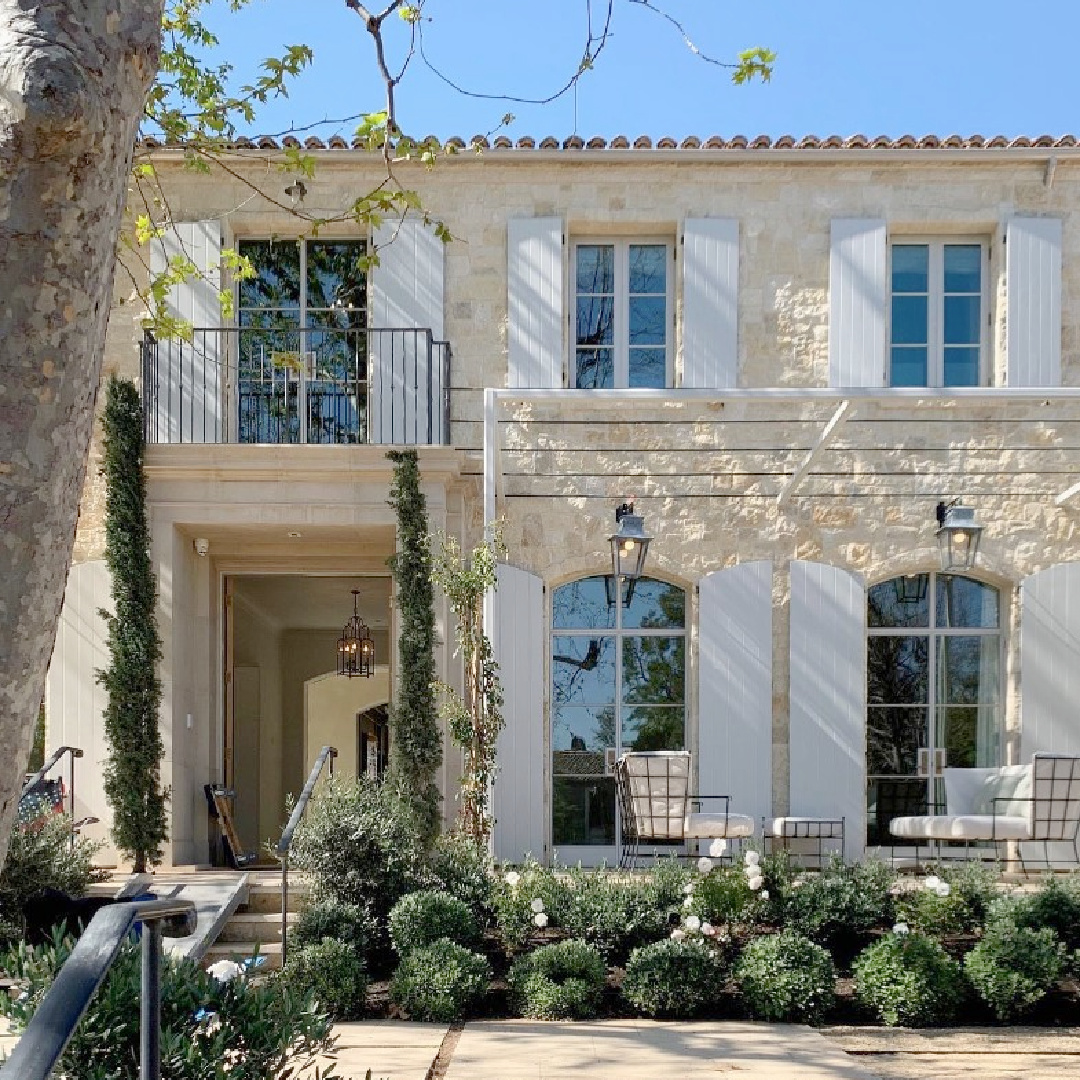 Nothing appears to be showing off even when plenty of the design elements have every right to! I mean…a reclaimed stone mantelpiece like the one below likely has a rich history and made quite the journey overseas to its new dining room.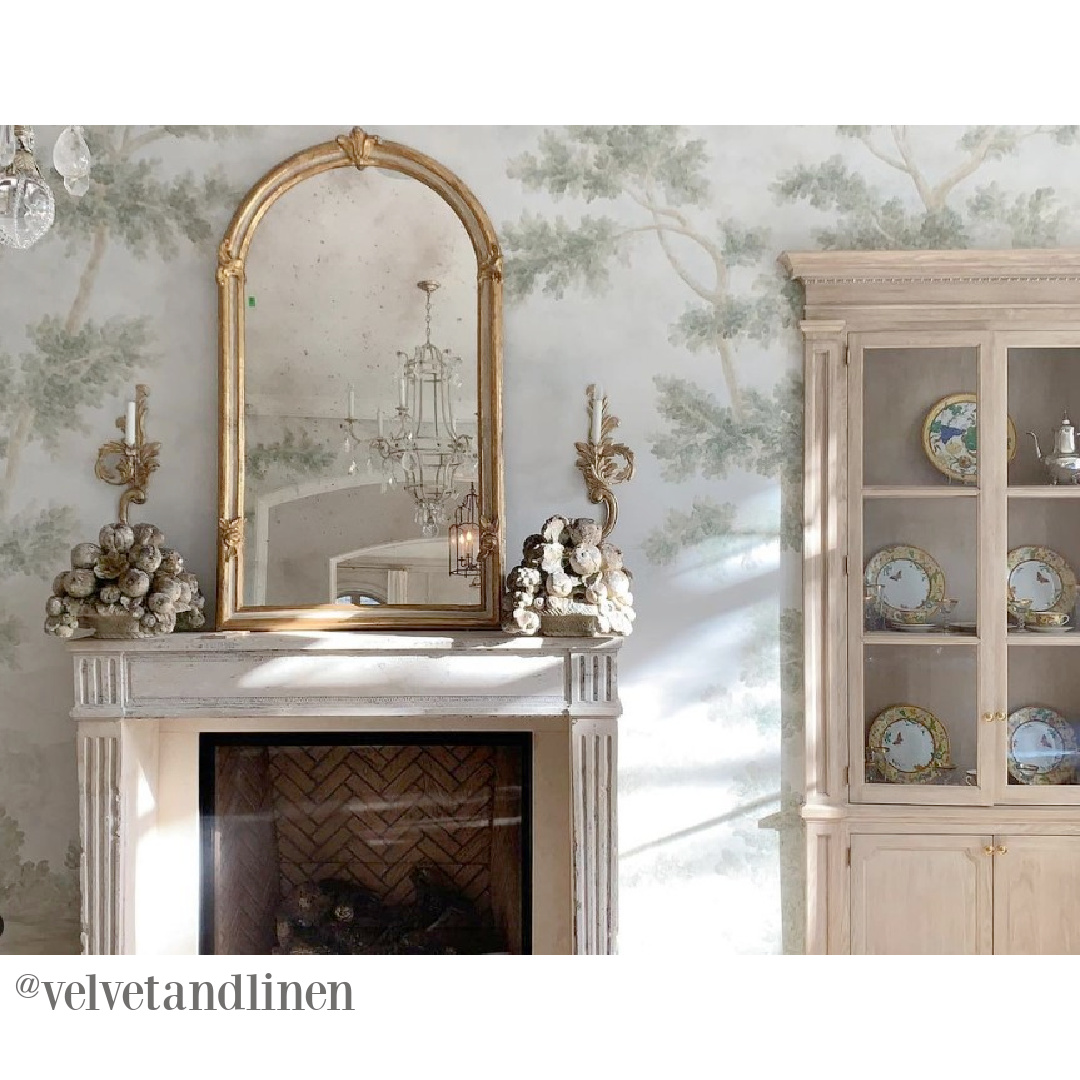 Yet it feels utterly at home, approachable, and humble yet refined thanks to the Giannettis. I'm so grateful they share "in progress" shots of their builds and renovations. I saved these next images a couple of years ago as they created a kitchen which felt very modern French to me.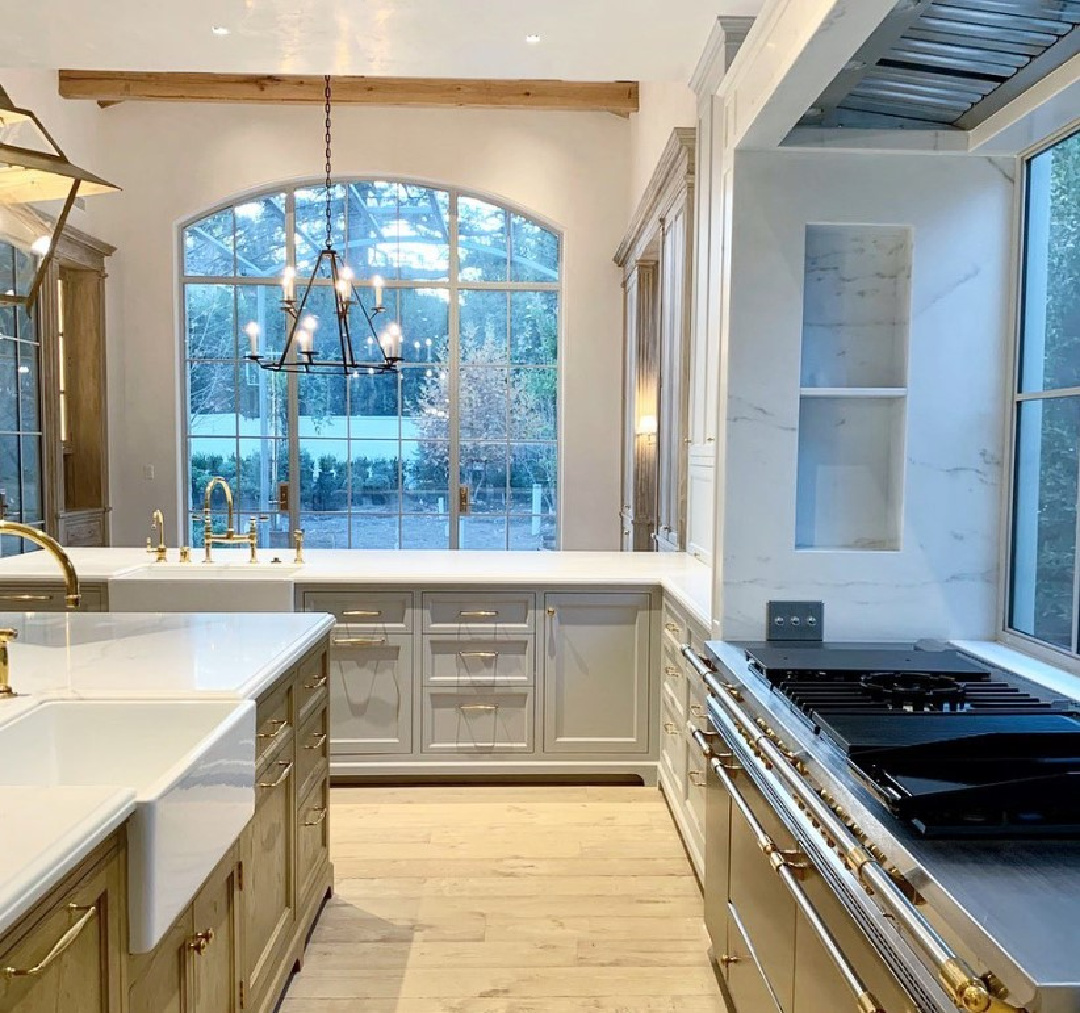 The cool blue-grey of Farrow & Ball's Pavilion Gray on the cabinets and steel never strayed far from my mind and is likely to make an appearance in my own "in progress" kitchen.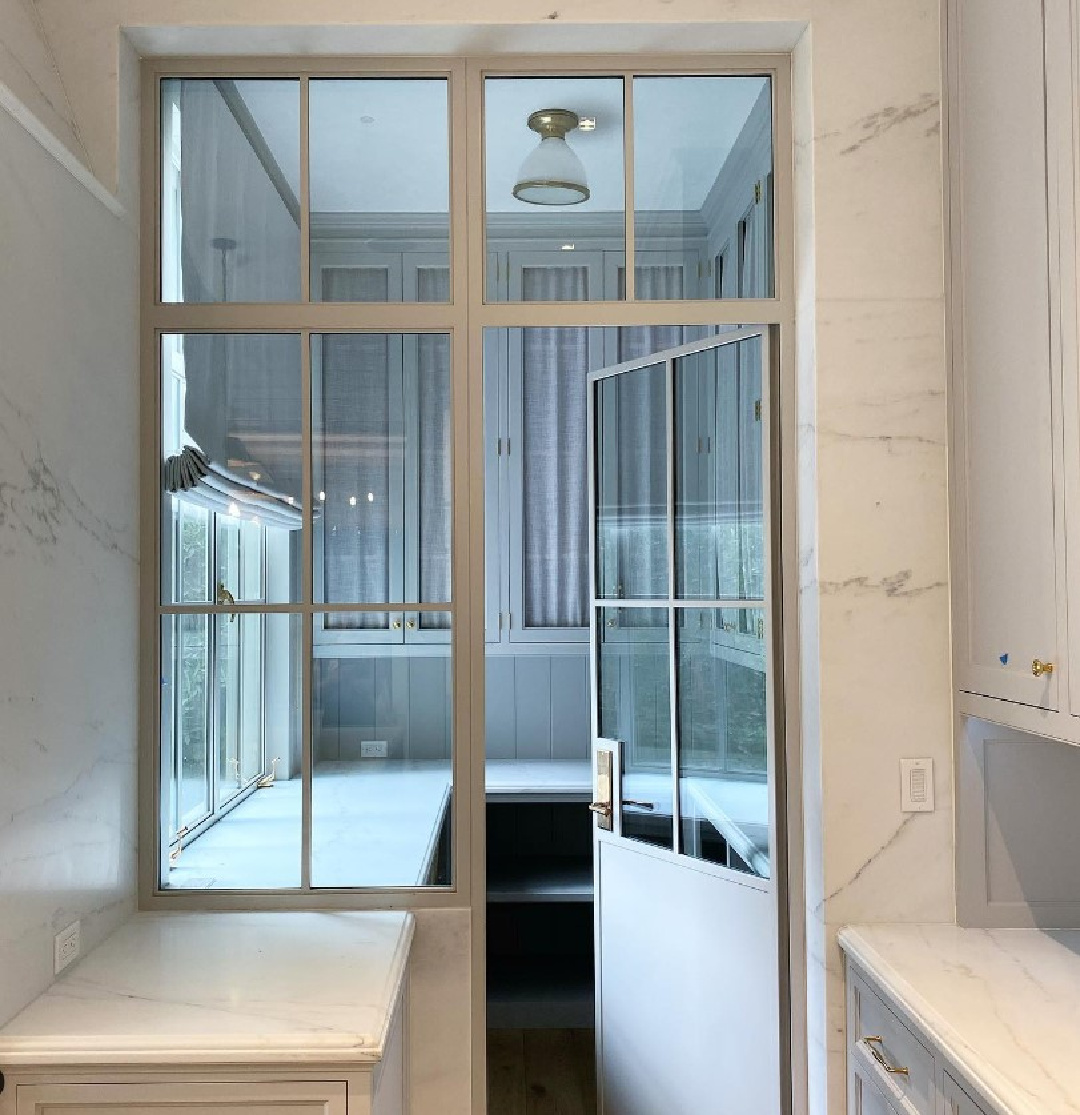 That pantry designed by the Giannettis!!!! Doesn't it speak Modern French in all of the best ways?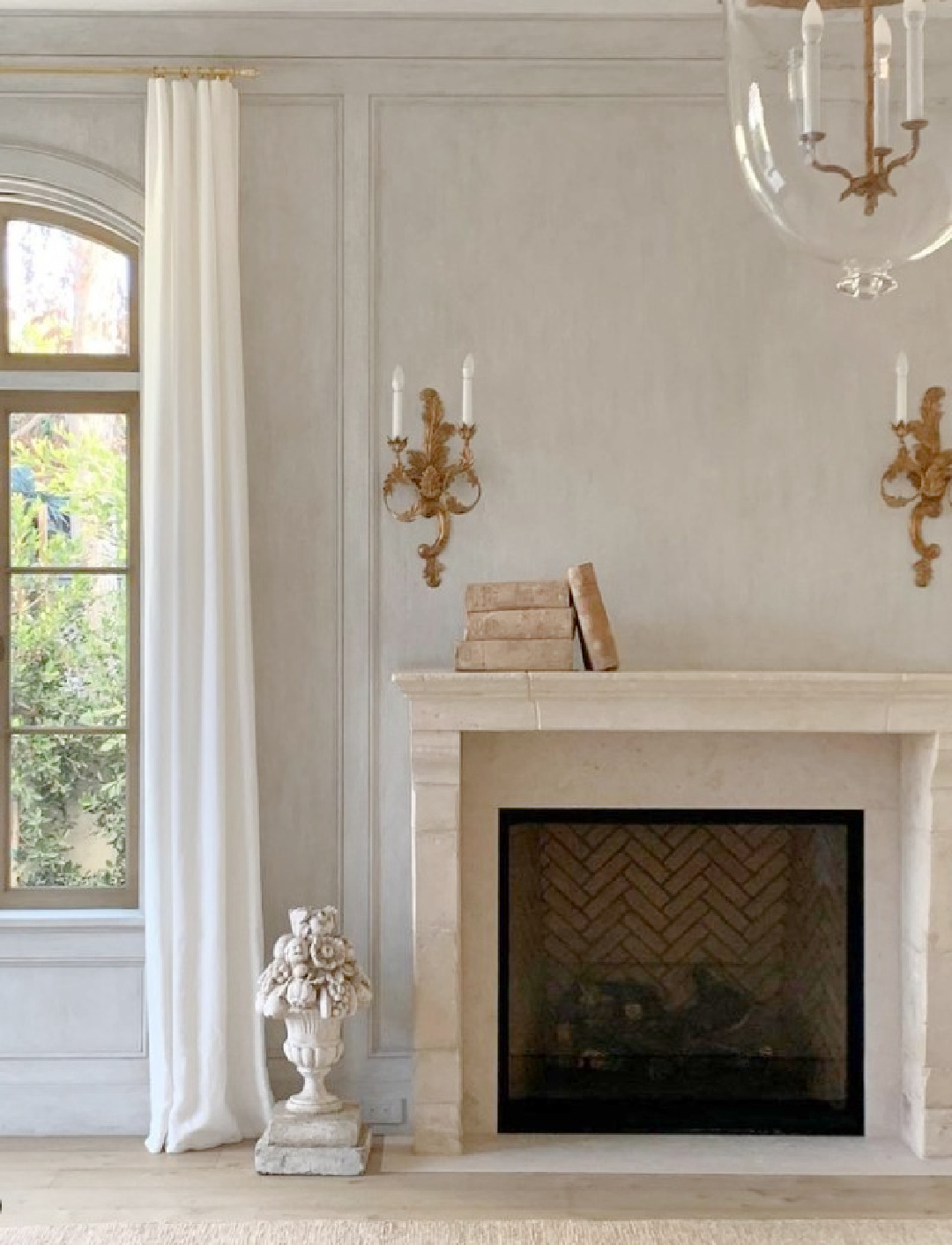 So many more examples of this enchanting design style I'd love to share! Let's chat all things Modern French again very soon!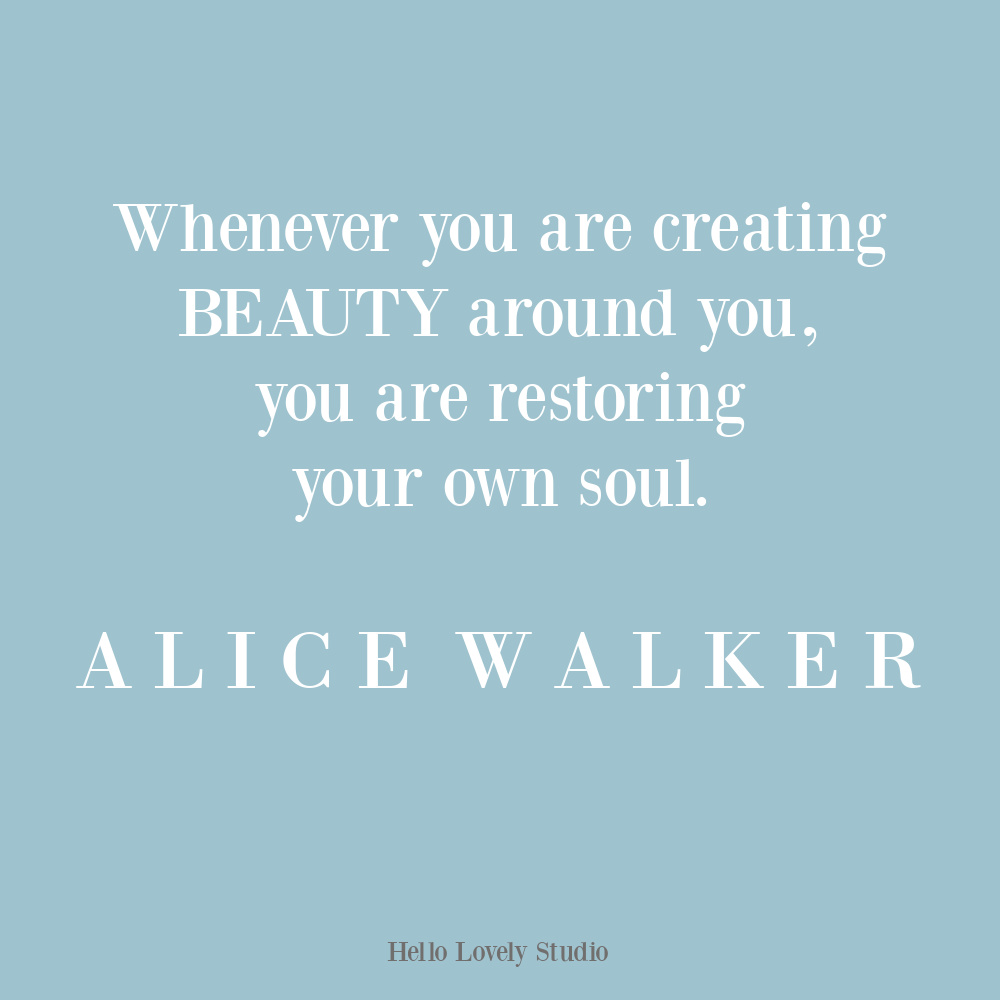 I independently selected products in this post—if you buy from one of my links, I may earn a commission.
Peace to you right where you are.
-michele
Thanks for shopping RIGHT HERE to keep decor inspiration flowing on Hello Lovely!
Hello Lovely is a participant in the Amazon Services LLC Associates Program, an affiliate advertising program designed to provide a means for sites to earn fees by linking to Amazon.com and affiliated sites.