All White Kitchen Design Help offers cozy factor if an all white space appeals, but you want to be mindful that it feels welcoming. Whether you are building a home, re-designing a kitchen, or simply tweaking your existing one, treat yourself to more inspiring goodness on my Pinterest Kitchens Board!
All White Kitchen Design Ideas to Add Cozy Factor
Add Vintage Accessories
When everything in the kitchen is brand new, sometimes things can feel off. So don't underestimate shopping for vintage…I can't resist ironstone pitchers!
So many times it is subtle design details and tweaks to help warm a slightly cool space. Look at the beauty of these gilded framed paintings included in this cool color story:
It helps so much to see inspiring photos of white kitchen designs that feel like they strike the right balance and feature an interesting mix of textures.
White Kitchen Designs With Two-tone Cabinets
Even when there is low-contrast…for example, in this kitchen by Lisa Furey Interiors where the island is painted light grey (BM Pashmina) and cabinets a bright white (BM White OC-151), it's a soothing shift for the eye and less formal.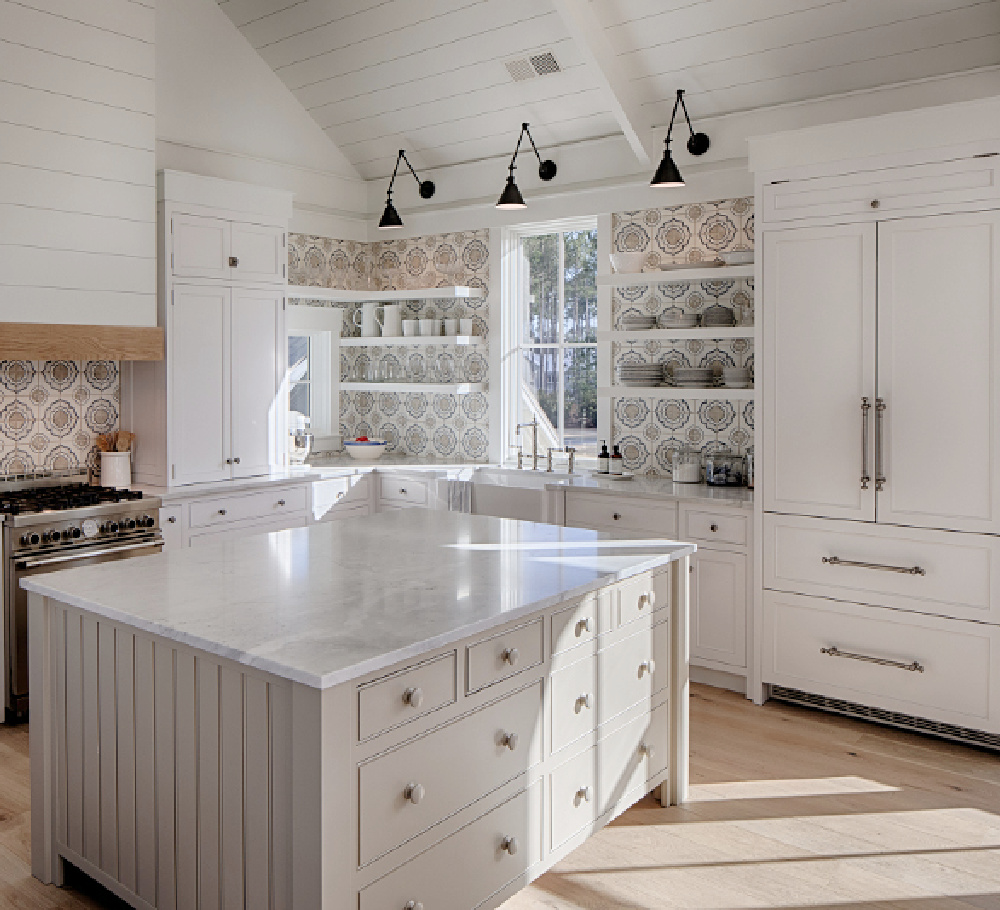 Introduce the Warmth of Natural Wood
There's just nothing like the combination of a beautiful, natural, white oak in a sophisticated white kitchen.
This breathtaking kitchen design below is a lesson in just how much warmth wood pocket doors and a knotty hardwood floor can bring.
Here is another example of the warmth natural wood flooring can create in an all-white pristine kitchen with brass hardware and a showstopping ceiling!
Perhaps my favorite kitchen of all time – reiterating the point about what warm beauty natural, rustic wood can bring and also proving beautiful kitchens need not be grand in scale.
Bold Geometric Prints Add Casual Charm
A happy color like this Granny Smith green can go a long way!
Here's another way to use green in the kitchen!
A Mix of Warm Whites
In the kitchen below, the French limestone floor, linen curtains, and pale table top are various whites that harmonize and feel like a hug.
High Contrast With Kitchen Island Color
Here's an idea you can consider if you have an island.
Painting or staining the entire island/peninsula/breakfast bar or part of it a warmer hue is an option which may be just the right choice in a white kitchen lacking depth.
Kitchen Carts Can Be Cozy
I shared how a sweet little industrial cart or work table or mobile island can add function AND cozy right here.
It's a way to bring an accent color to the mix as well.
In addition to adding work space, a vintage cart can add character and texture as well as become a worktop to be decorated seasonally.
They're not always easy to find though so a vintage style readymade island with a marble top is an option:
Choose Flooring With Interest to Offset Coolness
Warm wood, painted encaustic tiles, and rugged stone add character and warmth.
Sometimes, just taking a more casual attitude about mixing tones and colors in the kitchen (avoiding strict matchy-matchy factor) can result in a warmer outcome.
Warm a White Kitchen With Rustic Design Elements
Whether it's shiplap on the walls, bead board on a backsplash, or wood planks on a ceiling, adding warmth with such texture is a smart way to turn up the casual and cozy factor while dialing down the "precious."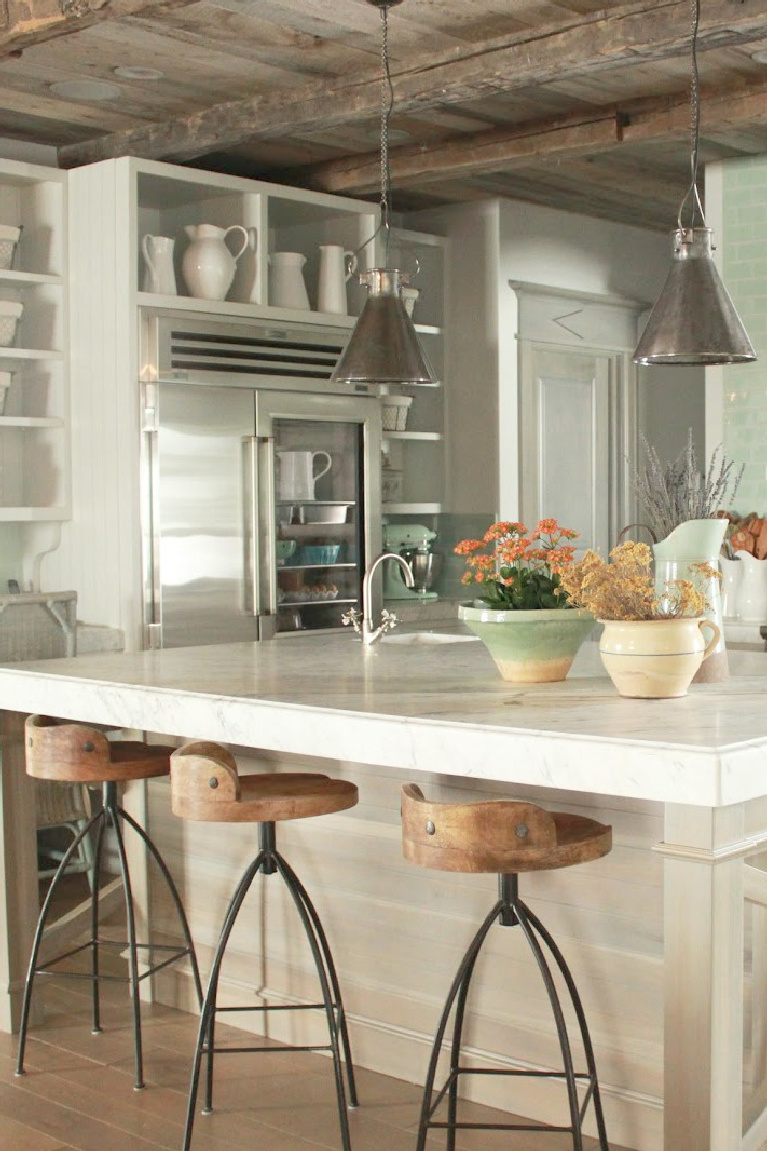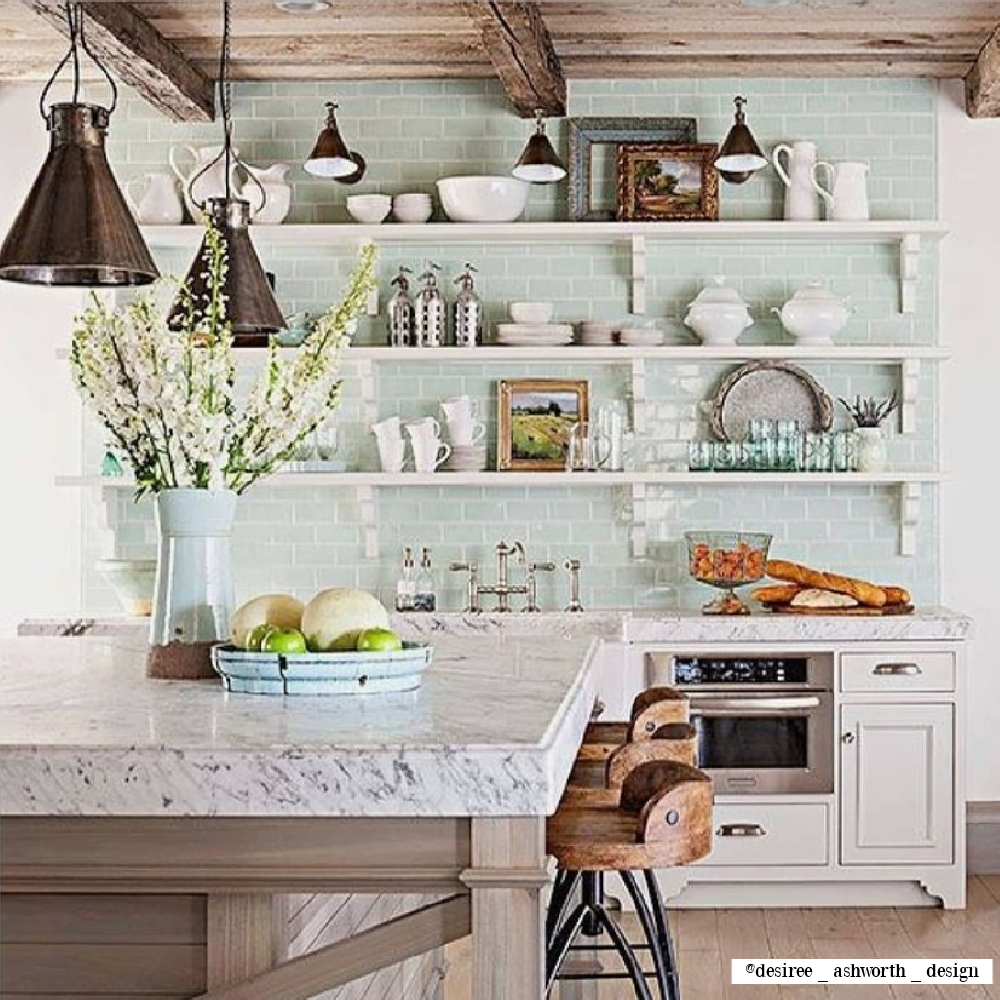 Classic or Vintage Style Cabinets
When the door style of new kitchen cabinets feels traditional, they impart a romantic, nostalgic, home-y warmth that is hard to beat when you're after a sophisticated, timeless look.
Get ready for #coastalgrandmother vibes!
Counter & Bar Stools
If the white kitchen design involves a breakfast bar or island, turn up the warm factor with counter stools or bar stools to add color, texture, and form.
Add Cozy With a Banquette
They are cozy and a place to cozy on down with pillows or upholstered cushions for added warmth.
Informality & Warm With a Kitchen Farm Sink
These country sinks add warmth with their nod to the past and instantly cause a white kitchen to feel less formal.
Surprising Non-Kitcheny Accessories
I love seeing vintage treasures, sculpture, art and framed painted portraits brought into a white kitchen to add personality because when it feels personal and even quirky, it feels warmer.
Have an opinion about ways to add warmth to white kitchens? Do add to the discussion!
I independently selected products in this post—if you buy from one of my links, I may earn a commission.
Peace to you right where you are.
-michele
Thanks for shopping RIGHT HERE to keep decor inspiration flowing on Hello Lovely!
Hello Lovely is a participant in the Amazon Services LLC Associates Program, an affiliate advertising program designed to provide a means for sites to earn fees by linking to Amazon.com and affiliated sites.