This photo gallery with Inspiring Traditional Style Laundry Rooms to Spark Design Ideas is for you AND for me! I need all of the inspo to get these wheels turning! At the new house, I inherited a narrow, galley style pass-through with commercial fluorescent lighting and zero natural light. I'm not after a "blogworthy" space as much as a well-lit pleasant atmosphere for the monstrous appliances and storage for cleaning supplies. Remember when these utilitarian spaces were mostly in dark, damp basements and cellars? Investing a bit of thought and effort, may just yield fresher, more lifegiving laundry designs to work as hard as we do.
Traditional Style Laundry Rooms to Inspire
Look. Any images here teetering on fantasyland and designed with lofty budgets and celebrity designers are not here to torment and inspire eyerolling. Good gracious, I don't want us to feel hopeless with no choice but to move or set fire to mediocre, cave-like, forlorn utility rooms. War, famine, and planetary catastrophes are far more deserving of our attention than cobwebby corners of the basement where dirty towels get refreshed.
But I also believe in the power of transformation. I believe in living with beauty and allowing it to animate our spirits and minds.
Since laundry areas work hard and deliver so much goodness, why not make the most of what we've got? Here are a host of thoughtful ideas inspired by beautifully-designed rooms, and I'm keenly aware of the costs…so do expect a practical voice of reason tempering all the high end fantasy. 🙂
psssst. If you're not familiar with April Tomlin's timelessly beautiful work, you must see the rest of the home in which the laundry room she designed above lives:
Accentuate a Laundry's Vertical Space
There are a myriad of ways to take advantage of vertical space, design-wise. And it becomes so important for laundry rooms which are almost always the smallest rooms in a home. For storage, obviously cabinetry stretching to the ceiling will provide a bunch. But shelves are also a possibility if you don't mind seeing the items stored:
Sliding ladders are sort of a fantasy item for many of us, and if you have the chance to incorporate one in your laundry design (for example, if you're building a home from the ground up), go for it!
A Dutch door is also a fantasy kind of design element that pulls at the heartstrings, yes?
This small laundry room makeover is a more realistic DIY project if you'll be working within the footprint you already have:
Shoot for the Moon & Sunny Laundry Fantasies!
The only way most of us could wind up with a laundry space this light-drenched, spacious, and beautiful is to build a new home and assign one heck of a hefty budget to the laundry room design.
However, think about how many ways this space could be enjoyed for tasks beyond folding and stain removal. With an island this size, it could be a work/study space, crafting area, art studio, and gardener's dream station.
Drip Dry Rod Over Laundry Sink
Sometimes it's the simple things that spark joy. I find this sweet space serenely satisfying since it feels soft and pristine rather than ruggedly industrial as so many laundry spaces are.
The pretty color on the cabinetry?
It reminds me of a lovely neutral paint that I ordered online, and it came straight to my door. I just painted a bath with it, and the color is No Filter:
Here's a laundry sink area with hanging rod above that feels considerably different than the space above. Two-tone cabinetry, crown molding, and a handsome wallpaper (or tile?) feel chic.
If your laundry room is removed from other living spaces in your home, it may also be an opportunity to be a departure in style from the other rooms. Maybe you need it to be a tropical escape or to feel like a Paris apartment!
Wallpapered Mudroom Wonderland
Oh how I love the wonder and whimsy of a laundry room that feels as clean, pretty, and elegant as this!
Big fan of chandeliers in the laundry here! Need some pretty wallpaper ideas? If cool blues and greys float your boat:
Pretty florals and green could easily inspire the rest of the room's design:
Sophisticated & Timeless Transformation
I love everything designer Jennifer Lincoln-Cutler imagines in the European inspired projects she creates so when she transformed a storage space into this:
it truly left me breathless.
So many design cues to take from her project:
Hide the washer and dryer behind custom cabinets if you like!
Forego the expected laminate counter and Incorporate a beautiful work table into the design.
Take your time to get a truly original, customized, timeless interior that will stay relevant for decades.
Don't forget that the ceiling can become a design feature!
Infusing Natural Organic Luxe into a Laundry Room
Brooke Giannetti is a wonderful model of how to calm all of the senses with beautifully intentional designed interiors.
In her laundry room at Patina Farm, she incorporated so many wonderful natural materials and even collections including a vintage herbarium and antique French baskets for storage.
In a world of laundry rooms sporting signs that say "laundry" or "bless this mess," I'm so glad there are creatives who display art and treasures they can enjoy daily.
Luxuriously Doubling Your Washer & Dryer's Capacity
Do you have to be a parent of more than three children to treat yourself to the luxury of washer/dryer twins?
And how to house them? Side by side for laundromat chic or with a bridge?
The symmetry we see in both of those options above is something to behold!
BTW…do you also have a laundry room/mudroom board on Pinterest? Find helpful inspo and repin pins from mine HERE!
Butler Pantry & Prep Kitchen Flex Space
If your laundry room is adjacent to the kitchen, it often makes sense to incorporate pantry storage and/or kitchen prep space.
What a design victory when the pantry/laundry feels like a breezy getaway and not a darkened closet!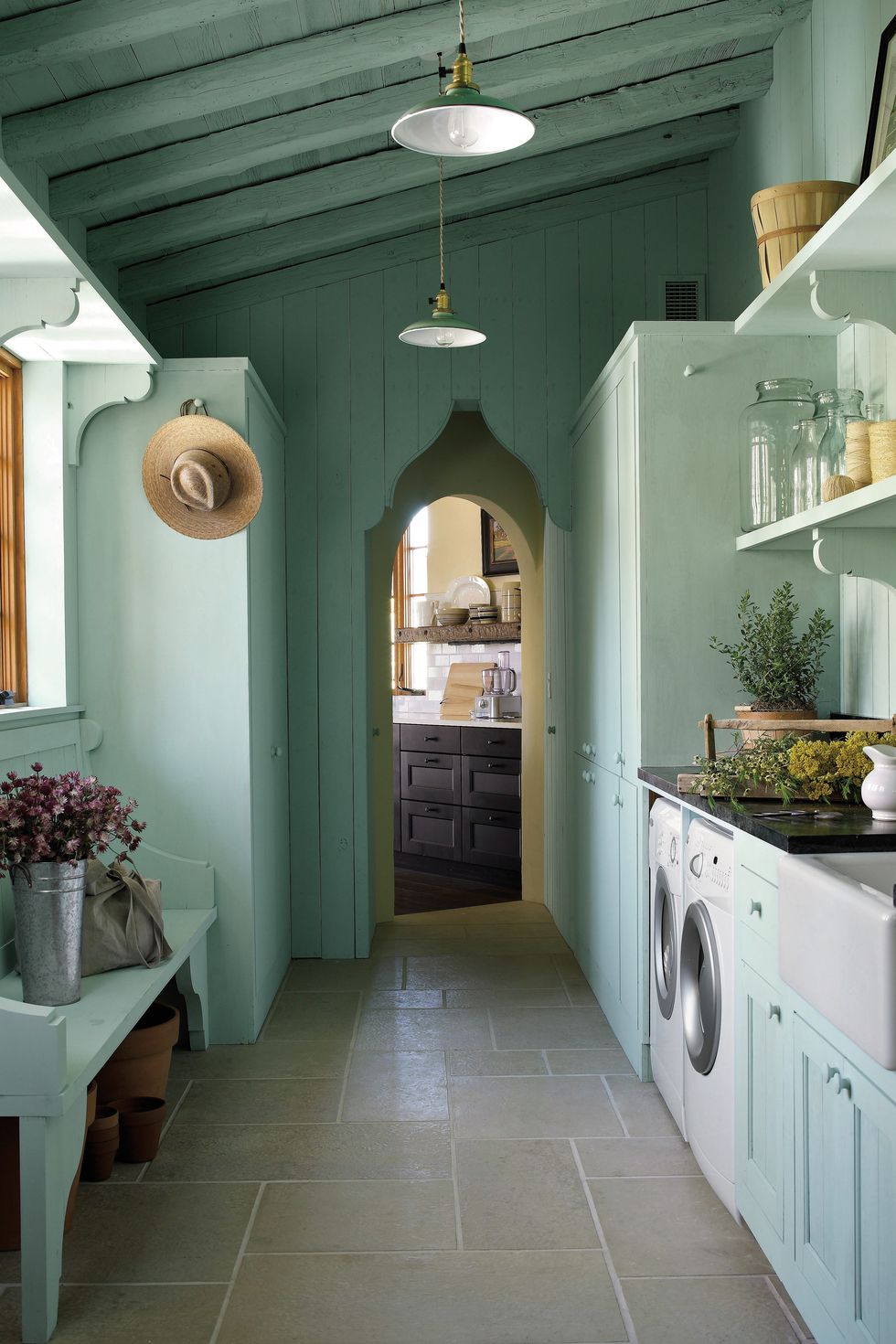 Oh that beautiful aqua green!
Inject Personality & Create Mood With a New Paint Color
Very often, the shell of the space we're working with lacks character, architecture, and personality. Paint can be a great place to start and can be an instant gamechanger.
Here's a gorgeous, natural, smoky green for walls:
or cabinetry
or even a wood frame on a mirror or art.
Home Office Hybrid in the Laundry
What's great about countertop surfaces in a laundry room is how they can multitask as folding areas, study space, and even a home office.
Second floor laundry rooms are often closet-sized, but if you can carve out a larger space, it can function as a craft room or home office. Home builders seem to often design second floors with open loft space or a bonus room over the garage. However, these spaces often lack purpose and become wasted space.
Washer and dryer hookups in those spaces hold potential to transform them!
Creative Use of Architectural Interest in a Laundry
If you're not fortunate enough to have original architectural interest in the laundry…
you can cleverly add some. I love how this lattice-covered mirror over the sink feels like a vintage window!
Even in this small space below, you can see how a mix of textures, colors, and materials combine in a winning way. It feels like anything but a boring white box.
I independently selected products in this post—if you buy from one of my links, I may earn a commission.
Laundry Room Resources to Consider
Here's a sink I have been crushing on for too many years to count. I think I first saw it in Annie Brahler's (Eurotrash) unforgettable Illinois country kitchen:
These French inspired baskets are a bestseller on this blog, and they would be right at home in any number of rooms for a wide range of storage options:
Another country style farm sink that would be beautiful in a laundry room even if the rest of your interiors are not Old World or country inspired:
I love it when something simple looks smashing:
Don't you love a beadboard drying rack?
I hope these ideas set you up for design success, friends!
I independently selected products in this post—if you buy from one of my links, I may earn a commission.
Peace to you right where you are.
-michele
Thanks for shopping RIGHT HERE to keep decor inspiration flowing on Hello Lovely!
Hello Lovely is a participant in the Amazon Services LLC Associates Program, an affiliate advertising program designed to provide a means for sites to earn fees by linking to Amazon.com and affiliated sites.