Finally a little corner of the house renovation that is getting prettier! We have been so busy reimagining this kitchen, and we're getting very close to finishing it. What a blessing to partner with Nantucket Sinks for this beautiful 30″ apron front fireclay farm sink. It arrived in perfect condition months ago, and we knew it was instrumental for creating the serene mood and classic style we're going for! Let's take a peek, and don't miss our gorgeous hydrangea hedge visible from the kitchen window.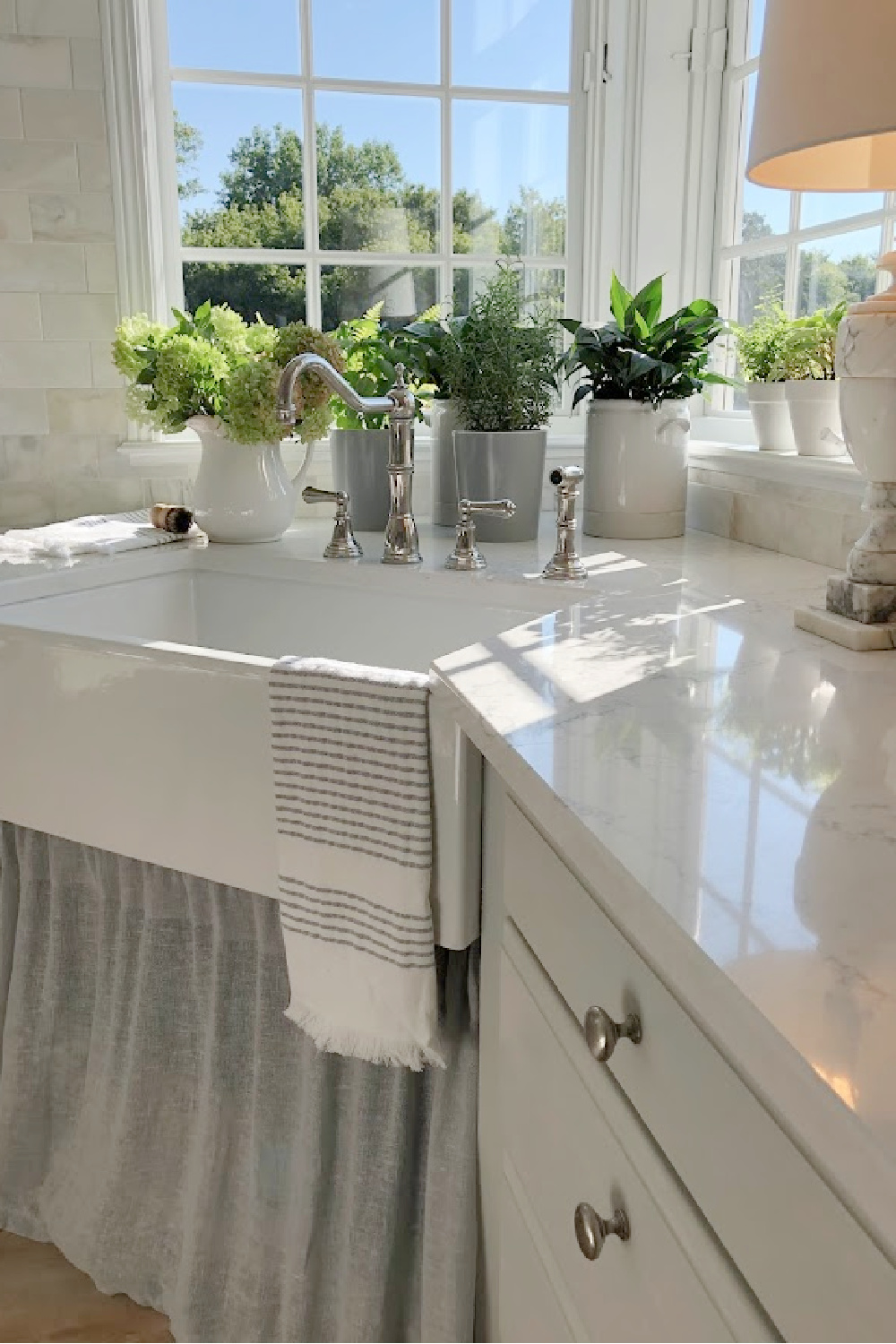 Nantucket Sinks provided the sink for our project, but all honest opinions expressed here are my own.
Our New Hyannis Farm Sink from Nantucket Sinks
This 30″ farm sink is called Hyannis-30 and was crafted the old fashioned way in Italy. (Learn more about farm sinks in this story.)
Even though I had experience with polished white apron front fireclay sinks and was sold on the style, as a DIYer, I was nervous about installing it in this particular kitchen for a couple of reasons.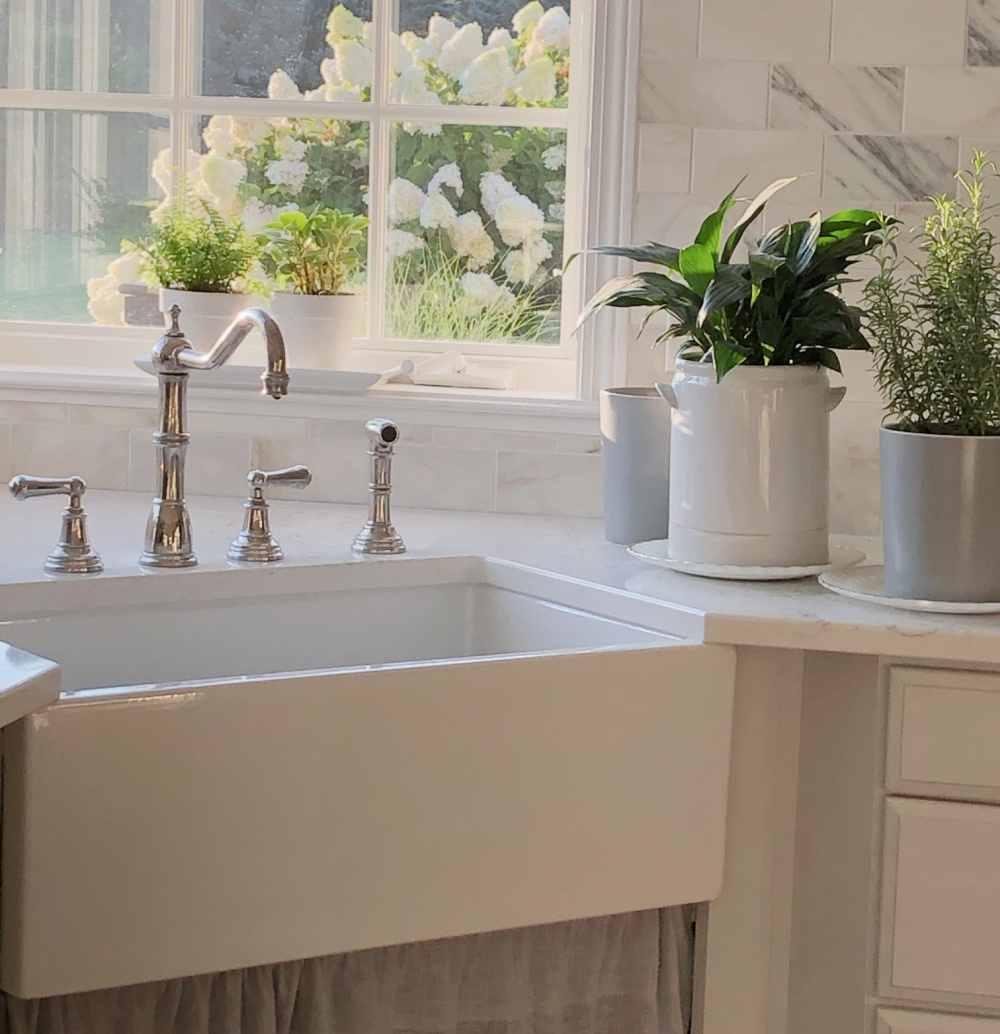 In our last kitchen, you may remember everything was gutted, and the sink was professionally installed in new custom cabinetry.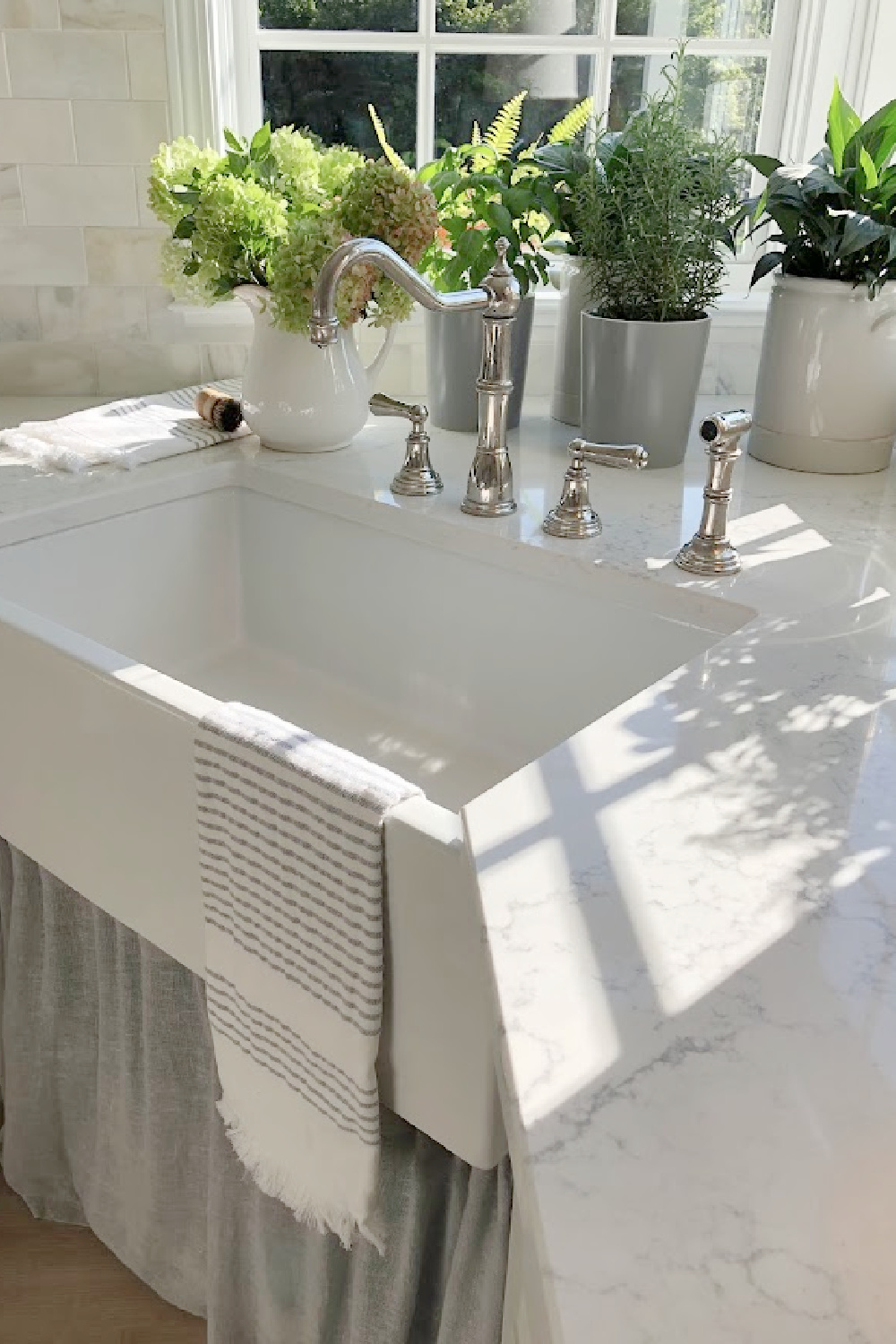 But for this project, we re-purposed existing solid wood cabinets, including the sink base. you see here: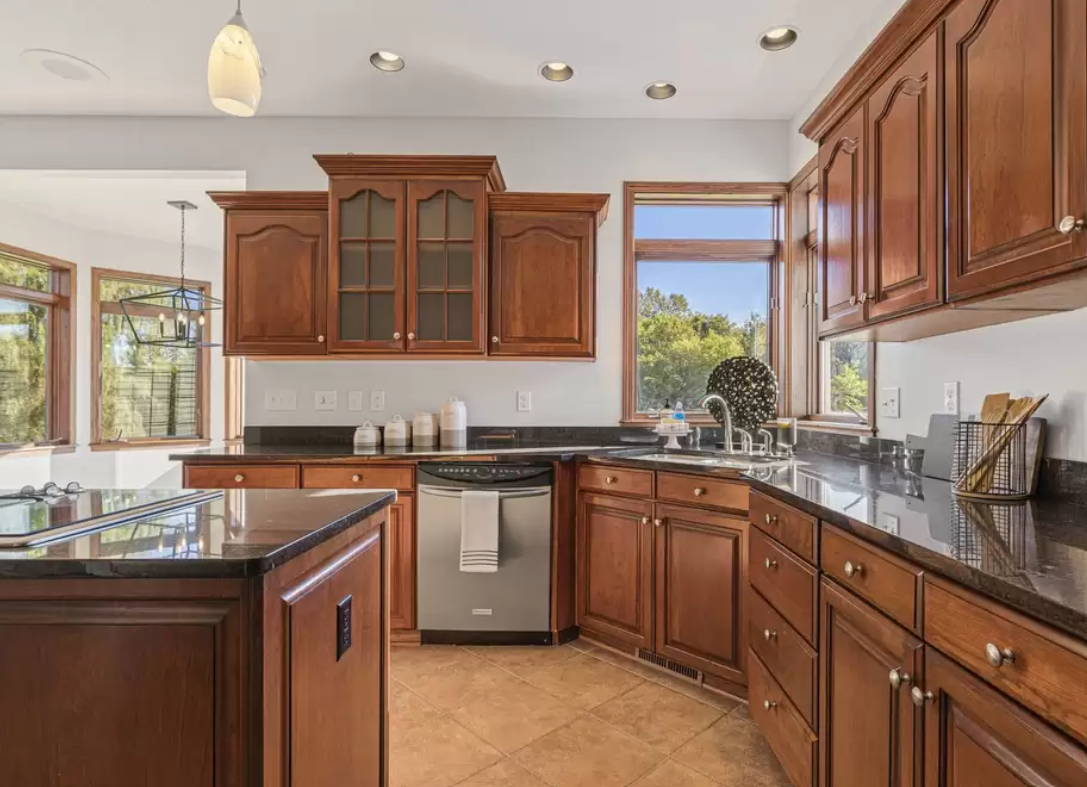 Is it Possible to Add a Farm Sink to Existing Cabinetry?
Turns out, we only repurposed a little bit of the cabinet…most of it was subtracted to accommodate the beautiful sink and a skirted front in lieu of cabinet doors.
Here is how it looked upon installation and before we built finishing pieces and painted it: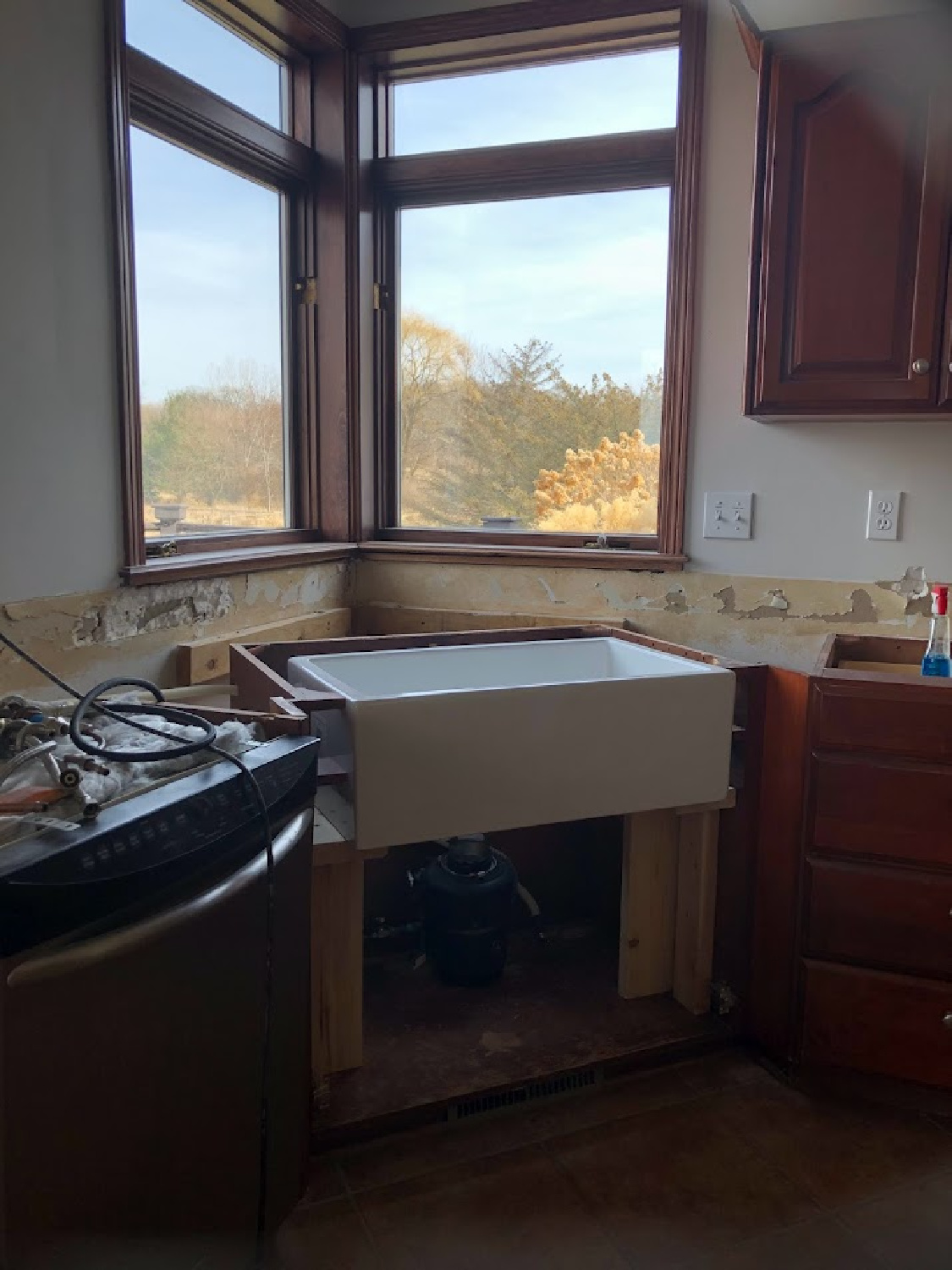 It's fun to see the change of color out the kitchen window from that stage above to how it looks today: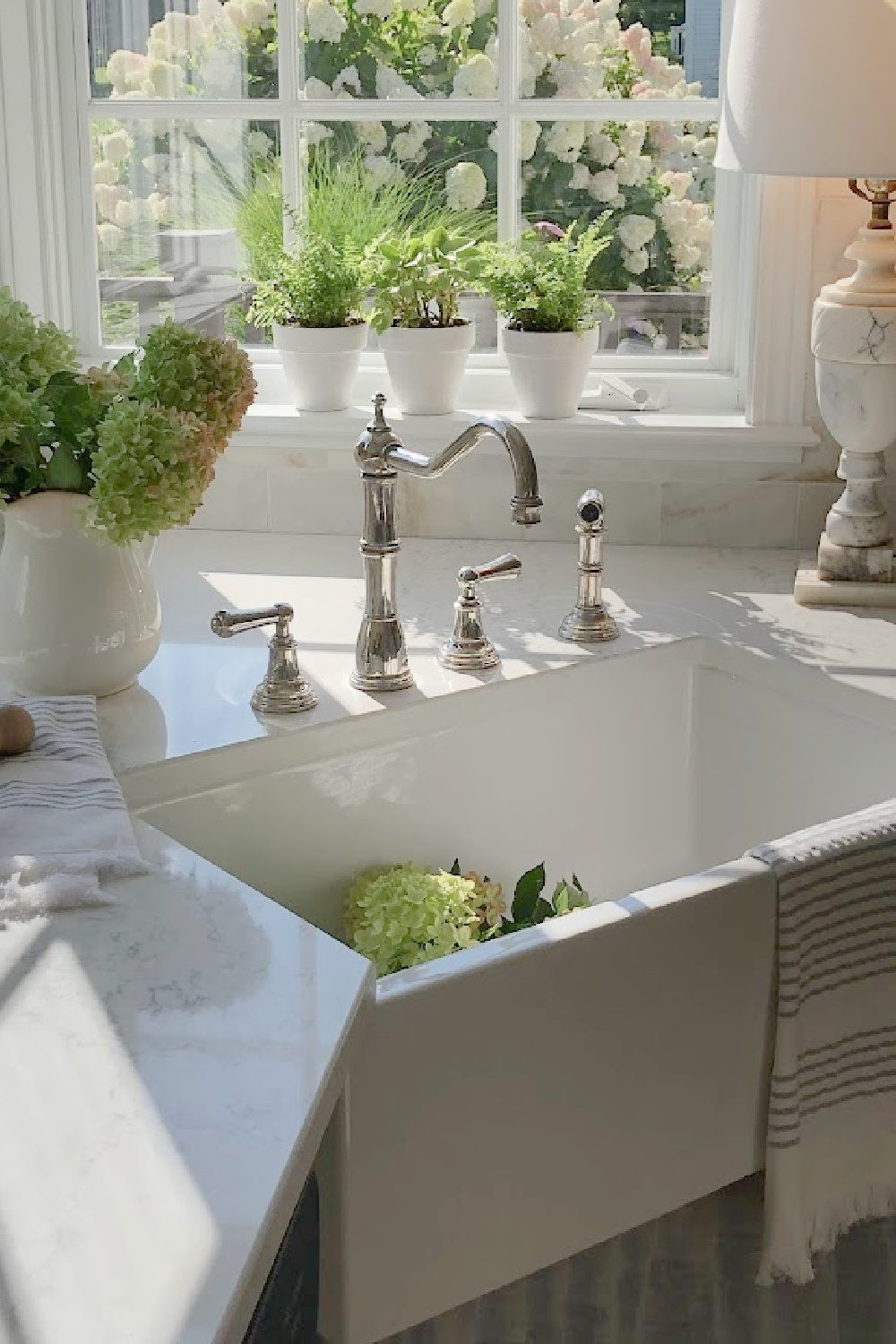 I love using this sink so much, and I'm not one to baby it.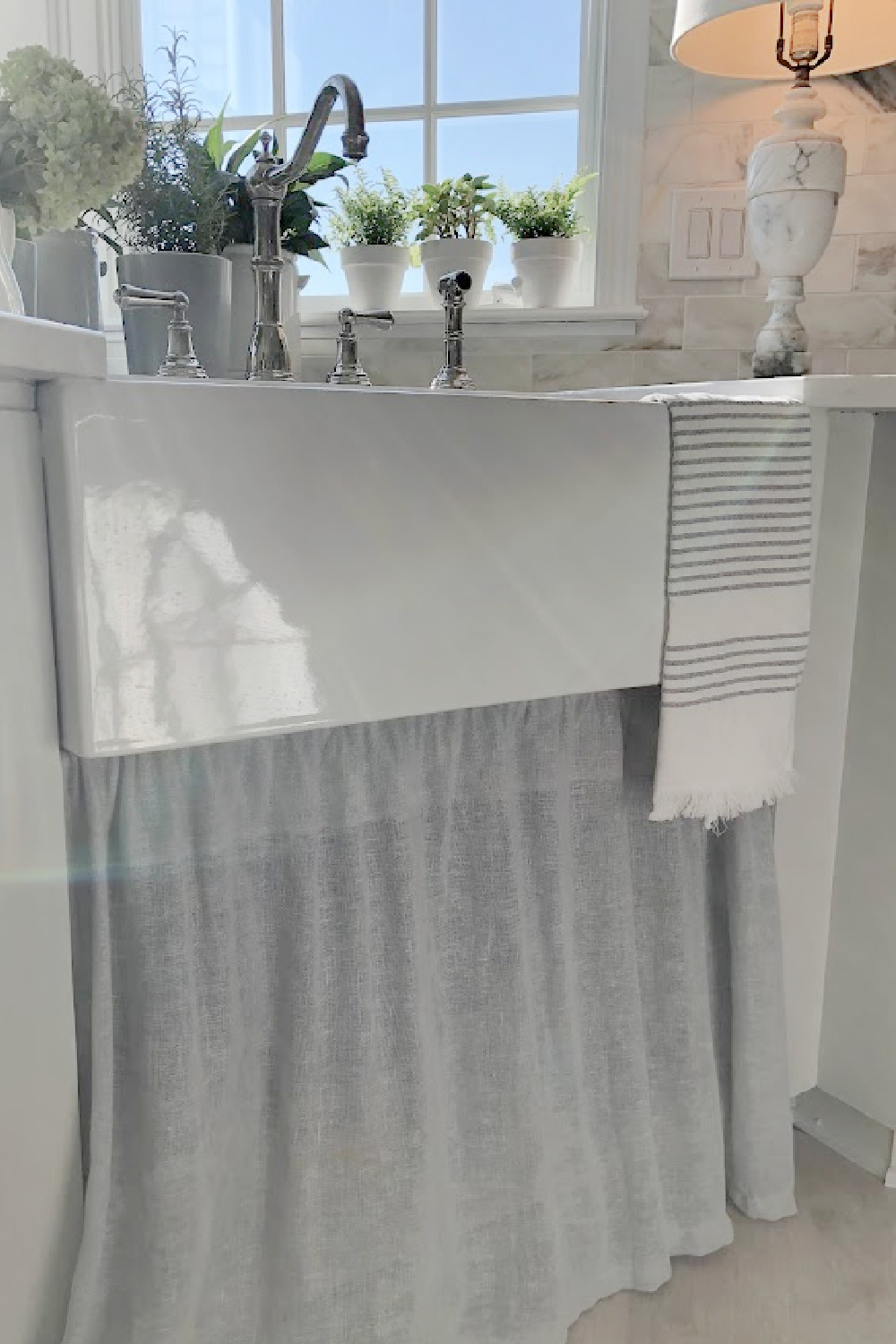 I mean, are you kidding me? Do you have any idea how many messes get cleaned up here with renovation projects happening in every single room of the house?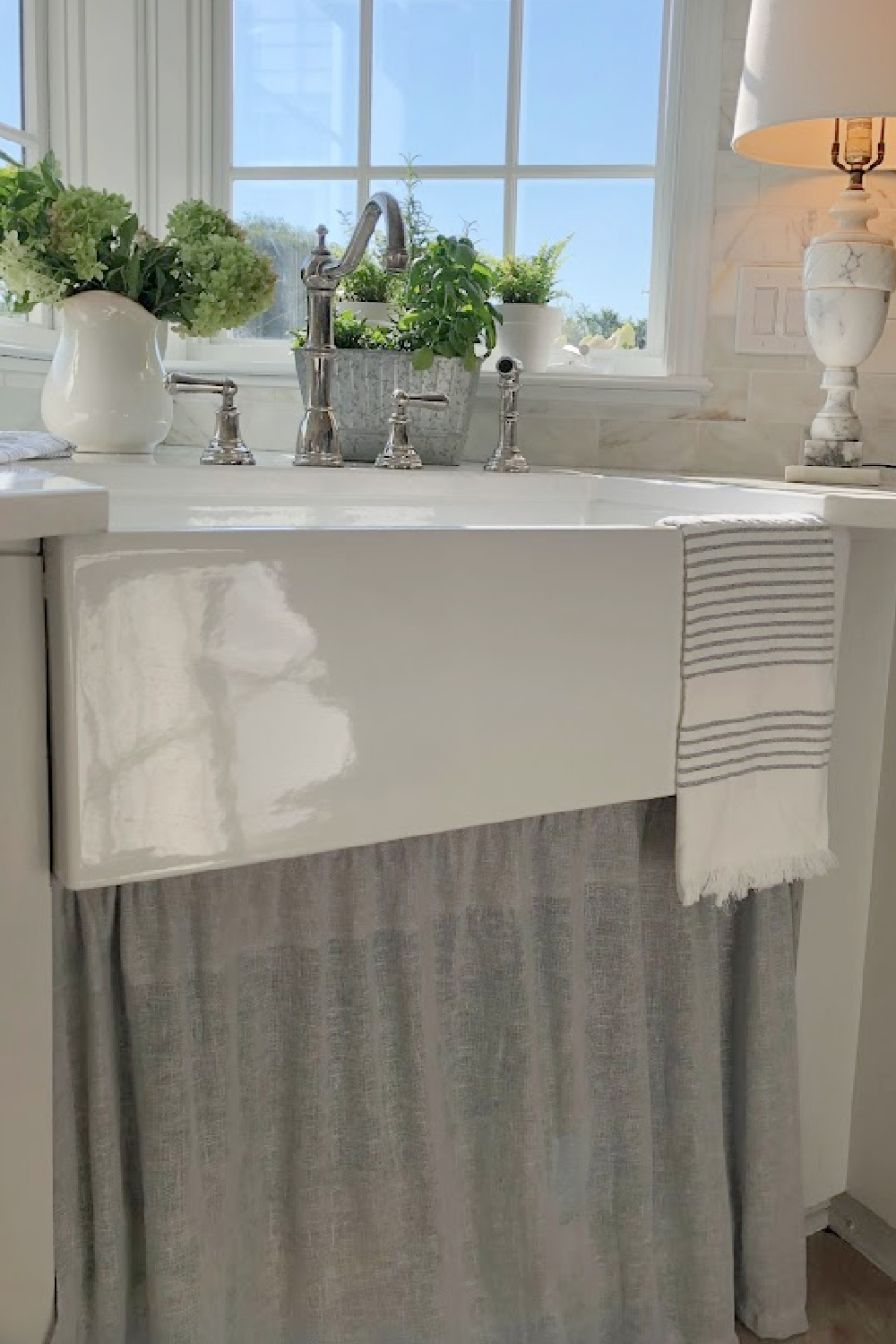 Skirted Farm Sink Base
The linen skirt is one my husband sewed from a beautiful semi-sheer Belgian linen full size curtain panel. The color is this gorgeous silvery grey-blue mist in the same spirit as the cabinet paint color. For now the curtain skirt is on a tension rod. Eventually, I'll buy a proper cafe rod, but it is secure and functions well in the mean time.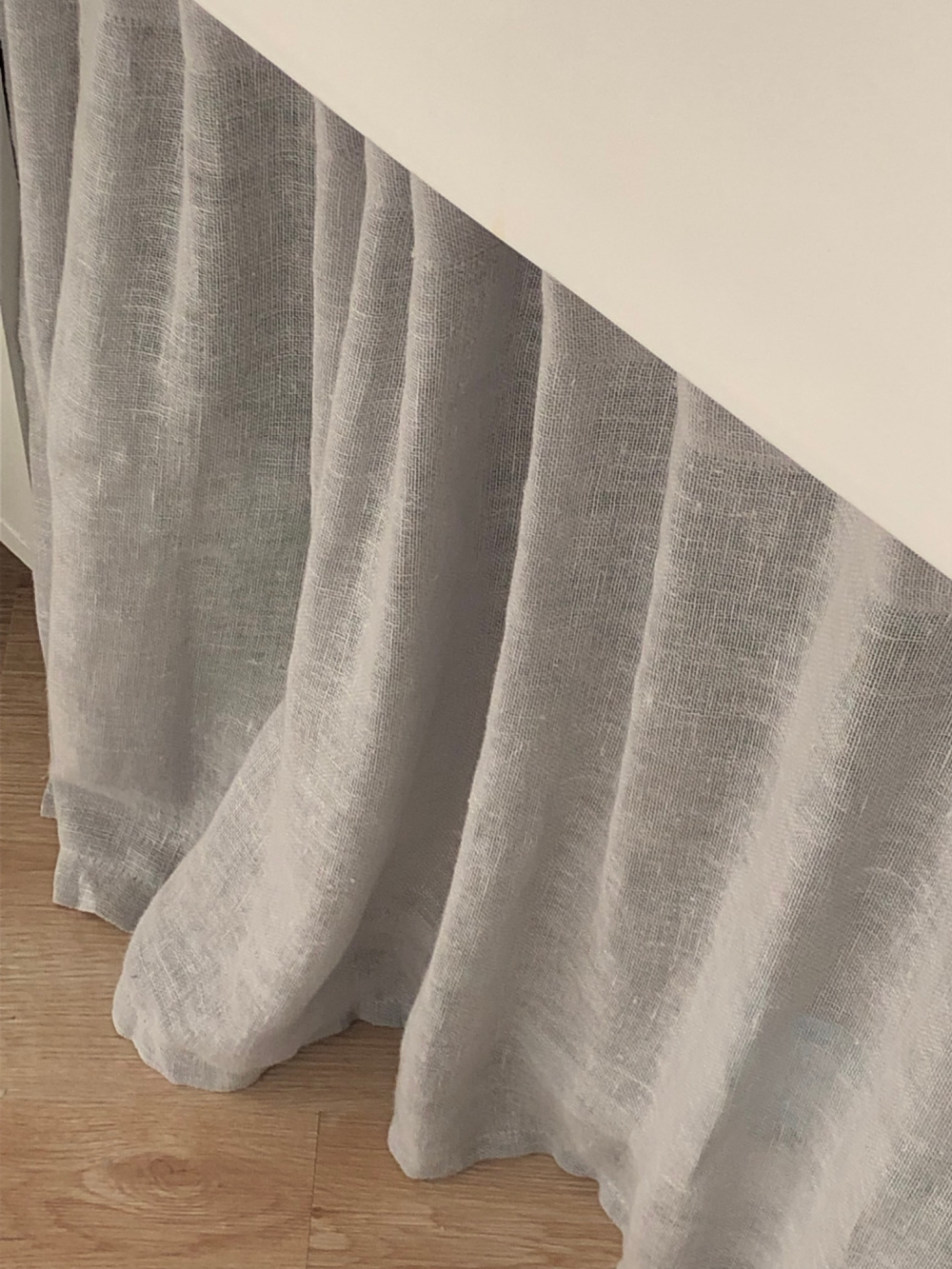 There are several reasons I opted for a skirt for this farm sink base.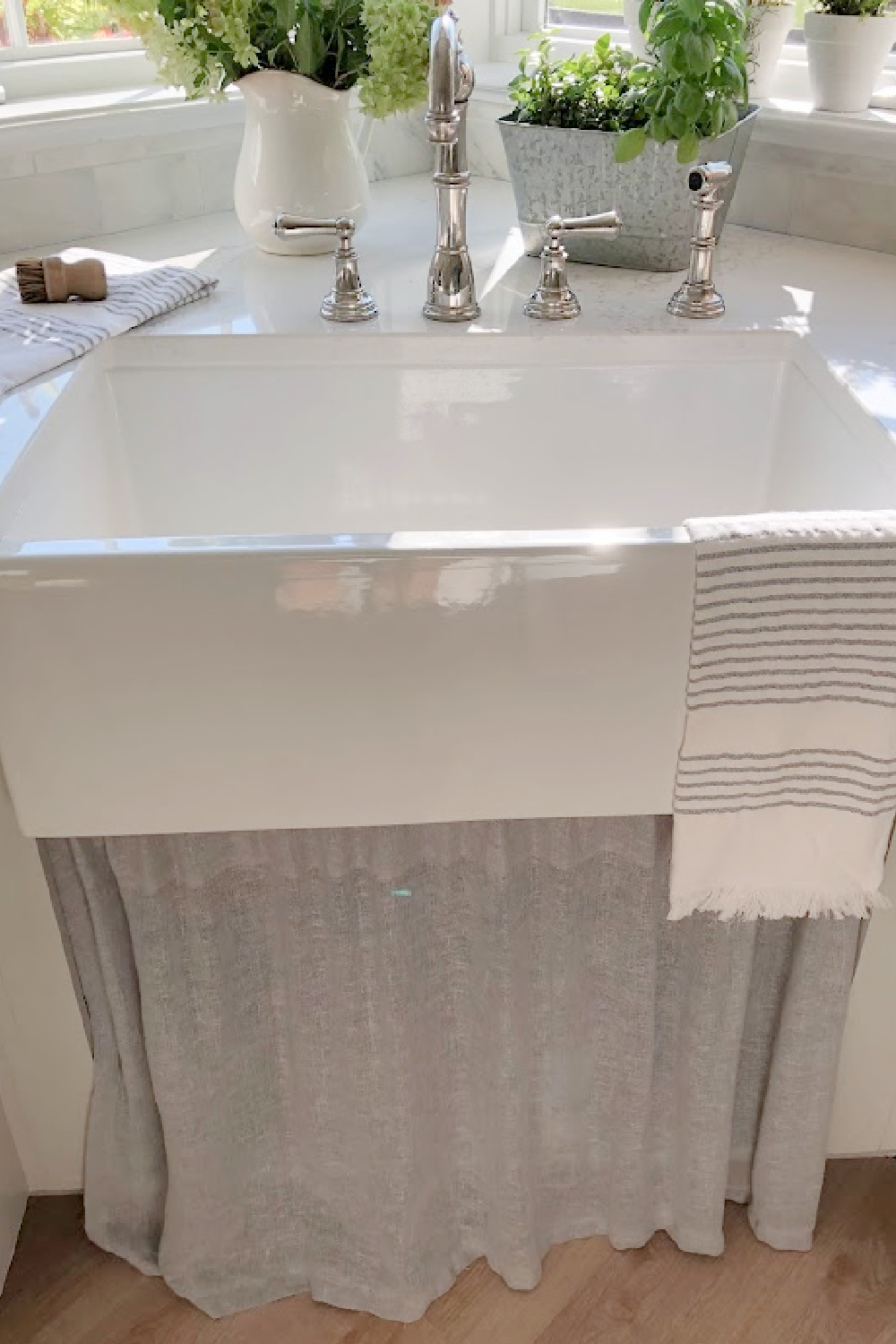 First, the existing cabinet doors were too tall for base with the apron front style sink. Second, we wanted a softened, more feminine look for this kitchen so it made sense to introduce fabric. Third, it made sense to create a custom skirt for the Hyannis-30 sink because it adds instant age!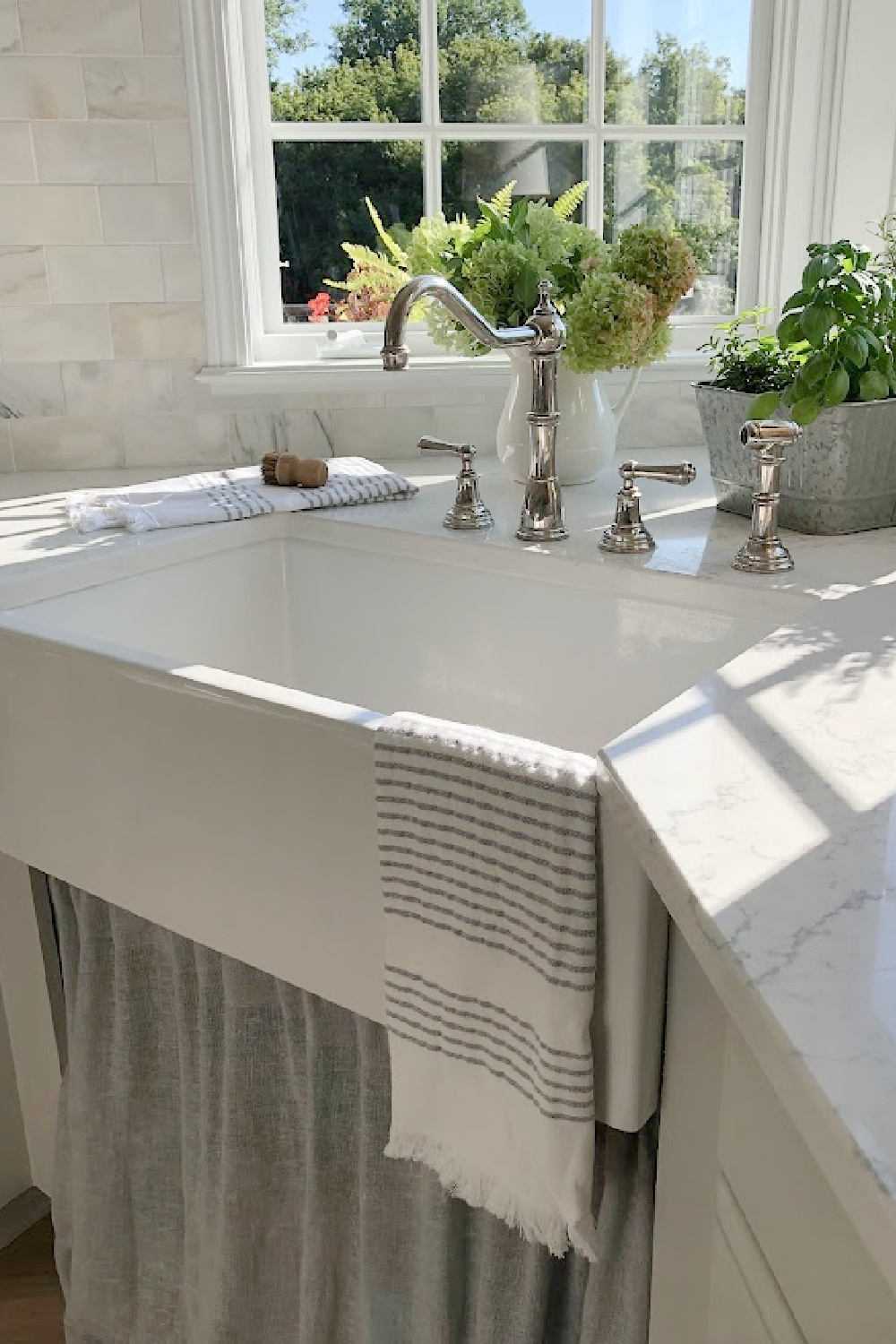 Aging this kitchen is definitely a step in the right direction! Anything we can do in this entire house project that makes it feel more 1920s rather than 1990s is the right choice!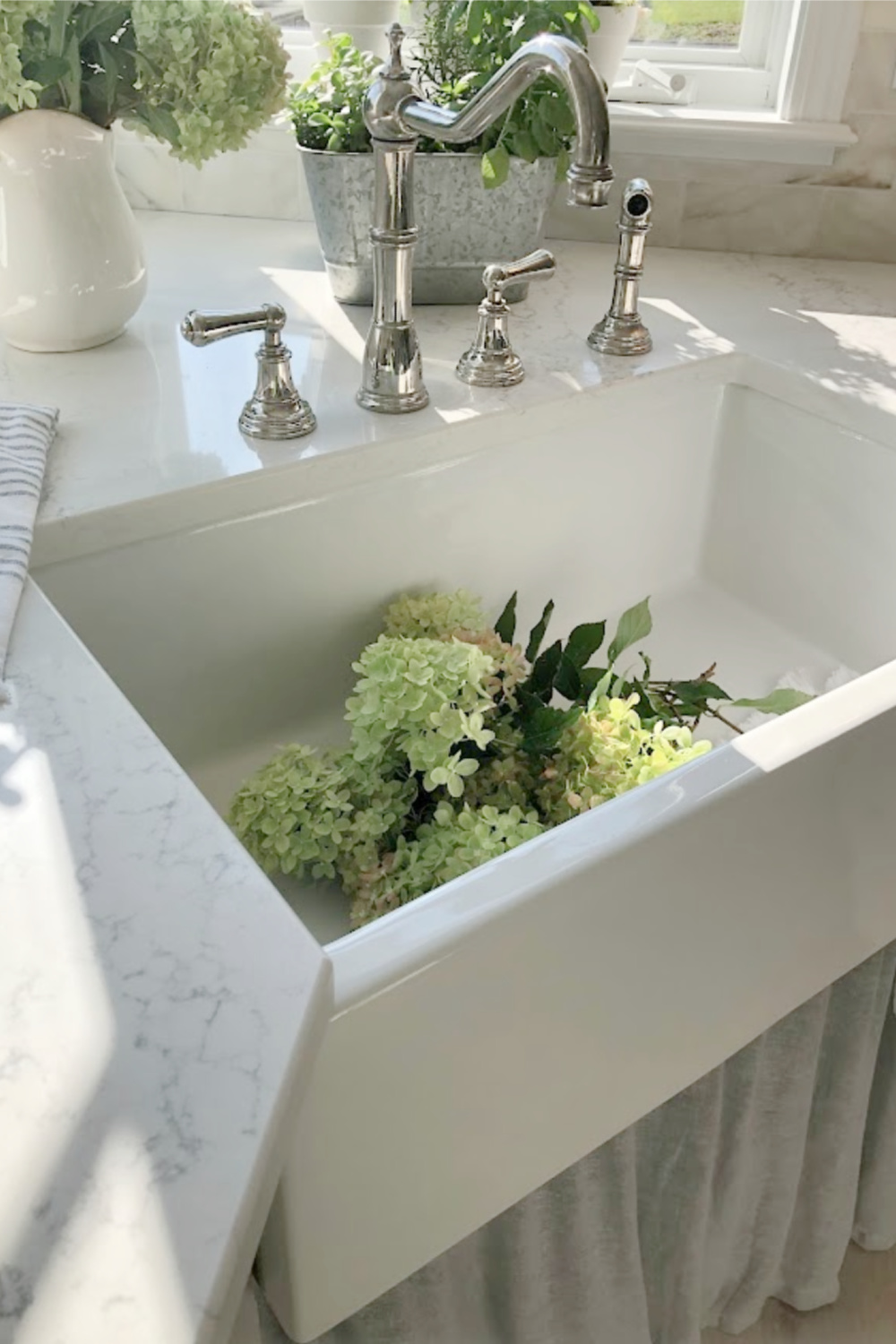 How Does a Farm Sink Create a Timeless Mood?
That's one of my favorite aspects of fireclay farm sinks: they create instant nostalgia factor in the kitchen.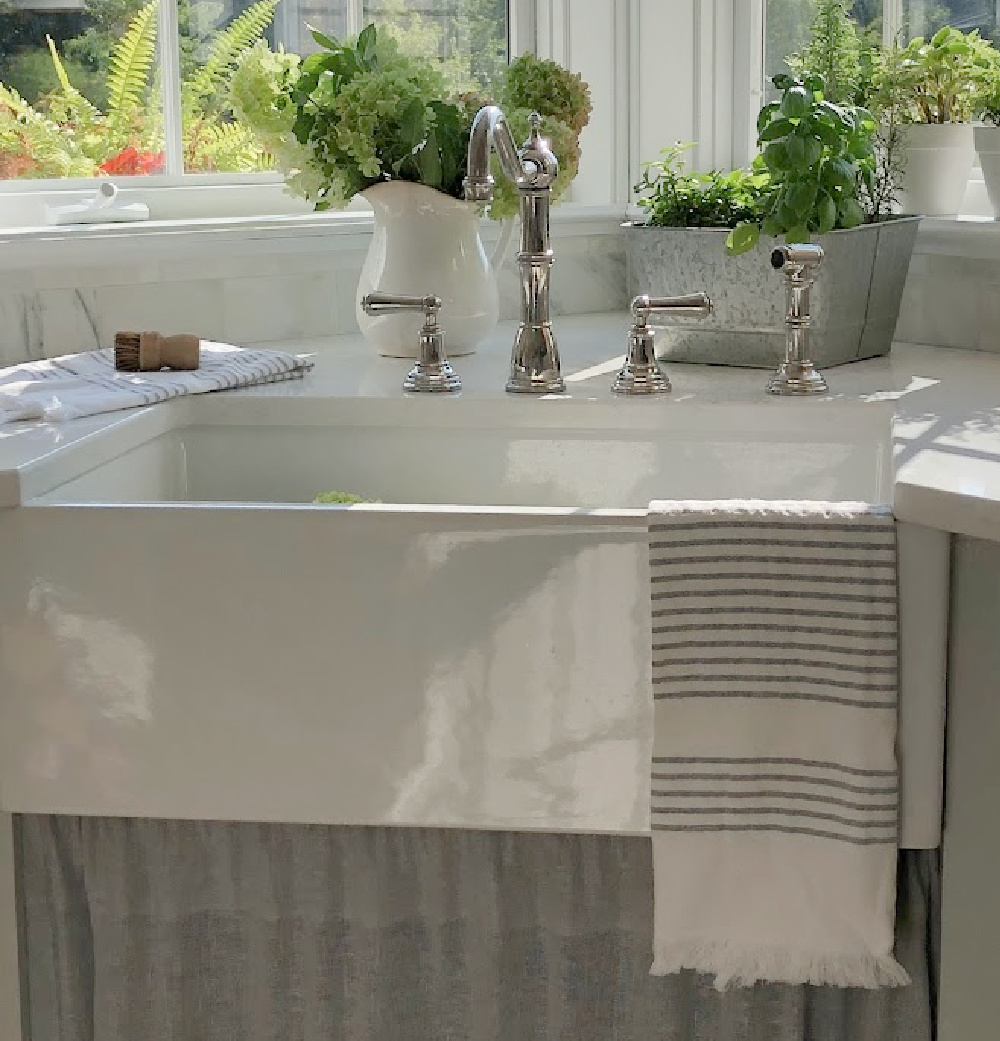 They bring to mind: a slower pace of simple living, an era when dishes were washed only by hand, and a multi-tasking fixture that can welcome babies, small dogs, and large pots.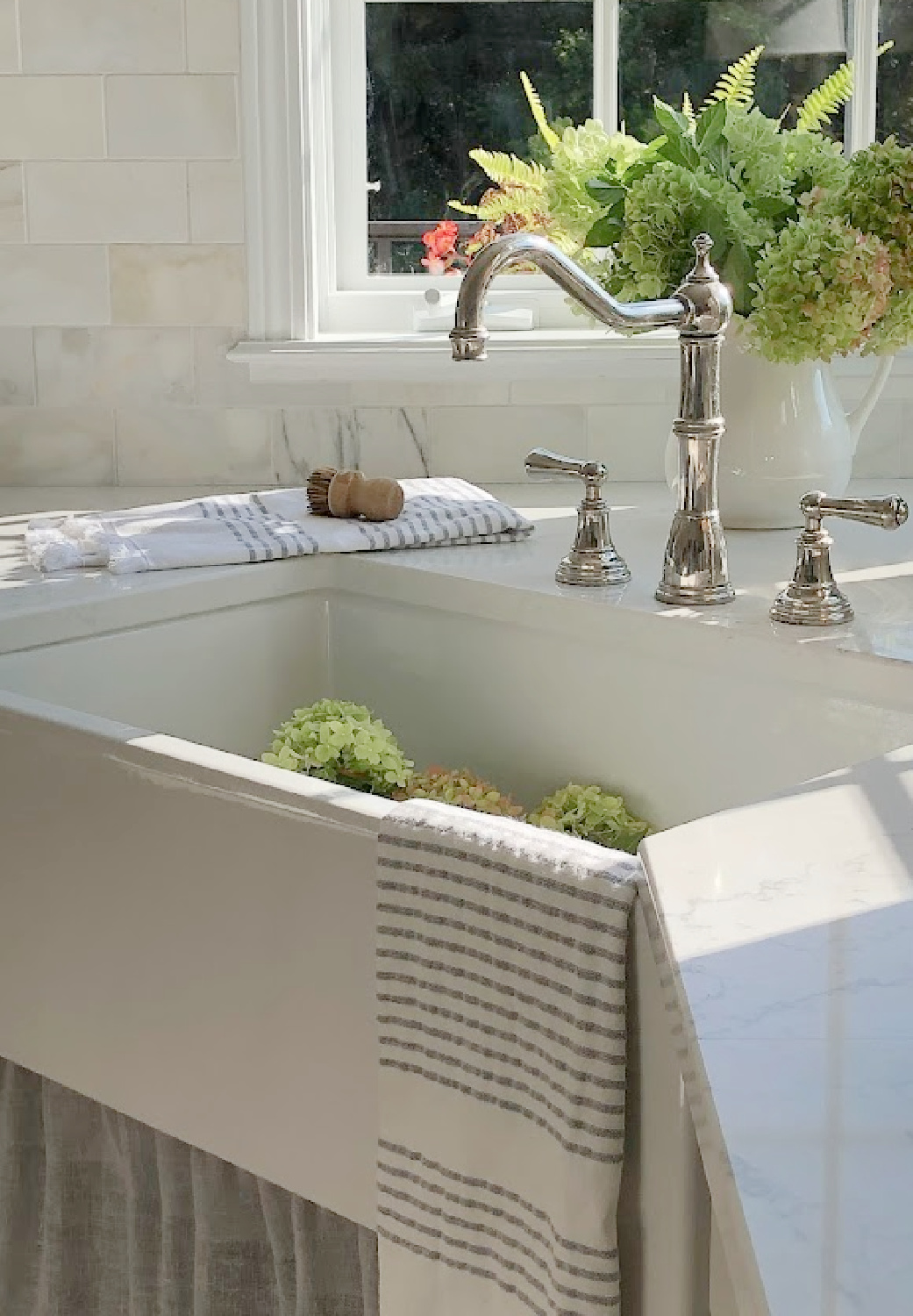 So if you are considering a farm sink and will be retrofitting it as we did, I say go for it!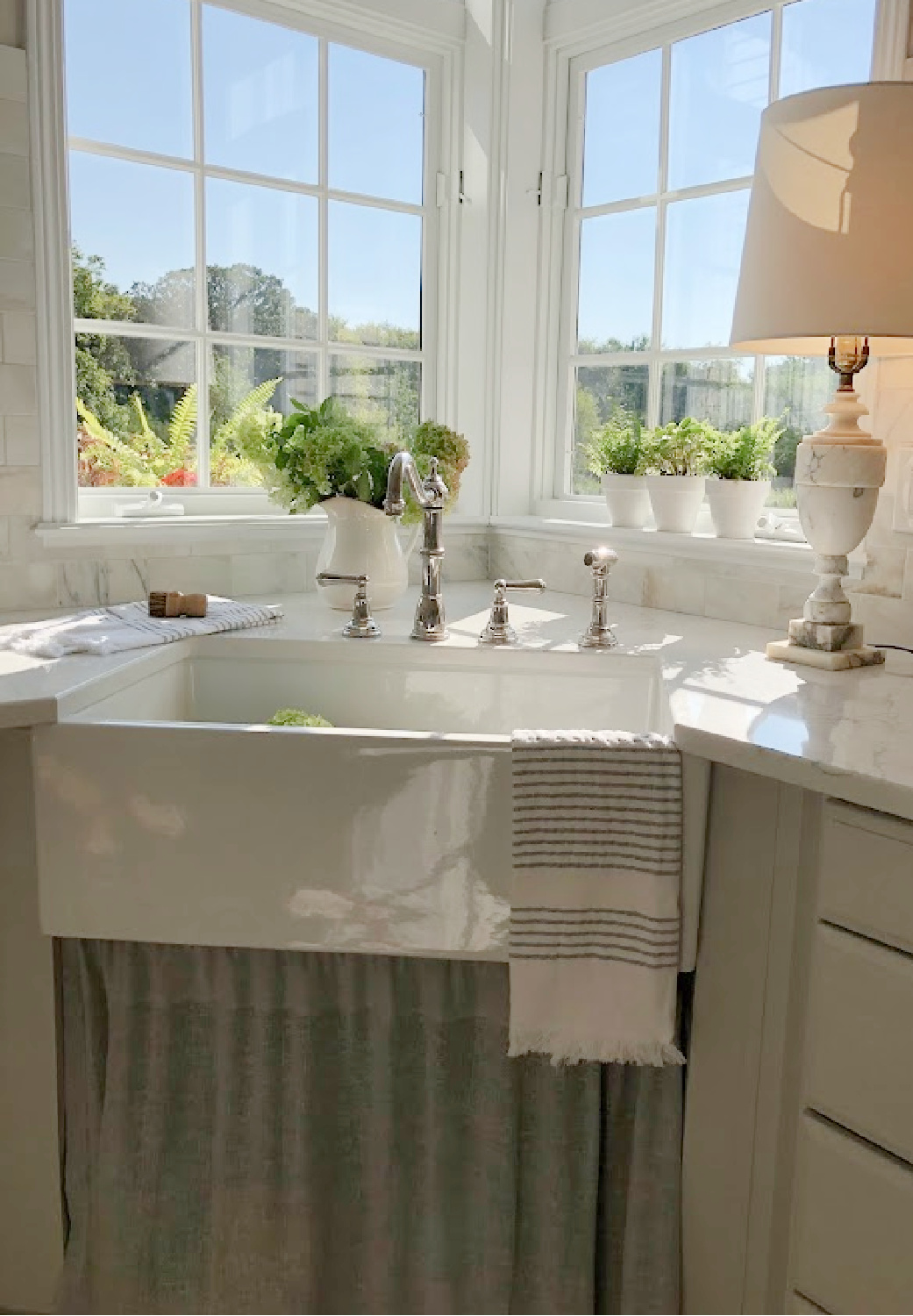 Because even though I was nervous about how it would all come together, there was no reason at all to sweat it!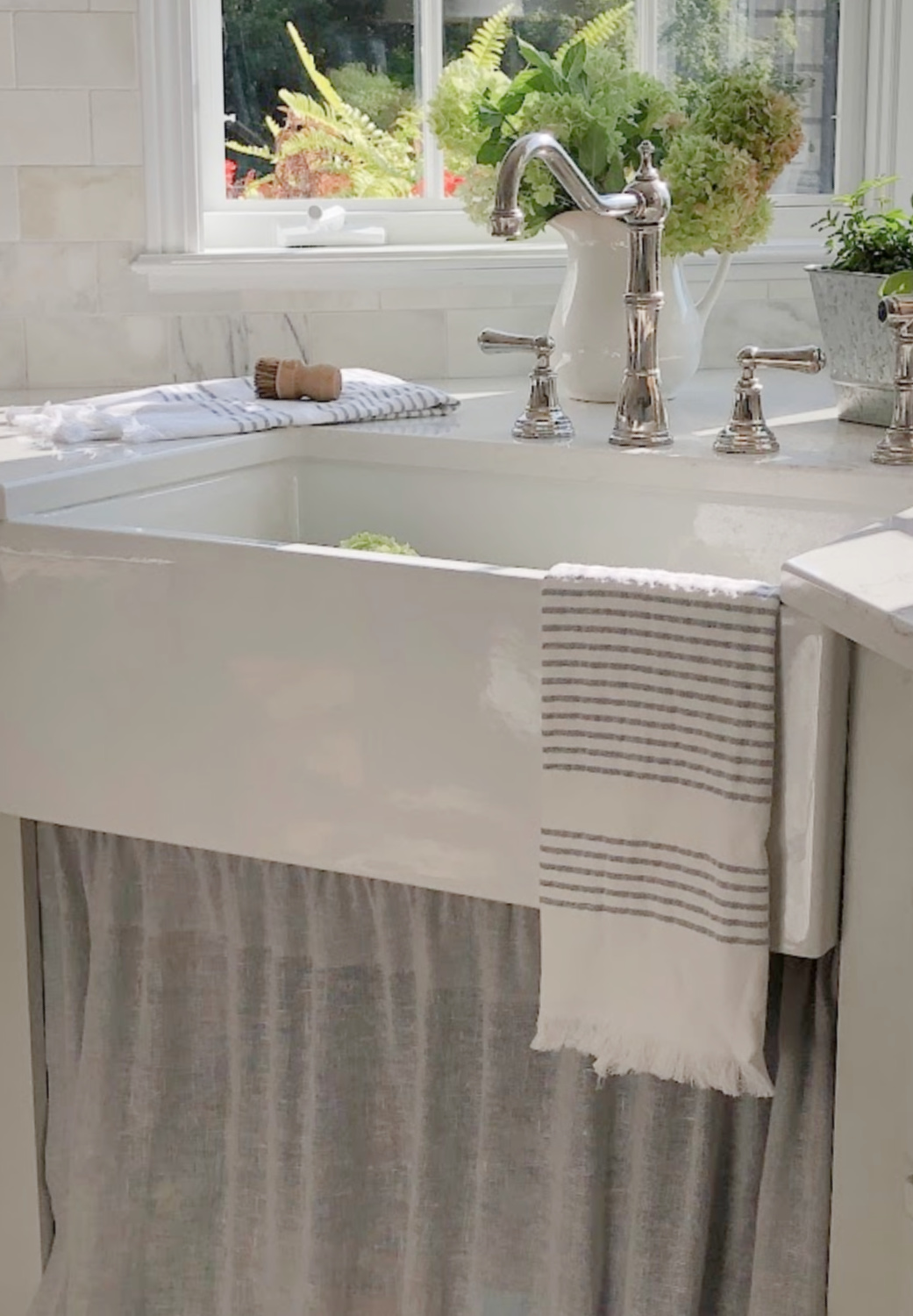 Considering an Apron Front Farm Sink?
Buy this exact sink HERE.
By the way, did you notice how I mentioned earlier how this sink arrived in perfect condition?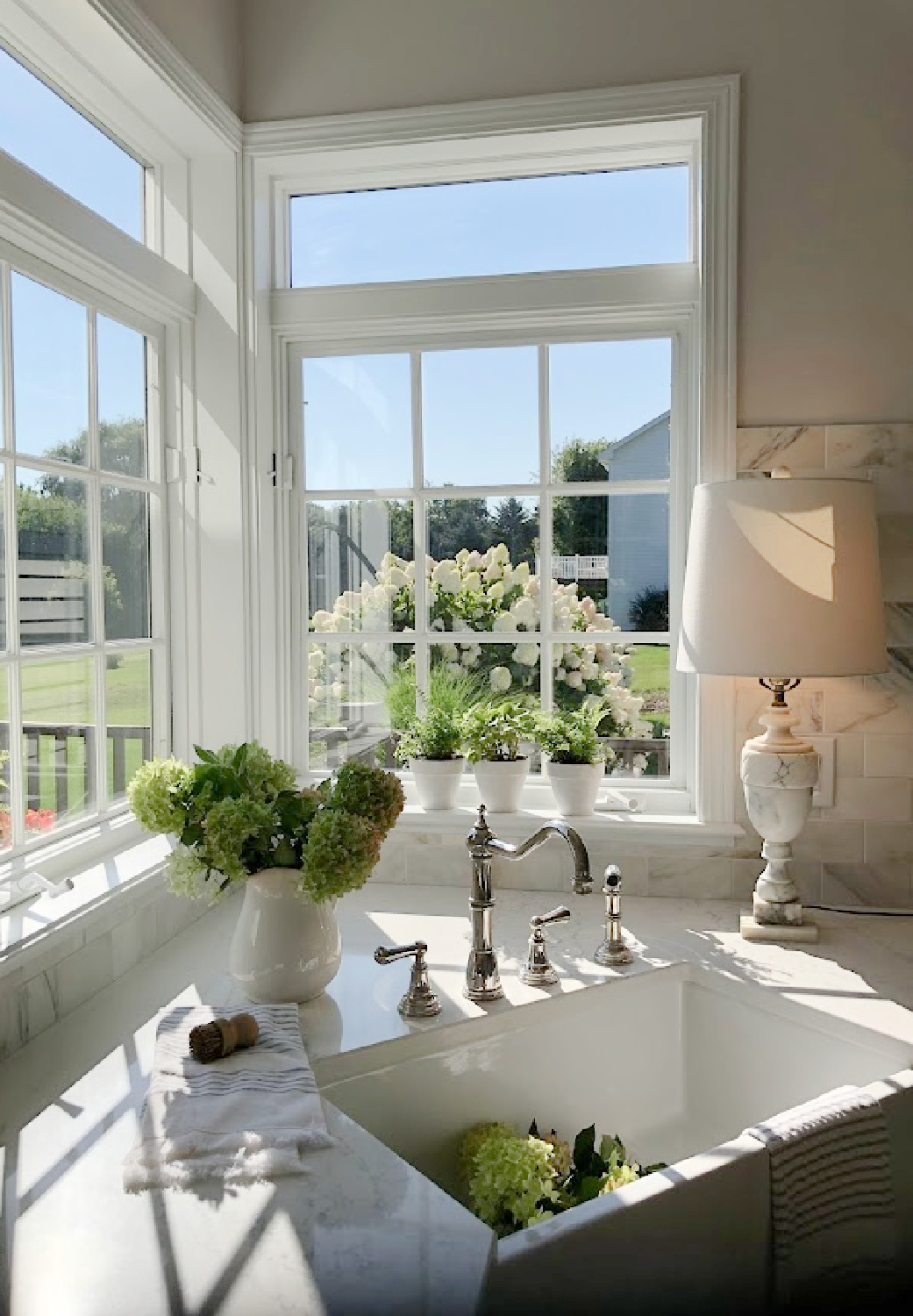 That's because you have to remember these sinks are handcrafted from clay, and in our prior kitchen, I bought a farm sink from another brand which did NOT arrive in perfect condition. In fact, I didn't even remove it from the box to inspect it until install day.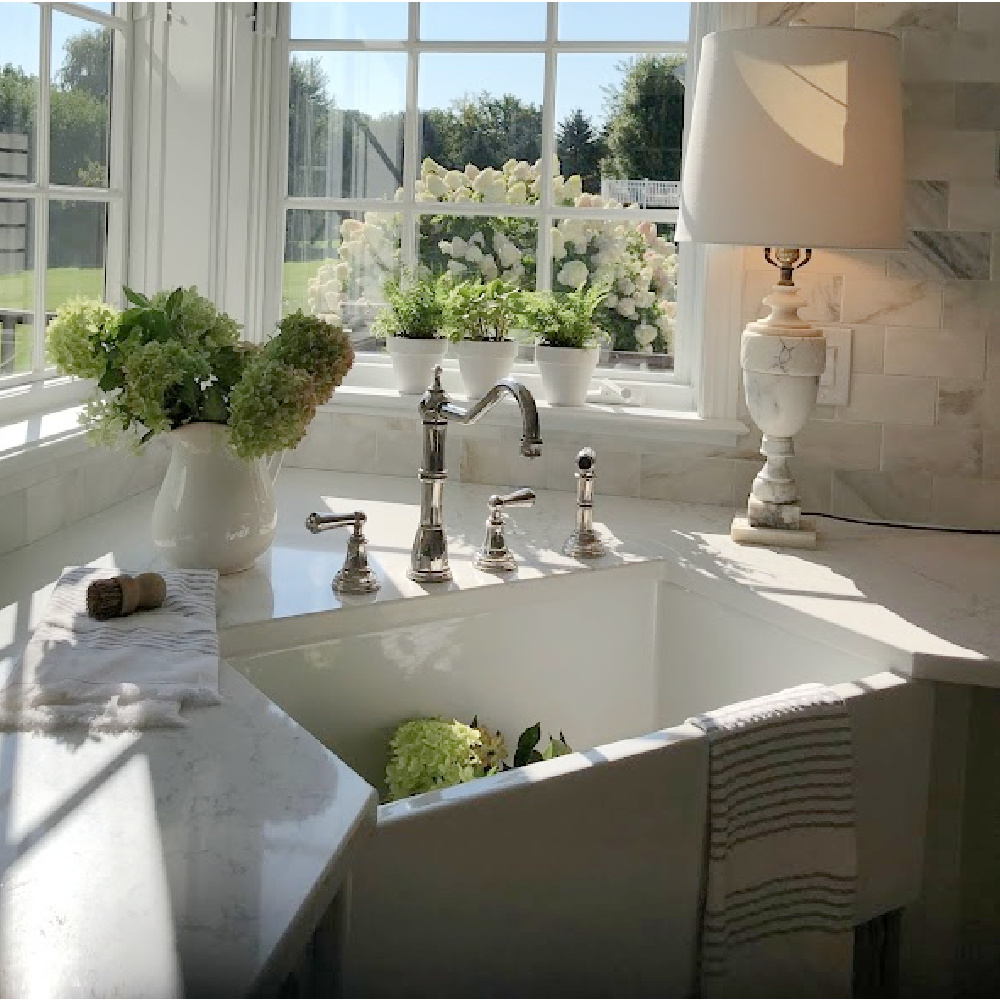 That other sink was misshapen and could not be installed, slowing the whole renovation down since we couldn't get a countertop measure. It was even more frustrating that I was required to ship the defective HEAVY sink back to the manufacturer myself! So definitely inspect your sink thoroughly when it is delivered.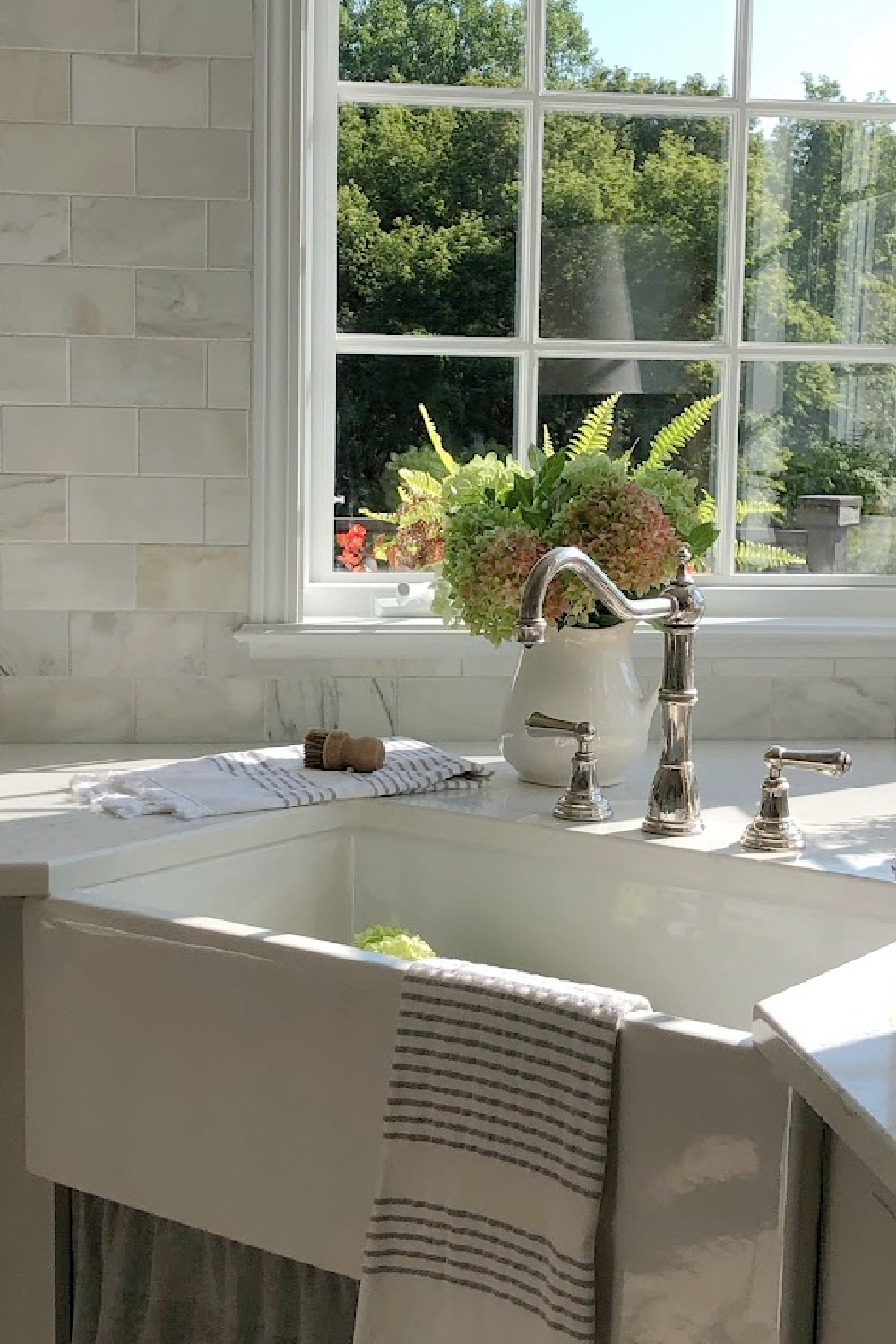 What a better experience we had with our Nantucket Sinks farm sink!!!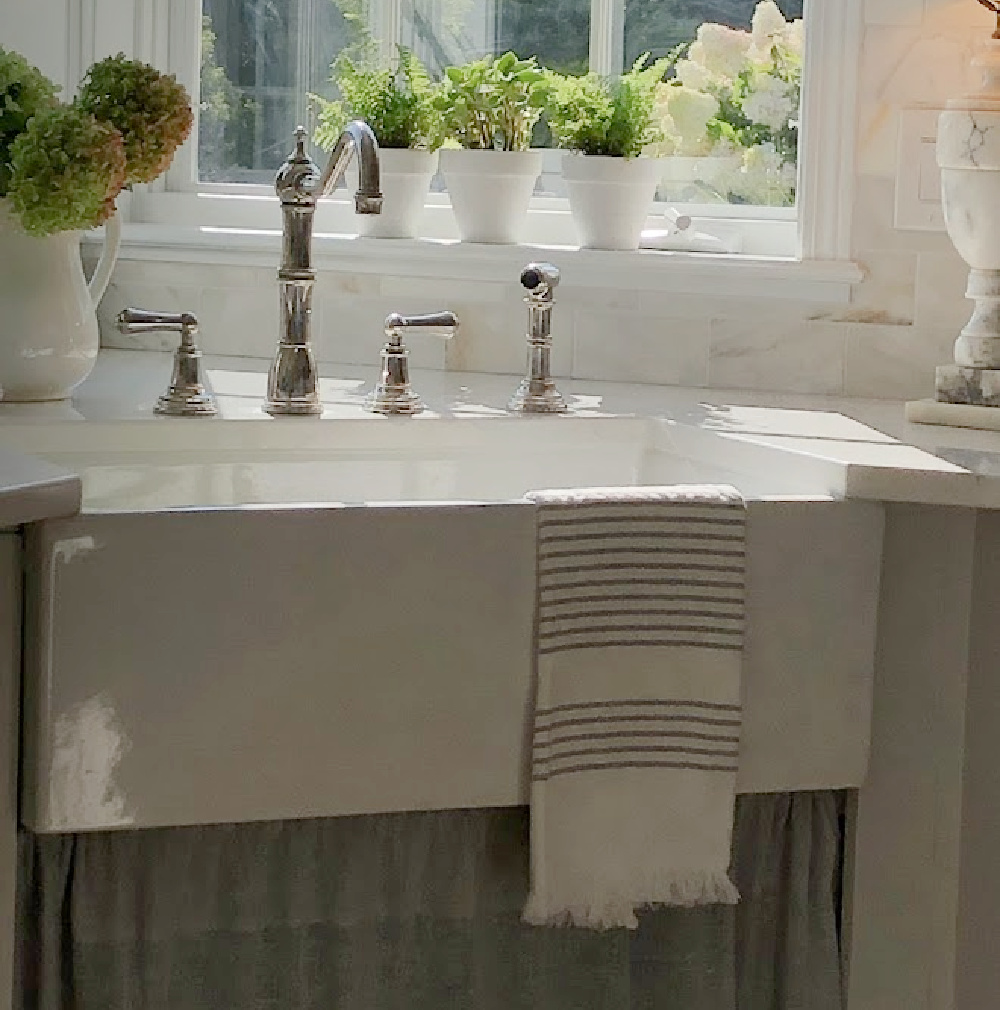 Did you notice the Calacatta gold marble tiled backsplash and white quartz too? See more of it in this video. Stay tuned to learn more about those kitchen design details.
Thank you, NANTUCKET SINKS, for offering this gorgeous kitchen sink!
I independently selected products in this post—if you buy from one of my links, I may earn a commission.
Peace to you right where you are.
-michele
Shop for items you already intended to buy on Amazon RIGHT HERE, and also find home decor here to keep decor inspiration flowing on Hello Lovely!
Hello Lovely is a participant in the Amazon Services LLC Associates Program, an affiliate advertising program designed to provide a means for sites to earn fees by linking to Amazon.com and affiliated sites.