Why in the world is it taking so long to share pics and details of all the DIY happening here? I guess full-time jobs, doing all the work yourselves after hours, and not being 40 explains it. When we bought the 30-year old solidly built Georgian style house a year ago, we were grateful for its beautiful condition. The challenge is deciding what stays and what goes in order to make it feel like home and function for our tastes and lifestyle. (Translation: we plan to address every single room.) Progress at Hello Lovely's Renovation shares photos of renovation progress and where we're headed.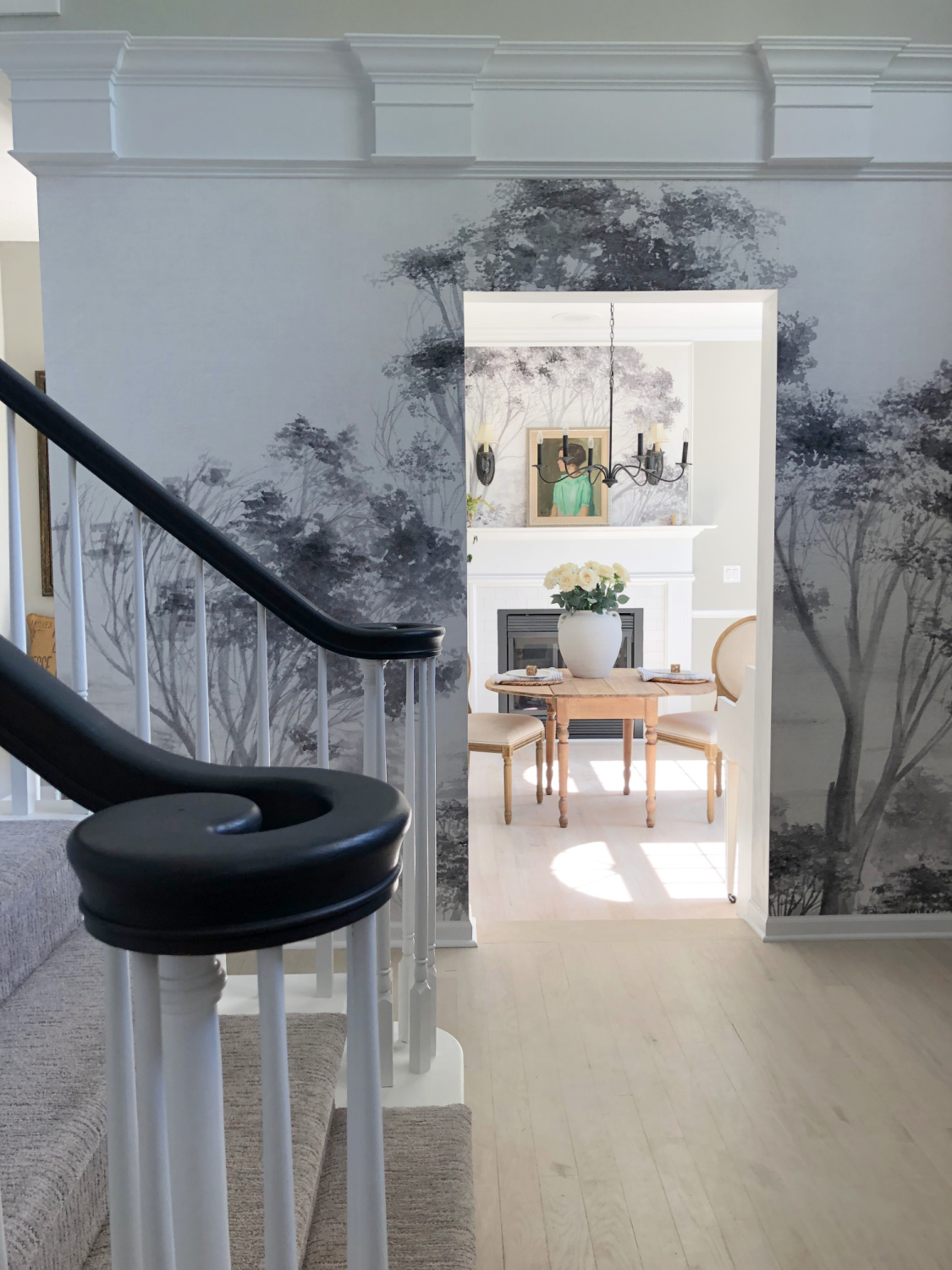 Late Summer Peeks: Renovation Progress
I independently selected products in this post—if you buy from one of my links, I may earn a commission.
Georgian Renovation Update: The Entry
The original oak hardwood floors had a dark cherry stain, and here's where we started before the erasing began: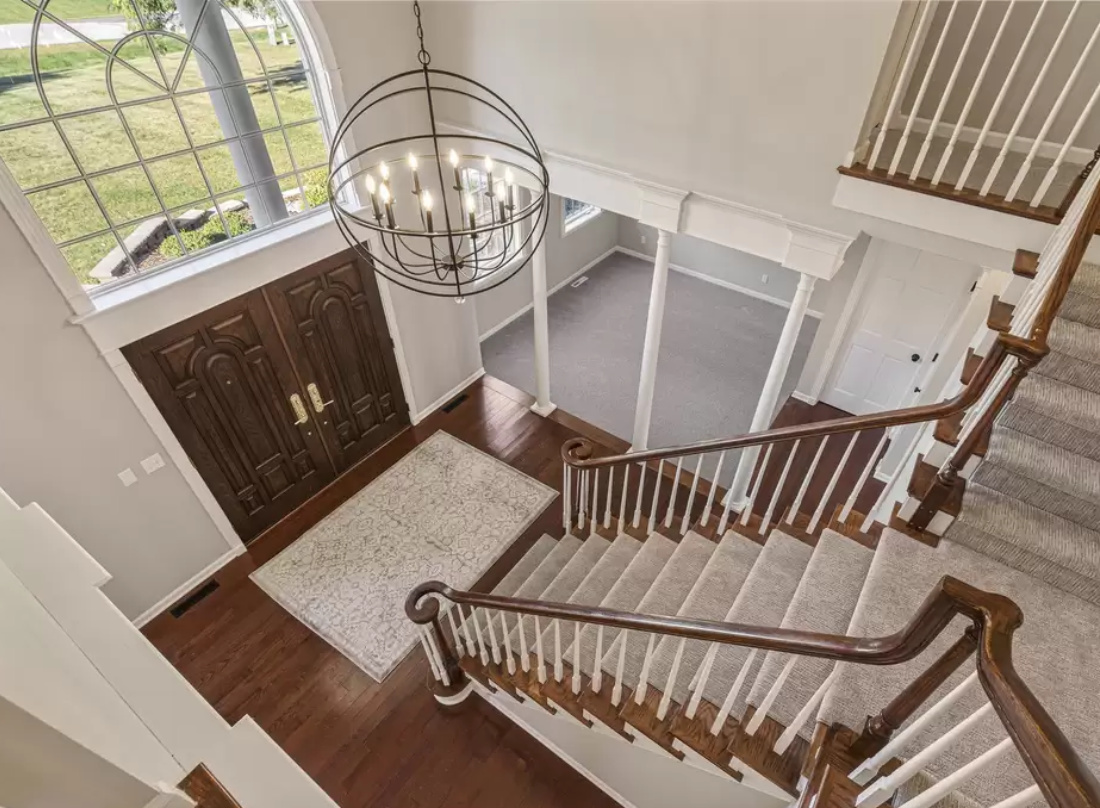 This was quite a job! Since we're working with the traditional architecture here, the process is more delicate than our prior renovation.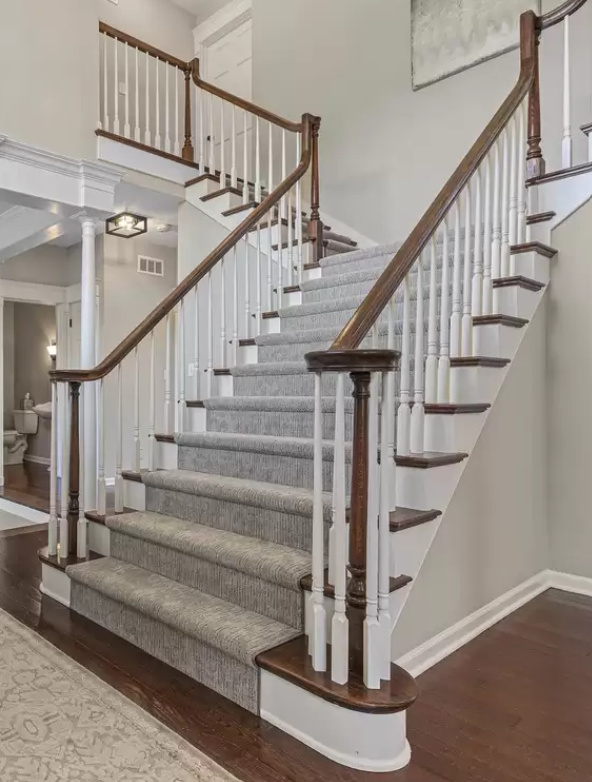 One of the first things we did was tweak the staircase. Together we primed and primed and painted and painted those steps with the same white used on trim in the entry.
Then I painted the handrail charcoal (Sherwin-Williams Carbonized). The color is suggestive of an iron rail which would be a dream. I also painted the front doors Carbonized.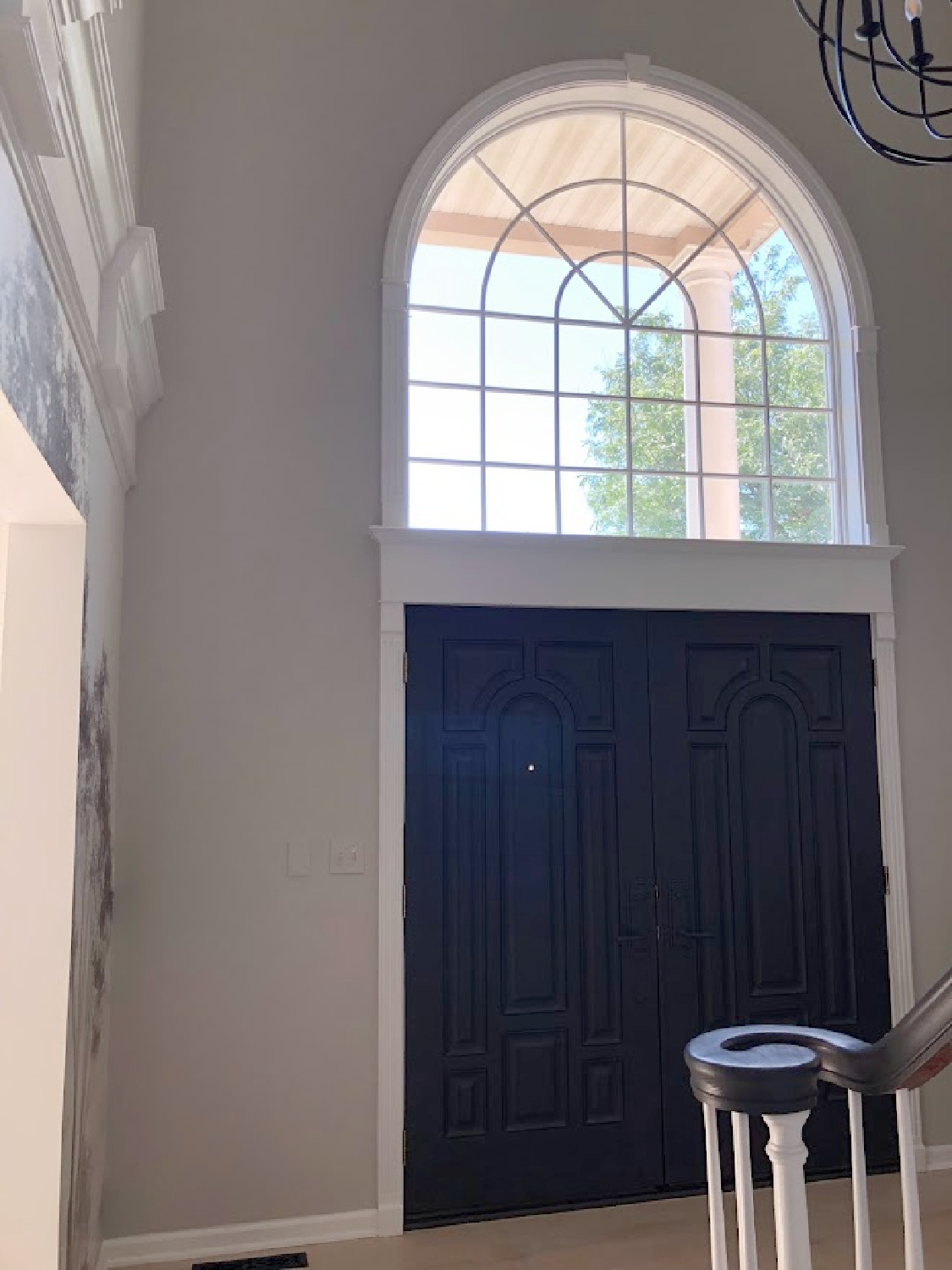 When you enter the home, a fancy imperial style staircase is impossible to miss (a single staircase rises to a half landing and splits symmetrically). I immediately think "suburban prom photos," and you might imagine Scarlett at Twelve Oaks: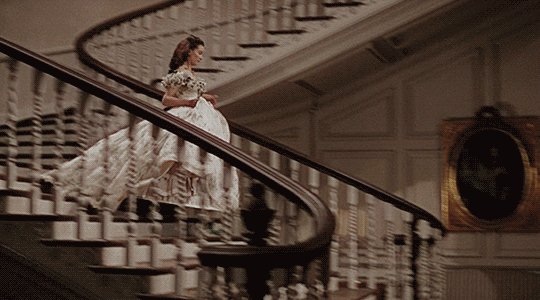 Oh the stairs! Not our style so we choose to have a sense of humor about it. Will there be a video of me descending these stairs Carol Burnett style, decked out in drapes?
Hahahaha. I love that old sketch from her show so much!
Psst. Did you know you are free to accept quirky features in your home and giggle? Did you know you are free to change your mindset, adapt to realities and refuse to grow bitter? Just checking. 🙂
Tweaking the stairs was super easy, but addressing: fancy columns in entry, sunken living and dining rooms, and heavy crown molding? Good gracious. Raising the floors to open everything up was not an option since it isn't DIY friendly or cheap. Plus, the windows might look silly. Since the columns are solid and supportive, we chose to sandwich them in walls. Yes, m'am. Our first major project here was adding FOUR walls right when you enter the home!
Here's the dining room side: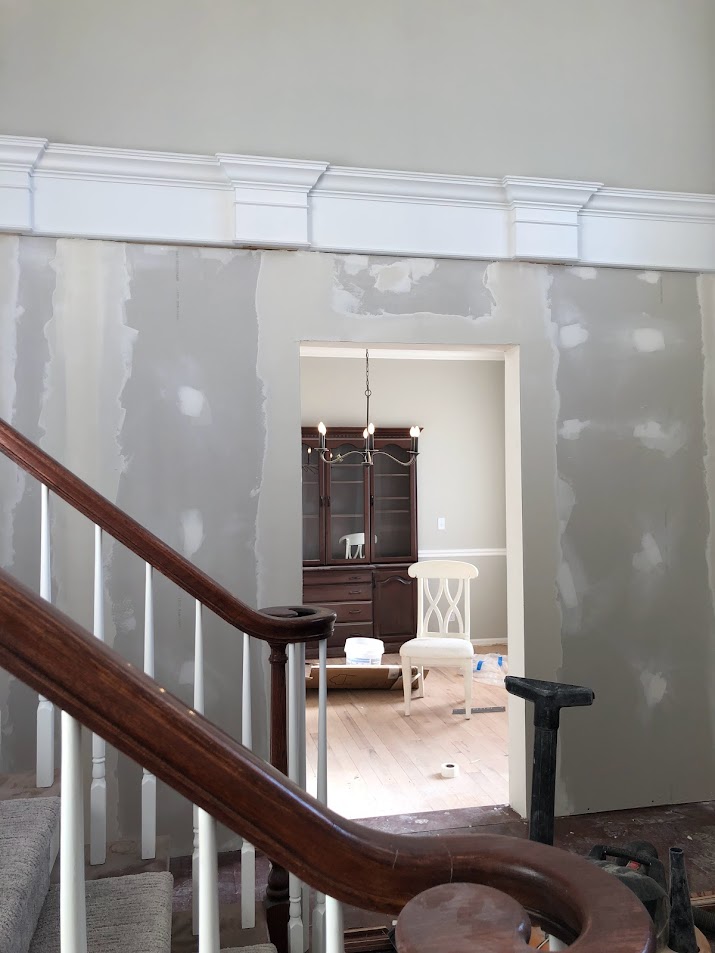 Does it all sound ridiculous? I needed walls for furniture placement in the small rooms. We also wanted to make the entry more gentle. Intimacy and quietness are the goal. With everything wide open, the light was great, but it all felt busy even when emptied of furniture.
Dining Room Renovation Progress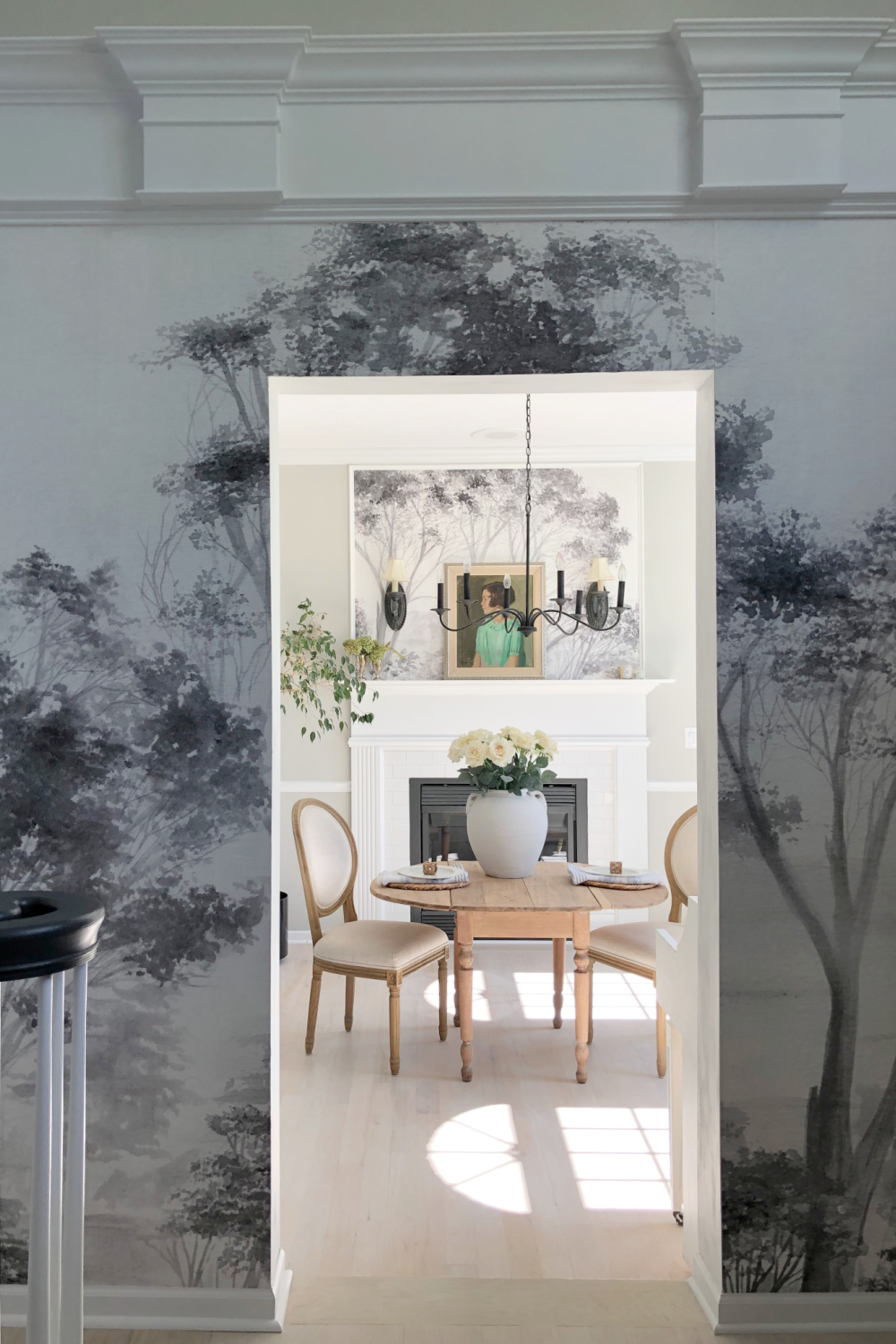 Building walls solved all sorts of issues. Refinishing the red oak floors involved a lot of thought, and I'll tell you in a separate post how we arrived at the perfect, easy to live with, European inspired finish.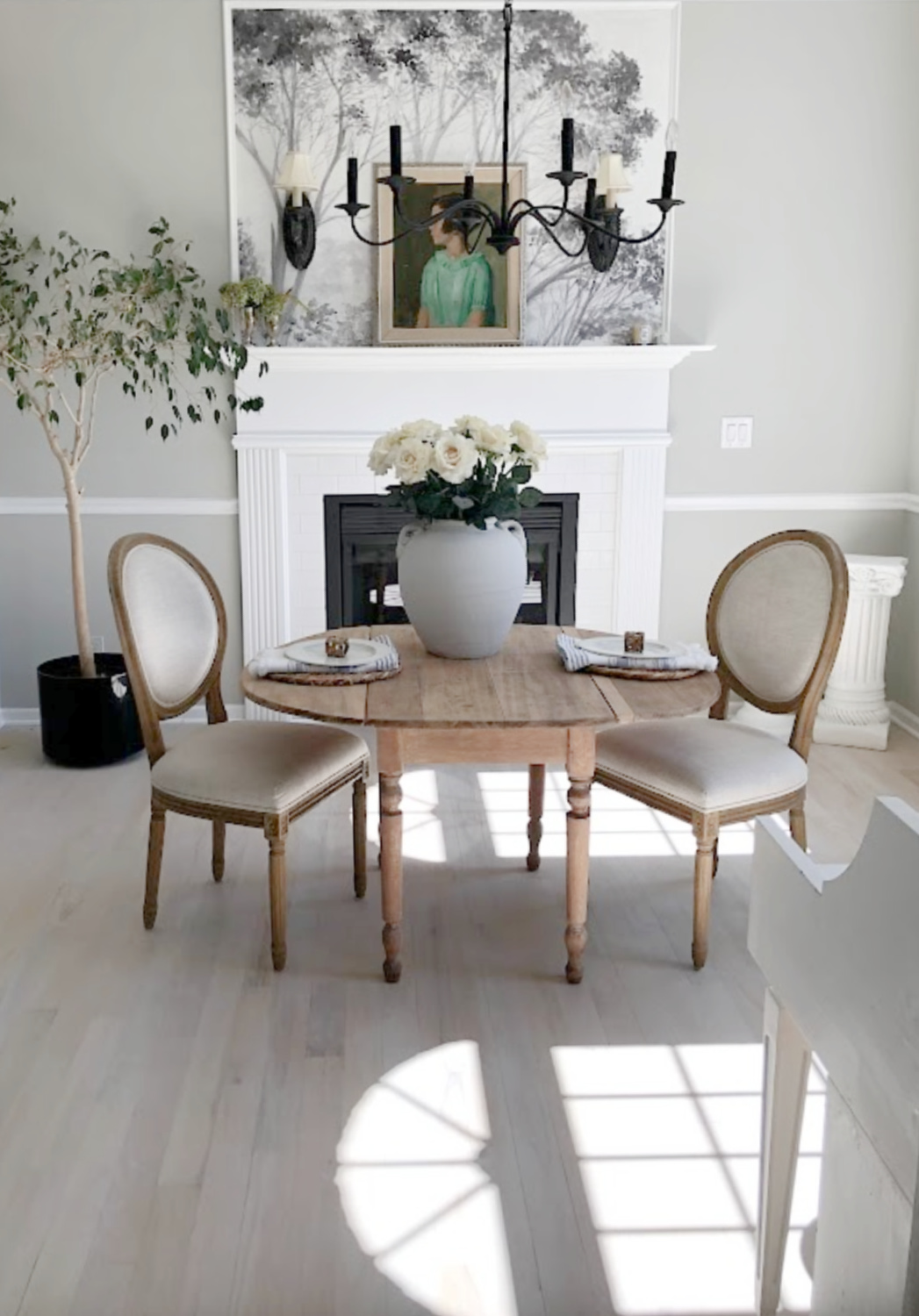 The entry is so much more intimate now with a wallpaper mural, and my piano needed a wall.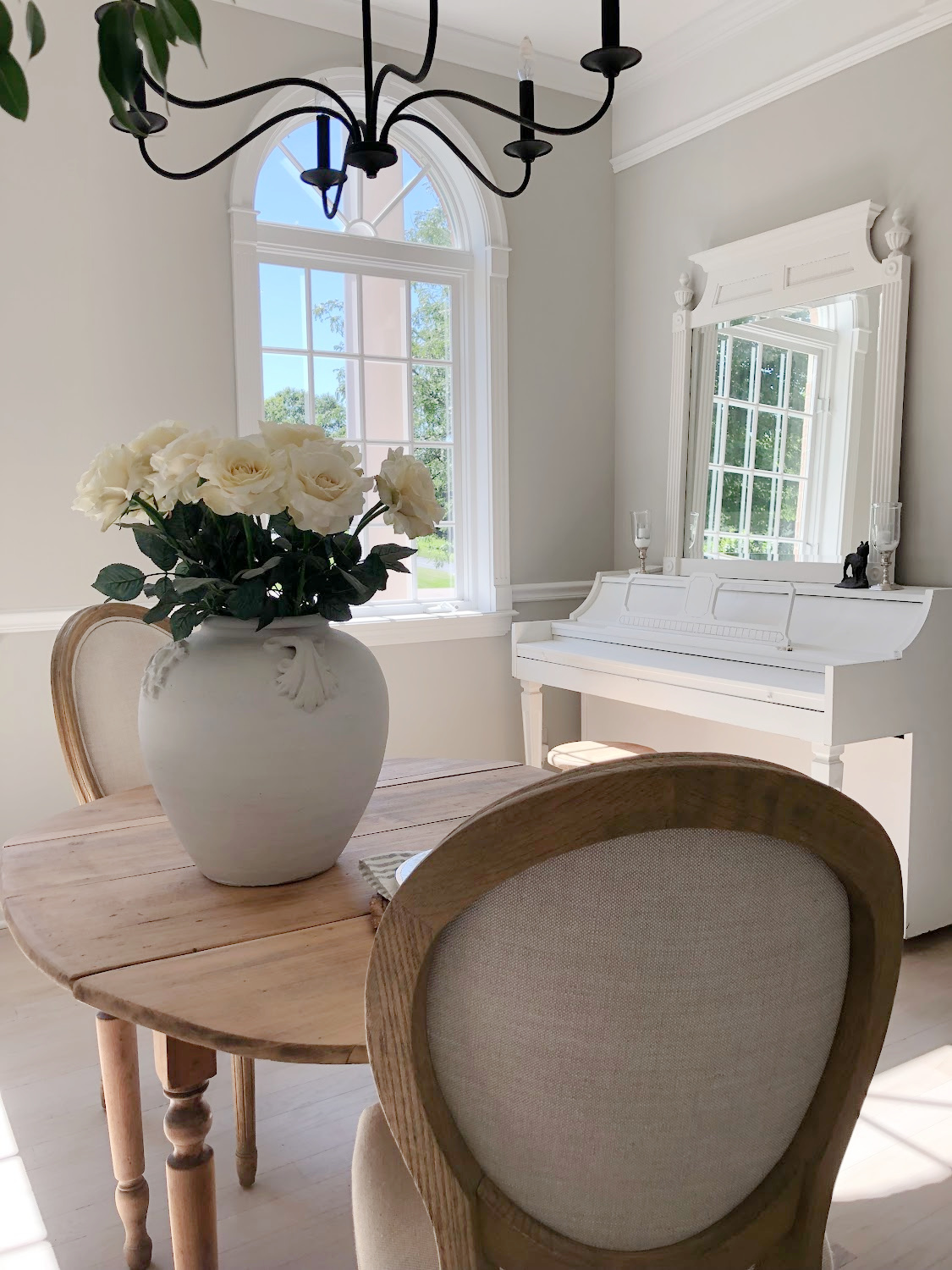 Believe it or not, I still don't have the entry decorated, but we're getting there!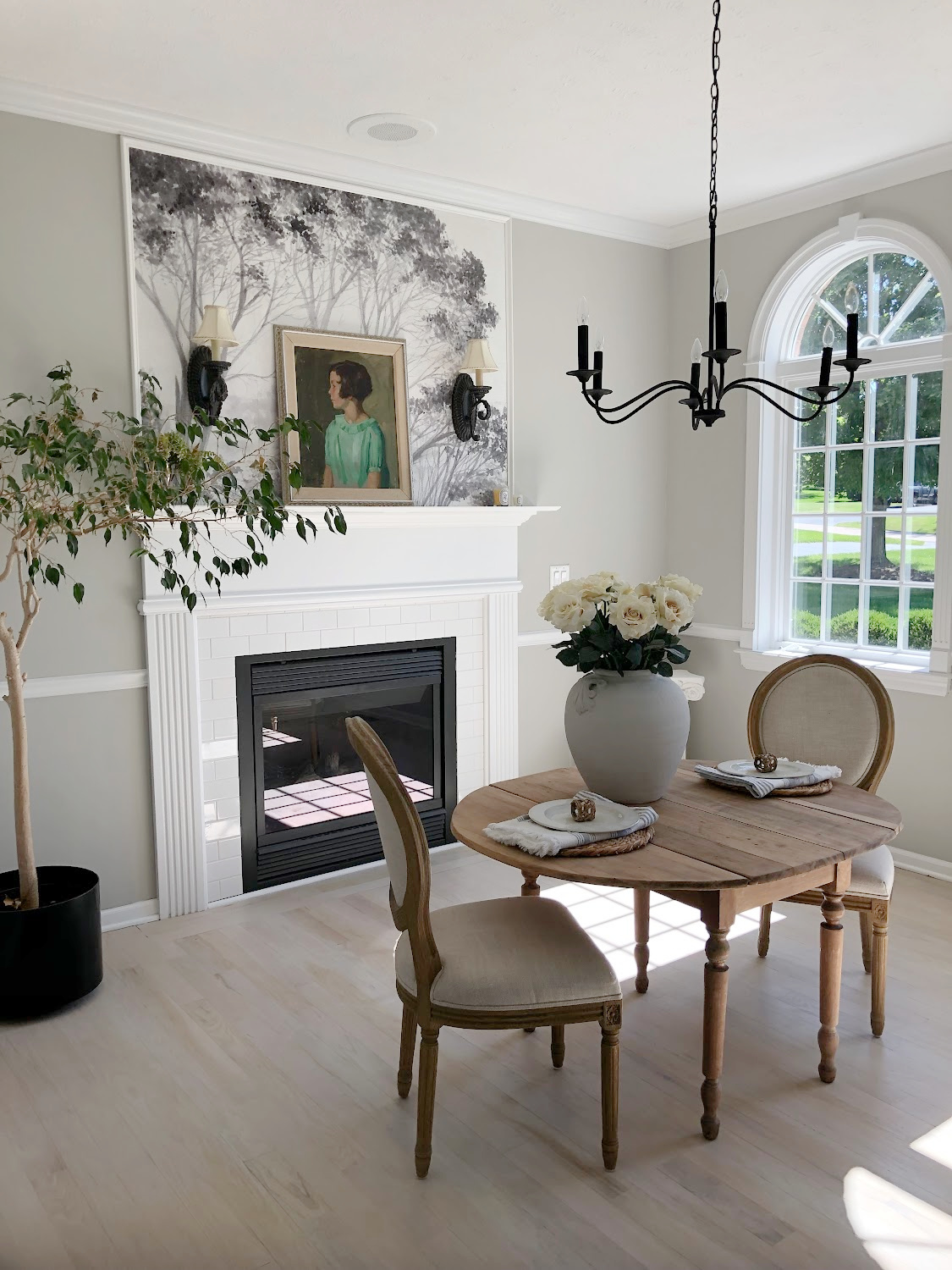 Thanks for your patience, and more to come soon!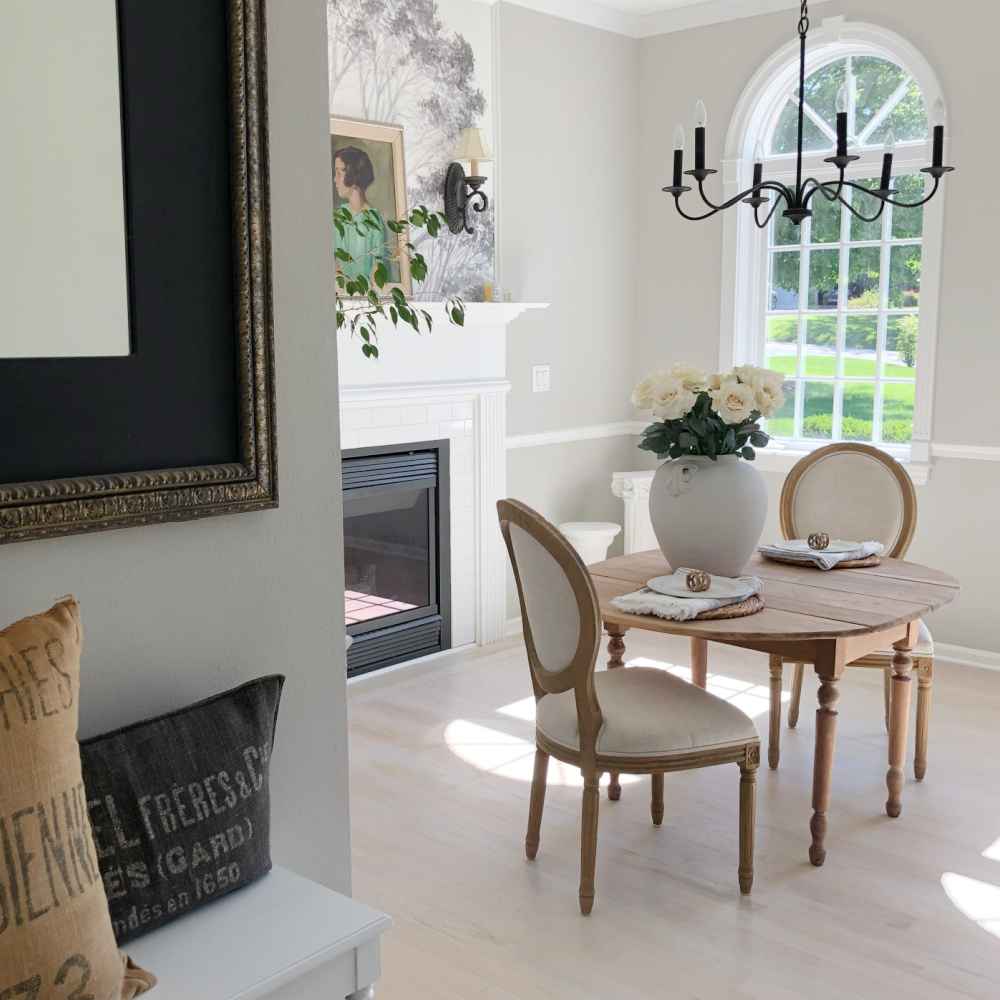 No pics of the living room side yet where we added a vintage window from a Tudor cottage. I'll show you that soon, but I have to find the right console table or commode to go under it. These things take time!
Kitchen Renovation Progress
We're not done with decorating it, but we have done so much in here! We repurposed these solid wood cabinets but rearranged them. I'll share more details later, but here's where we started with the traditional space with dark finishes and track lighting:
Lots of electrical work was done including this area in order to accommodate new pendants over the island.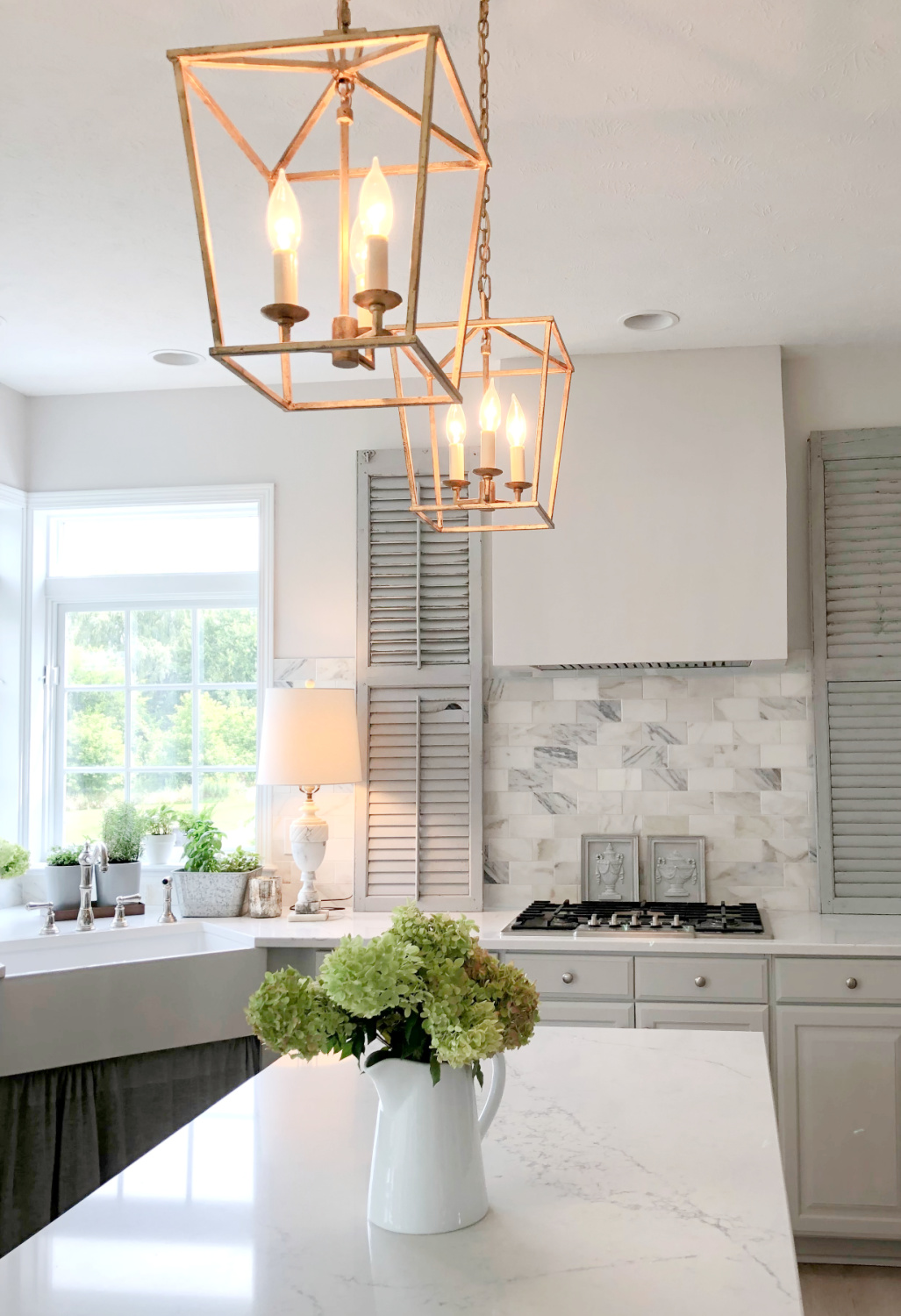 We changed the island considerably by removing the electric cooktop (we put in a gas line and added a Bosch cooktop to another location), removing the granite top (I sold it!), and enlarging it with Viatera Muse quartz countertop.
Here's how it looked after we added the custom range hood and before we painted cabinetry or added marble tile to walls. You can also see here that we added a Bosch wall oven to the island as well. That island changed a lot!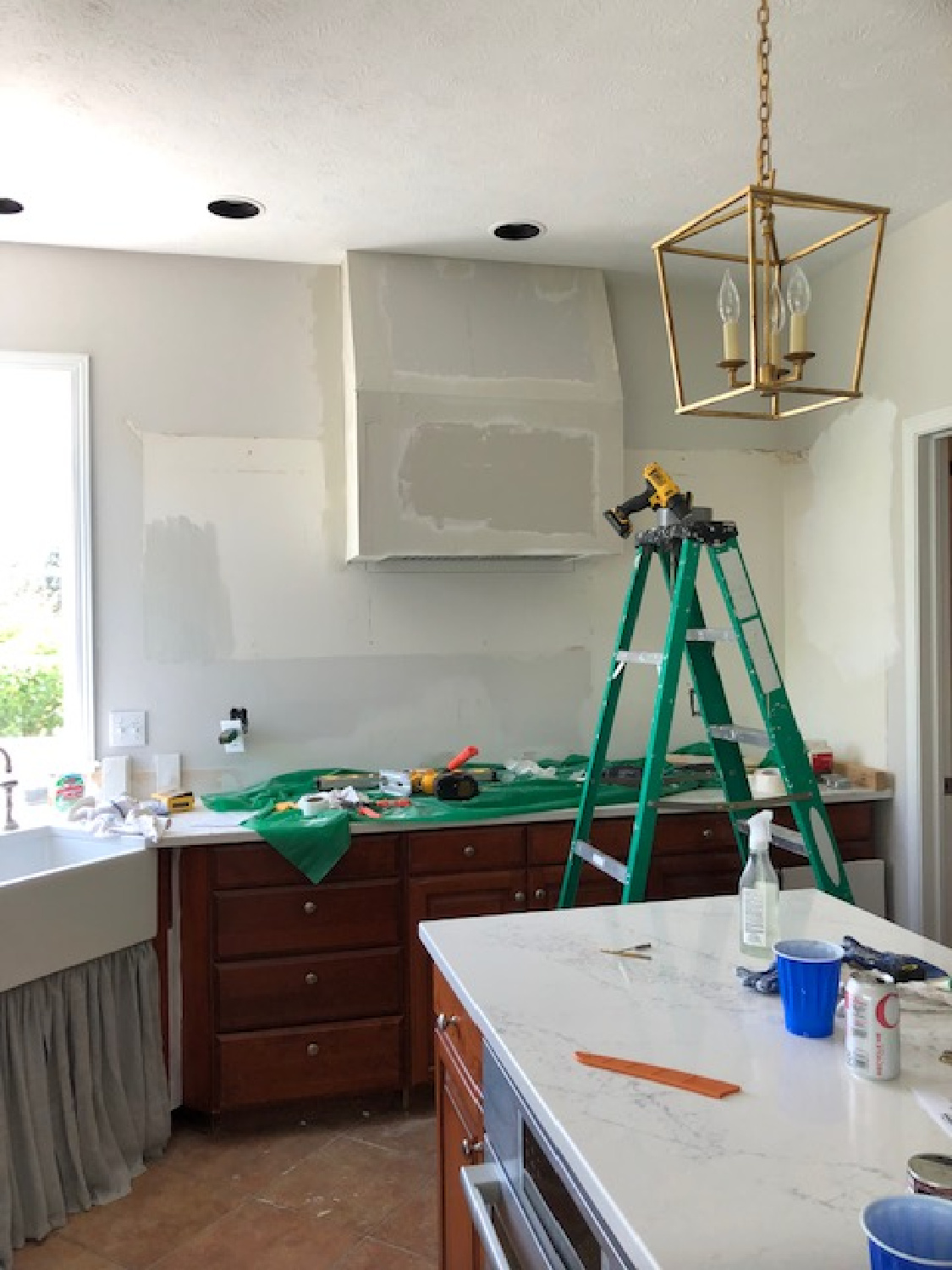 The backsplash is calacatta gold marble, and the colors in it range from cool dark greys to warm sand to white. We actually chose it before we ordered the quartz and before we chose a color for the cabinets. Color for the cabinets? I'm not sure I should even be sharing it at this juncture since I'm still decorating and may tweak it! I haven't sealed or waxed them yet so that I have the option of changing them.
The color is Farrow & Ball Pavilion Gray at 66%. I actually mixed it myself: 2 parts FB Pavilion Gray + 1 part white.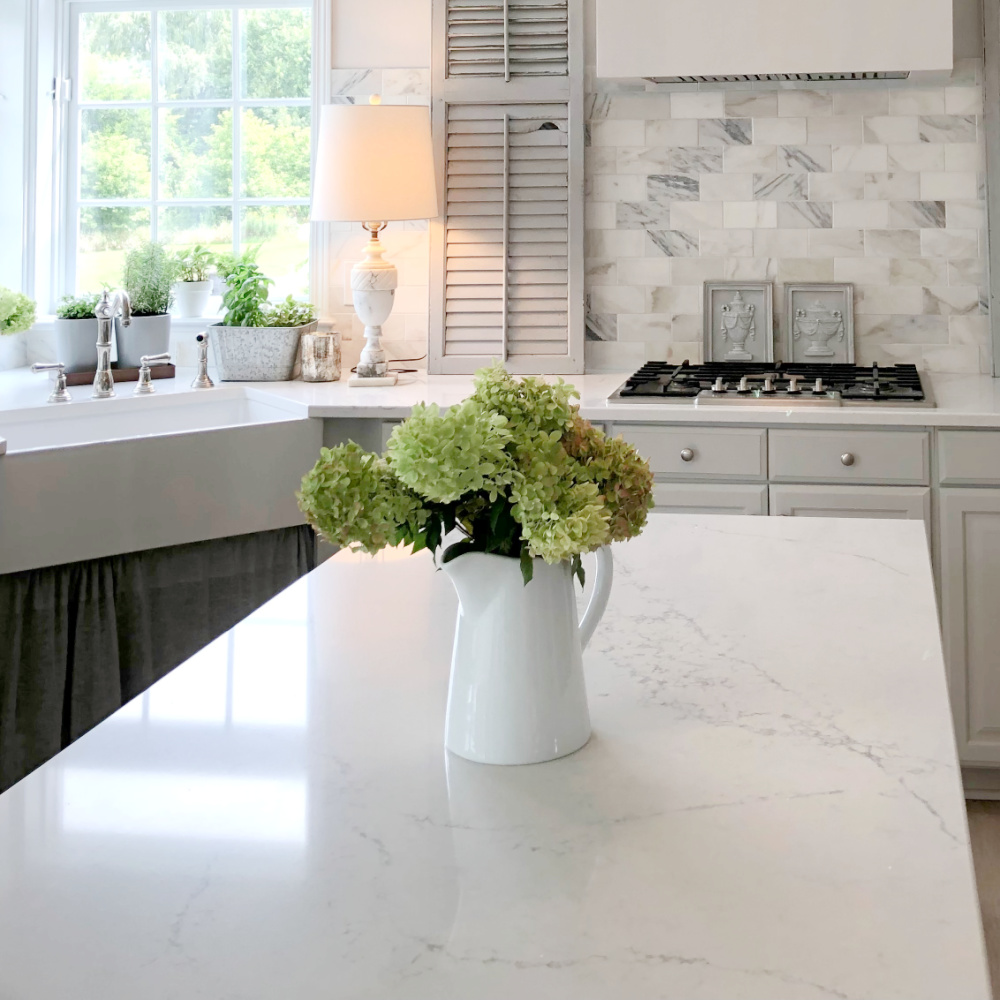 I shared details recently about the farm sink we chose (from Nantucket), and here's how that corner initially looked: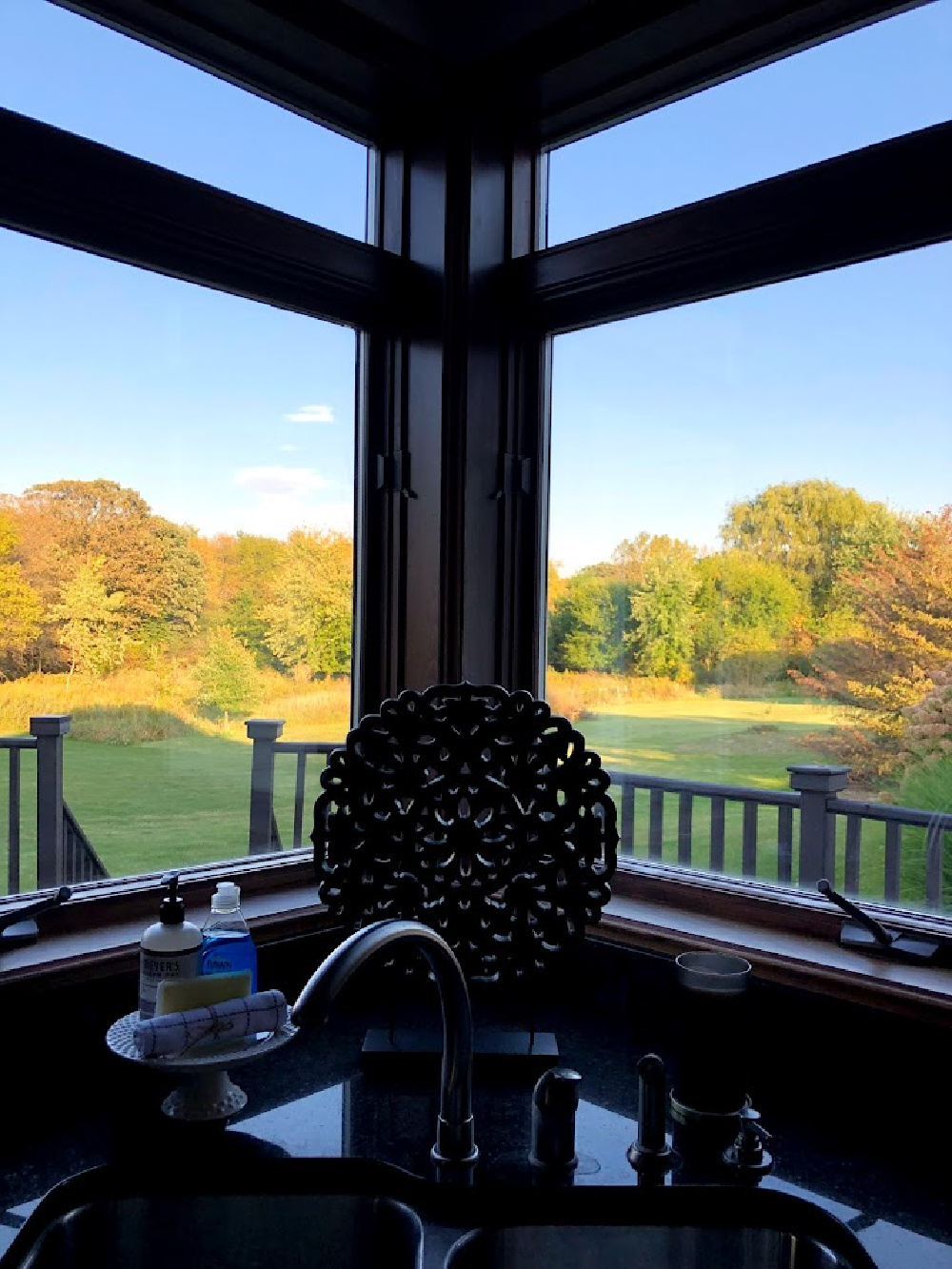 Painting all the dark trim white is truly transforming this house. And the wall color? We kept the existing color because we loved it: Sherwin-Williams Eider White.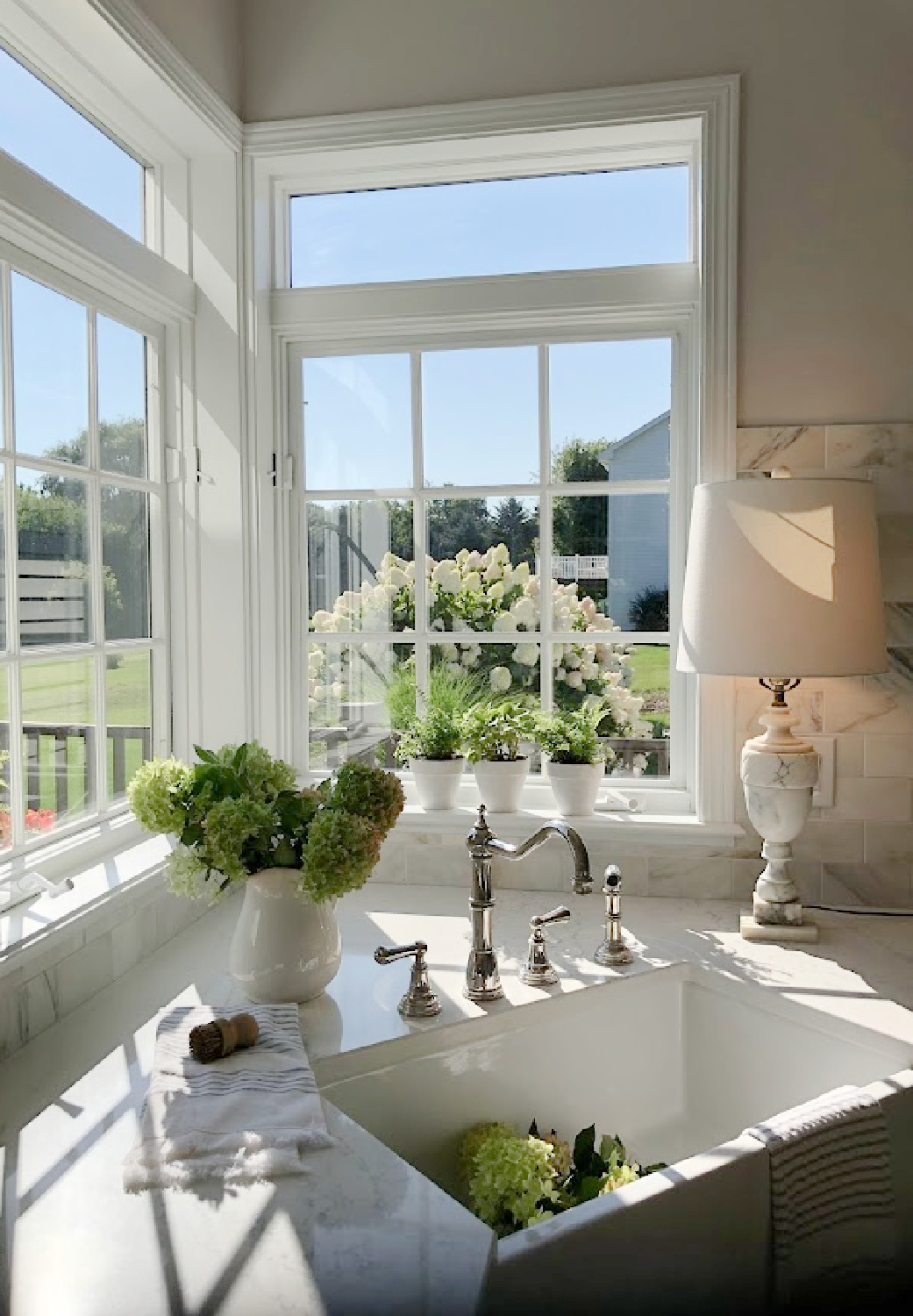 In the last week, we finally tackled the kitchen floor. Even though the ceramic tile was newer, the red-orange color didn't work with my plan, and it wasn't comfortable to stand on. We installed LVP, and this is our first experience with it. (So far we love it.) The exact product may be discontinued, but it is nearly identical to Lifeproof's Dusk Cherry.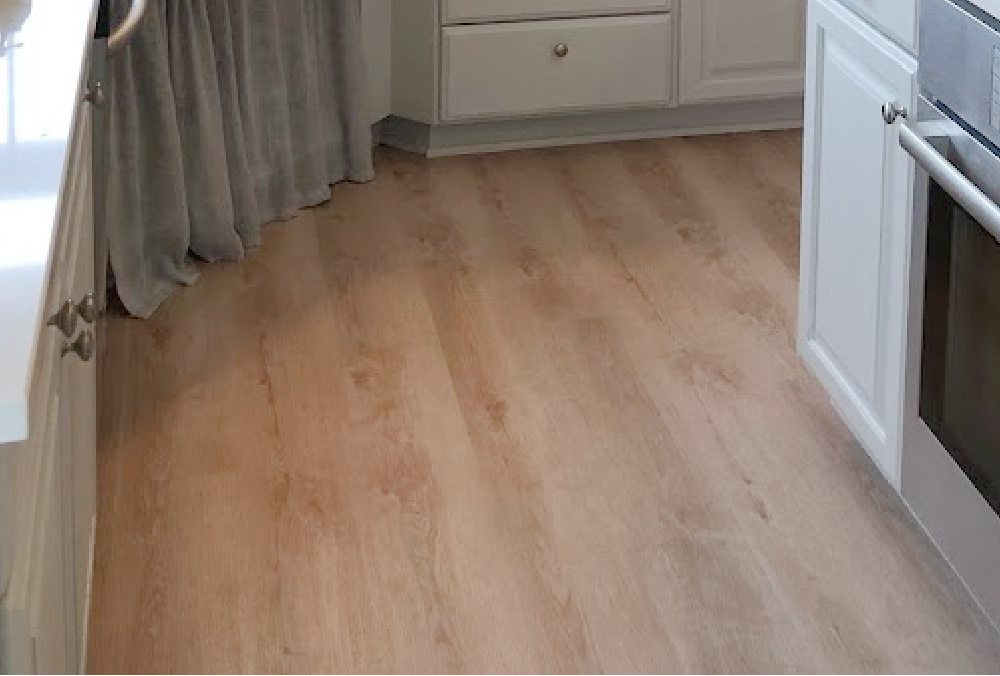 I'll share more details about these rooms soon. The powder room is nearly ready for its closeup. We are busy working on the pantry and laundry, finishing touches and decor for the kitchen, window treatments, and decorating the entry and living room. Then we will turn our attention to the family room. Once that room is complete, the first floor will be done, and we'll tackle our bedroom!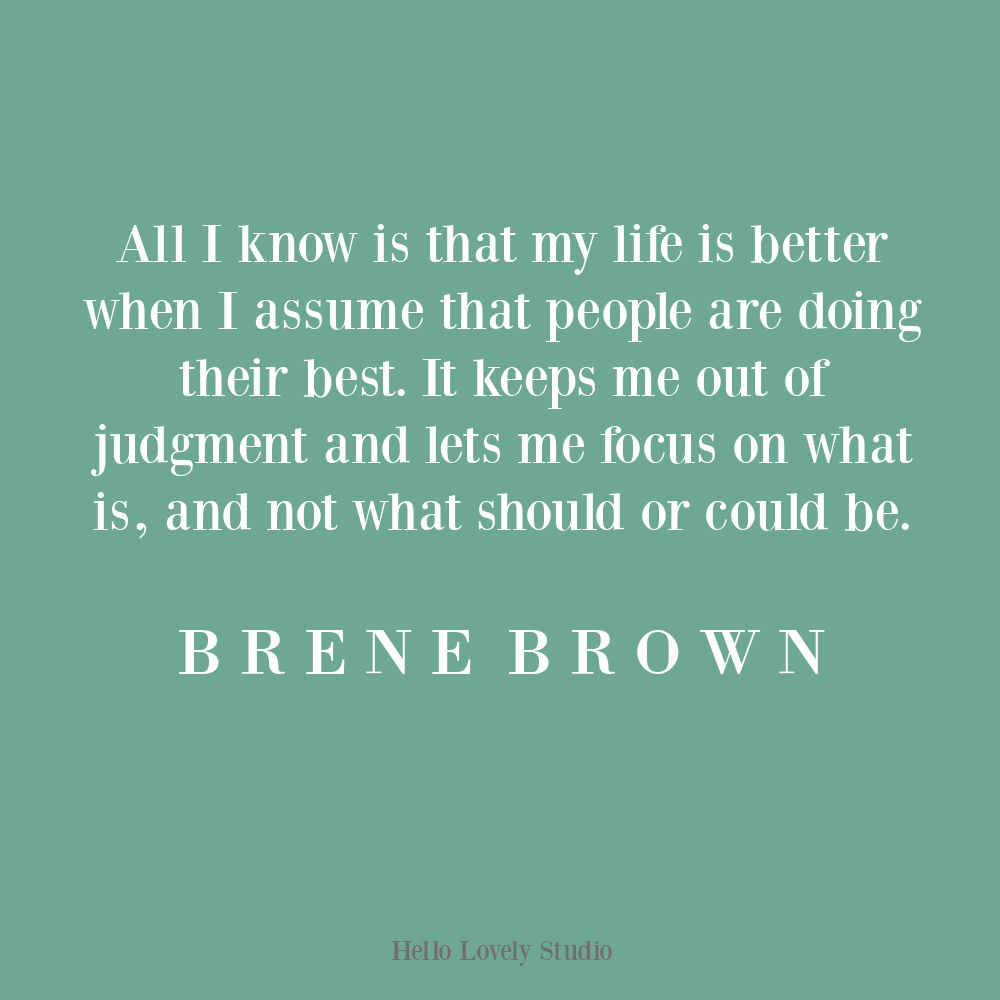 Thanks so much for joining me on the journey! We're working hard and are exhausted but still laughing! 🙂
I independently selected products in this post—if you buy from one of my links, I may earn a commission.
Peace to you right where you are.
-michele
Thanks for shopping RIGHT HERE to keep decor inspiration flowing on Hello Lovely!
Hello Lovely is a participant in the Amazon Services LLC Associates Program, an affiliate advertising program designed to provide a means for sites to earn fees by linking to Amazon.com and affiliated sites.