We vacationed in Leiper's Fork (near Franklin, TN) a few years back and stayed in this sweet rental known as Storybook Cottage. Today's Design Details from a Tumbledown Lovely Cottage in Leiper's Fork, Tennessee provides simple ideas and peeks of the 800 square foot wee home. Interiors were designed by Dave and Kim Leggett of City Farmhouse, and if you love Kim's style, see more of her work in City Farmhouse Style and in a story here. This property is now on the market so it was a treat to live as a local and enjoy Storybook Cottage!
Design Details: Cottage in Leiper's Fork, Tennessee
Where is Leiper's Fork?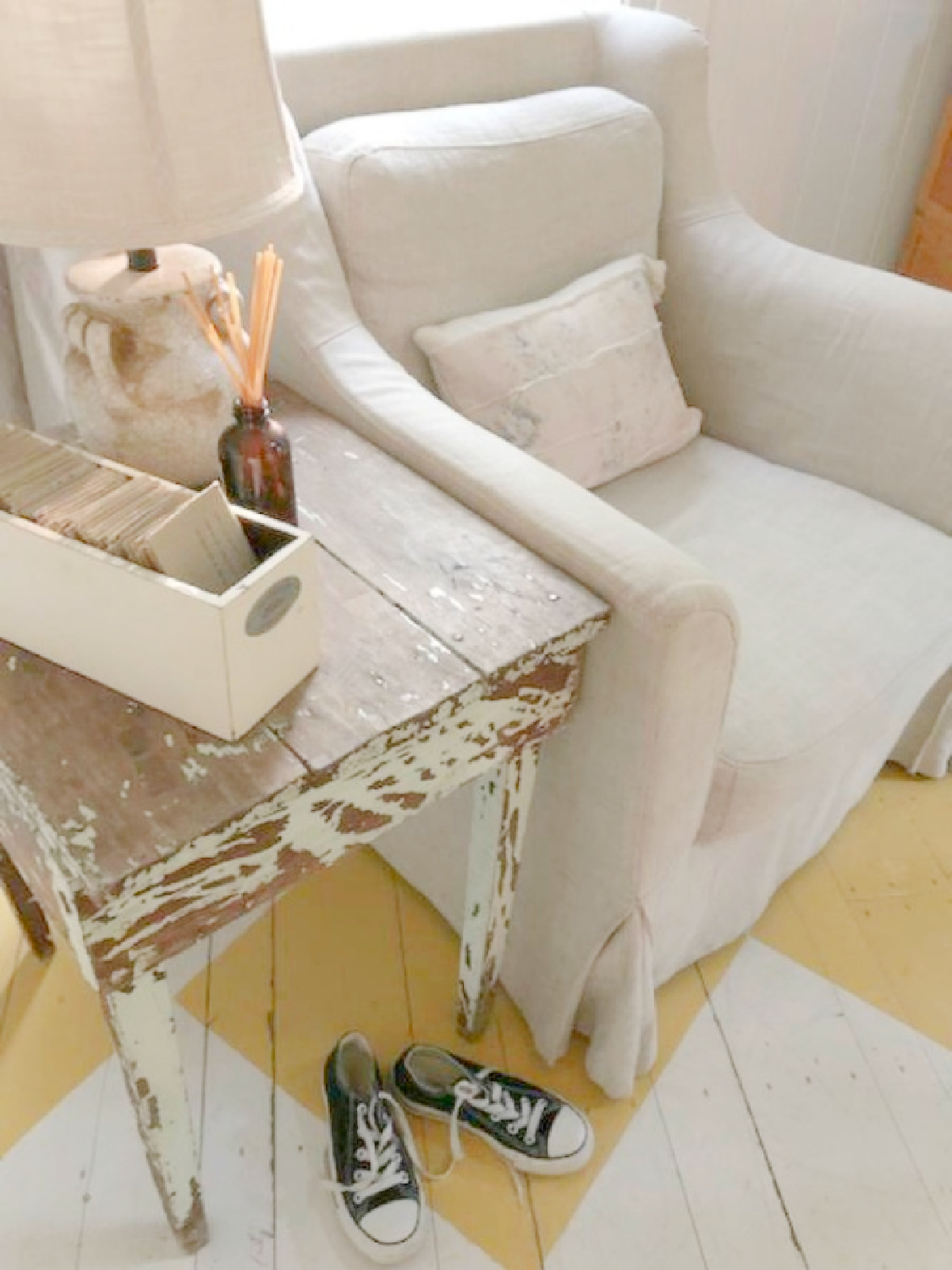 This sleepy unincorporated village (eight miles west of Franklin and 30 miles south of Nashville) is where we booked the sweetest little home away from home for relaxing…Storybook Cottage.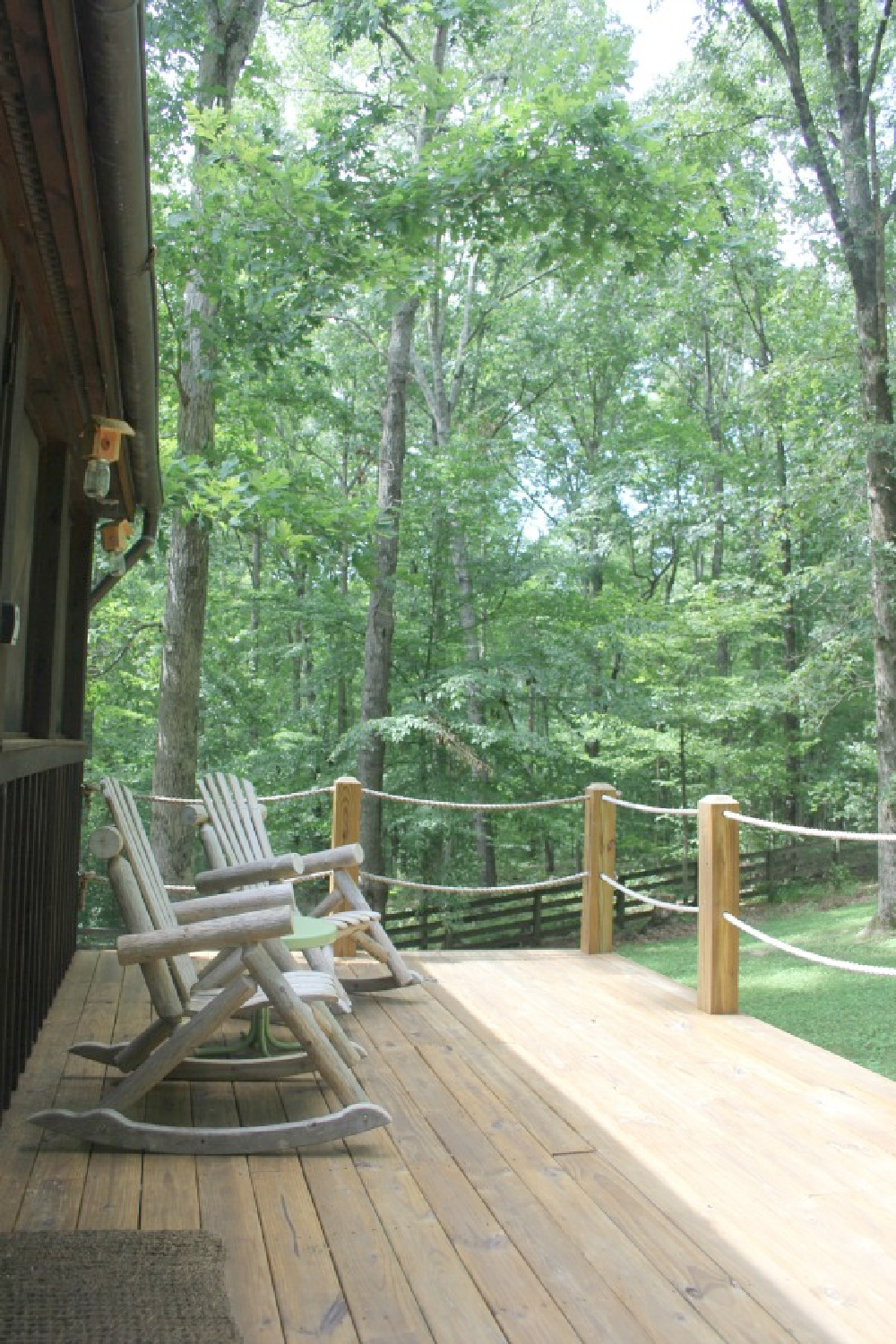 What We Did in Leiper's Fork
We relaxed in the cottage and took long scenic drives as well as explored the Natchez Trace Trail.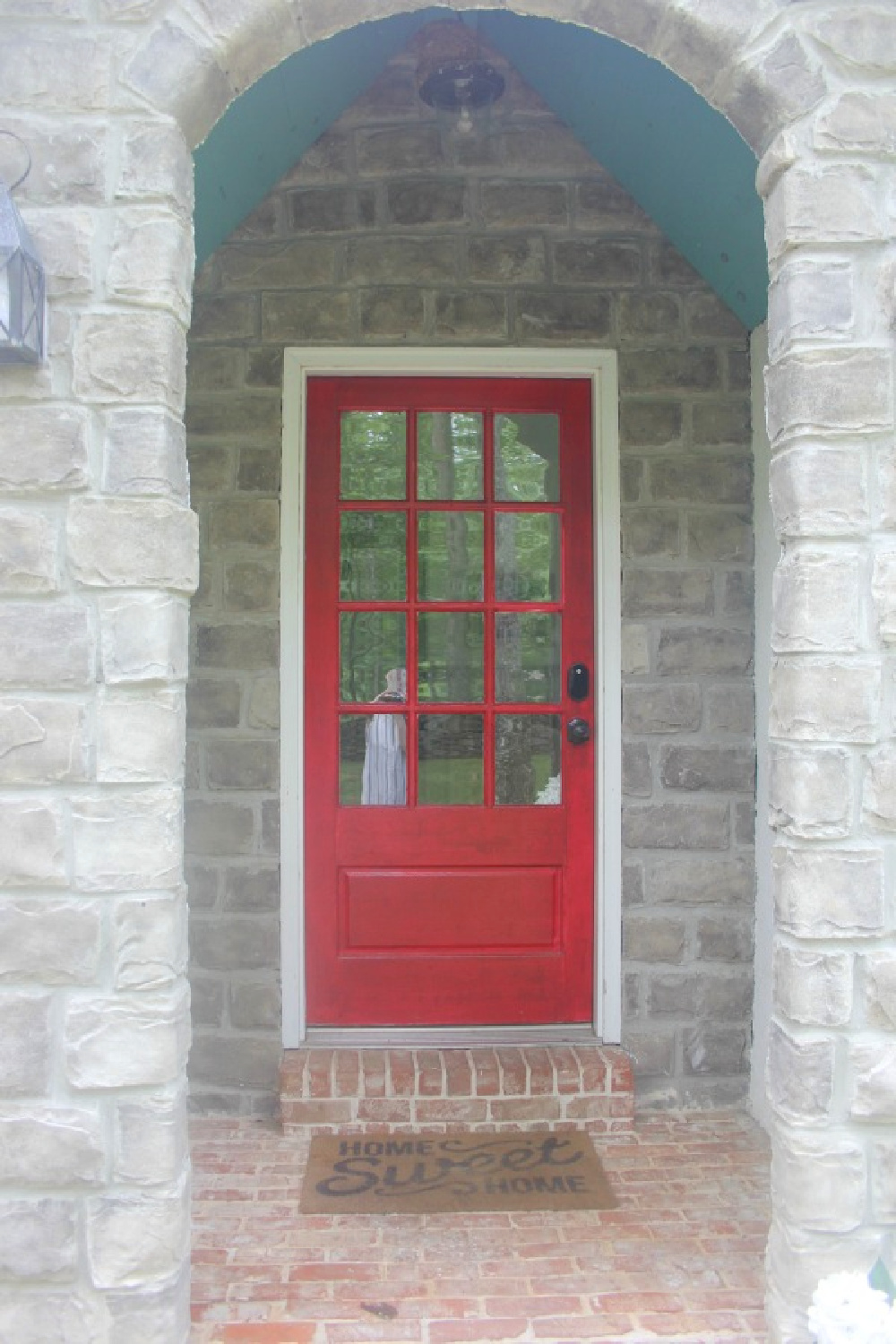 We also stalked houses for sale, ate delicious bbq at Puckett's (karaoke night was a vibe!). And of course, we enjoyed shopping in nearby Franklin, too–it's fabulous downtown.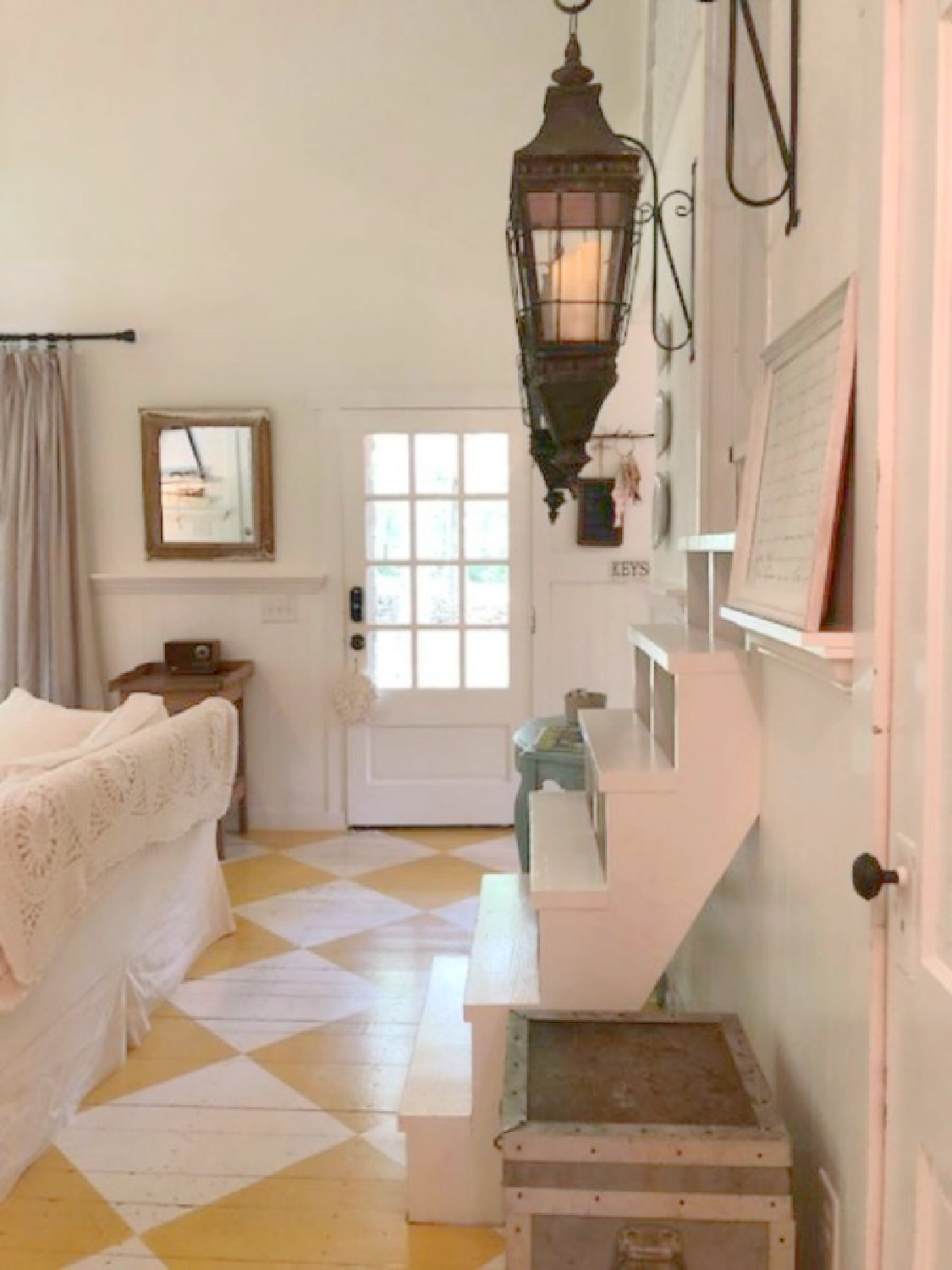 While we didn't make any trips to Nashville, it is an easy drive.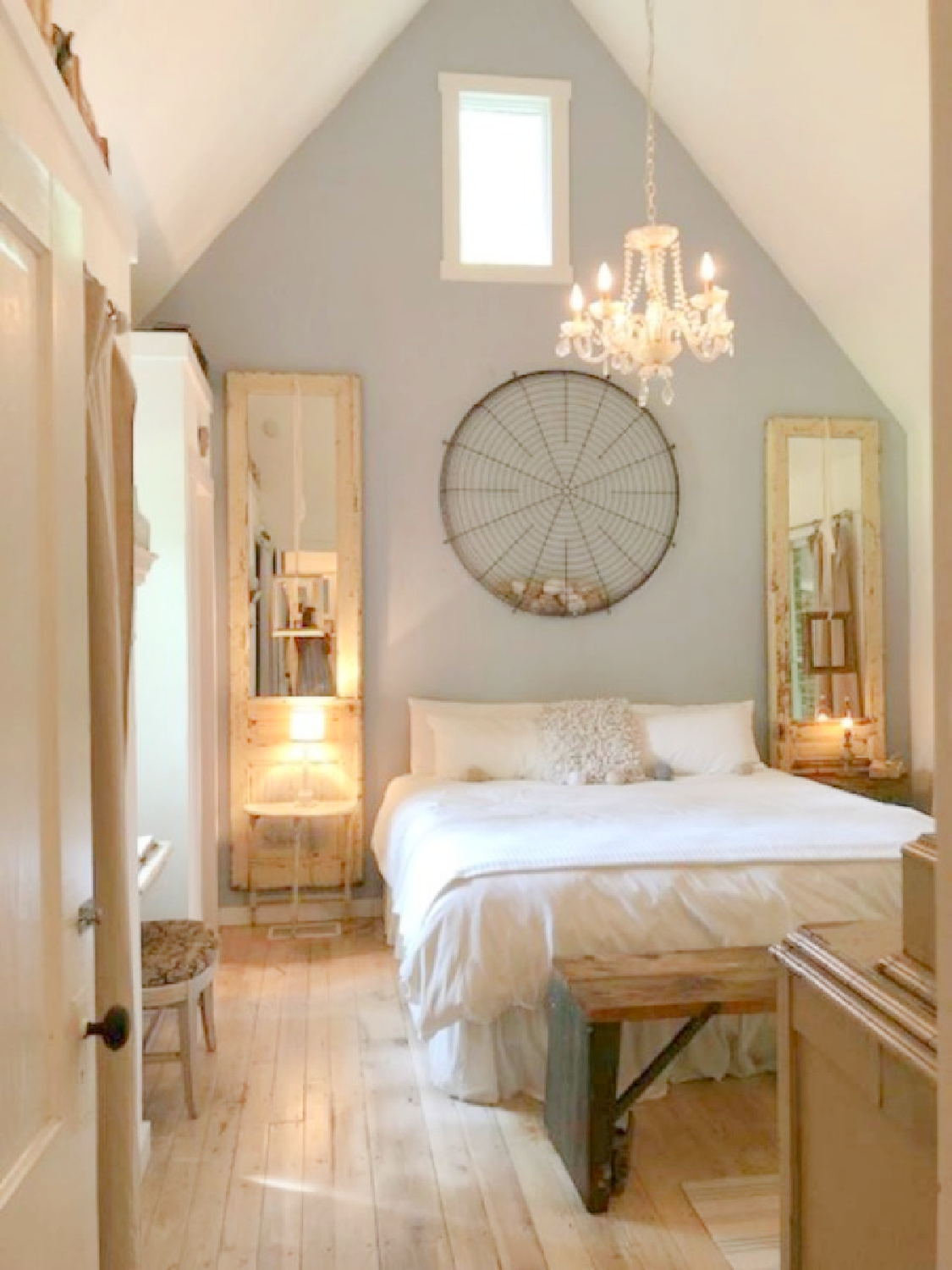 What Does the Property Offer?
Location: In the rural village of Leiper's Fork – on 8 acres with soaring trees and a place for horses.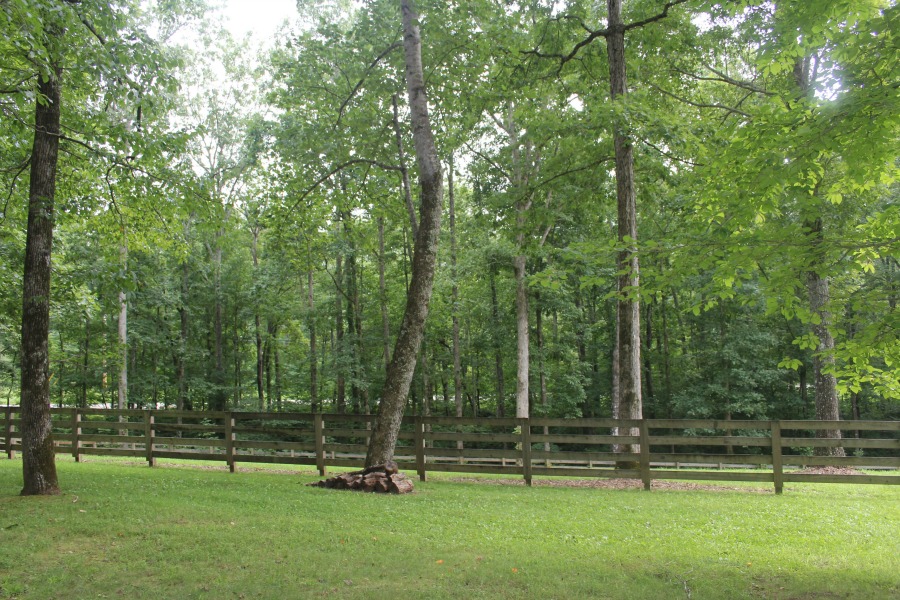 Inside: Whimsically Painted Poplar Wood Floors, Fully stocked and equipped kitchen, Washer and Dryer, Cathedral Ceiling, One Bedroom as well as a Sleeping Loft.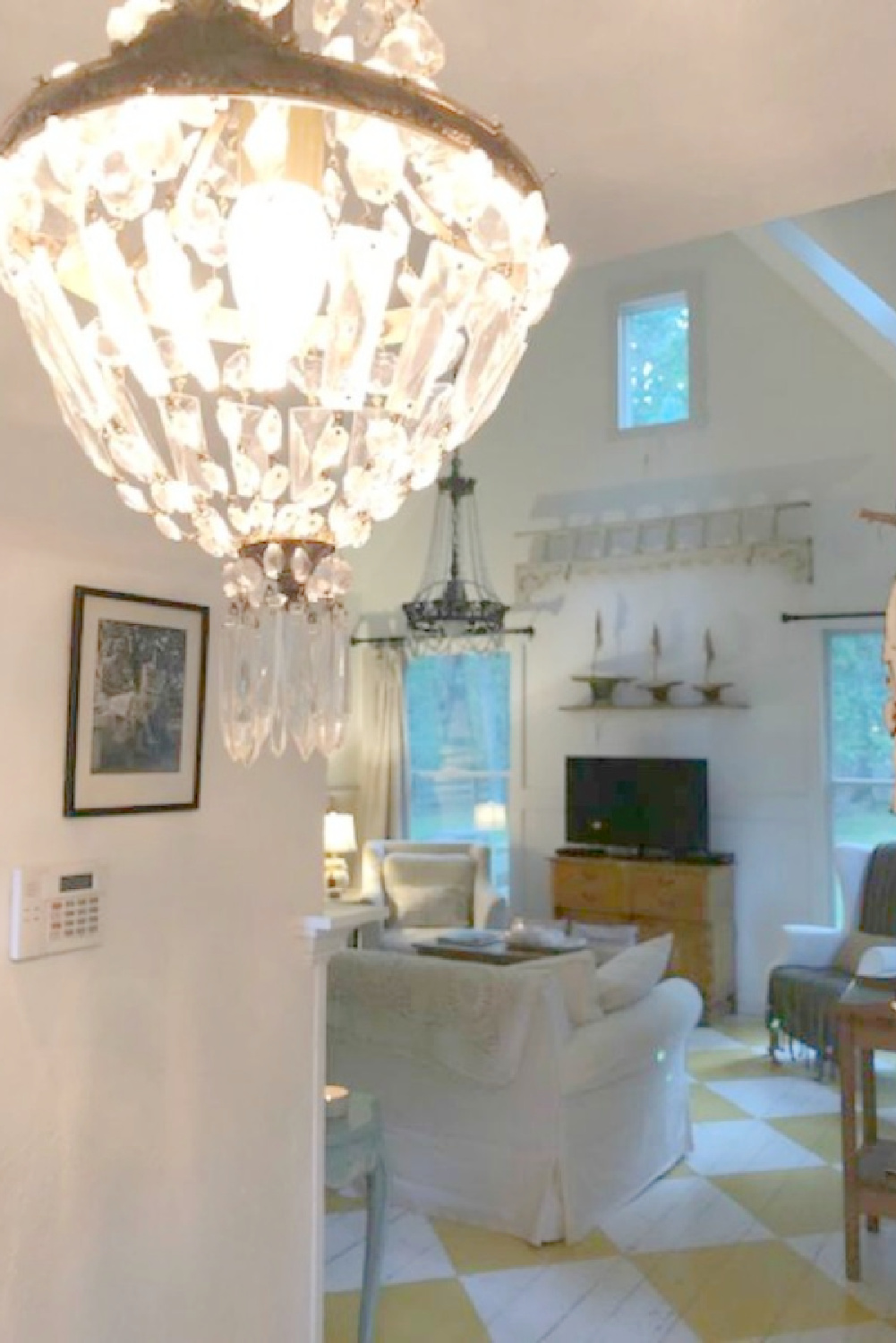 Outside: Outdoor Shower, Screen porch and deck, Hammock, Firepit, Stacked Stone Wall, a Place for Horses as well as QUIET.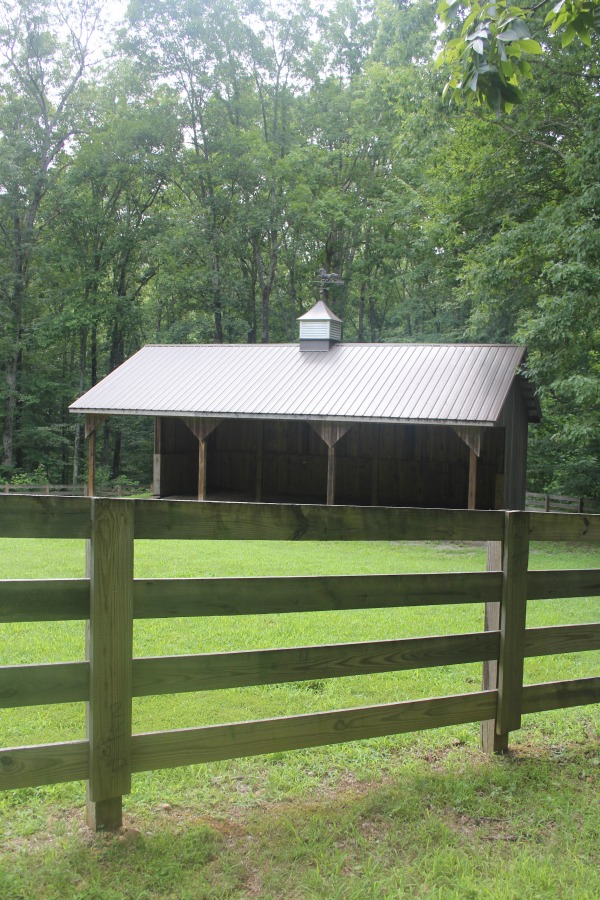 Cottage Living Room Design Details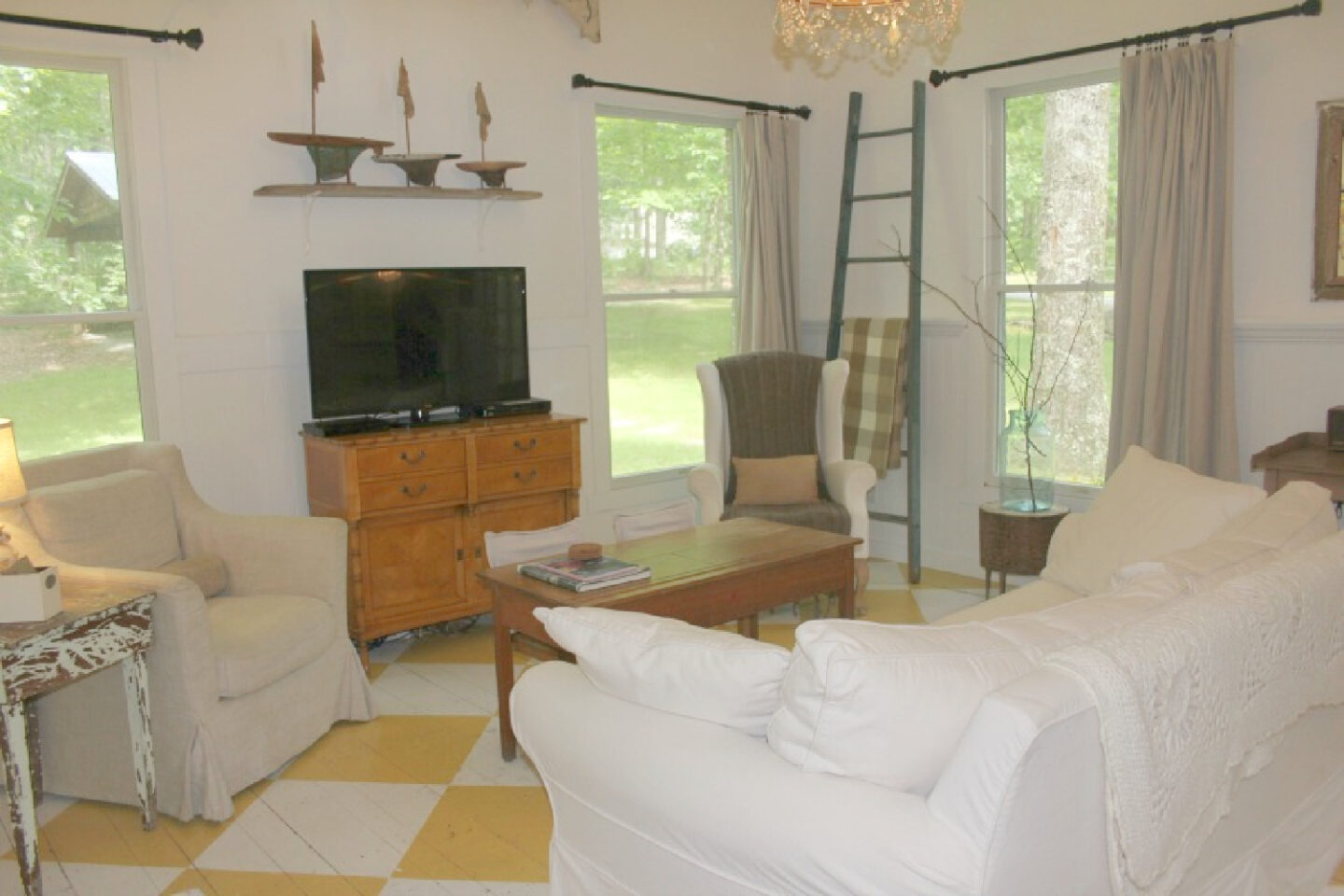 You can't miss those YELLOW CHECKERED FLOORS! If you have old hardwood floors that are badly stained, it can be wise to paint them for a whimsical look!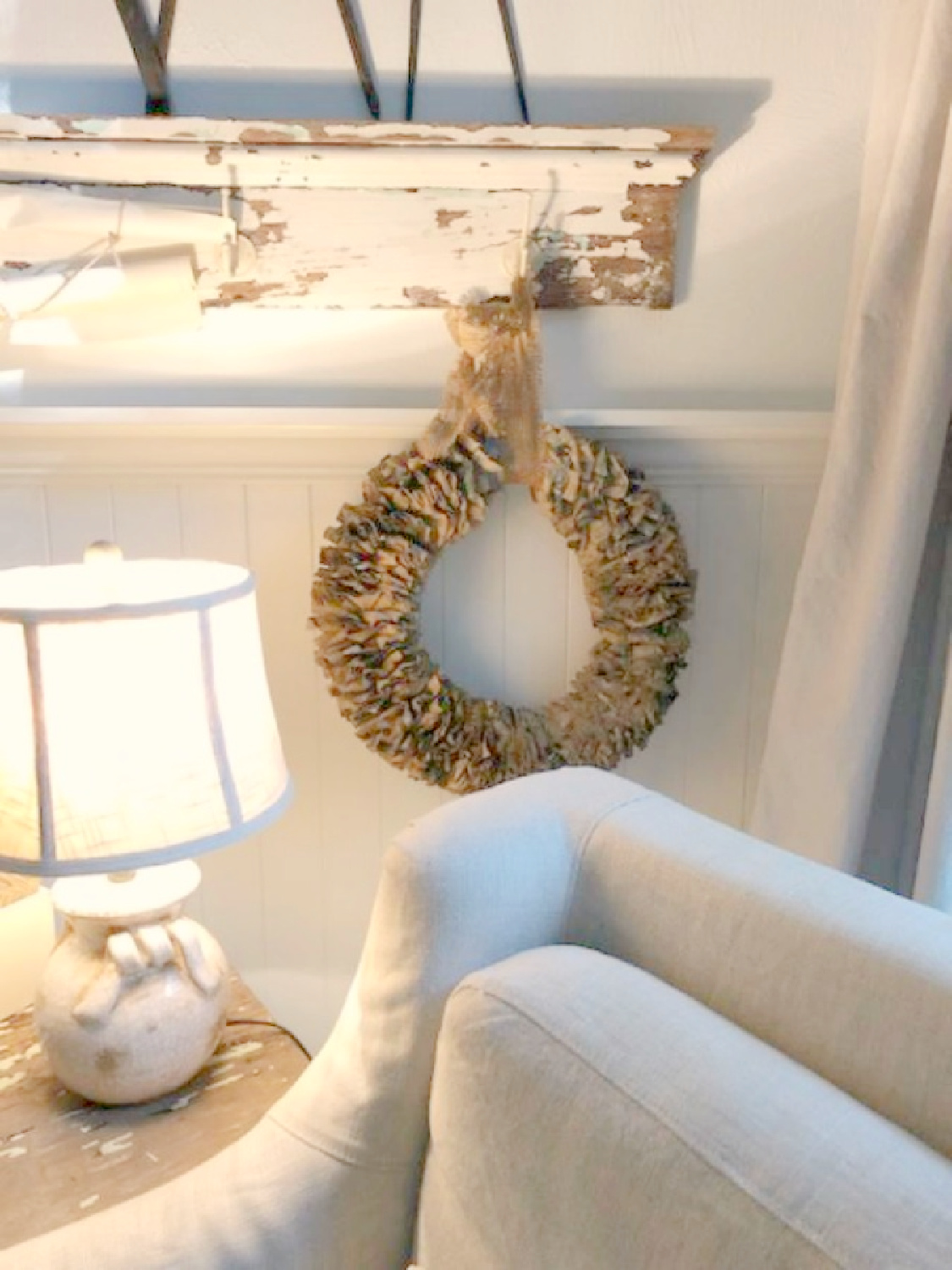 2. Vintage finds mixed with modern comfy furniture…a combo that is hard to beat!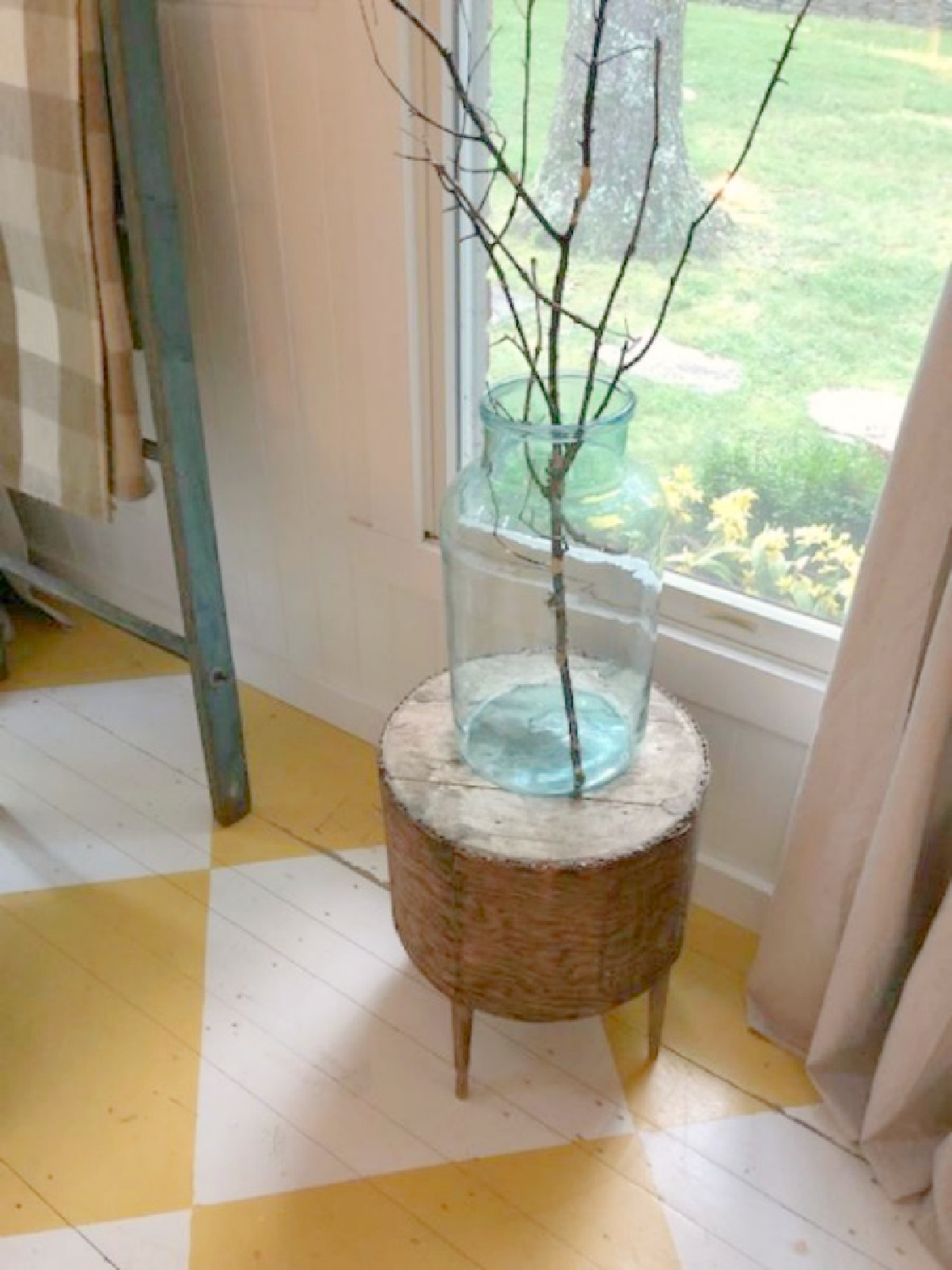 Since the sofa and chairs are neutral, just about any accent colors are going to work.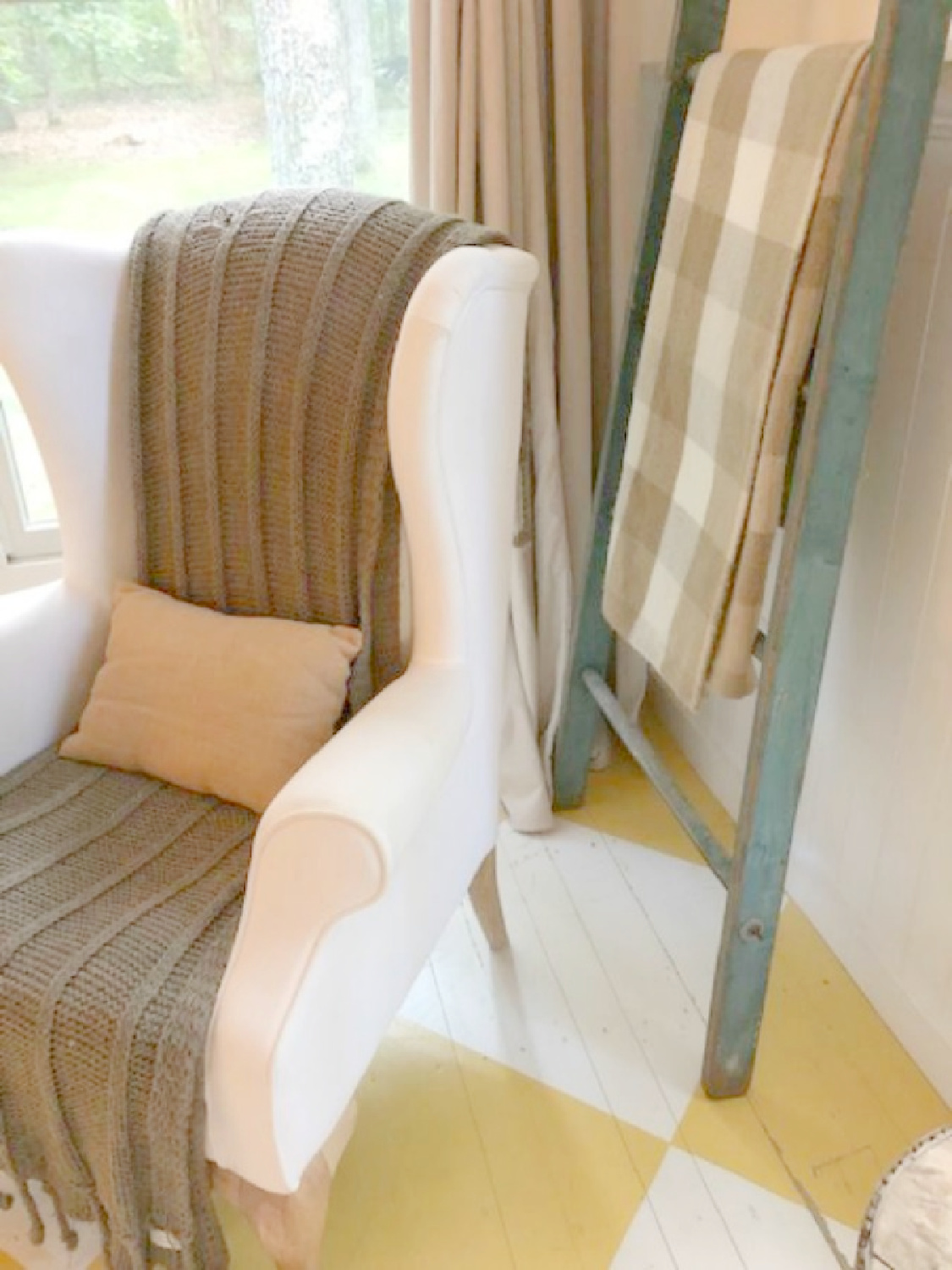 3. An old ladder stained turquoise simply leaning against the wall is perfect for holding cozy blankets.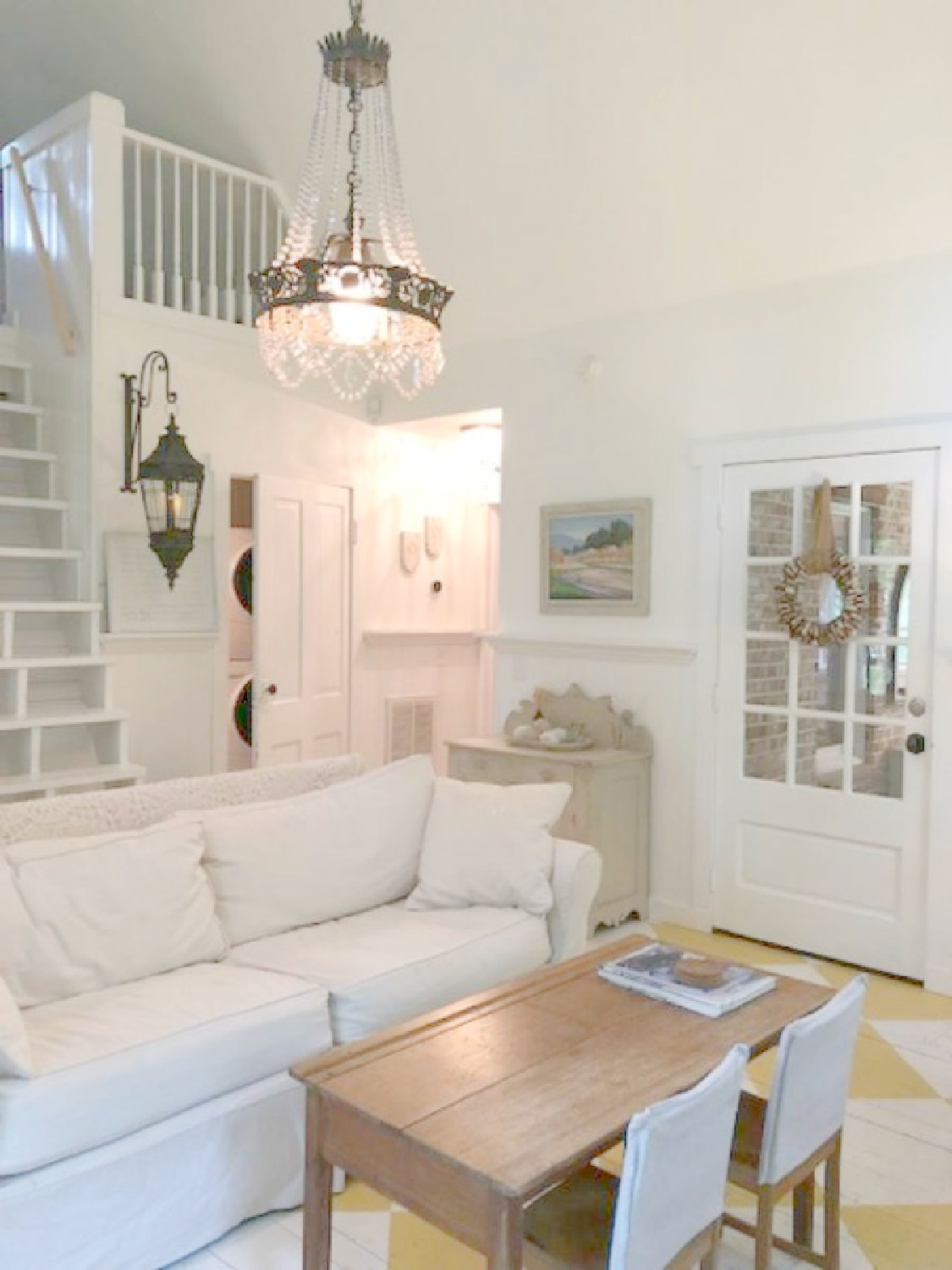 4. Feminine crystal chandeliers were repeated in each room and keep the look from being too rustic and one note.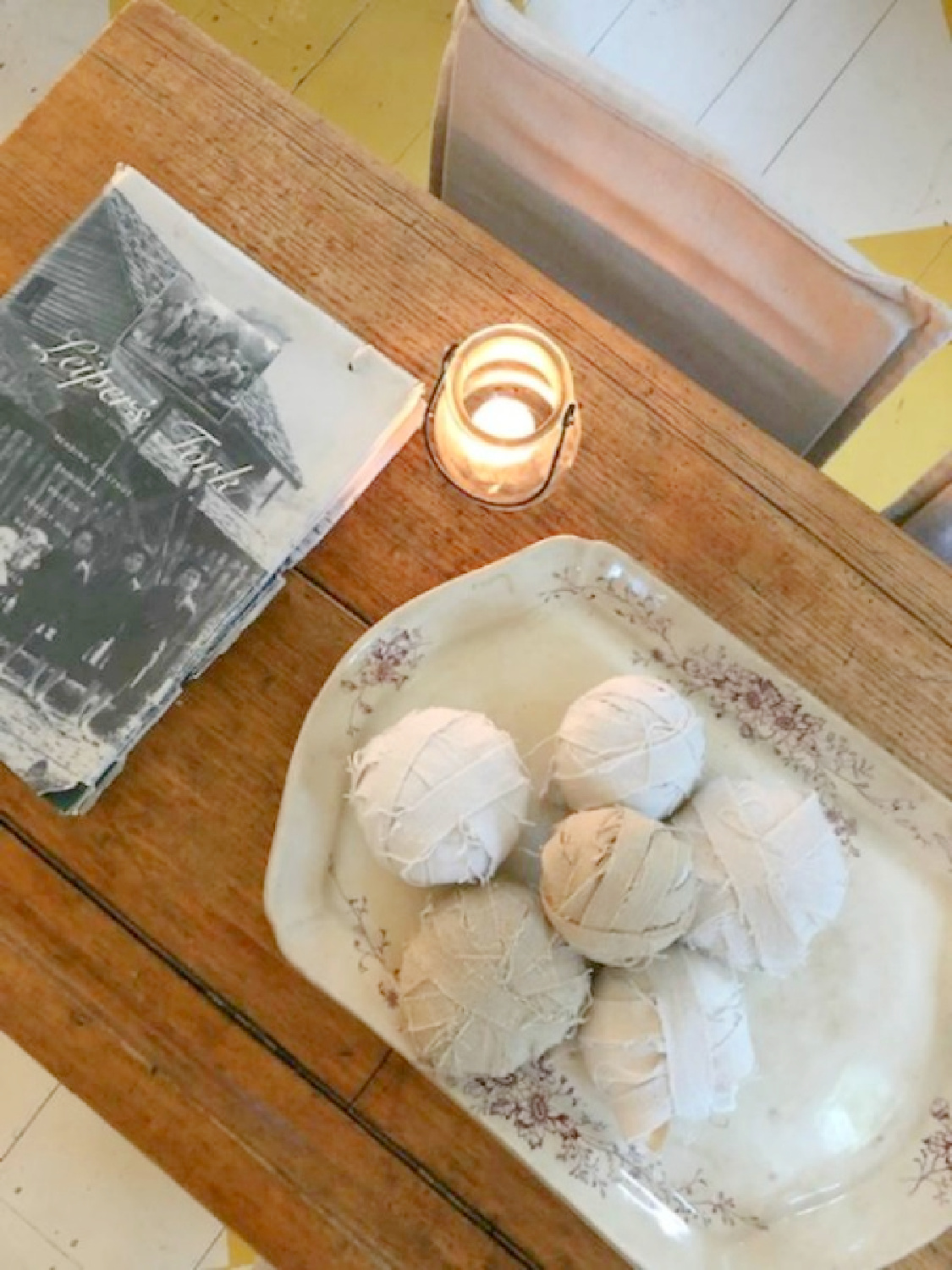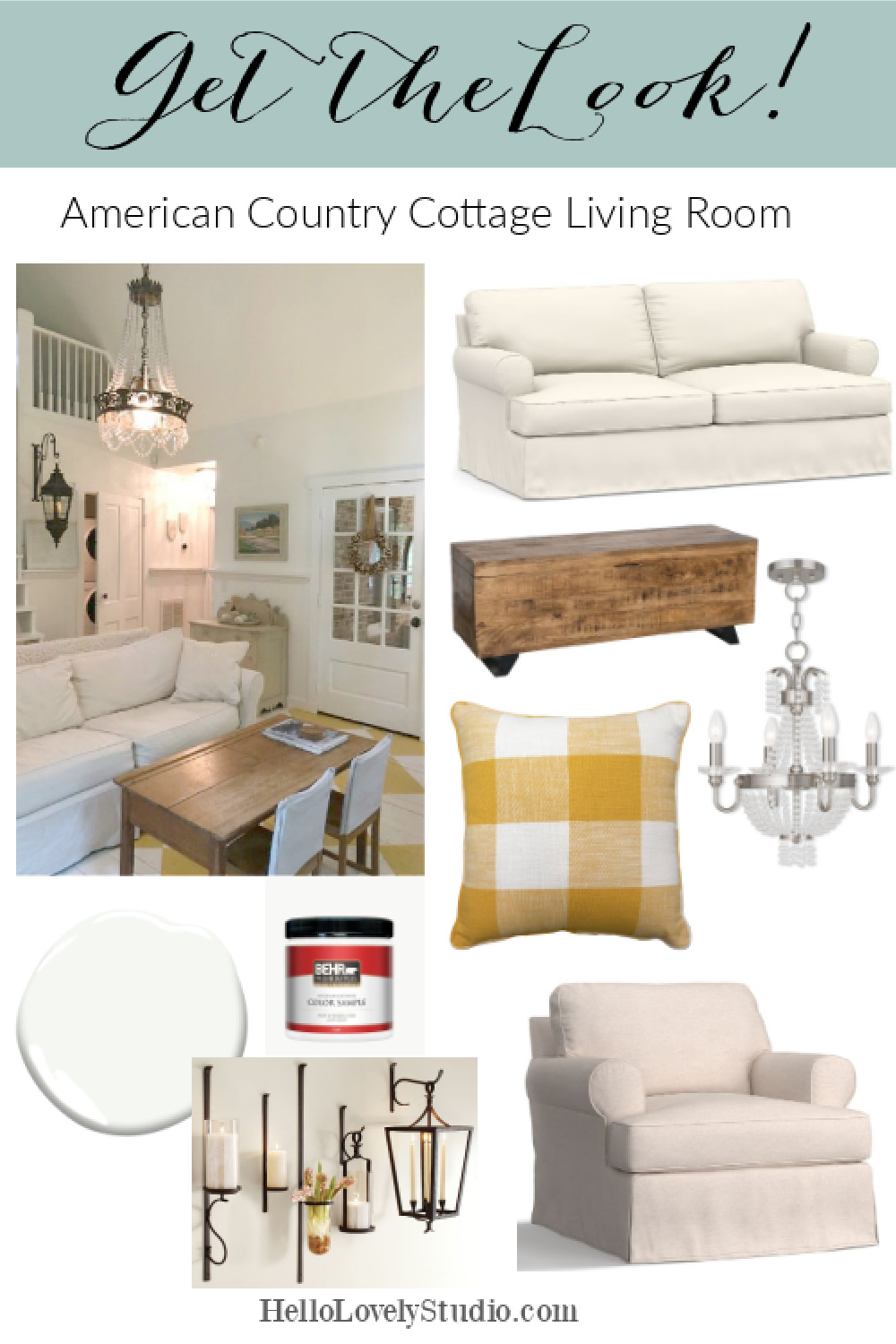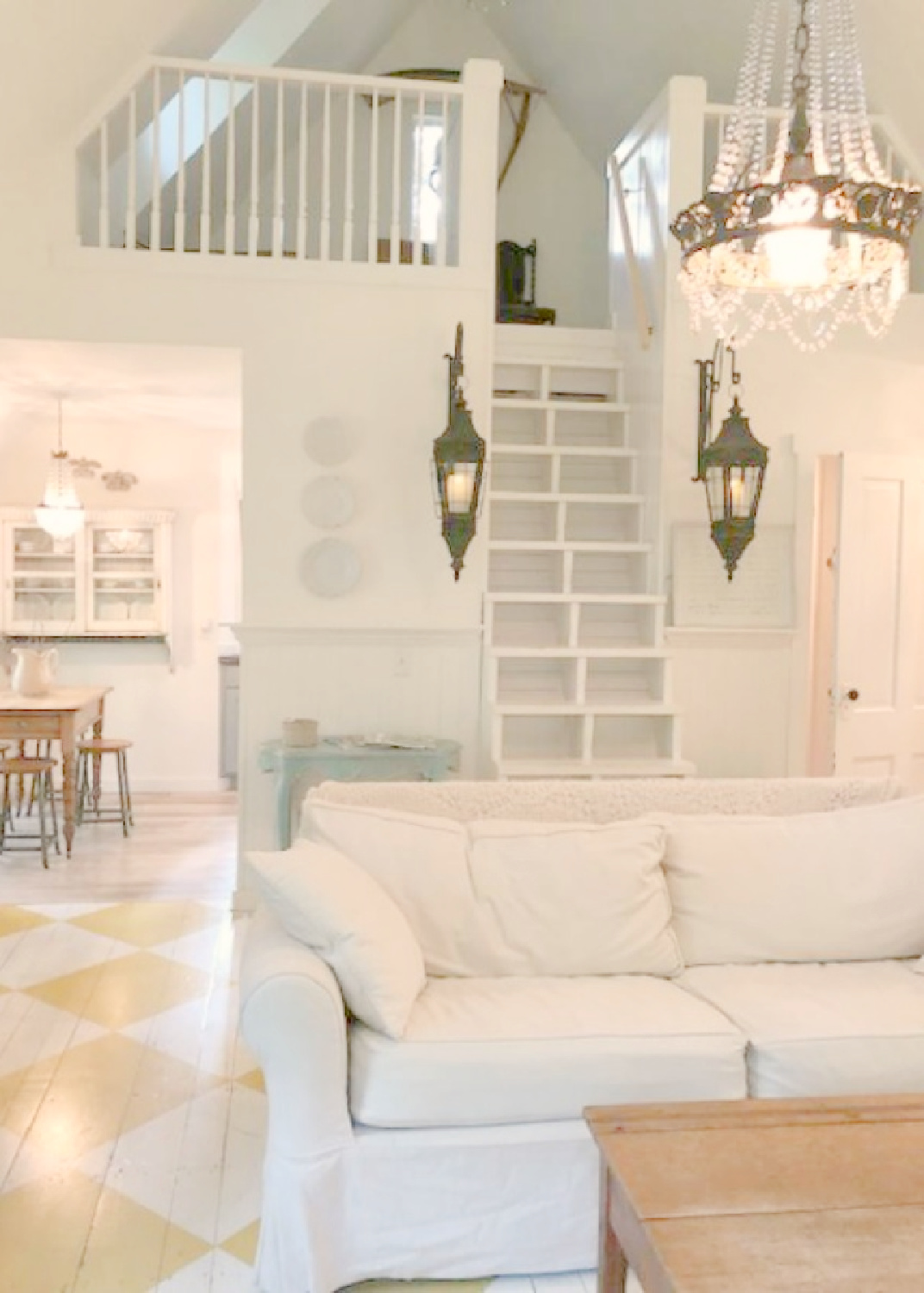 5. Oversized outdoor lanterns used inside aren't hardwired but hold flameless candles.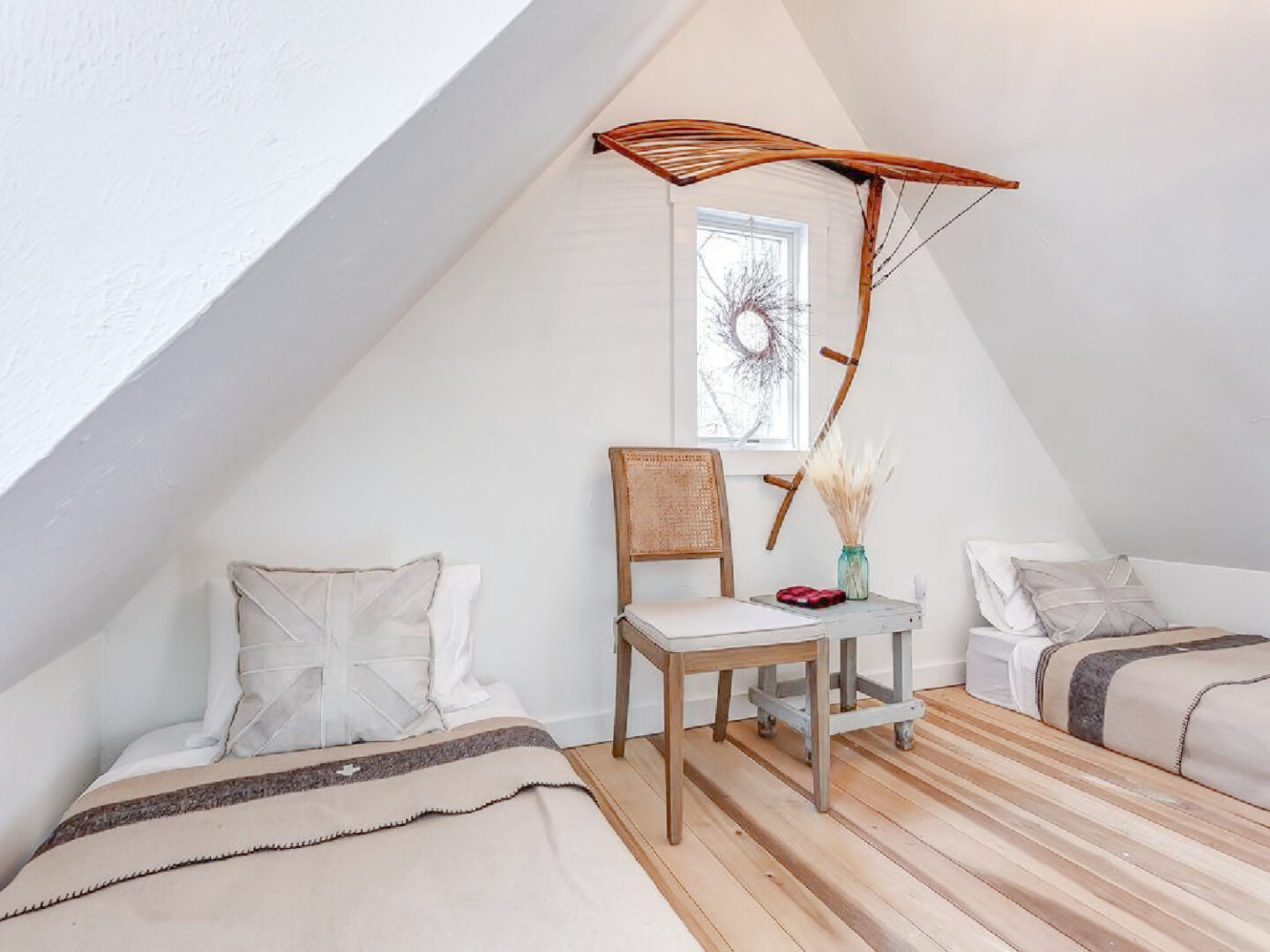 6. If ceiling light is low and a room is tiny, go low with the beds in a kids' guest room.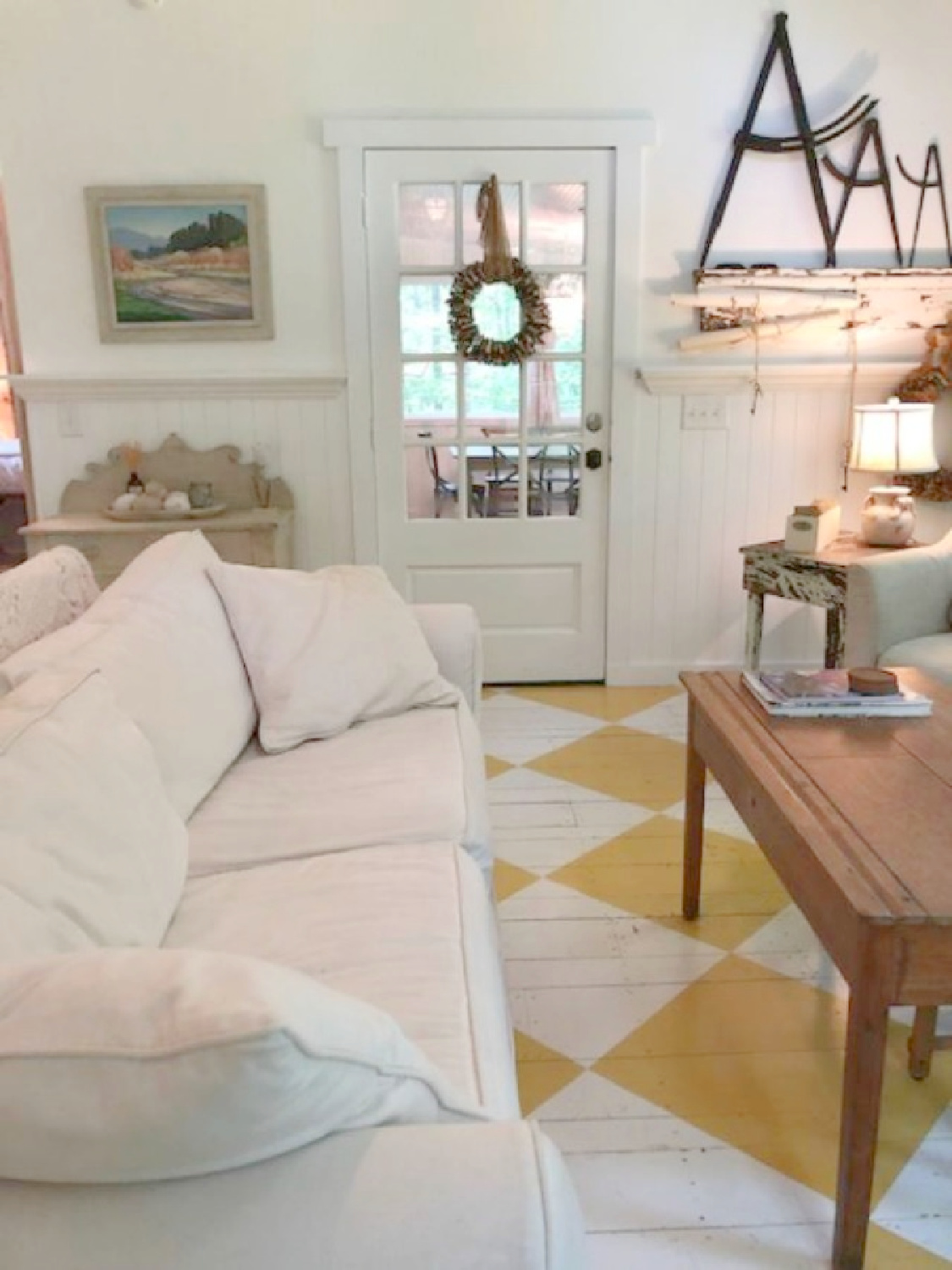 7. Beadboard on lower walls protects them and adds so much architectural interest and age when you don't want the space to feel new.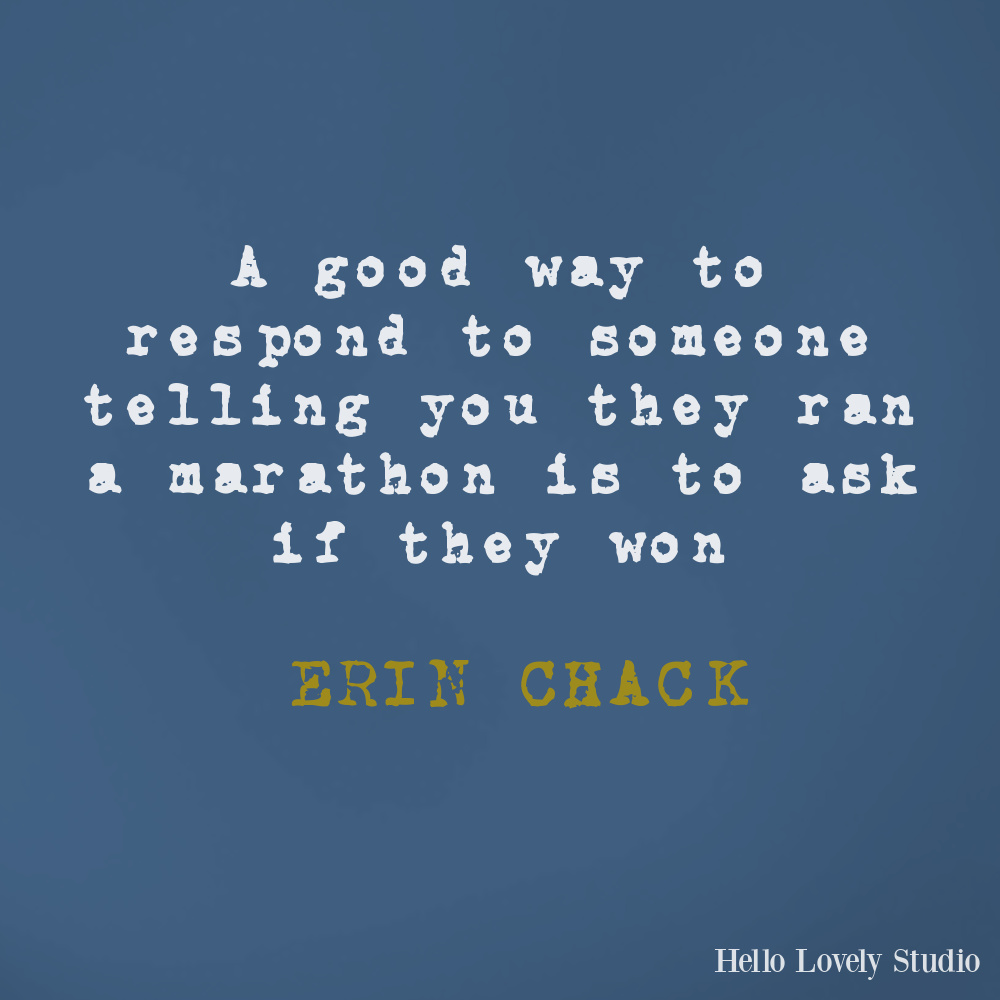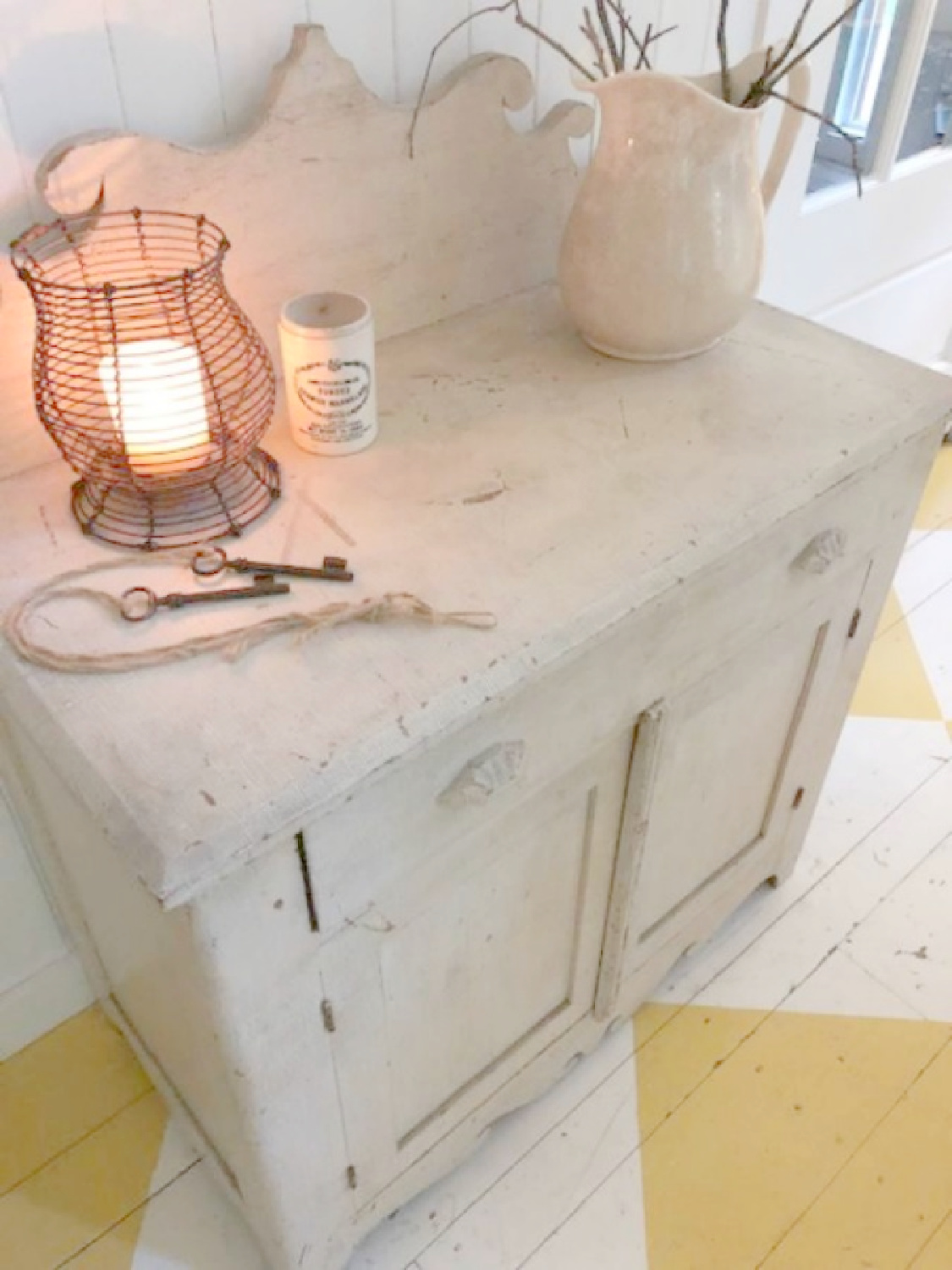 8. White painted vintage pieces like this dry sink don't take up as much visual space when you're keeping it calm and the room isn't huge.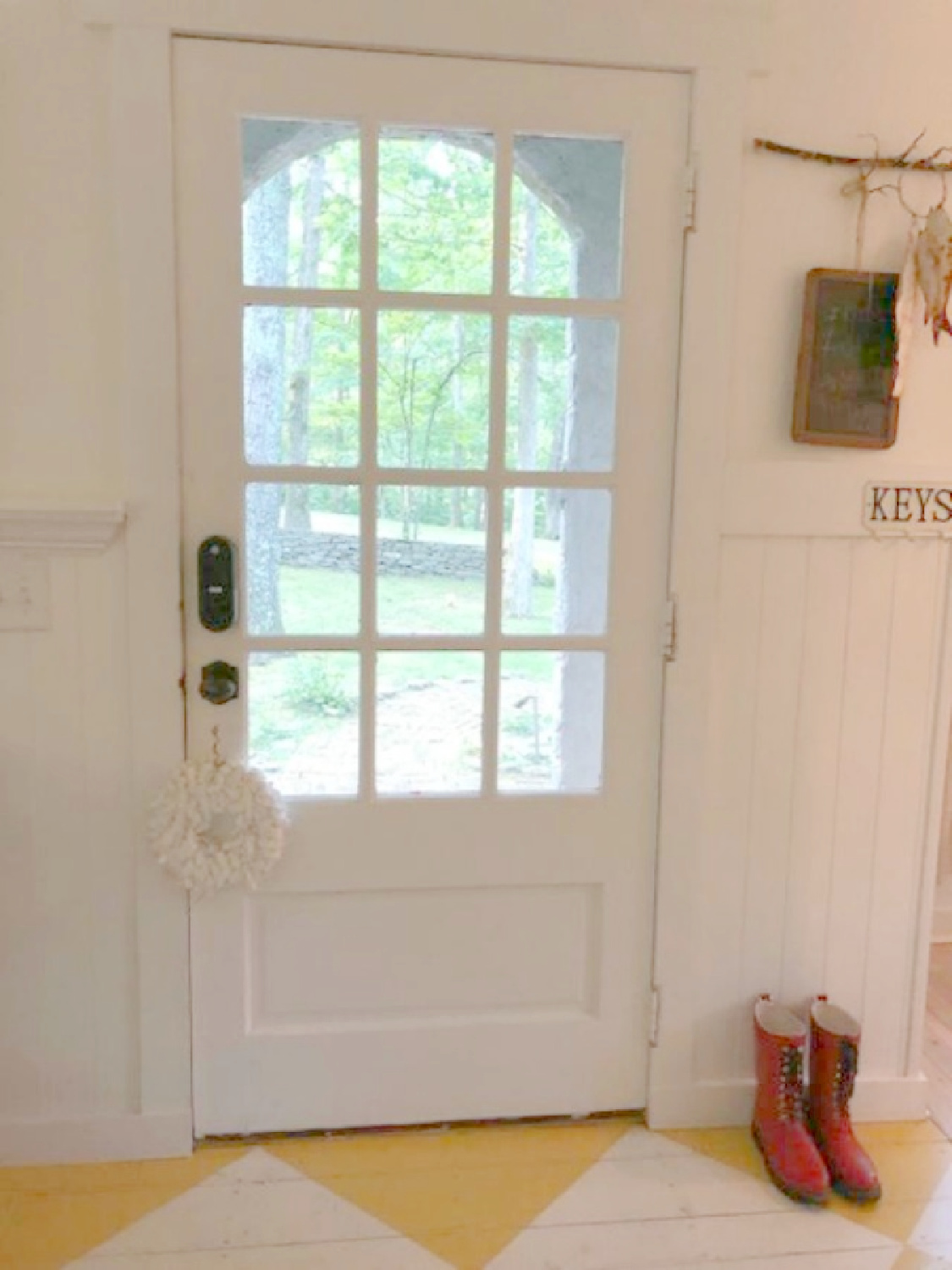 9. An entry door with glass ushers in the light!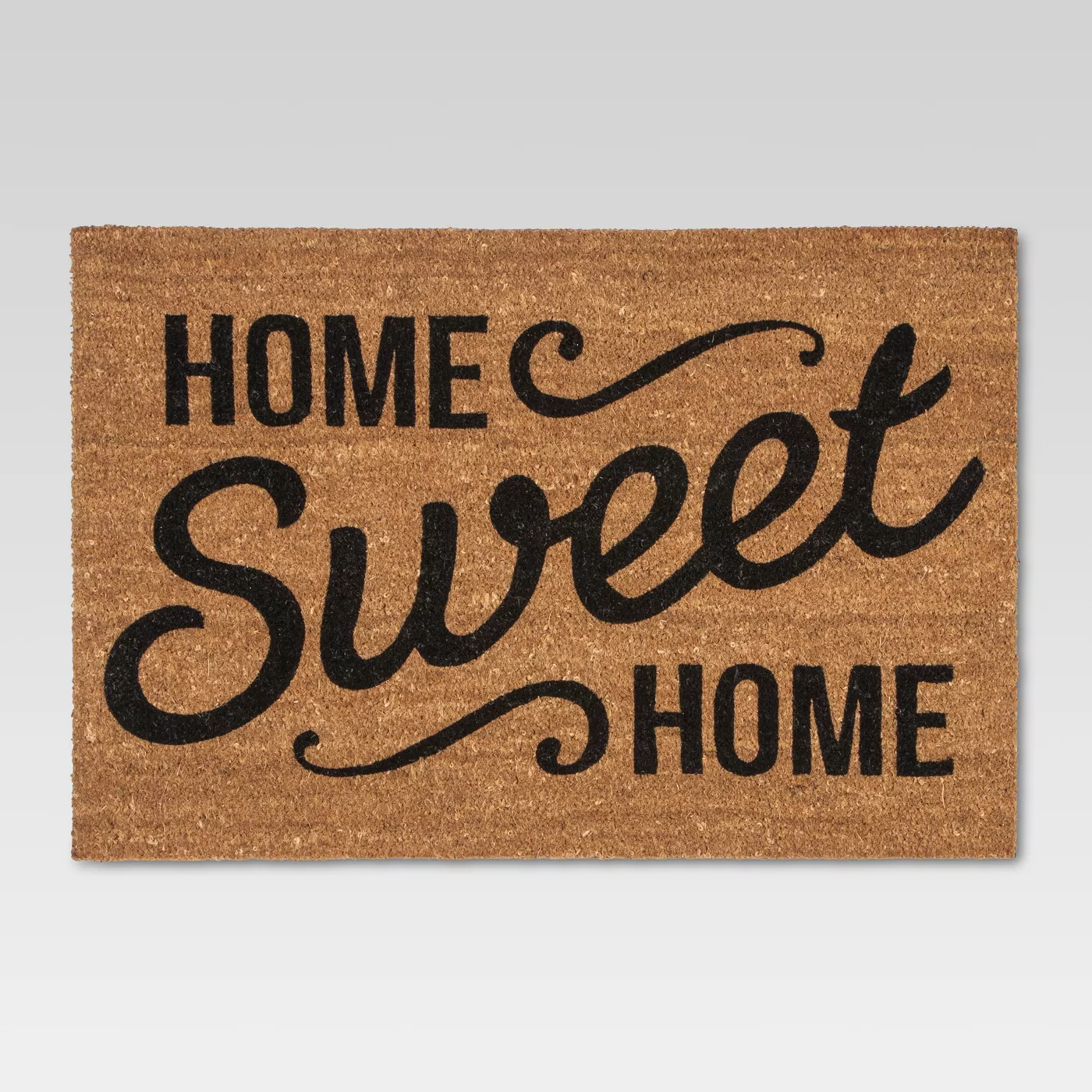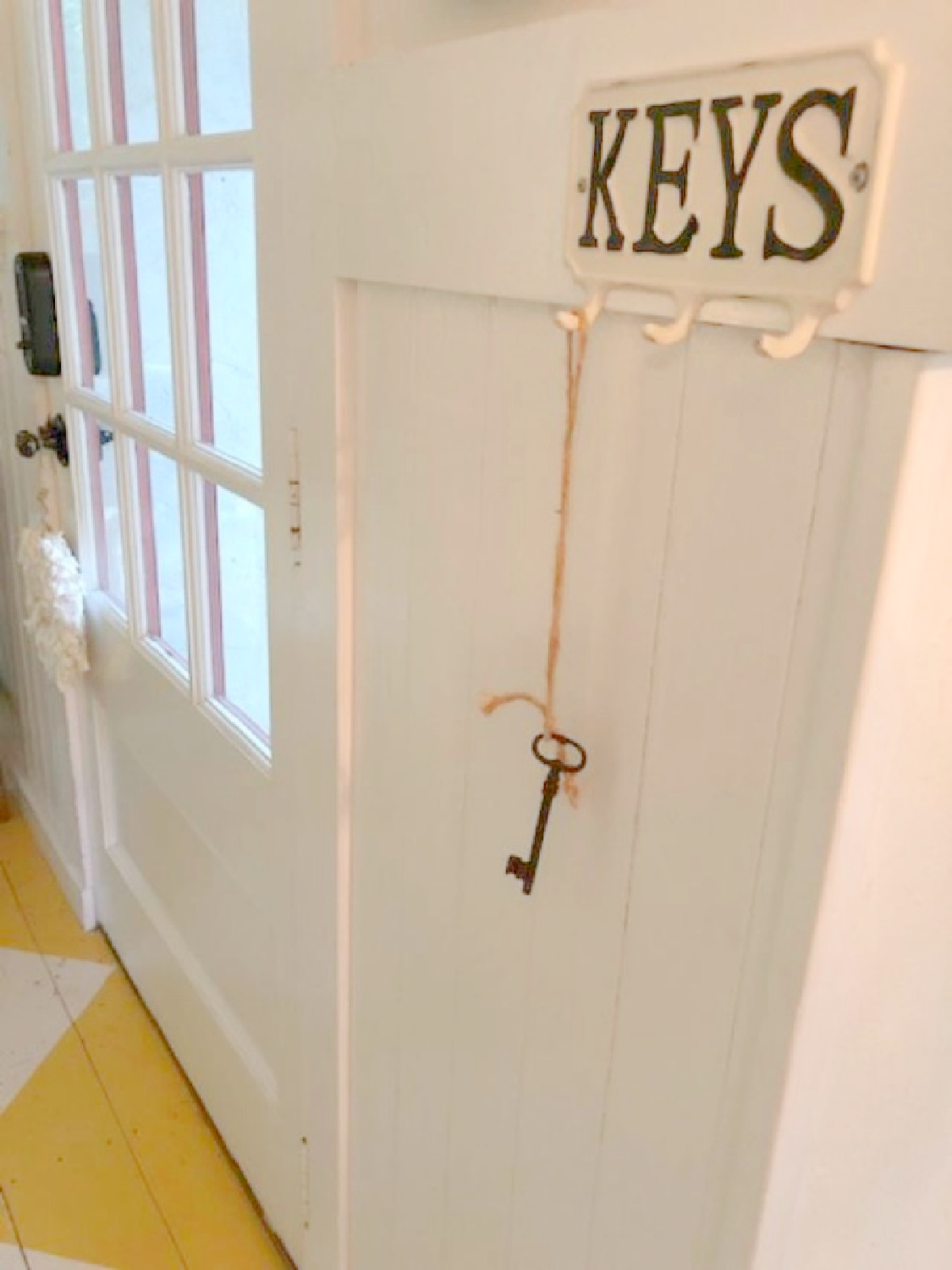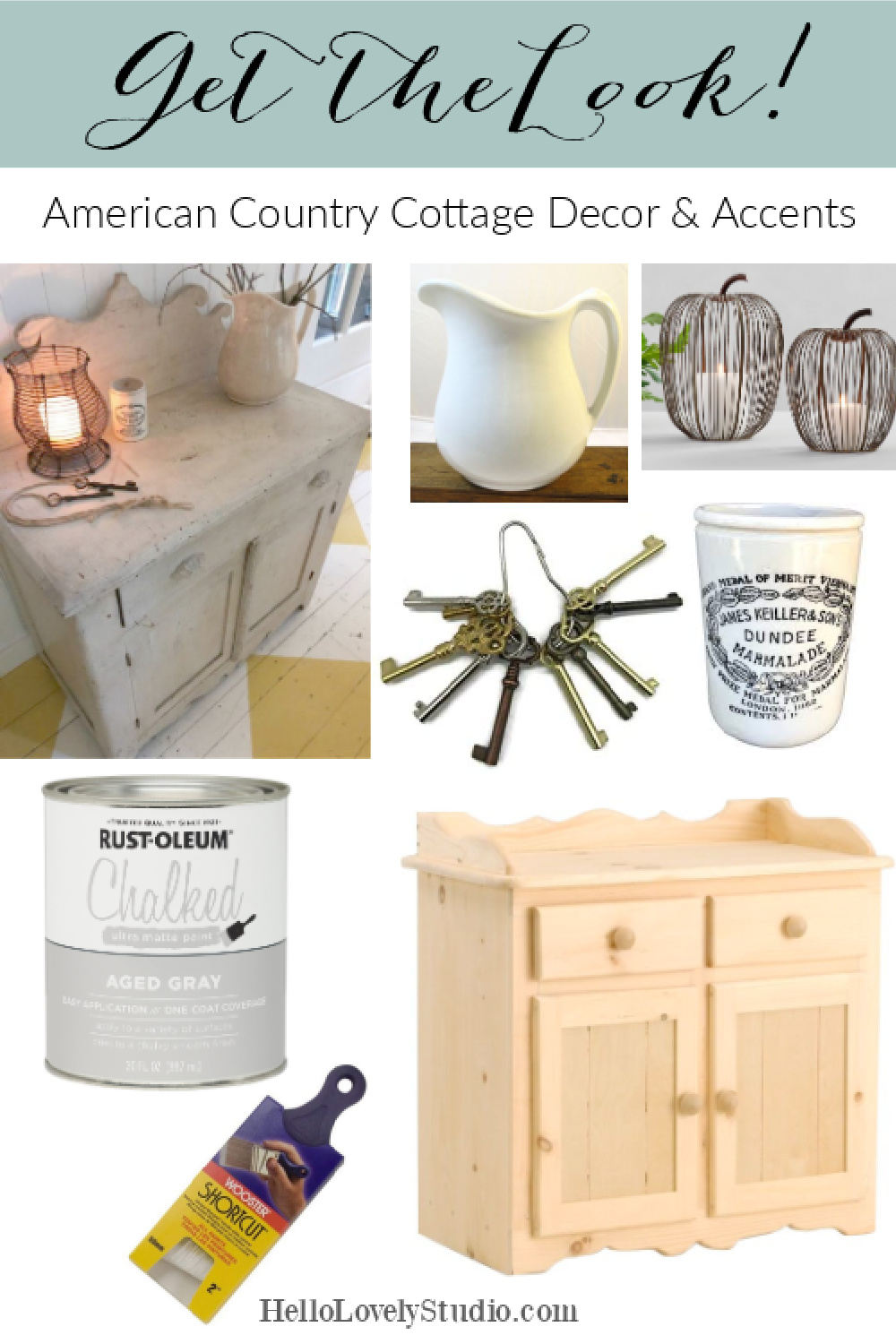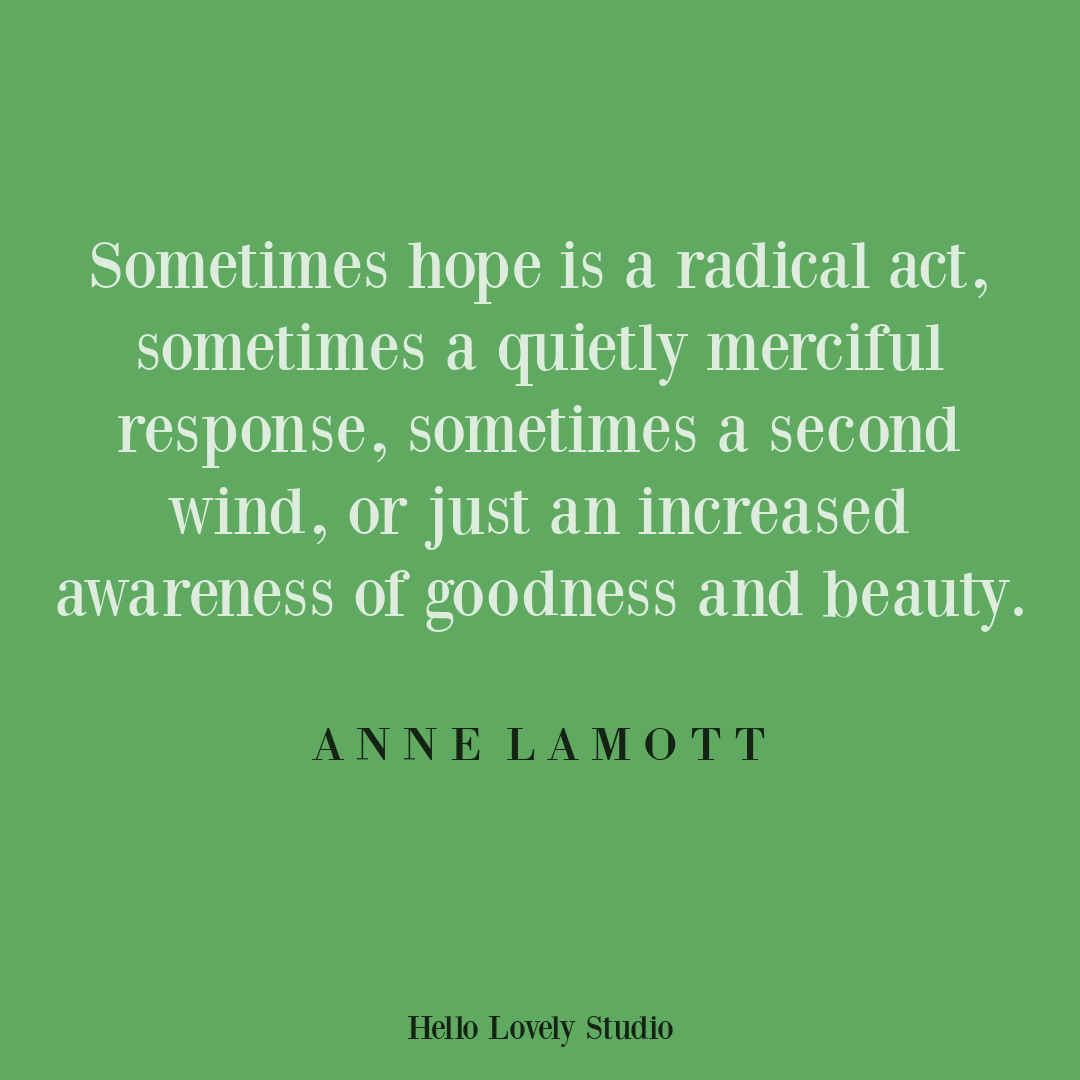 Rustic Kitchen Design Ideas Inspired by Storybook Cottage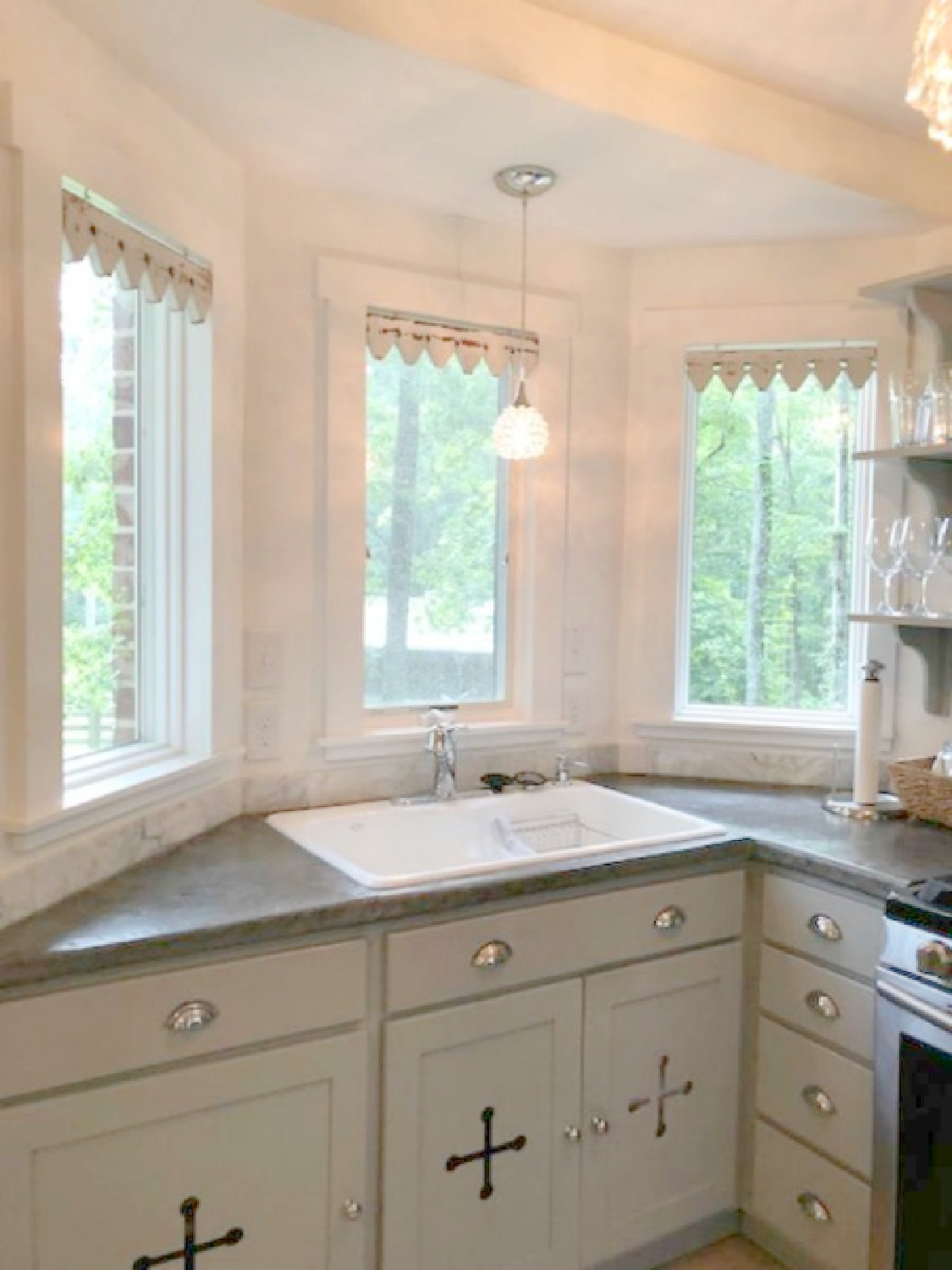 1. The kitchen cabinets have charming cut-outs that add instant age.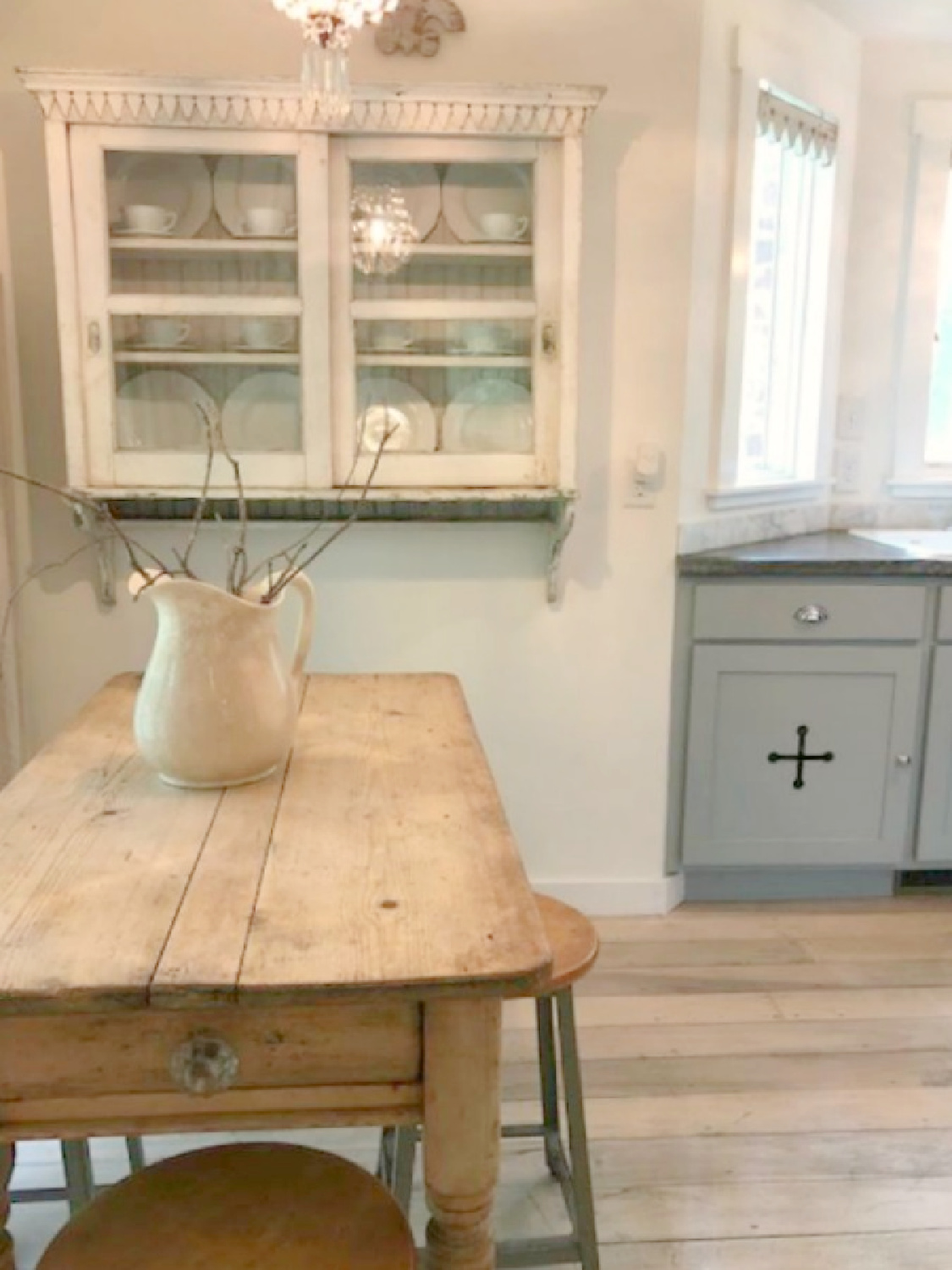 2. A vintage hutch can be separated from a buffet when space is tight or just because you like the look.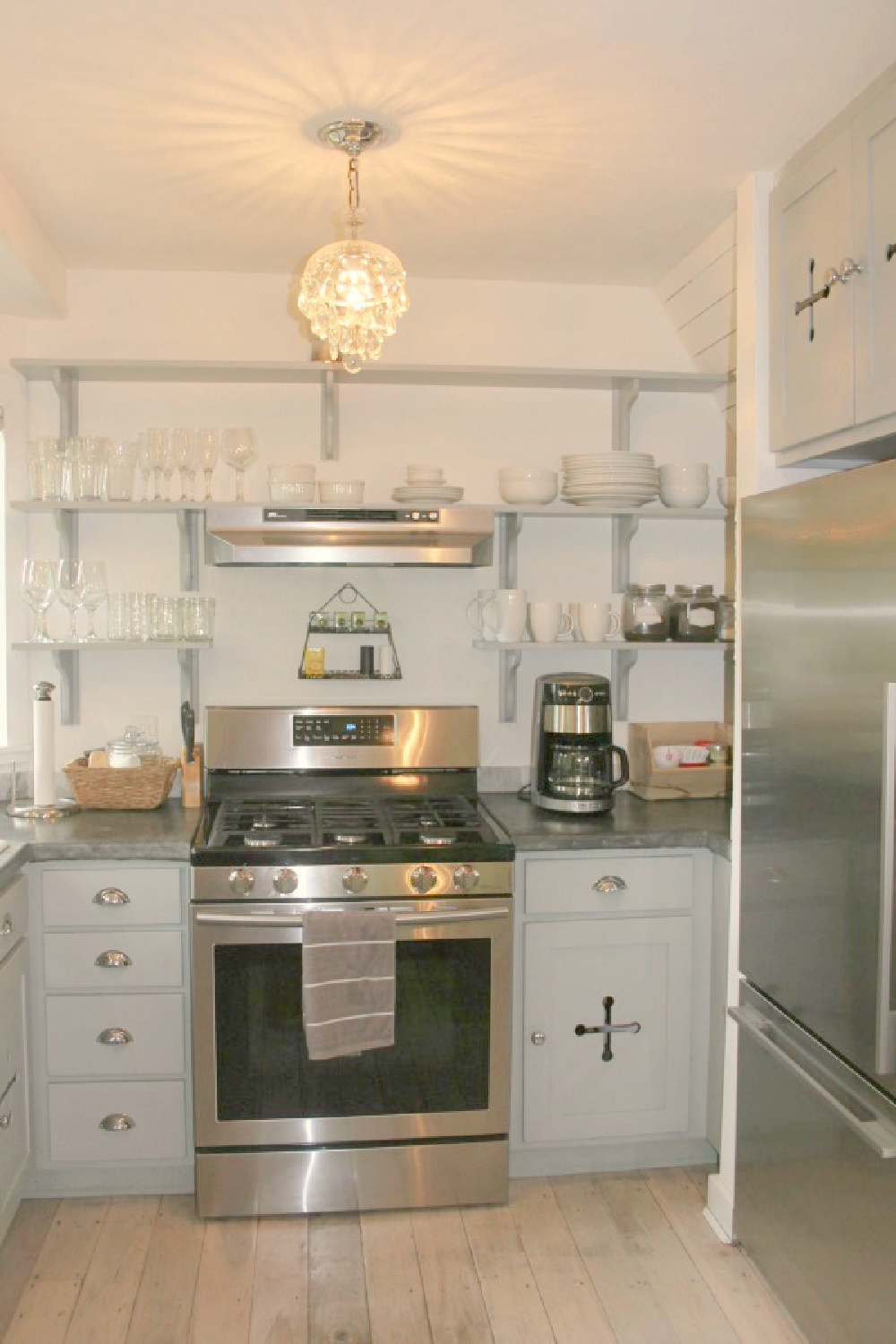 3. Open shelving can provide more storage than you may imagine.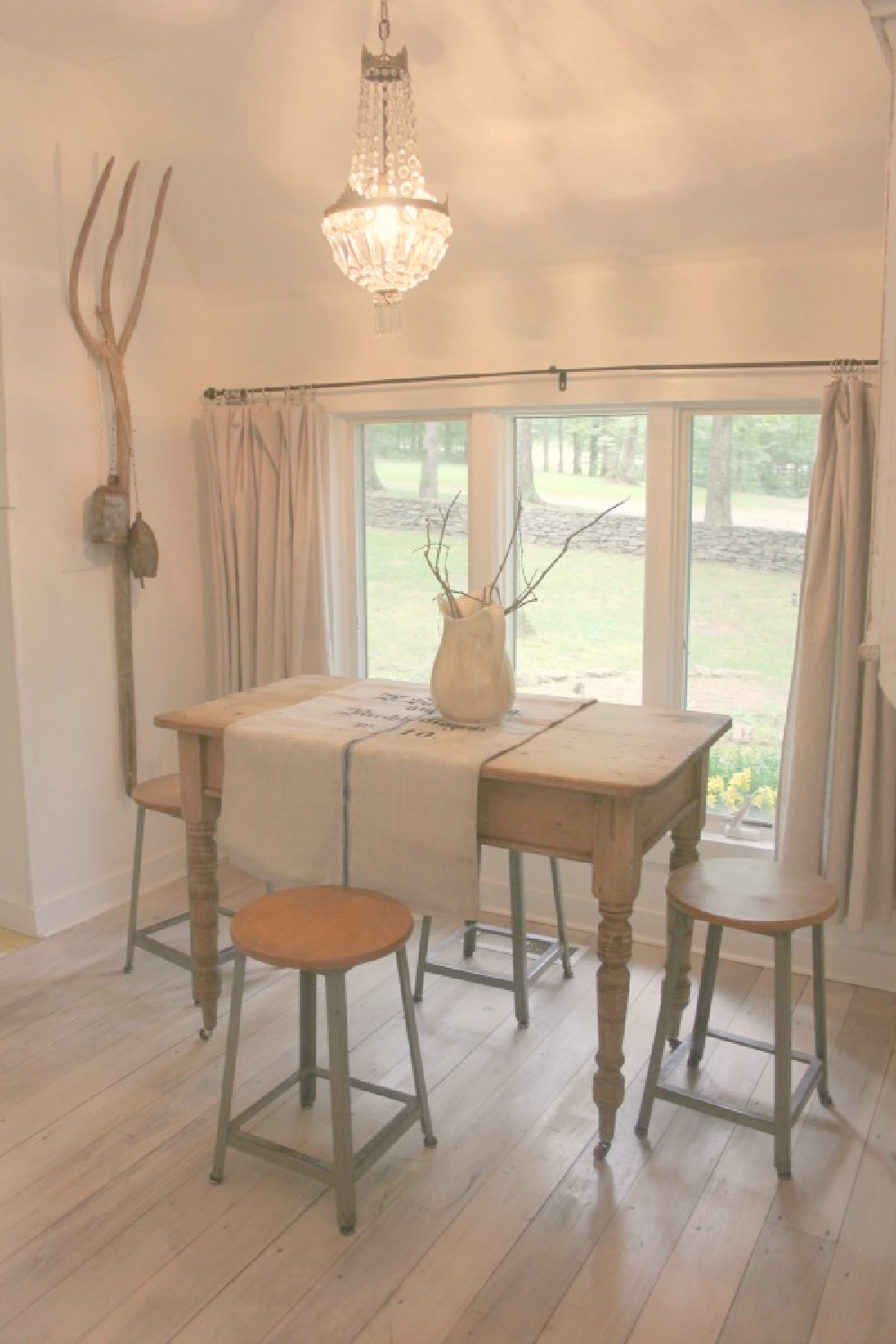 4. Oversized vintage and primitive barn finds can live new life as art on the wall.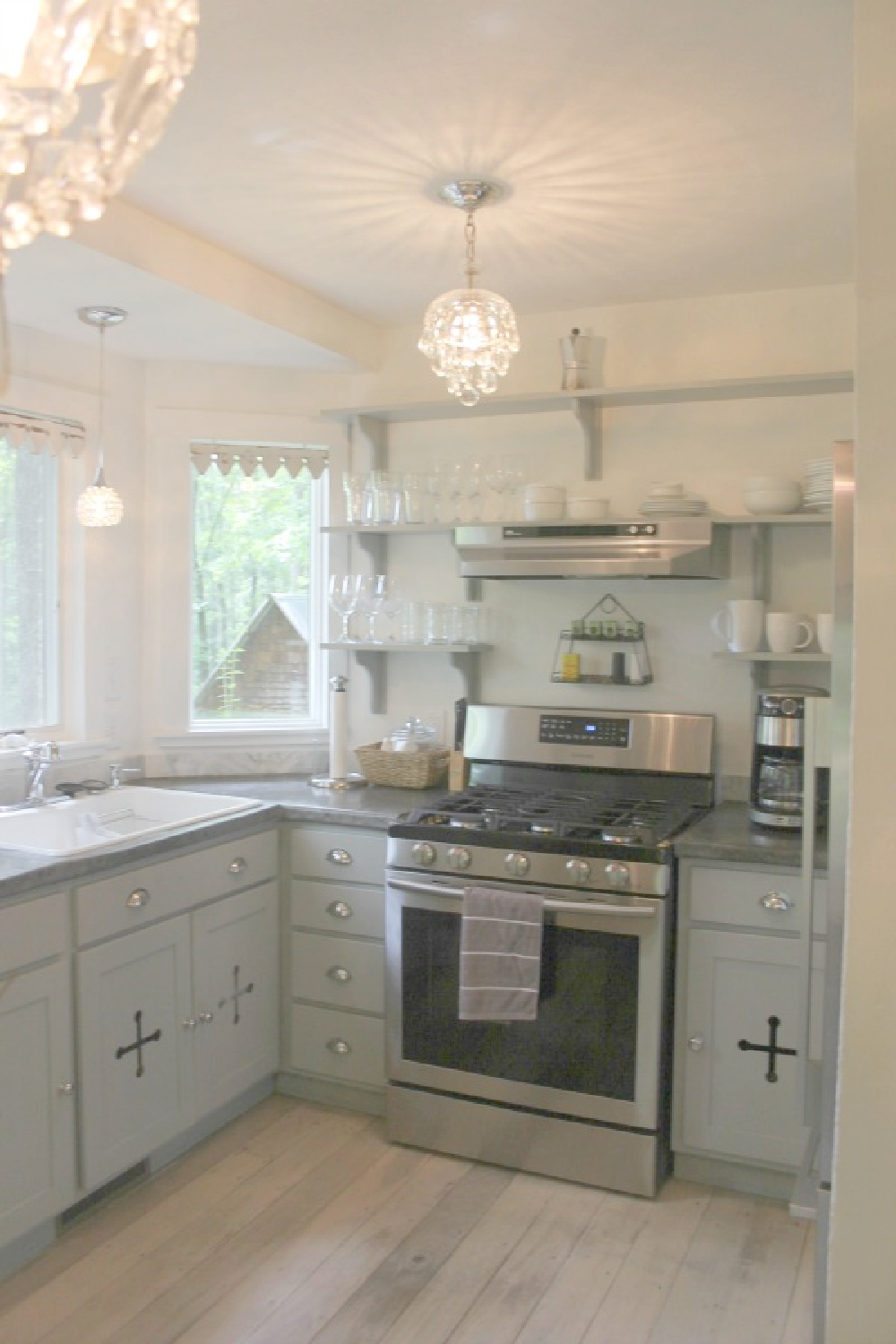 5. Even small kitchen work triangles work!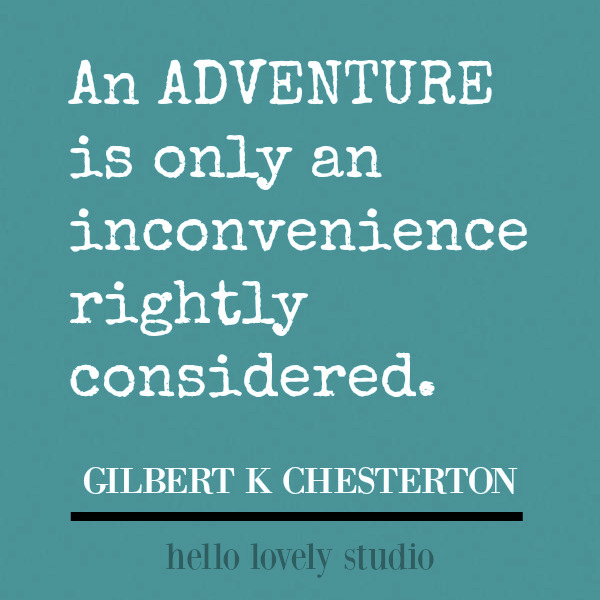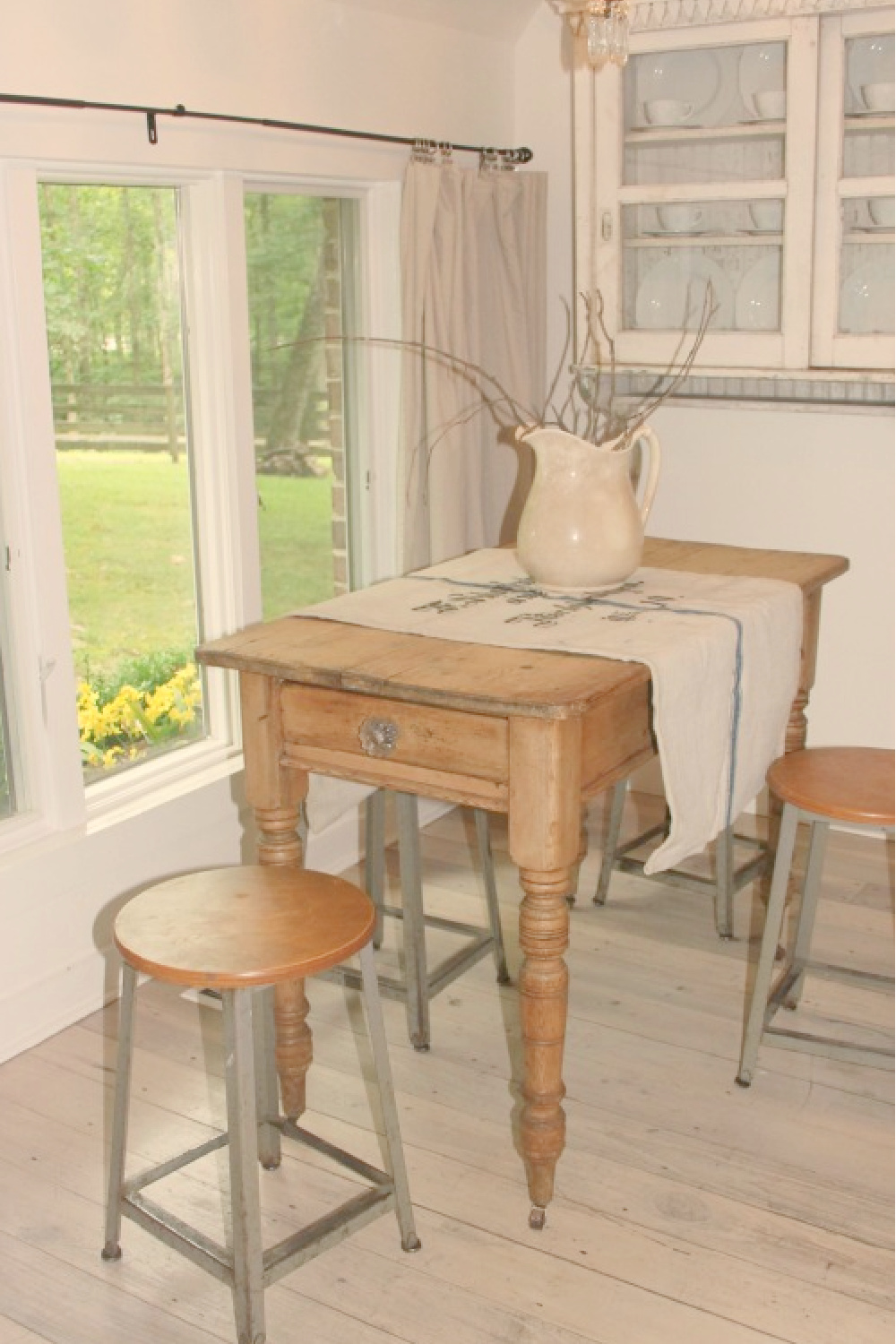 6. No room for an island? Treat a small farm table like one…FB Marketplace may be where you can find your dream table!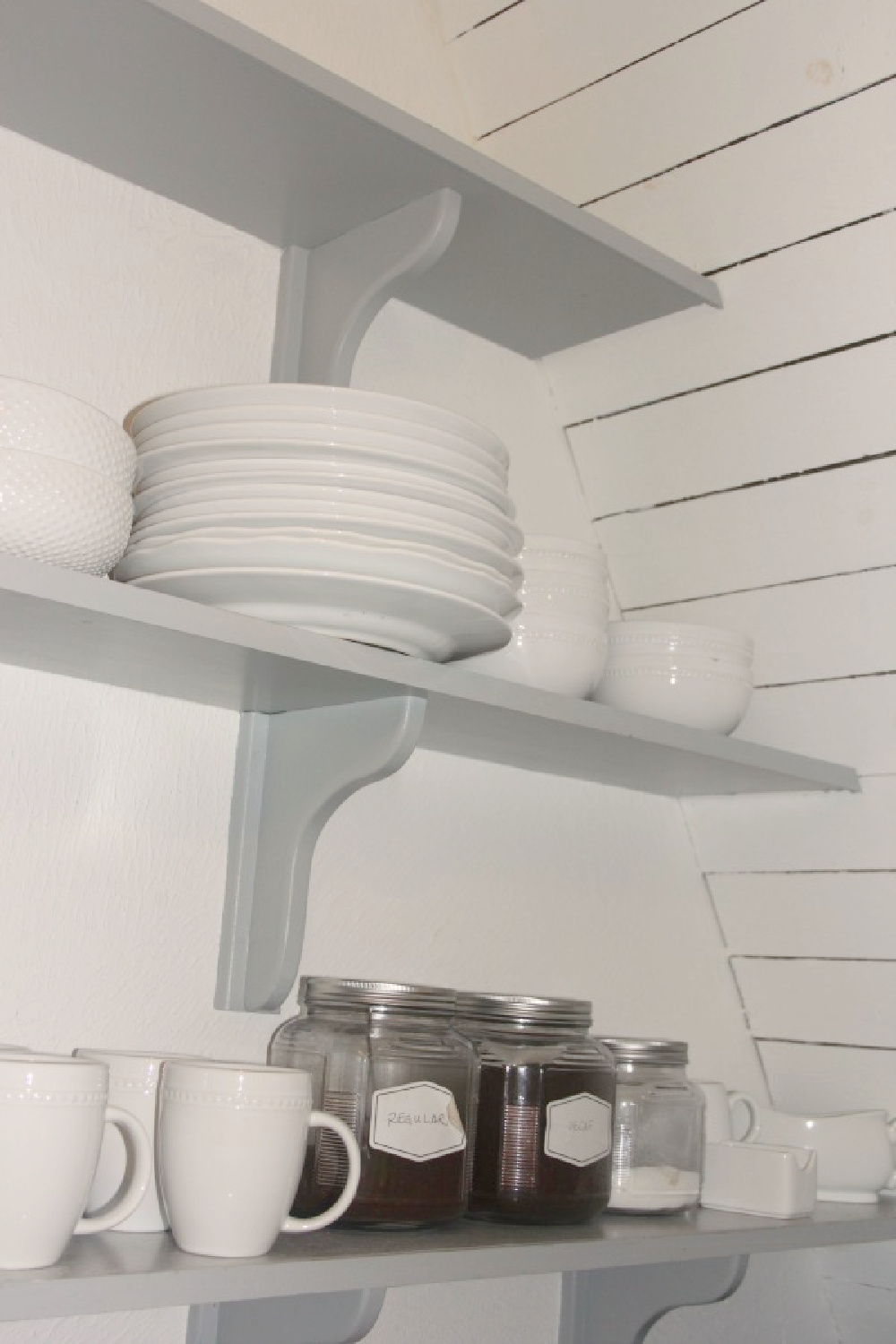 7. Paint shelves the same color as cabinets to keep the look cohesive and calm.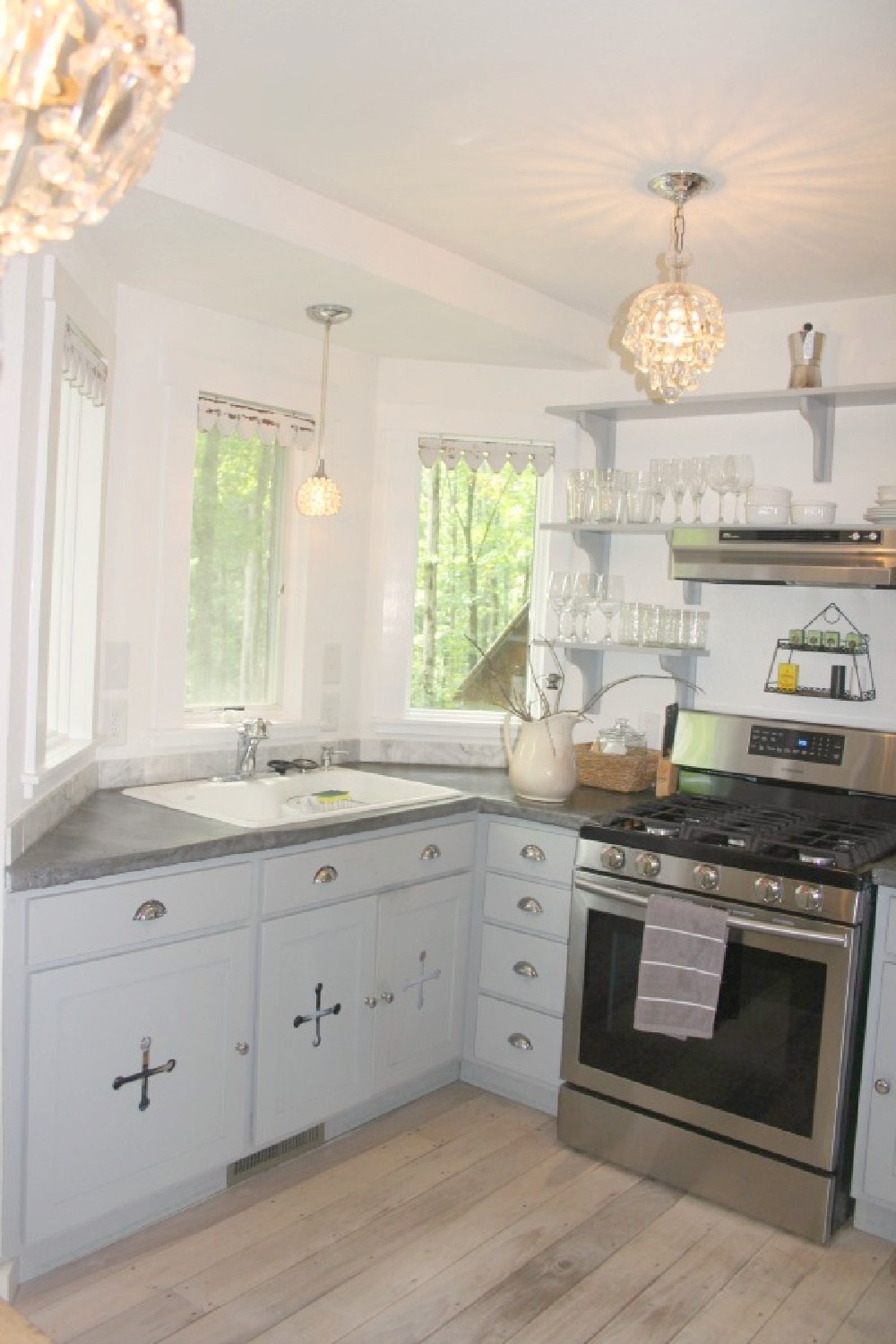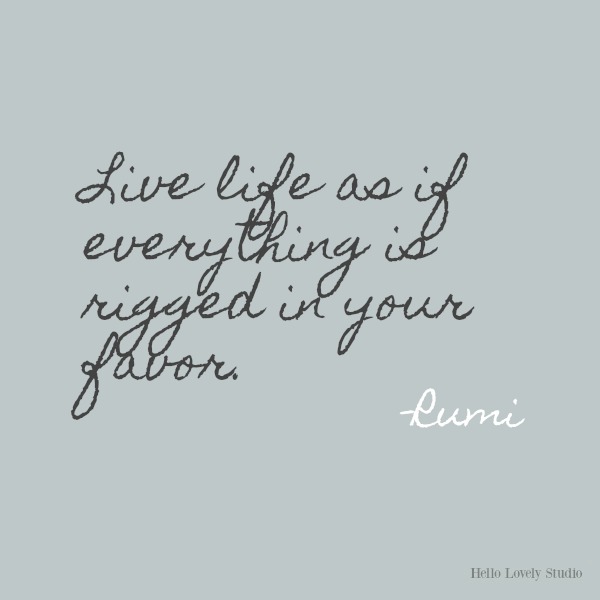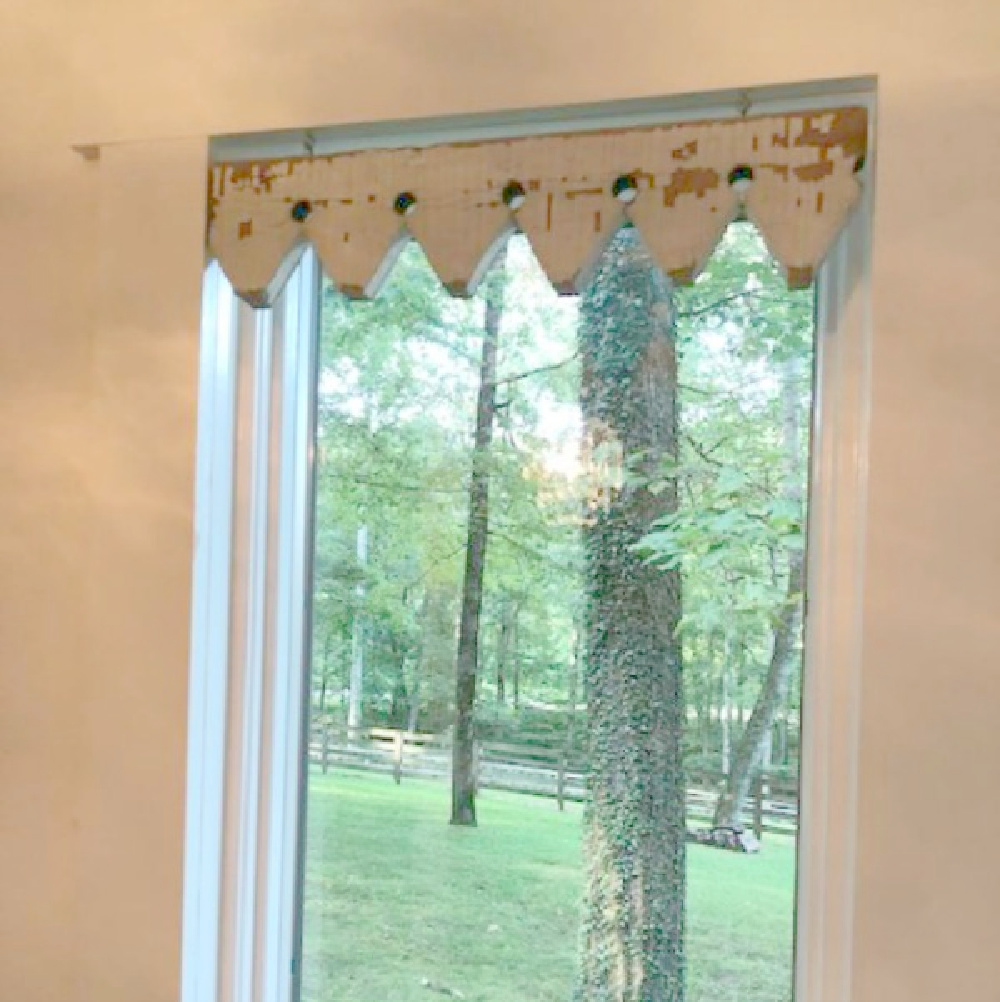 8. Use architectural salvage as a window valance!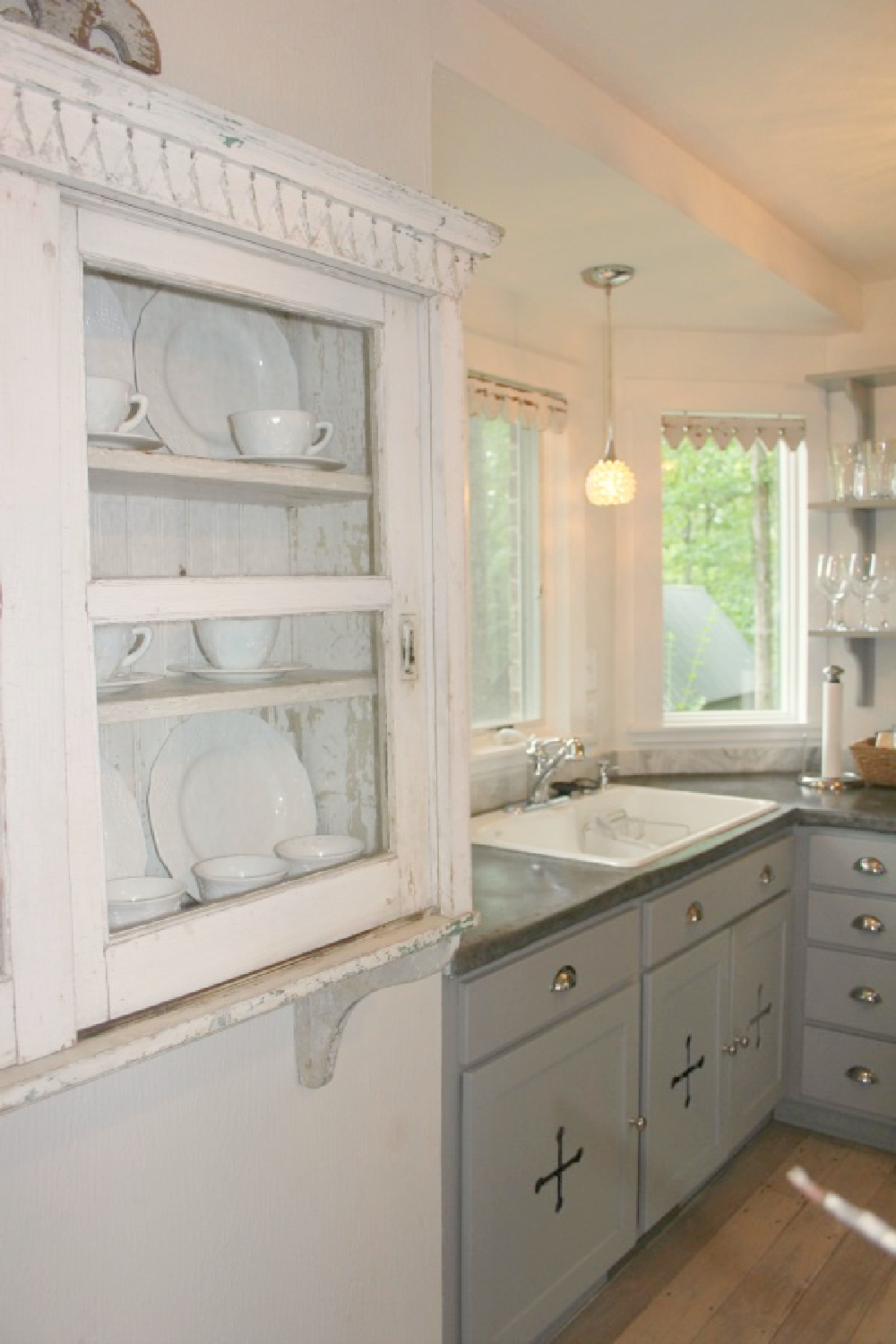 9. No need to limit yourself to white cabinets even in the smallest kitchen! Paint 'em your favorite color.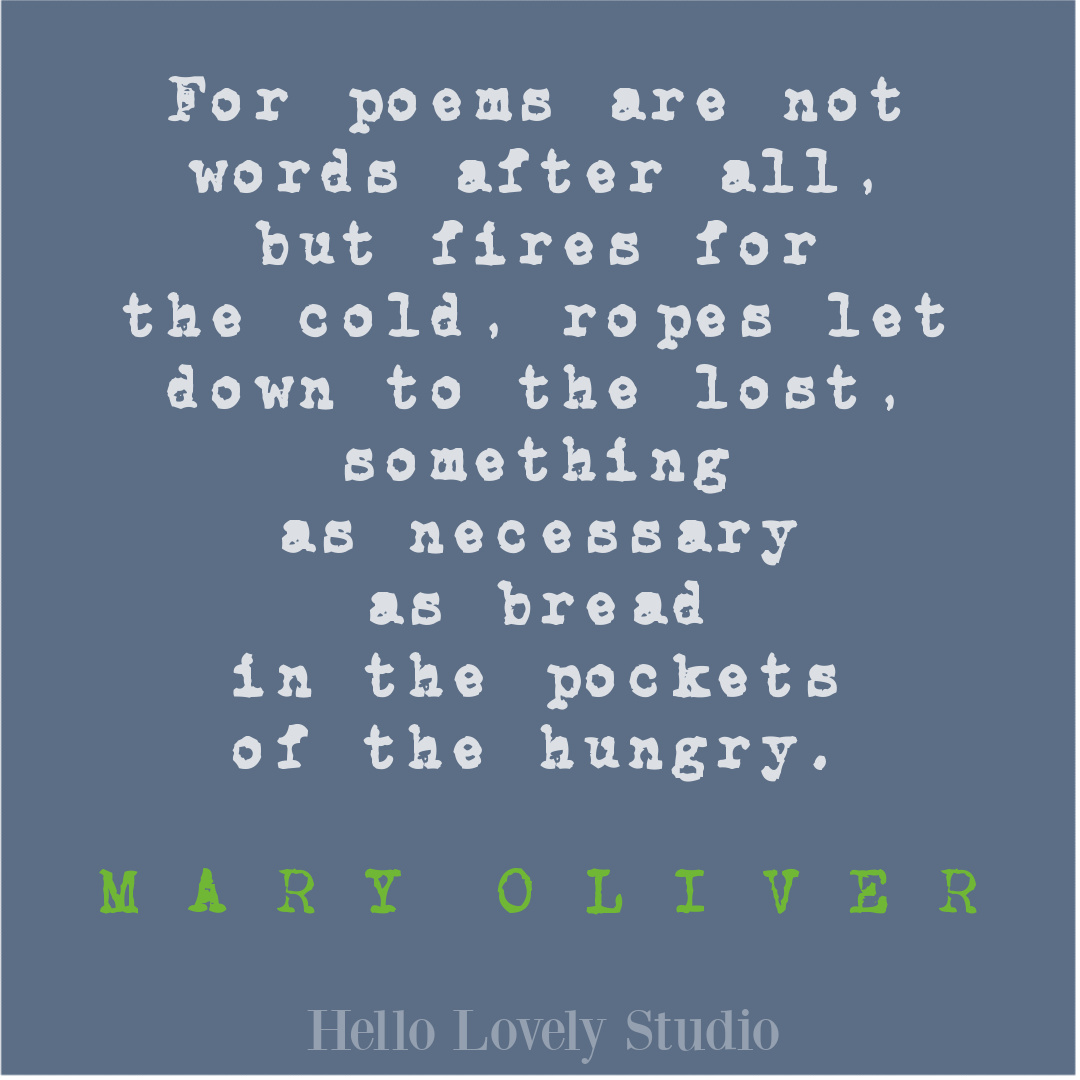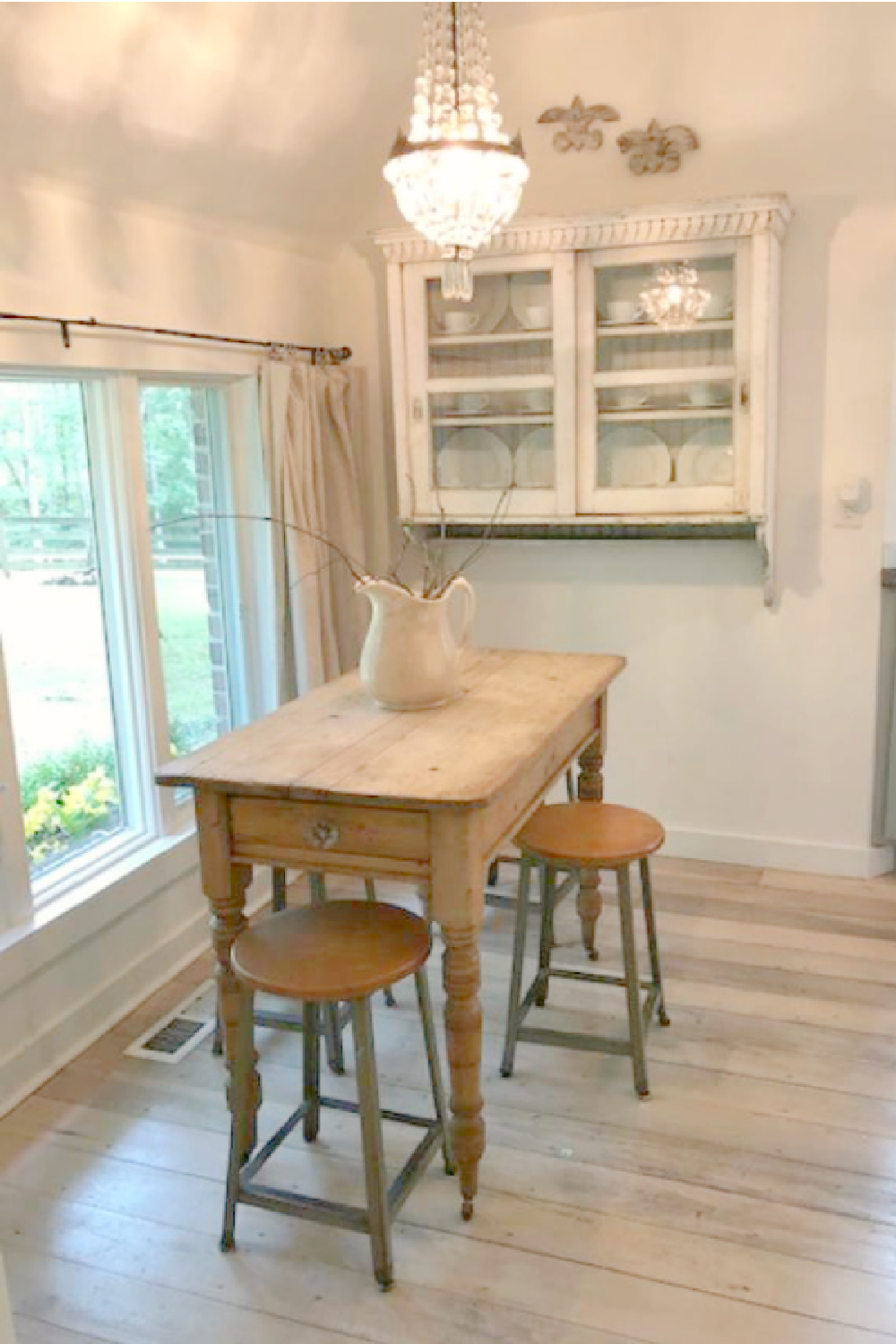 10. For an effortless, low budget window treatment, cut canvas dropcloths to fit and hang with clip rings.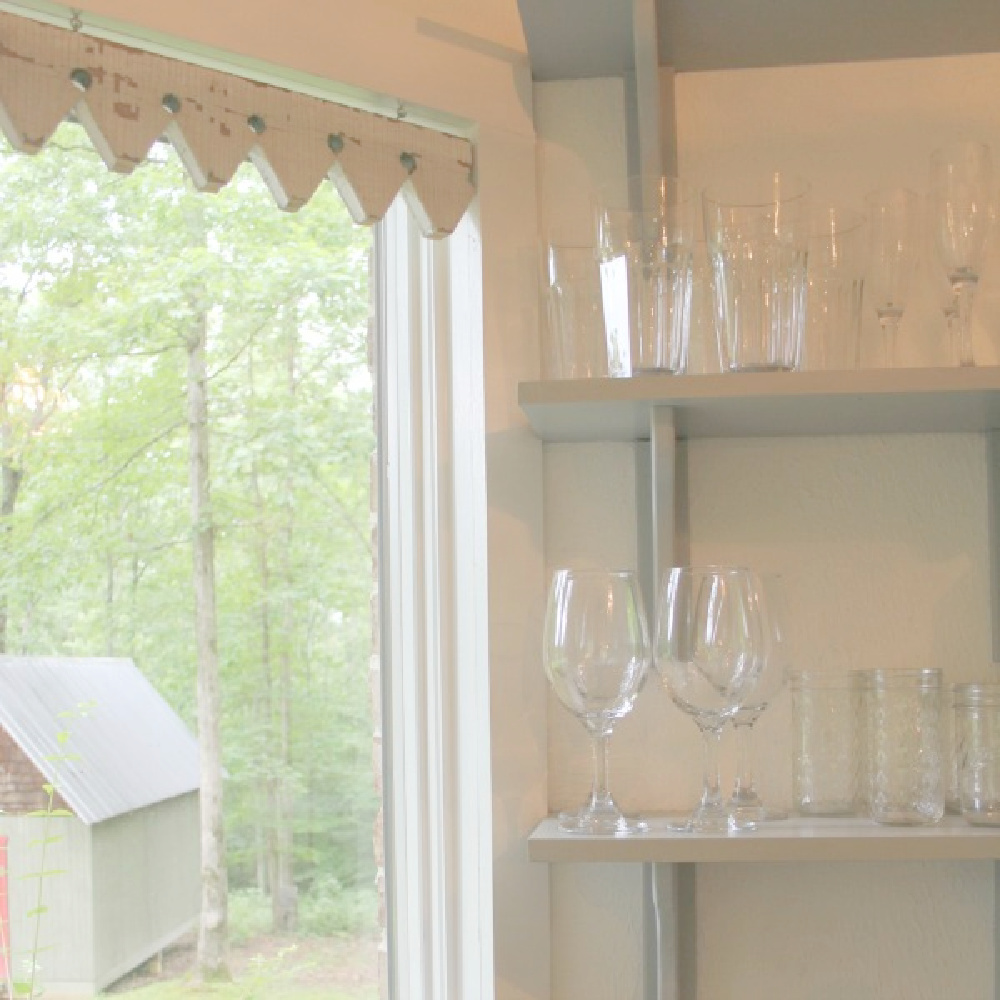 11. In a laidback cottage, the plainest Shaker style trim can border windows and doors.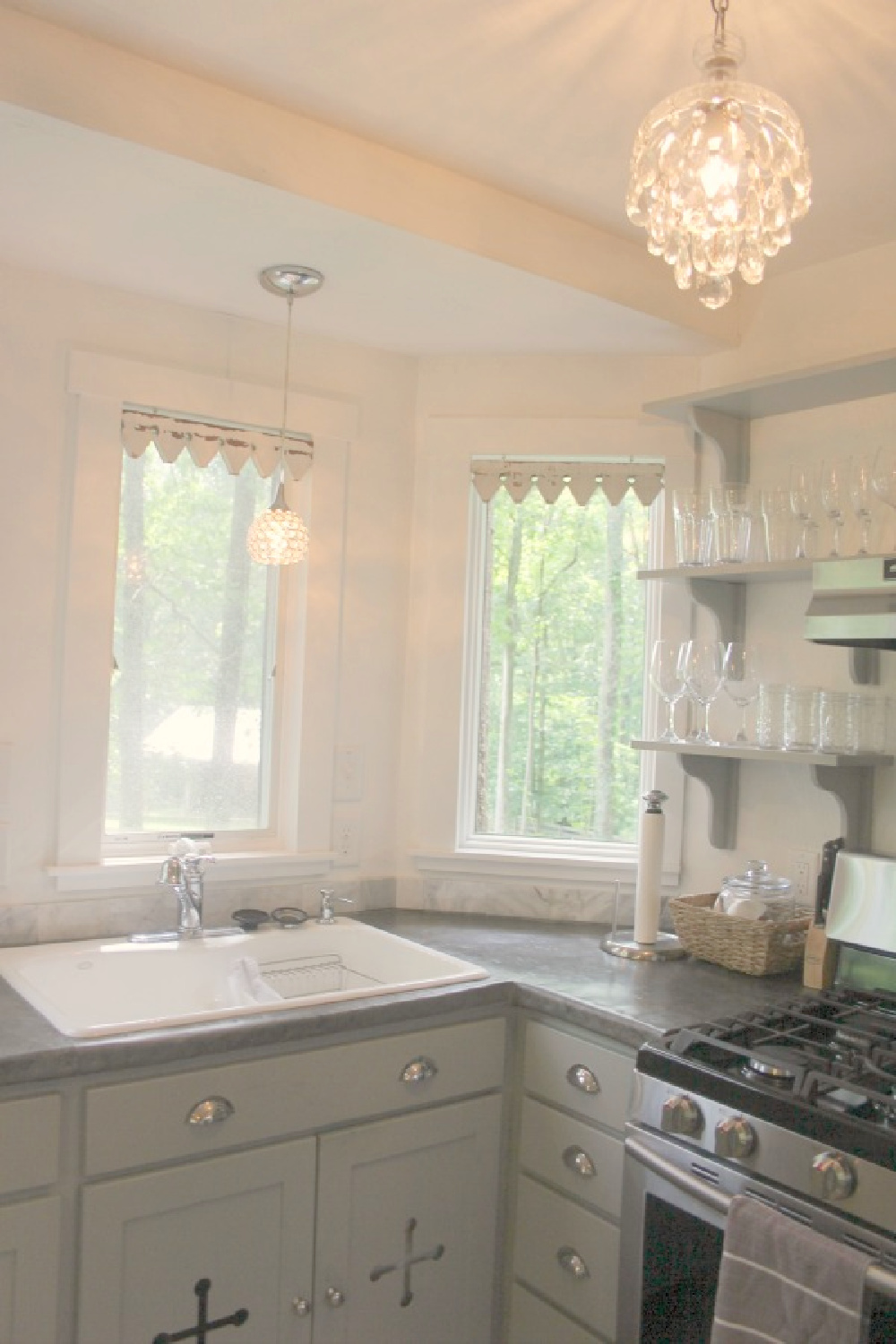 12. Nothing says old fashioned country kitchen like a cup pull, and they are easy to find everywhere.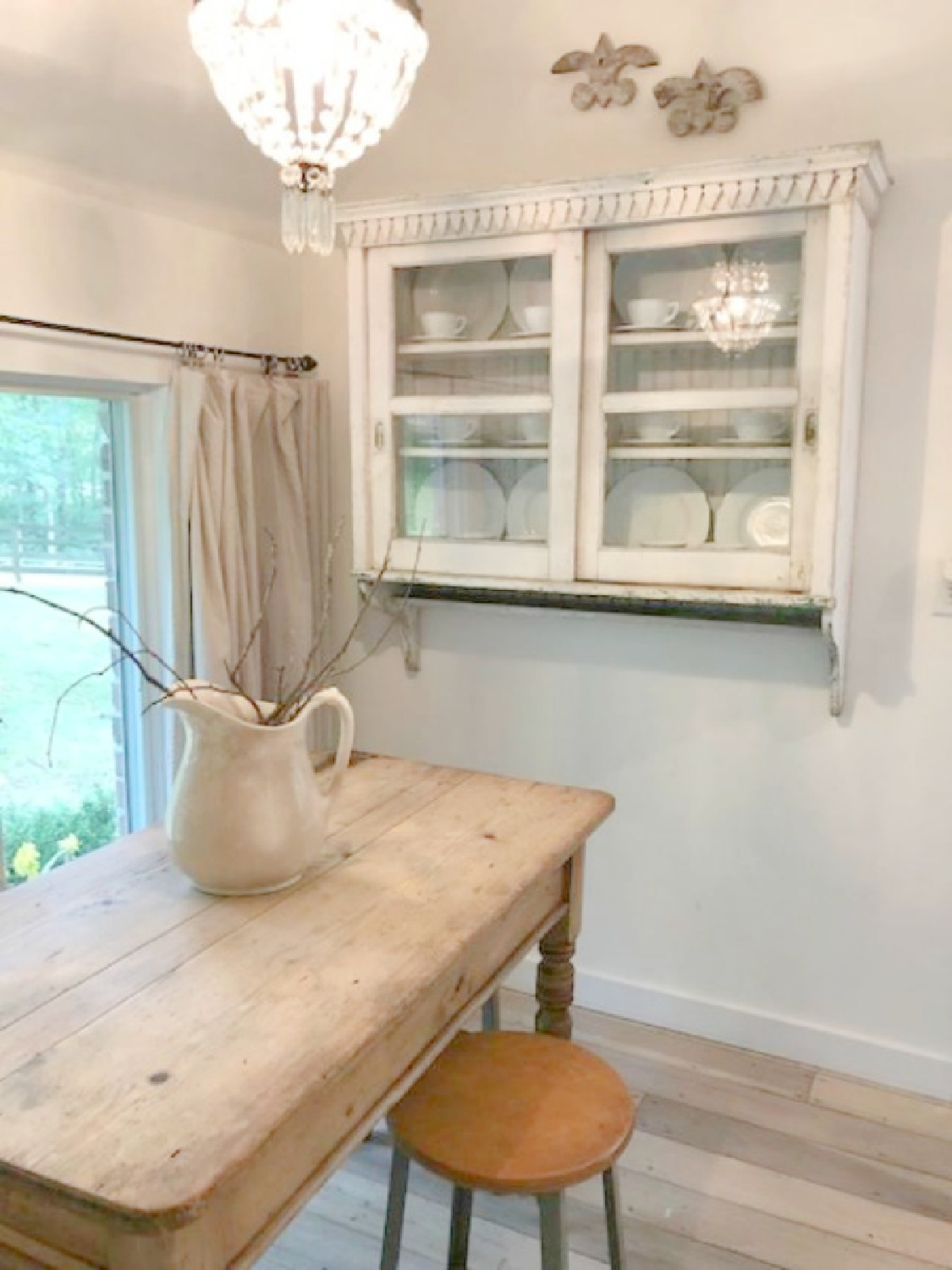 13. If you find an inexpensive pine table that has a terrible stain or color, strip that baby down! Scrubbed pine can be beautiful.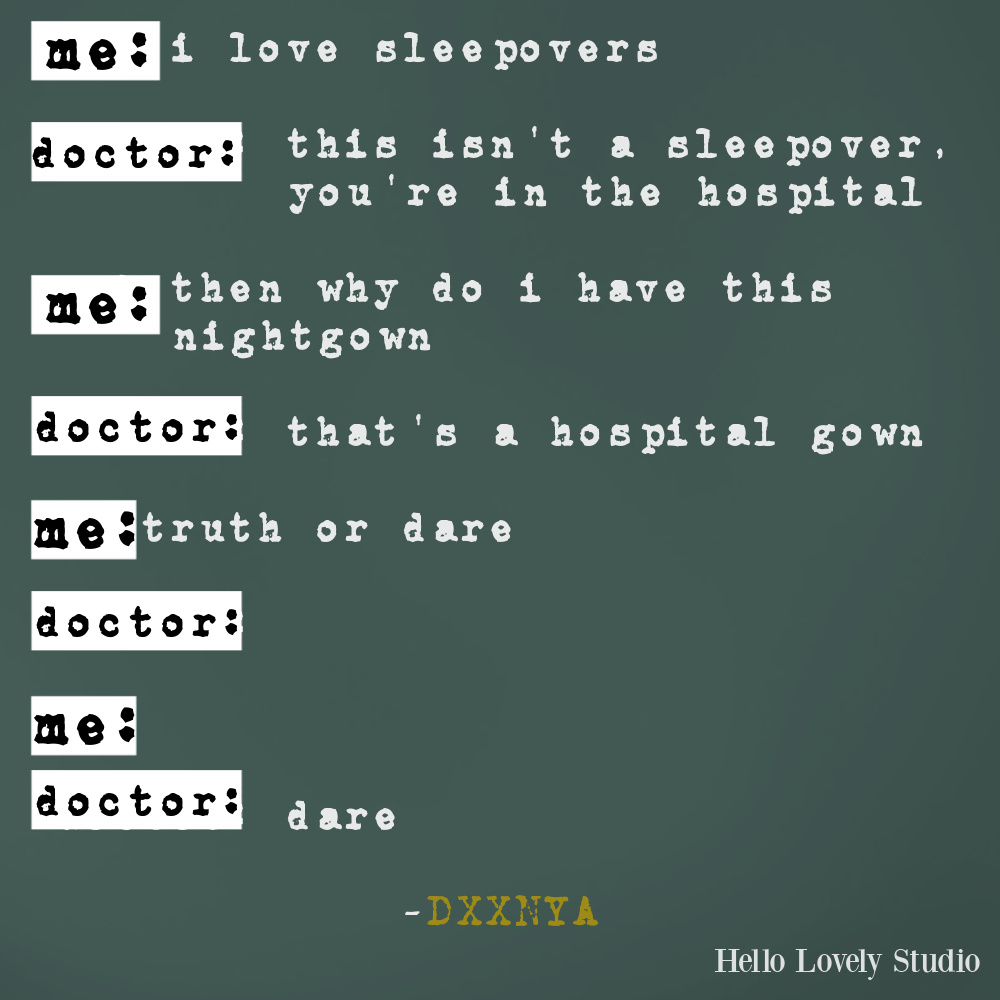 Tumbledown Lovely Bedroom Details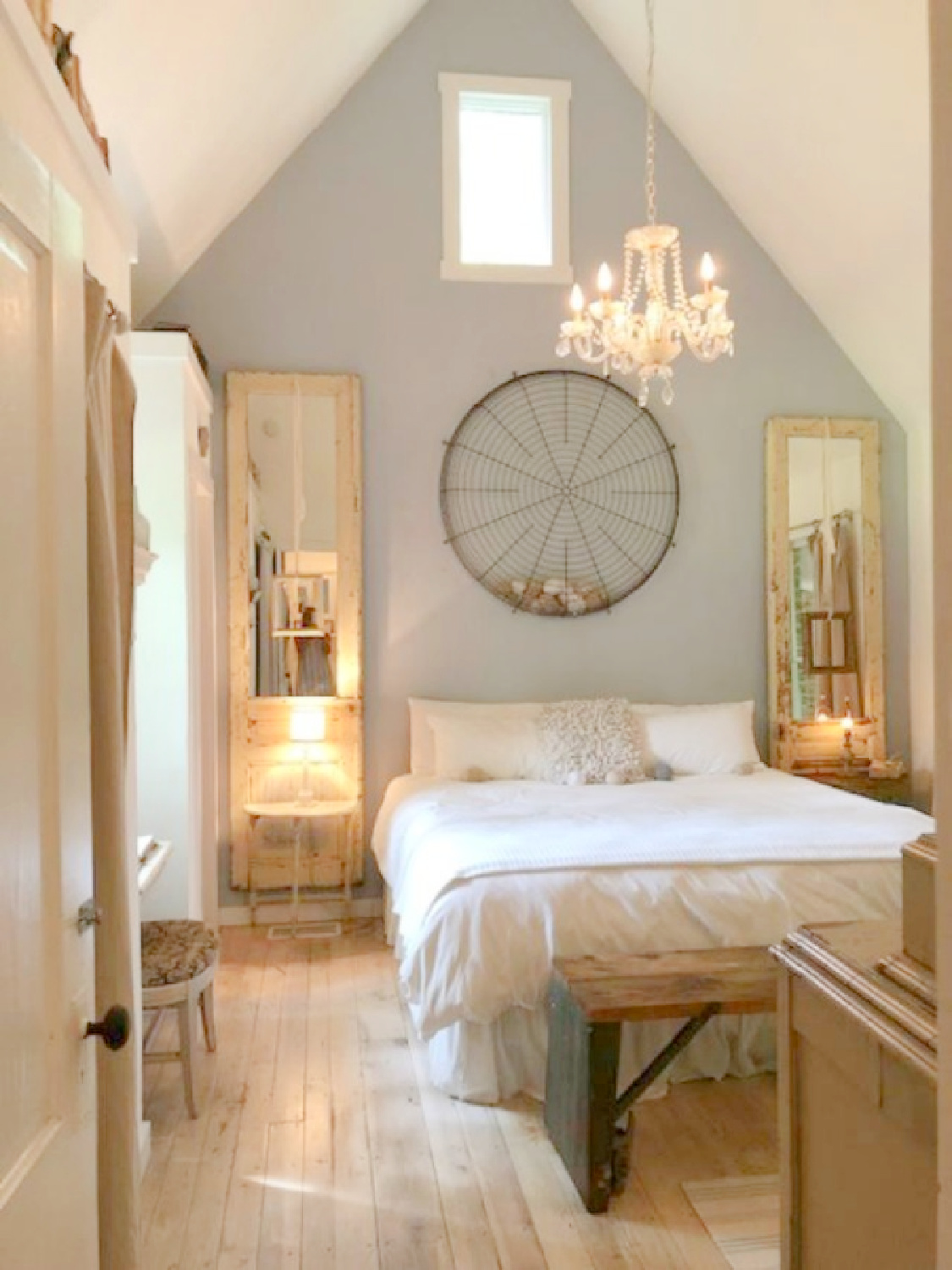 1. Have a sense of humor as you add whimsy, and it won't look like an antique mall or farm museum.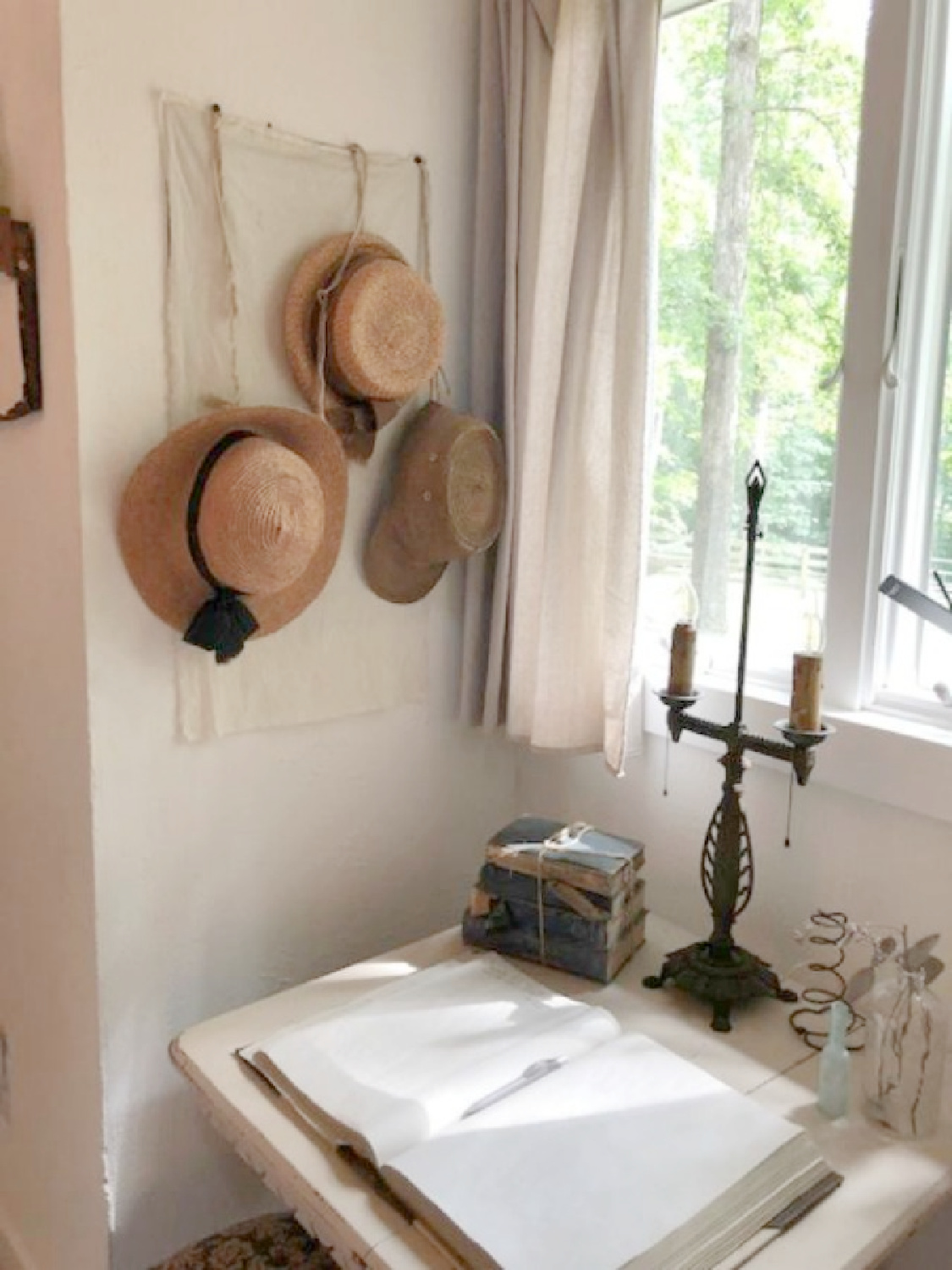 2. If your hats are hung on wall as art, you may actually wear them!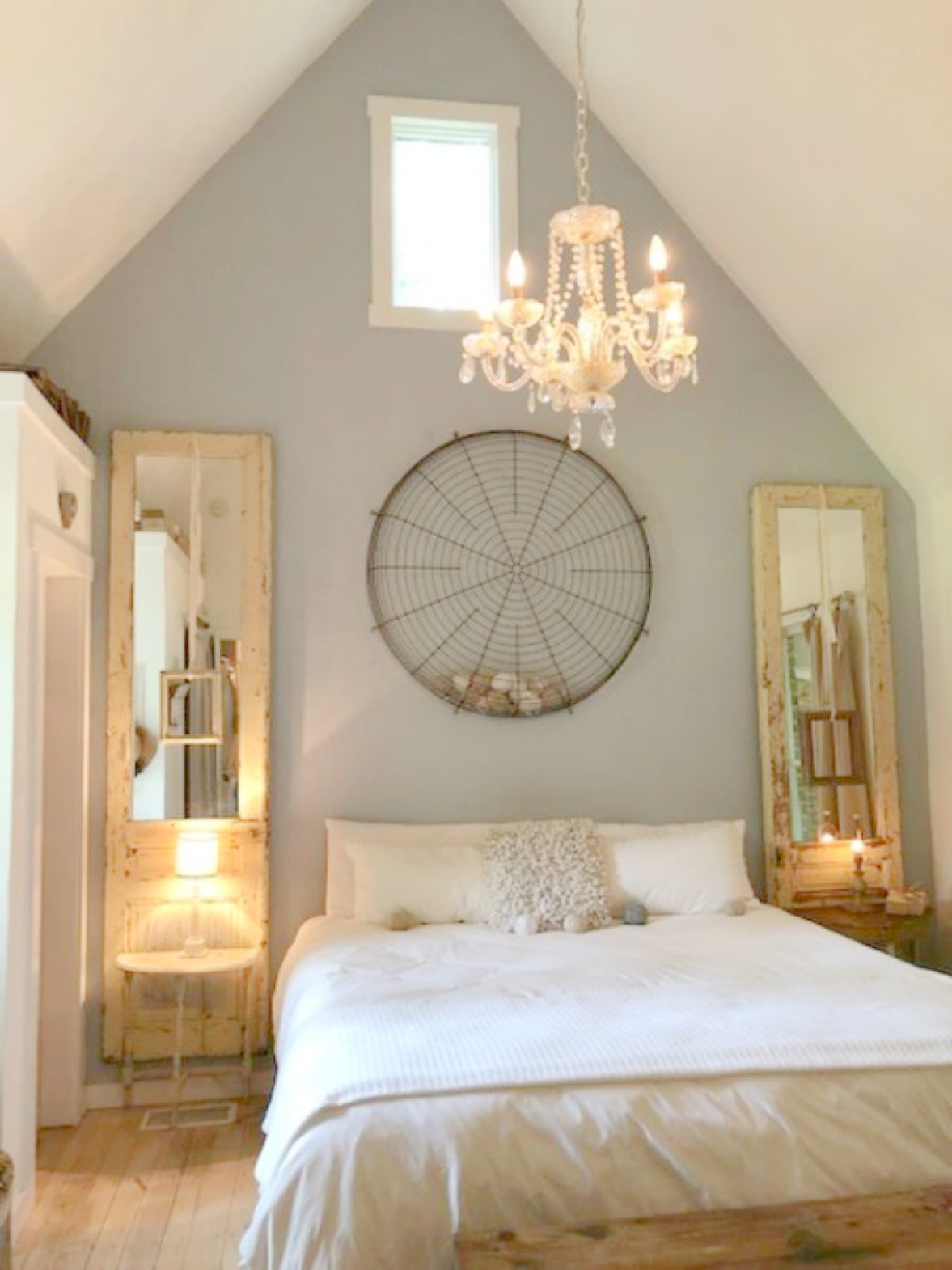 3. Mirror added to vintage doors expands the room and bounces light around.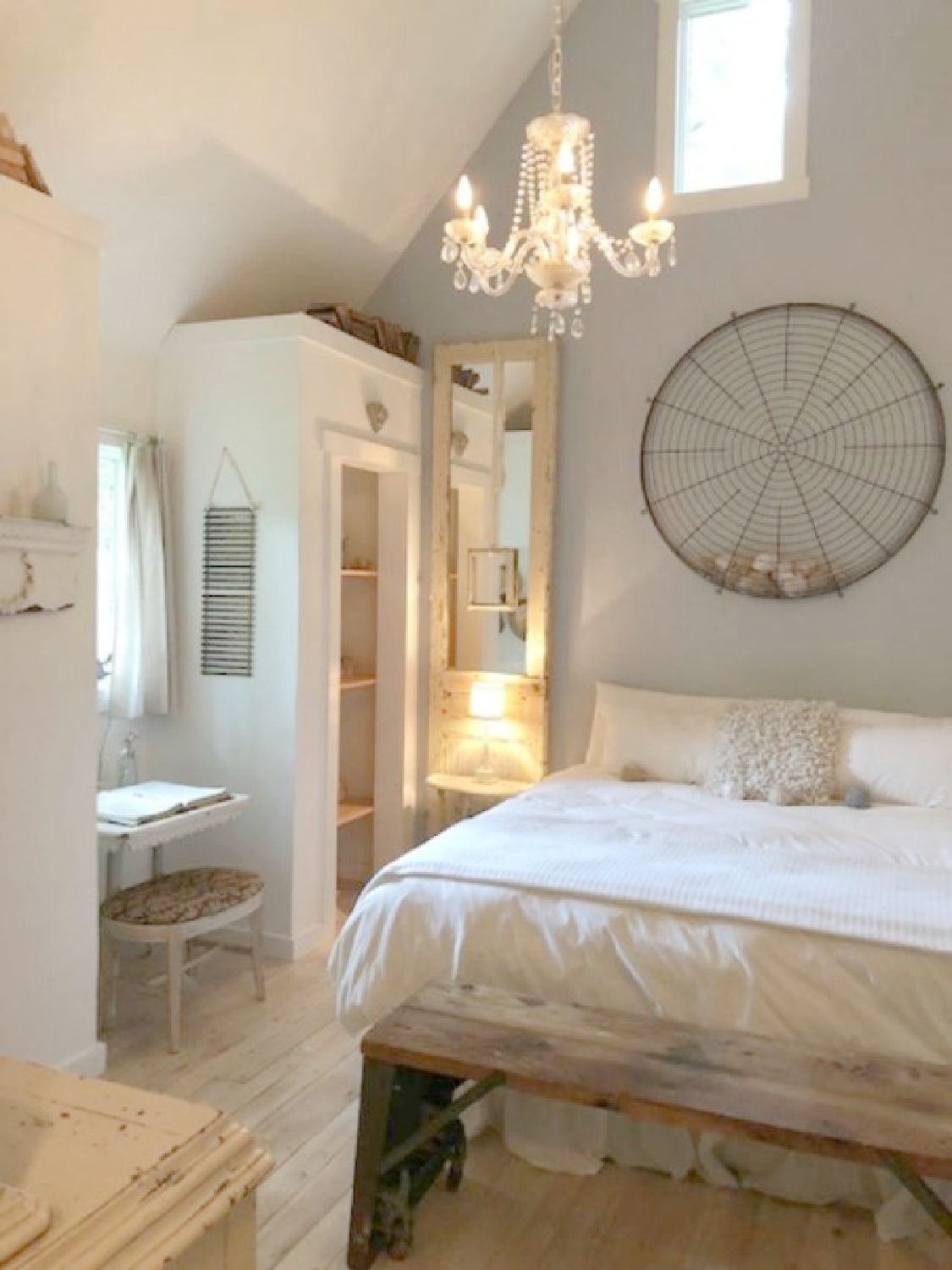 4. For a rustic, casual, country cottage look, skip the closet doors for an airier feel that is also easier to live with.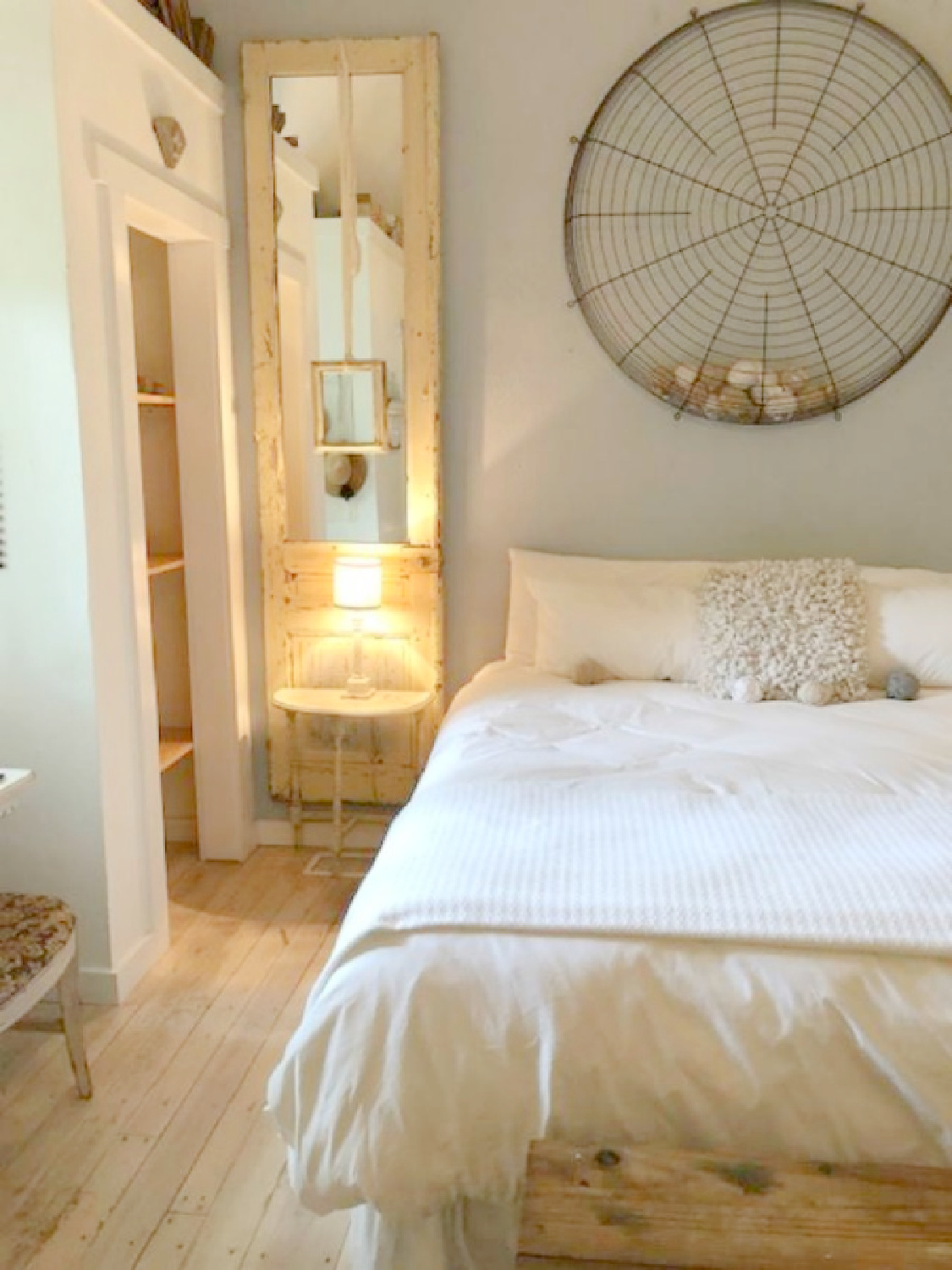 5. Sumptuous white bedding and luxurious linens are right at home with rustic textures.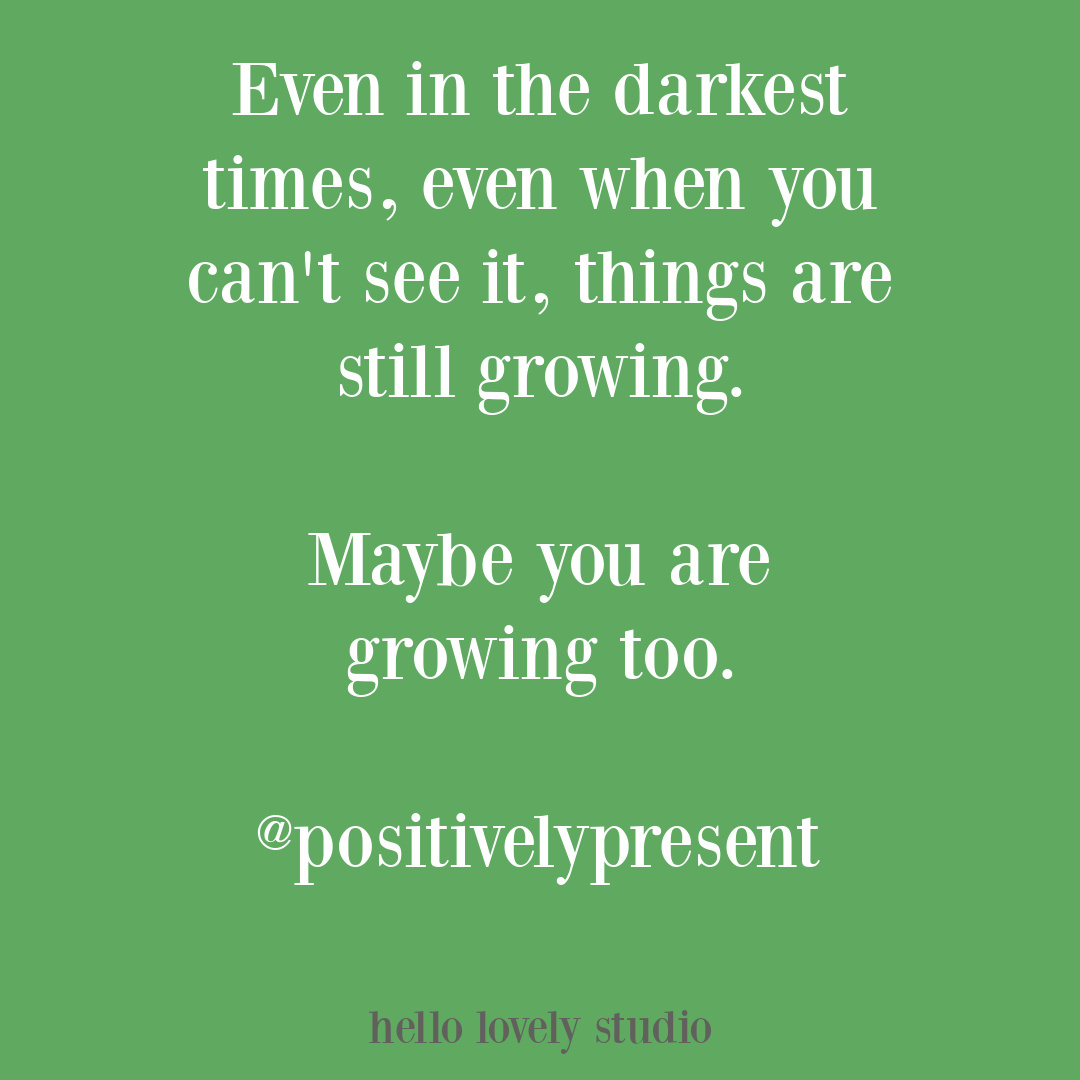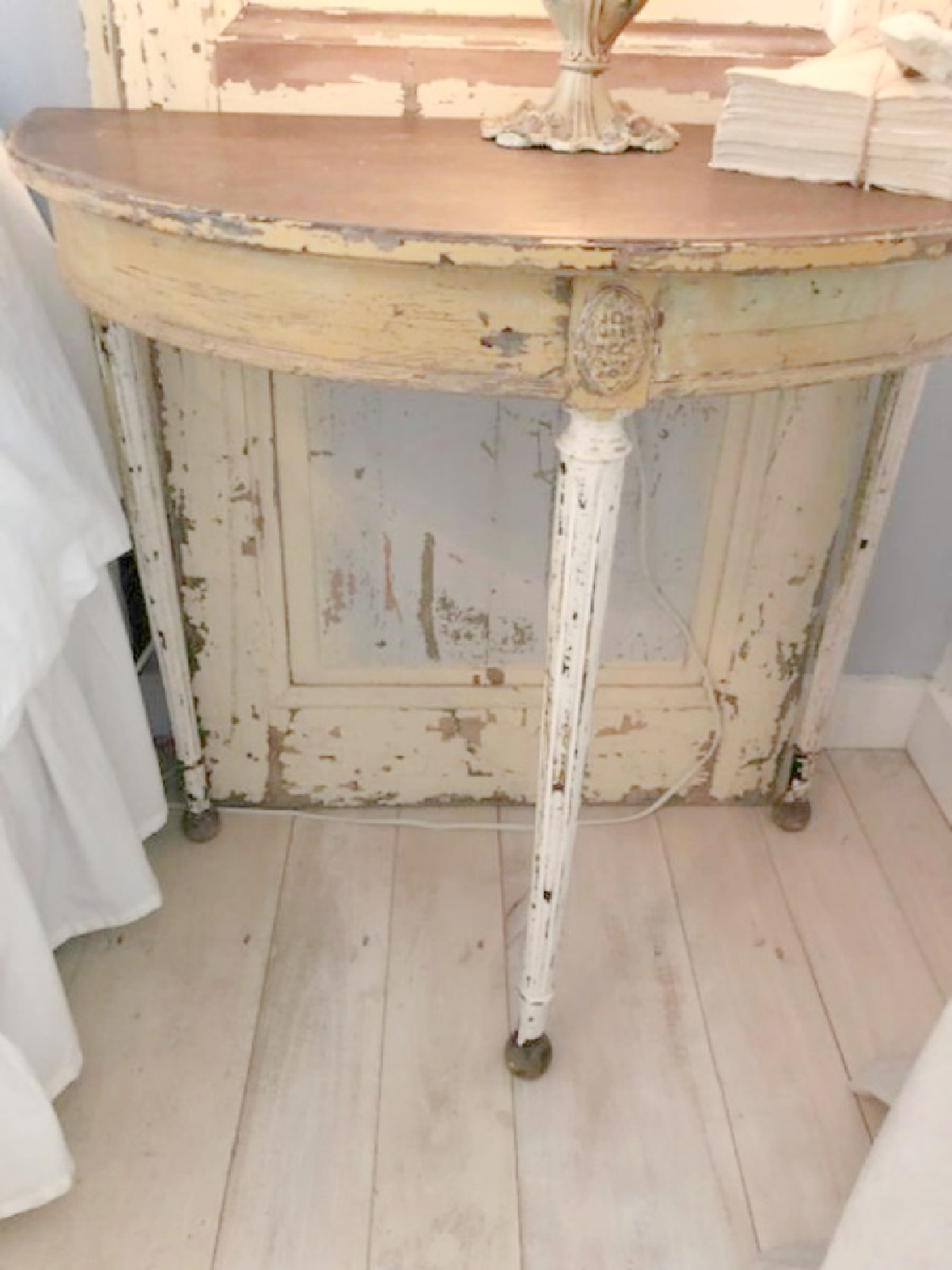 6. Chippy pieces that show layers of paint can be sealed and enjoyed.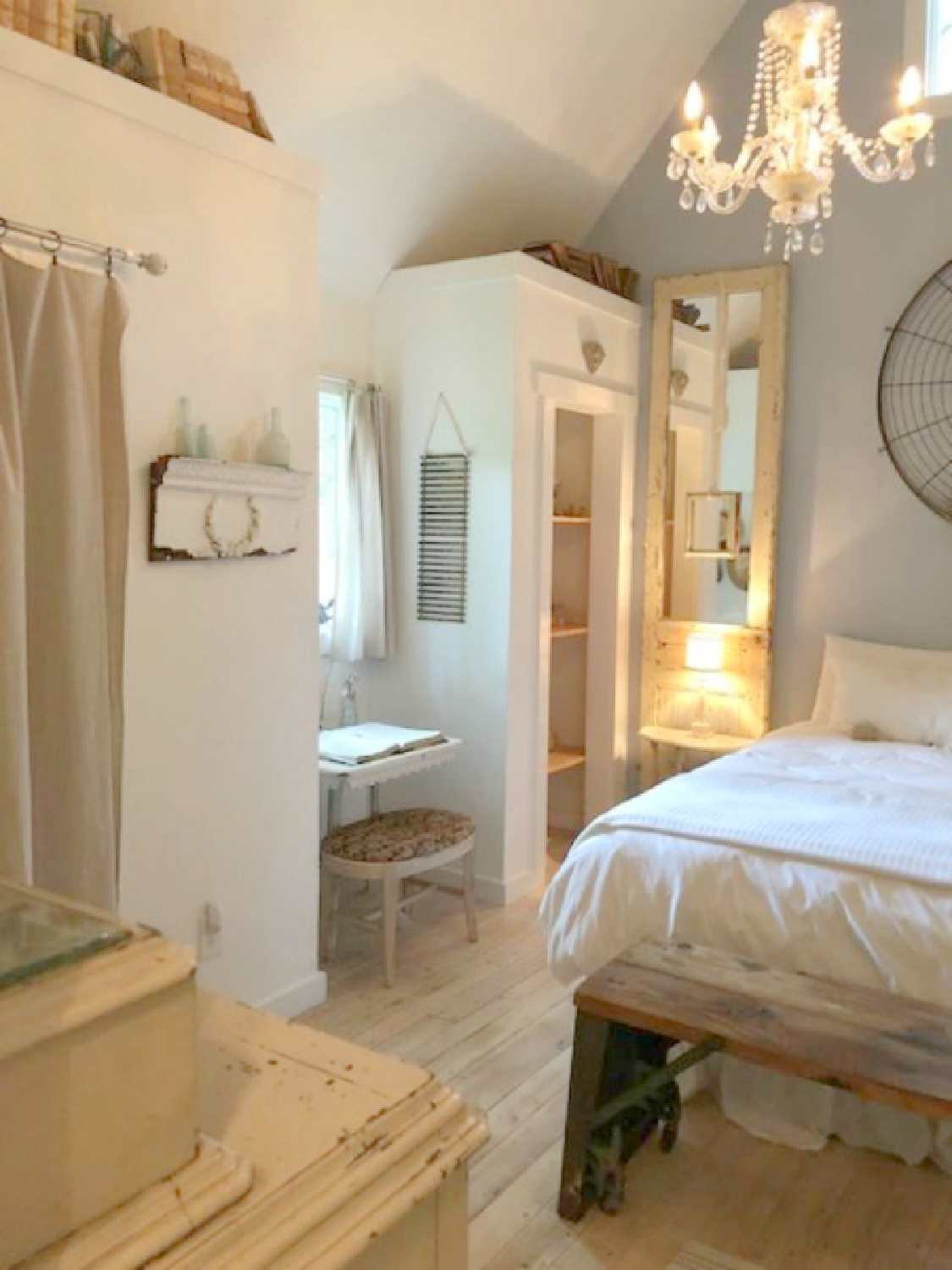 7. If there is not enough room for a window seat, consider a wee desk or vanity nook!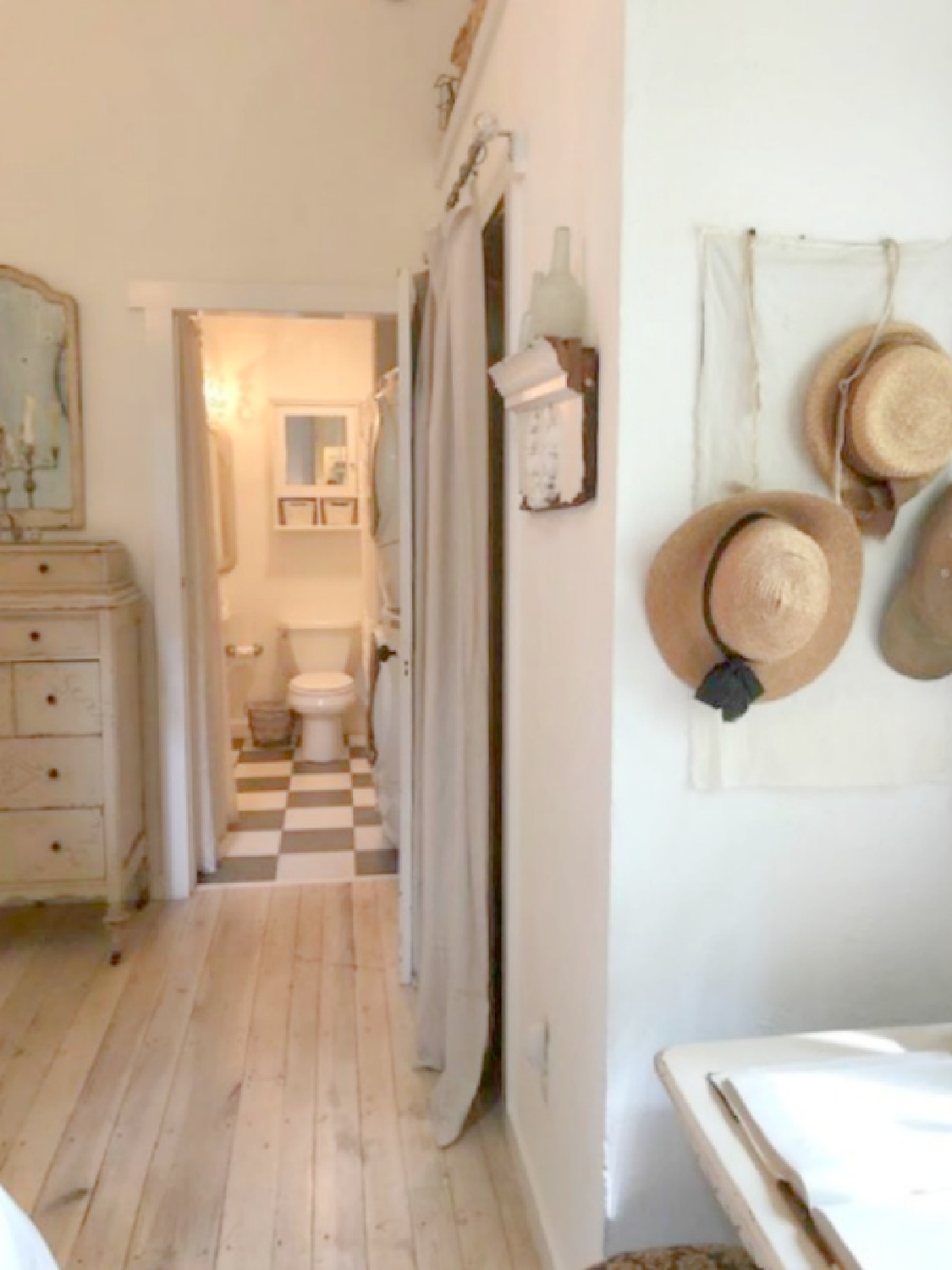 8. A second checkered floor is hard to beat!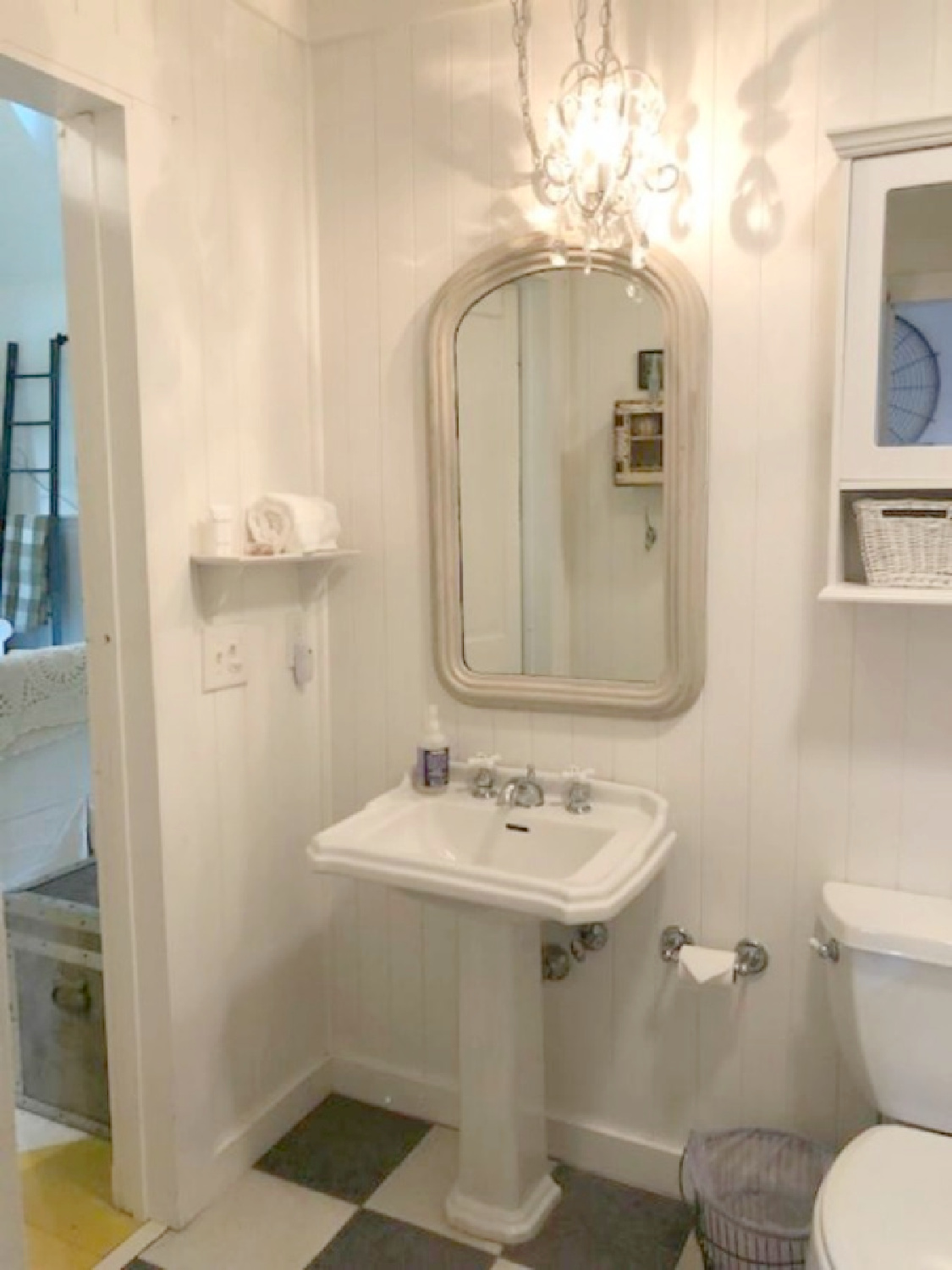 9. An unexpected window…I loved how this screen porch below had a window adjacent to the bedroom.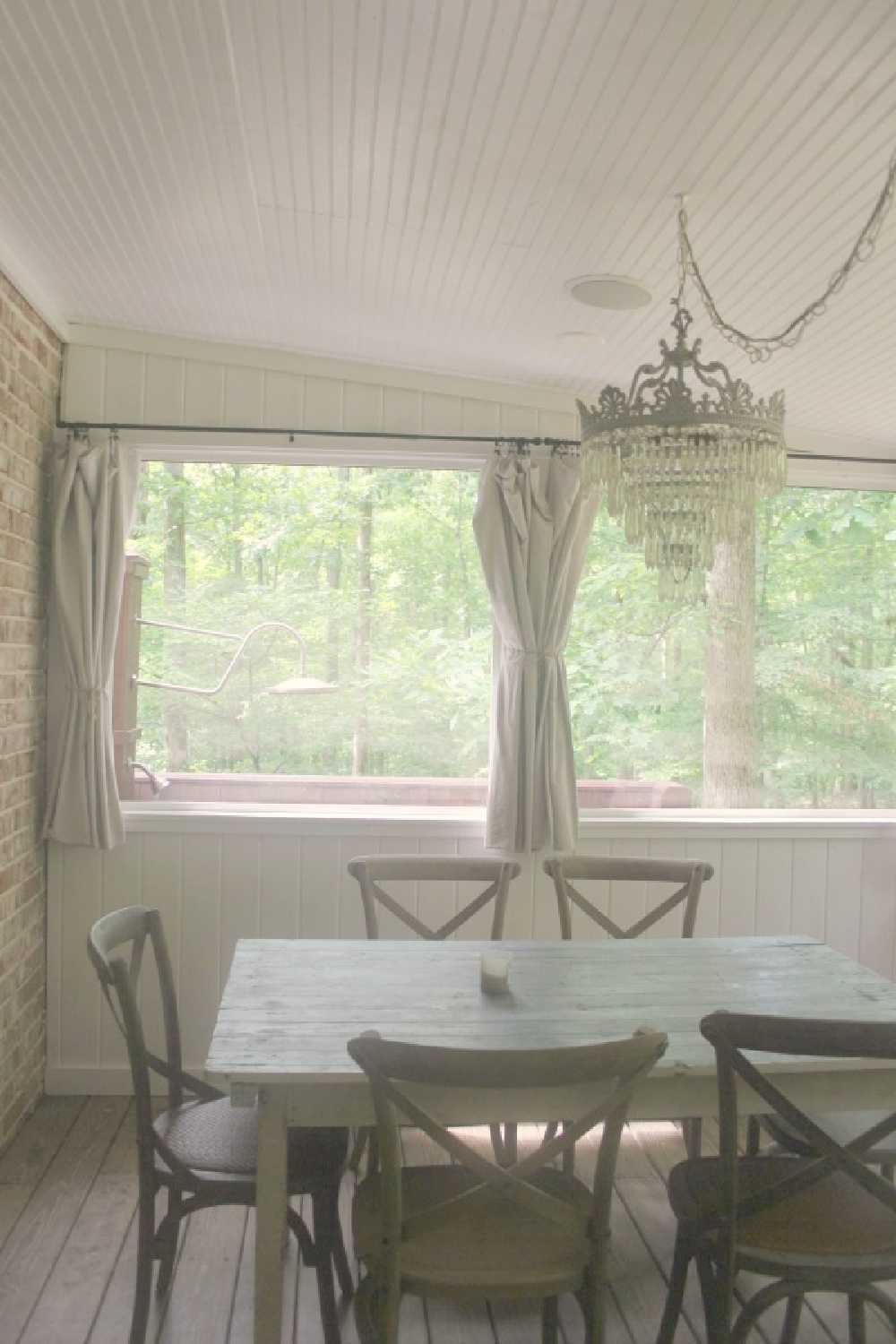 It's there below on the right: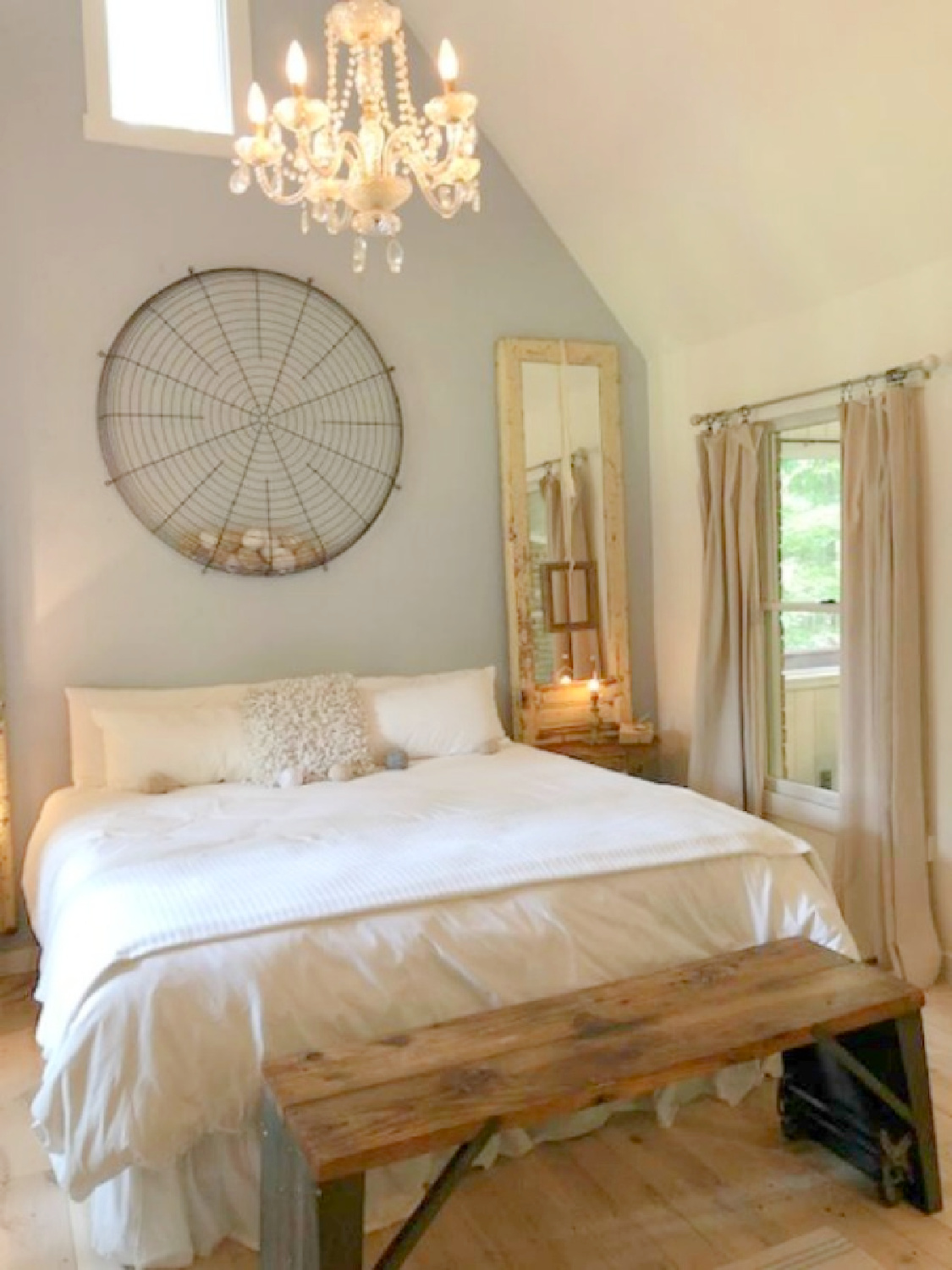 I don't know what it is about interior windows, but I have loved them for years – maybe because they are more common in old houses. We added several interior windows in the French country house we built, and it was such
Deck Details
You gotta love the rope railing!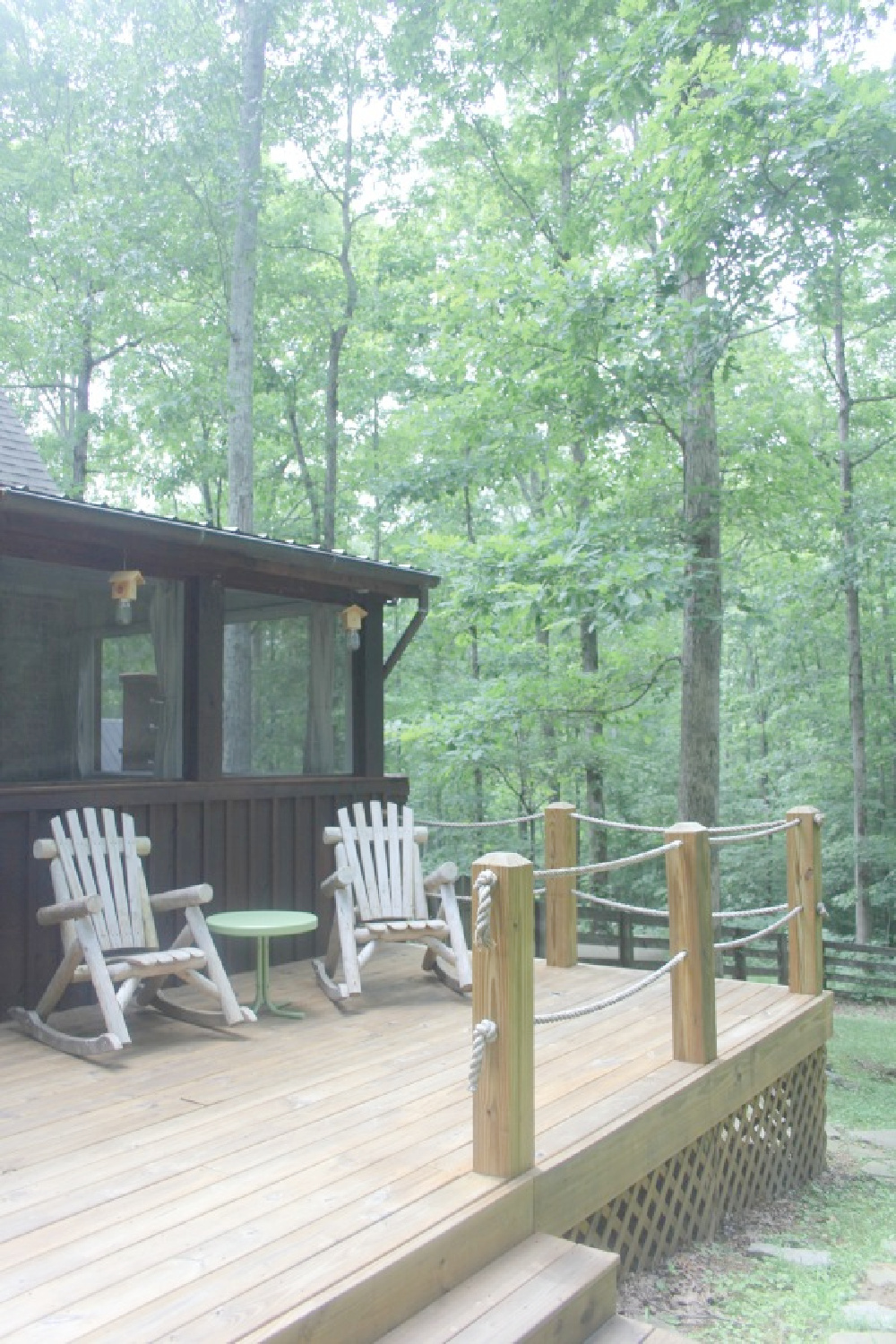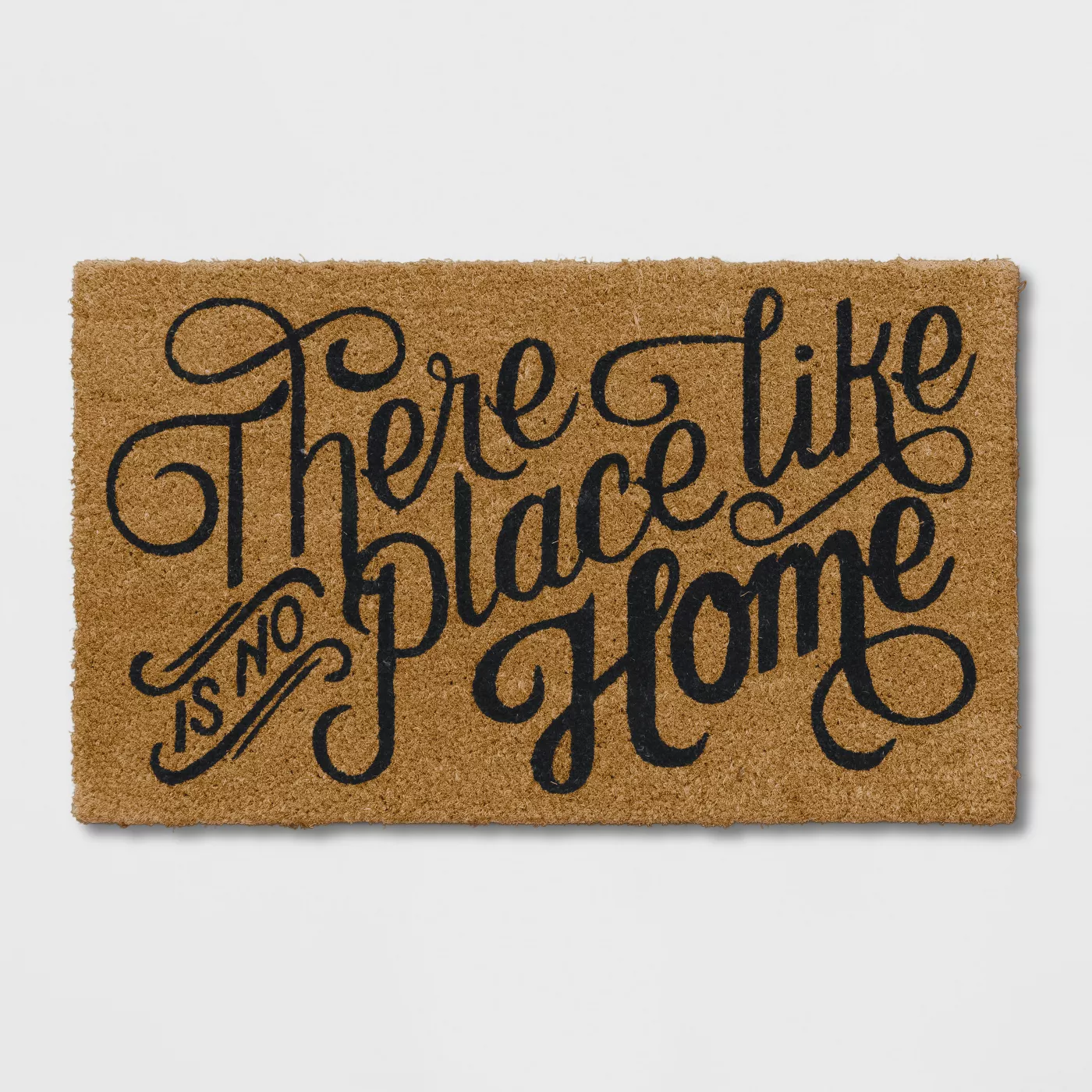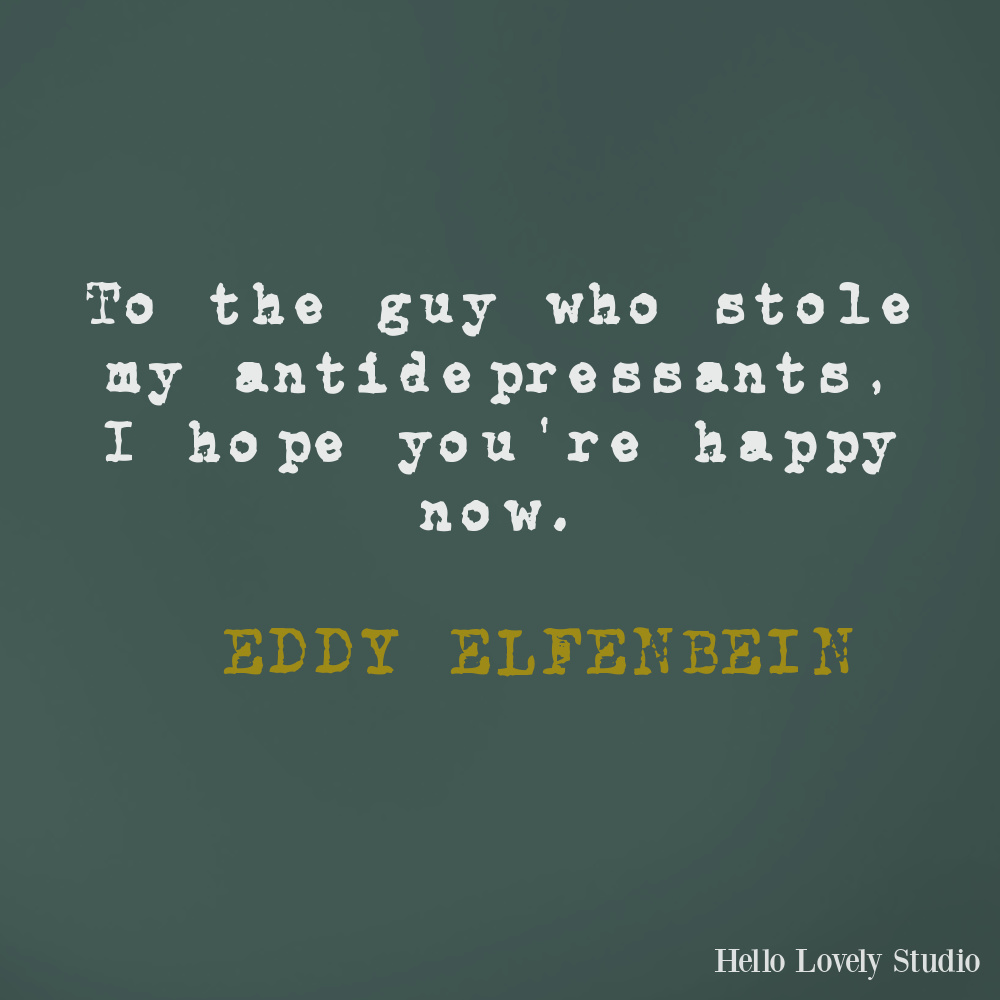 I took this video for you:
Thanks for entertaining all these ideas from a darling cottage!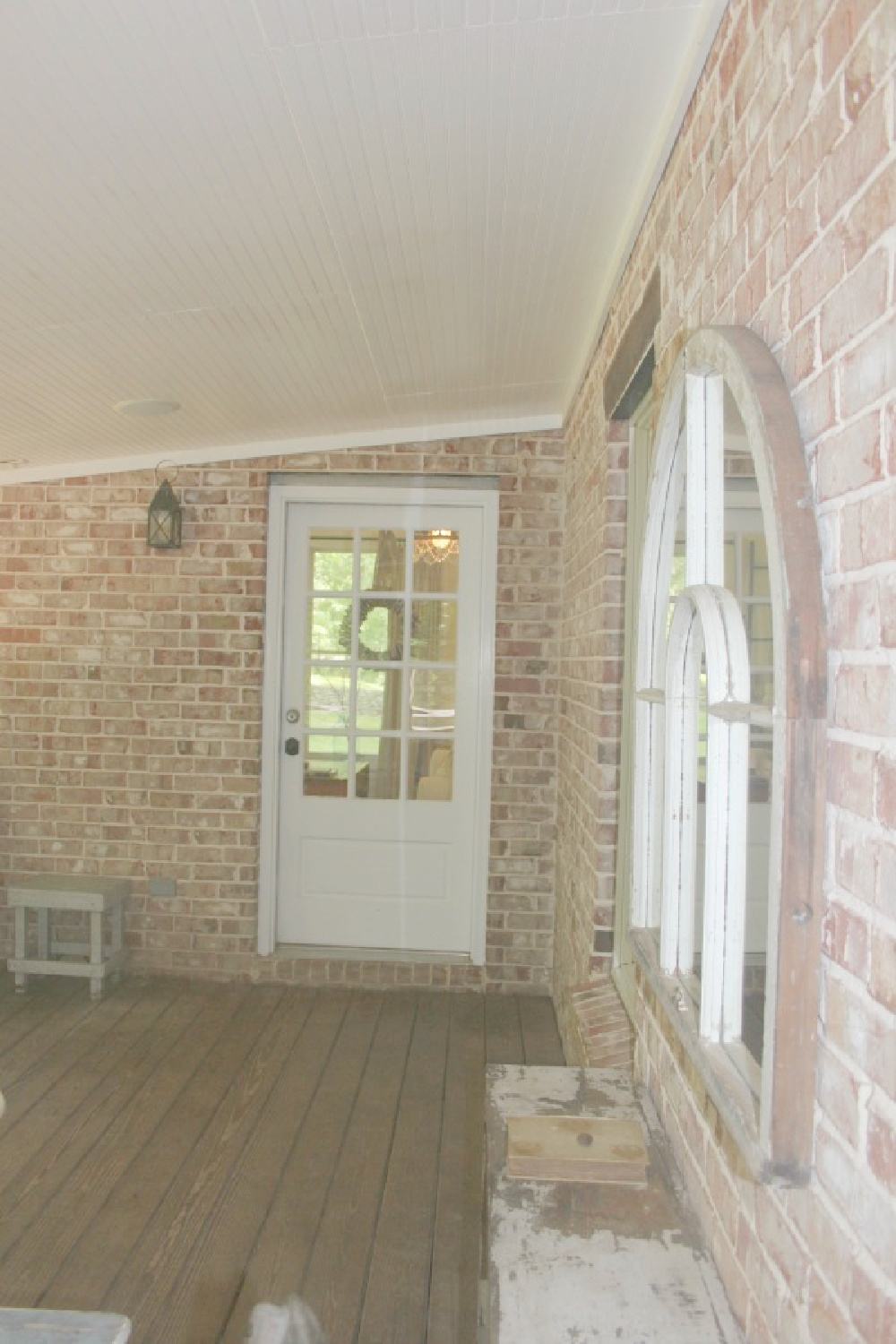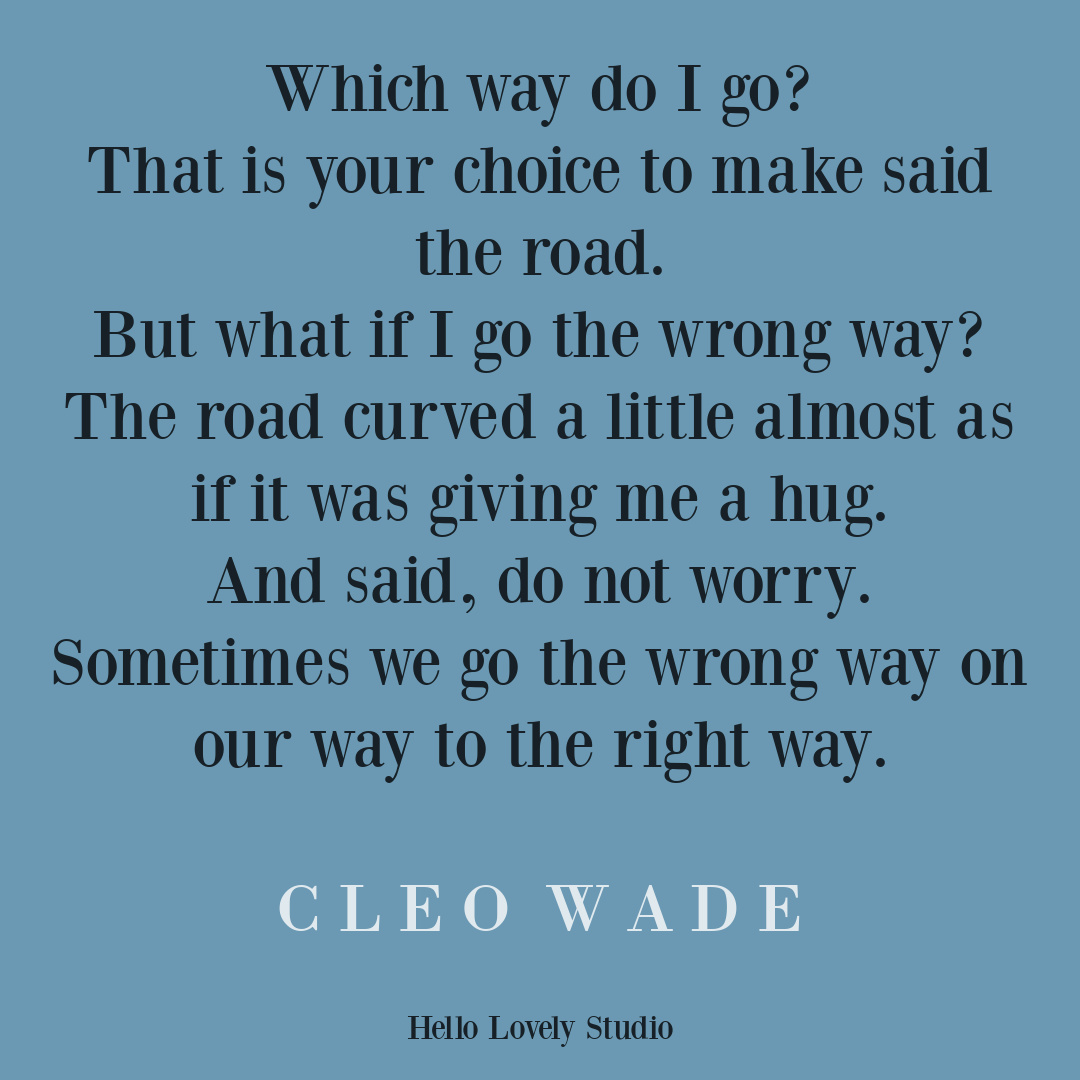 I didn't get a lot of shots of the exterior: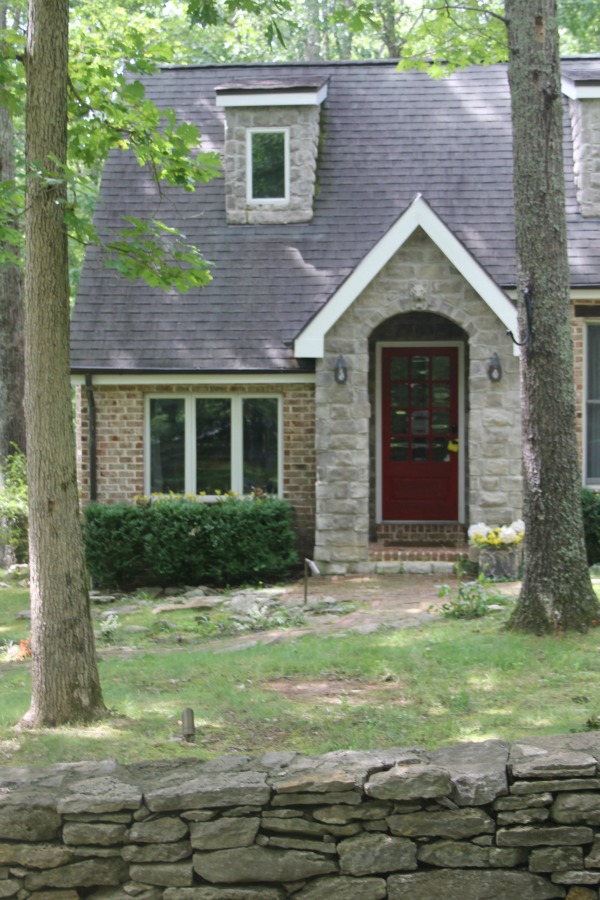 But it is truly a relaxing, private retreat.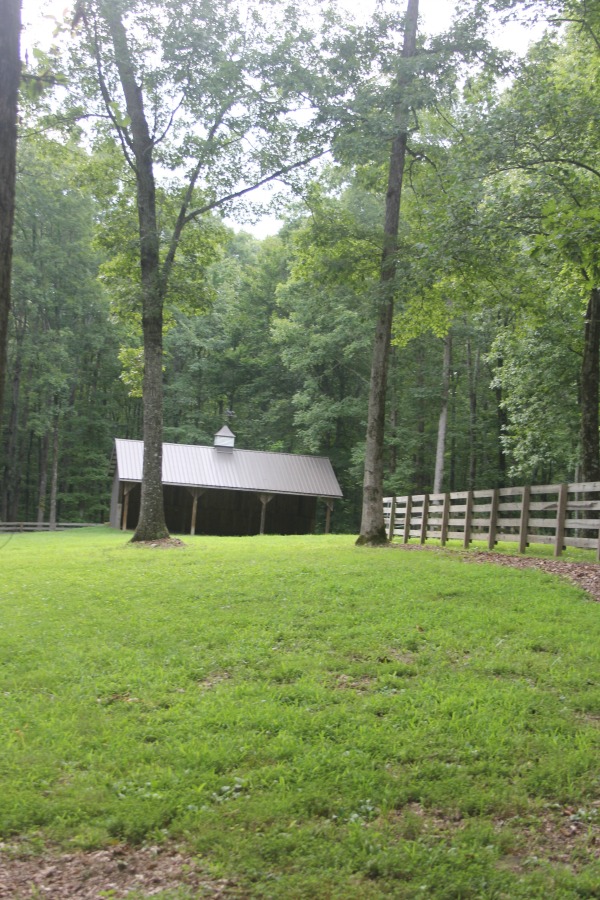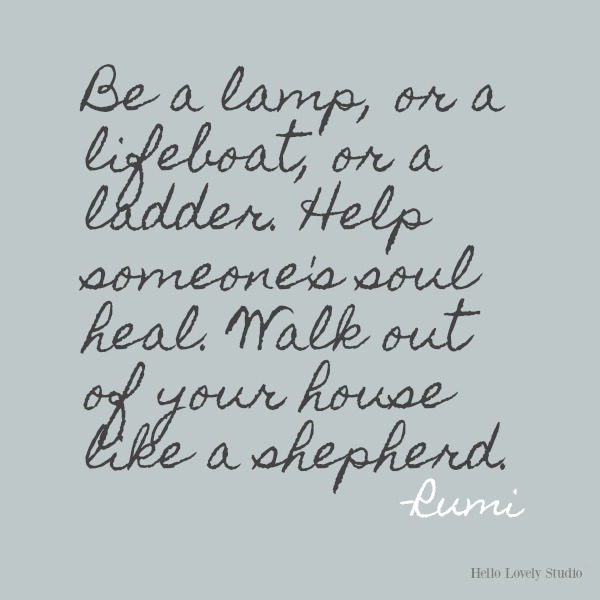 I independently selected products in this post—if you buy from one of my links, I may earn a commission.
Peace to you right where you are.
-michele
Shop for items you already intended to buy on Amazon RIGHT HERE, and also find home decor here to keep decor inspiration flowing on Hello Lovely!
Hello Lovely is a participant in the Amazon Services LLC Associates Program, an affiliate advertising program designed to provide a means for sites to earn fees by linking to Amazon.com and affiliated sites.