Because it's good to pretend it is 2010 now and again and just chat randomly as if it is just me and you on this perplexing world wide web. And are you ever curious about what gets pinned to Pinterest like crazy from this site? Spilling the tea! Do repin and pin and pin to keep the momentum going – it helps me as a one woman show of a small business competing with design giants and influencers. Are you following my boards? They need love and repin magic. And if you have missed any of the stories mentioned below, please take a moment to give them some love…there's always something unexpected for you to discover doncha know.
I independently selected products in this post—if you buy from one of my links, I may earn a commission.
Random Chat, Popular PINS & Hello Lovely Posts to Visit
I just snapped these from the backyard. There's a beautiful forest preserve with a trail adjacent to our property.
So much beauty blooming and nature to enjoy here across the seasons. I used to think it would be wonderful to be one of those bloggers who only draws content from their daily life instead of an inspiration blogger sharing the work of others. But now I'm not so sure. I know my way around posting pretty pictures and weaving in my two cents and creative ideas to learn the look or shop the room, but the broader social media landscape and world of influencing?
Now there's a great big ol' mystery of ever-evolving wonder and chaos!
Suddenly FB is showing my posts and content to a diverse crowd who love traditional interiors, so that even simple images I snap at home are getting likes and comments. I'm not used to it at all. And the vulnerability that comes with that?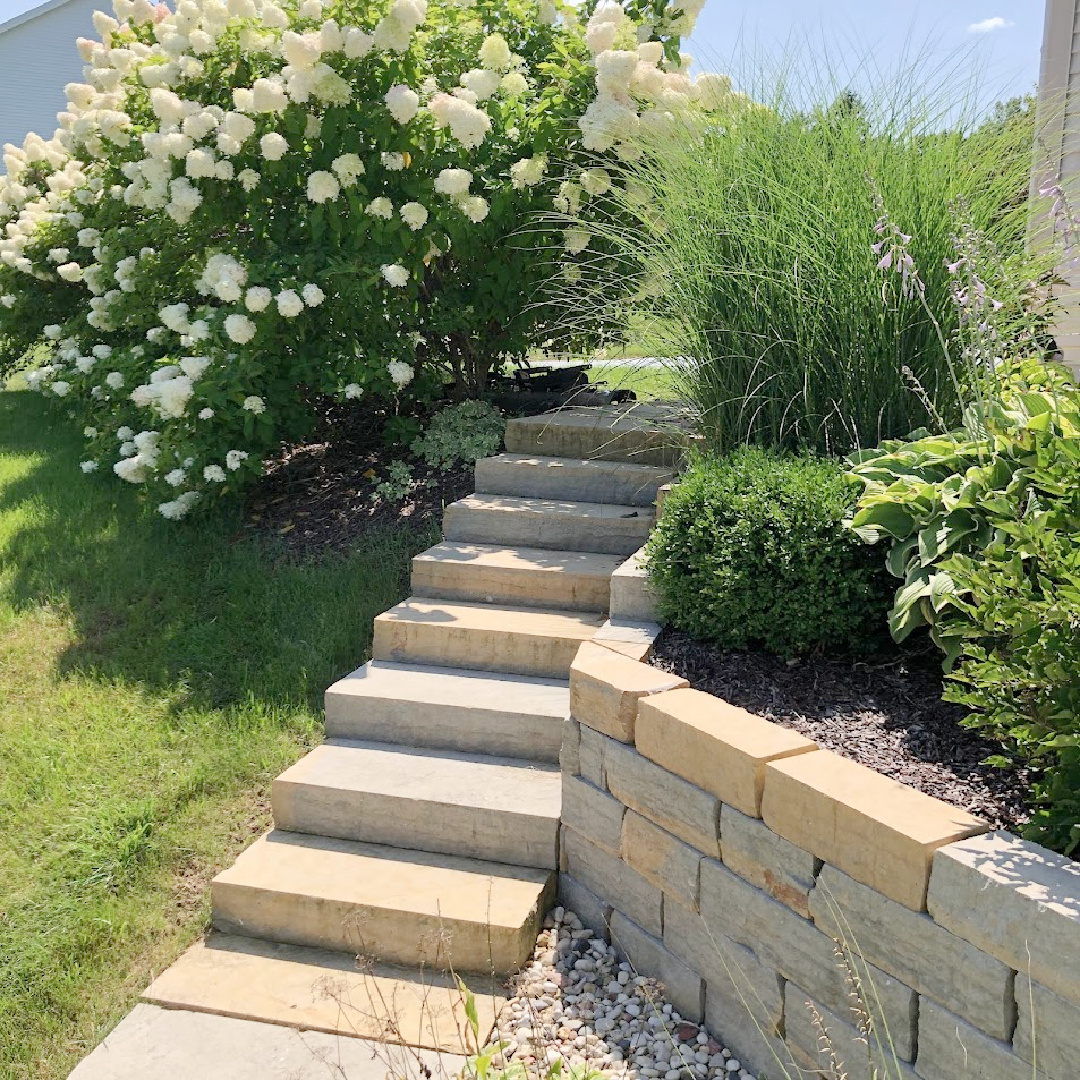 You have to exercise a certain degree of courage, maturity and tolerance for opinions from random strangers who confidently assert how you've done it all wrong.
I was such a late adopter of any social media. Didn't join Pinterest until years after all of the competition staked their claim (competition meaning other timeless design-related sites jockeying for traffic). When I finally joined IG, there was no more room at the top!
See more beauty from the Giannettis in this:
So much gets shared on this inspiration blog, and if you blink, you could miss a treasure trove of beautiful design goodness!
I recently shared our living room (HERE) and family room (HERE):
It's so good to be adding finishing touches rather than inhaling dust and serving as cleanup crew!
I would love to begin designing plans for the walk-out basement, but my husband has to be well-rested before any discussions can begin for that. Still haven't tackled the courtyard and am trying to be patient…maybe this fall.
Did you see the beauty happening for fall in this story with inspiration from Amber Lewis?
And don't miss the inspiring work by deVOL in an amazing castle:
The older I grow, the more I think that if you spend your day with the determination to have a good time, you will undoubtedly change the world for good. 🙂
I recently shared ideas for everyday saves and splurges in THIS.
Coastal chic never falls from favor, and if you love the sets of Nancy Meyers movies like HOME AGAIN, consider this:
Calm vignettes like this inspiring one have enchanted my Pinterest followers:
There's just something irresistible about cozying on down with candles, a good book, and a mug of deliciousness on a rainy day, and I think that shot with the lunaria captures the quietness.
See what timeless kitchen inspiration has me inspired in THIS:
There are plenty of days I live in pajamas (thanks to a work from home job and chronic illness…read about how I deal).
Calm and cozy finds are always on my radar.
and you know I love my skincare and makeup products…especially clean beauty with a minimalist vibe:
Speaking of minimalism…I so admire how these antique dealers decorate with a light hand:
Another minimalist we recently spotlighted? Michael Del Piero since she just came out with a book:
The ups and downs of life can make us vulnerable to cynicism, despair, and hopelessness. When I feel those things, it seems as though I am temporarily locked out of the garden of gratitude. Certain inspirational messages (Count Your Blessings!) can even make me feel worse.
I find this comforting, helpful, and less likely to trigger shame:
Get inspired for the holidays with this French Christmasy romp:
Most of my prayers these days are silent surrender or simply:
What a blessing that when strength is gone or anxiety comes, there is a prayer beyond words the Spirit prays in us. I lost one of my closest friends to breast cancer a couple of weeks ago, and oh, the heart pain.
We just don't know when we're in the middle of the good ol' days, friends. I'm so thankful that over the last 24 years, my friend Eileen and I never had time for small talk…what a gift.
I have been wrestling with ideas about "real friends" vs. "fake friends" in the age of social media and most folks being afraid of telephone conversations. Ya know?
If you are struggling physically, emotionally, or spiritually right now, did you know you can seek the grace to be more brave? Because we can.
And I realize we are all fighting battles whether we acknowledge them or not.
And this fills me with compassion. For you. And for me.
We're living through times where everywhere you turn, there's reinforcement to stick with those who are just like you, to isolate from those who are not.
Not sure where I would be today if I lived in such exclusivity. If I did not know the stories of folks far different from myself.
Their stories have changed, deepened, softened, perplexed, challenged, and stretched me to see in fresh ways.
And seeing in a pure way is still what I long to do.
I keep getting it wrong, and it's humbling. But it's true that we live in an upside down kingdom. That when we're weak, we become strong. The more I shed the old ideas, the old consciousness, the knowing…the closer I get to arriving to THE NEW, THE MYSTERY, THE UNKNOWING.
What does all of my spiritual journeying have to do with blogging, homemaking, renovations, and paint colors? I think it's easy to judge and think they are completely different entities. But more and more, I am surrendering to the mystery of it all. I don't need to understand all of the mechanics operating in realms we cannot see. These intersections of media, commerce, connection, and random quests for tranquil design help or lovely colors–who can say how they somehow bring forth a bit more beauty or depth or creativity or aliveness or ??? If you made it all the way to this point in the post, bless you. Really. I just love you, that is all.
And we return to more of what you may have missed:
Need a relaxing blue paint color idea?
Step inside this Parisian style mansion HERE!
Find even more inspiring quotes from Brene Brown in THIS.
So many gorgeous country French kitchens shared! See THESE pins for more inspo, and pin this for future reference:
Peace to you right where you are.
-michele
Thanks for shopping RIGHT HERE to keep decor inspiration flowing on Hello Lovely!
Hello Lovely is a participant in the Amazon Services LLC Associates Program, an affiliate advertising program designed to provide a means for sites to earn fees by linking to Amazon.com and affiliated sites.