It's a romantic, elegant, understated look far too sophisticated and evolved to concern itself with hashtags or fashion sashaying down the runway. Whispery color stories that charm me most from minimal modern Belgian French interiors? Hushed, atmospheric neutrals, white, or pale stone tones that feel natural, calm and serene. At its best, European antiques and contemporary forms harmonize or spring to life with subtle tension. Fresh flowers in a vintage urn feel more at home than fussy floral patterns. Linen, velvet, and natural textiles belong. Now I'm hungry. Let's feast.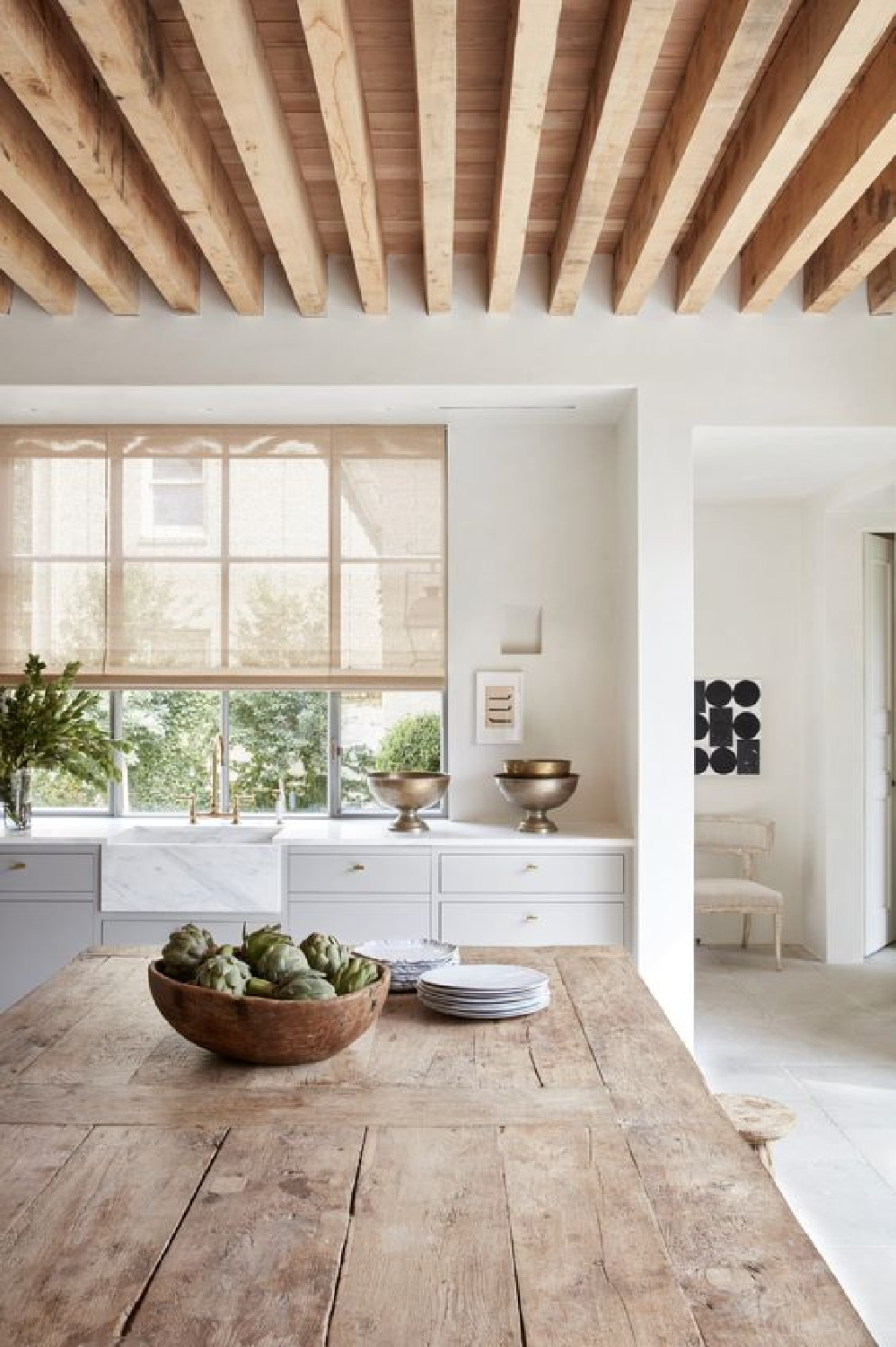 While I'm obviously no expert on this design style, I remain committed to its magique and romance as a student: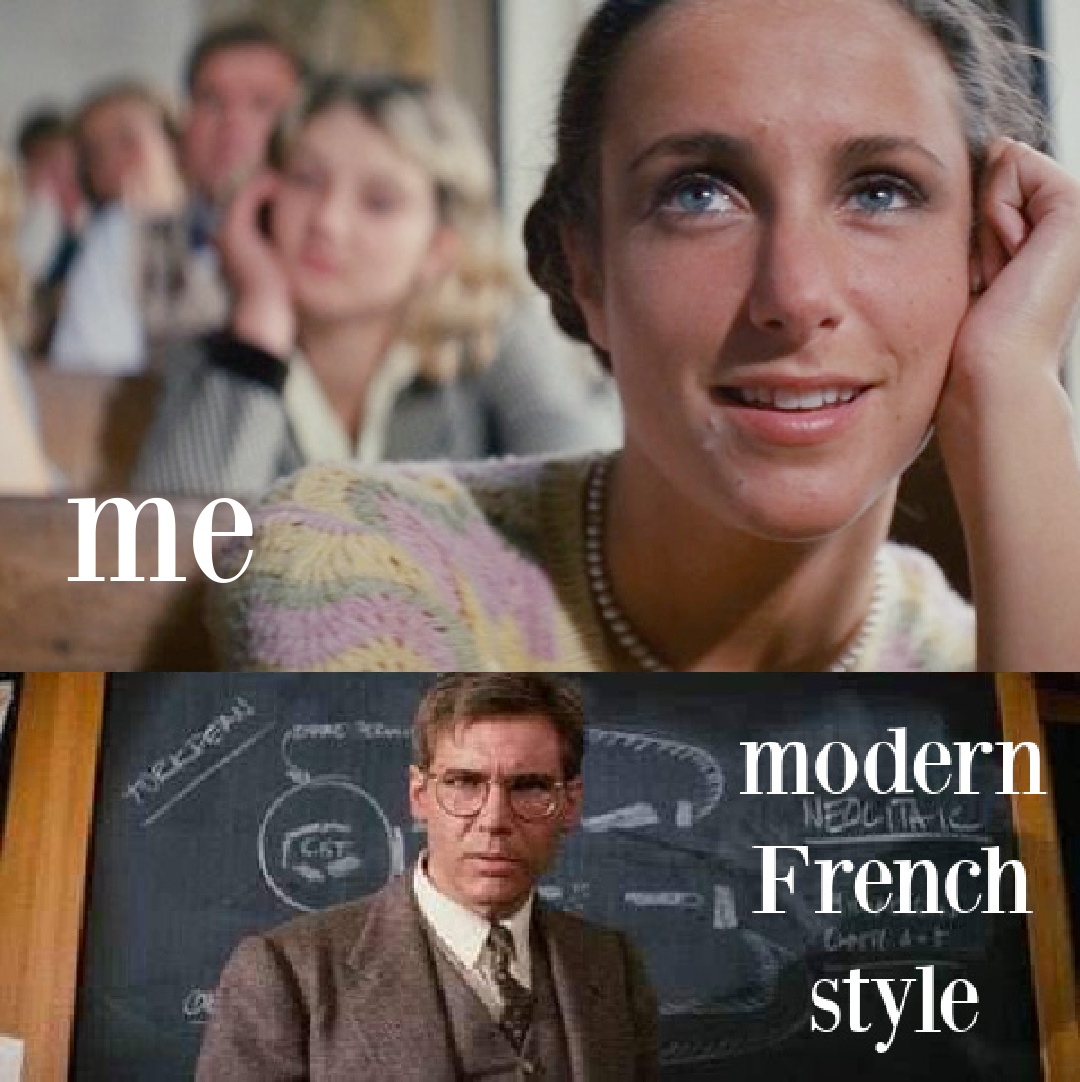 Minimal Modern Belgian French Interiors
Houston Home of Designer Jill Egan
My favorite designer, MILIEU's Pamela Pierce, featured an amazing newly built home by interior designer Jill Egan and architect Kirby Mears in this 2019 issue: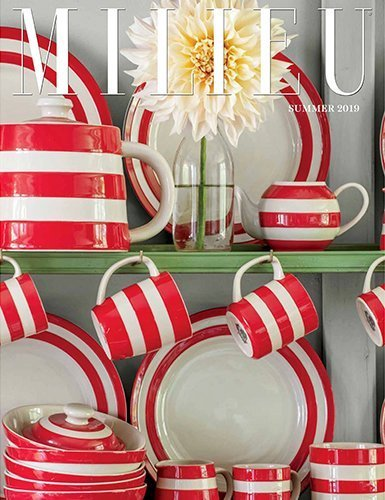 Four years, and I have yet to recover from the beauty of that issue. (And can you believe MILIEU is celebrating its 10th anniversary? The decade flew, and this treasure trove of loveliness kept us immersed in great design!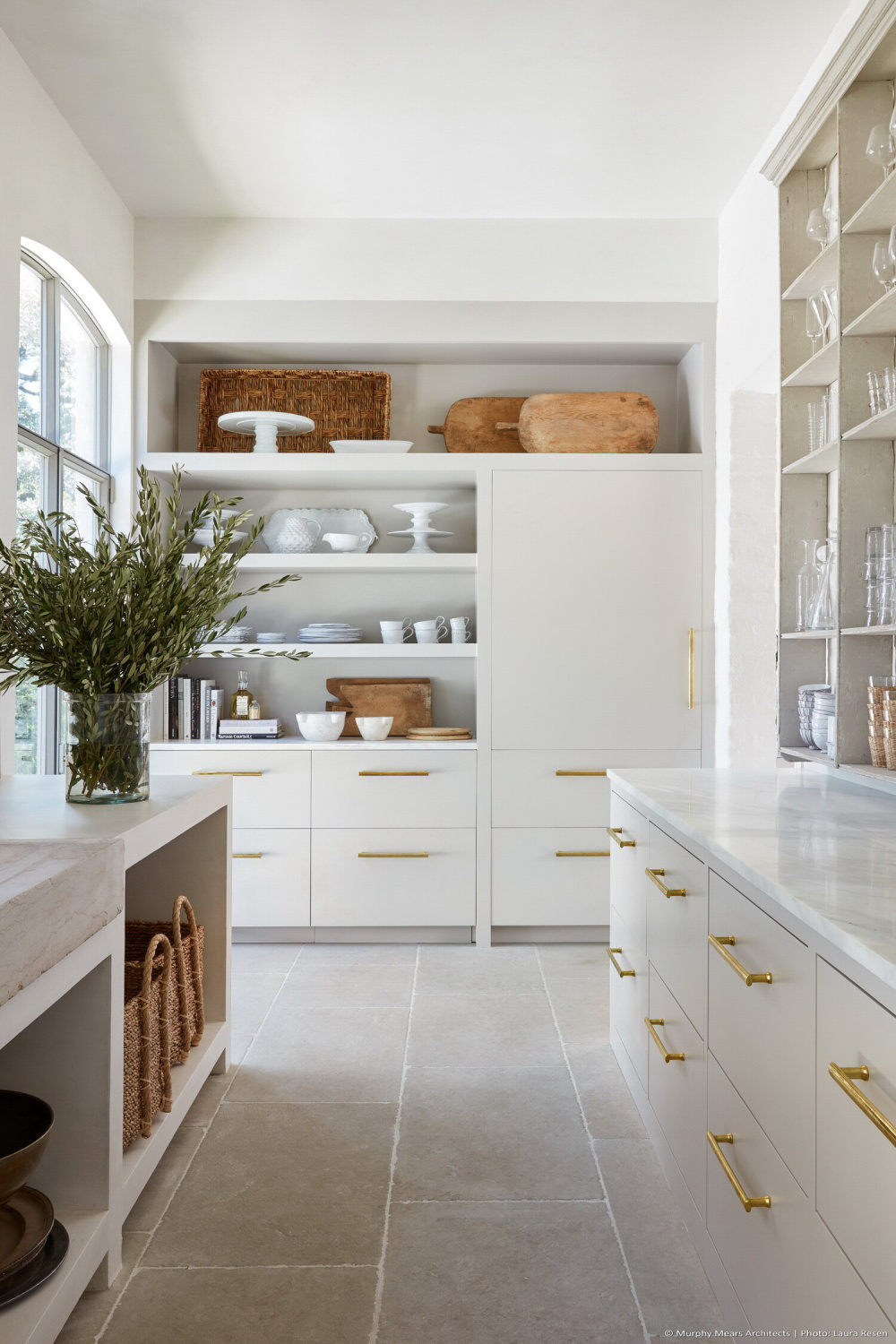 Jill's home is such a sanctuary of wonder and whispers. All of the details have been thoughtfully considered, and its creation feels like a gift to not just one family, but a beautiful future.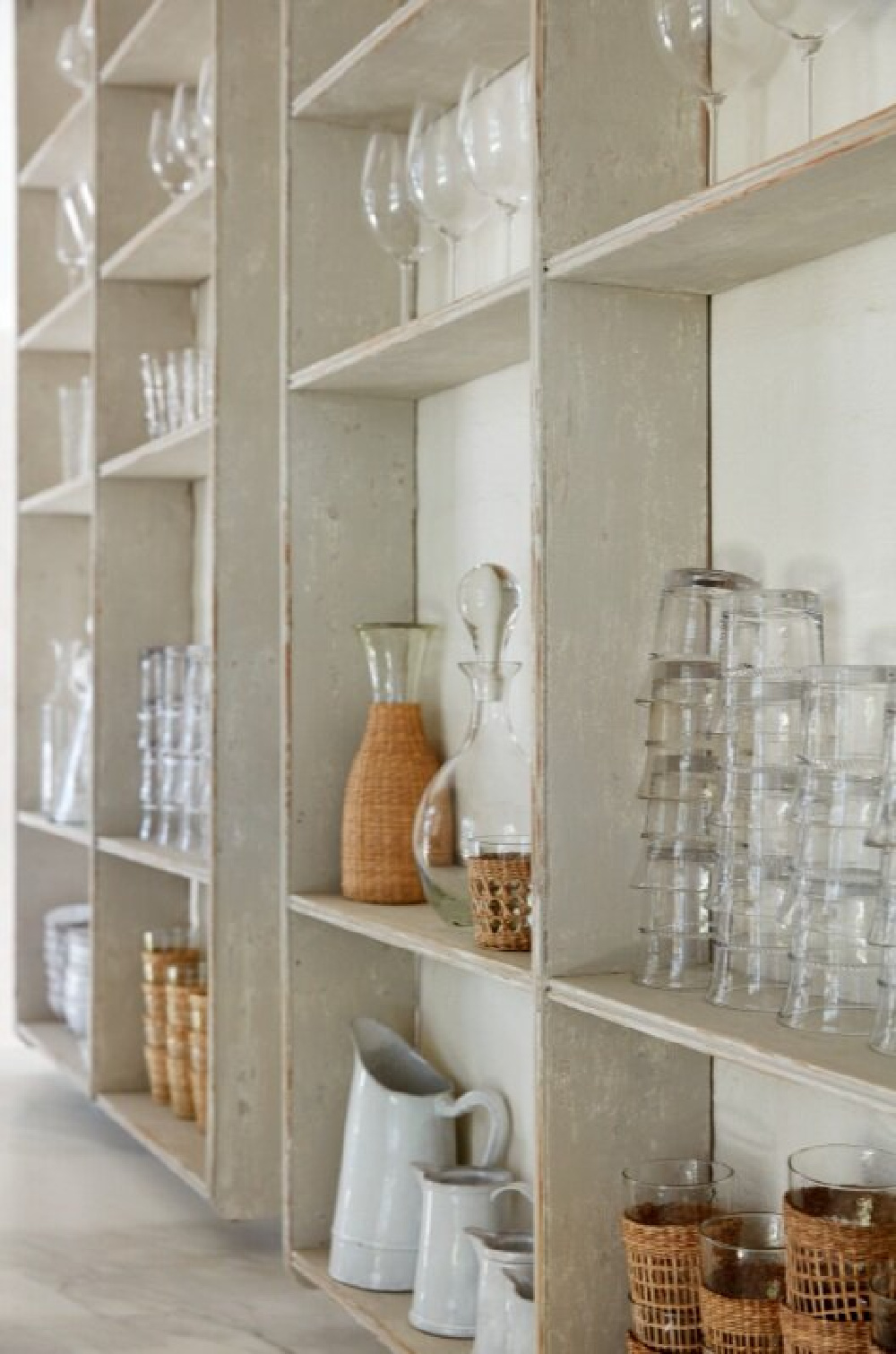 I would imagine this is how all grand homes were imagined a century ago…built with integrity to last and serve future generations.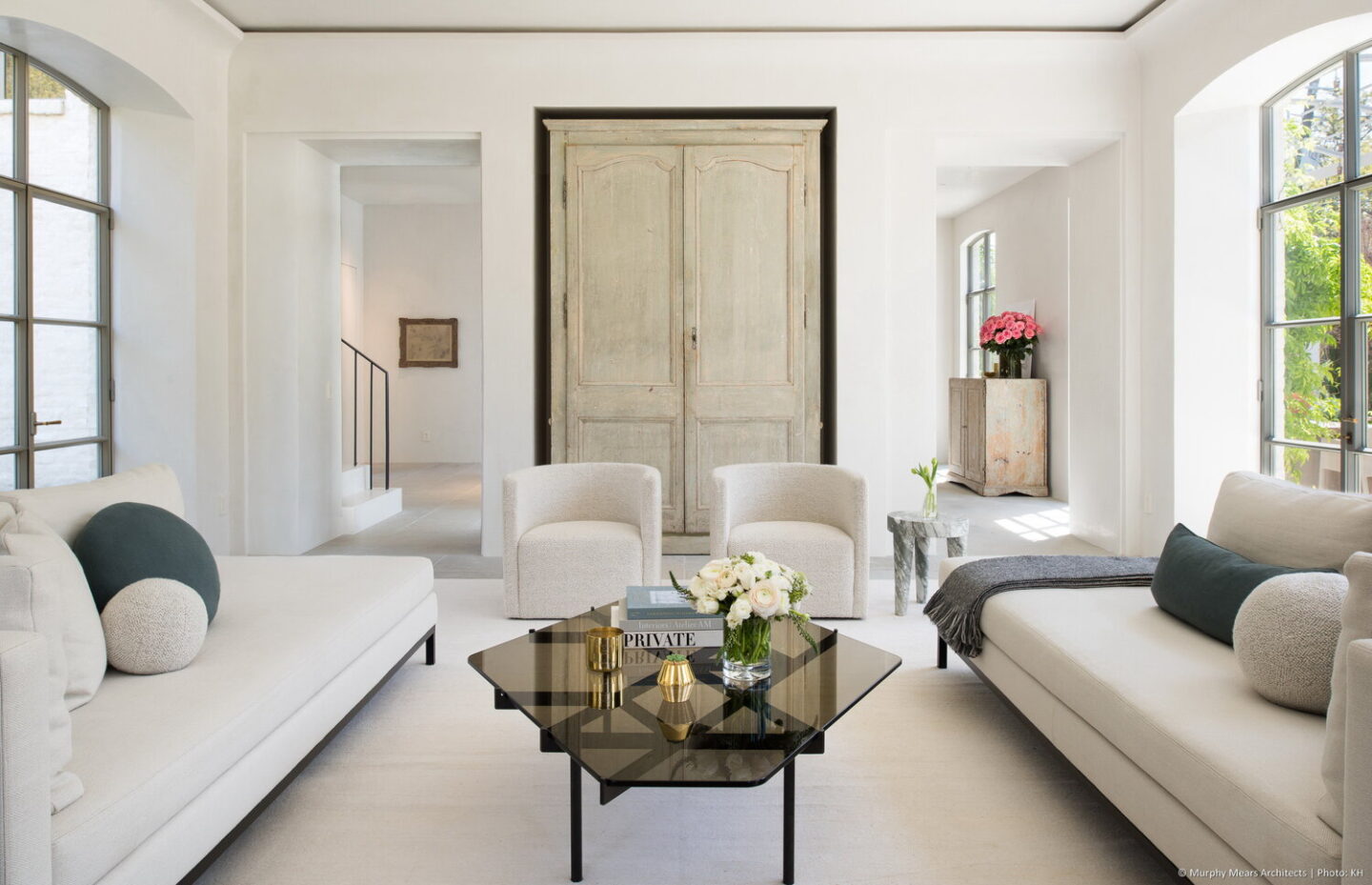 You get a sense of design restraint straight away, and for me, this leaves an abundance of breathing space. And dreaming space. Expanses to let the soul rest. Not emptiness but spaciousness for the senses to calm.
Treasures of Art in an Old World Environment
Is it any wonder that a lover of minimal modern European style would also be drawn to understated, elegant, delicately subtle art? This framed work by Lauren Collin is a scalpel-carved work on watercolor paper.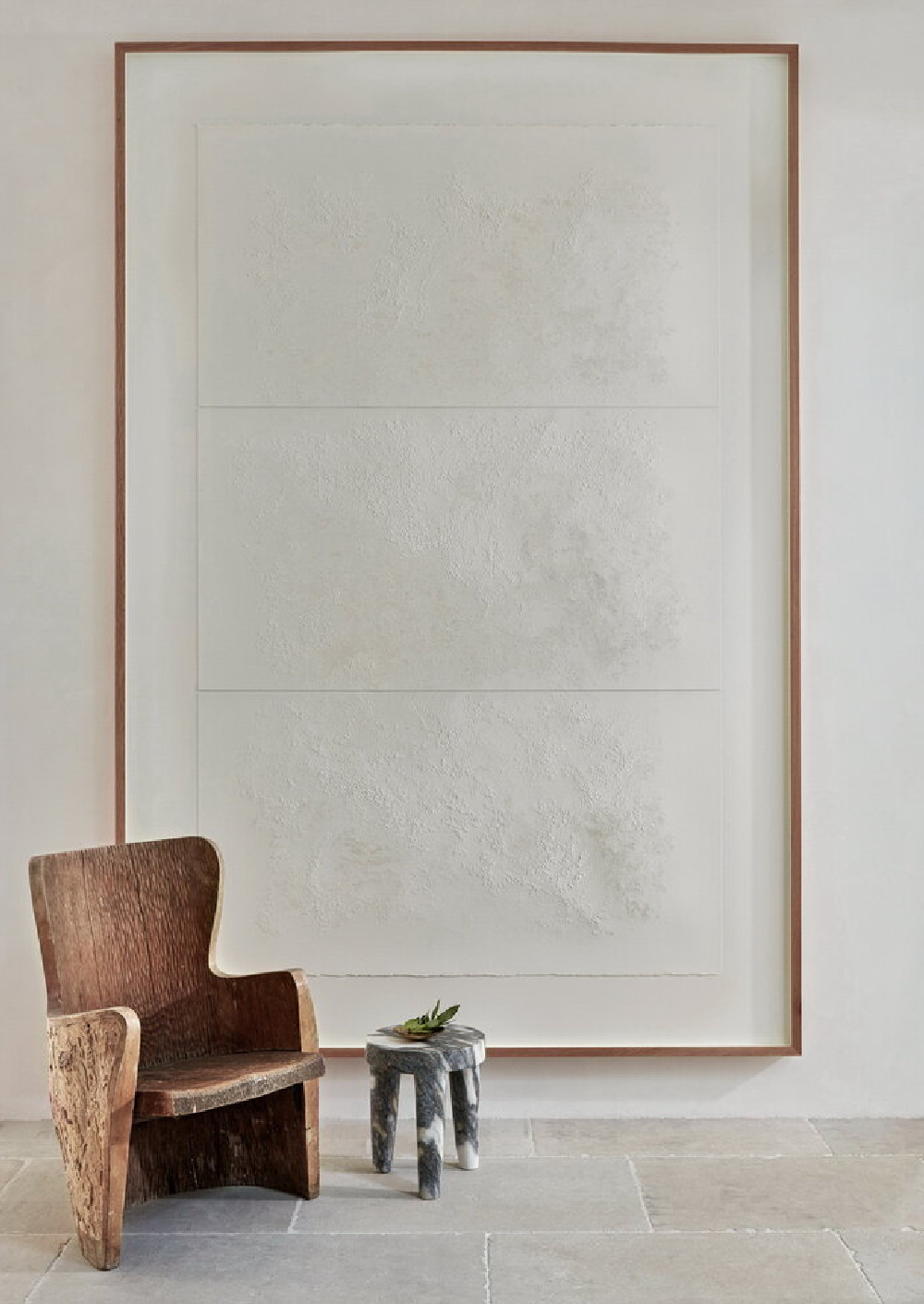 It speaks volumes to me! If you have ever worked with watercolor paper, then you know. I just love this medium, and the idea of delicately piercing it to awaken it to life! Even the tree surrendering its pulp for this art must just sigh.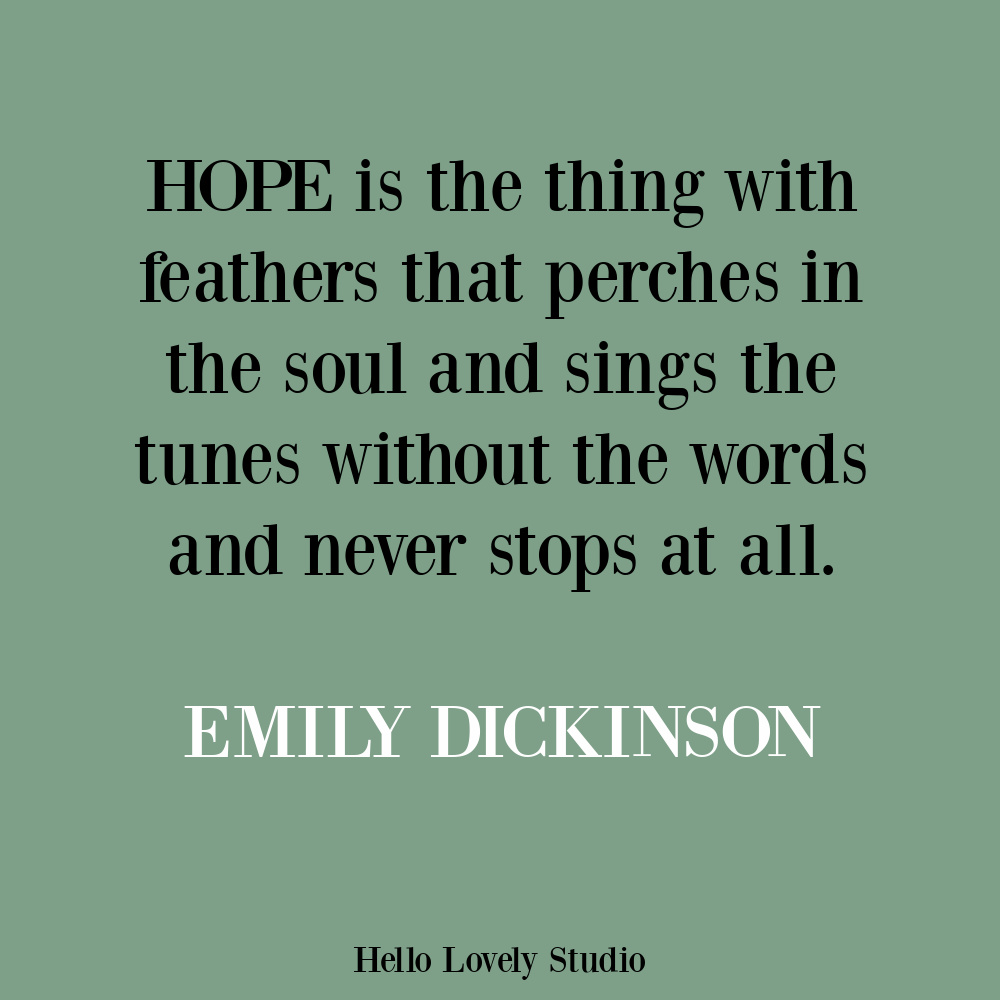 As I considered why I love this art form, I noticed how certain almost forgotten memories resurfaced. Ragtime sheet music from a player piano I enjoyed as a child in the 70s. A white linen curtain's gorgeously simple French knot embroidery. Mysteriously beautiful Braille pages read by an elderly neighbor next door. Even a white wedding cake with its delicate bas-relief fondant and icing.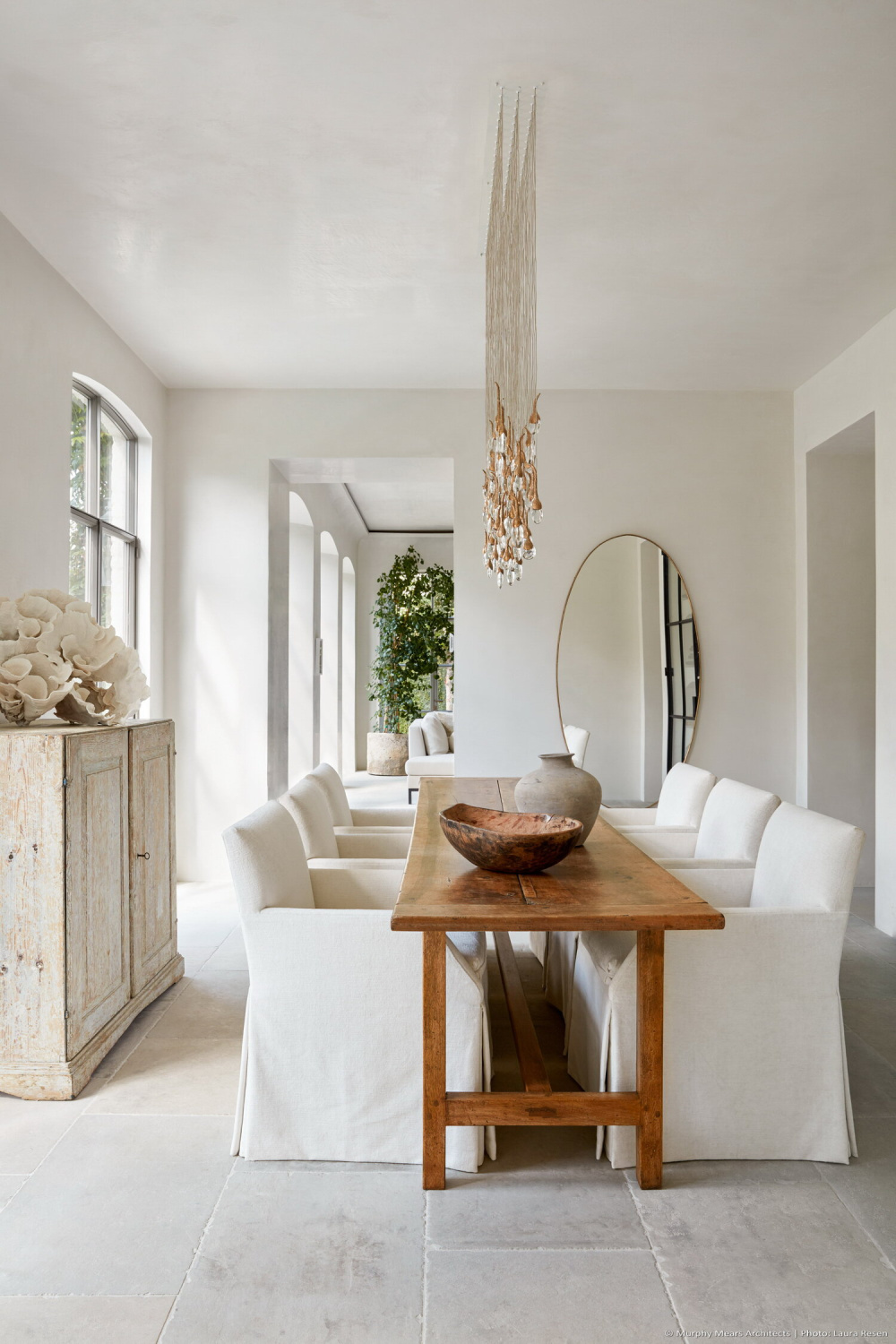 Masterfully Made Lighting
With a minimal approach to Modern Belgian-French, lighting and texture often play starring roles. Jill Egan's dining room chandelier is so breathtaking in daylight, I cannot imagine what magic illumination emerges when it is lit in the evening!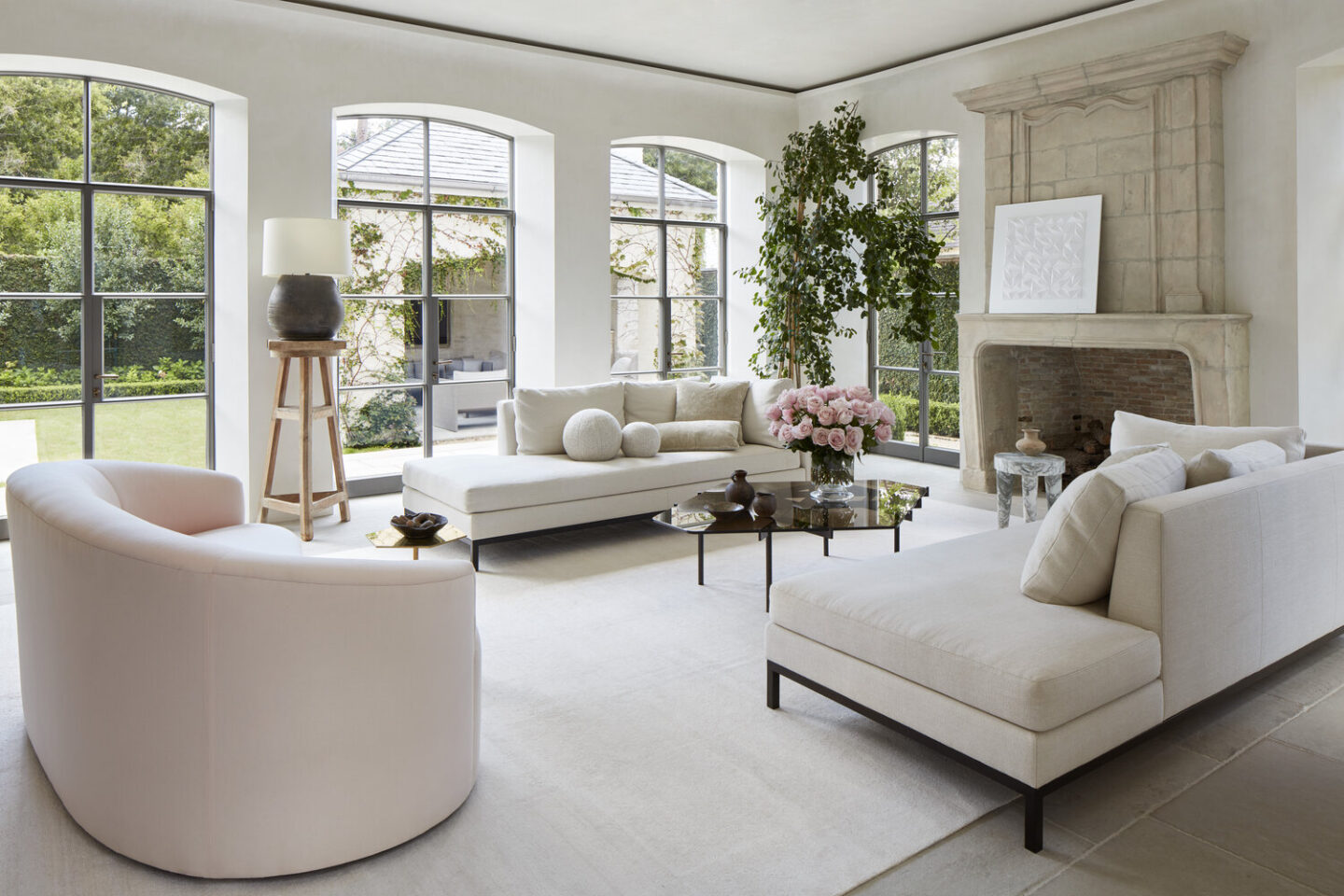 As a blogger who posts ad nauseam about paint colors, I would gladly trade my painted walls for plaster walls ones this warm and lustrous.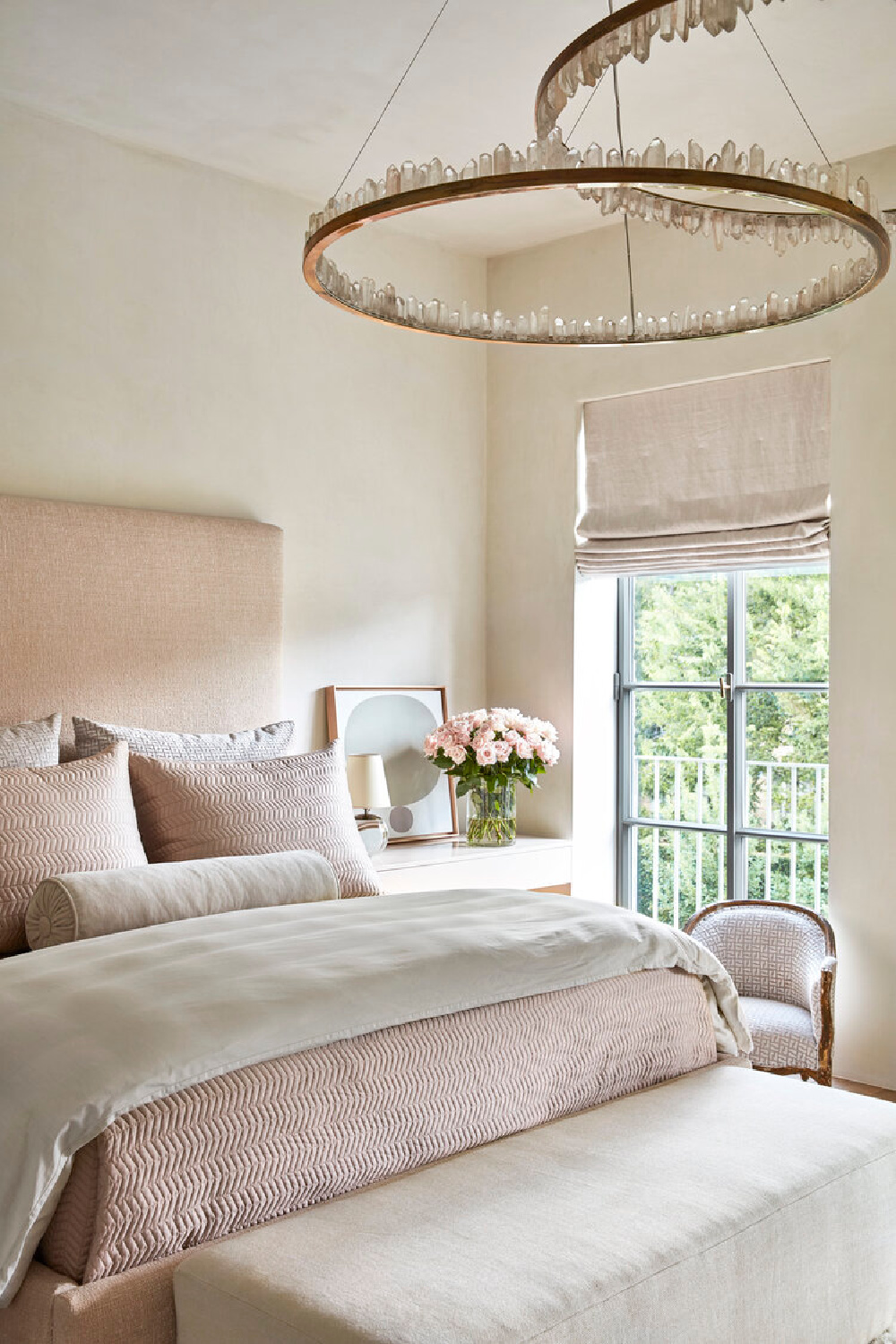 Minimal need not be limited in the theatrical department! It's just that each piece is extremely special!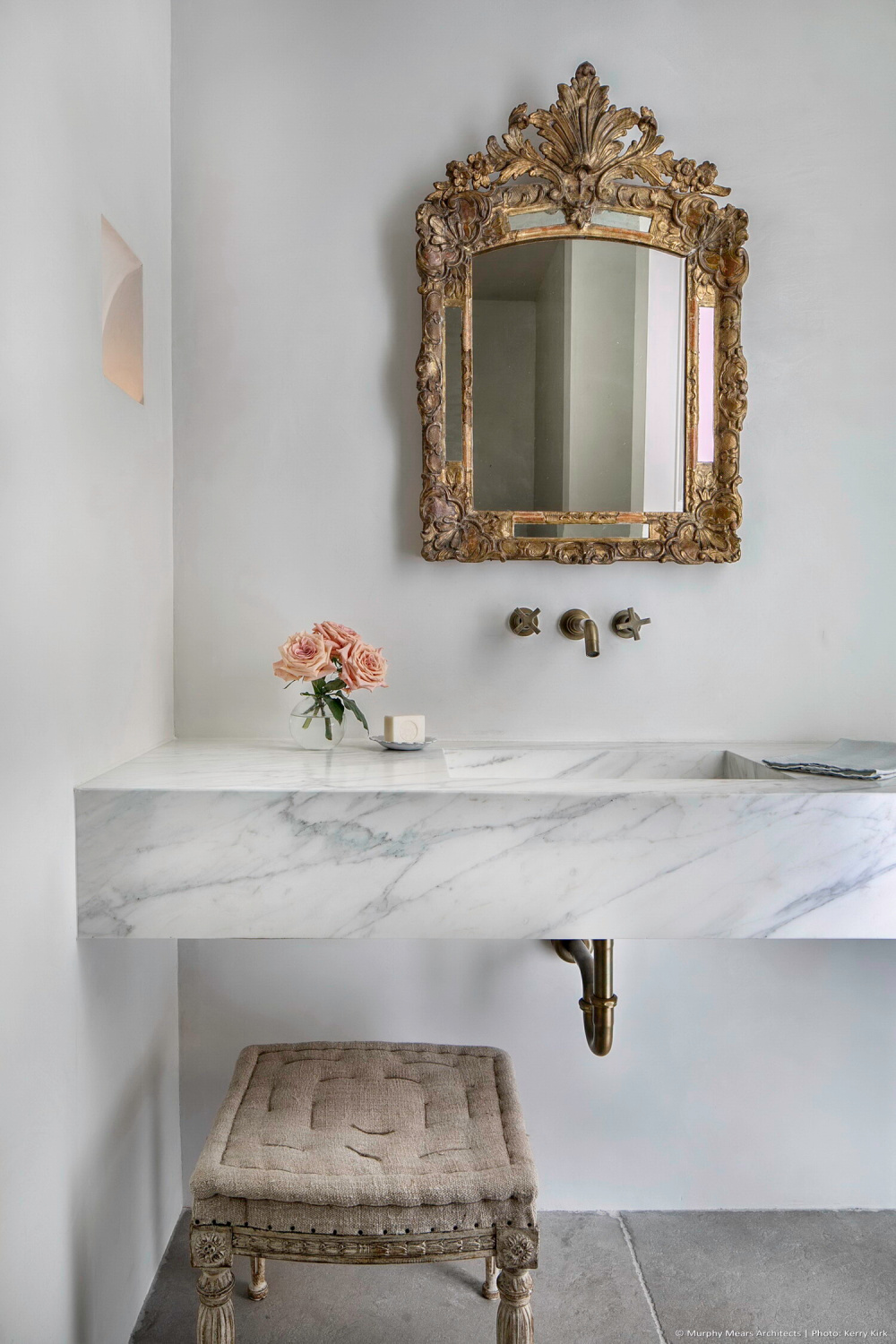 One of my personal characteristics of minimal modern Belgian French aesthetic is the design intelligence undergirding the livability of such a look. In order to live with such spare luxe, everything within the home must have its place. There must be savvy planning of hidden sources of storage for all of daily life's essentials. (Do you suppose that breathtakingly lovely bathroom mirror covers a niche where medicine, makeup, and potions can live?)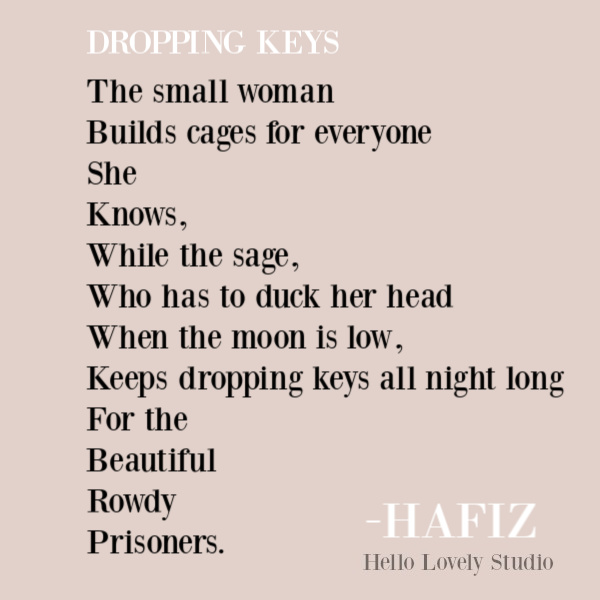 Jill Egan Designed Moments of Minimal Modern Belgian French
She is simply a genius with her lighting decisions which can elevate the whole mix.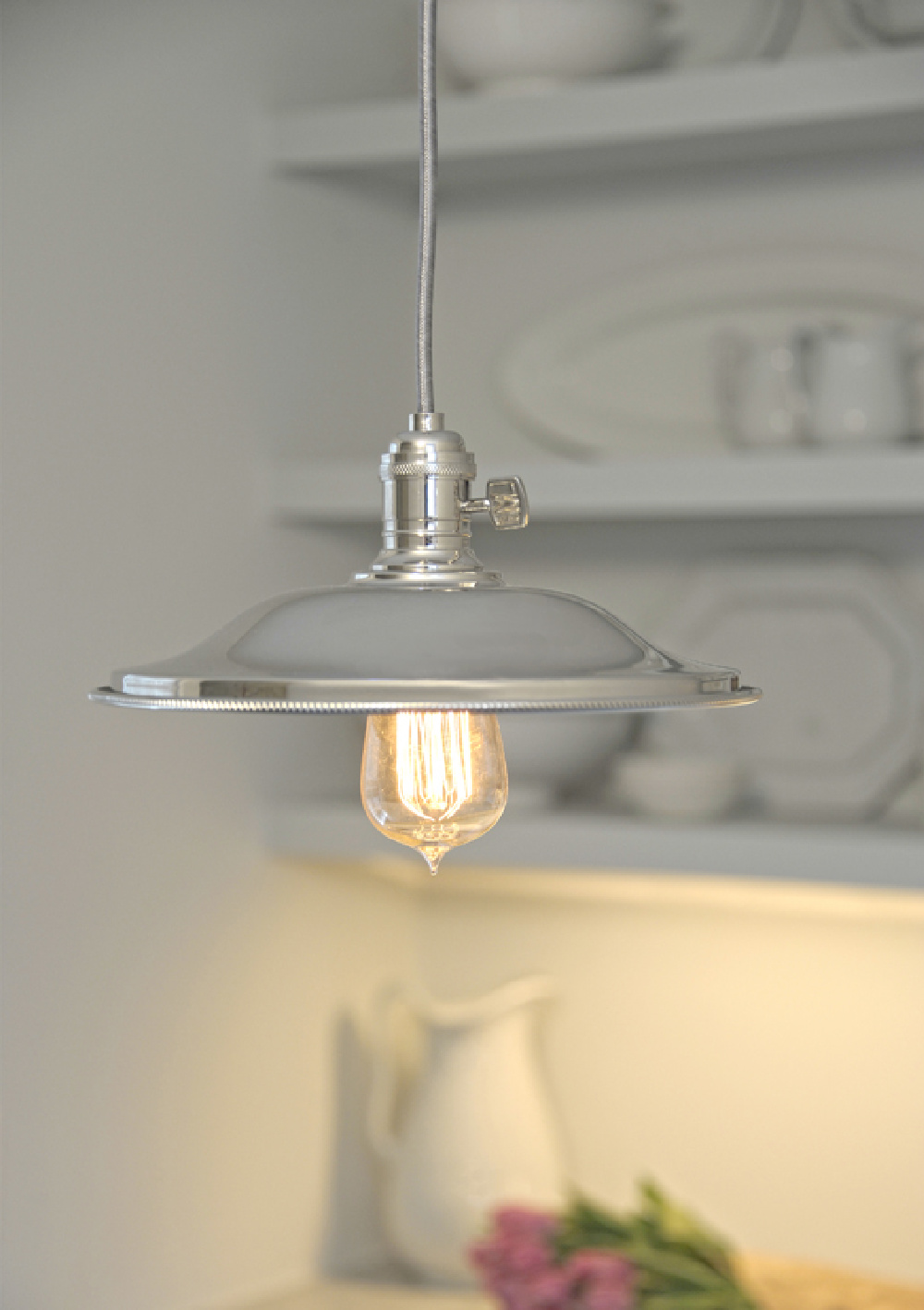 I need her desperately to style my family room shelves! No heavy, brown stained wood for trim and mantels here! Lightened up luxurious trim (or none!) heighten serenity and tranquility.
Gilded iron and unlaquered brass? I'm a broken record…but kittycats! Gold works magically with cool greys and greyed-whites..
Patina and texture become the color in minimal modern Belgian French interiors, and I'm here for it!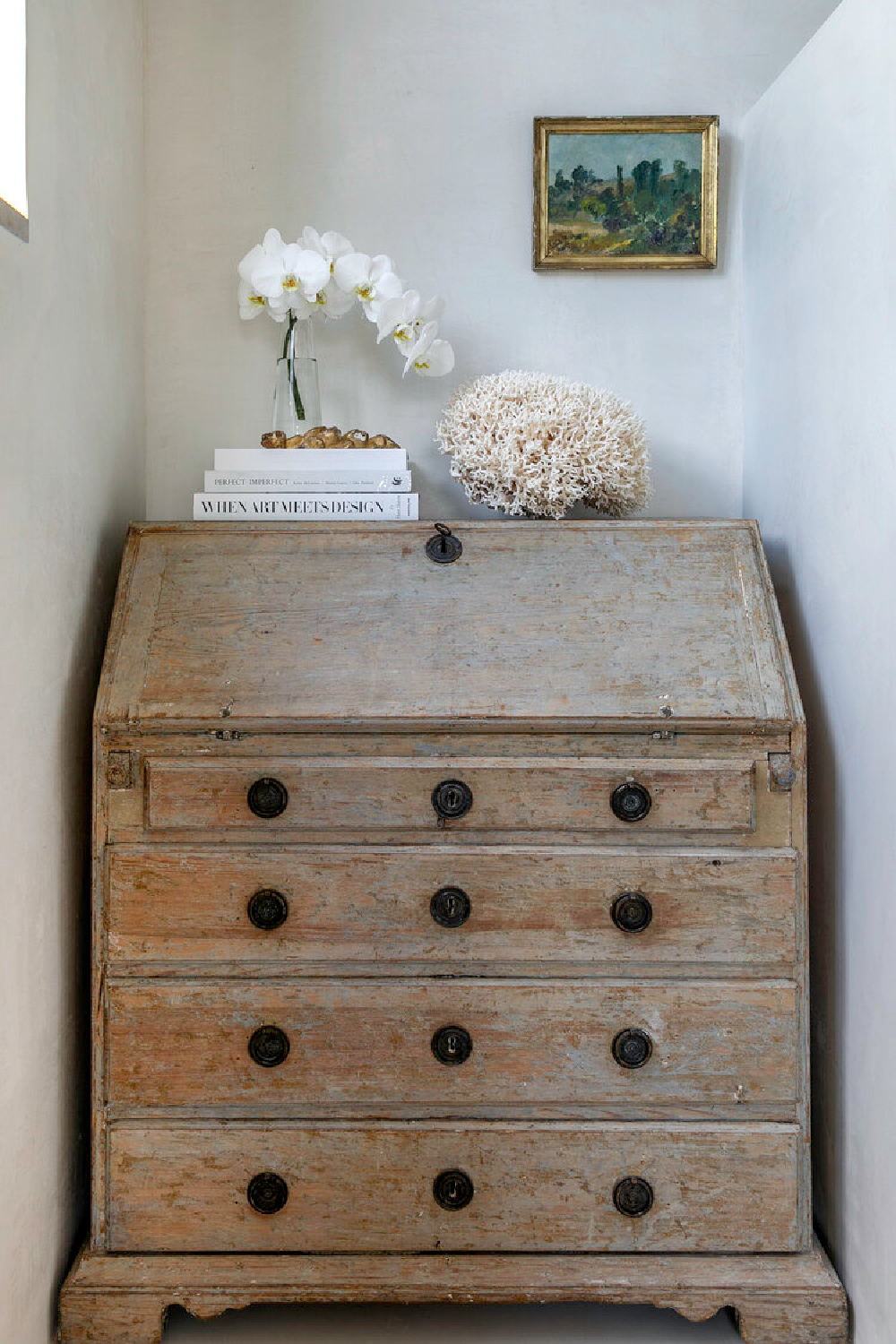 Wait. Patina? I seem to remember another design team who know their way around minimal modern European country charm…
Patina Style: Steve and Brooke Giannetti
Brooke and Steve Giannetti have such a fresh take on livable luxe interiors that revere patina and modern French allure.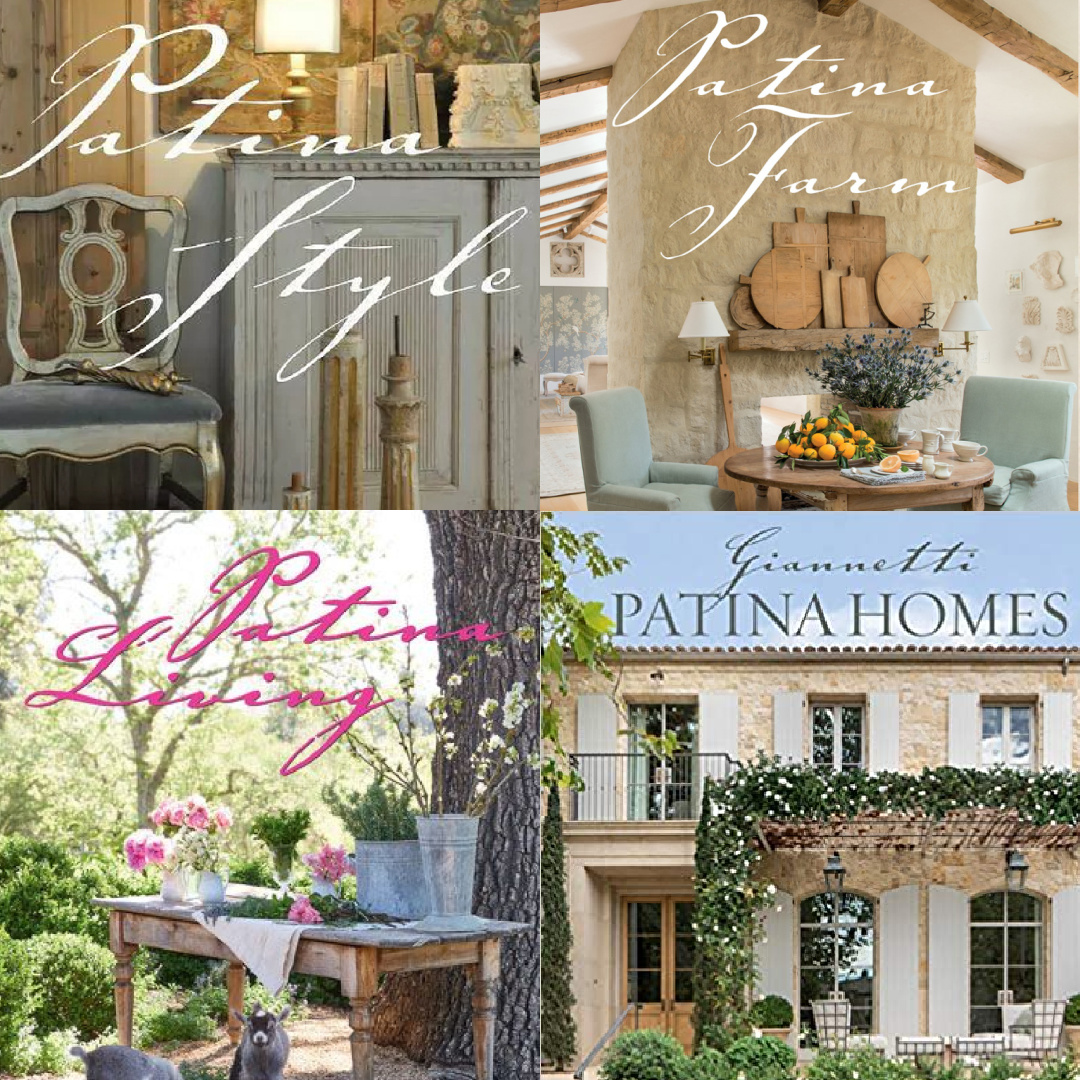 Online searches for this design dream team's work (Velvet and Linen is a treasure trove!) often characterize the look as rustic.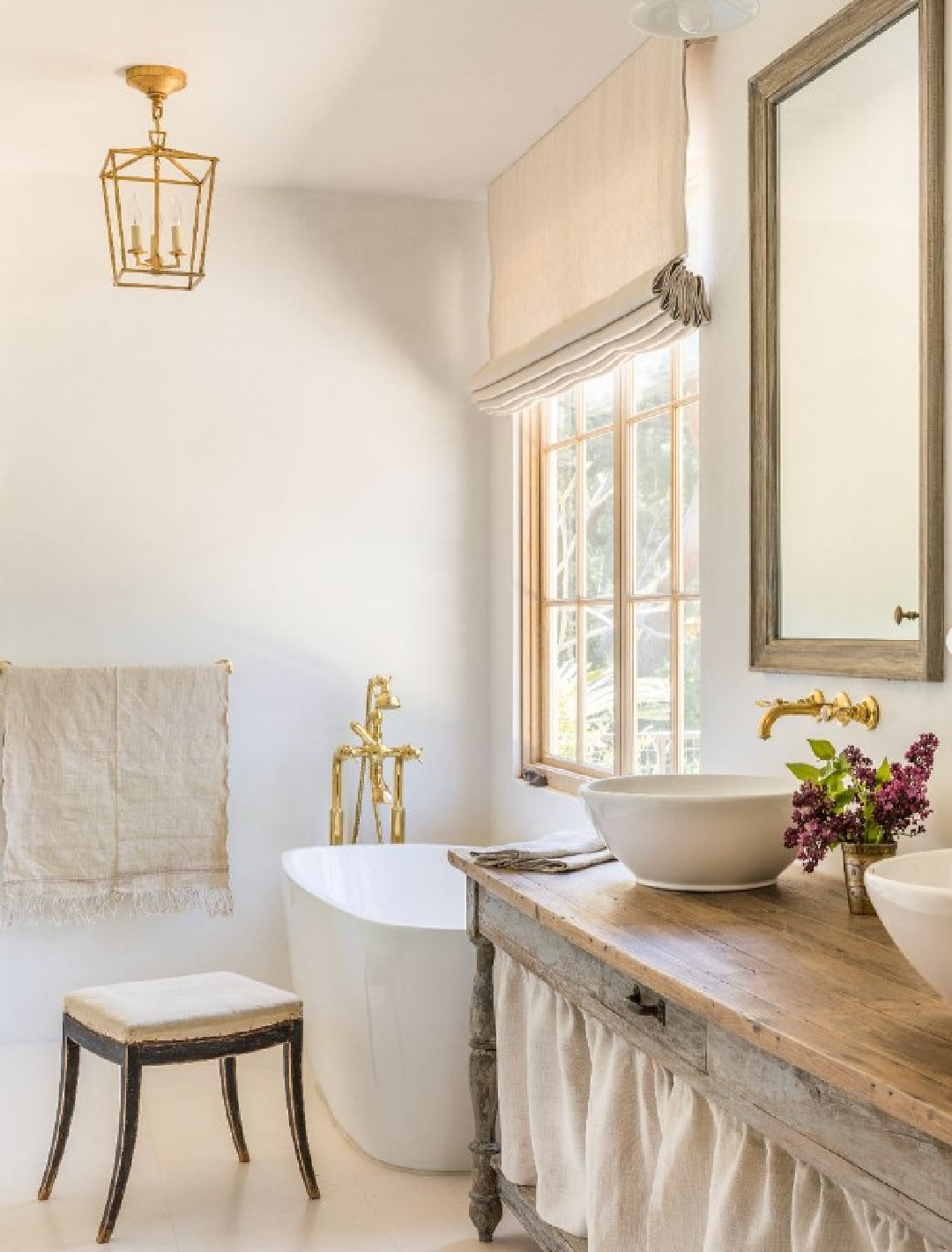 Rustic? Really?
Another label that hardly fits is "modern farmhouse." However, most modern farmhouses we see in the marketplace and on social feeds lack the refined sense consistently coming from the Giannettis.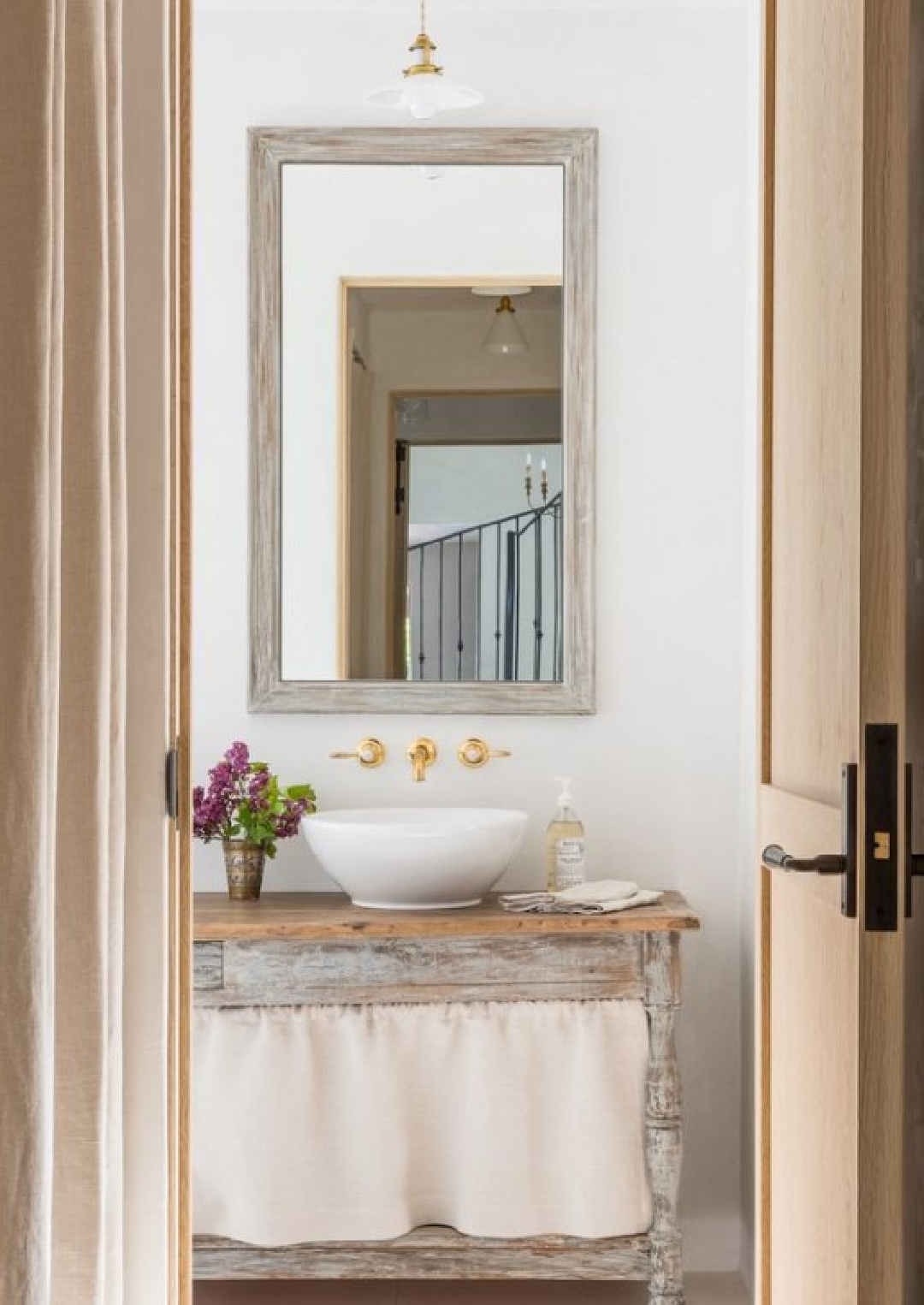 And that's as it should be. These creatives have worked hard for years collecting, curating, learning, traveling, and refining. You cannot order this assemblage of understated elegance online.
Romantic European Country Inspired Homes
What I love about the work of Brooke and Steve is the glorious timelessness at the heart of what they create. The craftsmanship, the organic California-influenced natural layers, and the earthy livability of it all. There's always a golden thread of gentle grandeur and authenticity running through their designs.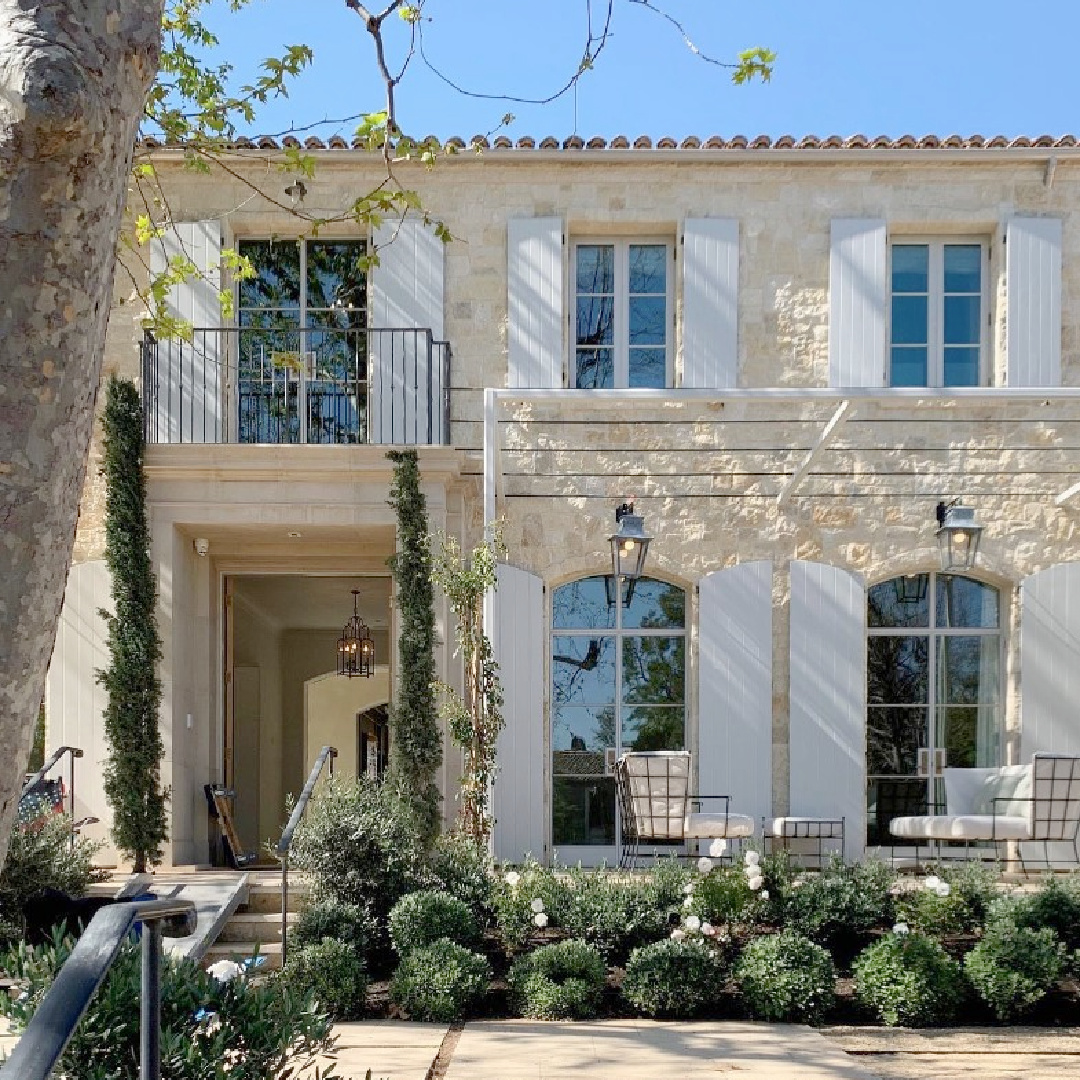 Earthy in that even though the craftsmanship and quality are high, design elements are never showing off. And we wouldn't even blame them if they wanted to show off a bit. Right? Reclaimed stone mantelpieces? They have earned the right to brag after such a rich history of service across the pond! And yet we feel a gentle humility illumining this dining room..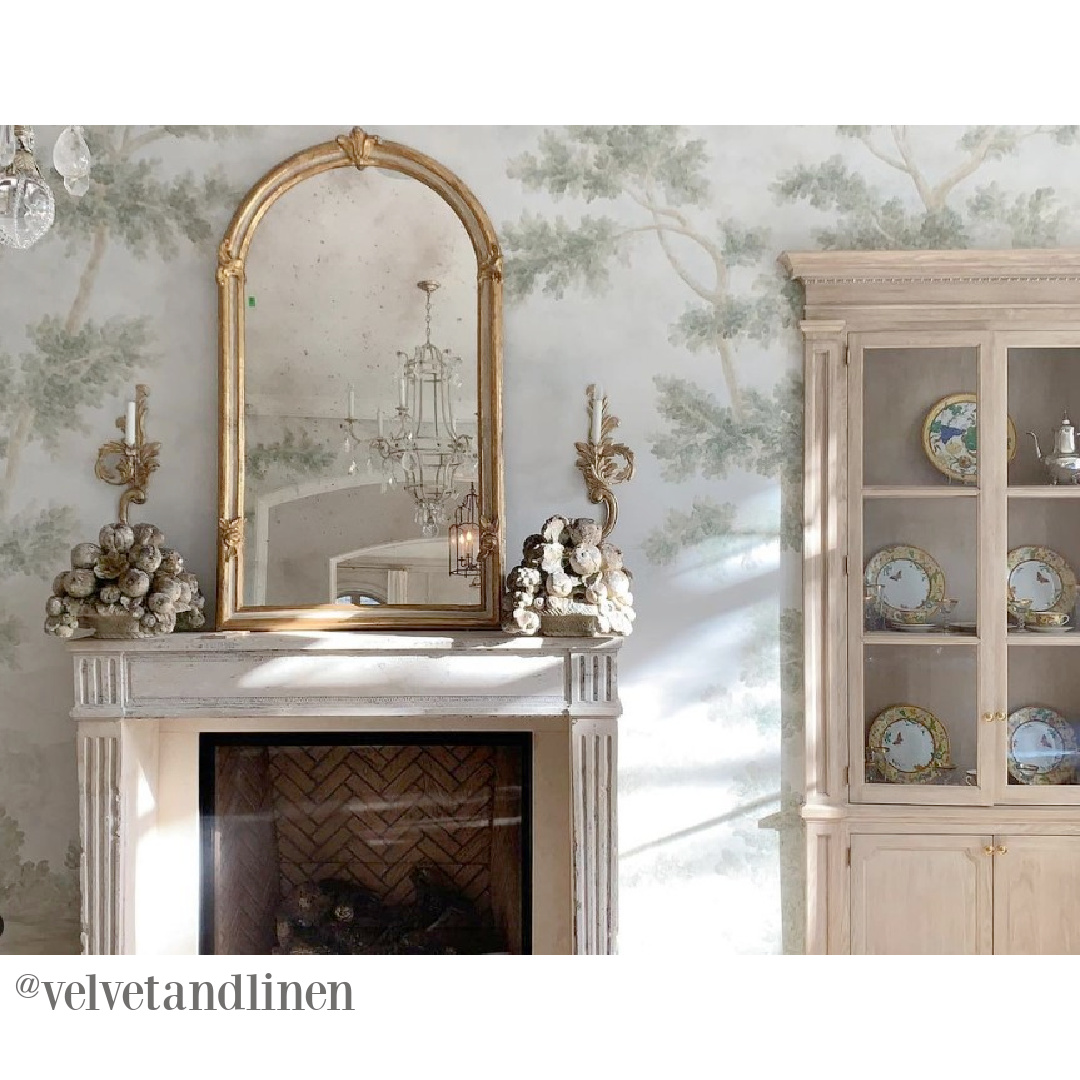 How fortunate are we that the Giannettis often chronicle and share the process so we may see what lives between the before and after? These next images are from a couple of years back as they breathed to life a kitchen which feels very keeping with today's theme.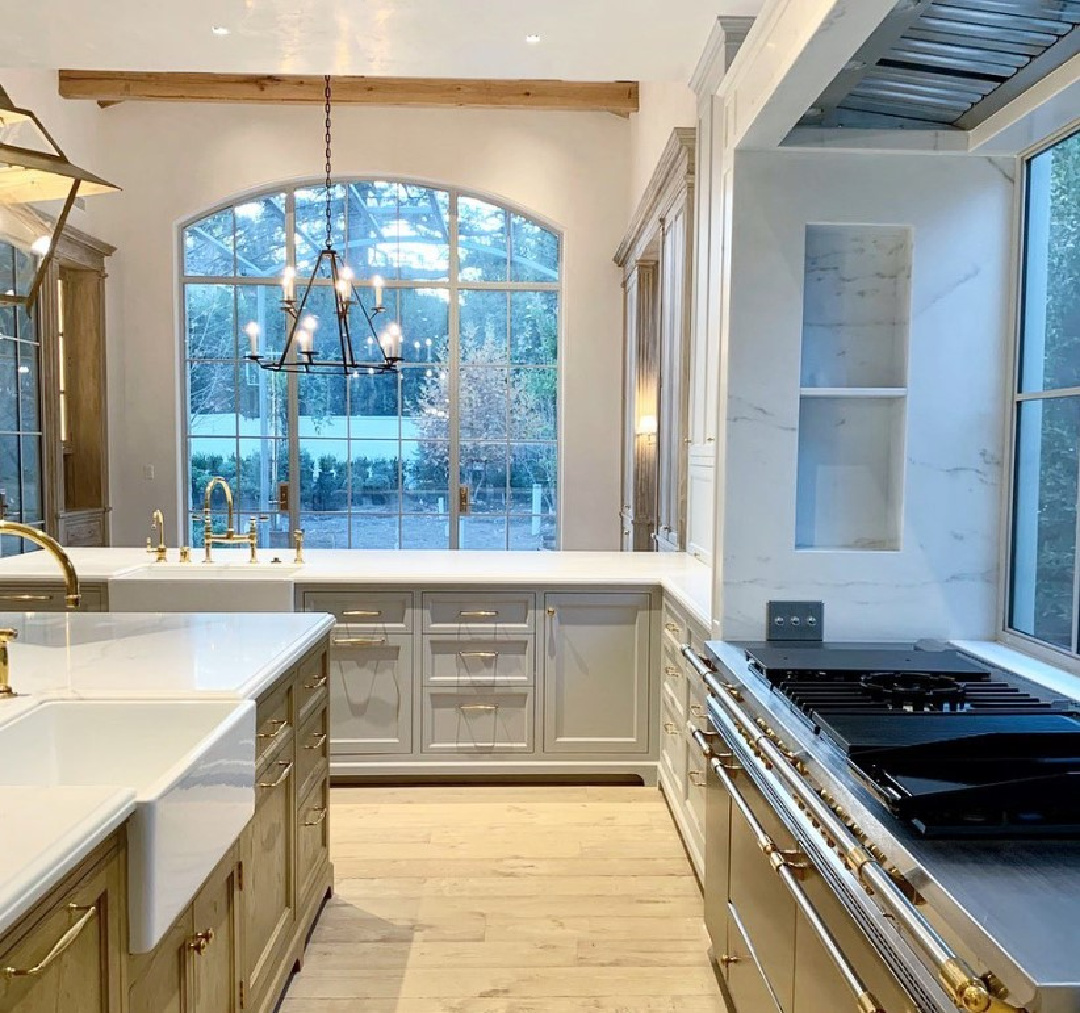 Farrow & Ball Pavilion Gray Paint Color
The cool blue-grey of Farrow & Ball's Pavilion Gray on cabinets and steel never strayed far from my mind and made an appearance in our current kitchen.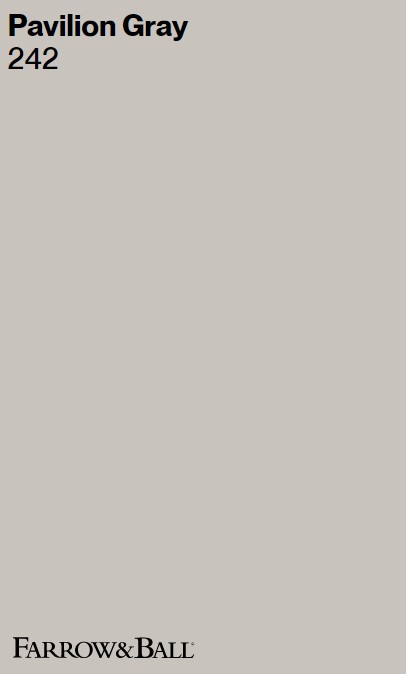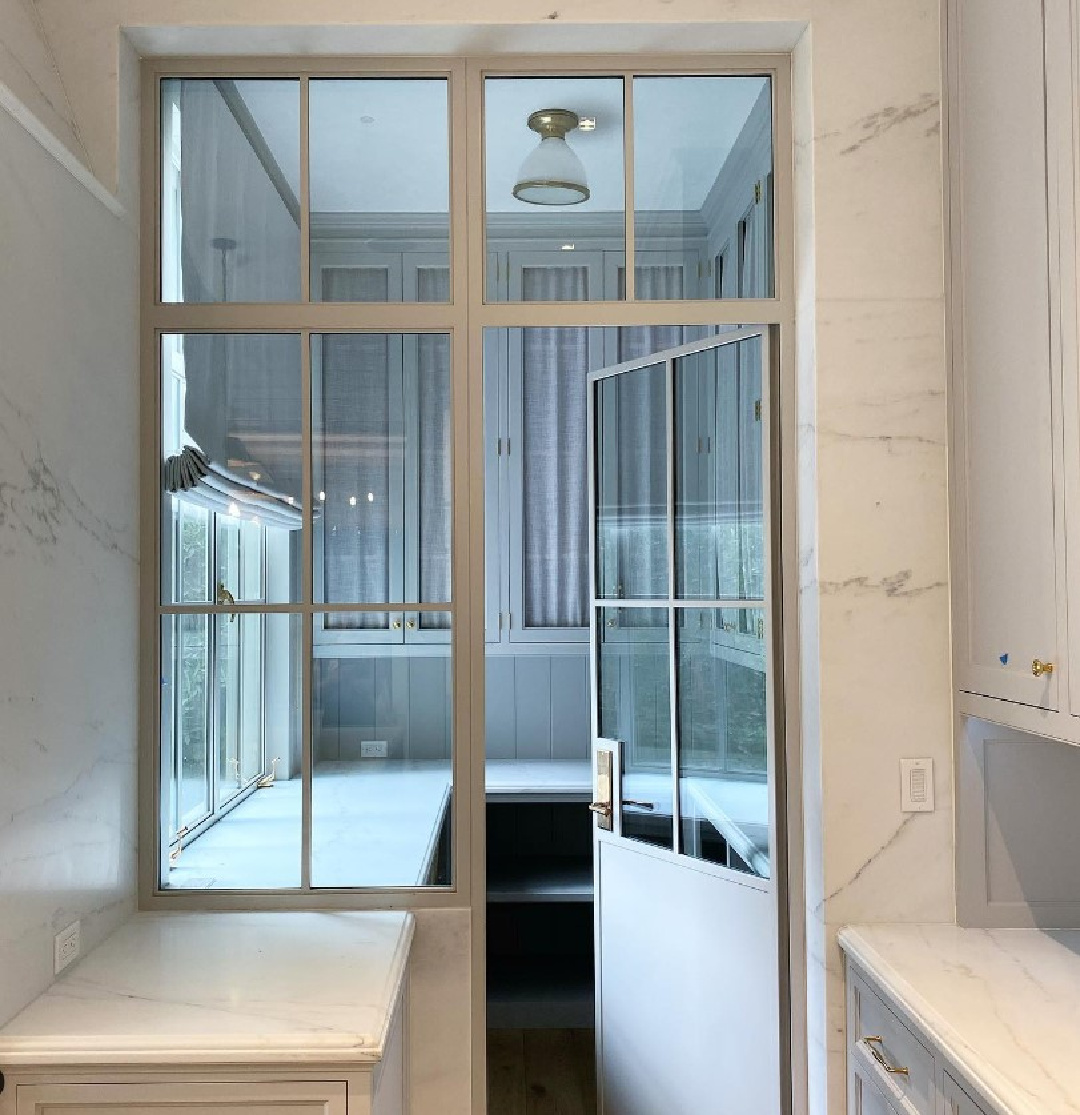 That pantry imagined by the Giannettis! Is it speaking your language?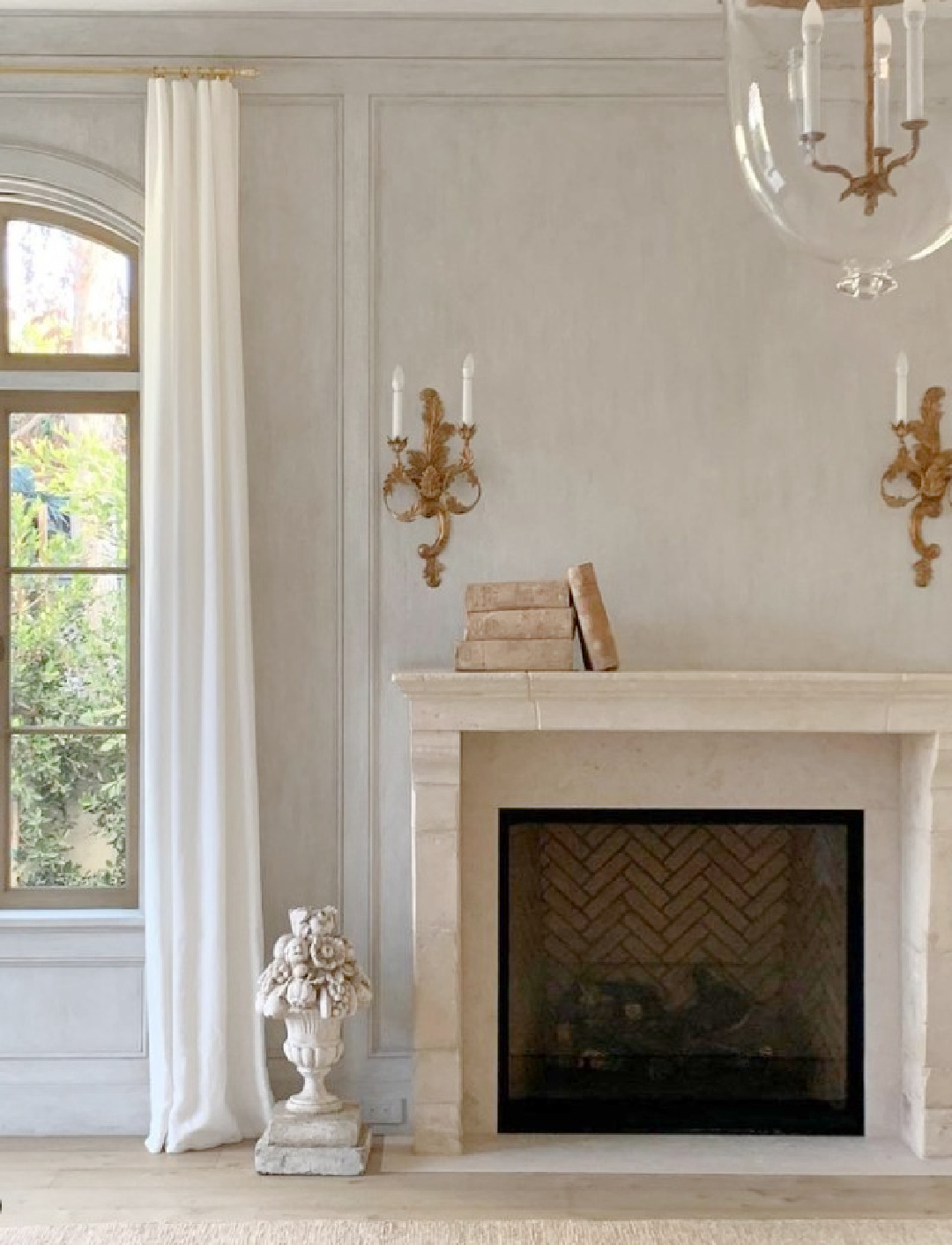 If it's okay with you, since I have yet to become bored by examples of this enchanting design style, there shall be more. I'd love to hear what you admire about it.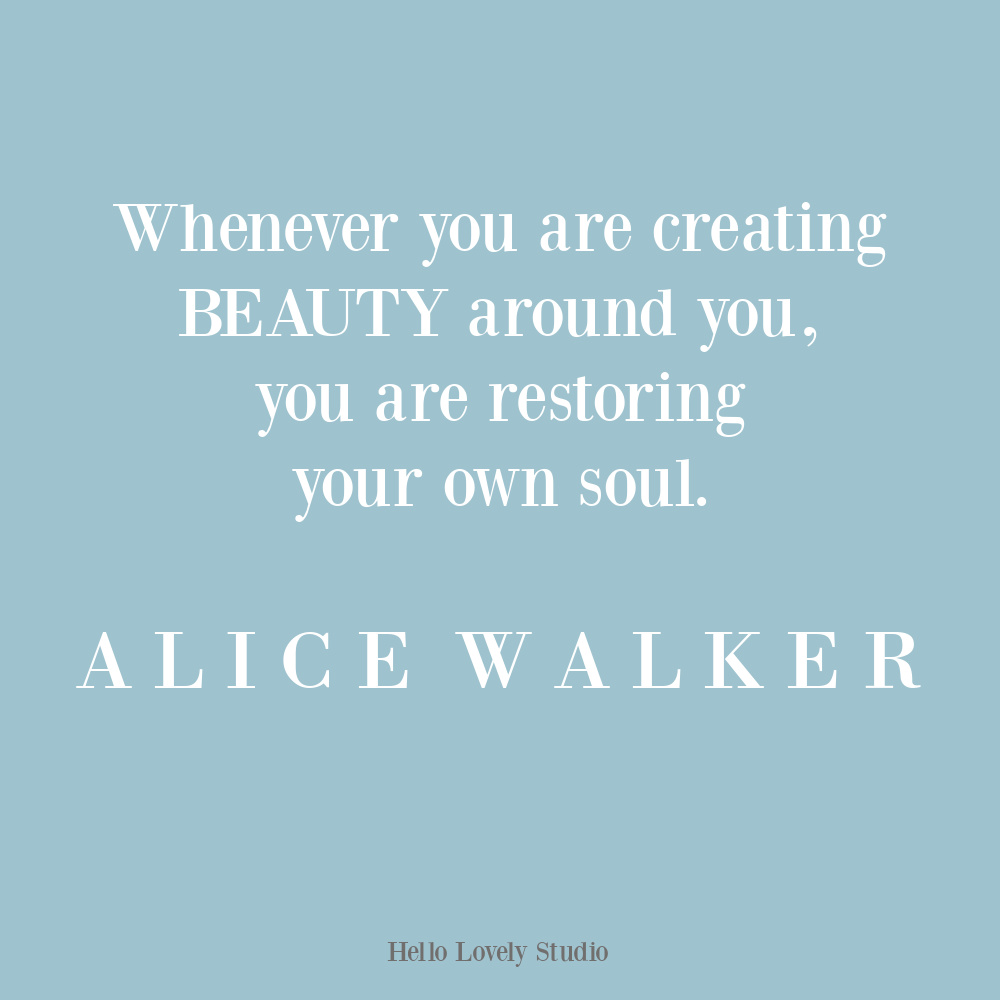 I independently selected products in this post—if you buy from one of my links, I may earn a commission.
Peace to you right where you are.
-michele
Thanks for shopping RIGHT HERE to keep decor inspiration flowing on Hello Lovely!
Hello Lovely is a participant in the Amazon Services LLC Associates Program, an affiliate advertising program designed to provide a means for sites to earn fees by linking to Amazon.com and affiliated sites.