Like our DIY work on the family room and powder bath, the living room was one of the less complicated projects here at the Georgian. Our two story entry with a busy staircase and design, was quite another matter. Today, we'll chat about what was done and consider photos snapped just yesterday. Hello Lovely's living room is a small, quiet, sunken, serene, cozy little space on the other side of a more lively entry. The style is modern European country (a blend of French country, Parisian, and Belgian really) and resources are at the end. Let's chat.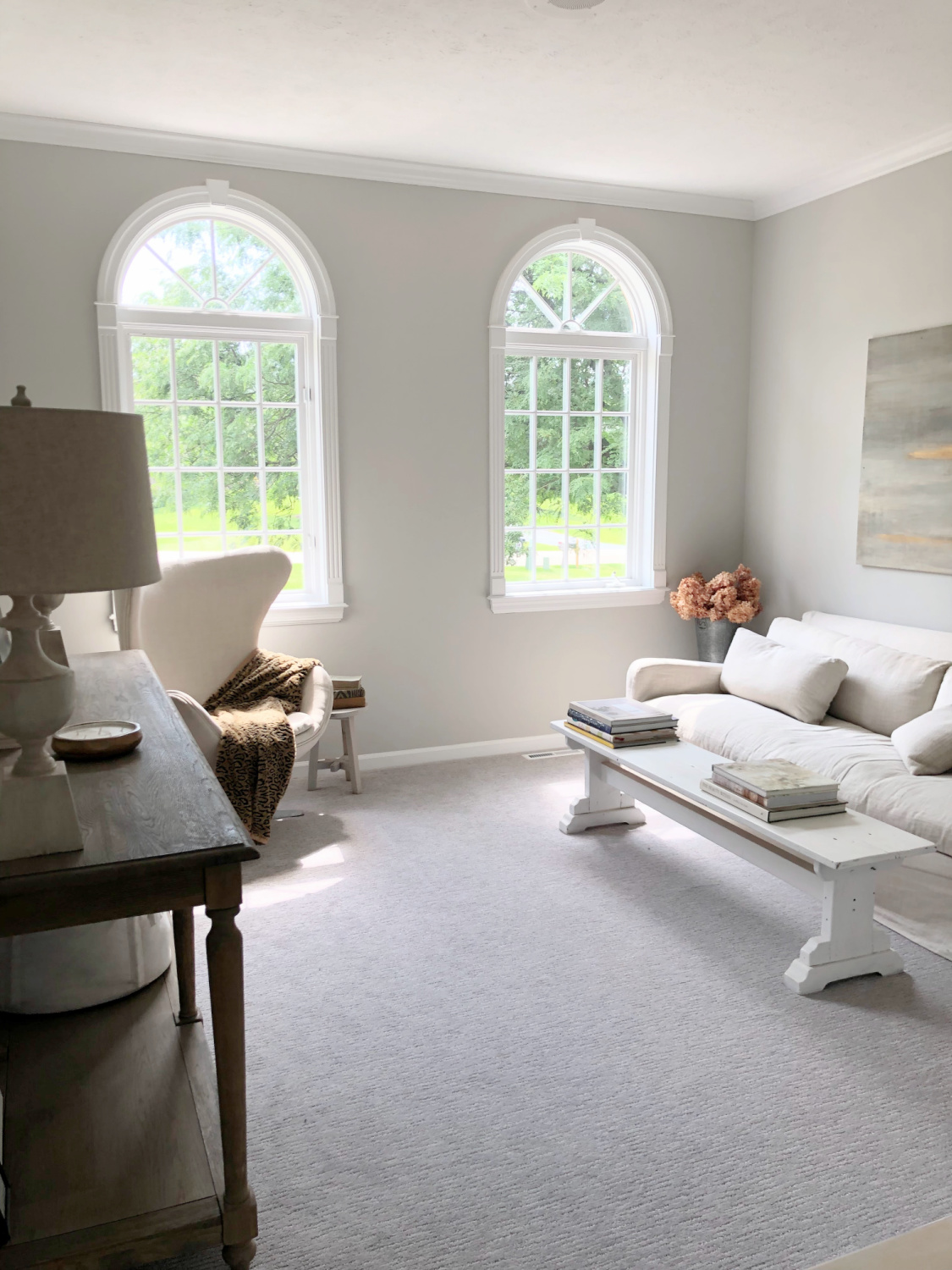 The living room is actually a sitting room perfect for unplugging and napping. The light gets very pretty in here in the afternoon and then glows pink near sunset. It is truly a livable type of living room with no fuss or formality.
Hello Lovely's Living Room & Entry Progress
Redesign for Better Function
Even though the construction of this area of the home with its columns was solidly built with integrity, I knew the formality and open concept would not work for our lifestyle. Without privacy, it felt like an extension of the foyer which was already spacious enough. Placing furniture in a small yet sunken space (with columns and open to a fancy entry)? Hmmmm. It's funny. The virtual staged marketing photos for the house showed a big screen TV on the wall where I placed my painting above a large sofa.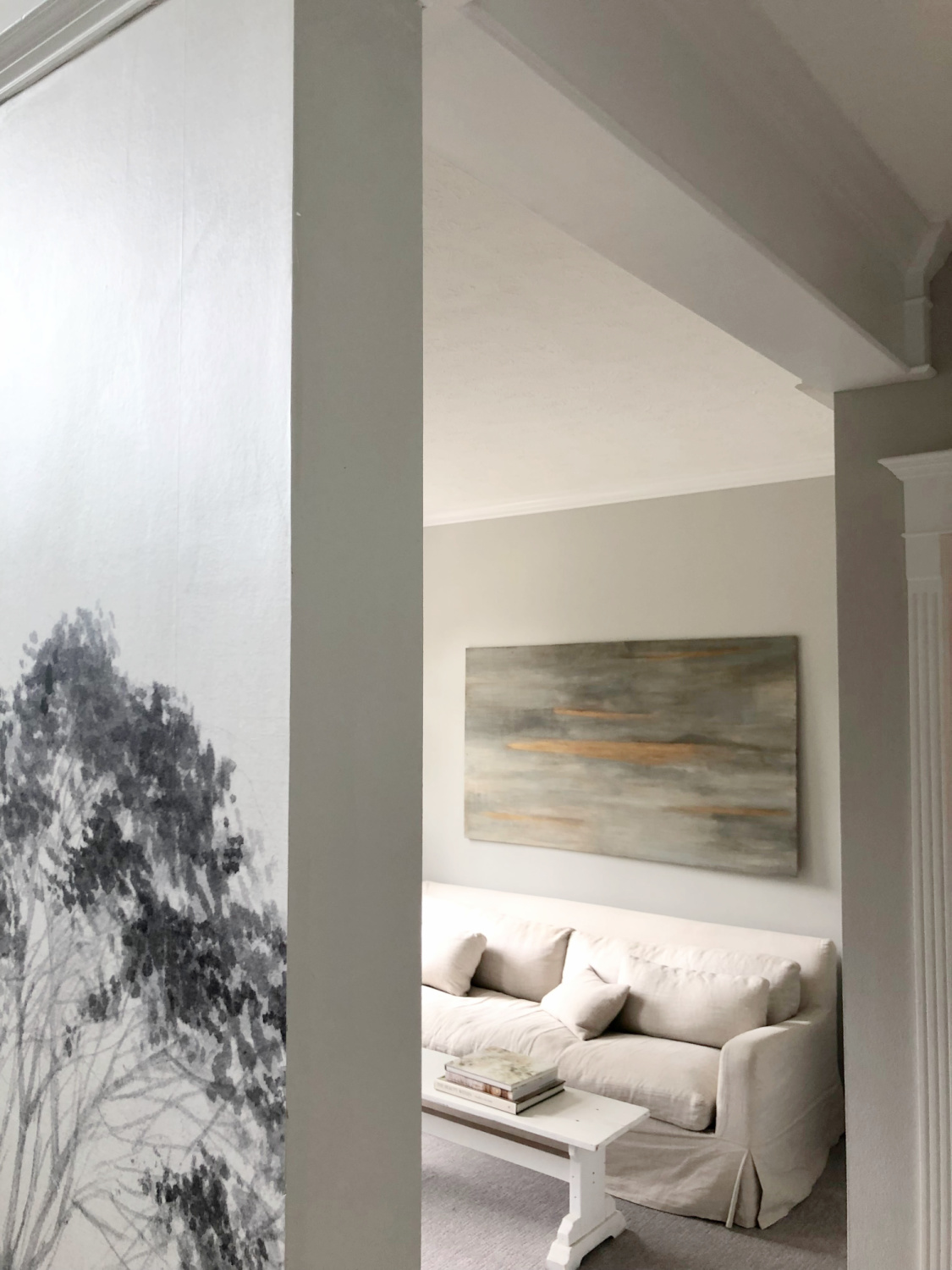 A TV where the painting is would necessitate seating in front of the columns! So you would enter and immediately see the back of a sofa? Okay, no. But what about seating on the window wall with a TV or focal point across from it? No again – there's actually no wall across from the window wall! It's a hall to the powder bath and family room.
When we started with this living room, there were only two walls, and one of them with windows. Which is why I commissioned my husband to build walls.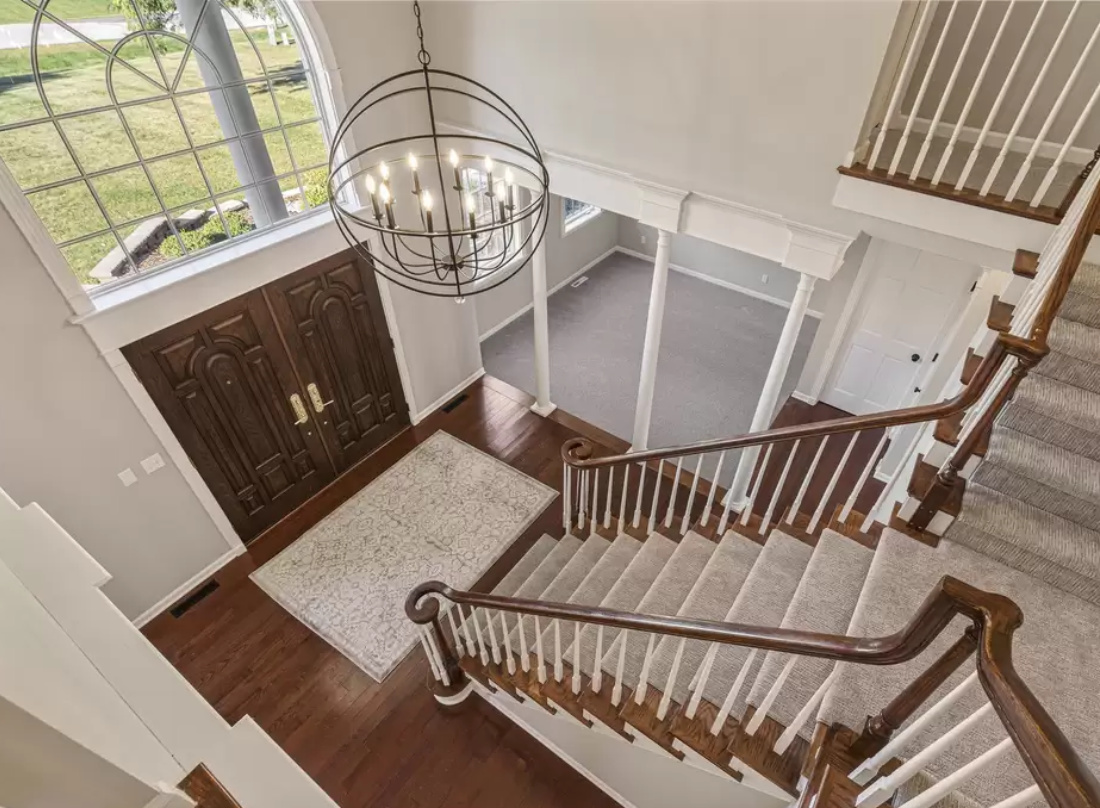 Trading Open Concept for Cozy
The solid wood columns are still sandwiched inside the drywall. The addition of an arched window breaks up the expanse of wall in the entry and retains a sense of connection with the once completely open living room.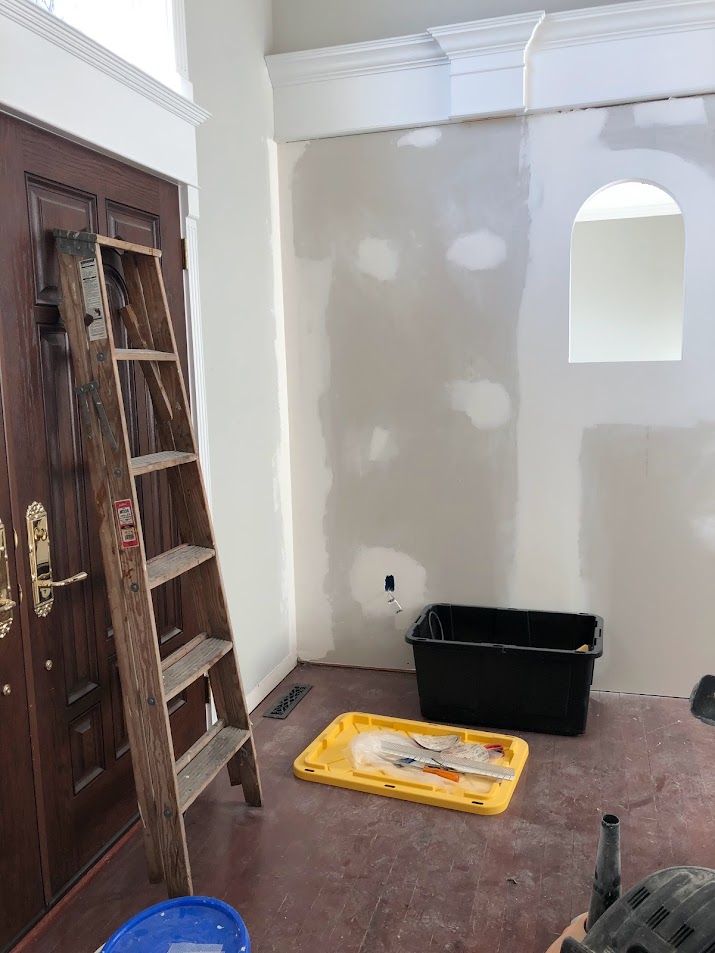 Here's the new wall on the living room side. I keep saying wall, but bear in mind it's two walls sandwiching those columns! My hard working construction pro of a husband had four walls to build in order to bring function to three spaces in the front of the home.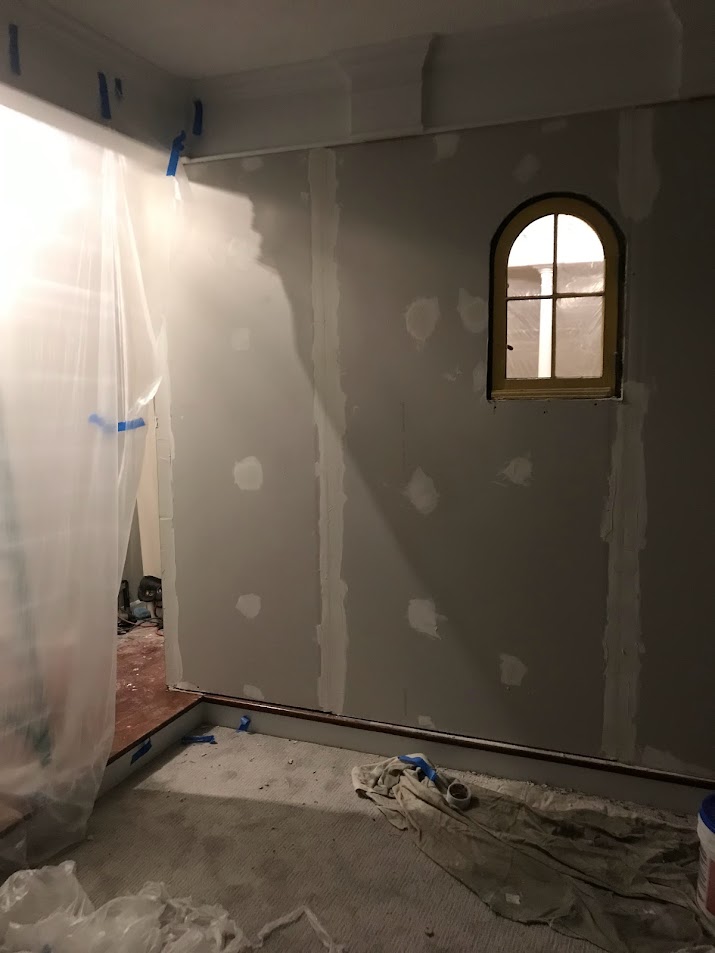 Balance & Drama for the Entry
What a transformation! I know some folks may not agree with wallpapering as I did. But this was not an impulsive sort of decorating decision. If my style were contemporary, the two story entry walls could be painted white and maybe the crown would be removed. But I wanted the entry to feel less show-offy and more scaled for humans. The tree pattern keeps the focus grounded – your eye can't help but travel to the fancy staircase. But pattern extending 8′ rather than 17′ high provided grounding.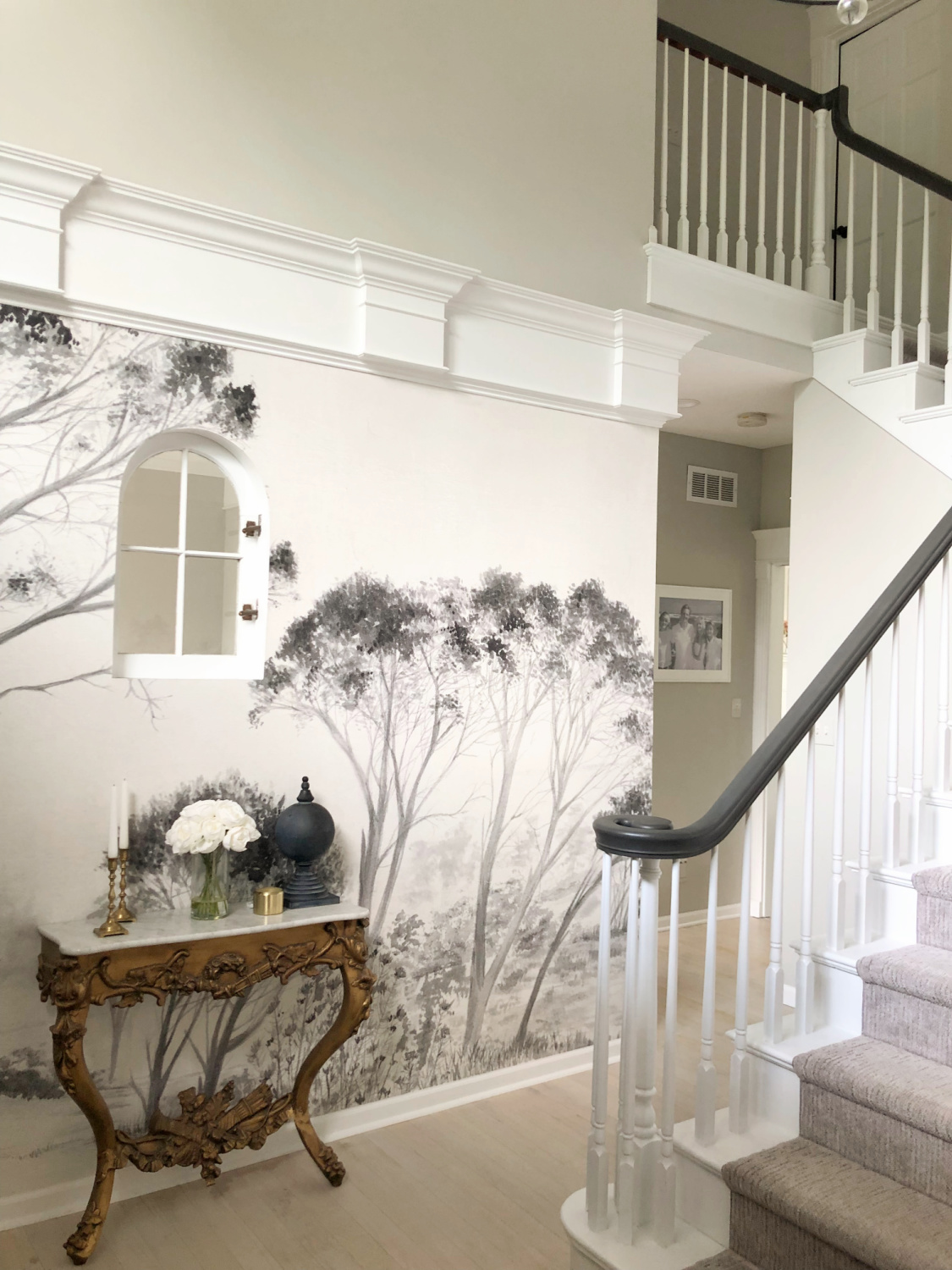 The columns weren't beefy enough to provide such grounding. Seeing the toilet from the entry didn't help either! Before the redesign, it felt as though everything competed for attention and shouted "look at me, I'm fancy" and "let's get overwhelmed as soon as we step inside."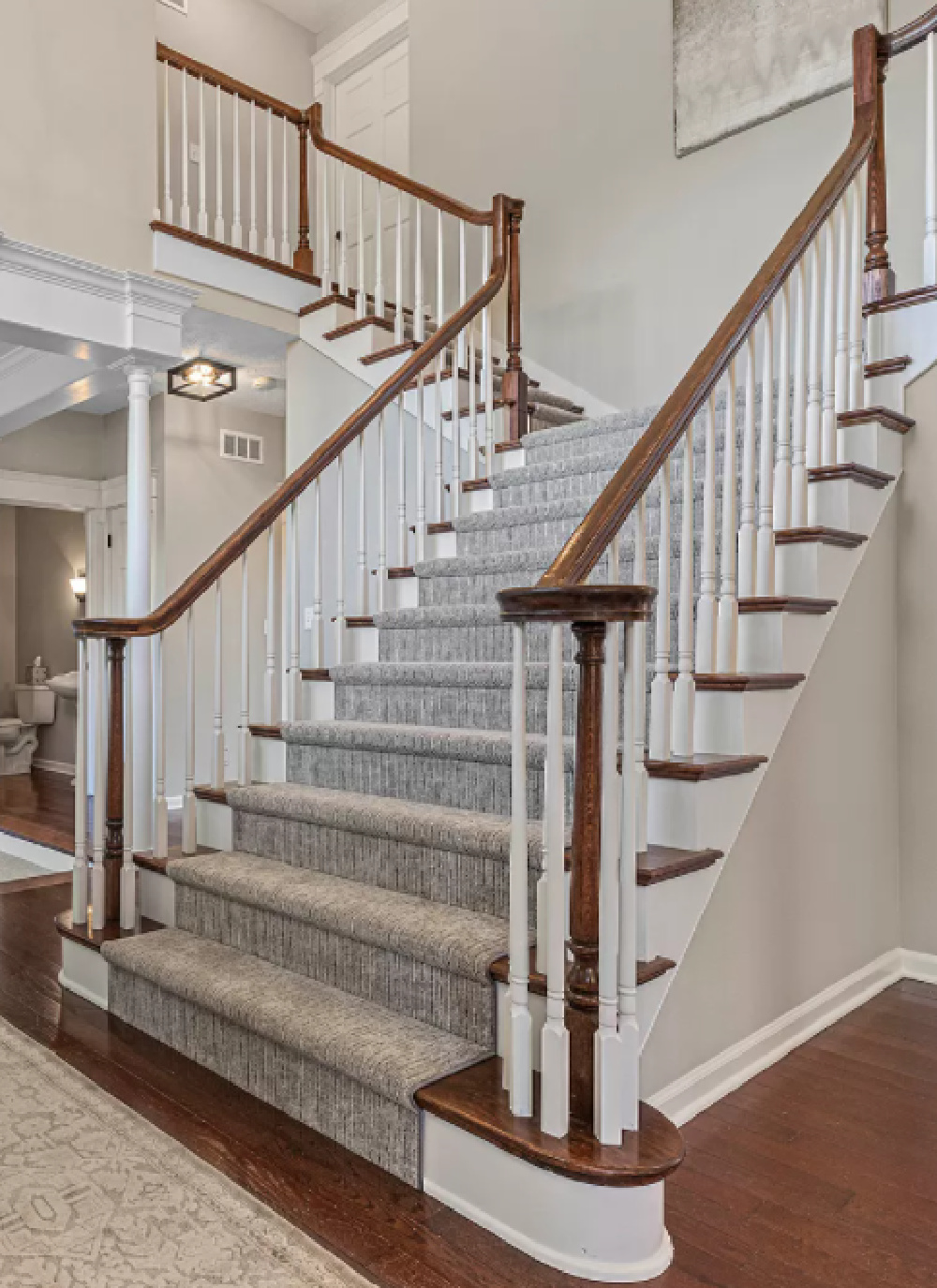 Depending on your perspective, now when you enter, you may think, "is this a little boutique hotel in Paris?" or "this homeowner collects some edgy art" or "well, this is unexpected."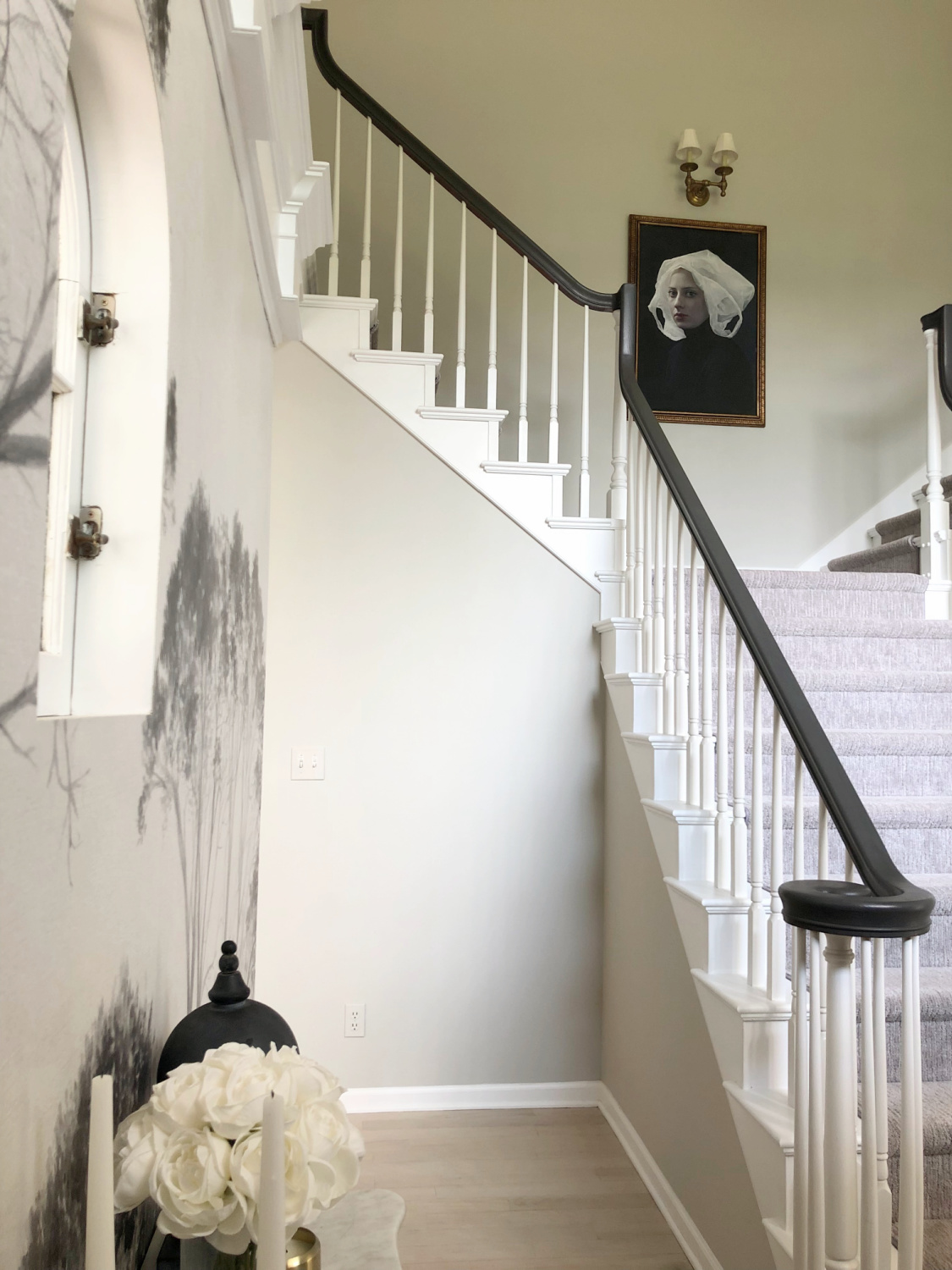 Giving a Home Identity by Listening
We weren't even looking for a new project when this house came on the market. And we knew we had to buy it because the scenic countryside lot with its breathtaking views beckoned us.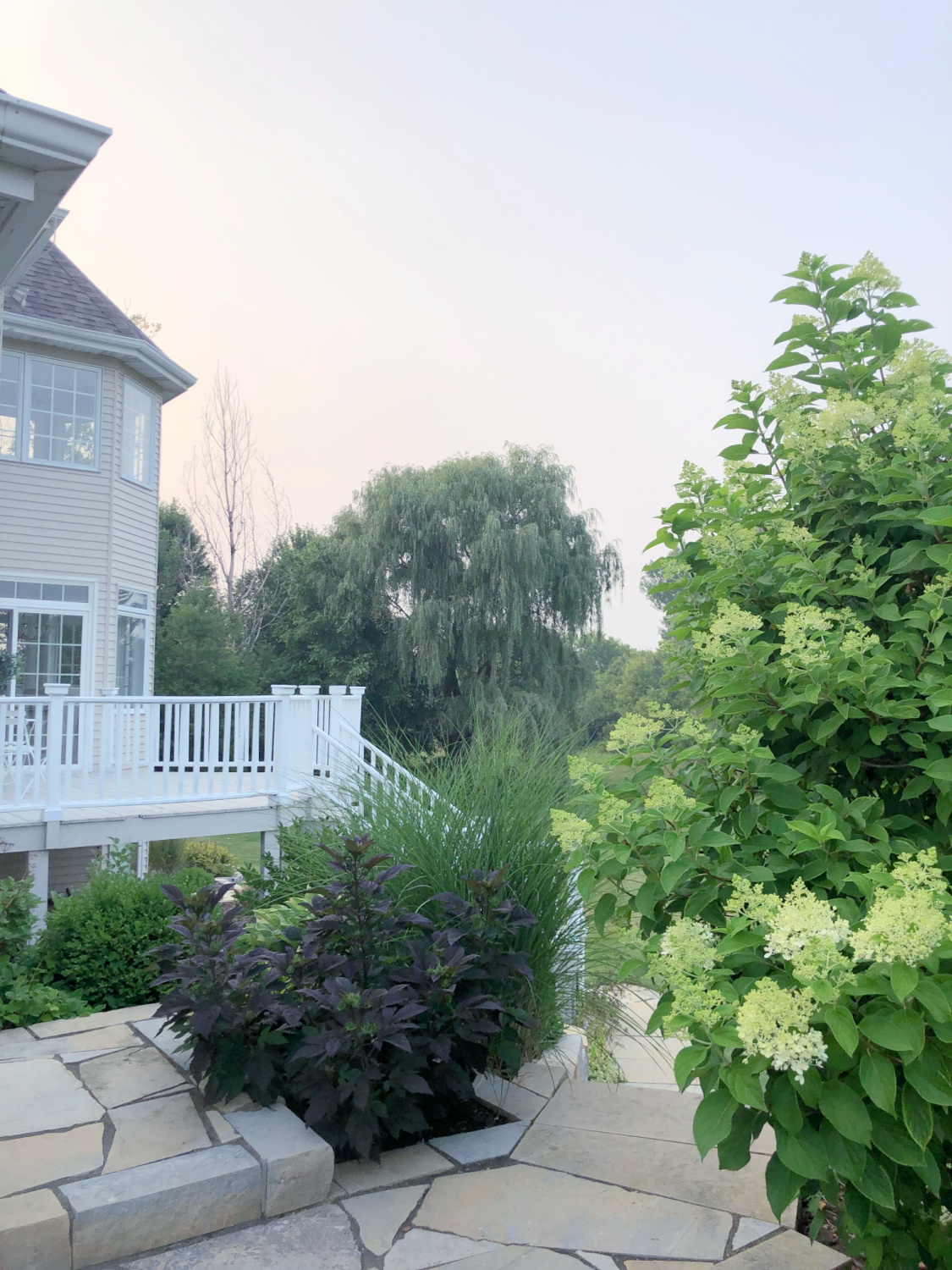 So our renovation decisions started from a place of, HOW DO WE GENTLY CHANGE FUSSY FORMAL AND AWKWARD INTERIORS SO THEY BECOME THE SOOTHING HOME BASE WE NEED?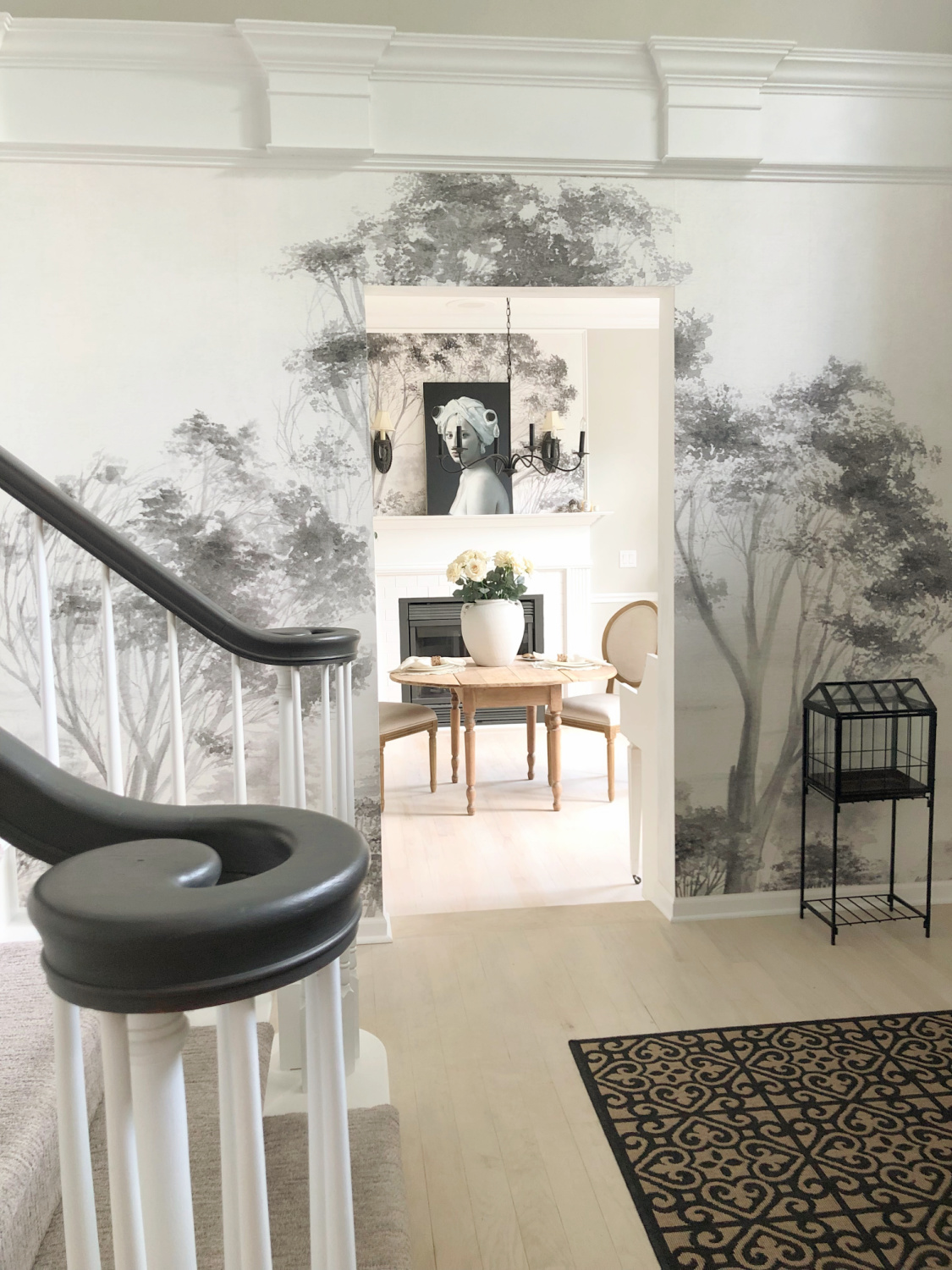 And I didn't limit the creative process to my own imagination. I knew that listening to what the house wanted was everything. And I initially argued with what it was telling me loud and clear which was a version of PARISIAN HOTEL. Somehow I felt Parisian influences would involve glamour and crystal and do the opposite of calming down the already loud architecture.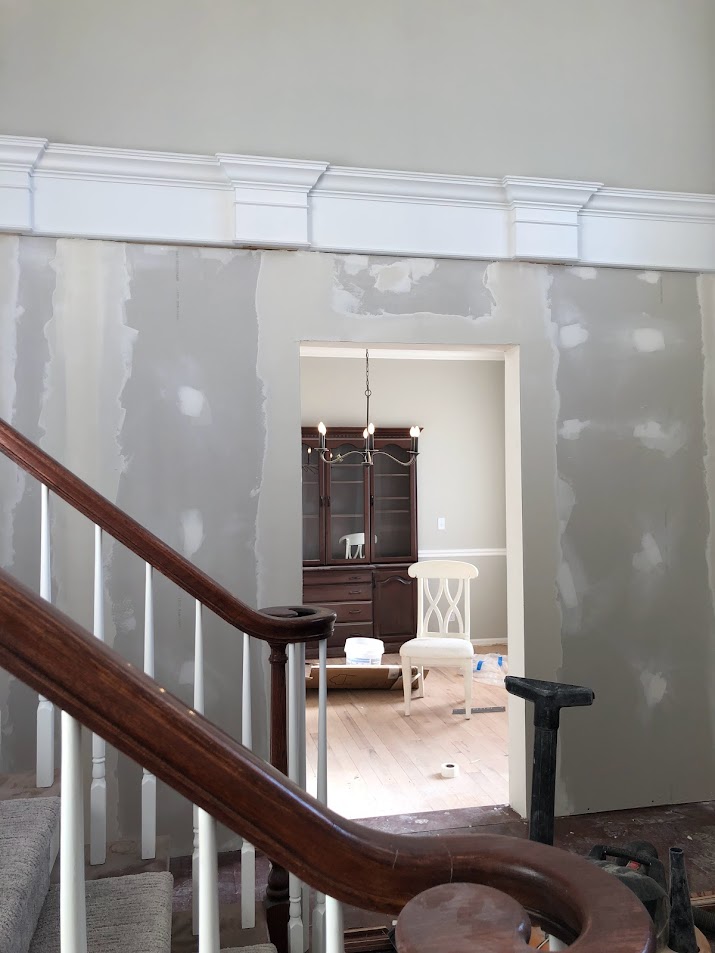 But I kept listening and softening to the wisdom coming from beyond the limits of my understanding…beyond my tendencies to cling to control.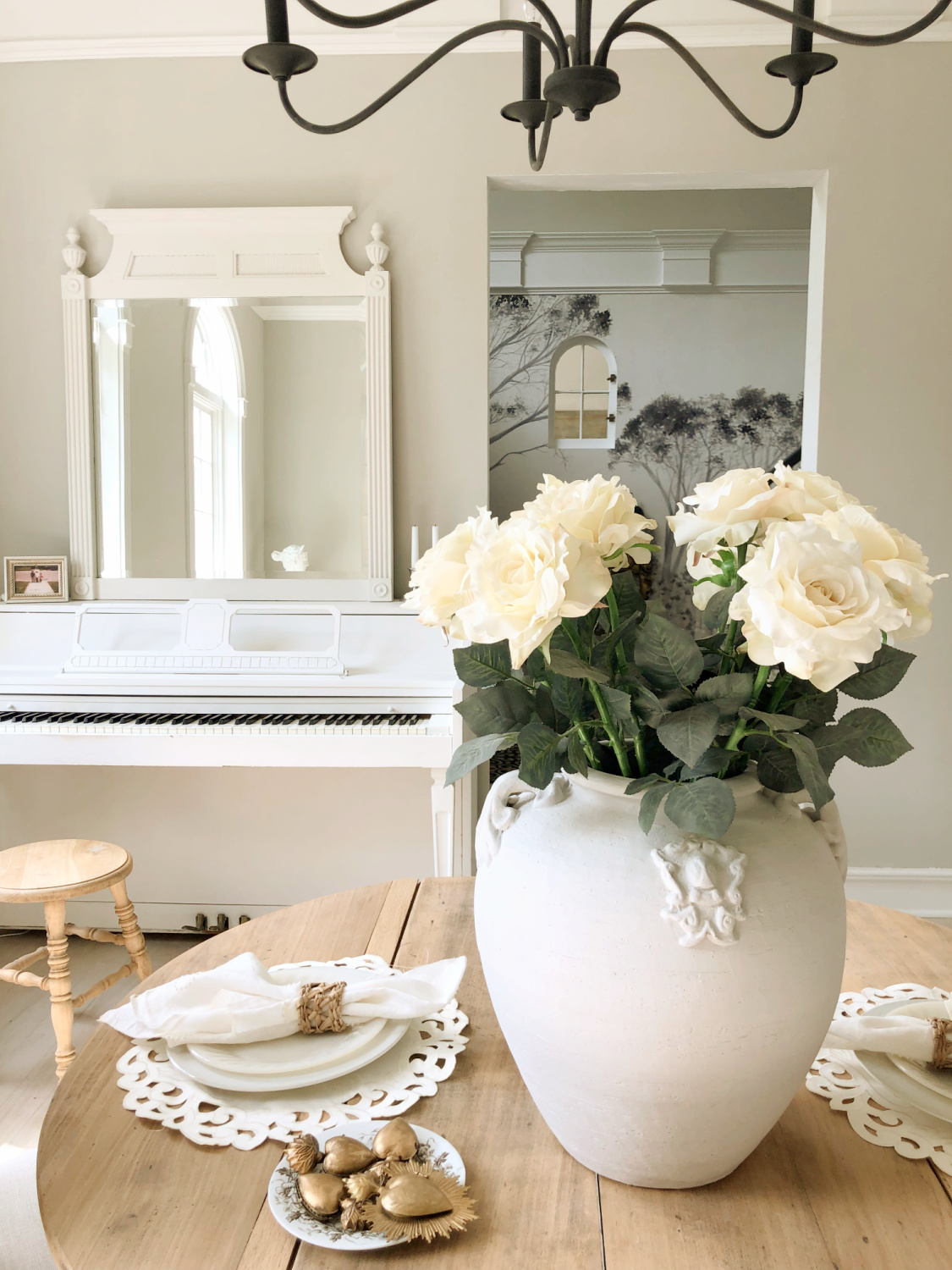 As if we ever have control! Just an illusion to cope with anxiety. And if you have yet to learn this lesson, I encourage you to become a better listener to your home and to your people.
You'll do this by opening your heart wider and keeping it open. It will want to close. Every single day the opened heart will want to close. Your openheartedness is going to cost you. And it's also going to save you.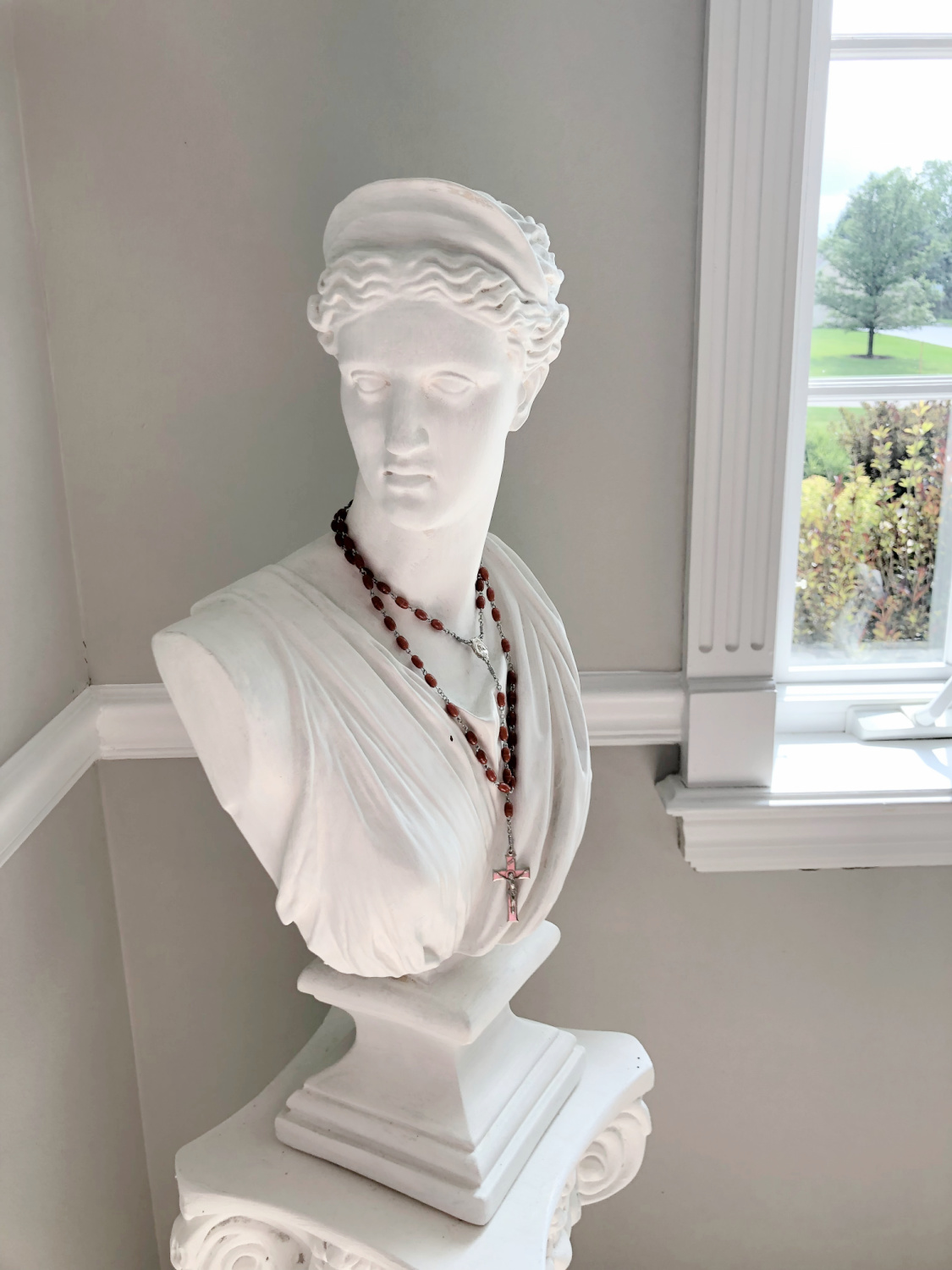 By listening to our home and not clinging to what felt safe, tried, true, and predictable, we opened to fresh ways of living here. The house wanted another hearth rather than storage for fancy dishes. So we gave it a fireplace and repurposed the built-in china cabinet visible from the entry for everyday essential storage in the kitchen.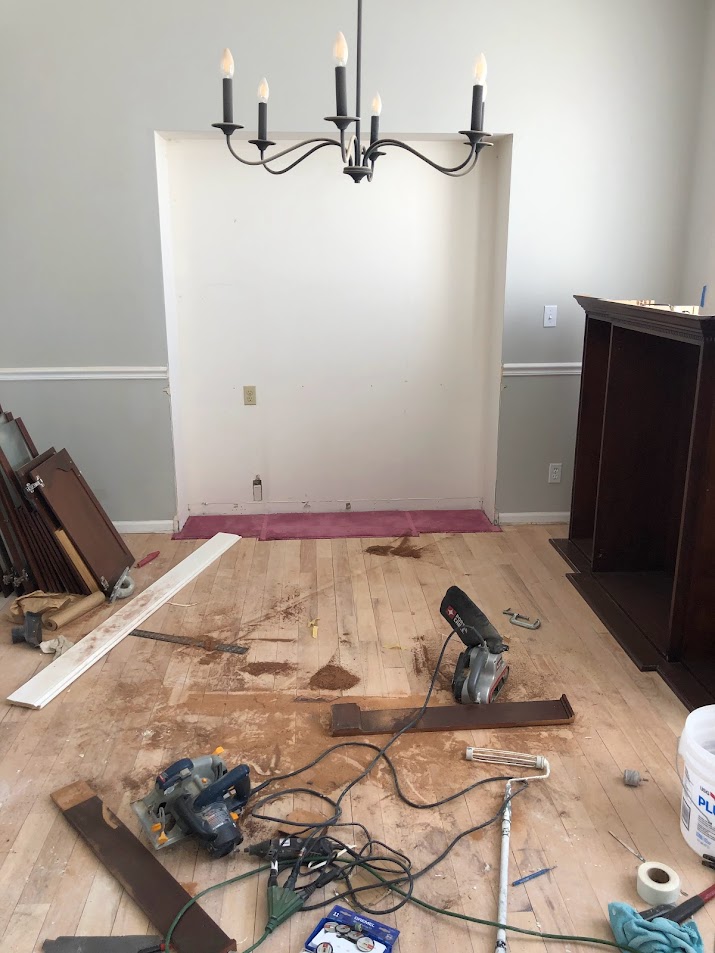 The house needed its rooms to be more sheltered and purposeful rather than dated, lonely pass throughs.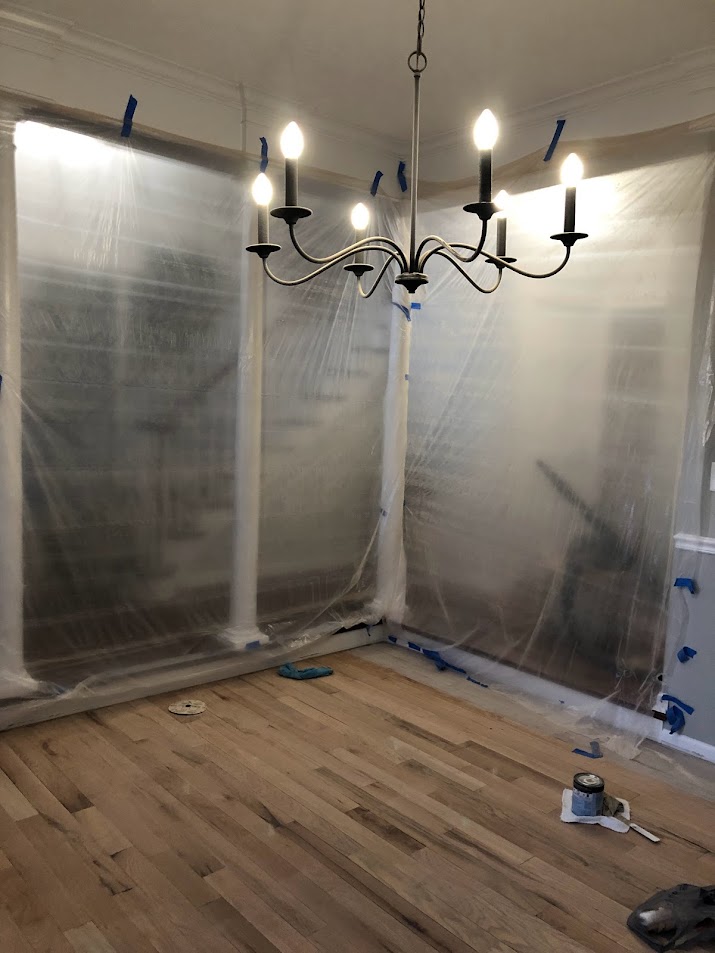 And maybe it needed our hands to massage it into a new creation.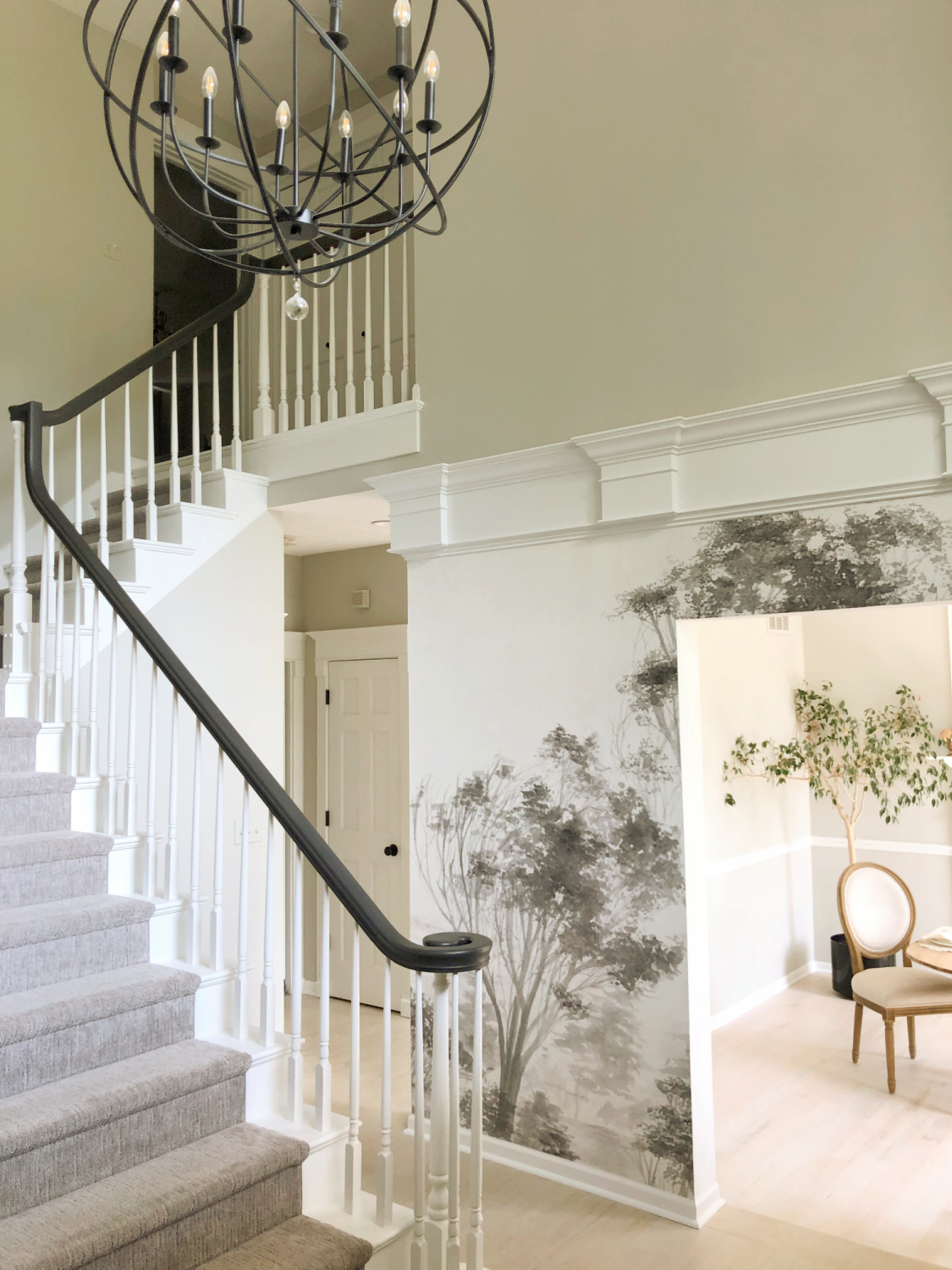 BTW. Trees – what's with so many trees and tree wallpaper? They are so important to us. The ficus you see above in the dining room? It's real and has been with my husband for more than 30 years. Trees teach me just about everything I need to know on my spiritual journey. Immersing ourselves in nature seems critical to both my healing and my husband's.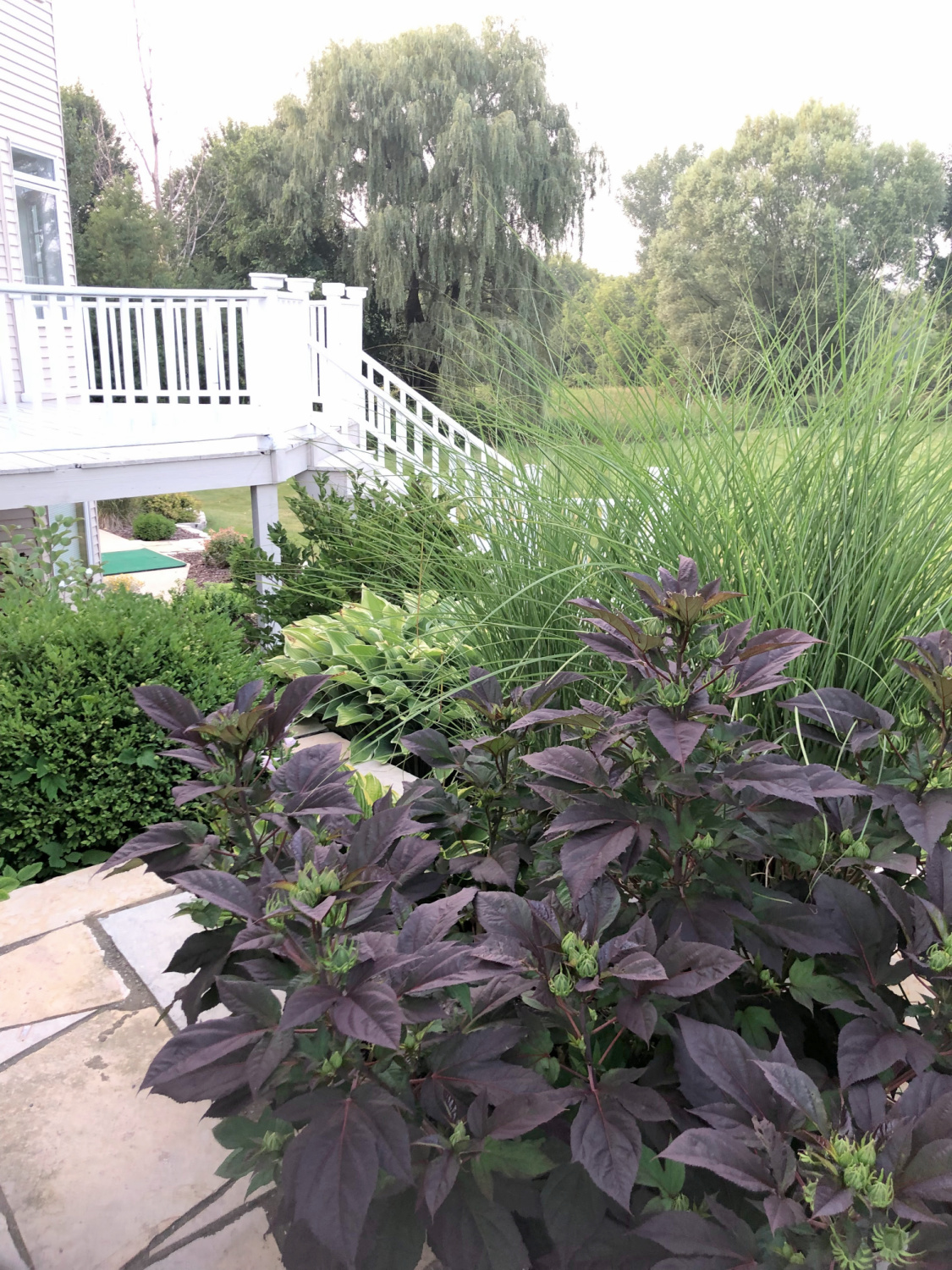 Sherwin-Williams Repose Gray
This grey is wonderful to live with and sets off the white trim. Since I have always loved grey with gold, there are bits of it in here.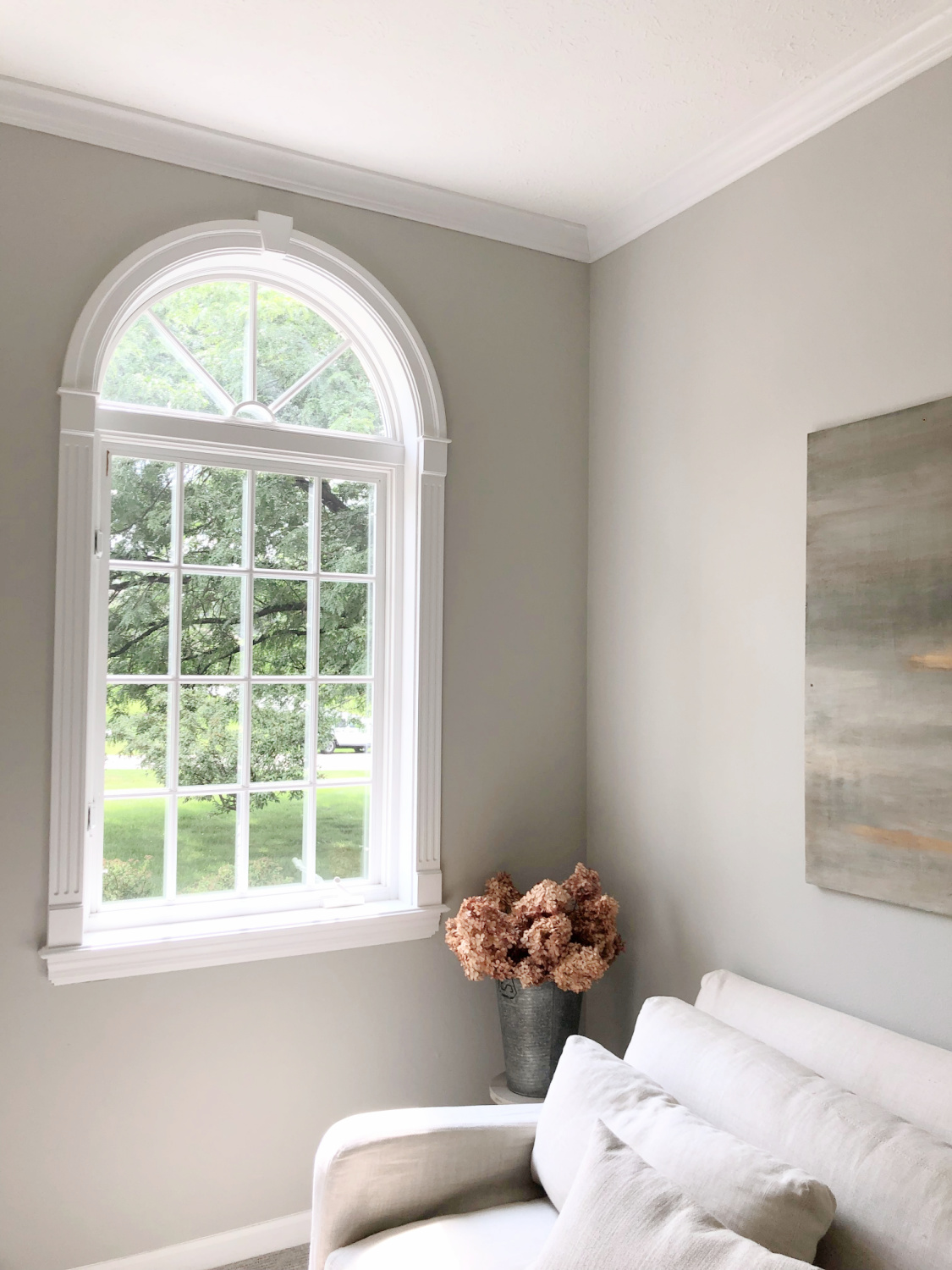 With the quality of light the room receives, the grey feels gentle. There's a soft contrast with the warmth of the sand colored linen sofa and MCM swivel chair. The rustic console table made from reclaimed wood is one we have owned for a long time. It can hold any number of things and is not terribly deep so I have used it in a kitchen, a den, and now here.
The long white painted farmhouse bench is made from antique pine from a nearby 19th century barn taken down and salvaged. Our children sat on this bench for meals and homework. It is scarred and bears all sorts of marks from age, use, time, and love.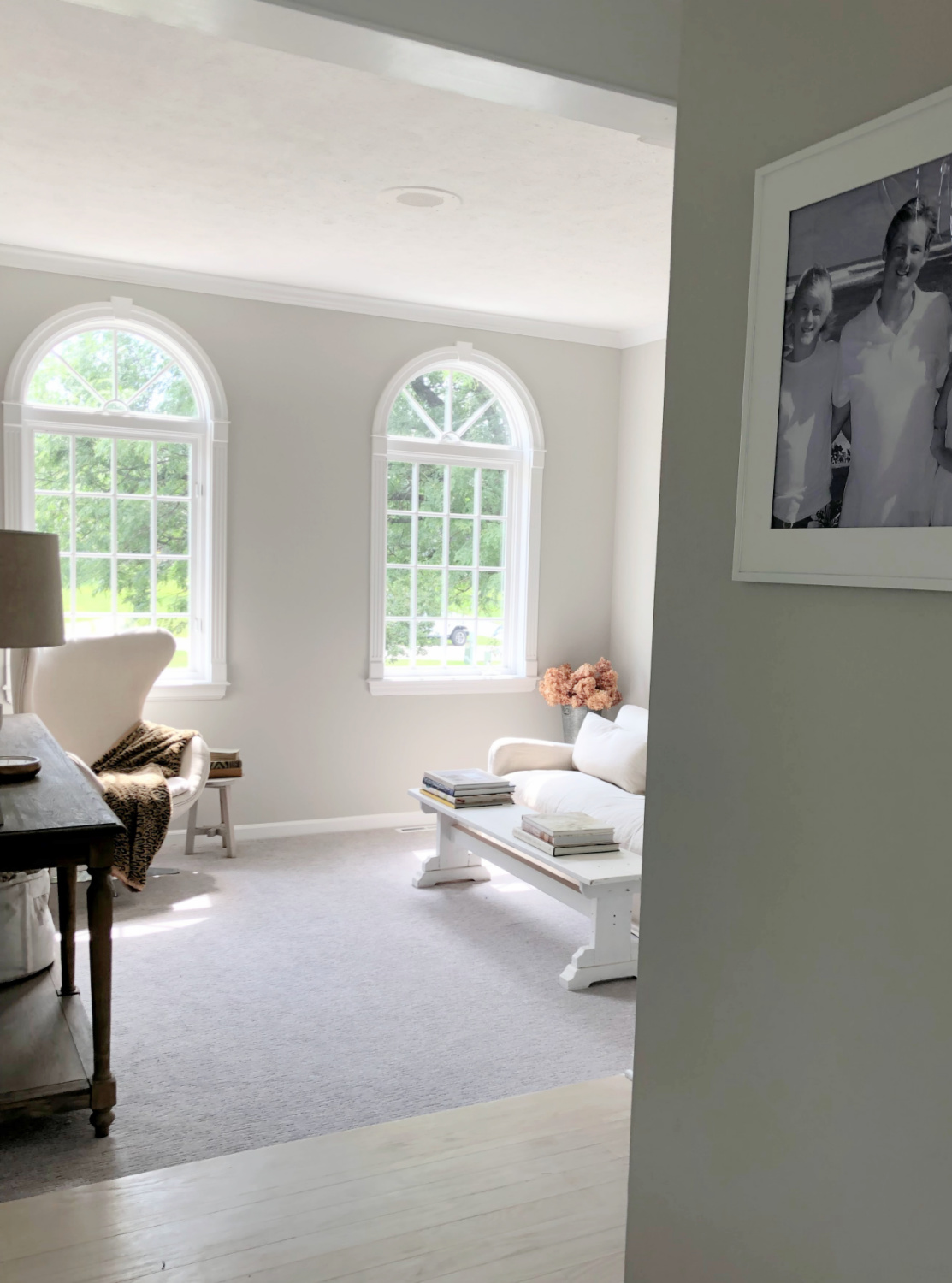 And just a reminder it's not a small thing when a paint color offers gentleness.
Because you can go to great lengths to update a space–even make expensive structural changes–and still not capture what you long to capture.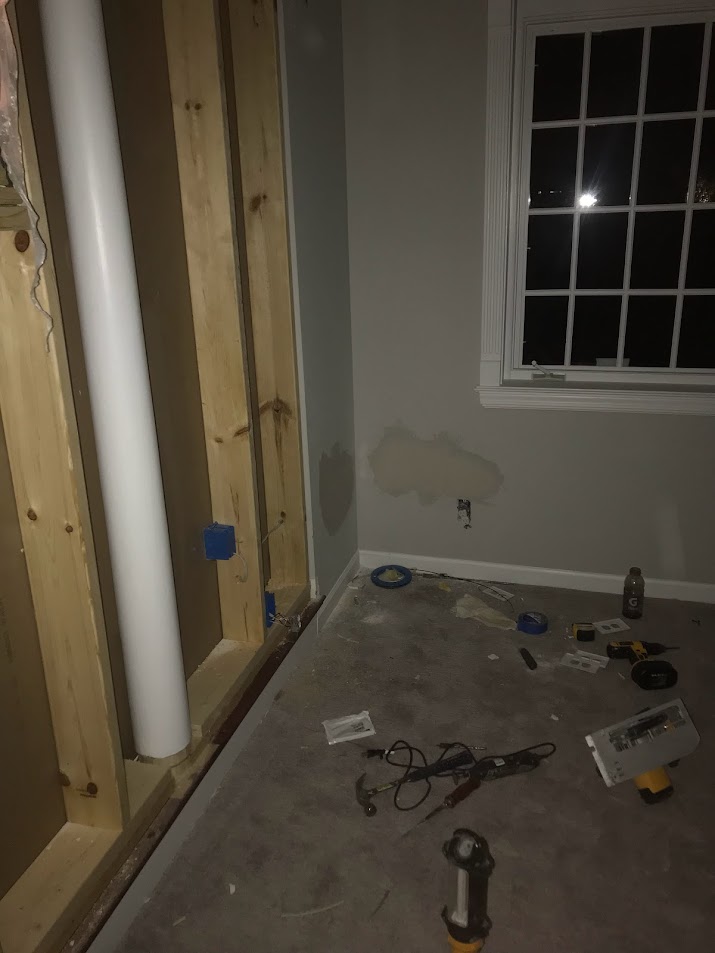 If you're making changes to your own space, think about how you want to ultimately feel when you spend time in it.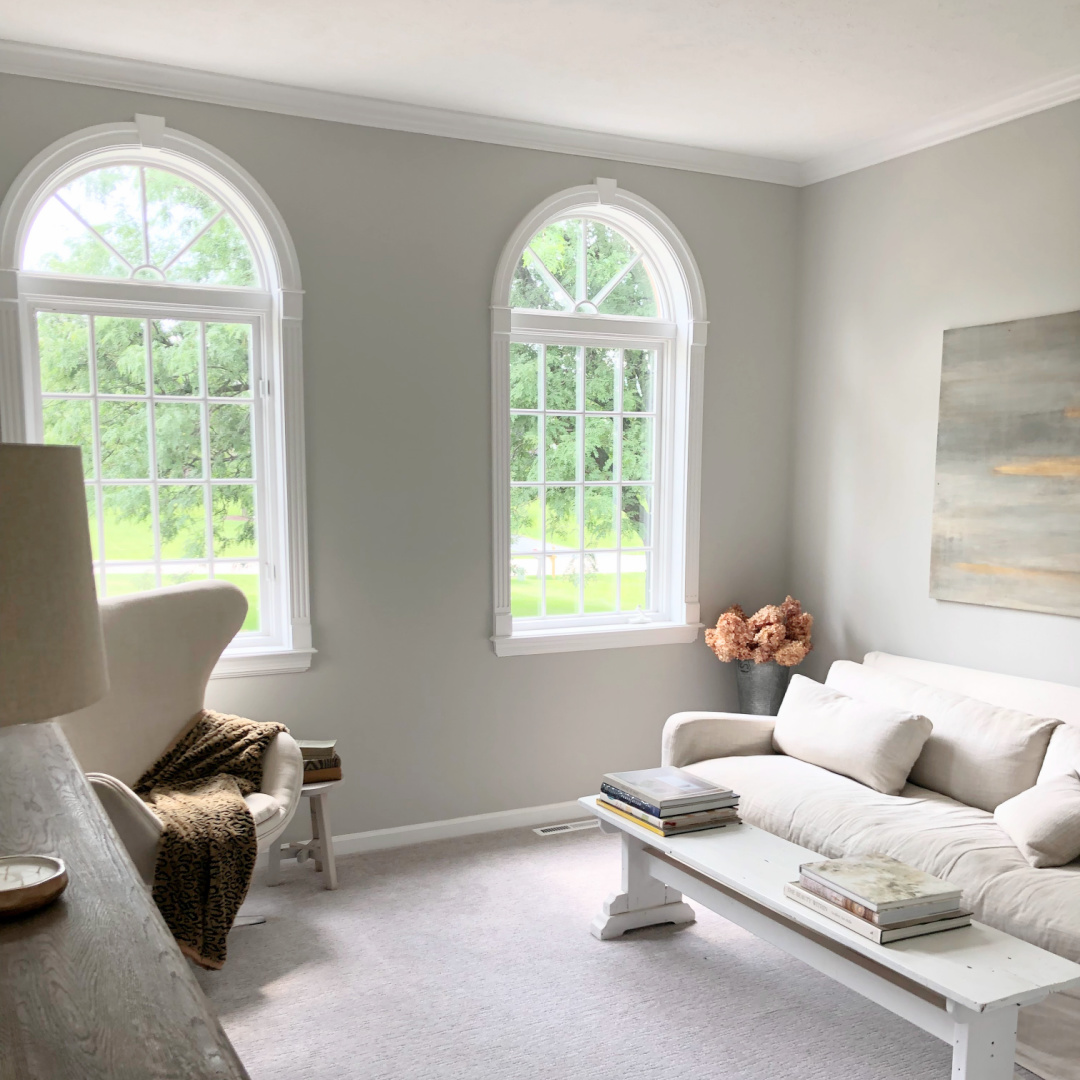 Don't become distracted with thoughts of what others beyond those in your household will think or feel. (Imagine being a blogger and ignoring the gallery of opinions and voices!)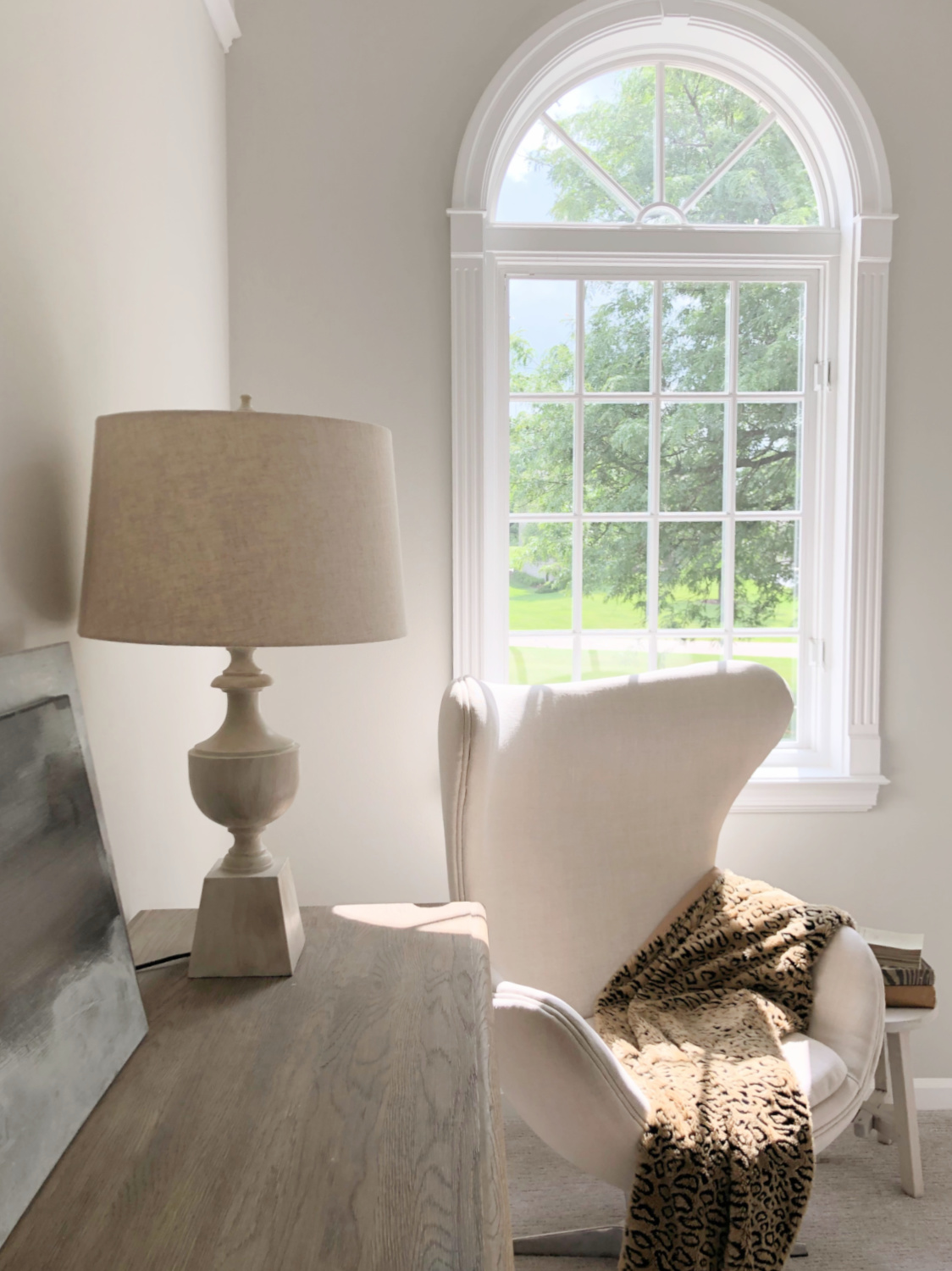 Treat yourself to the gift of being a co-creator (since you're listening to your home!) and sample a few paint color options before deciding what feels right.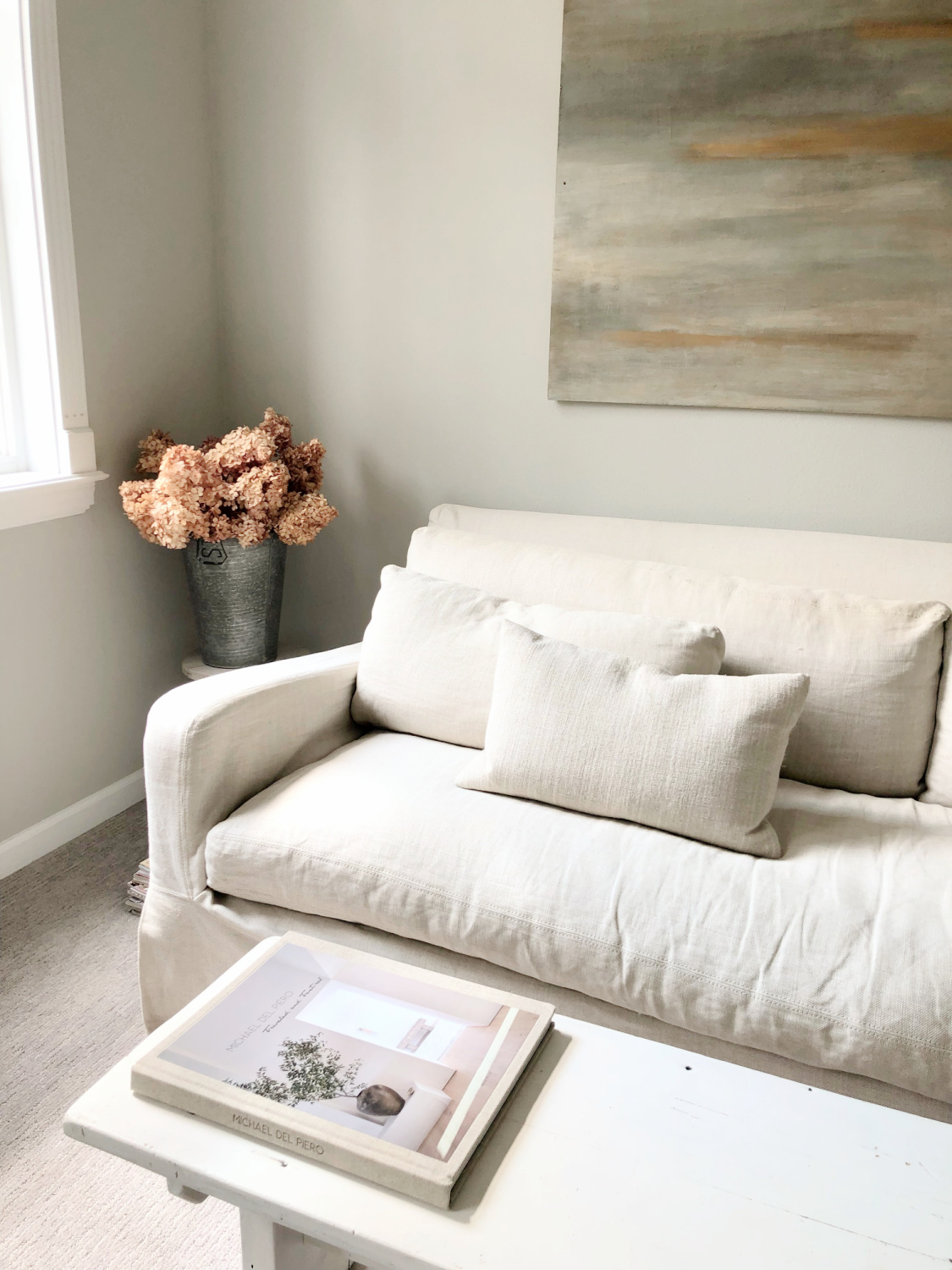 How the Addition of One Wall Changed Everything
I knew that adding a wall would help furniture arrangement and provide privacy, but I didn't expect the room to suddenly feel full of potential.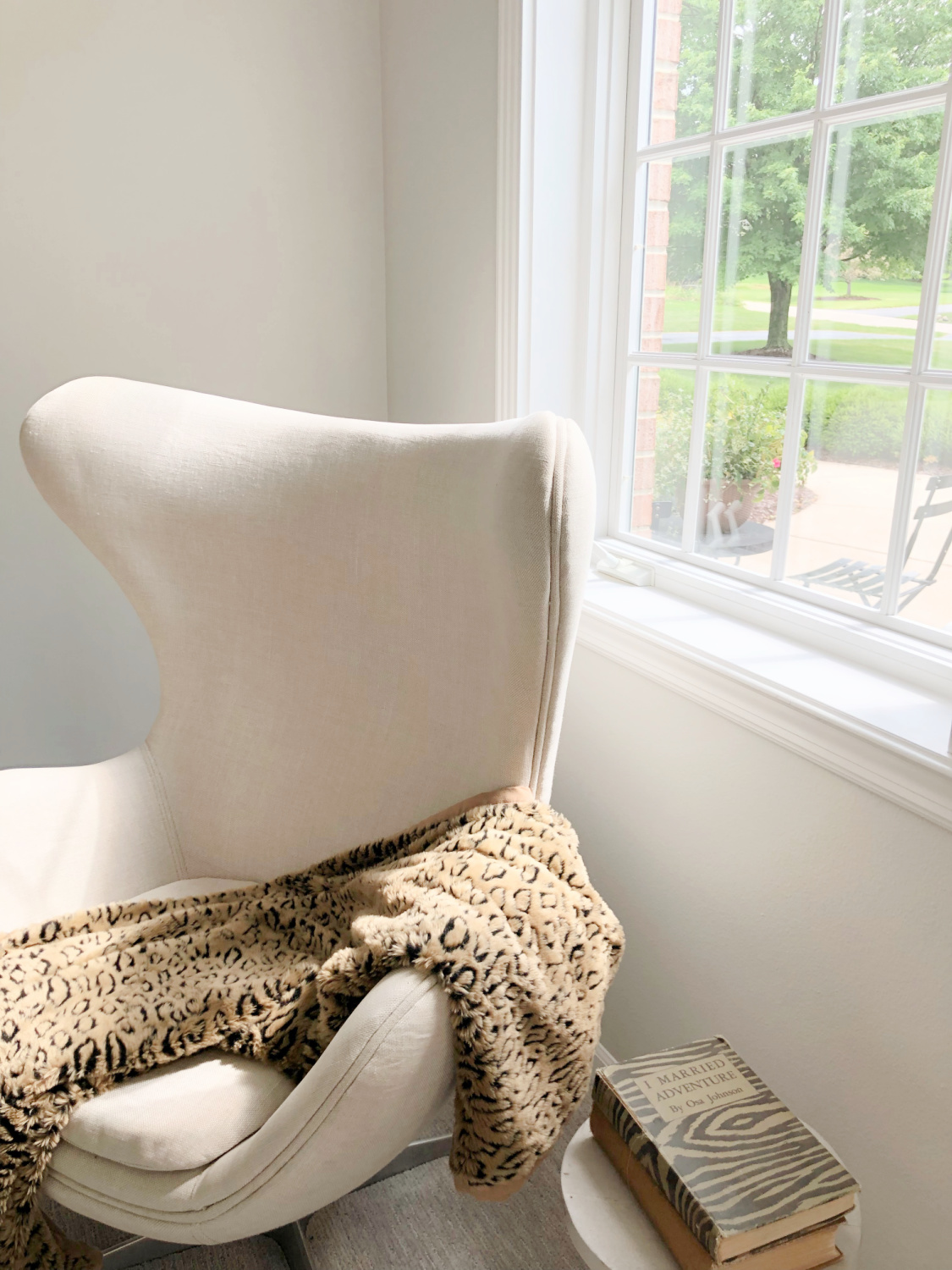 Yet it does! It's a place to read, to get a little work on the laptop done, to take a nap, to watch the birds, to swivel in my favorite chair and just be. Big rooms and wide open rooms can be great rooms, but a cozy space like this (room enough for just a few furnishings) can feel calm and unfussy. This room could even become a bedroom if a main floor bedroom was necessary. And there's enough room to add a shower to the powder room next to it.
Here's a photo showing you the relationship of the living room to the family room. A pocket door leads to a little hall to the entry and to a bathroom.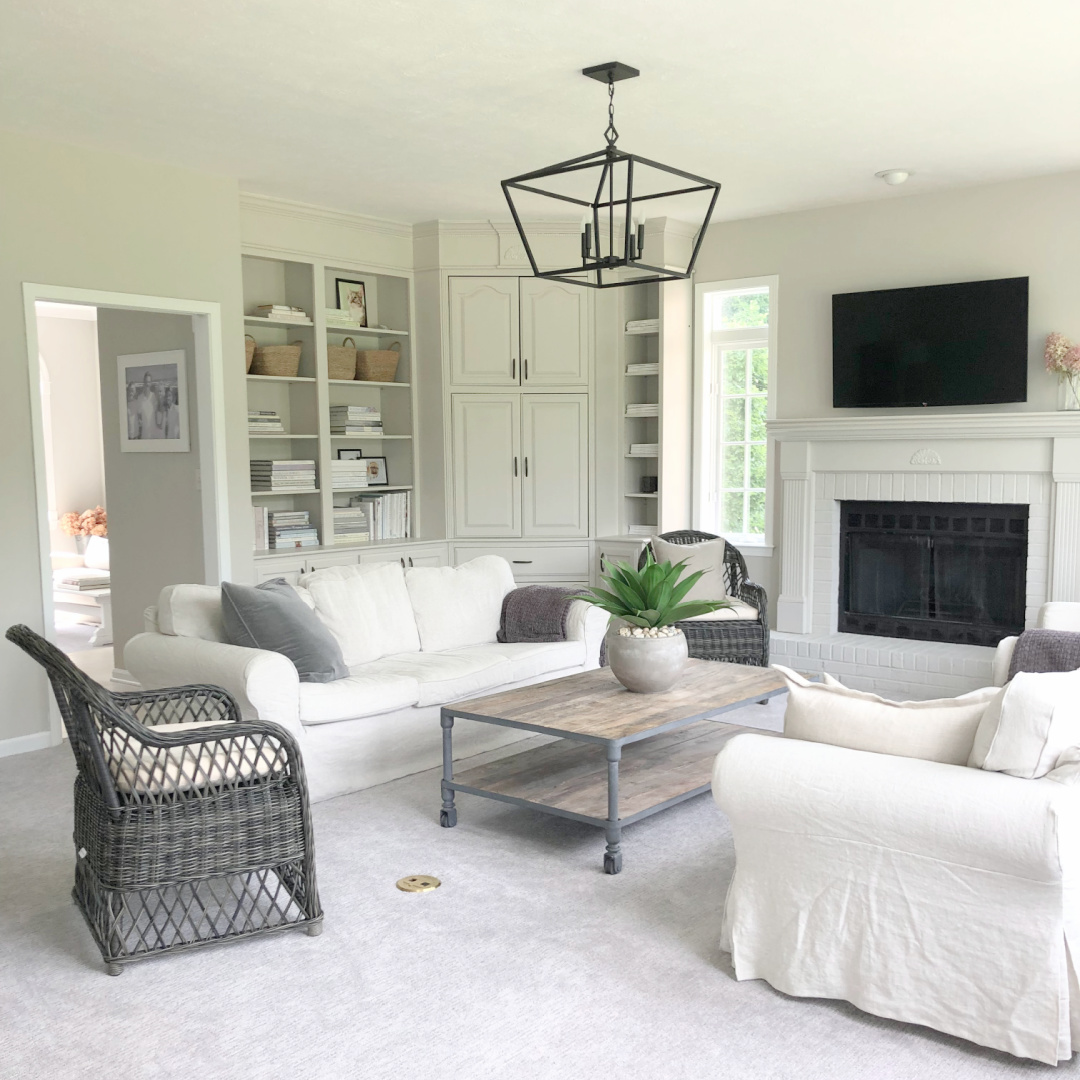 While all of the greige (it's Agreeable Gray in the family room) and tone on tone may be too sedative for some, it's just right for us. I haven't had shelves quite like these before to style. I need to watch a few experts: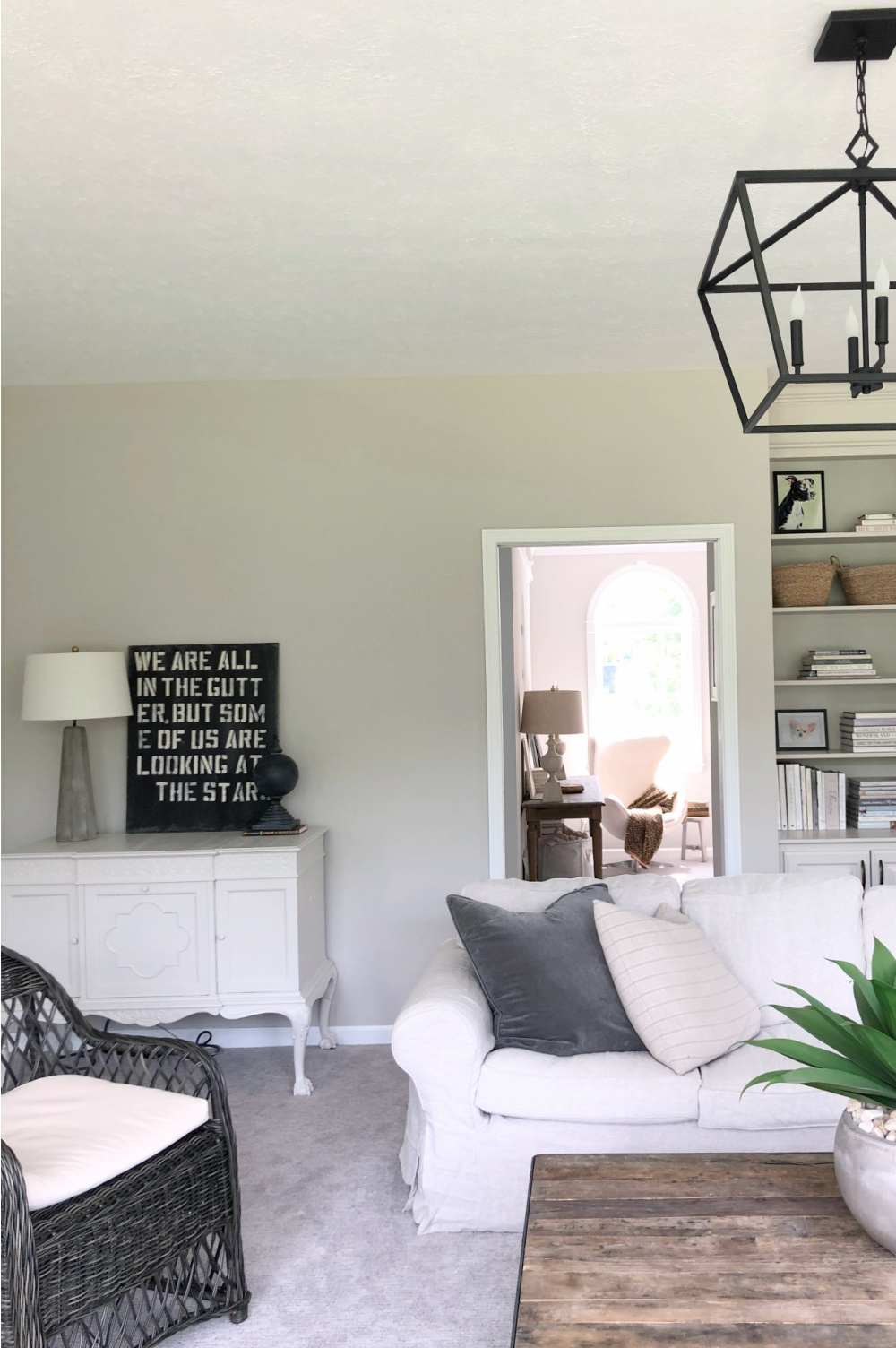 Thanks for being here with me on the evolving journey, friends. I love having you here.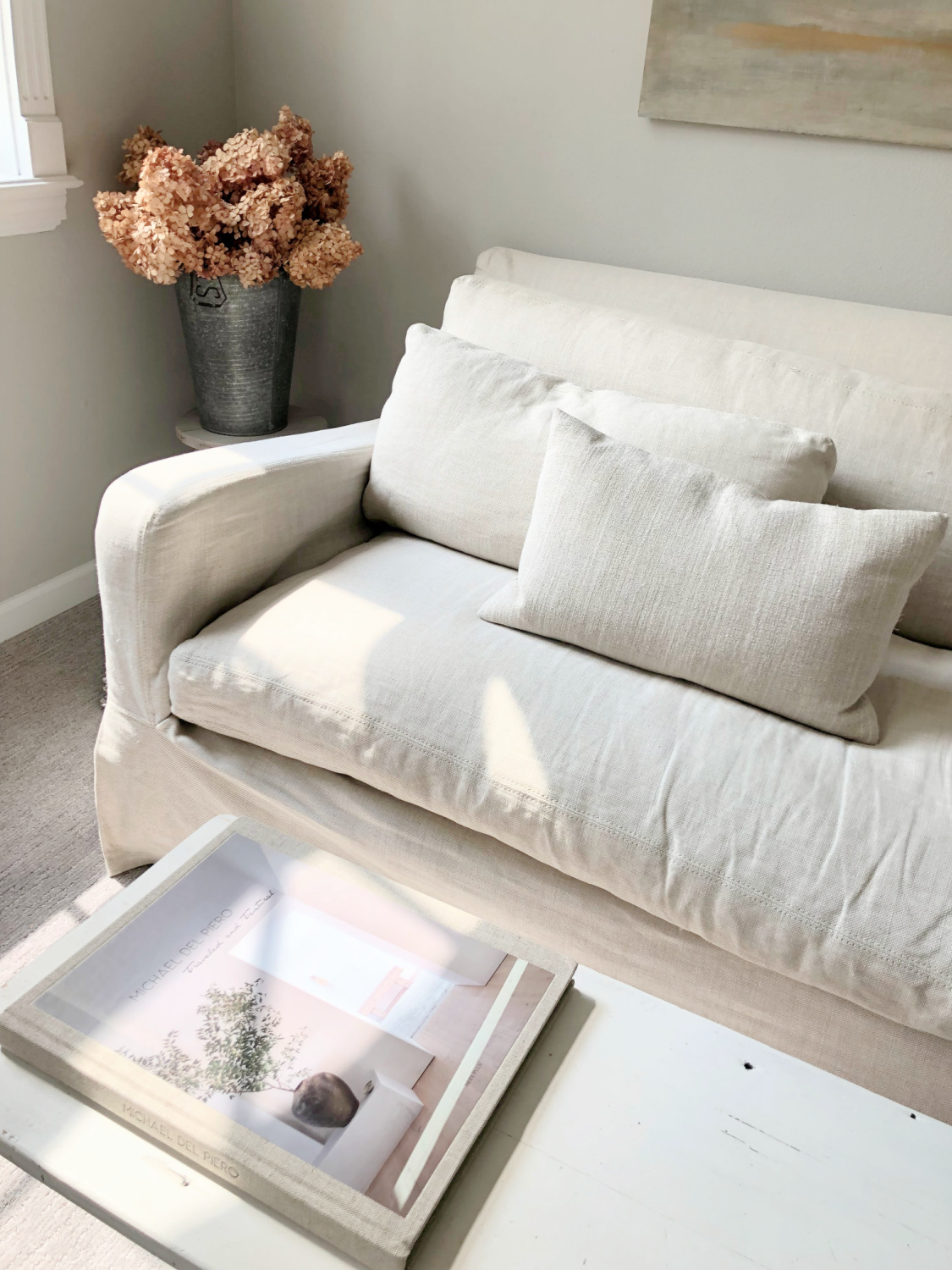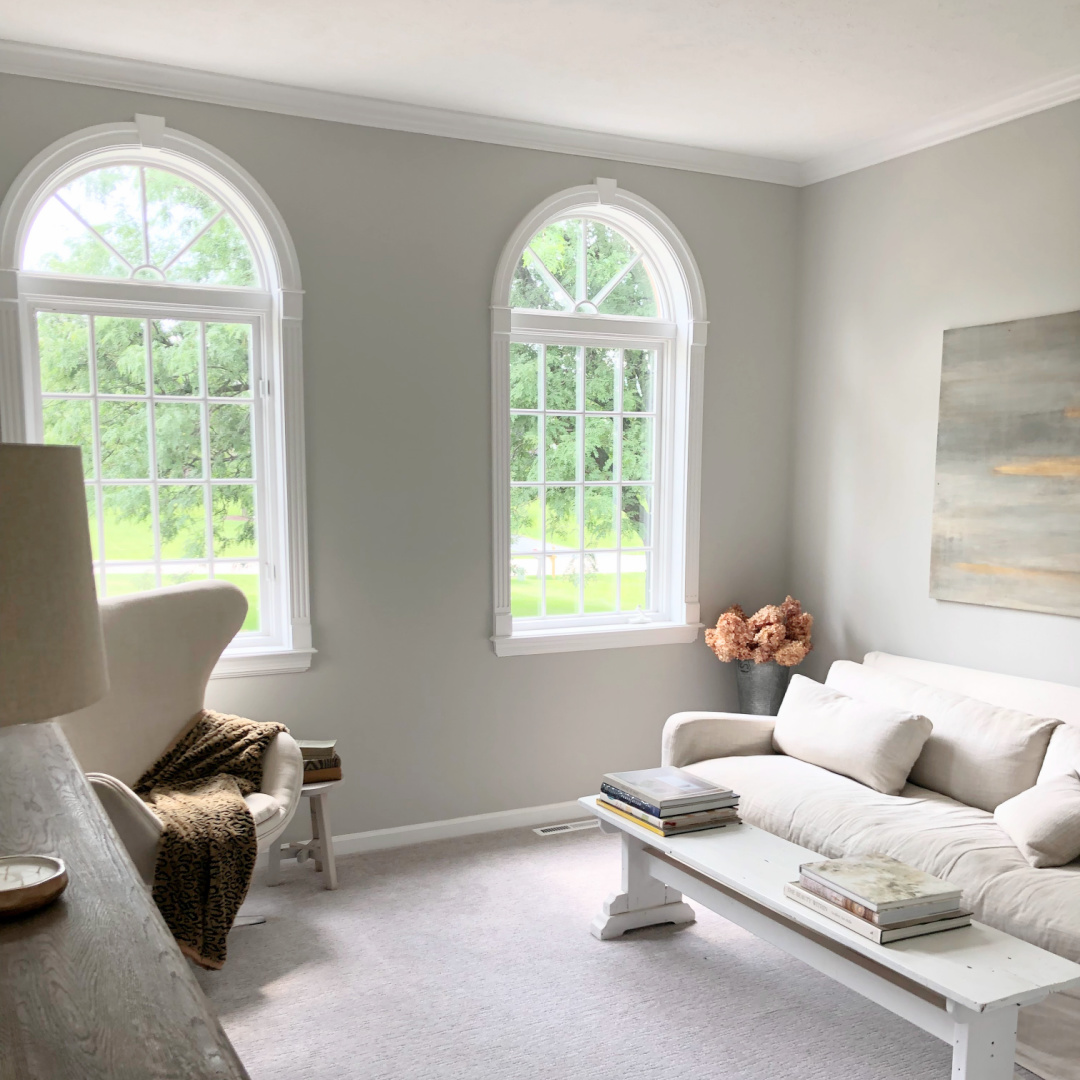 Shop my home HERE, and let me know if you would have skipped building the walls!
I independently selected products in this post—if you buy from one of my links, I may earn a commission.
Peace to you right where you are.
-michele
Thanks for shopping RIGHT HERE to keep decor inspiration flowing on Hello Lovely!
Hello Lovely is a participant in the Amazon Services LLC Associates Program, an affiliate advertising program designed to provide a means for sites to earn fees by linking to Amazon.com and affiliated sites.