How is your summer progressing? I have seen silly memes show up on my feeds about how summer's hype and stellar reputation are ridiculous since the season is actually atrocious. Hahahaha. Perspective! I'm still a summer girl since everything slows down here and the increased daylight boosts not just my mood, but those around me. Maybe it's a Midwest thing. Enjoying beautiful design, even if virtual, is another boost for which I'm thankful. Let's peek inside a beautiful Texas home by Morningstar Builders, with interior design by Ayca Stiffel (By Design Interiors.) Crisp whites, blues, and greens will supply the cool summer breeze as we tour Modern French Interiors in Texas.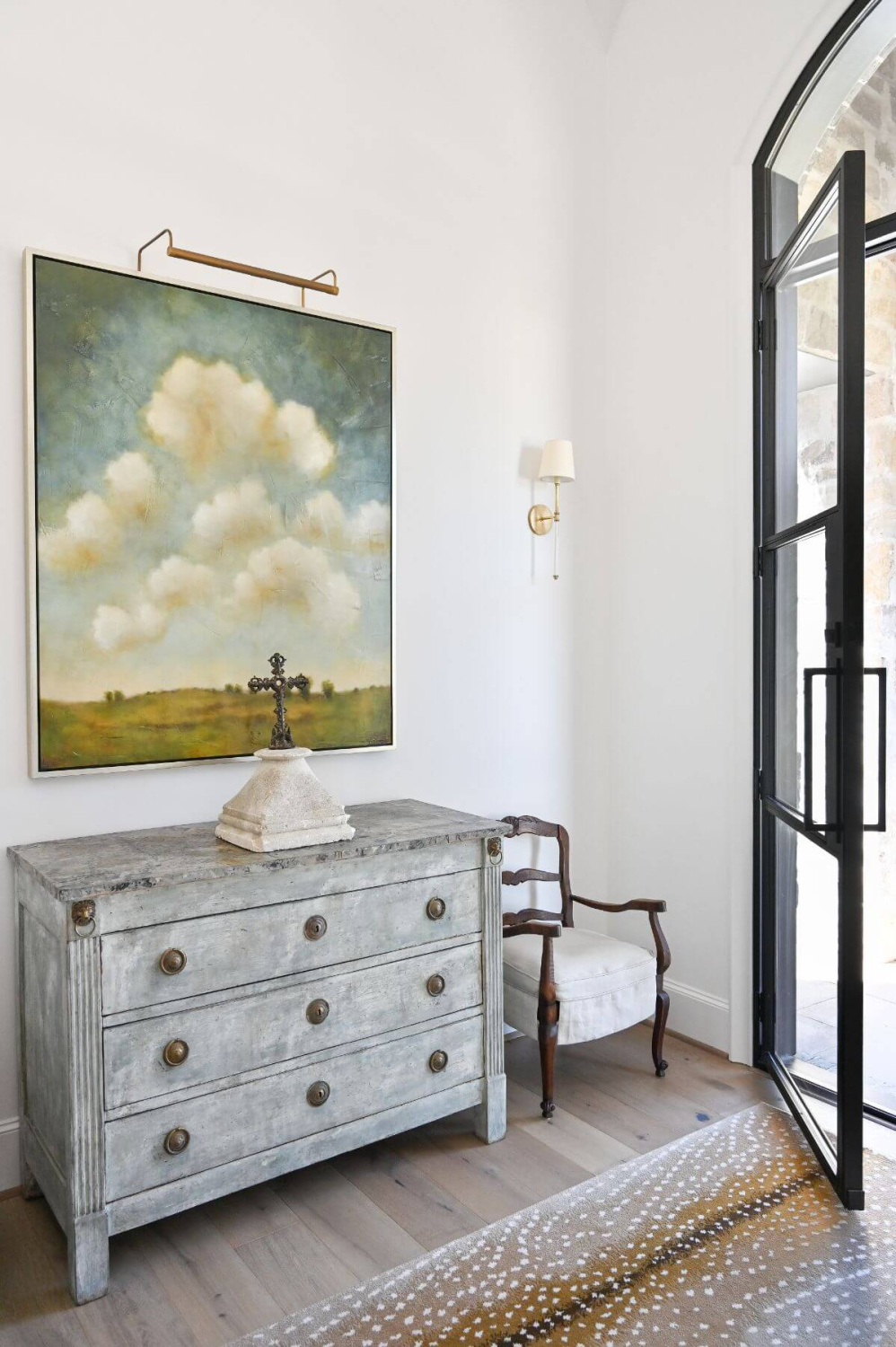 Photography: French Blue Photography
Modern French Interiors With Cool Blues & Greens
Even though this 4-Bedrooom, 7,200 square foot new home is way too big for my needs, I'm ready to sashay my fairy self through those French steel doors (ever seen an arched steel transom like this?).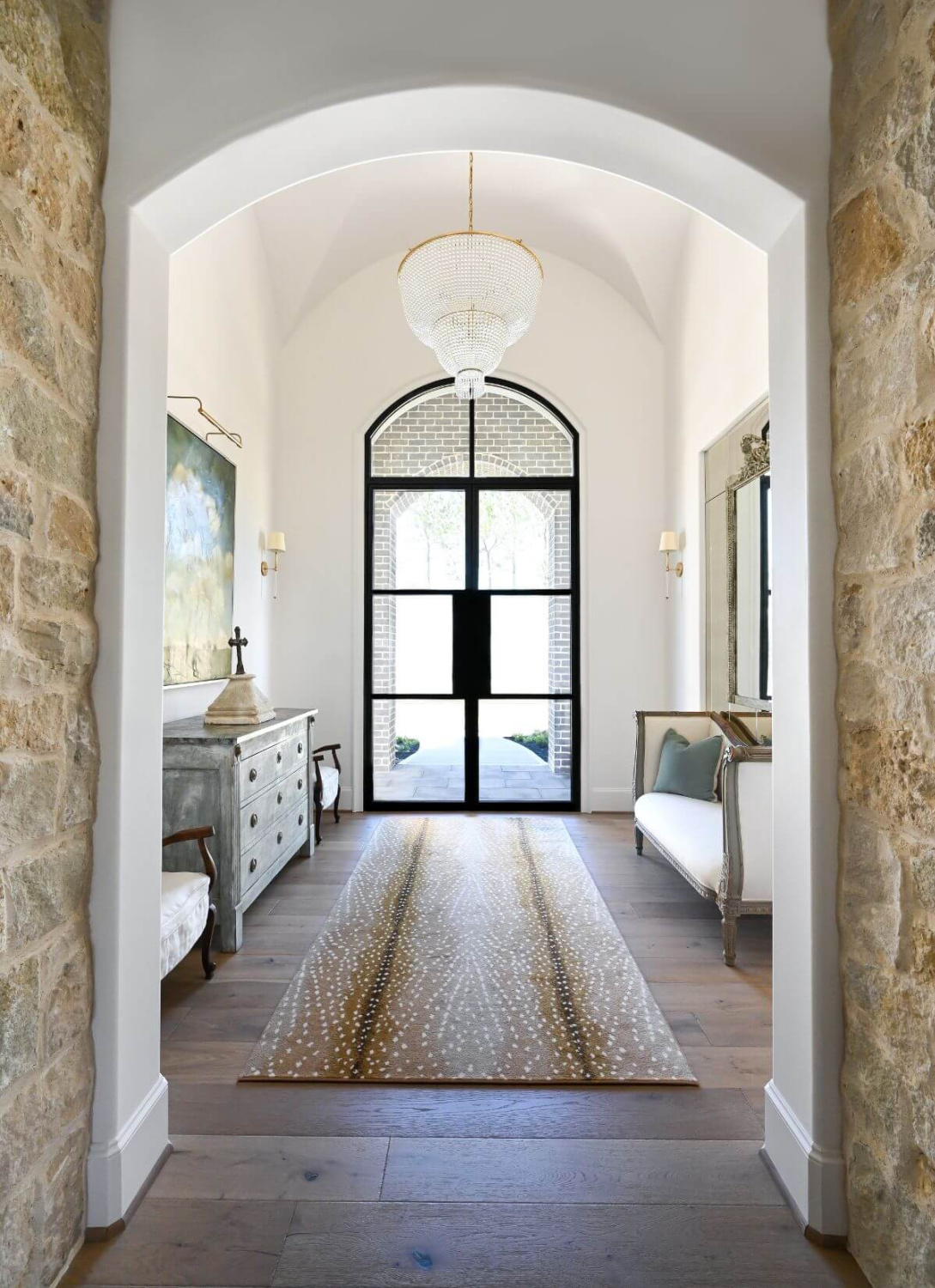 For paint color ideas for the brightest crisp whites, SEE THIS.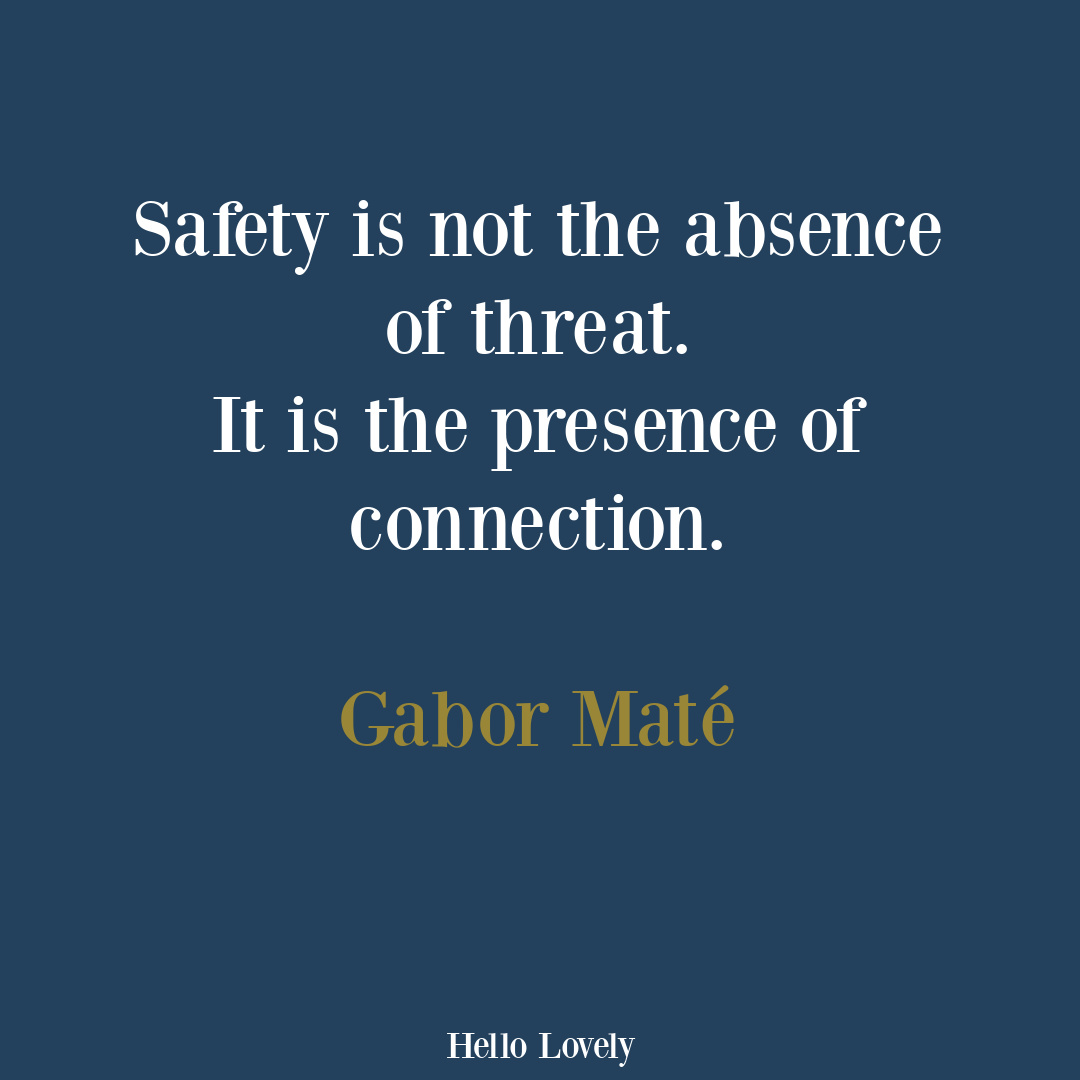 Modern French Entry
Gallery white walls, wide knotty hardwood planks, and golden sconces create a neutrally elegant modern French inspired backdrop.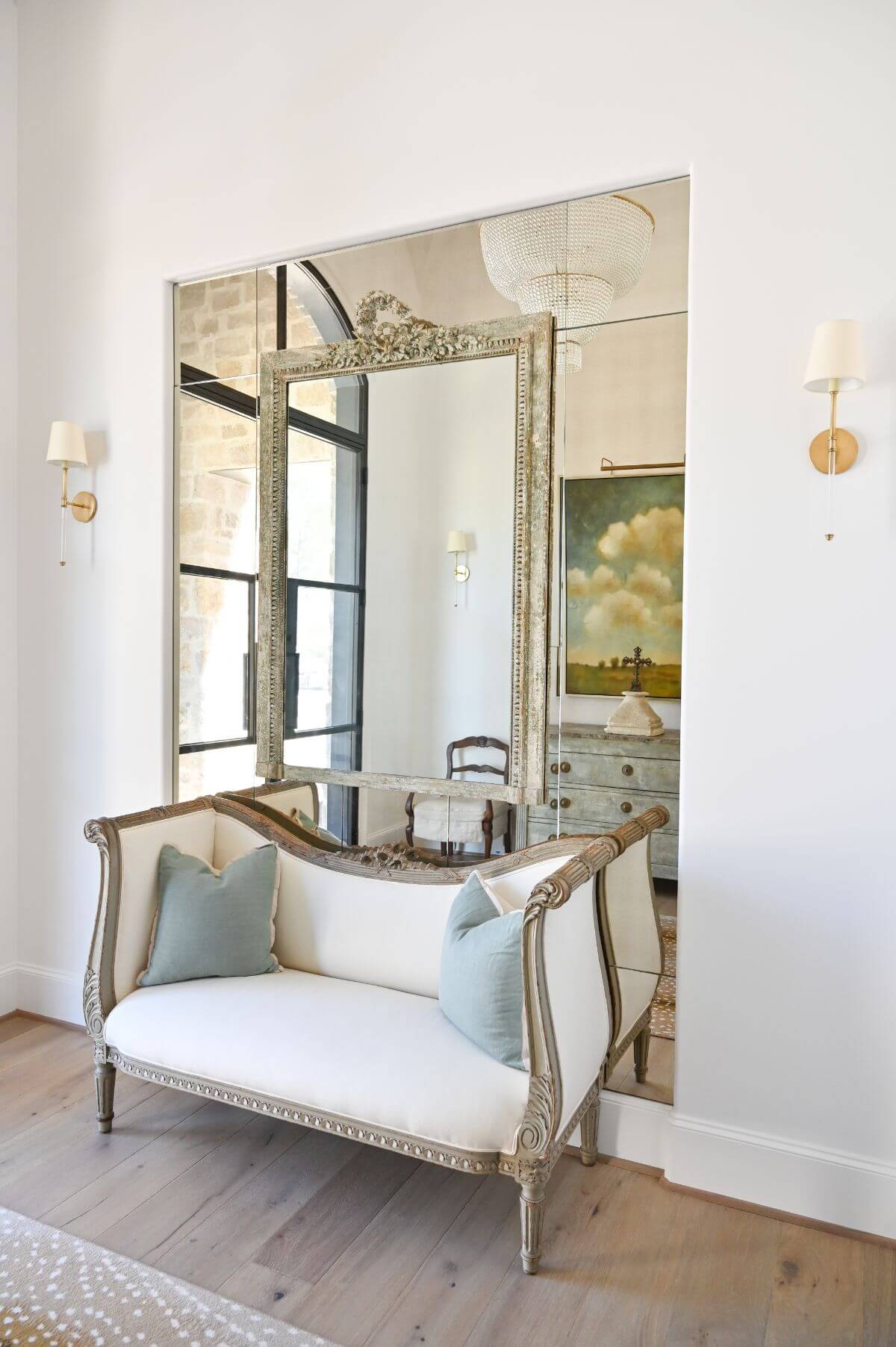 While the interiors strike me as modern French, the exterior feels more Old World traditional: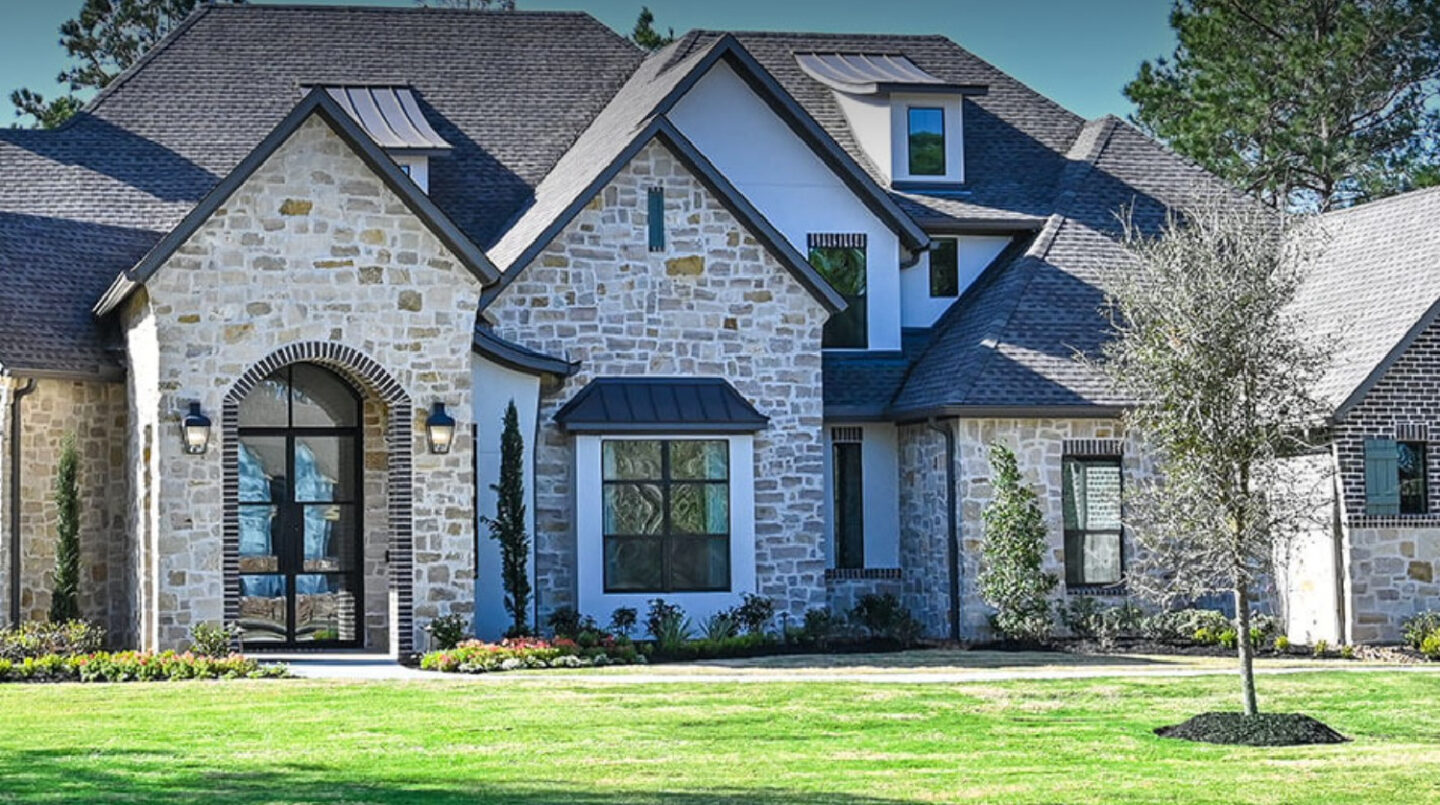 Wall sconces in the entry are petite and understated for a classic and Parisian look as opposed to a less refined rustic country traditional look.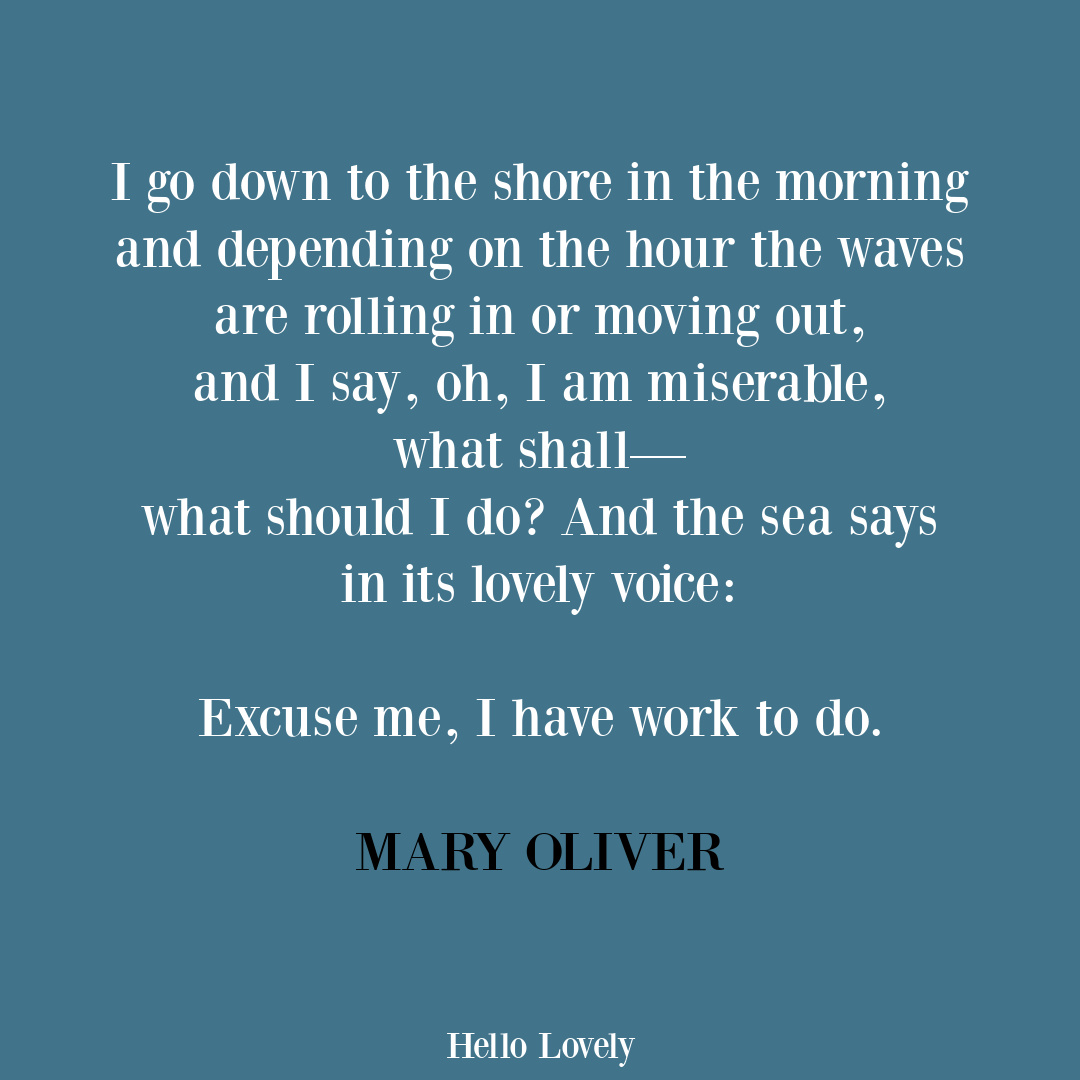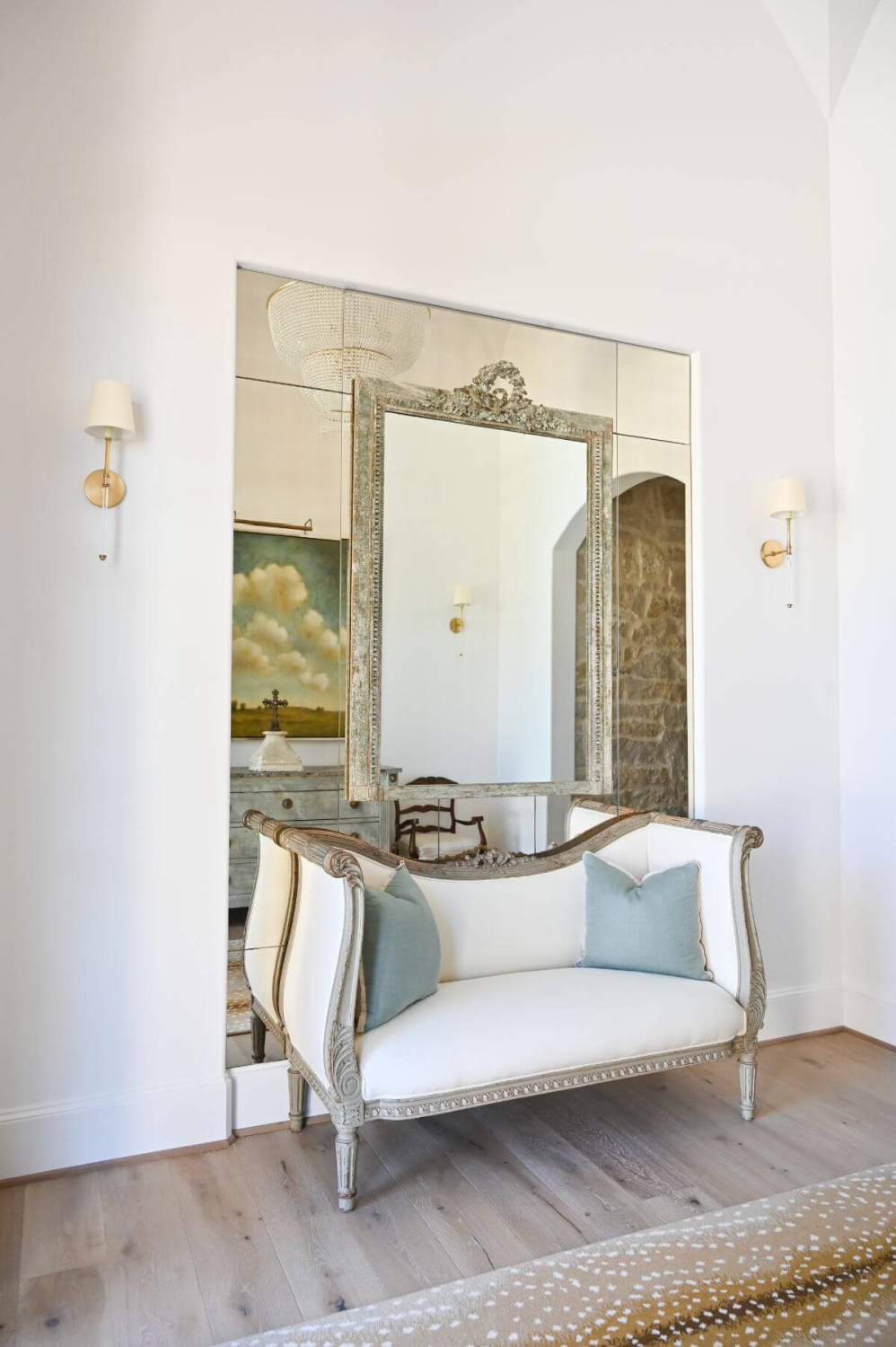 I independently selected products in this post—if you buy from one of my links, I may earn a commission.
Modern French Country Lighting Ideas
Here are a few options I have shared in other stories on the blog. This first one is quite similar to our inspiration house:
If you have shopped for sconces or lighting lately, maybe you have discovered the wide range of variation in prices. Do you get what you pay for when it comes to lighting?
The thing is, sometimes you simply want to get it right the first time and not replace or upgrade later. Lighting can be like living with beautiful art and sculpture.
That said, some options only feel expensive…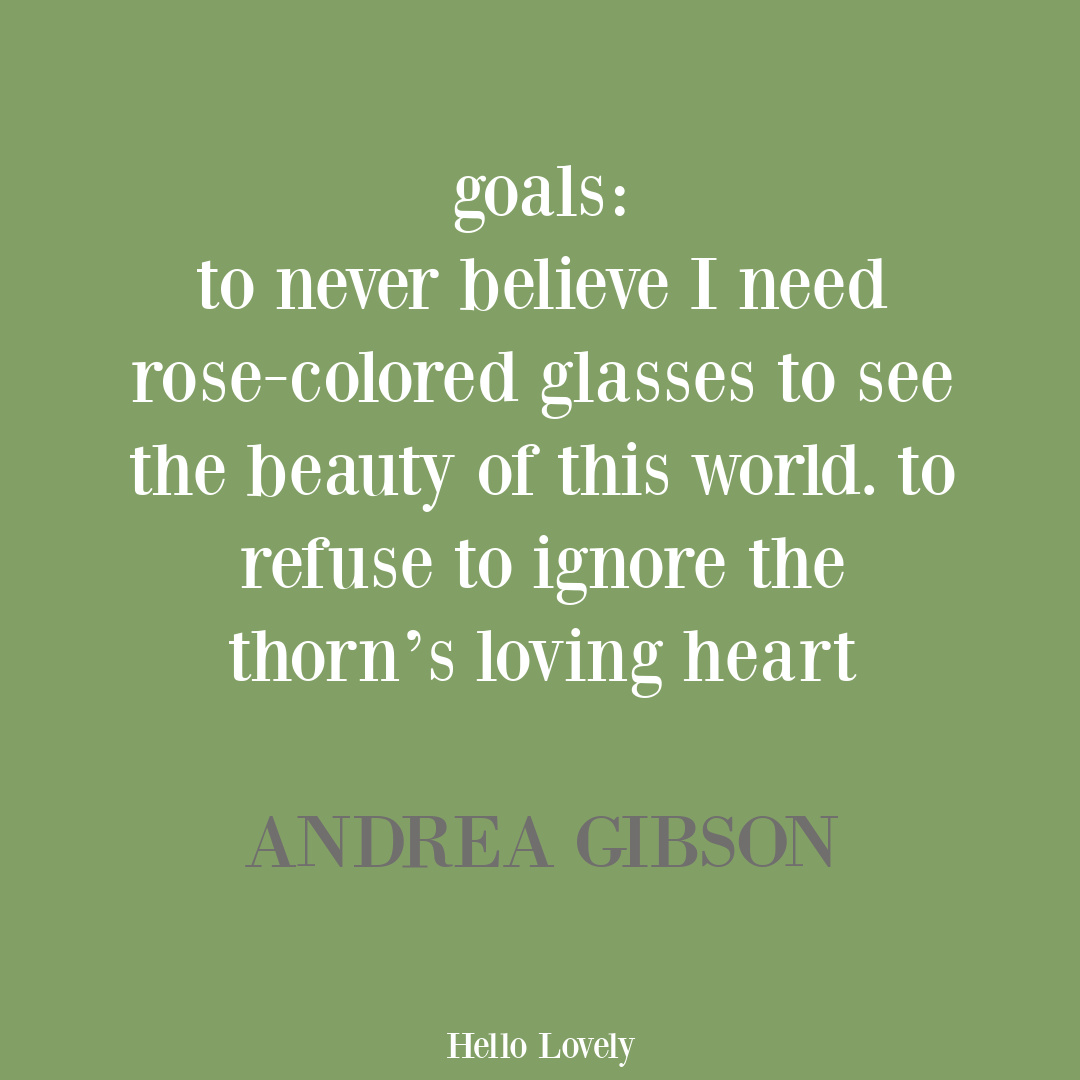 Elegant Gold Meets Rugged Stone
The warm brass with the gorgeous von gorgeous stone ceiling! Can you even?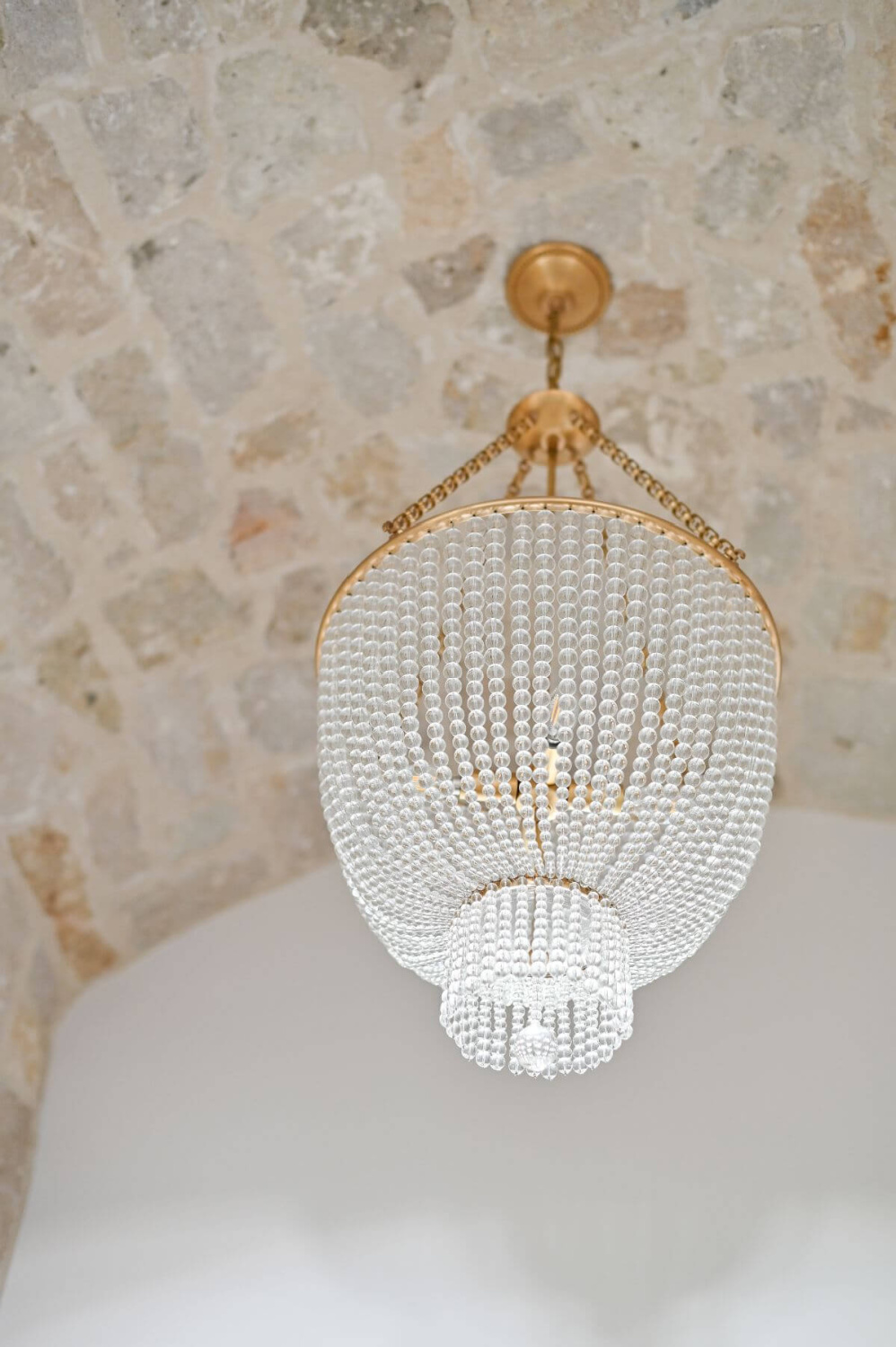 Since it wasn't long ago I was shopping for gilded iron chandeliers in my own home, I recognized this Jacqueline Chandelier (Aerin) straight away:
Wall Art Idea Inspired by a French Country Home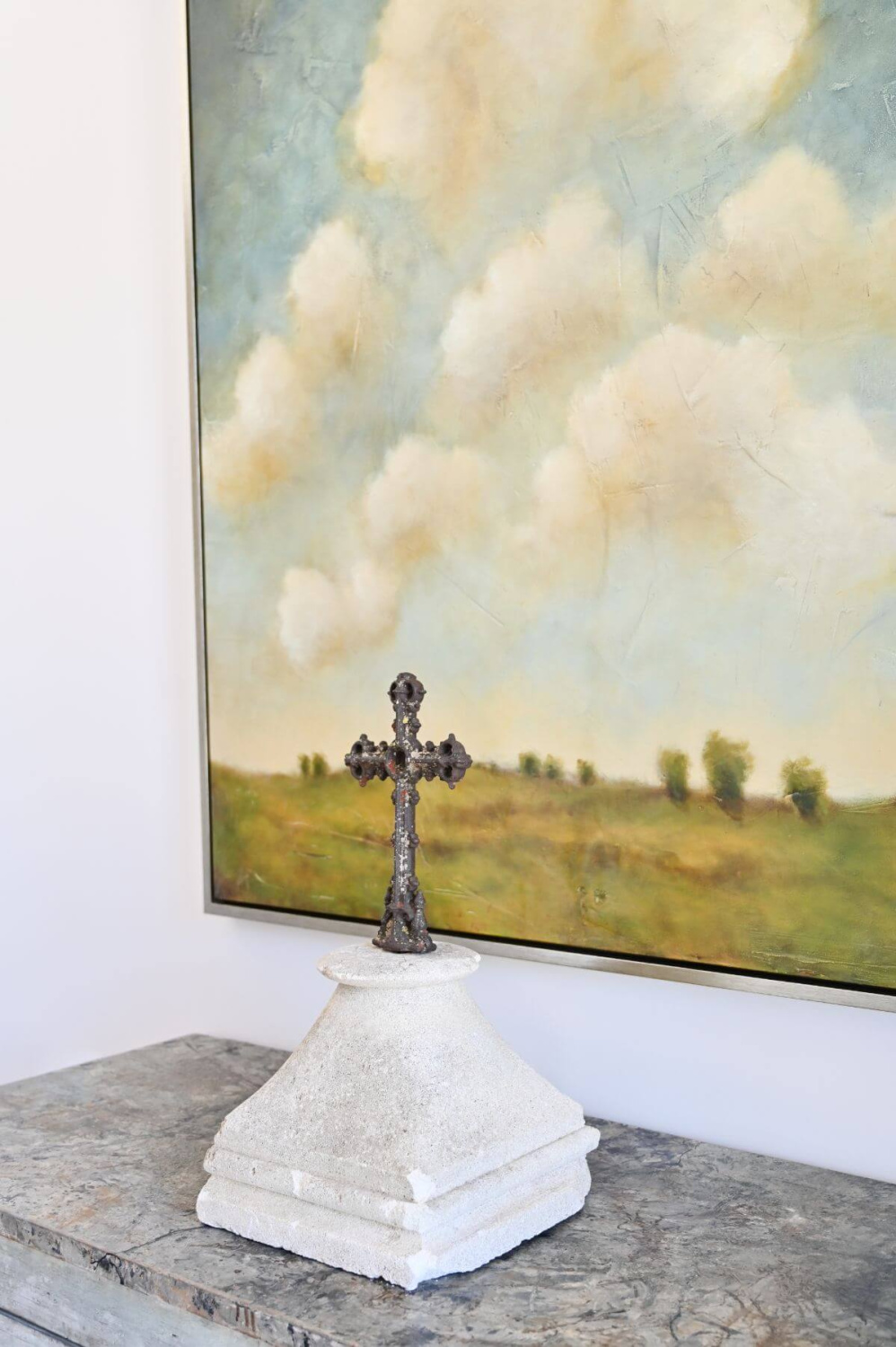 Just in case you need a piece of fine art to frame, here's a gorgeous example to suit any number of spaces, Modern French or otherwise: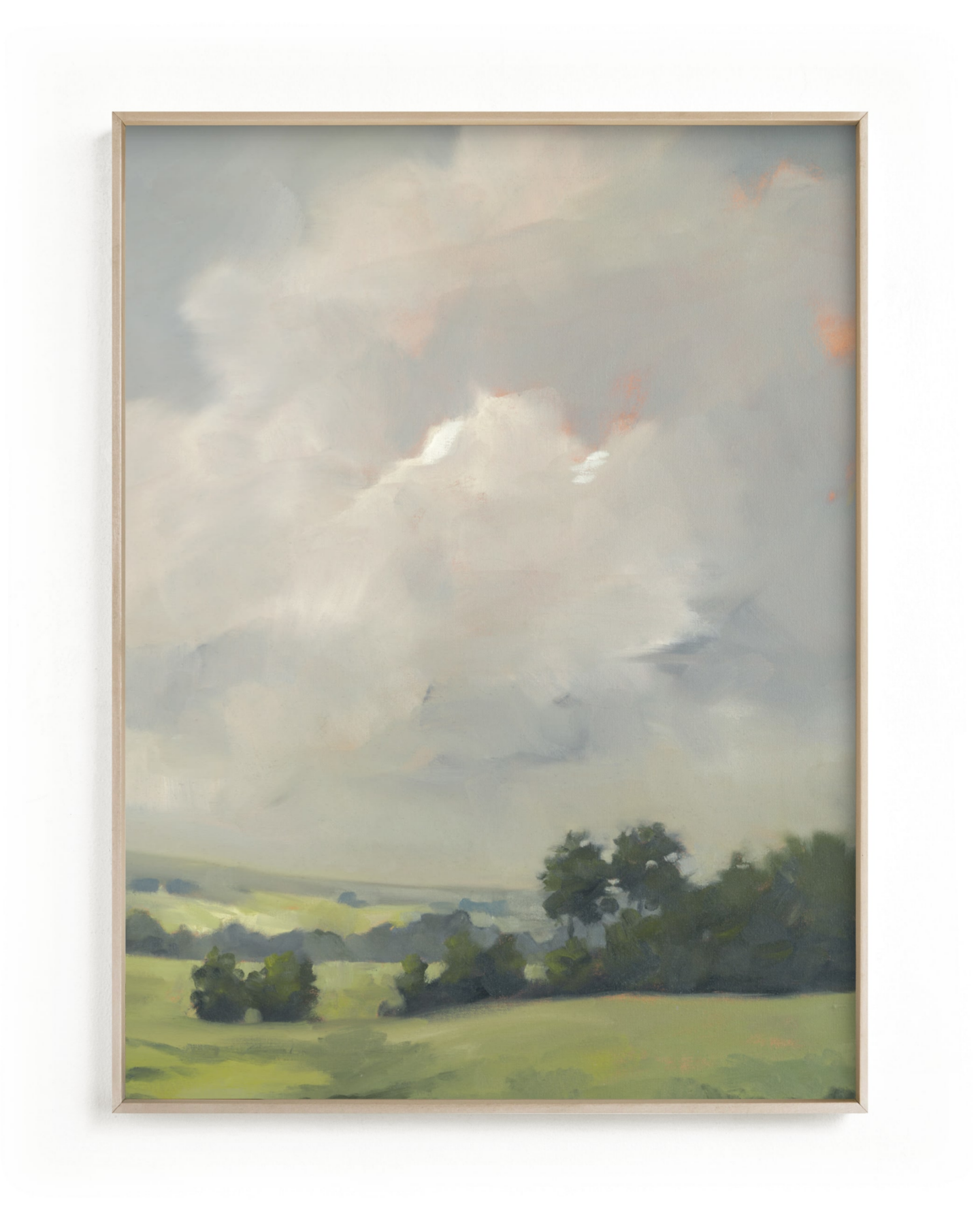 I have collected multiple fine art prints from Minted over the years and am sold on the quality of the archival paper and curation of work from fine artists.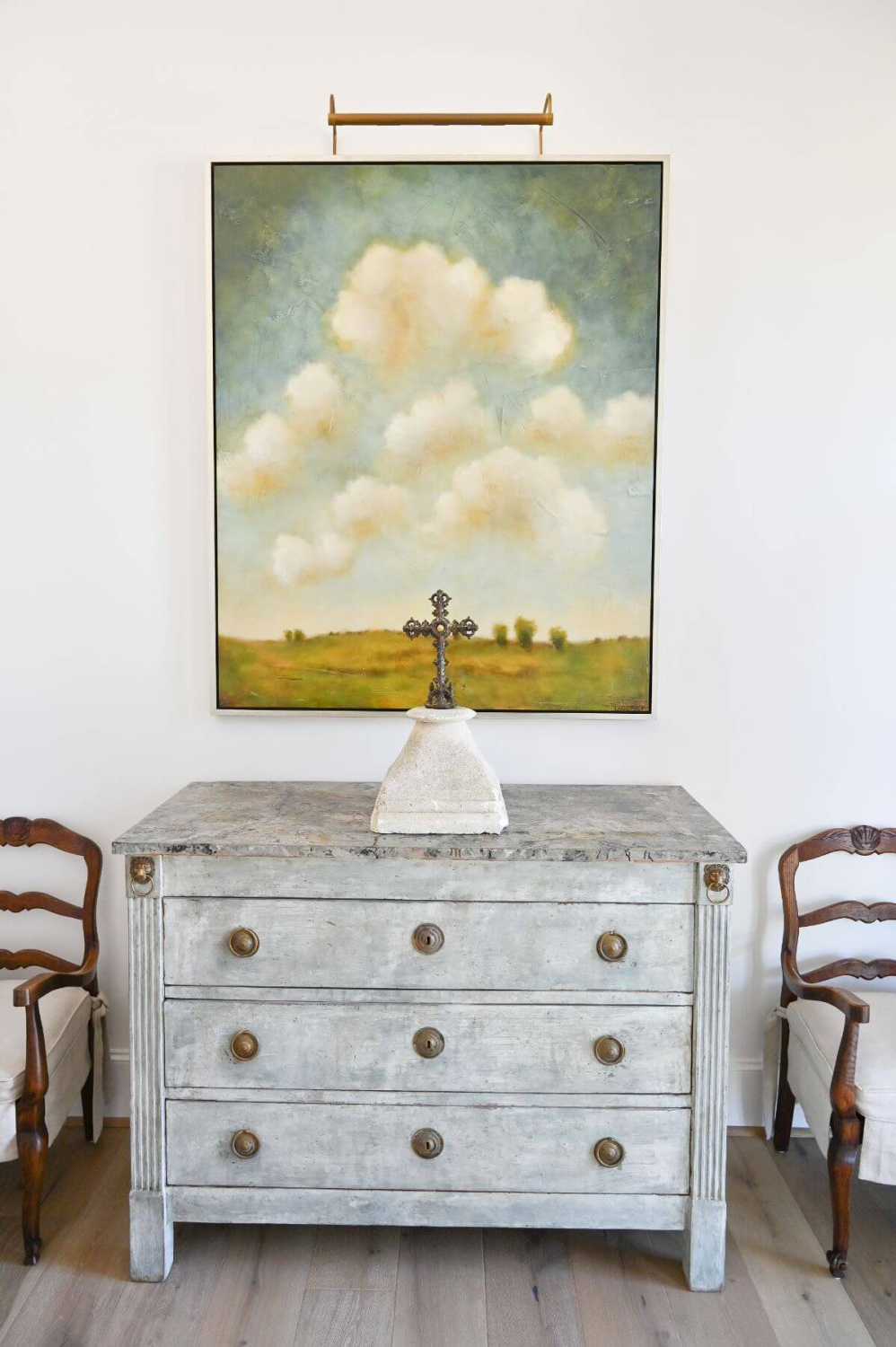 Do you love this chest with the stone top? You may be able to find something similar inexpensively on FB Marketplace to paint with this type of chalky, distressed finish. If it doesn't turn out exactly as you hoped, paint over it!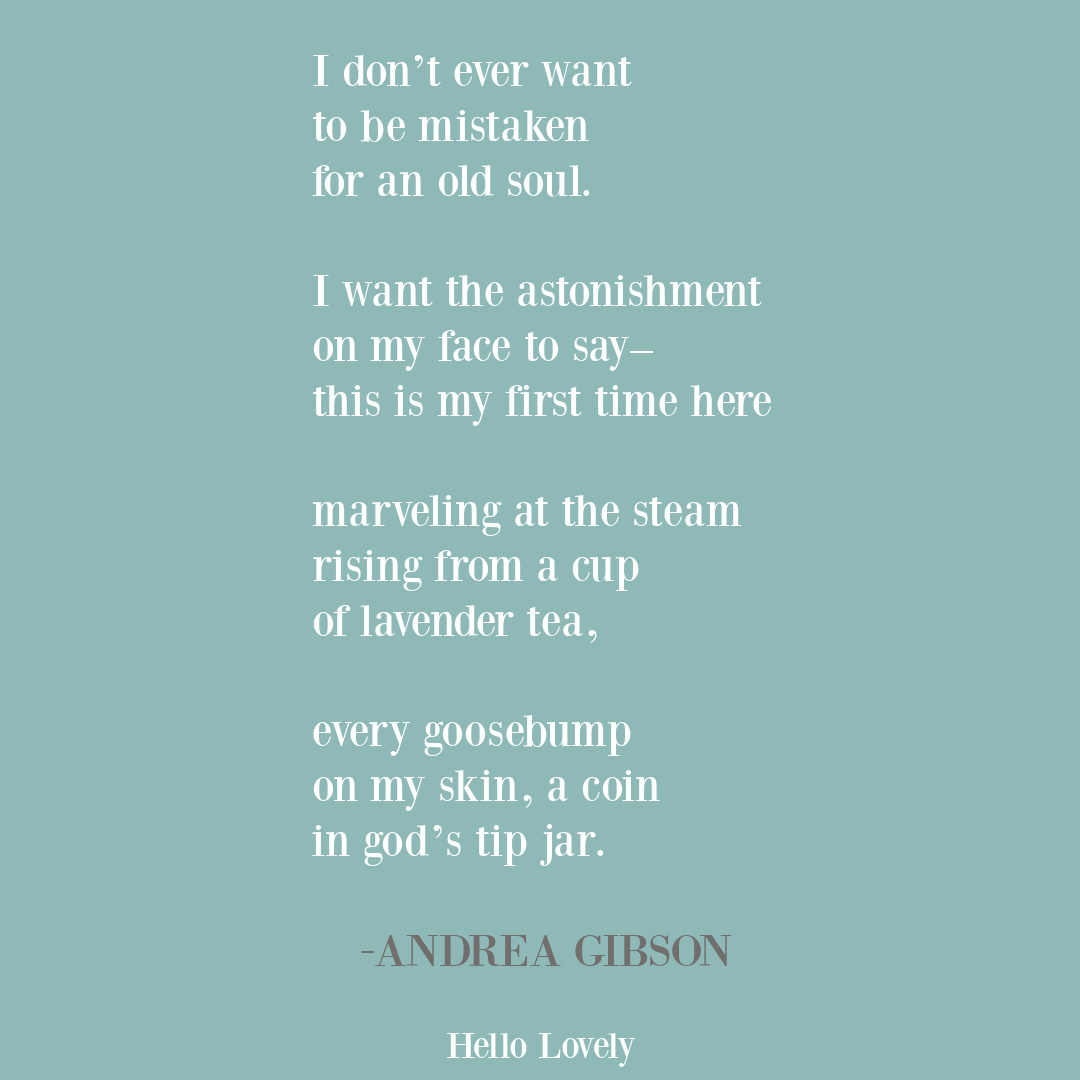 Have a favorite design element from the exterior?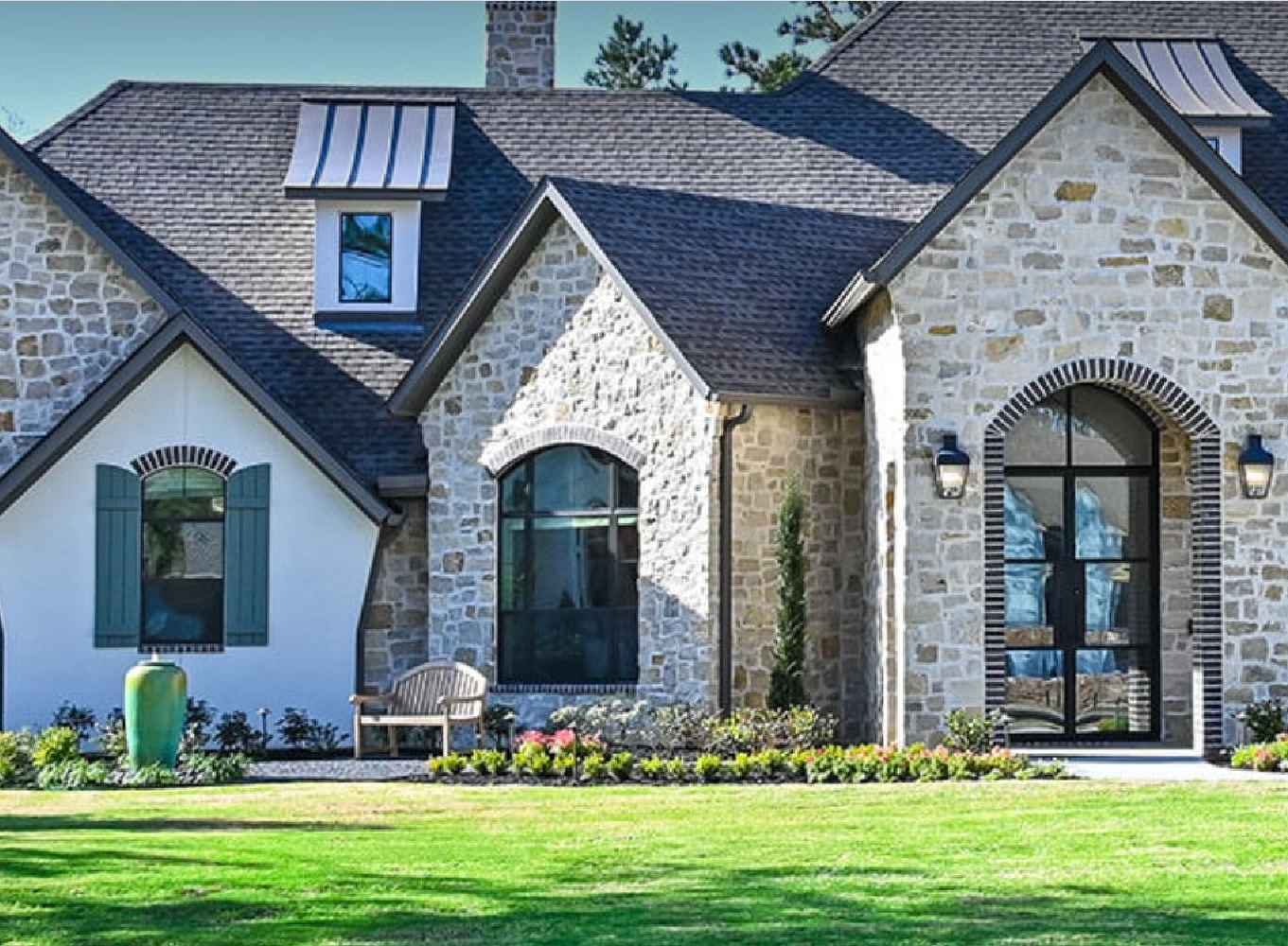 I admire the charming section on left with white stucco, blue shutters, and brick arch over the arched window!
Great Room Design Ideas
Let's continue to tour and peek at the great room or what the builder calls the "transitional room":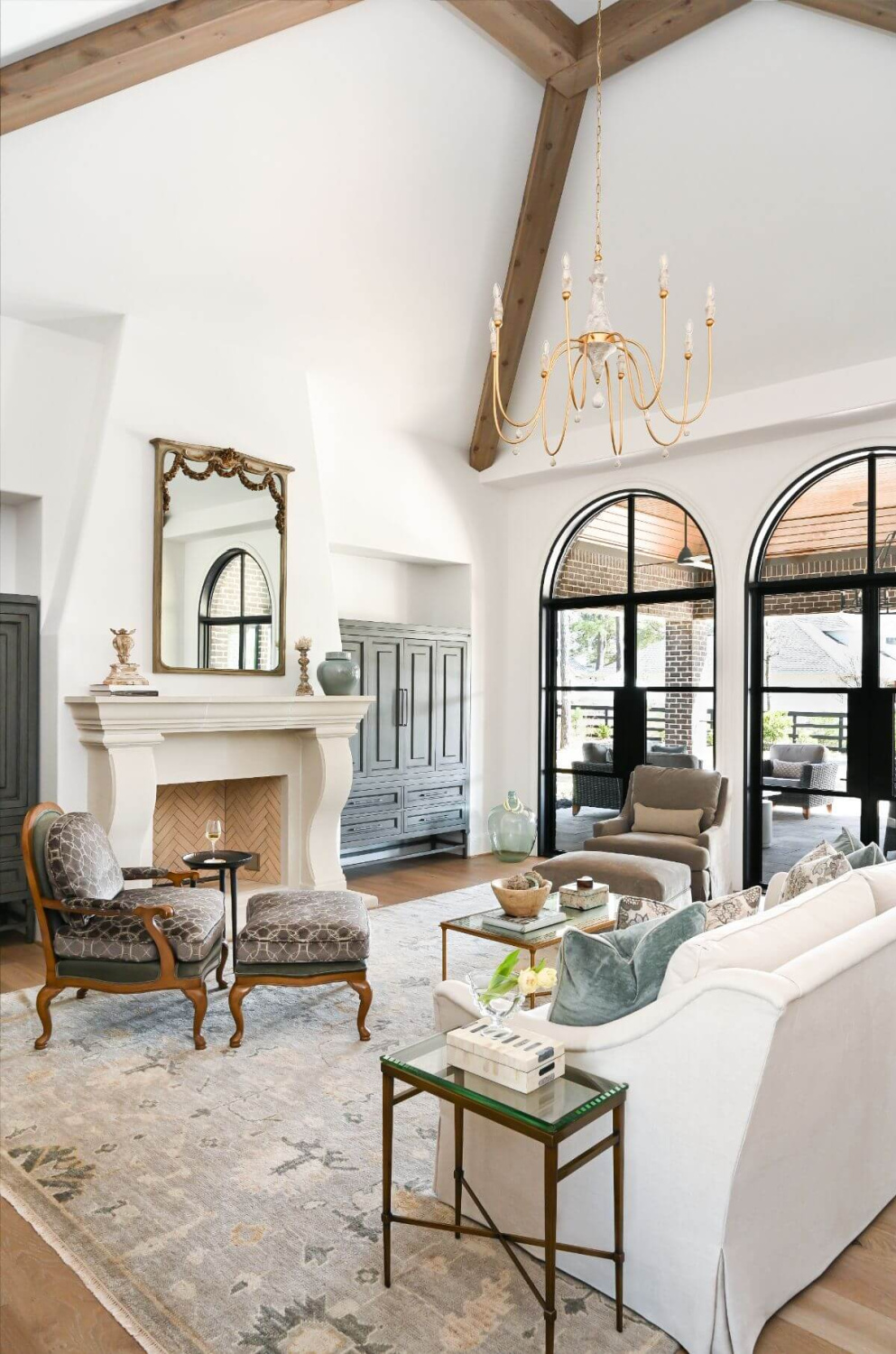 Oversized windows usher sunlight into this spacious, yet cozy living space with soaring ceilings and beams.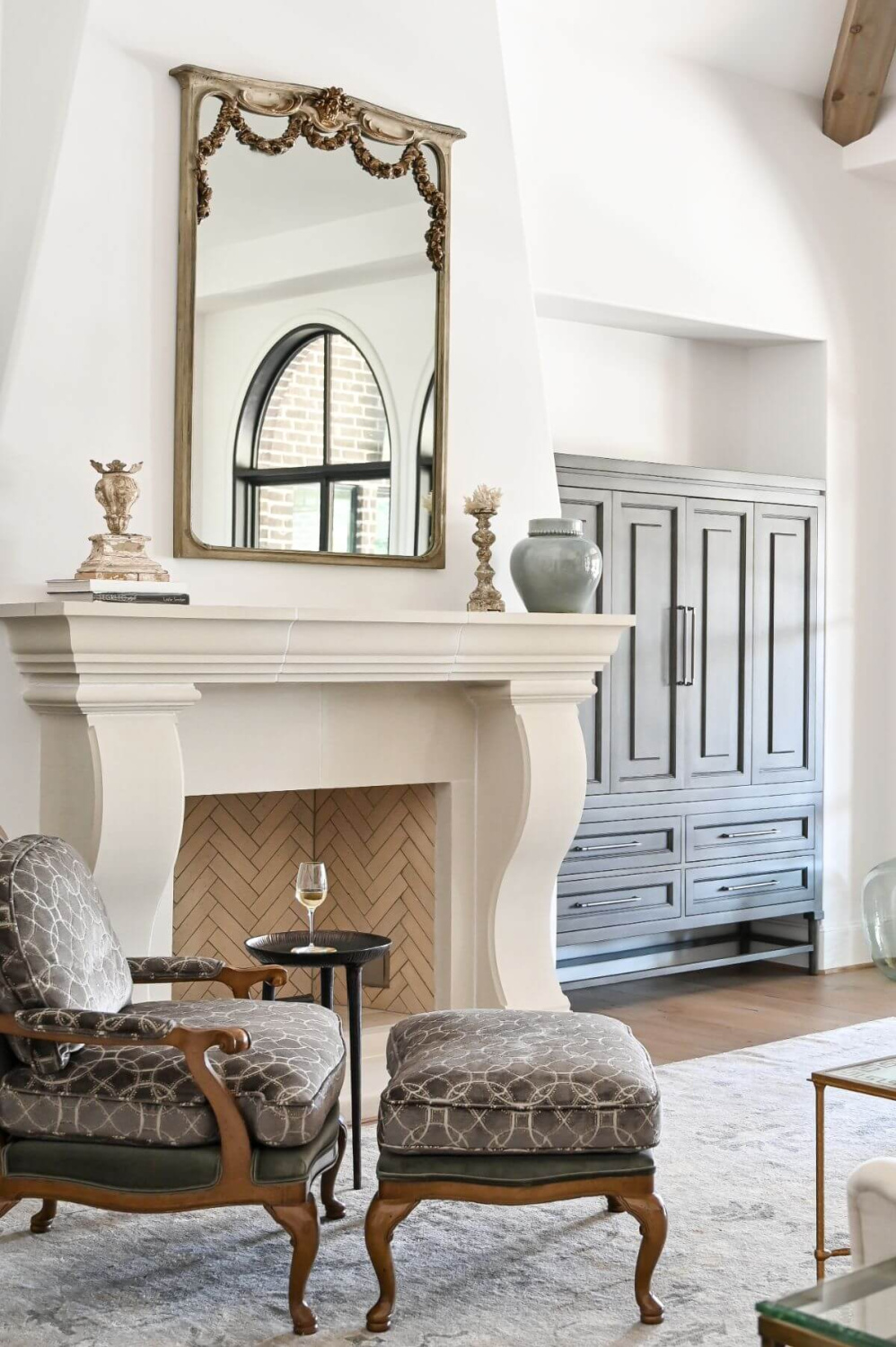 Custom built-ins add a dash of flair as well as abundant storage. How would you fill in the niche above them? I would probably add a French basket of dried hydrangea.
Modern French Kitchen Inspiration
The teal green color of the kitchen islands was the first thing that caught my eye. It has a coastal feel and adds personality.
How amazing to have two islands!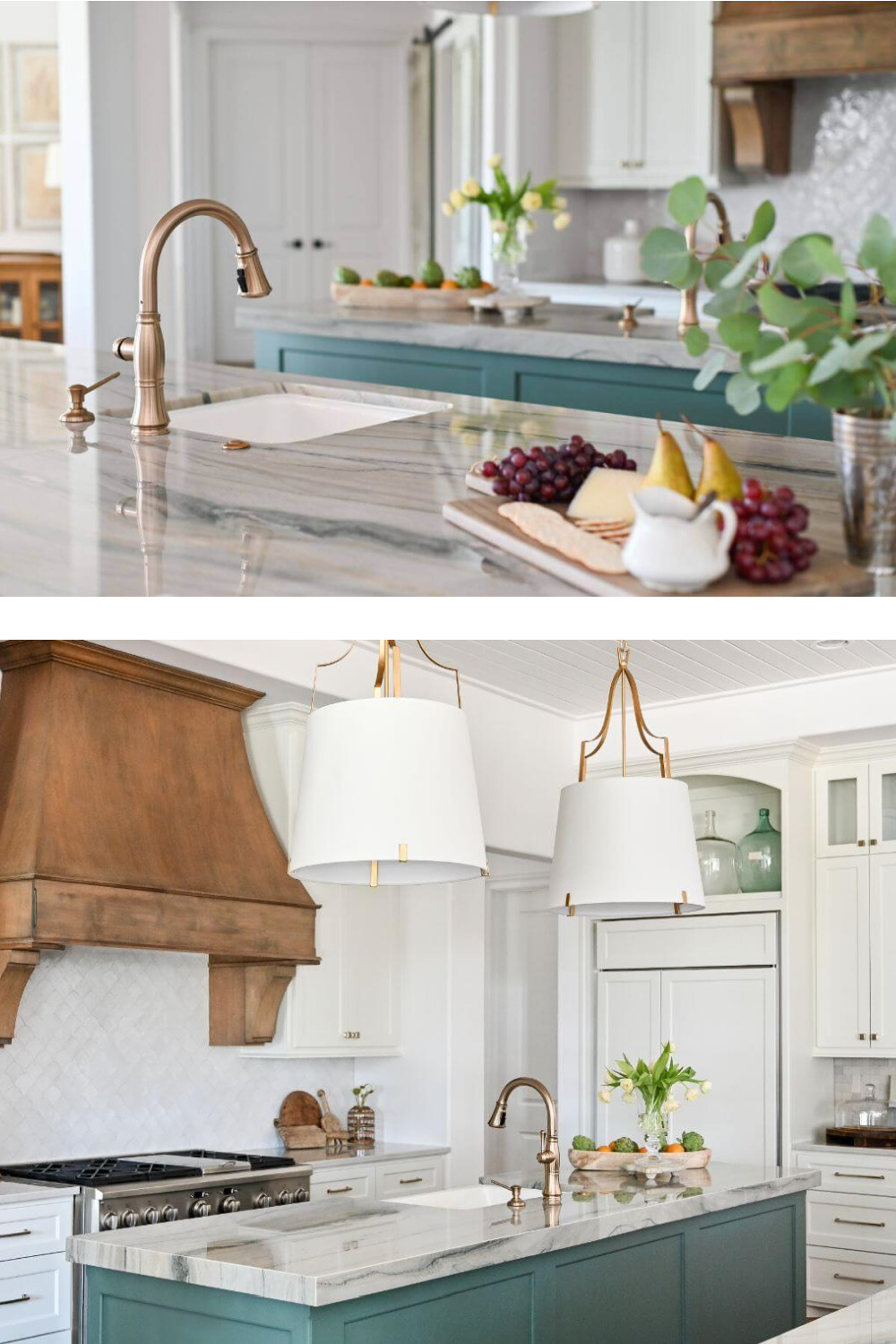 More noteworthy design details include: shiplap on ceiling, paneled refrigerator, and custom barn doors to a pantry/scullery/dirty kitchen/secondary kitchen space:
Oh those antiqued sliding doors to a mini kitchen! We're seeing so many family homes built or remodeled with secondary kitchens to contain the mess of life.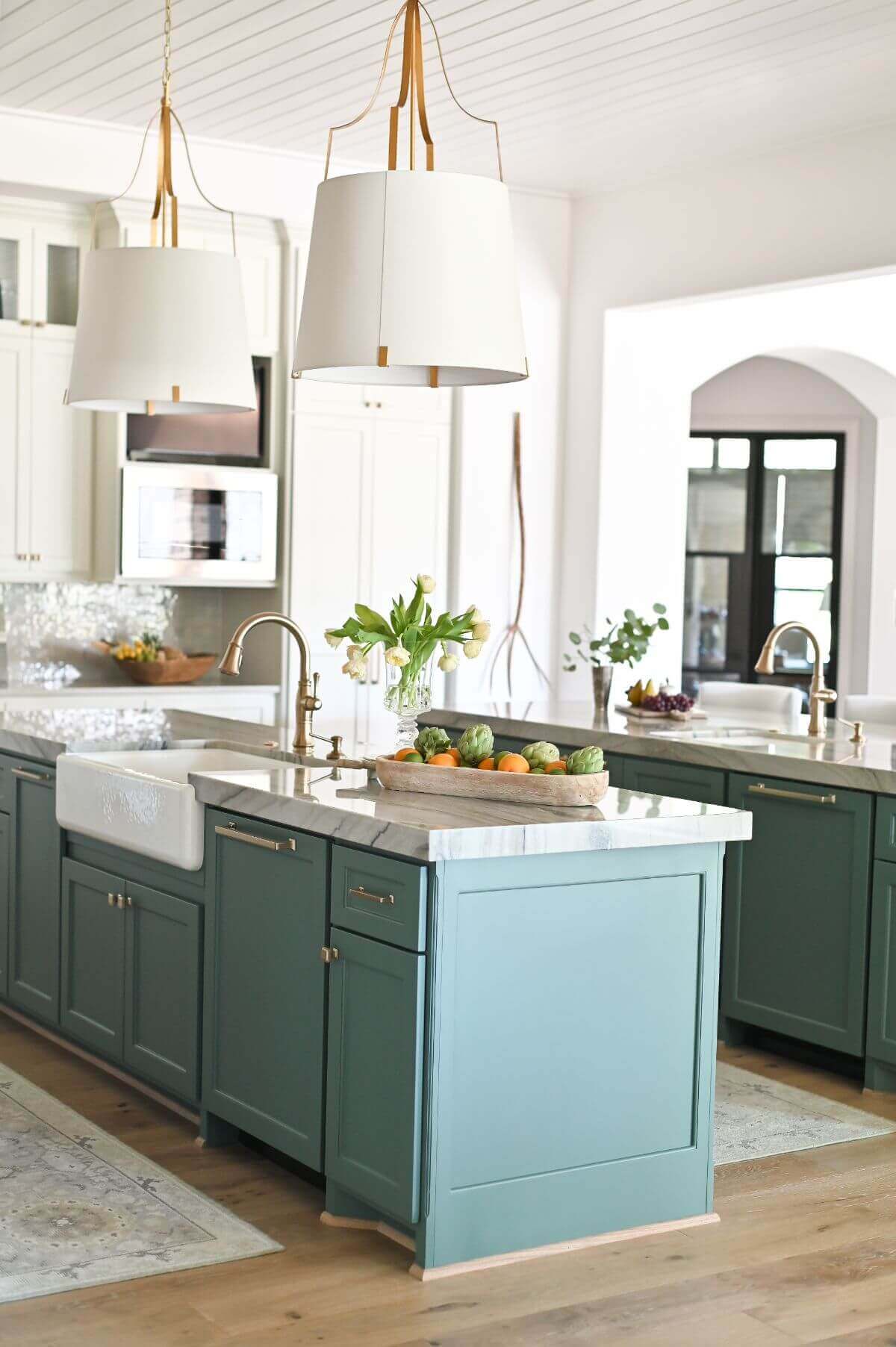 What would our ancestors think about our desire to keep the main kitchen looking like a tidy showplace and unused while we fill a small auxiliary space with appliances and clutter? We may not want to admit that we're influenced by ideals we see on social media and TV, but trends don't lie. 🙂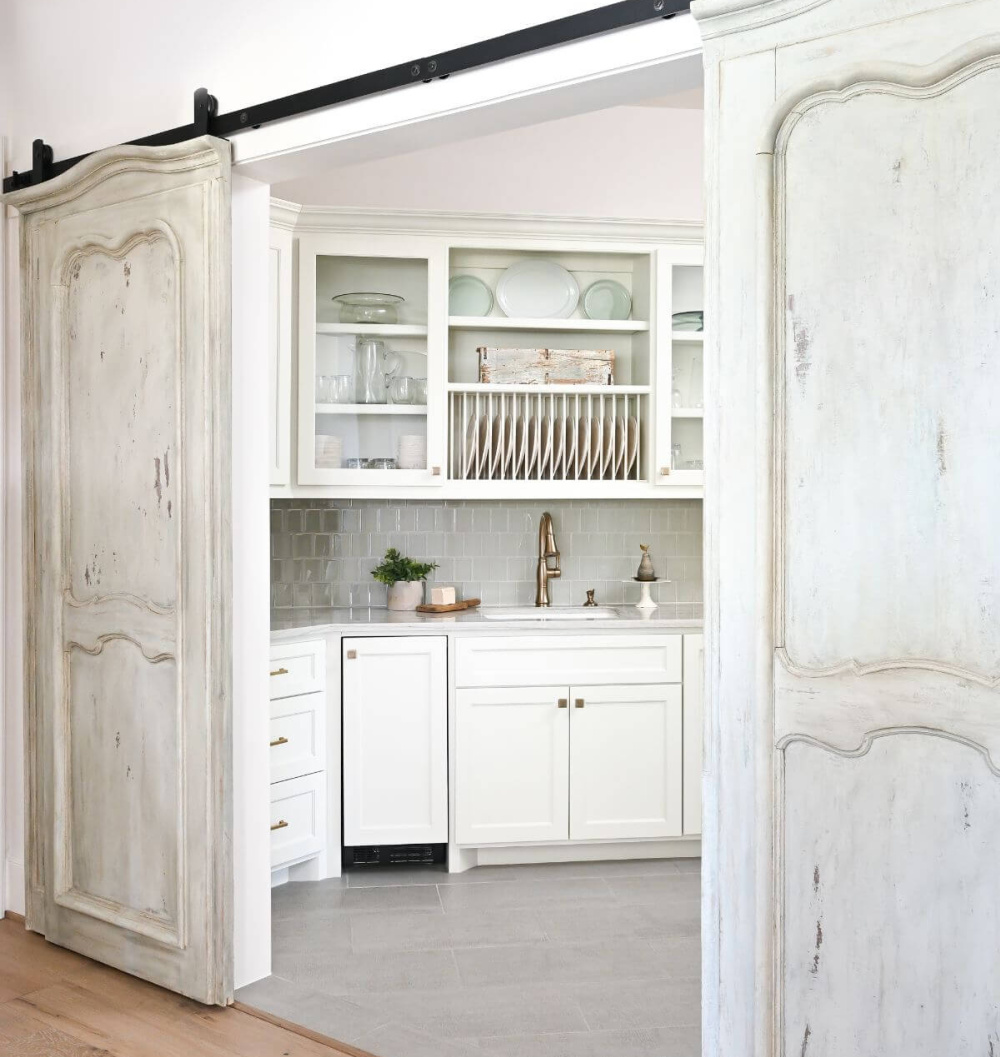 I guess there are pantries, and then there are VA VA VOOM PANTRIES.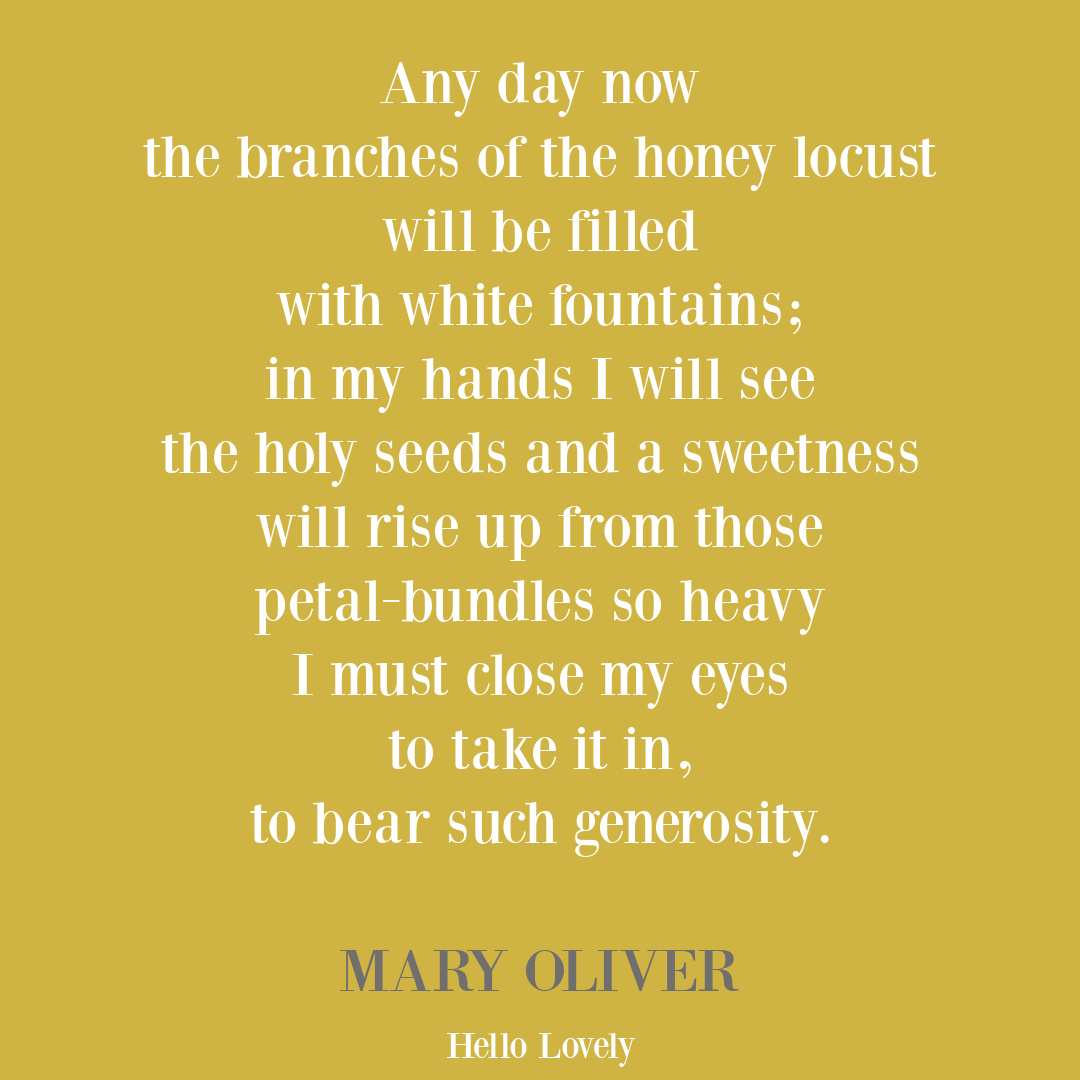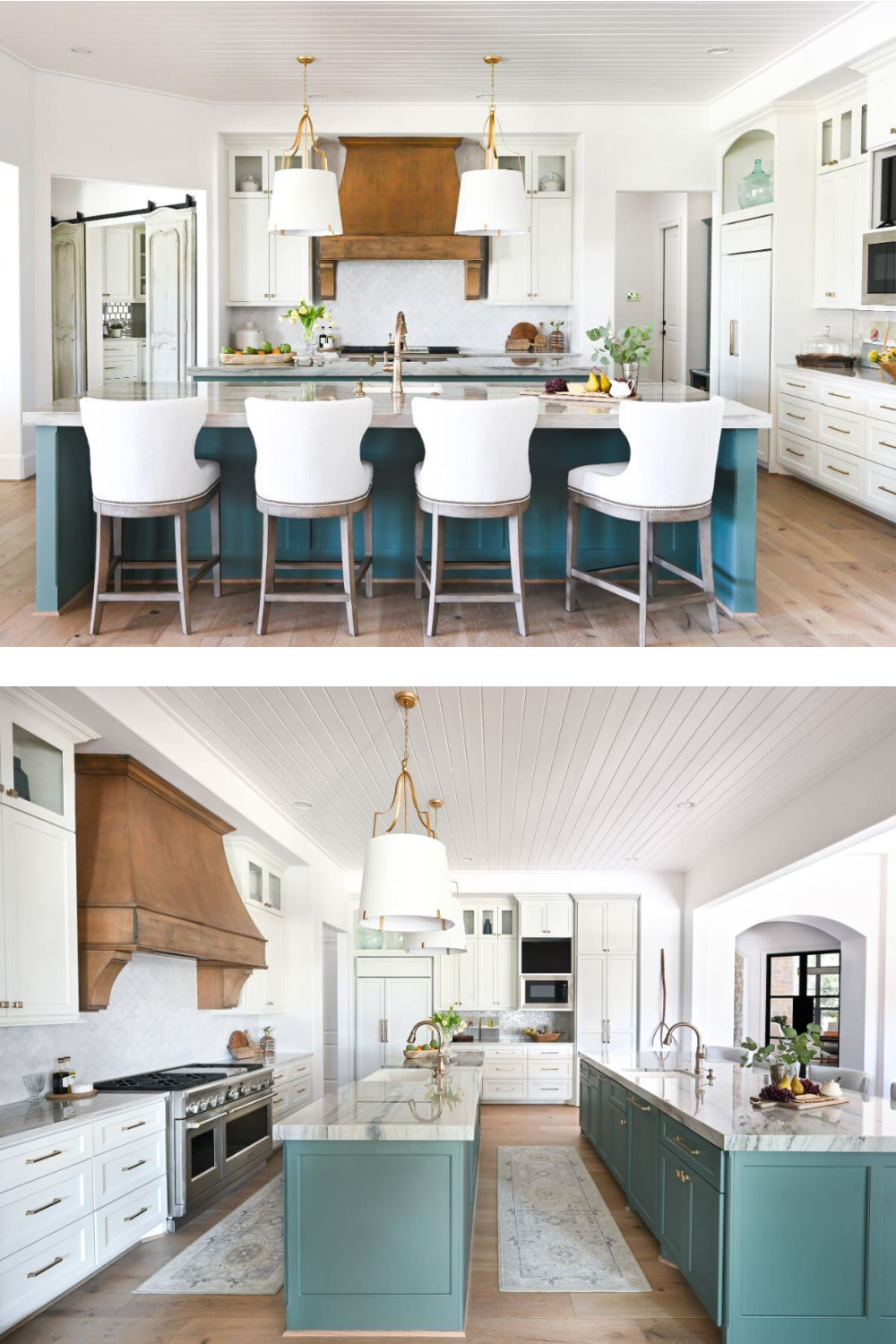 Here's a blue-green that springs to mind if you're seeking a similar look:
While VACAY blue-green may be more bluish teal than green, it's tricky to know definitively since screens on various devices can influence perception.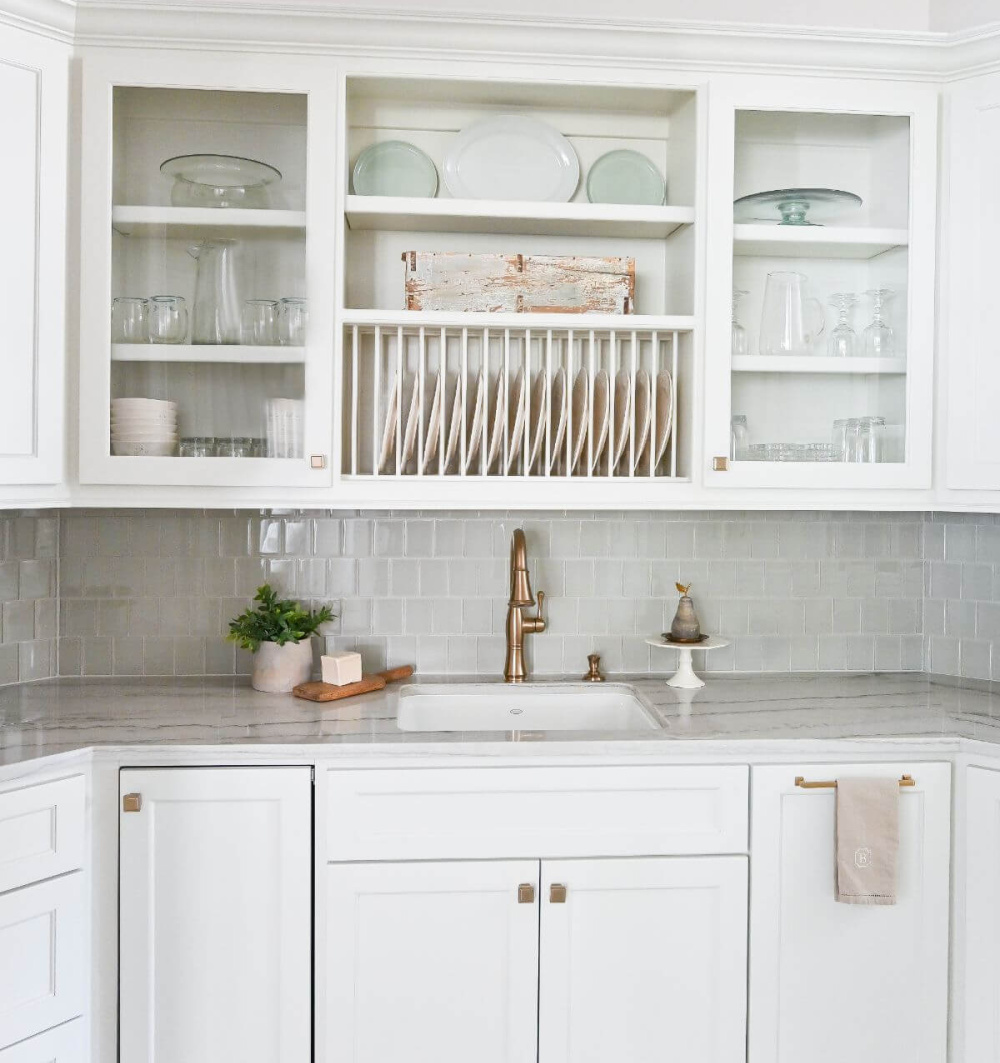 What say ye about the rustic wood French country range hood?
Since I know myself well, it would probably take two days before my paint brush would get dipped in one of these: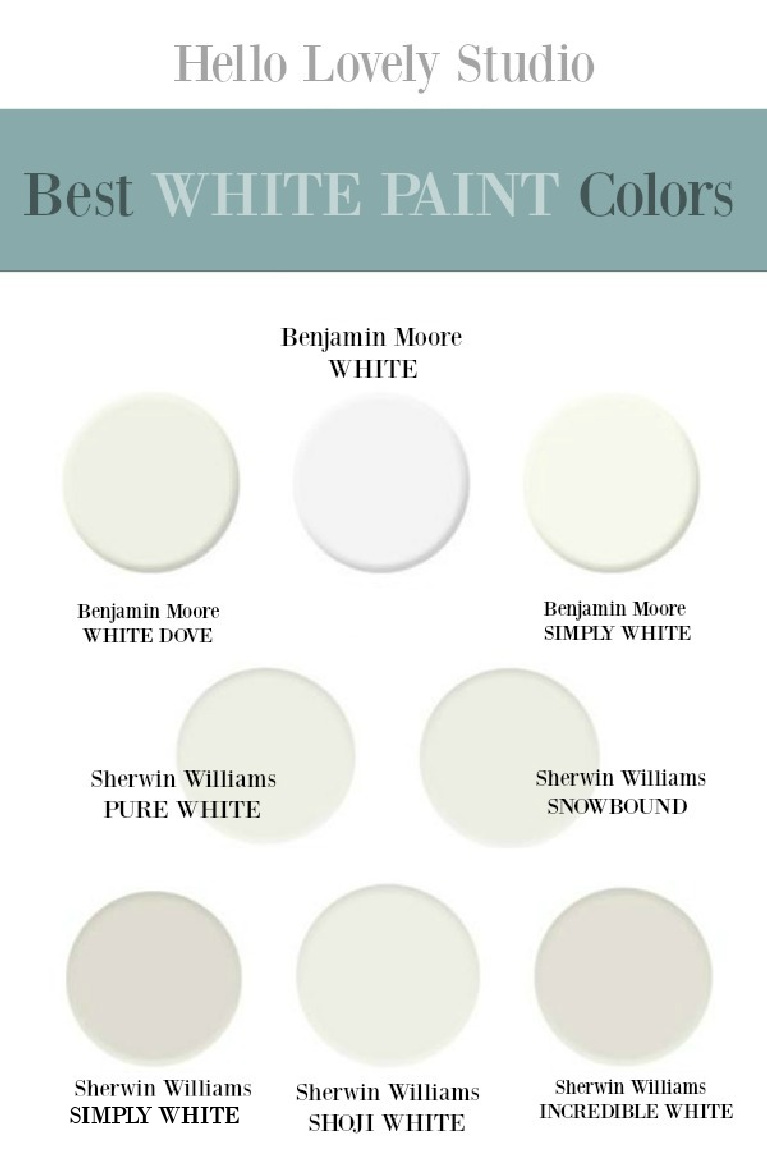 As far as the white paint color on the cabinets, I'm seeing an off white with warm undertones to work harmoniously with the countertop. See THIS for warm white kitchen ideas.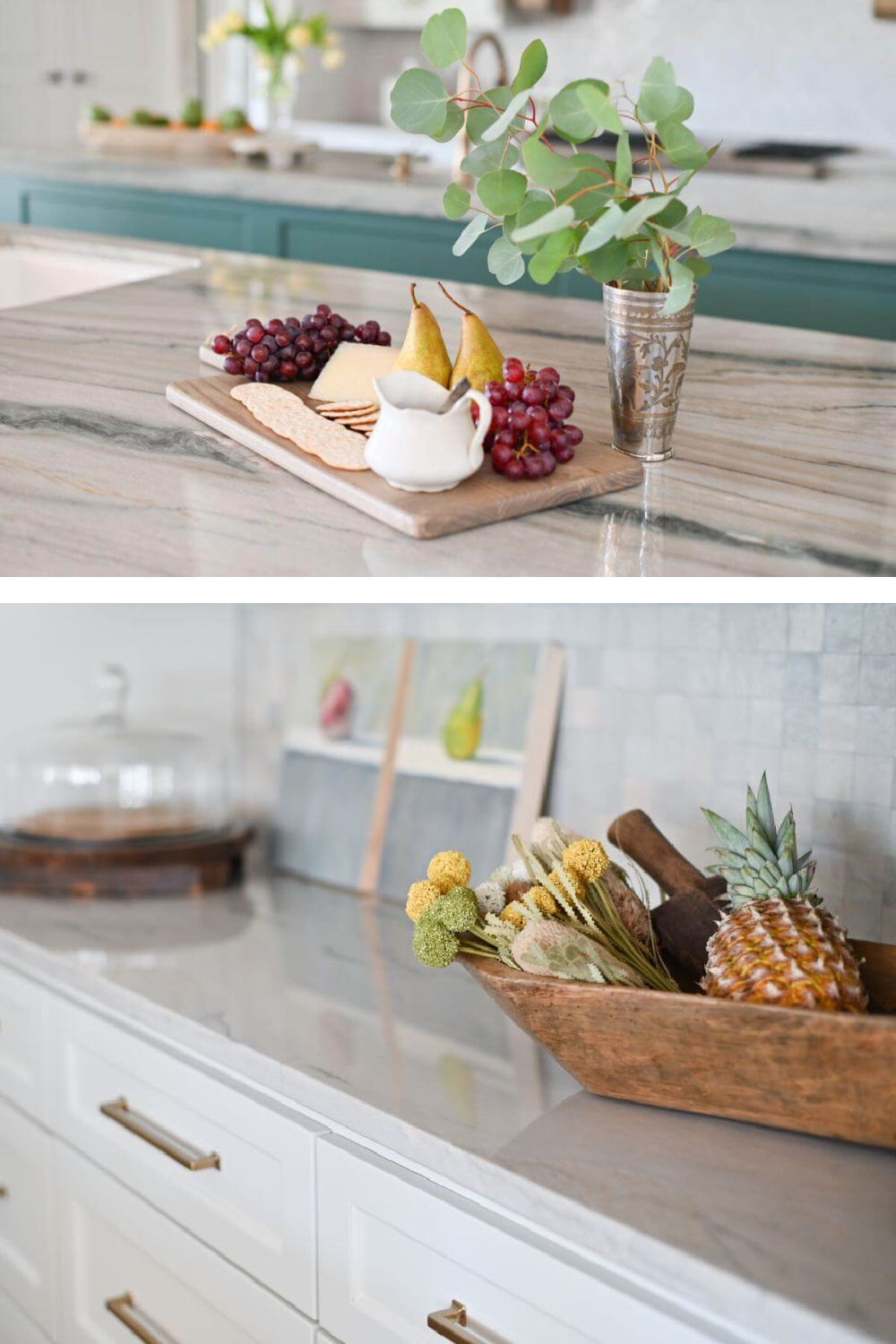 It can be unnerving to choose backsplash material after your countertops are installed. I like how in this secondary kitchen/scullery, the designer opted for low contrast with Zellige tile.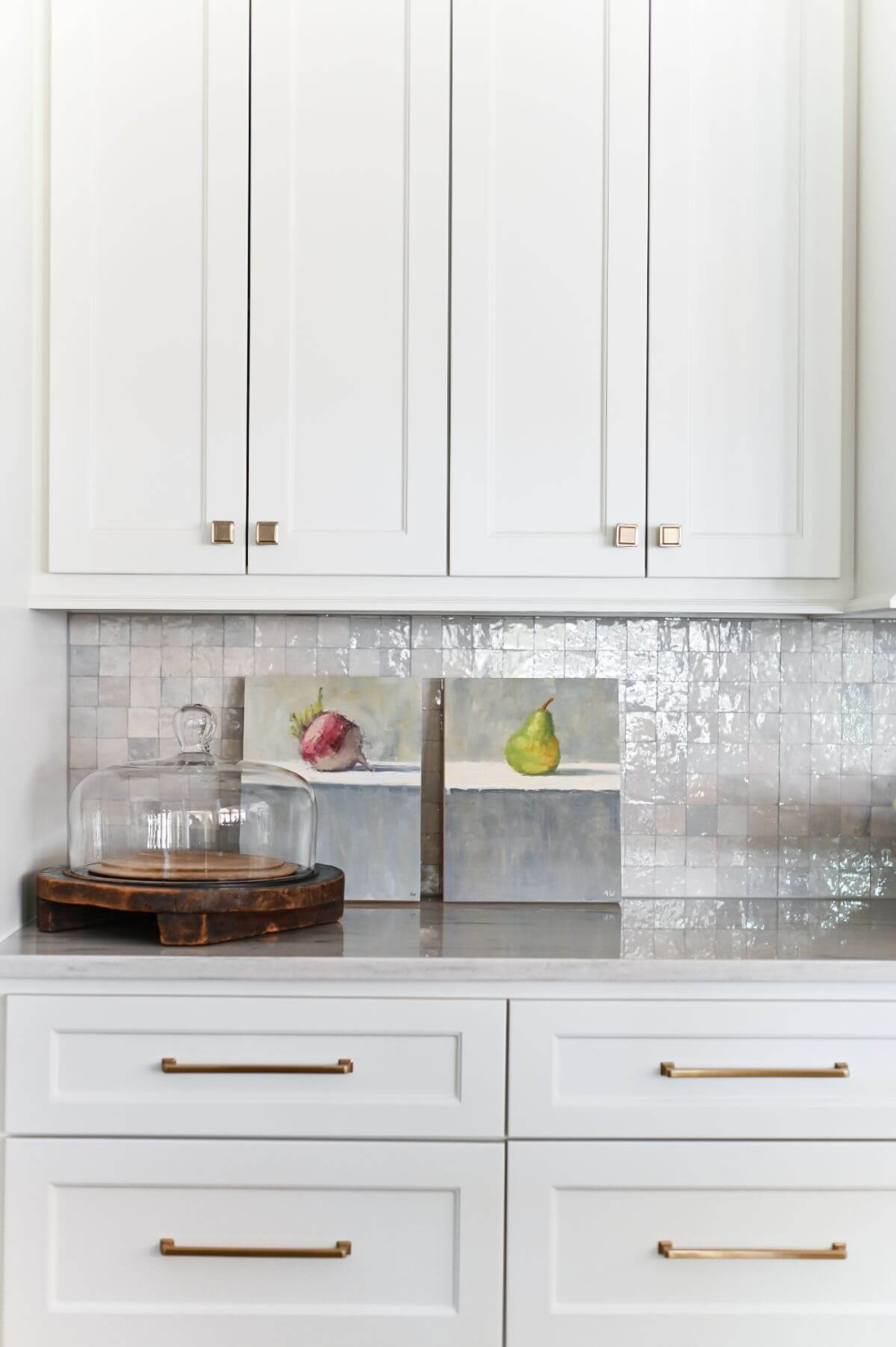 Aren't the gold-toned drawer pulls a lovely modern touch too?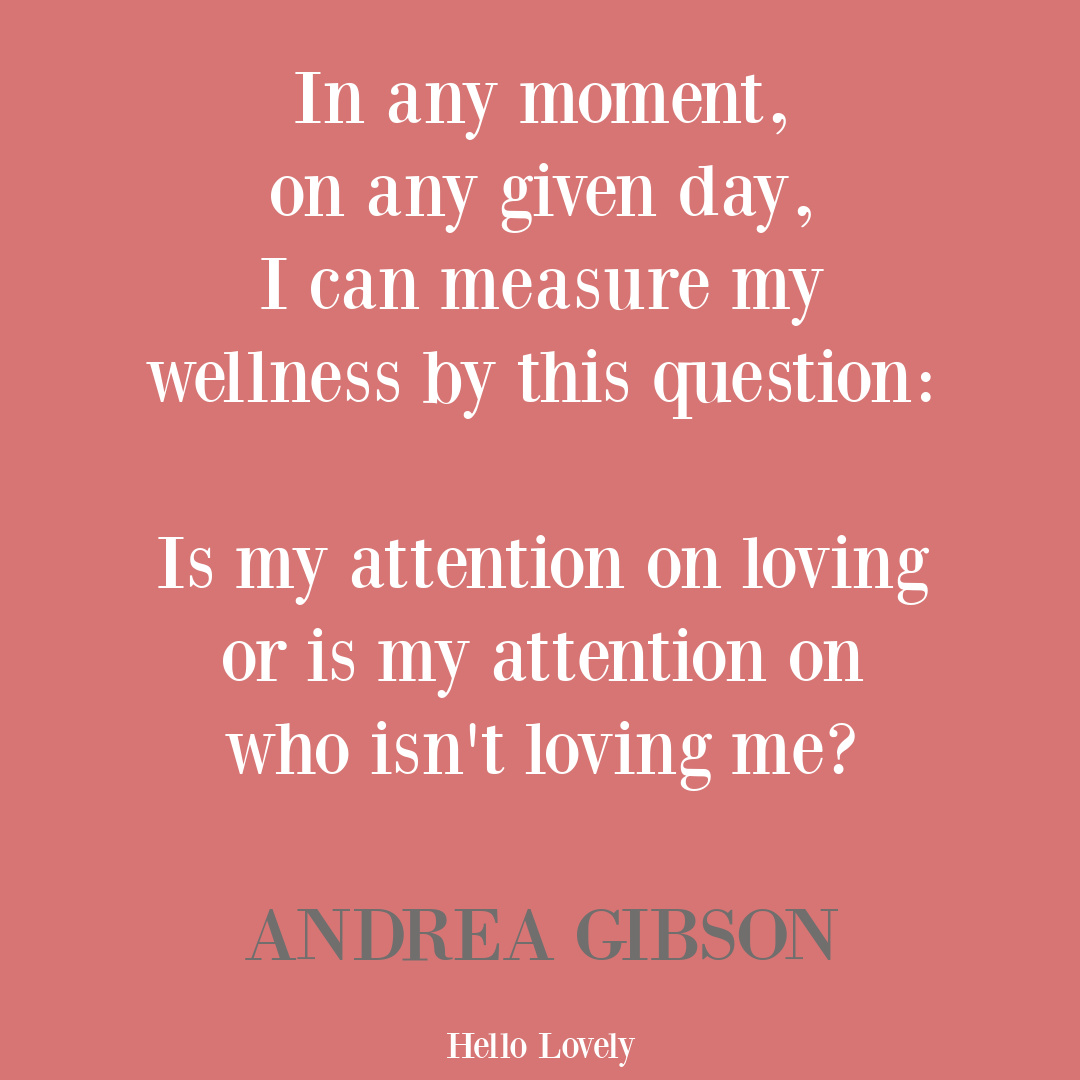 French Inspired Dining Room Inspiration
This neutral dining room feels as though it could easily change with the seasons.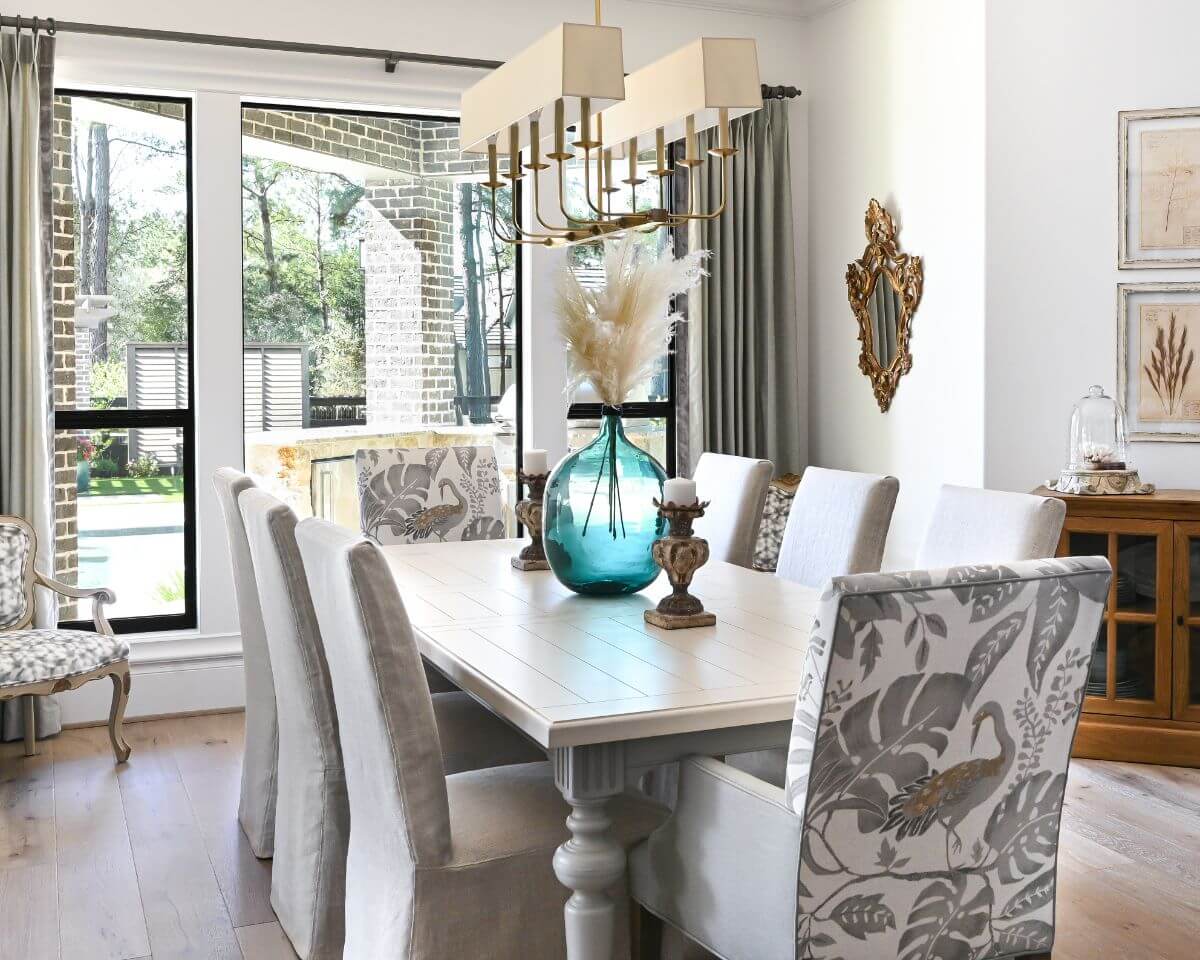 Open concept with floor-to-ceiling iron windows, the space overlooks a beautiful backyard.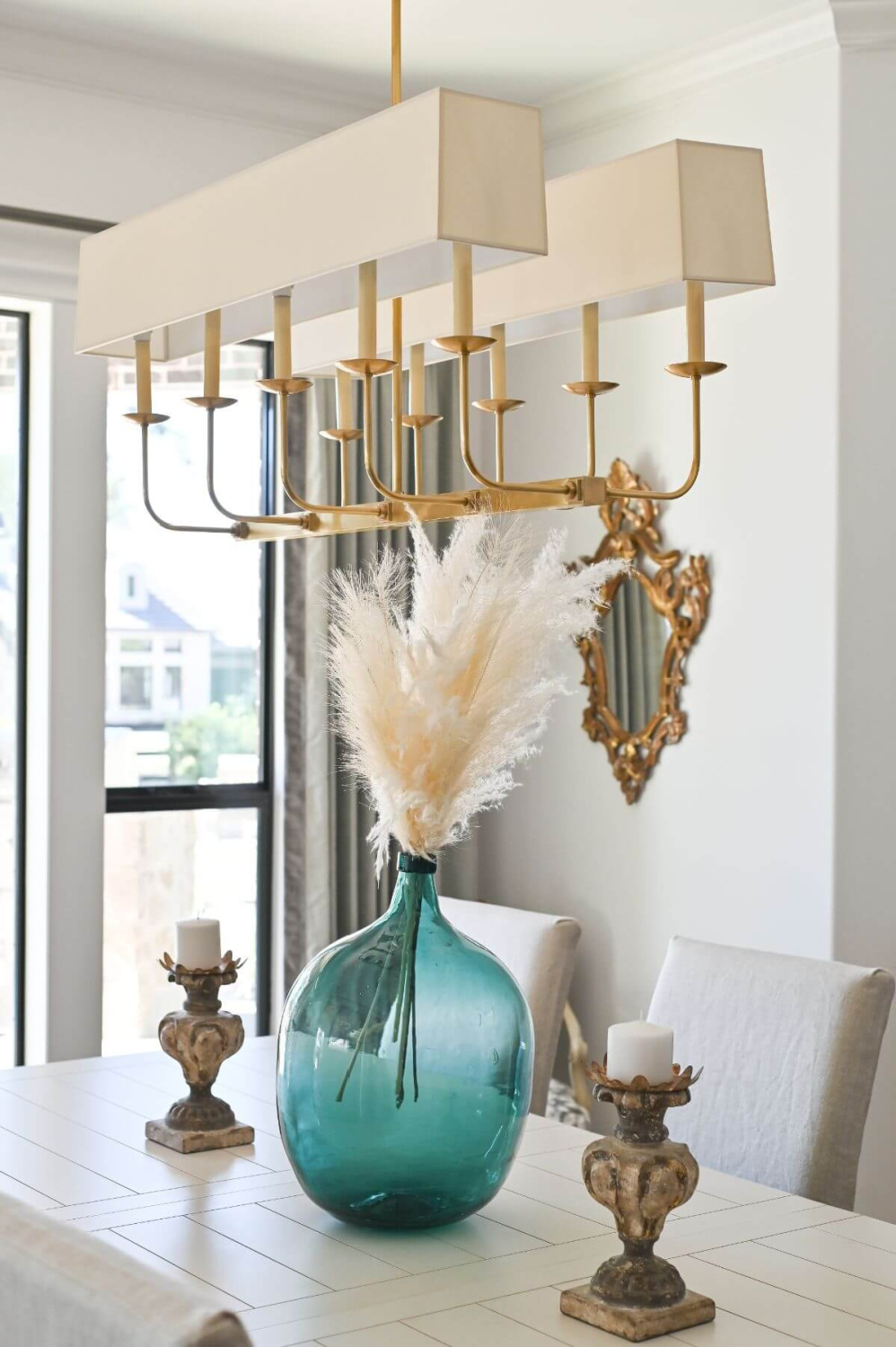 More warm gold fixtures harmonize with cool greys and white.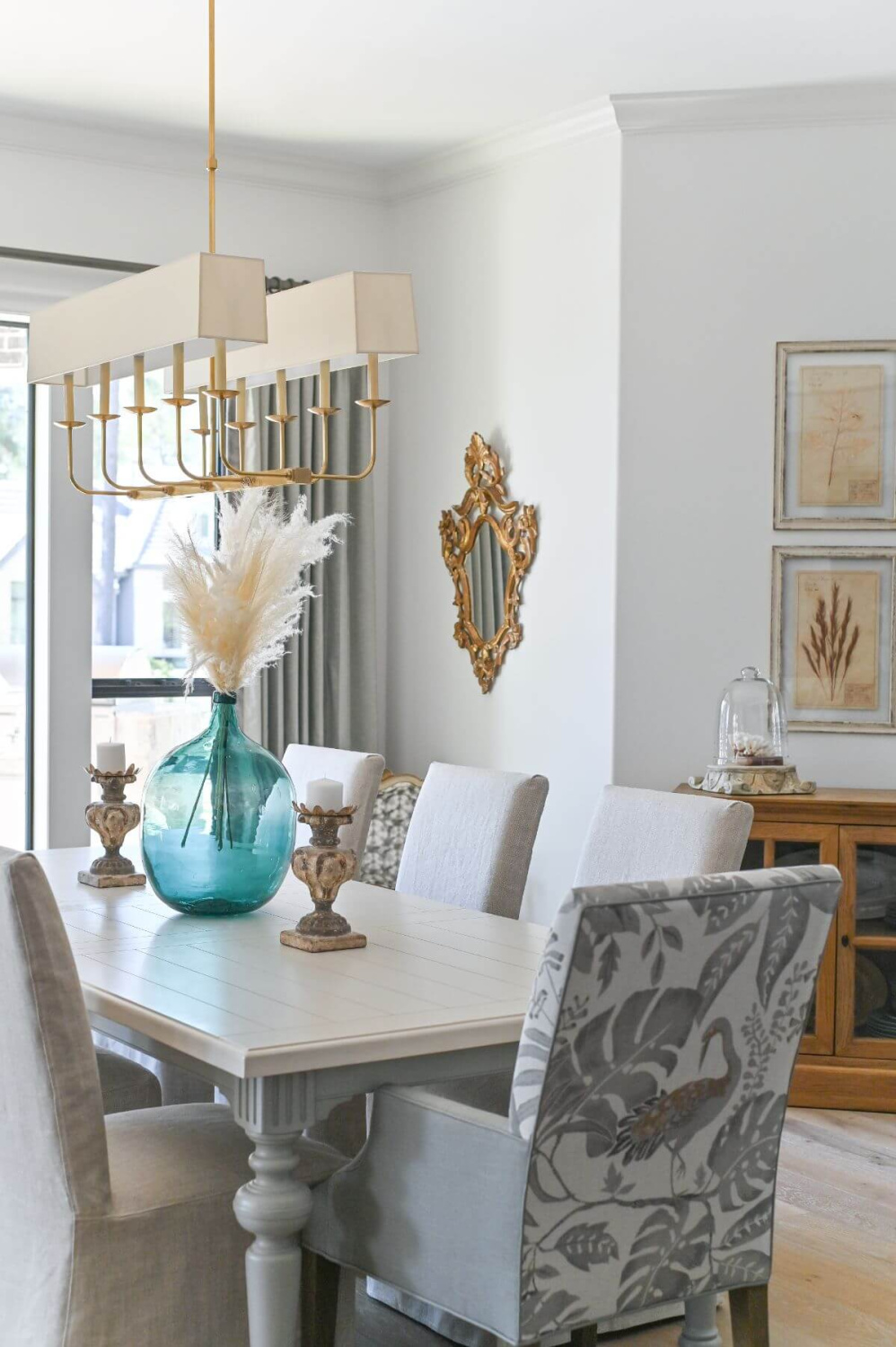 I'm a fan of the framed botanicals which add whimsy and rusticity.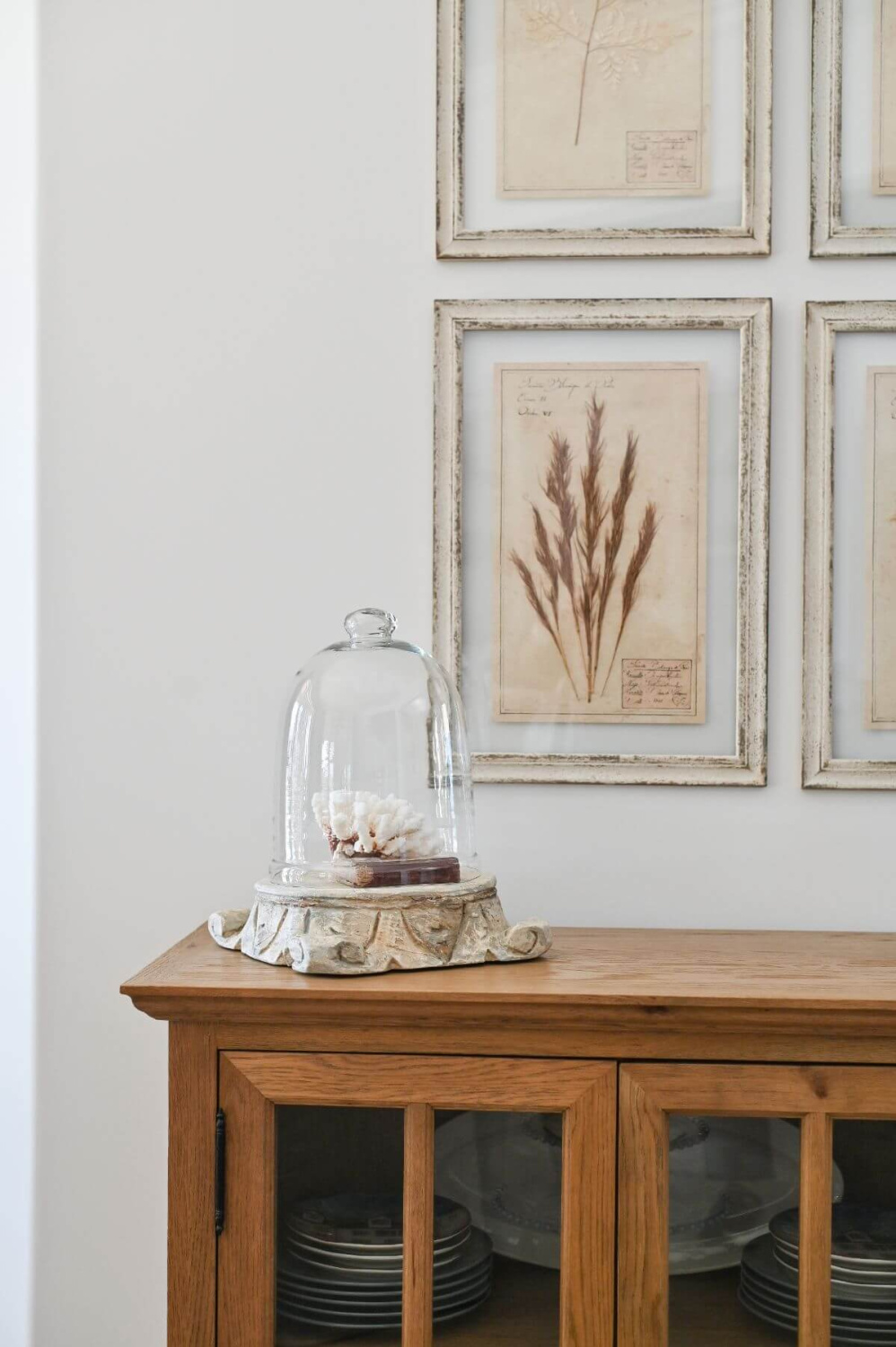 Do we truly need to choose just ONE fabric to upholster dining chairs?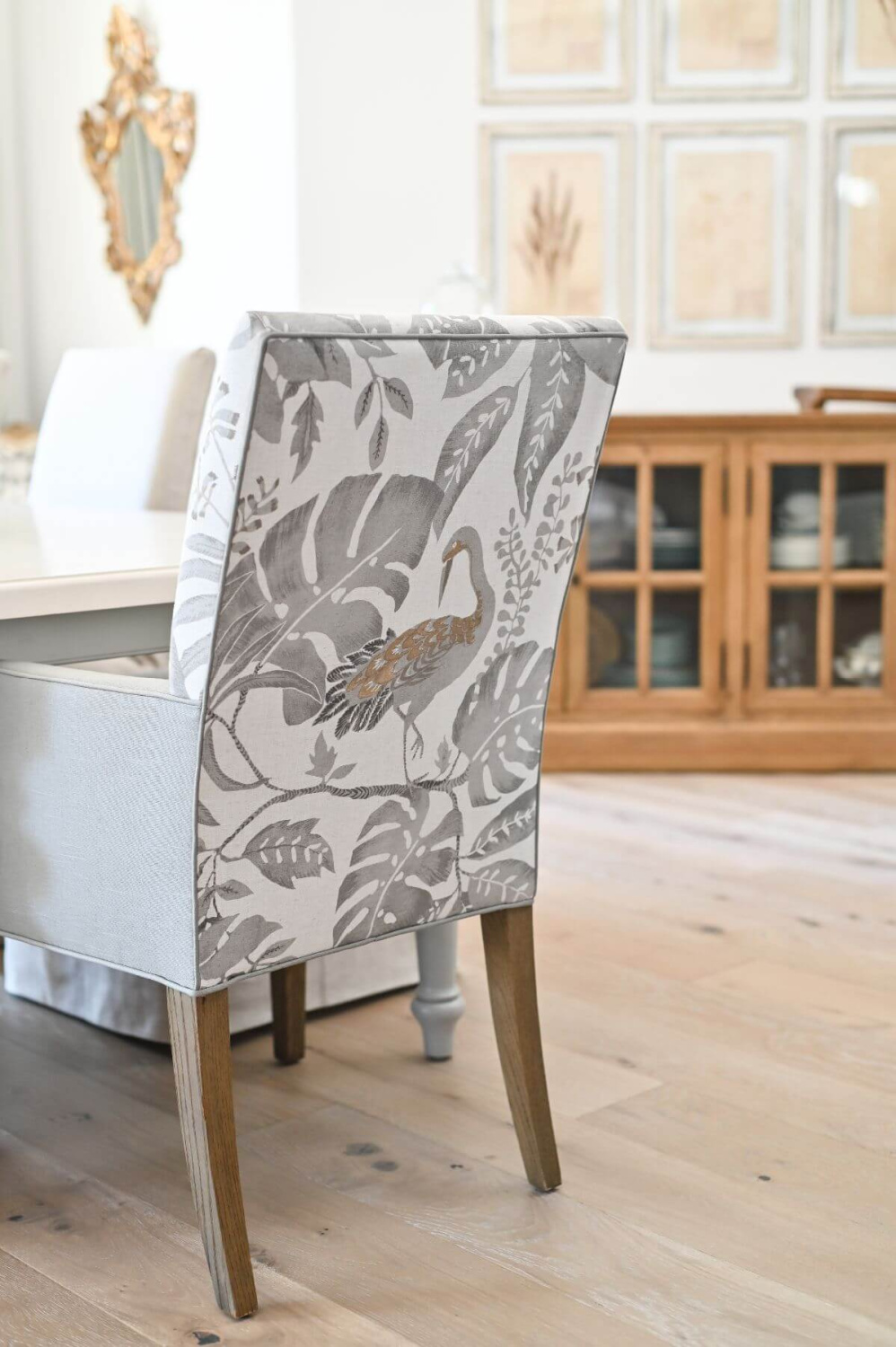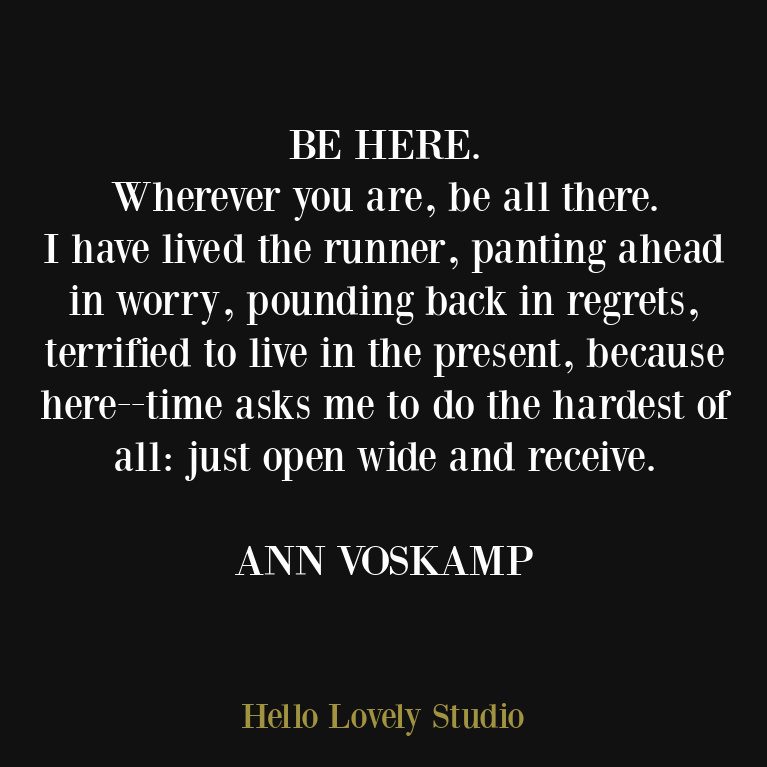 Romantic & Tranquil French Country Bedroom
If you love a pumpkin spice moment, bet you'll find something to smile about here: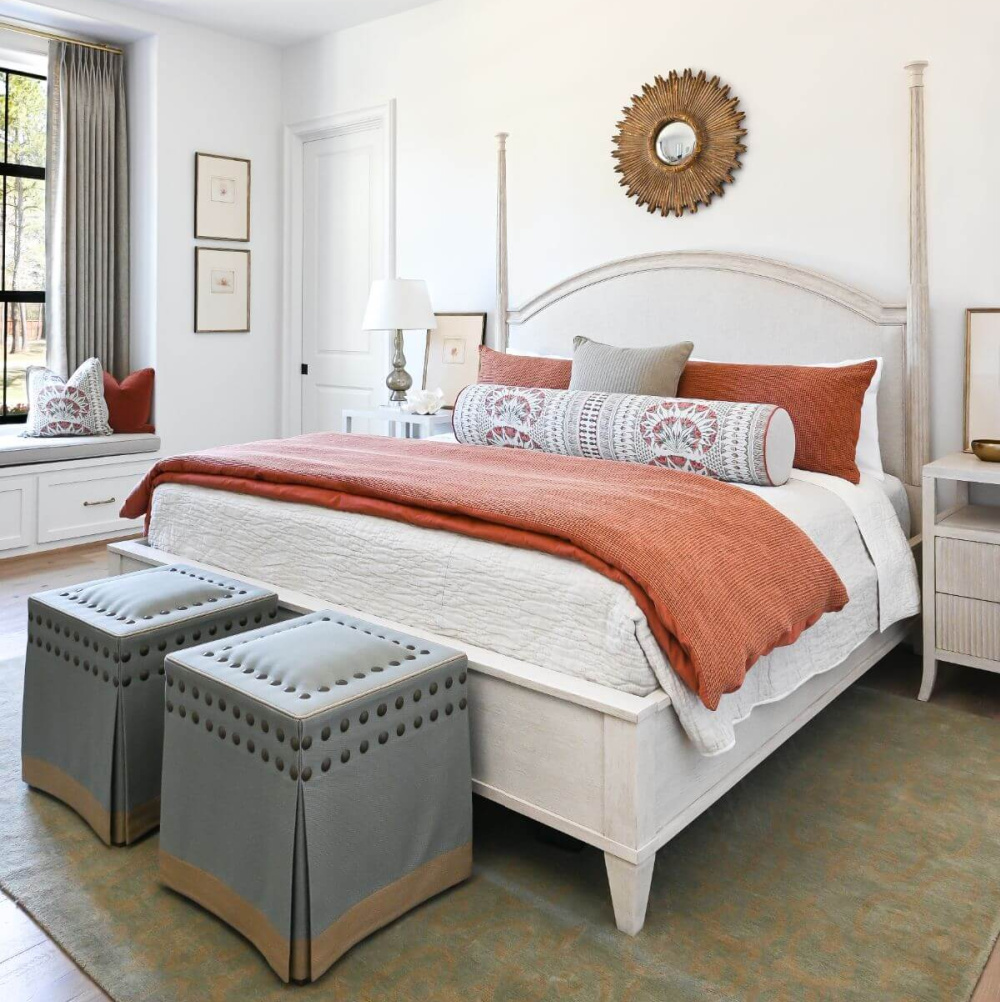 The poster bed's curved back softens everything and feels light with its delicate lines and pale color.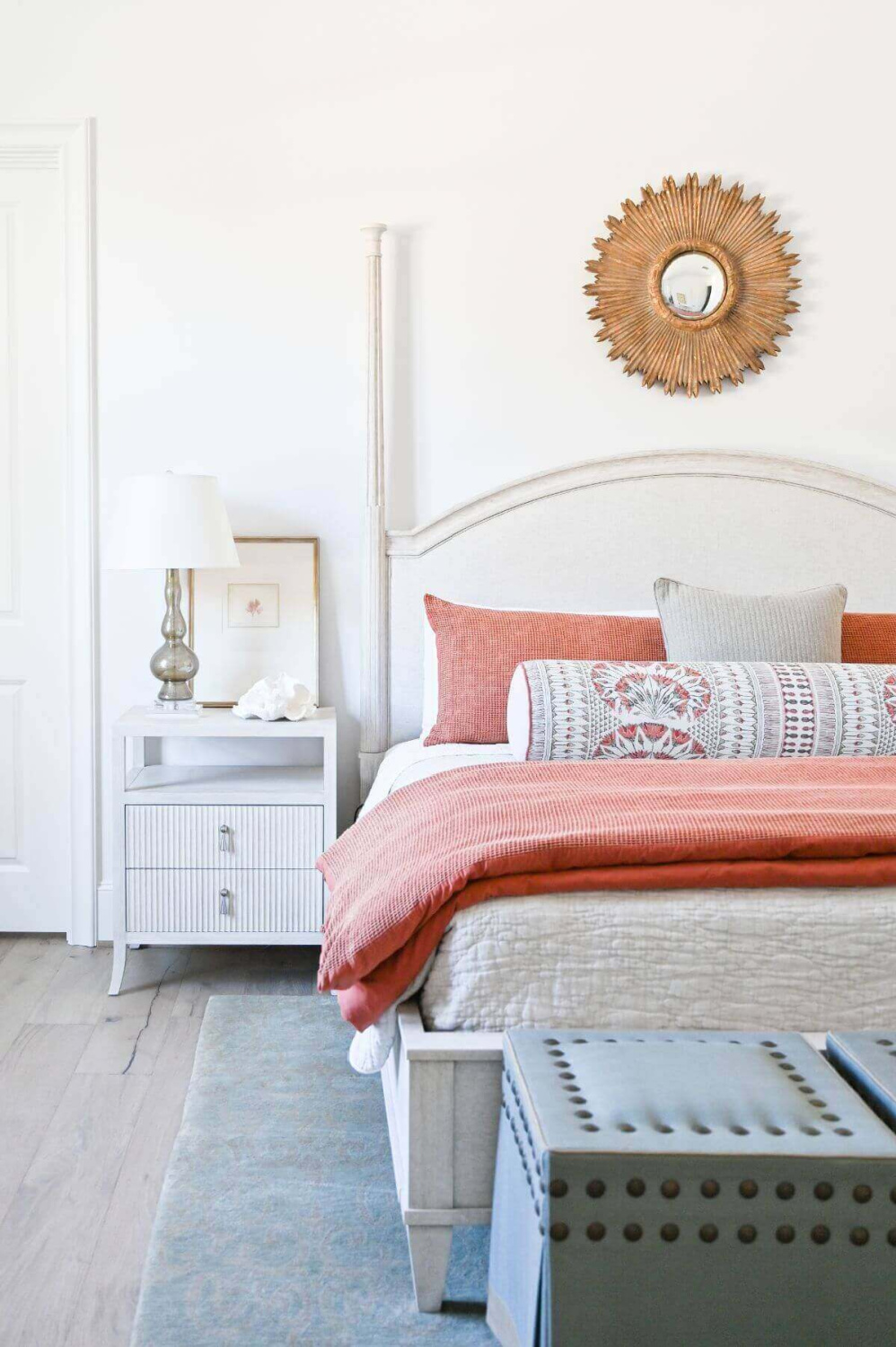 One might expect to see an accent paint color behind the pale bed, yet the absence of color contributes to a restful mood.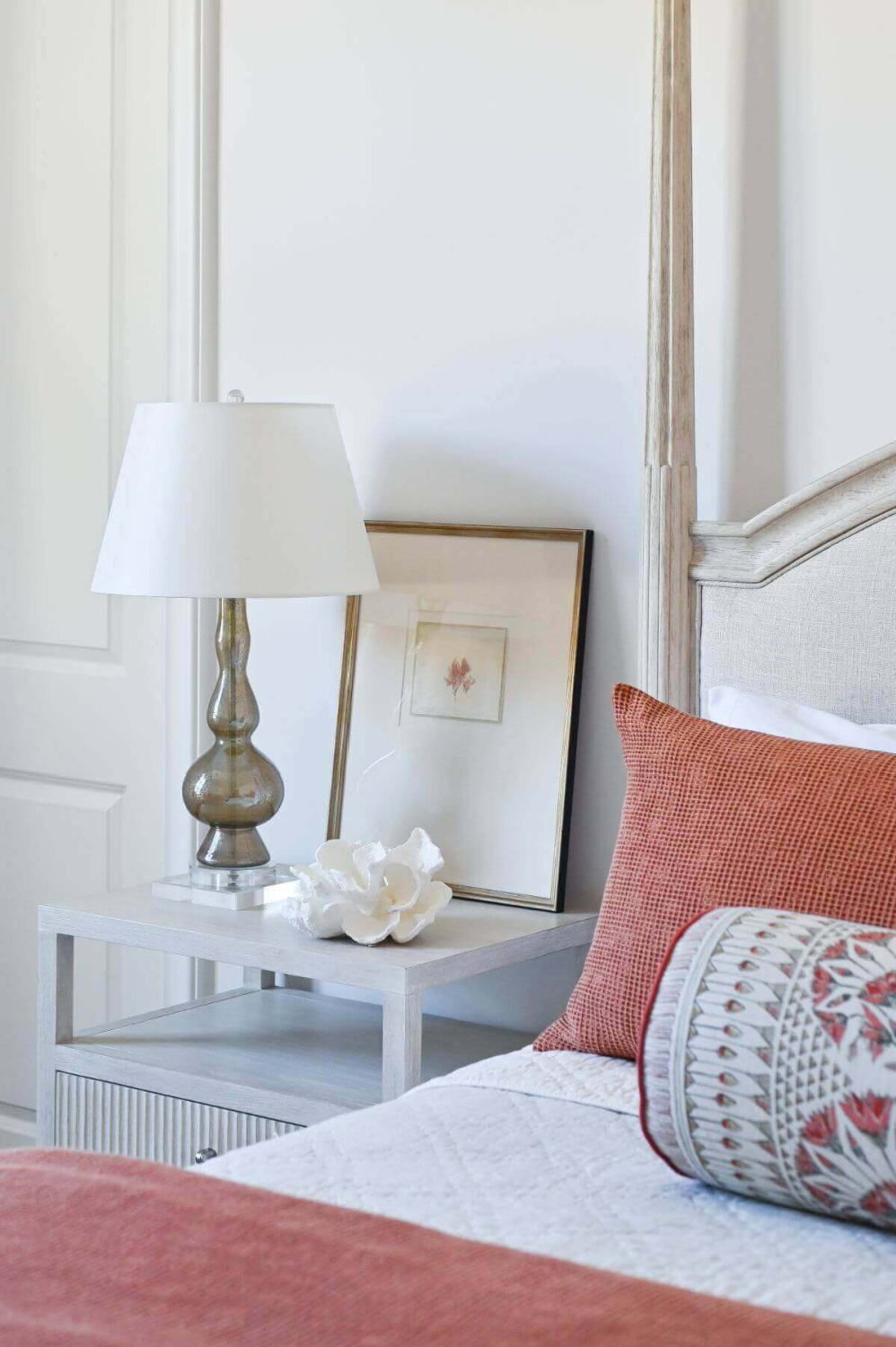 Touches of warm gold in the sunburst and framed art bedside glow.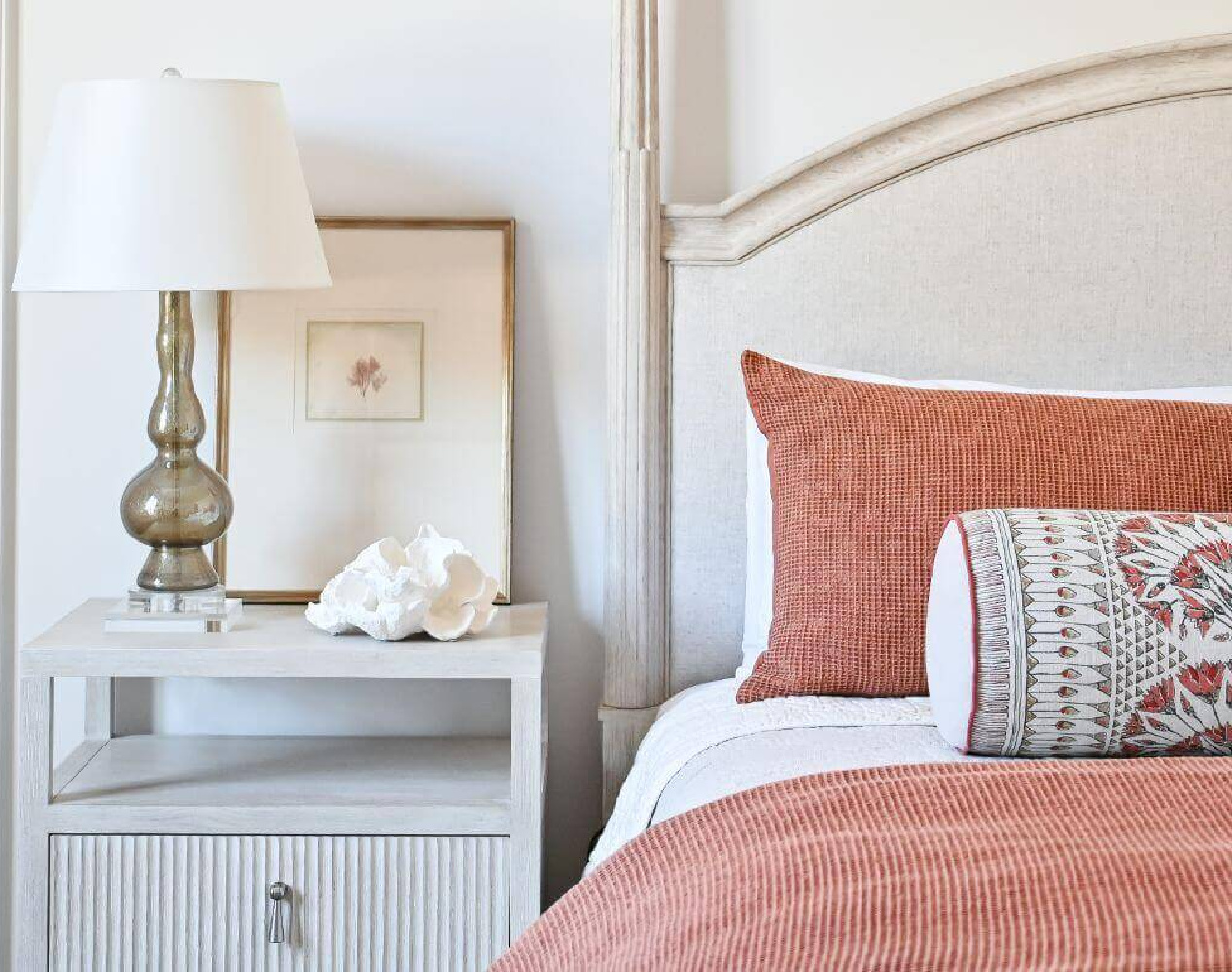 Isn't the fluted detail on the table magic? Hmmmm. What am I lounging around in within this home?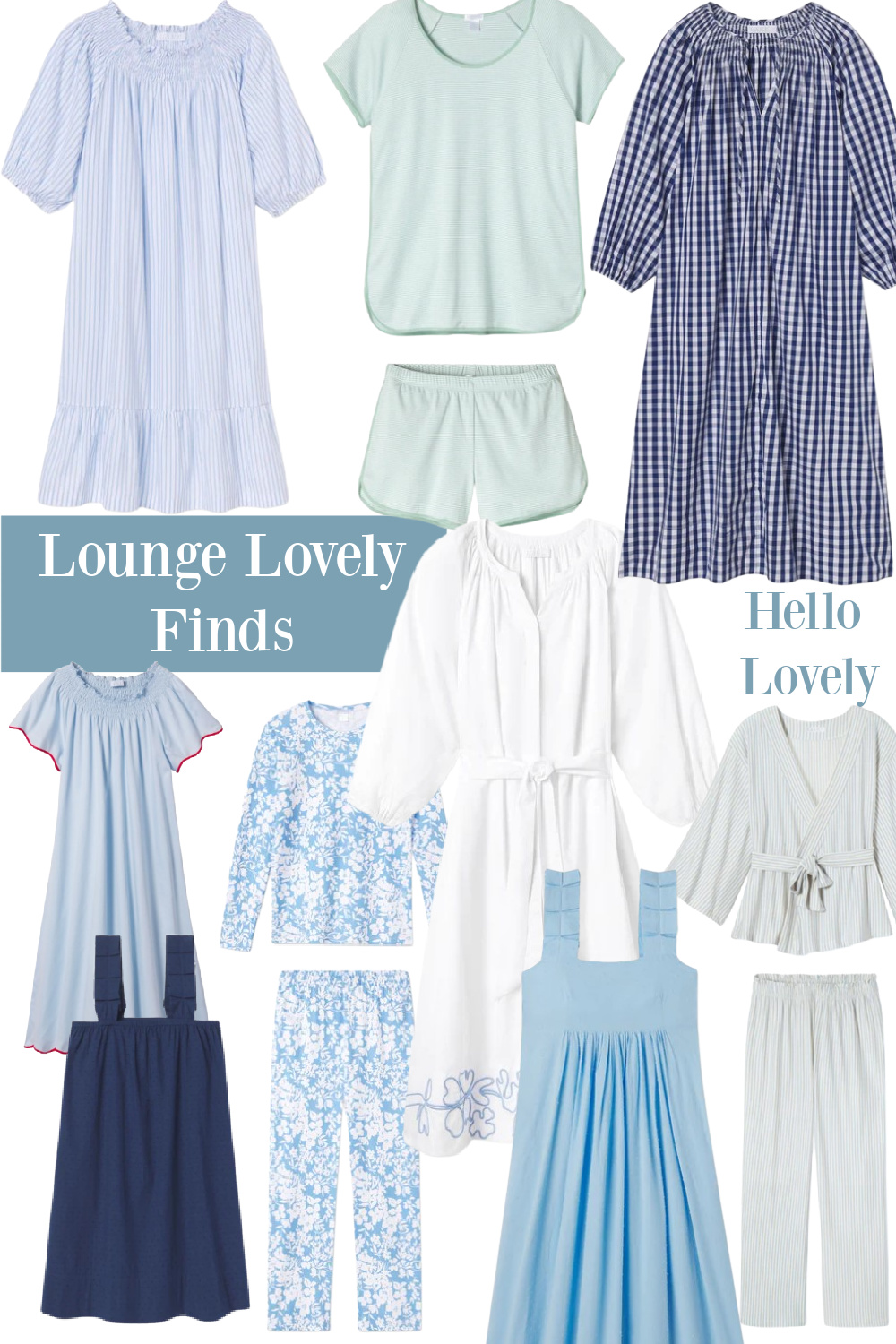 White, Grey & Gold in a Bathroom
Oh so pretty!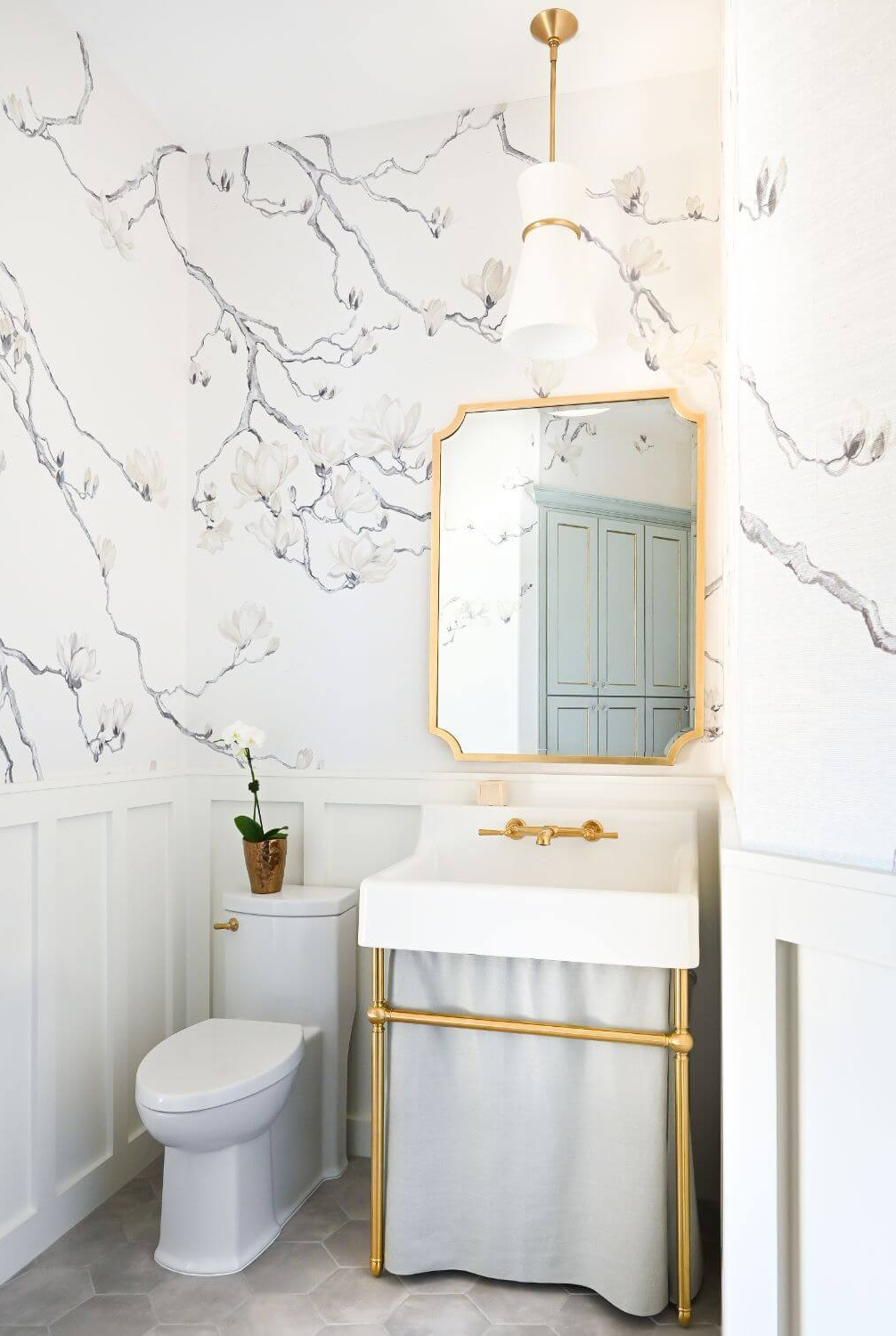 You don't often see a console sink with pretty gold legs dressed this way everyday!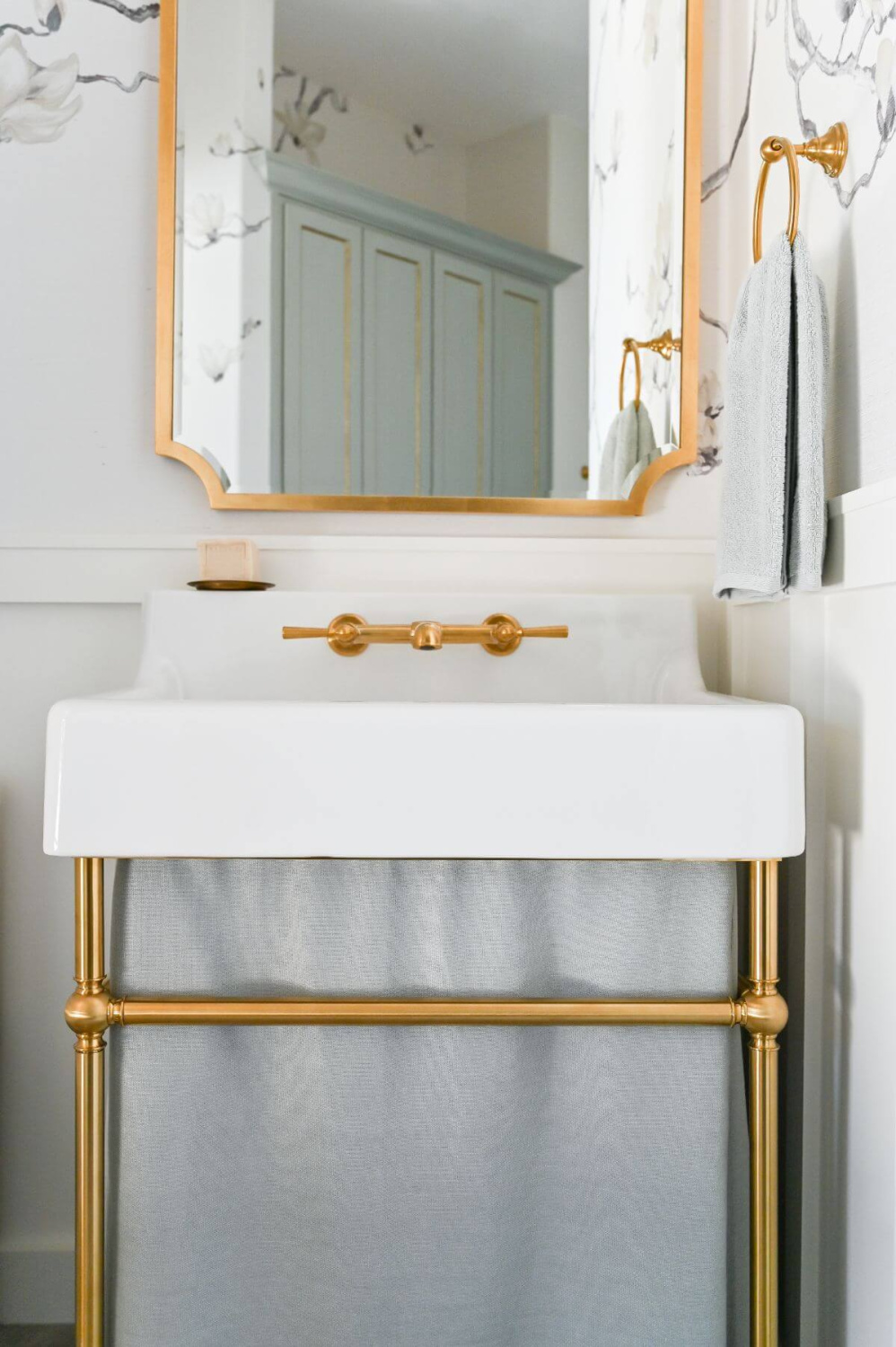 Even a simple block of French soap can Frenchify a bath!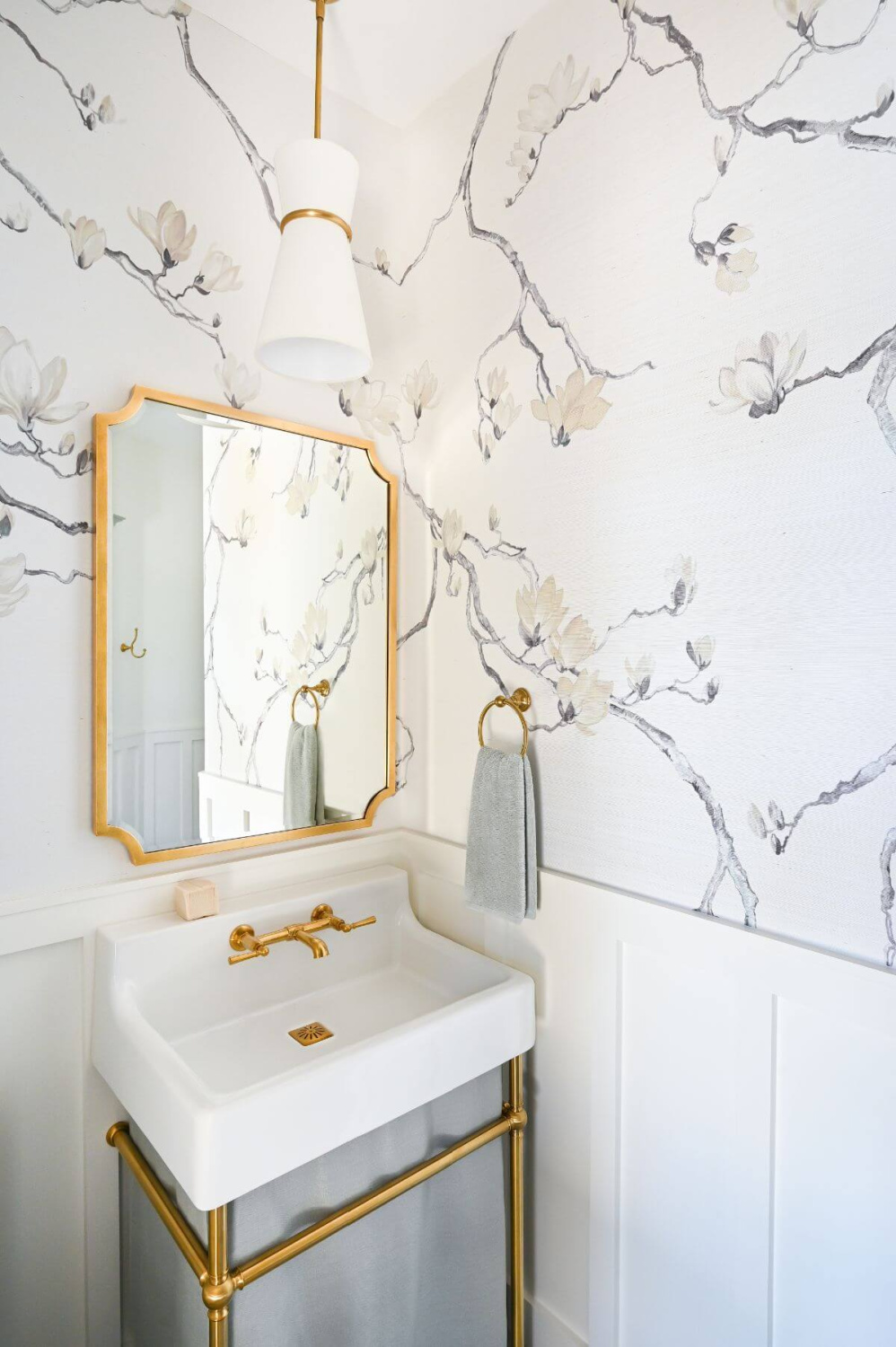 Details like wainscot and paneling in a bath are best planned at the design stage or beginning of renovation plans. Have any bath remodeling in your future?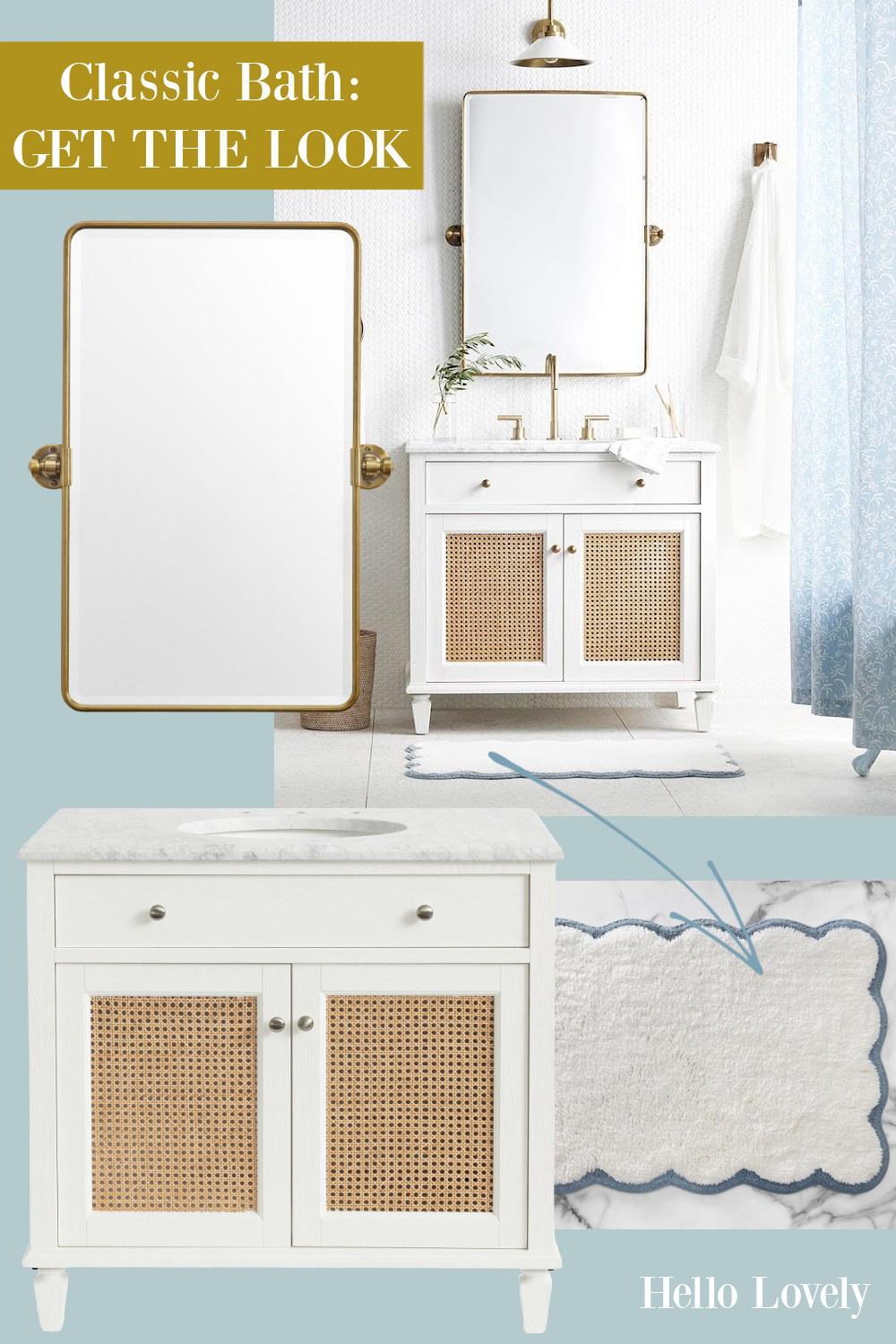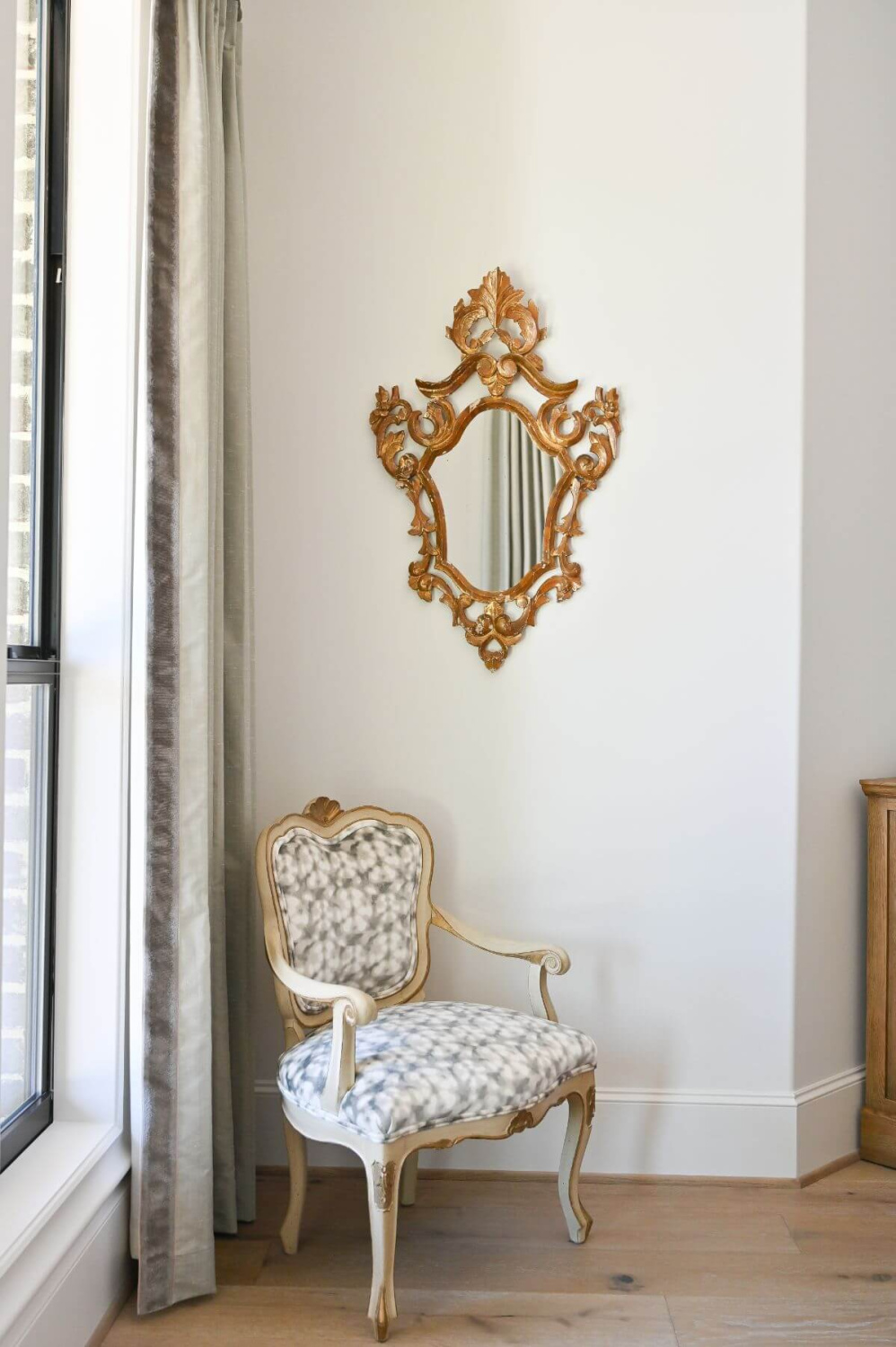 Because take it from me–you don't want to extract plumbing fixtures to add the pretty things afterward!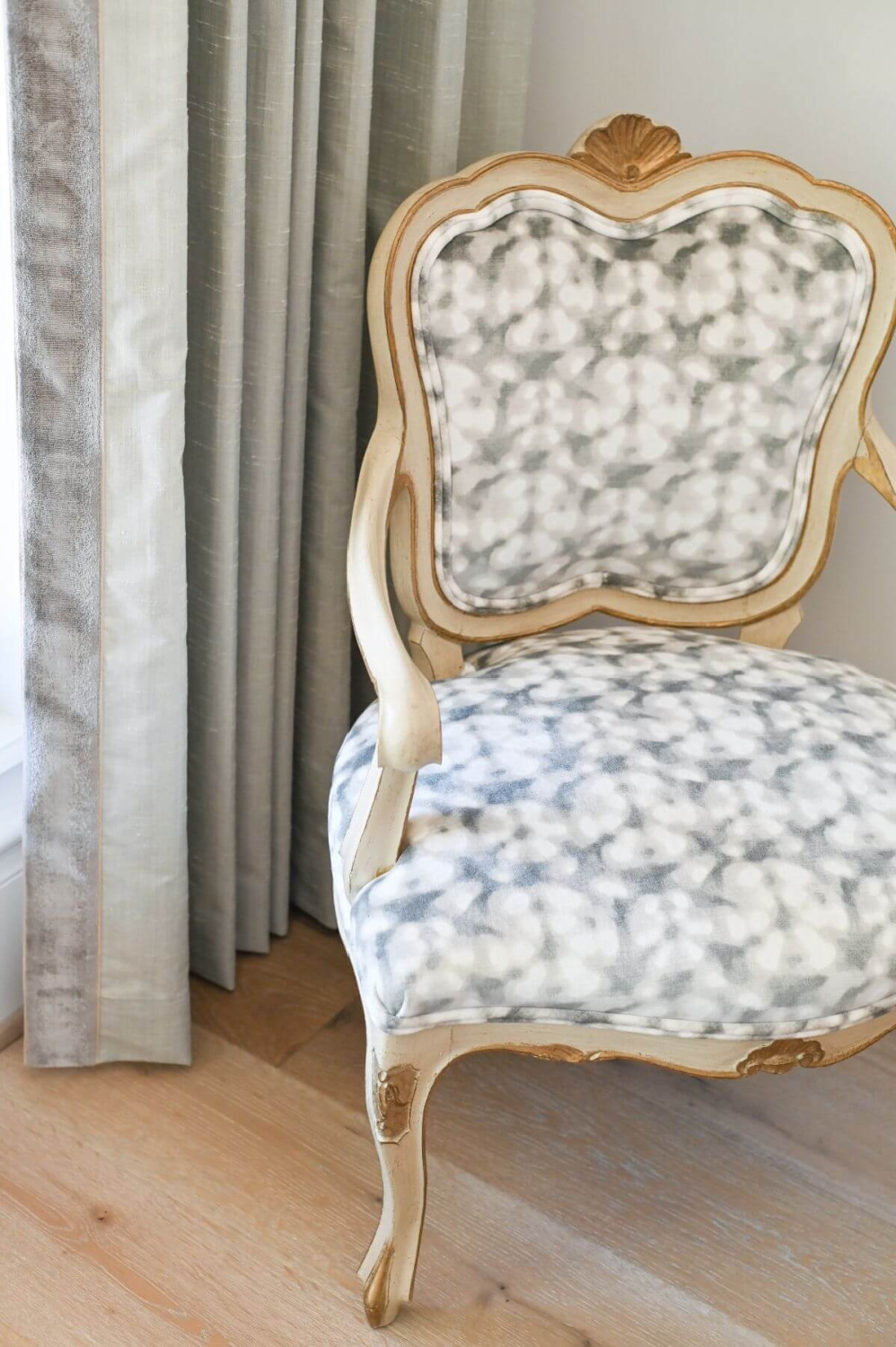 It's fun to see a fresh fabric like this (is it a Batik style?) on an Old World style French chair (above).
Hope you found inspiration and ideas to tuck away. If you love this home, you may also appreciate THIS.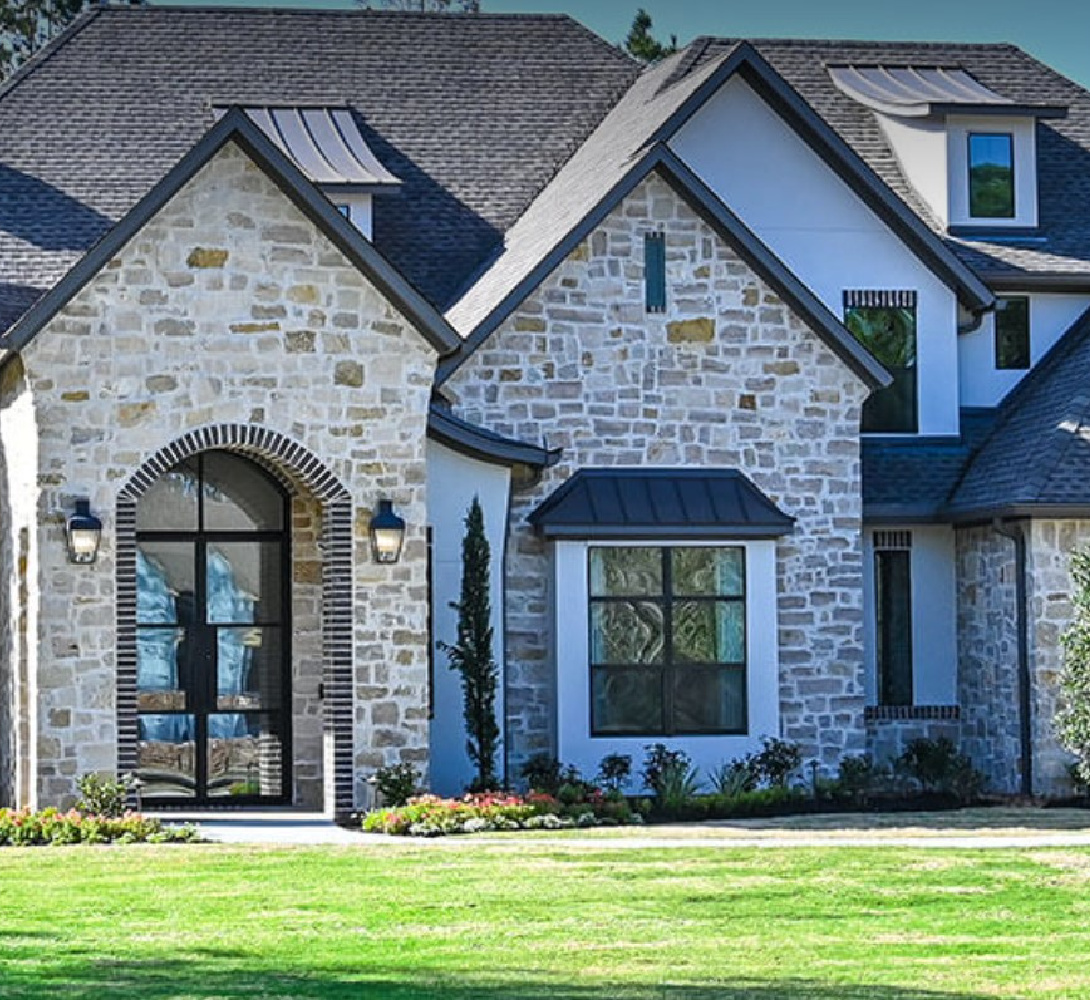 And I hope this finds you calmly collecting decorating inspiration and enjoying sunshine as opposed to melting in record high temperatures.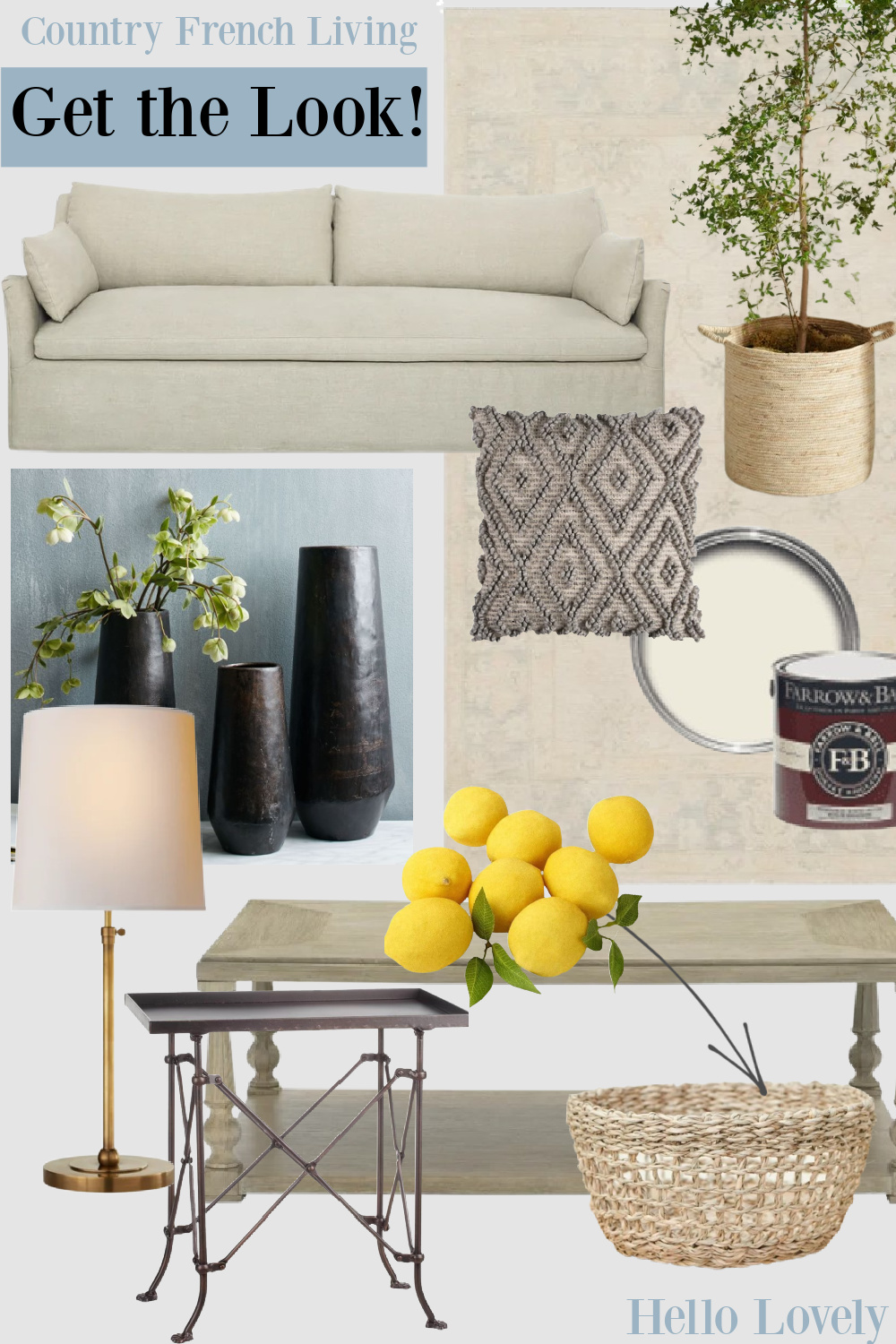 Touring beautiful homes and chatting with you online is a sweet refuge and escape from other worries that arise from daily living with autoimmune issues and struggles.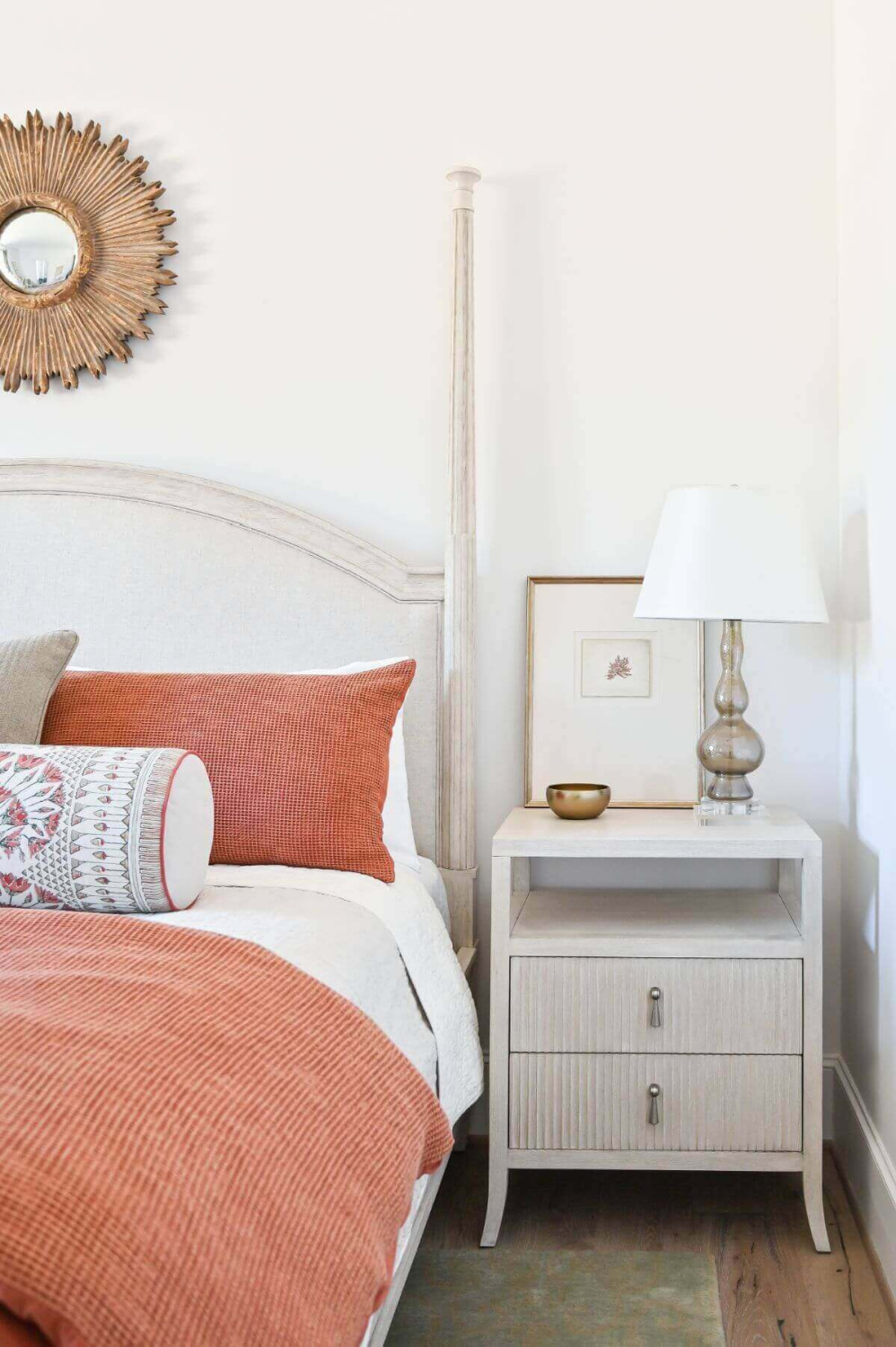 Thank you for keeping me company on the journey.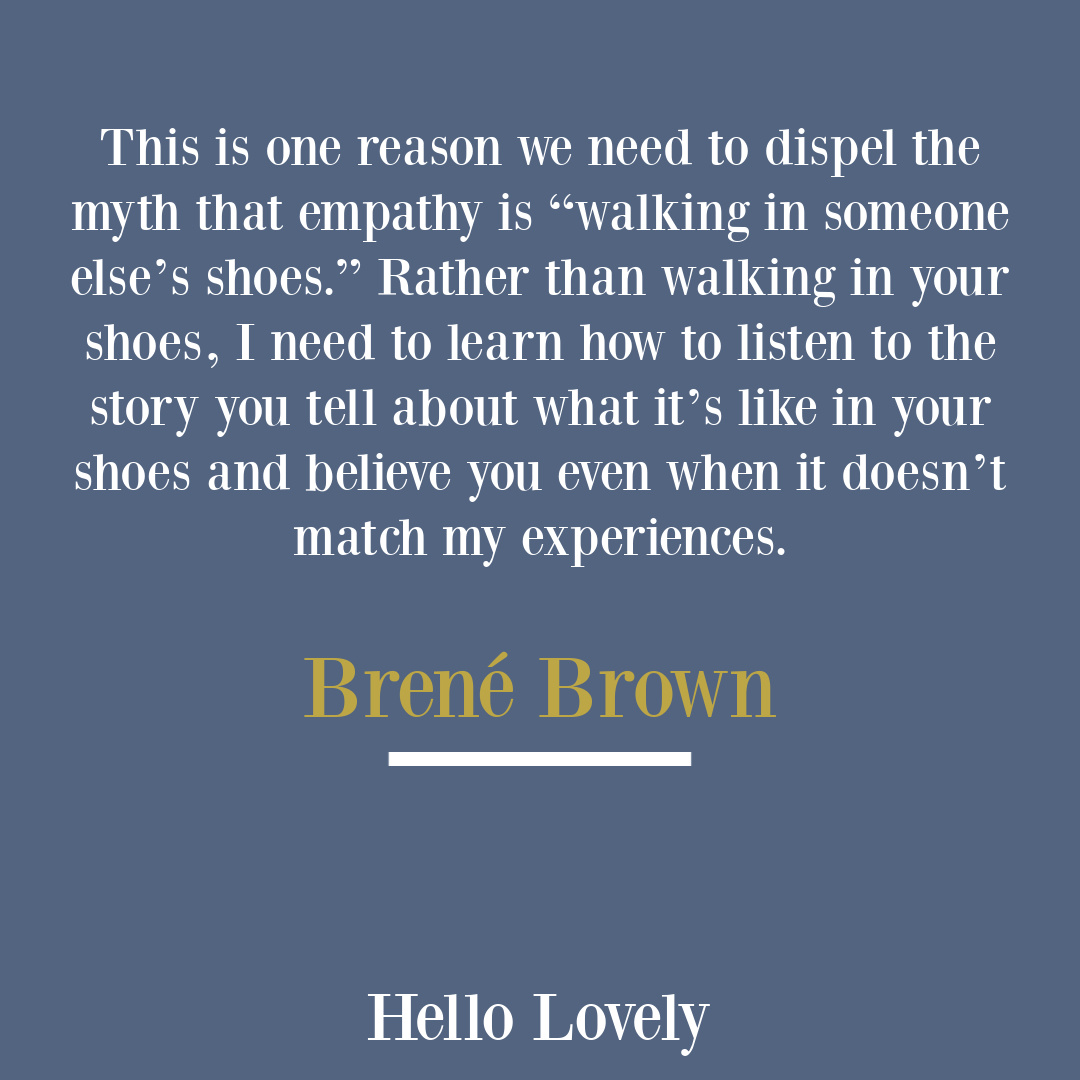 I independently selected products in this post—if you buy from one of my links, I may earn a commission.
Peace to you right where you are.
-michele
Thanks for shopping RIGHT HERE to keep decor inspiration flowing on Hello Lovely!
Hello Lovely is a participant in the Amazon Services LLC Associates Program, an affiliate advertising program designed to provide a means for sites to earn fees by linking to Amazon.com and affiliated sites.