With so much AI everywhere in imagery online, it is getting more difficult to distinguish interiors that are simply generated/virtually staged/completely artificial and the real thing! swoon/pass out!) as you enjoy this A San Francisco Fantasy Home Francophiles Will Love is decidedly over the top yet still retains inspiration to for emulating the vibe in a non-fantasy home. This Parisian mansion is on the market and was reduced to $15.9 million (offered by Sotheby's HERE) if you must have it. 8,650 square feet of Parisian luxury will inspire today's furniture ideas, finish details and color story.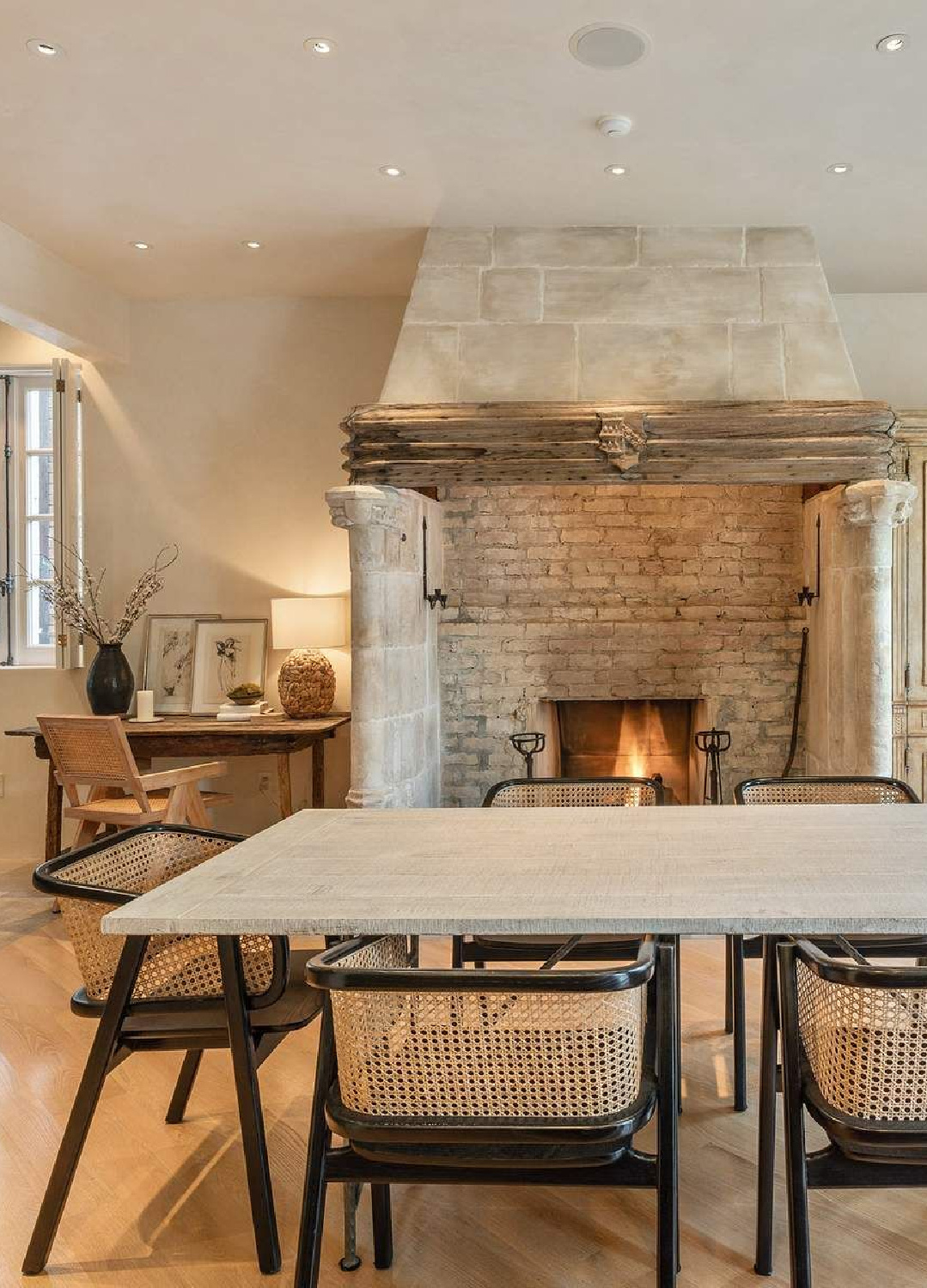 Photos: Sotheby's
Parisian Mansion Tour & Surprising Ideas to Score the Look
This amazing Old World style building that looks like something straight out of Paris is actually in Pacific Heights! Ready to hear some of the details of this San Francisco beauty on the market?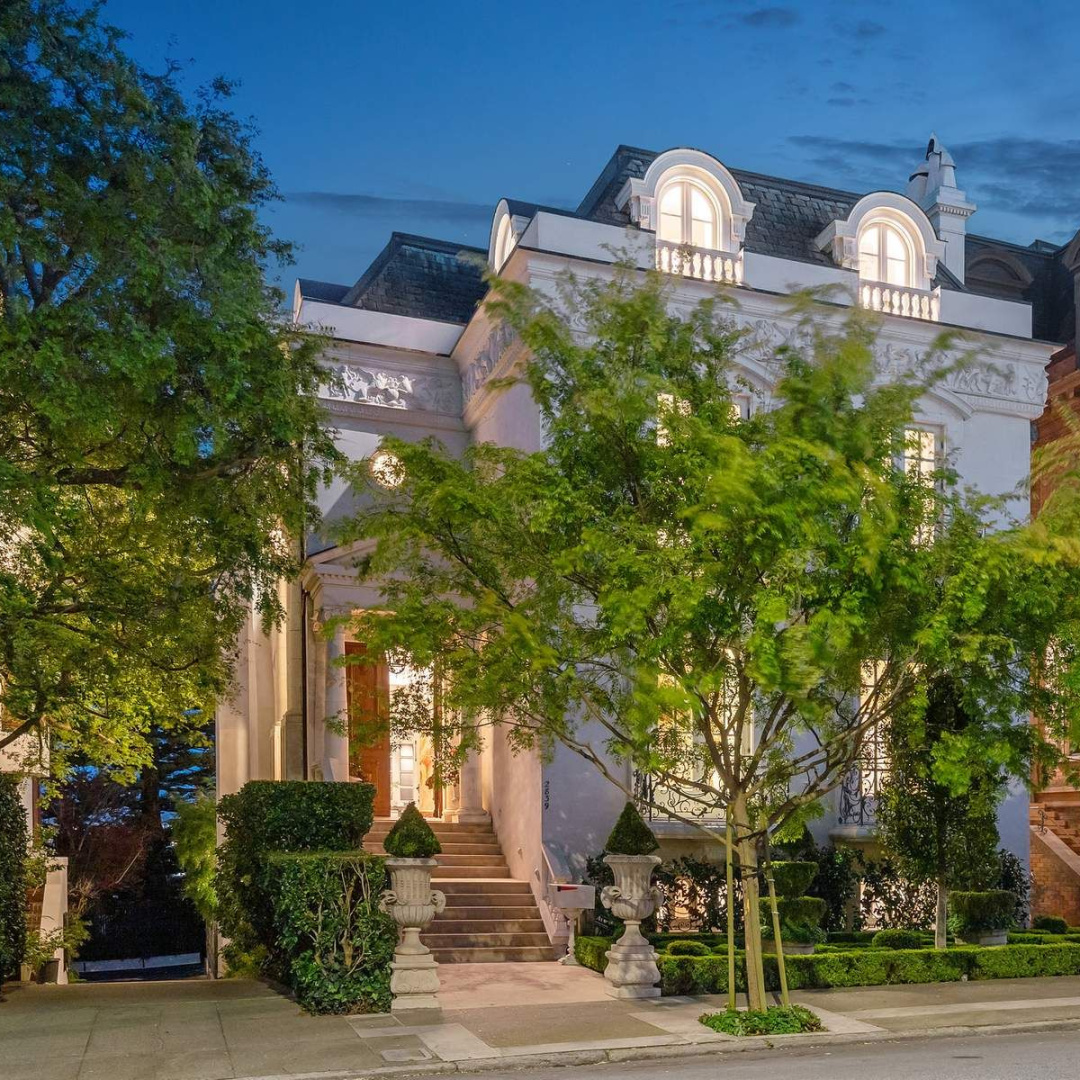 5 bedrooms and 5.5 baths are inside.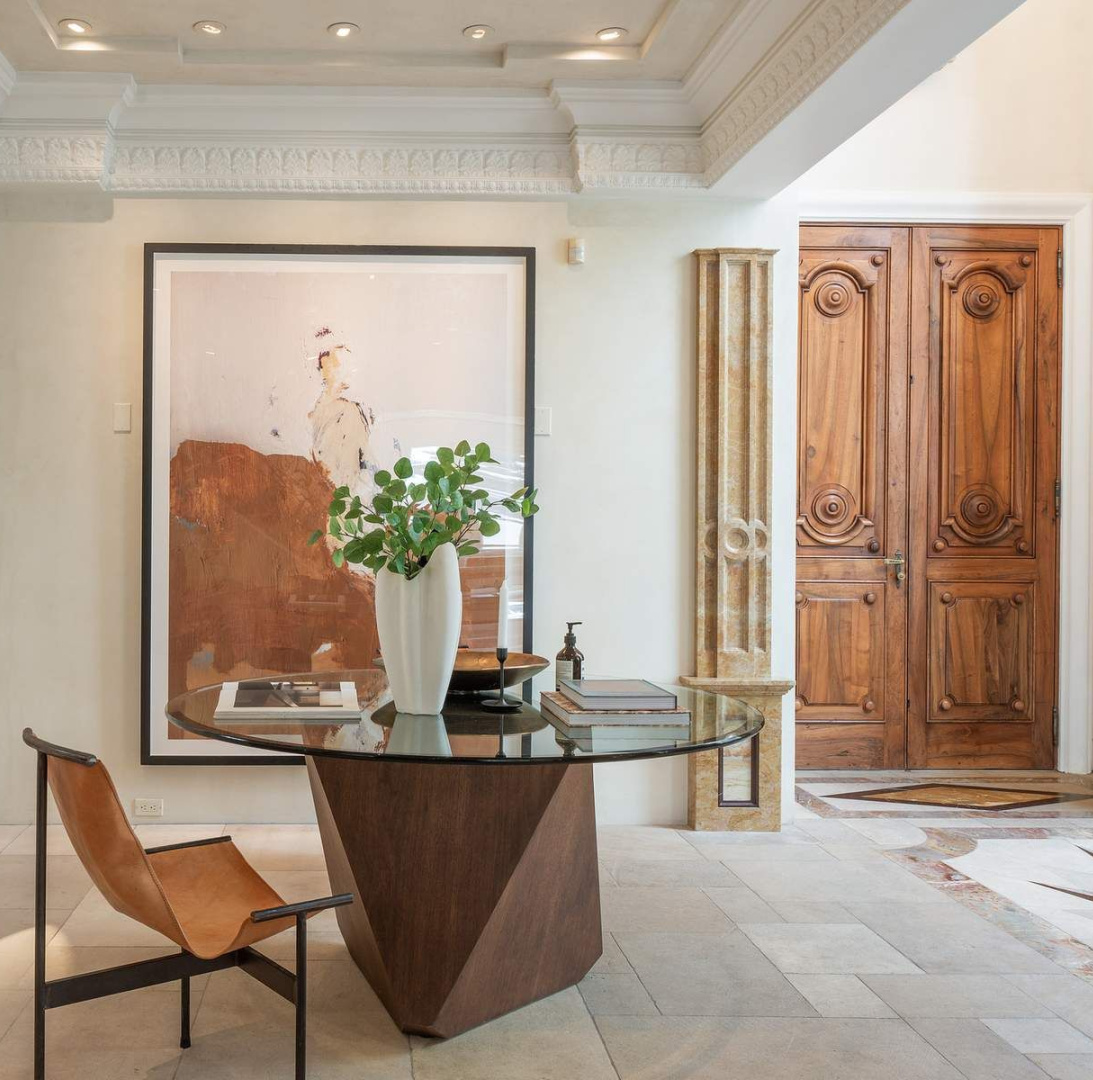 You'll also discover a gorgeously cozy chef's kitchen, 4 fireplaces (including a 16th century Renaissance-style showstopper), a grotto, a library, and beautiful stone and hardwood flooring.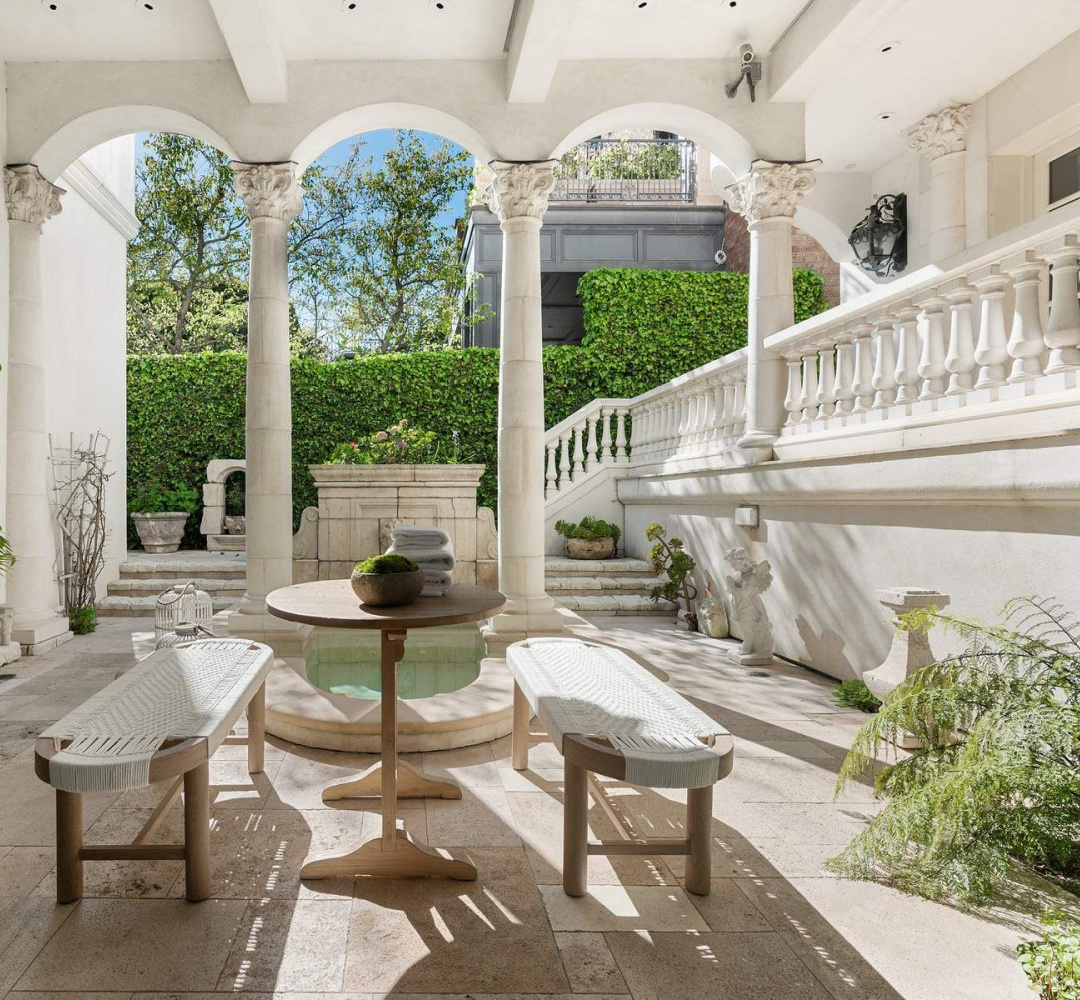 Sotheby's calls this Parisian style mansion "evocative of a Parisienne-style hôtel particulier."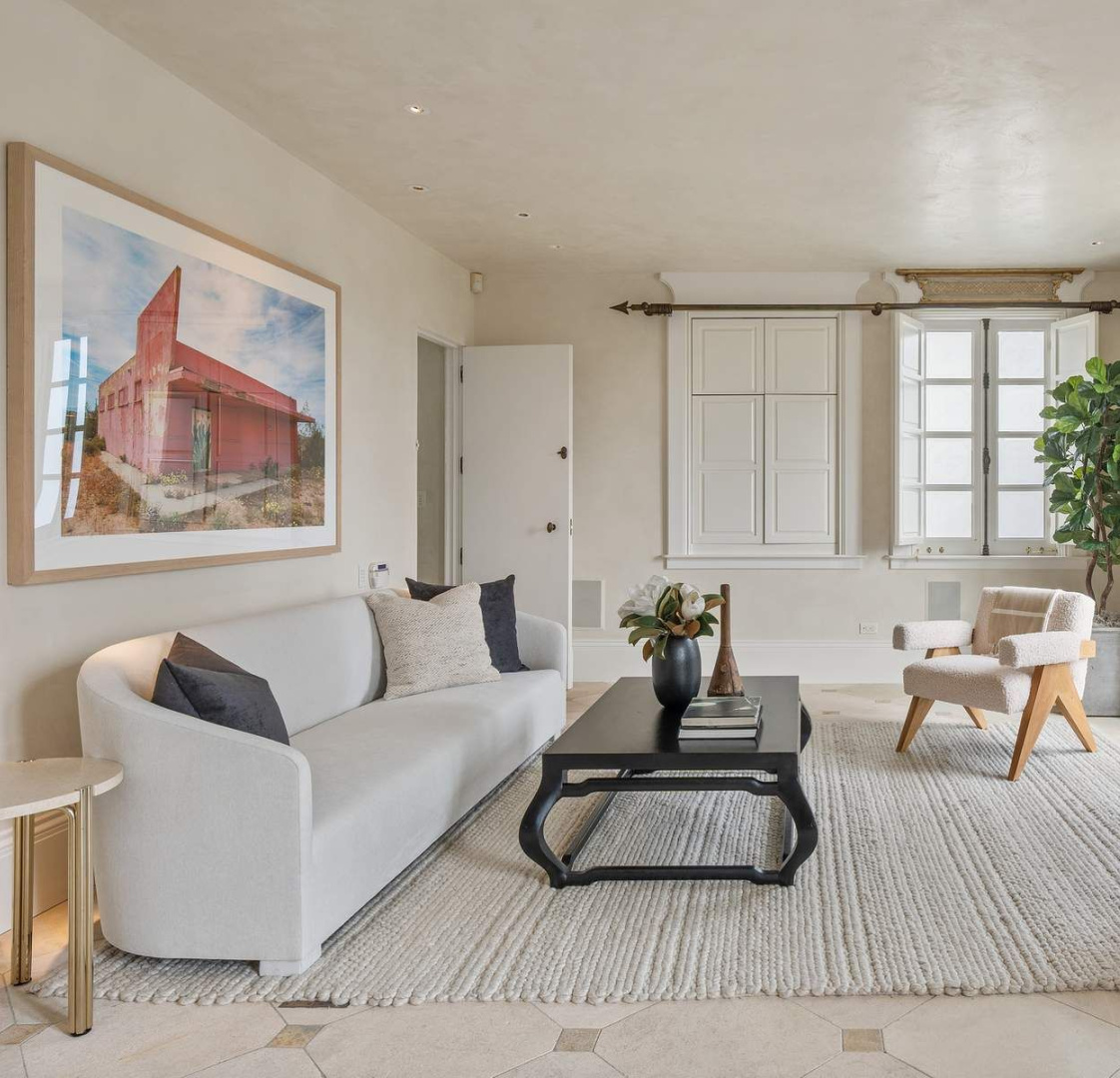 Are you familiar with the French hôtel particulier?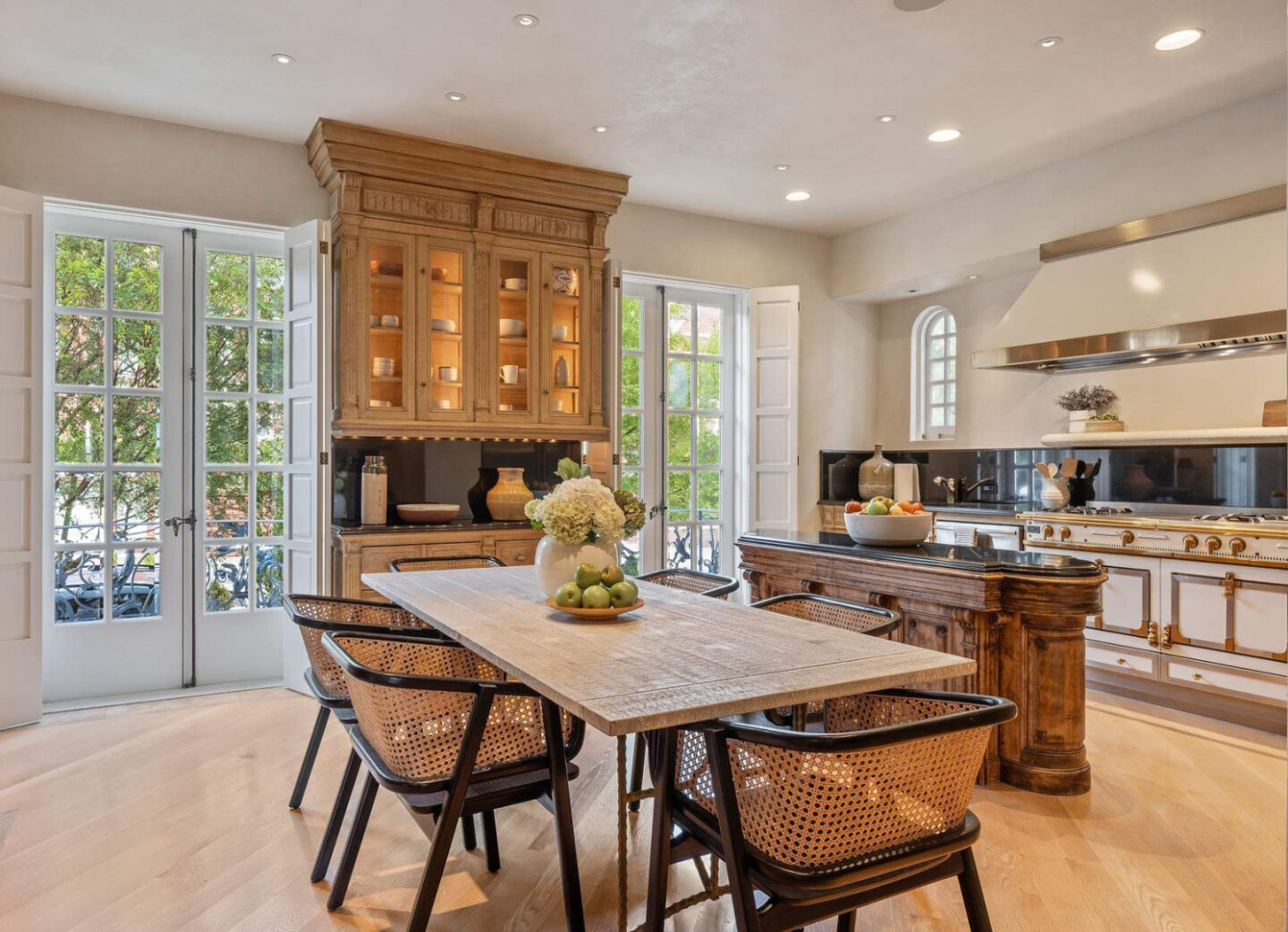 This description is actually spot on.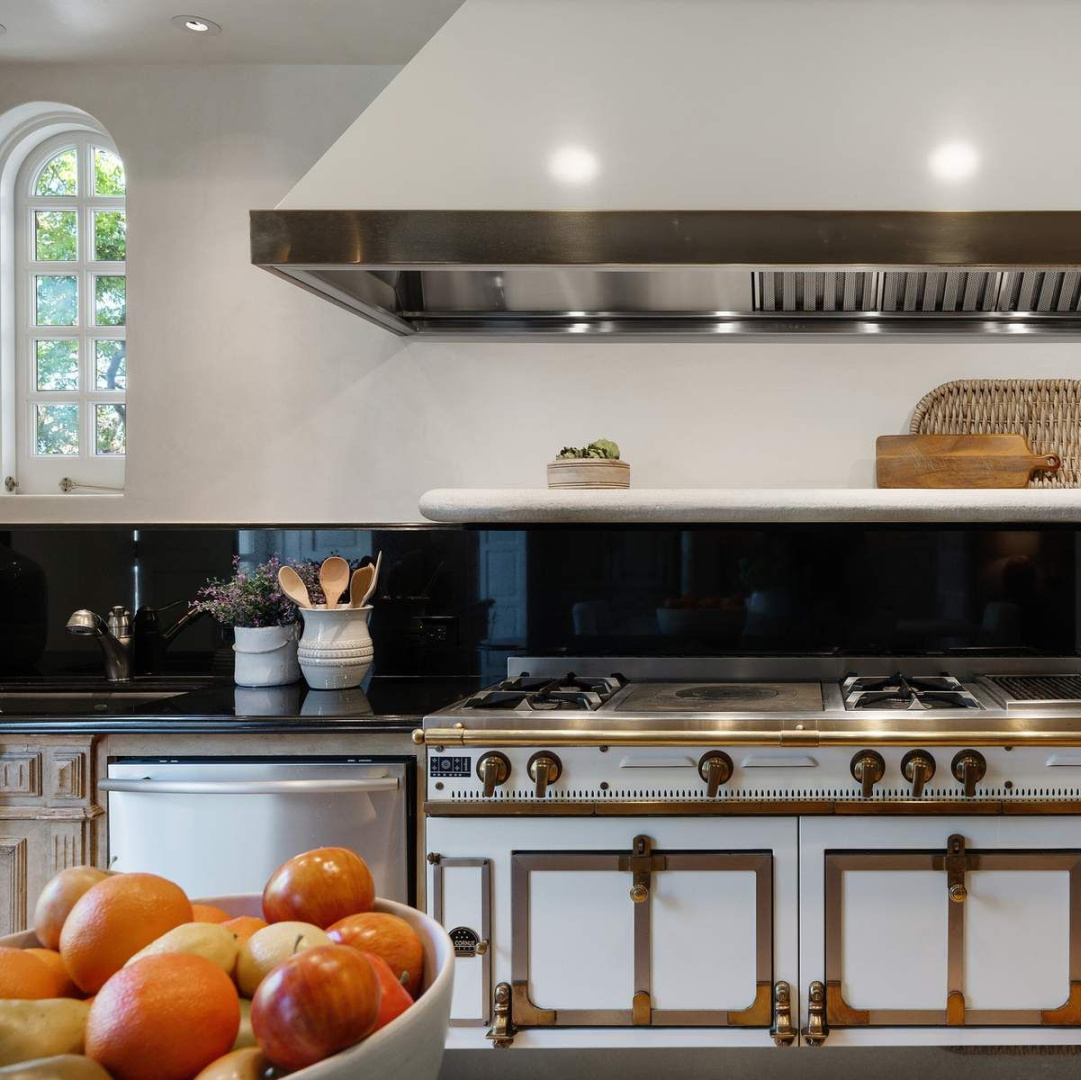 One of my favorite parts of our visit to Paris was touring hôtel particulier wonders!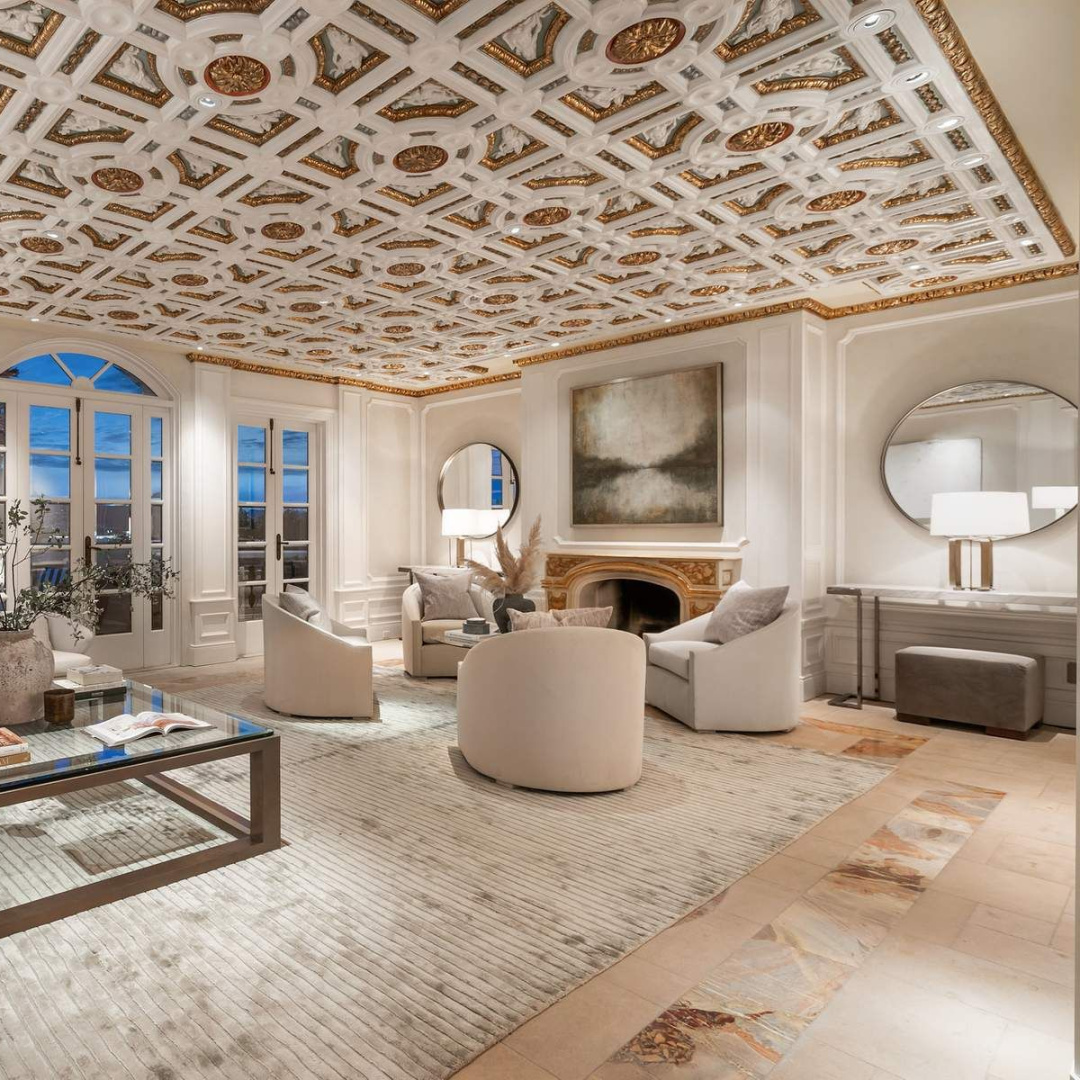 You may be wondering…is a hôtel particulier a hotel?
It's not a hotel, but rather refers to a grand mansion in the city.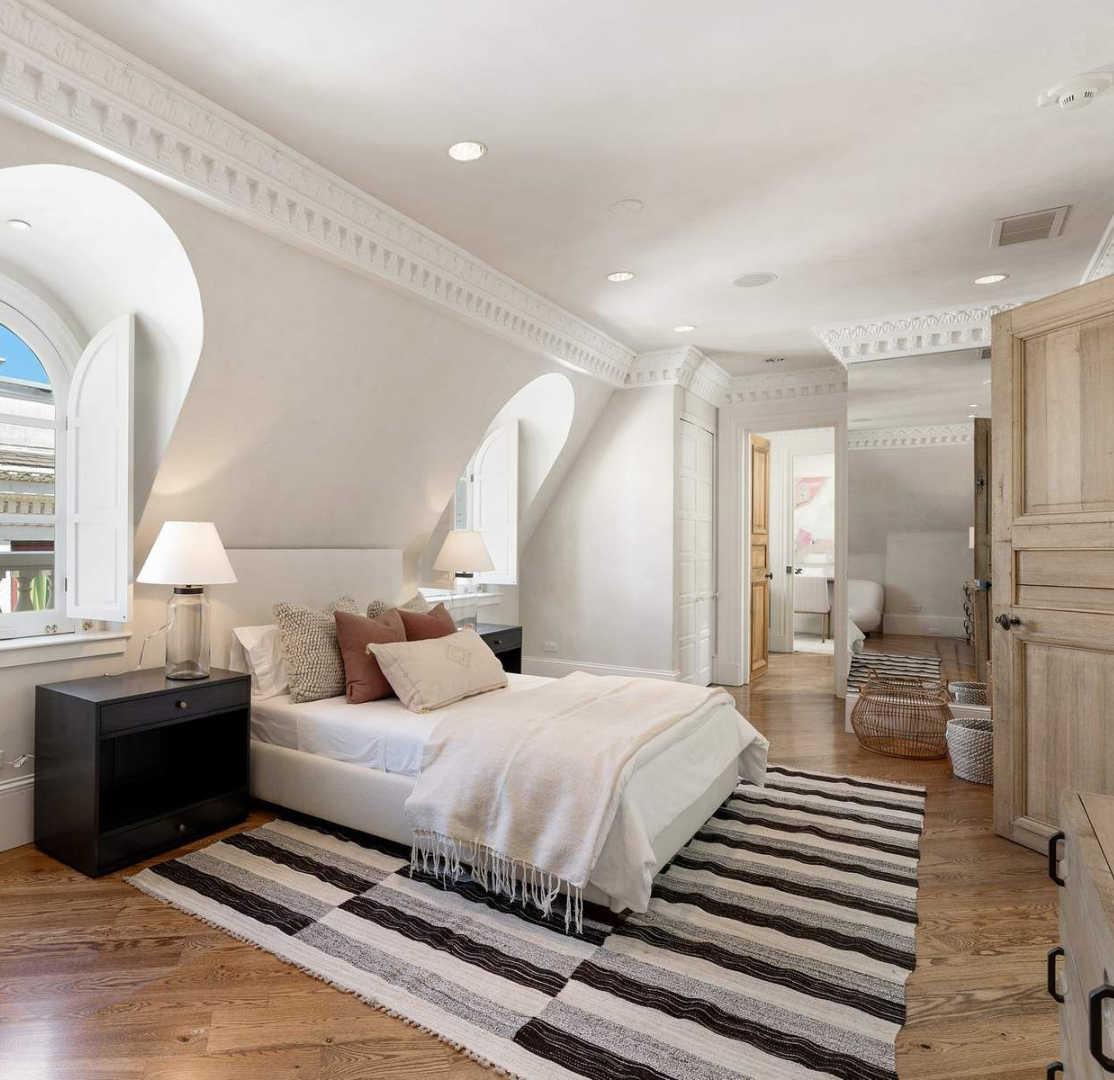 My favorite? Carnavalet which closed for five years of renovations shortly after I toured it. Five years!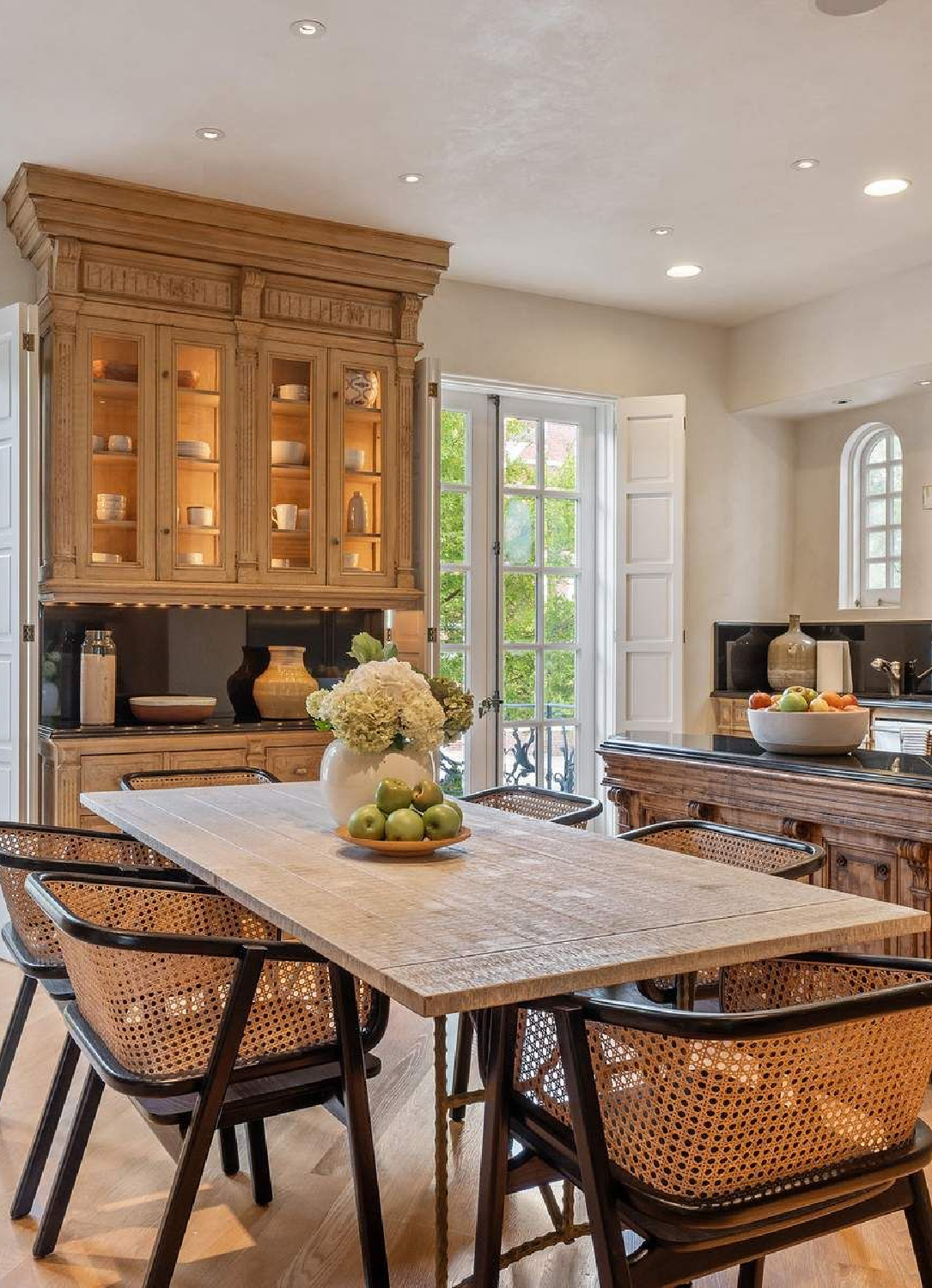 While these private manses certainly appear palatial to most of us, not all are palaces.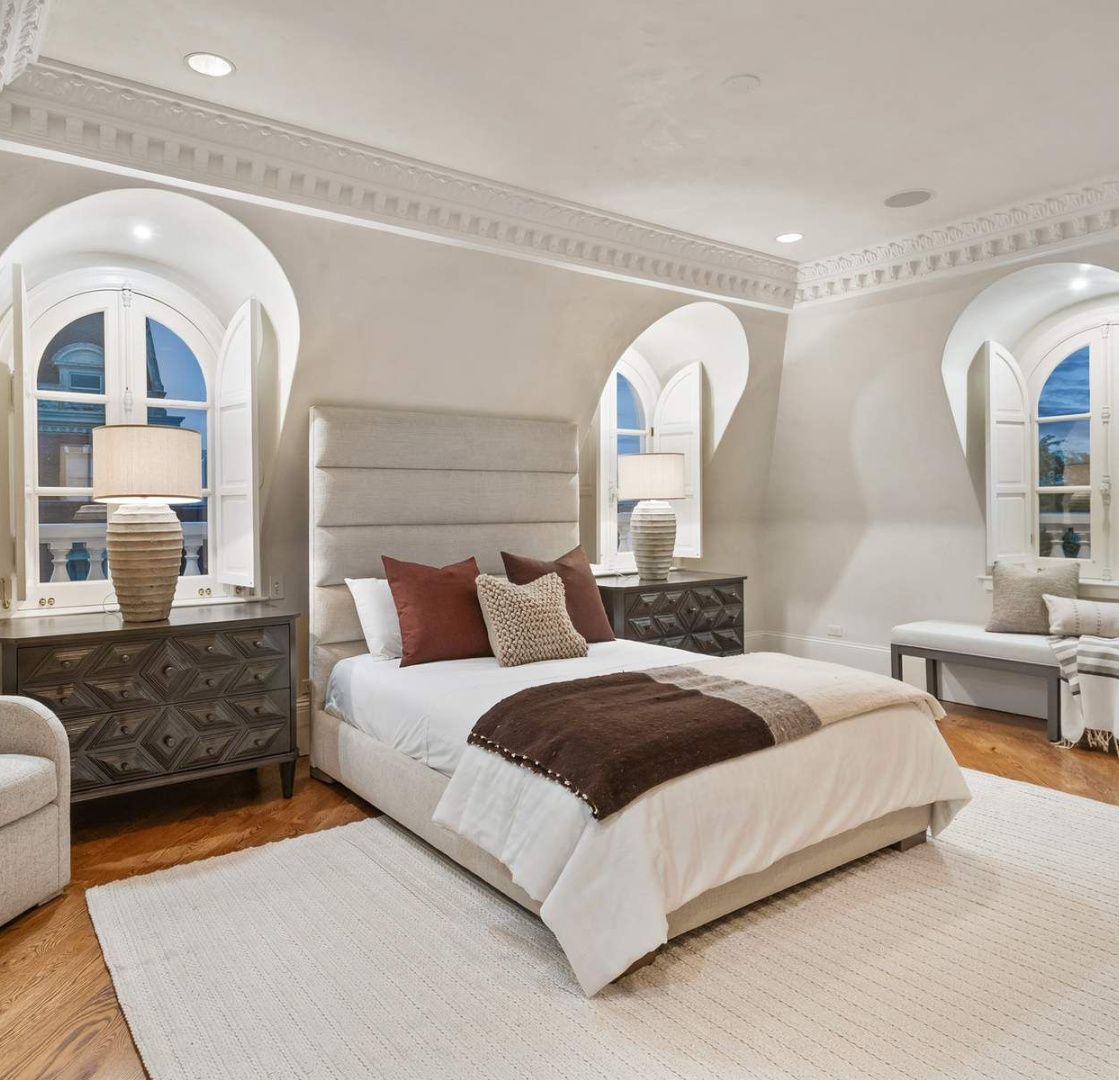 The term "hôtel" was defined by Catherinot as houses…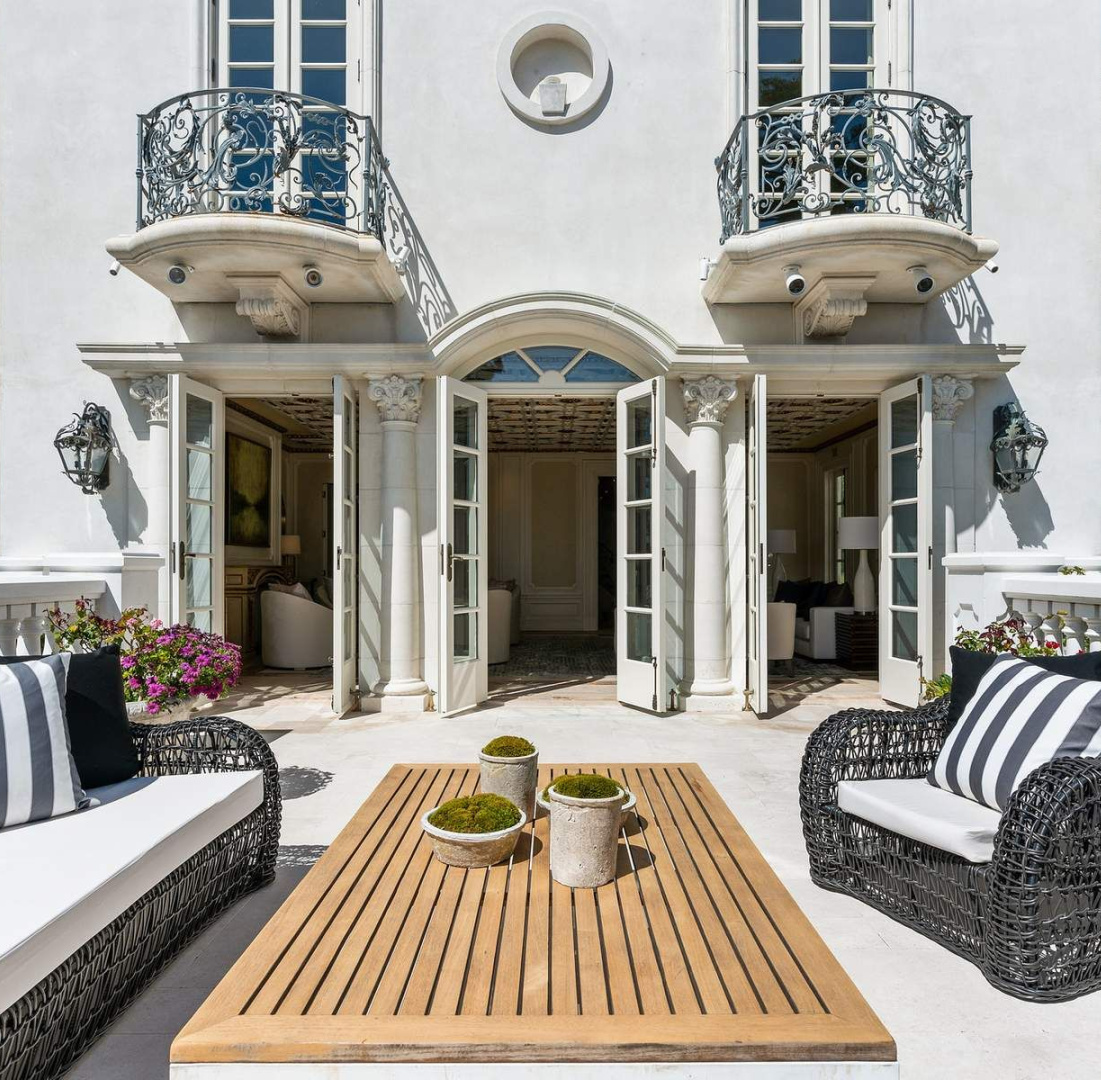 "…less beautiful than palaces and more beautiful than simple lodgings" in his Traité d'Architecture published in 1688." –UNTAPPED CITIES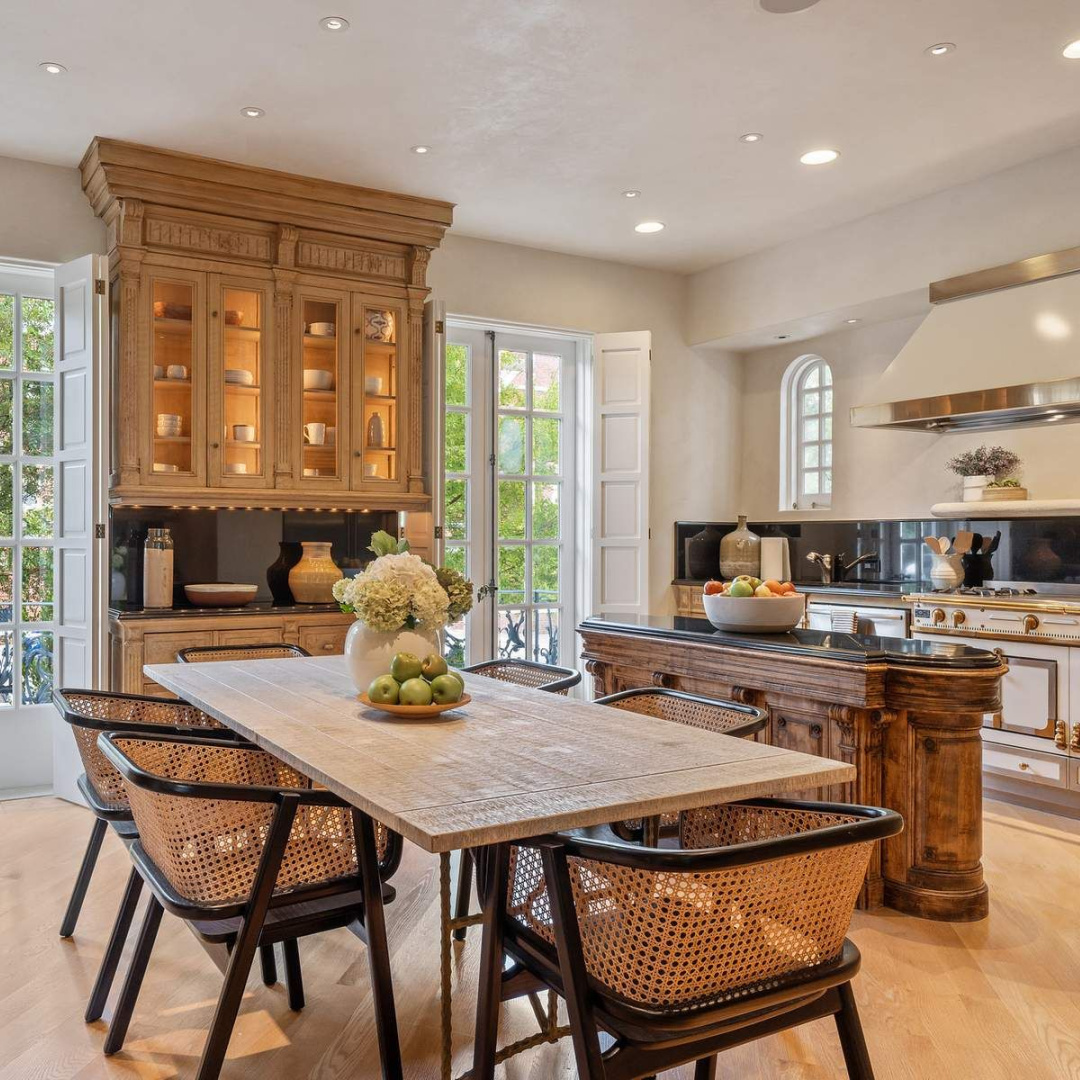 While this manse (2839 Pacific Avenue) has classic French architecture which is undeniably Old World, you'll find contemporary style inside that feels consistent with MODERN FRENCH style.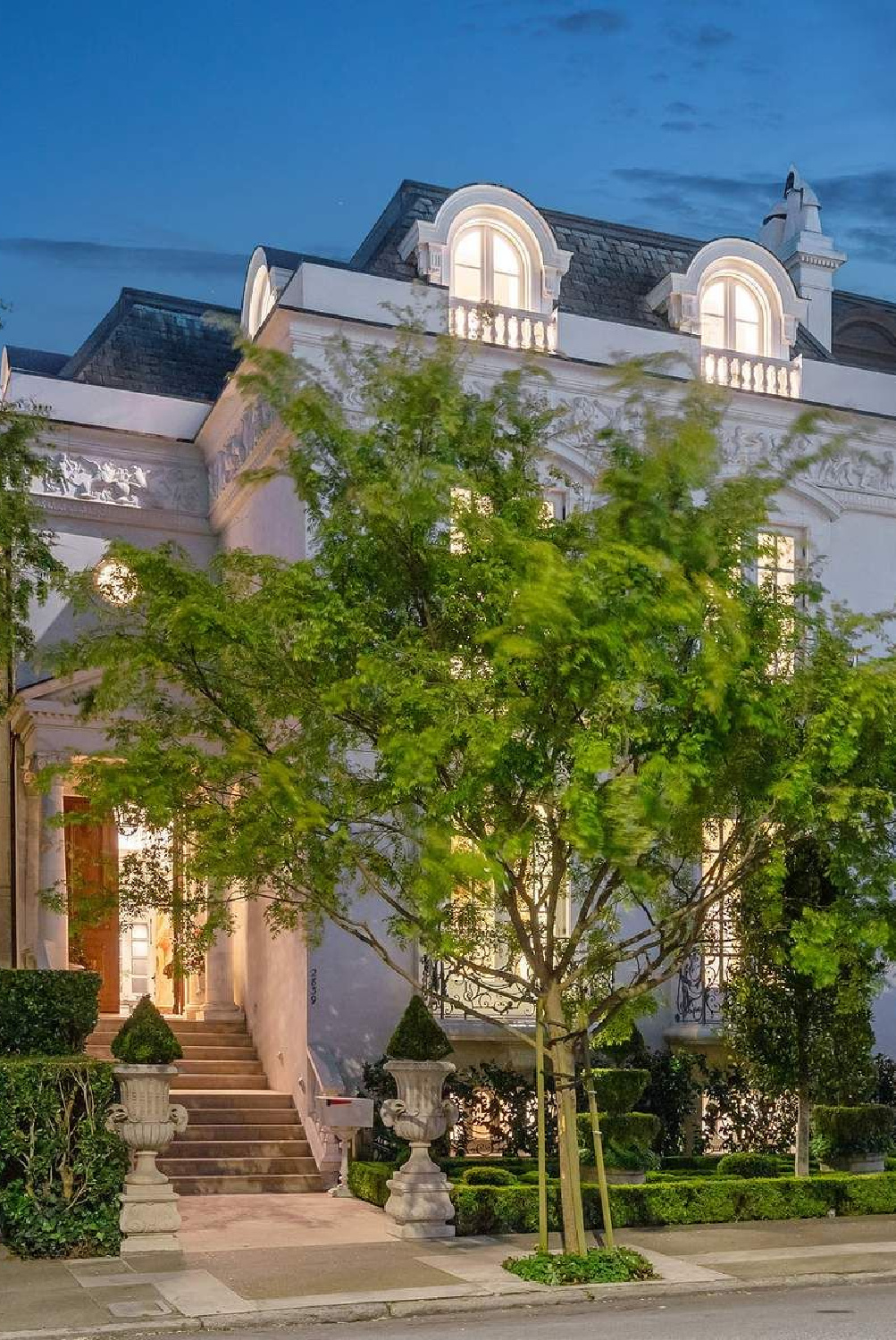 Yes, indeed, luxuriously grand just like the price tag.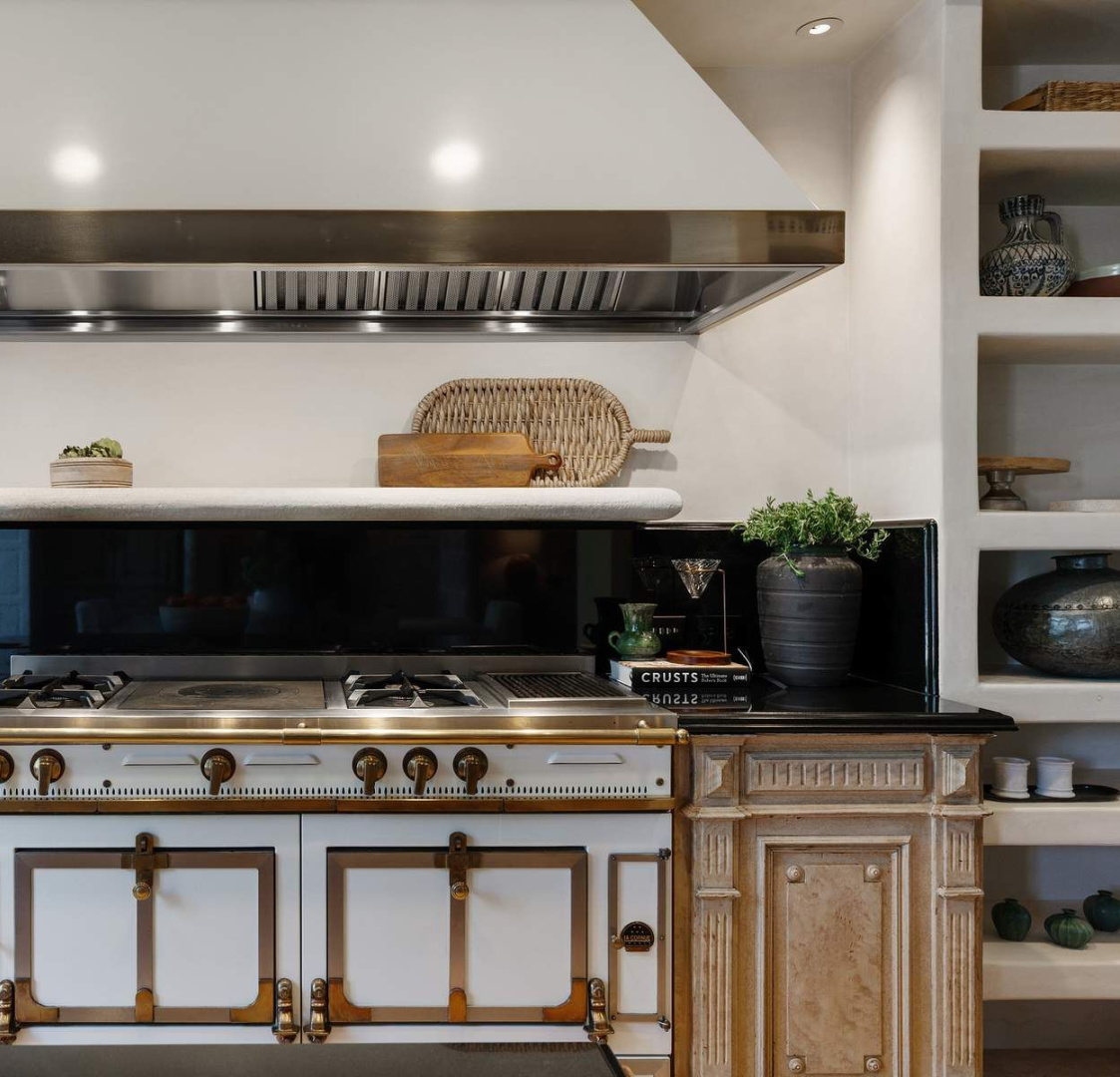 Doesn't it feel surprisingly comfy and livable inside? Neutral colors, spare furnishings, traditional appliances, and state-of-the-art technology juxtapose with ornate architecture and exterior formality.
A breathtaking, centuries old fireplace upstages everything including a gorgeous La Cornue range in the kitchen!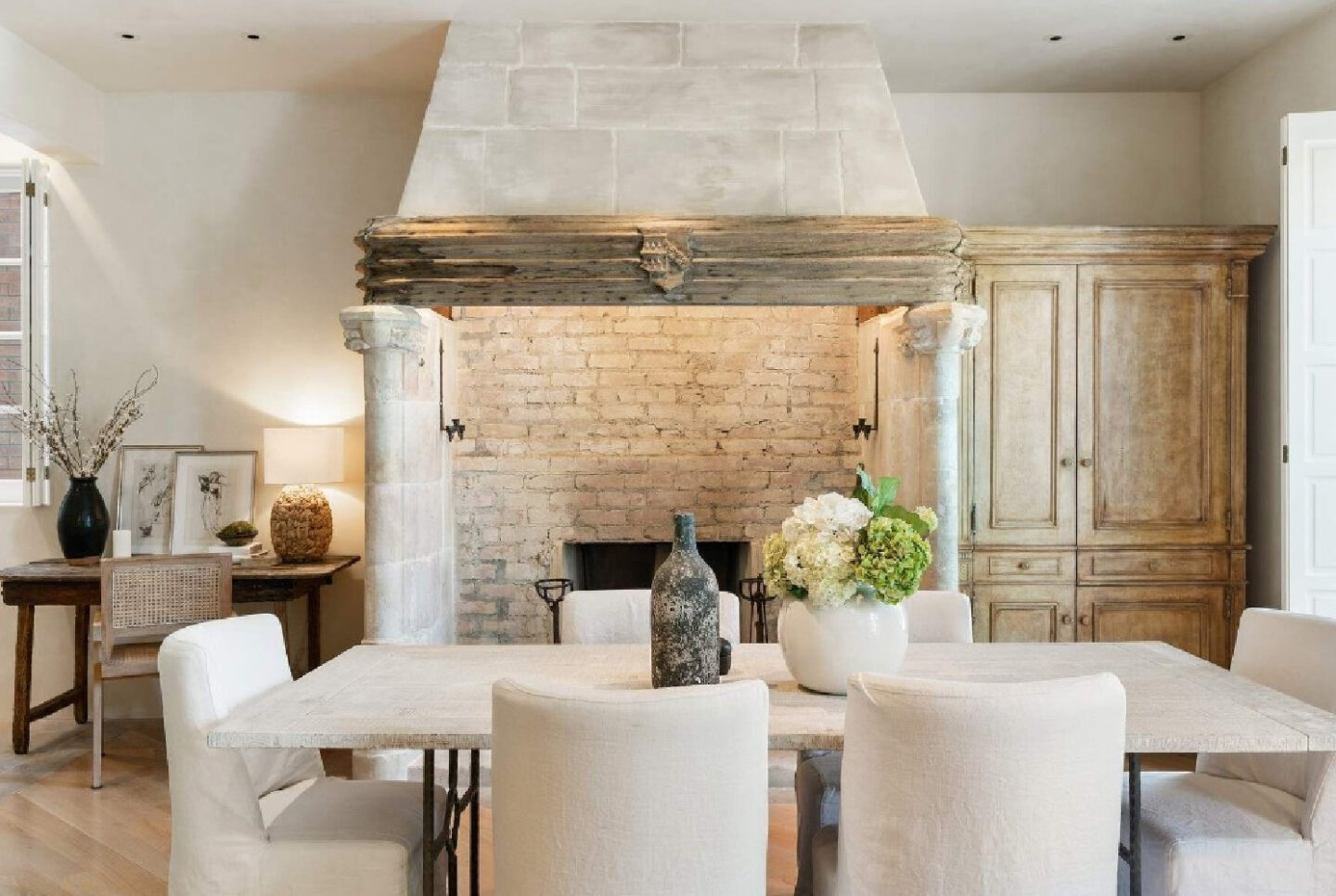 What a gorgeous mix of old and new.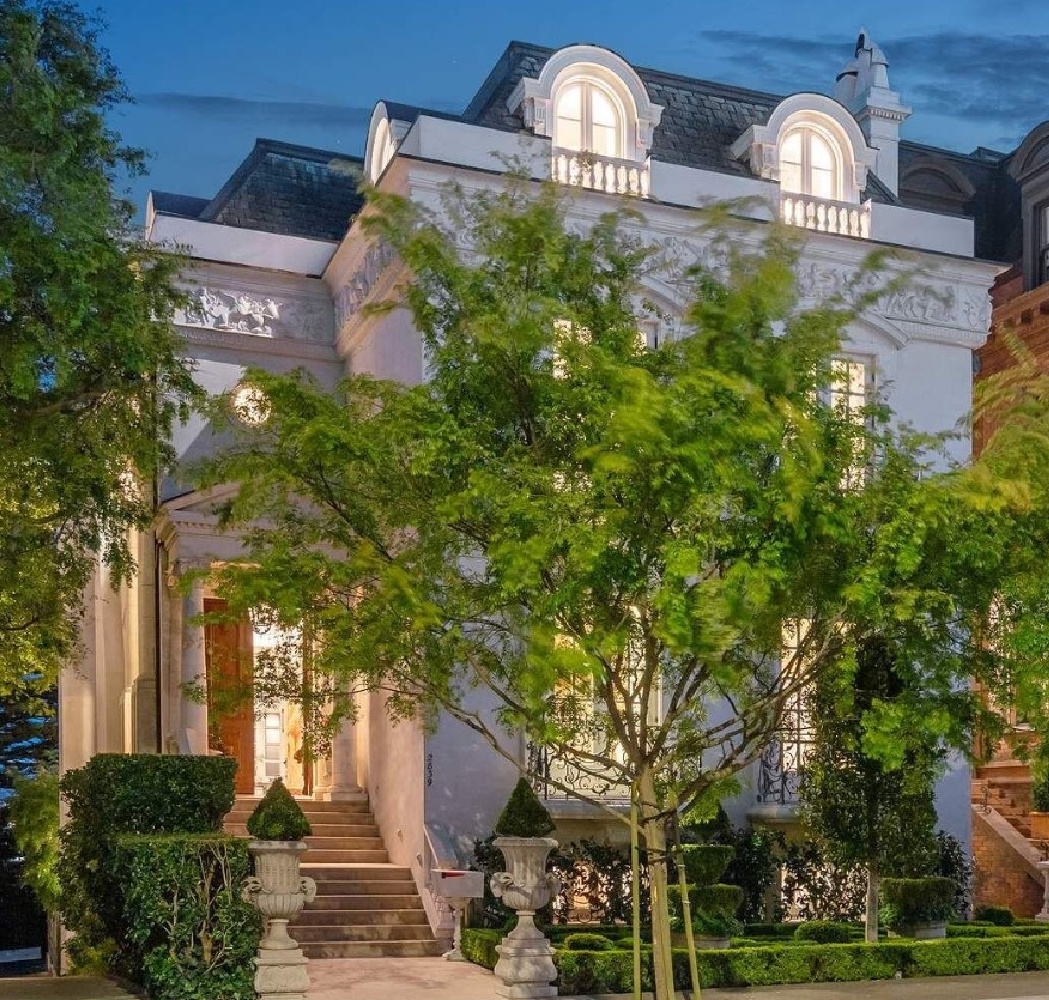 (If you're thinking about adding an antique French limestone mantel to your own manor, sashay over to Chateau Domingue.)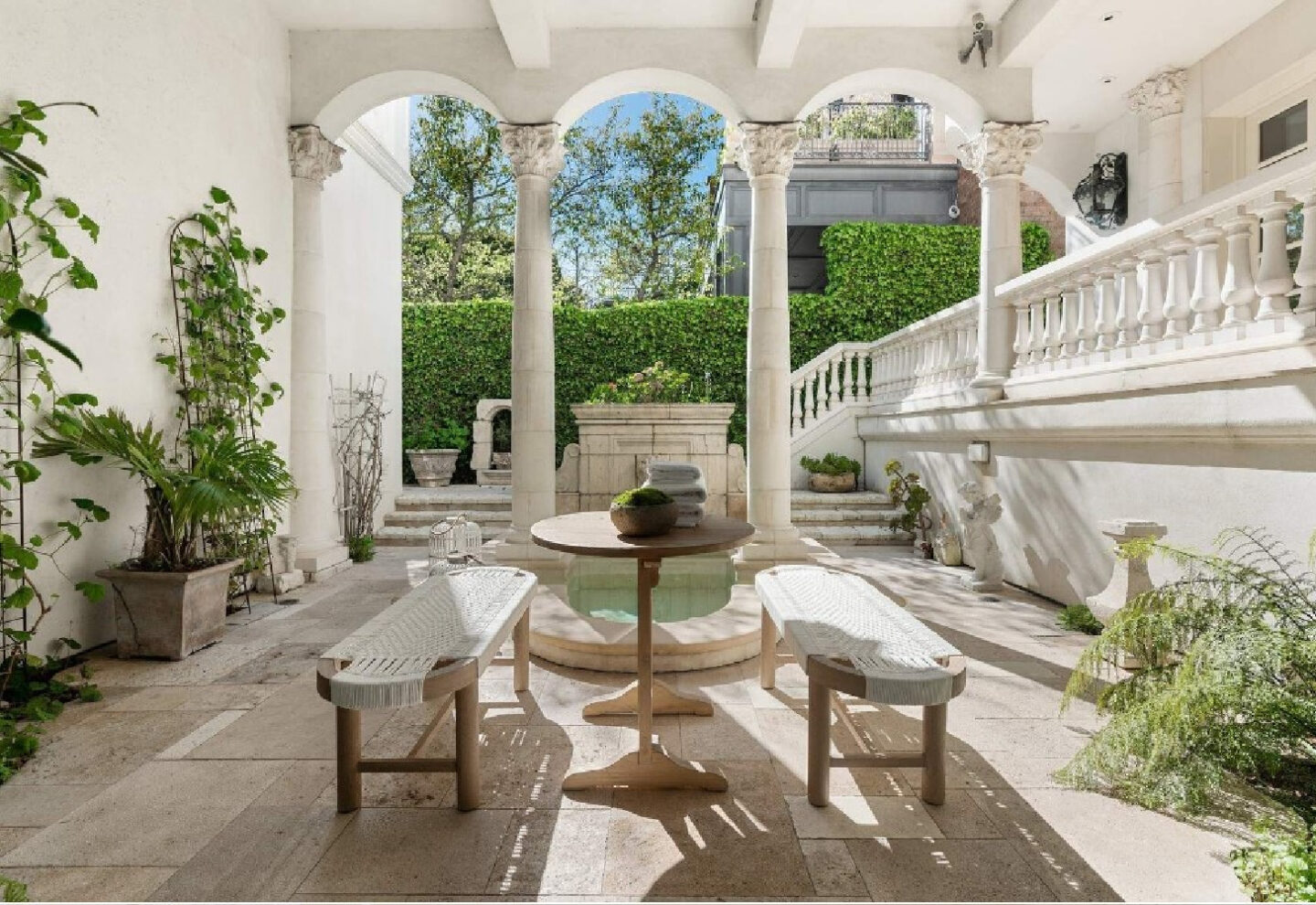 No. 1: Paint Colors & A Serene Color Story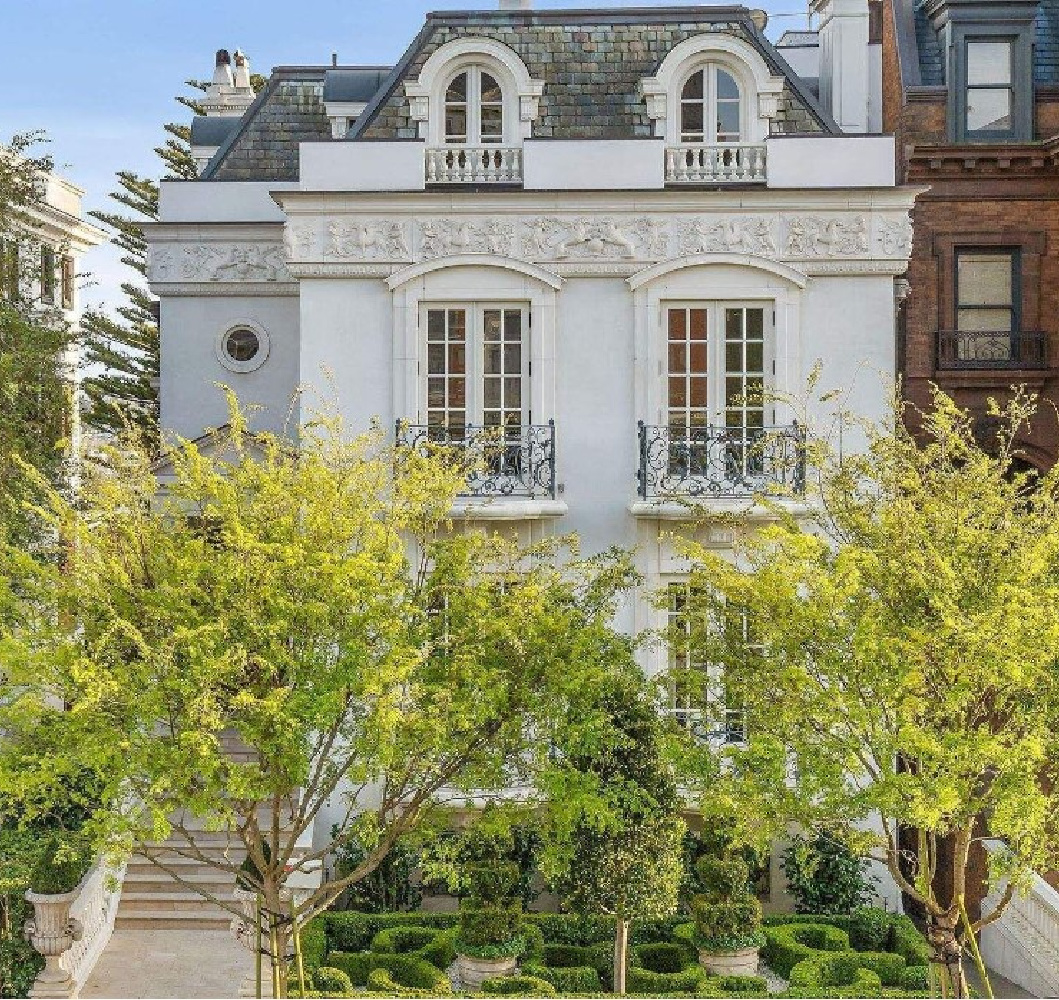 Inside and out, you can't miss the tranquil tone on tone atmosphere.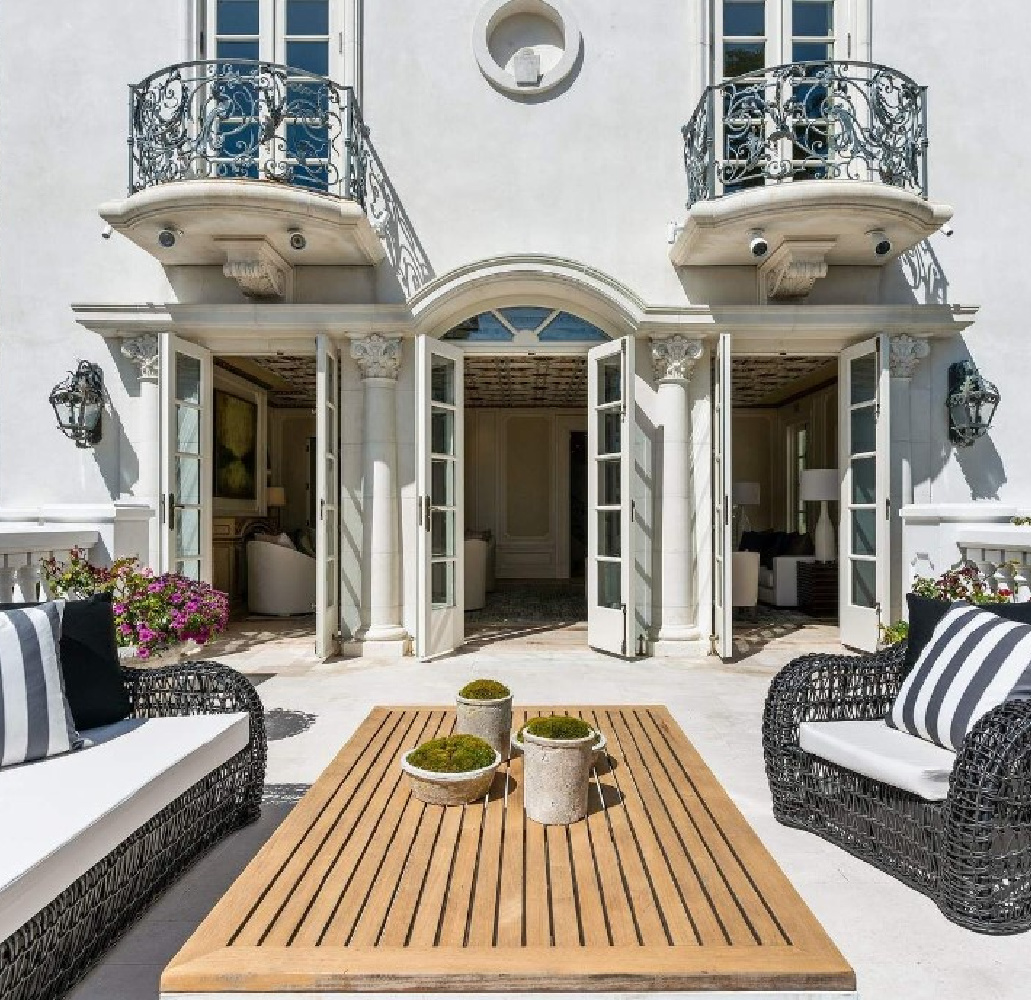 You'll notice there is little in this everyday kitchen dining area that is jarring or saturated in color.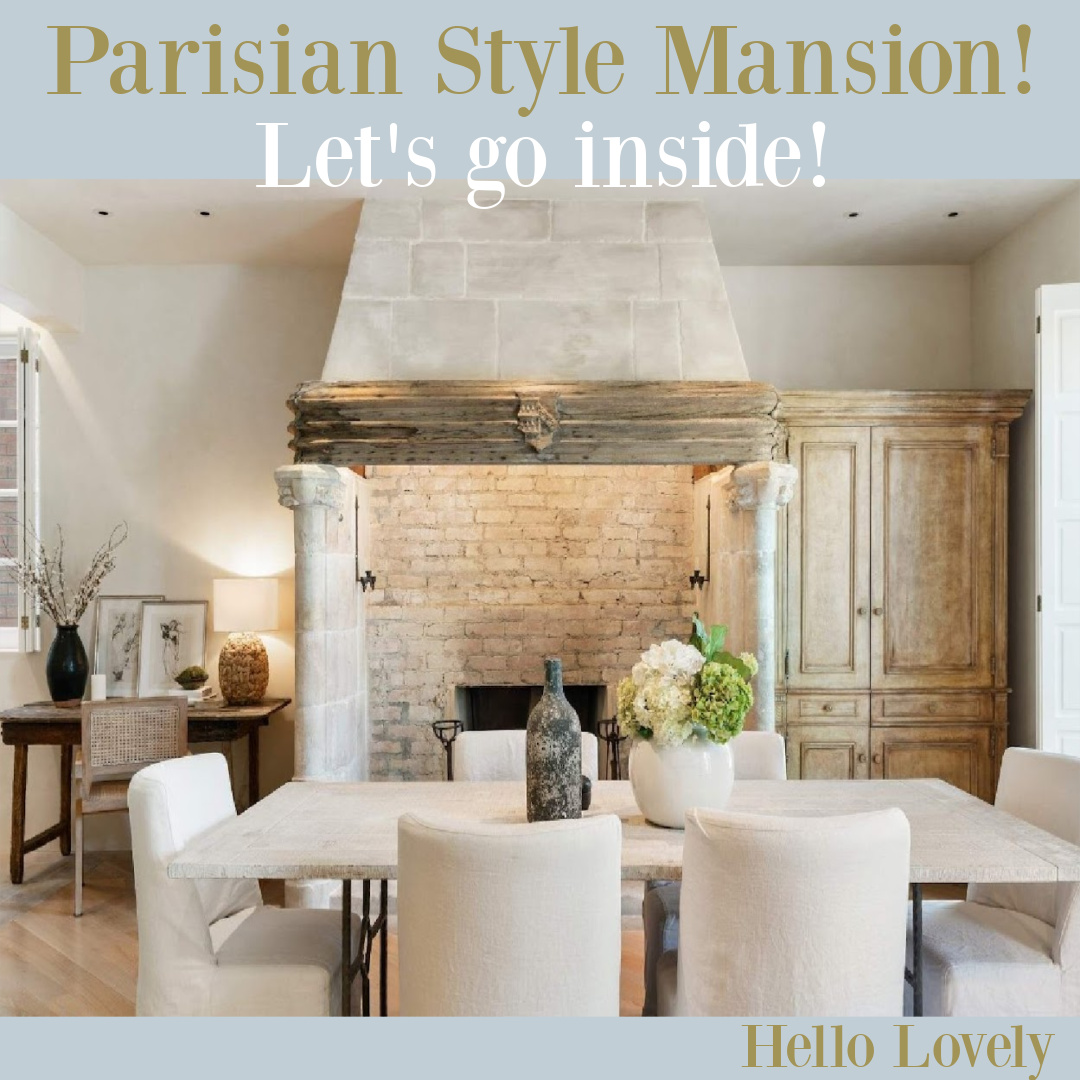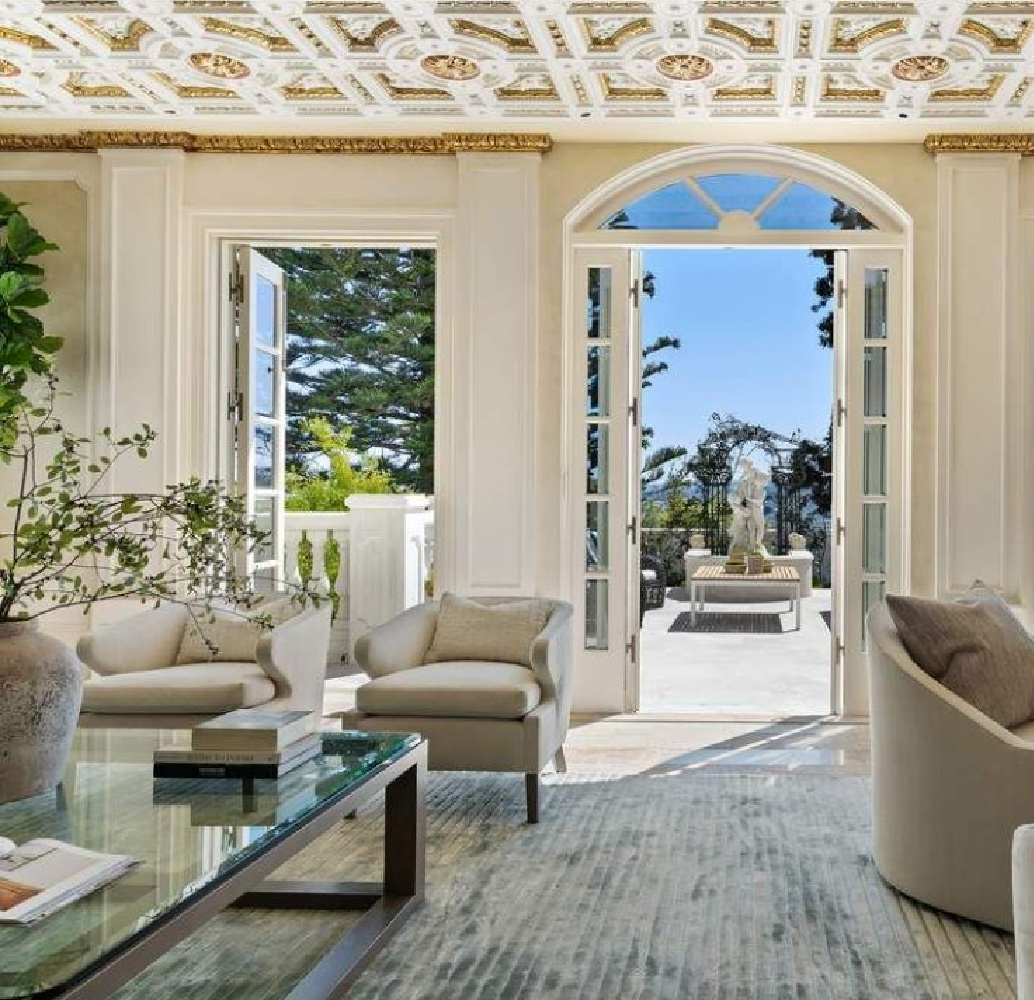 From the beige stone to the white trim to the light wood floors, contrast is kept low.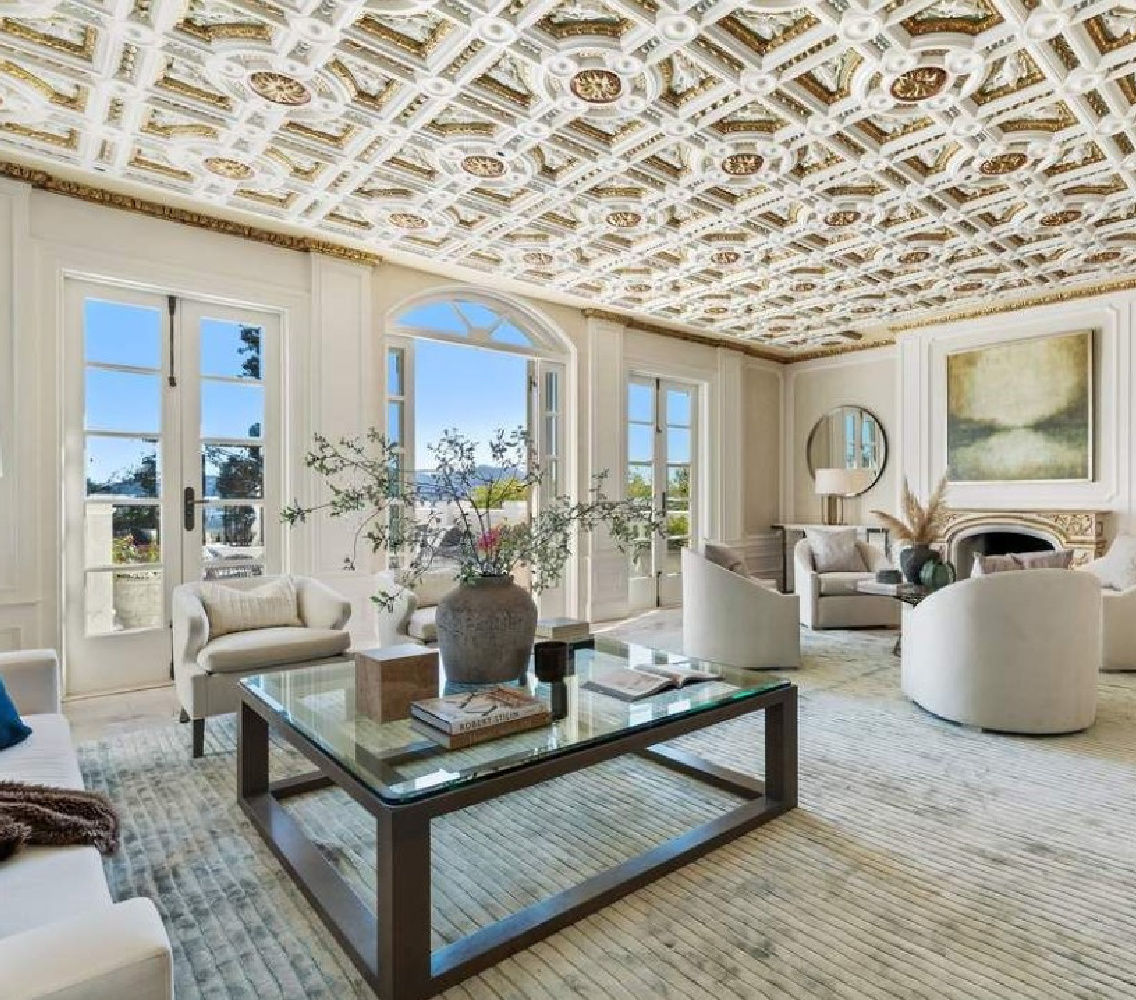 While the walls are luxuriously finished with plaster, a paint color that springs to mind for a similar warm white look is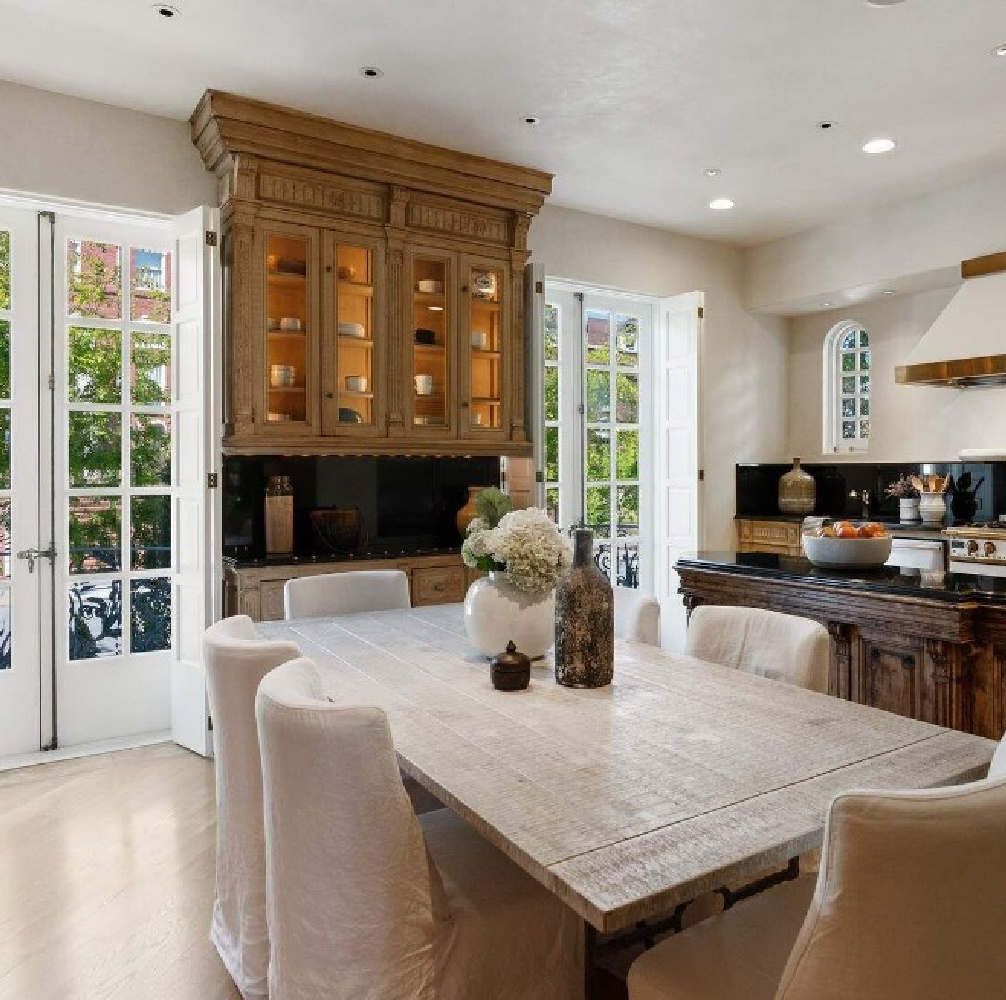 Another possibility is the paint color of my own kitchen: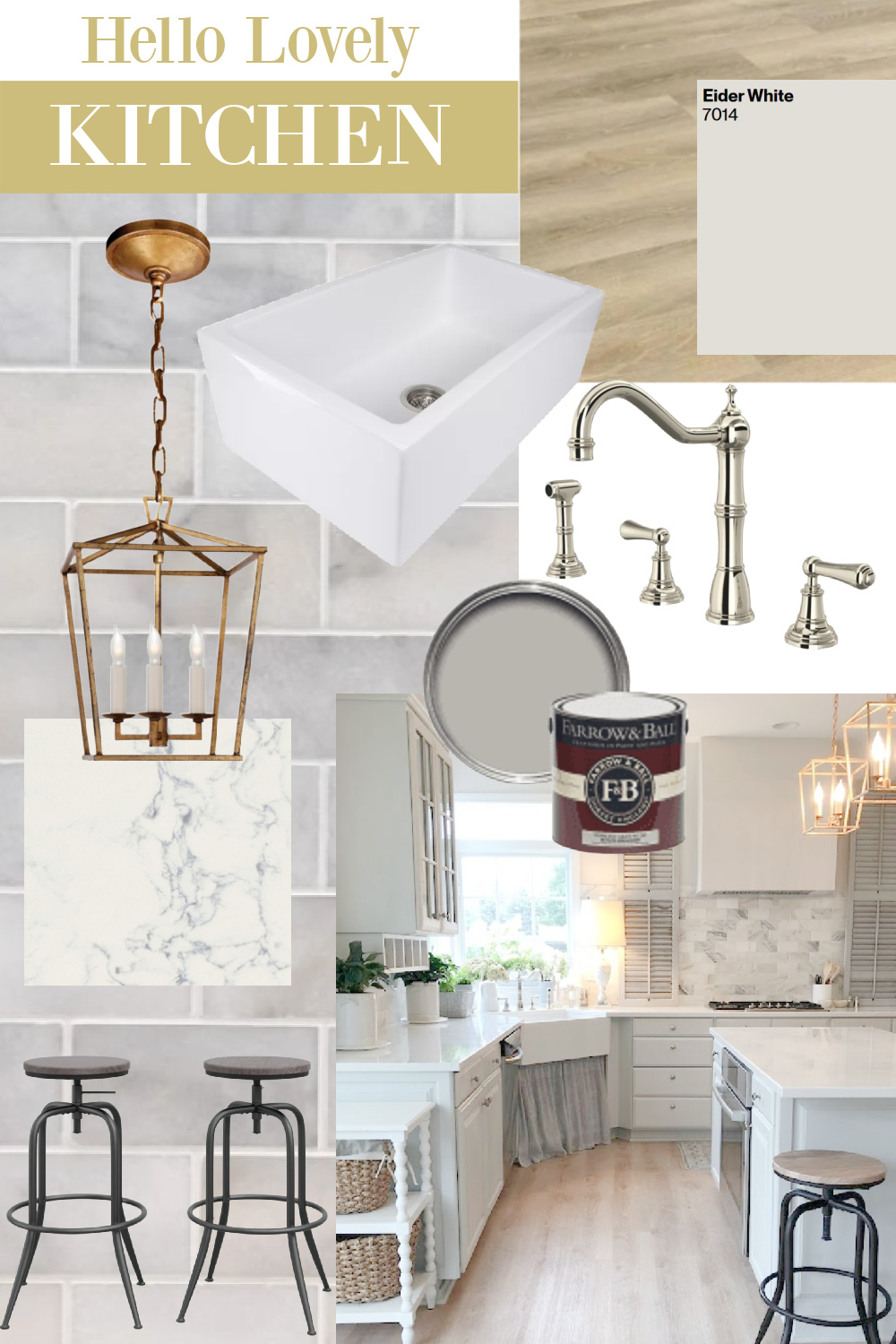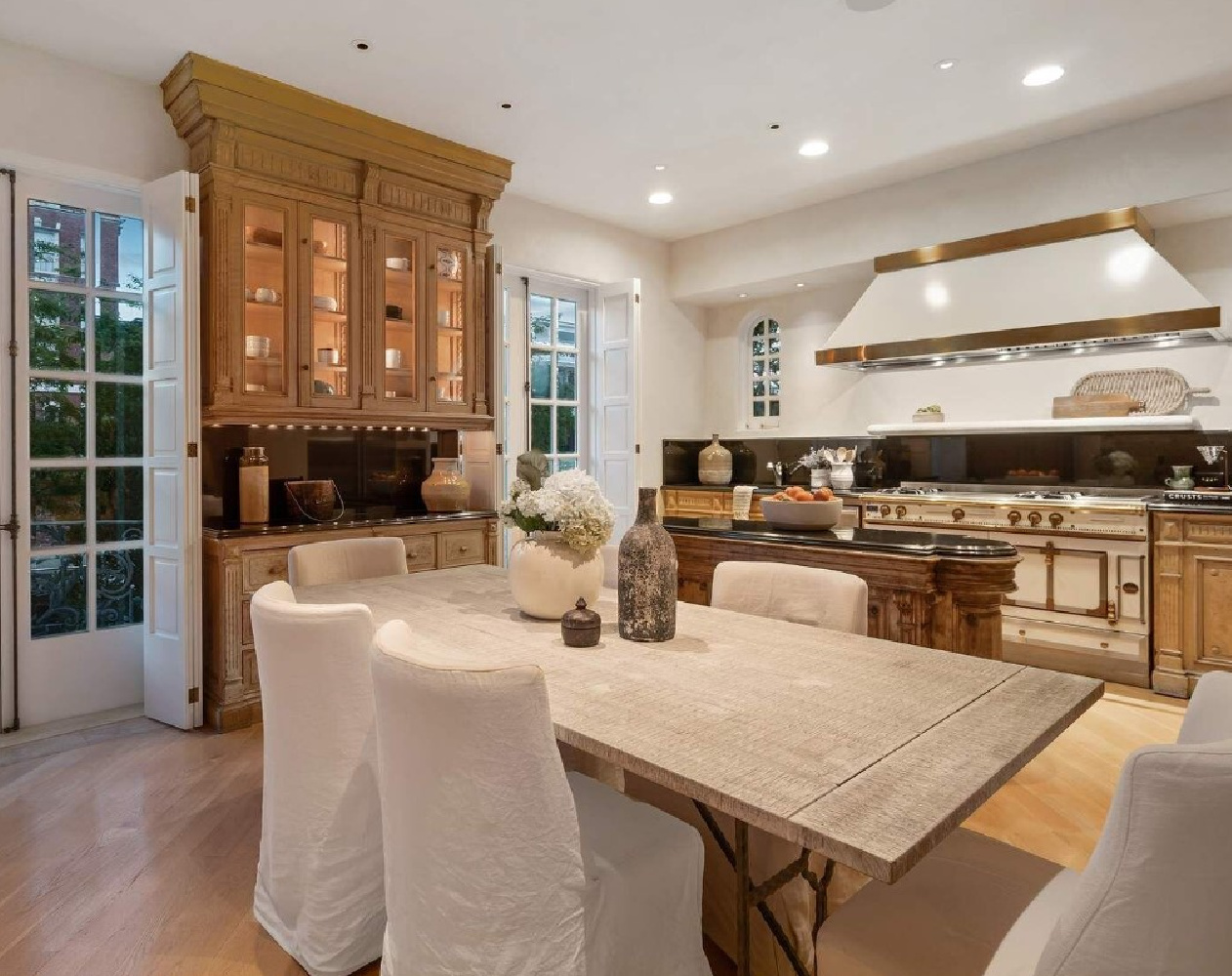 Here's another off-white that would be perfect:
And what color for trim and doors?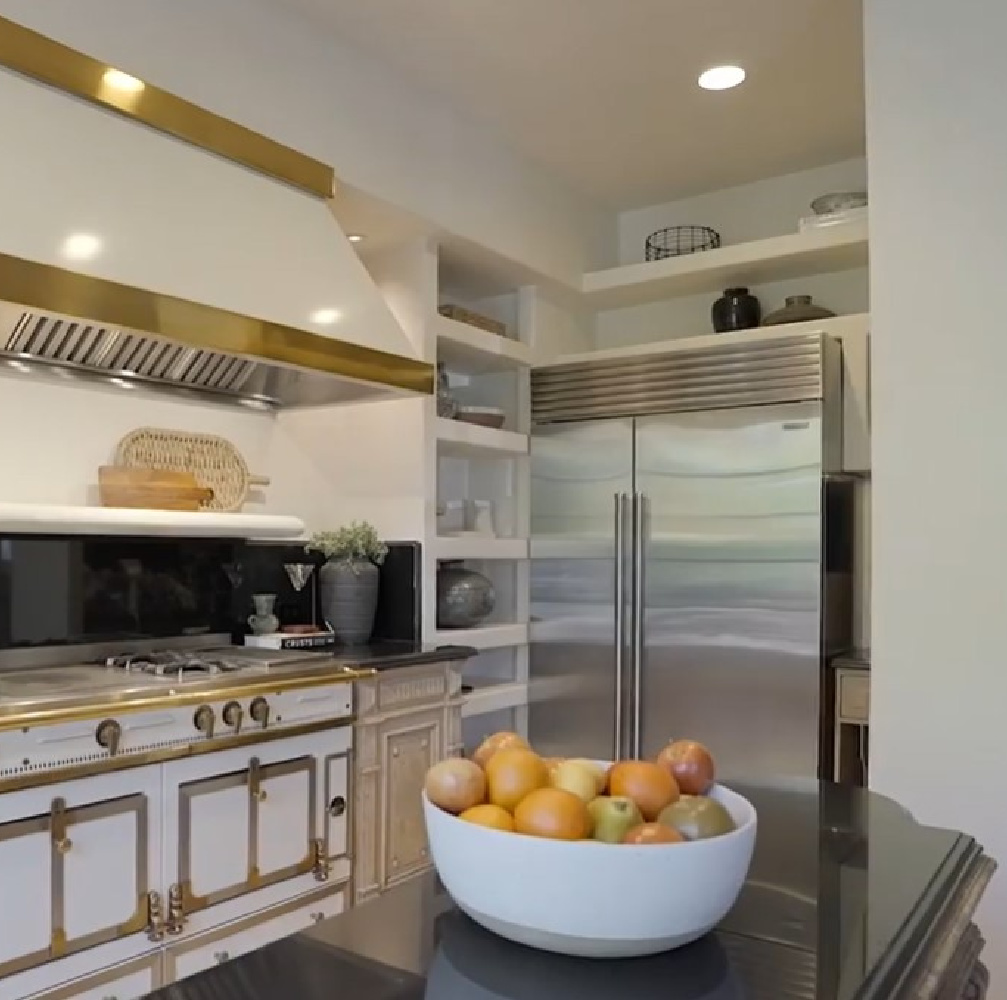 All White (2005) would be perfect with both Wevet and Wimborne White.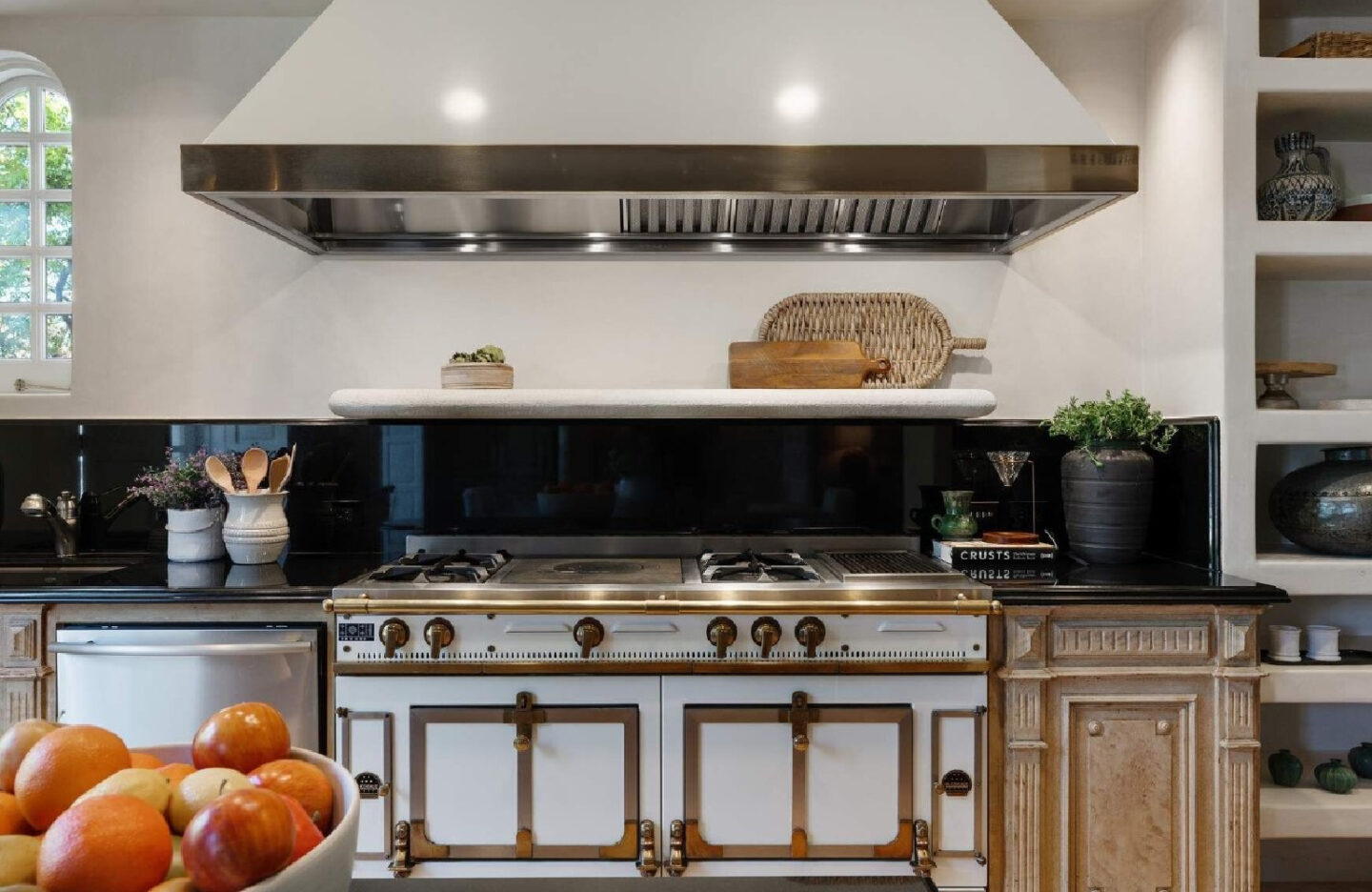 BTW. What do you think about the black stone used for countertops? It surprised me yet felt consistent with a more Modern French look.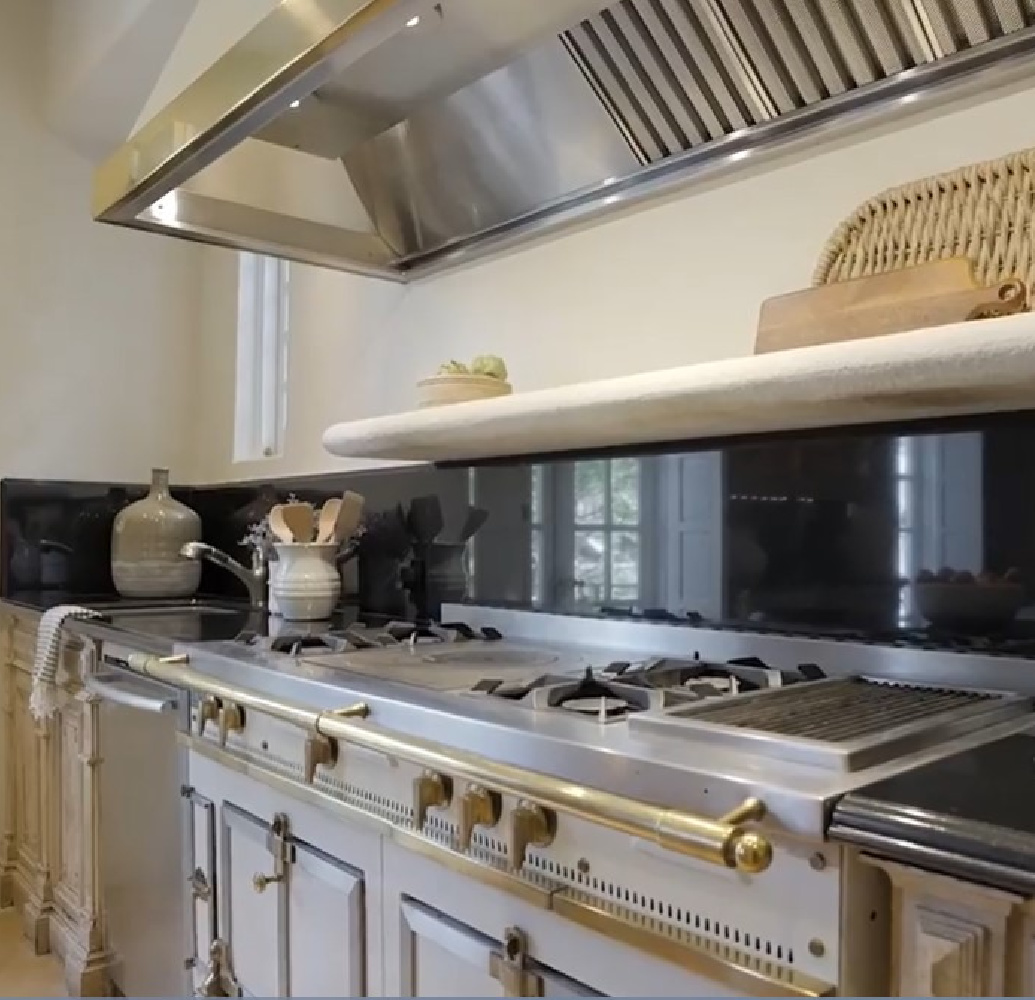 No. 2: Contemporary Decor With Traditional Architecture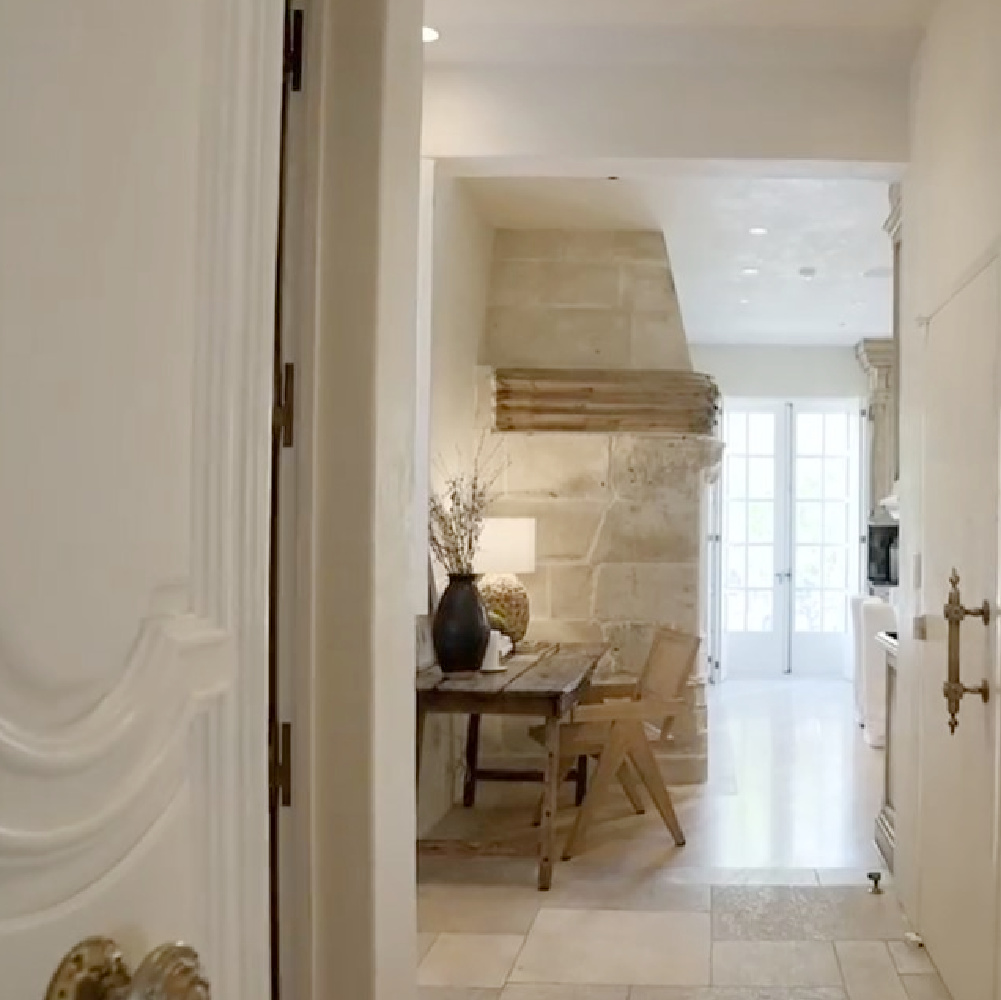 This French home would be a dream for a modern art collector as it is designed with art lighting and multiple gallery walls.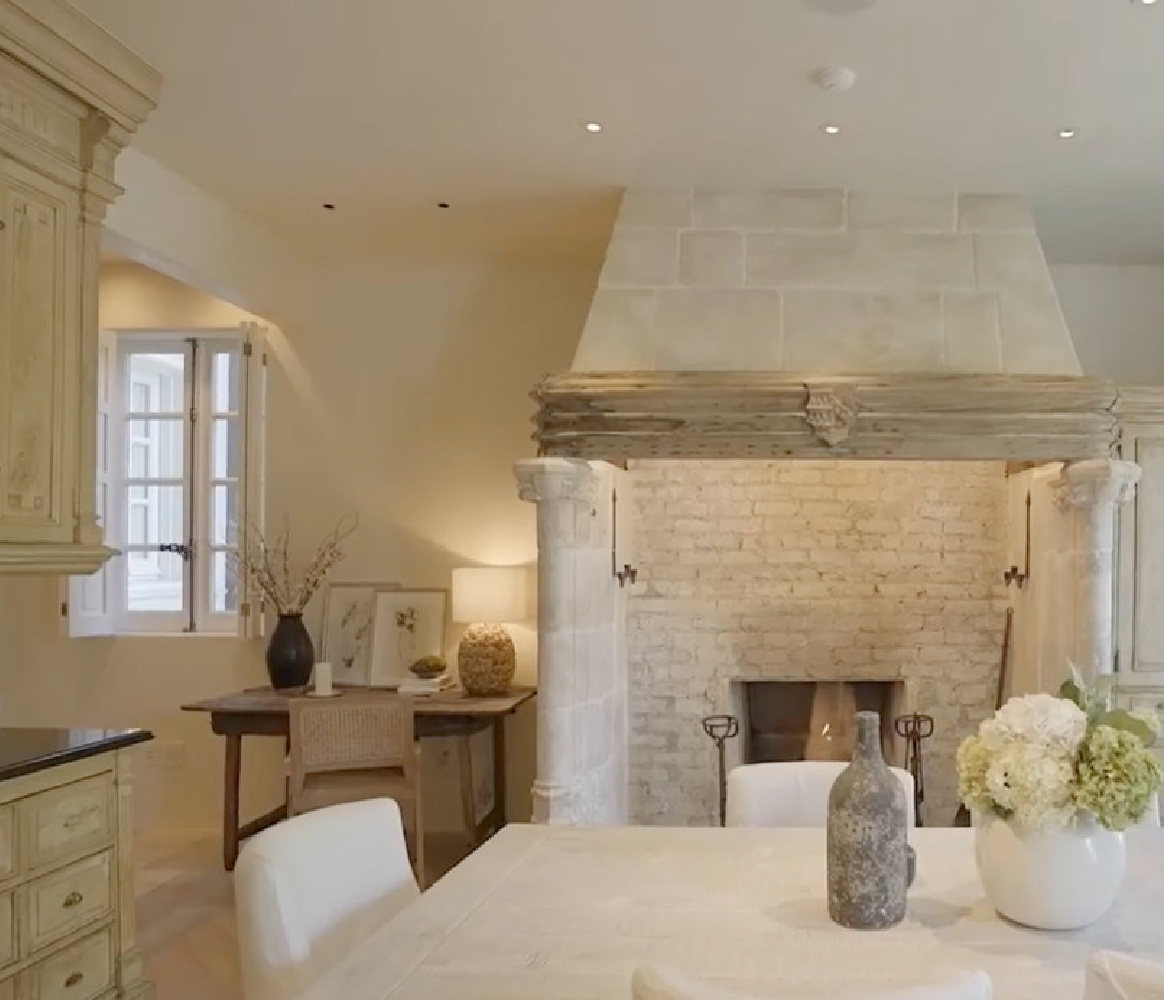 The tension introduced when modern abstract paintings or sculpture meet traditional Old World style? So very Parisian chic.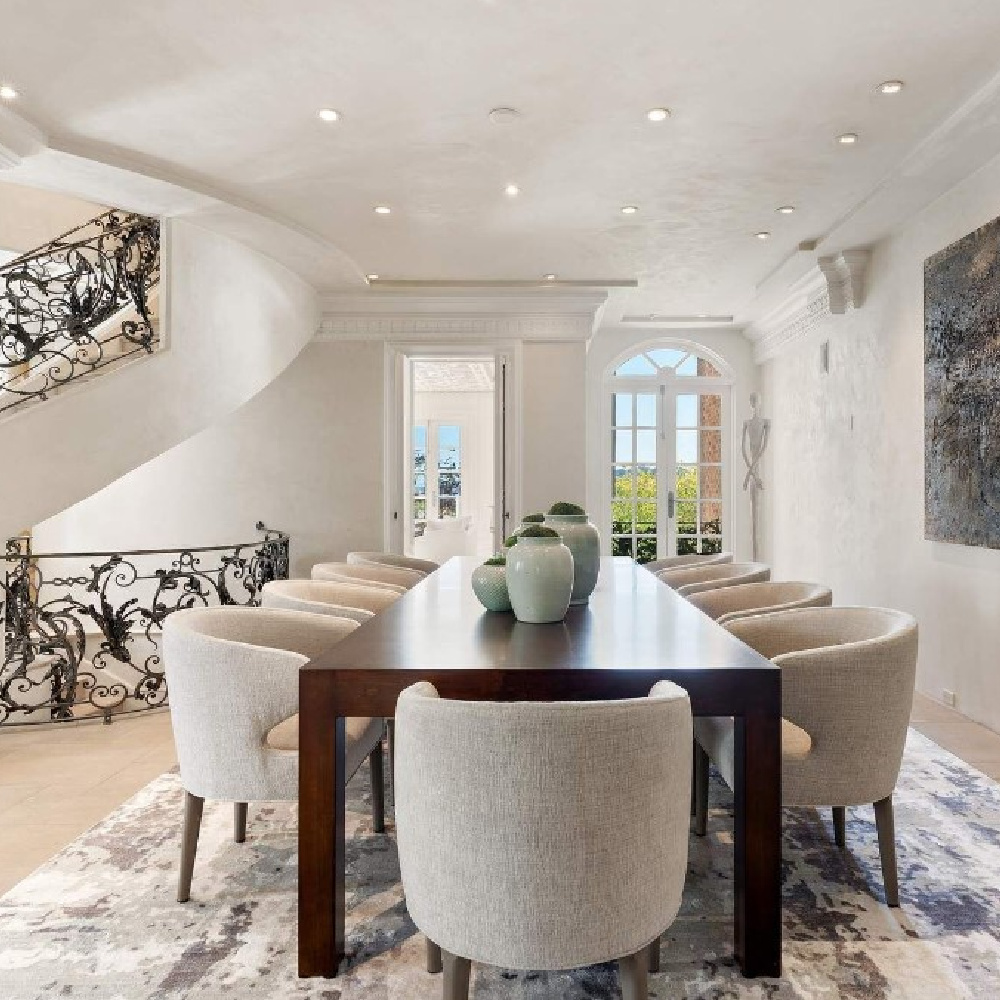 Like a well appointed Parisian apartment, there is no excess of accessories or clutter.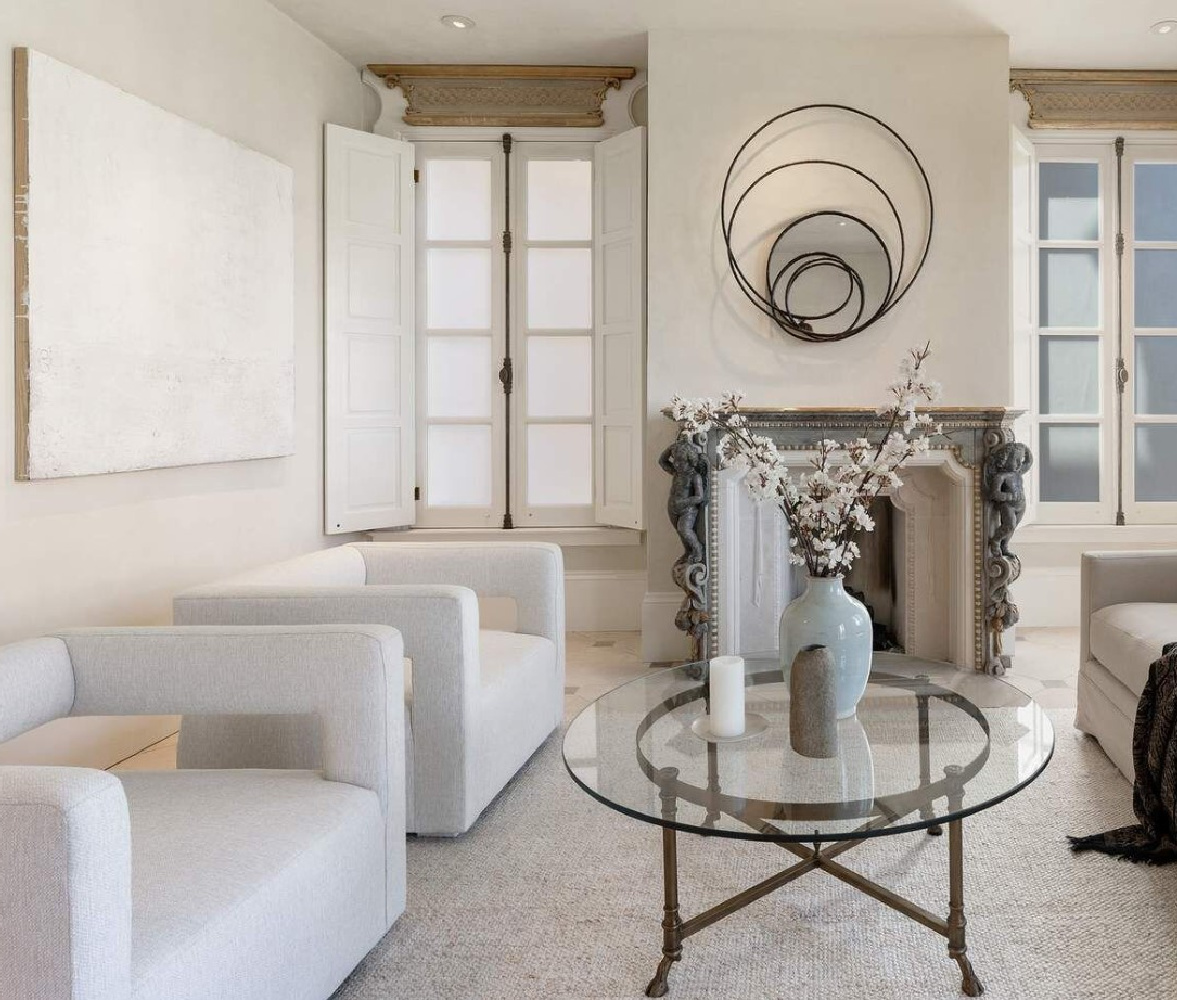 The bedroom sitting area would feel quite different were there dark colors in here or an antique portrait above the fireplace where we see the modern art.
No. 3: Understated Quietude & Modern French Style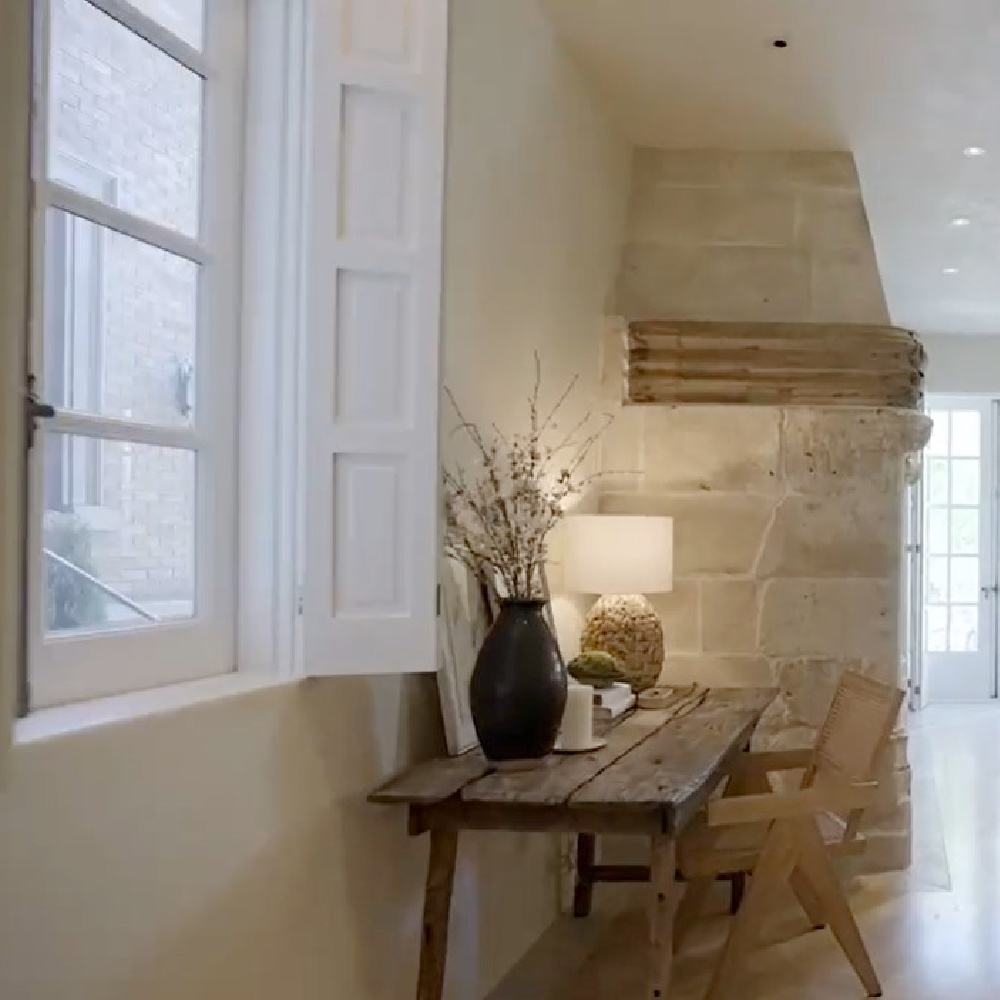 Oh this spare and sophisticated modern bedroom (below) with its traditional French doors and shutters! Such restraint as far as decorating the space.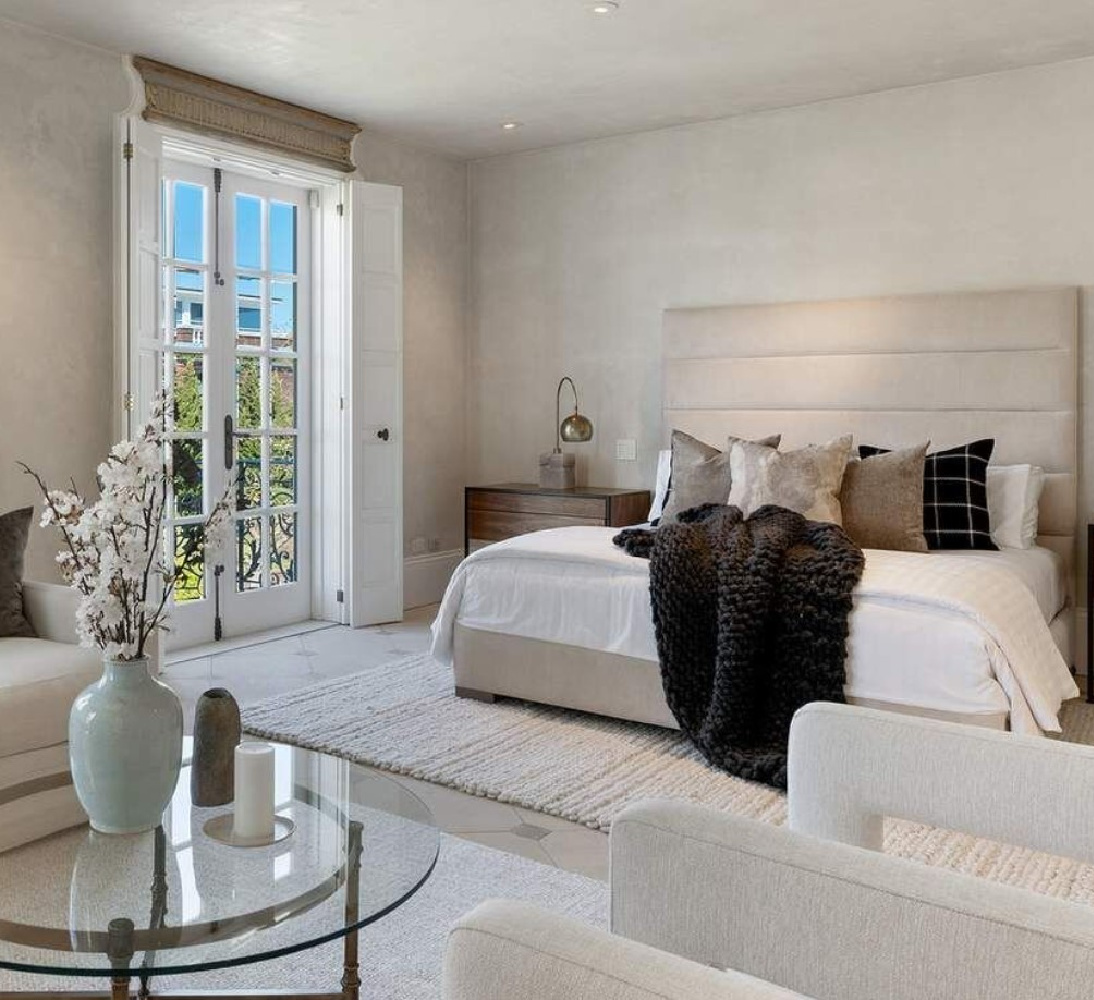 Subtle neutrals, simple lines of furniture, and sumptuous nubby rugs create a very hygge feel that is anything but fussy.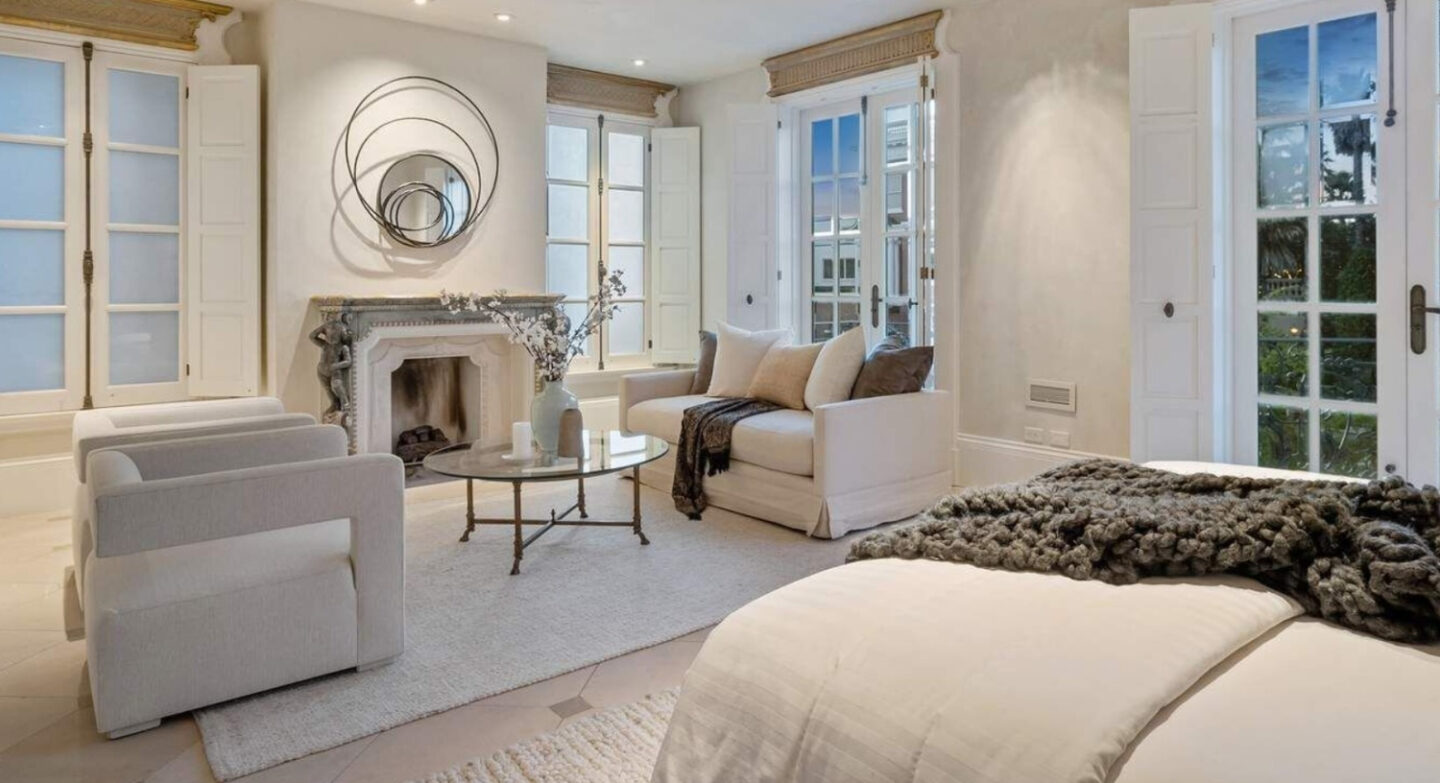 Just imagine if this very Paris-like bedroom was crowded with ornate antique furniture, shelves of objects, or gilded finishes.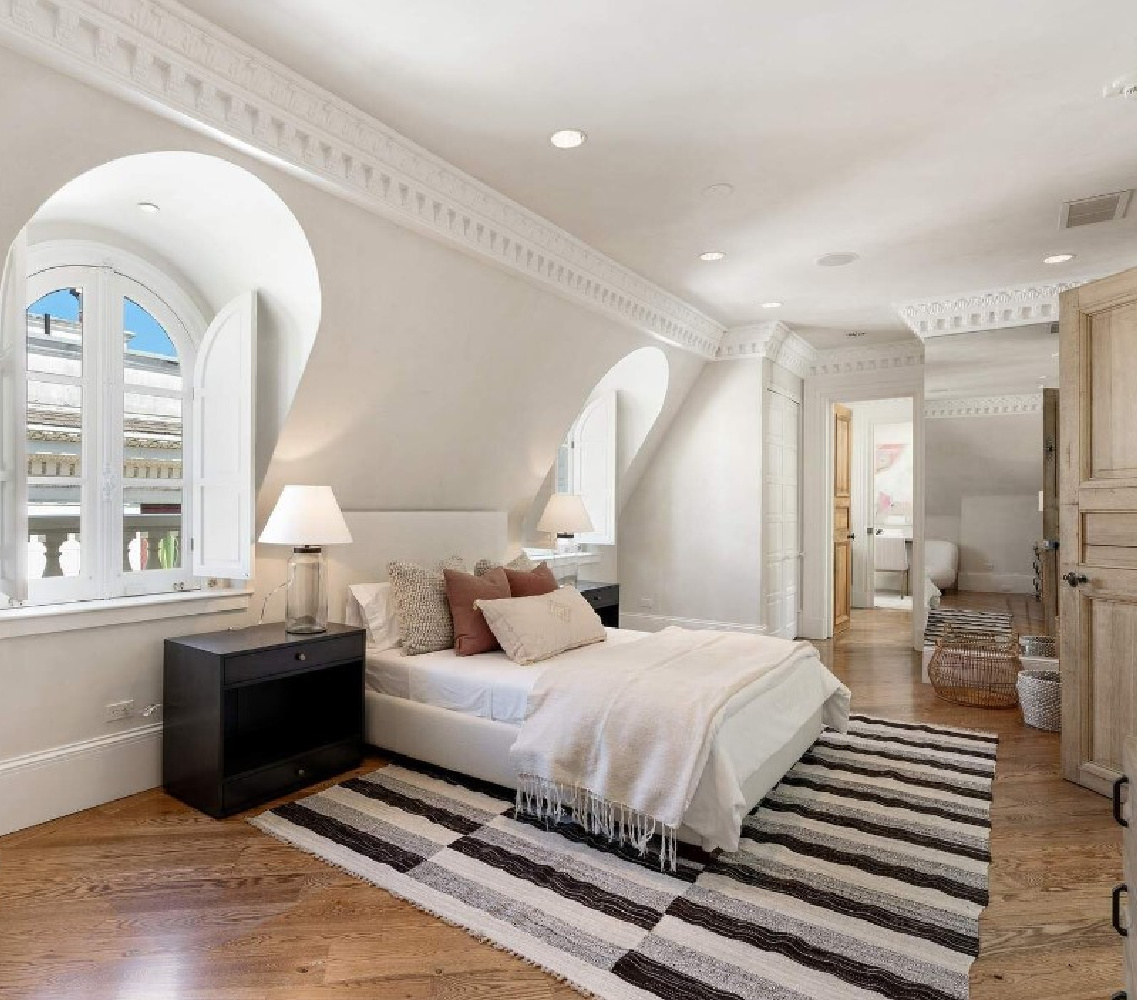 While the bones and architecture are breathtaking, even without them, such unfussy simplicity would feel modern in a space with a traditional or vintage backdrop.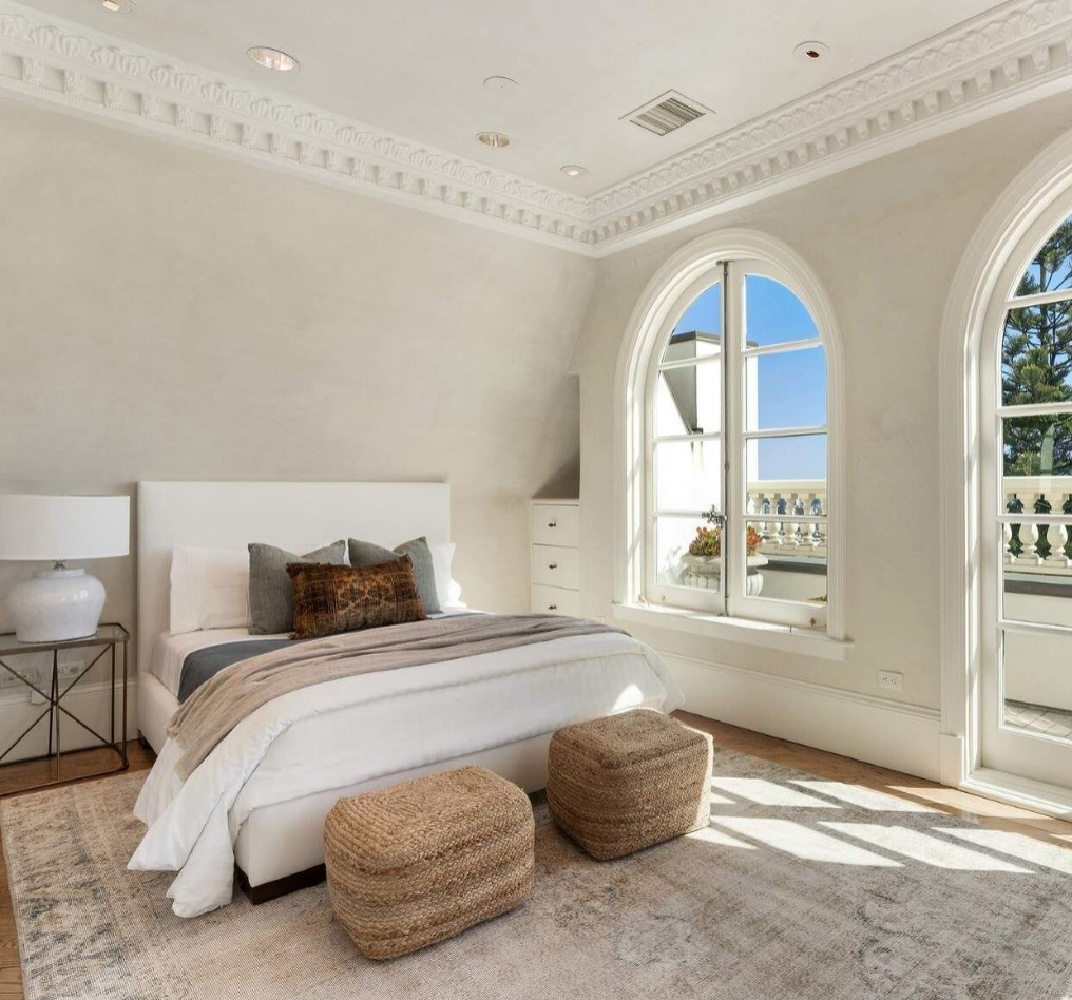 San Francisco Manse With French Style
Peek inside this unique mansion to see it for yourself!
No. 4: Timeless Finishes & Lime Washes
If you have never lived with plaster walls, you may wonder what all the fuss is about, but they really are allllll that and a bag of…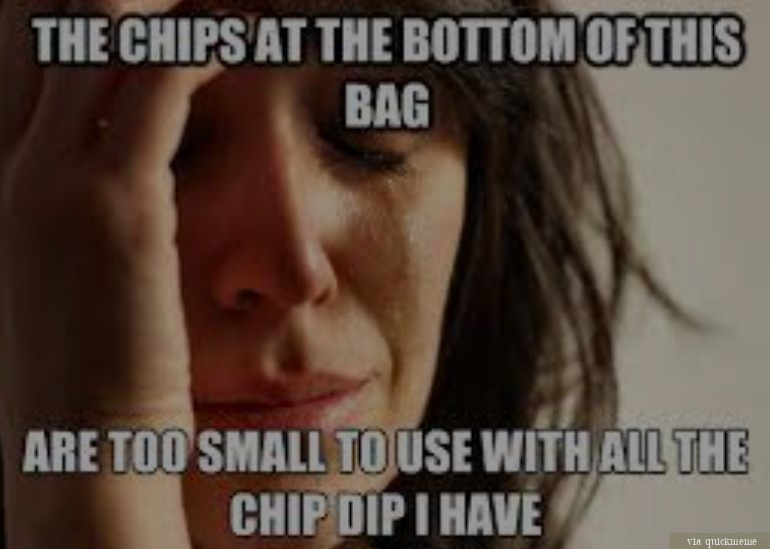 Plaster and plaster-like finishes are becoming more commonplace. Curious about giving it a try? You could always start small!
If you live near Houston, you could give SEGRETO FINISHES a jingle! Their work speaks for itself…see examples HERE!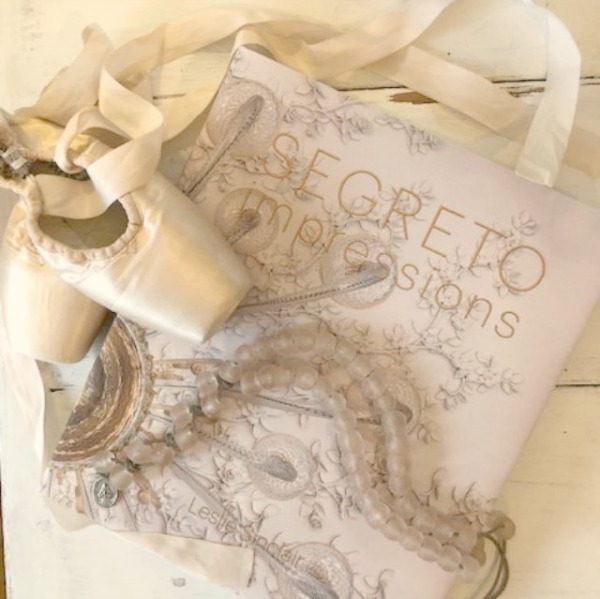 Psst. This ultra-luxurious French mansion's bathroom with its gold toned hardware and stone floors reminded me so much of the Park Hyatt Paris Vendome where we stayed.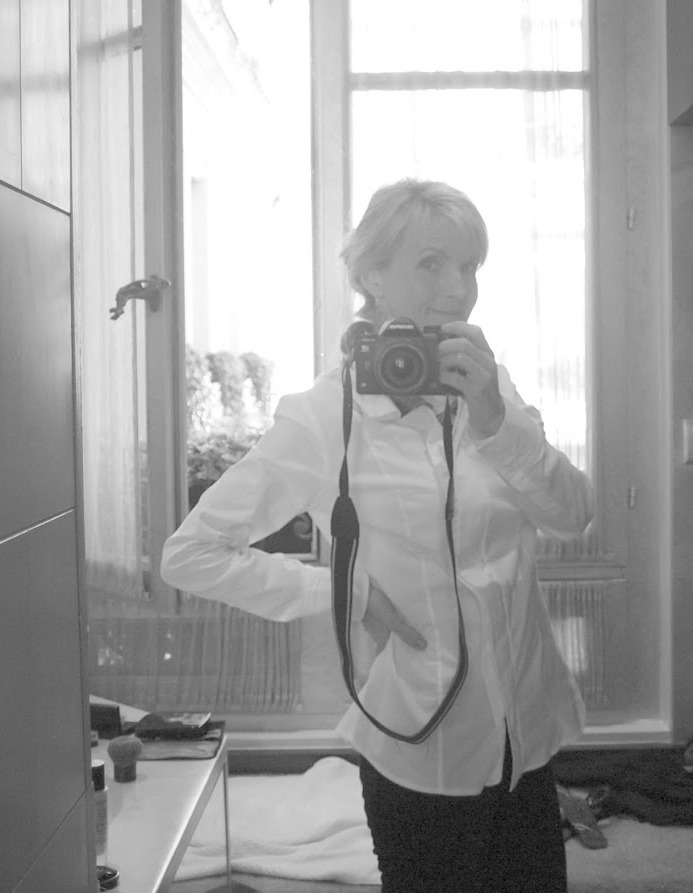 Twin showers! As I gazed at this home's primary bath, I pondered what could possibly be affordable to get the look.
Let's see…cremone bolts on grand double doors…nope. Out of the stratosphere soaking tub…non, non, non. Skylight? C'est possible.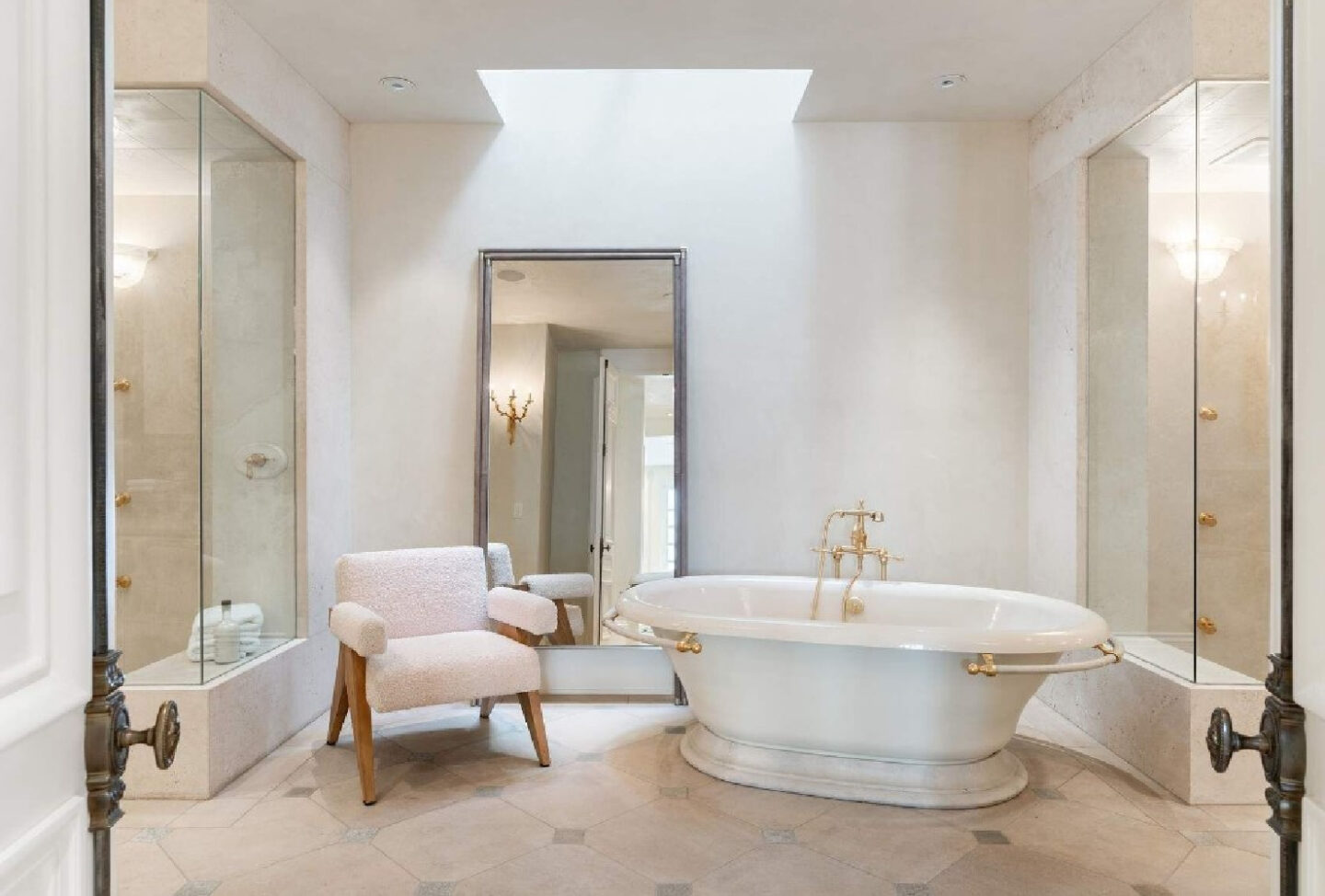 Fine. About all I can emulate are those fluffy white towels in the shower above on the left:
But these aren't just towels you'll score with a Target run, kitties. They are the best ones I own! Here's a classic bath plan that could be stunning in any home: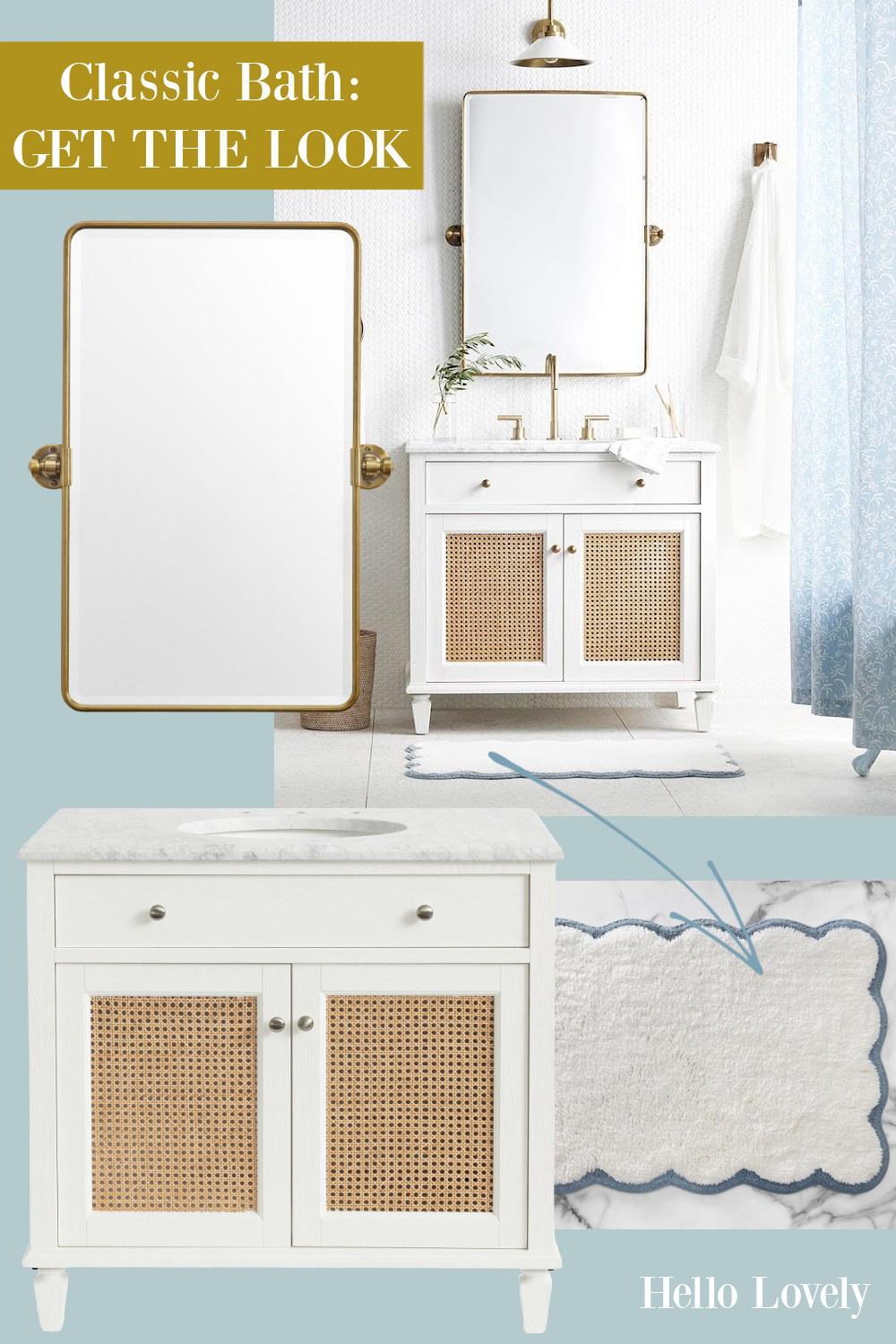 No. 5: Work Area in Kitchen
I can't stop thinking about the beauty of this desk area next to that enormous fireplace in the kitchen. While an ancient kitchen hearth may be out of the question, creating a tucked away nook isn't an impossibility!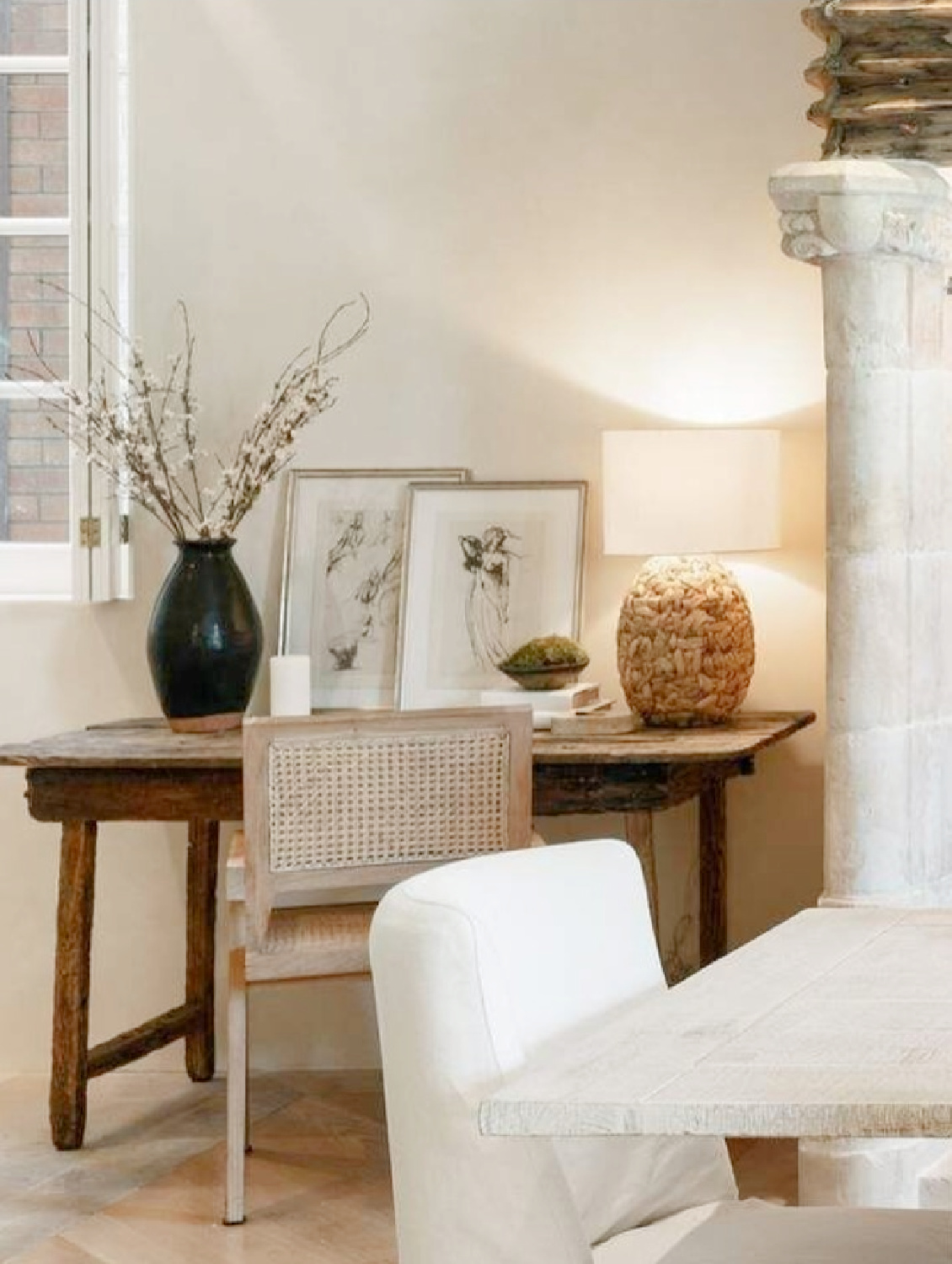 Another possibility is borrowing the color story happening…reminds me of this: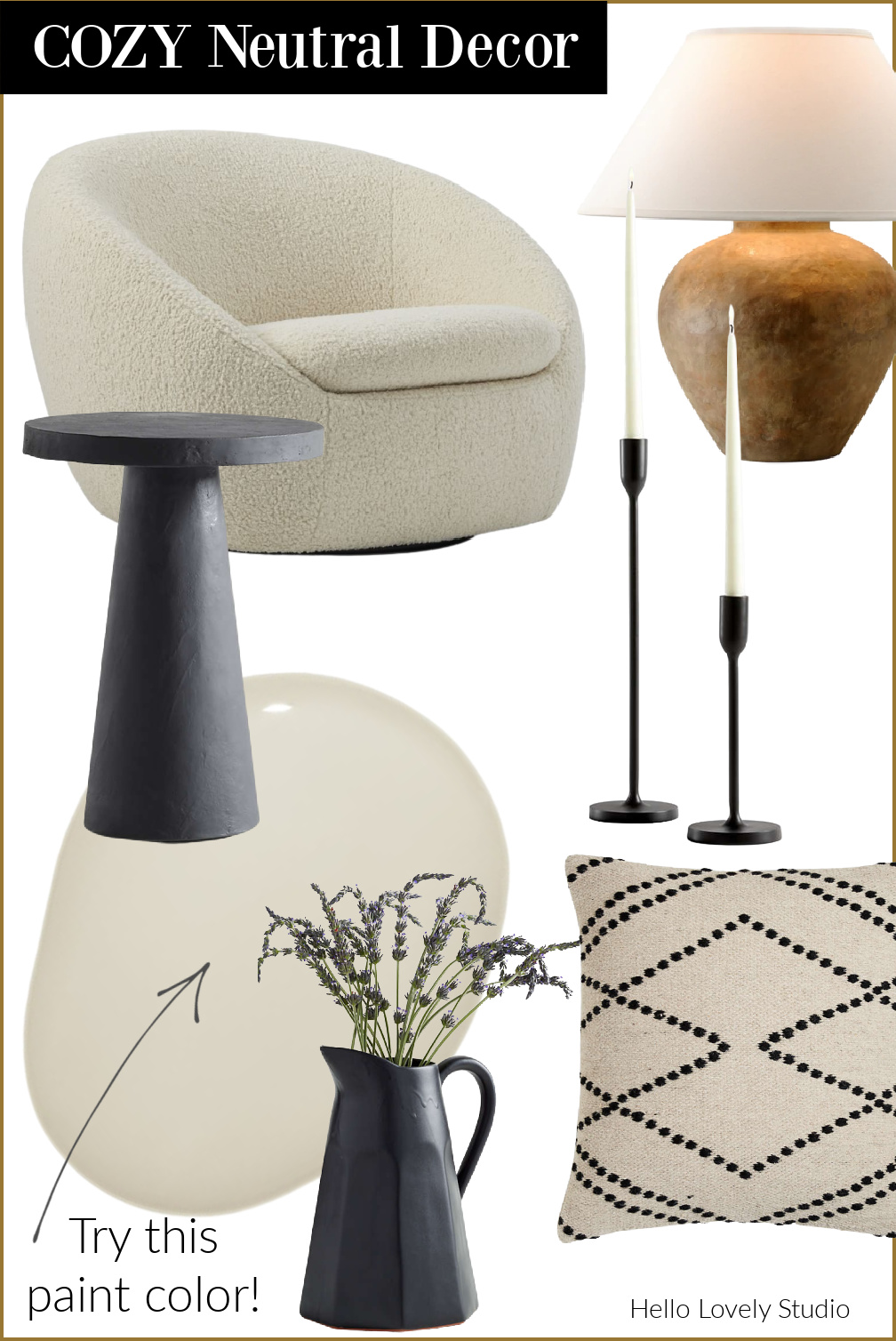 Alternatively, you could mix a modern lift desk with a MCM chair like I did: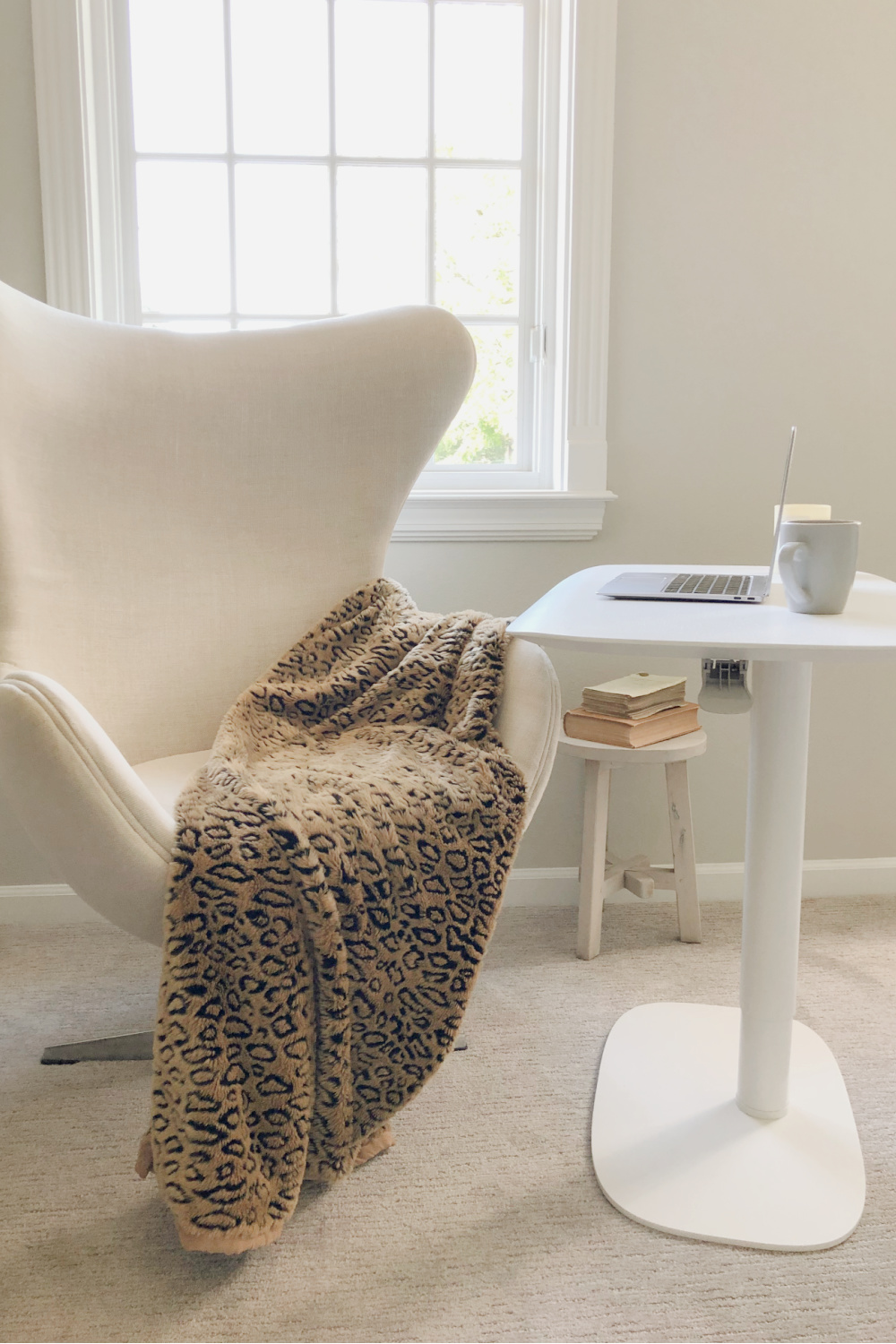 For even more down to earth ideas from super fancy French homes, SEE THIS.
I independently selected products in this post—if you buy from one of my links, I may earn a commission.
Peace to you right where you are.
-michele
Thanks for shopping RIGHT HERE to keep decor inspiration flowing on Hello Lovely!
Hello Lovely is a participant in the Amazon Services LLC Associates Program, an affiliate advertising program designed to provide a means for sites to earn fees by linking to Amazon.com and affiliated sites.