Let's face it. White kitchens can read chilly or lifeless. Don't let that stop you from proceeding with an airy bright and white kitchen design though! 13 Clever Ideas for Warm White Kitchens are inspired by pretty white kitchens we'll deconstruct. What design elements make them cozy? Why don't they feel stark and hands off? How did they become spaces where you'd like to live and linger?
Pssst. This ethereal and lovely bespoke kitchen (above) from Holly Bell is all the inspiring encouragement I need to choose a white kitchen design for our new place!
13 Clever Ideas for Warm White Kitchens
1. Bring Natural Elements Like Branches to Warm a White Kitchen
I shared the story of how the sweet little industrial cart below came to live in our kitchen right here and improved the function of our kitchen.
Additionally, it gave me another surface for decor and warm touches like the urn with branches from outside.
White stone or marble is another natural material that just might bring warmth. Wanna add white marble to your kitchen without investing in new countertops or a backsplash?
I've got you…
Another way to warm up a white kitchen? A warm white tile like this:
2. Break Up the White With Unexpected Color
Even a subtle contrasting color on an island can be beautiful. The kitchen island below was painted BM Pashmina – find more light grey options ideas HERE.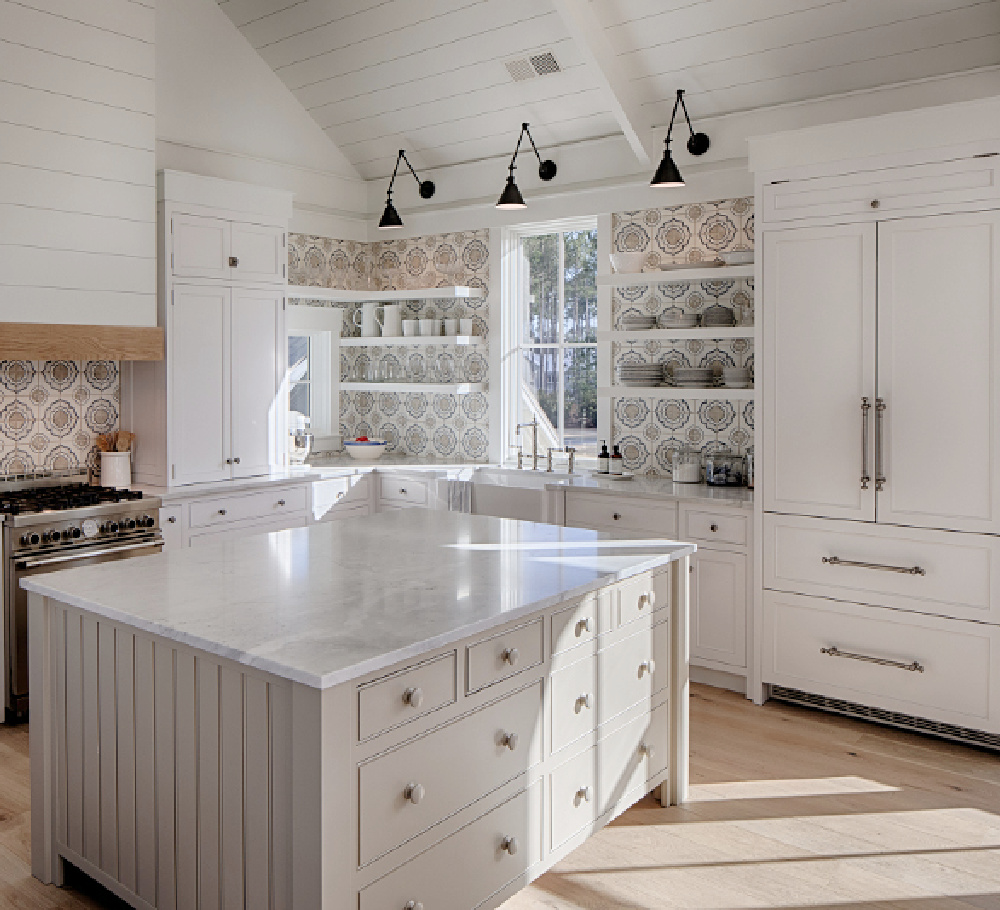 A friend's modern farmhouse kitchen below was kept intentionally minimal with industrial touches, and all the steel is rather cool. Pistachio green provides a break from all the white.
In this greyed-white kitchen, a contrasting dark grey is repeated on a door and island.
3. Create Contrast with Warm Natural Wood
There's just nothing like the combination of beautiful, natural, character-enhanced wood and a simple white kitchen. This breathtaking kitchen design below is a lesson in just how much warmth wood pocket doors and a knotty hardwood floor can bring.
Here is another example of the warmth natural wood can bring to an Old World style kitchen with collected antique treasures.
Perhaps my favorite kitchen of all time – the kitchen below reiterates the point about the warmth that natural, rustic wood can bring while also proving beautiful kitchens need not be grand in scale.
4. Add Interest With Pattern
Even tile and collections can bring subtle geometric pattern and interest if you're not ready to commit to wallpaper or patterned backsplash tile.
Not that patterned backsplash tile is a bad idea; remember Lily Aldridge's kitchen I showed you:
And even veining in marble or the pattern of subway tile on the wall counts as a pattern:
5. Paint Cabinets a Warm White
Think beyond the usual suspects (BM White Dove, SW Alabaster) for a white paint color for cabinetry. But which color? I write about white paint here. And I discovered a super convenient way to try and buy paint!
With CLARE…here's a putty-like light beige color with warm undertones called No Filter:
And in case you're wondering, there are a wide range of beiges out there, mama.
In most cases you won't even find "beige" in the paint color name:
6. Warm Metals Like Copper & Brass
This idea comes with a price tag if you'll be investing in copper cookware or custom brass range hood.
However, changing cabinet hardware doesn't have to break the bank, and even cozying up a corner on the counter with vintage brass candlesticks may get rid of chill factor.
7. Flooring With Movement
In my neck of the woods, it seems every homeowner was adding white square ceramic tile to their kitchen floor in the 1990's. While that color and pattern can look smart for a backsplash, it's not ideal for adding interest to a kitchen floor. I mean. Unless you find it interesting to become a slave to cleaning unforgiving, cold white square tiles.
Warm wood rich in character, encaustic tiles, checkered ceramic or stone tiles, and terracotta hex patterns can add so much warmth.
There are so many ways to add interest to a kitchen floor! This tile below is the same one chosen for the renovation of our son's bath – see that project here.
8. Vintage Accessories & Ironstone
Mixing vintage and antiques with new is a great way to bring warmth to any space including kitchens.
9. Boarded Walls, Panels & Wood Planking
Whether it's shiplap on the walls, beadboard on a backsplash, or wood planks on a ceiling, adding warmth with such texture is a smart way to turn up the casual and cozy factor while dialing down the "precious."
10. Vintage Style
While new kitchens with fresh new cabinets can feel timeless, a vintage kitchen with simplistic storage can impart a romantic, nostalgic, home-y warmth that is hard to beat in a white kitchen.
11. Introduce Texture With Counter Stools
If the white kitchen design involves a breakfast bar or island, turn up the warm factor with counter stools or bar stools to add color, texture, and form.
12. Built-Ins & Banquettes
They are cozy and a place to cozy on down with pillows or upholstered cushions for added warmth.
13. Add a Farm Sink
They add warmth with their nod to the past and instantly bring informality and cozy factor to a white kitchen.
Your farm sink need not be white!
Still feel like you need more ideas? I've got you…see THIS.
Tour an Unforgettable Timeless Home in London
Peace to you right where you are.
-michele
p.s. I'm in Arizona trying to bring some comfort to my parents fighting the virus. My mom has several underlying conditions complicating matters. We need your prayers. Say what you will about the 2020s, but I realized today I have perhaps never prayed more in my life.