Around these parts, I am giving my kitchen a deep clean and thinking kitchen organization after sort of slacking all winter and shoving things into drawers and cabinets without much thought. It must be spring-itis breaking through since I am feeling more energized about addressing messy closets, rounding up donations, and getting a better grip on the clutter that accumulates quickly and drains me.
Even though there were snow flurries yesterday, and I could hardly believe I was seeing them outside my window (today is sunshiny with not a flake), spring has arrived in my heart! So today as I get a few things done around our home, I thought I would share some kitchen decor and essentials I rely upon daily, enjoy as accents to our European country inspired home, and simply cannot live without. Some of these links are affiliate links and may earn me a small commission when you use them for purchases.
Kitchen Decor & Essentials I Can't Live Without
1. Quartz Countertops.
Ours are Viatera quartz in a color called Minuet – read all about them in this story where I explore how to choose the right color quartz for your kitchen.
2. Apron Front Fireclay Farm Sink.
This was the first kitchen I was finally able to get the apron front fireclay farm sink I had been dreaming about owning! It lives up to all the hype, and I can't recommend these fireclay sinks enough since a farm sink accommodates a ton of dirty dishes, stands up to abuse, and adds so much character and vintage style to any kitchen design. Tips: (1) Just like for any kitchen sink, don't leave anything metal sitting in it for long. Occasionally I forget this and simply scrub any rust residue with a Mr. Clean eraser and a little iron-out. (2) Even though it's heavier than you can imagine, take it out of the packaging to inspect it thoroughly as soon as you receive it even if you won't be installing it until a later date – my own sink (ordered from a different maker than the one below) arrived bowed and un-usable so we needed to have a second one shipped.
3. Stainless Bridge Faucet with Sprayer.
I love a bridge faucet, and I wanted a design that was minimal, high quality, and not trendy. I didn't want it to shout "French Country" or "modern" or even "expensive." It needed to have a transitional decor style that would stand the test of time. Here's the exact model that continues to serve us well and look gorgeous with the farm sink.
4. Marble Subway Mosaic Tile Backsplash.
When we were designing this kitchen (it was completely gutted and re-done DIY by us), I knew I wanted marble subway for the backsplash, and there are more than a few options. I decided on a polished bright white marble mosaic which is highly reflective for this kitchen which doesn't receive a lot of natural light. Since it's a mosaic, installation was eased in that 12″ sheets of 2″ x 4″ tiles are installed rather than individual tiles. Here is a lookalike option at an excellent price point:
5. Rustic Wood Turned Candlesticks.
I love using rustic wood turned candlesticks that are scrubbed, bleached, aged, limed, stripped, or simply left in their natural state. They are perfect on farmhouse tables, countertops, dining tables, islands, shelves, side tables, and almost anywhere in a country home where a little farmhouse decor feels right. They look beautiful with glowing candlelight or even faux candlelight.
Here's a view of our dining room (below) where I also have turned candlesticks, and in this photo, you'll see I still had our family's huge farm table (painted white) in the kitchen…it moved into my studio and a small scaled reclaimed wood round table moved in.
6. The Best, Simple, Clear Glass Tiny Tumblers.
I have been CRAZY about these little glasses for years, yet I'm not sure I have ever shared the source. They are made by Bormioli Rocco and are minimal, sleek, and simple. They can be used as modern red wine glasses, dessert dishes, yogurt, or cocktails (I love these for limoncello on the rocks). You can even use them for votive candles! You can see them on my romantic tablescape below if you look closely.
7. Wood Clipped Corners Accent Stool.
Now that I have been living with a reclaimed elm wood stool in the kitchen for a couple of years, I can't live without it. First, it adds some rusticity with its natural warmth in my ultra-white kitchen. Second, it's not just for decor, I use it everyday as a step stool to reach things that are too high (and everything is too high for this munchkin). Third, in a small kitchen, it makes a perfect perch for a grocery bag, books, or even feet when I lounge on our window seat to watch TV.
This oak stool is nearly identical: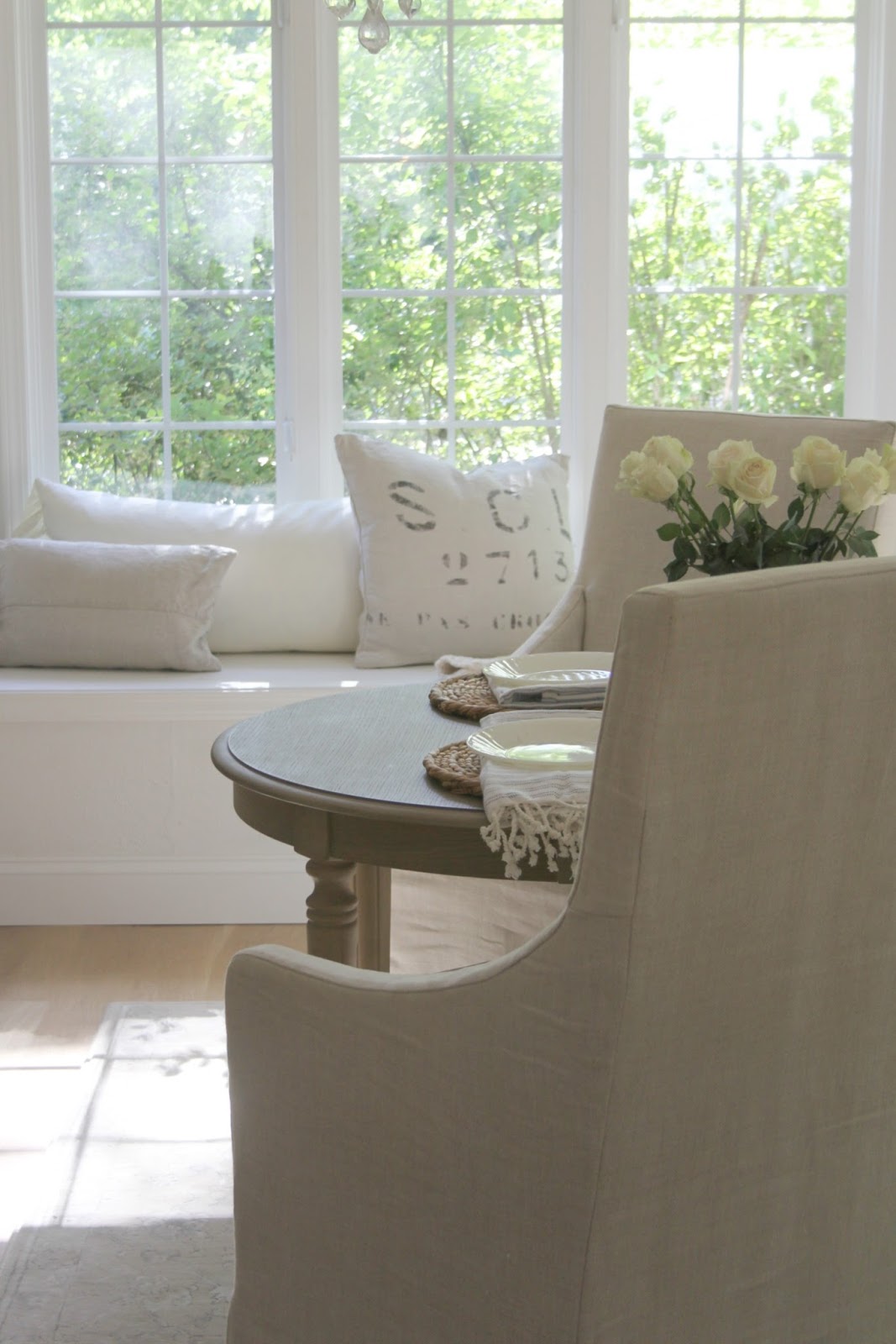 8. This Tried and True Toaster.
We are a family who uses our toaster every day (I consume an embarrasing amount of toaster waffles and may require an intervention!), and this good looking model has handled years of use and abuse beautifully.
9. Vitamix Explorian.
I am trying to eat healthier (um…did you just read my waffle confession? #busted), and the number one way I do that is by making healthy smoothies with the Vitamix Explorian. It is also the perfect tool for making batter, and if you missed my Gluten-free flourless chocolate cake recipe, give it a whirl (see what I did there?).
10. Red Cast Iron Dutch Oven.
Even though I can't live with much red, the kitchen poses an exception since I find red kitchen essentials appetizing and attractive. I use my red cast iron dutch oven almost daily for everything, and it seems to just get better with use. Do you like red in the kitchen too?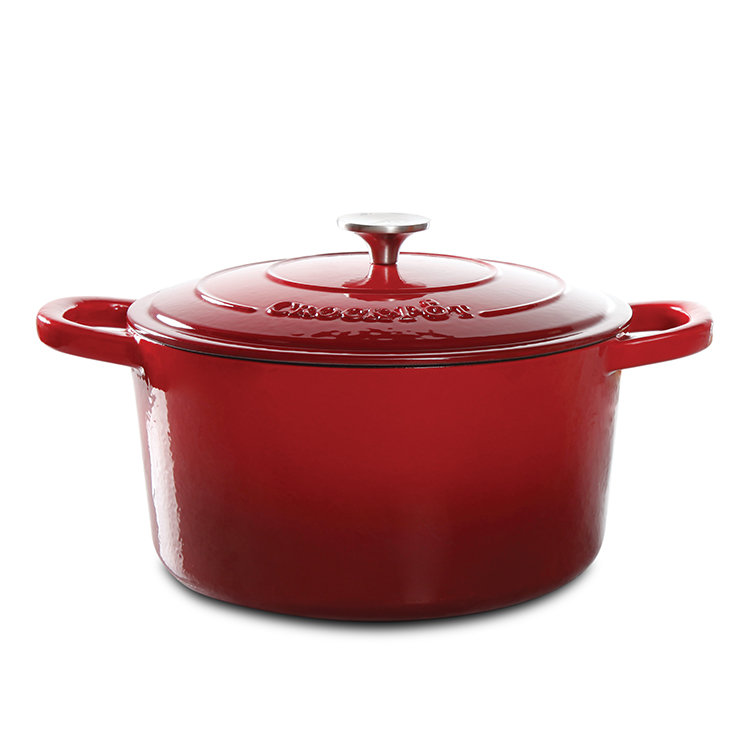 Red Cast Iron Dutch Oven: FIND HERE
11. Inexpensive Blue Stripe Dishtowels.
They're affordable, they can be used for casual cloth napkins, and they do a good job drying dishes, mopping counters, and for a multitude of housecleaning tasks.
12. MUST HAVE Nonstick Grill Pan.
I may have saved the best for last! I use our round nonstick grill pan almost every night for grilling meats since my husband must have a gluten-free diet and needs his meat and potatoes! I can't say enough about how healthy grilling is over frying, and who doesn't love grill marks!?! I use high heat, and in no time, dinner is served.
Apparently, I also cannot live without my abstract paintings in the kitchen, and I am gearing up to create some new work so if you're interested in collecting a piece or wholesale for your design clients – email me (michele @hellolovelystudio dot com) and I will let you know about inventory.
See more of my abstracts here. 12 Kitchen Decor & Essentials in My Kitchen I Can't Live Without!
And here's a peek at the French Country kitchen in our prior home which had grey walls and space for 50 guests (I'm still trying to learn to love a small kitchen!).
What kitchen decor or essentials in your kitchen can you not live without? I'd love to hear!
I independently selected products in this post—if you buy from one of my links, I may earn a commission.
Peace to you right where you are.
-michele
Shop for items you already intended to buy on Amazon RIGHT HERE, and also find home decor here to keep decor inspiration flowing on Hello Lovely!
Hello Lovely is a participant in the Amazon Services LLC Associates Program, an affiliate advertising program designed to provide a means for sites to earn fees by linking to Amazon.com and affiliated sites.