Sometimes a kitchen with expanses of white can feel a bit too flat or sterile. These strategies for how to warm up a chilly white kitchen are inspired by thoughtful designs that strike a lovely balance. Why do they feel so cozy? How to layer textures? What makes them feel warm in spite of all the white? Is there a formula or secret for bringing balance?
How to Warm Up a Chilly White Kitchen?
1. Repeat Natural Textures to Raise the Temperature
A measure of warmth in a white kitchen often comes from wood floors or wood-look flooring, but there are other ways to add a layer of natural warmth.
This kitchen by Finding Lovely demonstrates harmonious warm and cool tones. Light grey cabinetry and white Neolith counters are warmed by a woven blind, light wood counterstools, and rustic accessories including boards, trays, and vases.
Even the simplest terracotta pot for a plant, wooden spoons, wood bowls, cutting boards, wood toned open shelving, and wood frames for art will bring a sense of organic contrast with the sea of white.
2. Accent With Warm Whites Like Leanne Ford
One of the things that drew me to Leanne Ford's work way before she was a superstar was how she deftly mixed creams and white.
When I began mixing whites for home decor and fashion in the early 2000s, a whole new world opened up. It is a much more relaxed and casual approach.
It's when all of the whites match perfectly that things can fall flat. Leanne uses this trick all the time, and in the rustic chic vintage kitchen (above), a warm white tile is layered with linen white walls, white appliances, and white dining chairs. Mixing whites is not just for rustic farmhouse kitchens though. Consider this modern French approach by Jennifer Lincoln-Cutler:
Even if there is no chance you'll be adding handmade or tumbled cream tile to your kitchen, you may have other options. Just look at how a collection of vintage stoneware in varying shades of cream work together to create interesting warmth!
Here's a pretty warm white tile:
3. Consider Wood or Butcherblock for an Island or Work Table
I don't have much experience living with butcherblock so I can't say whether it stays looking good for long, but lots of designers have jumped on the bandwagon.
Does it get more classic country than simple white cabinets, subway tile backsplash, and butcherblock with a farm sink?
In a genius move, the Giannetis designed a white oak island for their Patina Farm new build kitchen that included stone inset near the sink. The stone provides enough workspace for tasks that might not be as friendly on wood.
If money is no object in your kitchen design, you could consider: an exquisitely ancient European wood work table…
or a classic piece of fine furniture:
4. Introduce a Warm Color to the Island or Work Station
Even a subtle contrast from the island can add a ton of interest. The kitchen island below was painted a cozy warm light grey called BM Pashmina, and more light grey possibilities are HERE.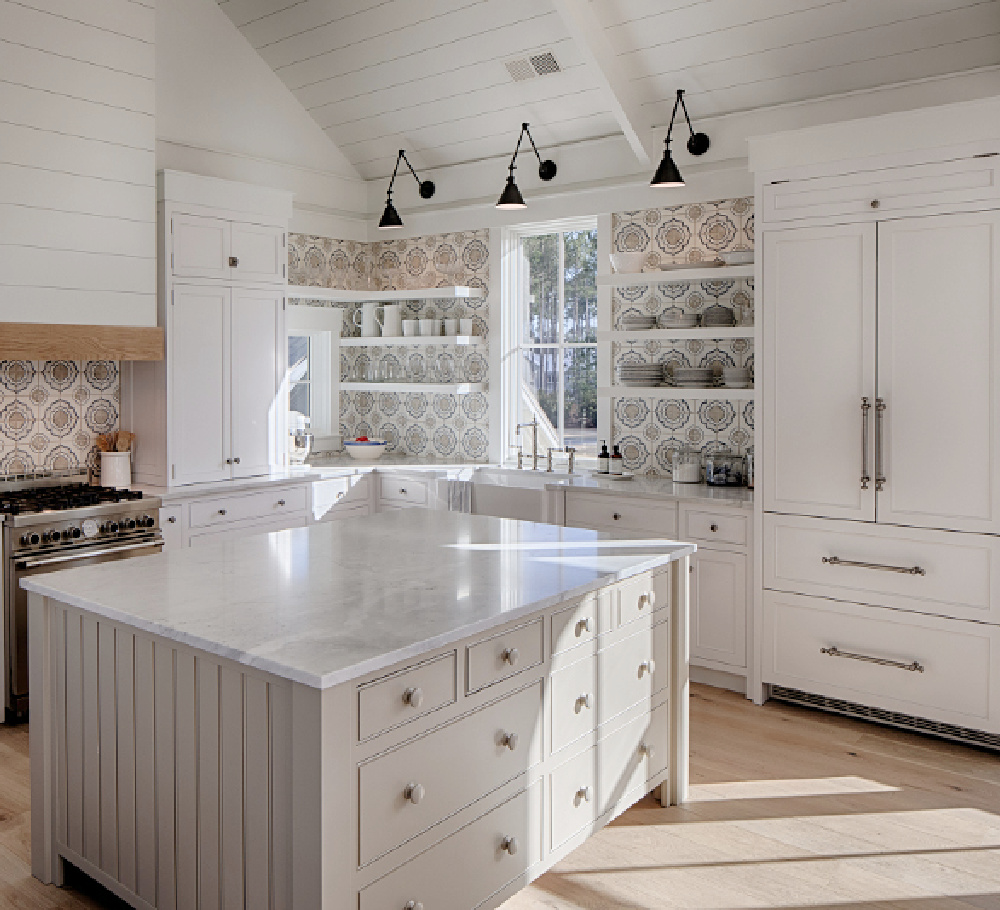 This bright white kitchen is still on the cool side, but I can imagine it very warm with accessories, plants, and decor.
High contrast from the island is another possibility, and there are black paint colors with warm brown undertones if you care to veer away from cooler blue undertoned blacks.
You just might find the perfect black to bring contrast from windows:
5. Paint Cabinetry a Warm White
Think beyond the usual suspects (BM White Dove, SW Alabaster) for a white paint color for cabinetry. But which color? I write about white paint here.
And during the pandemic, I discovered a convenient way to try and buy paint…
With CLARE paint online…here's a putty-like light beige color with warm undertones I used on in two bathrooms here at the Georgian called No Filter:
And in case you're wondering, there are a wide range of beiges out there, mama.
In most cases you won't even find "beige" in the paint color name:
6. Add a Pattern to Backsplash or Floor That Makes You Warm Inside
It just might steal the show. Remember Lily Aldridge's kitchen?
There are so many ways to add pattern with the floor's pattern! This tile below is the same one chosen for the renovation of our son's bath – see that project here.
Could the warmth of copper be flooring with coppery tones?
7. Turn Up the Warmth With Metallic Elements
This idea comes with a price tag if you'll be investing in copper cookware or custom brass range hood.
However, changing cabinet hardware doesn't have to break the bank, and even cozying up a corner on the counter with vintage brass candlesticks may get rid of chill factor.
8. Age & History Often Create a Warm Mood
Mixing vintage and antiques with new is a great way to bring warmth to any space including kitchens.
9. Boarded Walls, Panels & Wood Planking
Whether it's shiplap on the walls, beadboard on a backsplash, or wood planks on a ceiling, adding warmth with such texture is a smart way to turn up the casual and cozy factor while dialing down the "precious."
10. Vintage Style
While new kitchens with fresh new cabinets can feel timeless, a vintage kitchen with simplistic storage can impart a romantic, nostalgic, home-y warmth that is hard to beat in a white kitchen.
11. Choose Rustic or Less Fussy Counter Stools
If the white kitchen design involves a breakfast bar or island, turn up the warm factor with counter stools or bar stools to add color, texture, and form.
12. Warmth Upholstery & Textile
Layering with fabric and upholstery is going to make a huge difference! If you are building or remodeling and have the opportunity to add built-ins or a banquette…oh la la, they are such cozy corners and nooks to add pillows and upholstery!
Just look at how the folds of this Roman shade soften and warm a sink area with the sweetest gingham skirt!
Be Soothed by a Tour of Rose Uniacke in London
I independently selected products in this post—if you buy from one of my links, I may earn a commission.
Peace to you right where you are.
-michele
Shop for items you already intended to buy on Amazon RIGHT HERE, and also find home decor here to keep decor inspiration flowing on Hello Lovely!
Hello Lovely is a participant in the Amazon Services LLC Associates Program, an affiliate advertising program designed to provide a means for sites to earn fees by linking to Amazon.com and affiliated sites.