LORD HAVE MERCY, I'm so happy to report that last month, our son moved into his first home–the condo we renovated as he battled a health crisis. What amazing grace (and prayers!) carried us through those challenging months. His home looks awesome, and since we stayed on budget, it is shaping up to be a wonderful investment. Woohoo! Condo Makeover on a Budget: Get the Look (Industrial Farmhouse) shares shopping resources and highlights of the remodel.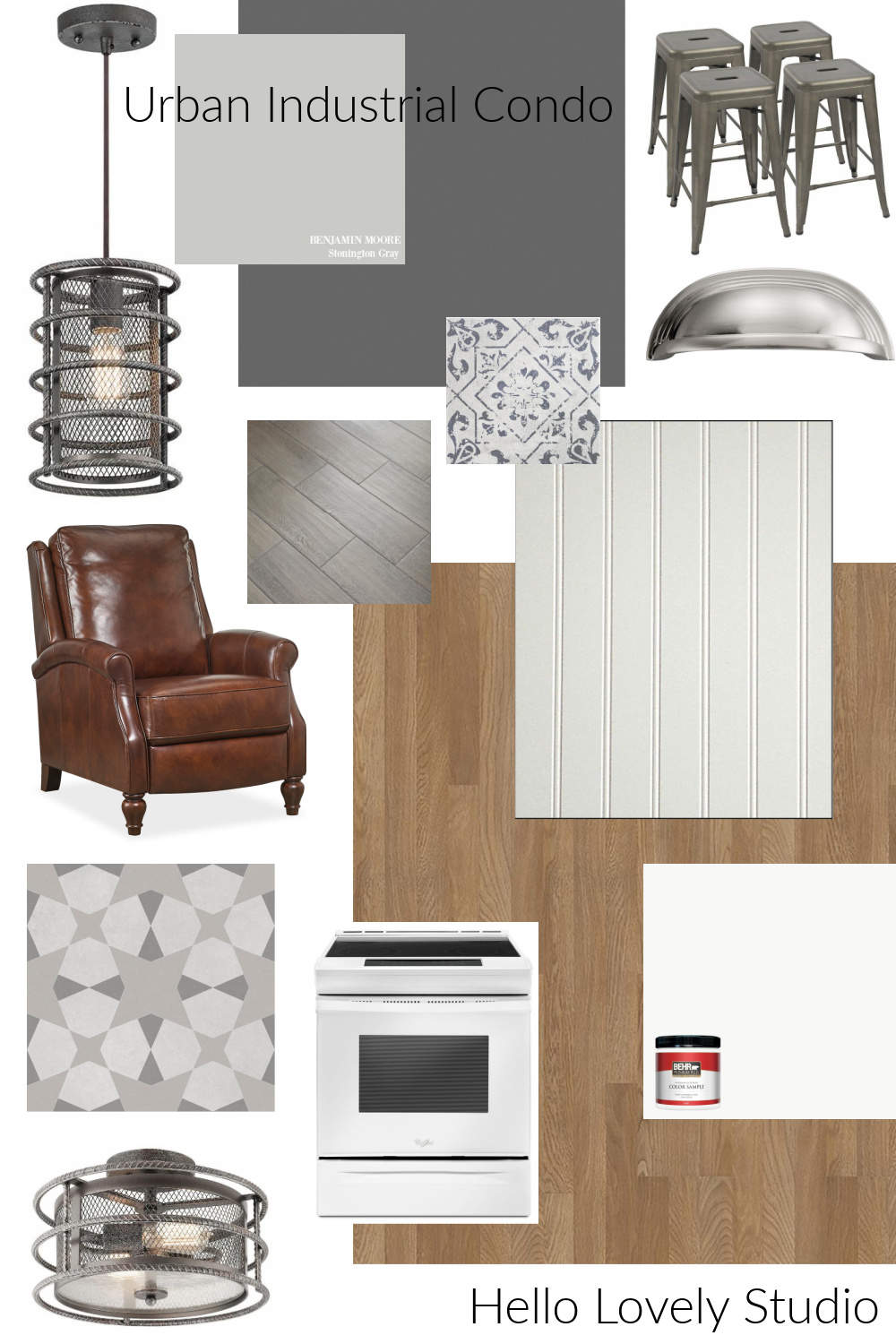 Condo Makeover on a Budget: Get the Look (Industrial Farmhouse)!
About That Adventure…
Our eldest son (a former high school Honors English teacher turned attorney) bought a foreclosed condo in a great neighborhood. The catch?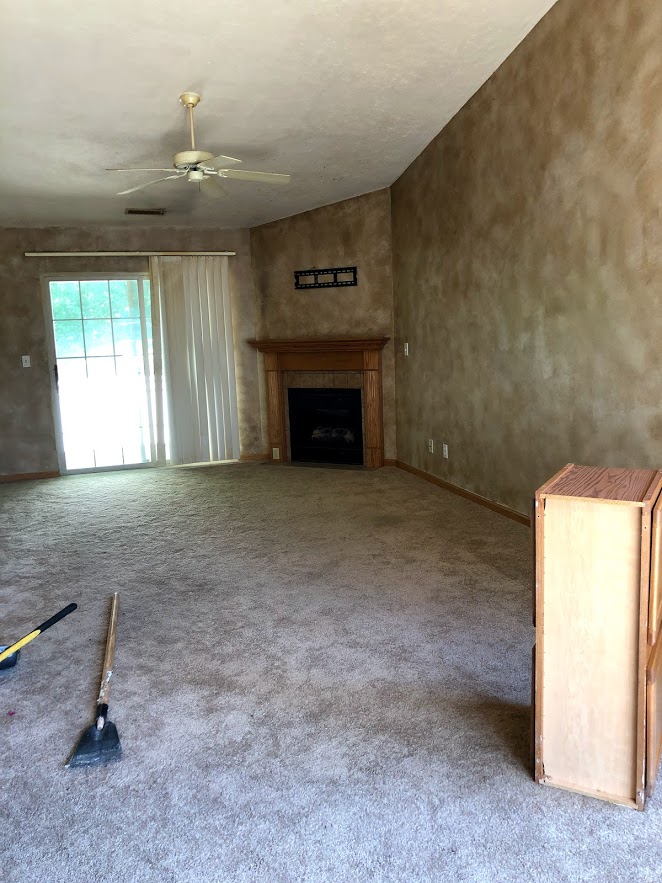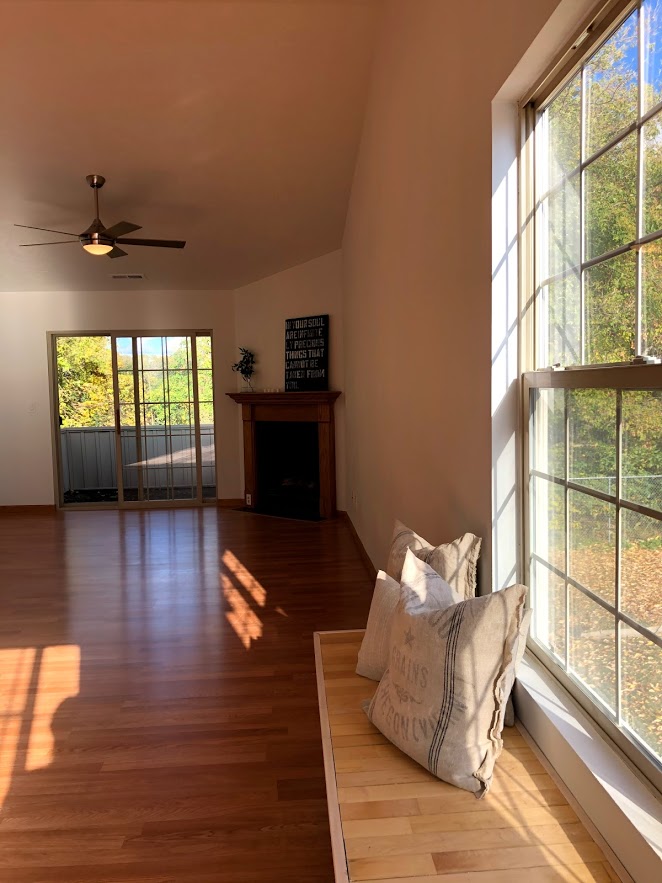 It was a big ol' mess, and it didn't make sense economically to spend too much on a reno.
Unfortunate Colors in the Condo 'BEFORE'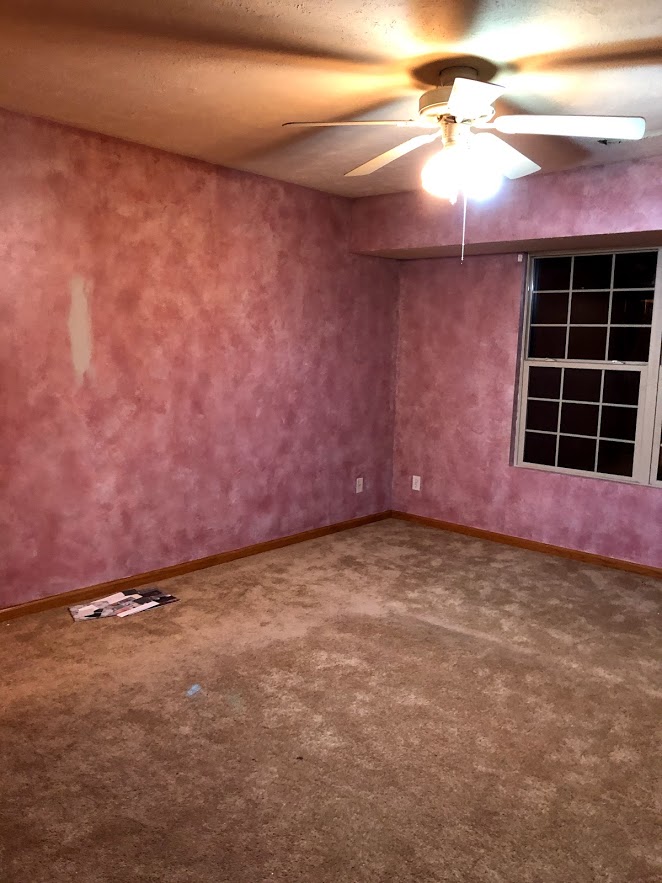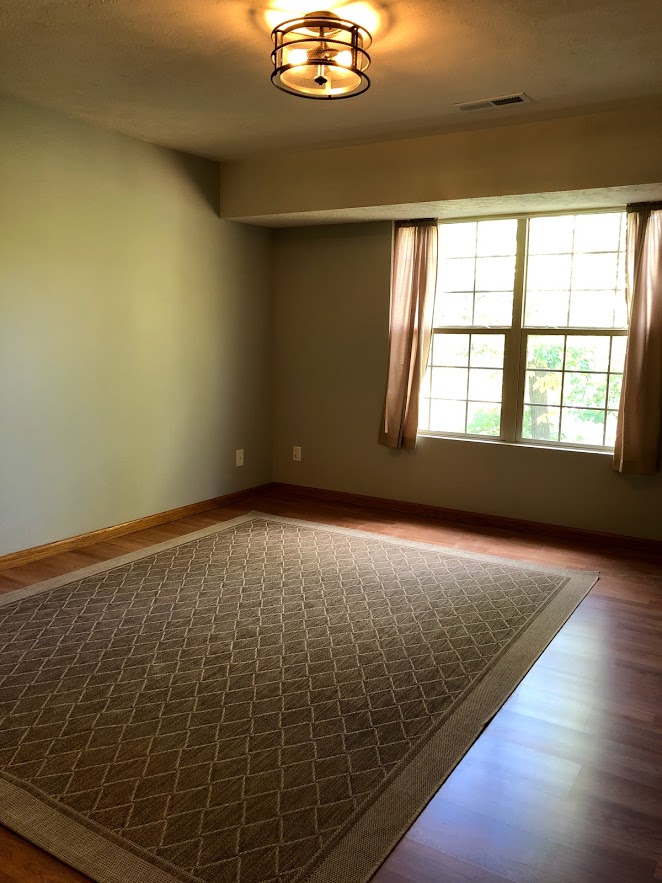 The renovation became an adventure when days before the closing, he was fighting for his life. What began as an e. coli infection progressed to Hemolytic Uremic Syndrome (HUS) and then Thrombotic Thrombocytopenic Purpura (TTP).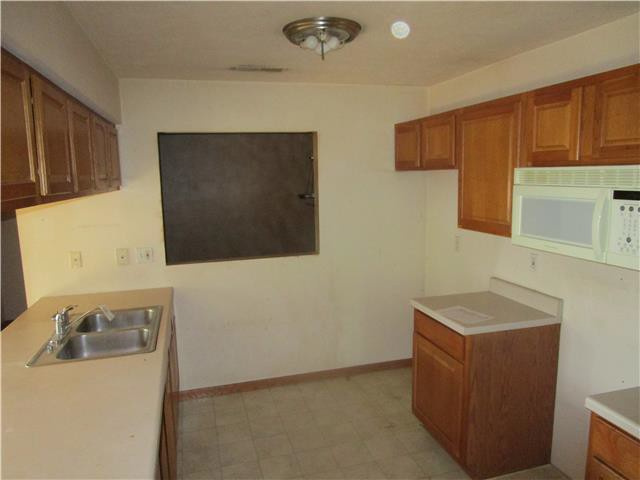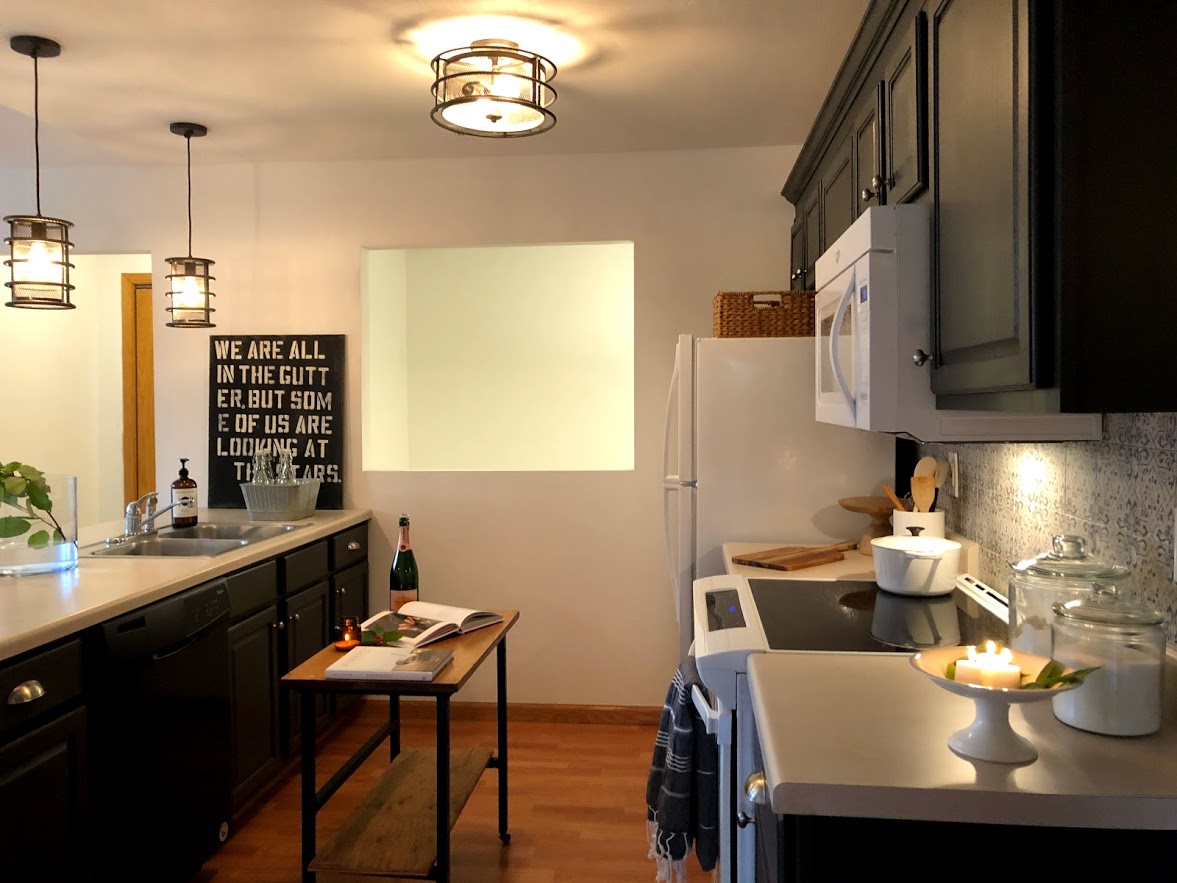 So rare, none of the treating physicians in the hospital had ever seen it, and to say that it was a stressful chapter during the pandemic is a gross understatement. (Oh, and he contracted Covid while on chemo with a shut down immune system so there was that too.)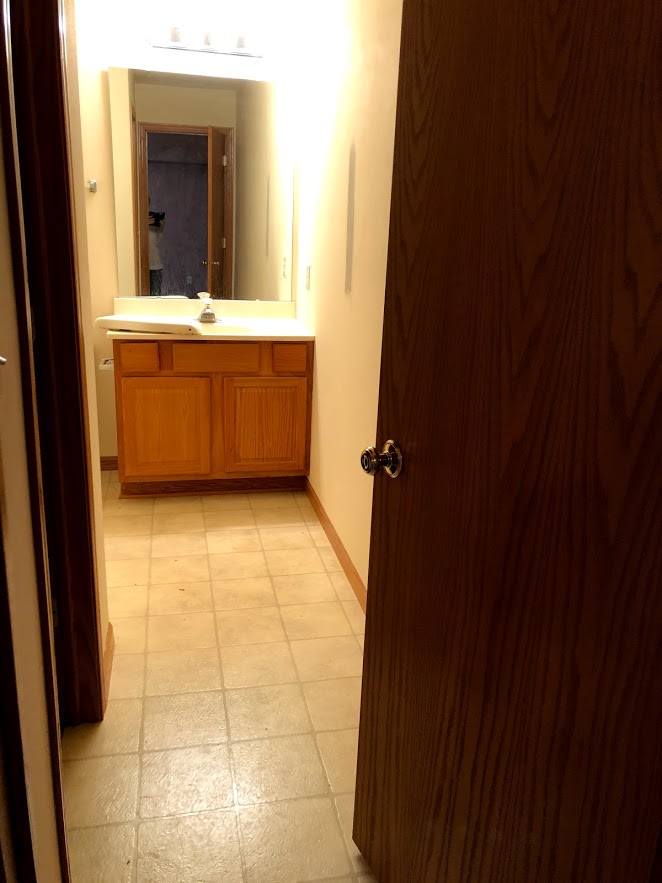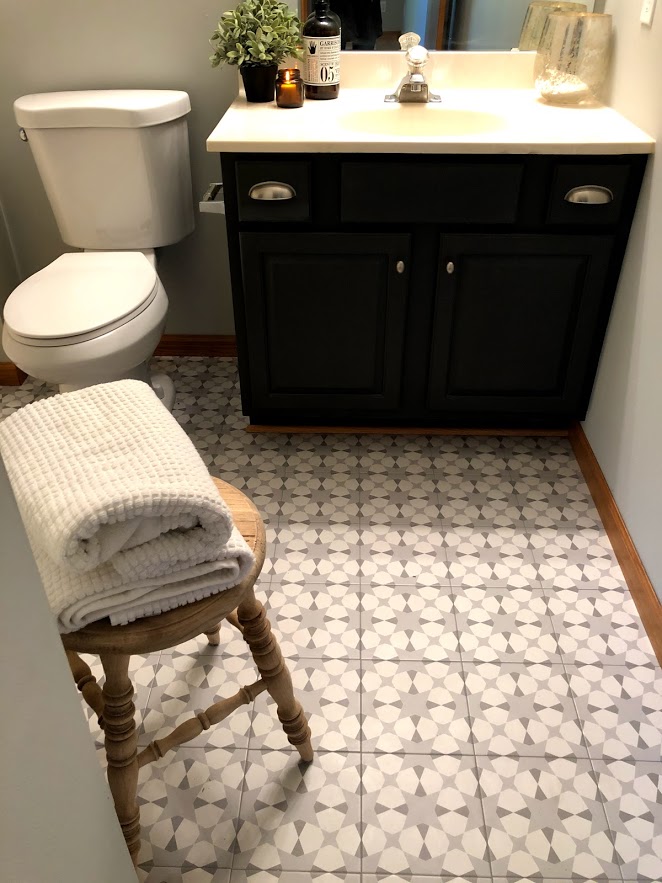 You can read my reflections about our journey HERE.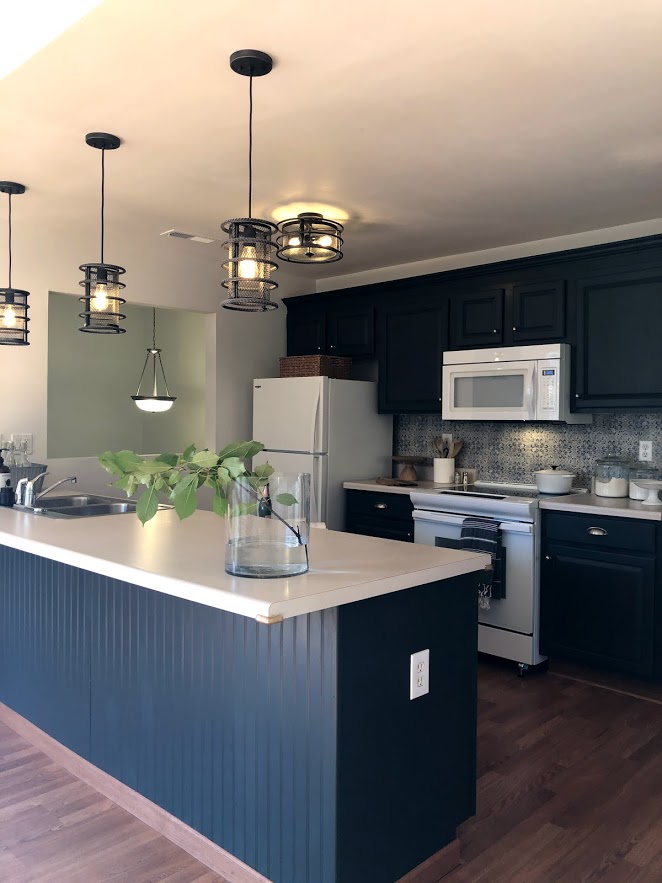 Renovation With Cost Conscious Budget
Since the project entailed a small budget, I thought you might appreciate learning how we creatively stretched his renovation dollars. (And if you care to cut to the chase, see the video of the 'after' at the end!)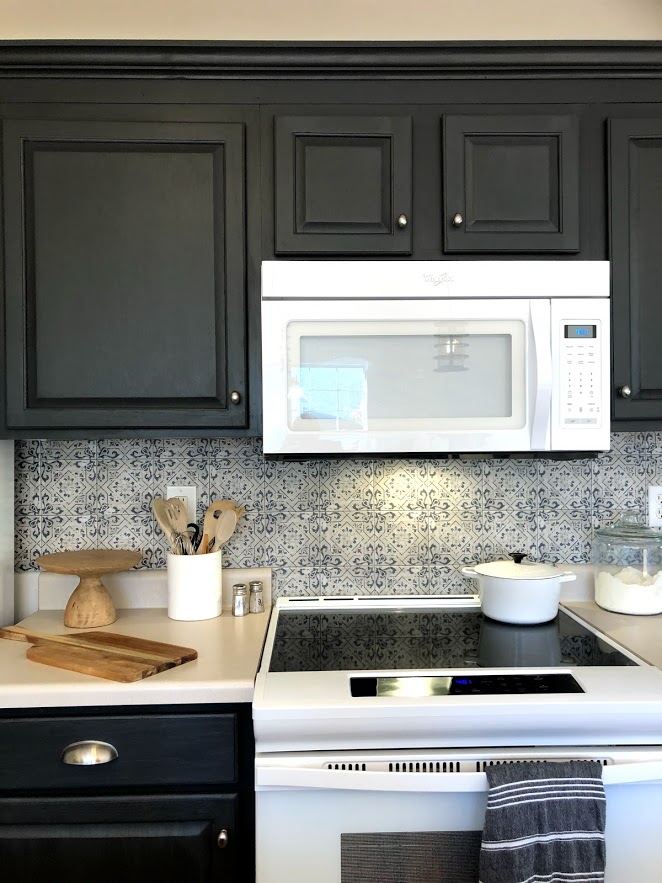 Deep Cleaning the Disaster Interiors
Unfortunately, there was little beyond the oak cabinets, doors, trim, and fireplace to salvage. As a result of years of cigarette smoke, every surface was yellowed with tar.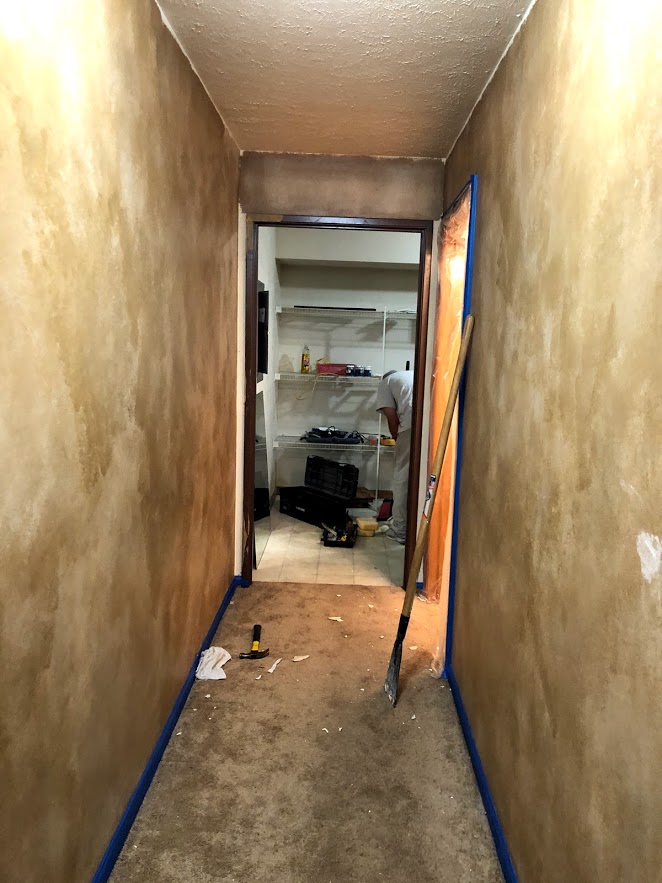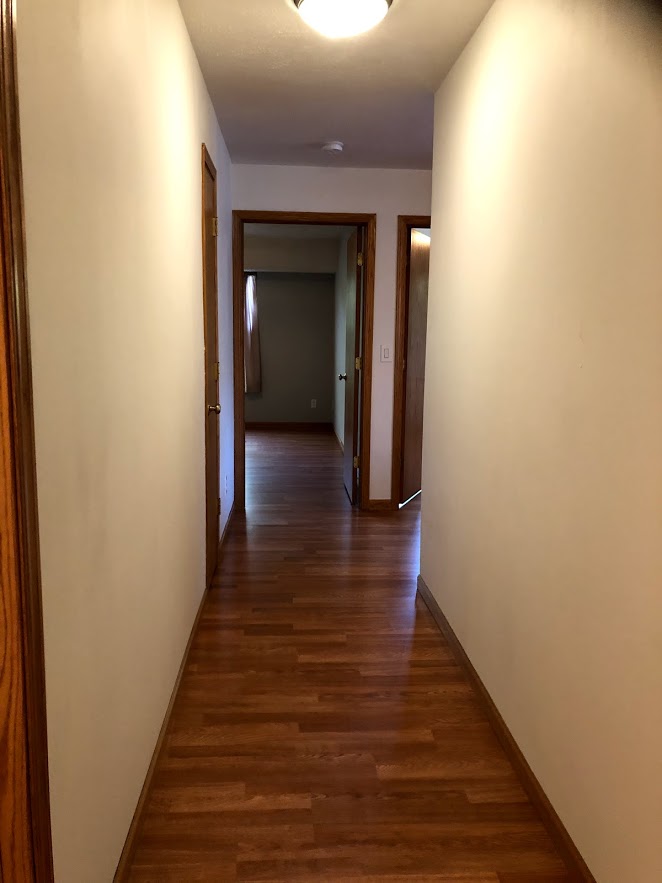 If you have never power-washed and mopped interior walls and ceilings…oh, my. Hours of laborious deep cleaning were imperative. Then, all of the trim and doors were removed.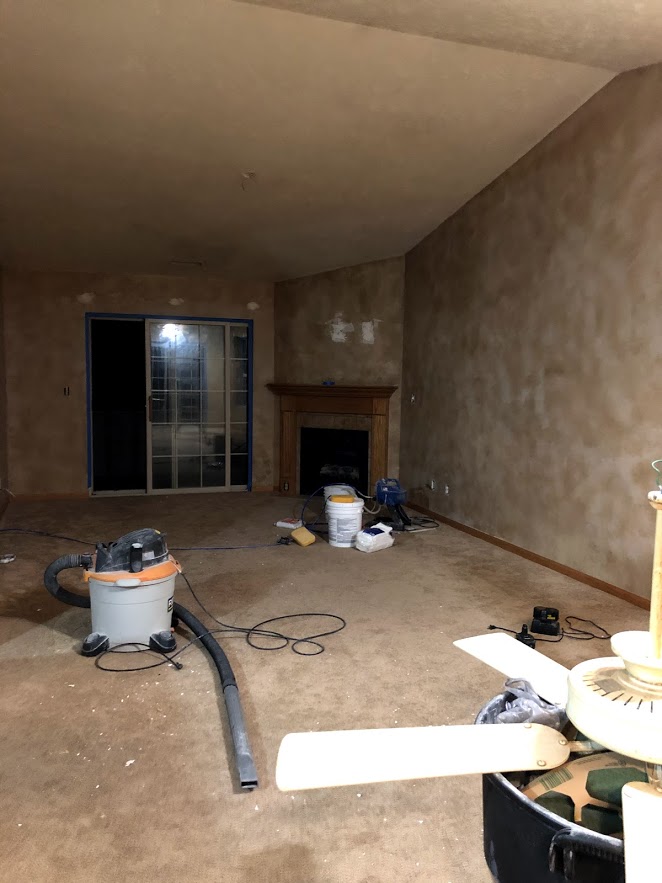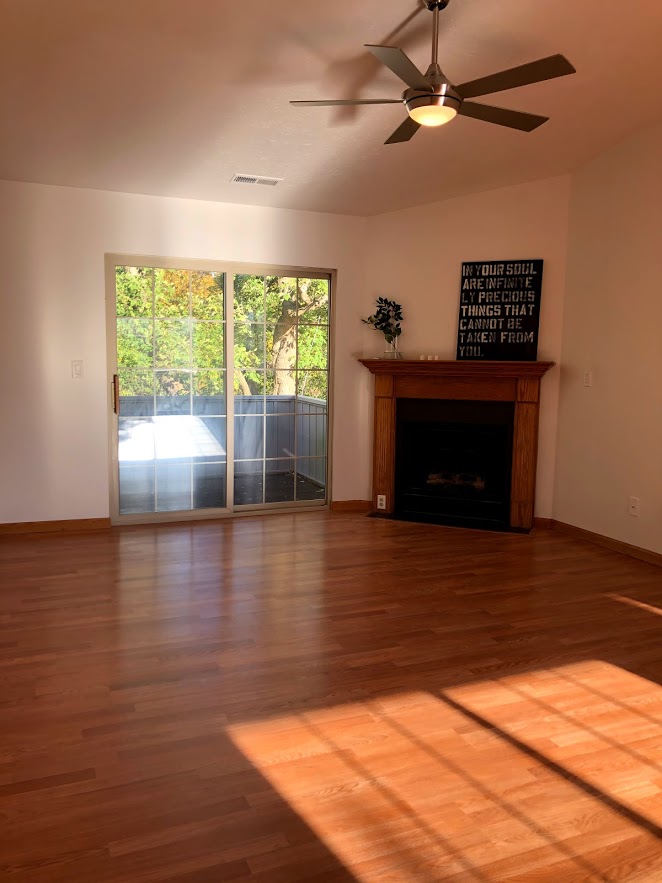 Condo Reno: Demo in the Kitchen
Next, 9′ of wall cabinets were removed, and the bulkhead over the breakfast bar in the kitchen was demolished.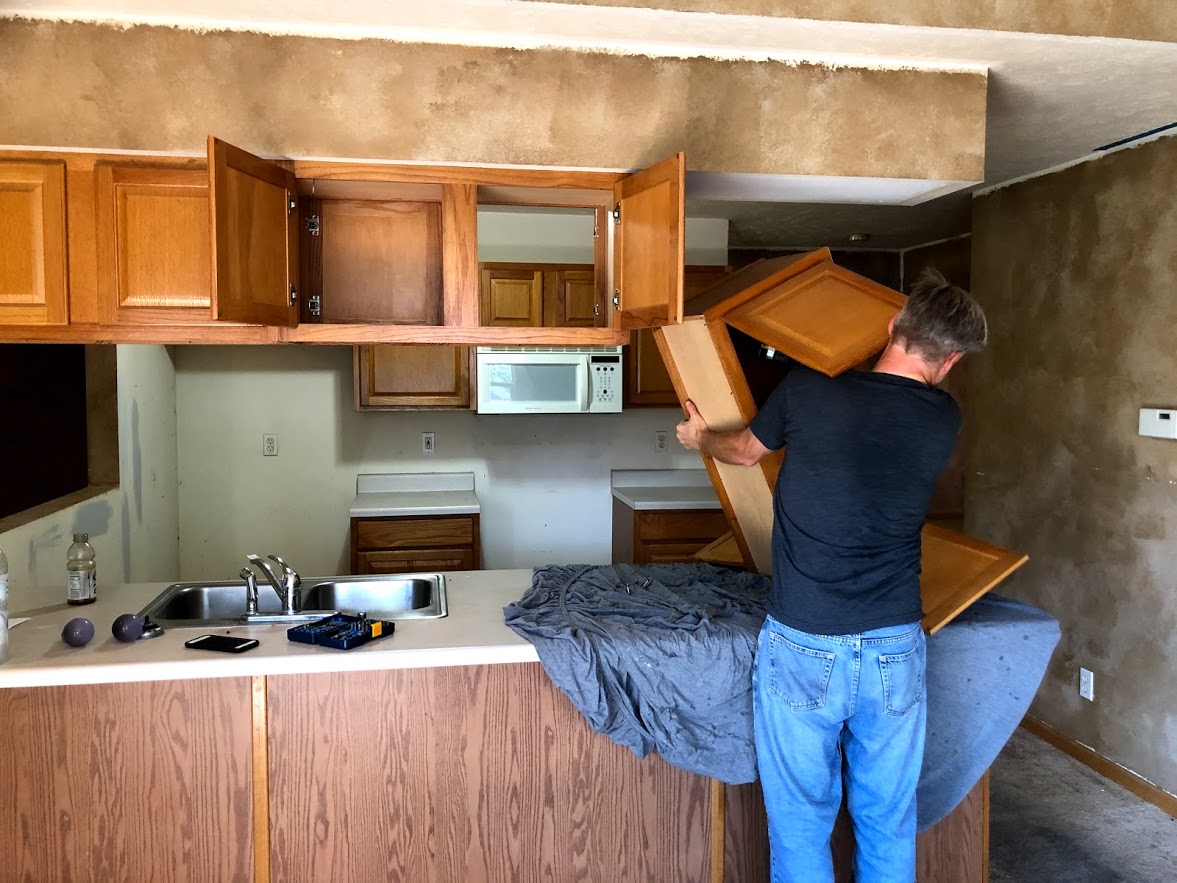 That baby did not disappear without a fight!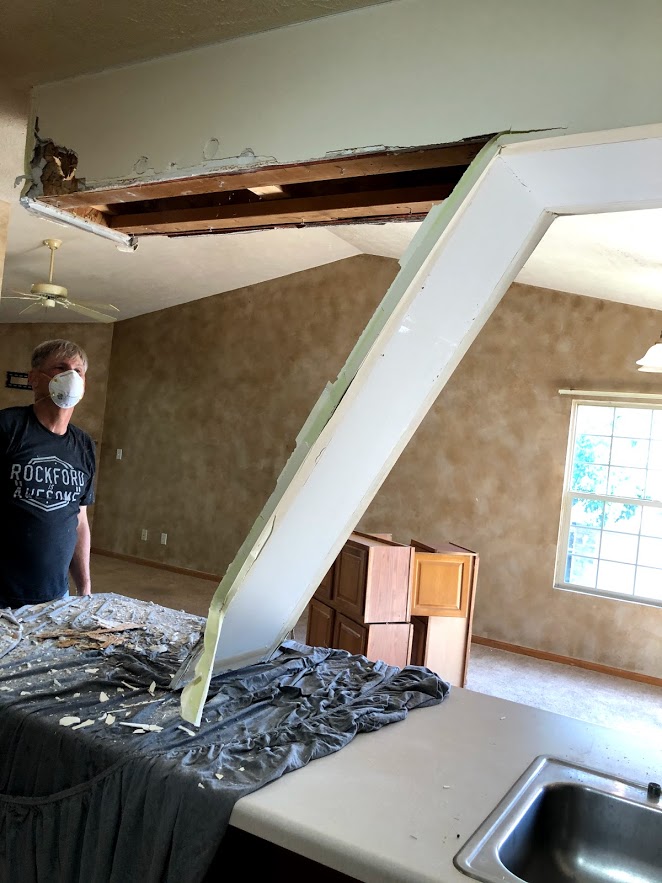 We learned just how well-constructed this home is!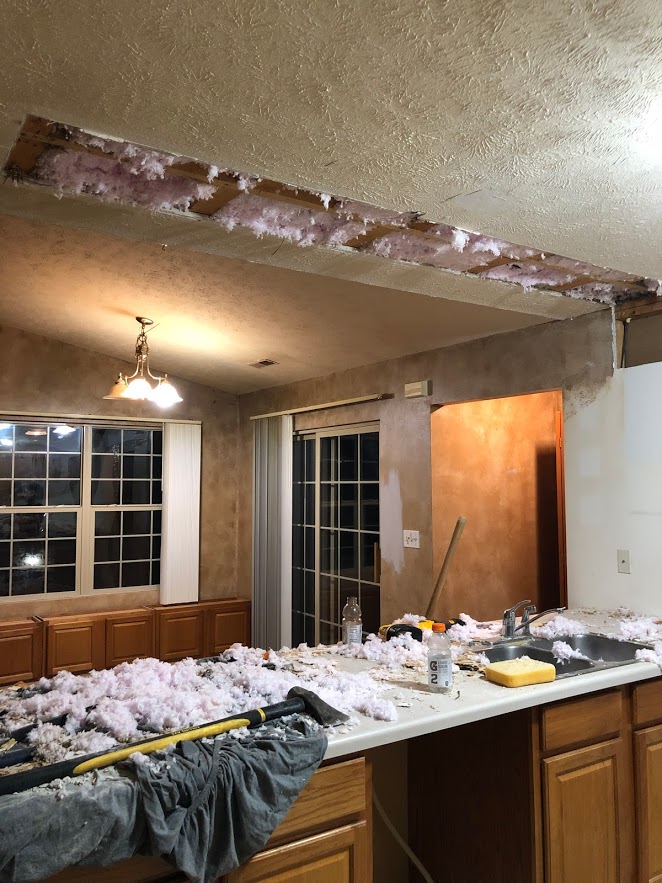 What a huge difference after we erased the line of stubby overhead cabinets to make room for statement-making pendants.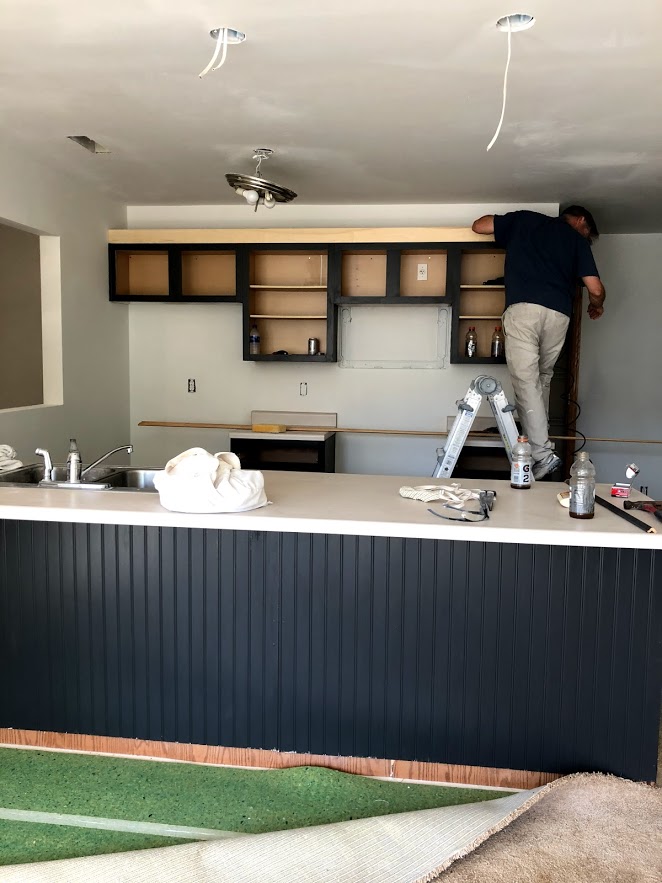 New Lighting & Resurfacing Kitchen Ceiling
I brought several options for pendants for our son to approve, and he chose a modern industrial farmhouse design.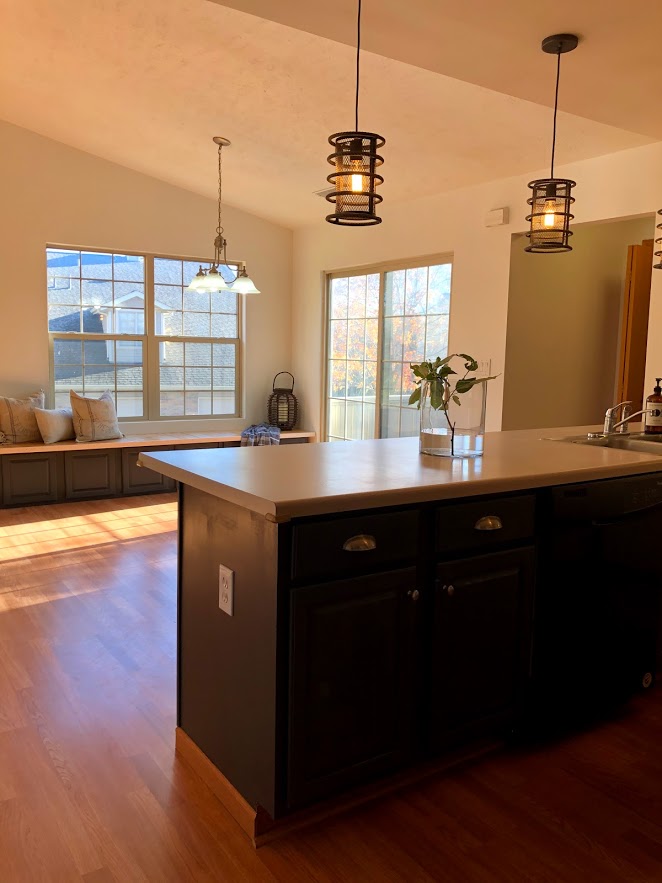 Since the kitchen's ceiling was textured, it was necessary to re-surface the whole thing after the soffit removal and lighting installation.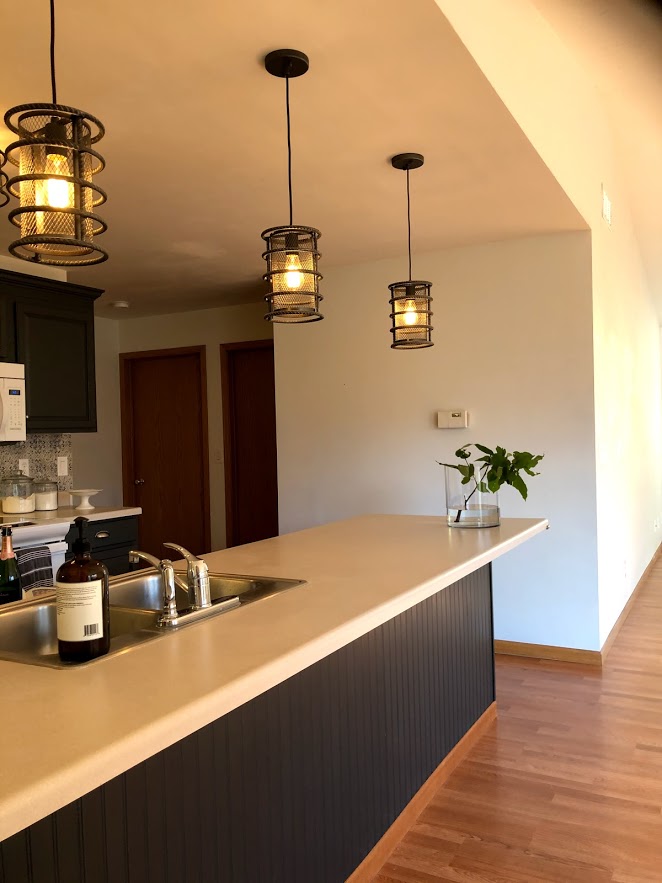 Condo Makeover: Demo of Flooring
The only existing flooring we kept was the vinyl in the utility room since it was neutral and in excellent shape.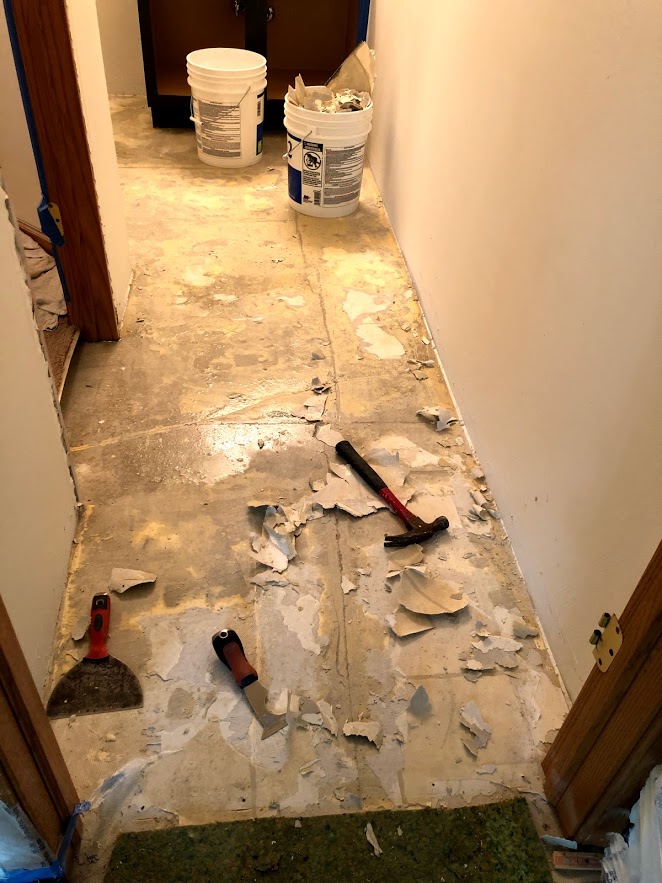 If you have ever removed vinyl flooring, then you know it is a beast!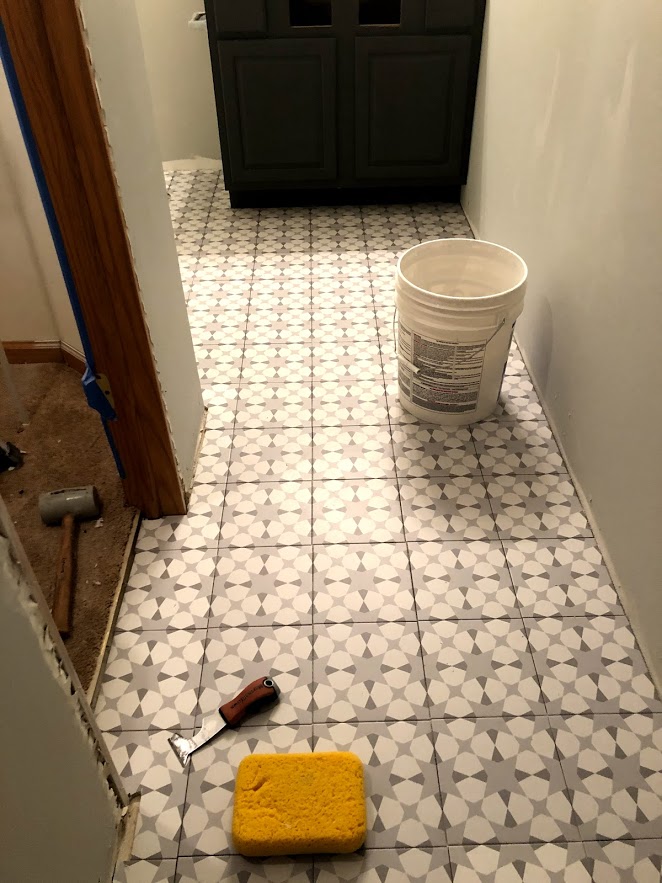 It was painstakingly scraped from the bathrooms and kitchen. All of the carpet throughout (including two flights of stairs) were removed as well.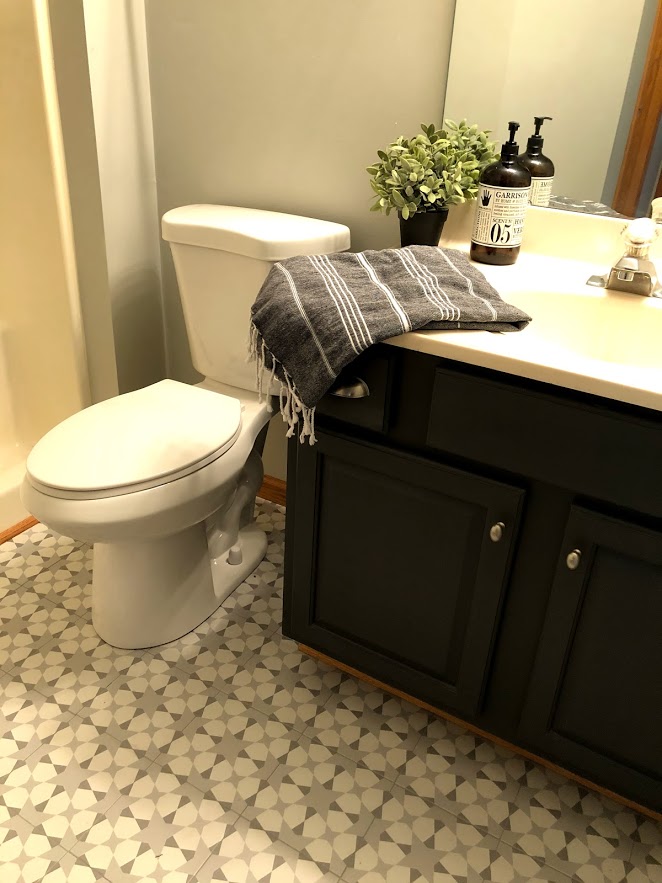 Priming & Painting Walls & Ceilings
Walls and ceilings were primed and painted a bright white, and oh, what a transformation that made.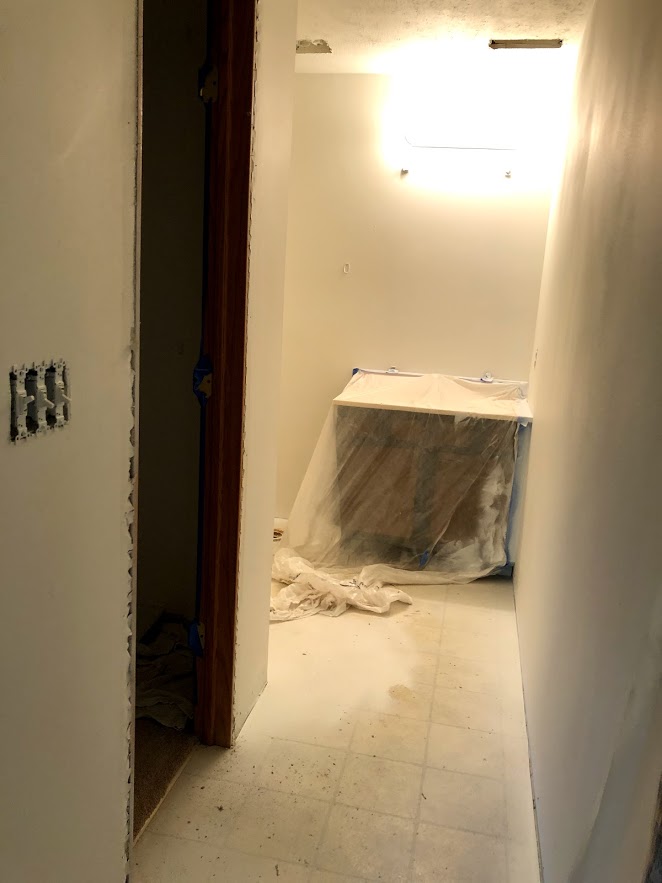 The previous owner had sponge-painted walls in two hues: a satin harvest gold and a semi-gloss lipstick pink. Not fun to paint over, but certainly worth all of the effort.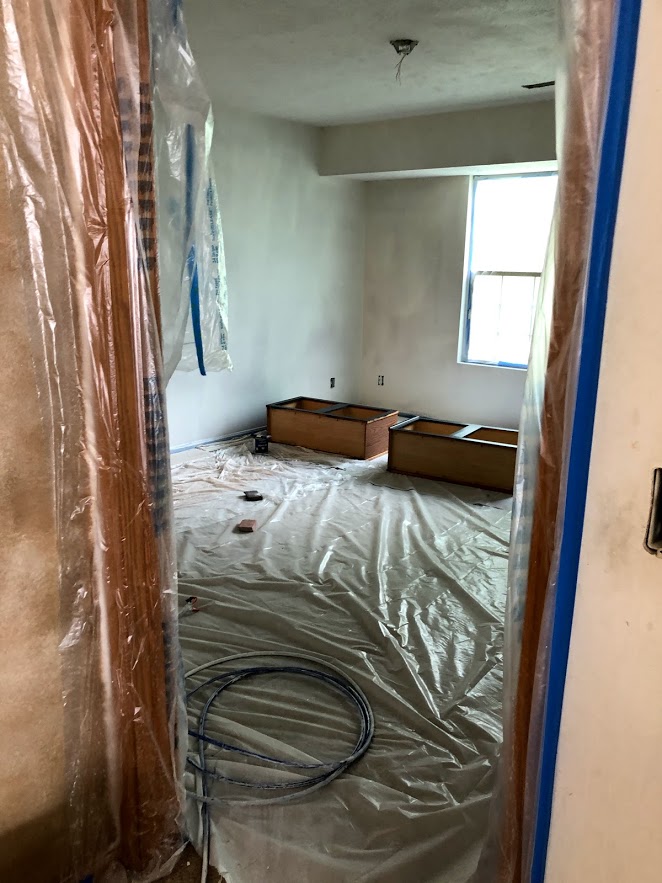 What a welcome clean slate when we erased awful glossy finishes with 25 gallons of flat white paint (and a few gallons of grey).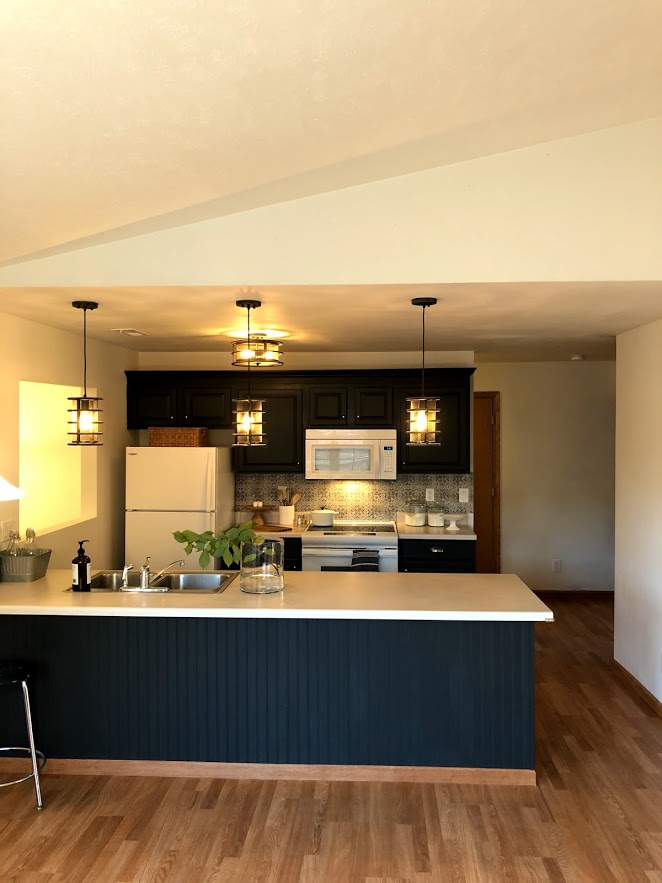 Budget Friendly Makeover: Color Palette
Our son wanted the condo to feel modern, minimal, industrial and neutral, so we chose a spectrum of greys and a crisp gallery white to work with the warmth of the oak fireplace and trim throughout.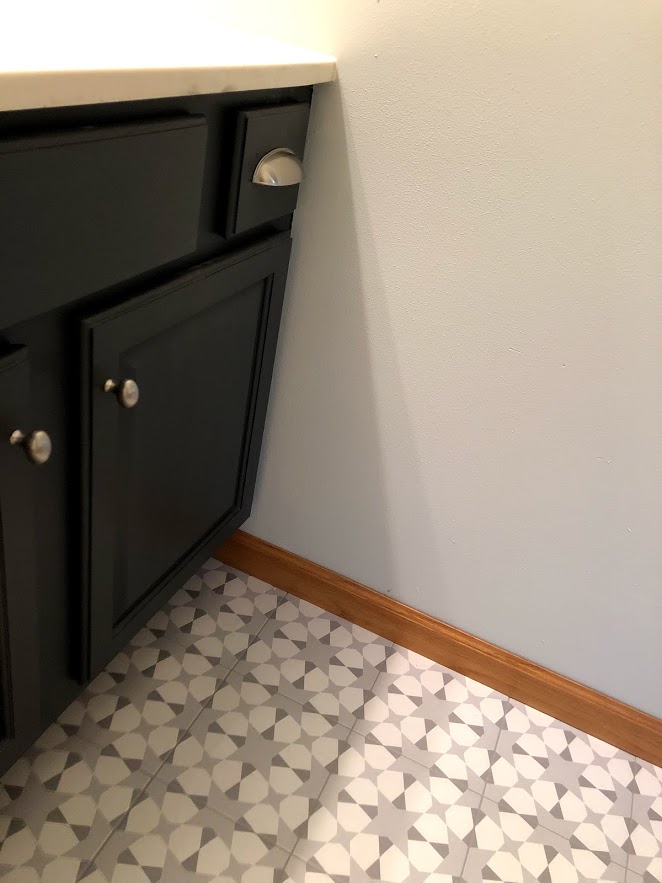 To keep things simple as the designer, I provided "the client" with three samples of each proposed color.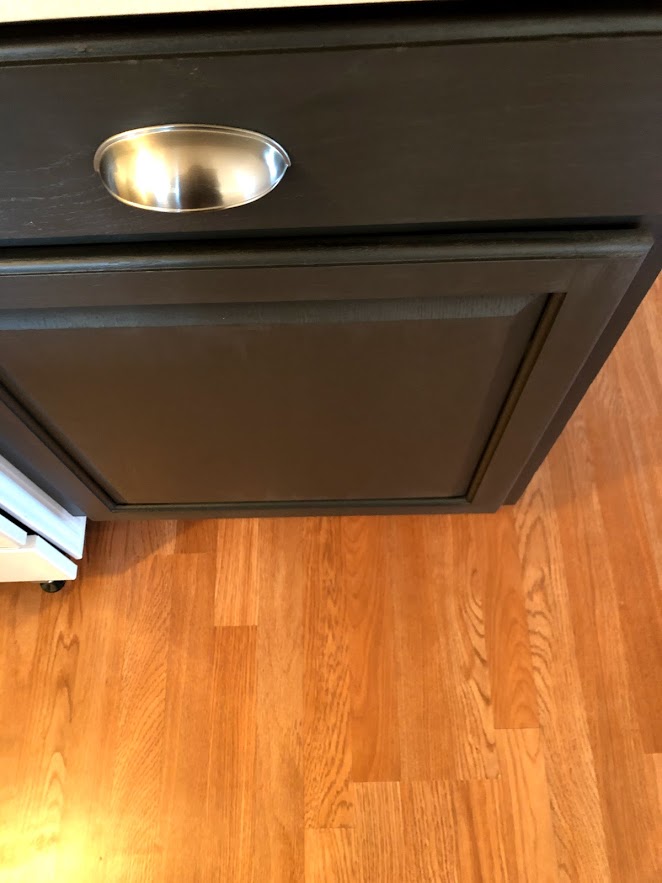 Dark Charcoal Painted Cabinets
Budget necessitated we work with the cabinets, and I was okay with that since they are solid wood. However, before I began painting, we made two important upgrades to the kitchen cabinets.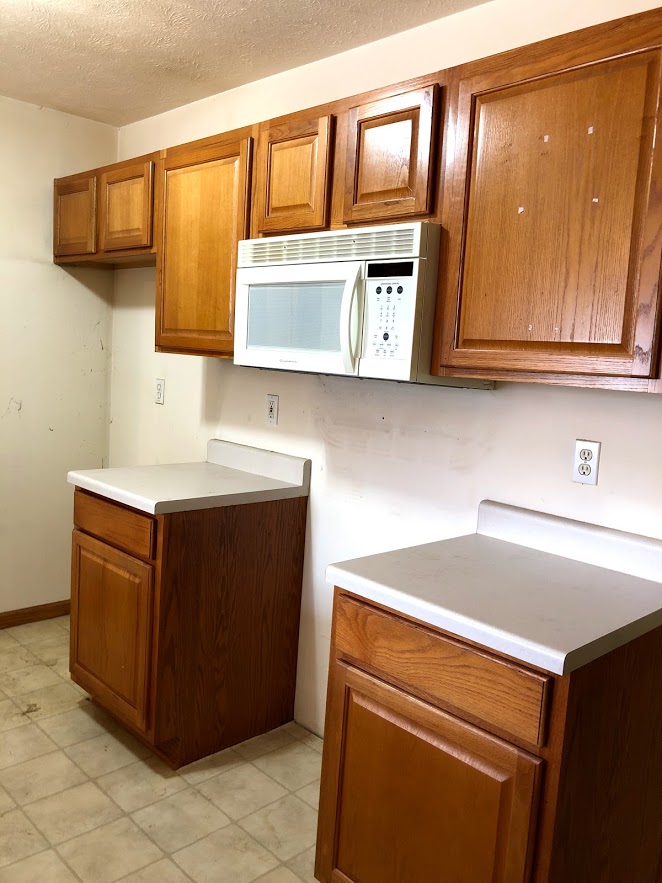 First, we added a riser and crown to the upper cabinets on the frig wall. Second, we added beadboard paneling to the breakfast bar for extra durability and interest.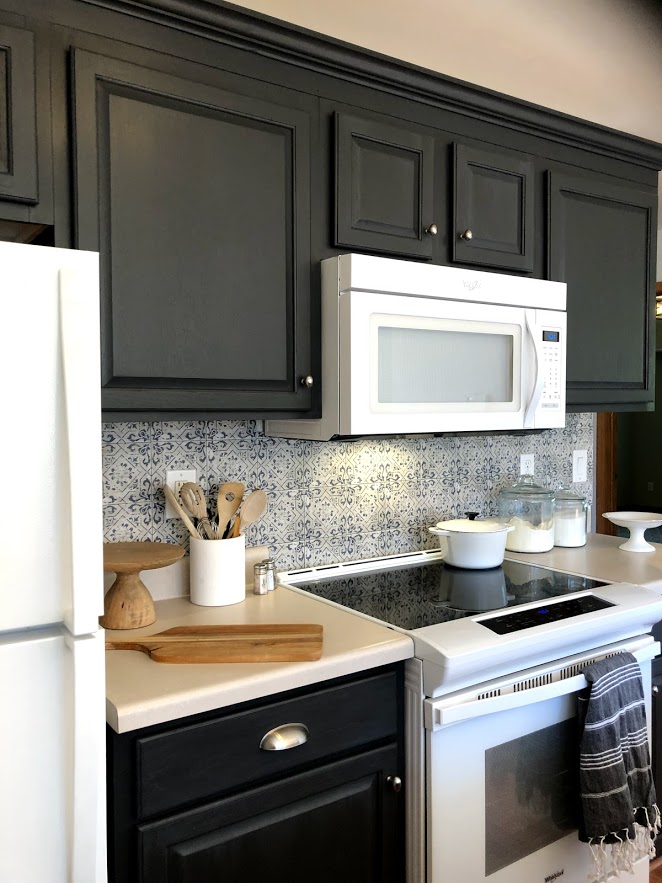 The paint color for cabinetry was an important consideration so I took the time to paint three cupboard doors in each paint color option.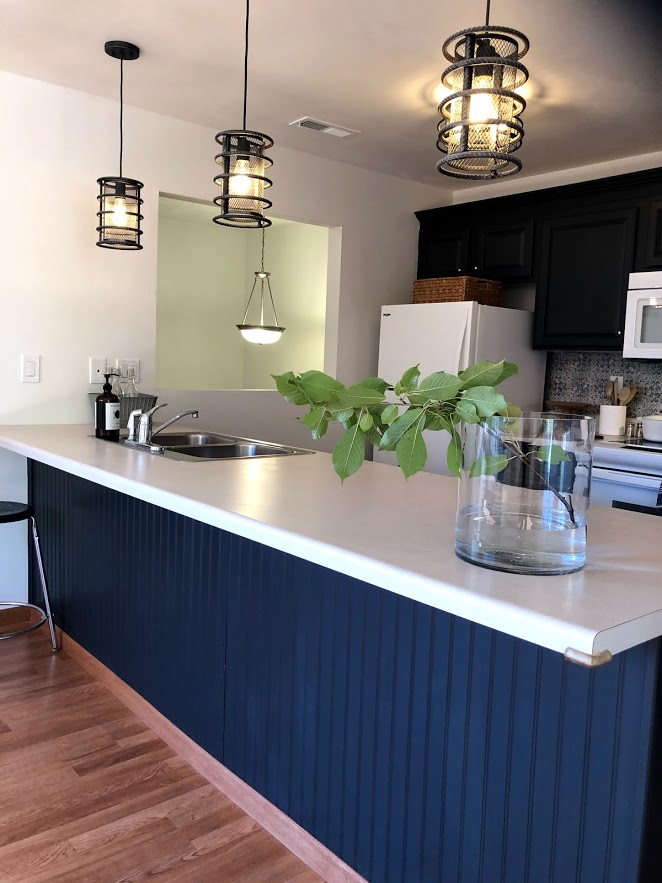 The darkest gray (SHERWIN-WILLIAMS Carbonized) emerged the winner, and this gorgeous hue can appear soft black, deep blue, and even mink-y brown depending on the light.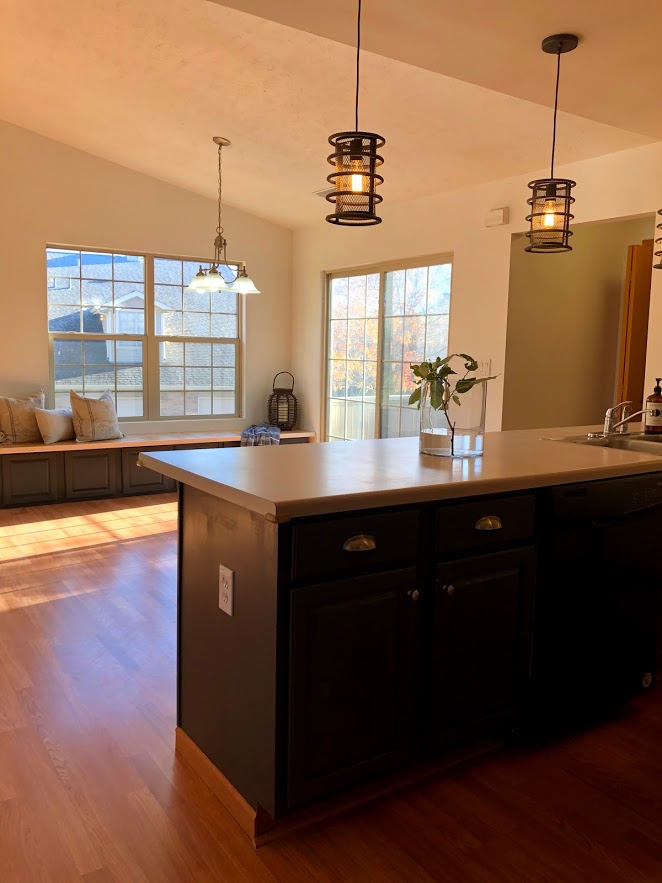 How Did You Paint Cabinets?
While I painted them by hand, you won't find a tutorial from me since I still lack experience. I also painted our kitchen cabinets in the Arizona house, but we didn't use the property enough to know if the painted doors held up nicely.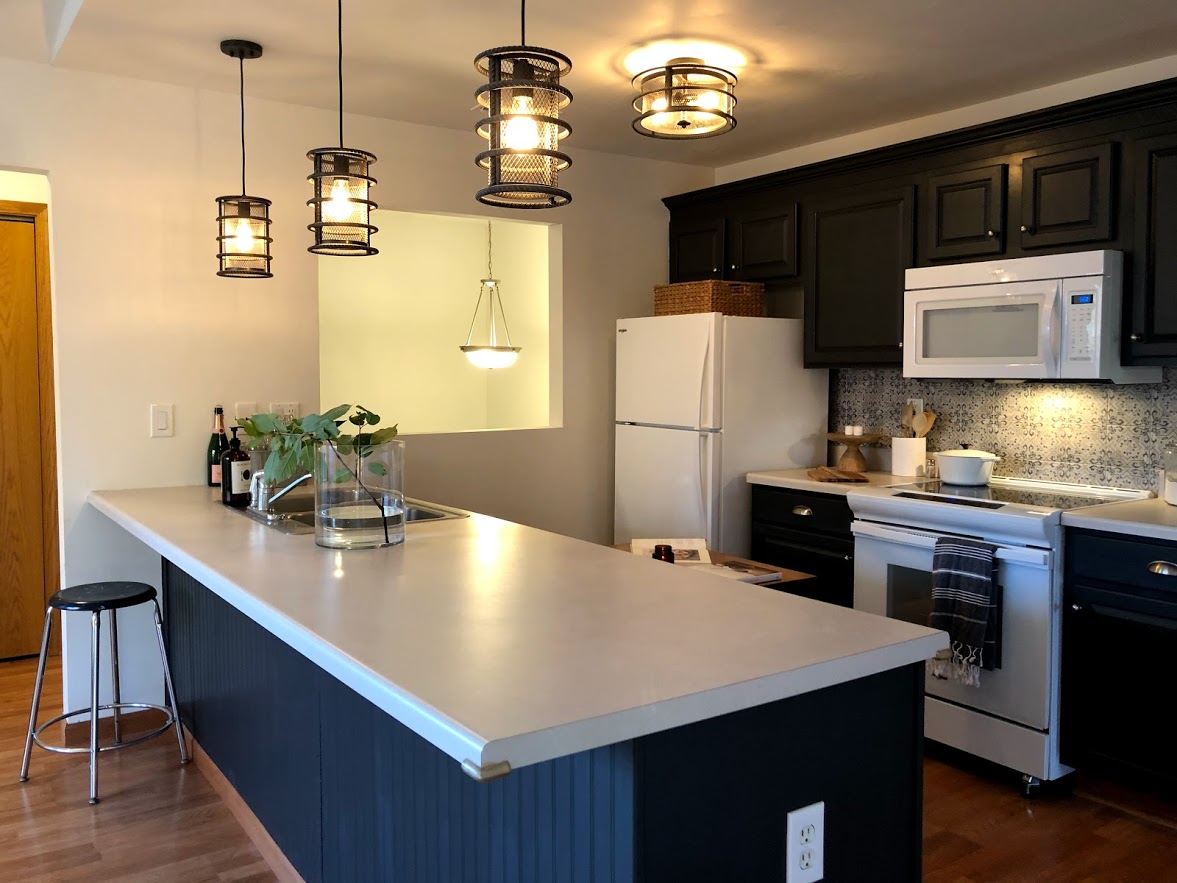 The big box stores now sell water-based paint suitable for painting cabinets so if you imagined oil paints were the only option…nope.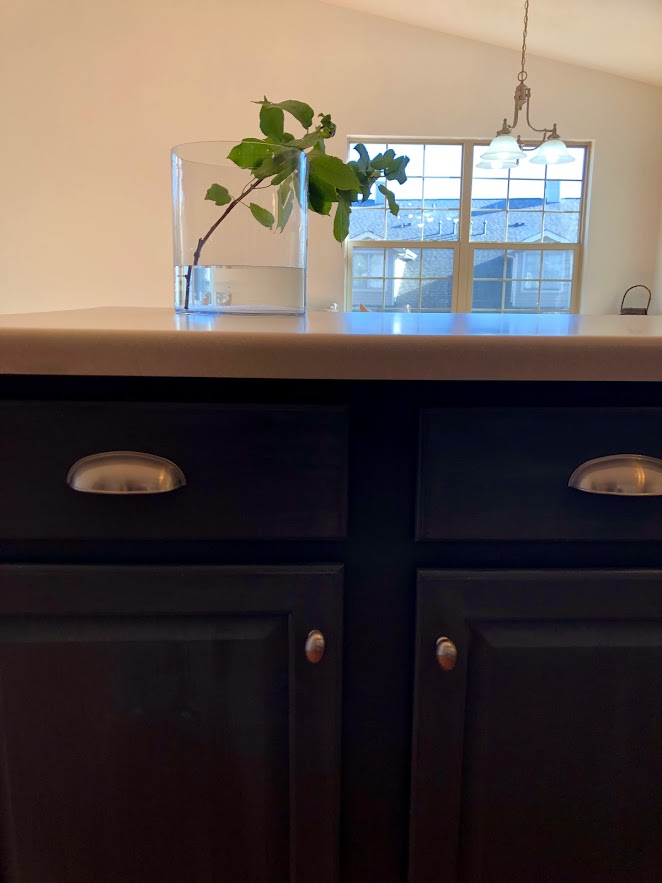 Even though I was also prepared to paint the existing wood trim and interior doors, I waited as long as possible to make that call. In the end, we left them alone!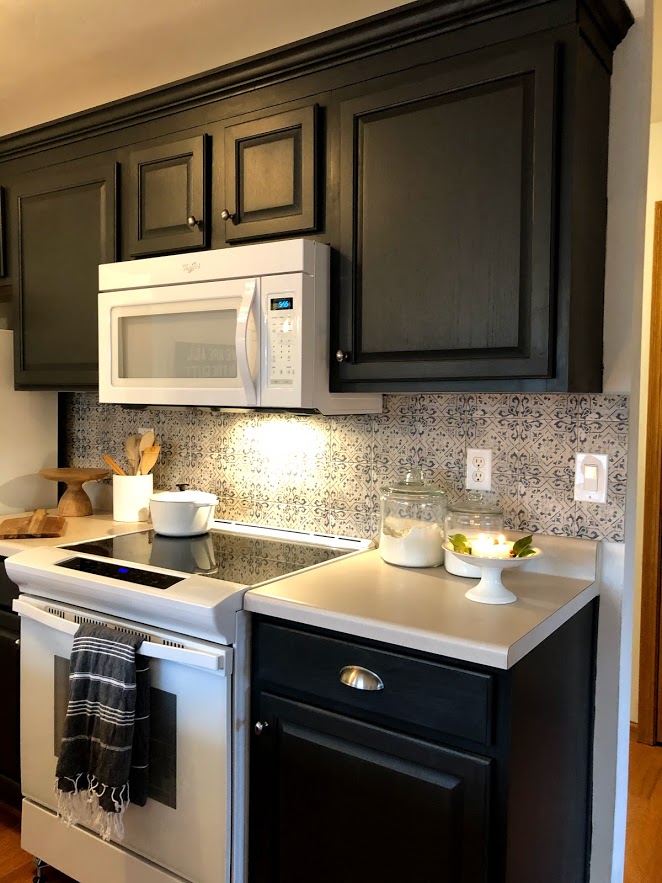 The oak lends masculinity, warmth, and contrast with white walls while seamlessly blending with the flooring.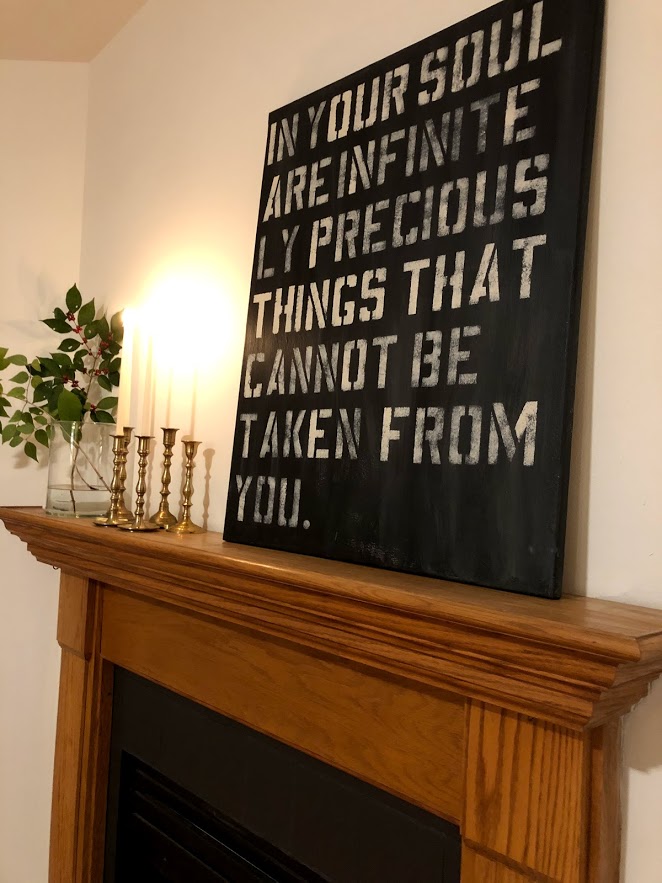 New Tile for Entry, Bathrooms & Backsplash
Because our son was so ill, I shopped Home Depot and Lowe's for tile possibilities, bringing samples home for him to consider.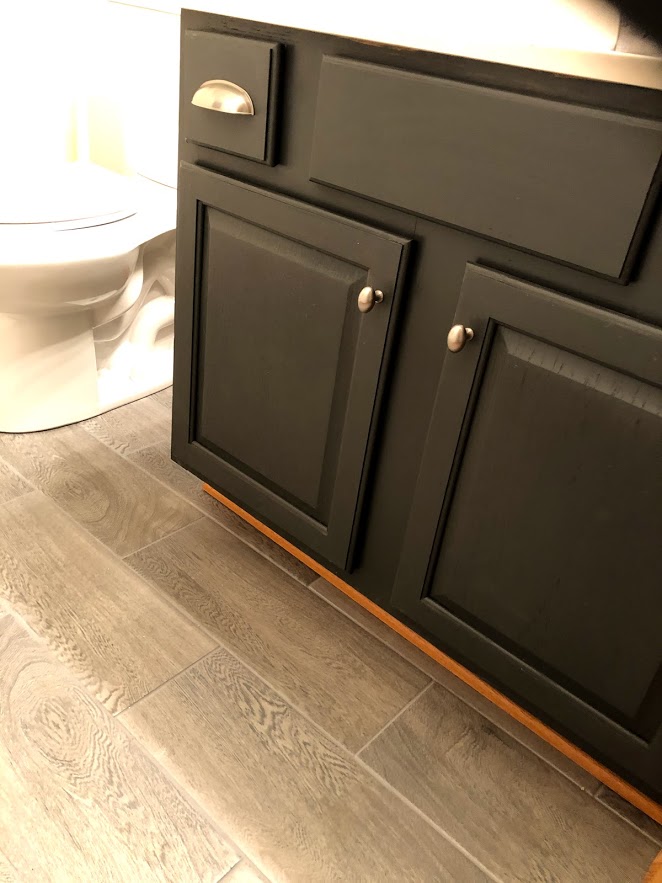 He chose an encaustic look tile with personality and a star motif for his bath, a wood-look ceramic for the second bath and entry, and a Spanish style tile with an aged appearance for the kitchen backsplash.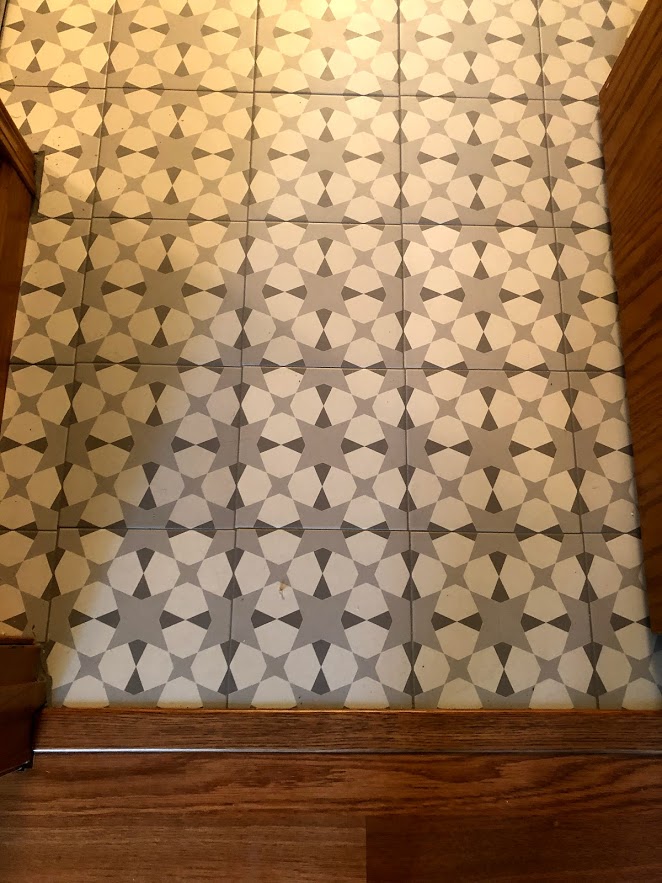 My husband tiled these surfaces without a hitch.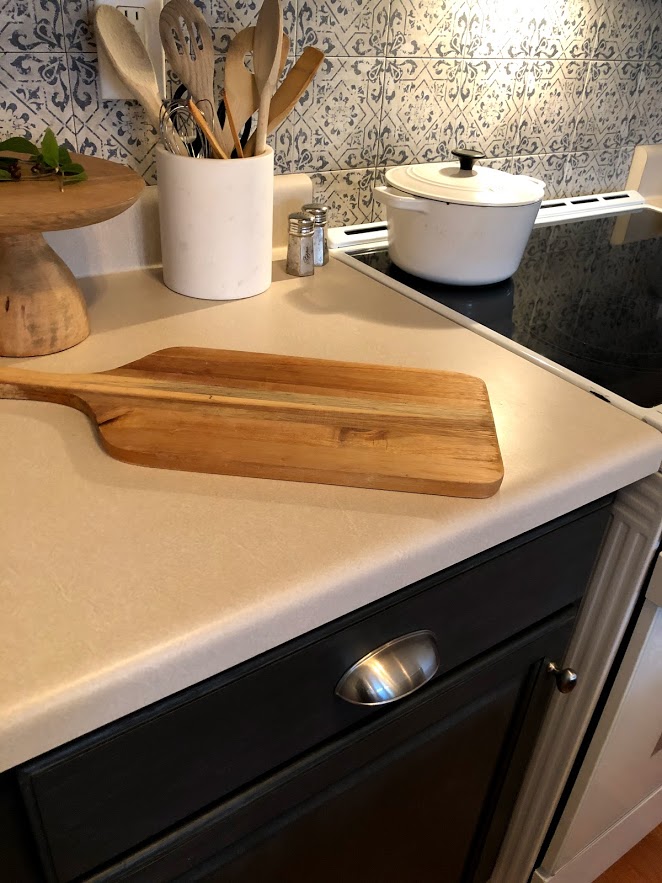 Inexpensive & Durable Laminate Flooring
I knew the laminate with the traditional look of oak hardwood would play nicely with other industrial elements.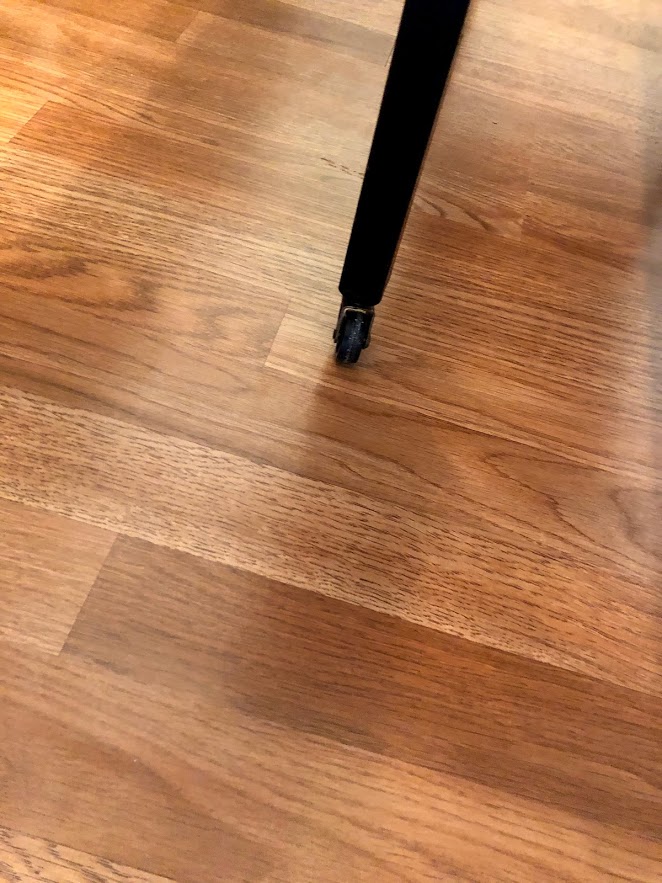 When you're working within a budget (or it doesn't make good sense to invest in hardwood), this product is hard to beat. It is quiet, comfortable underfoot, and installs quickly.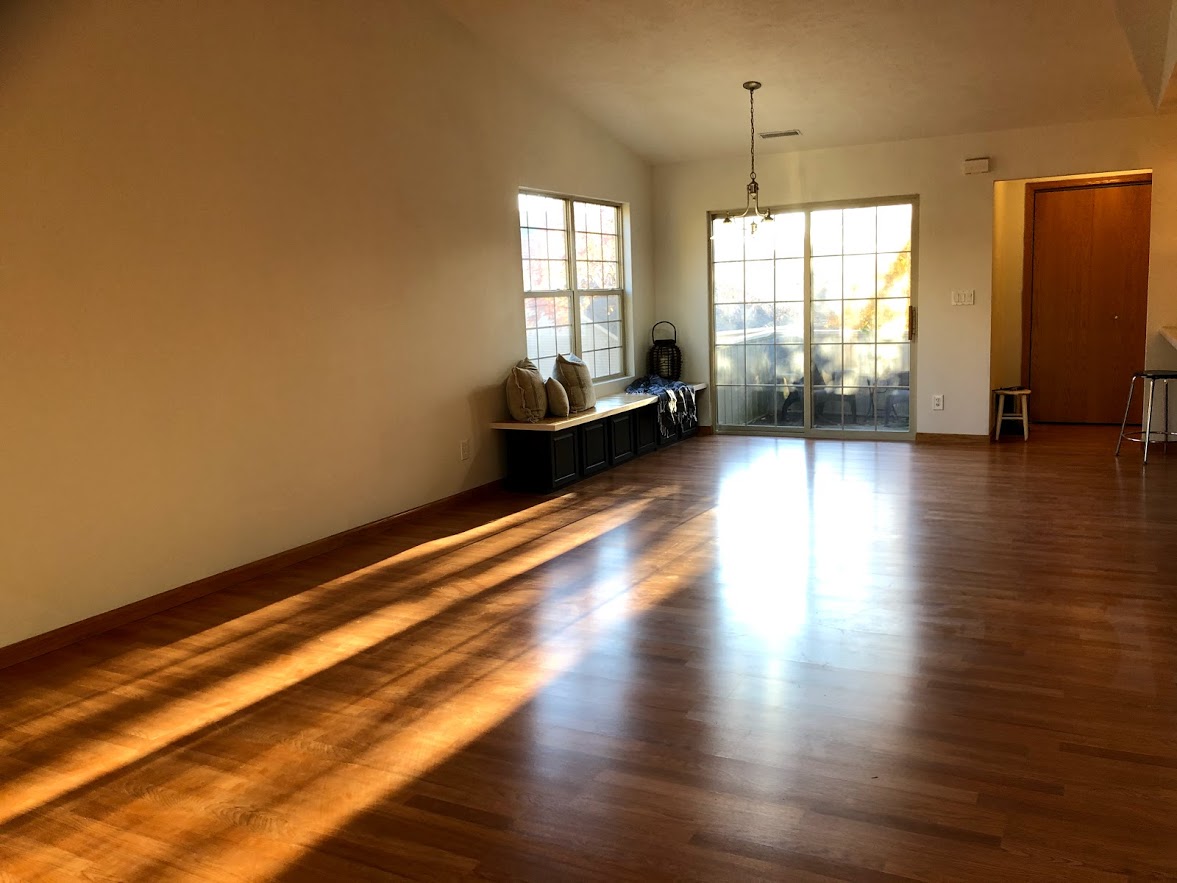 Custom Window Seat
My brightest idea for this project was repurposing the stubby row of cabinets removed from the kitchen soffit. I knew the 9′ run of 18″ high cupboards would make a perfect dining room window seat and this way, he wouldn't lose any storage.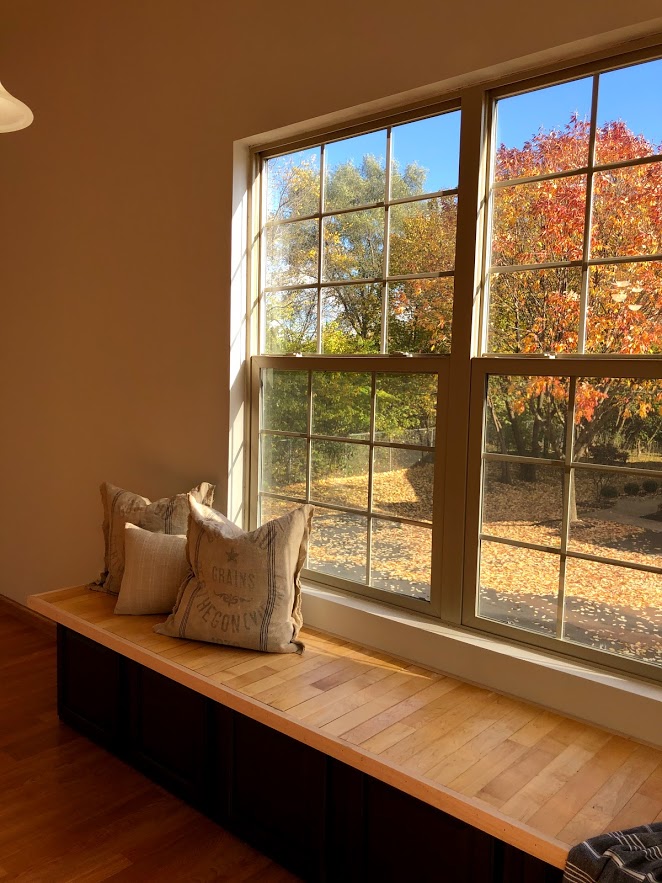 I painted it out, and for the top, my husband nailed on salvaged maple hardwood flooring from our own home and then added a new maple trim.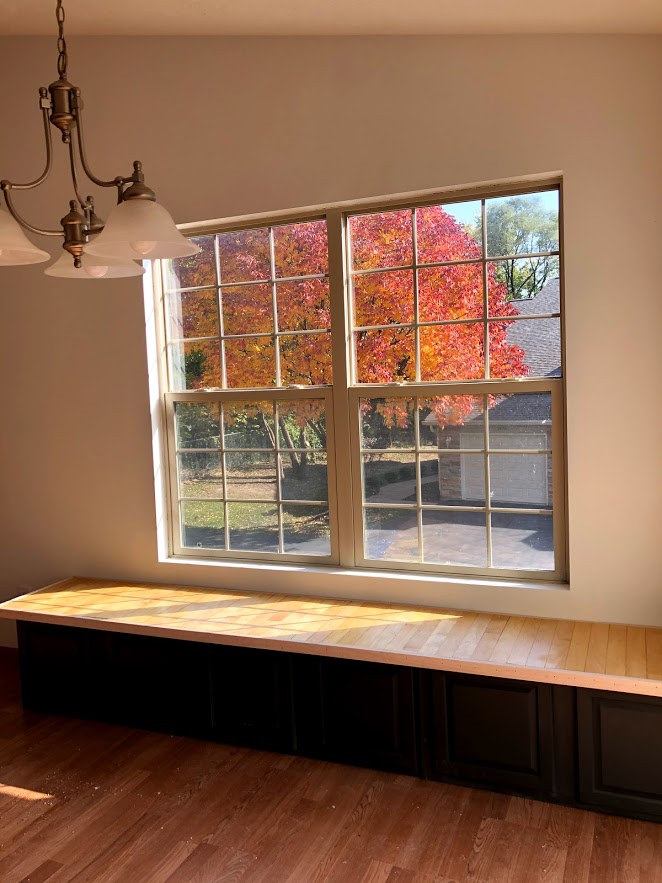 If ever our son decides to get rid of it, there is flooring and trim underneath so all be well. In other news, he rescued a blind and deaf kitty the very first day he moved in, and Snoopy loves his window seat. 🙂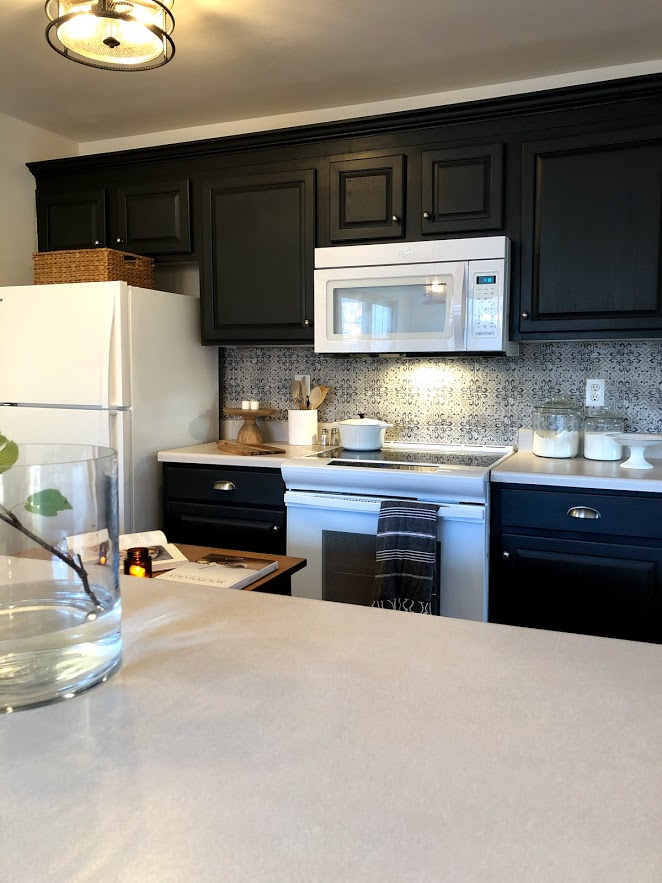 Kitchen Appliances
You won't even believe how I lucked out with kitchen appliances and stayed on budget. When we renovated our own home, we salvaged a brand new Whirlpool over-the-range microwave which didn't fit with our kitchen design. So that was a freebie.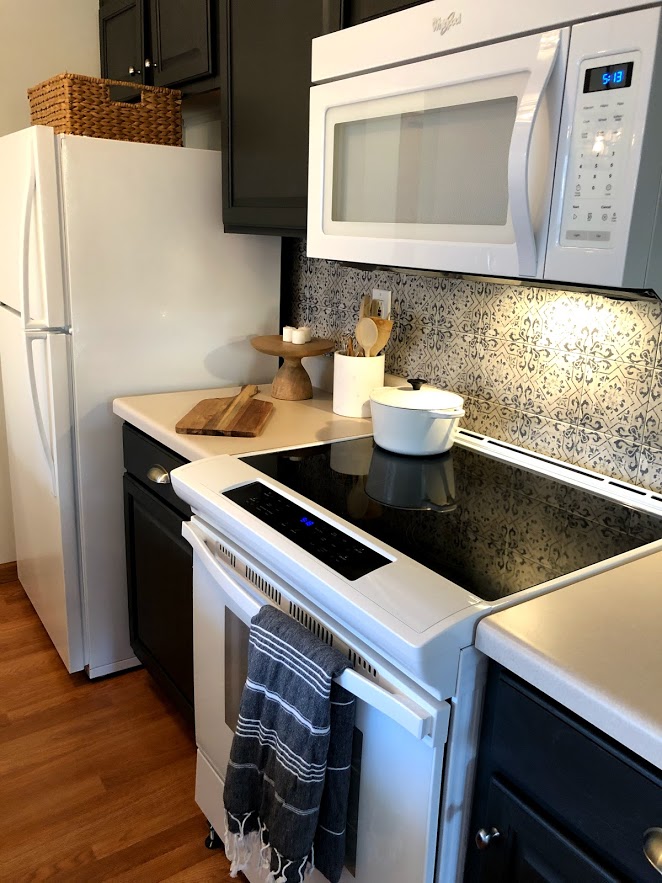 Next, I spotted an almost new Whirlpool dishwasher at a garage sale and learned it was only used for six months before a remodel…$40 was a steal!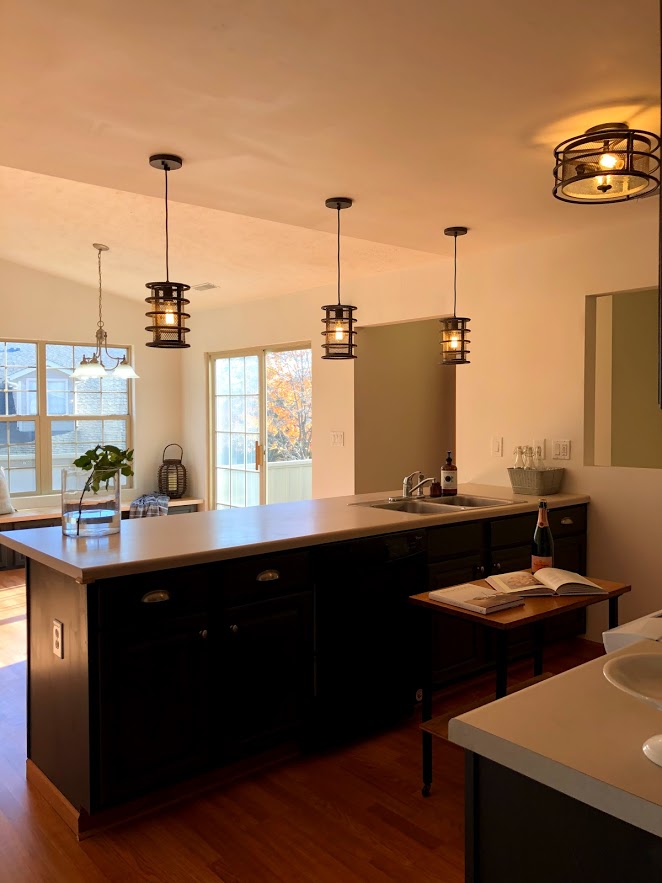 The refrigerator was an easy decision since it was nearly impossible to find any standard frig in stock at the big box stores (it seems with Covid, everyone and their granny is working on home improvement). But we found one (Whirlpool again!) at Home Depot!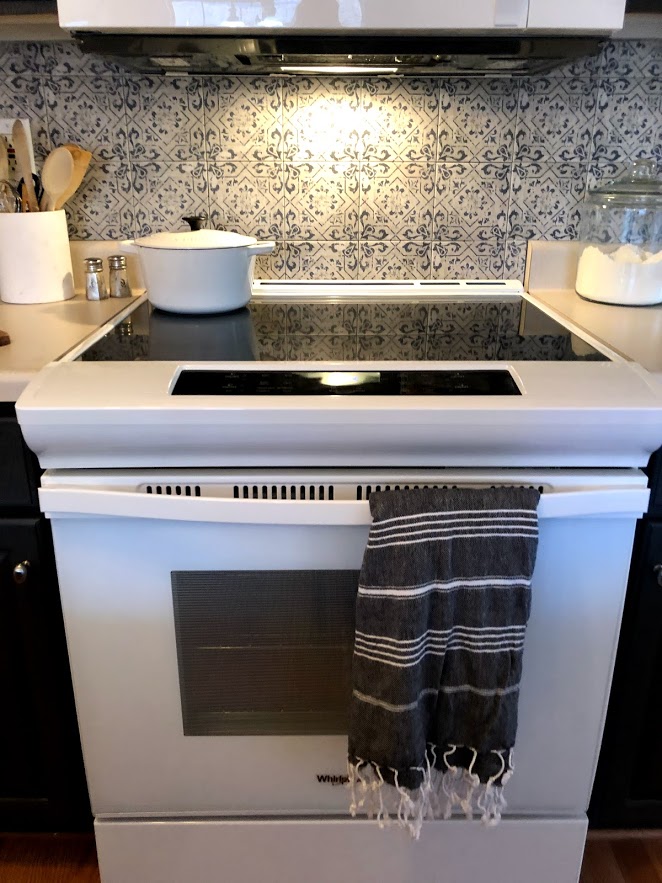 The bargain of all bargains for the kitchen was a serendipitous gift. Someone had special ordered a modern Whirlpool electric range with smooth top from Lowe's and then returned it (unused and still in box).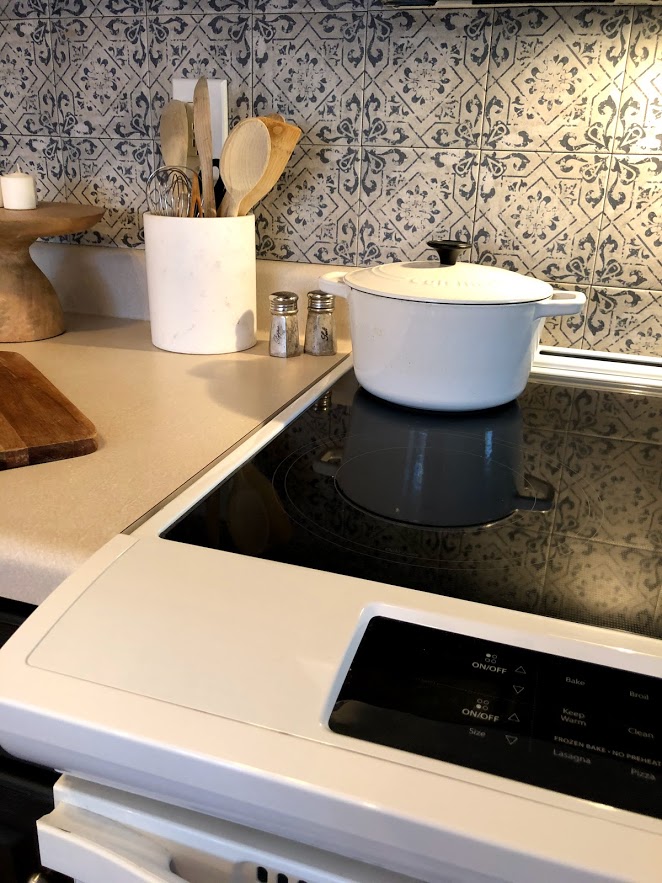 There it was on clearance for 70% off, and I snagged it, not noticing that it was the exact companion range for the microwave we salvaged five years ago! Yep. Meant to be.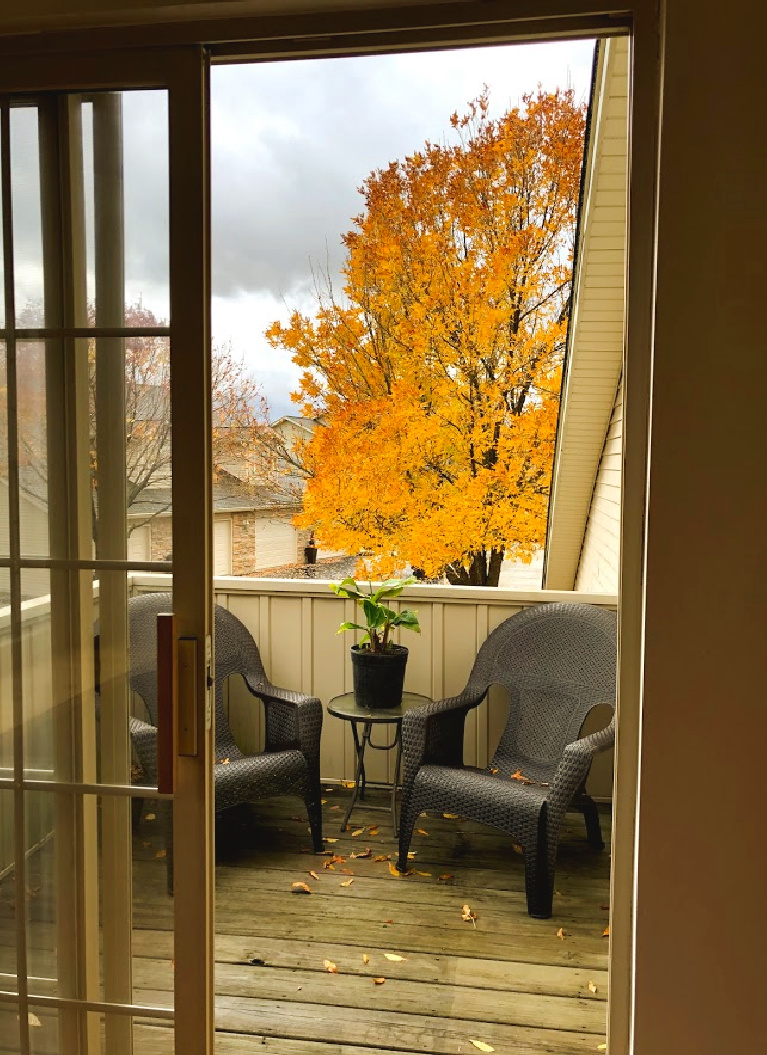 Final Touches
With a blank slate, we installed all new light fixtures including a modern ceiling fan, replaced all the light switches and outlet covers, added hardware to the cabinetry in kitchen and baths, carpeted the two flights of stairs (yes, my husband DIYed it like a pro!), and deep cleaned once again.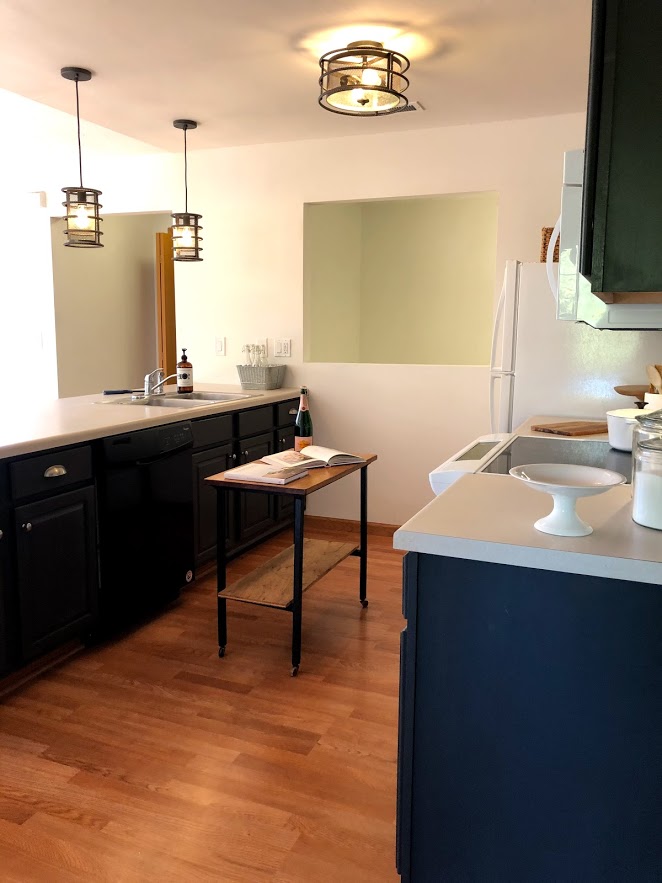 The industrial style wood and steel small table was a local find for $14, and we attached vintage casters to the legs.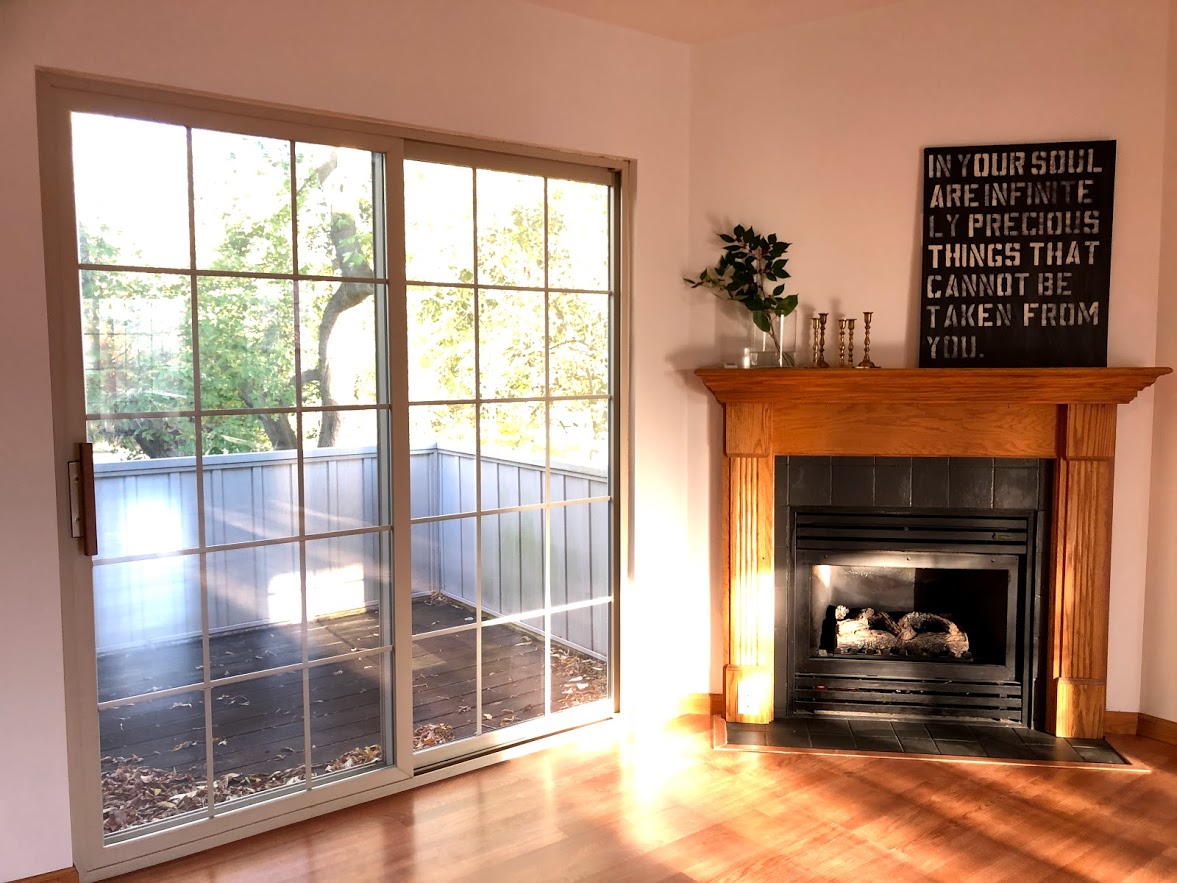 Get the Look With Cost Conscious Finds
Paint colors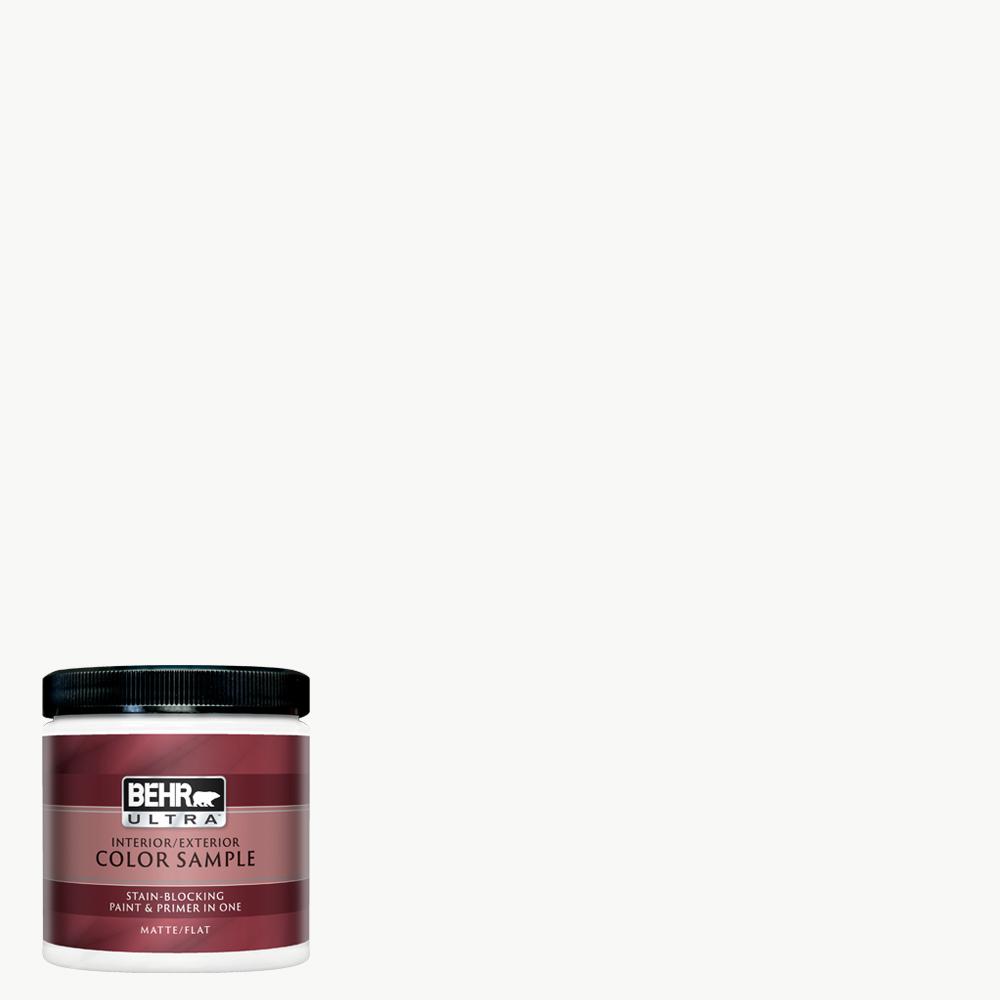 BENJAMIN MOORE Stonington Gray (Master Bedroom & Bath)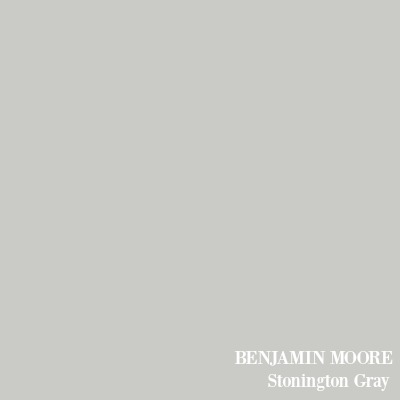 SHERWIN-WILLIAMS Carbonized (on all cabinetry)

Video of the Makeover Reveal
Find more inspiration from my Pinterest Boards RIGHT HERE!
More Resources for the Condo Renovation
I independently selected products in this post—if you buy from one of my links, I may earn a commission.
Peace to you right where you are.
-michele
Shop for items you already intended to buy on Amazon RIGHT HERE (not just items in posts), and also find home decor here to keep decor inspiration flowing on Hello Lovely!
Hello Lovely is a participant in the Amazon Services LLC Associates Program, an affiliate advertising program designed to provide a means for sites to earn fees by linking to Amazon.com and affiliated sites.