9 Light Gray Paint Colors for a Zen Look You May Love + Interior Design Inspiration Photos gives you a brilliant place to start when you're seeking paint color inspiration for calm greys. There is so much trial and error when it comes to arriving at the perfect hue, so don't rush it. Also, bear in mind my attitude about trending paint colors and whether grey is in or out…what's this color consultant's take?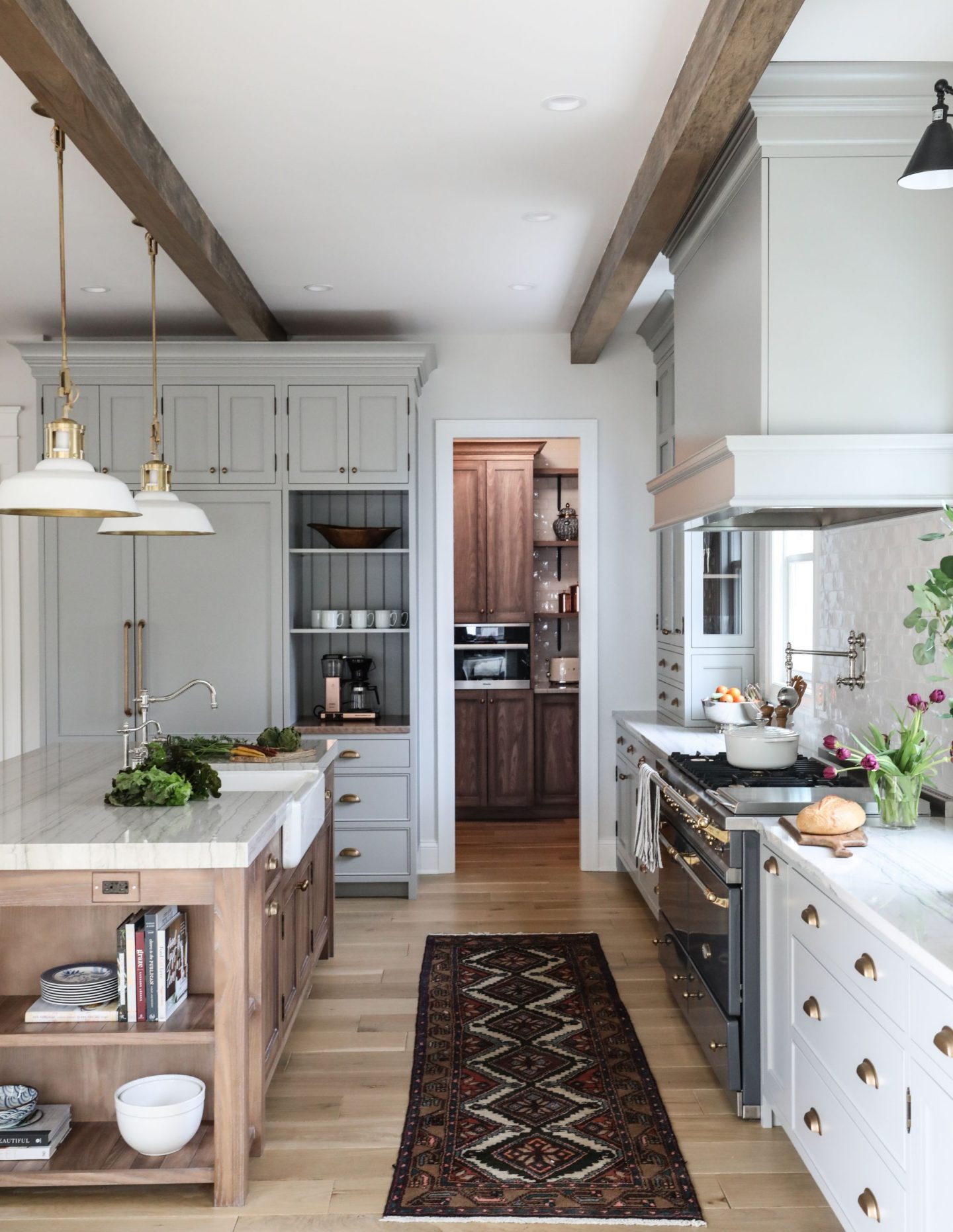 9 Light Gray Paint Colors for a Zen Look You May Love + Interior Design Inspiration Photos
Light grey is the color of a Northern sky, a dolphin, silver, pebbles, the moon, and furry friends of varying species. The color creates a mood, and for me, that mood is quiet and zen-like. So it doesn't surprise me when it is trending for interiors and walls.
What does surprise me is when someone feels hesitant to use it because a blogger or micro-blogger on Facebook (and by micro-blogger I mean, Aunt Sue or your brother Mike) mentioned grays are out. Really? Nope.
Pick your paint colors with a broader lens than that…if a color feels timeless, natural, and pleasant to you, that's quite enough reason to gravitate toward it and use it.
In other story, we looked at blue-grey paint colors in particular.
Buy Samples & Organize Your Favs
Pssst. Buy samples before investing time and money into a whole gallon. (In fact, CLICK HERE and you can buy 8 oz samples to pick up at your local Home Depot…SCORE!).
If you don't already have a Pinterest board devoted to awesome paint colors to try, create a board and click here to PIN THIS POST so you'll have paint names at the ready when you head to the store to buy samples to try on your walls.
Some of these gray paint colors meant to inspire may read "medium" or even slightly dark gray, depending on the lighting in your space.
For example, this first gray, BEHR Classic Silver is the grey I painted the cabinets in our second home in sunny Arizona. Because of the intense sunlight, the color reads as light grey in the space.
Don't count out pricey Farrow & Ball colors either (which you can always color match after snagging a sample – get them RIGHT HERE!)
1. BEHR Classic Silver
I love how serene this grey feels in the kitchen, and the blue undertones gave those builder-grade plain ol' cupboards a very sophisticated, timeless boost.
For this art work in a bathroom, the canvas is painted BEHR Classic Silver (and wall color is VALSPAR Salute).
2. BENJAMIN MOORE Pashmina
When a designer reveals the paint colors used in their own home, I'm all ears! Lisa Furey painted her white interiors and exterior in the same color I used here at home…Benjamin Moore White.
For the gorgeous mushroomy taupe-ish Parisian style grey painted kitchen island in her coastal cottage, she painted it BENJAMIN MOORE Pashmina.
3. SHERWIN WILLIAMS Tinsmith
Another light grey suggestion hailing from Lisa Furey is SHERWIN WILLIAMS Tinsmith, a cooler and gentler grey which was used on bathroom vanities.
Sometimes word gets around about a certain paint color, and you see it crop up everywhere…which was certainly the case with this popular one!
The thing is, it's popular for good reason!
5. BENJAMIN MOORE Stonington Gray
I love how atmospheric, neutral, and balanced Stonington Gray is – almost like a tranquil overcast day where you cozy on down with a book.
BENJAMIN MOORE Stonington Gray
Here's the thing about paint color names: sometimes they contain "white" in them when they live large as a grey.
FARROW & BALL Strong White 2001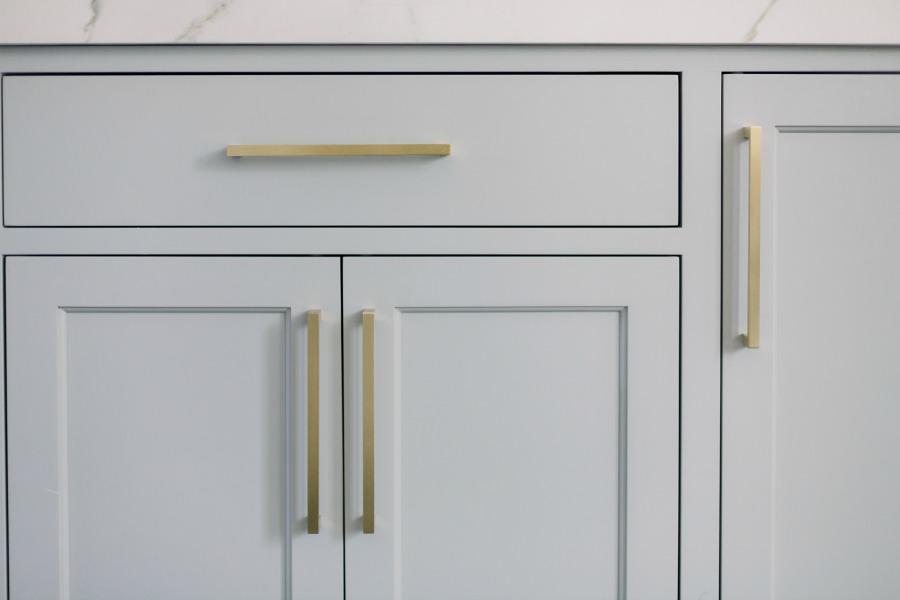 See this kitchen tour and resources too RIGHT HERE.
8. BENJAMIN MOORE Classic Gray
If you're looking for a perfect white for your room, it just may be a barely there, light grey like this one which I used in a bathroom.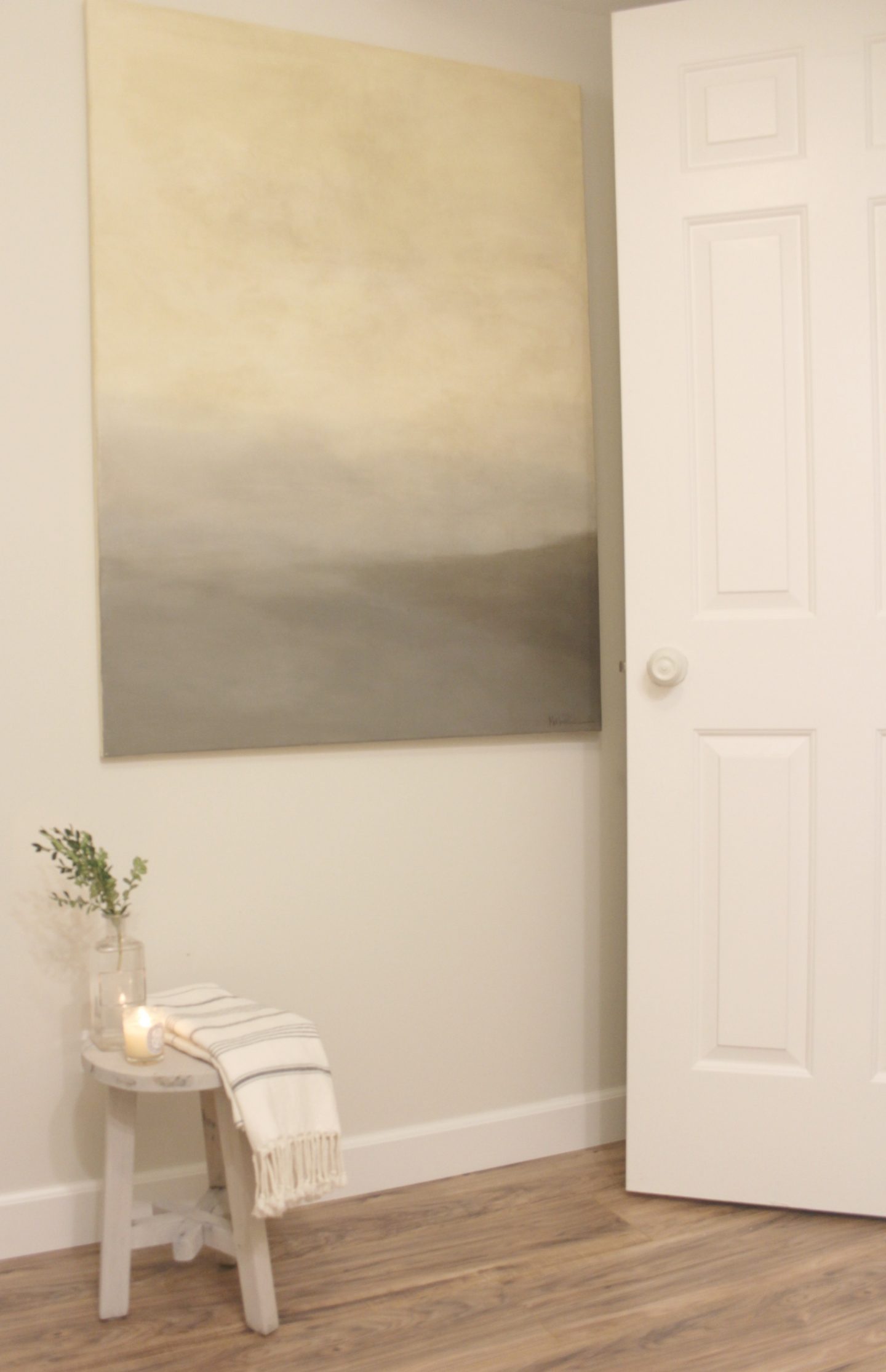 9. KILZ Wedding Band
For a soothing grey paint color, Joanna Gaines has gone on record and given a thumbs up to KILZ Wedding Band.
Great Grey Paint Color Tips
1. Consider all the various nuances of light grey paint colors (is it cool, warm, bluish, mushroom-ish?).
2. Decide whether objects in the room are cool (choose a cool grey) or warm (choose a warm grey).
3. Assess the lighting in your space…does it receive a ton of natural light (go with a less pigmented hue) or very little sunlight (go with a more pigmented option).
4. Choose a few grey paint color to test large swatches on the walls.
But which greys?
It's Smart to Start Your Search Online
We all understand how the perfect white paint color at my house in Chicagoland may come off completely different for someone trying it in New Mexico.
A room's exposure, geography, and other factors come into play.
Additionally, photos we view online are often edited and tweaked so the the actual color may vary significantly!
So why should you even bother?
Well, it's still a good idea to pay attention to images online and info as to what designers and folks in the industry suggest as a place to start because it saves time and launches your quest.
Try a Handful of Samples
It is wise to begin your search for the perfect light gray paint with a handful of possibilities because the differences between them will give you valuable information.
While it's possible to paint on just one sample and decide it's all wrong or (yay!) perfect, typically you need to see multiple tones to tease out why it works or doesn't work.
When you view three or more shades of grey in your space, you'll be able to easier identify undertones coming forward or how one or more may feel too dirty, too green, too cool, or too brown.
Need a Moody Darker Grey?
OMG. I potted this grey on a door in Leanne Ford's IG (are you following me there?), and it's gorgeous!
She paired it with walls painted this white which is super similar to the white throughout my own home:
Here's an infographic with a few more of my favorite white and neutral paint colors from BENJAMIN MOORE (including Classic Gray mentioned above)…click it to discover how to choose a great white paint:
YOUR TURN! Have a favorite go-to light grey or neutral paint color? Why do you love it?
I independently selected products in this post—if you buy from one of my links, I may earn a commission.
Peace to you right where you are.
-michele
Shop for items you already intended to buy on Amazon RIGHT HERE (not just items in posts) or for home decor here keeps decor inspiration flowing on Hello Lovely!
Hello Lovely is a participant in the Amazon Services LLC Associates Program, an affiliate advertising program designed to provide a means for sites to earn fees by linking to Amazon.com and affiliated sites.