Noteworthy Kitchen Details spotlights almost a dozen bright design ideas from kitchens featured in stories on Hello Lovely. While I'm no kitchen designer, I have tackled my fair share and am still adding finishing touches to our newly renovated space. If you're remodeling, upgrading, or building a home, it's always a wise move to work with a kitchen designer. I hope these ideas enlighten and help you crystalize your thoughts about design must haves. Pin liberally to save ideas for future reference!
I independently selected products in this post—if you buy from one of my links, I may earn a commission.
Pretty Kitchen Details to Note & Reference in Future
Does your kitchen simply need sprucing up or a minor refresh? These design details may help with that too.
Pin this post for future reference!
This post contains affiliate links which I hope you will use since they won't cost you a penny extra yet may earn this blog a small commission.
Pretty Sconces for Ambient Lighting
I love this so much, and I know it's not the easiest thing to wire your walls or cabinets for sconces in an existing kitchen! But if you are starting from scratch, isn't this charming?
Butcher Block for Countertops
If this fantasy kitchen (it's an architect's own home!) with its own authentic pizza oven can sport butcher block on a work station, ours can too!
Whether you choose to add butcher block to a countertop or add an actual block, it truly makes a warm rustic statement.
Vintage ones are everywhere – don't forget FB Marketplace!
Tonal Color Story
If you're the type who feels rooms always need "a pop" of color, than this restrained palette may not be for you.
But if your heart longs for low contrast, understated sophistication, textural interest, and a mix of whites and neutrals, a tonal palette could be just the ticket.
Even if you decide on a tone on tone kitchen, there are countless iterations as you can see!
Built-ins & Banquettes
Such a wonderful architectural element to add if it makes sense!
Here is a fantasy example that feels like its own private dining room:
Kitchen banquette seating often involves a window or a bank of them…
so what if you don't have a window in your corner?
There may still be potential:
Were I building a dream house, here's an idea that would be incredible in a tucked away little nook:
Chic Parisian Shelves
If you decide to add shelves to your kitchen design (bracketed, floating, glass, wood…), they may as well be gorgeous.
They can be custom with brass and glass:
or minimal yet chunky:
chunky is maybe more rugged than chic, but with a range like the one above – the shelves need not try to compete!
Like the idea of the clear glass shelves above? I also found THESE with antique brass.
Skirted Sink Base
I had always dreamed of adding a linen skirt to a farm sink and finally did!
See it here. While my kitchen isn't nearly as dreamy as the one by Brooke Giannetti at Patina Farm:
it includes a few of my favorite pretty kitchen details.
Black Window Trim
I love this feature in so many white kitchens with brass hardware, and while it might seem scary – it's only paint!
So handsome!
I think what makes black trim attractive is how it suggests iron. After all, if you can somehow work steel doors and windows into your design…
Wood Trimmed Range Hood
If you are adding a custom range hood for your kitchen, there is a wide array of housing for those venting systems!
You can paint the wood, stain it, or include both:
Gold-Toned Hardware
You need not limit yourself to polished brass since there are other warm metallic finishes these days…
Gilded iron is a favorite of mine. Also consider burnished brass or unlacquered brass.
they can be beautiful with cool tones.
We may as well have a fantasy moment or five:
Reflective & Polished Counter Finishes
In recent years, honed surfaces and matte countertops have increased in popularity, but I'm still a fan of polished and reflective finishes.
Quartz is still what makes sense for our kitchen with its messy and not-so-conscientious users.
But whether it is quartz or stone, a reflective finish means the light will bounce around and keep the feel airy and bright.
Grey With White
Someone told you grey is omg so 5 minutes ago? Whatever.
Shaker Style Kitchens
Yes, Shaker style kitchens are common these days. However, they work beautifully in so many kitchens across a range of design genres.
Do you like slab front drawers with Shaker cabinets or for the drawers to match the rest of the doors?
Notice how different the kitchens are above and below:
A classic Shaker style will always be relevant.
Library Style Sconces
Here's my take on whether they are too trendy…if they are classic in design, don't worry about when they just happen to be having a moment. They will still be relevant if the trend passes. And aren't they more interesting than recessed or tracks?
The more I think about it, you almost can't do too much lighting in a kitchen! So many different lighting needs from day to night!
Old World Lanterns
I'm still crazy 'bout em, and they add so much personality and charm!
They are beautiful over islands, dining tables, and in pantries.
Do you like them with glass inserts or without? I prefer without just because I don't love dusting.
Here are some of my favorite fixtures:
Herringbone Pattern
It can be so chic to install hardwood in a herringbone pattern:
This pattern reminds me of Paris, traditional French style, and a sense of history.
Again, just because herringbone also happens to be popular is not a reason to rule it out if you love it. It's one of those timeless elements that is likely to go in and out of fashion.
Yet we are not as concerned with fashion as we are with ageless sophisticated simplicity.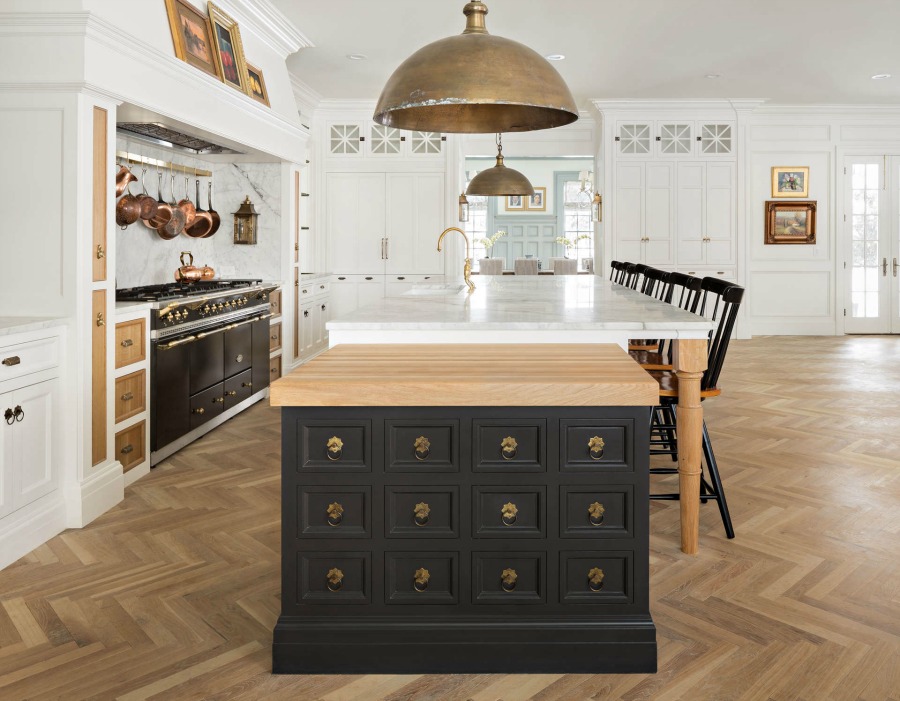 Wood Planked Ceiling
While it's quite a lofty prospect, using wood (reclaimed barn wood, beams, or new planks) on the fifth wall can create a vibe!
Doesn't it add instant age?
Ceilings are one of those architectural features that most homeowners forget about. Designers never do!
What a bonus when you can uncover ceiling texture rather than go to the trouble and expense of adding it!
I love the simplicity and beauty of this one:
Blue Cabinets
While the color is Light Blue (Farrow & Ball), in this lighting, the effect suggests a beautiful grey:
Notice that although the window trim is grey, the door trim is white:
French Ironstone Accents in the Kitchen
Ironstone has been collectible for many years for good reason. It is useful and looks great everywhere.
Don't you love the pieces that show their age? I don't even mind chips and imperfections.
Custom Cabinet & Counter Depth
This last kitchen is a wee one in an apartment we rented through Haven In near Notre Dame in Paris. A whole lot of function was packed into a sleek, modern kitchen design with the essentials, including washer and dryer tucked beneath the cooktop!
Who says base cabinets need to be 24″ deep?
Tour a Favorite Kitchen!
Hope you found a bright idea or 10 for your own kitchen project or tweak!
Peace to you right where you are.
-michele
Thanks for shopping RIGHT HERE to keep decor inspiration flowing on Hello Lovely!
Hello Lovely is a participant in the Amazon Services LLC Associates Program, an affiliate advertising program designed to provide a means for sites to earn fees by linking to Amazon.com and affiliated sites.