New to the blog? You may not be aware that in addition to sharing interior design inspiration, I'm also busy behind the scenes with my own home's projects. Our kitchen, for example, was completely gutted and re-designed by us, DIY style. Today we'll take a peek around My Lovely Tranquil Classic Kitchen with industrial chic, slightly modern farmhouse, European inspired, and white design elements.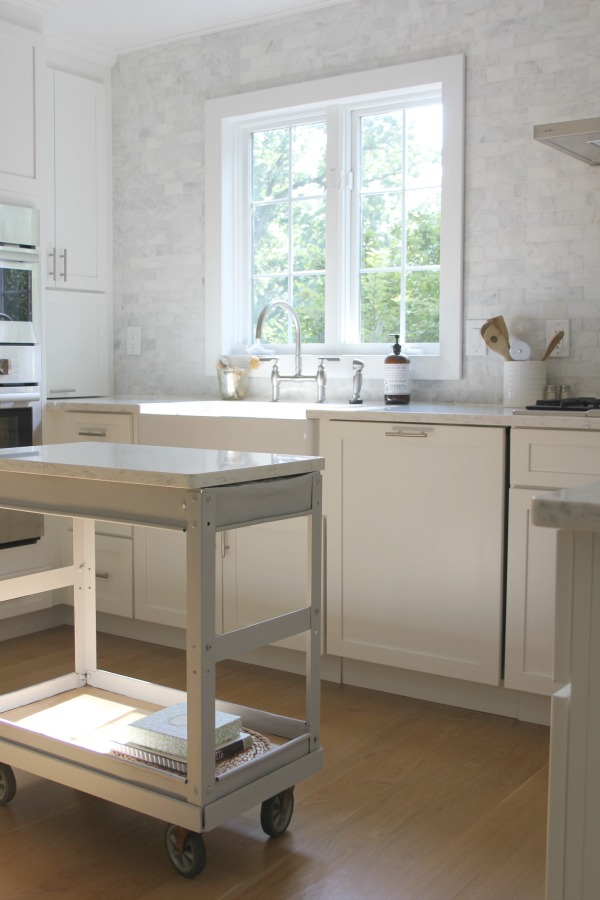 Lovely Tranquil Classic Kitchen: My Kitchen
Except for the white oak hardwood flooring (painstakingly installed and finished on site by a seasoned artisan whose craftsmanship we could never rival!), my husband and I accomplished all of the electrical, plumbing, plastering, tiling, finishing and construction ourselves to transform the kitchen's design and function.
We live spare and clutter-free so you won't see overly styled or contrived insta-friendly moments since such efforts would not be authentic representations of our home.
If you follow me on IG, you may recall I added a sweet steel industrial cart to the working part of our kitchen. It is super functional, wonky, imperfect, and perhaps even a bit underscaled. For those reasons and more, we love it. How did it come to live here?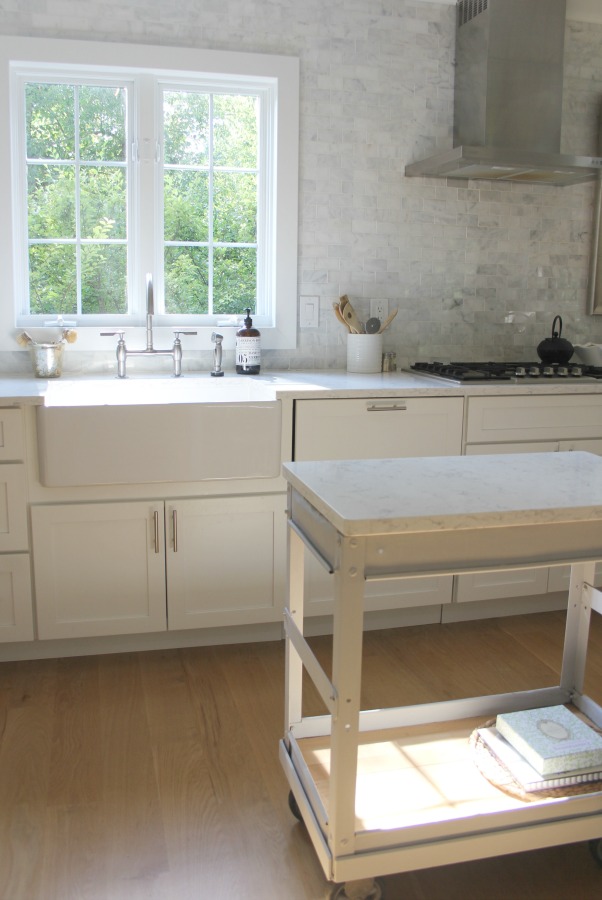 Industrial Kitchen Cart History
For months, I kept my eyes peeled for something with character that I could bring into the kitchen for extra work space. I thought a chunky square vintage butcher block would work well.
However, I was also hoping I could somehow put to use our leftover piece of Viatera Minuet quartz. When I ordered the quartz, I asked them to salvage the sink cut out just in case…
Lovely Tranquil Classic Kitchen: Viatera Quartz (Minuet) for Countertops
Eyes Peeled on a Motorcycle
My husband and I were on his bike (a 1980's motorcycle from our dating days) on our way to lunch and passed a garage sale near downtown. From a distance, I spotted a little cart with casters and an air conditioner resting on top. After lunch, I suggested we stop at the sale on the way home since the dimensions looked right for a petite work island.
The cart wasn't marked with a price since it was basically there to support the air conditioner for sale. In fact, the owner didn't want it and was happy with my offer of $10. It came out of the factory where he worked his entire career and is pleasingly timeworn. There is something so irresistible about objects which served their purpose exceptionally well yet can somehow be resurrected to live on with brand new purpose.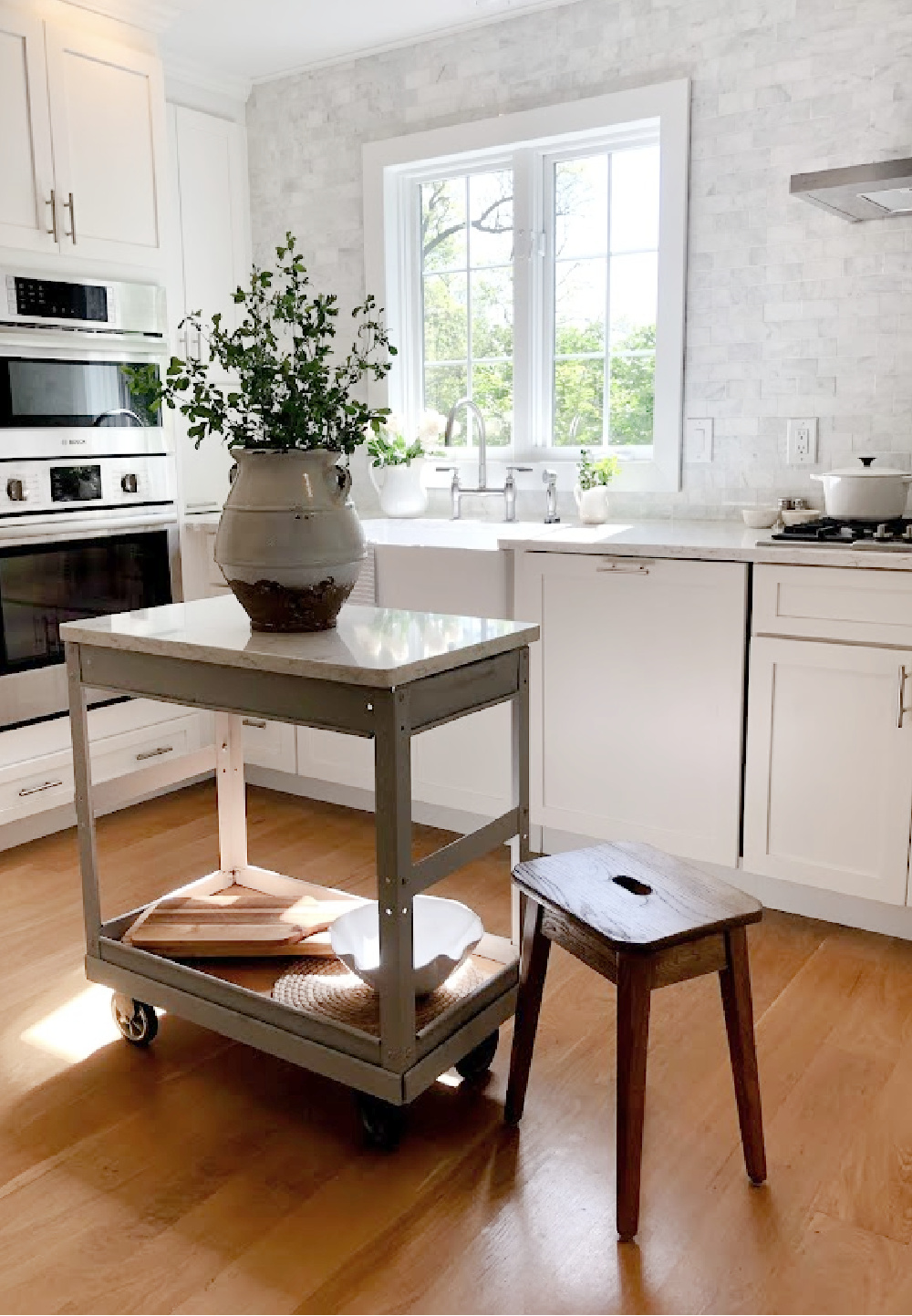 Industrial Steel Cart Before & After
BEFORE: Here is how my find looked right after we hosed off the grime.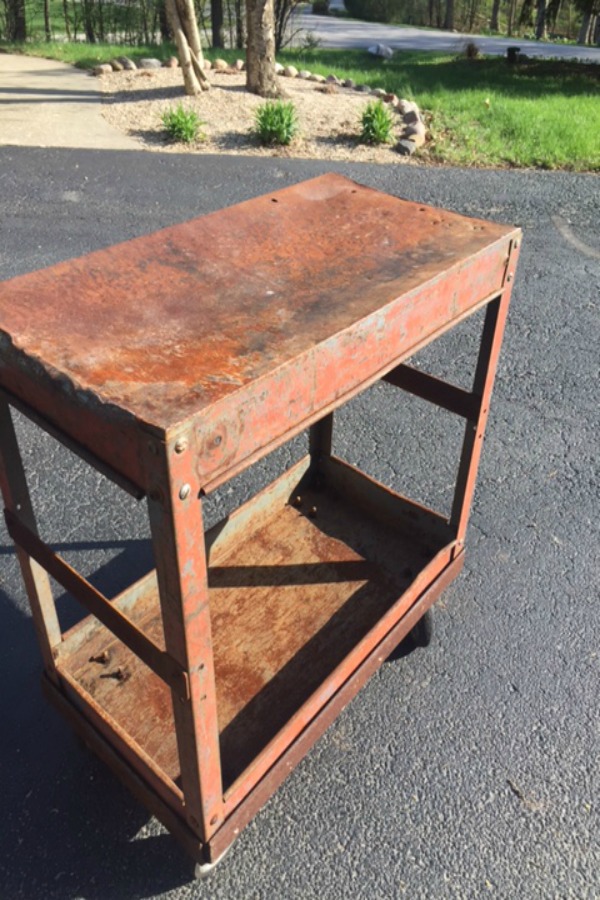 But how would that salvaged piece of FREE leftover quartz fit the top?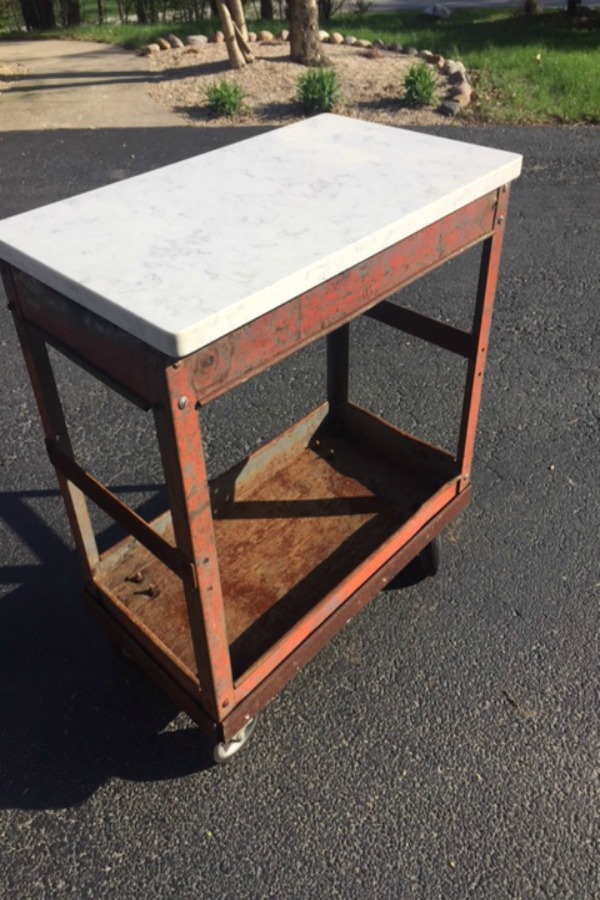 AFTER: Not too shabby!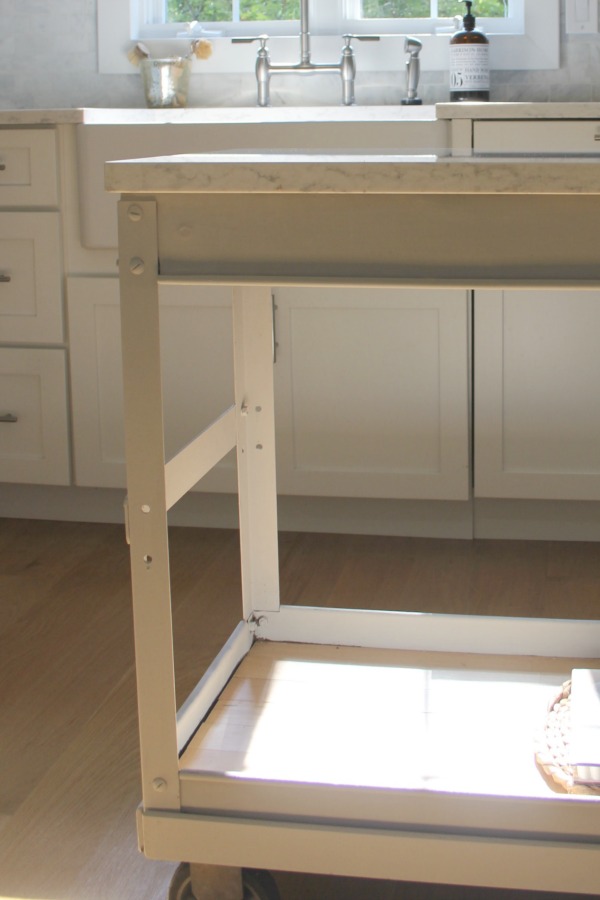 Annie Sloan Chalk Paint to the Rescue
Since orange is my least favorite color, and I had no desire to strip the paint with chemicals, I chose to transform the cart with Annie Sloan Chalk Paint (HERE is a totally acceptable cost conscious alternative!) in a tranquil shade of Paris Grey.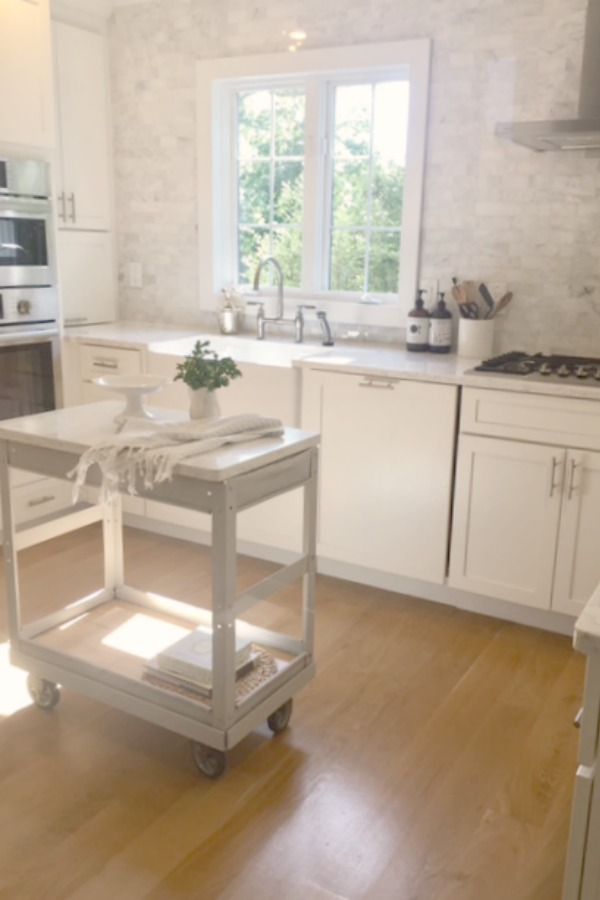 How I Repurposed This Steel Cart
Before I even touched it with my paint brush or brought it inside, my husband power-washed the cart and added planks of maple (salvaged from the original kitchen's floor) to the bottom shelf. It improved the function and makes the piece look more substantial.
Our kitchen had beautiful hardwood flooring when we bought the place but water damage destroyed a large section of it. We ripped it all up and saved every possible maple plank to reuse.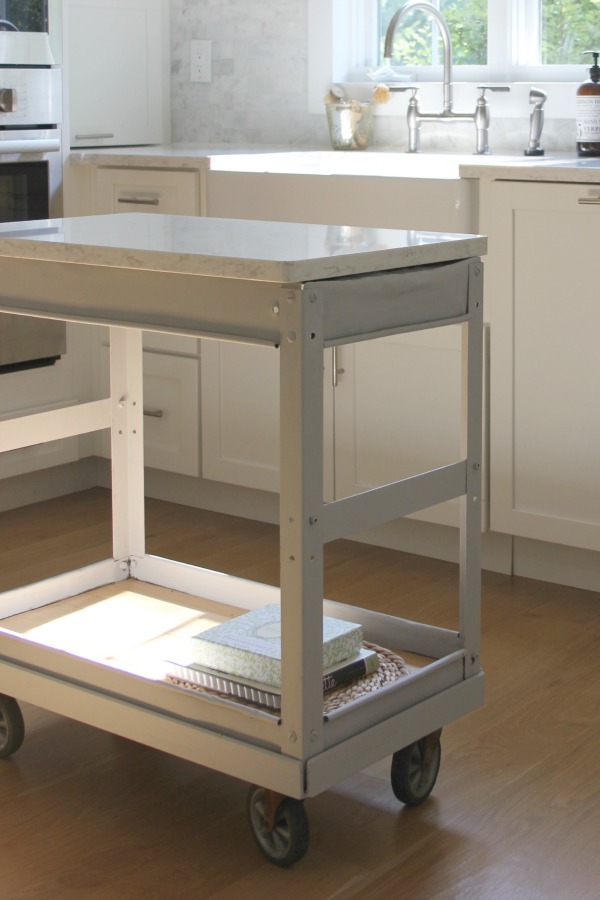 Lovely Tranquil Classic Kitchen: Get the Look!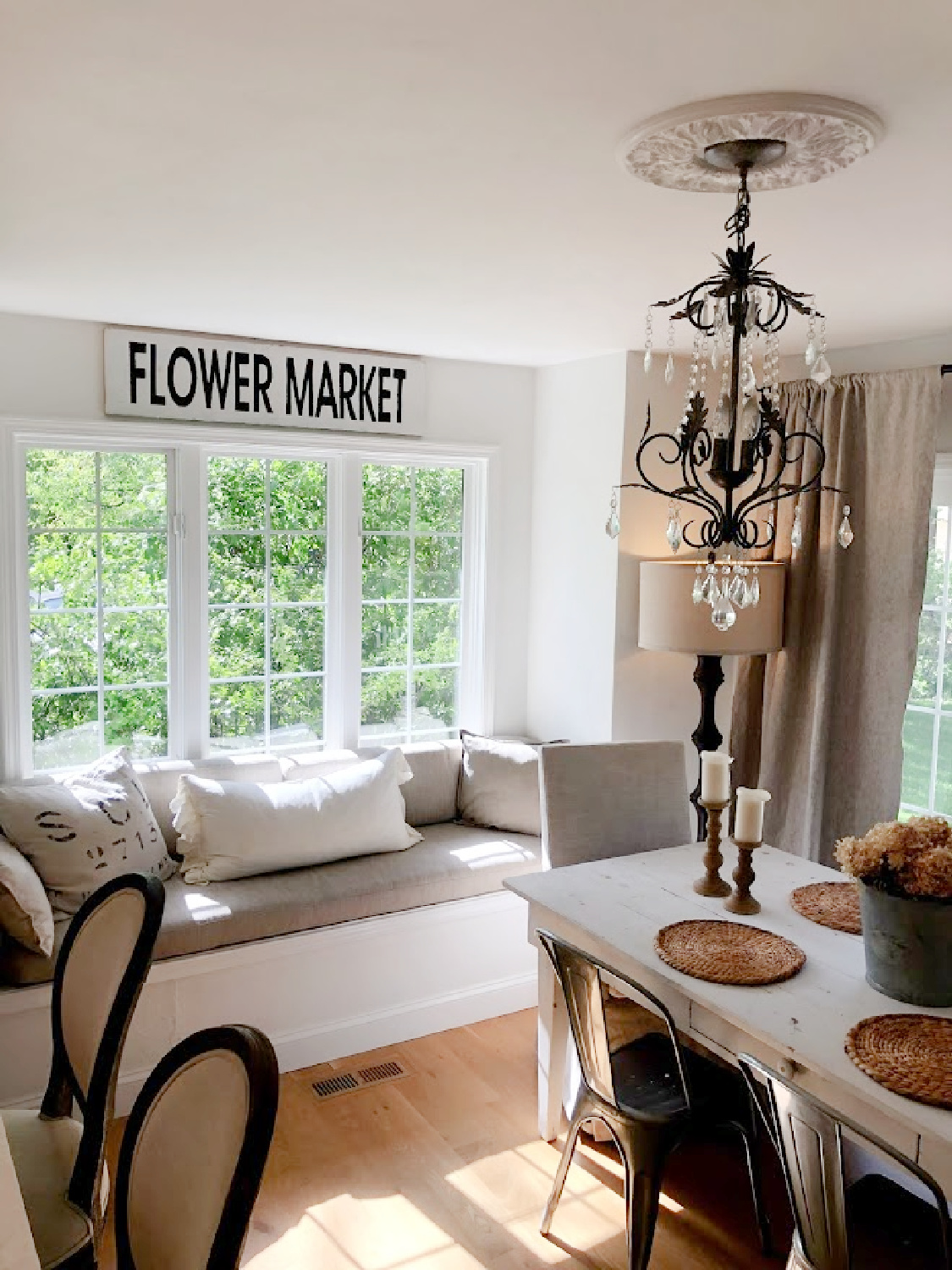 Adding More History
So in addition to the used up cart and leftover quartz cut-out being revived, we also incorporated a portion of the original kitchen floor!
By the way, does the price of chalk paint make you want to hurl a can of chalk paint at me? Because while pricey, this project only required a teeny tiny amount of this miracle stuff…about $1.50 worth of the paint. I have 2/3 of the can left after painting the cart, a door, and a dining table!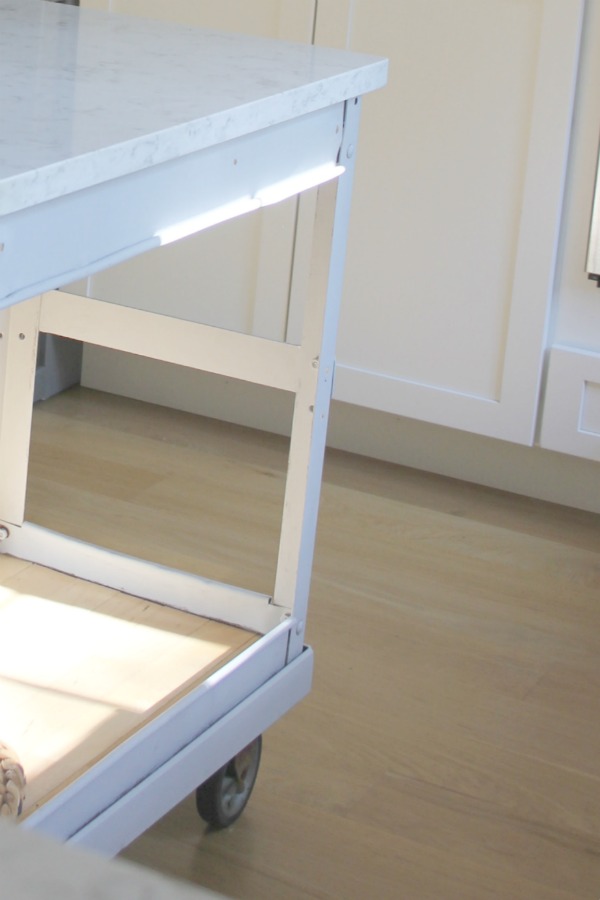 The little steel cart has dents, history, and character…just like me. An aged appearance can appear beautiful to the evolved eye.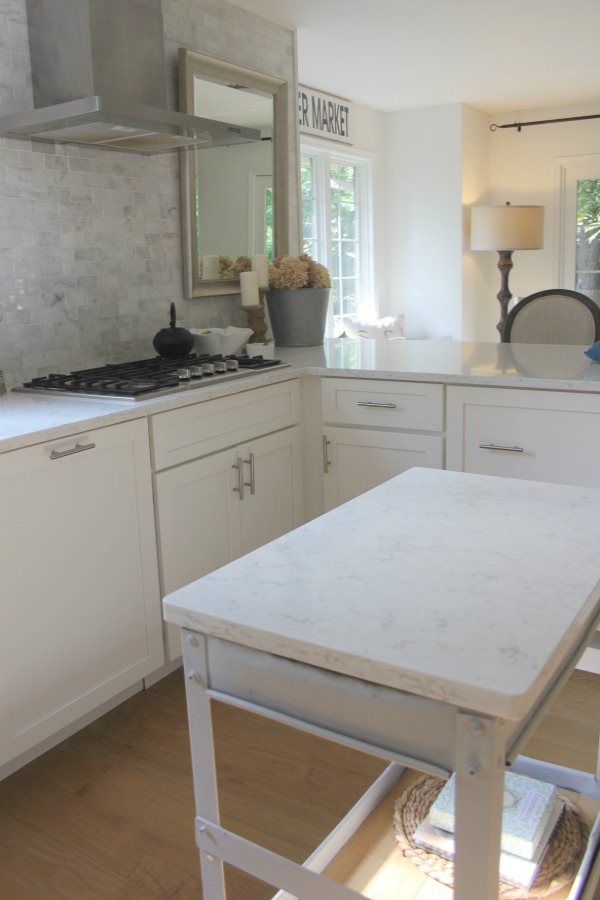 I removed the curtains at the patio door for the summer. Our woodsy backyard is alive with squirrels, blue jays, cardinals, turkeys, an owl, a fox, bunnies, and beautiful herds of deer. I don't want a bit of the nature show obscured by panels of fabric.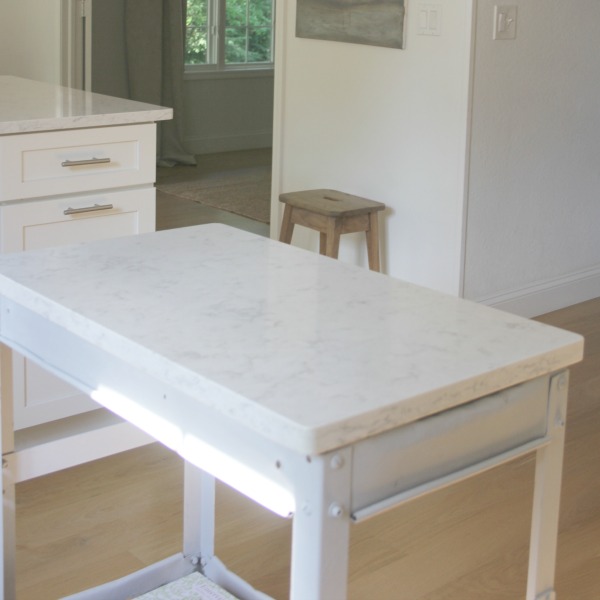 But what about function? Do we get USE from this wonky cart? Is it obtrusive in the space?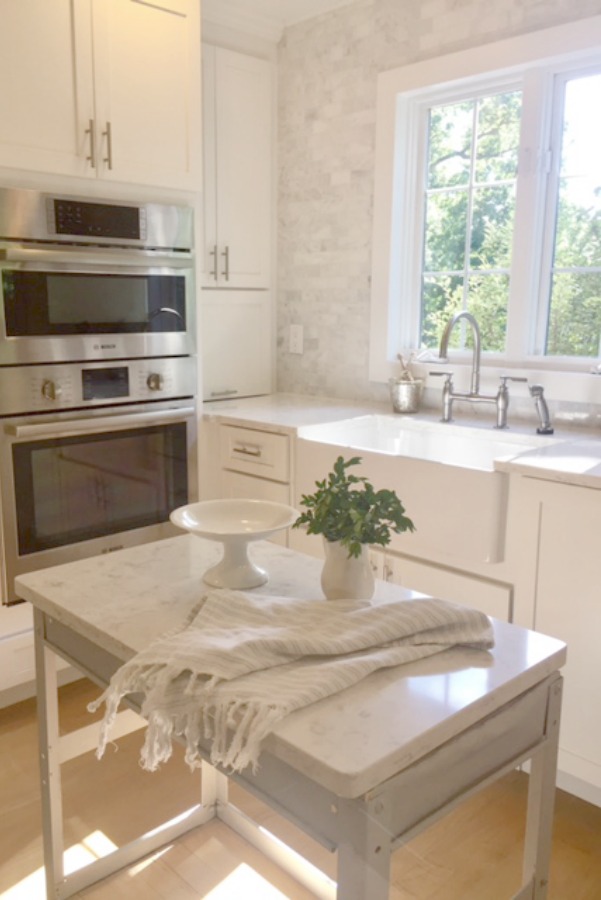 Lovely Tranquil Classic Kitchen: Kitchen Bridge Faucet
It took ZERO time for this cart/work island to begin helping the kitchen function better. We truly needed it! A little extra counter space is HIGHLY underrated! It may be tricky to judge from the photos, but the cart does not interfere with any of the function in the work space. Its petite size means neither the oven door, pantry door, drawers in the peninsula, nor the dishwasher door (it blends into our cabinetry since it is paneled and to the right of the farm sink) touch it when opened.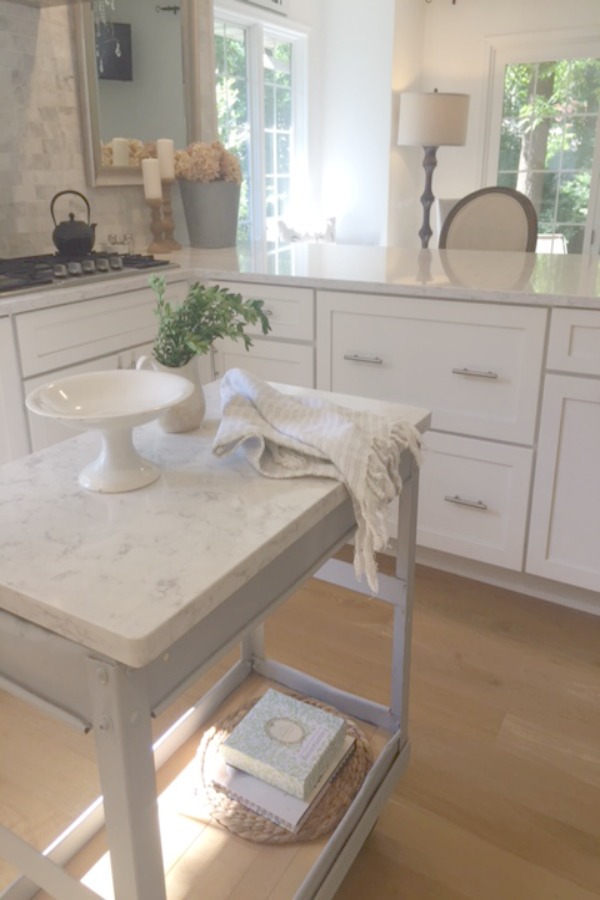 The cart could certainly have accommodated a larger quartz top with overhang, but since I already had a free one, for 10 bucks and a little paint, I'm not complainin'.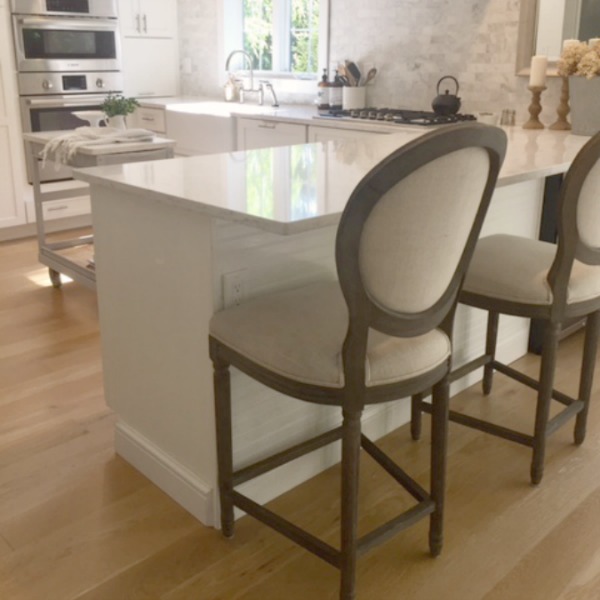 Lovely Tranquil Classic Kitchen: Beadboard Design Element
In multiple kitchen design projects, we have installed vertical wood beadboard to the peninsula/island. It adds texture and interest in addition to a more forgiving and durable surface.
Belgian linen upholstered counter stools from RH are extremely comfortable and have served us well for a decade. I'm thinking about adding two more because of how often we eat quick meals here.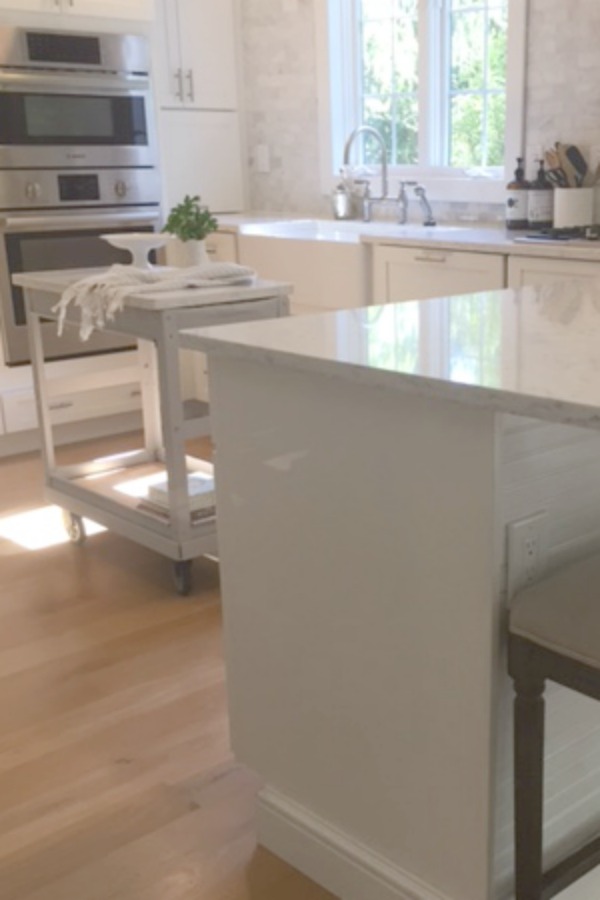 Vintage French Doors
Vintage French doors (snagged for $38 total prior to the remodel) separate the kitchen from the dining room. Three years ago, on a Friday night when we were feelin' saucy, we decided to knock down the whole wall between these two rooms.
Why All the Hype About Demo?
If you watch makeover shows on HGTV you may wonder if ripping out fixtures and demolishing existing walls is as gratifying as TV personalities dramatically claim. But as a real life renovator, trust. Demo is a rush, and we are talkin' major endorphin happyhour!
Unfortunately, after our own sledgehammerhappyhour, we discovered this wall to be load bearing. To stay on budget, we compromised by widening the single doorway (which previously had no door) to accommodate the vintage French doors.
Bonus to this less open design? If I'm working in the kitchen and don't to hear the TV in the great room, I don't have to.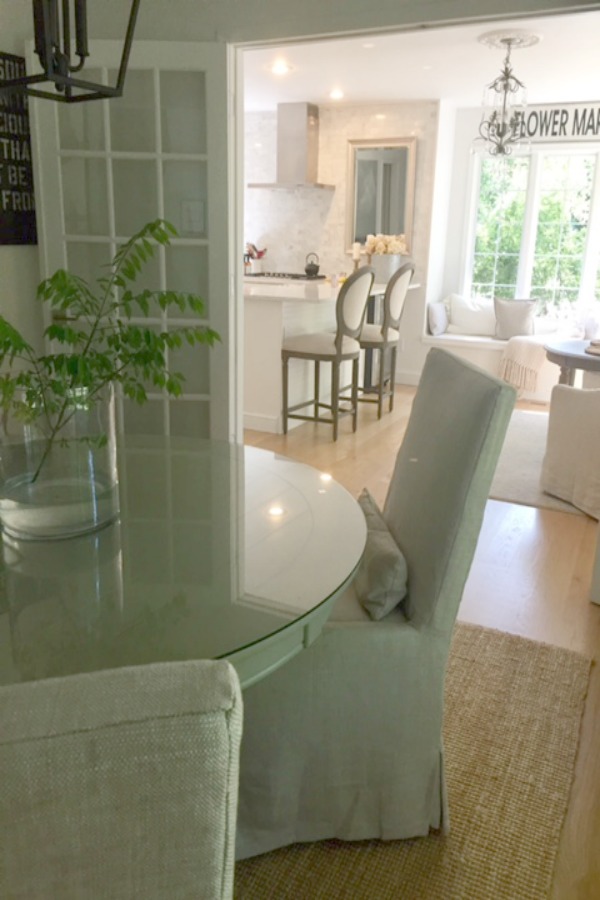 Dining Area
The opposite side of the dining room is open to the 2-story great room/living room. I am always surprised when I view a photo snapped of our massive rustic oak sideboard from Belgium. In real life, this piece is gigantic! My abstract painting above it is over 6′ tall.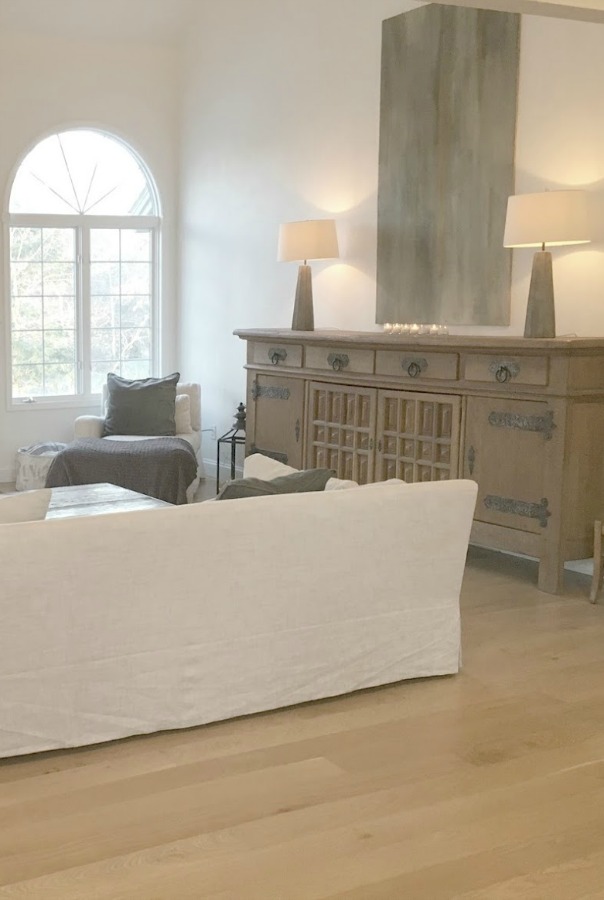 I'd like to add a pretty French country bench in front of the dining room windows. Here are friendly priced options: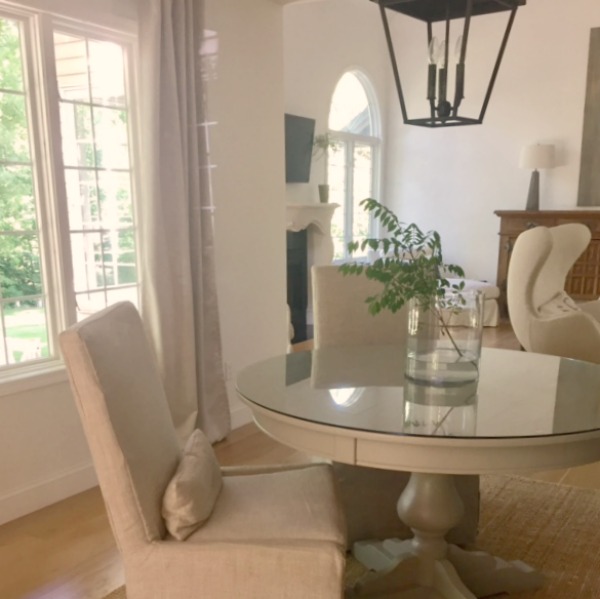 Paint Color Throughout Home
All the walls are painted BENJAMIN MOORE White. Yes. Just "White" since it is the base color for all their mixing. It has minimal undertones and is very light and bright. We needed a strong white to counter the strength of the yellow natural light.
Back in the kitchen, I like the overgrown shrubs seen through the windows. They provide a buffer from our circle driveway and the street. Mature trees encircle the house creating a private sanctuary feel.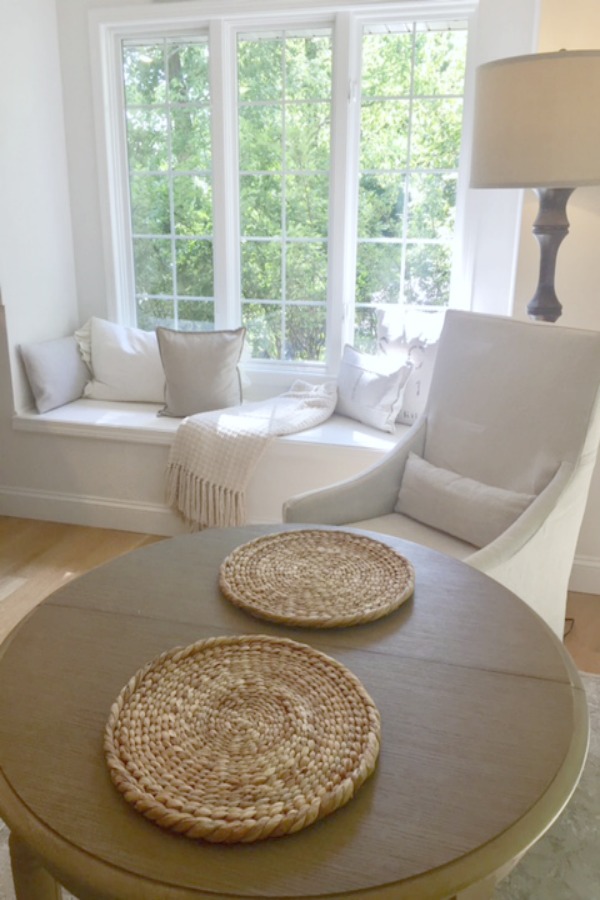 Vintage Signs
My hand-painted FLOWER MARKET sign above the window seat was found at Urban Farmgirl's brick and mortar shop in Rockford, IL. Here is a possibility if you have a place for it:
This handpainted PATISSERIE sign (English translation: shop where French pastries/cakes are sold) would also do the trick.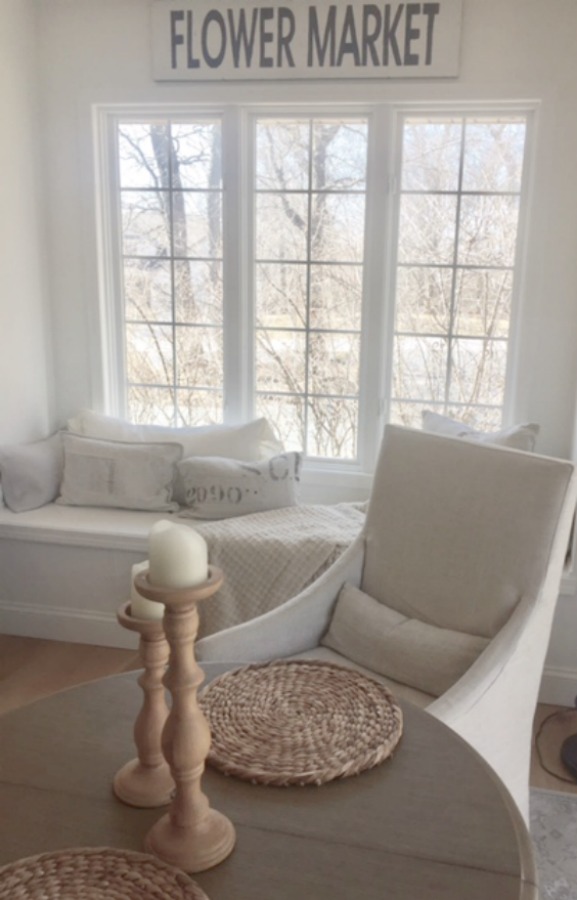 The pillows and throw are all vintage RH.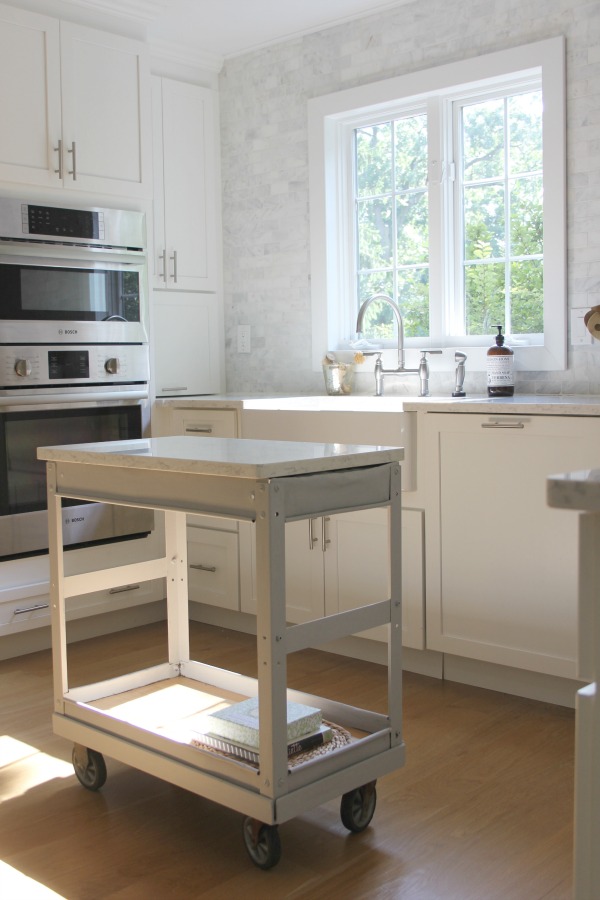 See more of my kitchen here, and find more sources for the decor here.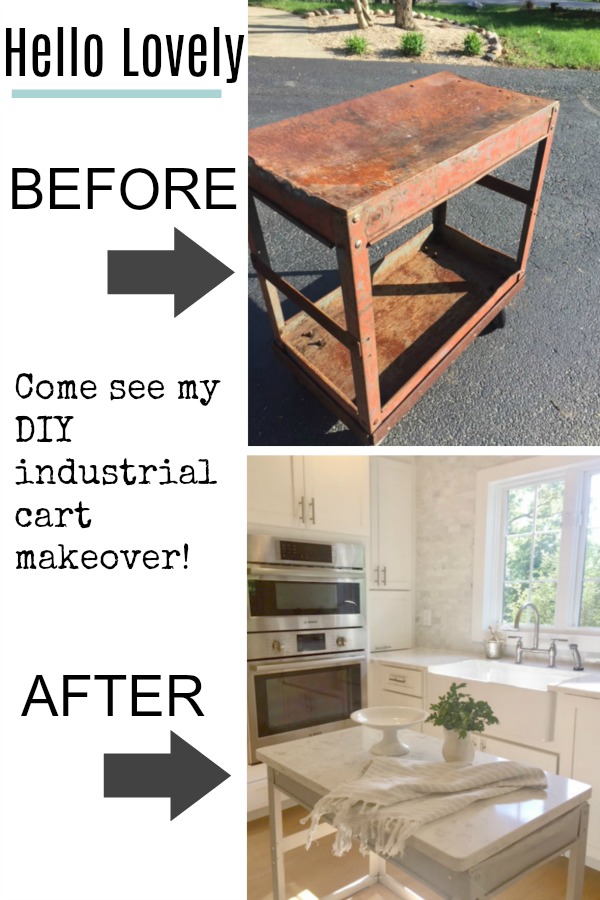 Thanks for taking this tour of our kitchen and reading the history of a quirky industrial cart!
I independently selected products in this post—if you buy from one of my links, I may earn a commission.
Peace to you right where you are.
-michele
Shop for items you already intended to buy on Amazon RIGHT HERE, and also find home decor here to keep decor inspiration flowing on Hello Lovely!
Hello Lovely is a participant in the Amazon Services LLC Associates Program, an affiliate advertising program designed to provide a means for sites to earn fees by linking to Amazon.com and affiliated sites.