These Ideas to Keep a White Kitchen From Feeling Too Cold are inspired by pretty spaces where thoughtful kitchen designs translate into spaces to live in and linger.
Ideas to Keep a White Kitchen From Feeling Too Cold
1. Bring in Natural Elements Like Branches
I shared the story of how the sweet little industrial cart below came to live in our kitchen right here and improved the function of our kitchen. It also gives us another surface for decor and warm touches like the urn with branches from outside.
2. Break Up White With Unexpected Color
A friend's modern farmhouse kitchen below is intentionally minimal with industrial touches, and all the steel is rather cool. The ebony stain on wood floors keeps things from feeling too precious, the pistachio green on some of the base cabinetry adds age, and the dark honed black granite contrasts nicely with all the white and lightness.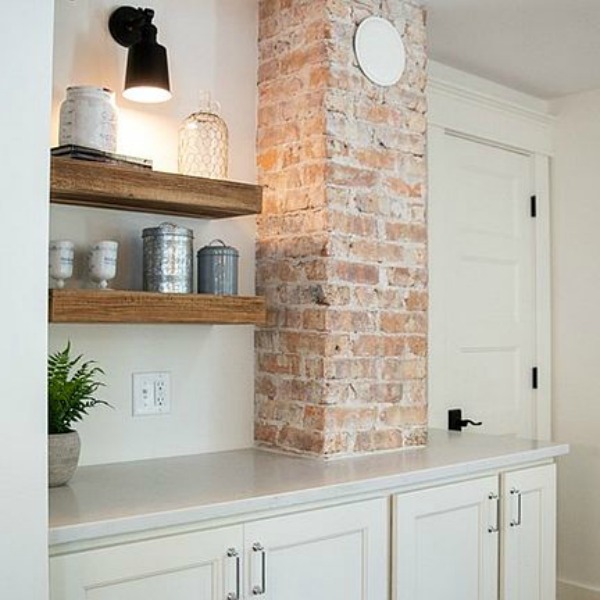 3. Create Contrast with Warm Natural Wood
There's just nothing like the combination of beautiful, natural, character-enhanced wood and a simple white kitchen. This breathtaking kitchen design below is a lesson in just how much warmth wood pocket doors and a knotty hardwood floor can bring.
Here is another example of the warmth natural wood flooring can create in an all-white pristine kitchen with brass hardware.
Perhaps my favorite kitchen of all time – reiterating the point about what warm beauty natural, rustic wood can bring and also proving beautiful kitchens need not be grand in scale.
4. Add Interest With Pattern
In the kitchen below, it's the check pattern that plays a starring role and contributes to the cozy vibe. Repeating patterns and materials prevents the space from feeling too busy or sensually overwhelming.
5. The Warmth of Copper
6. Add Color to Island
Here's an idea I am toying with for adding more warmth to our kitchen, mainly because it would not be difficult to experiment with the change. Painting or staining the entire island/peninsula/breakfast bar or part of it a warmer hue is an option which may be just the right choice in a white kitchen lacking depth.
7. Flooring With Movement
In my neck of the woods, it seems every homeowner was adding white square ceramic tile to their kitchen floor in the 1990's. While that color and pattern can look smart for a backsplash, it's not ideal for adding interest to a kitchen floor. I mean. Unless you find it interesting to become a slave to cleaning unforgiving, cold white square tiles. Warm wood, painted encaustic tiles, and rugged stone can add so much warmth.
8. Vintage Ironstone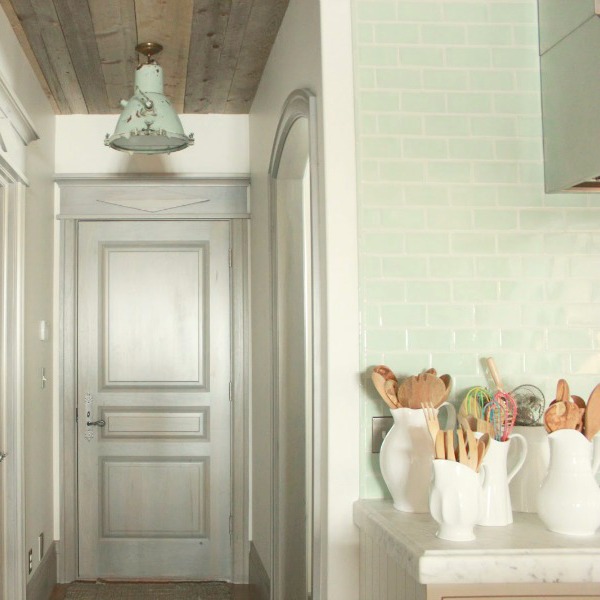 9. Wood Planking
Whether it's shiplap on the walls, beadboard on a backsplash, or wood planks on a ceiling, adding warmth with such texture is a smart way to turn up the casual and cozy factor while dialing down the "precious."
10. Vintage Style Cabinets
When new kitchen cabinets feel old, they impart a romantic, nostalgic, home-y warmth that is hard to beat in a white kitchen.
11. Mix in Texture With Counter & Bar Stools
If the white kitchen design involves a breakfast bar or island, turn up the warm factor with counter stools or bar stools to add color, texture, and form.
12. Built-Ins & Banquettes
They are cozy and a place to cozy on down with pillows or upholstered cushions for added warmth.
13. Add a Farm Sink
They add warmth with their nod to the past and instantly cause a white kitchen to feel less formal.
Tour an Unforgettable Timeless Home in London
Peace to you right where you are.
-michele
Shopping for items you already intended to buy on Amazon RIGHT HERE (not just items mentioned in posts) or home decor keeps decor inspiration flowing on Hello Lovely!
Hello Lovely is a participant in the Amazon Services LLC Associates Program, an affiliate advertising program designed to provide a means for sites to earn fees by linking to Amazon.com and affiliated sites.