Will we tire soon of thoughtfully designed traditional and classic kitchens with timeless tranquil inspiration? Doubtful. Let's peek at Kitchen Ideas Inspired by Park and Oak Kitchens inspired by the interior design studio Park and Oak.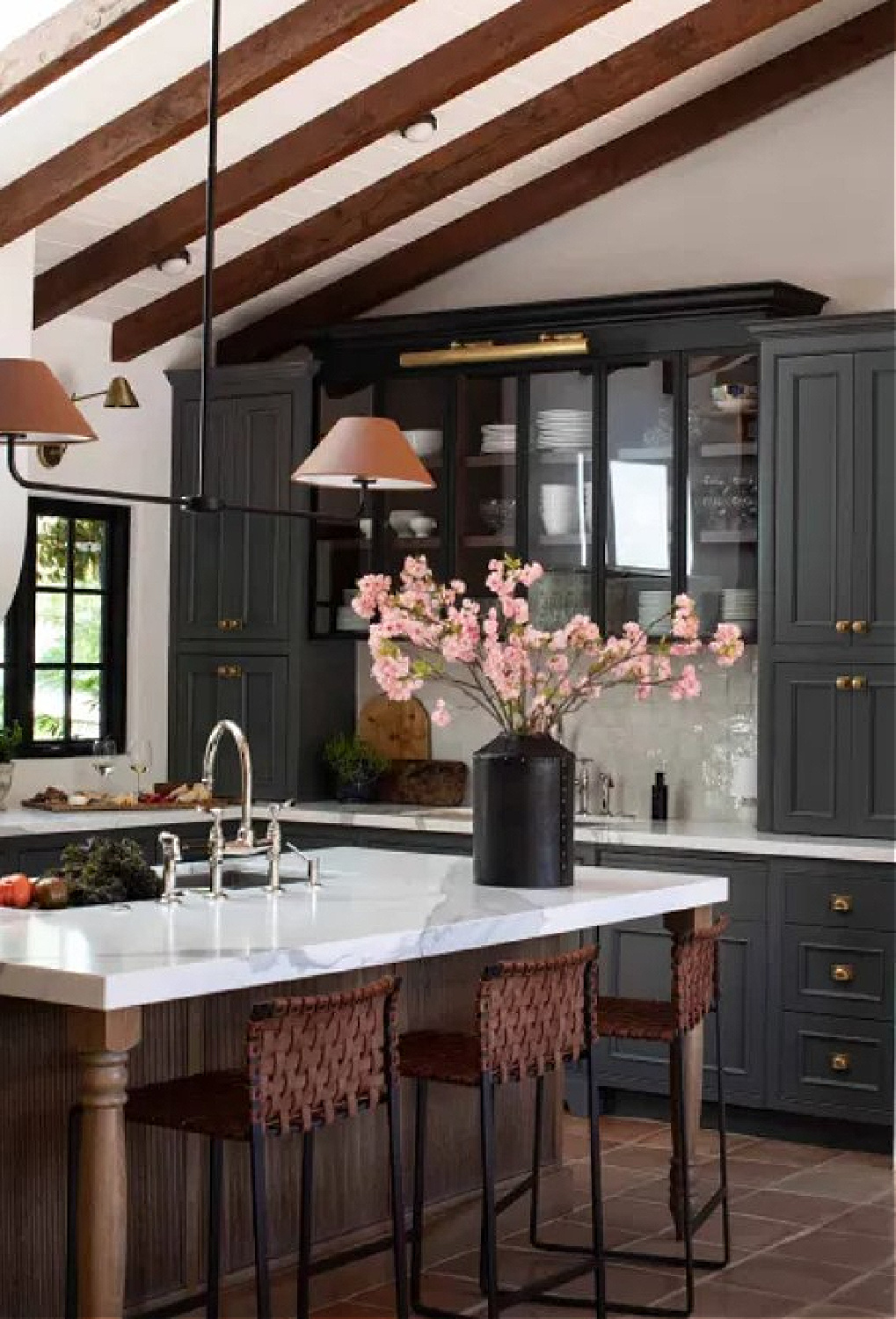 Park & Oak Kitchen Design Ideas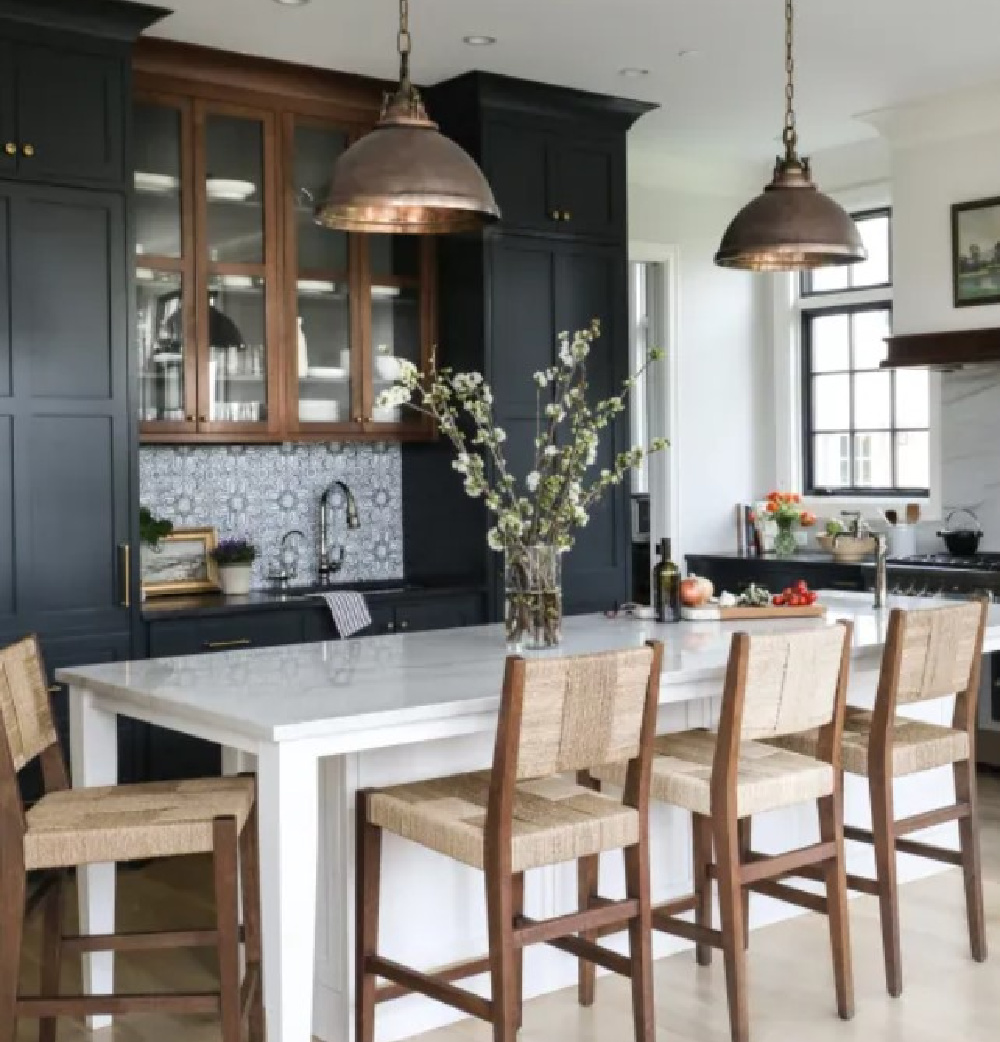 Creative interior designers Christina Samatas and Renee DiSanto make their clients' kitchen dreams a reality.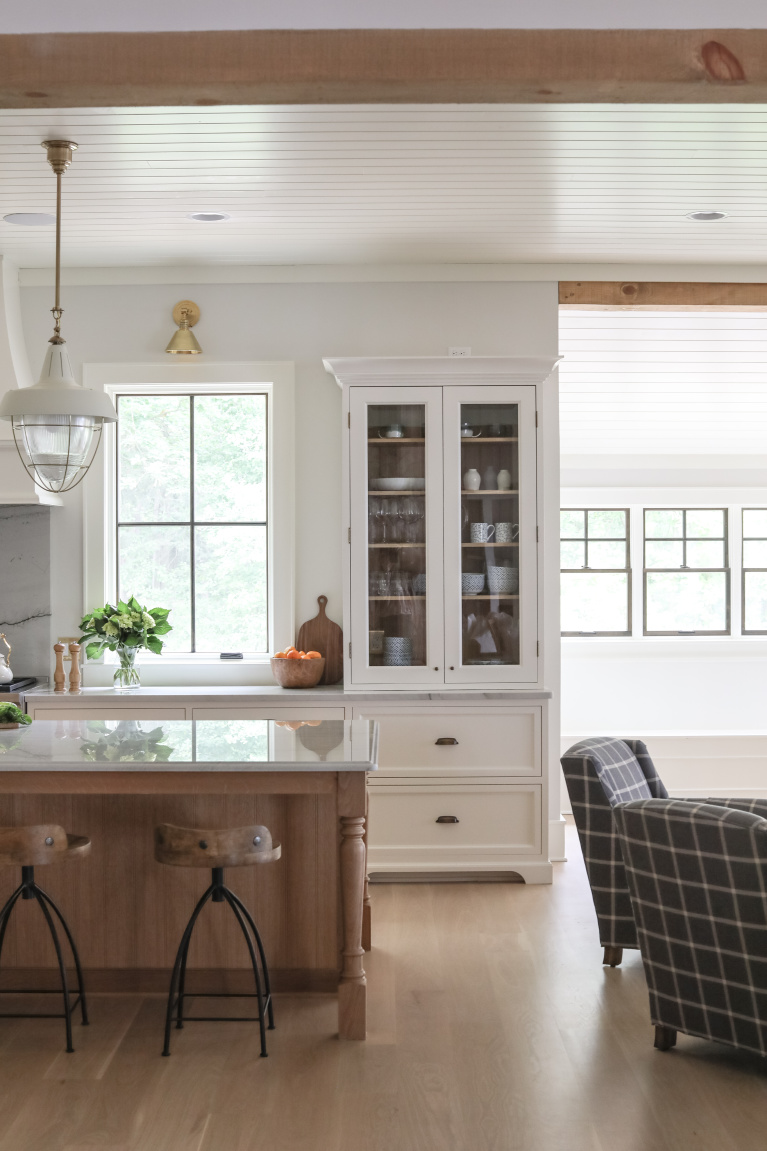 As they address new construction, renovation, and furnishing projects across the country…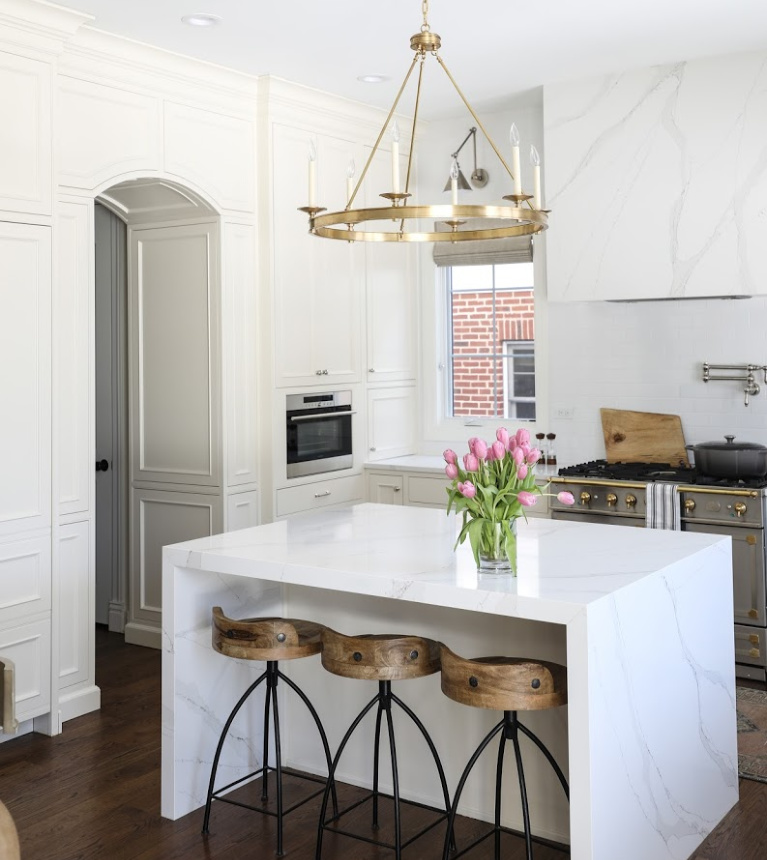 loveliness is in full bloom!
Time to gather ideas, clues, and inspiration from their genius!
1. Sophisticated Color Palette
In a glorious Hinsdale kitchen (a stone's throw from our former Elmhurst home!), the designers chose a warm medium grey for this classic kitchen with rustic elegance.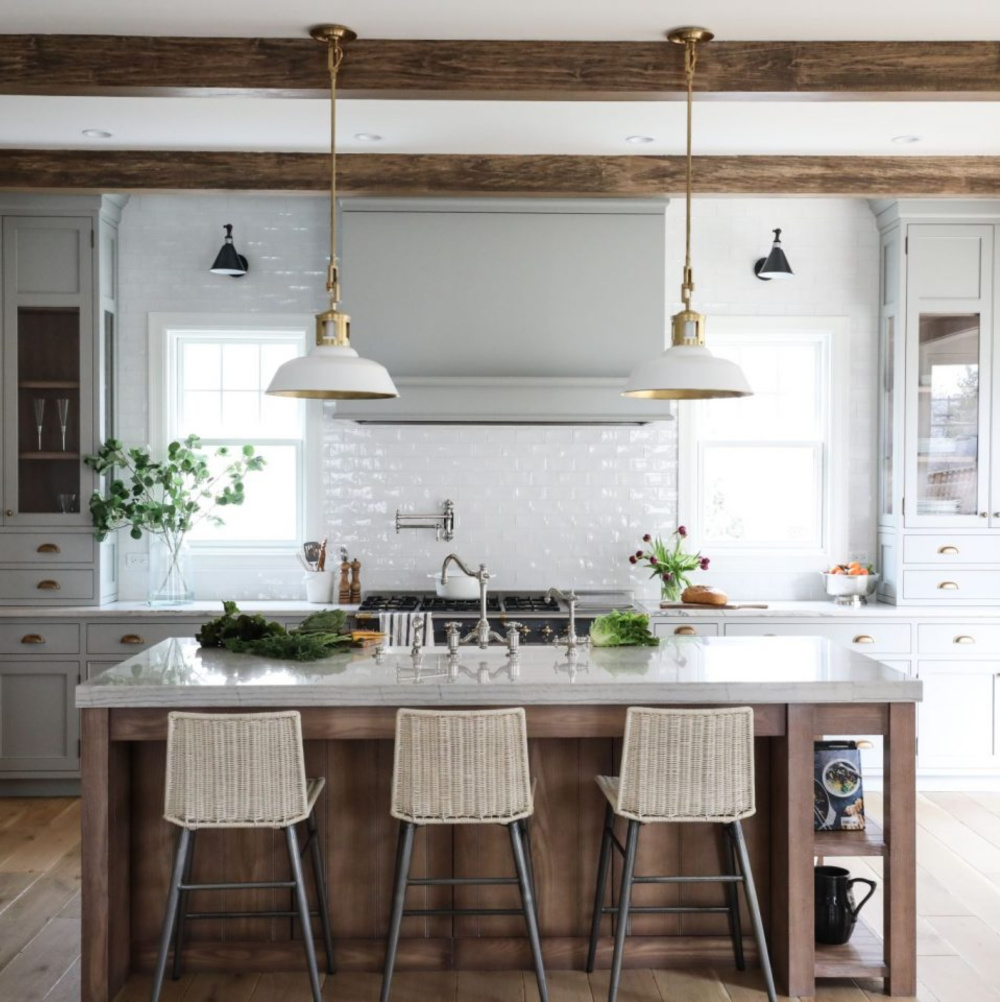 It can be a challenge to pull the trigger on paint colors you'll live with for many years. That's why I'm grateful designers share sources to ease our own journey.
Find more paint color ideas for gray in THIS STORY.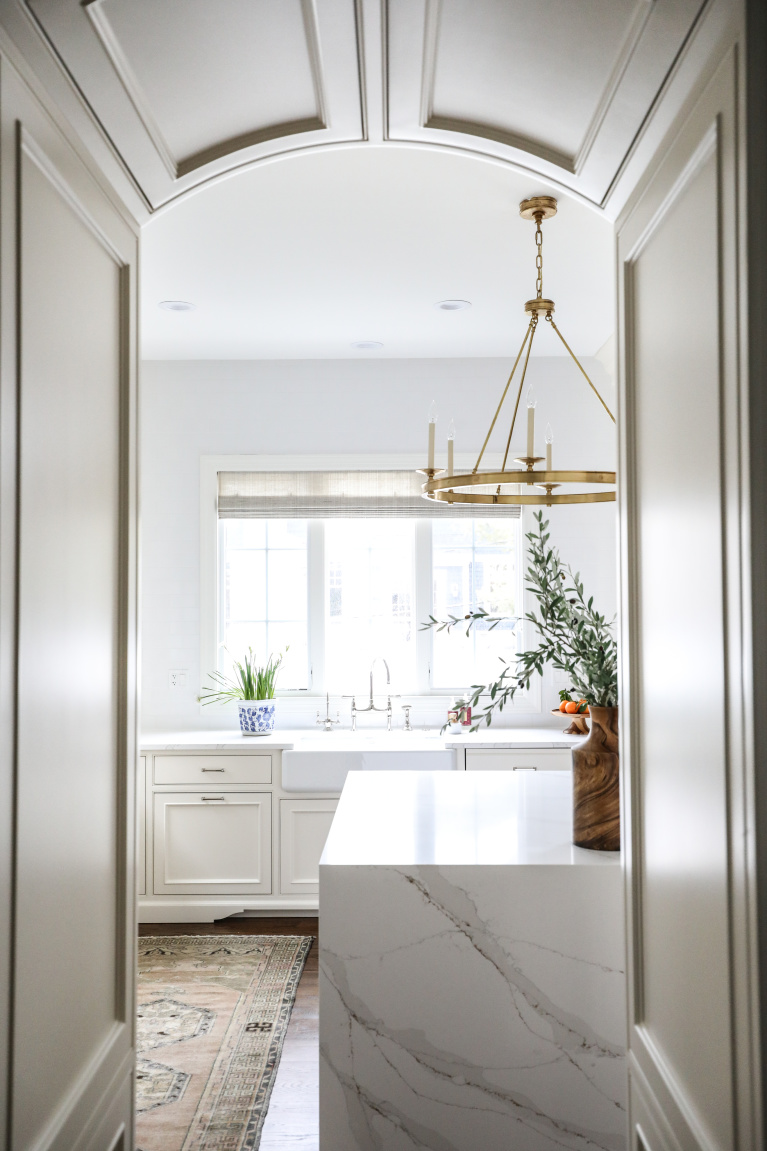 For more ideas for calm light grey paint ideas, these may help: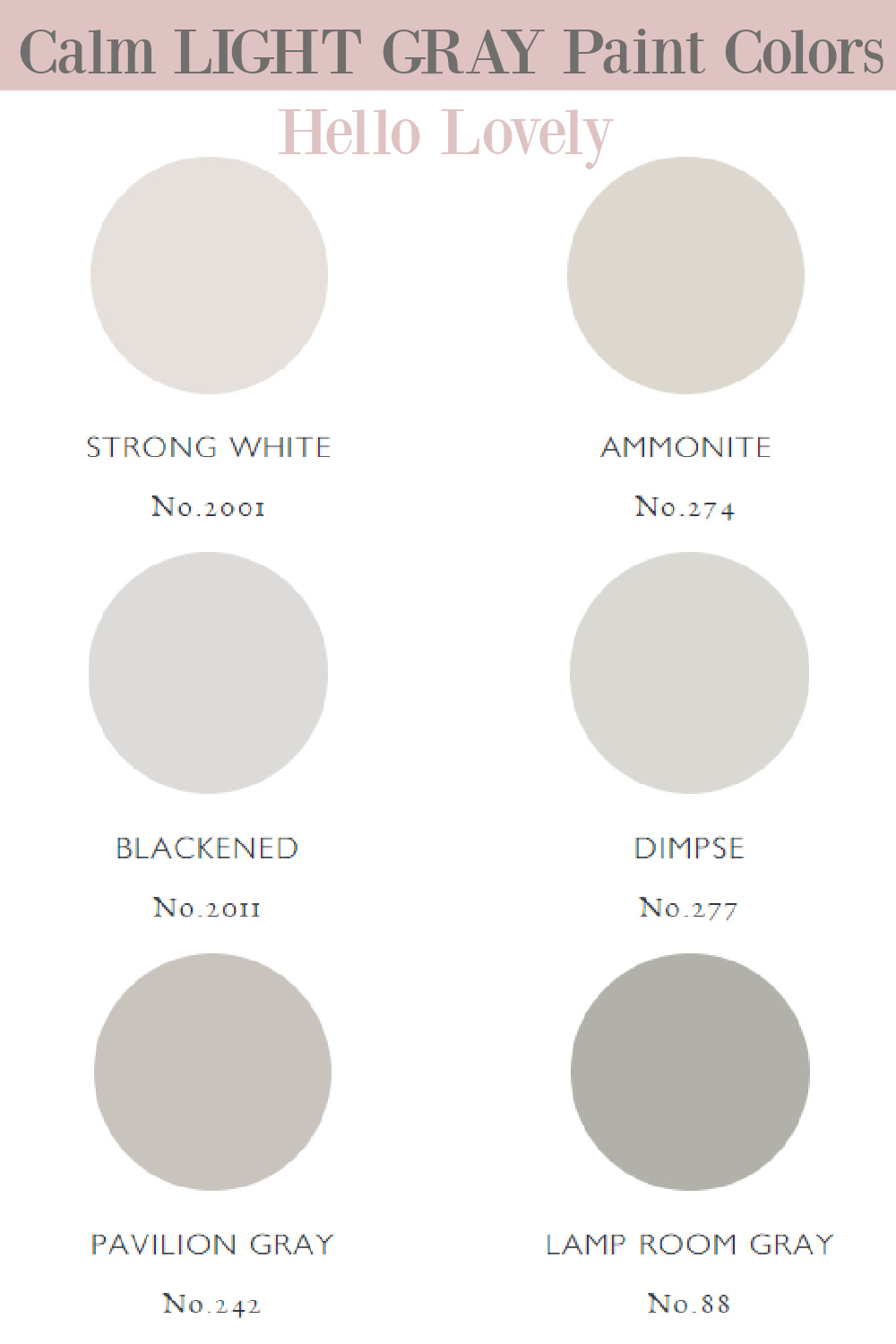 2. Eucalyptus + Clear Vase
While it is impossible to NOT notice the charcoal La Canche, a French range likely falls outside the parameters of our kitchen design exploration today.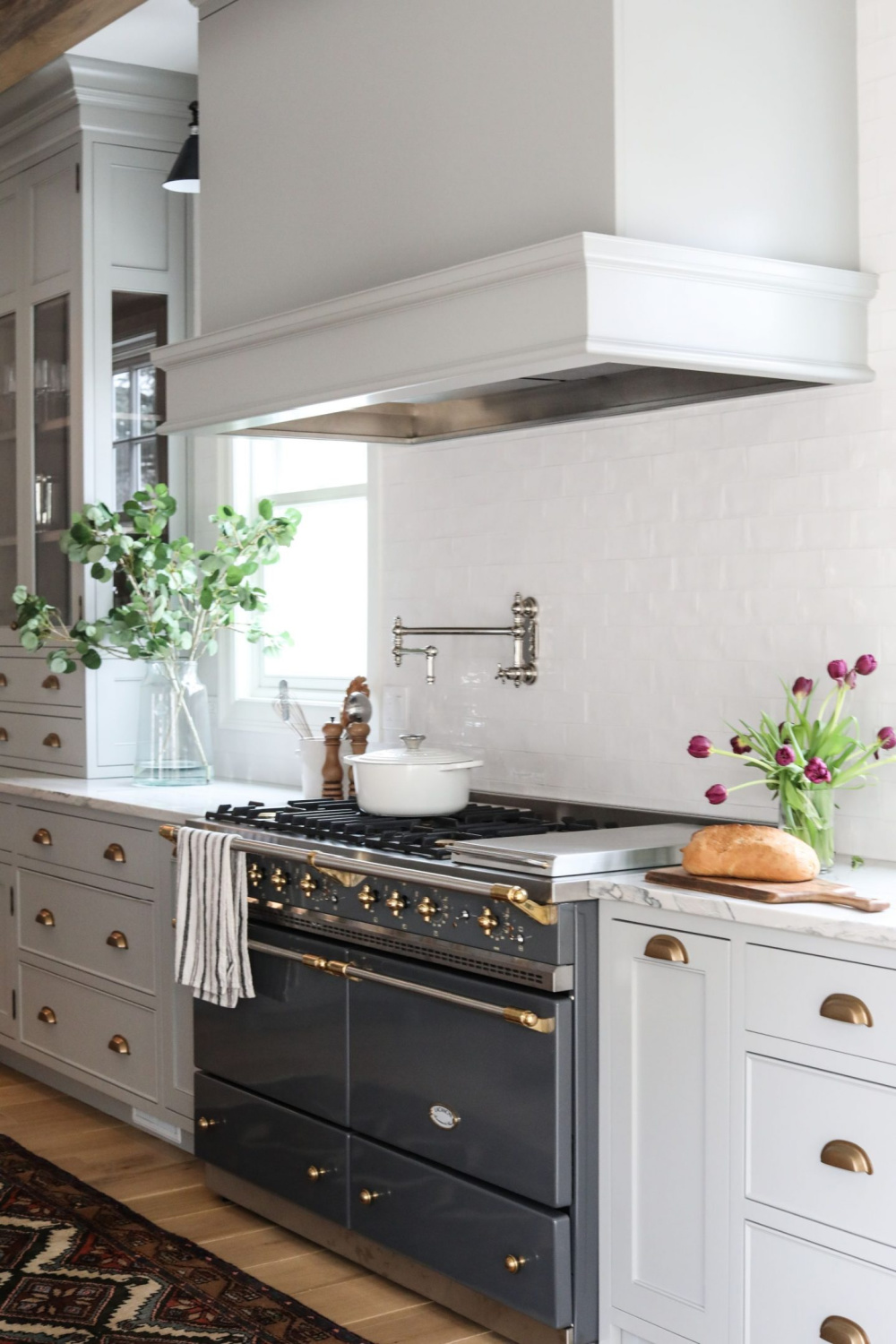 However, look at the pretty pop of organic lovely near that fantasy cooker…are eucalyptus branches calling your name?
3. Naturally Woven Seating
With so many lovely options in the marketplace for kitchen stools, one way to narrow your search is to first choose a material which will complement the rest of your design choices.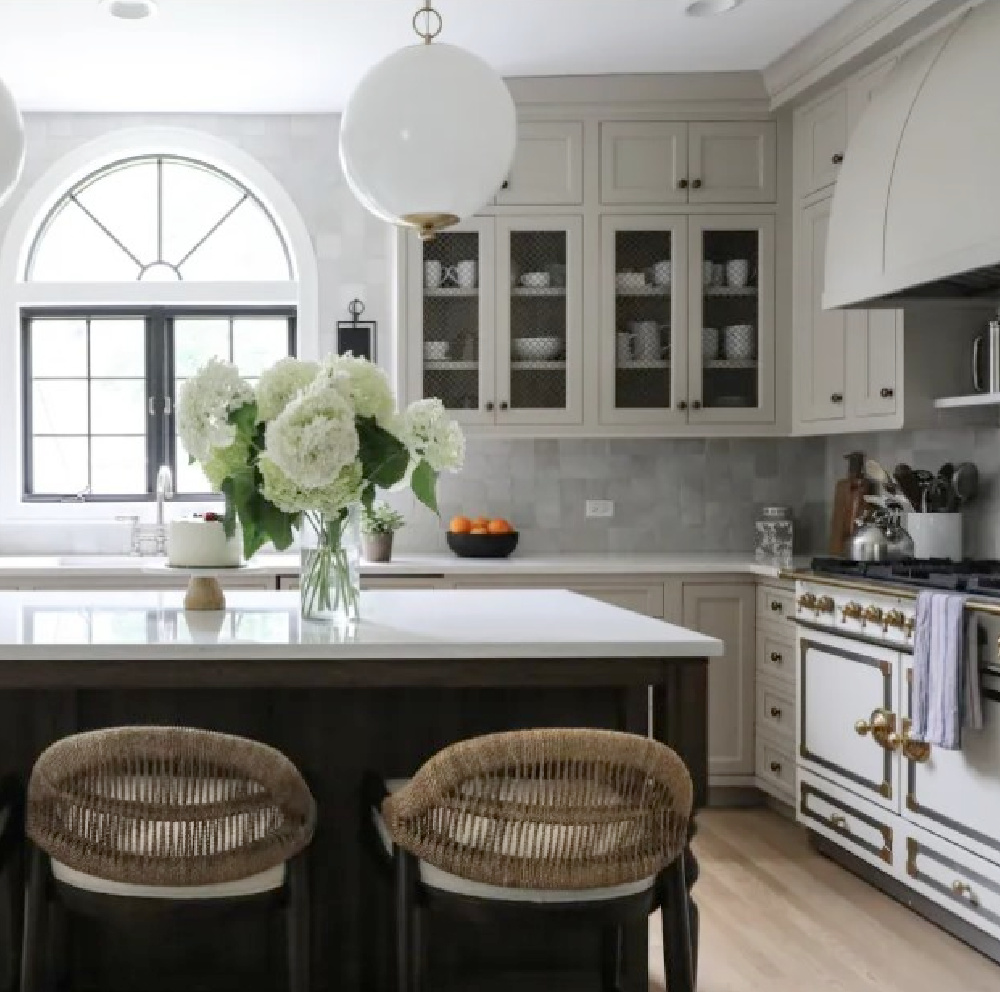 Will pulling in metal enhance the overall scheme? Wood? Upholstery in a solid? In a print?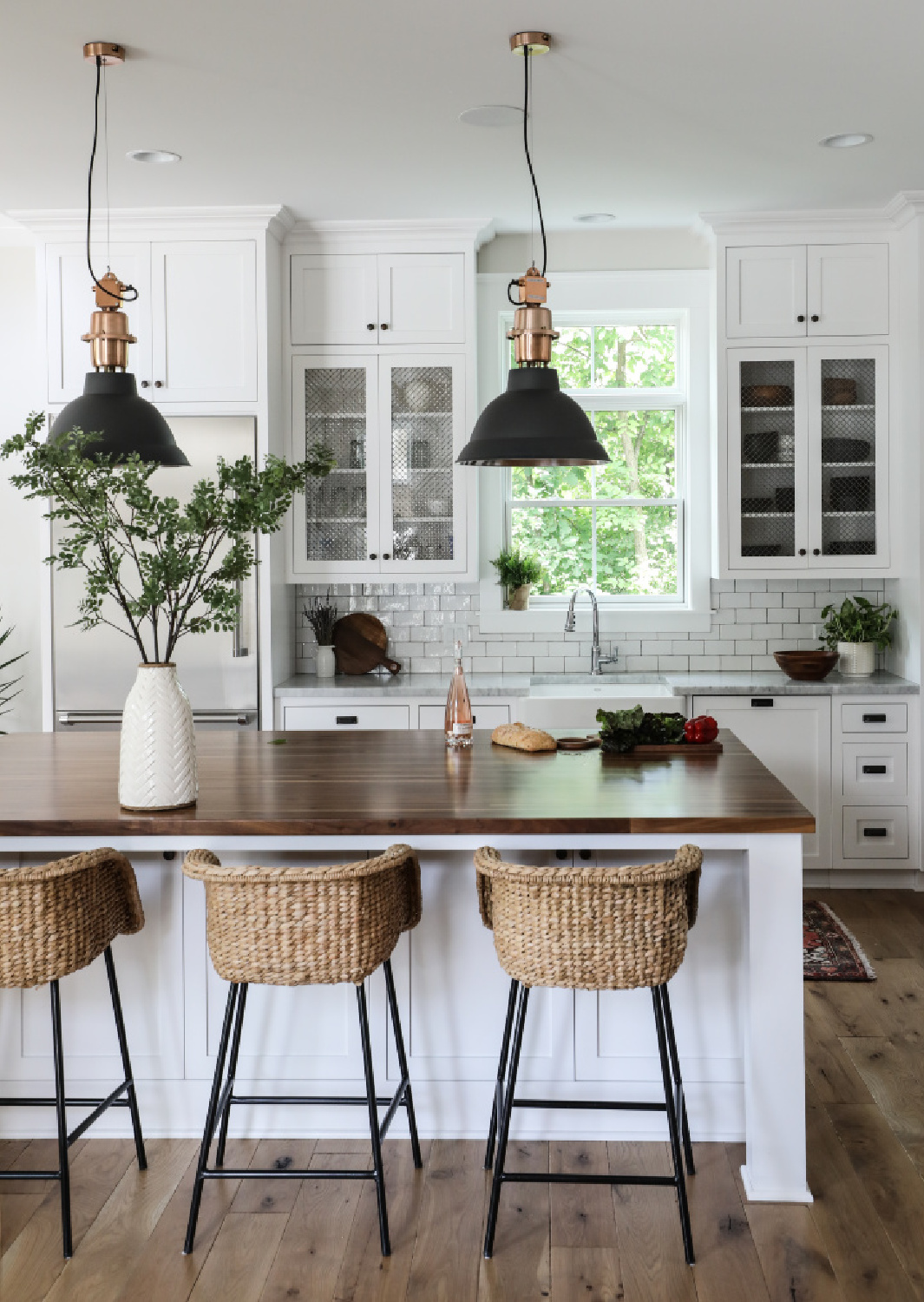 In this Hinsdale kitchen, natural wicker or rattan adds modern rustic texture and character.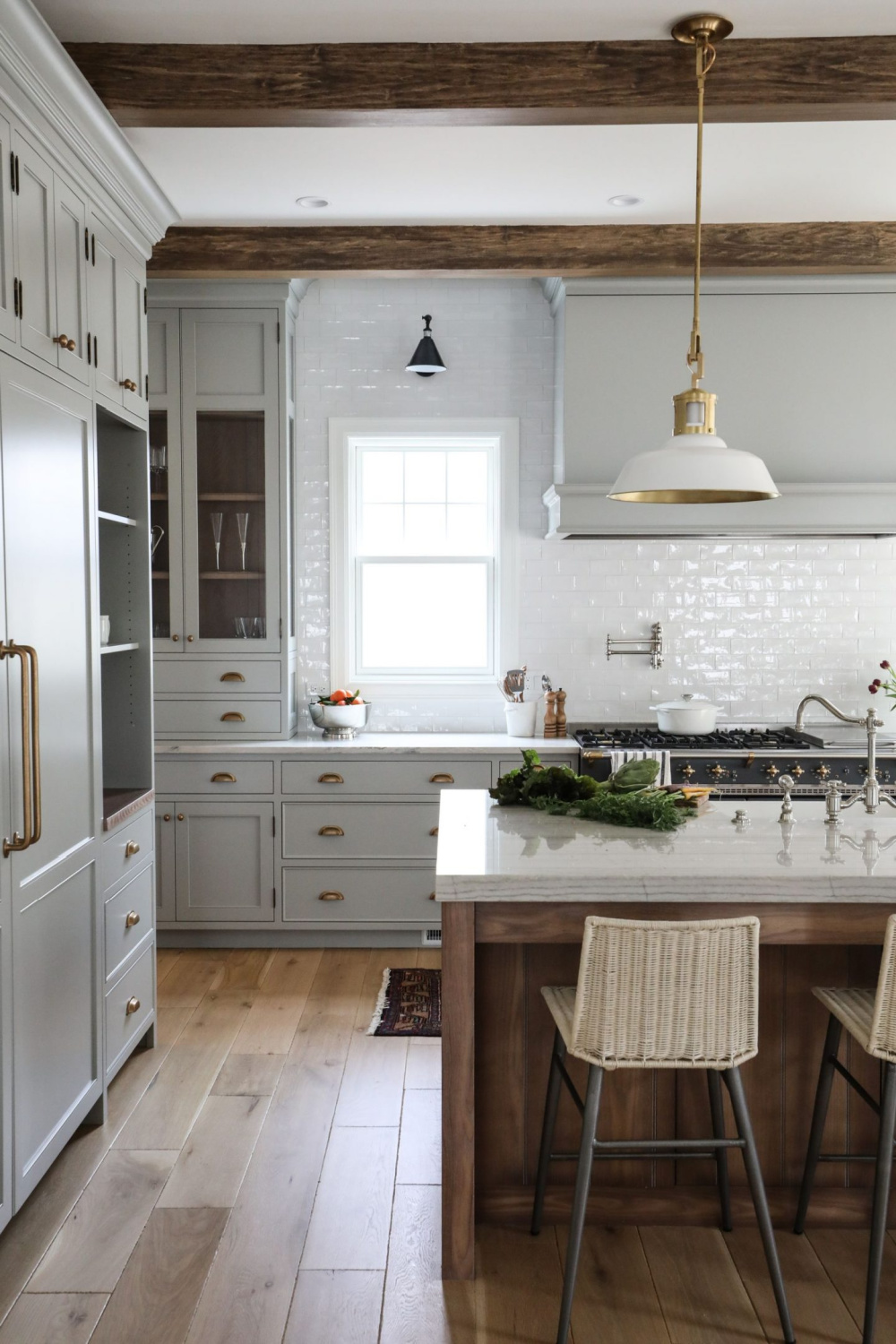 Here's another kitchen design from Park & Oak where bamboo and natural woven texture brings nature indoors.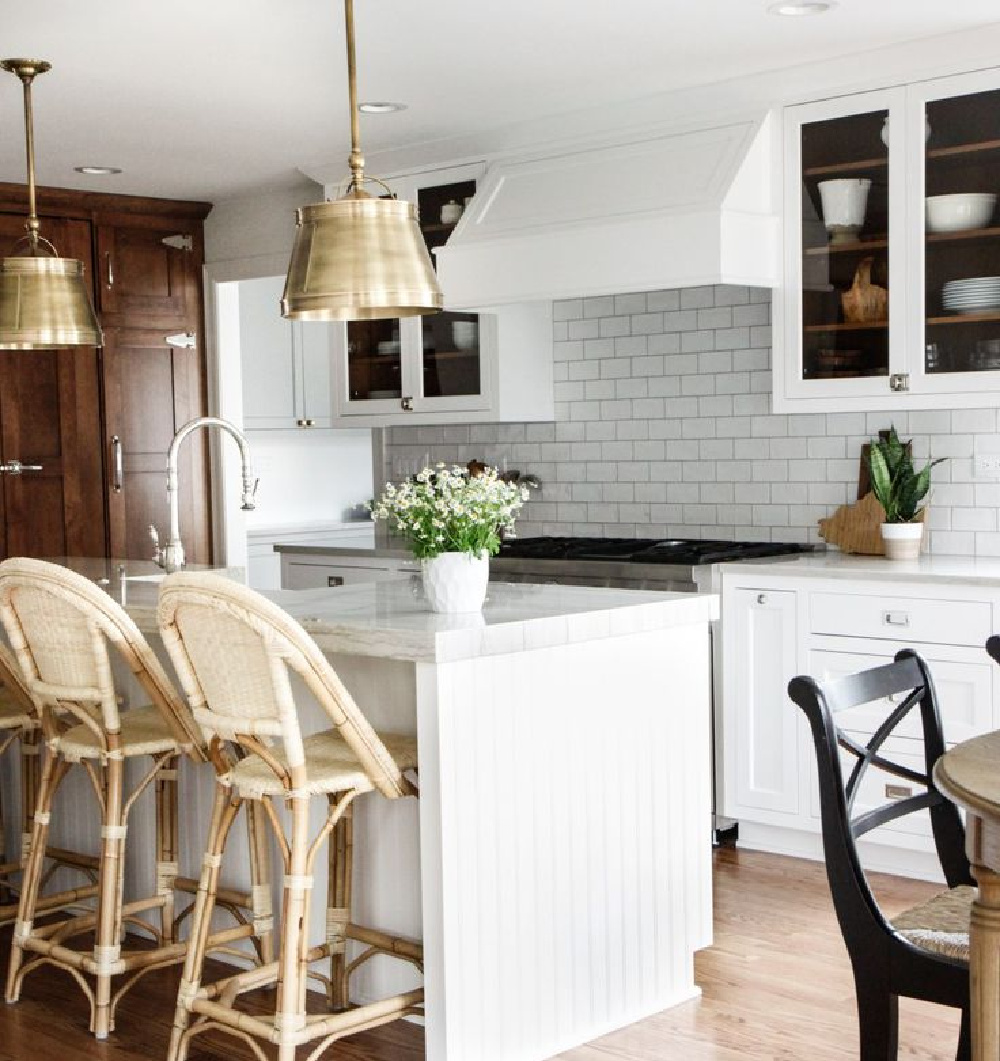 4. Warm Wool Runner
What cozy warmth and personality a simple rug or runner can add in the kitchen!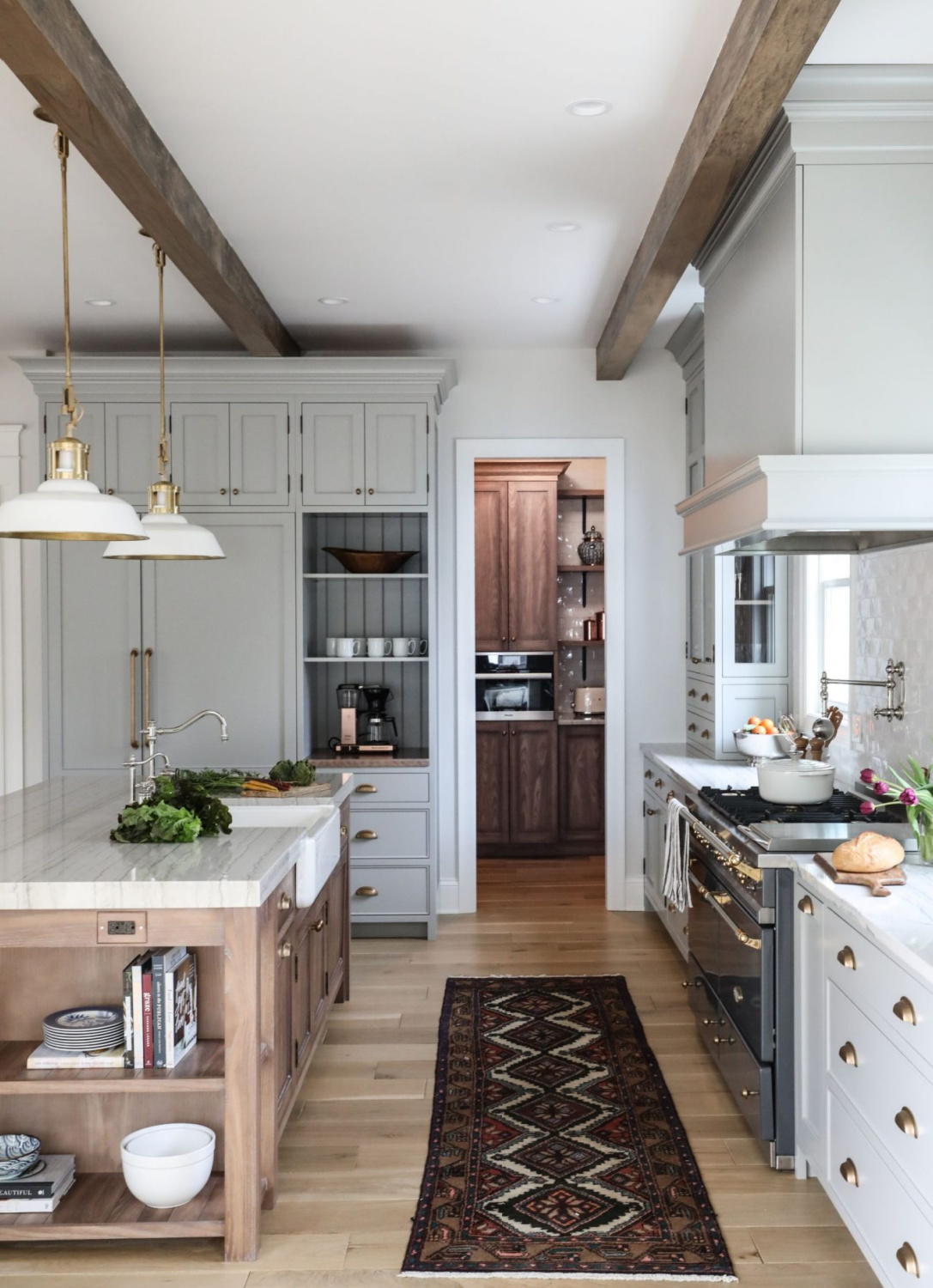 Since they are available in a wide range of price ranges and colorways, the only trouble you'll encounter is choosing your favorite.
5. Framed Art
There's something utterly cozy yet sophisticated about this kitchen by Park and Oak with its framed oil paintings flanking the sink: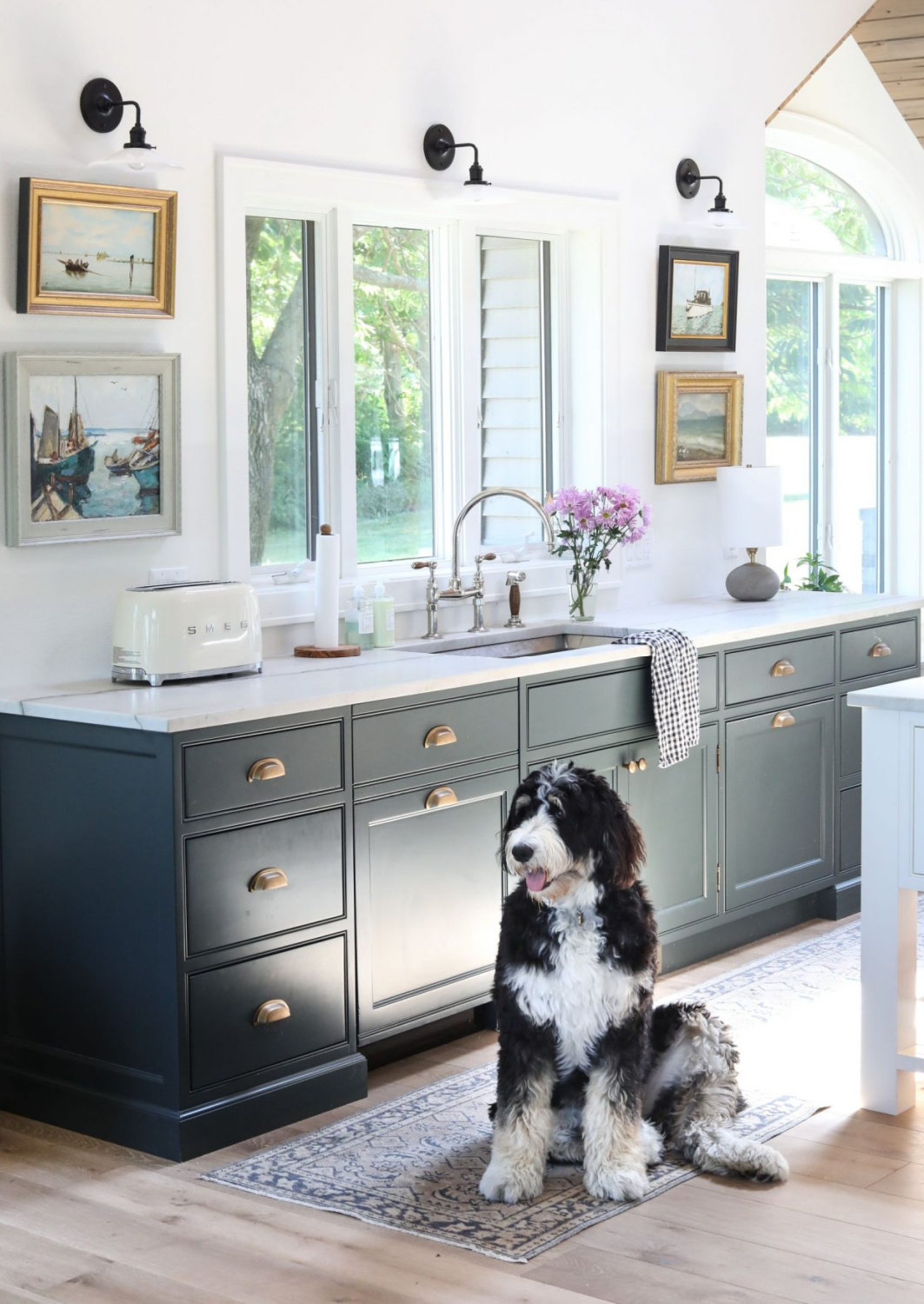 If you're going for a custom look and have room on the wall for collected treasures, it can be gratifying to live with art in the kitchen. In my own kitchen, I love displaying original abstract paintings with a modern vibe in the space.
Need more encouragement to mix dark and light colors of cabinetry?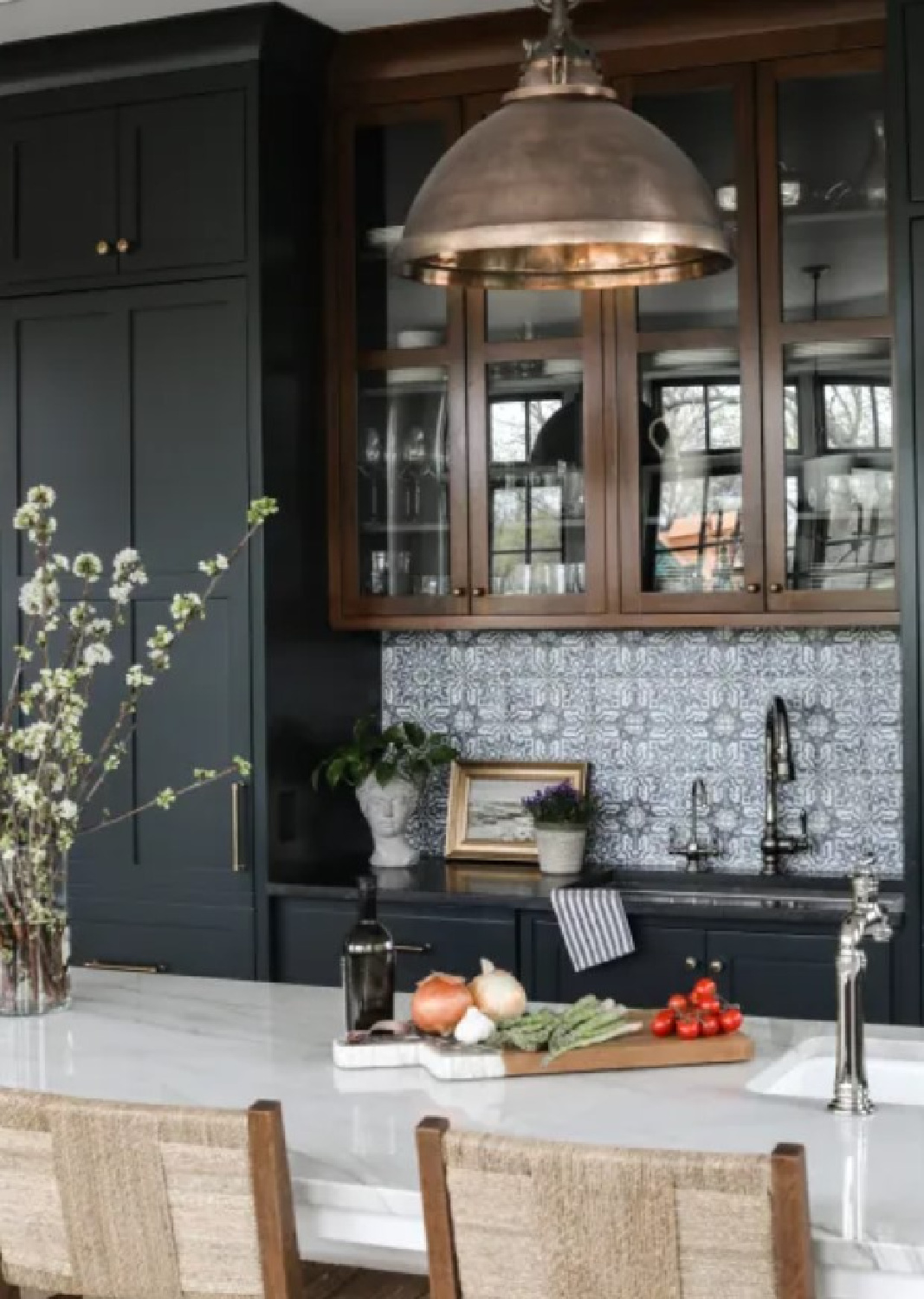 Here are ideas for a strong blue gray paint color to sample for your own interiors: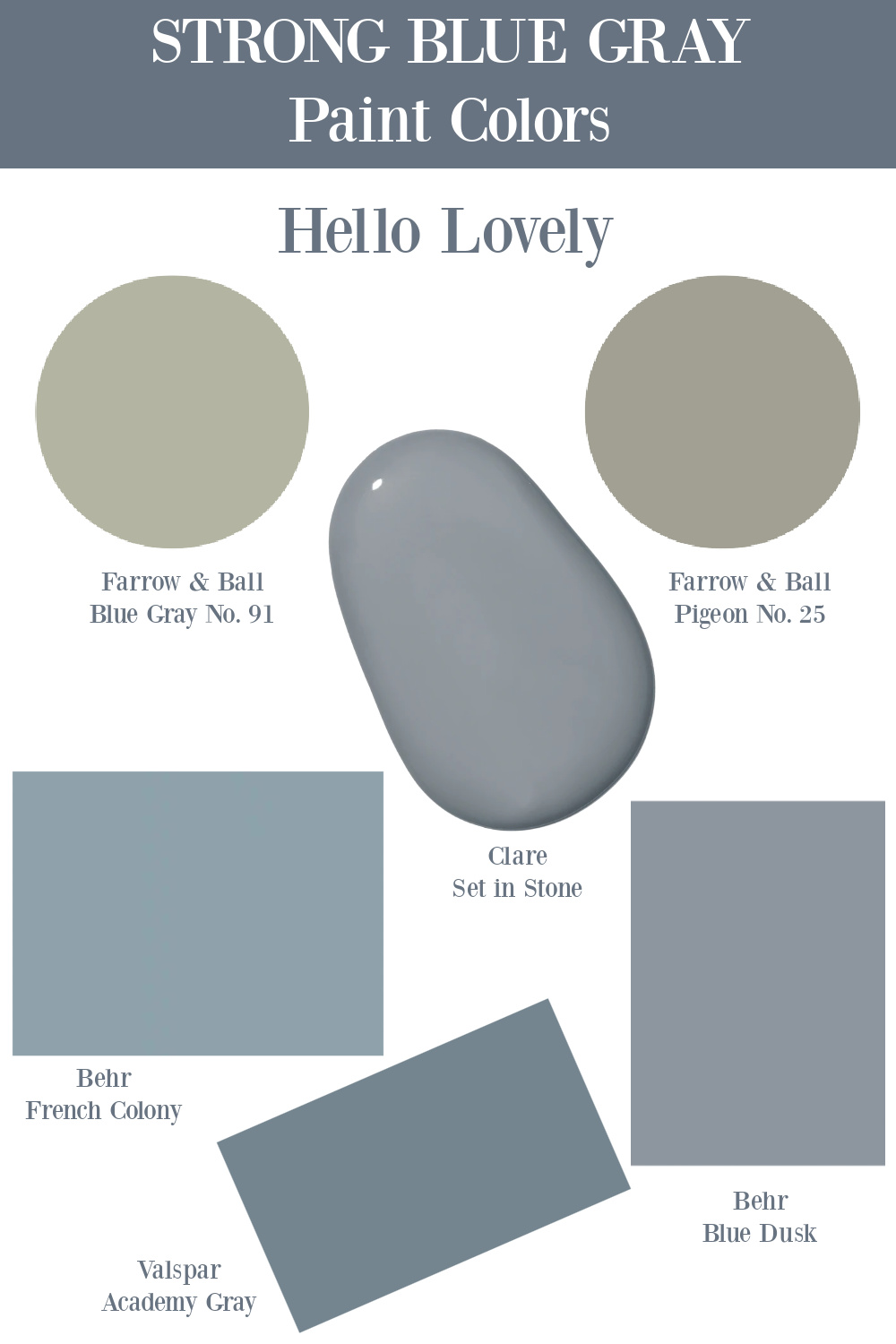 6. Brass Hardware & Accents
Aren't these ceiling lights beyond gorgeous?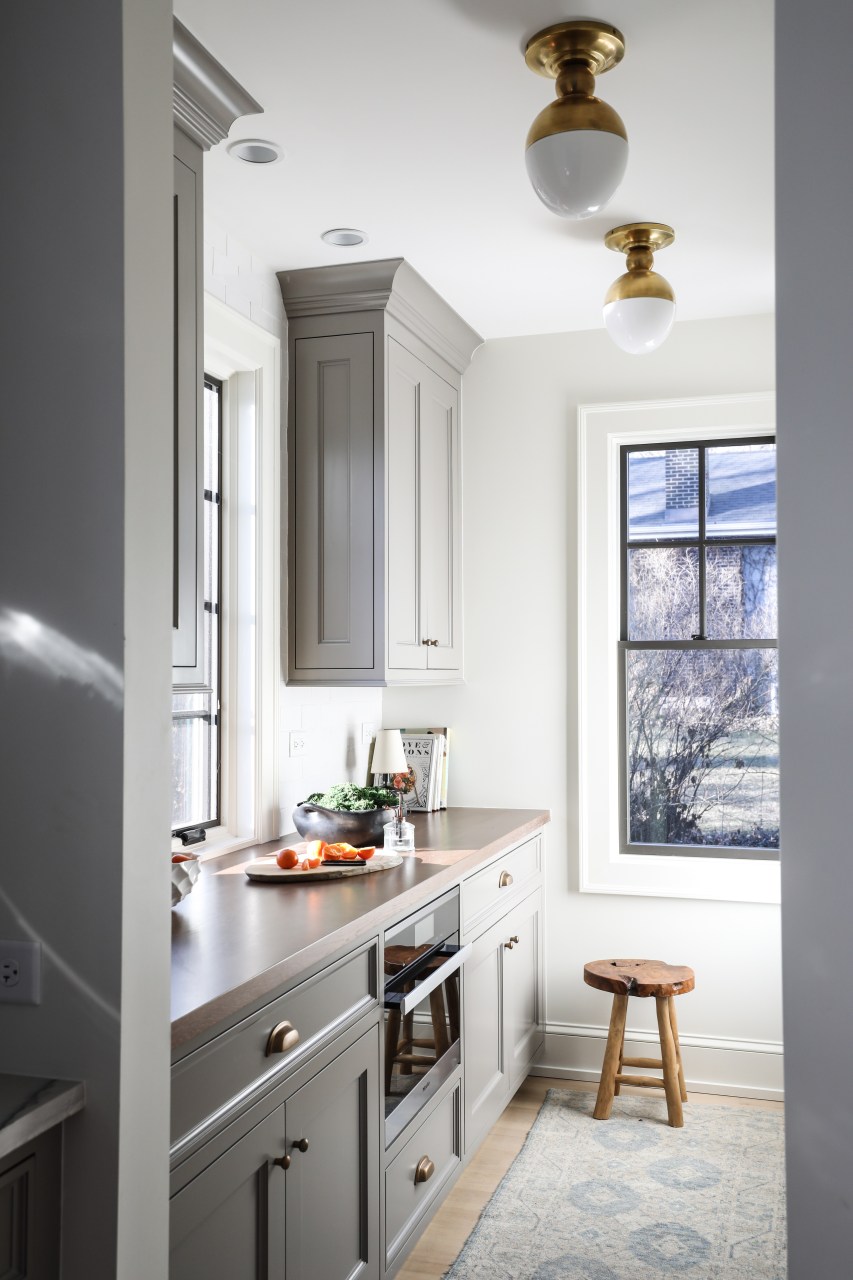 I'm also partial to the bin pulls on the cabinets which are reminiscent of those I chose for our Arizona kitchen.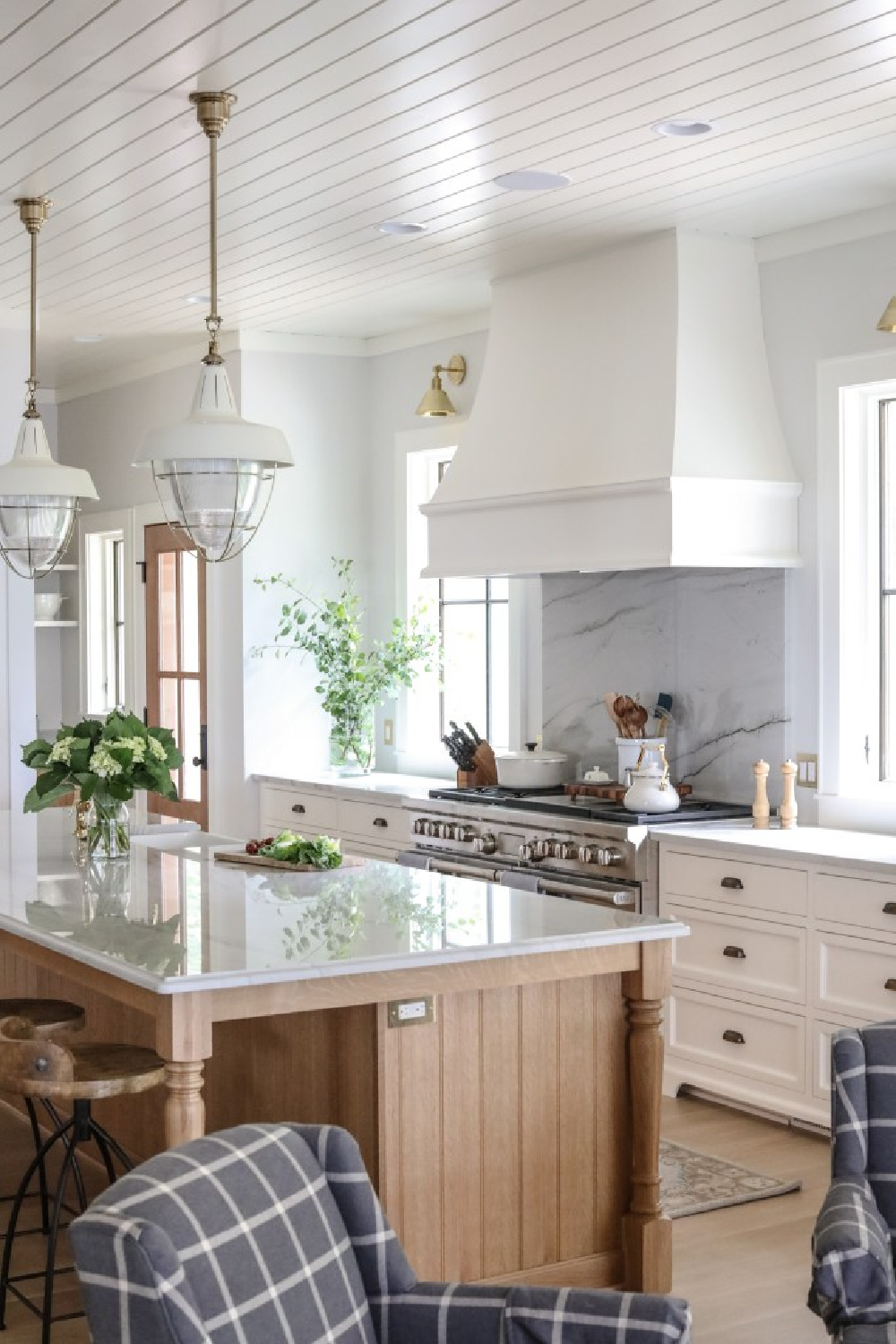 Good gracious, take another look at the kitchen above and tell me it isn't a masterpiece!?! It exudes calm without being dull or flat, and I wouldn't want to leave!
WE INTERRUPT THESE KITCHEN IDEAS FOR A RECIPE THAT LOOKS DELICIOUS:
Right? I can't wait to get Donna Hay's book:
7. Bead Board Ceiling
I'm crazy about the nostalgia, simple lines, and texture from beaded board anything. On a kitchen ceiling? BOOM. It just whispers I've no need for fancy when I'm this fabulous.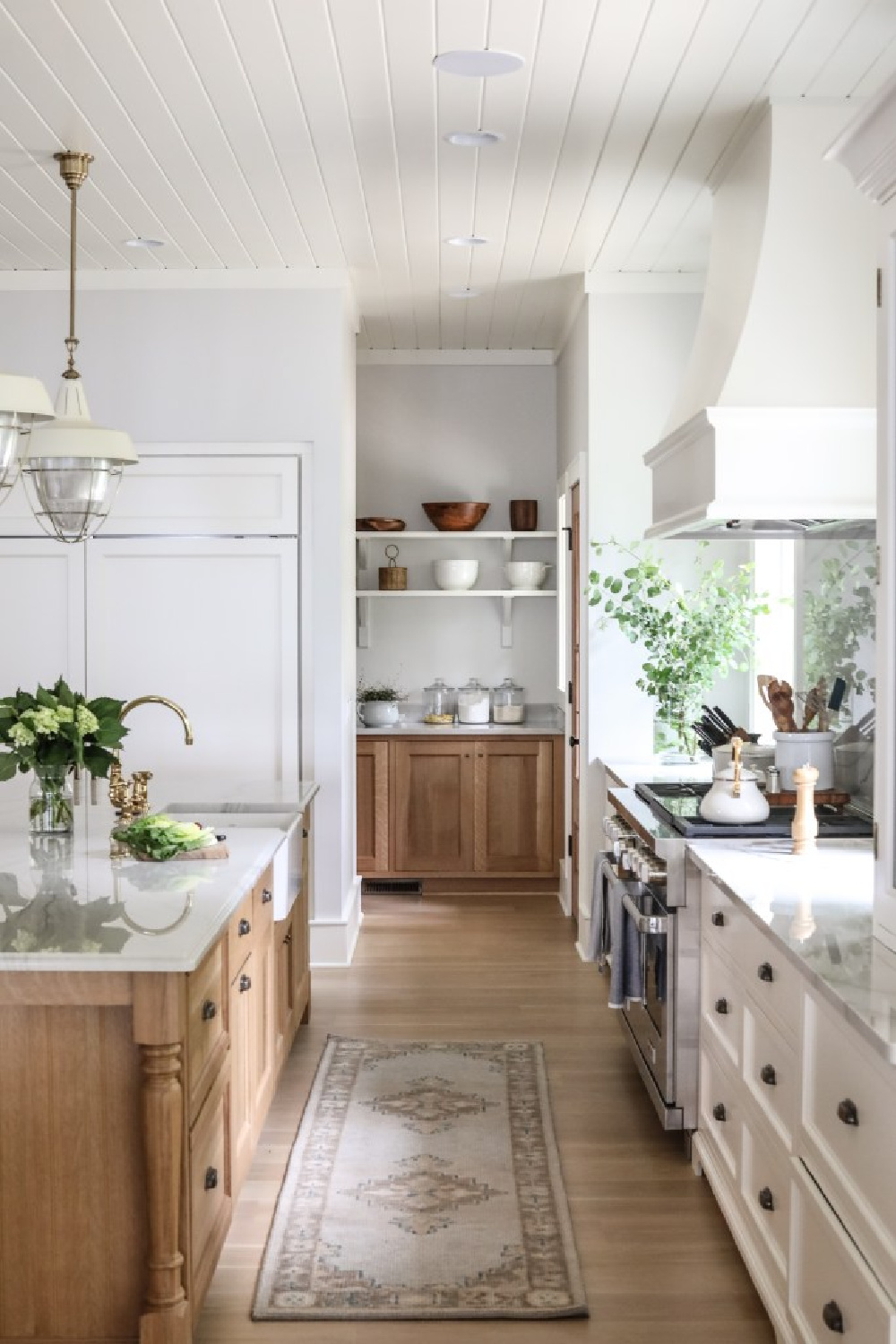 For new construction projects, beadboard can do wonders to create a timeless look. As for older kitchen ceilings with popcorn or texture (good heavens, I keep inheriting 70's sparkly swirls in my personal projects!), hello, lovely beaded board!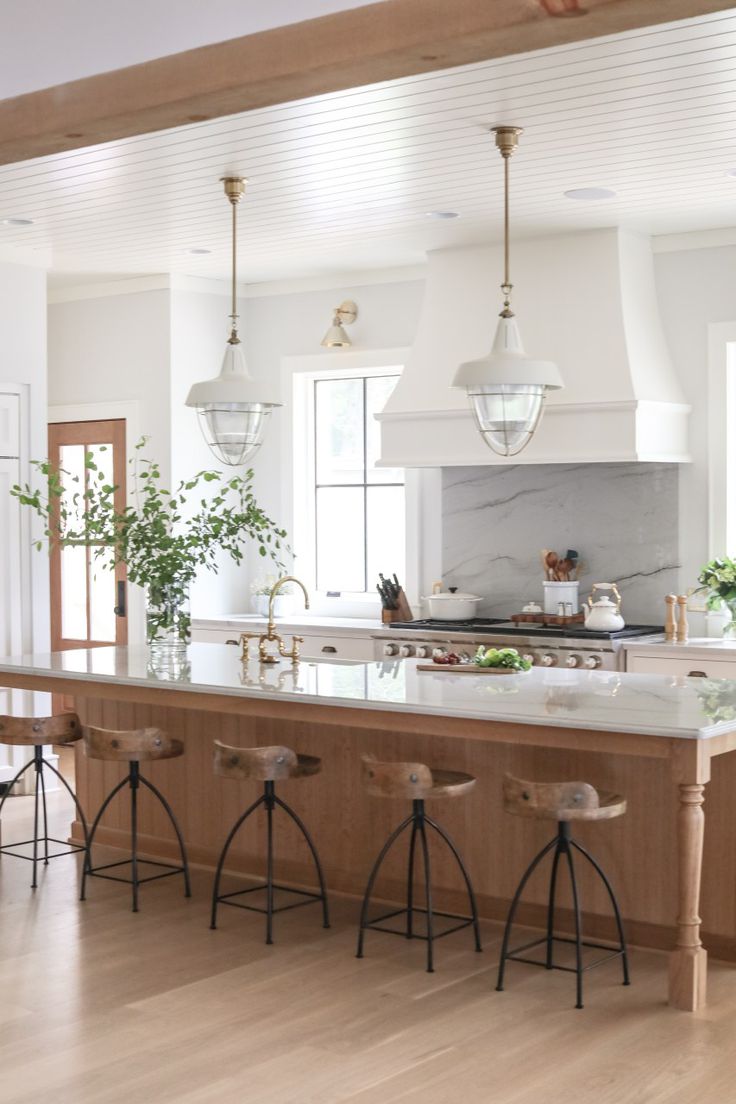 Bob Villa has tips for beadboard on the ceiling as well HERE.
8. Safely Sublime Subway
It matters not how many Pinteresting kitchen designs call for it, subway works wonders as a hardworking, economical, visually pleasing kitchen mainstay.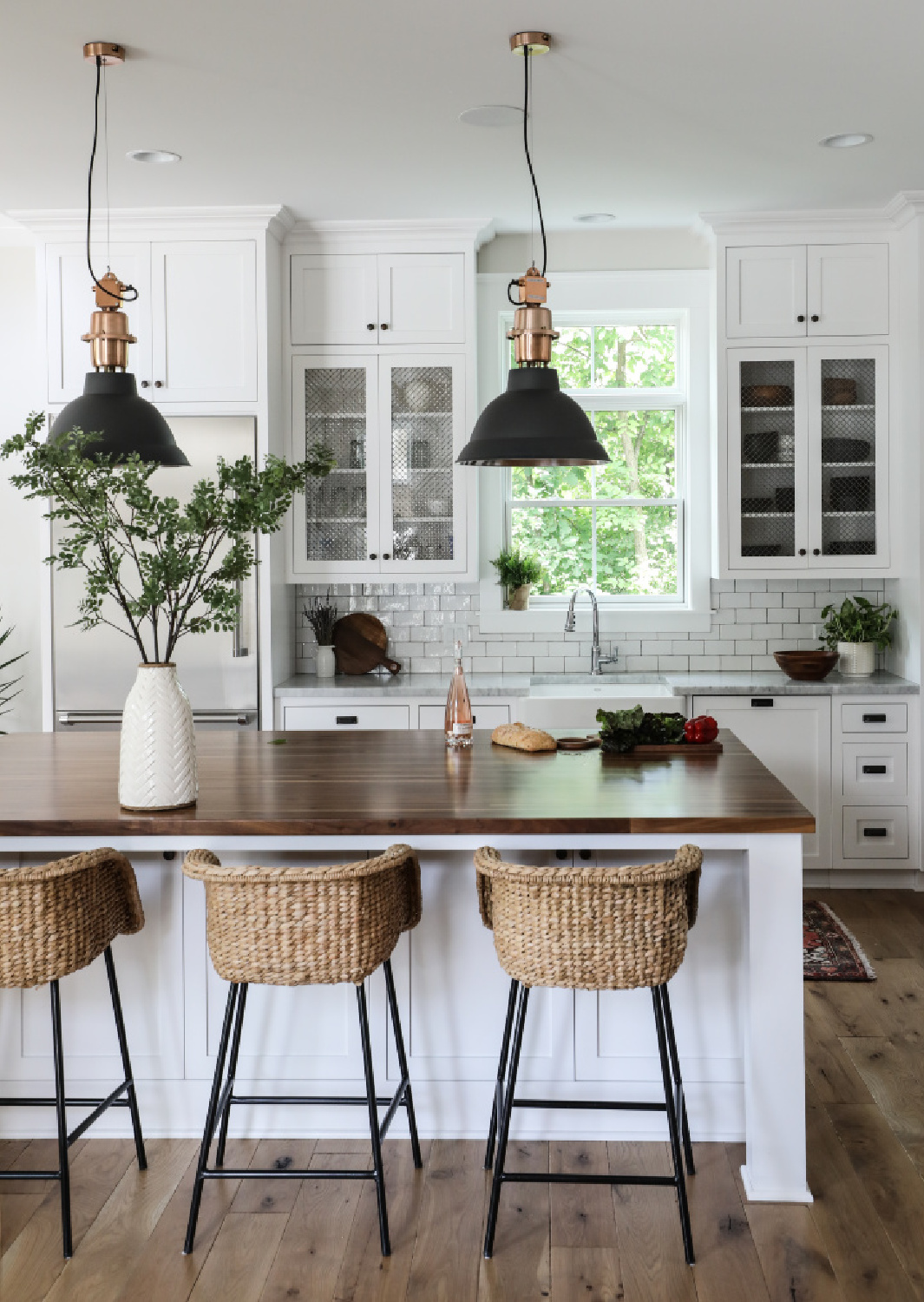 These honest, staggered rectangles are heroic in any number of classic design iterations, and plenty of decorating opportunities exist to personalize the rest of the design.
9. Black & White & Natural
If you want to keep things truly simple and love high contrast, opt for black and natural accents.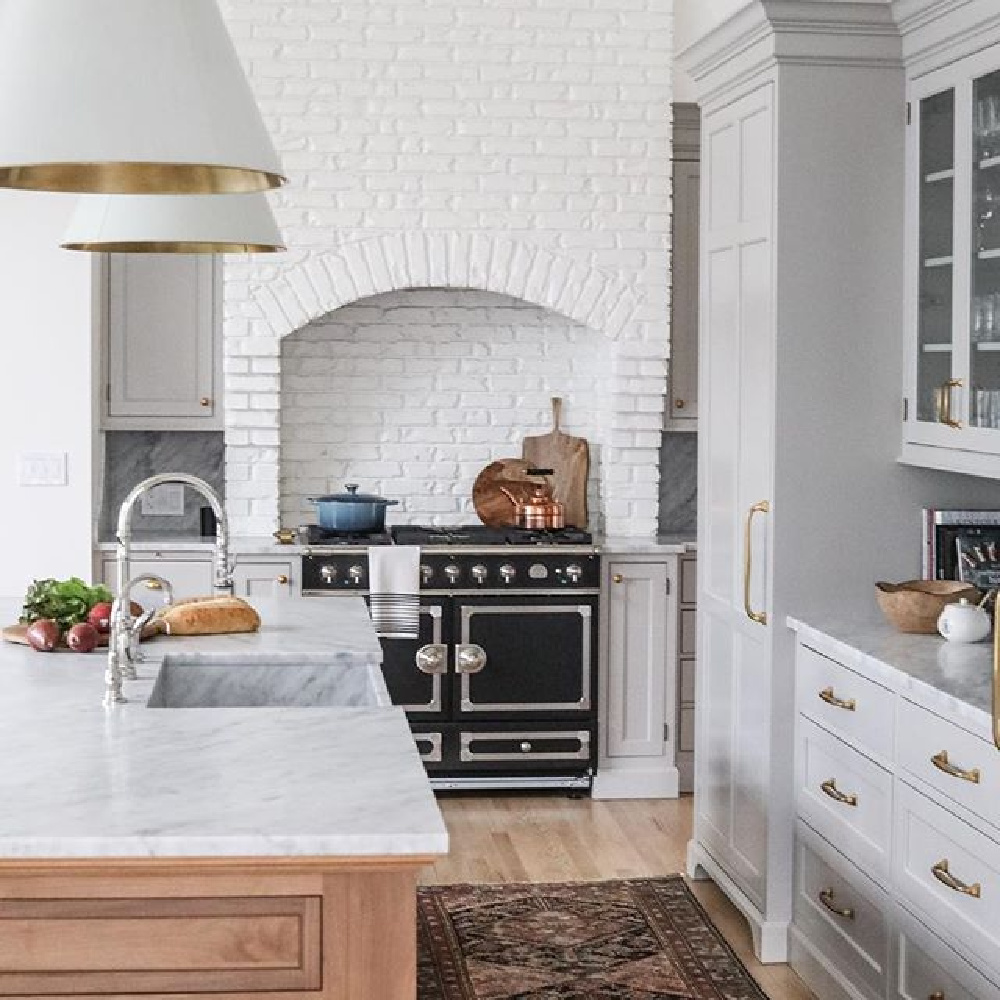 In the kitchen by Park and Oak above, there's such a harmonious balance of textures in the calm neutral color story. I spy Goodman pendants, and I love the gold glowing inside!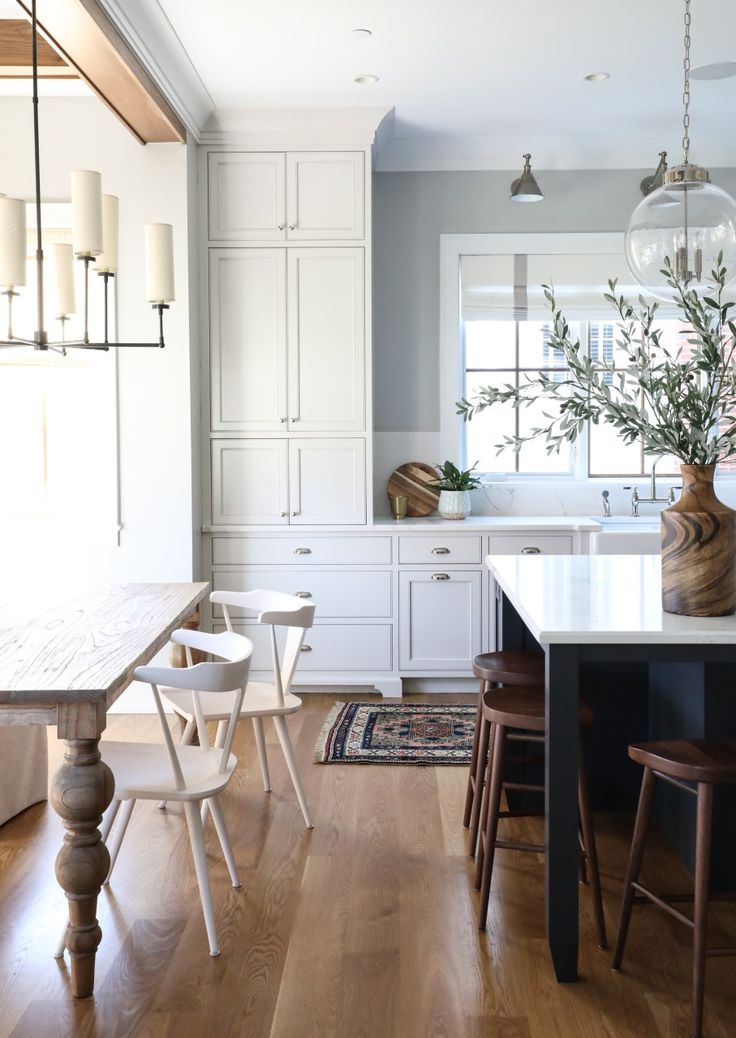 A black island doesn't have to become a monstrous focal point or feel too austere, as evidenced by the kitchen above. Warm wood flooring keeps it all very natural and welcoming.
10. Banquette Seating
Whether space is tight in a breakfast dining area or you simply love the architectural look of them, banquette seating is a classic choice.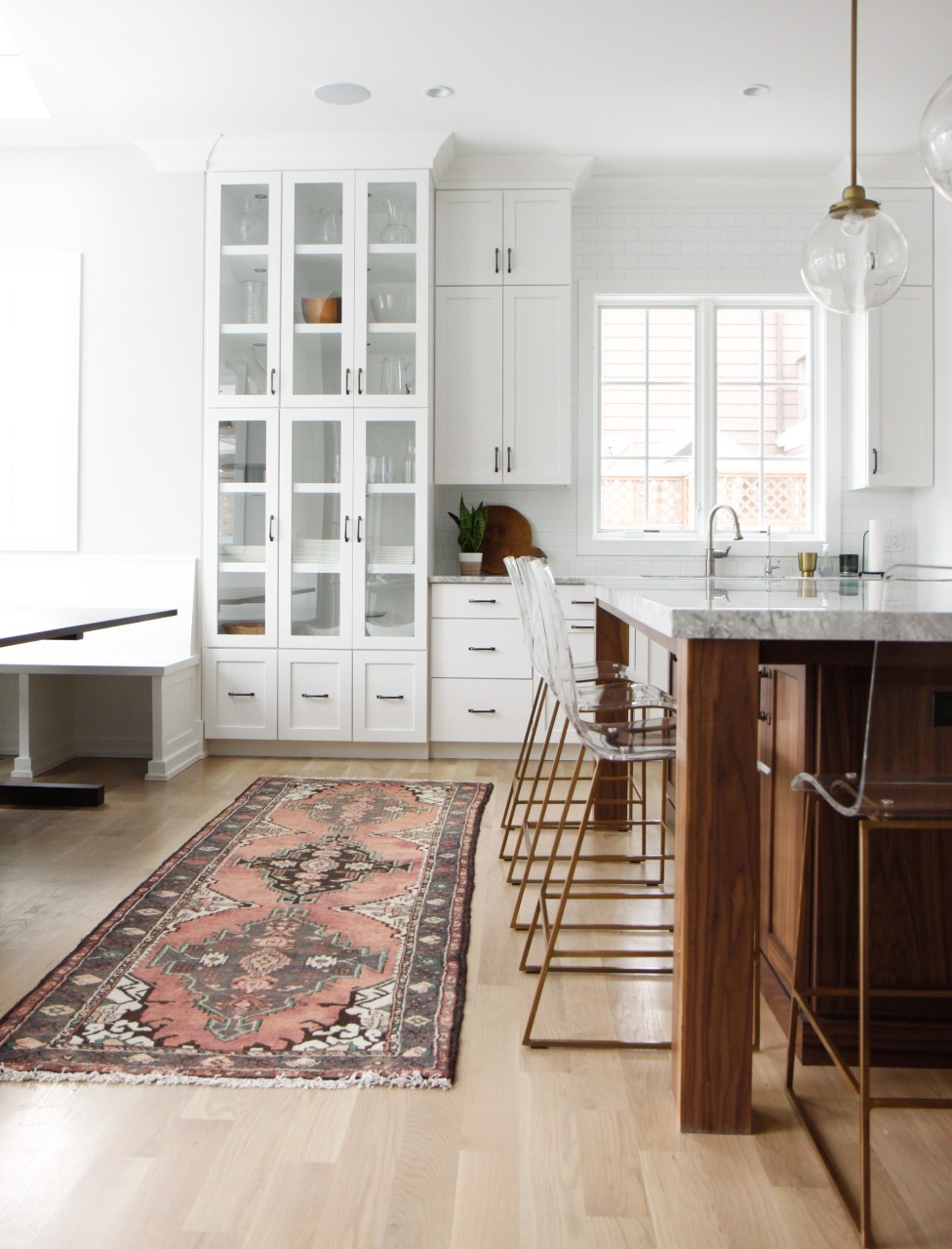 Minimal, built-in, upholstered, or tufted, these benches are certainly not just for restaurants.
11. Handmade Tile Above Range
What an opportunity to choose a beautiful timeless pattern to enhance the experience of cooking and baking every single day.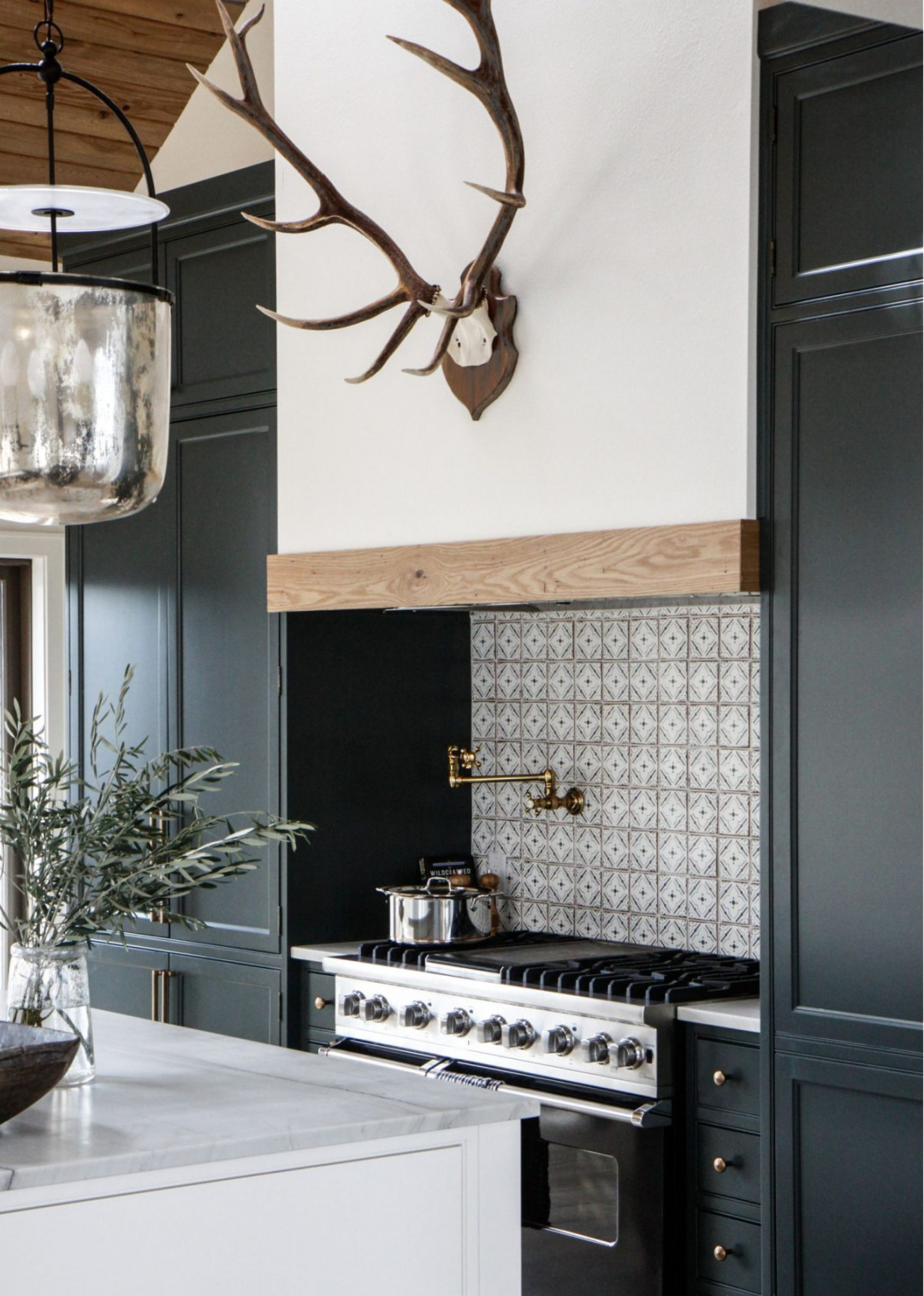 I am not always a cheerleader for two-tone cabinetry, but to see the moody tone of the wall cabinetry above and the surrounding contrast…wow!
Deep moody color can deliver showstopping sophistication and character to your kitchen design.
12. Bring on the Copper
What a brilliant pop a simple copper utensil holder or saucepan imparts!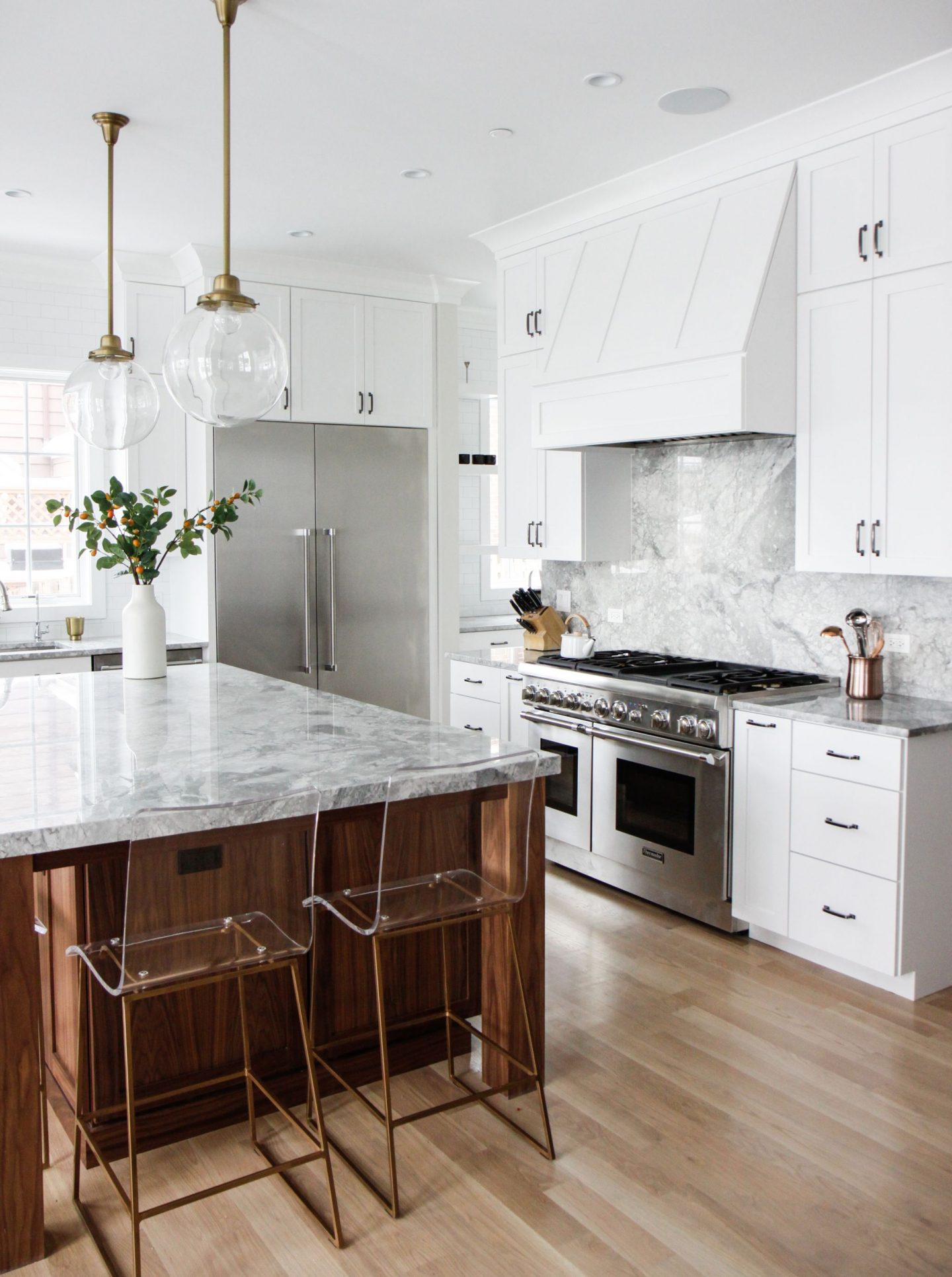 Also, while swapping out your existing range for a dreamy blue number like this beauty below may not be practical…ahem, take a cue from it.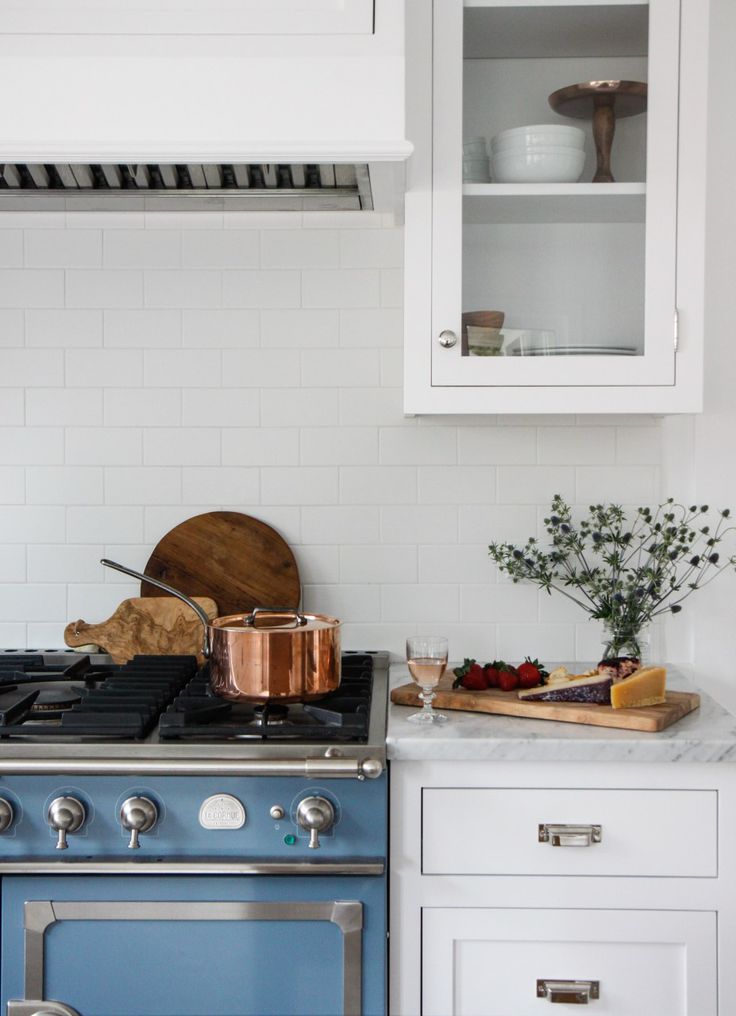 If this shade of blue makes your heart sing, consider introducing it with decor, upholstery, or tile. It's helpful to study how a mood is created as the blue works with the white cabinetry as well as the light wood work table.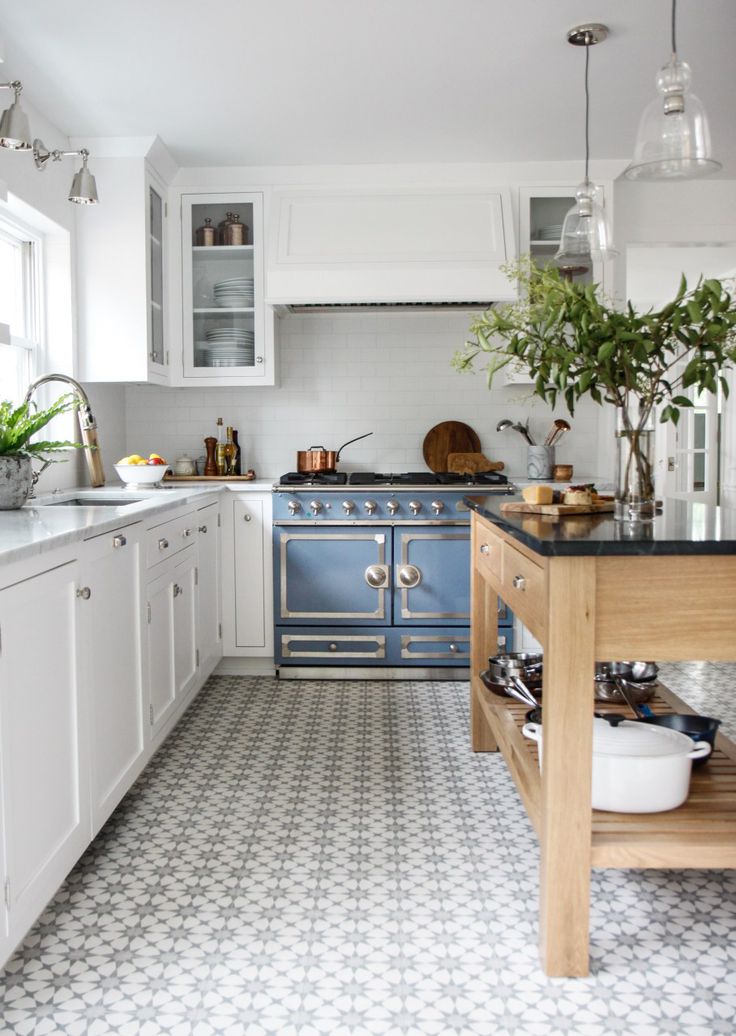 That charming floor! I used the same tile in a condo we renovated for our son, where it's a cheerful pop of happy.
13. Shaker Simplicité
I'm beyond charmed by the meditative, serene, simple yet sophisticated look of these lovely kitchen designs with Shaker style cabinets and graceful, undone charm.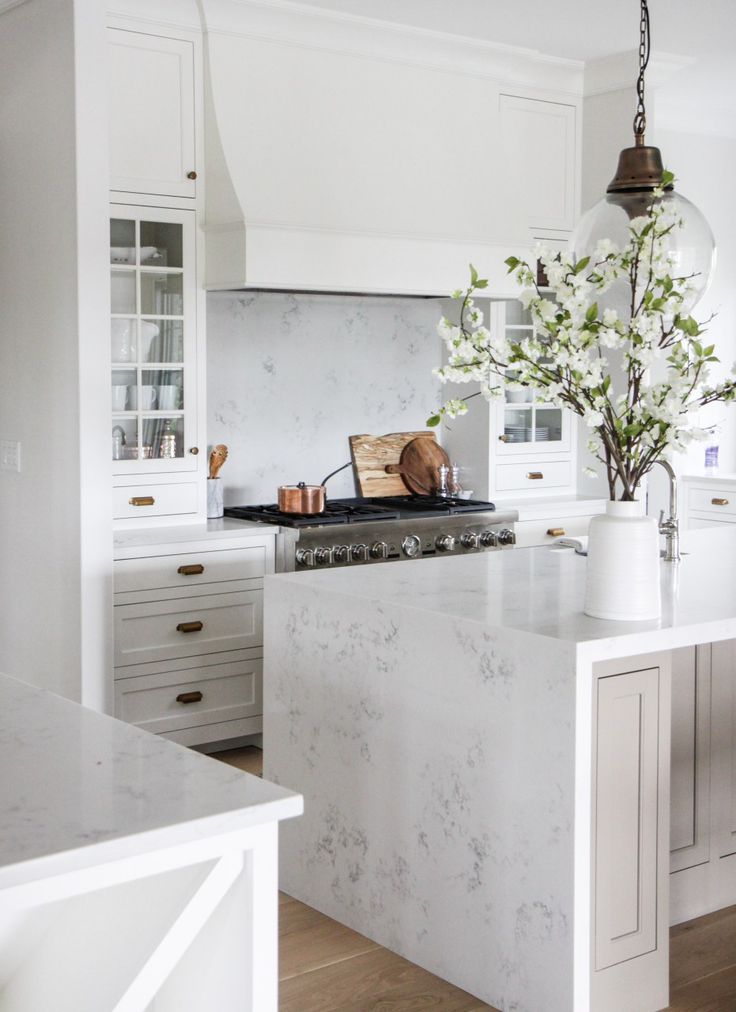 So many takeaways here, but it's easy to see how the soothing blue-grey on the walls below works wondrously with soft white cabinetry. Nothing is matchy-matchy or showing off.
15. Dutch Oven as Decor
Don't you love it when a workhorse in your kitchen also doubles as a simple yet sophisticated design element? Me too!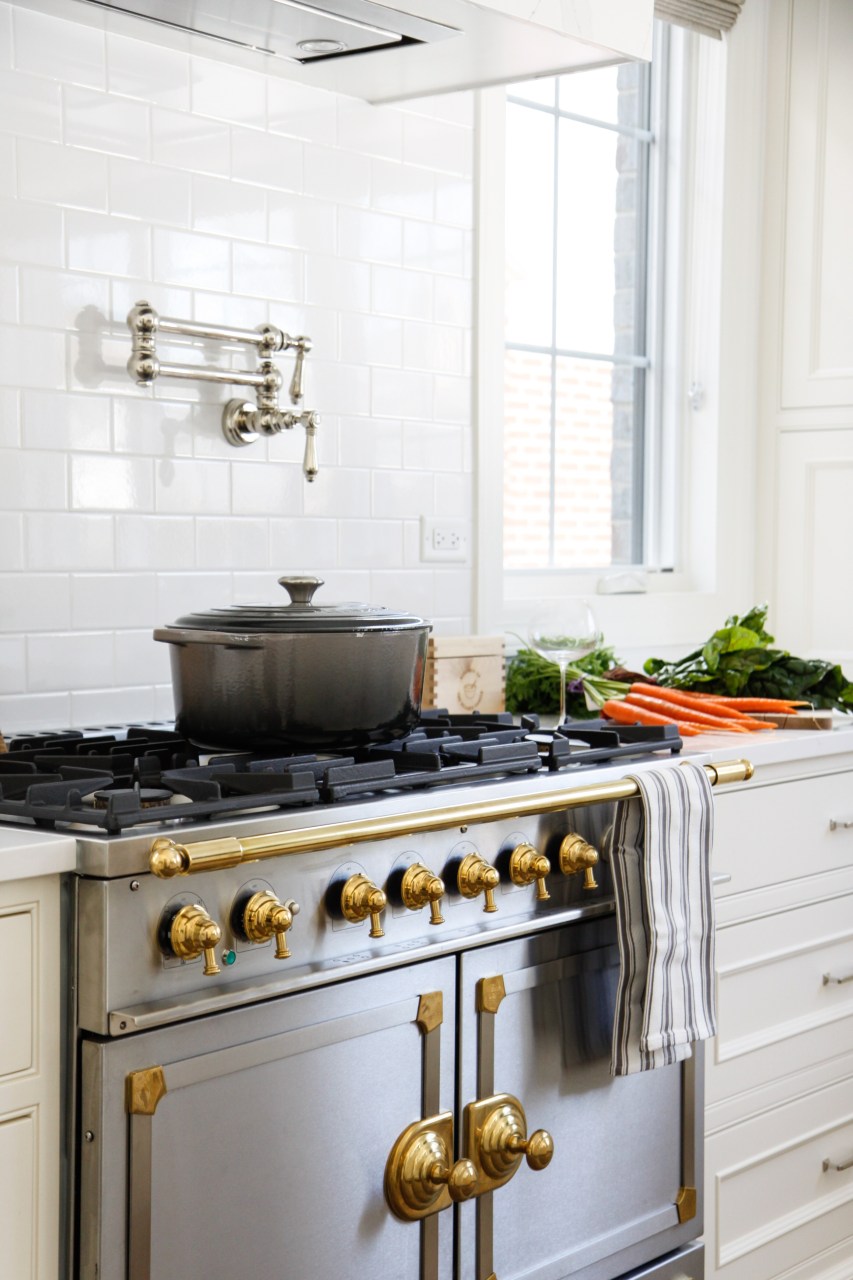 Even if your specialty resides on a take-out menu, you can still adorn your range with a heavy charmer.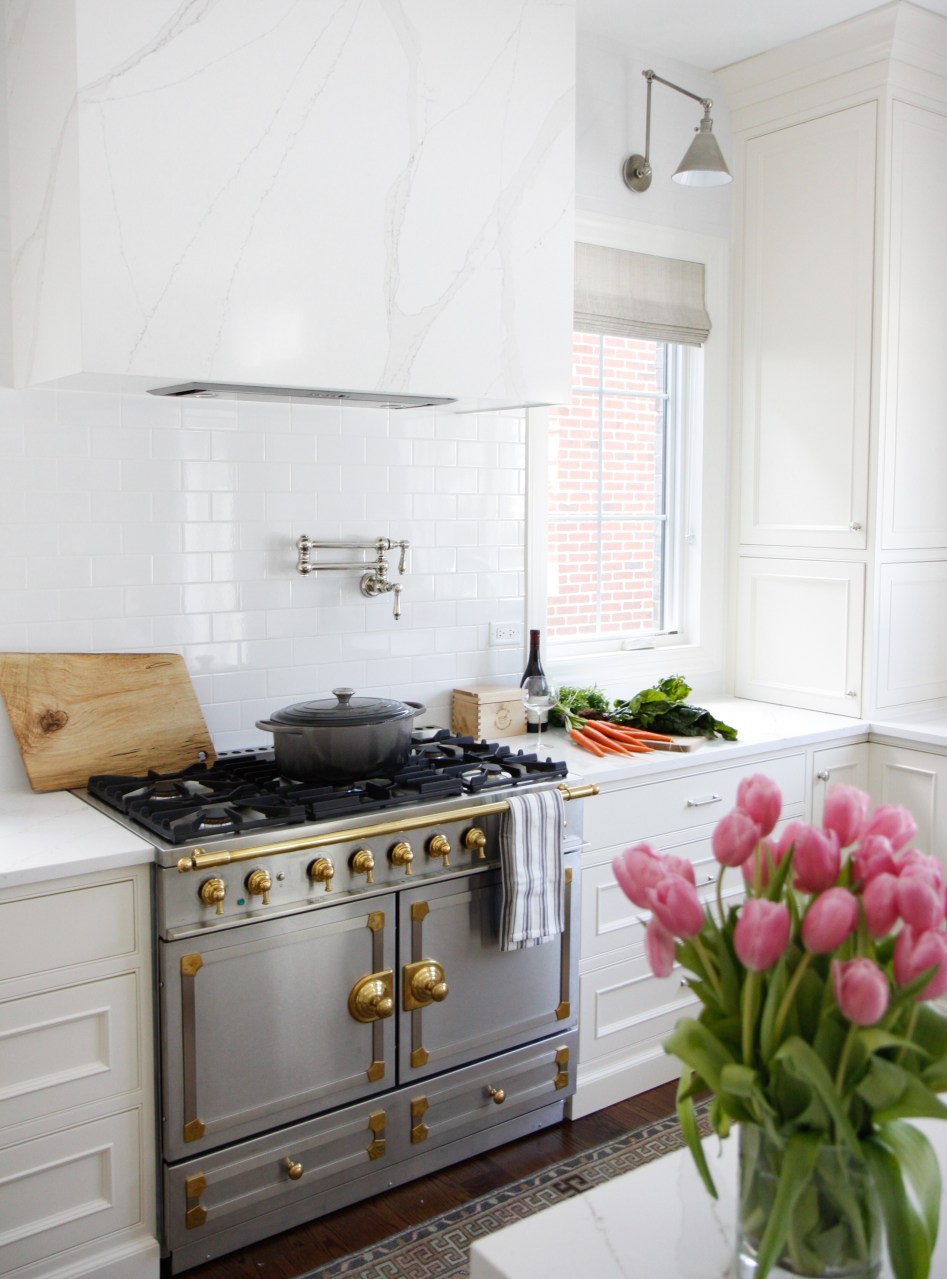 (Time to start dreaming about the color of the decorative Dutch oven in your future.)
16. Apron Front Farm Sink
They aren't just for farmhouses, and if you have avoided adding one to your kitchen design out of fear they will stain, fear not.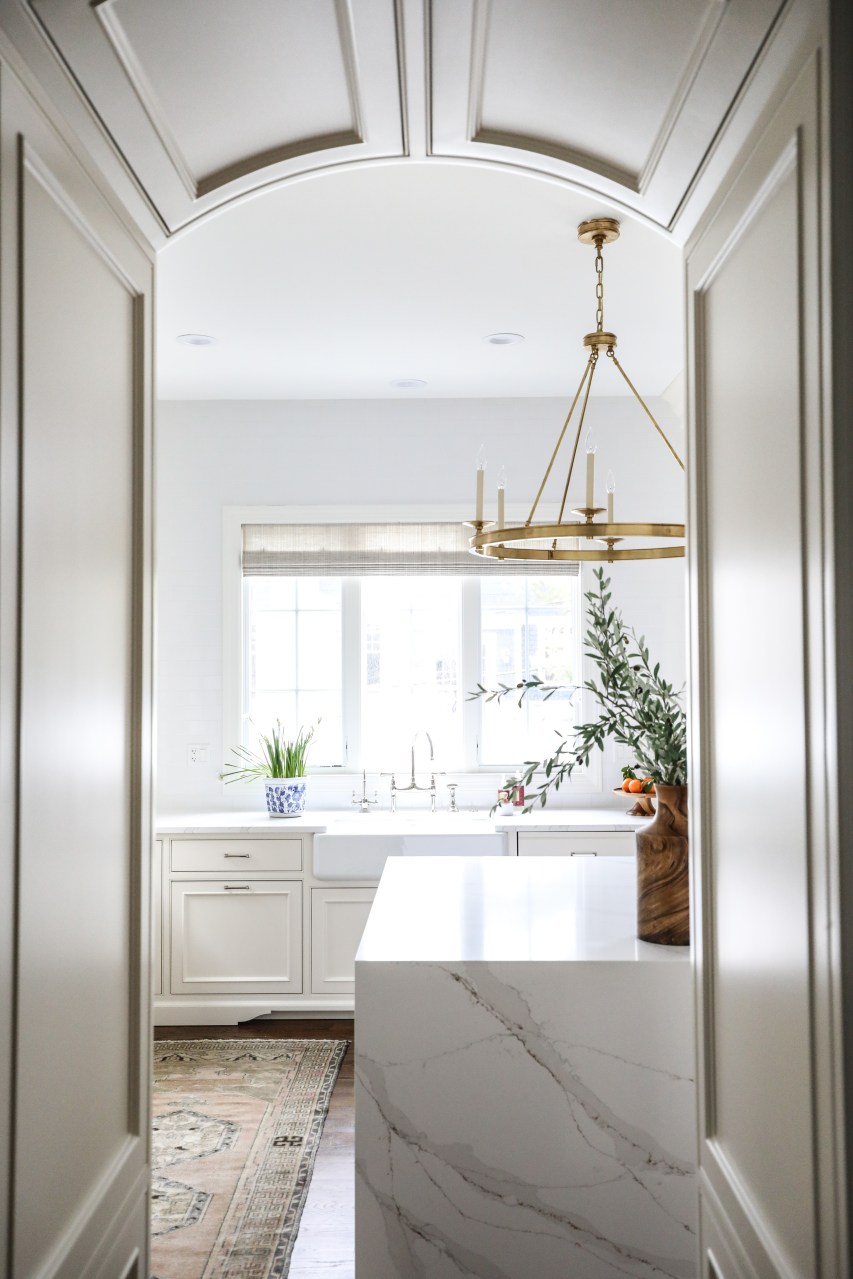 My own apron front fireclay farm sinks have taken a ton of abuse, and there's not a day I don't appreciate their beauty and function.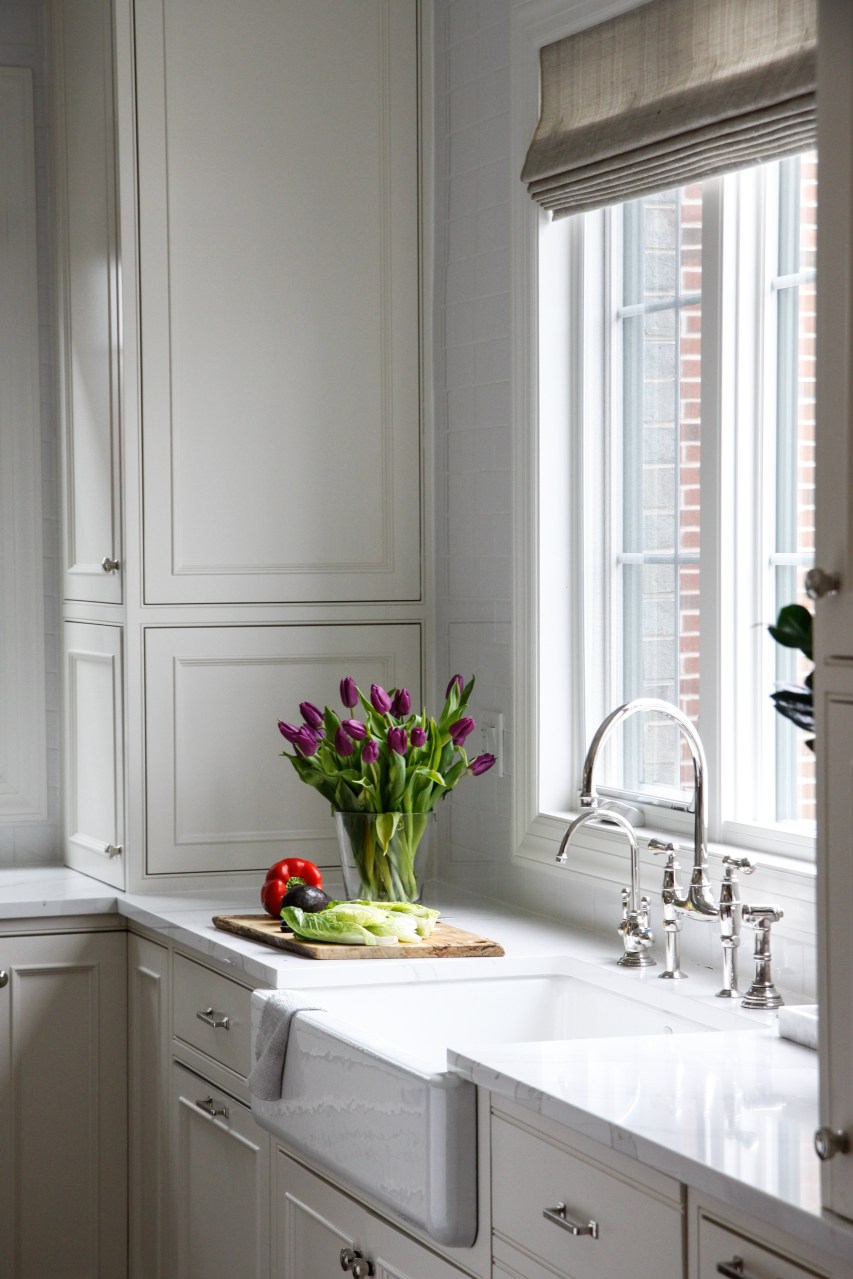 One of these days, we will be done with our current kitchen renovation so I can show off the new farm sink! The exact one I chose is on the mood board below (peek at the mess going on just shared HERE.)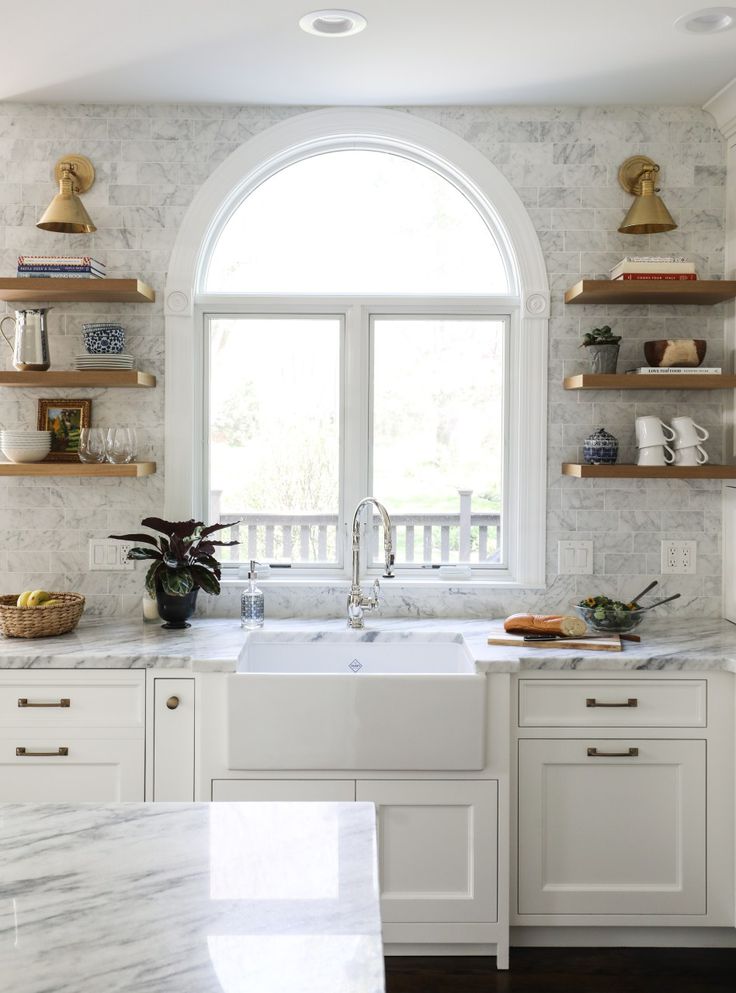 Beautiful Kitchen Design Inspiration from Park & Oak!
Are we thoroughly blissed out and energized to make small, simple yet sophisticated tweaks to our own interiors?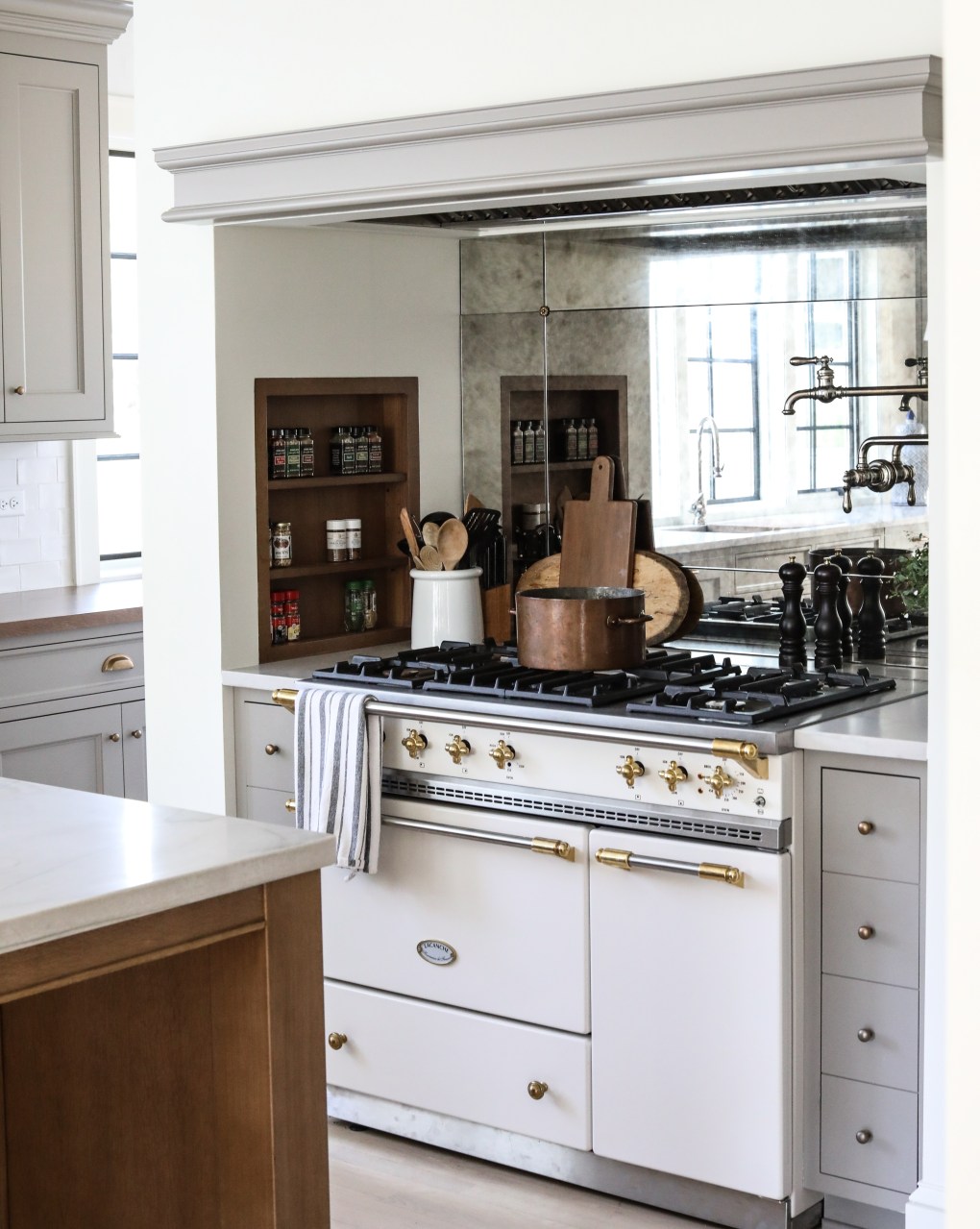 Thank you, Park & Oak!
NOW DO YOURSELF A SUPREME FAVOR AND click here TO SEE and SAVE THE INSPIRING KITCHENS TO FOR FUTURE REFERENCE!
Shop the Look!
*TAP ON IMAGES BELOW TO GO TO BUYING INFO*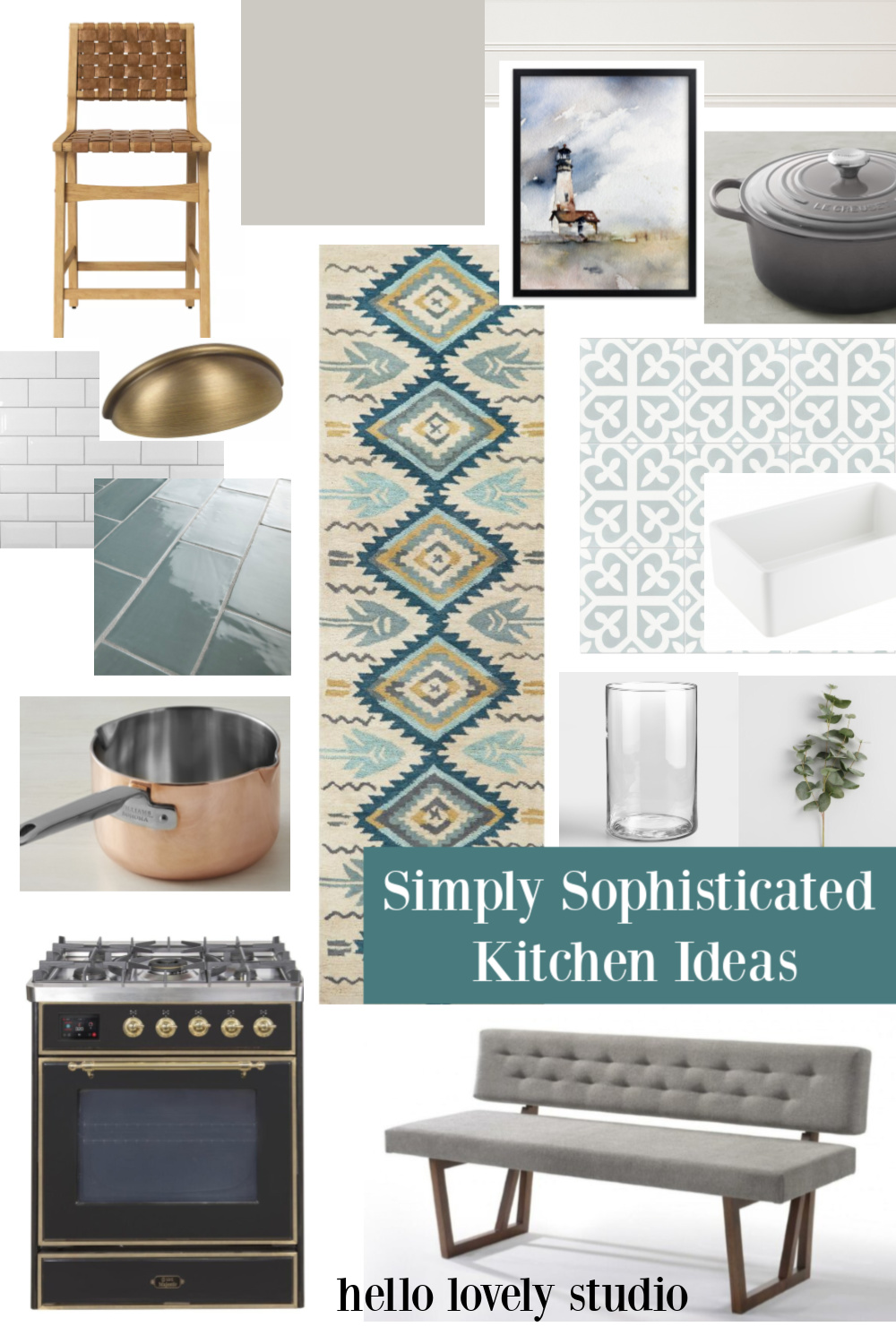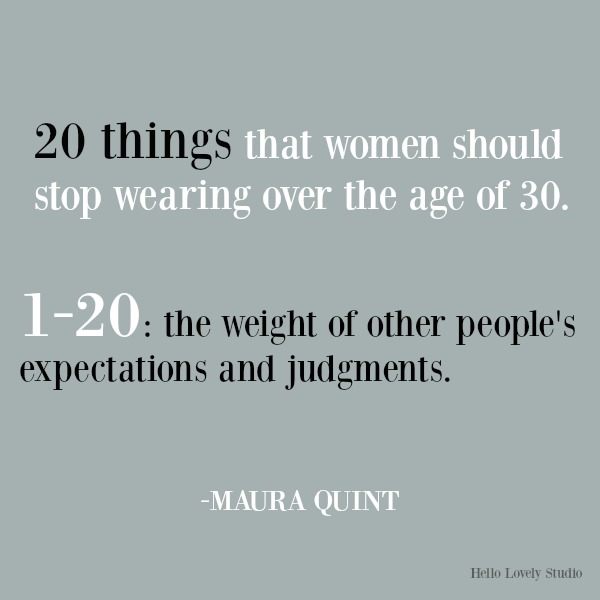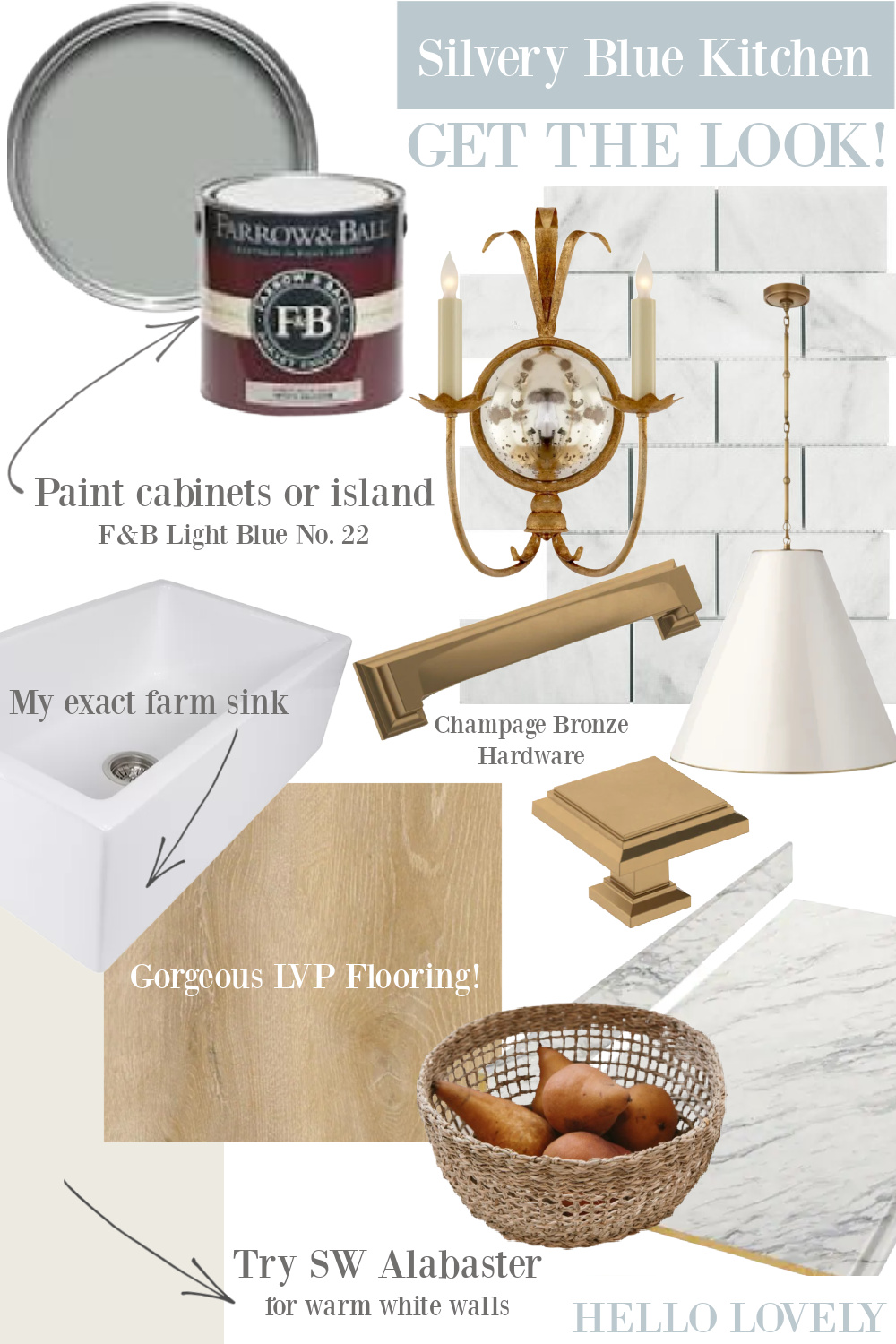 An Unsual House Tour
To say that Christine McConnell often delivers the unexpected would be an understatement. Treat yourself to a tour of her renovated home…
Also visit THIS STORY for a French farmhouse kitchen with simple sophistication. See THIS ONE too if you love sophisticated European blue-green hues.
I independently selected products in this post—if you buy from one of my links, I may earn a commission.
Peace to you right where you are.
-michele
Thanks for shopping RIGHT HERE to keep decor inspiration flowing on Hello Lovely!
Hello Lovely is a participant in the Amazon Services LLC Associates Program, an affiliate advertising program designed to provide a means for sites to earn fees by linking to Amazon.com and affiliated sites.