You may have seen the one-off humor quote from me this week about how each year after the holidays, I do this rad wilderness survivalist training. It's called JANUARY. No matter how I prepare for the grey days and bare trees, the month has a way of zapping the energies and dampening the mood. But there are January blessings too. Pink winter light artists like me live for. Coming in from the cold. Snuggling under the covers with books. Just the sight of them near my nightstand slows my heart rate, cues the right hormones and neurotransmitters, and melts away daily tensions.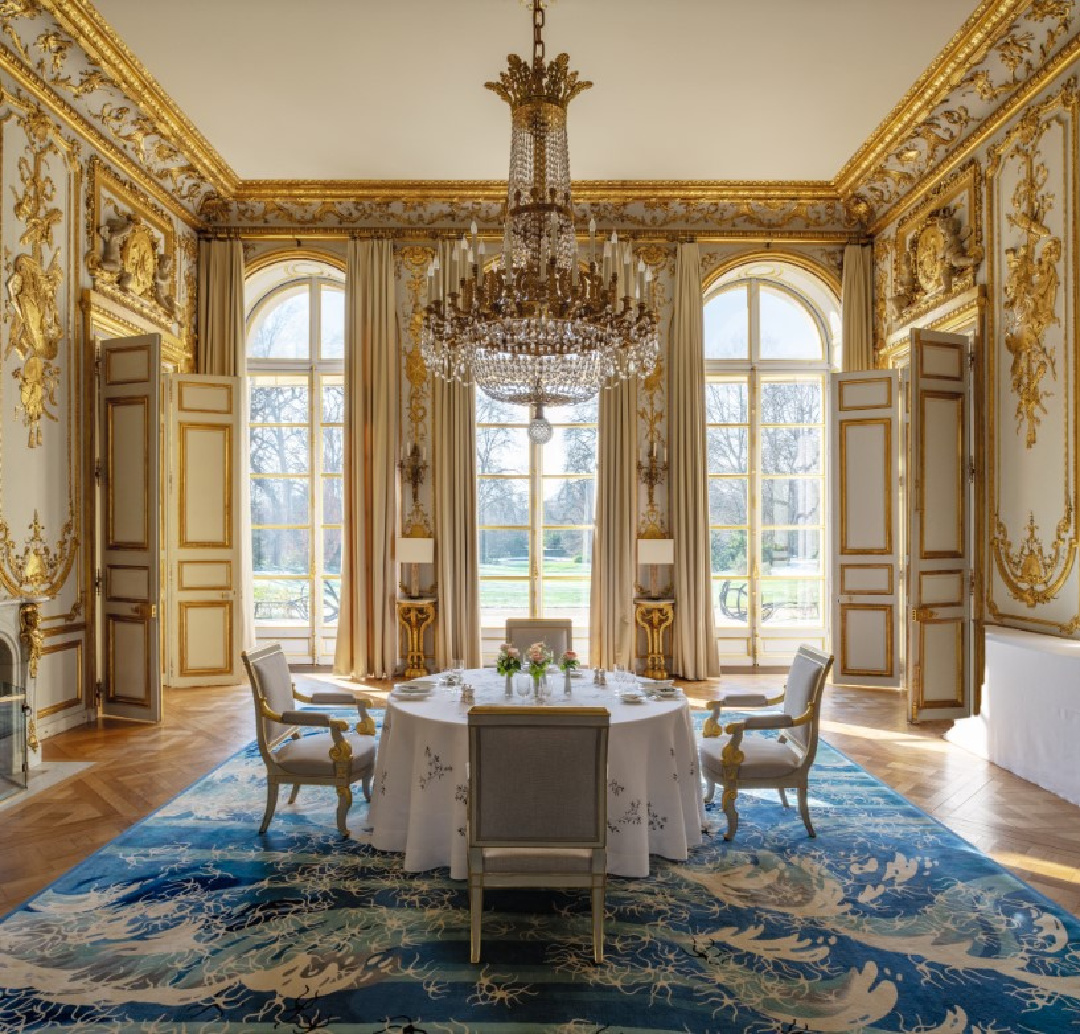 If you find yourself rather indoorsy at the moment, maybe you too find books a sweet retreat. Color me a nonfiction design freak totally into beautifully photographed interiors (always love when the work doesn't feel like work!) and learning more about their context. These design titles thrilled and surprised me.
Blissful Beautiful Pages to Inspire
PRESIDENTIAL RESIDENCES IN FRANCE by Adrien Goetz/Ambroise Tézenas
All photography by Ambroise Tézenas from Presidential Residences (Flammarion 2021)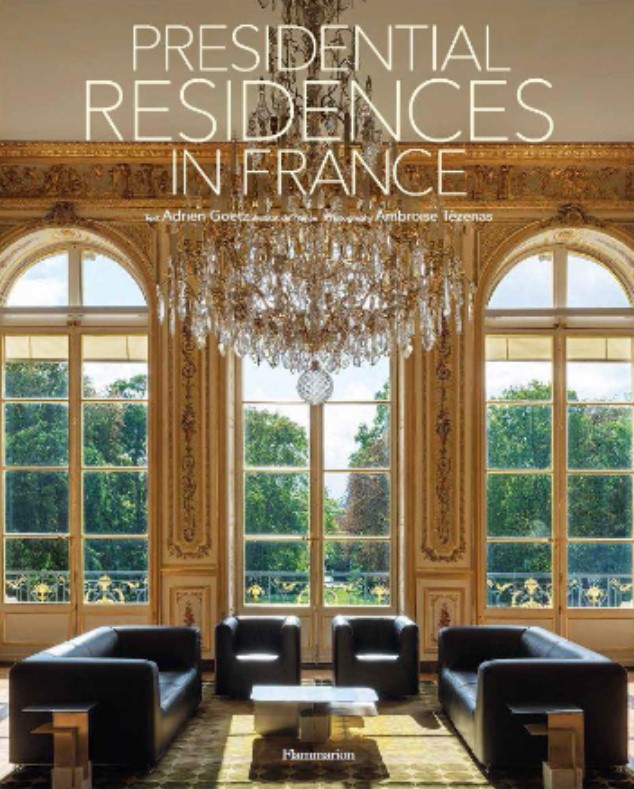 No clue how Goetz and Tézenas managed it, but the unprecedented glimpses of historic restorations in this volume of beauty were captured with artful intimacy and thoughtful commentary to a degree it feels one has personally toured them.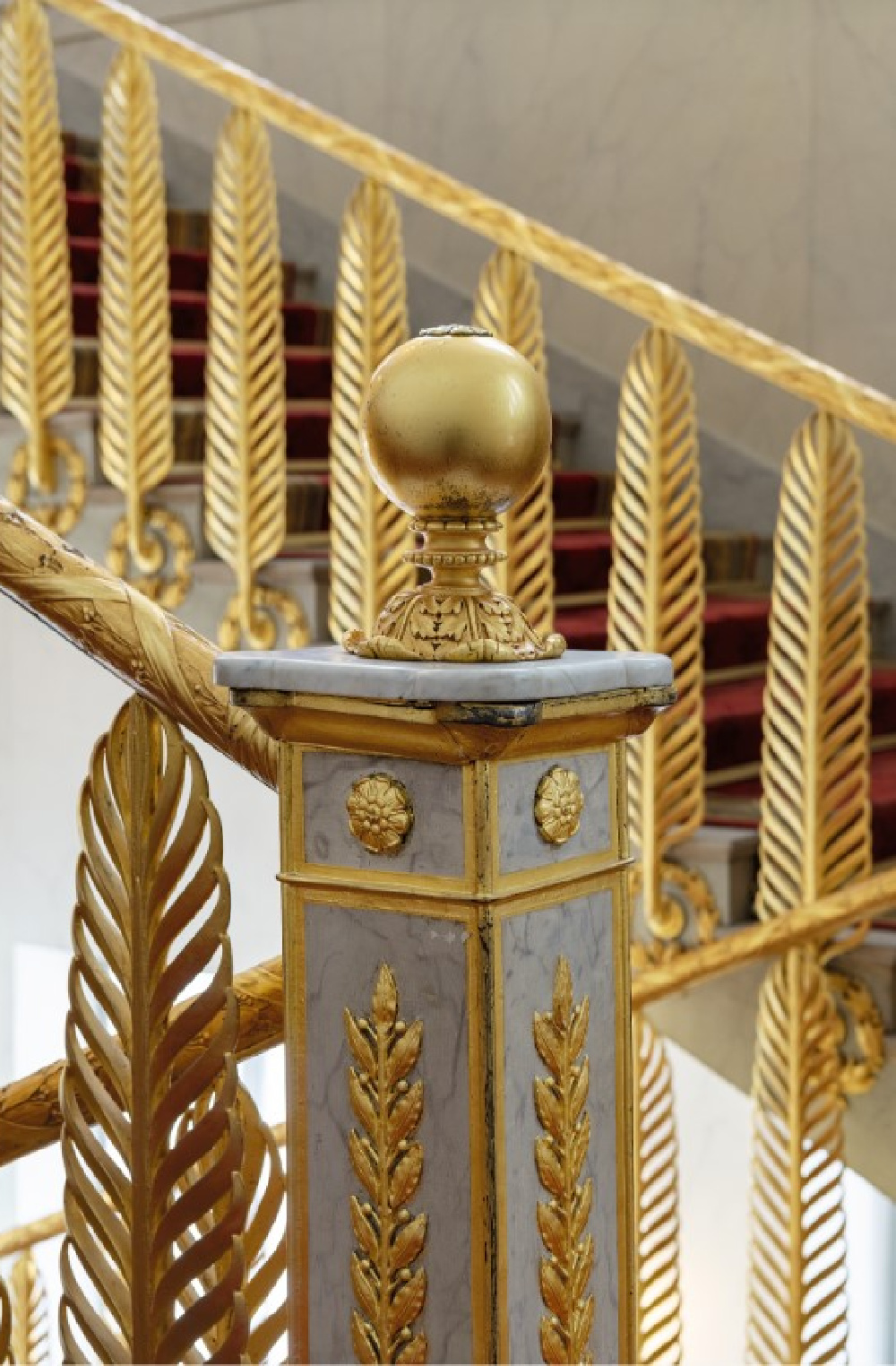 I mentioned PRESIDENTIAL RESIDENCES IN FRANCE (Flammarion, 2021) the other day when we peeked inside the David Adler Mansion modeled after The Pavilion of Lanterne in Versailles. Don't expect to tour La Lanterne when you visit Versailles (unless the president of France invites you to this weekend retreat in the countryside!).
But there's much much more history and inspiration beyond La Lanterne inside this beautiful book!
For example, prepare to be wooed by Élysée Palace in Paris! (Look at the Ambassadors Room set for lunch at top!)
Élysée Palace
Since 2017, this space at the palace has often hosted Wednesday morning cabinet meetings. Sometimes, the table is set for a special lunch with a guest whom the president particularly wishes to honor.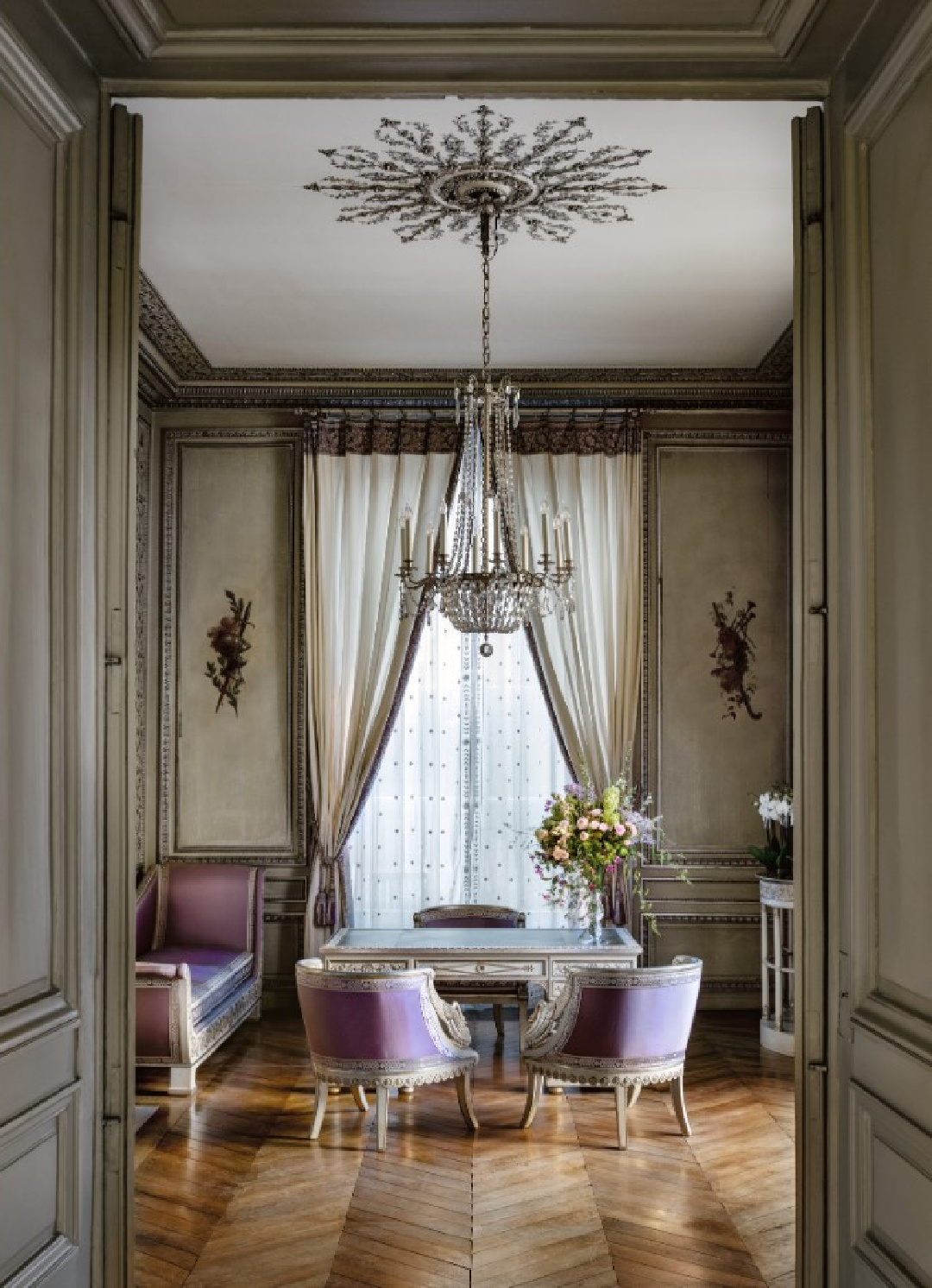 This famous room (above) is named after the silver color of decorative gilding in white gold. It is the only room that still retains its original furniture. Delivered by cabinetmaker Jacob Desmalter in 1805–06, the méridienne sofas, lyre-back chairs, and gondole armchairs with carved swans were originally upholstered in dark red silk and silver binding. In 1812 Napoleon ordered that the furniture be re- upholstered in lilac silk taffeta.
Yes, indeed, you should expand the image above to see those carved swan arms of the lilac chairs!
Mirror Room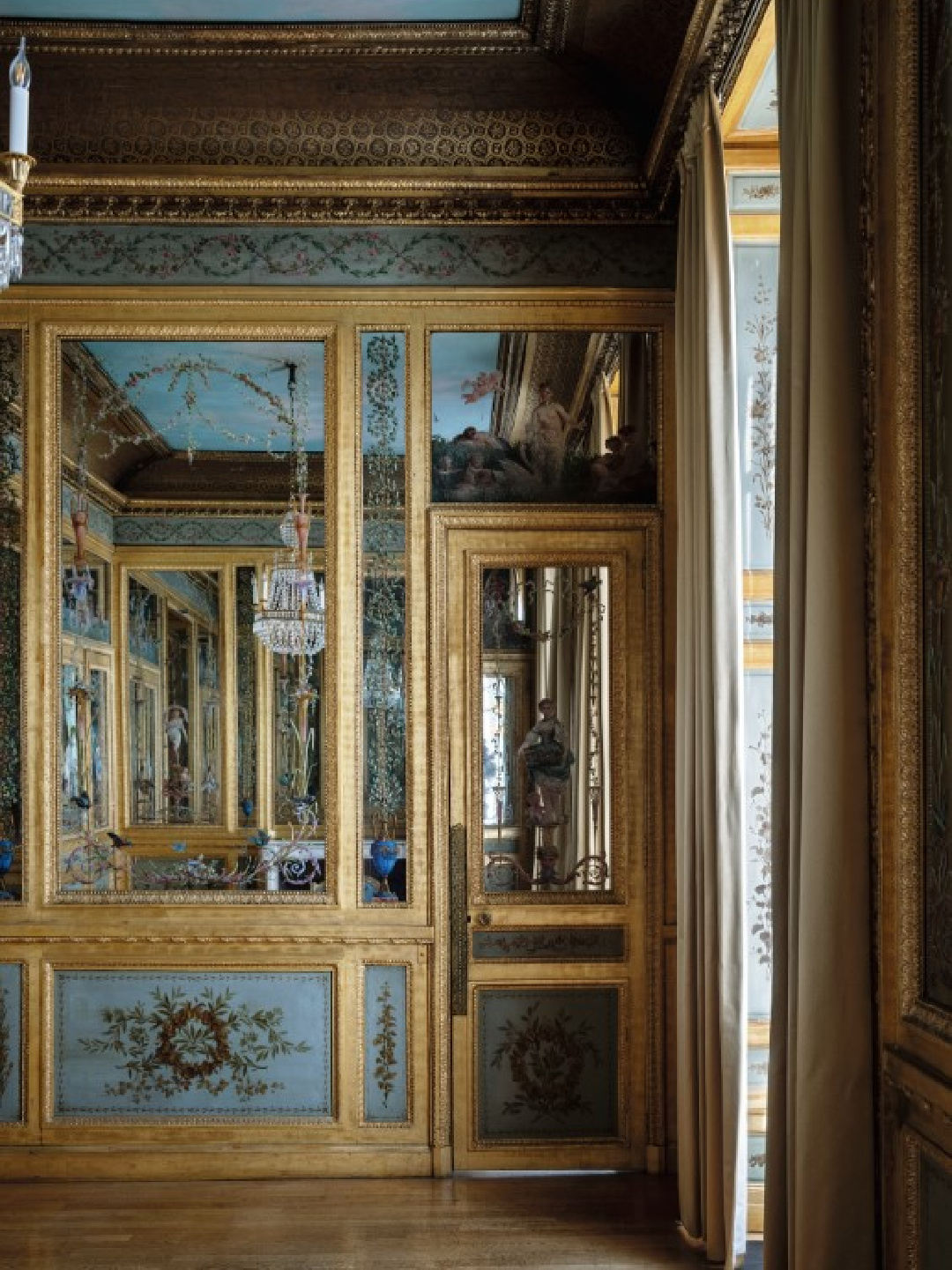 Like the other rooms in Princess Eugénie's private apartment, her bathroom above (today the Mirror Room) was decorated by Jean-Louis Godon.
In his estimate dated 1861, the artist specified that "all the decorative painting [would] imitate the bathroom in the Château of Fontainebleau" (that is to say, the bathroom formerly in the National Furniture Depository, an exquisite example of ornamental painting on glass that had been transferred to Fontainebleau).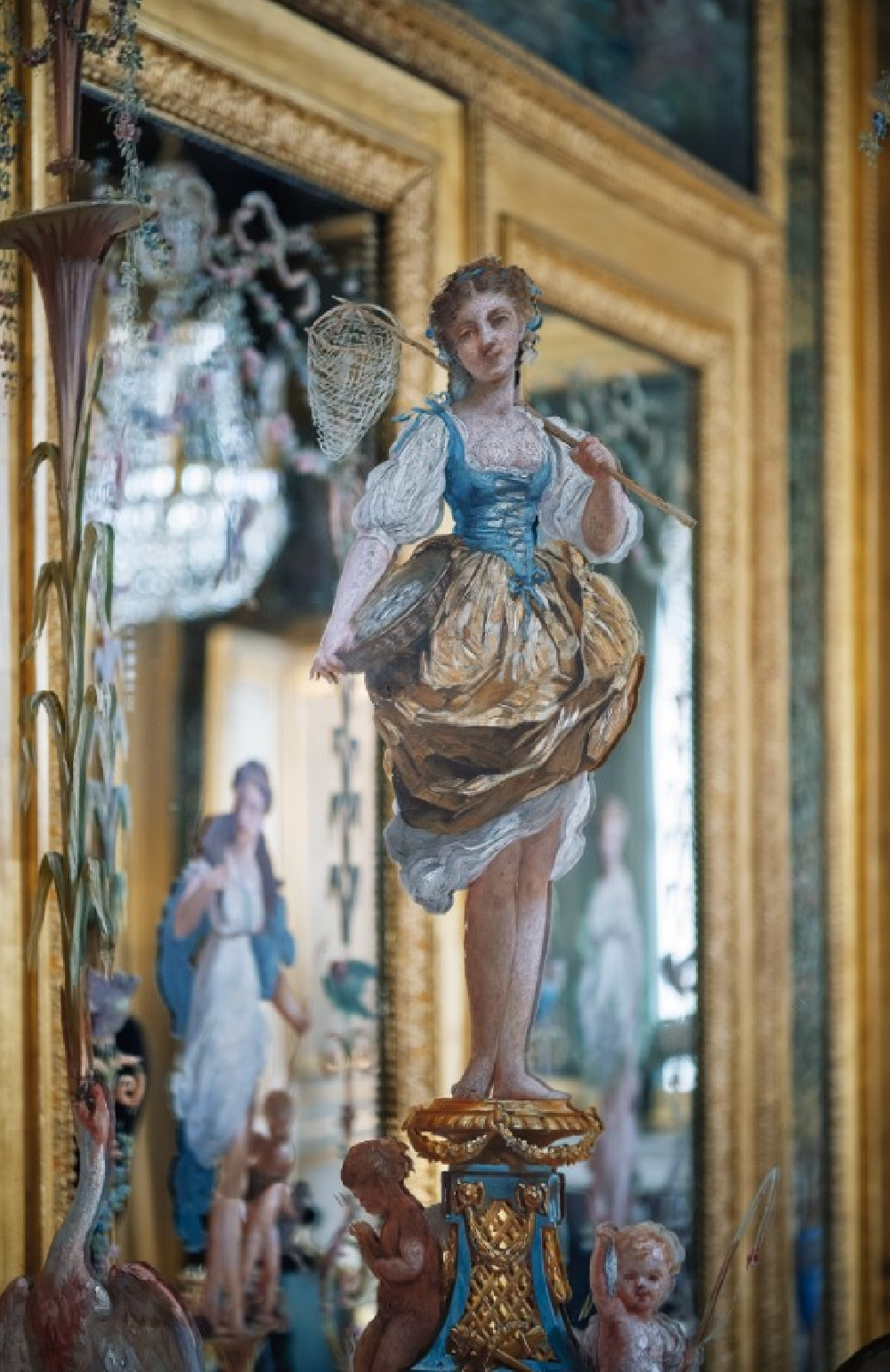 The eight panels and four overdoors in the Mirror Room were painted on silvered glass in collaboration with Charles Chaplin. For the overdoors, Chaplin depicted then-fashionable mythological figures such as Diana, Leda, and Venus. Fishing is shown above, and other paintings are The Bath, Flowers, Fruit, The Harvest, The Lovebirds, Hunting, and Skating.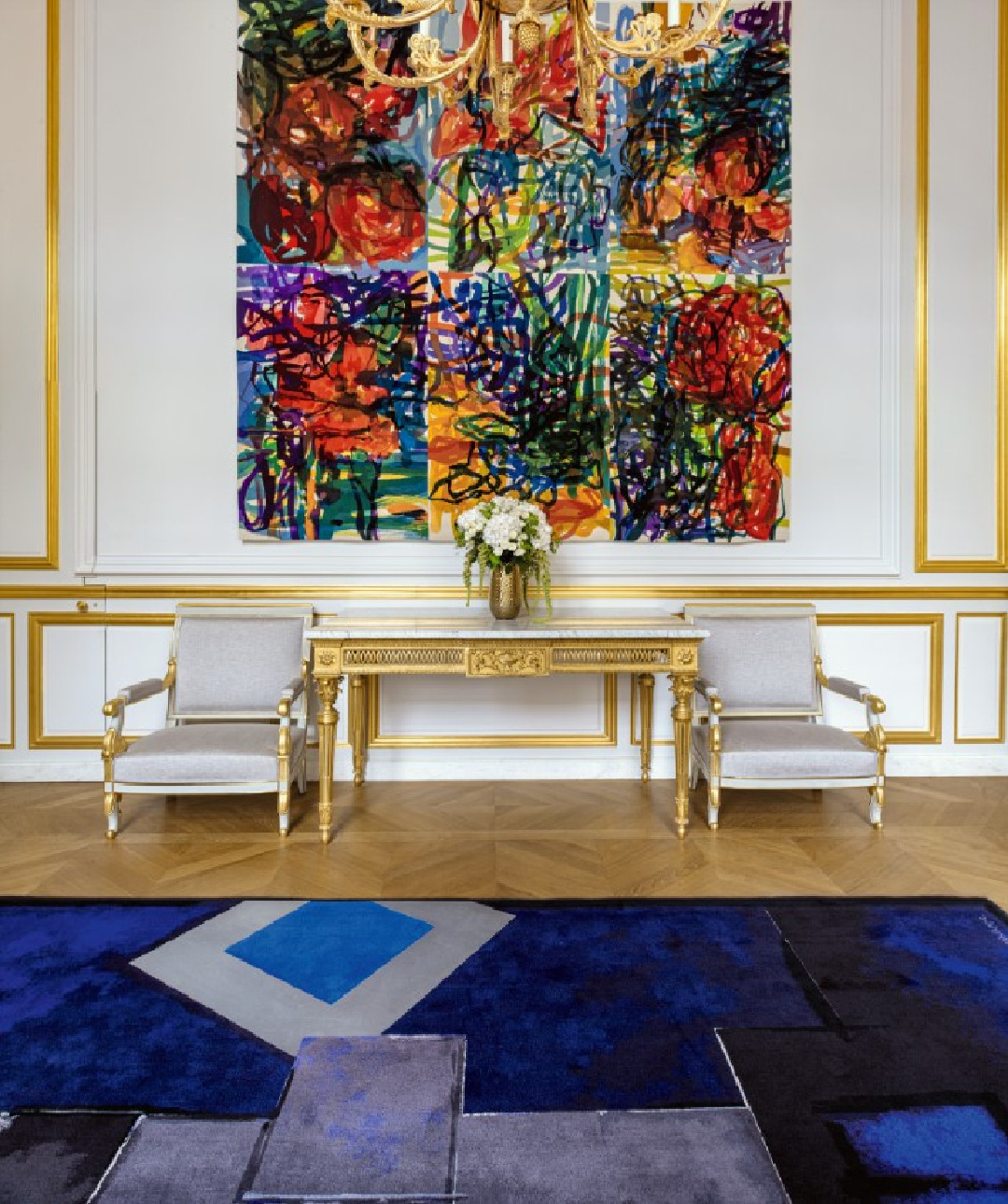 The Cleopatra Room takes its name from a Gobelins tapestry that no longer hangs there. Antony Meeting Cleopatra, woven from a design by Charles Joseph Natoire, was placed there under President Carnot (1887–94), but has now been replaced by a tapestry woven in 2010 from an untitled design by Yves Oppenheim. On the floor is a carpet by Jean-Paul Philippe, Mnemos Marelle (Hopscotch Mnemonics, 2001).
EDITED STYLE by Suzanne Kasler
If you follow Brooke Giannetti, maybe you noted Suzanne Kasler will be signing books at Patina Home & Garden in a couple of weeks! If you live near Nashville, what fun to mingle with the author and the Giannettis.
If you haven't ordered your copy yet…oh, friends!!! It's worth all the hype!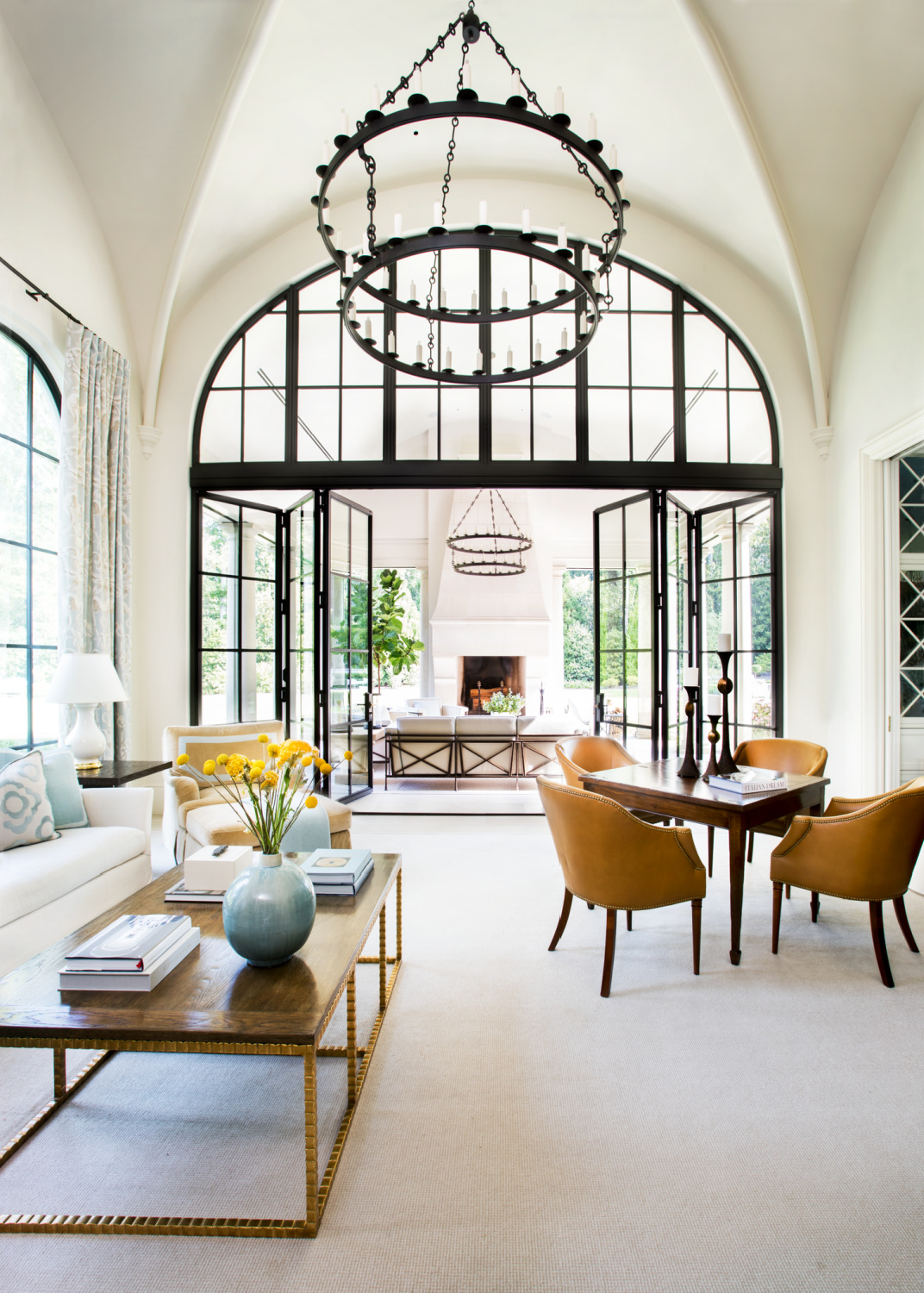 As you might imagine, the work shared inside EDITED STYLE will simply take your breath away.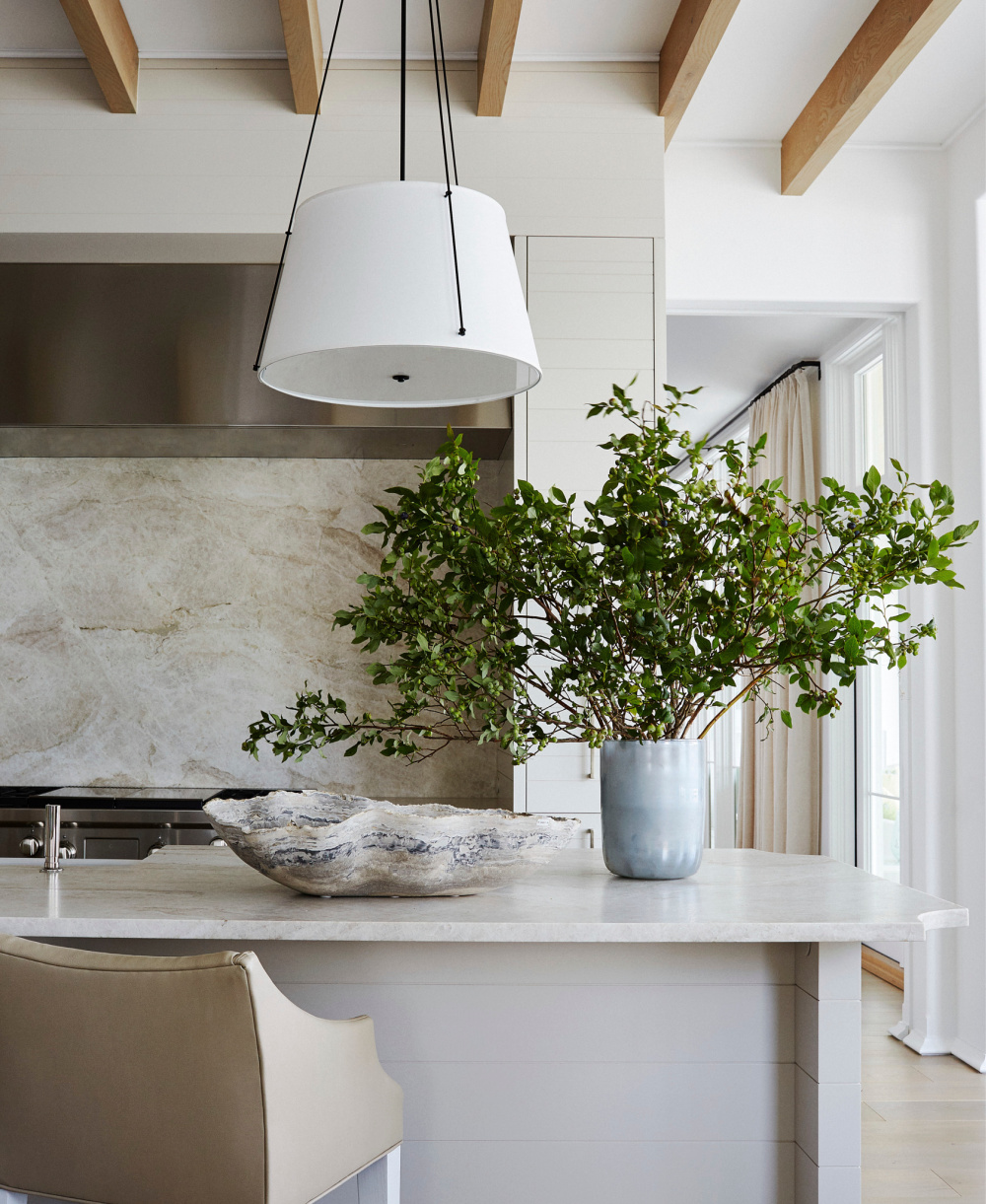 Suzanne Kasler starts with the redesign of her unforgettable Regency-style home.
What to Expect from Edited Style?
There is nothing one-note here! Family-oriented houses, casual beach houses, mountain retreats, and inviting country getaways are all included. If you love color but want to understand how to live with a level of sophistication…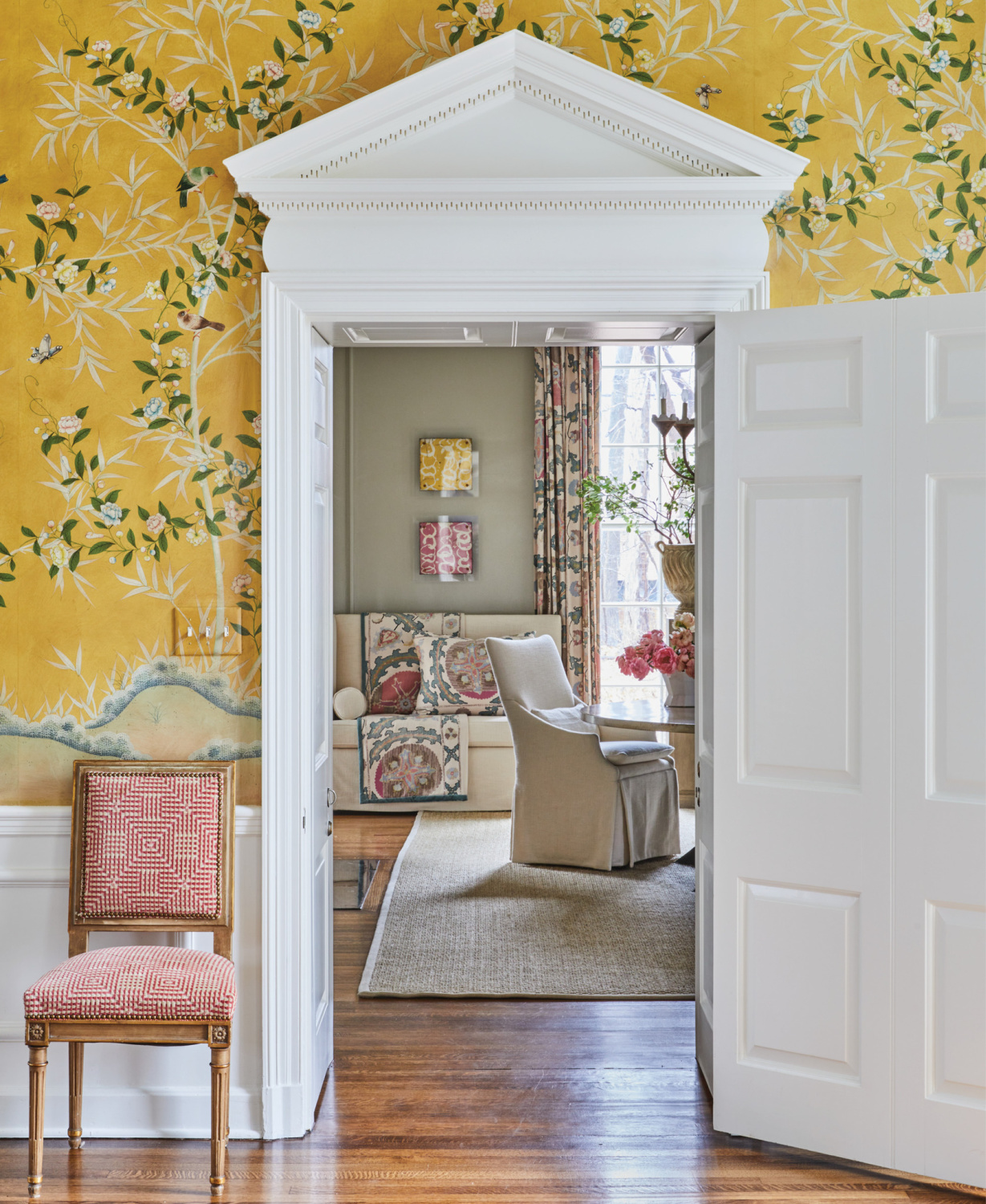 you are in for a rare treat.
How to live with art and collections? While it is fair to say every interior design book offers such guidance, pledge your allegiance to EDITED STYLE. Kasler can be trusted to set us up for success!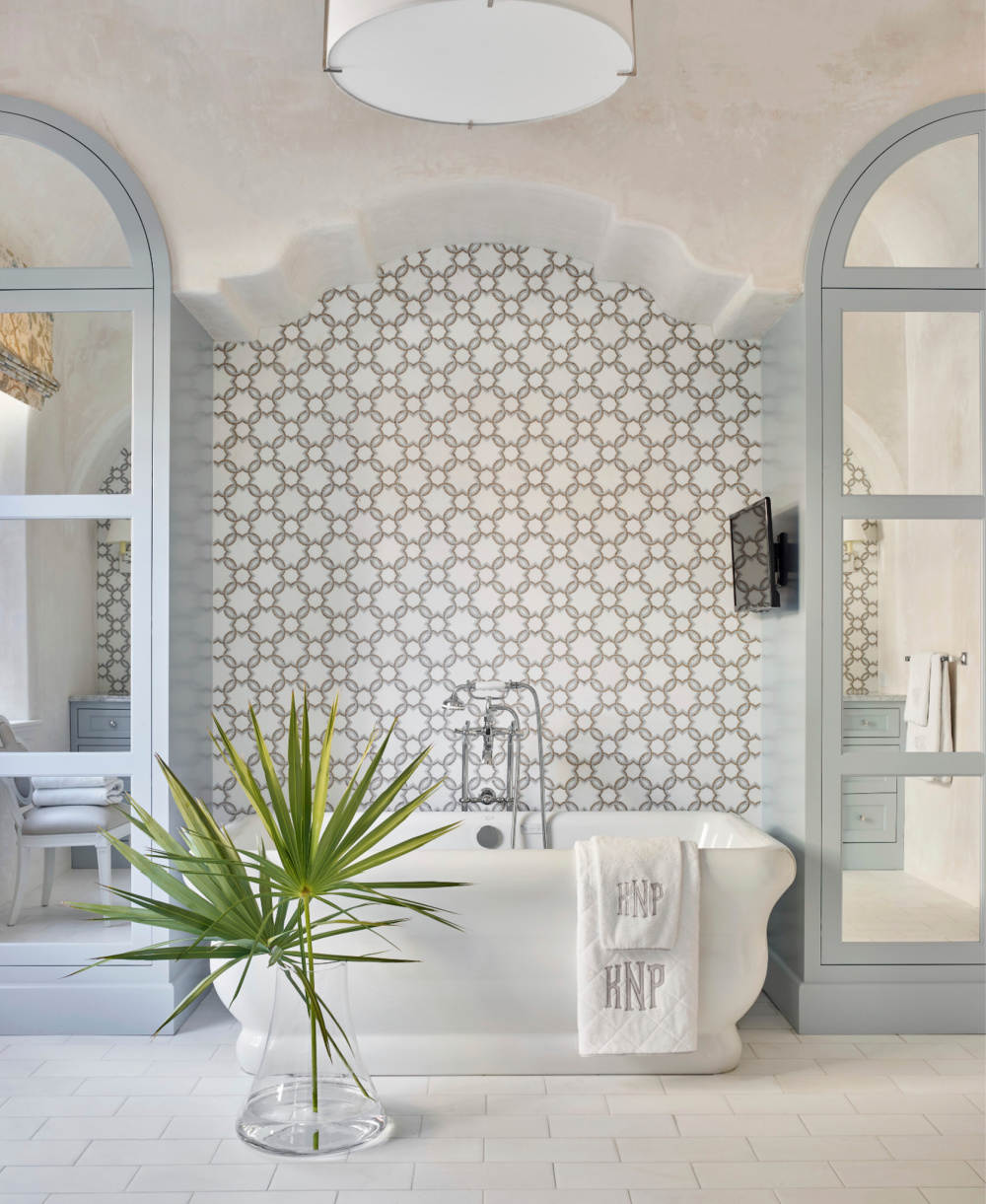 This celebrated Atlanta-based interior designer also offers a fresh perspectives to make guests feel welcome. Wait, welcome? These Kasler-designed spaces would make it impossible to drag myself away!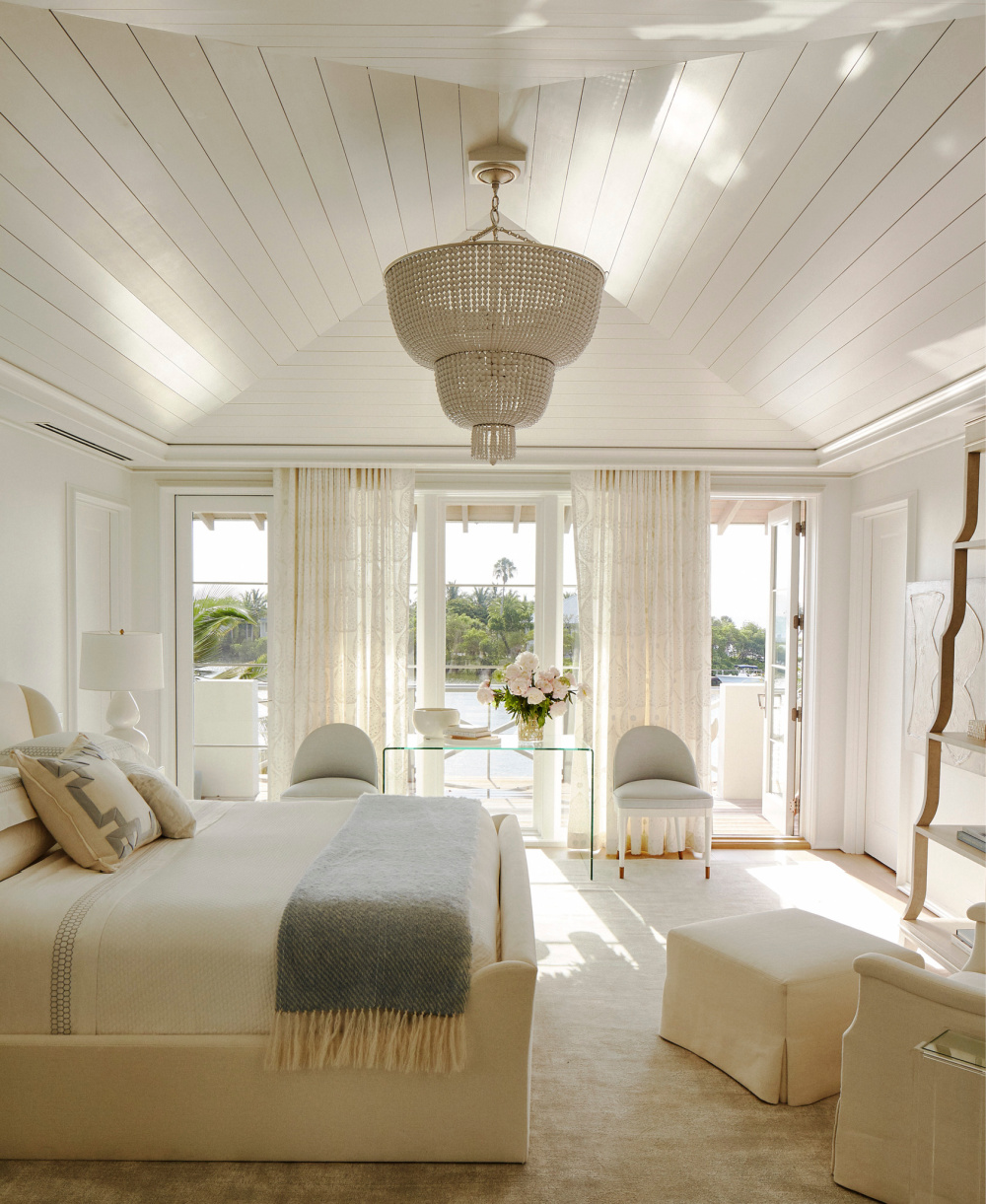 About the commentary: you'll want to read every word, and you should. But if you just want to live inside the pages at the end of a stressful day, you're going to be soothed. And so inspired by innovative possibilities for your home. Just one image will stop you in your tracks!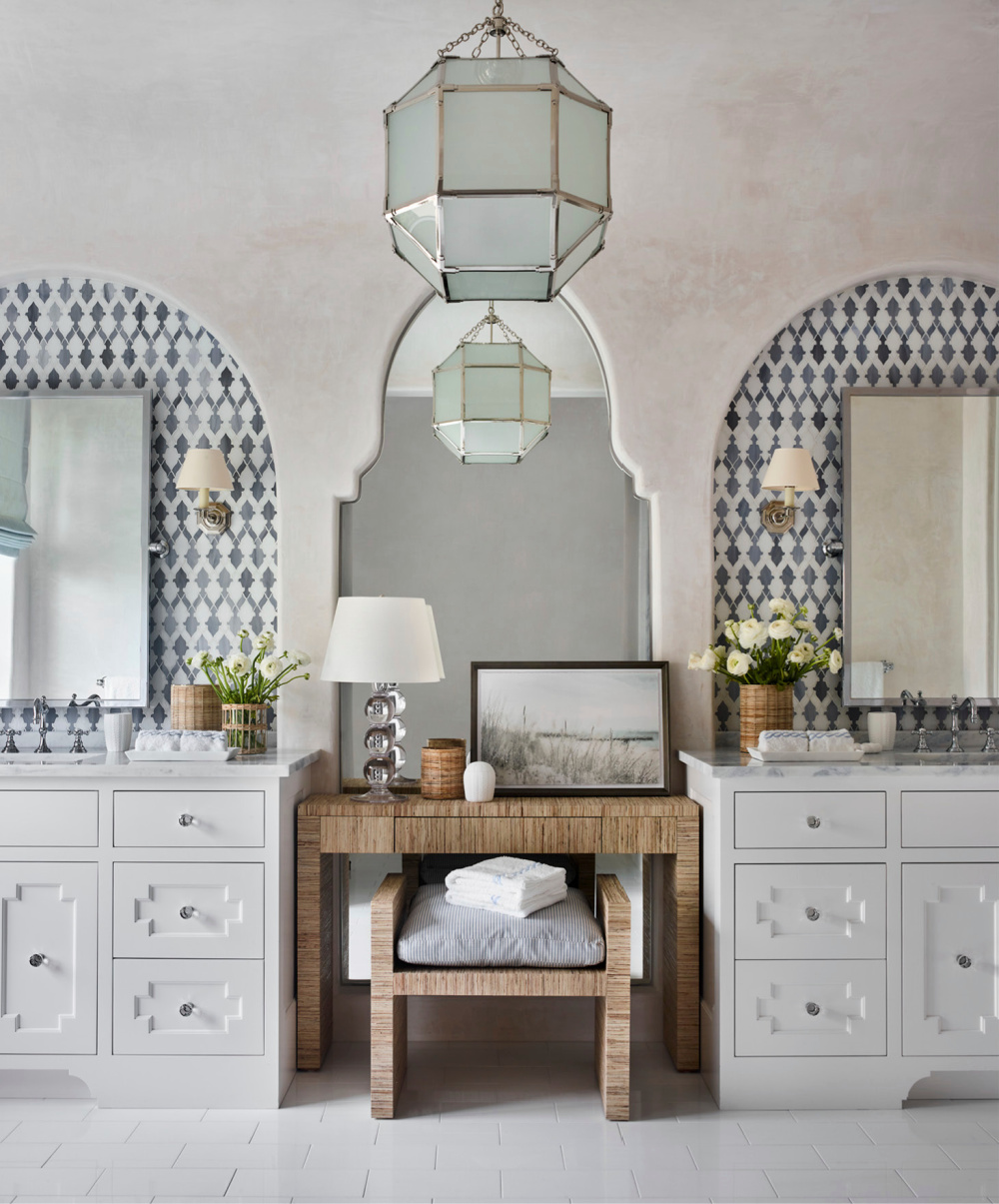 If you were thinking one book on your shelf by Kasler was enough…nope. Edited Style remains essential, and you'll thank me.
THE ULTIMATE BATH by Barbara Sallick
Waterworks cofounder Barbara Sallick guides us through the creation of THE MOST chic and functional bath designs you have likely ever seen.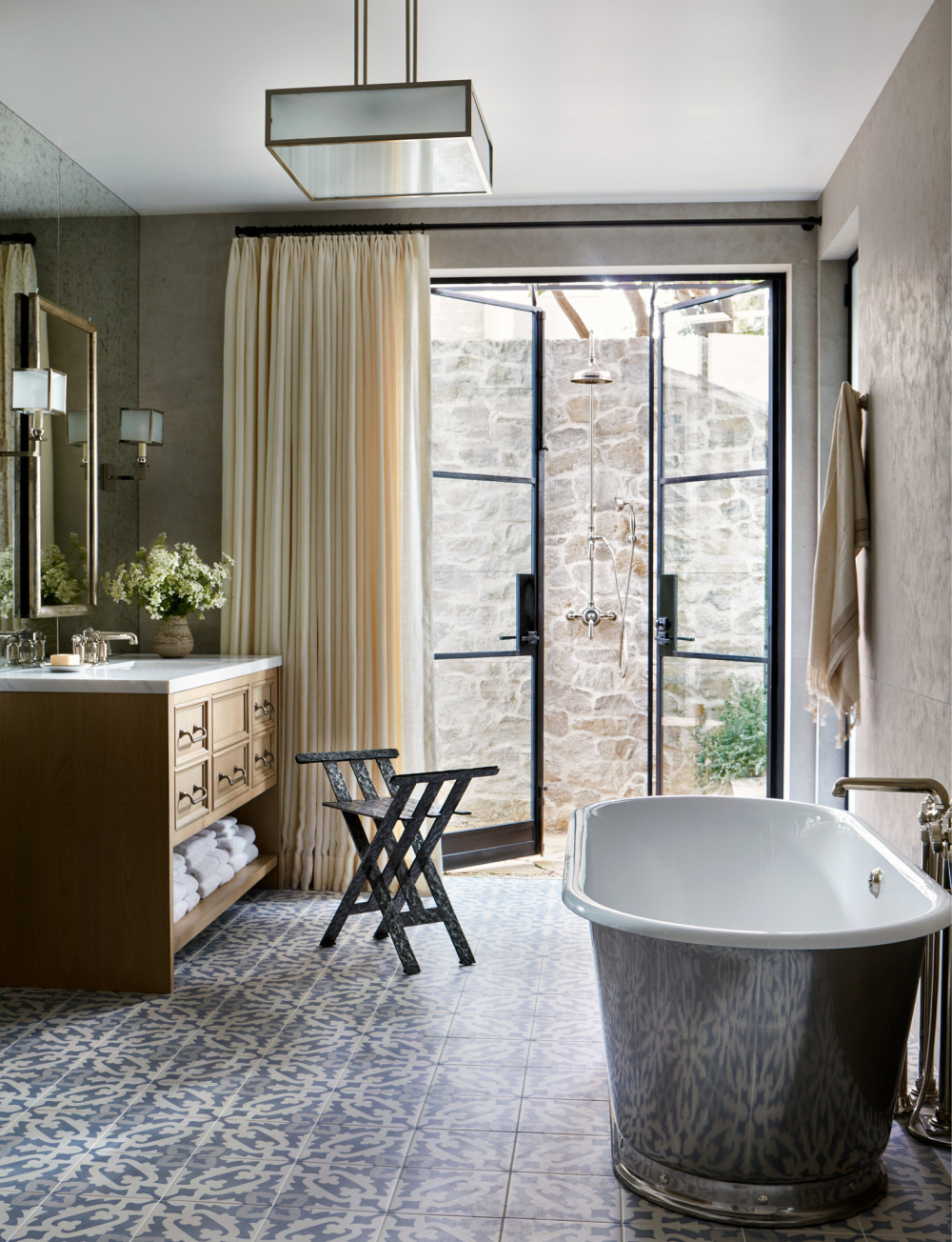 We're all more keenly aware of how home must meet our needs in fresh ways, and utilitarian spaces deserve more thoughtful attention because they work so very hard.
THE ULTIMATE BATH features the most luxuriously designed bathrooms from top architects and interior designers, including Nate Berkus, Ray Booth, Commune Designs, Drake/Anderson, Gil Schafer, Suzanne Kasler, Nickey Kehoe, McAlpine, Brigette Romanek, Miles Redd, and Summer Thornton.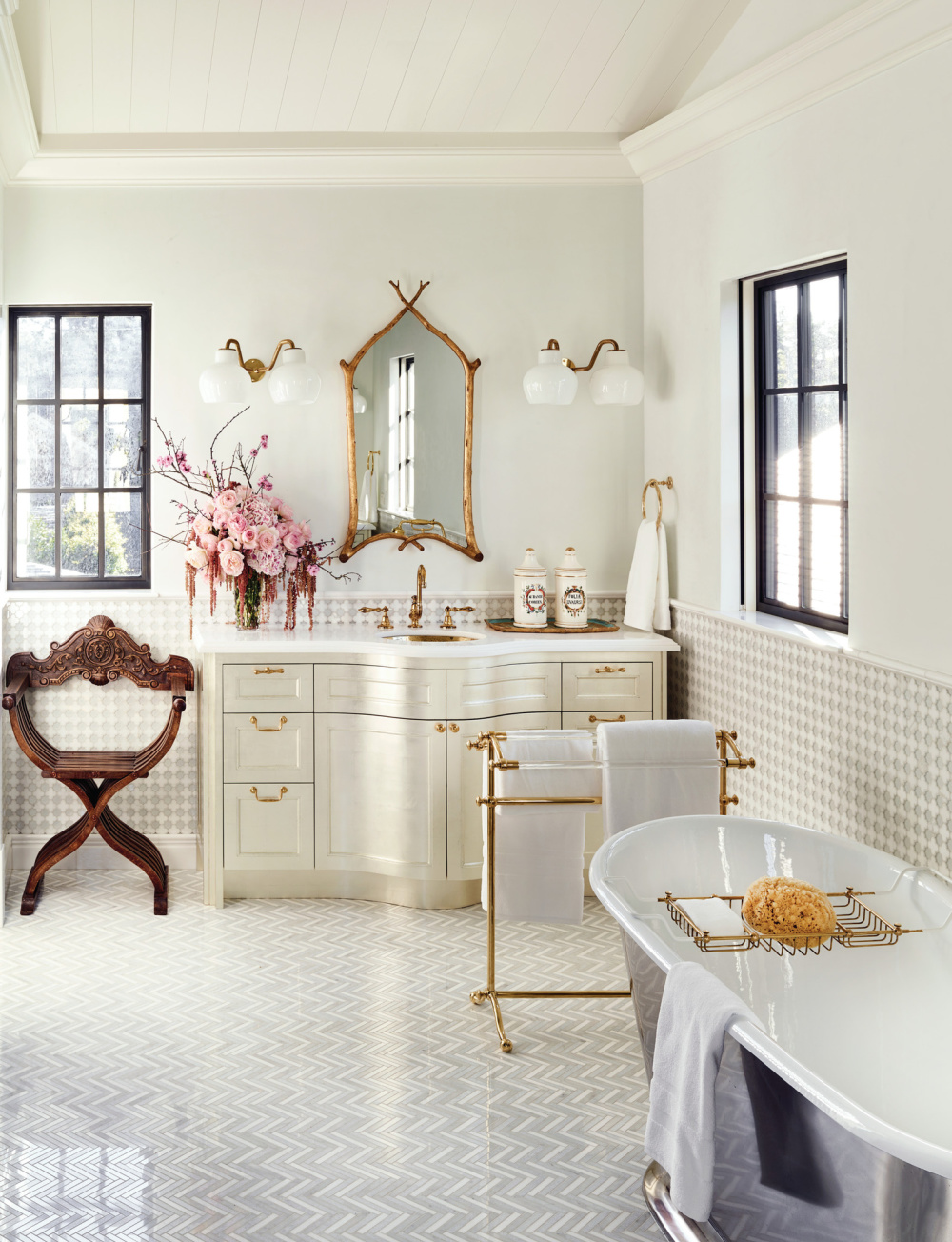 There are bath designs both understated and palatial to engage your senses and illustrate what's possible.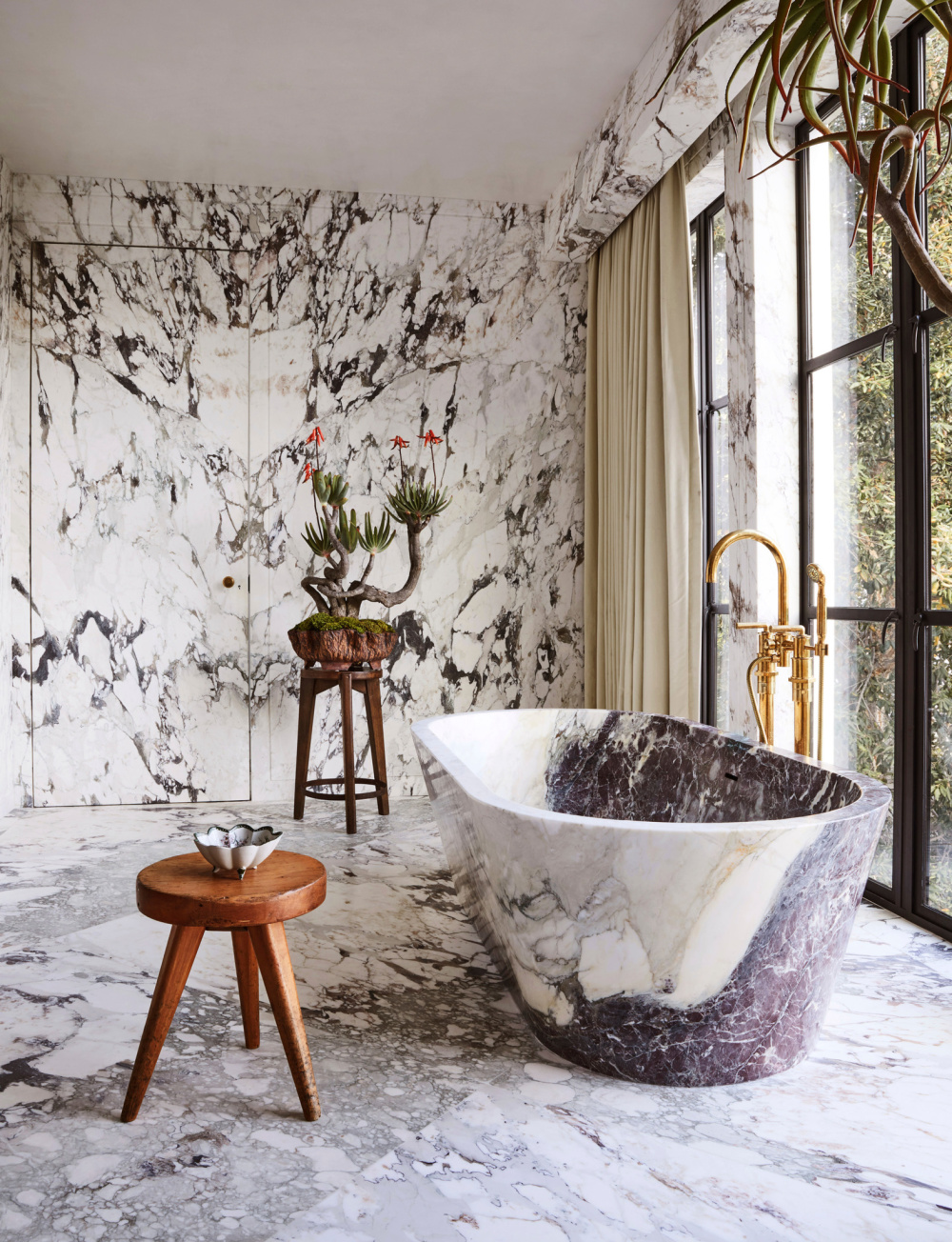 Inevitably you will come across a bath on a page that reminds you of your own. Maybe you similarly have a window near the sink or a vanity configuration like a project in the book.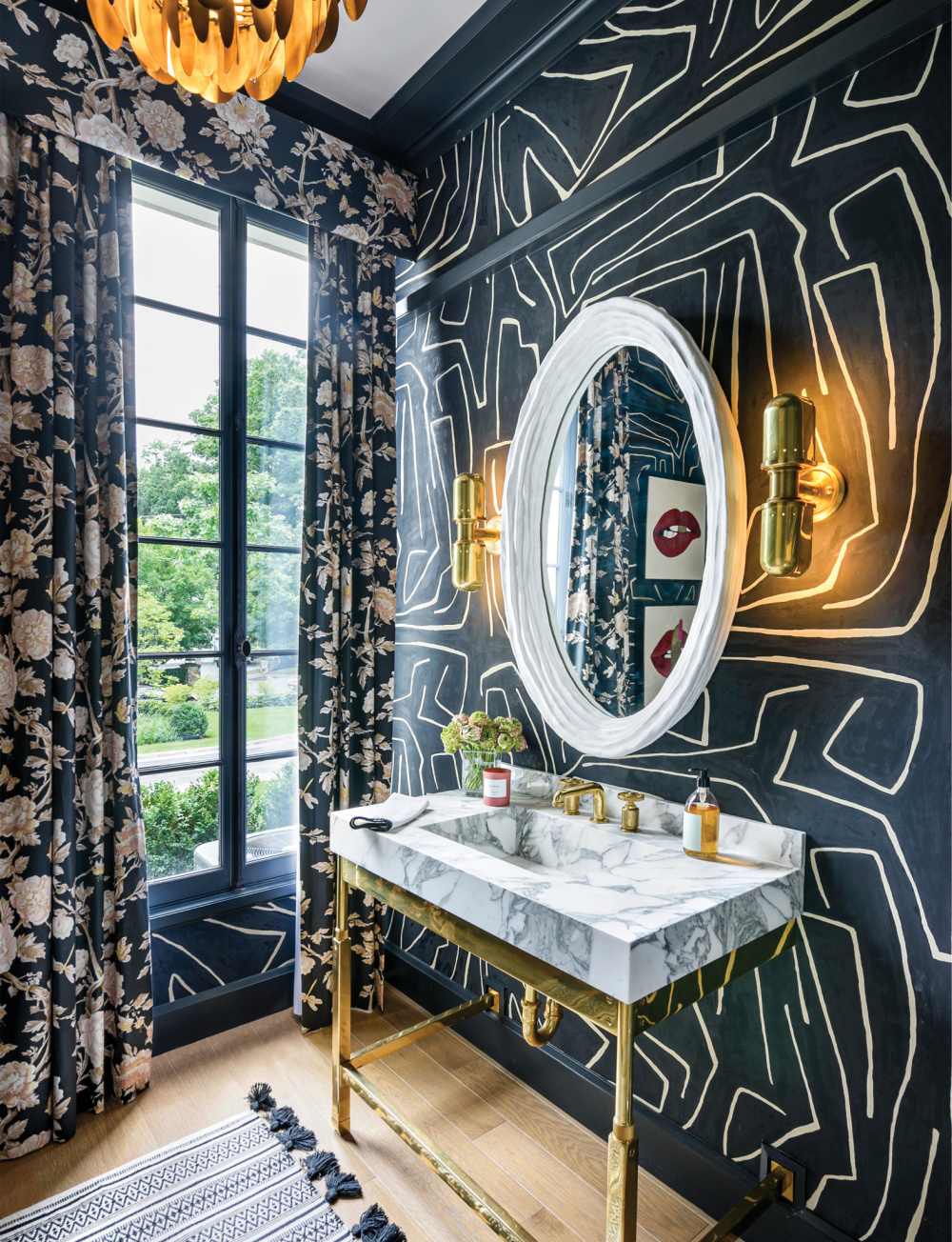 Or perhaps one of the designs will feature a favorite motif or color you realize you've been living without far too long.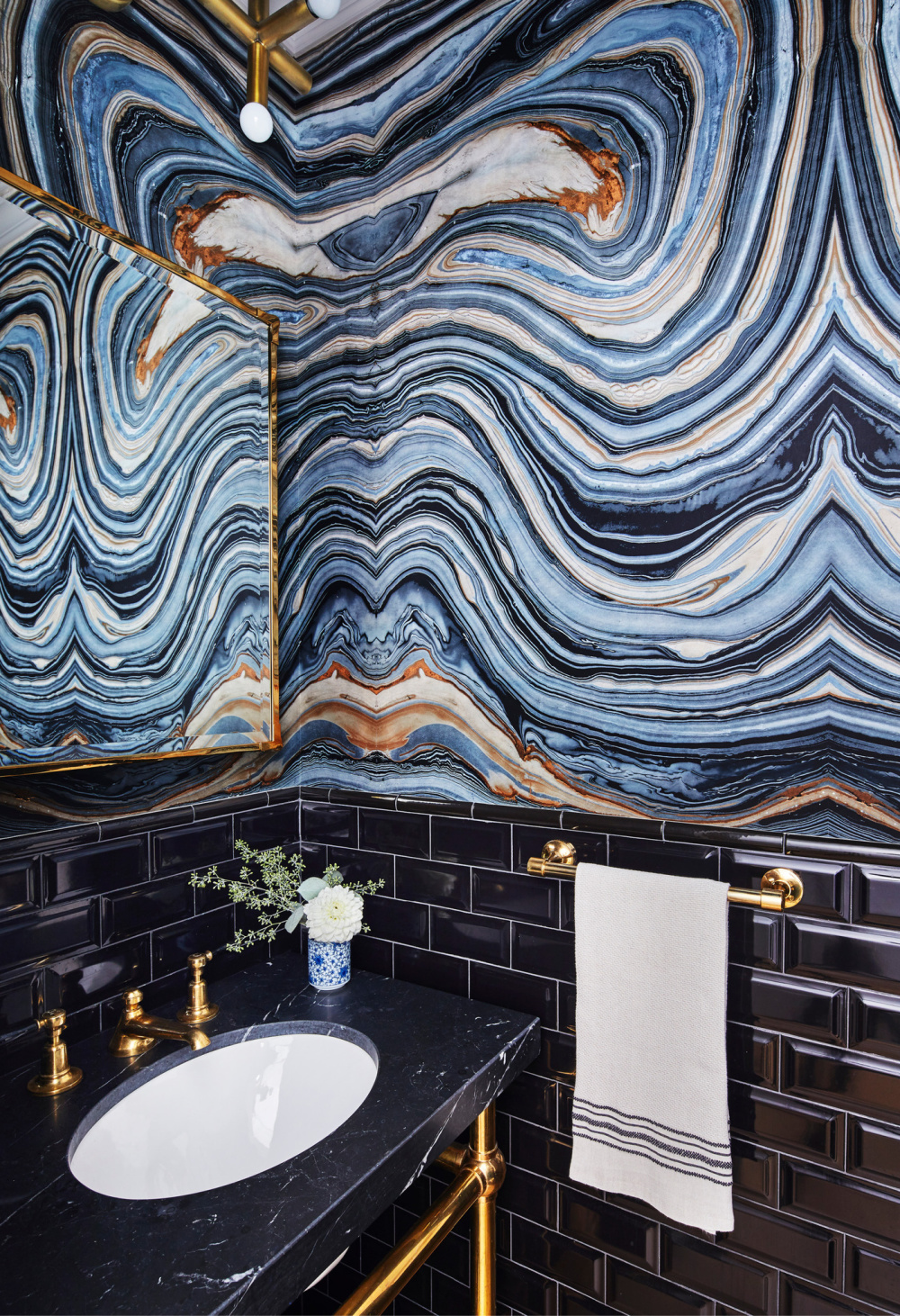 And perhaps the book will simply grant you permission to do what you have been dreaming of doing with your bath! So often we simply need design courage modeled!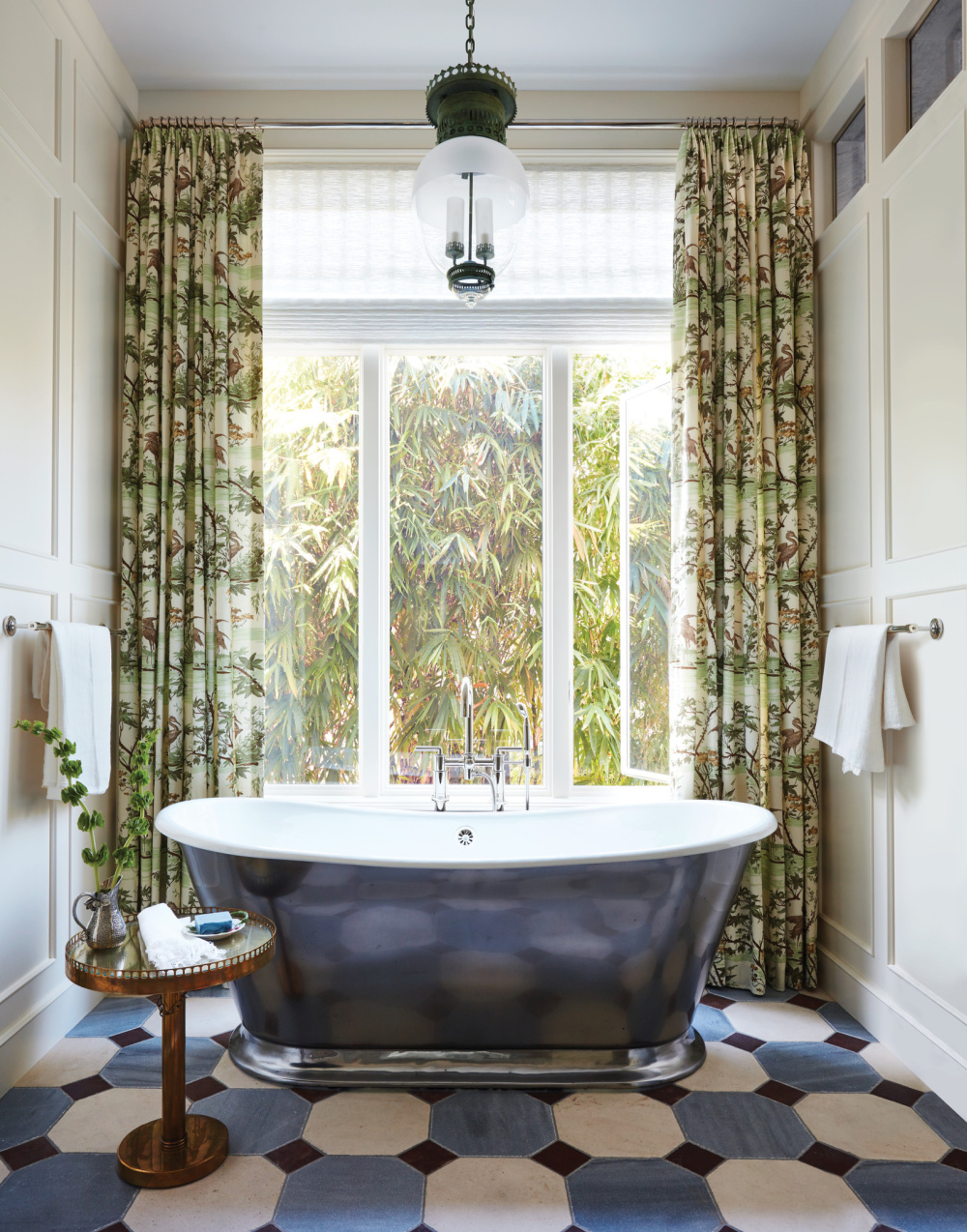 My Own Bath Reno & This Book
Our primary bath is no longer a pile of demolished tile! Yay! The tile is going up on shower walls, and radiant heated floors are on deck. This is a challenging renovation despite the fact we are advanced DIYers, and I highly recommend working with designers. Even simple designs come with a long list of mechs and elecs and checks to write. Good gracious. A book like Sallick's is a great primer to not only see the possibilities but to use as a visual reference with those with whom you may collaborate. In my case, the book gave me another tool as I was communicating wishes, proportions, combinations, etc. with the builder (husband).
STEPHEN SILLS: A Vision for Design
Stephen Sills is recognized as a unique artistic voice in the design world and known for creating atmospheric, luxurious and timeless interiors.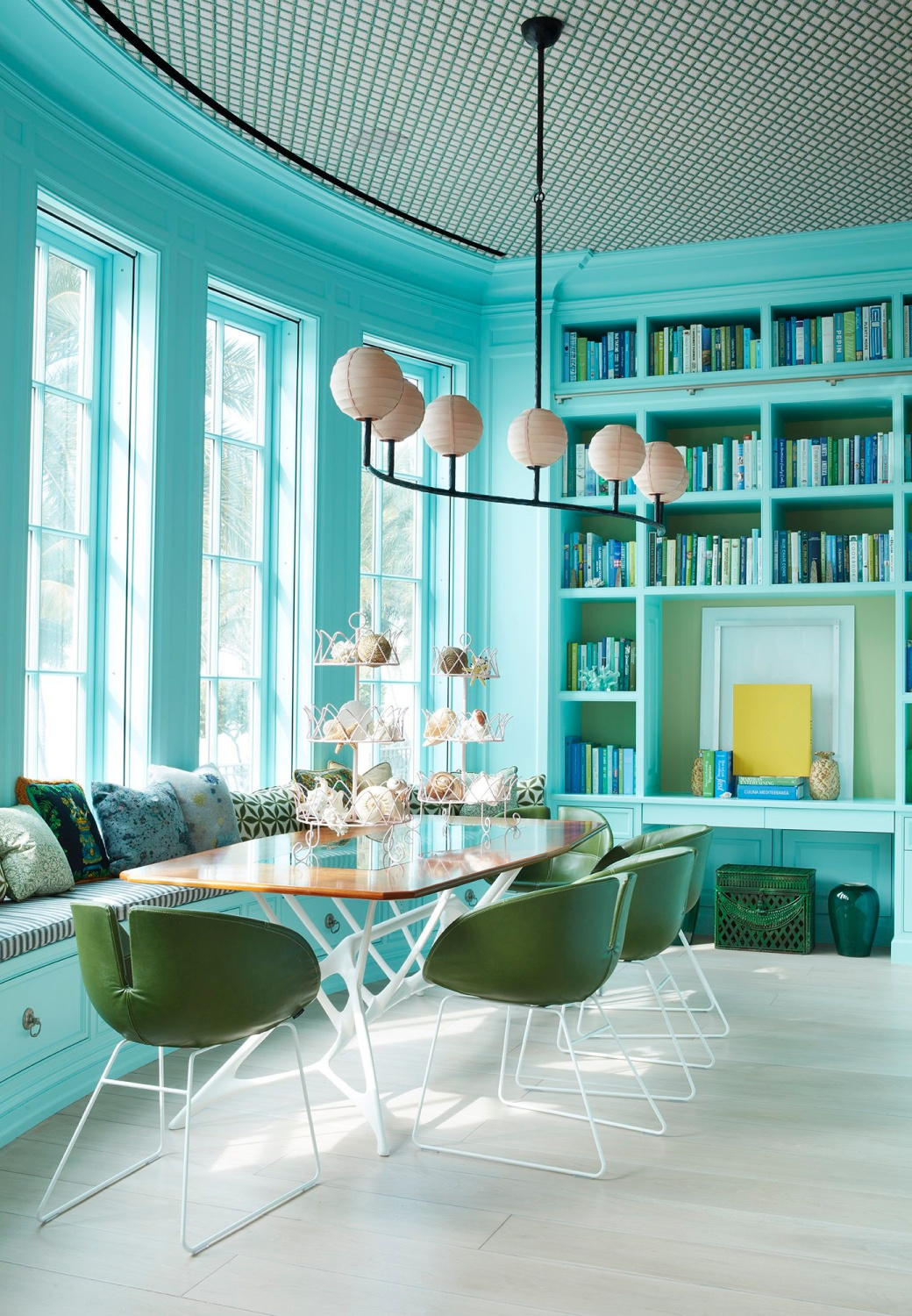 The pages inside his new book reveal recent projects stretching from the East to the West Coast.
Buy Stephen Sills: A Vision for Design HERE
Each story begins with a mood board revealing the influences and guiding principles for each house.
Sills bookeneds each project with essays on topics including architecture, craft, landscape, and types of rooms.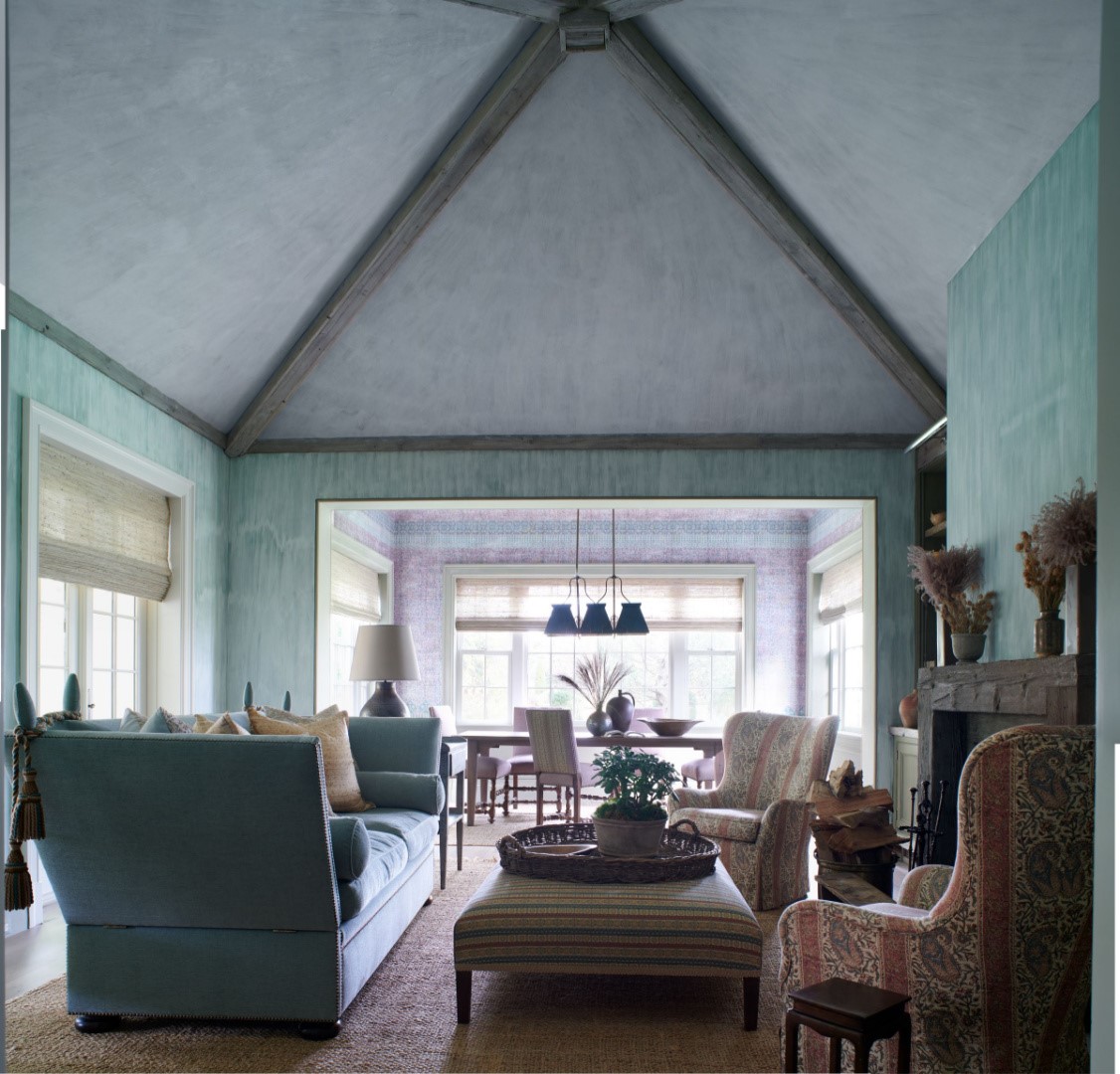 If you're ready for design enrichment, you'll discover A VISION FOR DESIGN is overflowing with creative content. Since Sills has collaborated with a range of artists (longtime client, Tina Turner, AD100 designer David Netto, and Martha Stewart), it's truly an eclectic mix.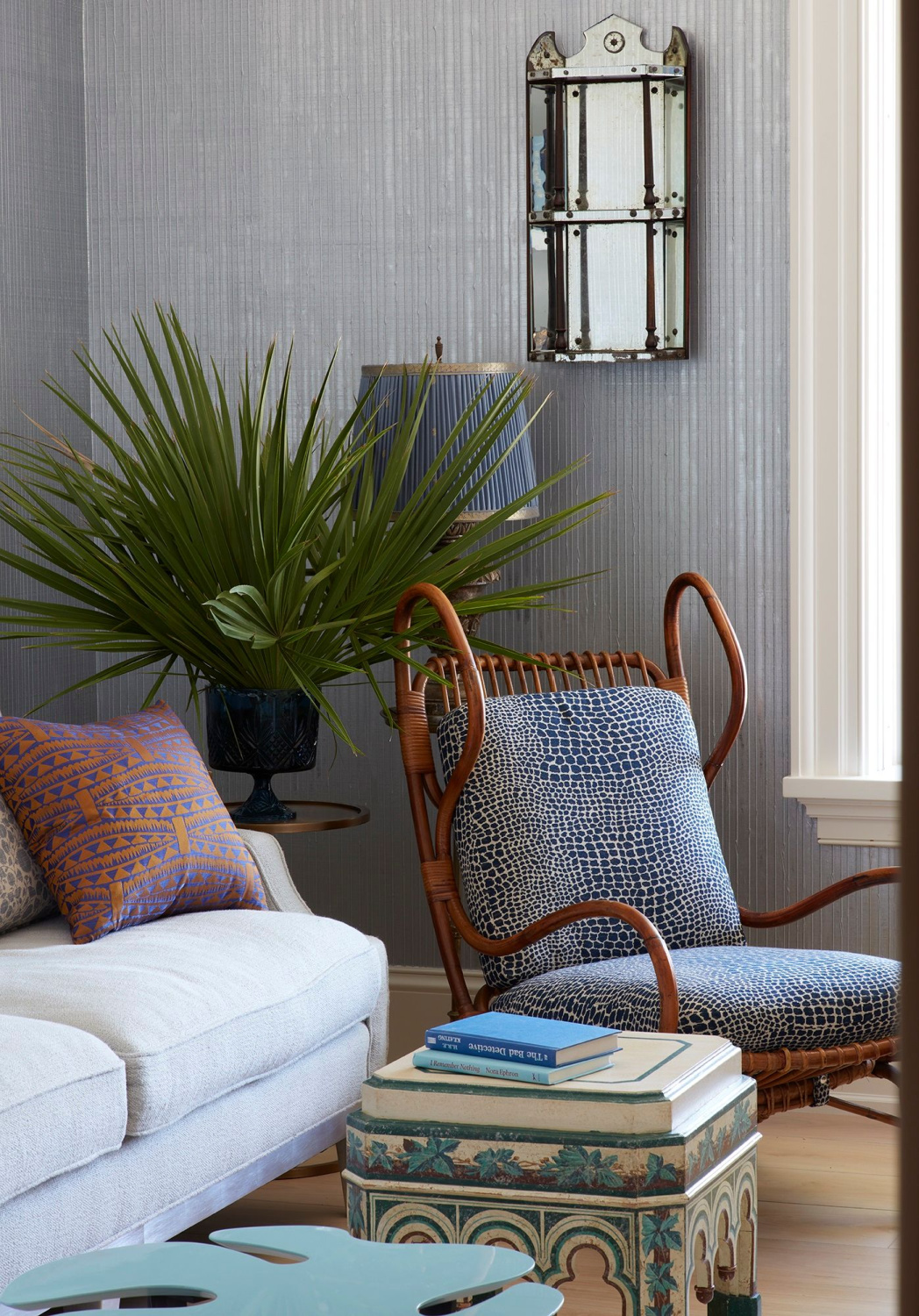 Also find the author's reflections about the evolution of his style. What are his passions? How can we develop a keener eye?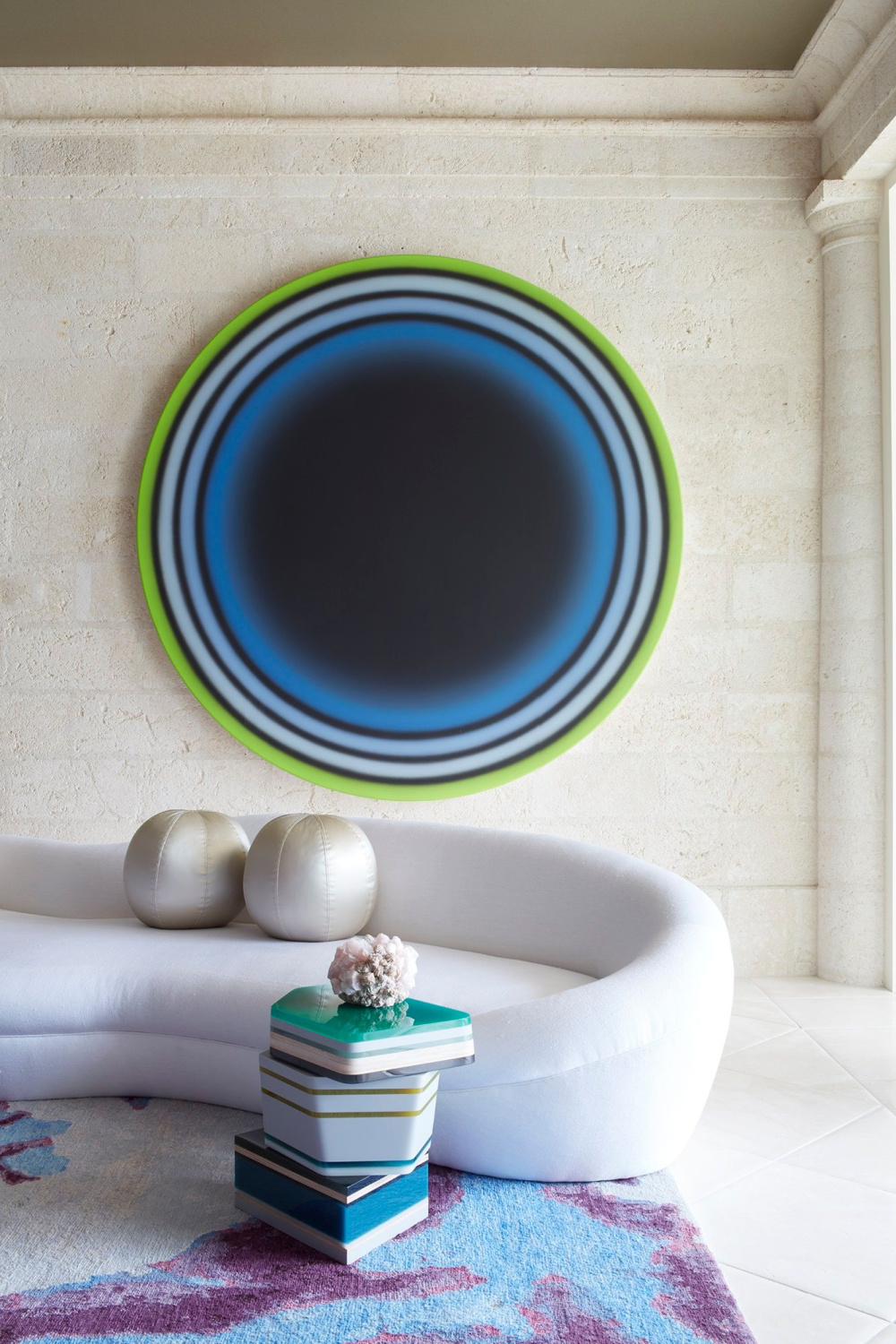 Did someone say EVOLUTION?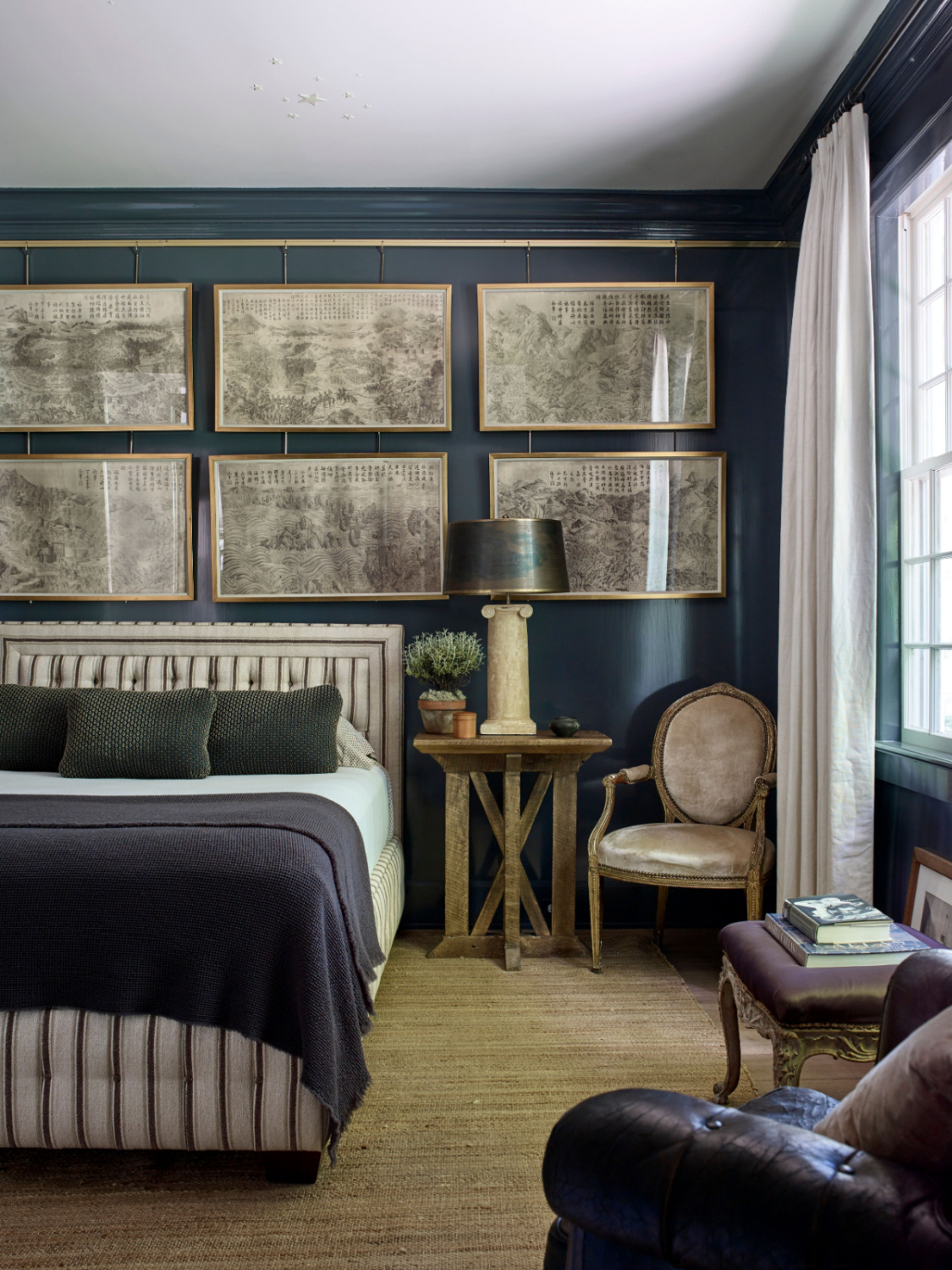 THE EVOLUTION OF HOME by Sims-Hilditch
14 years ago, British designer Emma Sims-Hilditch launched Sims Hilditch, using the skills she honed through her previous career in film production for Ridley Scott, and this is her first book.
Known for crafting relaxed, elegant interiors ideal for a new generation, her influence extends beyond the lives of homeowners as communities are transformed as well.
Buy The Evolution of Home: English Interiors for a New Era HERE
This book shows us how Sims-Hilditch creates environments in concert with the changing seasons and the comforts of a slower lifestyle.
Whether the project is an urban townhouse or a seaside retreat, the design's approach is to collaborate with clients to achieve a fresh, stylish, comfortable home to serve as the perfect backdrop to daily life.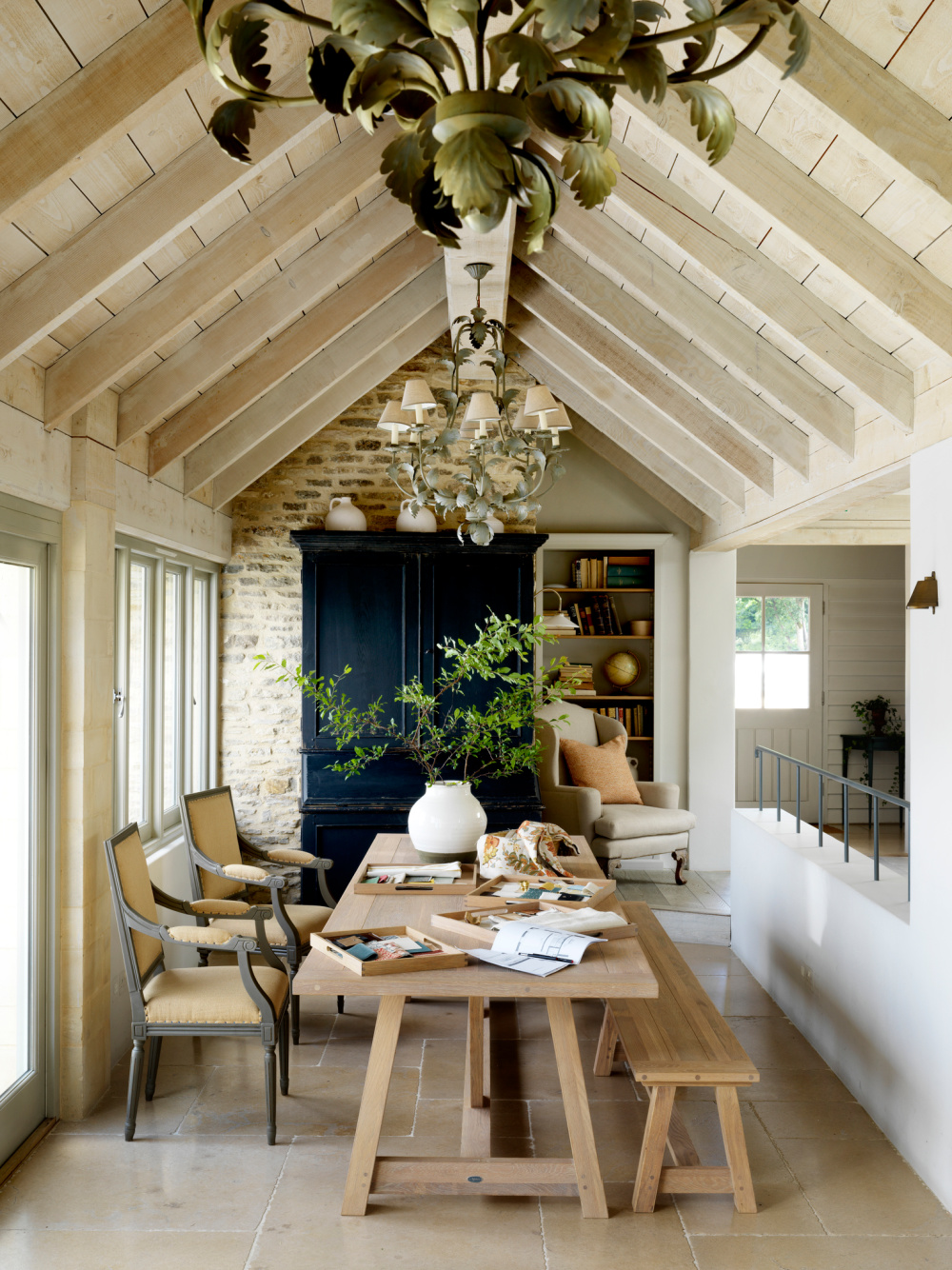 Interiors designed for everyday life are spotlighted in the book and categorized by their function. You'll find: Making an Entrance, Relaxing, Cooking, Eating, Bathing, Sleeping, Working, Organizing and Maintaining.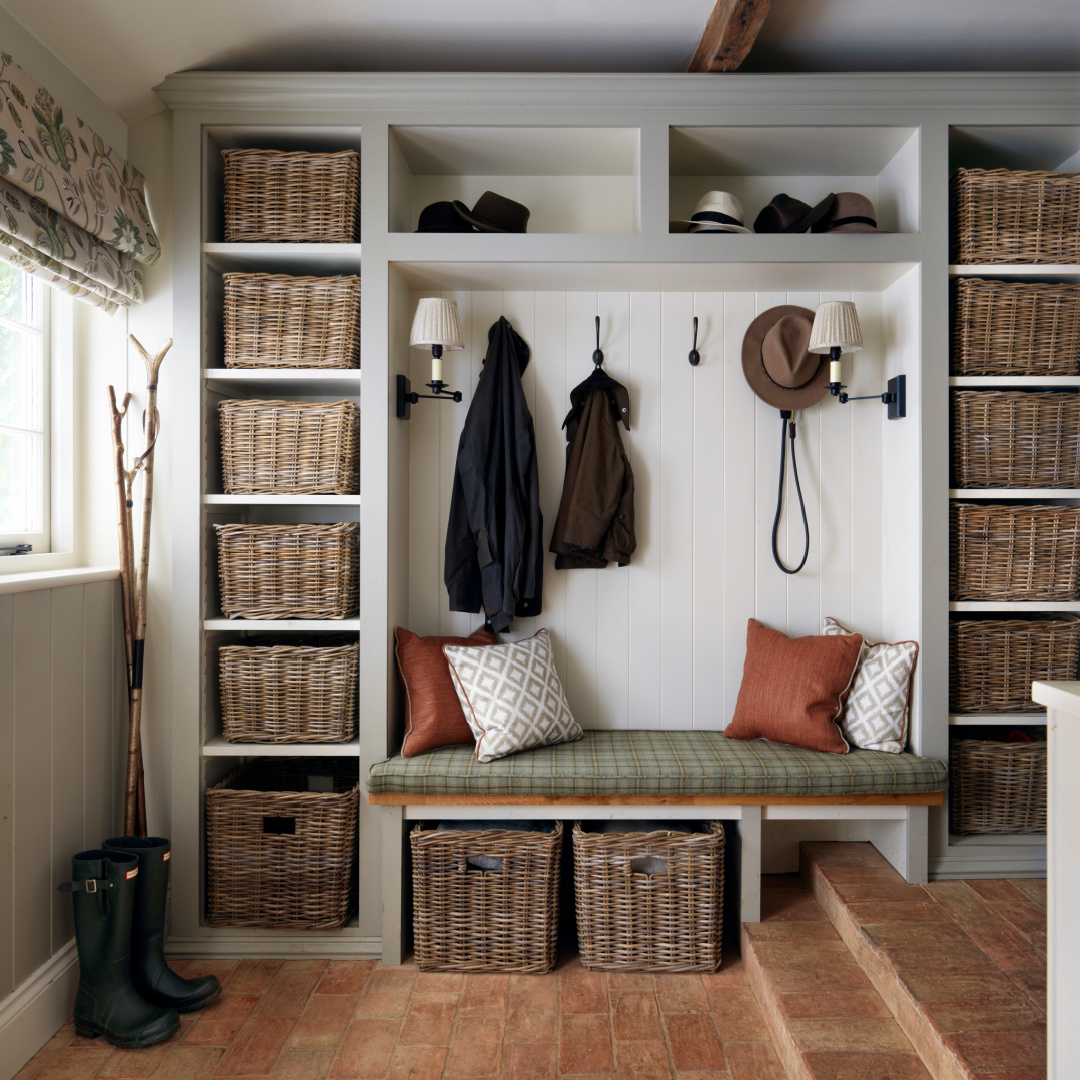 You'll also discover which traditional materials Sims-Hilditch favors as well as her fresh interpretations of them for modern life.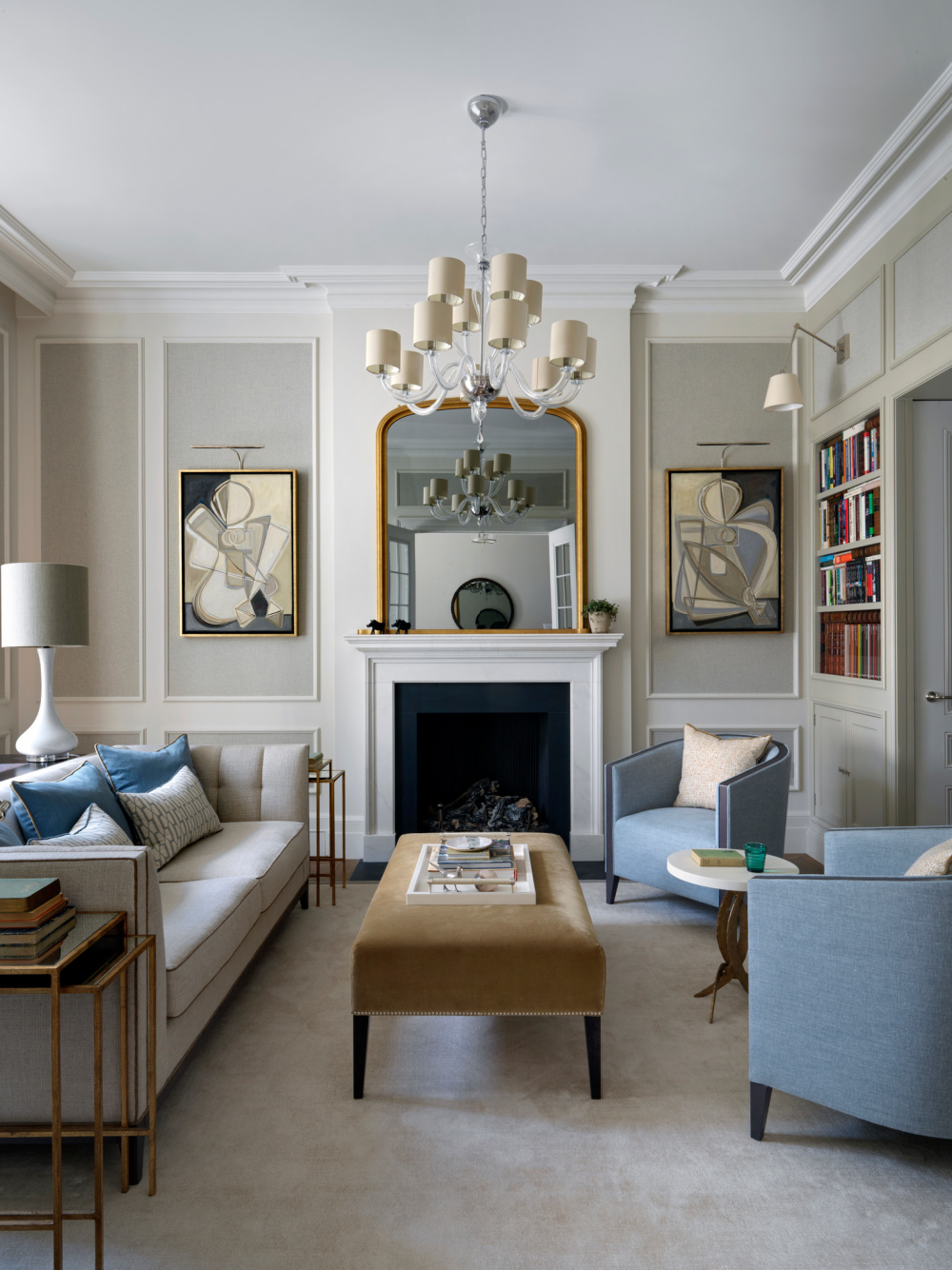 The book shares excellent advice about how best to organize and decorate from a seasoned expert.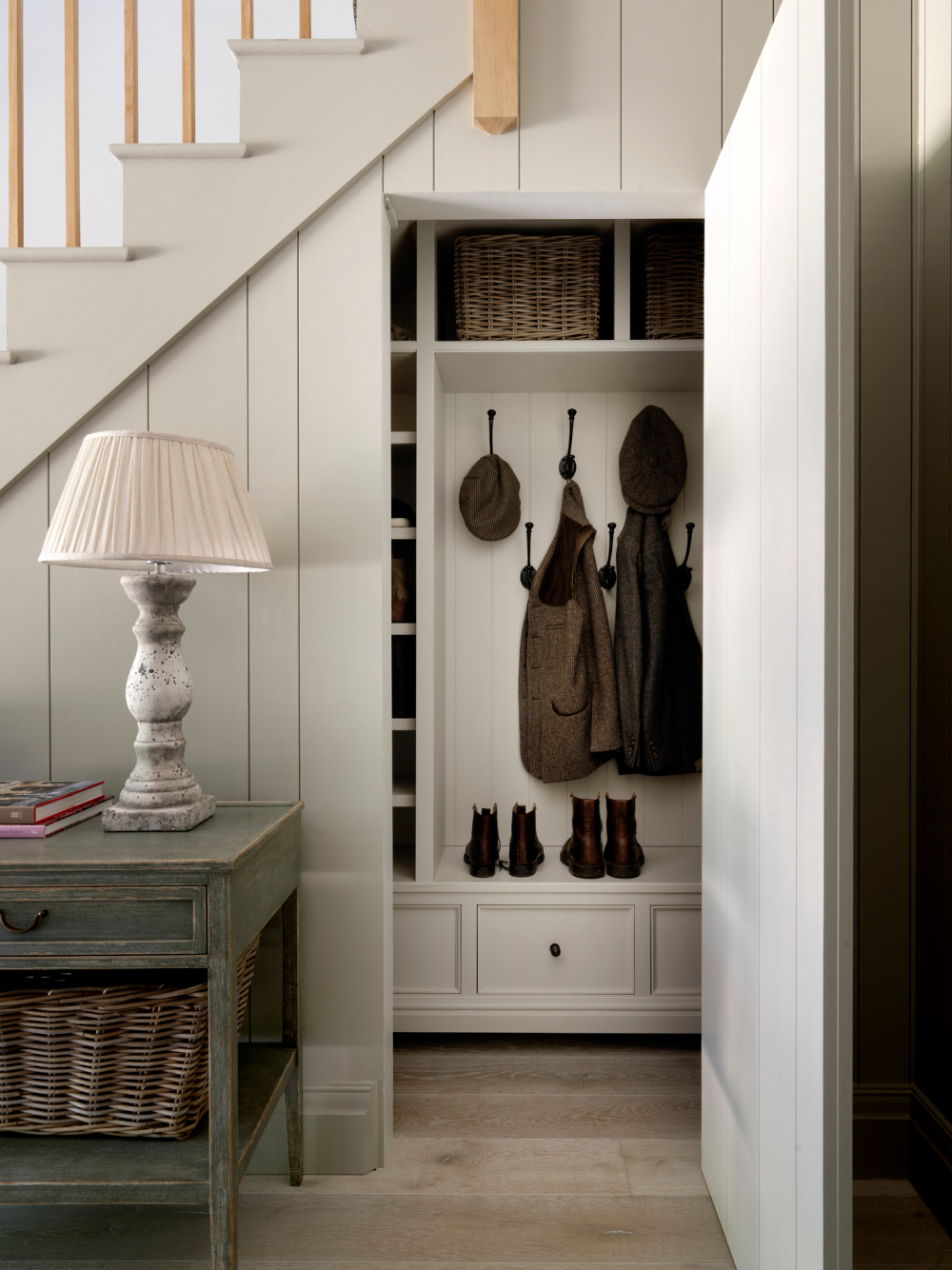 I'm smitten with the color stories (or should I say colour stories) on these glorious pages and want to live inside each design! I also want to live in the IG feed of Emma Sims Hiditch:
PARISIAN BY DESIGN: Interiors by David Jimenez by Diane Dorrans Saeks
If ever you have daydreamed about living in a lovely Paris apartment, here's your chance to understand what undergirds those character-rich charming retreats.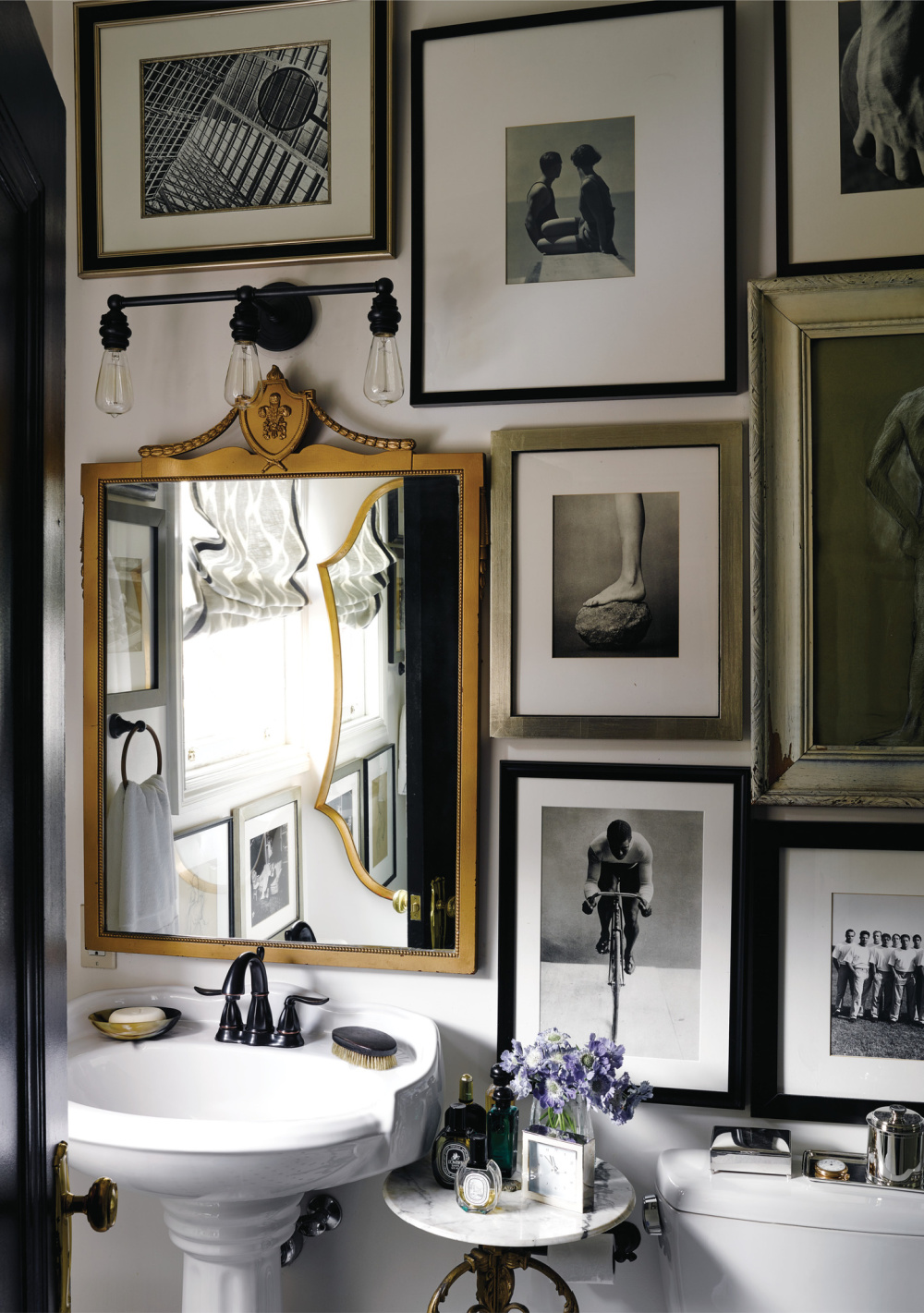 Buy Parisian by Design: Interiors by David Jimenez HERE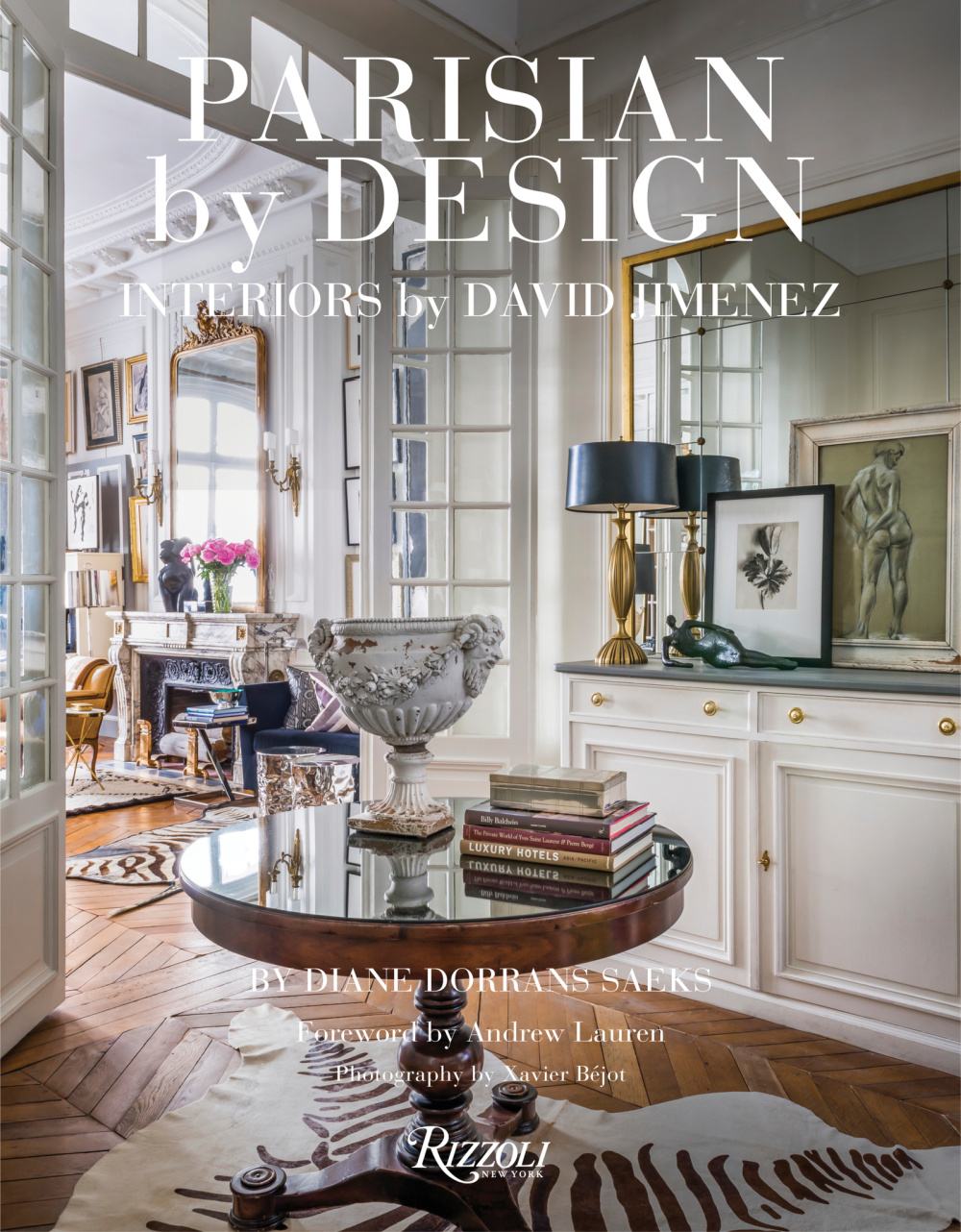 Written by the doyenne of design Diane Dorrans Saeks, the esteemed designer inspires us with his interiors while sharing his secrets for how to decorate like a Parisian.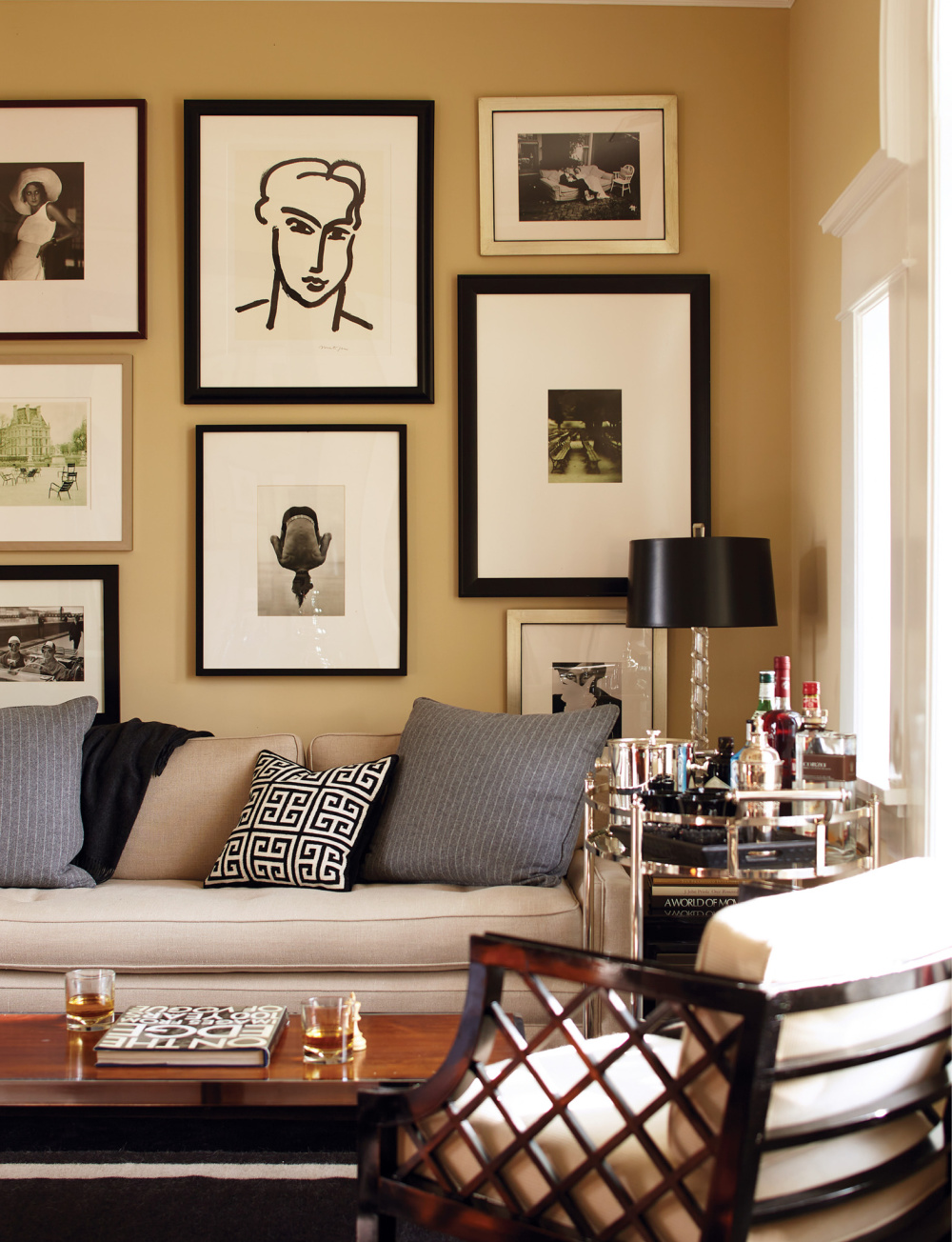 Jimenez has lived and worked in Paris for years, where he is celebrated for classically beautiful modern yet livable interiors. (We peeked at another designer who worked in Paris – Myra Hoefer's cottage is HERE.)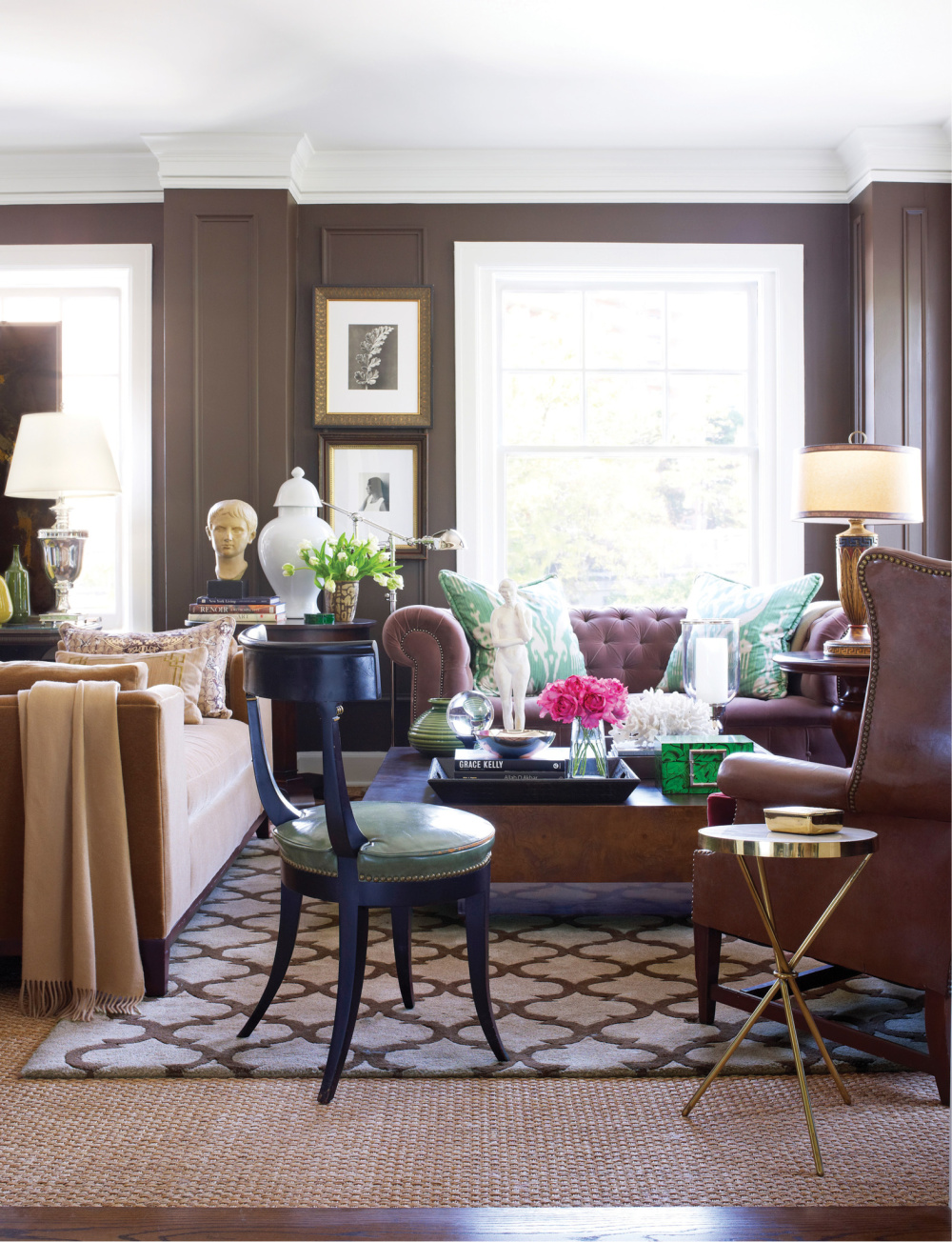 Residences you'll spy inside the book include an Ile Saint-Louis apartment and design studio, an elegant abode in historic Hyde Park district of Kansas City, Paris style on Nob Hill, and Jimenez's never-before-seen French country retreat.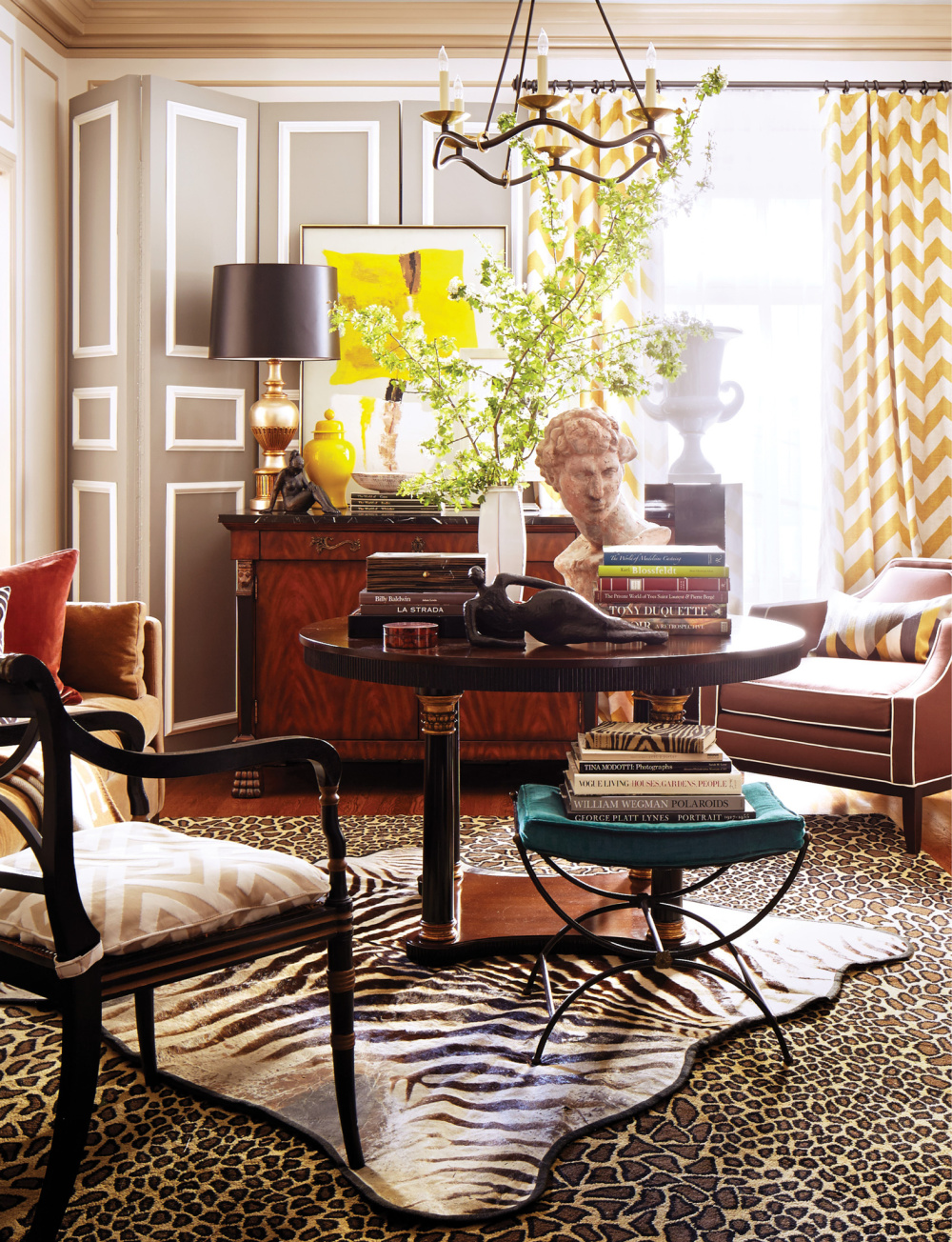 Wondering How to Achieve a French Influenced Design Look?
PARISIAN BY DESIGN offers help from an expert as to how-to decorate in the French style, and you'll learn about choosing chic paint colors.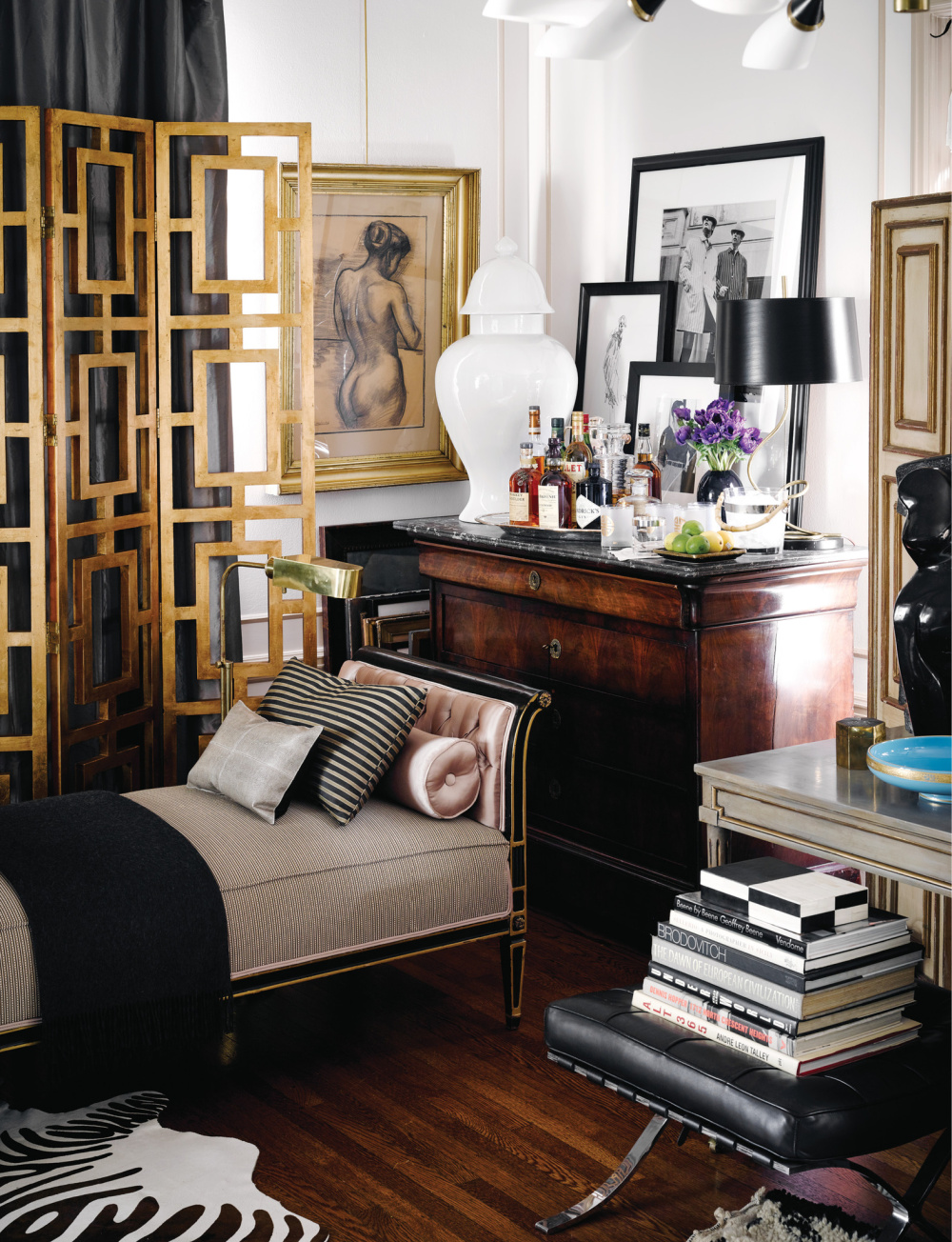 Also find inspiration for setting an elegant table and where to soak up the best design in Paris!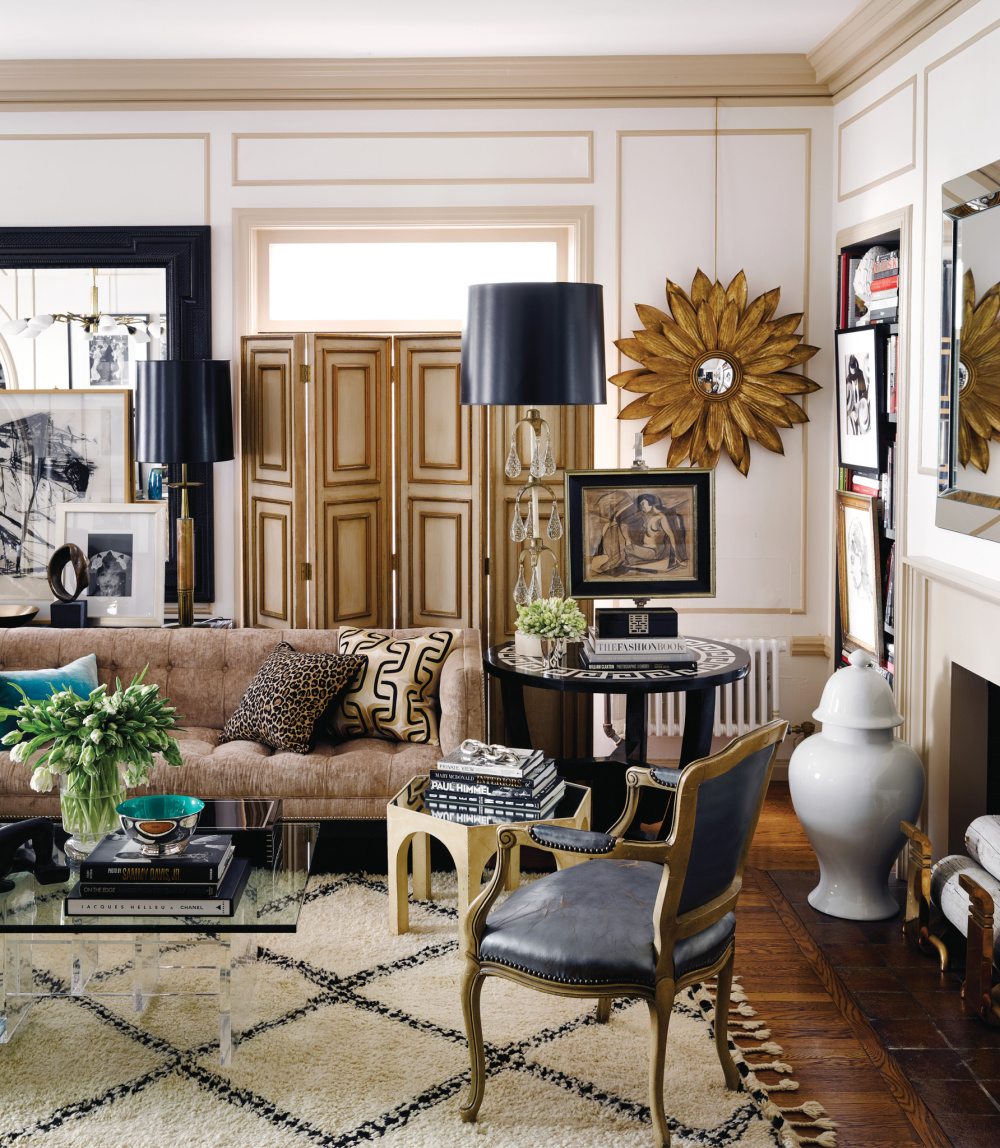 Paris lovers and Francophiles will covet the source section in the book with the designer's favorite flea markets, antiques dealers, and art galleries in Paris and New York.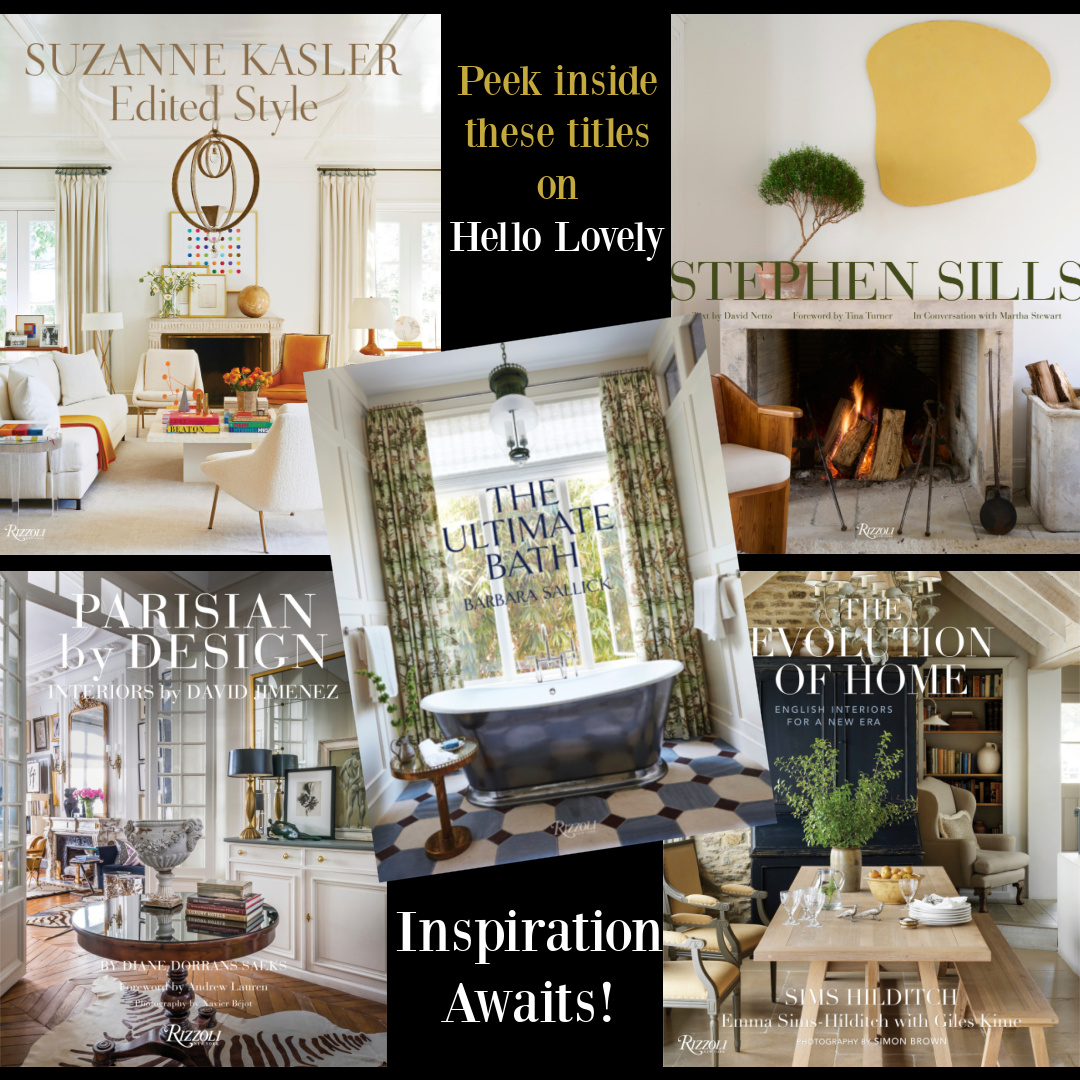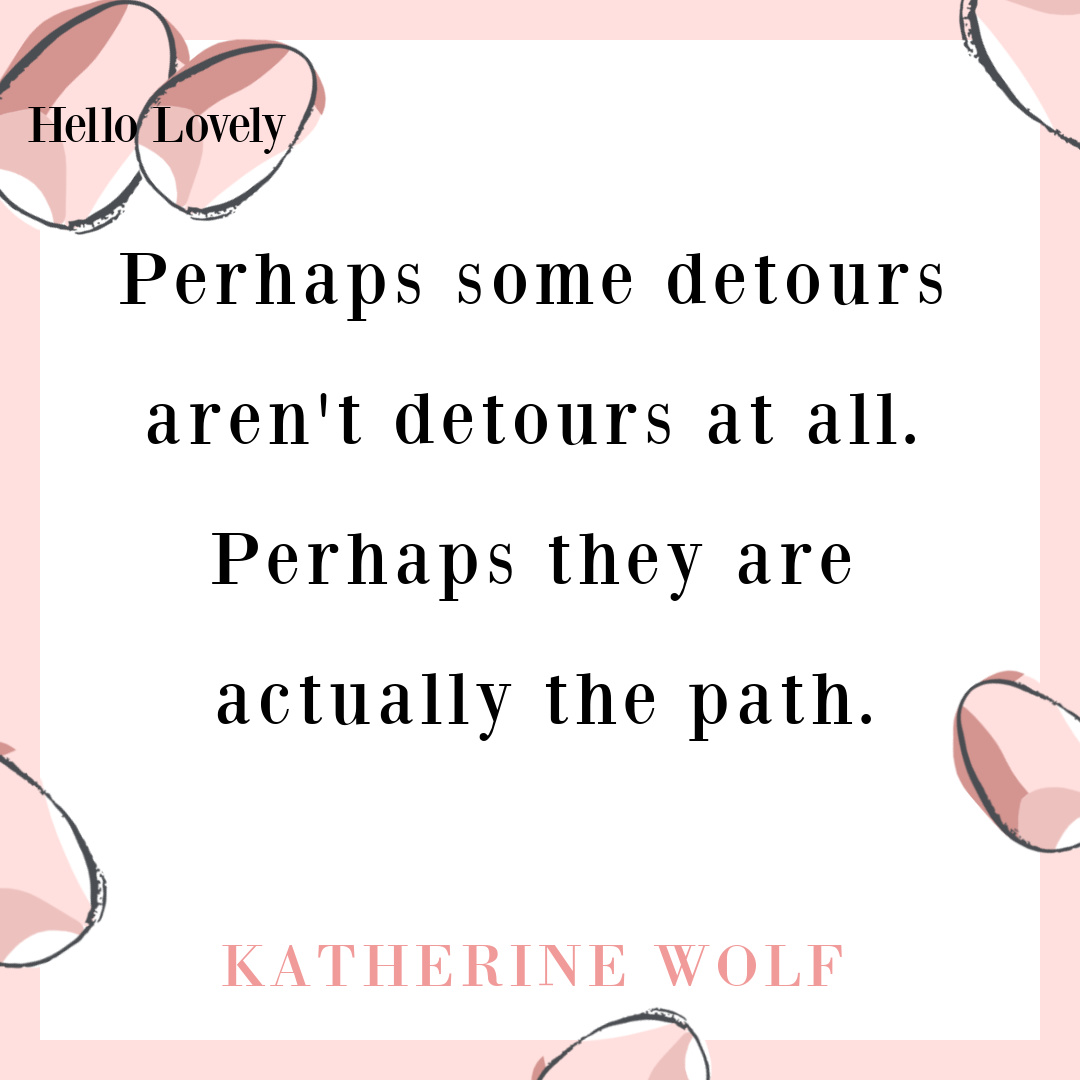 Peace to you right where you are.
-michele
Shop for items you already intended to buy on Amazon RIGHT HERE, and also find home decor here to keep decor inspiration flowing on Hello Lovely!
Hello Lovely is a participant in the Amazon Services LLC Associates Program, an affiliate advertising program designed to provide a means for sites to earn fees by linking to Amazon.com and affiliated sites.