HOW TO CHOOSE THE BEST WHITE PAINT COLOR is one of my favorite topics, and one for which I am consulted every single day! 7 Warm White Paint Colors to Consider goes beyond simply throwing a bunch of warm white paint color possibilities at you. In addition to color names, I'll also help you think critically about the process of selecting the appropriate white for YOUR particular space.
This post contains affiliate links which I hope you will use since they won't cost you a penny extra yet may earn this blog a small commission.
Warm White Paint Colors: Gorgeous, Tried & True!
A Personal Favorite Warm White
This warm white is one I discovered when searching for the best shade of white for our prior home: a European country inspired manor home on the edge of a lush forest.
Since I'm not a huge fan of living with brown undertones, I didn't want a color that made me think of cocoa.
I was after a soft, gentle, beachy white reminiscent of seaside vacations.
The color I fell for was BENJAMIN MOORE White Sand and was used in every room except for our sons' bedrooms.
If you're a fan of Belgian linen, there's a fair chance you'll also like BENJAMIN MOORE White Sand.
Living With Tone on Tone
Tone on tone isn't everyone's cup of tea, yet this color story worked wonders in a spaces we wanted to feel serene, peaceful, and also warm.
After a couple of years, I got the itch to change the paint color and bring a bit more contrast to the kitchen. We chose Benjamin Moore Ashley Gray (below) for more depth.
Our kitchen received a ton of natural sunlight so Ashley Gray was not too dark – it might actually read "purply-charcoal" and not "warm white" in a poorly lit space.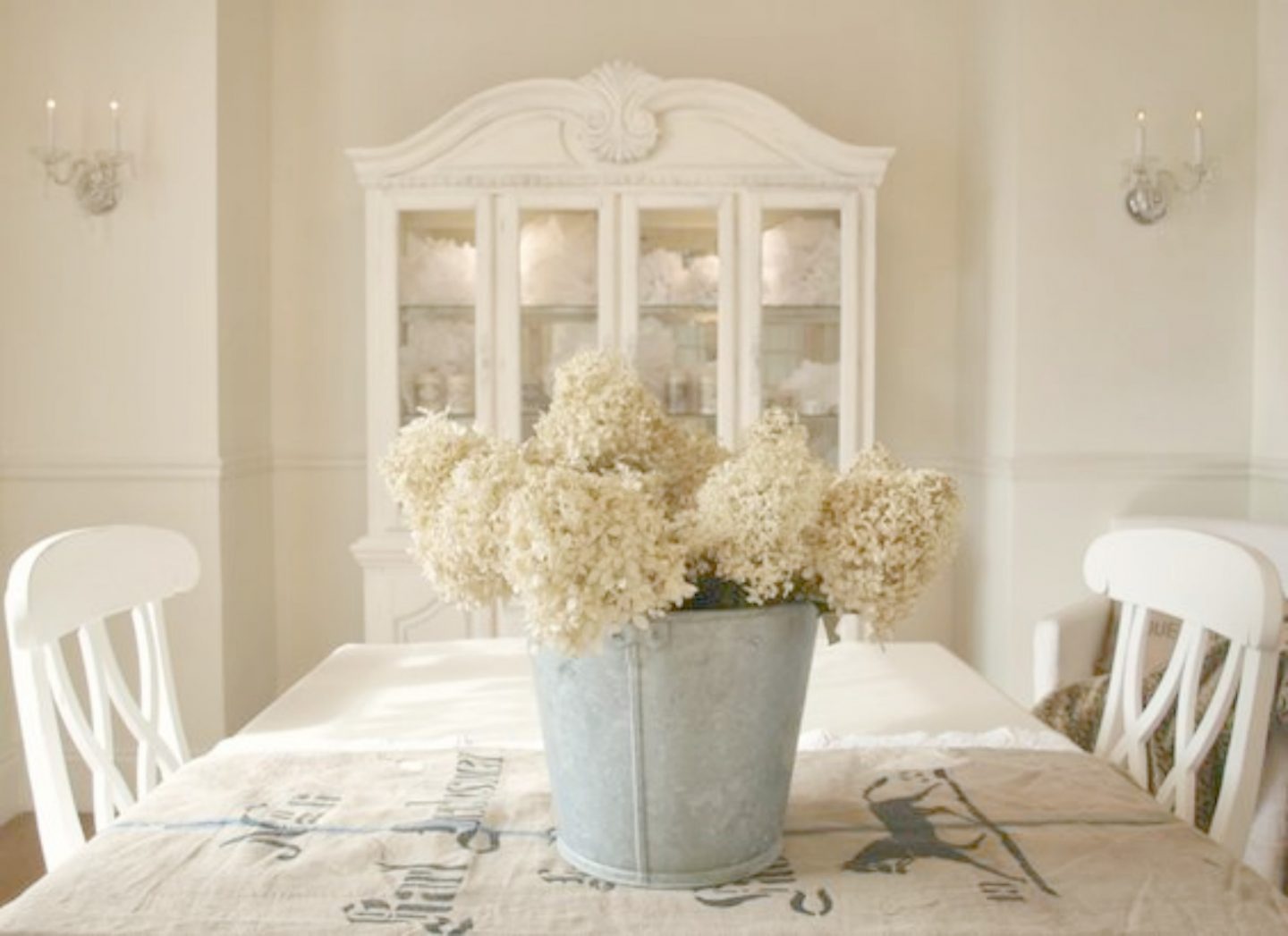 So don't get too wooed by any one particular paint color when you see a photo – sample a handful!
White Sand in Another Home
We'll journey from Chicagoland to the Southwest, where my mom loves BENJAMIN MOORE White Sand as well.
What's helpful is seeing the same paint color in different rooms with different exposures. Here it is in a bedroom with Southern exposure and antique white dresser:
Warm White in a Living Room With Blue Grey
In this living room, you can see how Benjamin Moore White Sand works with a cool blue grey, soft pink, and gilded frames as well as antique white hutch.
Warm White in Family Room With Northern Exposure
In the family room with North facing windows and light turquoise and teal accents, Benjamin Moore White Sand feels more like a natural linen hue.
In a bedroom, White Sand offers a gentle contrast with white French country furnishings.
Beautiful Warm White Paint in a Showhouse
Sherwin Williams Alabaster has a cult following with both designers and decor freaks lauding it. Who can forget how this beautiful warm white canvassed the 2017 Southeastern Designer Showhouse?
ALABASTER…Sherwin Williams named this the 2016 Color of the Year.
SW Alabaster in Laundry Room
In a blogger's One Room Challenge space (a pet palace laundry area!), Sherwin Williams Alabaster was the white chosen. Custom kennels occupy pretty space under the counter!
Great Room With Warm White Paint Color
Sherwin Williams Alabaster Bedroom
3. BENJAMIN MOORE Revere Pewter
Revere Pewter for Trim & Furniture
For me, Benjamin Moore Revere Pewter is reminiscent of soft natural linen or gentle garden stone.
This paint color works wonders in a variety of spaces and was used to refresh my tired, antique white bedroom furniture.
Easiest way to see if a paint color will work? Order samples with Samplize and have them delivered straight to your door.
The furniture now feels light, fresh, and more timeless.
But let's see how it looks on walls.
Revere Pewter Paint in Bedroom
Revere Pewter in Bathroom
Warm White & Natural Lovely Things!
How to Choose the BEST Warm White Paint Color
1. Try Multiple Samples
Bear in mind that the perfect white paint color for a particular space may be completely wrong for another space. The light in Northern Illinois where I reside is quite different from other regions like the Southwest where we bought a second home.
So as you search for a just right white, don't forget YOU'LL FIRST SELECT A HANDFUL OF OPTIONS and then SAMPLE THEM in your unique space TO BE SURE.
2. Understand Warm vs. Cool Whites
If you understand the difference between a warm and a cool white, you'll have an easier time sifting through the possibilities.
Warm whites tend to have warm undertones of green, brown, etc. Cool whites may have blue and grey undertones.
Sometimes it is helpful to clarify what is even meant by warm vs. cool white paint.
For example, in our current home, almost all of the walls are painted a very cool and bright white (Benjamin Moore "White"). This cool white might be all wrong in a different home since it was chosen to counter the harsh yellow light we receive here.
The cool white tempers the color and mood and because of the yellow sunlight, it does not read too sterile or blue.
3. Search Online for Ideas
While plenty of paint color experts advise against searching online and Pinterest for the best warm white, I find it helpful to begin the search by viewing photos online where the paint color name is provided. It truly beats standing in a big box store under fluorescent lighting, anxiously studying cardstock swatches.
Have a Pinterest board devoted to your favorite white paint colors yet? Create a devoted board and PIN THIS POST there to have a handy list of paint names you can refer to when you head to the paint store to buy samples (I'm sure I don't have to remind you to bring your phone).
4. Consider Objects & Amount of Natural Light
Make sure you take into account the temperature of the objects and furnishings in the room you'll be painting. If they are mostly cool, in most cases you'll want to lean towards cool whites. Are they warm? Then a warm white is likely the wise direction to head.
Does your space receive a lot of natural daylight? You'll probably want to stay in the more pure white zone with minimal undertones. However, if light is limited, a warm white with more pigment is probably your friend.
More Warm White Paint Colors
Here is a white we used for trim and doors in our prior French Country home.
4. BENJAMIN MOORE Dove Wing
5. SW Collonade Gray
Her's a gorgeous greyed white used by Melissa Morgan Design called SW Colonnade Gray. YES, A WHITE COLOR MAY HAVE GRAY IN THE NAME!
6. FARROW & BALL Pointing
Designer Greet Lefevre of Belgian Pearls shared this when I asked for her fav:
"It is hard to name a favorite white as using the right color of white is dependent upon the room that has to be painted. Is it a small or a large room? Is there a lot of light coming in or not? Another factor….fabrics to be used in the room for curtains and upholstery. But I often turn to FARROW & BALL Pointing White"
Megan Pflug notes: "My favorite white wall color is FARROW & BALL Ammonite. It is a fantastic changeable color. It looks more like a stone material than a flat wall color. Its a great alternative to a standard white."
AMMONITE is named after the treasured fossils often found on the Dorset coast. It has a fantastically understated quality…neither too warm nor too cool, its subtle grey tone creates a hushed and calming feel in homes both old and new.
Hope this helps, and for related stories see these:
Peace to you right where you are.
-michele
Shop for items you already intended to buy on Amazon RIGHT HERE, and also find home decor here to keep decor inspiration flowing on Hello Lovely!
Hello Lovely is a participant in the Amazon Services LLC Associates Program, an affiliate advertising program designed to provide a means for sites to earn fees by linking to Amazon.com and affiliated sites.