There's serious relief from DEEP FREEZE happening since it's a balmy 25 degrees here now! Mercy, do not ever move DIY style in winter if you can help it. Picture my nearly frostbitten fairy fingers over the weekend in 16 degrees loading cherished galvanized buckets full of frozen soil to a UHaul. Life is pretty glamorous selling castoffs on FB Marketplace, sweeping sawdust from walls at the new house, and driving thru Portillo's. Winter is a wise time to focus on INSIDE home improvement! When Redfin asked me about favorite winter DIY home improvements to tackle when there's a chill in the air, I added my two cents. I'd love to hear about your favorites as well, and here are 7 Smart Winter DIY Home Projects to Tackle Now.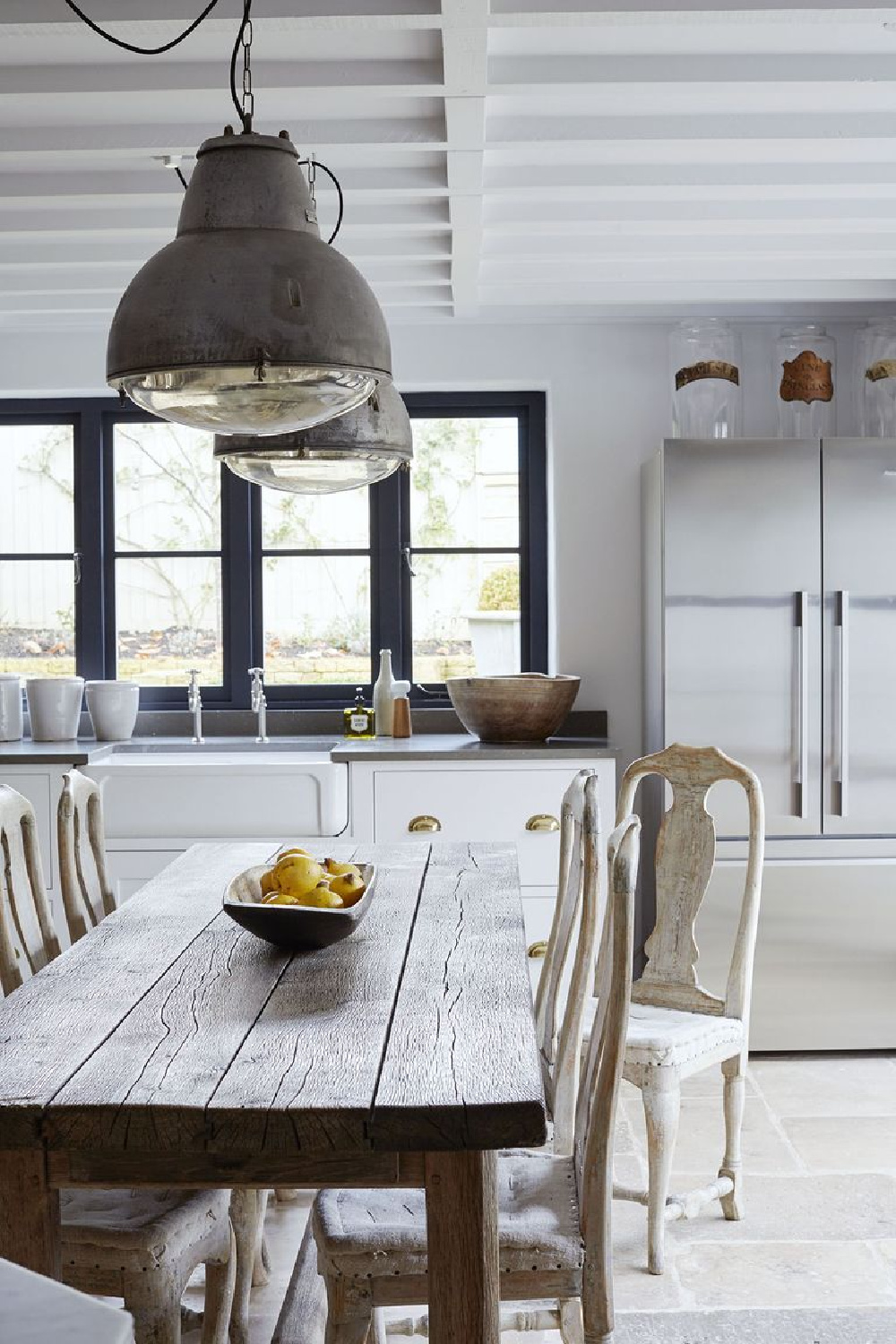 I independently selected products in this post—if you buy from one of my links, I may earn a commission.
7 Smart Winter DIY Home Projects to Tackle Now
1. Paint a Room
Sure you can paint when the temp outside reads 103. But I mean. Lots of us enjoy painting our interiors DIY style, and see this for painting tips if you're curious.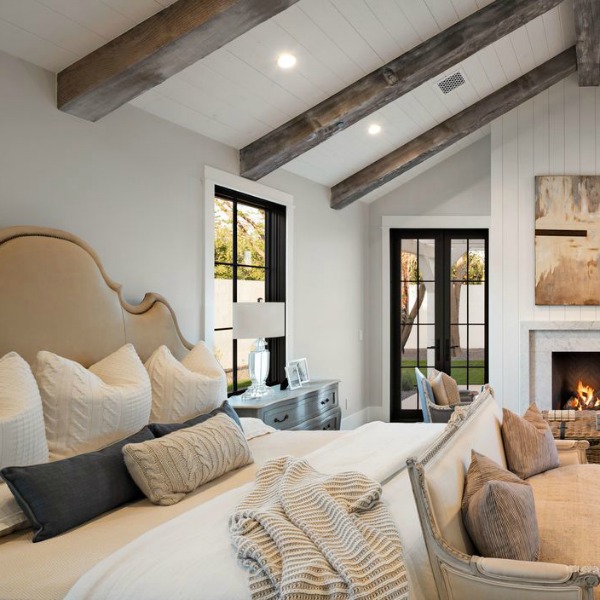 Which paint color though? SEE THESE POSTS on the topic.
Winter before last, I painted an accent wall in a bedroom in our lower level (see below, and no it is not white!).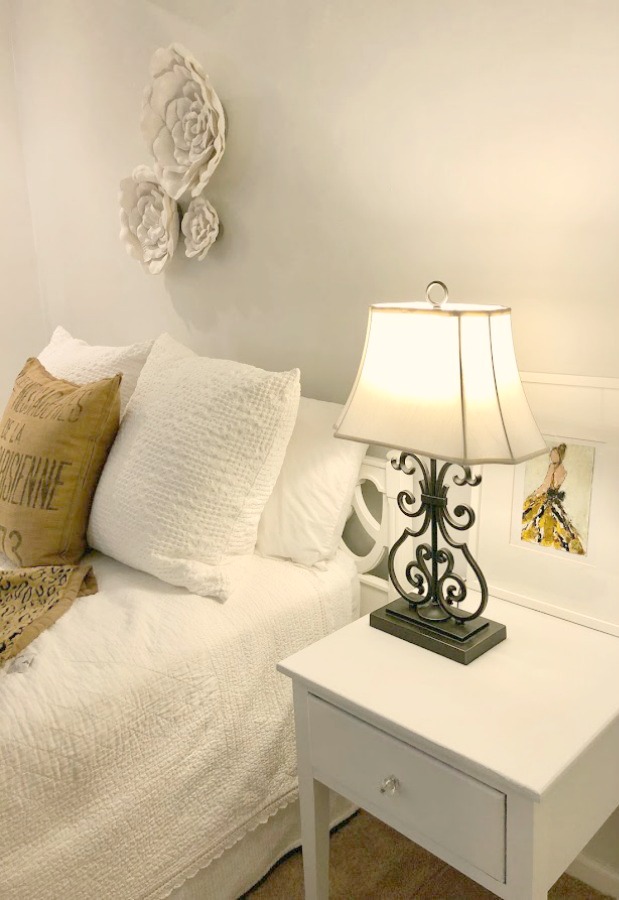 The room is large and awkward, and the bed is inset in a bump-out part of the room.
Here's Sterling (mixed at 50%) in our little laundry room, and you can see how soft it is and the gentle contrast with white.
I painted out the closet doors with BEHR Sterling and mixed 50% Sterling and 50% BEHR Cameo White together for this accent wall to arrive at a pale blue-grey in a room with only a little natural light from a small window.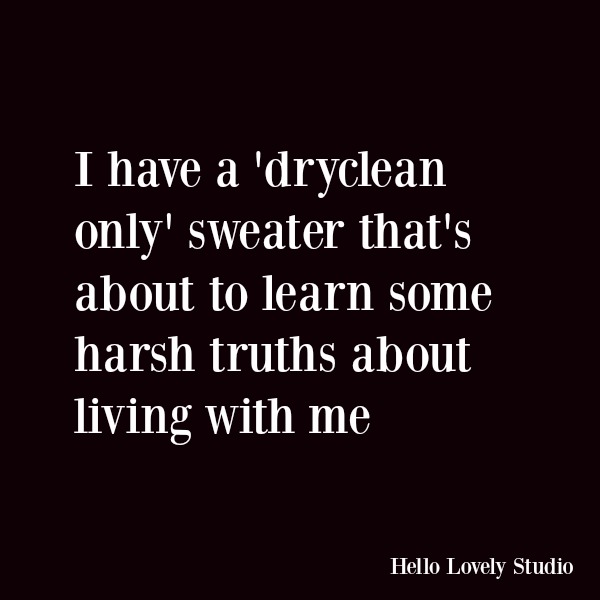 2. Touch Up Painted Trim
While it may not draw oohs and ahs as a dramatic before/after, touching up paint on baseboard and trim throughout our home is a favorite winter DIY project around here.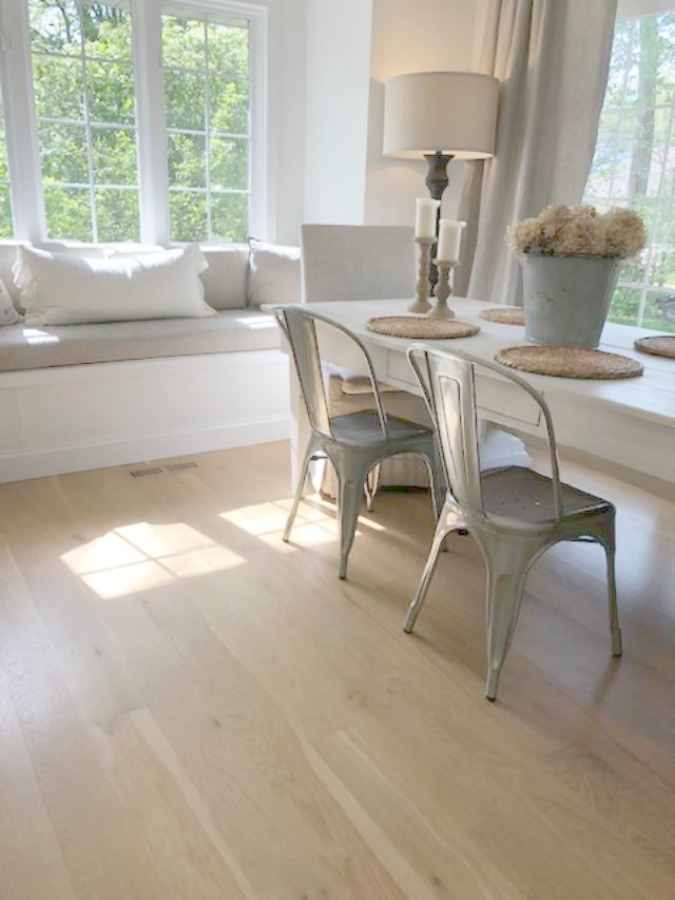 With painter's tape, semigloss, and a 2″ angled brush in hand, it's a job that can become a meditative exercise (play Mozart), educational (cue that history podcast), or even interactive (chat with a wireless cell phone headset).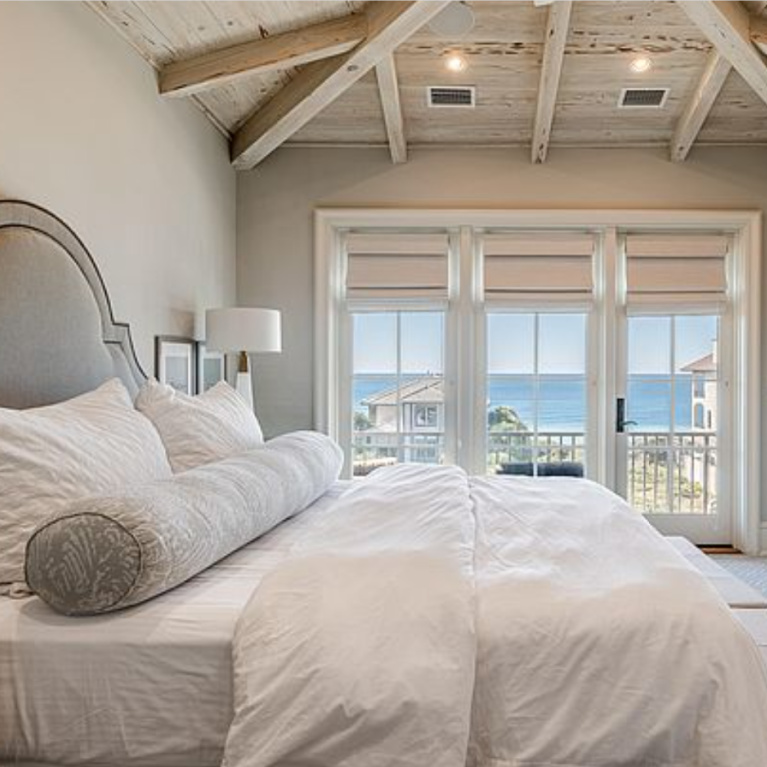 DIY painted trim touch-up never takes as long as you imagine it will and is highly gratifying in the end!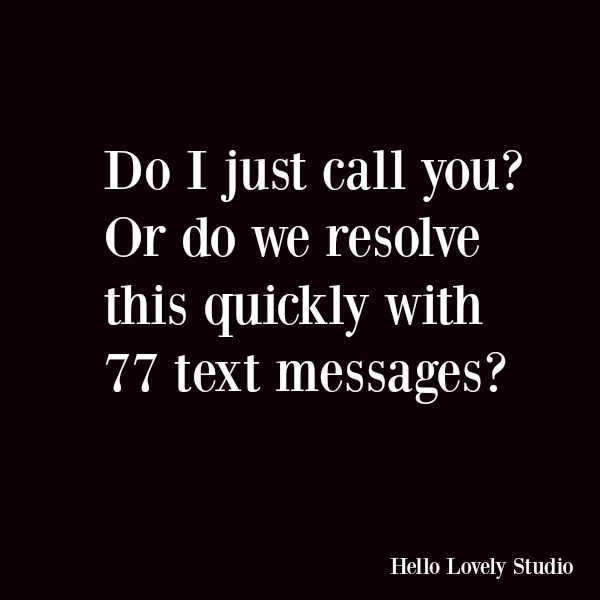 BONUS TIP: I do not enjoy dusting baseboard and trim, but I do it while I chat on the phone* with a favorite friend…what an uplifting feeling when the conversation is over, and so is the dust. *let's face it…nobody seems to like picking up the phone or using their vocal chords anymore so there is always the threat of INVASION OF THE DUST BUNNIES 'round these parts.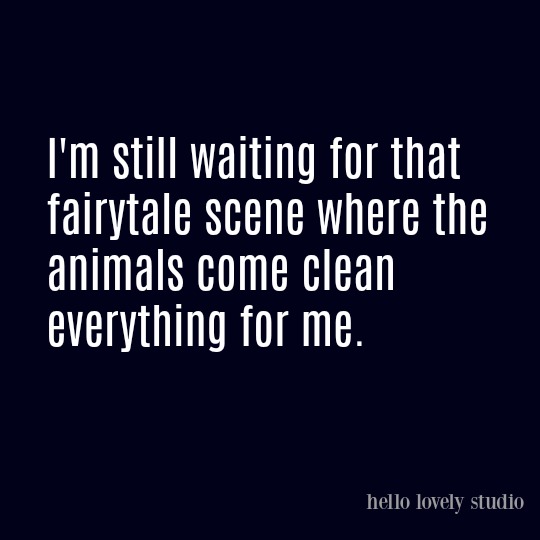 If you'll be painting trim for the first time rather than simply touching up, see this:
3. Organize the Pantry
While I don't have a kitchen pantry beyond pull-outs which hold food in a tall cabinet, my creative dynamo friend Celia of After Orange County showed us the art of pantry organization. (You are bound to experience several AHA moments thanks to her brilliance.)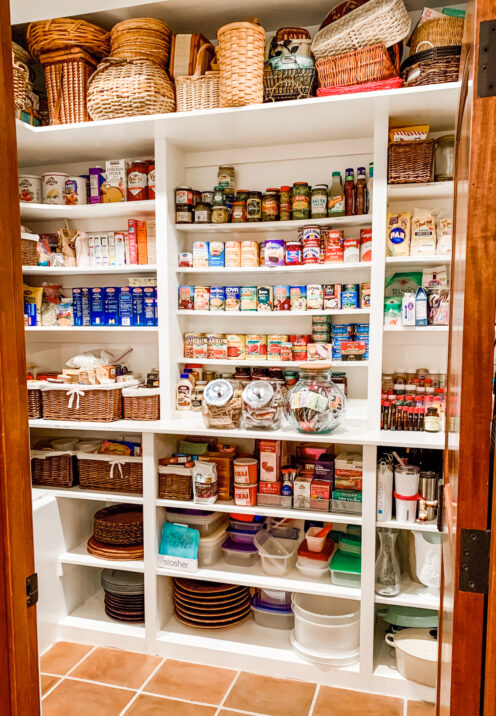 Also find more organization inspo in this ditty about closets.
Step by Step Pantry Organization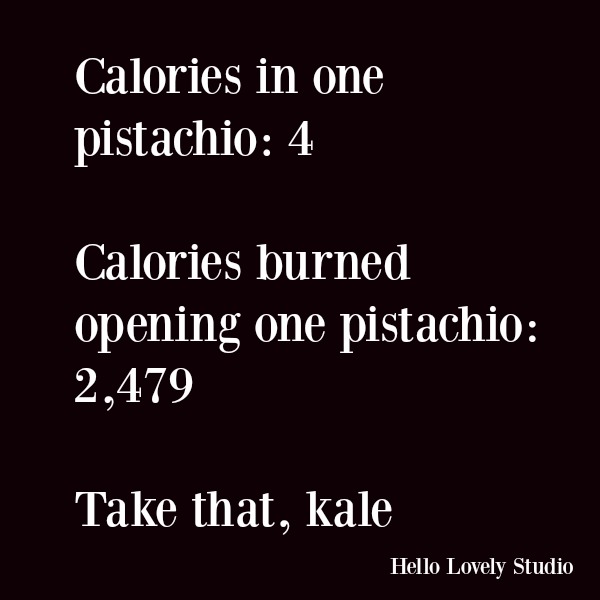 4. Declutter Closets
I have been making steady progress as I address each closet in our home, and winter truly is the perfect time to dig in.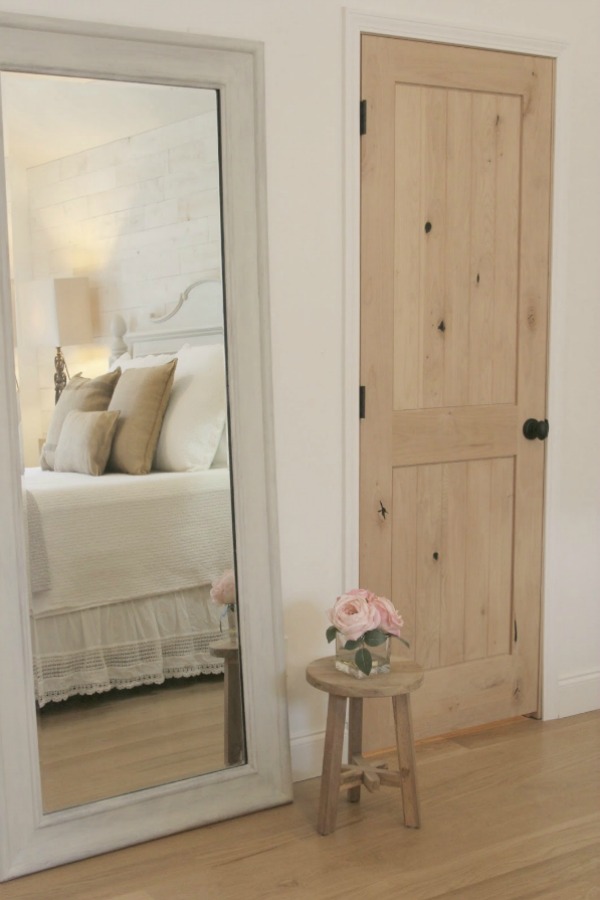 My own bedroom walk-in closet isn't huge, but I'm fortunate to have enough space for a Victorian dresser I transformed with chalk paint. The mirror atop it is one I stenciled with a French poem…an easy 10-minute DIY. I also cozied the space with a vintage, made in Sweden, crystal chandelier. Find more closet organizing tips in THIS STORY.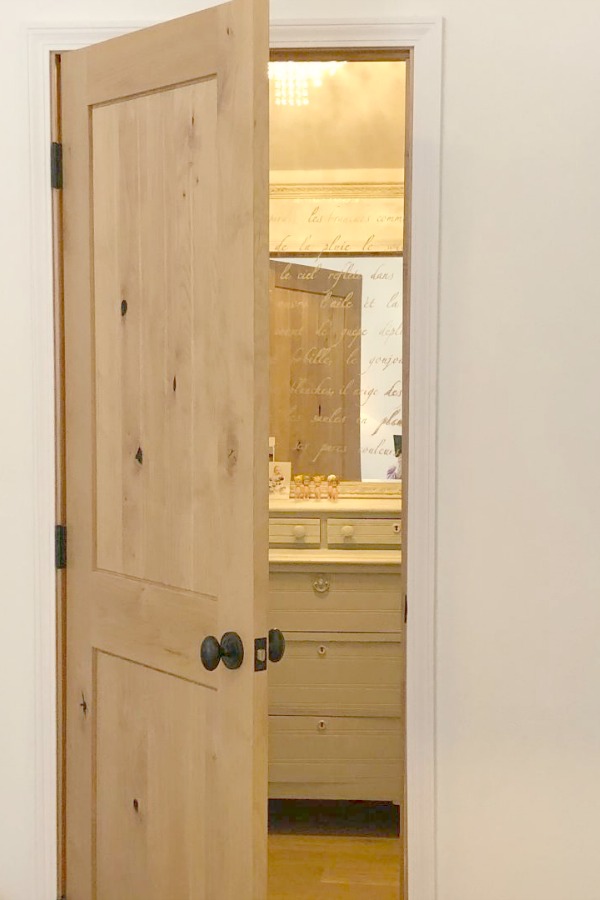 5. Upgrade Closet Organization
For symmetry in my smallish walk-in closet, we installed these tower units on each wall (another easy DIY).
We also installed one of these towers in a closet in our wee laundry room.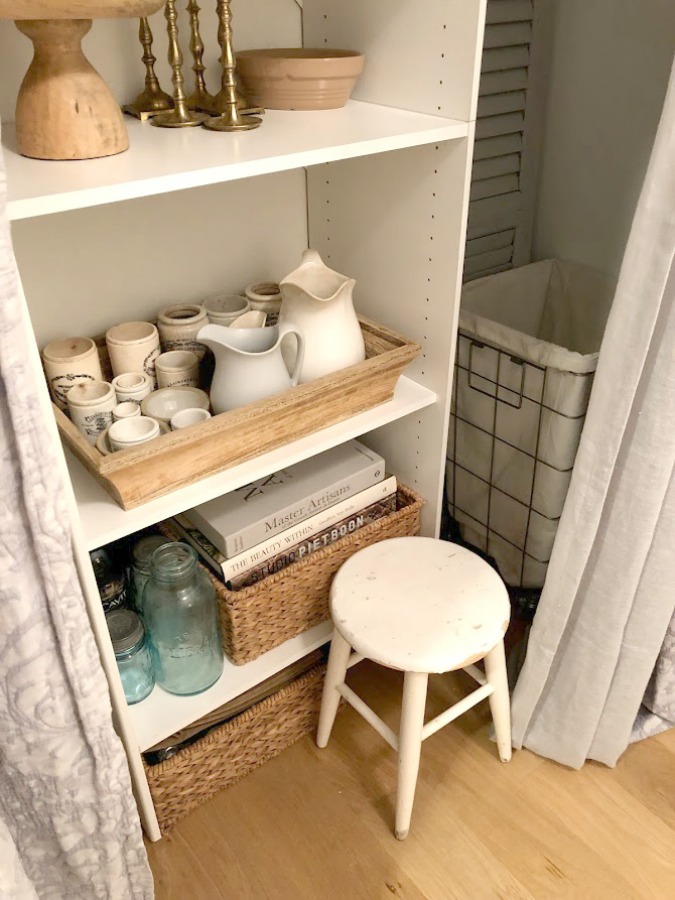 I use baskets like these below to corral my stuff but still give me easy access. Since I understand my personal style of organization, I organize with bins and use broad categories rather than very specific ones.
When it comes to re-organizing your closets, make sure your closet makes sense. You may find visual inspiration from this post with a few re-imagined and high functioning closets.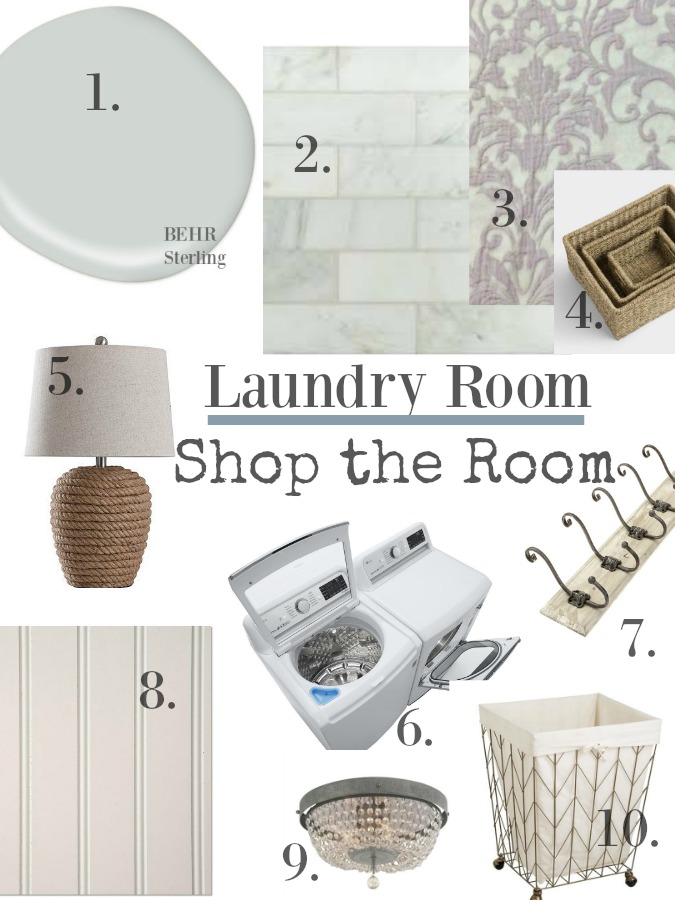 Tips for Organizing Your Closet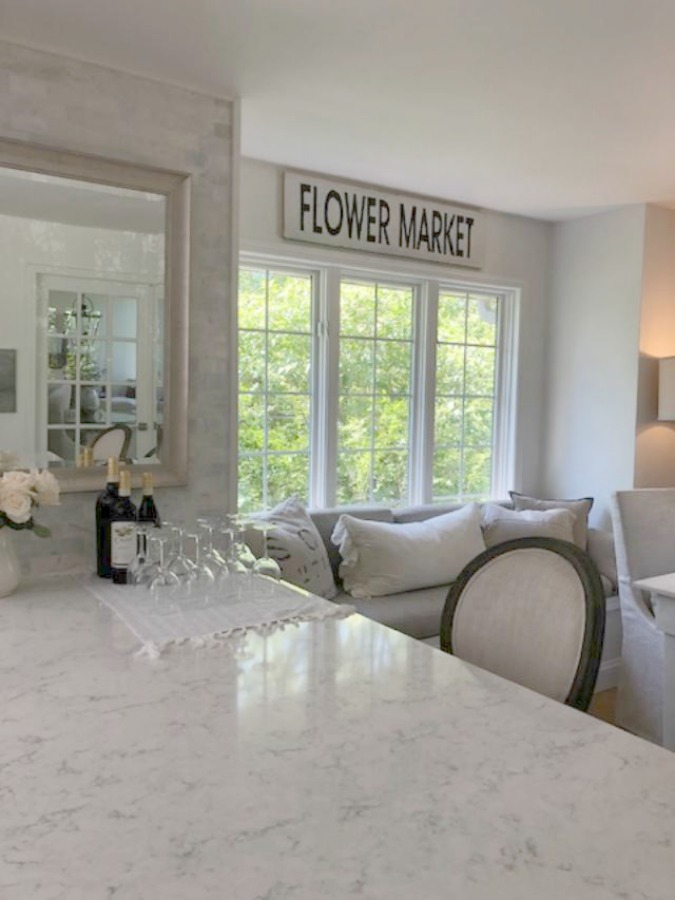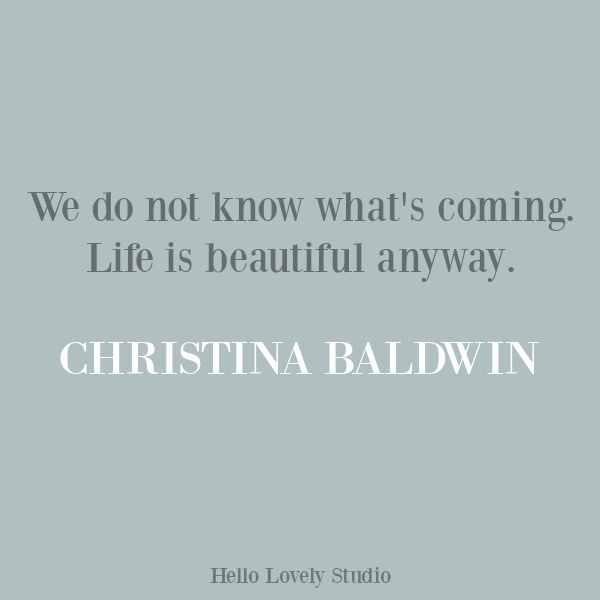 6. Deep Clean the Kitchen
Is it time to give that refrigerator or oven a good cleaning? My own frig is now sparkling clean after I removed every single thing from it and got to scrubbing. Don't wait like I did for inspiration…just go for it! (My inspiration? Coming home from a trip to a mystery smell!)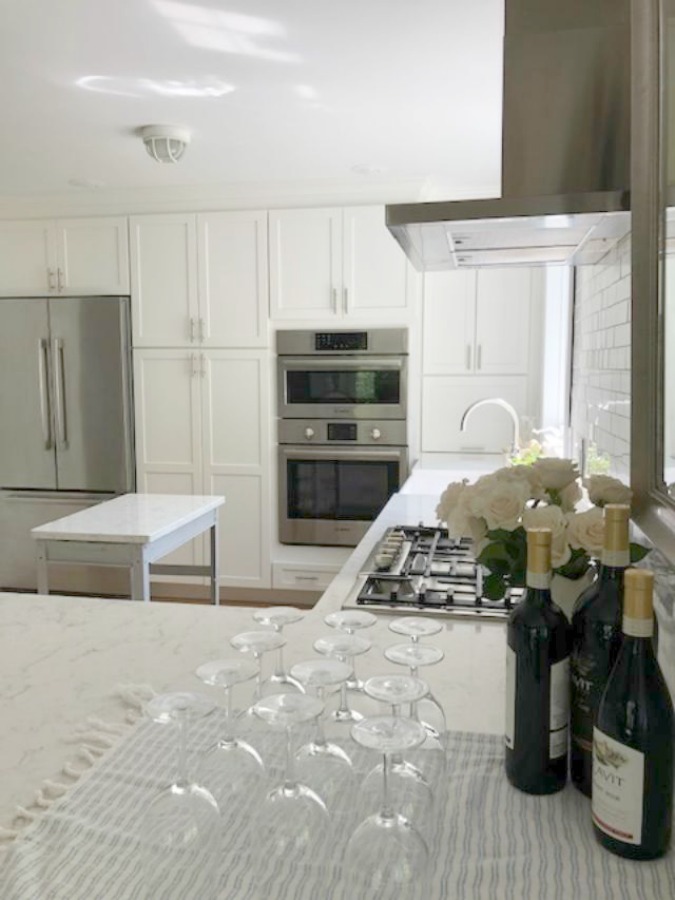 It's easy to put off cleaning grout, scrubbing grime from filters for the range hood, and even emptying the toaster of crumbs, but it feels so much better when these tasks are completed.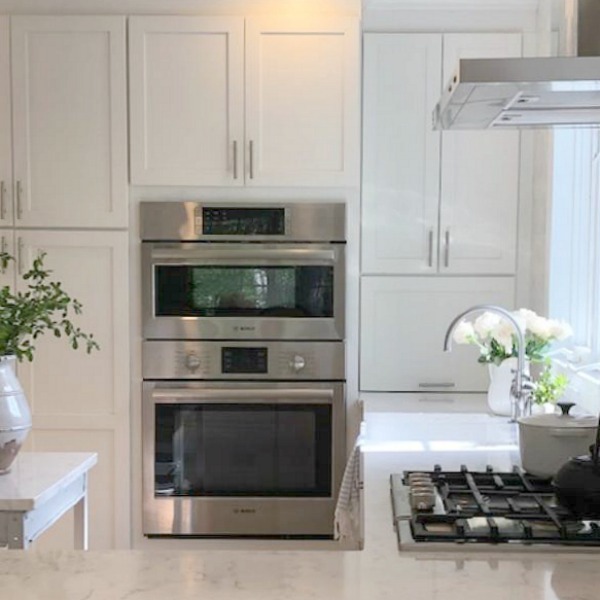 The two lines of cleaning products I have relied upon for years are Murchison-Hume (Australian White Grapefruit) and Williams-Sonoma (Meyer Lemon).
Since I'm sensitive to fragrances and scented anything, I'm truly grateful that I can tolerate and enjoy hard-working, good-looking on the counter, wonderfully smelling products like these.
Psst. When I searched for an inspiring youTube of a deep cleaning kitchen tutorial, I came upon heavily trafficked vids of ordinary pony-tailed housewives scrubbing wood floors to soothing soundtracks. Note to entrepreneurial self: filming the most mundanely uninteresting semi-monthly repetitive chore may be ripe with potential for monetization…mercy!
7. Create Art & Get Crafting
While not everyone enjoys knitting, painting, sewing, or crafting in winter, it such an ideal time to be creative! I even gathered some of my creations together on a gallery wall in the basement bedroom I mentioned above.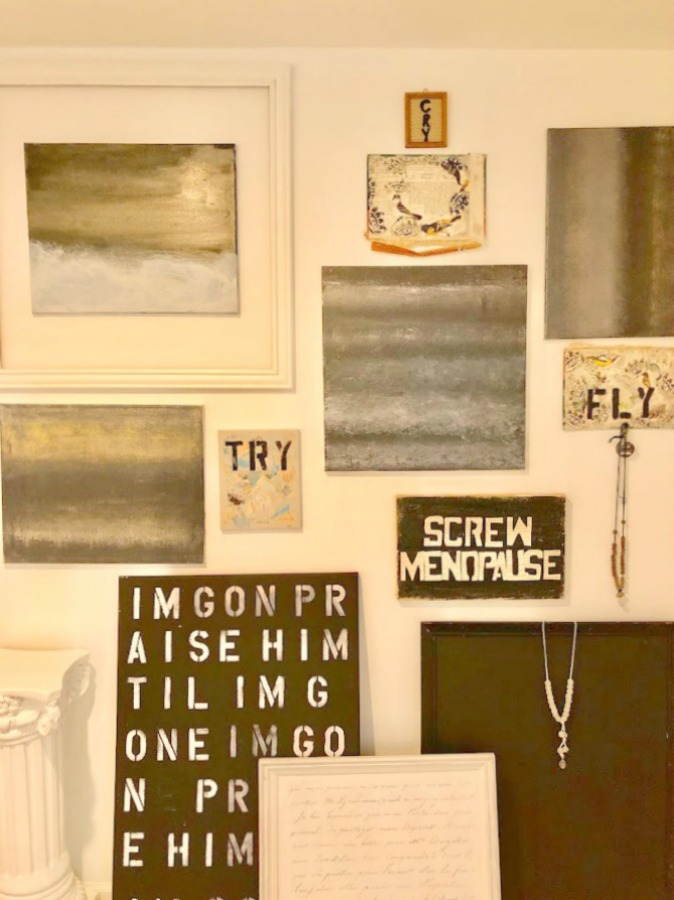 Here's my latest obsession: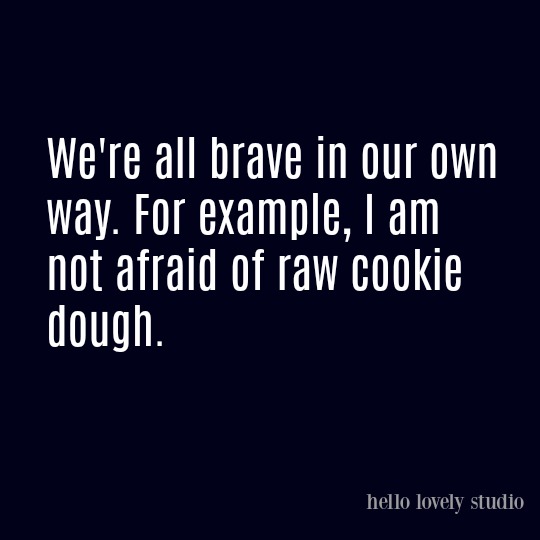 How to Find Motivation to Begin These DIYs
We all have our sources of motivation, and I personally find that browsing beautifully designed timeless and tranquil interiors is the inspiration and nudge I need.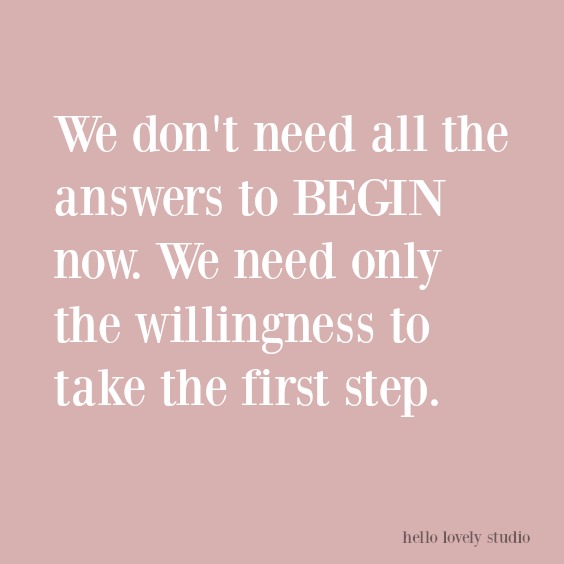 It seems seeing it done is what moves me to BEGIN. For example, I'm devouring the elegant simplicity within this book by Tricia Foley:
Listen to Ms. Foley describe her approach to elegant simplicity at home.
One King's Lane recently spotlighted Foley's blissful Bellport home and suggests decor to get the look!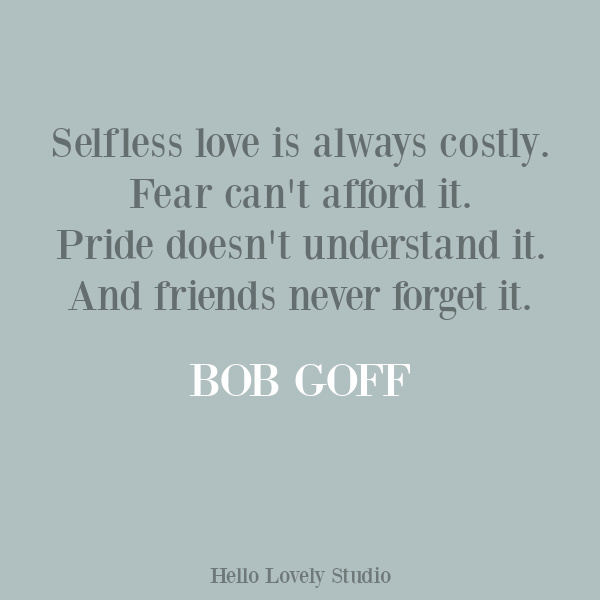 What are you making for dinner? I shared an easy yummy dinner recipe recently HERE in case you need an idea.
I independently selected products in this post—if you buy from one of my links, I may earn a commission.
Peace to you right where you are.
-michele
Shop for items you already intended to buy on Amazon RIGHT HERE, and also find home decor here to keep decor inspiration flowing on Hello Lovely!
Hello Lovely is a participant in the Amazon Services LLC Associates Program, an affiliate advertising program designed to provide a means for sites to earn fees by linking to Amazon.com and affiliated sites.