WE FINALLY ADDRESSED that neglected and forlorn pass through/laundry room/friends and family garage entrance/pitiful excuse for a mudroom! Yep. And it's feeling so much more welcoming and serene now. We didn't show off or spend a lot, and there are details yet to address (like a jute rug to layer under the small one). But ready or not, Before/After DIY Laundry Room Simple Makeover is comin' to get ya.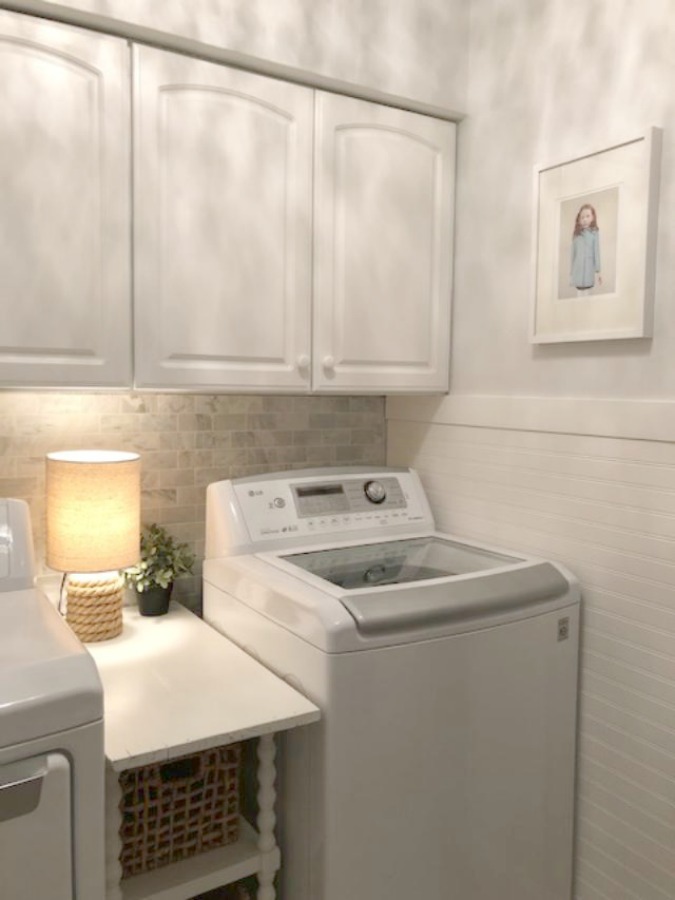 Let's Chat in My Laundry Room
Disclaimer No. 1: No stellar and inspiring blog-worthy images to share because this is one of those utilitarian, builder-grade, windowless dungeons that refuses to cooperate with light, capiche?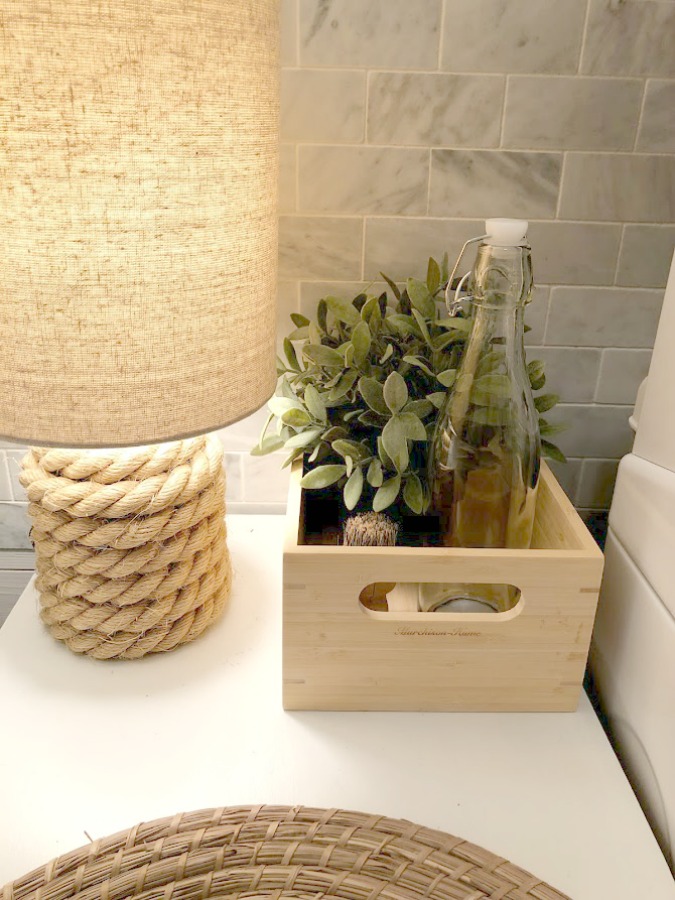 Disclaimer No. 2: Something possessed me to improvise a video with no rehearsing and in one take tell you in detail what we did in here. Ummmm, HEAVEN HELP US, granny is casually shooting video now? Can a podcast with riveting topics like cocktail ottoman styling or the best linen lampshades be far away?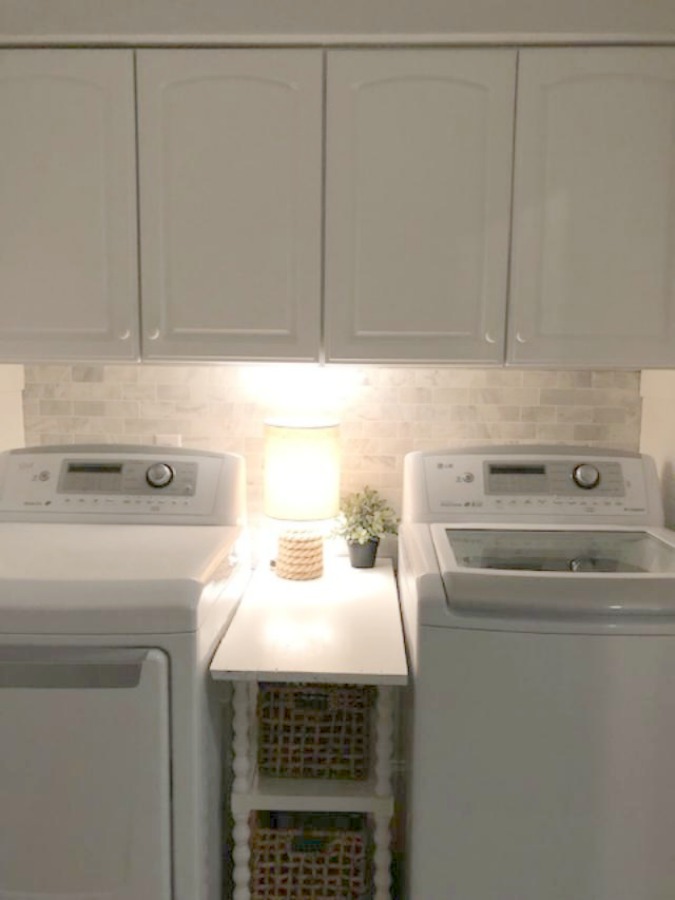 Now I've shown you everything!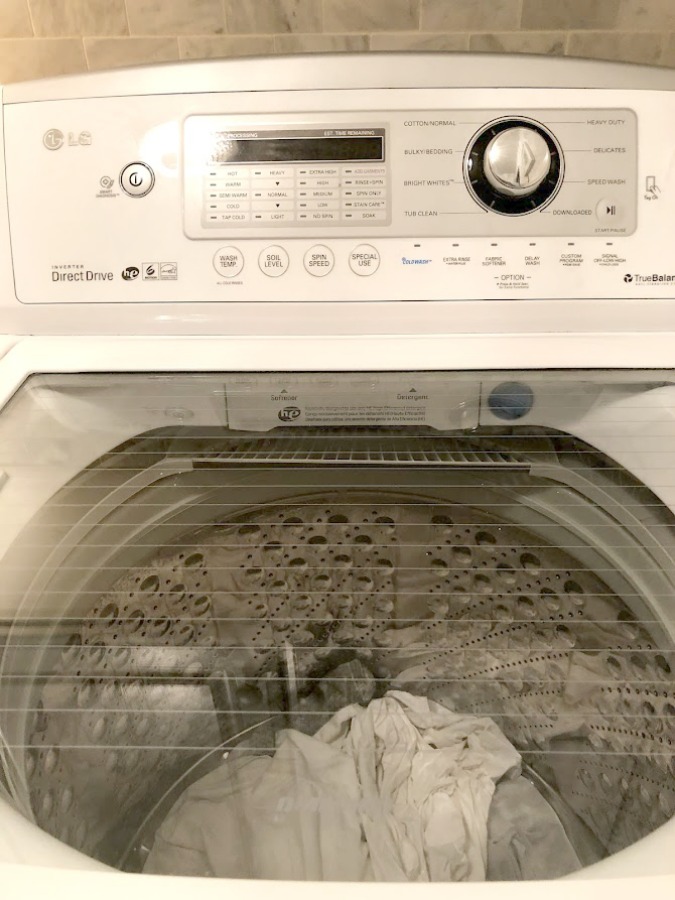 Is My Voice What You Expected?
While you won't see me in the video (well, maybe a glimpse of me in my jammies in the mirror), you'll hear my Chicago accent describe what you're seeing.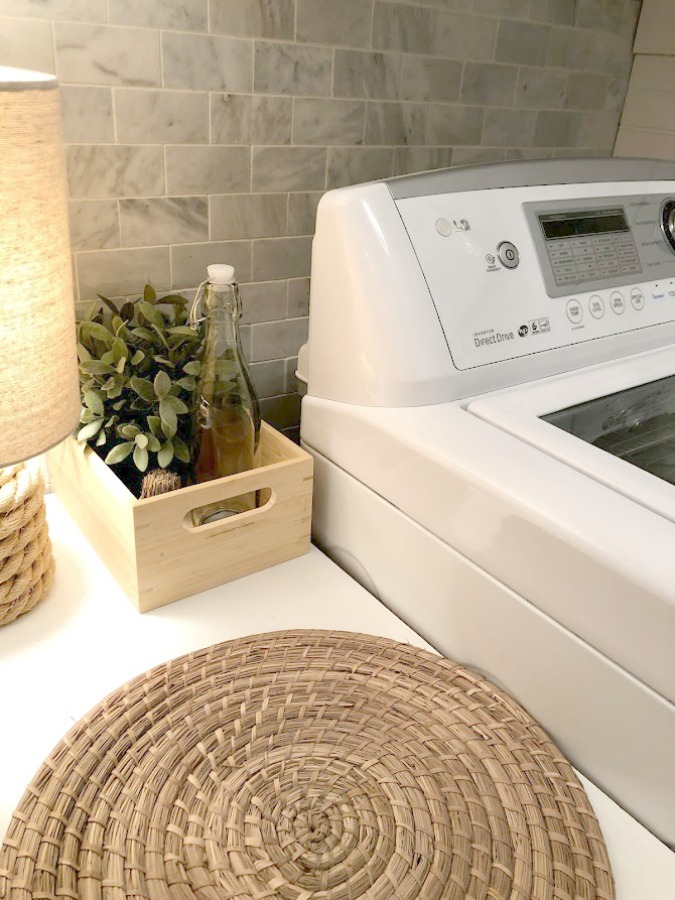 (And no idea why the youtube version cuts off before I finish my sentence! What I say at the end is, "It's sort of an awkard friend's entrance, family entrance, but it's a much more pleasant place now to throw in a load of laundry.")
Me Rambling 'bout the Laundry Room
This 6′ x 9′ space is sooooo much better now that it is customized, functioning well, and looking a whole lot better!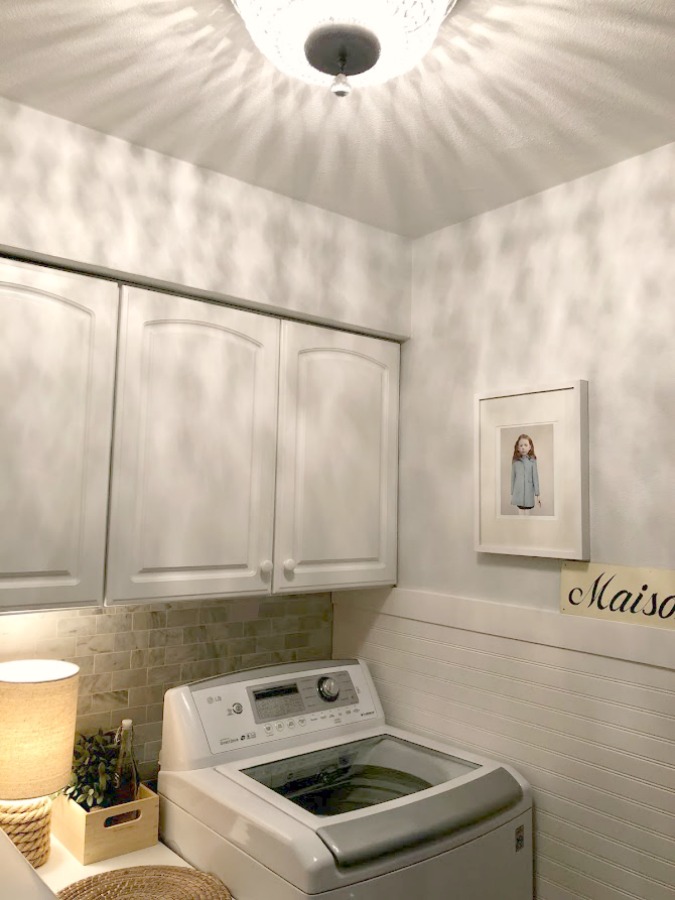 Before/After DIY Laundry Room Simple Makeover
That before space was so sterile, bright white, and unpleasant that ANYTHING we did was bound to help. The challenge came when we chose to skip demolishing the closet.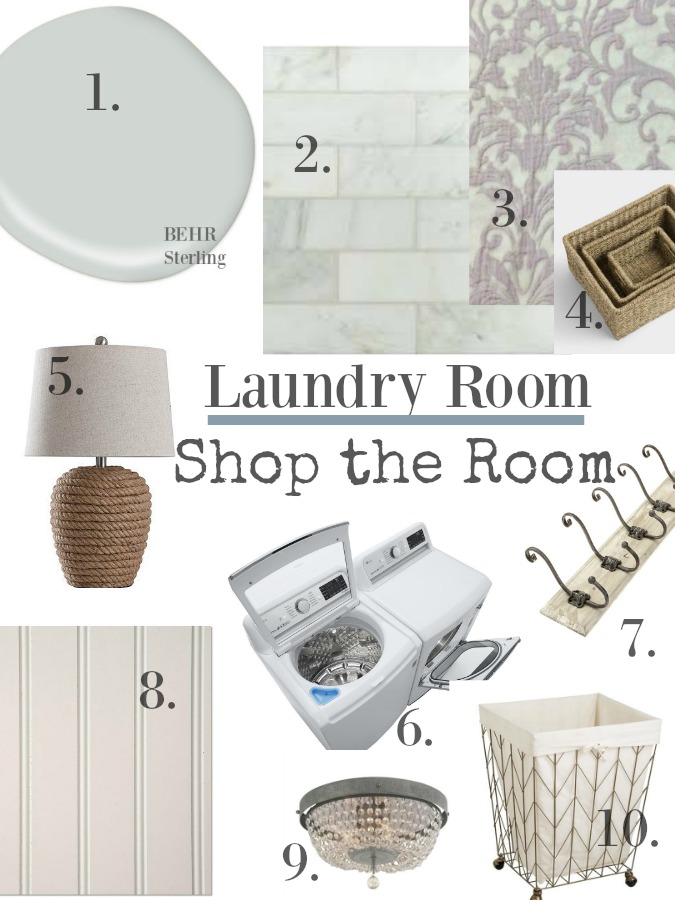 1. BEHR Sterling paint / 2. Polished white marble mosaic tile / 3. Damask curtains / 4. Baskets / 5. Rope Wrapped Lamp / 6. LG Washer / 7. Hooks / 8. Beadboard Panel / 9. Portfolio Breely Flush Light / 10. Rolling Hamper
Here's what we did instead: introduced natural elements, softened the decor, and added customized detail.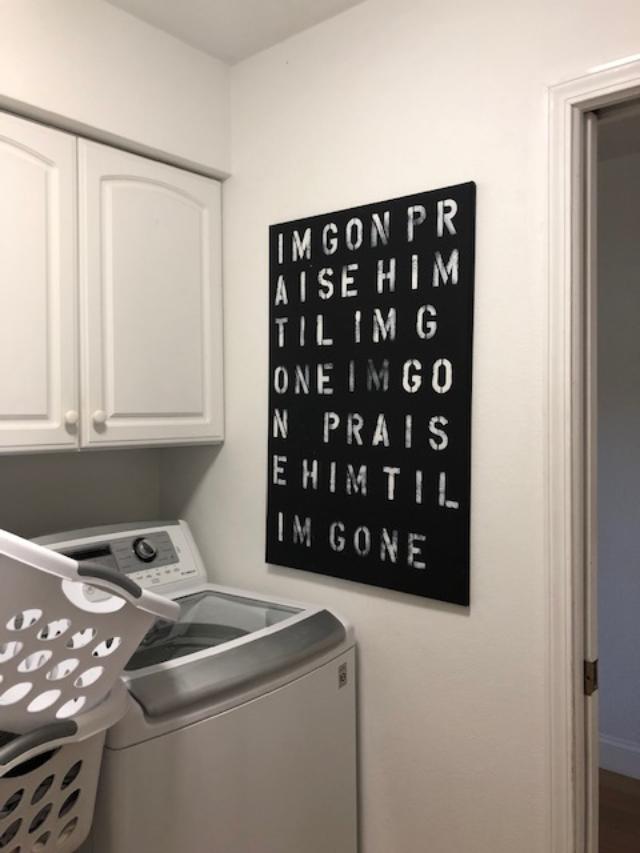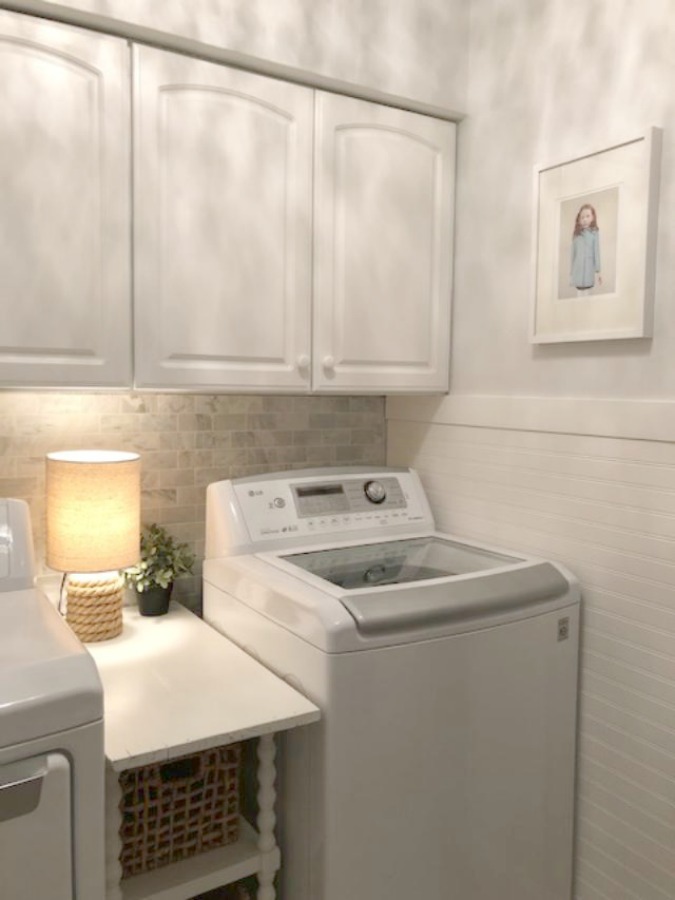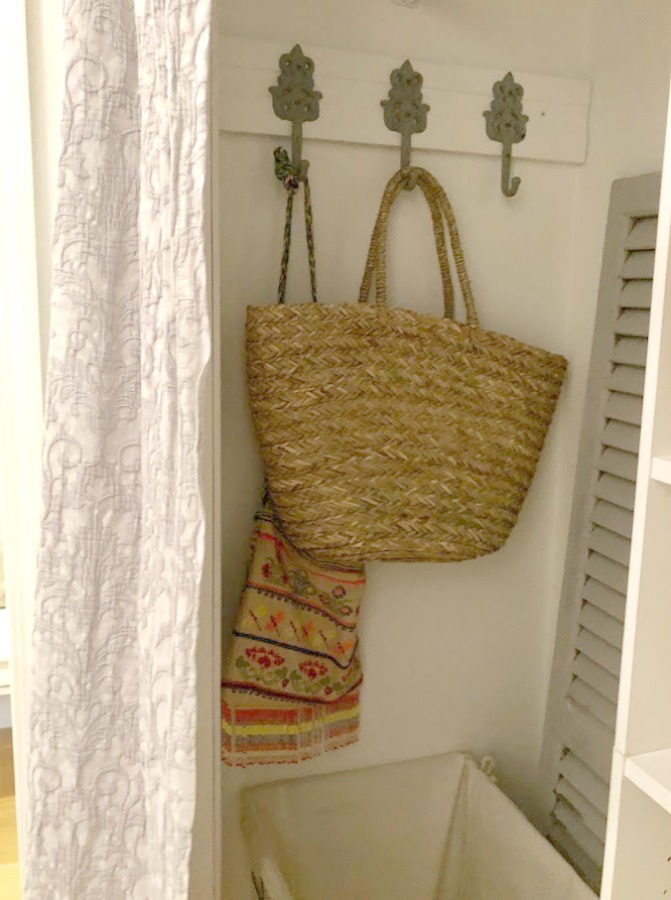 5 Ways to Introduce Natural Elements
Polished Marble Tile. We installed a 24″ backsplash of polished marble mosaic tile behind the W/D. We didn't tile to the floor since the washer and dryer hide it…instead, we added shiplap to the bottom 24″ of wall. See resources below/Cost: $150.
Beadboard Paneling. For warmth and interest, we installed inexpensive beadboard paneling horizontally on two walls and capped it with simple Shaker-style MDF trim. I painted it the same bright white we have used for the trim throughout our home (Benjamin Moore White, satin). Tip: We had them cut the 4′ x 8′ panels to the size we needed in the store so we could get it home in a SUV. See resources below/Cost: $30.
Salvaged Maple Top & 2-Tier Wood Shelf. To utilize the space between the washer and dryer more efficiently, a trip to TJ Maxx yielded a 2-tier bookshelf (I would call it a nightstand, but the tag says bookshelf) with spindle legs. I placed a piece of salvaged wood on top to reach the wall and painted it white. Cost: $50. This table is similar.
Natural Woven Baskets. Shopping the house yielded natural woven baskets for the 2-tier shelf.
Rope Wrapped Accent Lamp. It is possible that bringing this rustic beachy coastal rope wrapped accent lamp with linen shade into the space improved it more than anything else! Seriously cozy and eliminates the need for under cabinet puck lighting or even wall sconces because it offers just the right amount of ambience. I found a similar options HERE, HERE and HERE.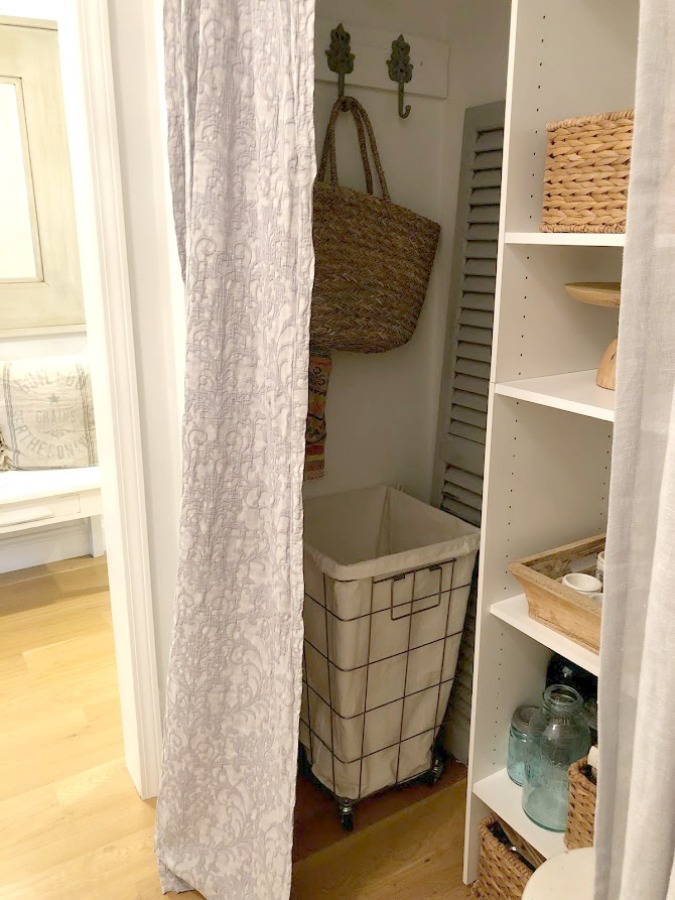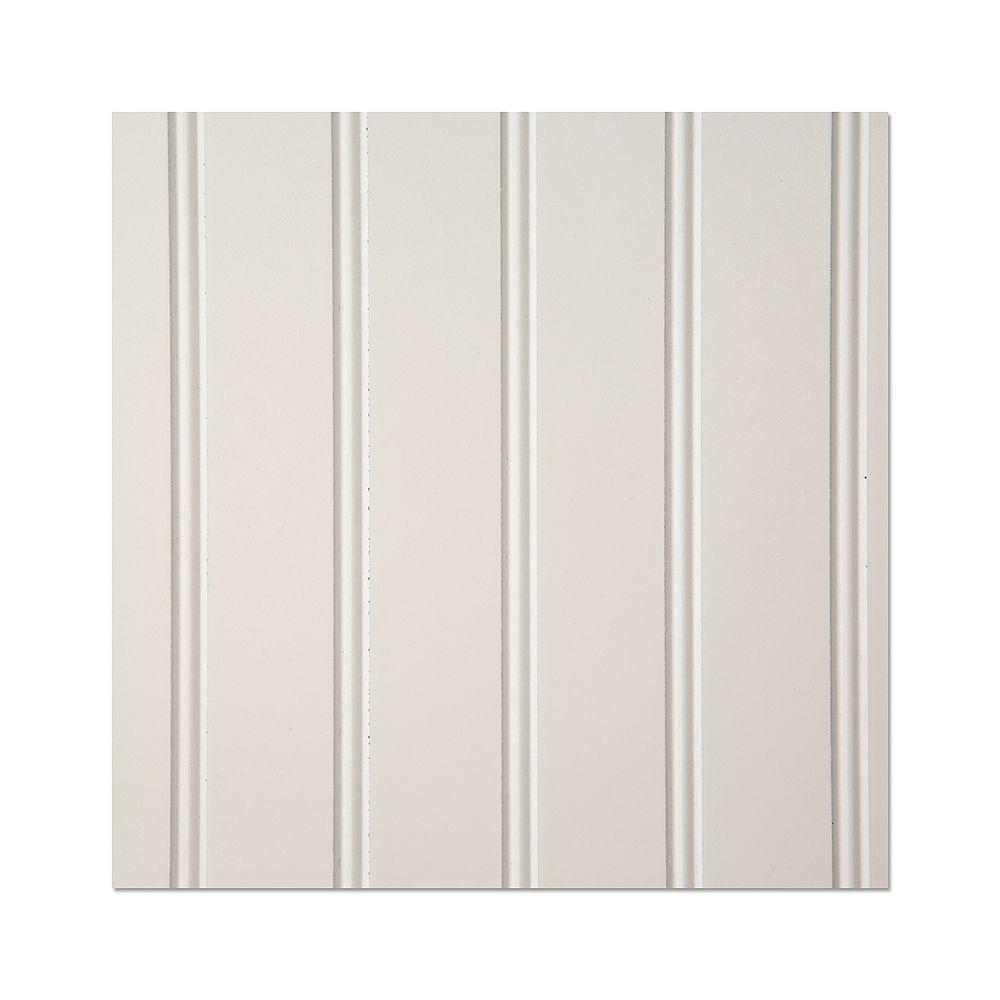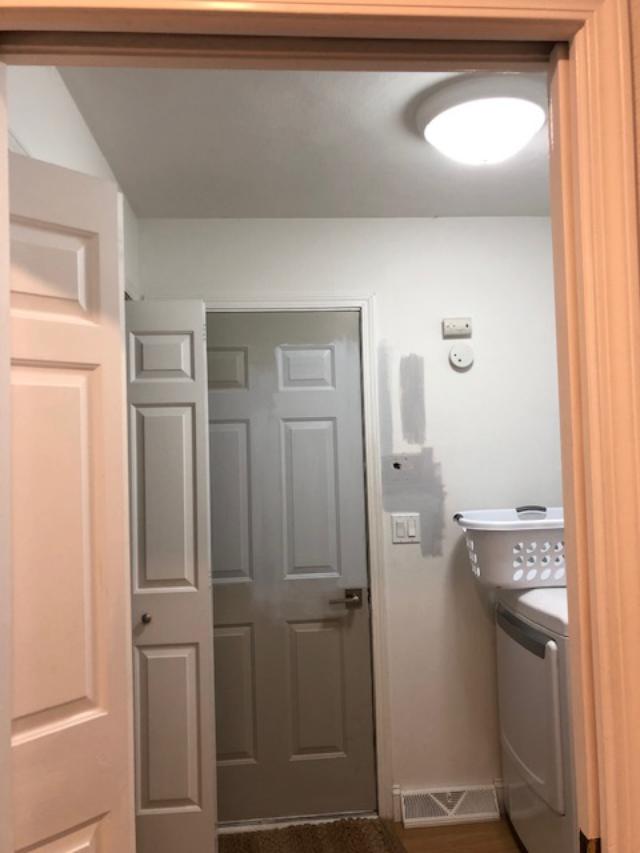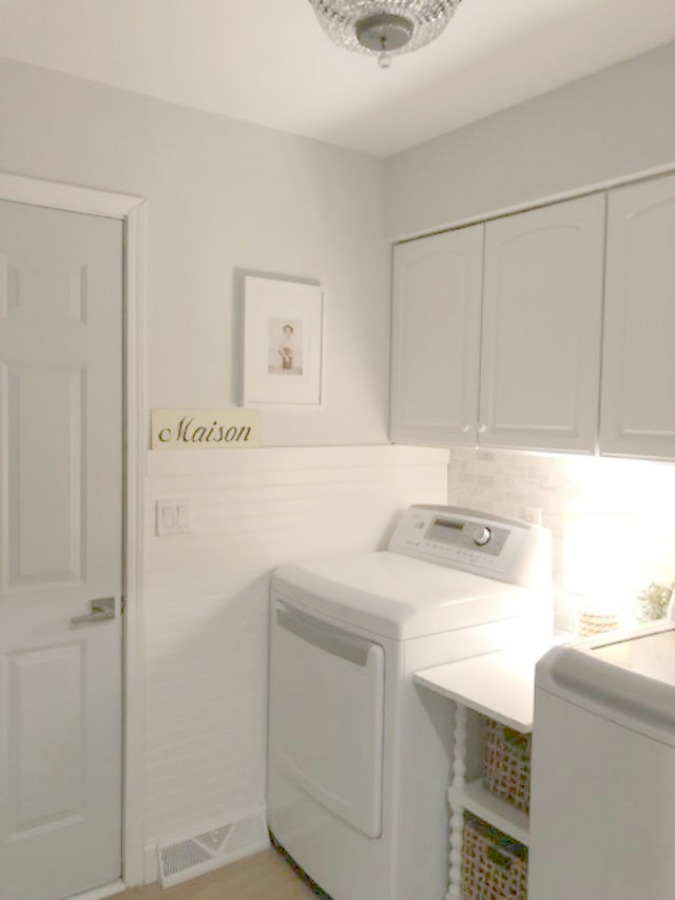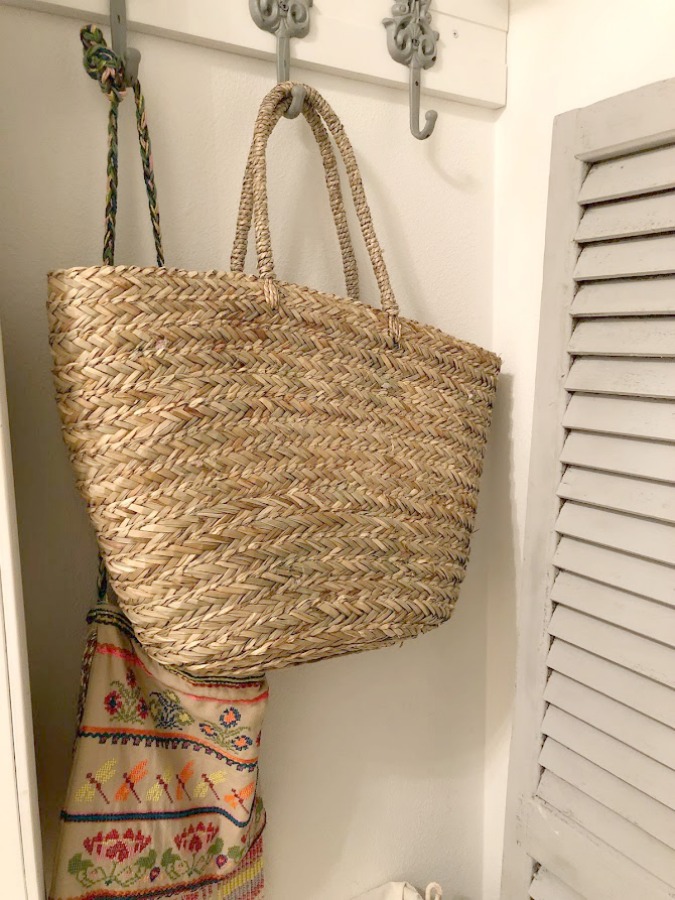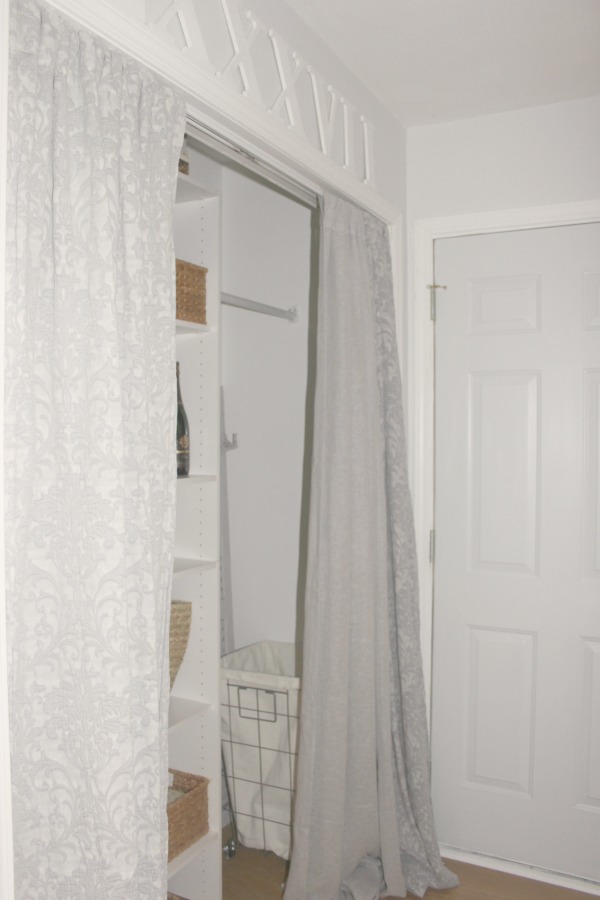 3 Simple Ideas to Soften the Edges
Linen Curtains. I ditched the bifold doors in favor of soft curtains and wanted to keep the look cozy, un-fussy, and un-clunky. A timely stay at Storybook Cottage in Tennessee was an influence…almost every closet door was replaced with canvas dropcloth curtains! I opted for a tension rod placed at the top of the closet opening. Then I mixed two different fabrics for the panels: a luxurious Italian linen sheer (Mist -RH) and a stone-washed Matelasse with a damask pattern (TJMaxx).
Paint Over Vinyl. New wood cabinets or door fronts would be a wonderful upgrade in here, but to save labor and cash, I painted the 21 year old vinyl cabinets (Benjamin Moore White, satin) which are in good condition. They have a softer look now, and you would never know they are not solid wood.
Art Work With Quiet Colors. I have owned these surreal photography prints by Loretta Lux for many years – they are not real photos of children but rather are complex works of fine art. The colors are soothing, their expressions fascinating, and I never tire of the serene works.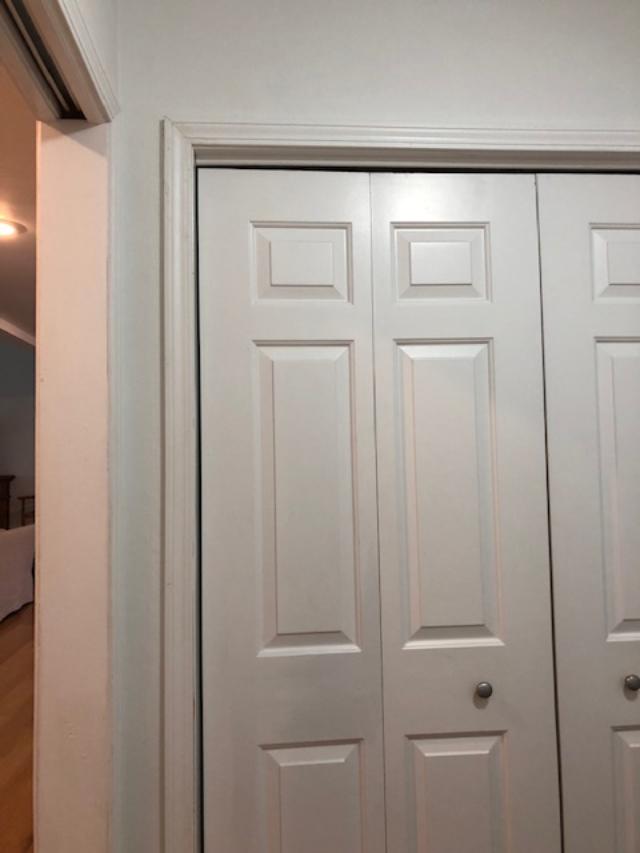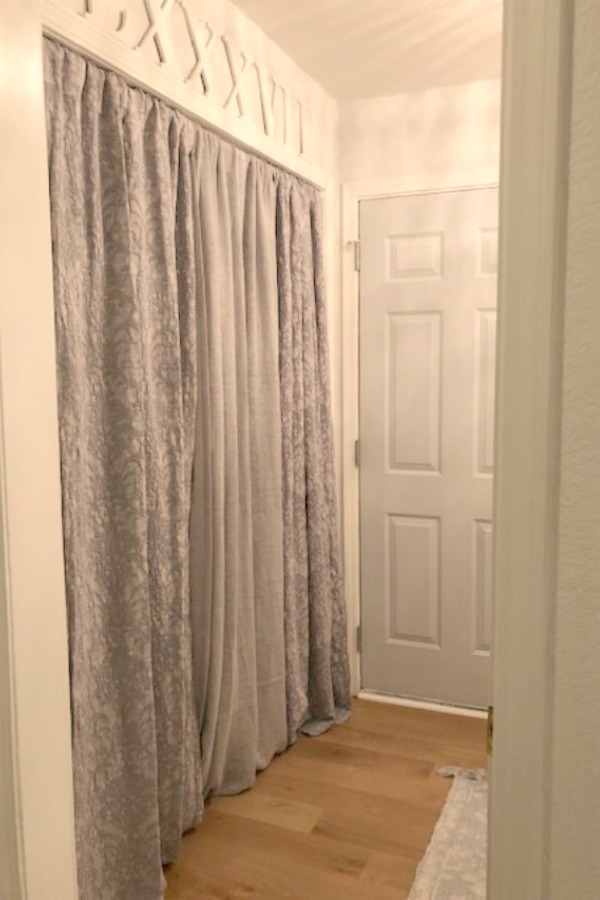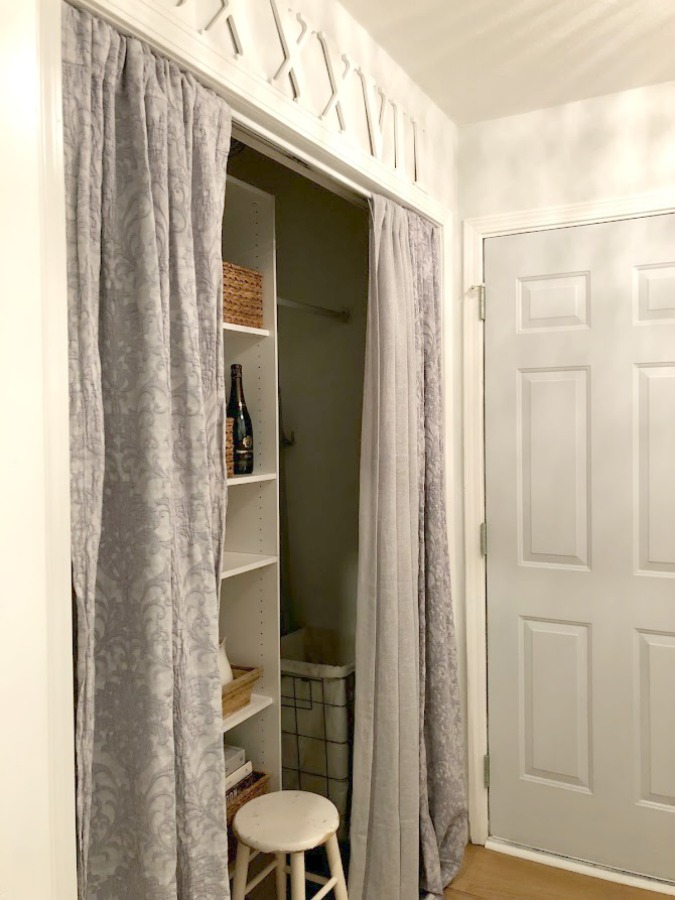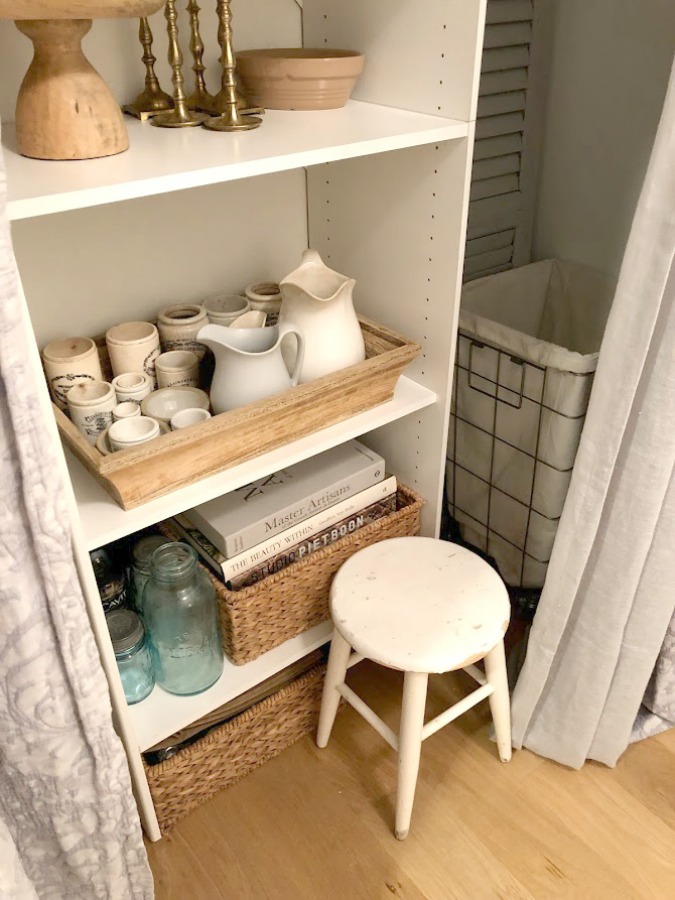 3 Tips to Set a Tranquil Tone
Choose a Tranquil Palette. While it may appear I painted the walls and the door white…nope. I agonized over paint colors and arrived on a winner: BEHR Sterling. I chose the paint color AFTER choosing fabric/curtains because that eases things considerably.
Pale Blue Grey Hue. The door is painted BEHR Sterling (satin), and the walls above the beadboard paneling are 50% BEHR Sterling and 50% BEHR Cameo White (flat). If there was any natural light coming into the space, Sterling would be perfect on the walls, and I would have painted the door a deeper shade of it.
Romantic Ceiling Light. My husband chose this Breely ceiling light with crystal beads because it is similar to those he liked in our prior home's master bedroom closet. I may have chosen something simpler, like a classic schoolhouse semiflush light, and I certainly didn't expect the disco-ball meets underwater meets sunburst on the ceiling effect…but it adds a layer of soft, romantic, movement and couldn't be more different than what we had before! Watch the video above to see what I mean.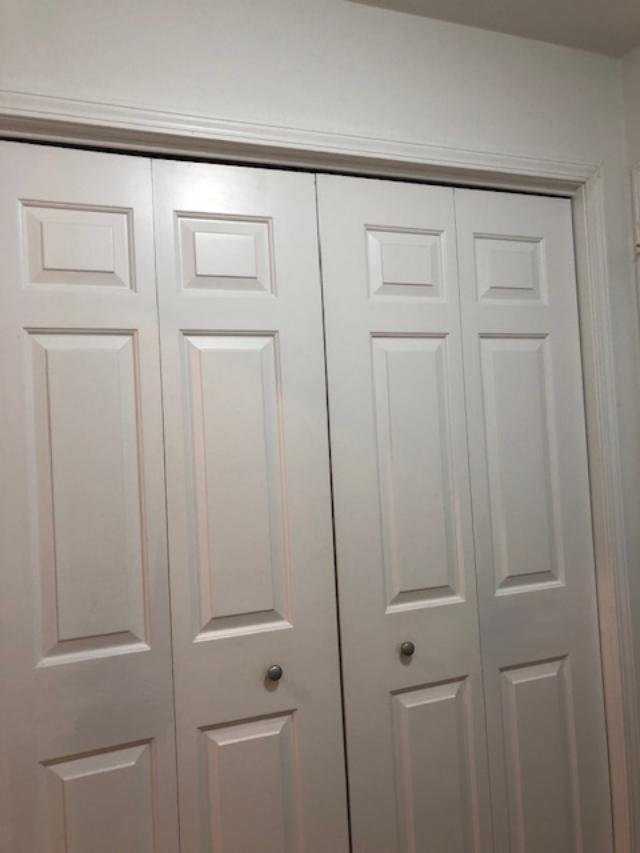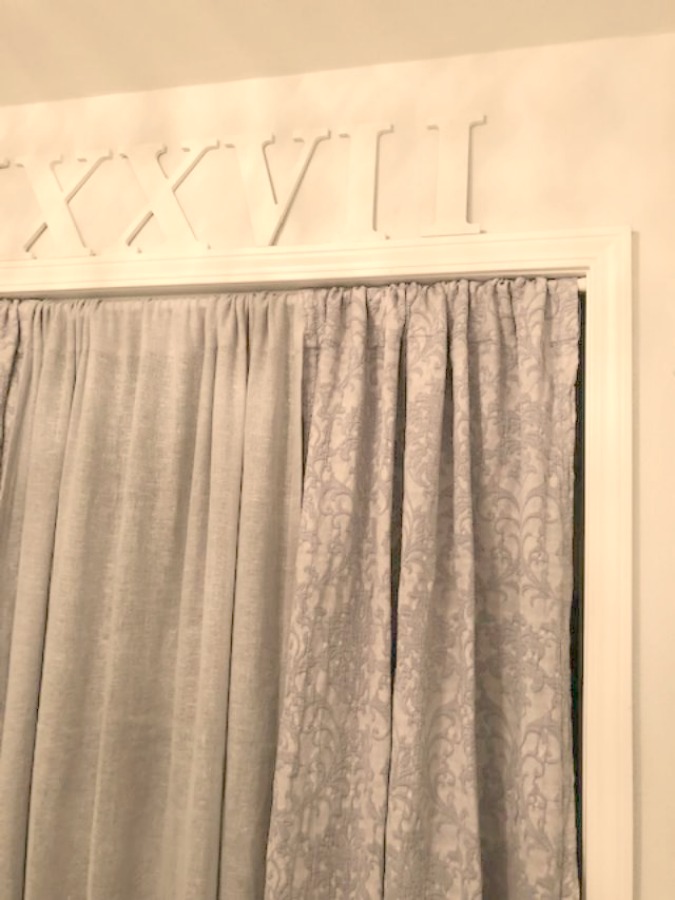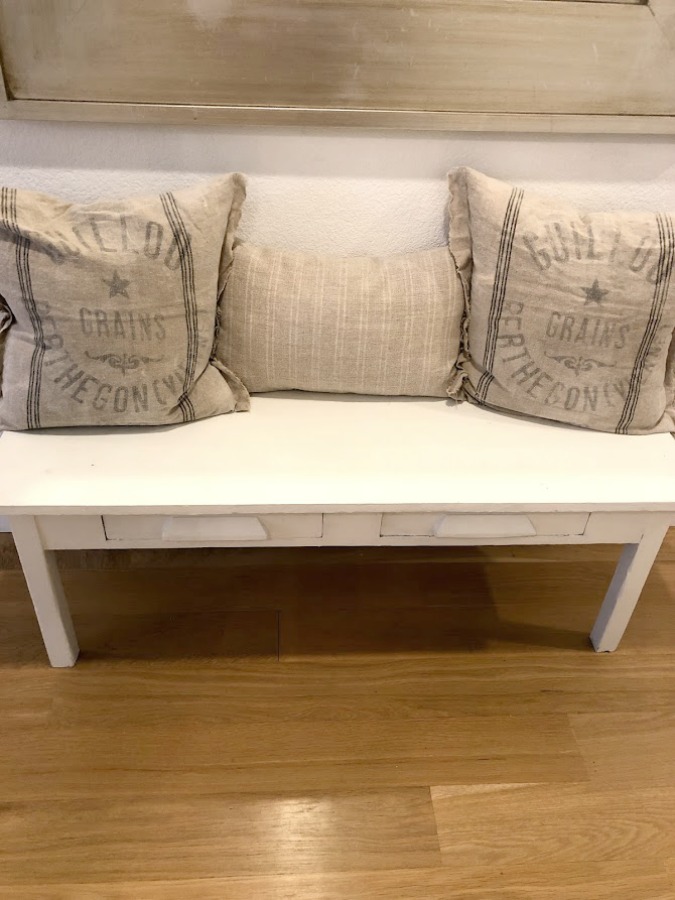 Customize With EASY DIYs
Hooks for Closet. There are awesome options for ready-made racks and hooks (see THIS), and I brought home a few before deciding to create my own custom rack with hanging hooks to tuck inside the closet for purses or keys.
Roman Numeral Pediment. Nothing could be simpler than how I chose to crown the closet near the ceiling. Wood roman numerals were painted white and simply rest on top of the trim. I saw this idea on Jenna Sue's beautiful blog a couple of years back, and introduced it to multiple rooms for personality, sentimentality, and architectural interest. Choose a number which has meaning for you. I chose the year we were married.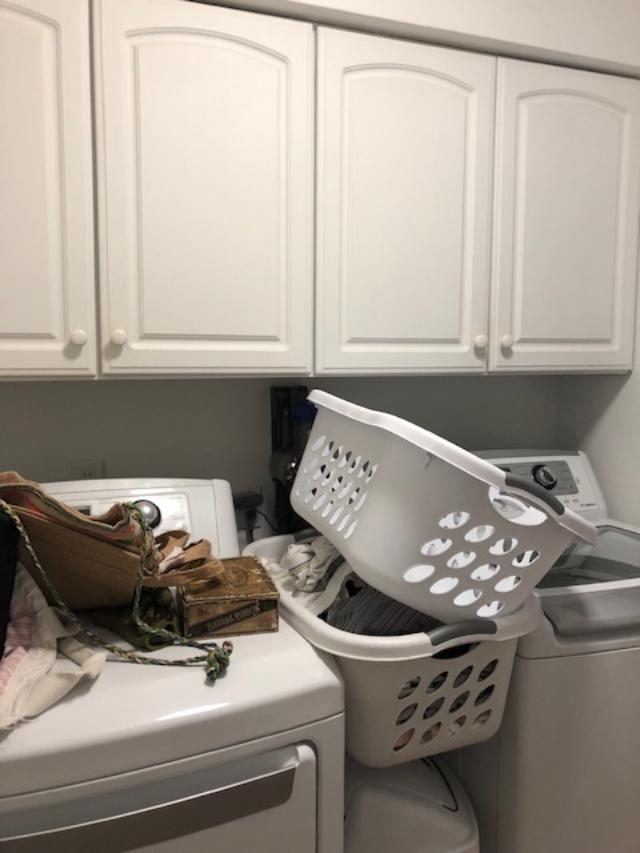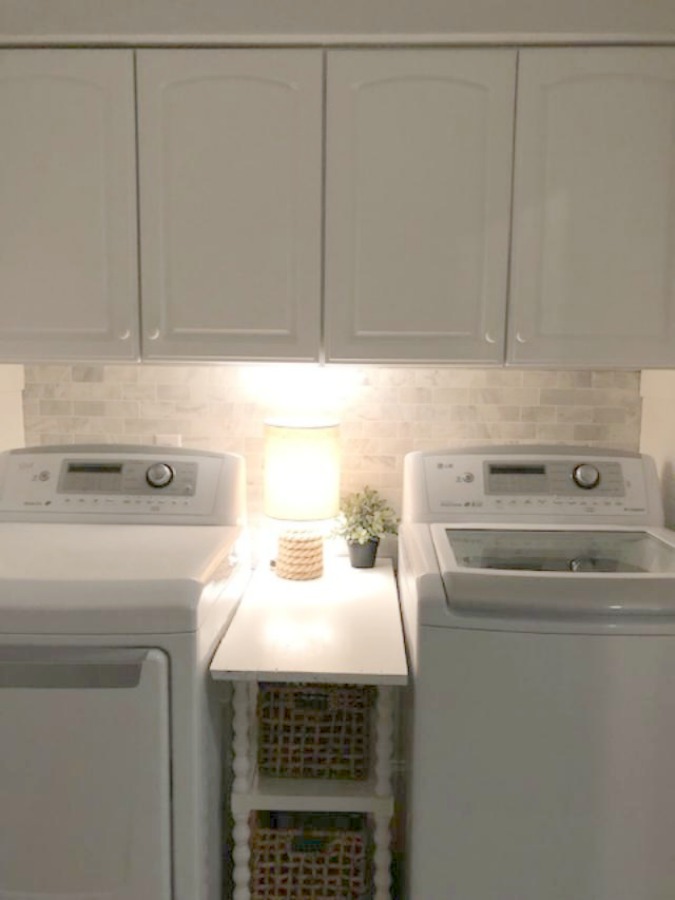 Another Video I Made for You!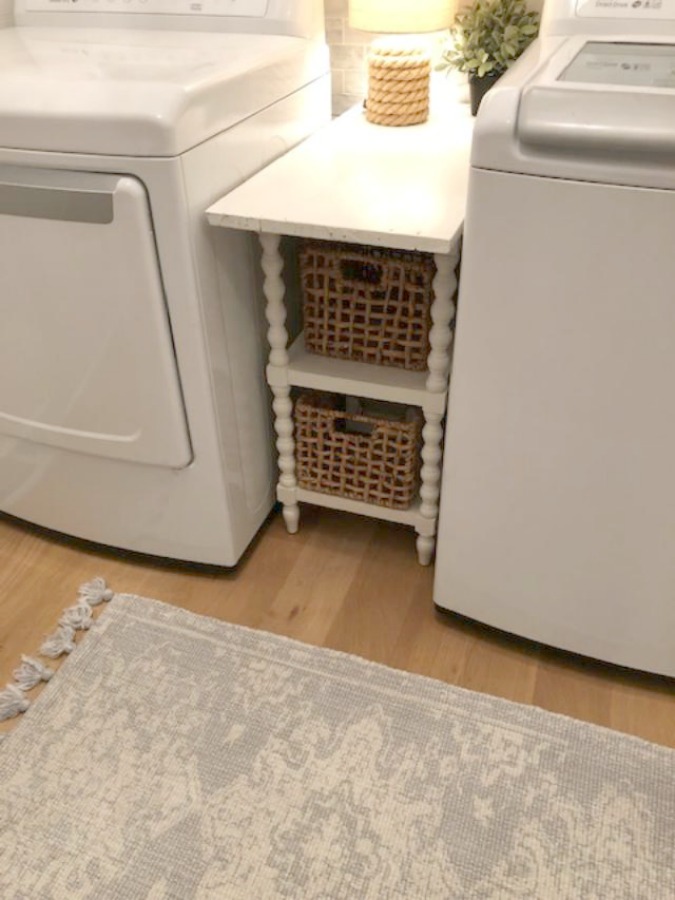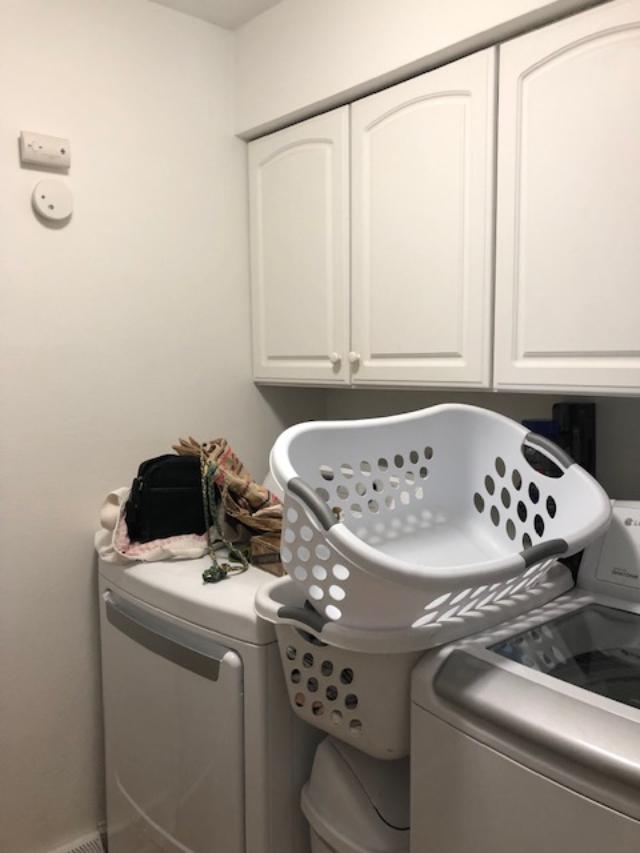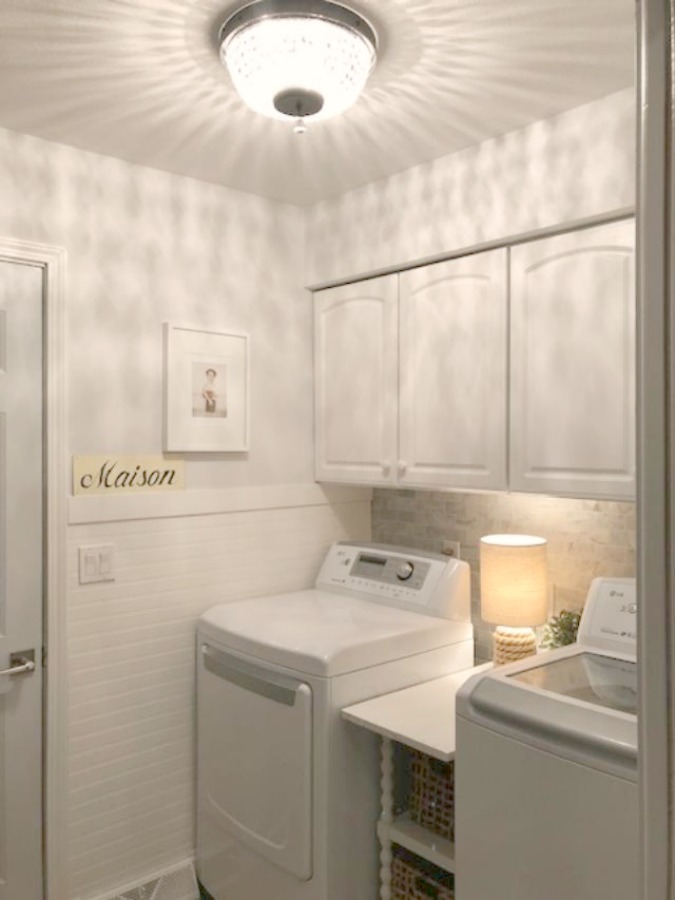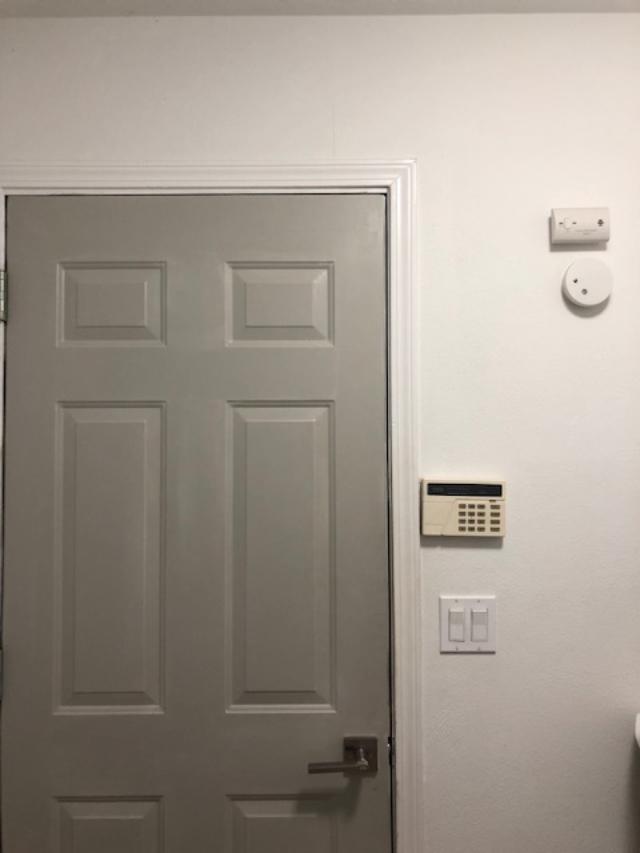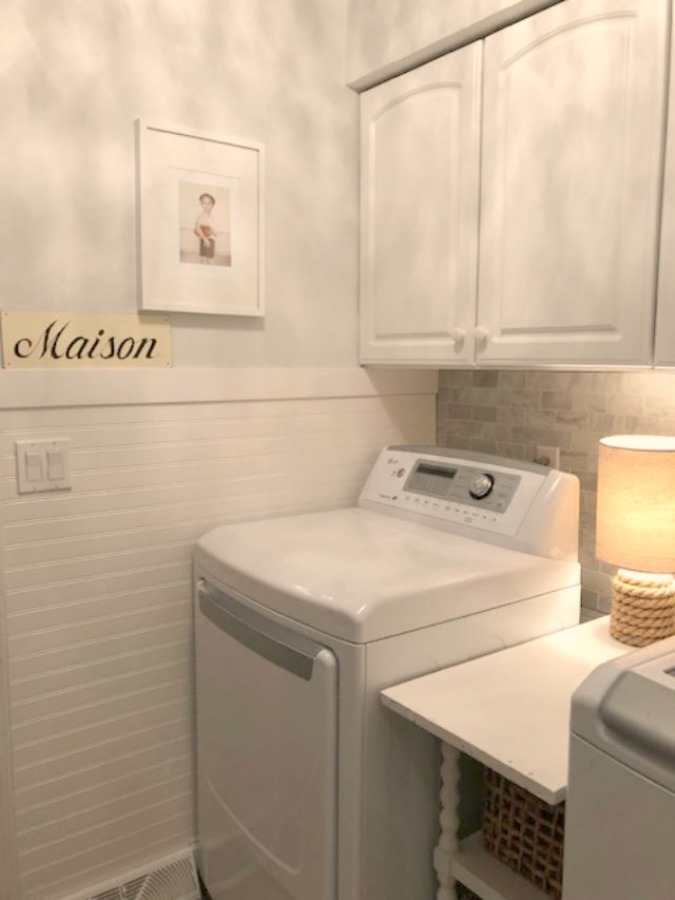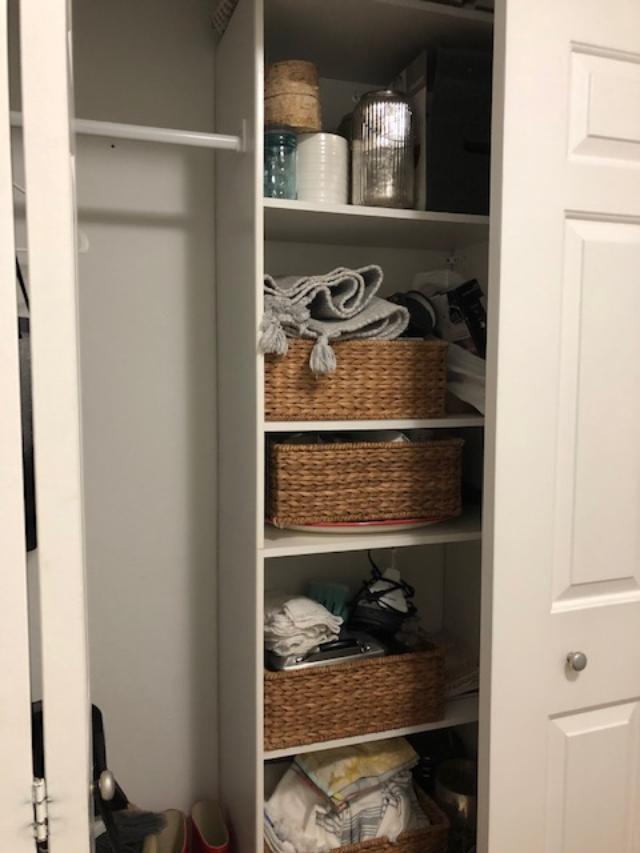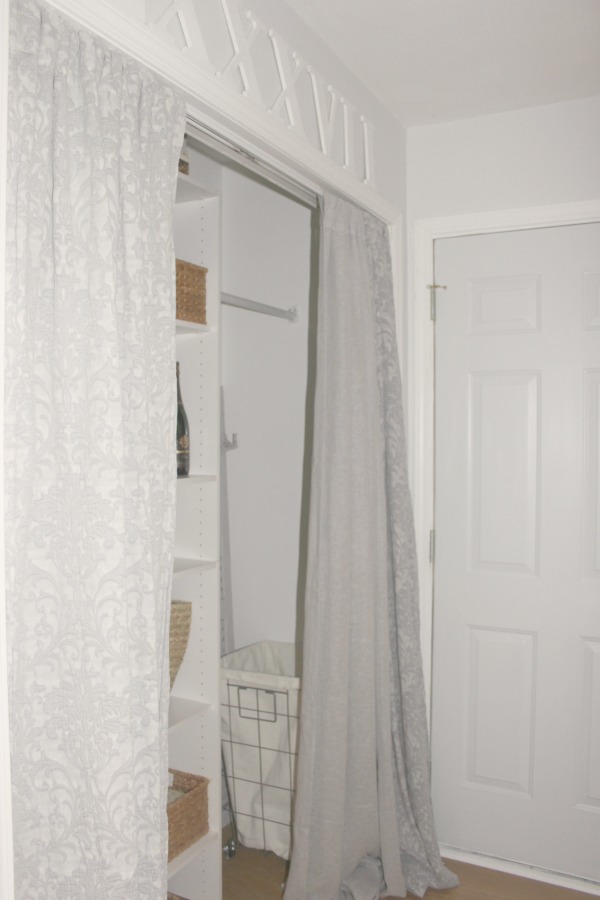 Exact Tower in Closet
Exact Ceiling Light
Similar Rope Wrapped Lamp
Shopping Resources for Laundry Room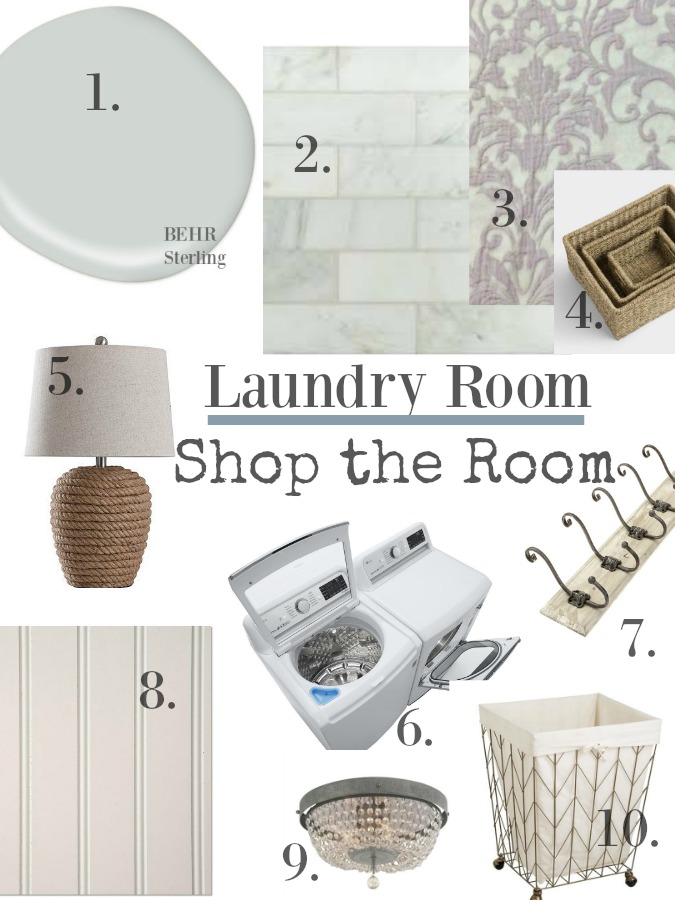 Thanks for playing along, friends!
I independently selected products in this post—if you buy from one of my links, I may earn a commission.
Peace to you right where you are.
-michele
Shop for items you already intended to buy on Amazon RIGHT HERE, and also find home decor here to keep decor inspiration flowing on Hello Lovely!
Hello Lovely is a participant in the Amazon Services LLC Associates Program, an affiliate advertising program designed to provide a means for sites to earn fees by linking to Amazon.com and affiliated sites.