This is not gonna be what you think it will be. Ever seen those cooks or bakers on TV or social media who are into semi-homemade? It's not laziness or lack of skill as much as a decision to spend precious time in a particular way. I would characterize the state of our home to be semi-organized. I'm not sure this is typical for interiors bloggers who are constantly sharing peeks of their domestic life. And I don't mean semi-organized just because we're forever in the middle of a real life DIY renovation. It is more a reflection of a freedom to move and live on our own terms. We'll explore the idea more in Realistic pre SPRING Spruce Ups & How to Be Semi-Organized.
This post contains affiliate links which I hope you will use since they won't cost you a penny extra yet may earn this blog a small commission.
Realistic pre SPRING Spruce Ups & The Art of Semi-Organized
Even though projects giant and teeny are never in short supply for real life renovators who do DIY with their spare time, I am feeling compelled to tackle PRE SPRING SPRUCE UPS around the house. Know what I mean?
Not an exhaustive list of THE SPRING THINGS (cleaning windows during an ice storm is the quickest way to get referred for a psychiatric evaluation in these parts), but realistic, mood boosting, nearly-immediate-gratification tasks.
Who can say why the itch happens as the ice creates mayhem (no internet in neighborhood due to the ice storm, and our poor son and furry babies lost all power/heat at their place!).
Maybe it's cabin fever and a rising need for more order as systems (even weather systems!) around the planet grow chaotic. Whatever the source, I'm flowing with it.
If you live with seasons too, maybe you know how certain patterns recur as you live in synchronicity with nature.
PRE-SPRING SPRUCE UP No. 1: Address Clothing & Linen Storage
The idea of re-organizing or decluttering my entire home is enough to trigger hives. Not willing to give in to such pressure. It is healthier for me to break down big tasks into realistic bite-sized nuggets.
(I delve into detail HERE about decluttering after reading a great book on the topic which conceptualizes organization from a more realistic and psychodynamic perspective.)
One of the most straightforward places to begin a quest to declutter for spring and summer? Clothing. Time to take a long hard look at my closets and dresser drawers.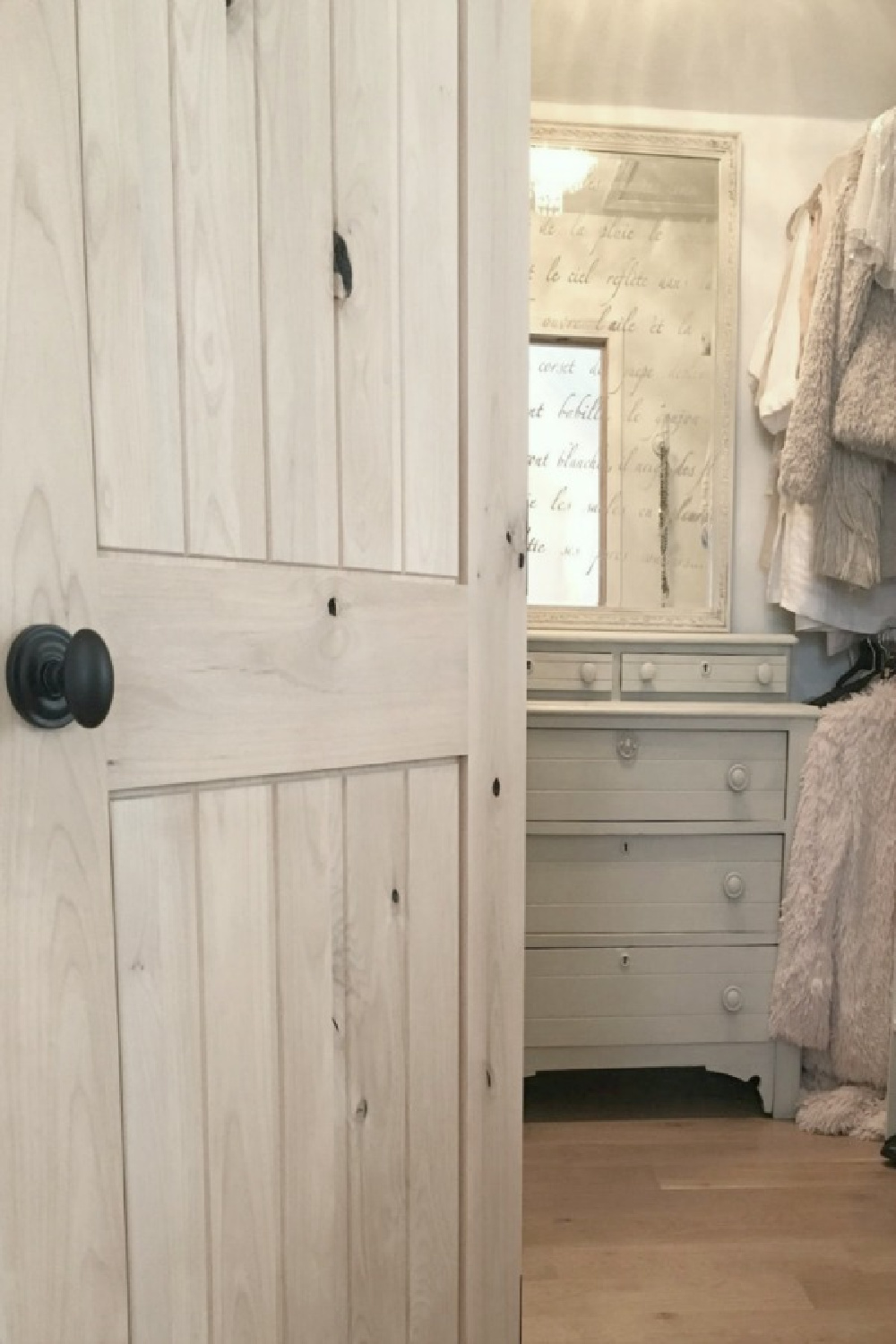 Are there items we haven't been reaching for this winter? Do we see pieces that are now past their prime and need to be donated or sent to the recycling bin?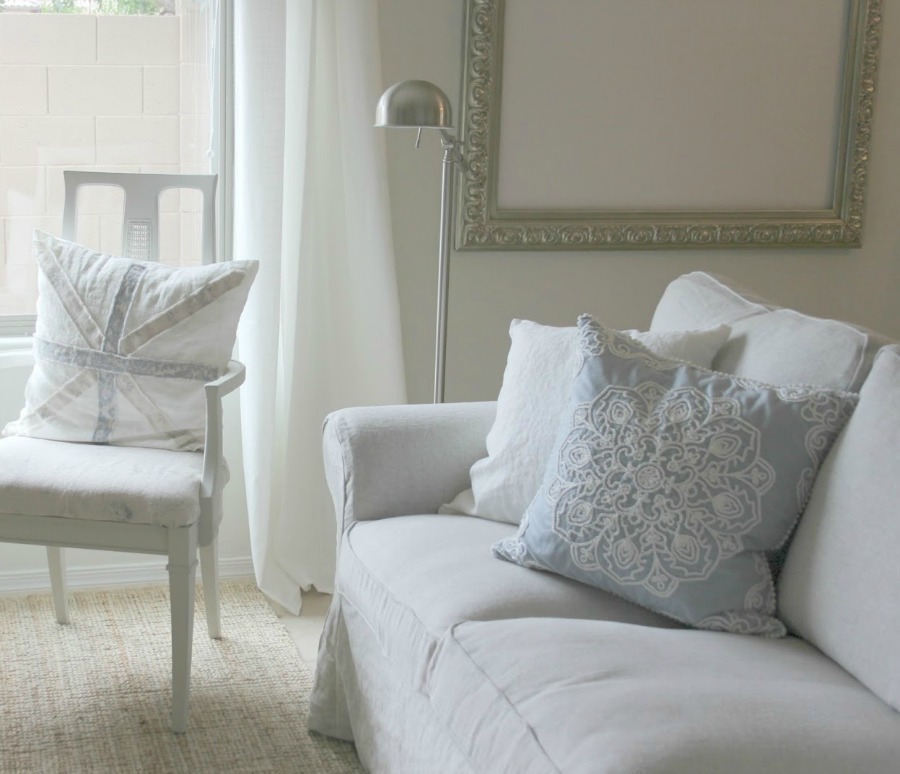 What are we realistically wearing on a daily basis with our current lifestyle? Are there items ready to be stored until next year?
Storing Seasonal Items
If you lack closet, basement, or attic space to store winter items, there are under-bed containers which will keep them dust free. I have this one:
These containers are especially helpful if you have downsized, and I like the LOW option as opposed to high to avoid ladders and stepstools for access. Less risk to these brittle bones is a win with kneeling to slide out a container.
Personal Reflections from an Aging Homebody
By the way, on the topic of my osteoporosis, chronic illness woes, and aging in general, I have to say there are plenty of upsides to aging that get little press.
Like the fact we're just fracken WISER in these fracken brittle bones. Experiences have shaped, shaken, and grown us. We used these beautiful, now lacier bones so fiercely for years!
And now they need to rest more. Now we can see what we couldn't see then as those strong, dense bones were doing the work of raising families, advancing careers, and hustling.
Just a thought, but what if we began to send energetically fierce grace and loving energy to the aching, failing, worn out fleshy parts of us in gratitude for how well they served and serve?
Because if given a choice between a brand new body or this vastly complex, matured, stunningly gorgeous brand new mind swirling with hard-earned wisdom and imagination?
I think you know which I choose. I write about aging HERE.
Storage Behind Closed Doors
Okay, let's return to the endlessly sexy topic of…linen storage and declutter matters. 🙂
There's good reason you never see me posting images of my perfectly organized linen closets. They do not exist. No amount of injections or fillers will render our closets ready for their close-up.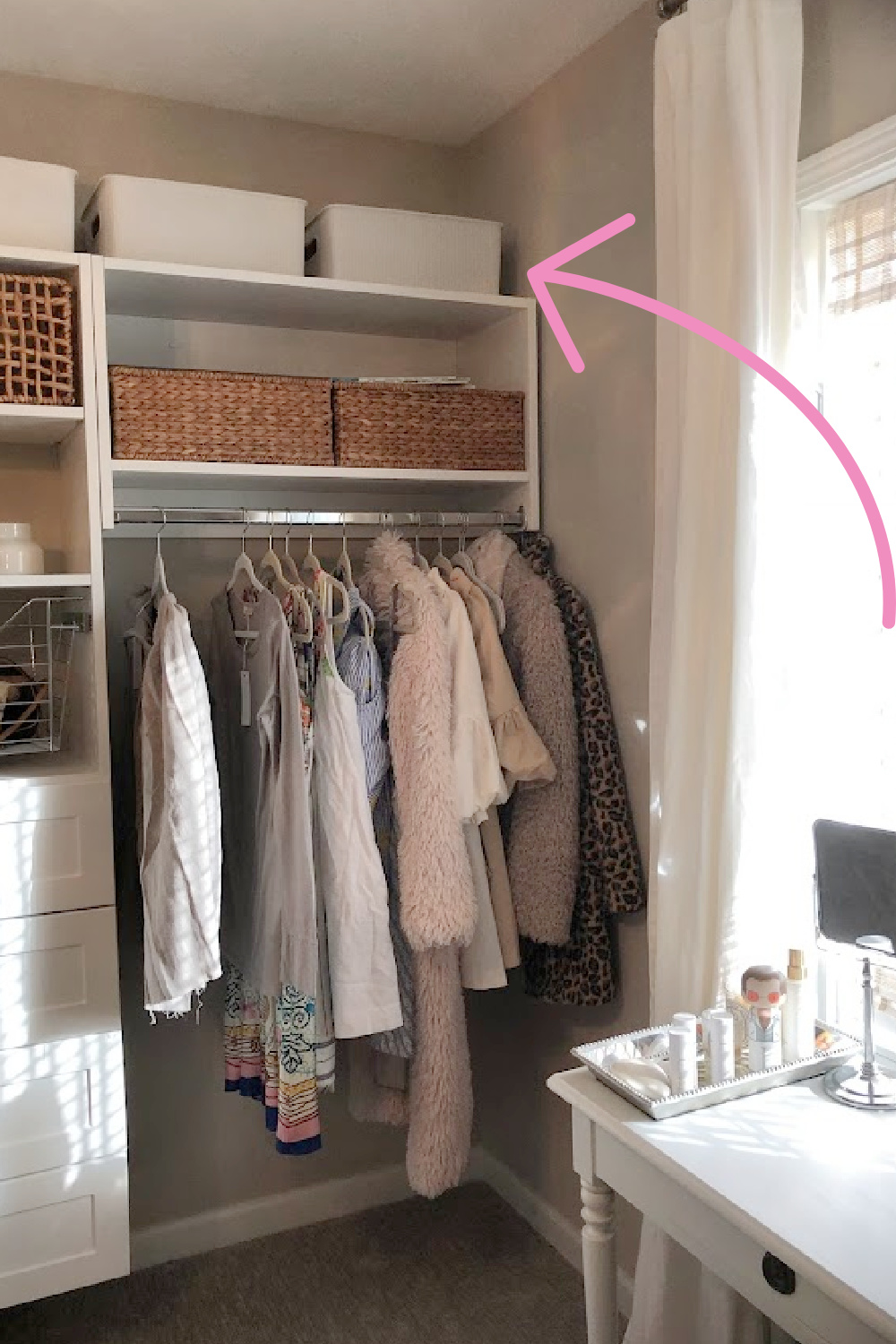 I would rather do anything else than straighten the inside of cabinets, closets, and the frig. I'm just not yet able to give myself to that task which is an ongoing chore to maintain daily.
Maybe in retirement, but probably not. I think we have to make peace with such little agreements with ourselves and our homes.
If I have designated an area where like things are grouped together in open baskets for easy retrieval, I feel like a superhero, and that is quite enough. Pinterest-worthy shelves behind closed doors don't do it for me. I'm a rebel on this front.
I grew up in a household where time was devoted to perfectly-folded, worthy of shelfie level storage. If shelfies feed your soul, have at it. I prefer studying the habits of birds and busy squirrels in the yard.
PRE-SPRING SPRUCE UP No. 2: Pillowtalk
If you need fresh new pillows or sheets for better rest, this is a great time to refresh. Oh, the joy of fresh pillowy goodness. Here's my personal fave gushed about HERE.
Even a little refresh in the bath can be a comfort in mid-winter.
Bath Refresh Ideas & Resources
I'm personally looking at our bath towels and thinking it's time to toss some worn out ones and pick up another set of the ones I shared here:
I should have included these super soft cloths on my list since they are indispensable to me for washing my face, removing makeup, and more. When they begin to look worse for wear, they become cleaning cloths, and I can't recommend them enough.
Something else linen-closet related? I like to have one or two sets of luxurious towels reserved for the guest bath. This is a set I highly recommend, and I have it in dark grey so guests don't over-worry about stains…a small detail that offers a bit more comfort.
Back to pillows though. The thing is, in the middle of winter, I start to feel like a bunch of the pillows can be stored away for a lighter, airier look.
Do you feel it too? In anticipation of spring, somehow, just removing a little of the excess invites the coming season with its renewal and hope.
Subtracting throw pillows from sofas, windowseats, beds, and chairs may help. But if you find what you need is a change rather than a deletion…
What's Underneath Excessive Pillow Collection?
Pillows, and especially throw pillows, are a curious concept from a psychological perspective. When we pile them on in winter to soothe ourselves or soften harsh edges, it's as if we are insulating from the barbs of the cold season, from the brutal bits of life. I'm mindful how these barbs are everywhere in modern culture. Does anyone else remember the comfort of being a child at the center of a pillow fort, warm, and safe? I think that longing is within all of us.
We need new systems or the old ones to work better at protecting the vulnerable from harm. And we also need more prayers of the faithful to rise. Rise with blessings that insulate and encircle the poor, the downhearted, and the weak.
PRE-SPRING SPRUCE UP No. 3: Frog Swallowing
This is glamorous business, decluttering and swallowing frogs, yes? By frog swallowing, I simply mean getting out of the way a few tasks you dread and put off.
For me, cleaning the refrigerator is always this task I think about yet can't bring myself to do. Yet when I do it, a weight lifts!
At my age, I have also learned to swallow frogs in the morning so thoughts about them don't pester me all day. My intent is to address the unsavory at the start of the day, enjoy the satisfaction of completion, and repeat more regularly.
So maybe you're frog is cleaning your crusty kitchen appliances. Let's see how Martha recommends cleaning the range.
While I'm consistent about sprucing up the cooktop daily, with the frequent winter baking I do, the oven can get crunchy.
If you live in a region with long, frigid winters like us, you may have to wait until spring for this chore.
For a self-cleaning oven, open a window since the process is not fragrant. Cleaning by hand? Wear gloves and a mask.
You could play soothing music as you toil or get lost in a favorite podcast.
My frog swallowing level chores are easier with these:
Should you need extra encouragement or motivation to tackle the inside of the refrigerator, this may do it:
And if you live in a climate where you can clean windows now a quick video from Martha may enlighten:
Maybe these will come in handy:
I love this pail! Can a silly pail be what pushes us to clean that thing we've been ignoring?
PRE-SPRING SPRUCE UP No. 4: Skipping to Less Strenuous Stuff
You've swallowed frogs, and you deserve a reprieve.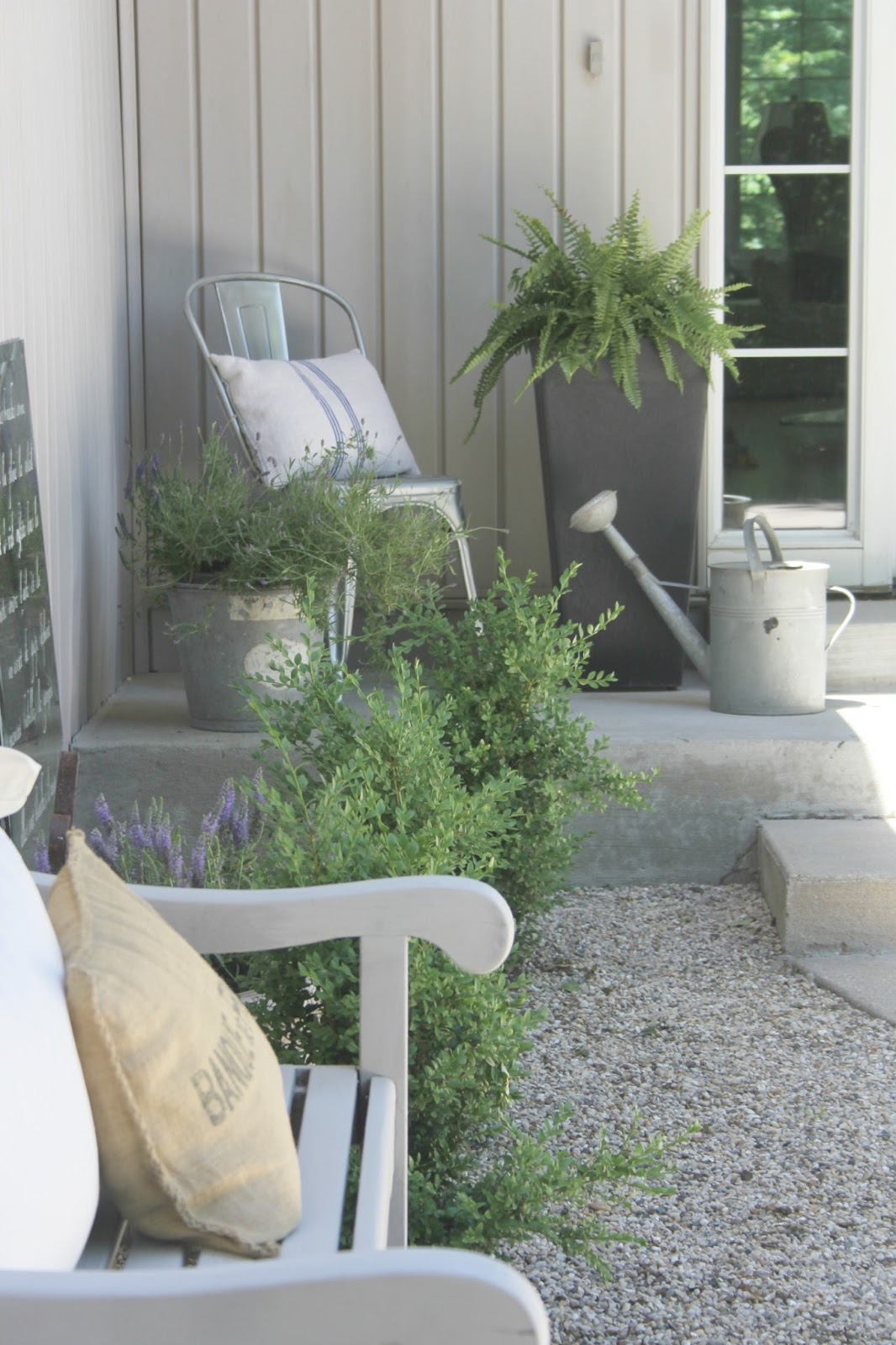 Shop for a few things that will make you feel like SPRING is almost here. We have two of these planters from Home Depot on the porch flanking the front door, and anything planted or plopped in them looks fabulous.
They can be left outdoors year-round, which is a bonus when your storage space is limited!
Find my favorite source for handmade grainsack pillows HERE.
This spruce up is easy and takes about 5 minutes…replace the shower liner!
And OMG, if you need storage for all of the things, wait until you see THIS LINER with STORAGE!!!
Genius! Here's my favorite shower curtain, and I never tire of this style because it is so spa-like and timeless.
Over time, splashes outside of the shower can create mildew issues and worse so it's a little detail on the list, but such an important one.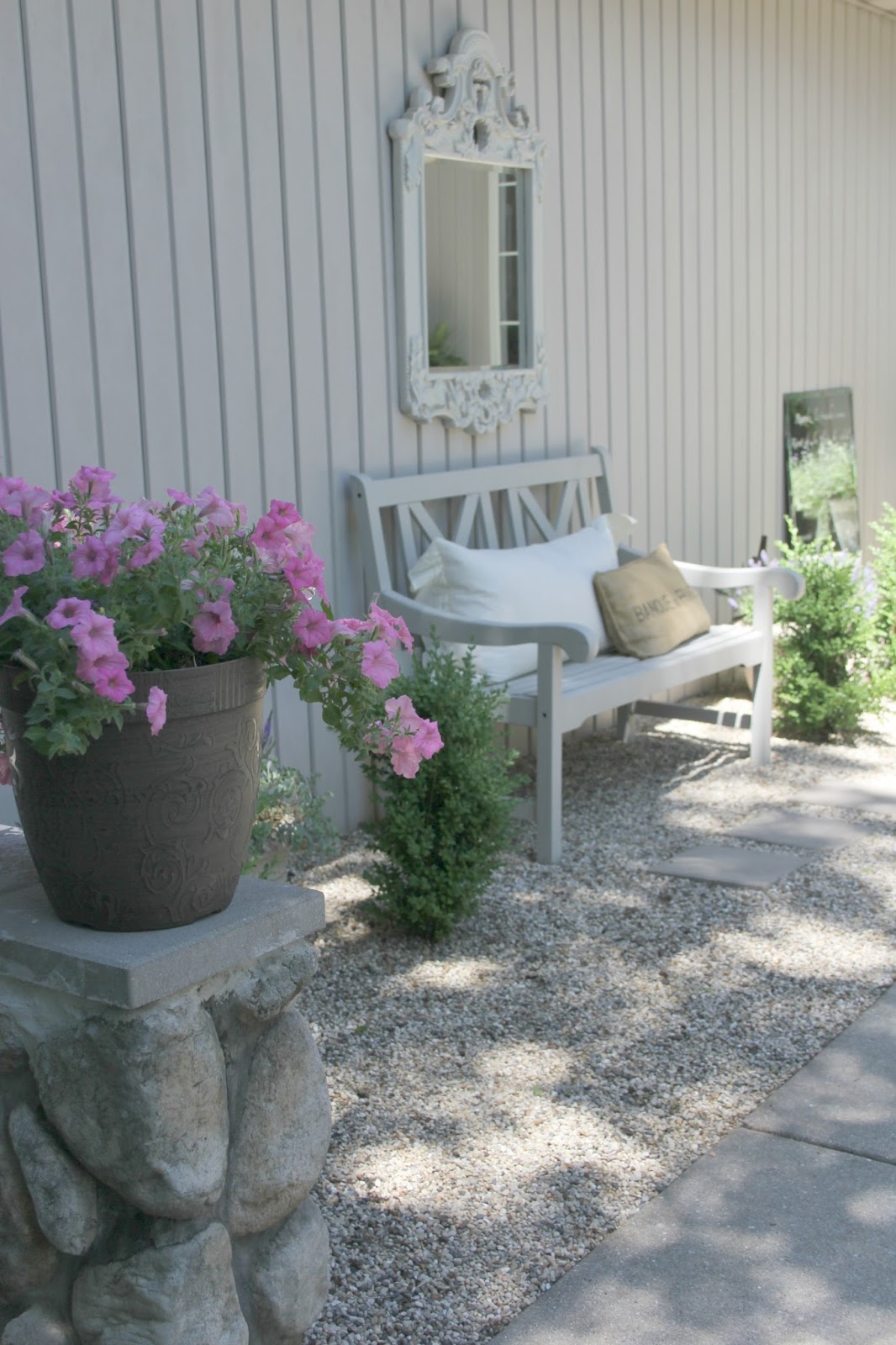 Paint Touch-ups
They will not take as long as you think.
I have been touching up trim lately, and my only suggestion is pick a good time for this spruce up. Say, not five minutes before your partner arrives home from work as I did yesterday. HONEY, YOU CAN'T USE THAT BATHROOM! JUMP OVER THE LAST STEP! DON'T EVEN THINK ABOUT OPENING THE CLOSET DOOR.
Ya know?
If you're in painting mode and need ideas for white paint colors, see this story about paint colors you may haven't considered.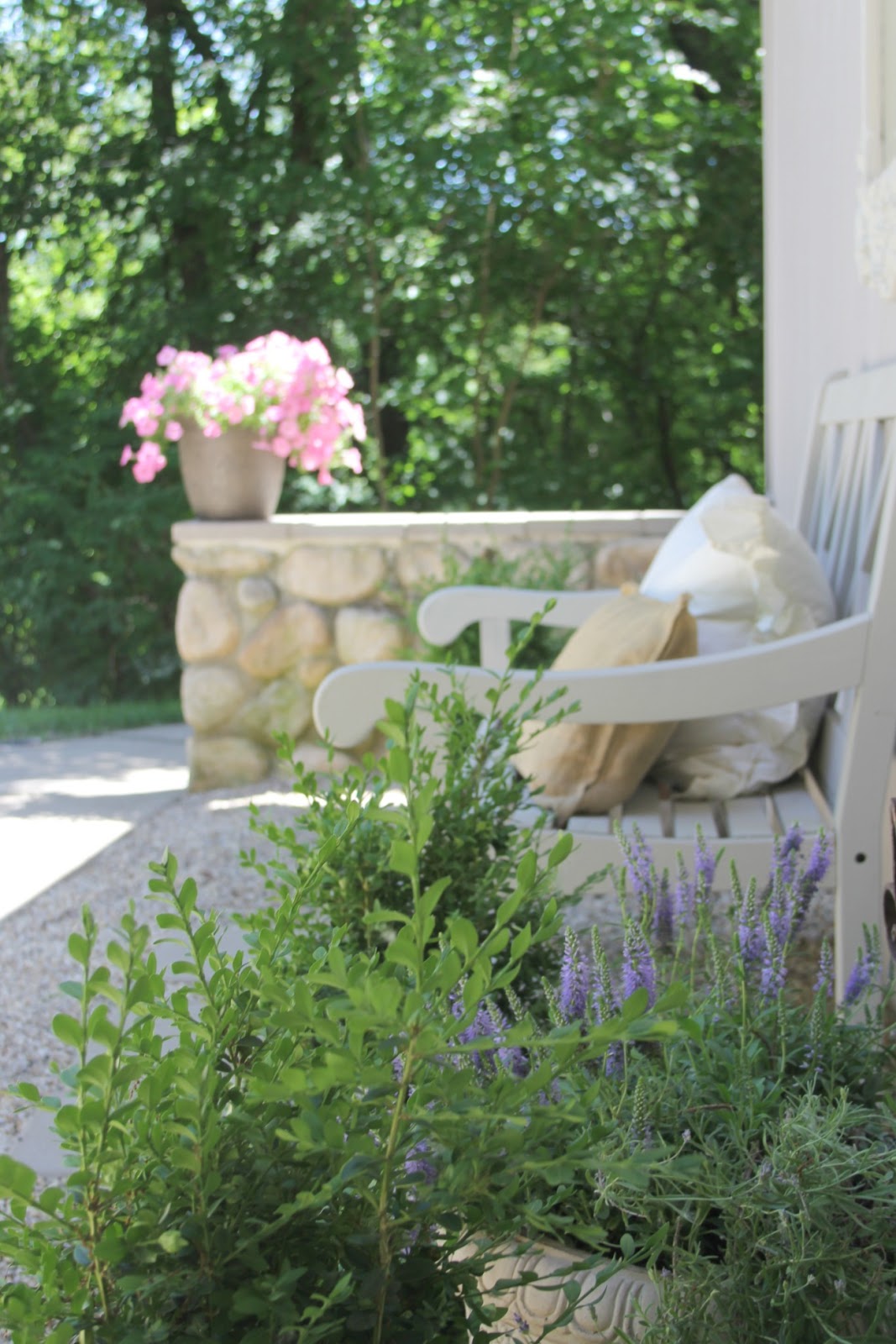 Don't forget to spruce up your immune system while you're at it. Make sure you're eating plenty of healthy foods in this cold/flu season….I blogged about healthy food swaps you can make HERE.
There's a tip in that post about cutting down on bread, and if you need a no-knead recipe that is gluten-free and healthier than processed store-bought slices…my recipe is super easy.
Peace to you right where you are.
-michele
Shop for items you already intended to buy on Amazon RIGHT HERE, and also find home decor here to keep decor inspiration flowing on Hello Lovely!
Hello Lovely is a participant in the Amazon Services LLC Associates Program, an affiliate advertising program designed to provide a means for sites to earn fees by linking to Amazon.com and affiliated sites.