Yay! A DIY from our new home to share, and I can finally begin to organize clothes and office stuff after the move! While our bedroom's existing walk-in closet is a decent size, we prefer separate closets. Fortunately, there was a spare bedroom adjacent to that walk-in that captured my imagination when we toured the home. Since I love me a cozy dressing room and home office nook, I was determined to create a custom closet trifecta: closet, office, and dressing room. How did we do it ourselves? Smart design help, DIY friendly product, and a collaboration with Modular Closets. I hope these DIY closet ideas help you imagine the possibilities.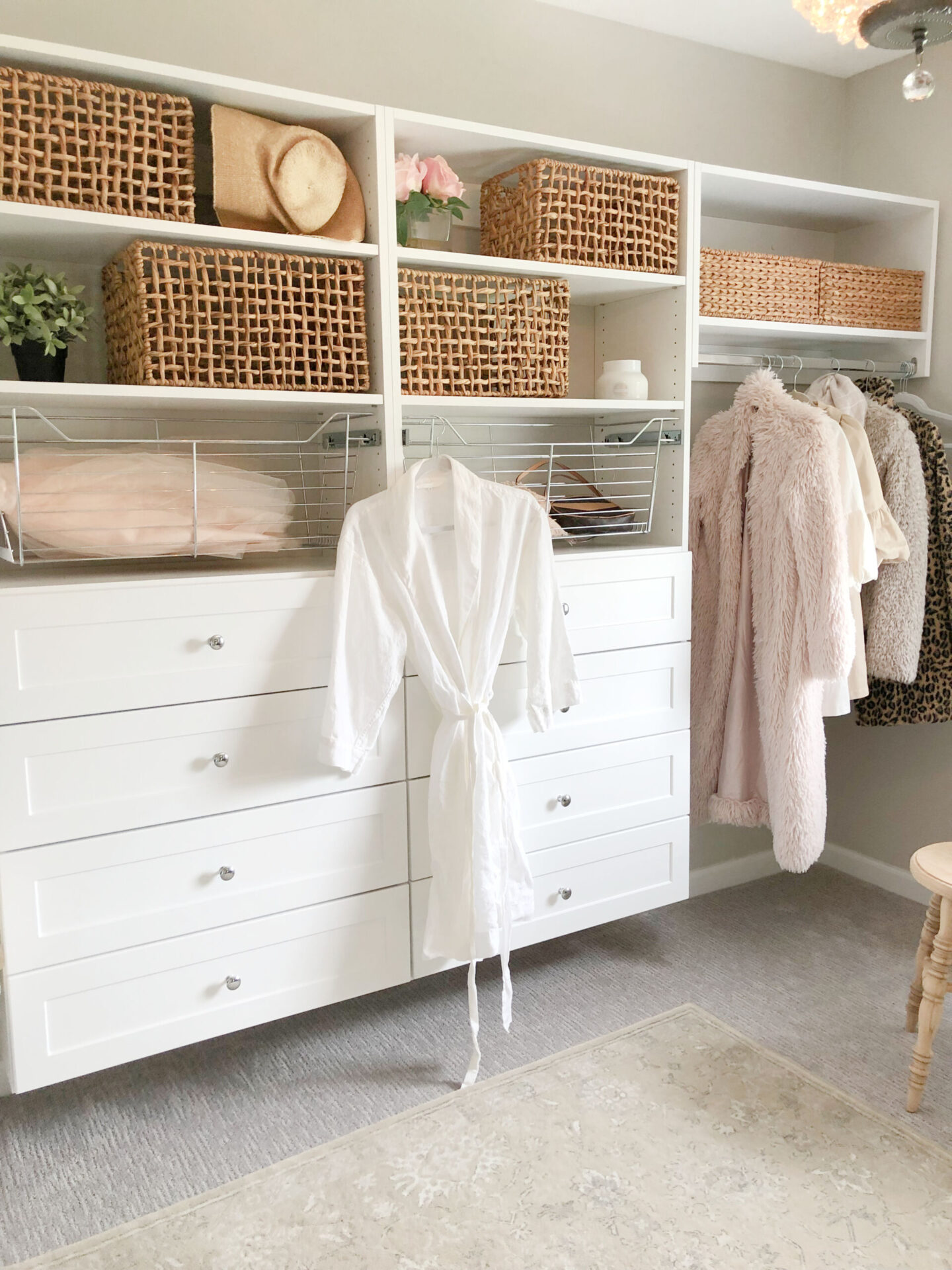 This post is sponsored by Modular Closets, and all opinions are my own. Thank you for supporting the companies that make this blog possible.
DIY Closet Ideas: Small Bedroom Becomes a Serene "Cloffice"
If you have an underutilized spare bedroom too, why not make the space work for you? I saw potential for this quirky one to become more functional (1) without demo and (2) without losing status as a bedroom (because resale, y'all).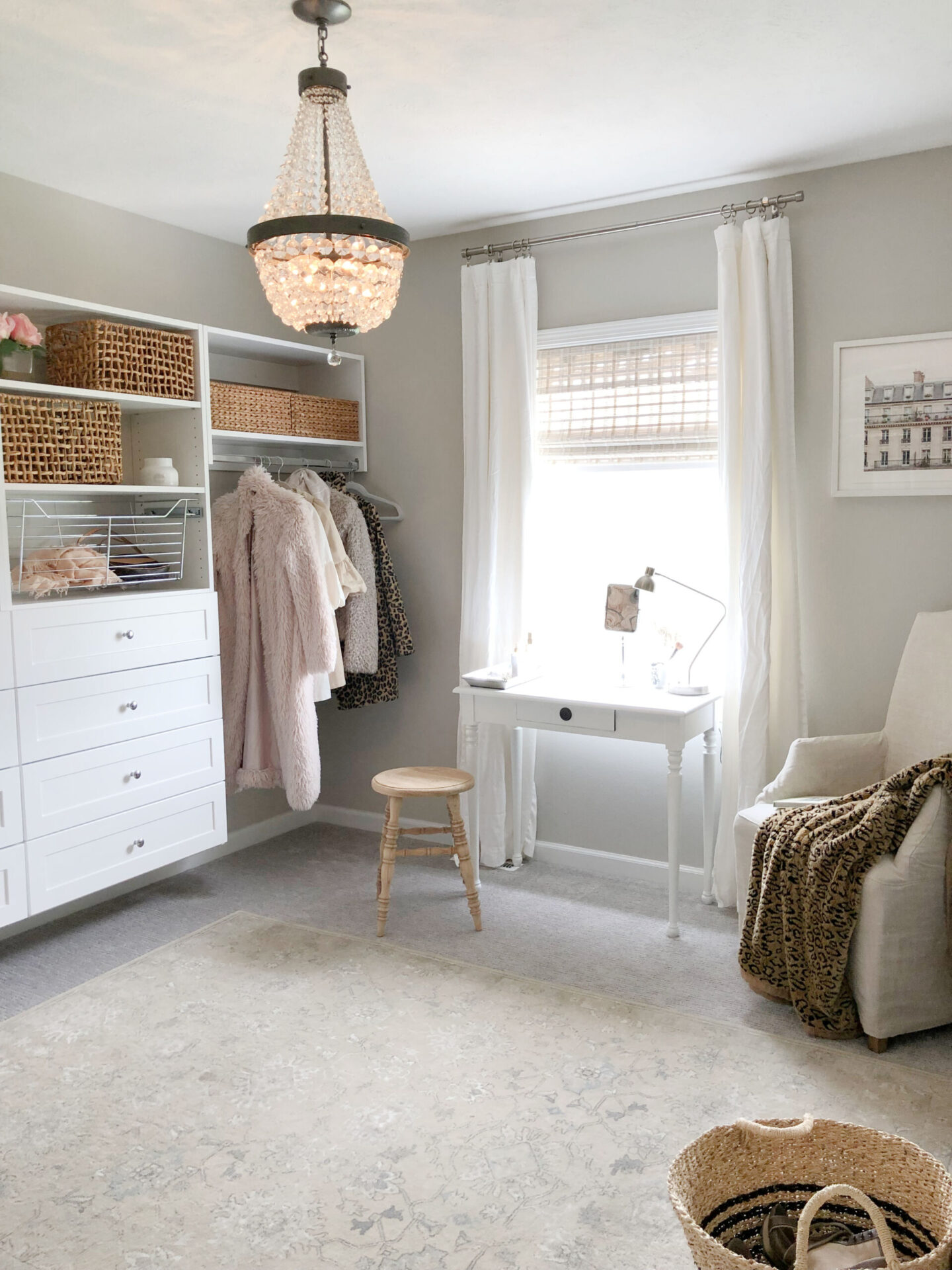 Overview of the DIY Project
I wanted my own serene closet with smart storage and room to work or exercise, and since this quirky bedroom is adjacent to my husband's closet…
But what do you mean "quirky?"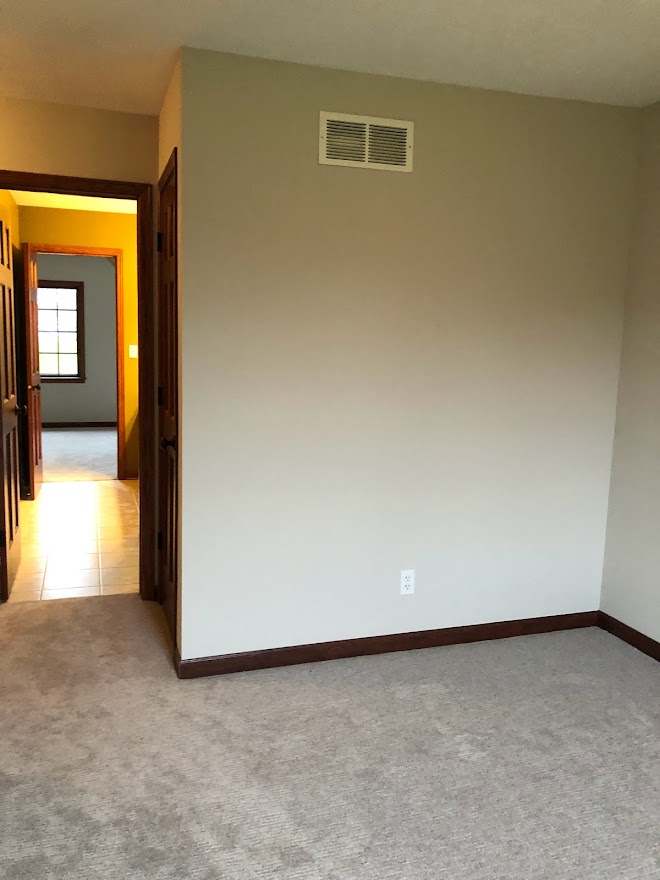 The dimensions are approximately 7'x10′, and the shape is Tetris-like, mostly because the room has 7 doors.
Wait, mama. SEVEN?
Oui. 2 bifold doors (to a shallow closet) + 1 door (within said closet connecting it to the main bedroom's closet) +1 door to a linen closet +1 hall door +1 door to bath + 1 access door to jetted tub behind a custom oak built-in.
For the love of closets, just too many clunky dark doors! But no more!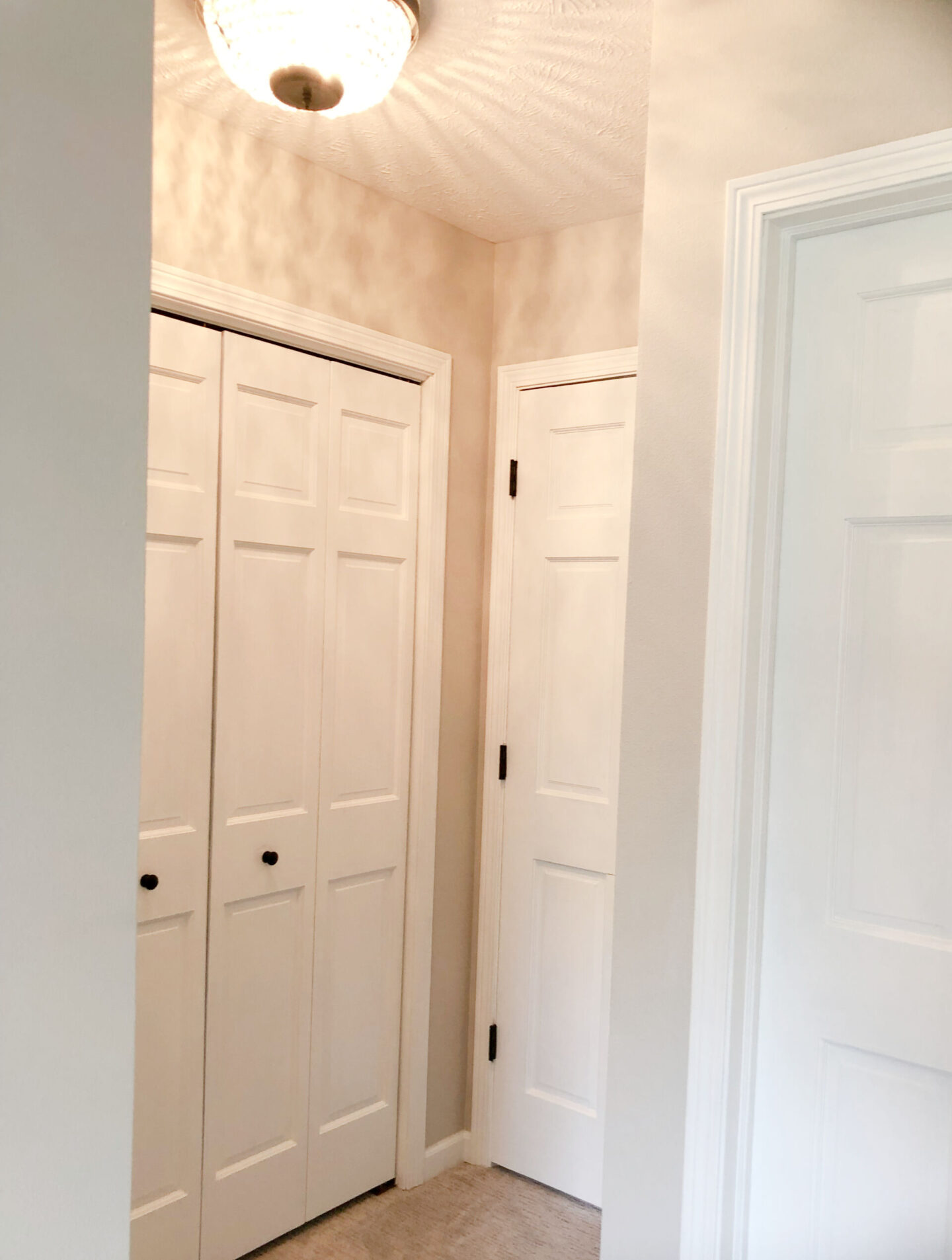 Even the oak built-in shelves were awkward (see them below). Too shallow to hold anything beyond little bottles of nail polish or pain reliever, it all had to go.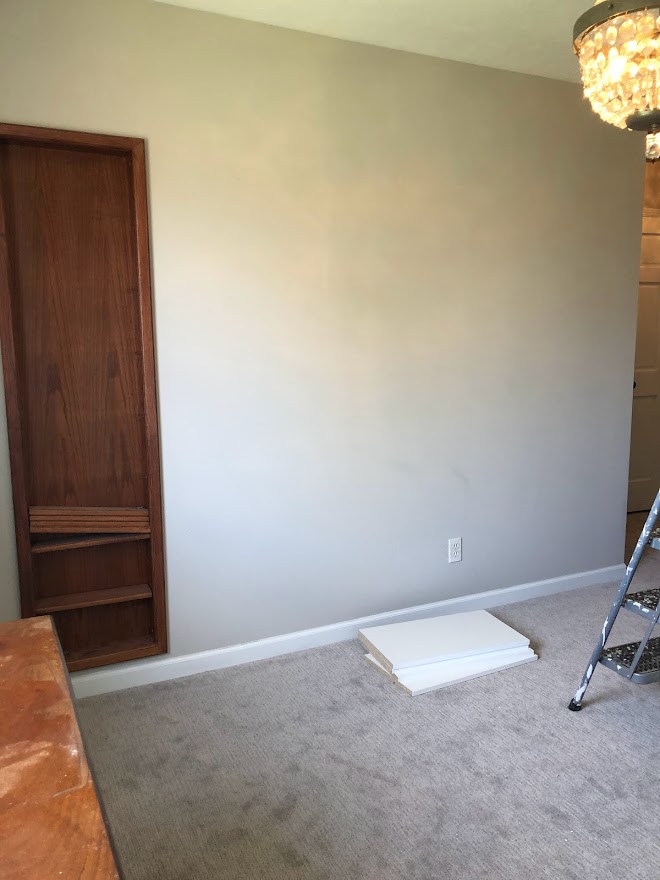 The Bedroom's Underutilized Real Estate
The room's pluses? Killer view of our wooded property, adequate dimensions for a cloffice/dressing room, and proximity to main bedroom's closet. (We can easily connect these closets in phase 2 should we decide to.)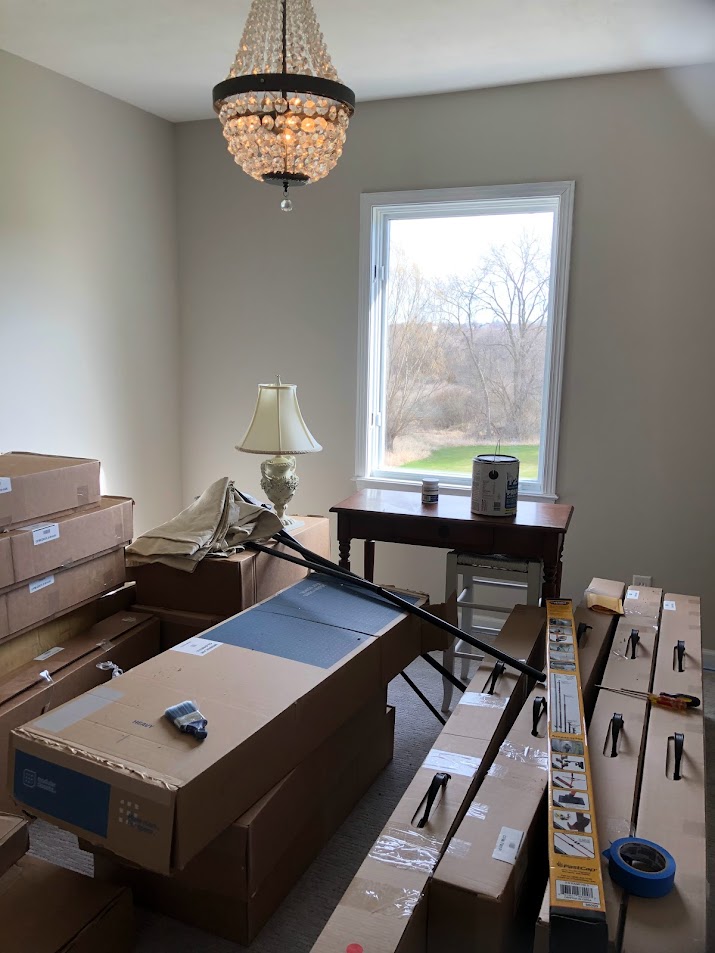 What I didn't want was to just line the walls with a bunch of hanging rods or wardrobes (good gracious, not more clunky doors!) and expect it to feel inviting and calm enough for work.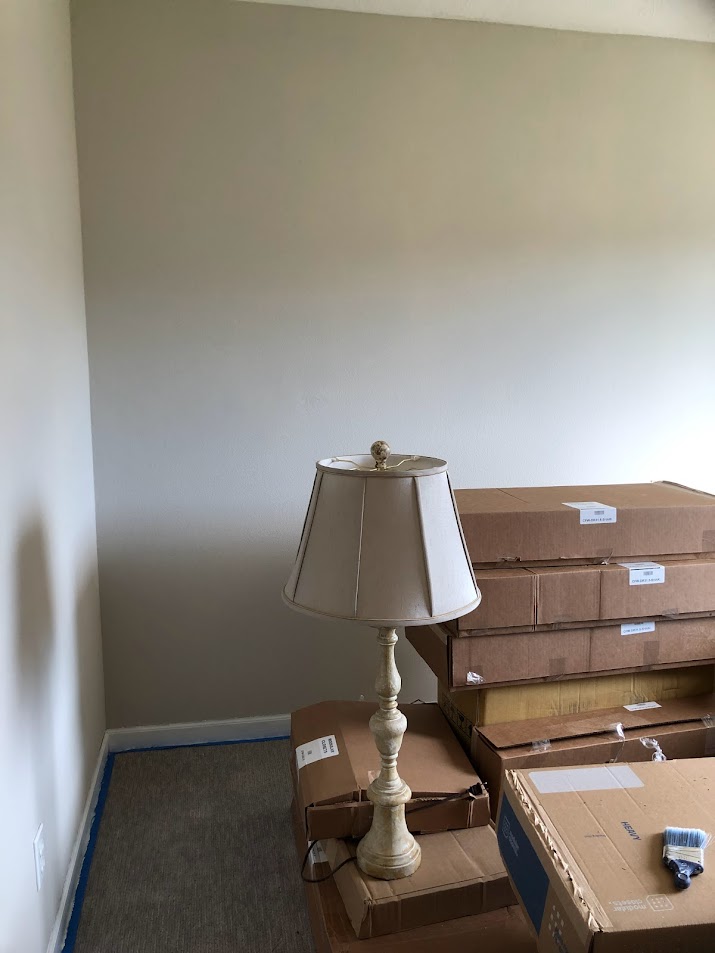 Help With a Design Plan
Modular Closets was the perfect solution for these real life renovators! Their site is user friendly with actual human beings to help you with design. What a blessing for anxious types like me who get overwhelmed easily.
Here are some of the renderings you can expect: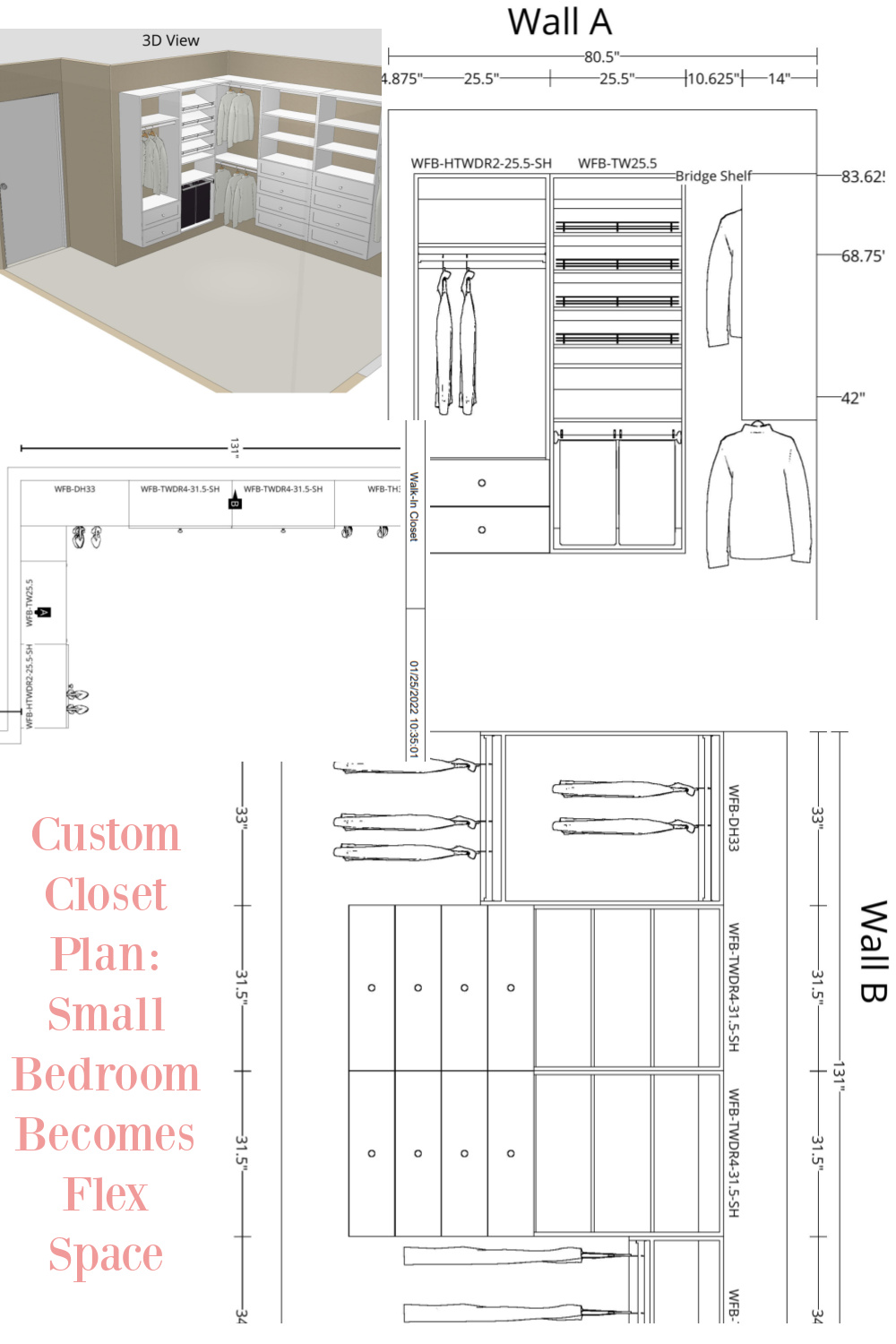 While there are plenty of closet configurations with towers, drawers, and accessories to consider, Modular Closets found the sweet spot…they offer just the right amount of options.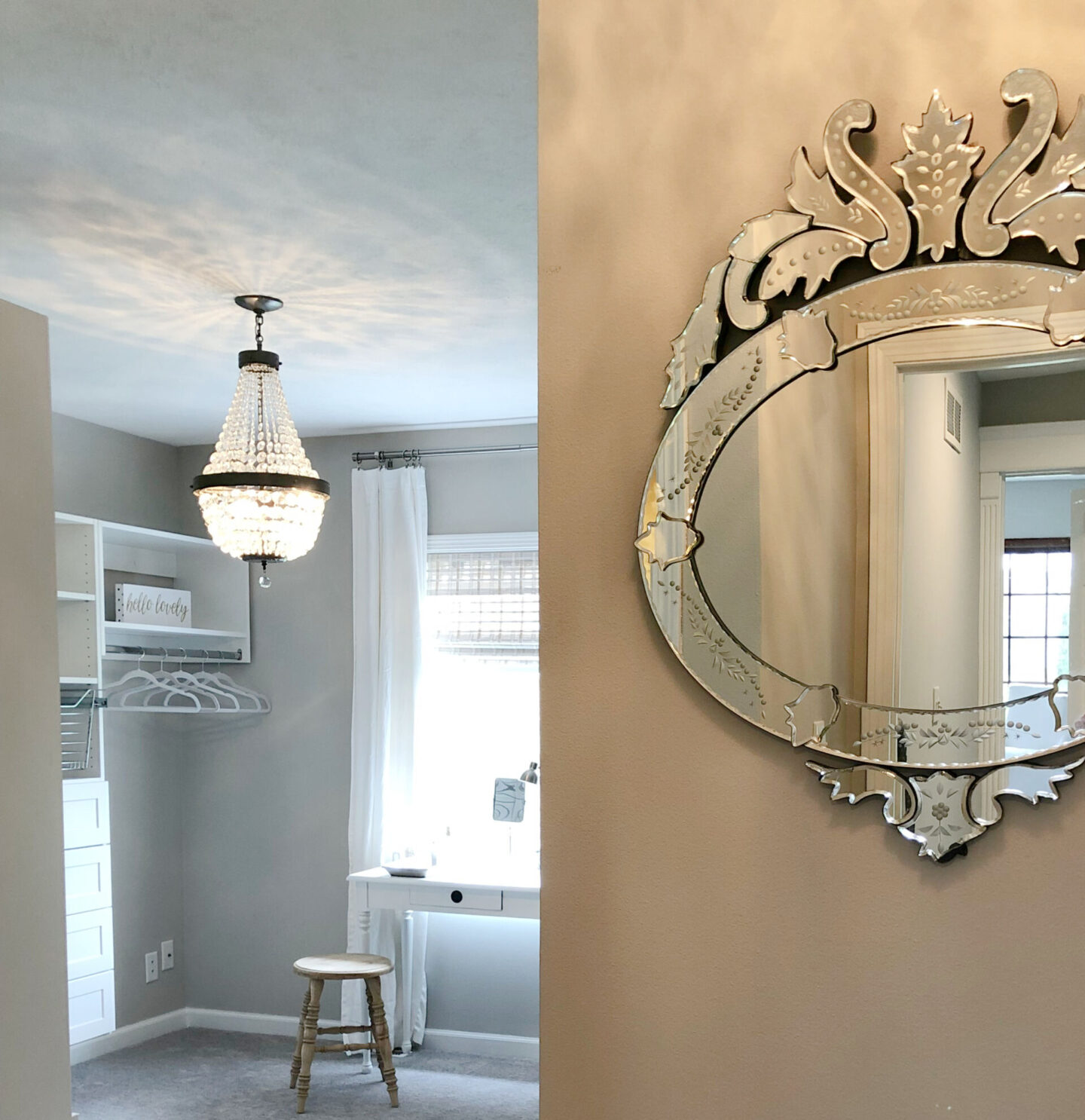 TWO COMMON MISTAKES HOMEOWNERS MAKE WHEN DESIGNING A CLOSET?
1. Not double-checking measurements…it is key to have the correct dimensions.
2. Skipping the step of writing down what is in their wardrobe. You want to design the closet for YOUR wardrobe. Make sure to specify the categories of clothes in your wardrobe. (For example, where one person has mostly dresses and requires hanging, someone else may own a lot of pants and require more shelves.) – Christina Giaquanto, Professional Organizer & Brand Ambassador for Modular Closets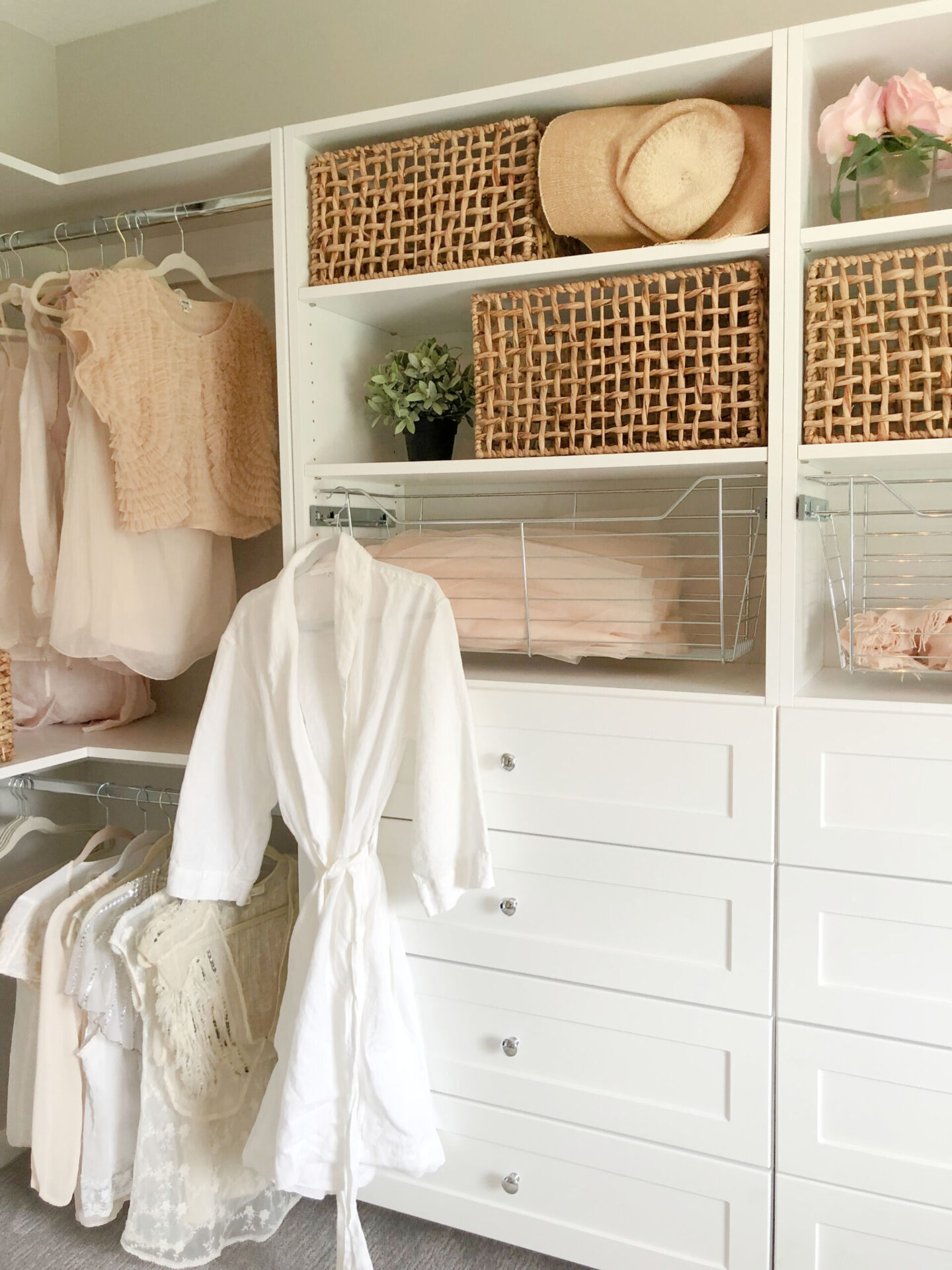 I browsed online for closet inspiration, measured our space carefully, assessed my wardrobe needs, thought about the amount of hanging and shelf space I required, decided on a location for my desk/vanity, and shared this info with MC so they could design a solution.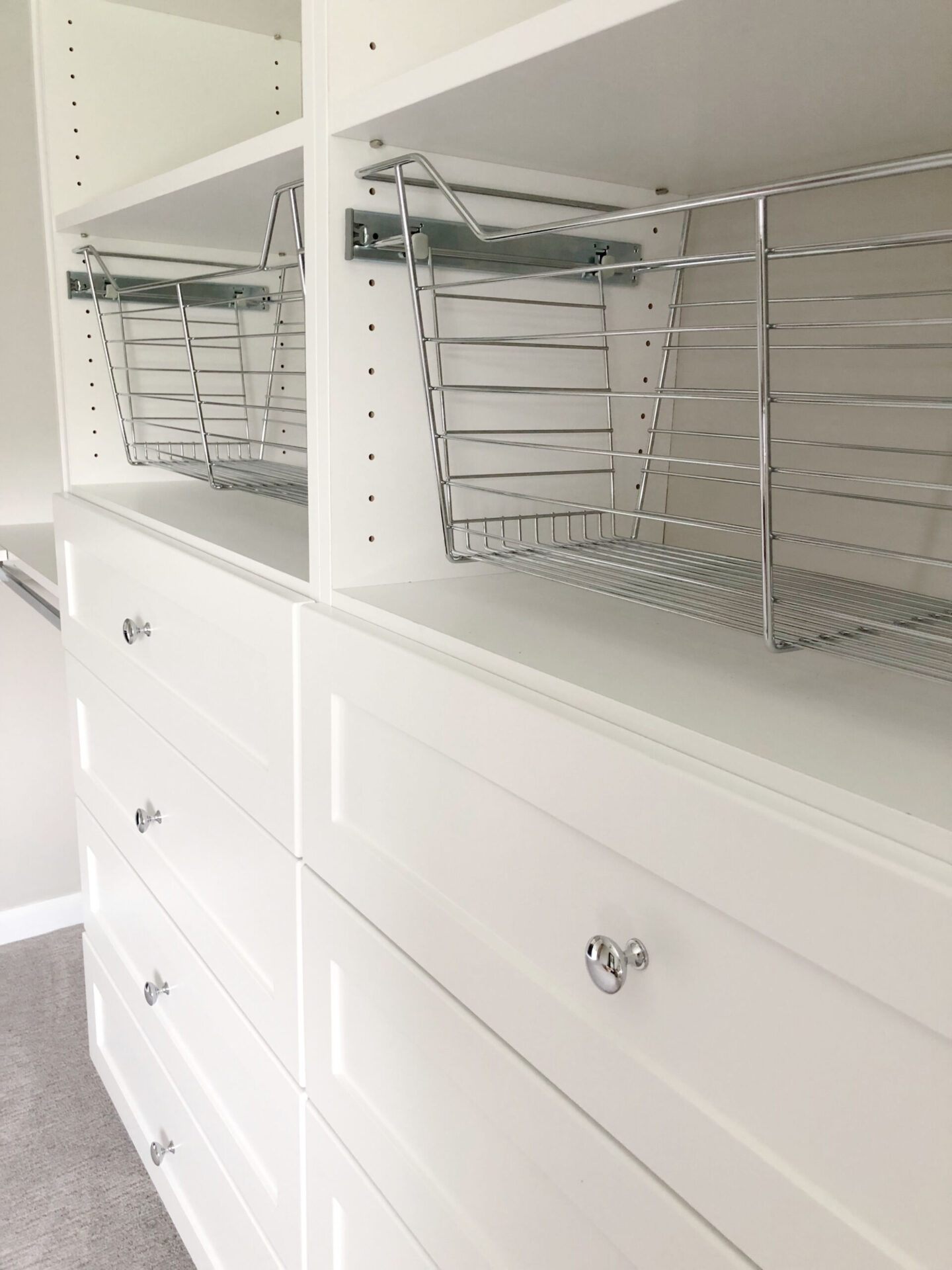 Prepping the Bedroom for Closet Modules
I liked the closet design immediately and felt energized to prep the little bedroom for its new identity.
Here's what we did before opening a single box:
–>Removed existing ugly lights and installed sparkly fixtures on a dimmer. (What a huge difference!)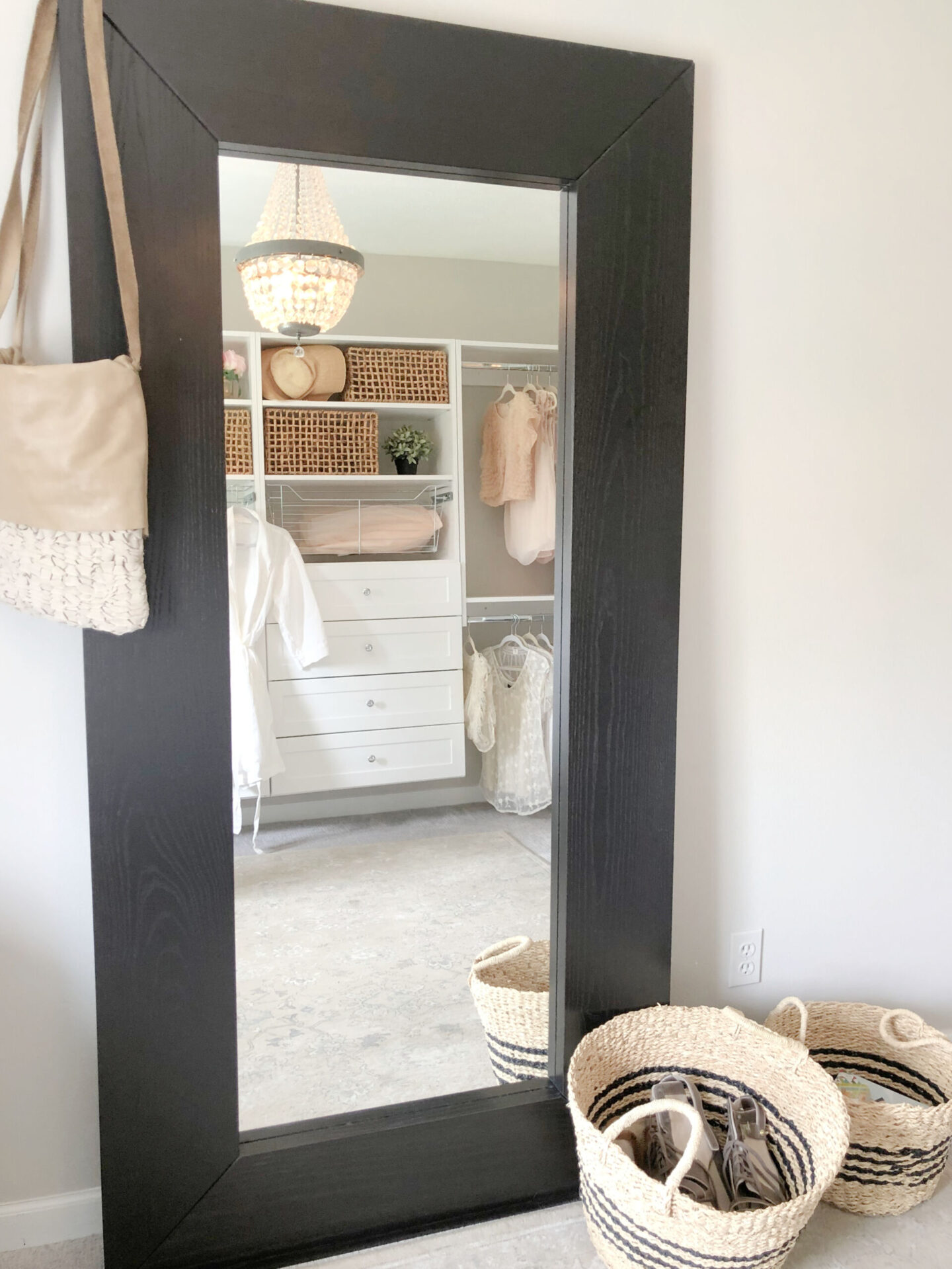 –>Removed the oak built-in then repaired the 6′ tall hole in the wall with new drywall (that hole was left of the mirror). We won't require the "access door" to the jetted tub since that tub is going bye-bye.
–>Primed and painted all the dark trim, window, and doors white. I can't tell you how many hours and coats this took…sweet Cozy Moses…but what a bright and cheerful transformation it made!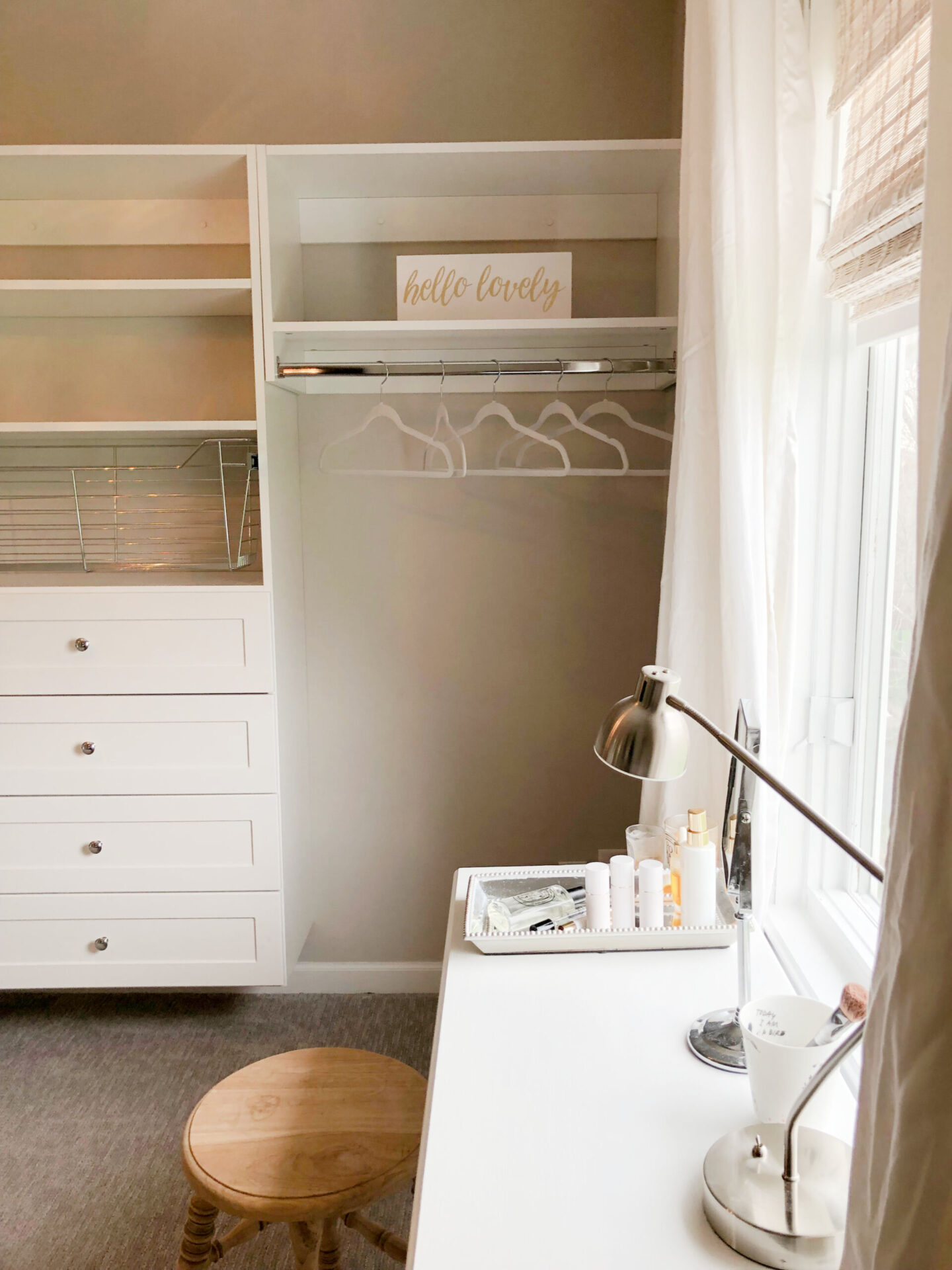 Transforming the Space into a DIY Closet/Office/Dressing Room
When the boxes arrived from Modular Closets, my husband got a core workout carrying each one up the stairs. A few nights later, he began the closet installation before completing it the following evening (he rated this an intermediate DIY project).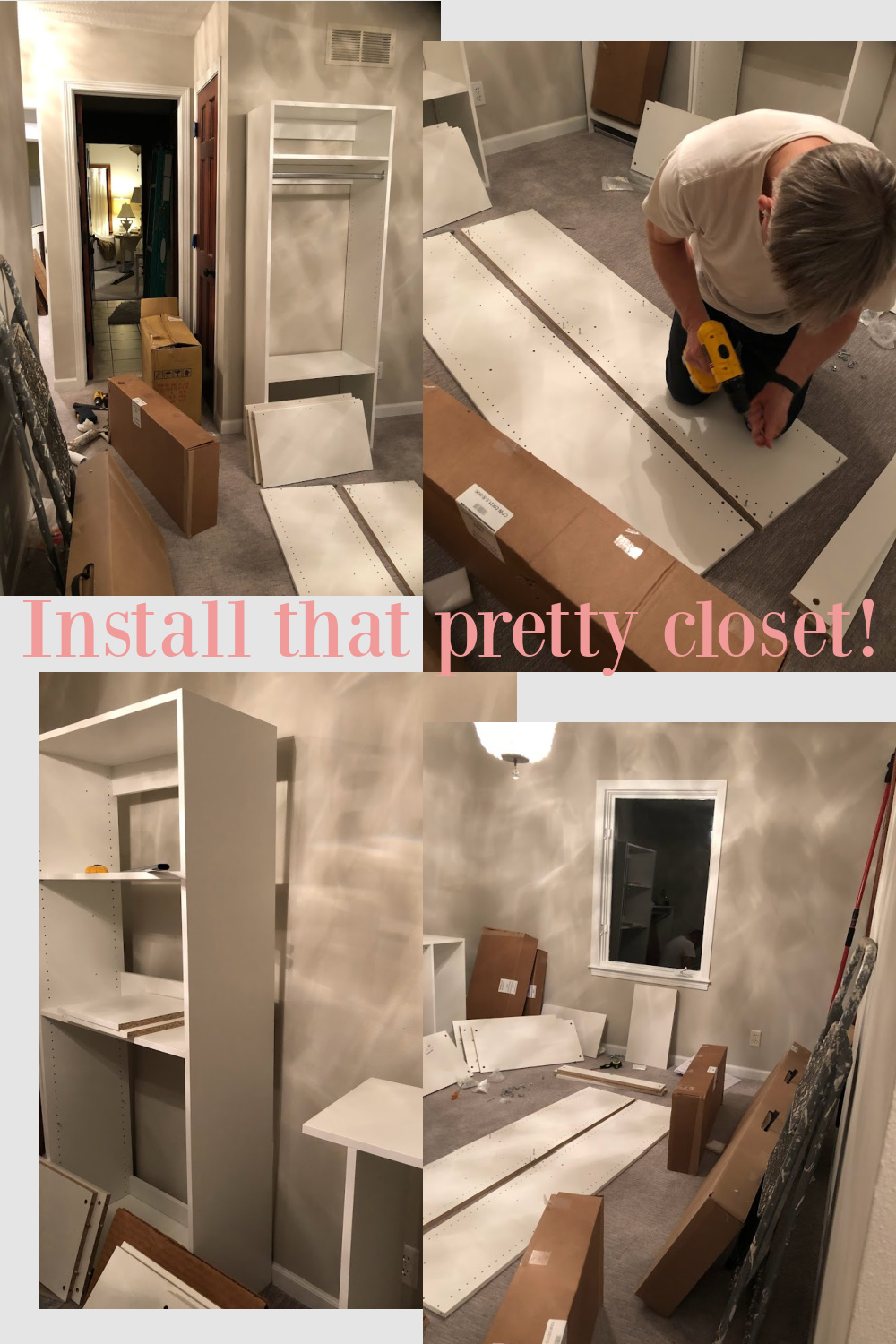 HOW TO DECIDE WHETHER TO INSTALL PRODUCT YOURSELF OR HIRE A PRO? Honor what you feel comfortable with. The Modular closet system is designed to be DIY friendly! We are here to help answer any questions. However, if you feel more confident enlisting help, don't feel bad. Perhaps someone in your family or a local handyman can help. But it is 100% designed to be easy for you to install! – Christina Giaquanto, Professional Organizer & Brand Ambassador for Modular Closets
What a bonus there were no missing pieces or damaged panels to slow the installation down!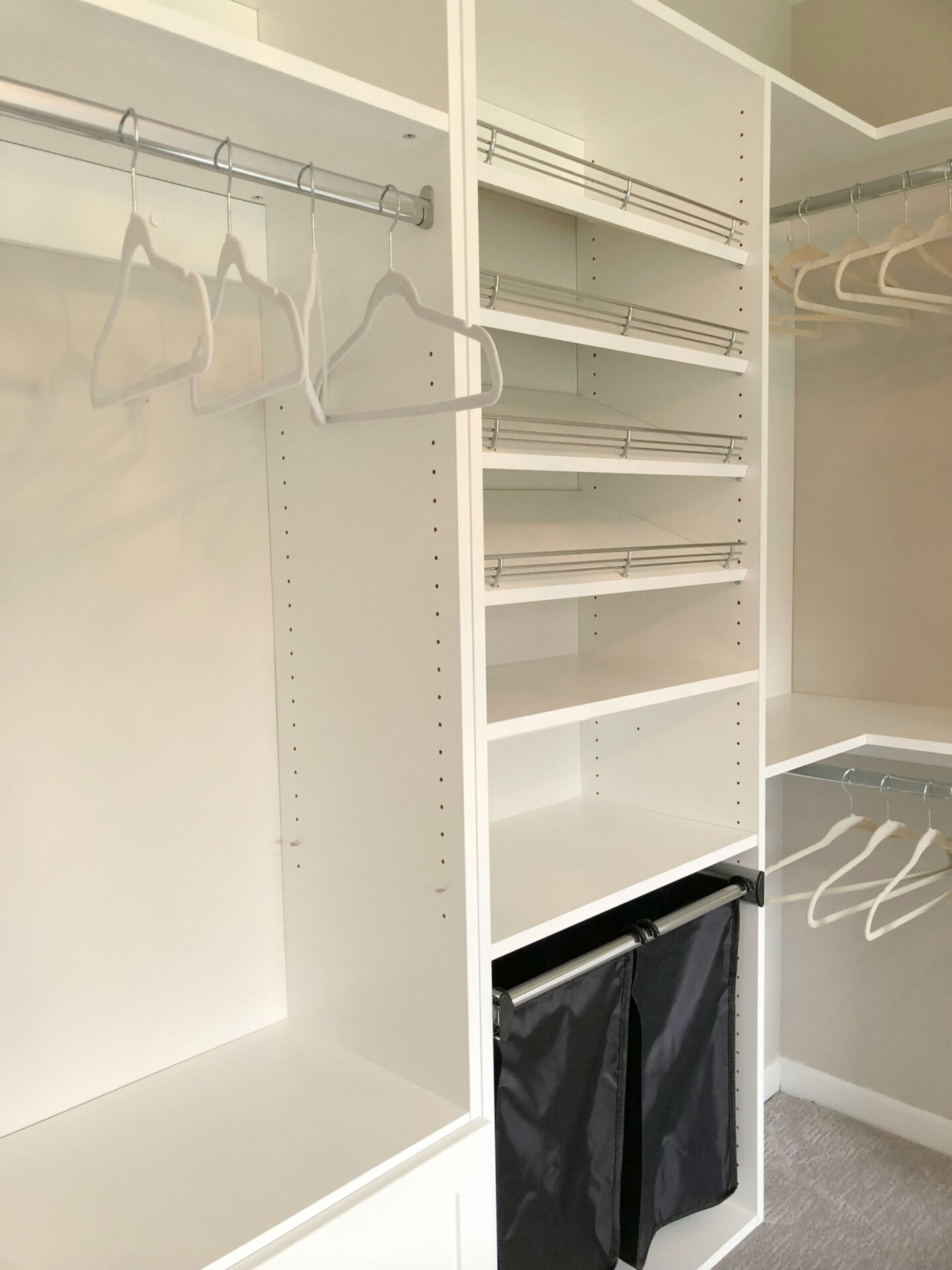 My Favorite Elements of the Product & Cloffice
I love the new cloffice/dressing room! Not only can I now begin organizing belongings, I have a pleasant workspace, vanity area, and yoga space.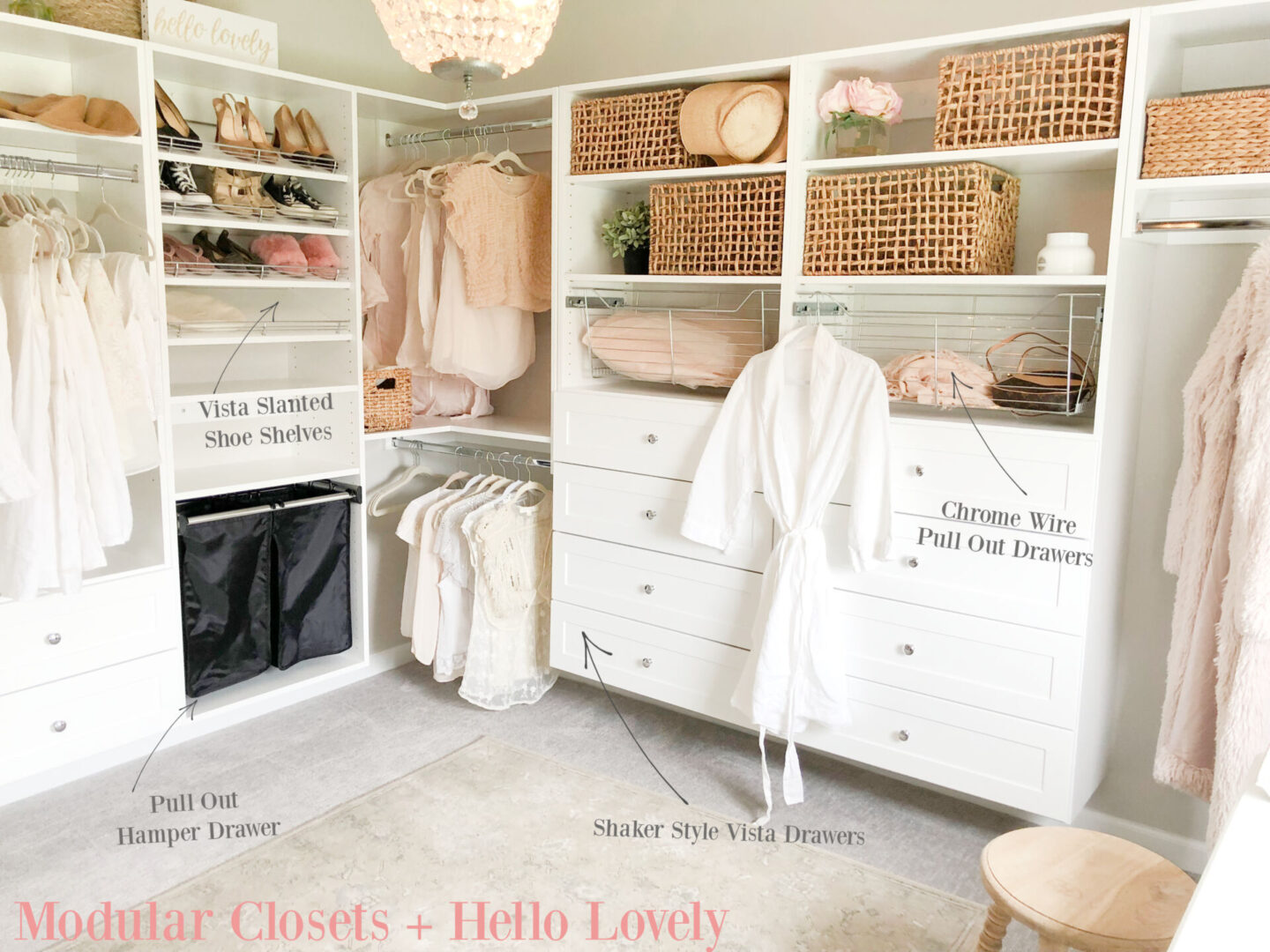 Here are some specifics I appreciated:
The boxes of carefully packed product were gently delivered to the inside of the garage, and nothing arrived damaged.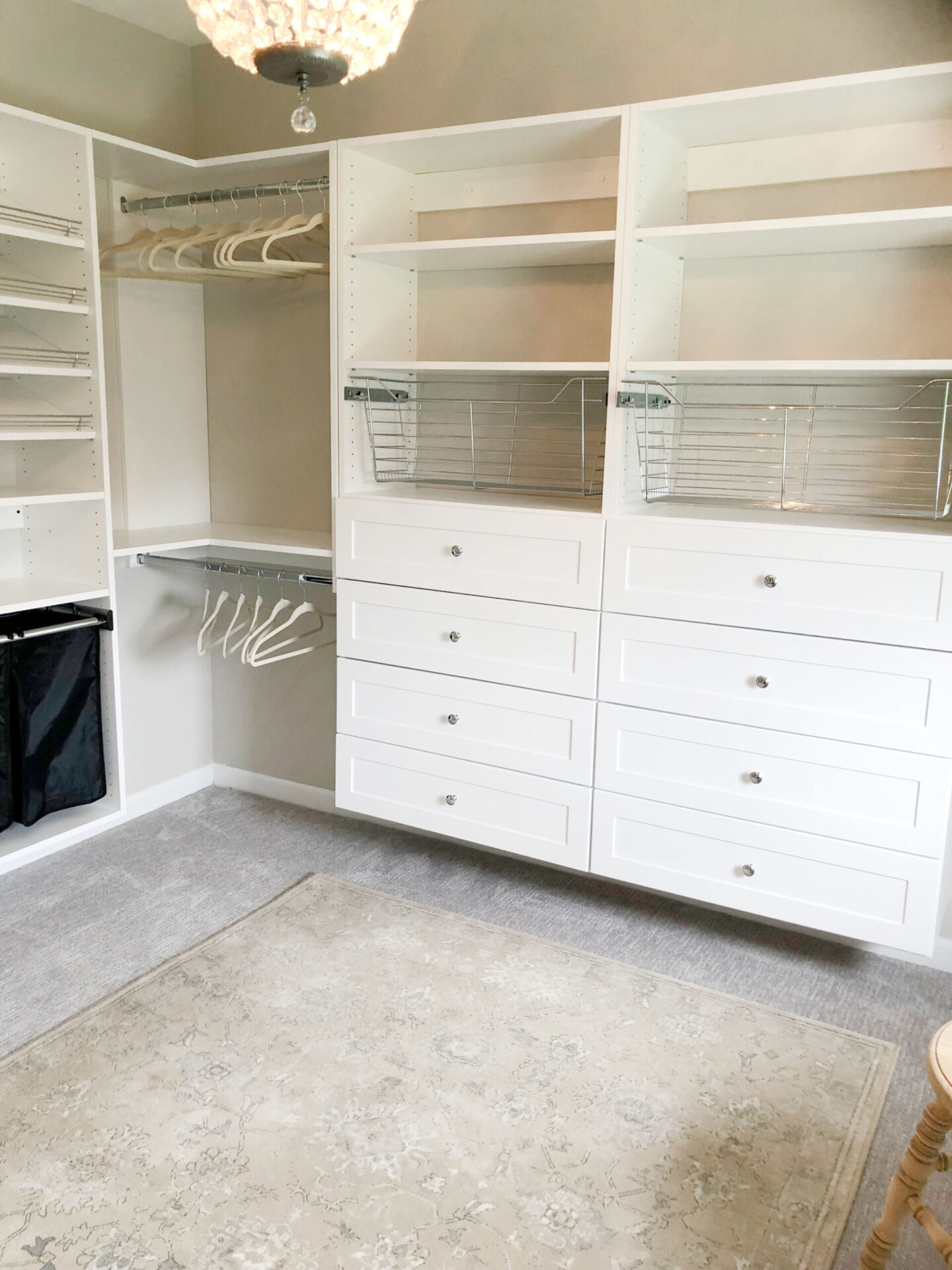 Even though you can have a blast customizing modules, YOU DON'T HAVE TO TRIM OR TRICK OUT THE TOWERS FOR THEM TO LOOK GREAT. The material is made from top-grade and high-density wood. I thought I might need to labor, add trim, and fuss with the modules to make them feel pretty and friendly…nope.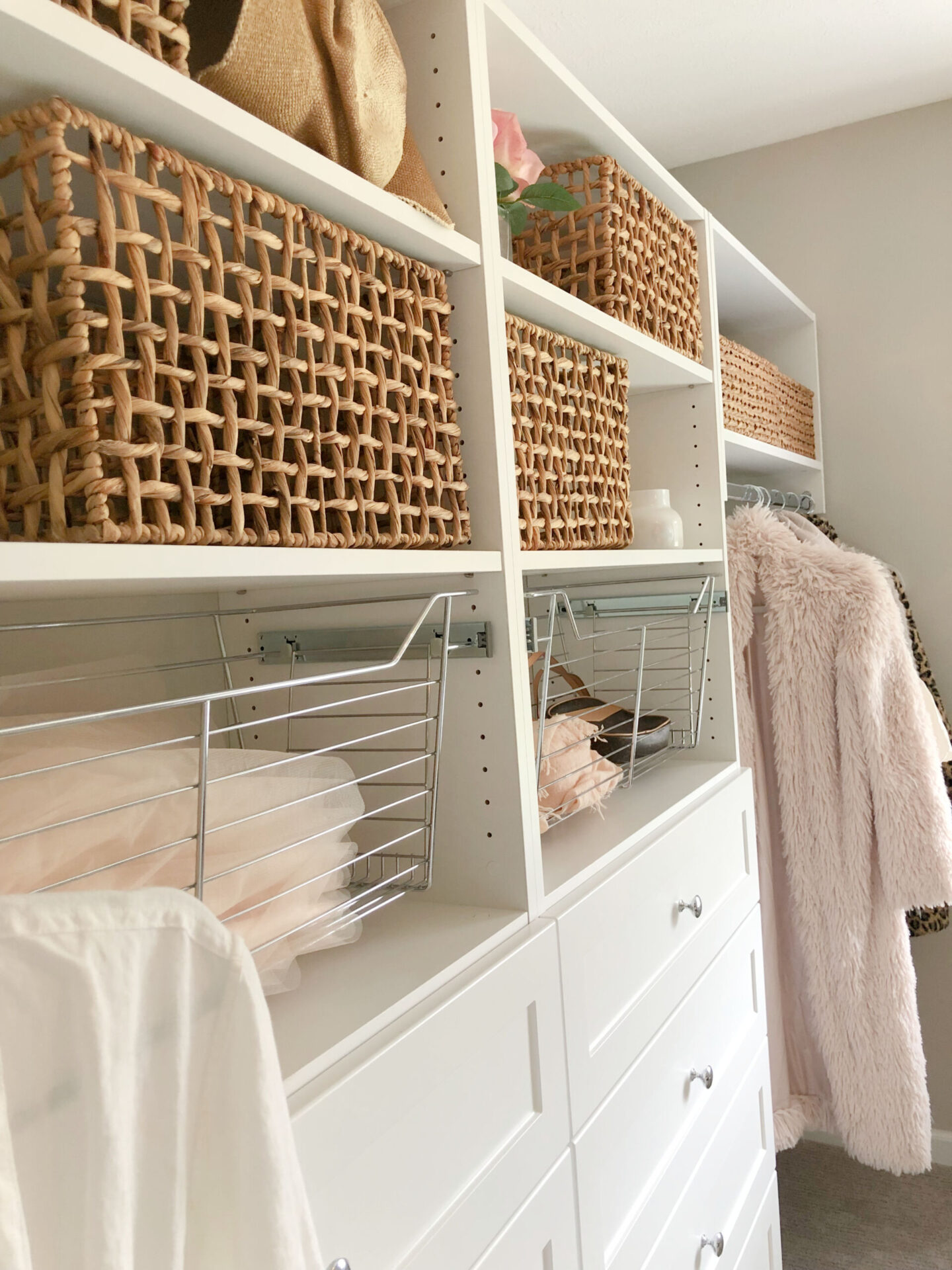 While the Shaker design is simple, I love the more minimal, unfussy look! Even the standard metal drawer knobs work for my taste. (See a video of the space HERE.)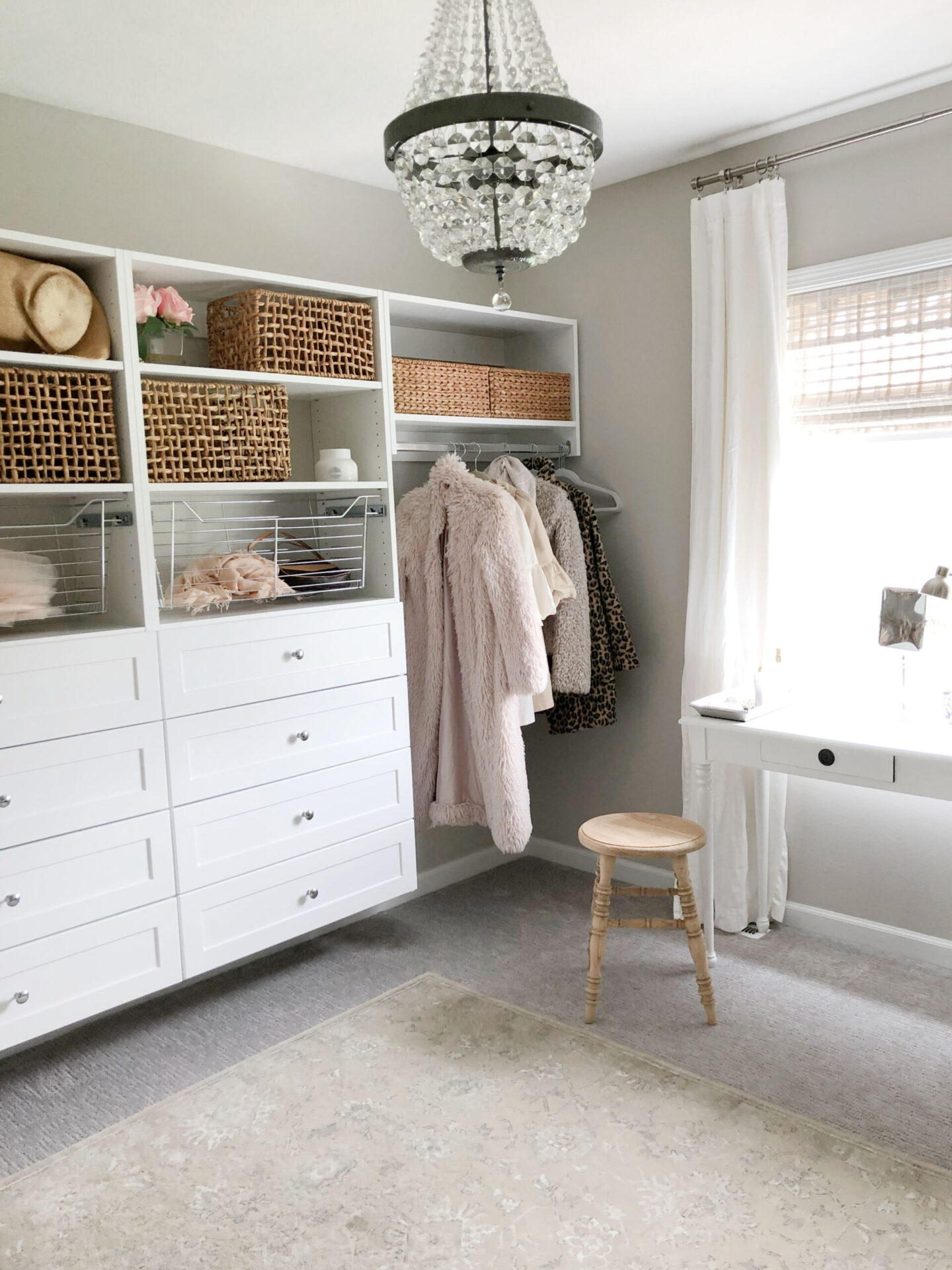 The pull out hamper drawer and chrome wire pull out drawers are DREAMY and glide smoothly. Closet accessories like these from Modular Closets enhance and bring ease to the everyday!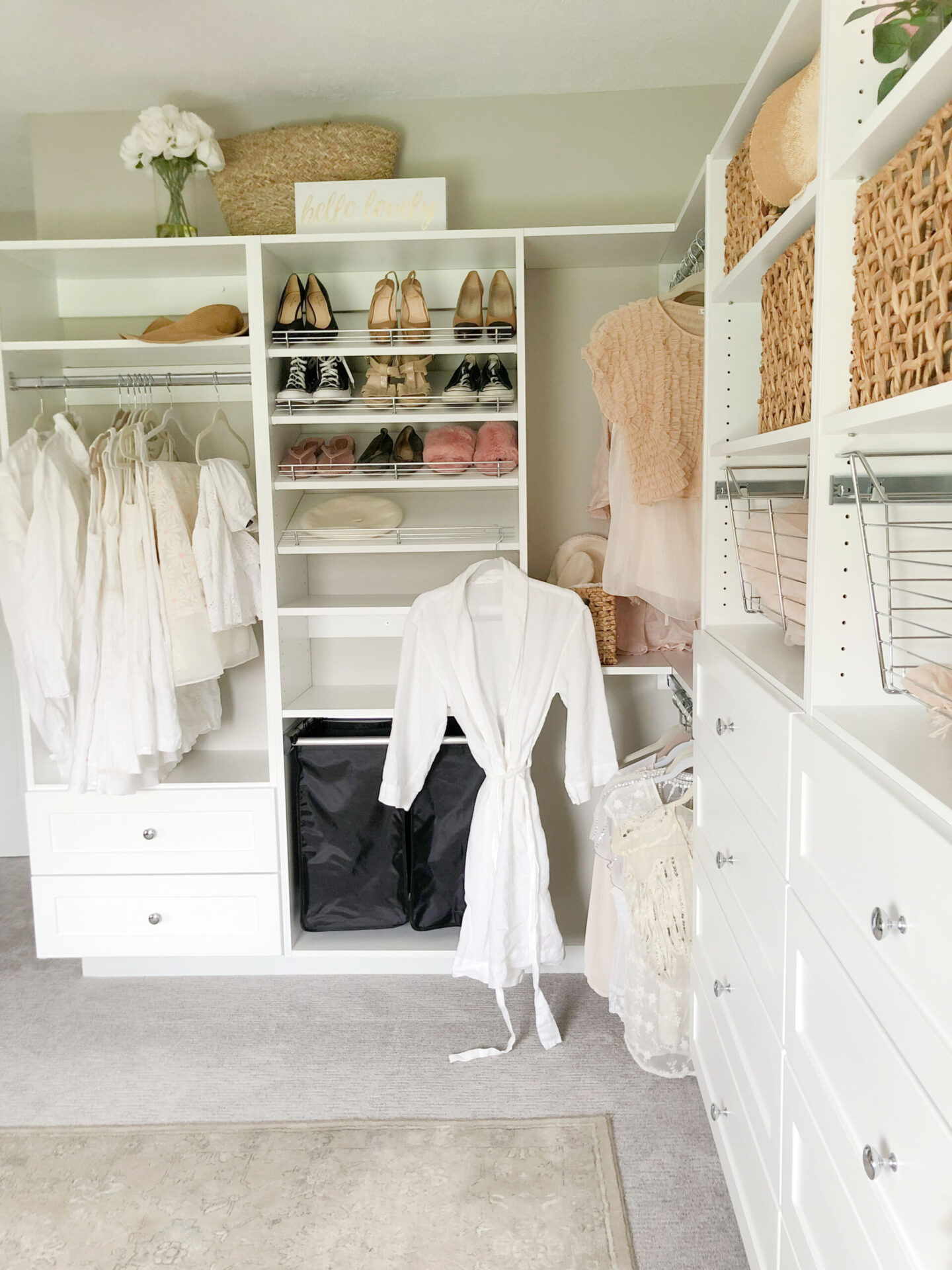 While you don't have to add embellishments to the closet systems, they lend themselves beautifully to personal design expression. I prefer natural woven baskets to corral items on shelves. If you favor soft-sided fabric bins, they would be perfect too.
When I catch my breath, I plan to line the drawers with pretty fabric…stay tuned!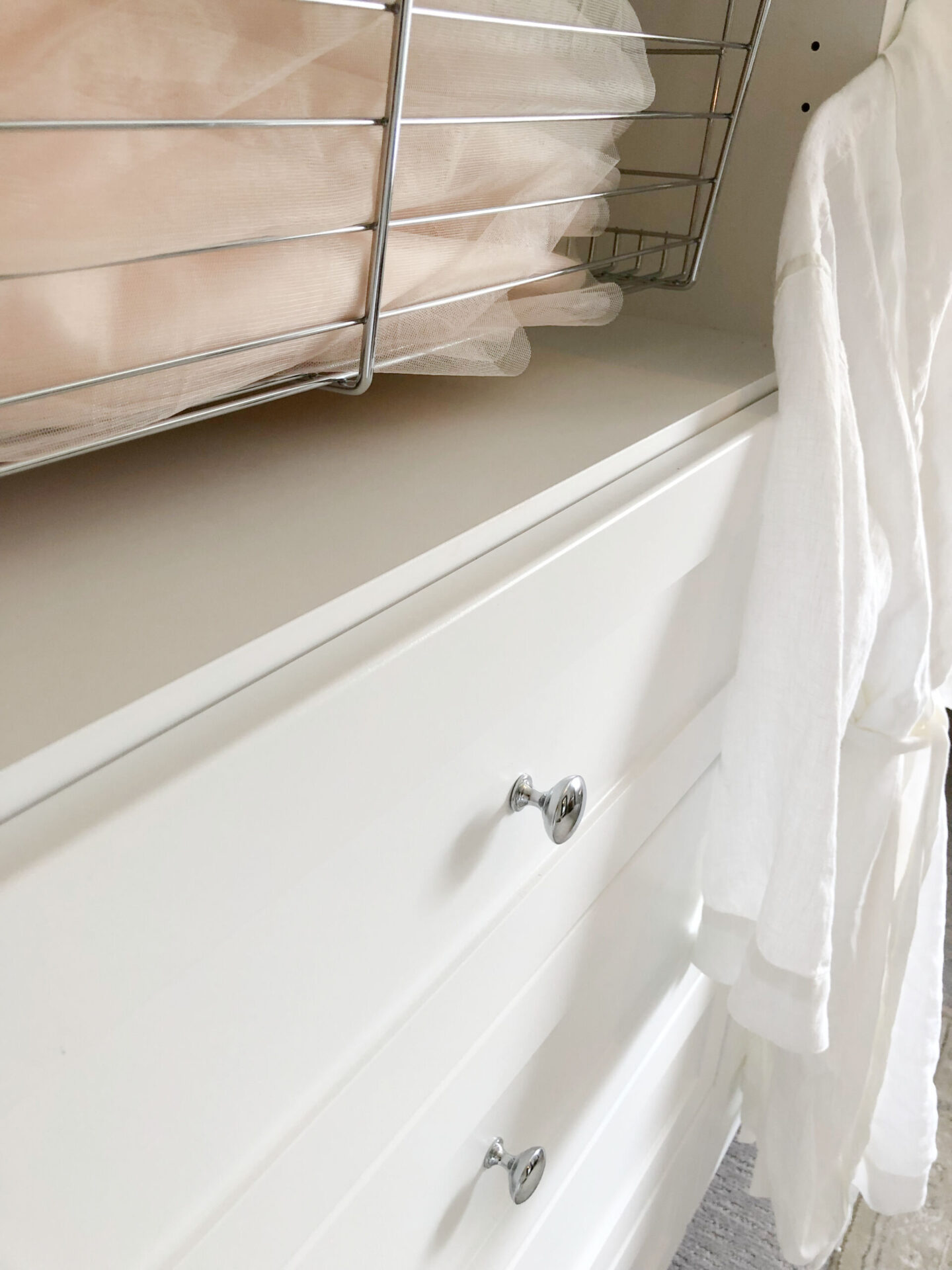 My smart new DIY closet feels integrated and like a personal little boutique. I wondered whether the product would read too modern and maybe compete in this traditional style bedroom with all the 6-panel doors. Instead, it has freshened the existing old school vibe and feels like new construction because it is!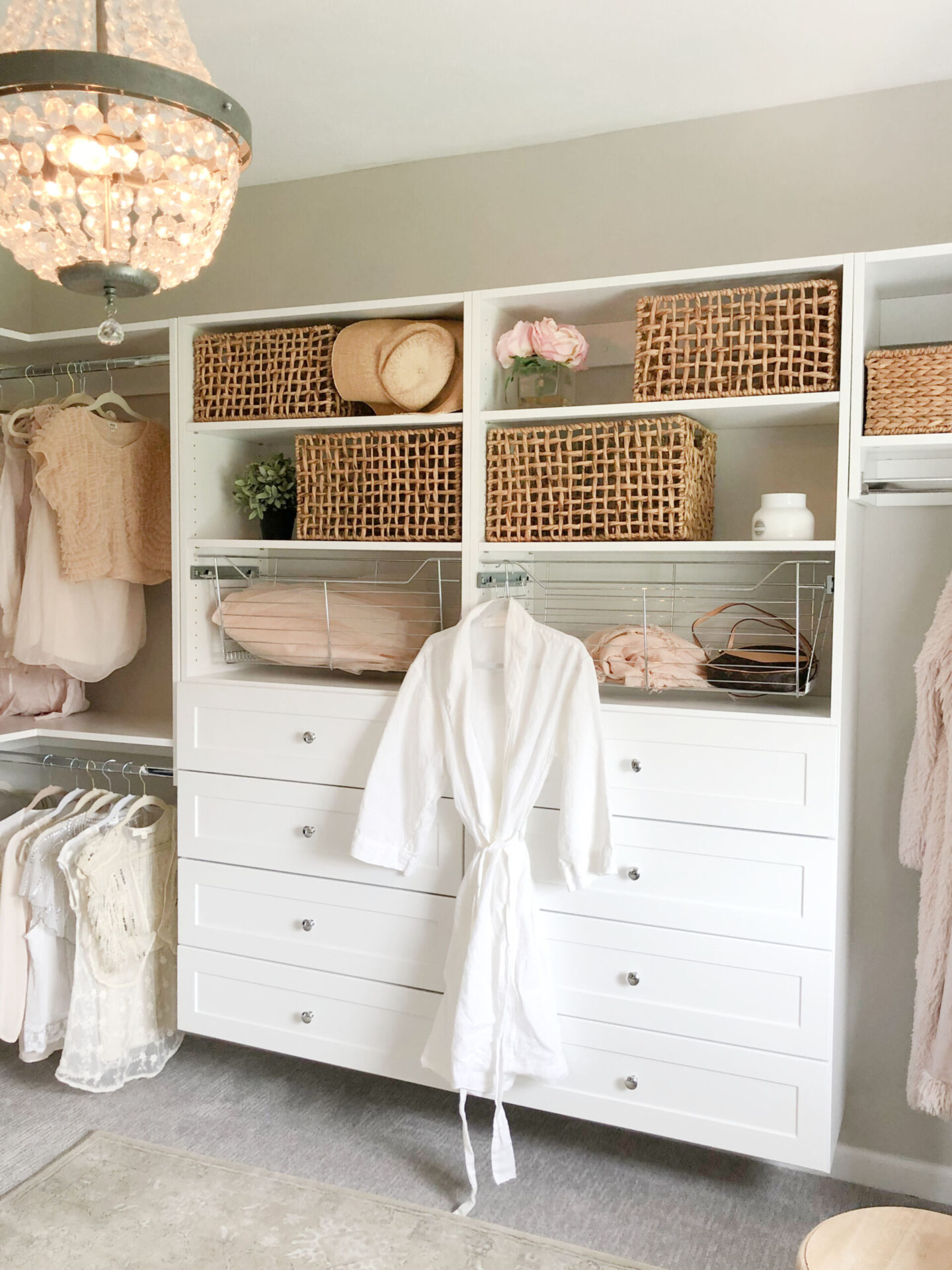 Is Customizing & Upgrading Closets a Good Investment?
The beauty of this DIY project is how we smartly enhanced the bedroom without demo or changing the room's status as a 4th bedroom! There is still room for a twin or even a full size bed (I tested it! It fits easily on the wall with the floor mirror that is free of modules).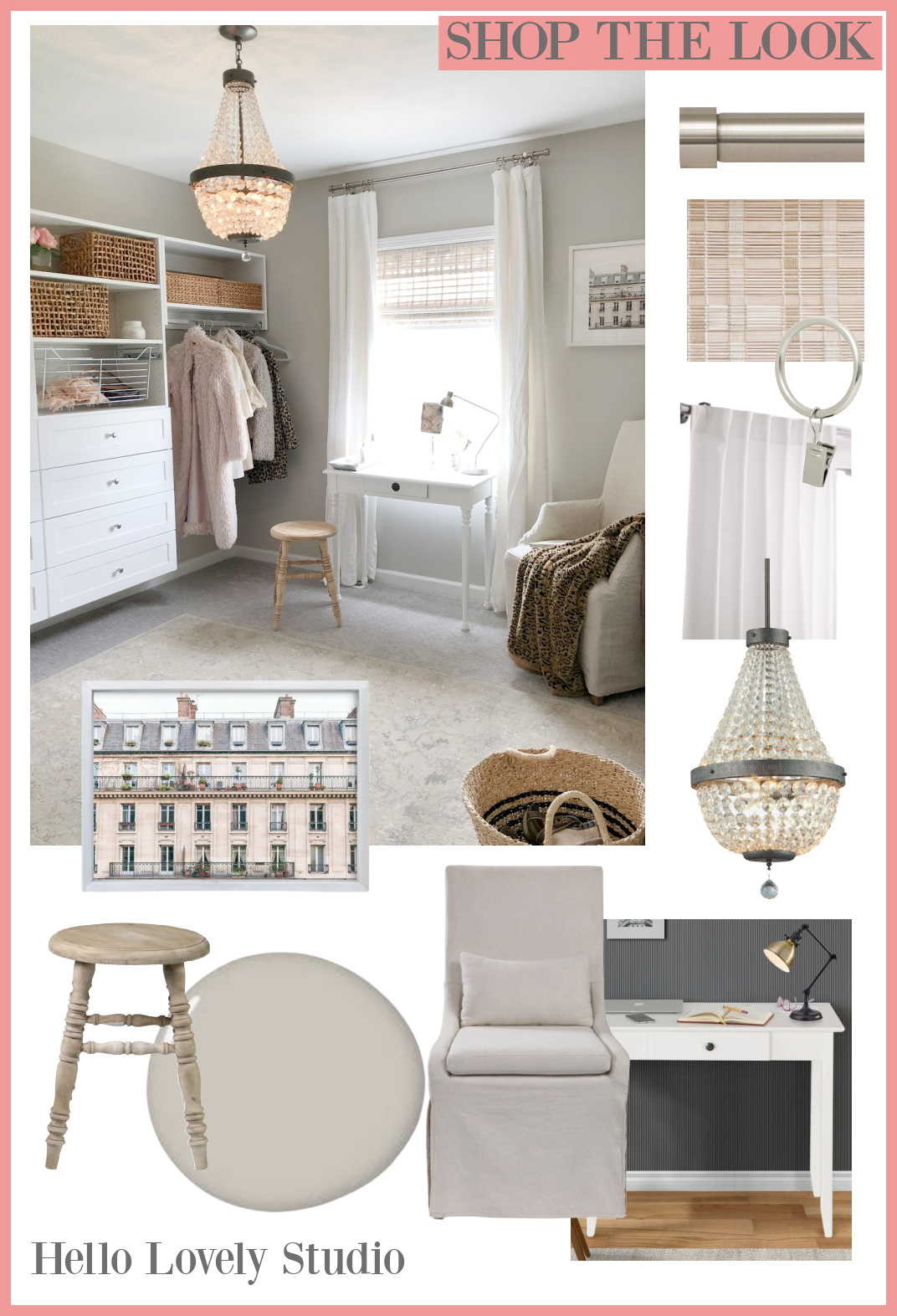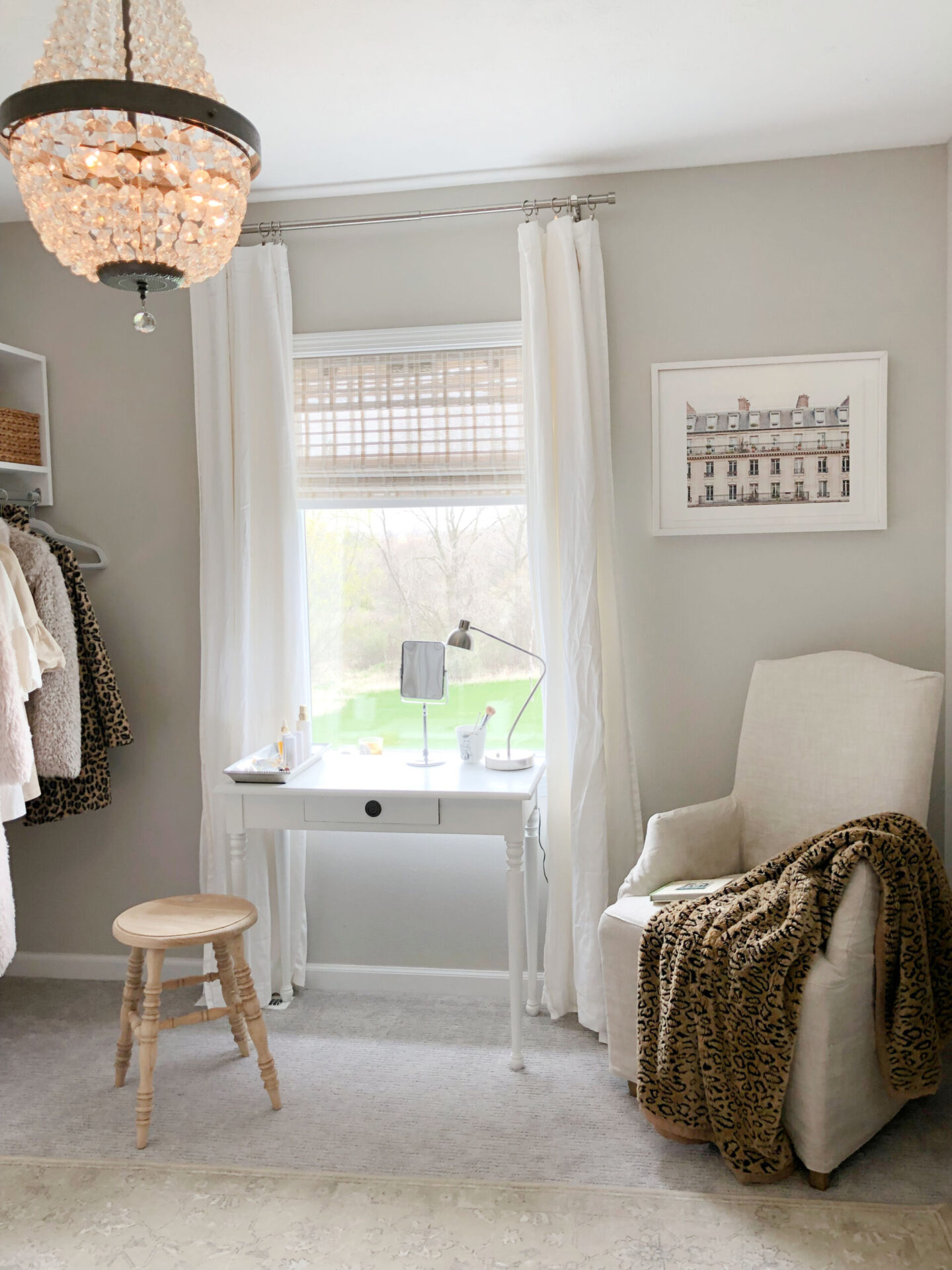 I can imagine a teen loving this as a cozy bedroom, and it would make a lovely nursery as well.
HOW DO CUSTOMIZED CLOSETS AFFECT RESALE VALUES? More than ever, organization is important to people, especially when it comes to their home. By adding a closet system, it adds more value to your home should you ever sell it. – Christina Giaquanto, Professional Organizer & Brand Ambassador for Modular Closets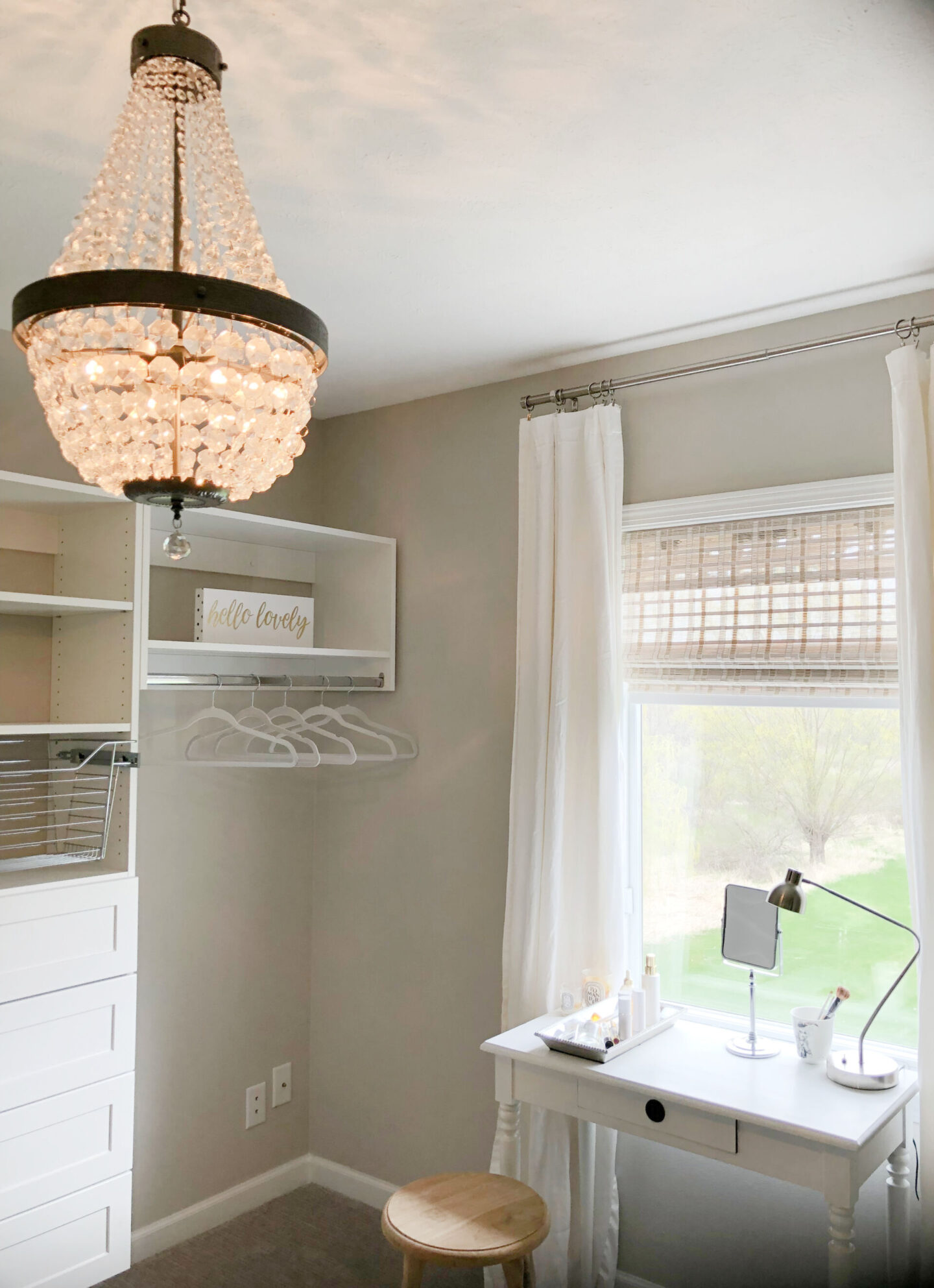 The 2020s have certainly re-shaped our ideas about design and how we want to live at home. For example, with so many of us working remotely or schooling from home, our rooms need to live larger these days.
Cloffices are becoming commonplace. Home offices, workspaces, and study spaces for children are attractive features to homebuyers.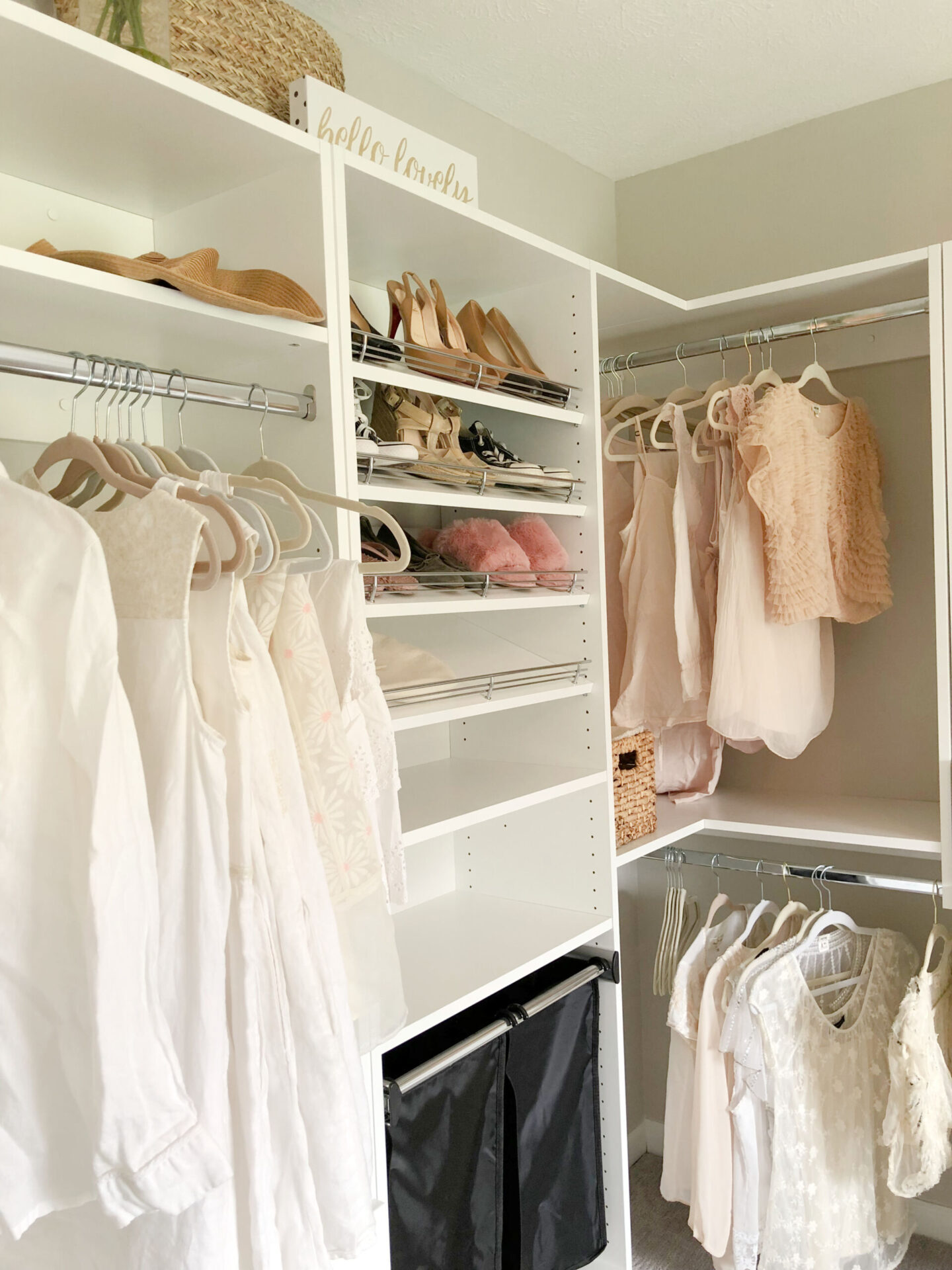 Since we are laboriously adding so much DIY heart and soul to the renovation of this traditional early 1990s home, I'm ever mindful of adding value by addressing the needs of future owners. Let's face it, they probably will appreciate modern amenities such as upgraded closets.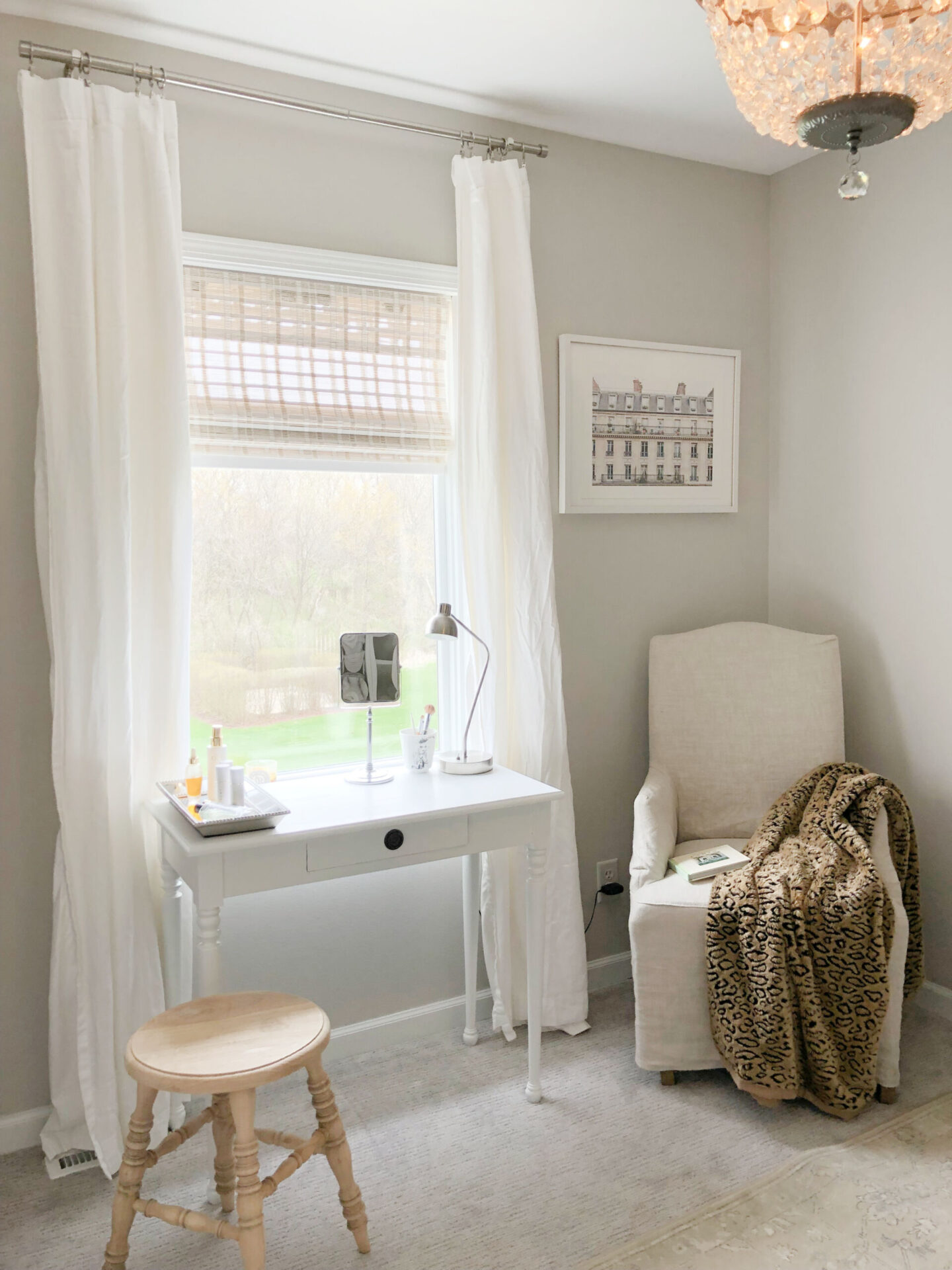 In fact, real estate and home experts seem to agree that in addition to recouping more than half of your investment for a closet upgrade, you'll also make it easier for your home to sell.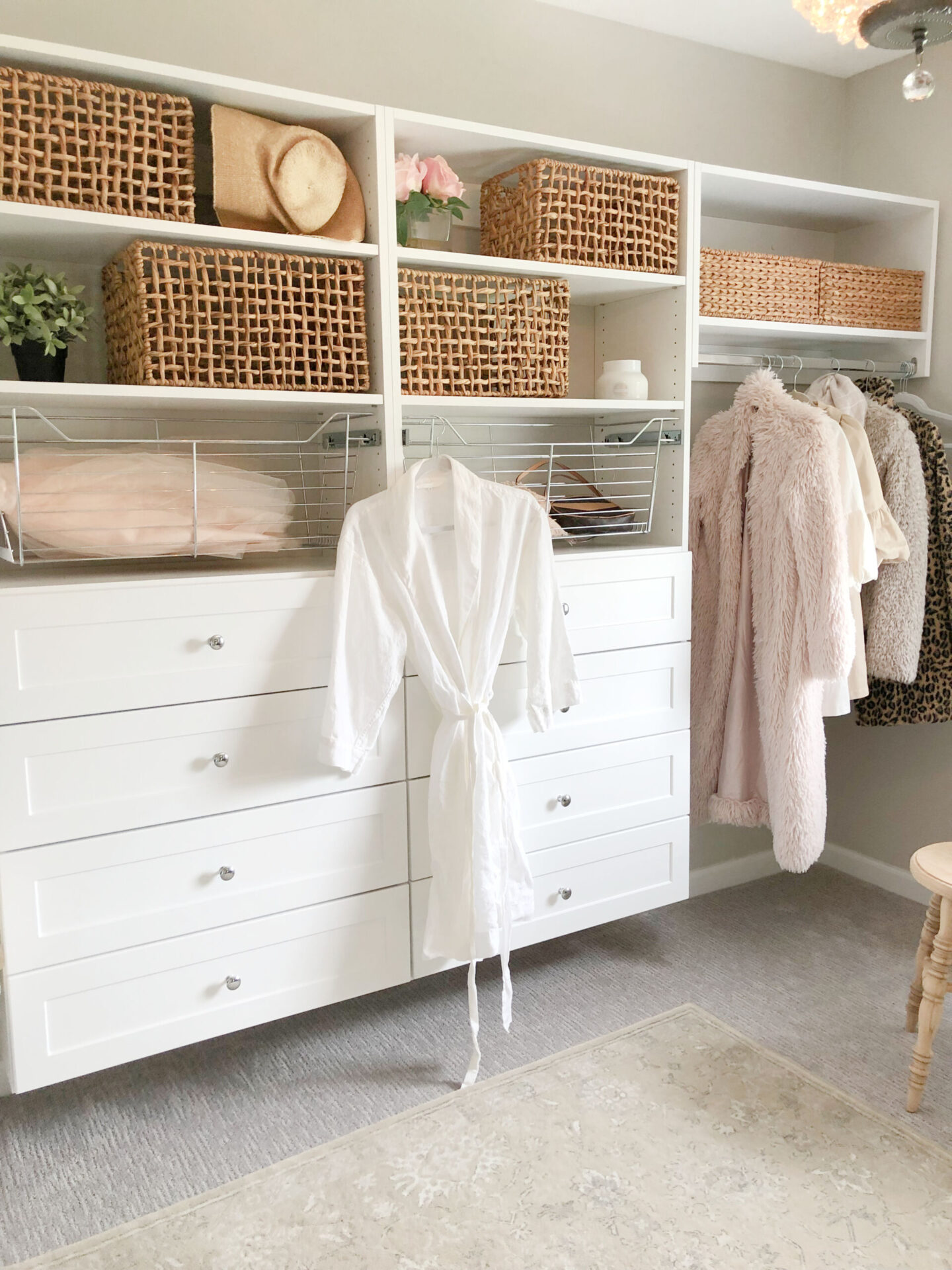 It seems to me that with so much post-pandemic uncertainty looming beyond our four walls, we all crave more order within them. Simply designed closets can provide structure for such order.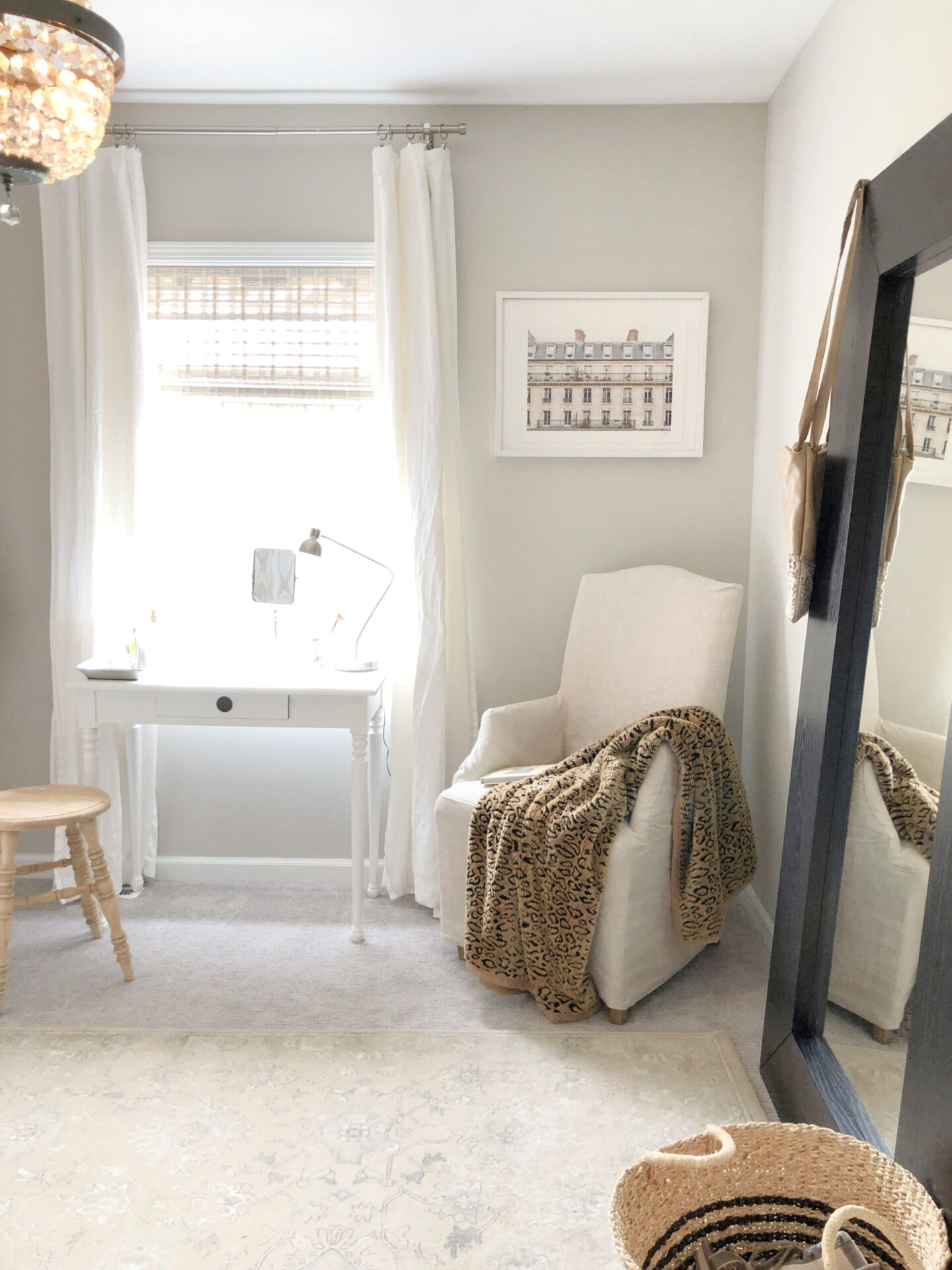 For folks readying their home to sell, I asked Modular Closets about staging a closet mindfully: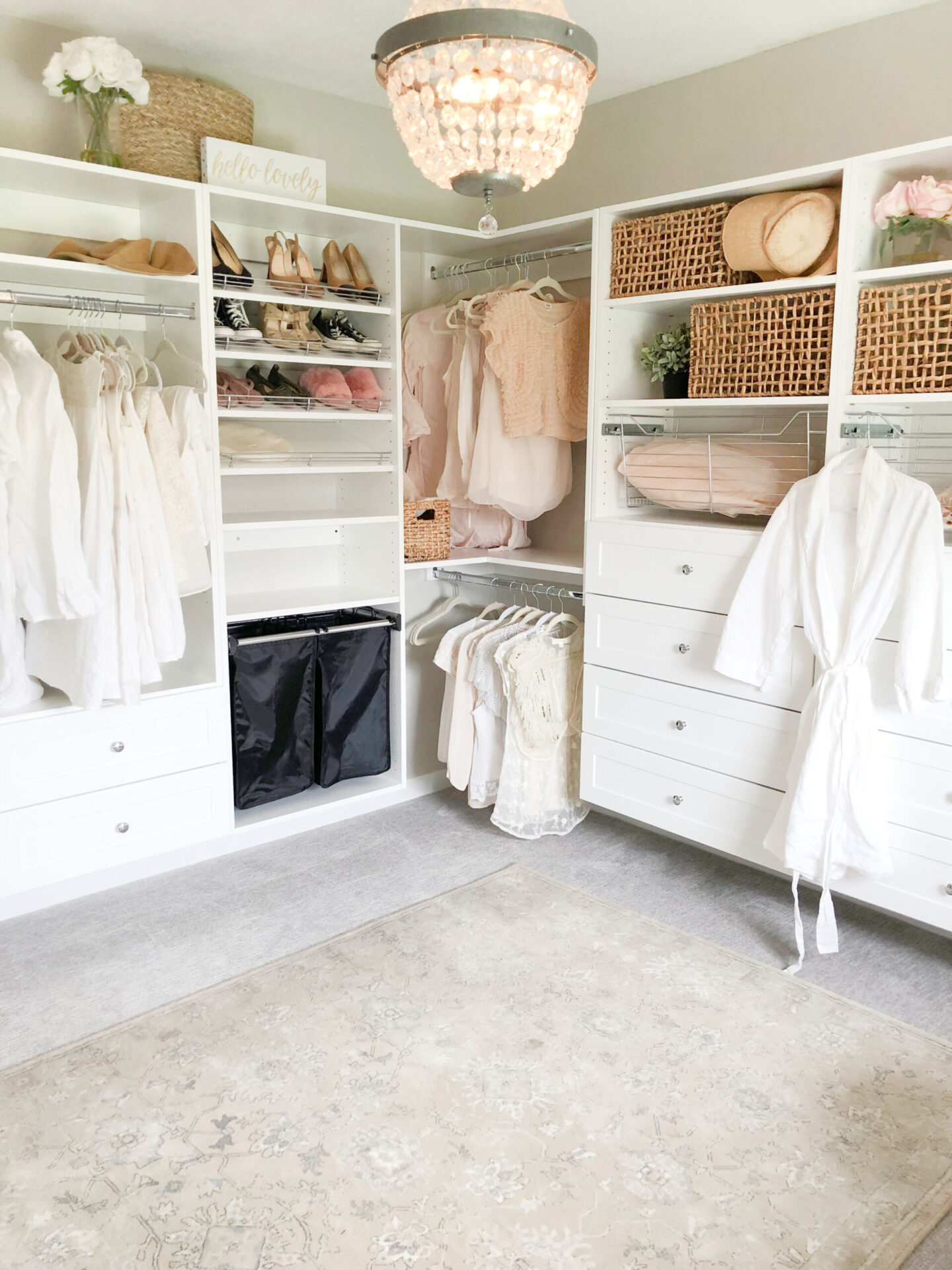 HOW SHOULD YOUR CLOSET BE STAGED FOR RESALE? Keep it simple. If you are selling your home, stage your closet very simply and without a lot of clothing in it. You want to stage the closet so potential buyers can visualize themselves using it. Less clutter allows the buyer to imagine what it would be like to have their own wardrobe items in the closet. Also, with less distraction from clothing, the focus can remain on the closet system itself. You want the potential buyer to get excited about filling up this closet. – Christina Giaquanto, Professional Organizer & Brand Ambassador for Modular Closets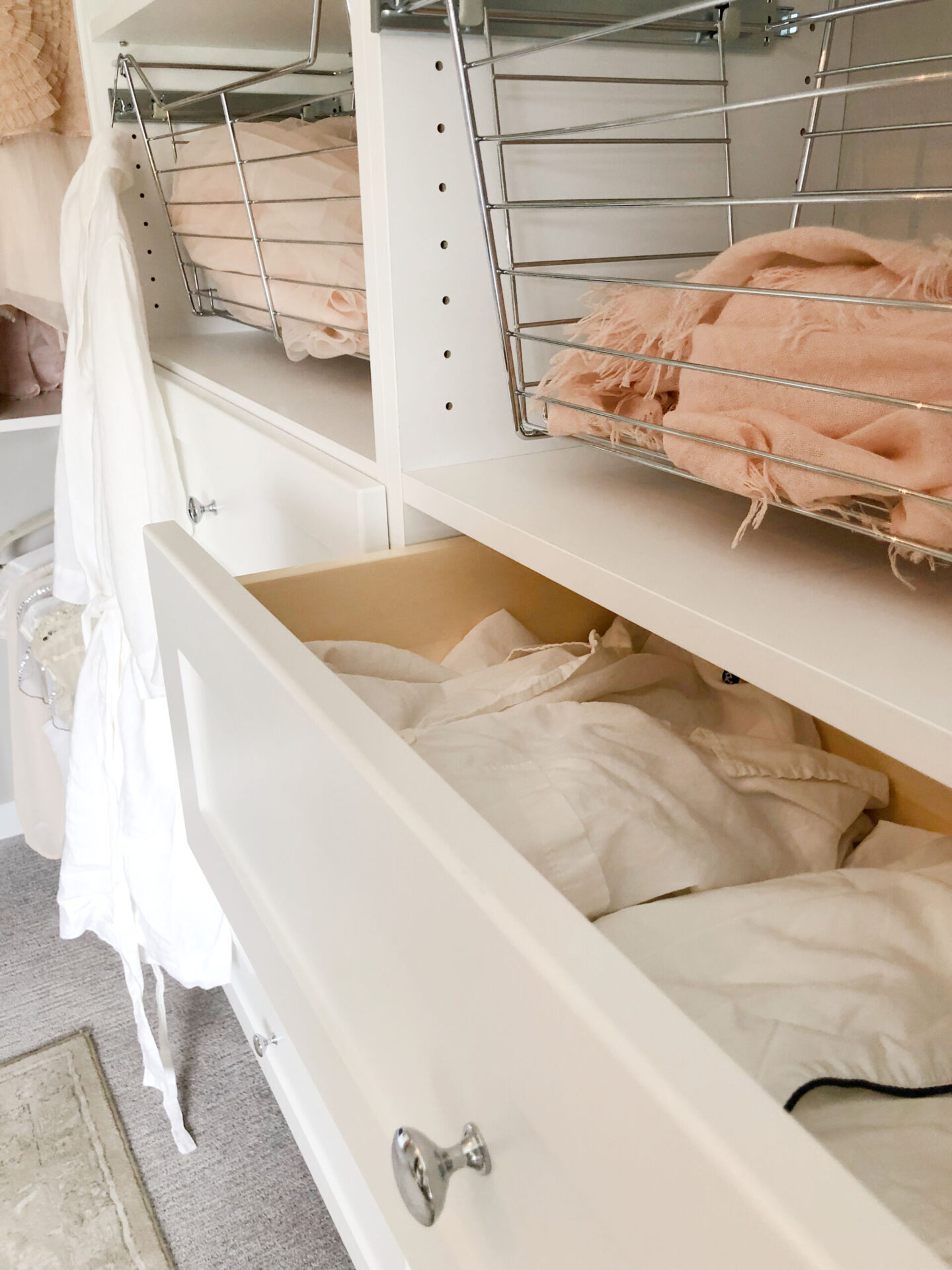 So smart! When we toured our new home, it was emptied of everything, yet it didn't feel soul-less or vacant.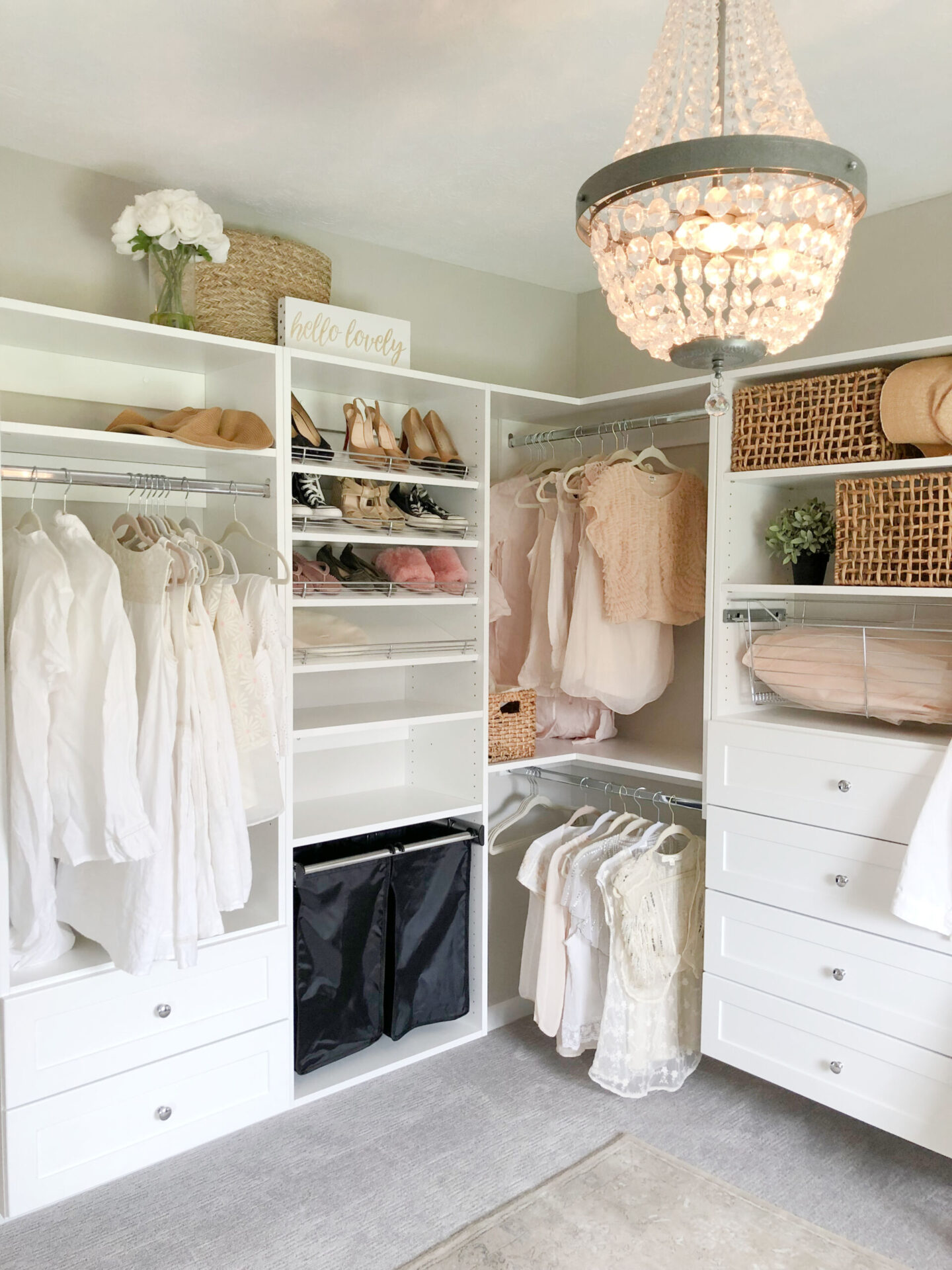 I am so very grateful to MODULAR CLOSETS for the opportunity to partner and experience their excellent customer service, high quality product, and easy design process.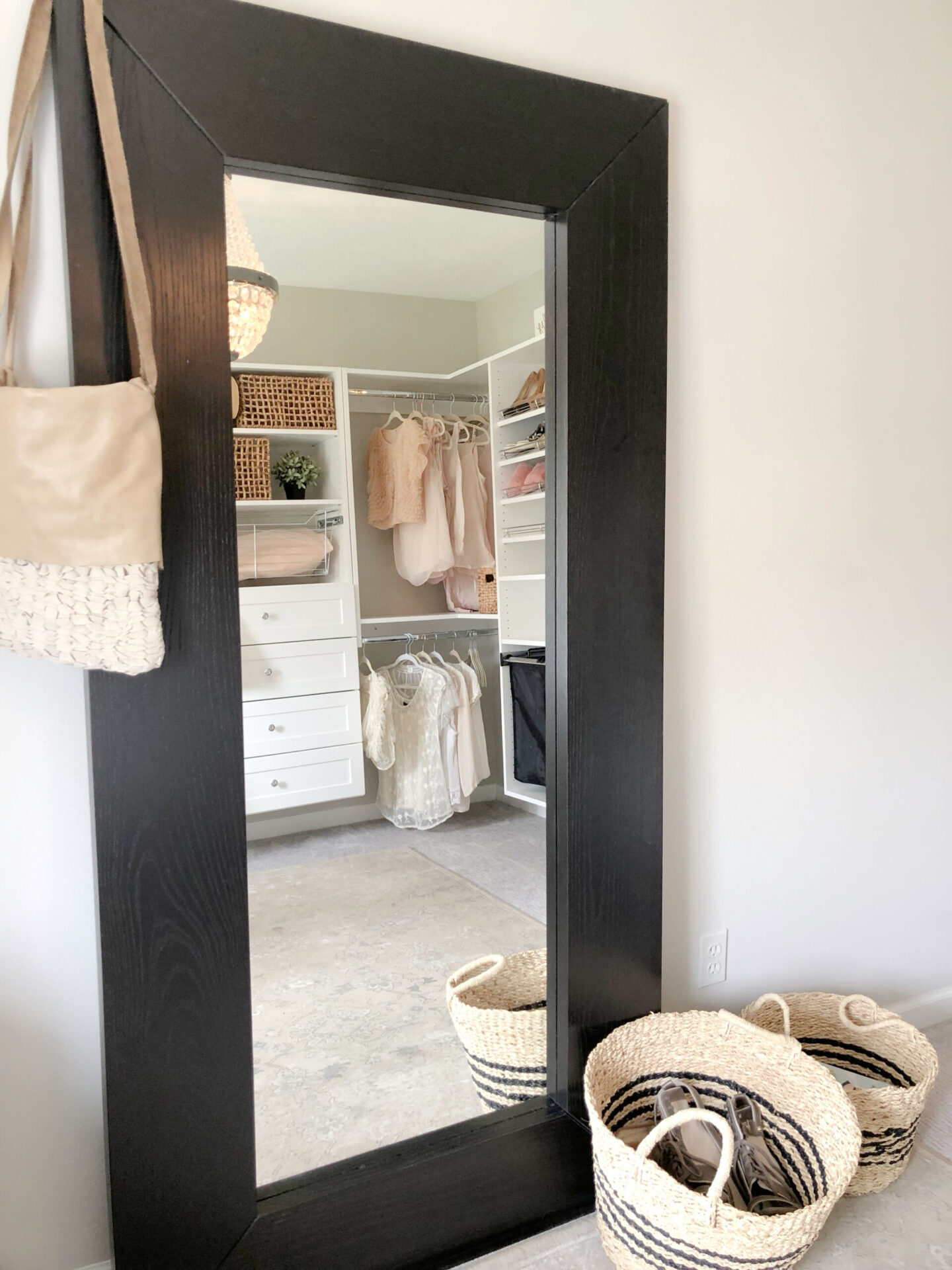 Thanks so much for taking a peek at our DIY closet project…please do PIN this post and these images like crazy to spread the love and support this blog!
Peace to you right where you are.
-michele
p.s.
My husband is THE MOST amazing DIY partner this fairy on the prairie is blessed to call hers! I bow to his skill, strength, and courage along this renovation journey.