It is one of the questions that arrives in my inbox almost daily. All of the white paint swatches at the counter begin to look the same. Or you thought it would be easy because white paint is white paint, right? Wrong. These white paints to sample may help you by giving you a place to start. And the first thing of which to be aware is that the right white paint may not have "white" in the name!
Affiliate links in this post and won't cost you extra while I may earn a small commission.
How to Know Which White Paints to Sample?
Even when you stumble on a gorgeous photo where an interior designer has shared the paint color name, don't get it twisted. That color may be all wrong for your particular space.
Trim paint color (above): FARROW & BALL French Gray.
Why Won't My White Paint Be the Right Shade For You Too?
Your room's: amount of natural light, decor plan, finishes, and even geographical location all factor into the equation. There are also factors such as personal preferences and vision differences (as we age, we tend to see more yellow in colors).
Need a Little Help to Narrow Down Possibilities?
While it can be overwhelming to choose the perfect white with so many possibilities, I'm here to hold your hand through the process.
White Paint Color on Walls (above): FARROW & BALL Strong White 2001.
Greyed White Paint Color: Farrow & Ball Strong White
"A grey based white. This cool white is both strong by name and strong by nature. One of our Contemporary Neutrals, the subtle urban feel of its light grey undertones add a contemporary twist to period homes, while staying in keeping with modern properties." -Farrow & Ball
White Paint Color in Our Former Home
After living for years with warm whites, we bought a fixer in 2015 and felt a bright modern white suited the freshly renovated interiors.
In that home we tested more than five whites by painting large swaths on the walls and observing how each hue with their varying LRV (light reflectance value) changed throughout the day.
OC-151 by BENJAMIN MOORE imparts a modern gallery-like feel, coolness with minimal undertones, crispness, and no grey or yellow cast.
Neutral Decor to Get the Look
I also love the vintage feel of this one:
You May Not Have Considered…
With decades of experience renovating and decorating, what I know for sure is the best white paint color for one particular space may be all wrong for another.
For example, the light where I live in Northern Illinois is completely different than the light in the Southwest.
Bear in mind you should narrow your search for the right white to a handful of tones and then try samples of all of them on the walls.
Everybody Has An Opinion About How to Best Choose A Color!
Goodness gracious. There are color experts who say to NEVER look at photos online for help finding the right color and others who are convinced this is THE way to do it!
Why the contradictory perspectives?
Reviewing photos here and on Pinterest or Google is a great place to start when the name of the paint is supplied. This approach may be far more helpful than scrutinizing a little paint swatch at the hardware store.
Have a Pinterest board for your favorite white paints to sample? Create a board and PIN THIS POST so the color names are easily accessible on your phone when you shop for samples.
Easiest way to see if a paint color will work? Order samples with Samplize and have them delivered straight to your door.
Beautiful Behr White Paints
Here's an infographic with a few favorite Behr white and neutral paint colors: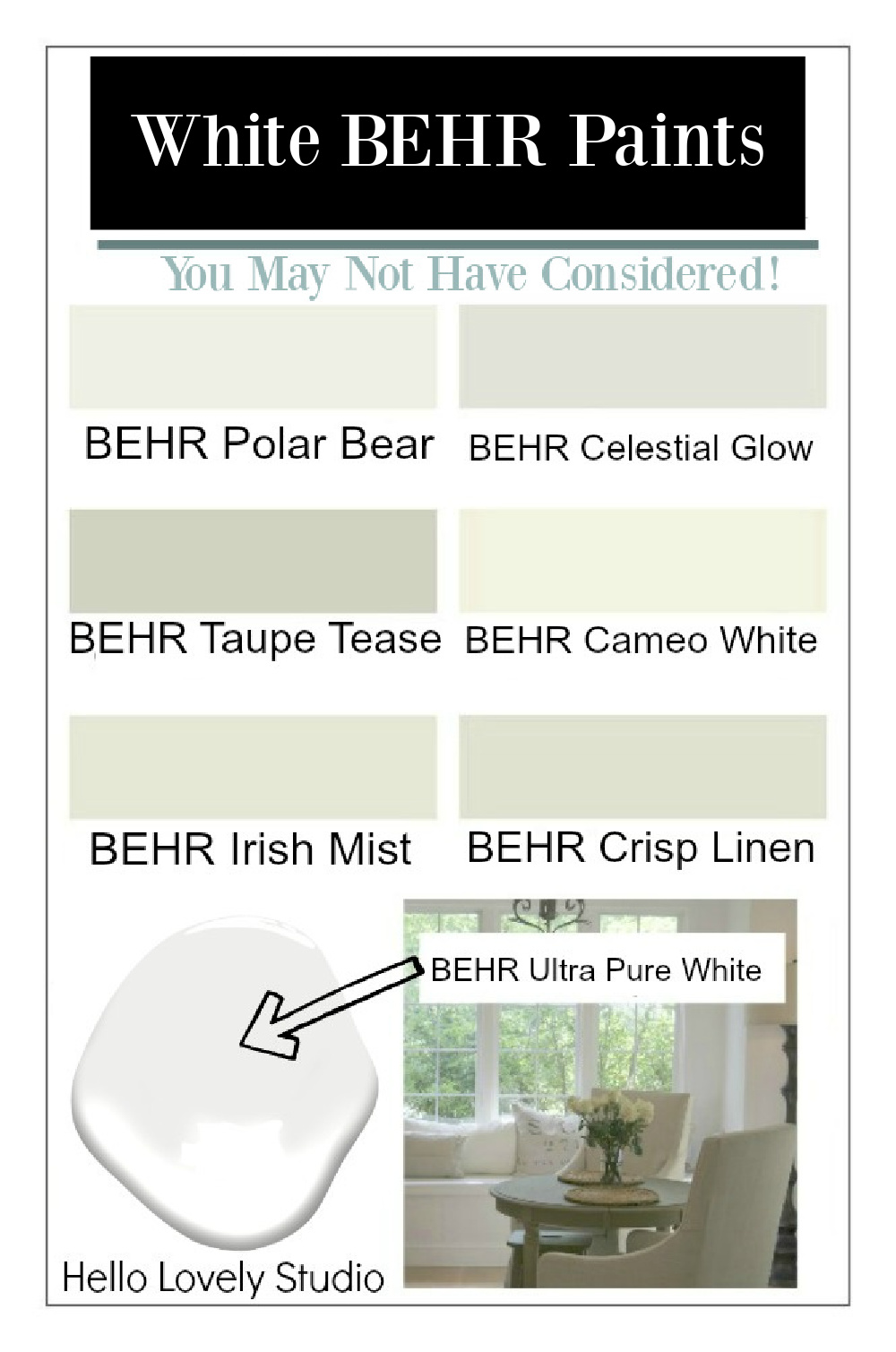 BEHR Ultra Pure White
This color is very similar to White OC-151 and is free of undertones in case you want a modern, bright, non-creamy, very cool and highly reflective white.
Polar Bear by BEHR
This is a beautiful, versatile white that will work in a variety of different scenarios. It is very close to the most famous of all whites: Benjamin Moore White Dove.
BEHR Celestial Glow
Celestial Glow is reminiscent of Benjamin Moore Classic Gray, which I painted a family room and bath in our former fixer upper. Celestial Glow also reminds me of Benjamin Moore Dove Wing, a white on the trim in a French country home we built.
Remember that there are plenty of light grey paints that LIVE like a white paint. While you may think you want a color with white in the name, very often a color with grey in the name may be the right choice. Here's a gorgeous "white" home that is actually painted a grey color:
See what I mean? My bedroom furniture may strike you as white, yet it is actually a putty-color called BM Revere Pewter:
BEHR Taupe Tease
After a warm white or subtle greige with grey/brown undertones? This one is very similar to Revere Pewter:
BEHR Cameo White
Cameo White is similar to the wildly popular and used on almost every early episode of FIXER UPPER, Sherwin-Williams Alabaster. Both Behr Cameo White and SW Alabaster remind me of a neutral called Valspar Salute. I used Salute for all of the interiors of a second home in Arizona. With the intense sunlight there, the undertones were just a perfect balance.
Country Living confirms Joanna Gaines favors SHERWIN-WILLIAMS Alabaster for many projects. She also used this tone on the walls in her own home.
BEHR Irish Mist
My favorite neutrals are those where you find it difficult to describe with words. Sophisticated complex hues are like that! Irish Mist qualities as an atmospheric white in that spirit. Is it khaki? Sandy greige? Linen-like?
Leanne Ford's Favorite: BEHR Crisp Linen
The designer is crazy about this warm white. And I love how it contrasts with crisp white trim.
"Seriously though…I am currently on my third project where I am covering both the interior and exterior in it. It's warm but still clean and fresh with a hint of vintage." – Leanne Ford
I understand why Leanne is a fan. Crisp Linen is super close to Benjamin Moore White Sand, the color I chose for almost all of the interiors in our prior French home.
It doesn't feel too traditional or too modern, and if you love a little beachy-factor, you'll love it too.
Joanna Gaines loves Kilz Shiplap, which is a color quite similar to Behr Crisp Linen.
Listening to the Experts for Choosing the Right WHITE
According to advice from Remodelista:
1. Understand all of the different nuances of white (is it cool, warm, bluish, pinkish?).
2. Determine if objects in the room are cool (choose a cool white) or warm (choose a warm white).
3. Assess whether the room gets a lot of natural light (go with a pure white) or little light (go with a more pigmented white).
4.Choose a few whites and test large swatches on the walls.
5. If still stuck, turn to interior designers' top picks.
What's the Perfect White According to My Designer Friends?
I polled a few design friends who graciously offered their favs.
Greet of Belgian Pearls: FARROW & BALL Pointing
Lauren DeLoach: SHERWIN-WILLIAMS Alabaster
Megan Pflug: FARROW & BALL Ammonite
YOUR TURN! Have a favorite go-to white or neutral paint color? Why do you love it?
I independently selected products in this post—if you buy from one of my links, I may earn a commission.
Peace to you right where you are.
-michele
Shop for items you already intended to buy on Amazon RIGHT HERE, and also find home decor here to keep decor inspiration flowing on Hello Lovely!
Hello Lovely is a participant in the Amazon Services LLC Associates Program, an affiliate advertising program designed to provide a means for sites to earn fees by linking to Amazon.com and affiliated sites.