Today I'm sharing the recipe for a wonderful healthy bread I make weekly. It is inspired by the Life-Changing Bread recipe shared by holistic nutritionist Sarah of My New Roots. Her original recipe and my adapted version have indeed changed my life and diet for the better. How thankful I am for her method which I have tweaked and which you can adapt to your taste as well! I'm counting on my baking friends to give my Easy Healthy Flourless Bread Recipe to Seeds the Day a whirl since it is truly rocking my world, and I want to hear from you!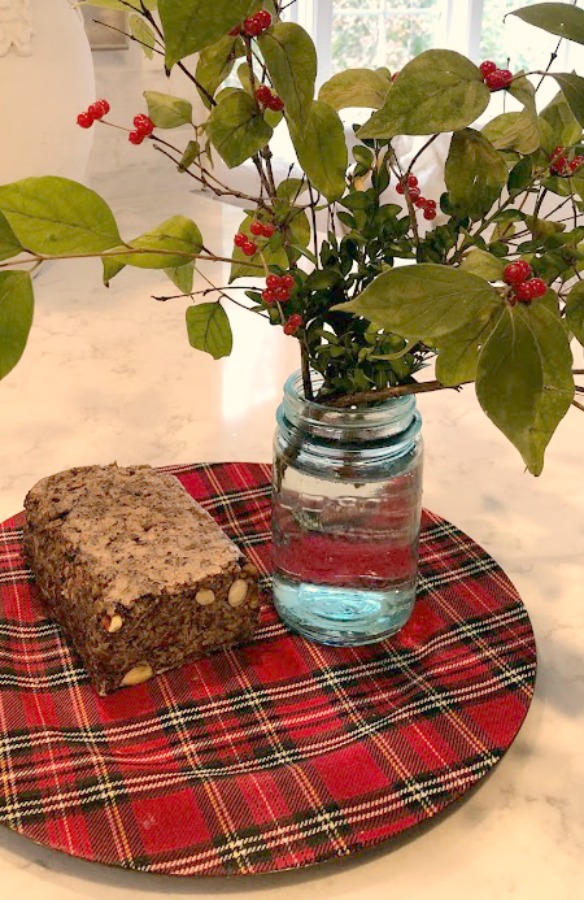 My Easy Healthy Flourless Bread Recipe Adapted from My New Roots
The My New Roots' life changing bread recipe here is what sparked my interest and journey toward developing a healthy bread I can tolerate and feel good about consuming. My old fashioned sourdough still gets made every other week (since it's delicious and made from a starter I keep going!) and is shared with friends and family, but I can't seem to tolerate gluten at the moment so it's not an option for me.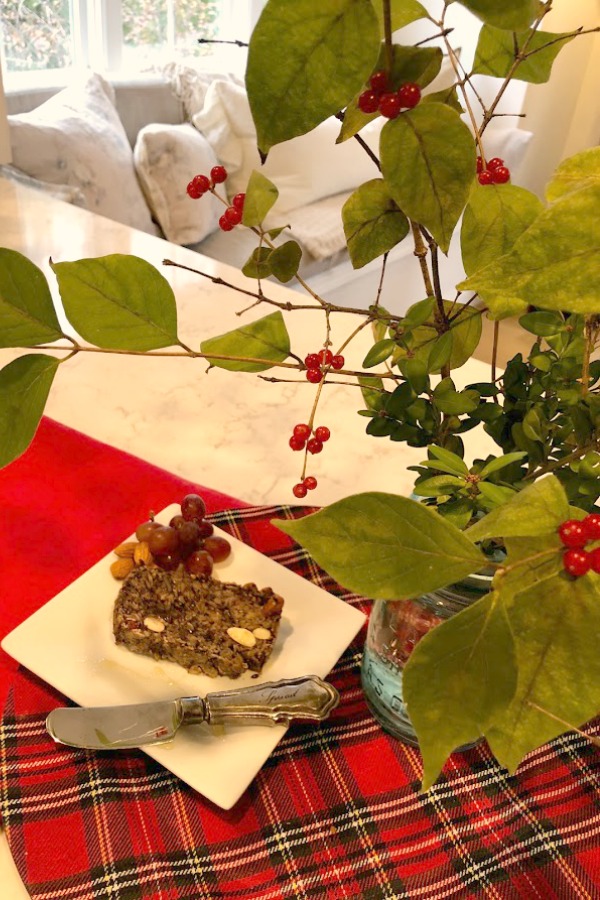 Life Changing Bread?
What is different about this bread is how simple it is to make and the flexibility for baking it. The recipe requires no flour, gluten, dairy, or animal products. No kneading or rising! While it's certainly no baguette and NOT going to replace your ham sandwich bread, it is great for toast and pairs with any number of toppings. What makes it such a miracle sort of bread for me is that it is high in fiber and contains good fats I seem to be able to tolerate.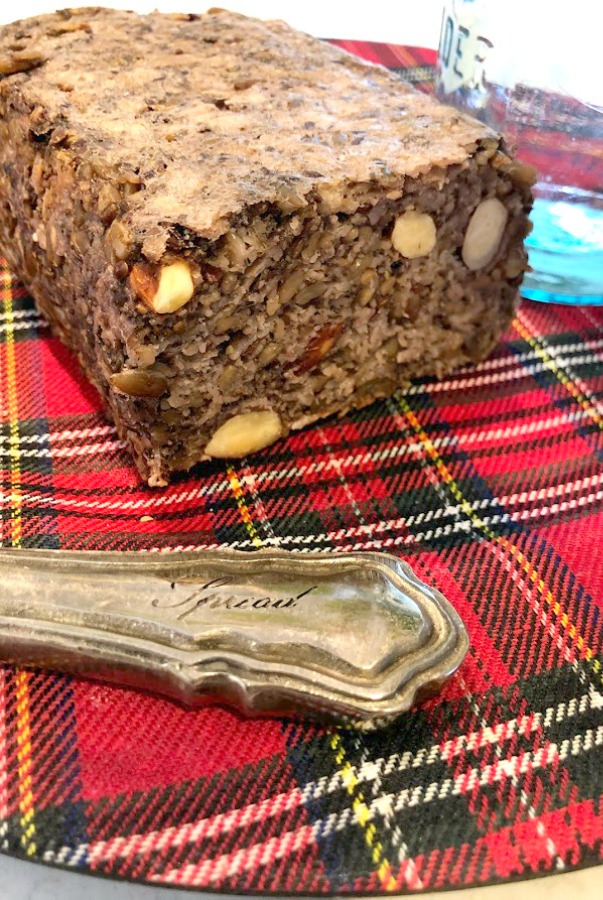 If you have never ever made bread before, THIS IS THE RECIPE FOR YOU, child! You just won't find an easier one that looks this pretty, is good for you, and can be shared with vegan and g-free friends.
Warning: Do not freak out about the expense of the ingredients for this bread! Bite the bullet. Even though it adds up to a lot, you're going to get lots of loaves! While I'm a frugal girl, I have learned it is important to pay top dollar for the right things…so just because water and white flour found at the market is cheaper than these ingredients does not mean it won't cost you in the future. (You can store seeds and such in the frig if you are worried about preserving them.)
It's a gorgeous looking loaf, and I hope you'll try it.
I independently selected products in this post—if you buy from one of my links, I may earn a commission.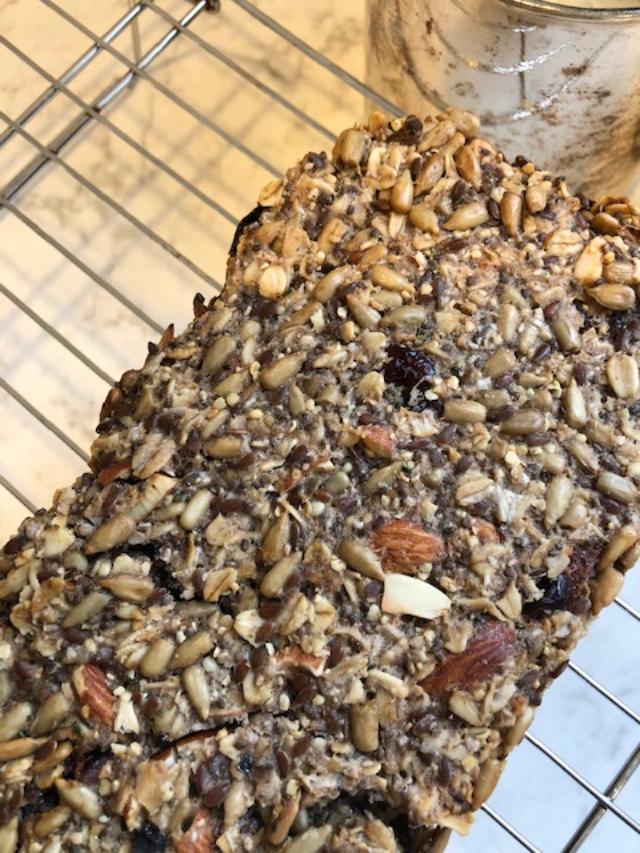 Easy Healthy Flourless Bread
1 1/2 cups water
2 1/2 Tbsp. coconut oil, melted
1 Tbsp. maple syrup
2/3 cup seeds (such as flax or a mixture of flax-chia-hemp like Triology)
1 1/2 cups Old Fashioned oats
3 Tbsp. Psyllium Husk Powder
1/2 cup whole almonds
1 cup of shelled sunflower seeds
1 tsp. fine sea salt
Handful of dried cranberries (or a mix of dried berries/raisins), optional*
Directions:
In a medium bowl, combine all dry ingredients with a wooden spoon, stirring well. Add this mixture to a disposable foil loaf pan. (No need to grease it.) Whisk maple syrup, oil and water together in a measuring cup. Pour this over dry ingredients in pan and combine well until everything is completely soaked. Smooth out the top with the back of a spoon. No need to cover it. Let sit out on the counter for 8-10 hours, and overnight is perfect. To ensure the dough is ready, it should retain its shape even when you pull the sides of the loaf pan away from it it.
Preheat oven to 350°F / 175°C.
Carefully unmold dough, and place loaf directly on middle rack in the oven. DON'T BAKE THE LOAF IN THE PAN. Bake for 55-60 minutes. Let cool completely on wire rack before slicing (sorry…you're not gonna eat this particular bread warm from the oven).
Store bread in a tightly sealed container for up to five days. You can freeze it too – slice before freezing for quick and easy toast!
*I have a sweet tooth who used to turn to chocolate and am now obsessed with THIS DELICIOUSNESS packed with fiber, phenols, and flavor…it's hard to not eat the whole bag!
Video Tutorial for Bread Making Method
This will help you understand how the original Life-Changing Loaf comes together. My recipe and method are similar, but I don't like mixing the dry ingredients in pan nor do I think it's necessary to bake it in the pan at all (as long as it has plenty of time to rest on counter and absorb the liquid). I also use less coconut oil.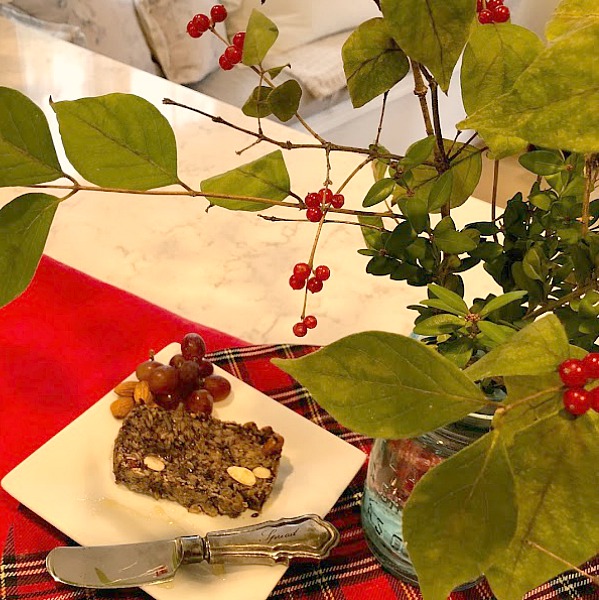 This Nut Bread Looks a Little Like Cake
It's not fruitcake!!!! Not sweet until you add a topping…more of a hearty Danish type bread that fills you up.
Time to Seeds the Day, Girlfriend!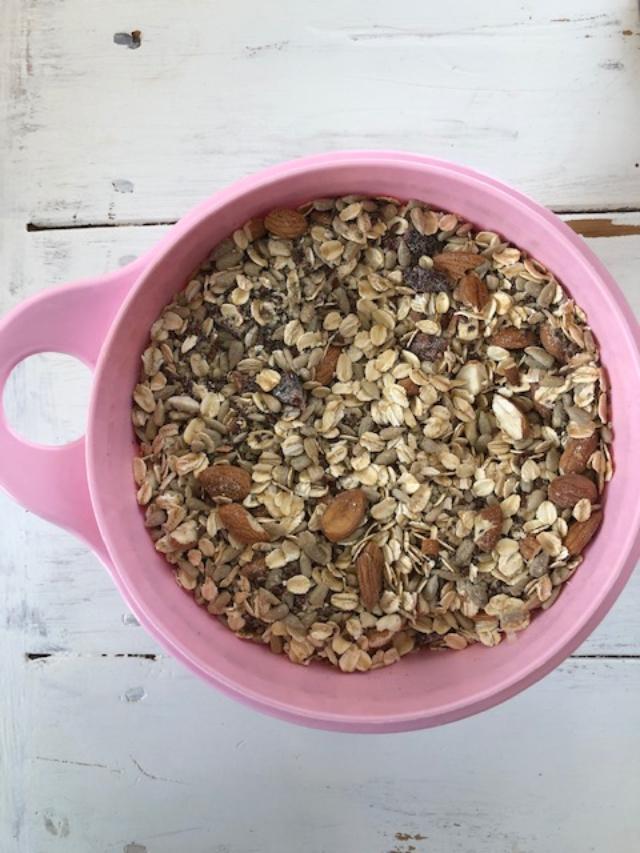 IMPORTANT NOTE: As you see below, I put the dough mixture into the foil pan, but I don't bake it in that pan since I want to eliminate the chance that aluminum will leach into it during baking. So the pan is used to mold the bread into a loaf shape. The bread is baked without a pan, directly on the oven rack. You can clean the foil pan and re-use it if you like.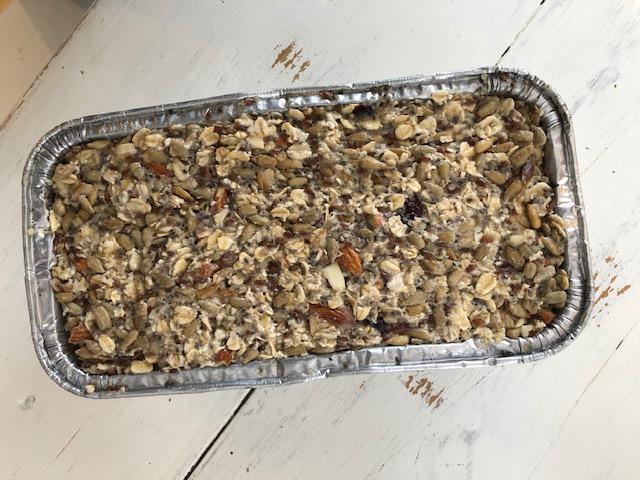 Loaf Pans for Bread
In the original Life Changing Bread Recipe from My New Roots, Sarah uses a silicone loaf pan to bake the bread for 20 minutes before unmolding and baking it for the remainder of the time directly on the rack. Since I didn't have that type of pan and tried (unsuccessfully) to use a glass loaf pan, I opted for a foil pan. However, I am going to buy this silicone pan to see if it works better for molding the bread:
I will still use the pan for molding and not baking since silicone has its own properties, and while it's likely safe for bakeware, I'd rather just bake the loaf directly on the rack and avoid any potential toxins.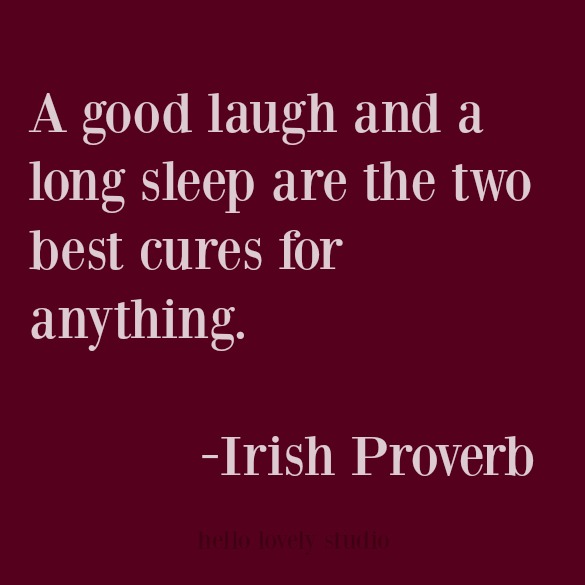 Hearty Bread With Mild Flavor
See what I mean about how this is not a bread for your turkey sandwich? But waking up to this beauty for toast or as a midafternoon snack spread with peanut butter, honey, hummus, jam, cheese, or any number of sweet or savory toppings is a delicious prospect.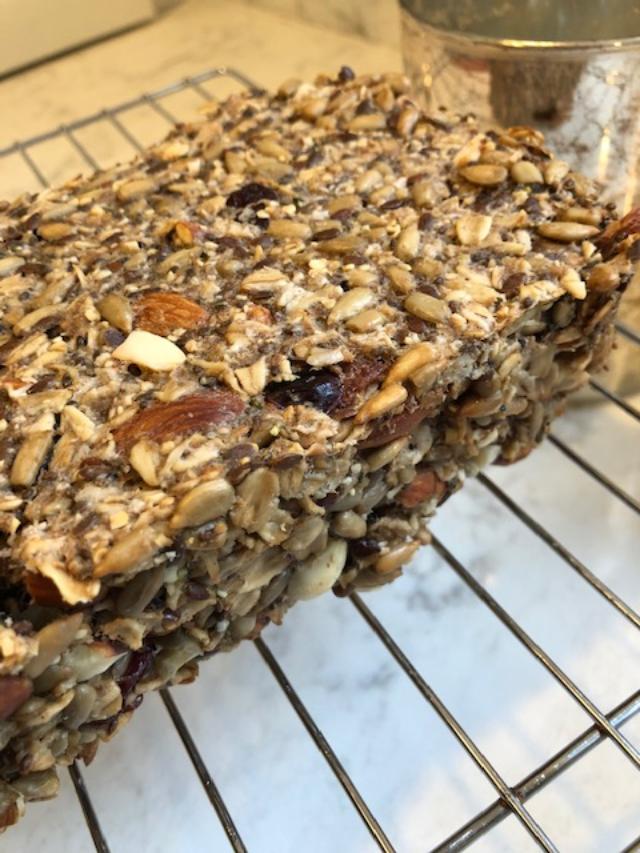 I can hear some of you giggling "that is bird seed food, nutty child," as you break open your gorgeous crusty baguette and schmear it with butter. I hear you, mama. I do miss my buttered biscuits and baguettes! But I want to live, honeychild!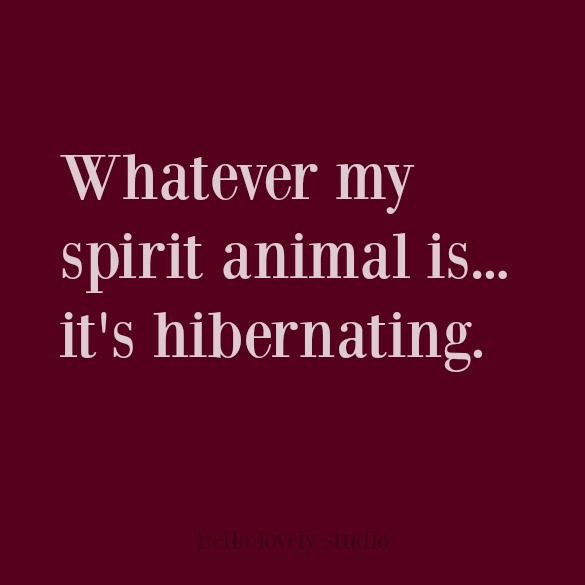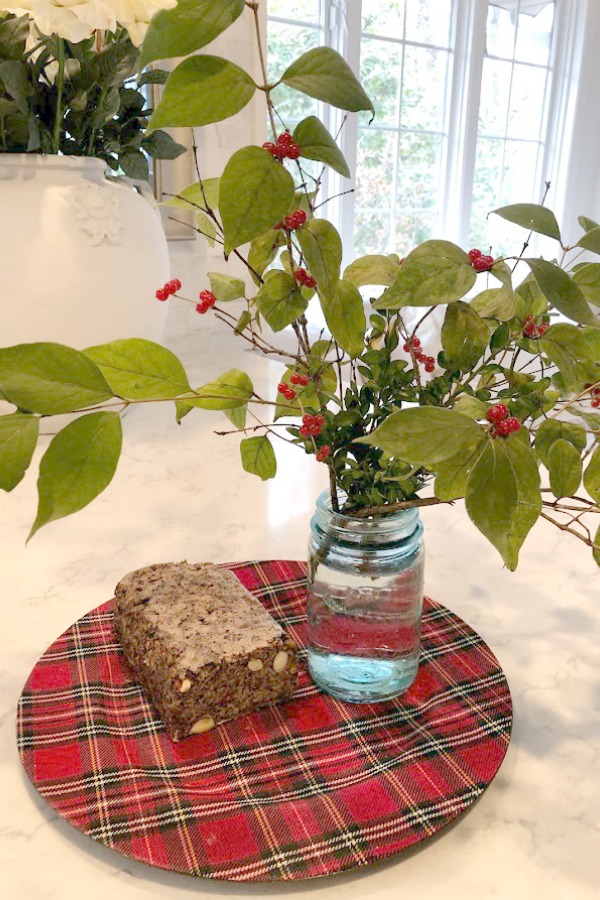 Red Tartan Fabric Covered Chargers
It was early in the morning when I styled my bread on one of these awesome chargers…not the brightest idea. Even though they can be wiped off, they are fabric covered so you'll not want to serve food directly on them. So pretty and festive for the holidays and all winter long.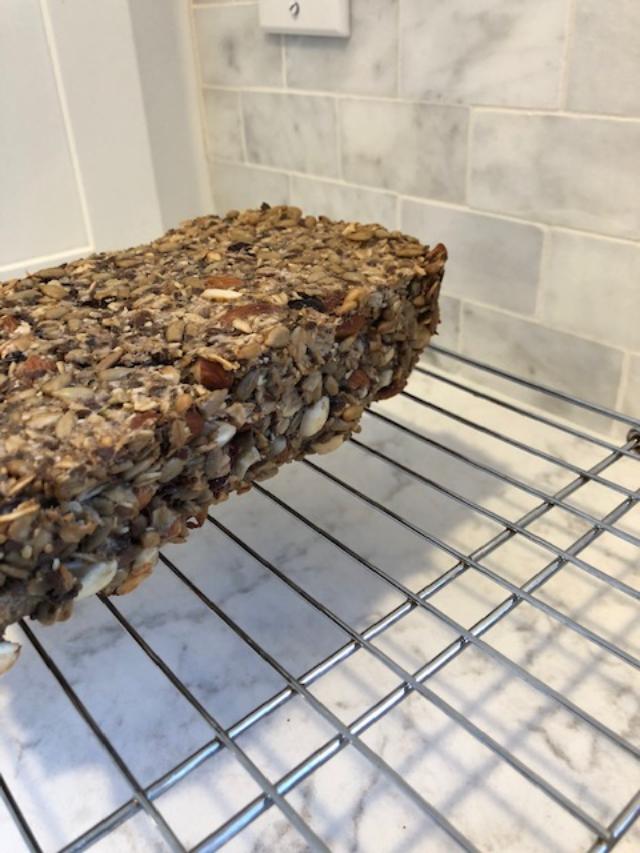 Sunflower seeds are so underrated! I forgot about them for awhile until I started baking this yummy bread. You can also use pepitas and can feel free to experiment with your favorite nuts and seeds.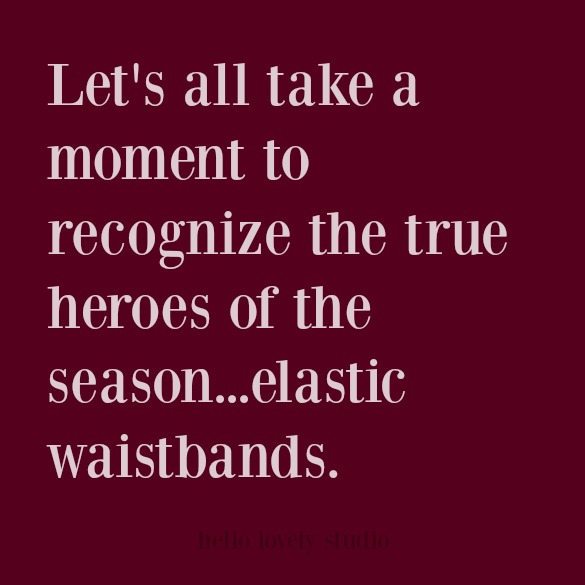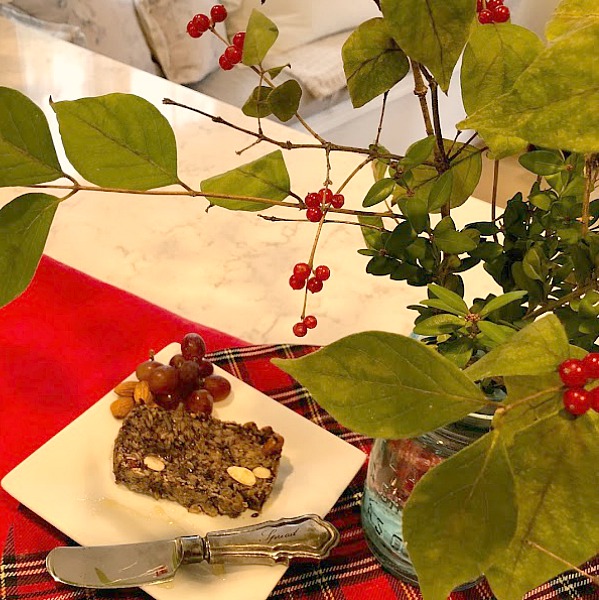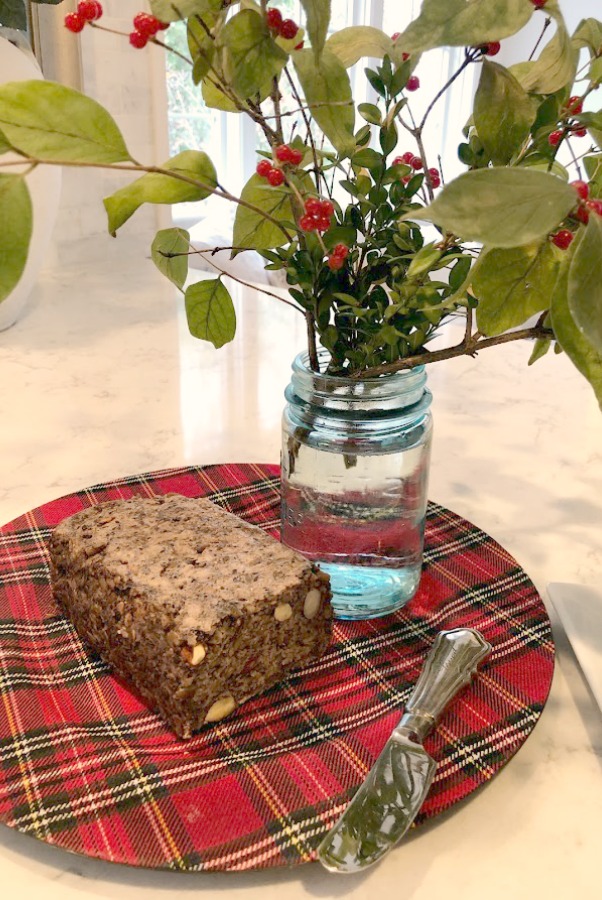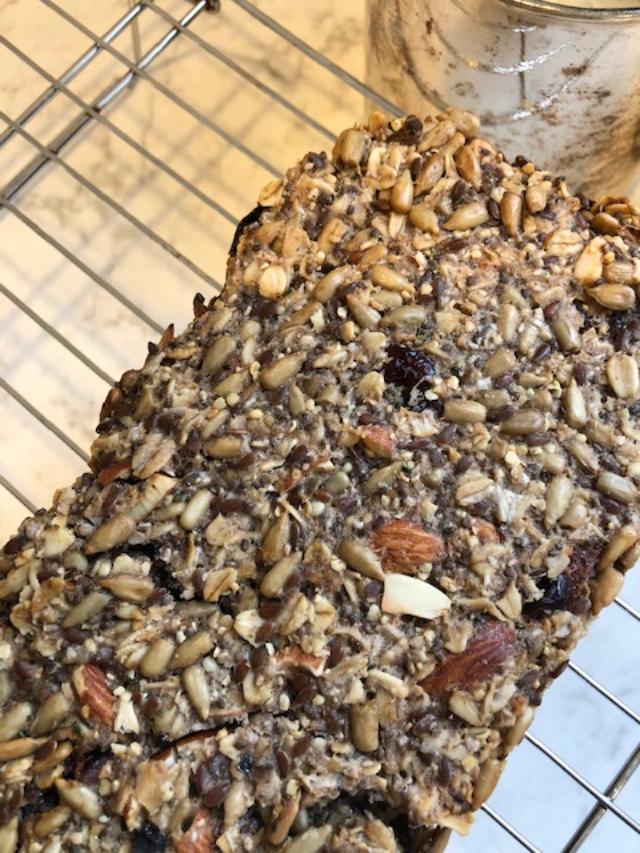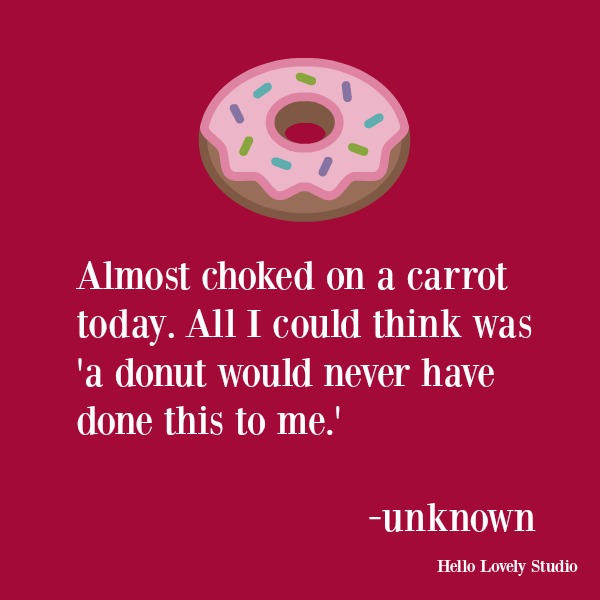 This Seed Bread Recipe's Magic Ingredient
Here's the magic ingredient that holds this beautiful healthy melange together…corn husks! I use Psyllium husk powder in all of my gluten-free baking since it allows me to use less flour and adds dietary fiber which is so important to my gastrointestinal health.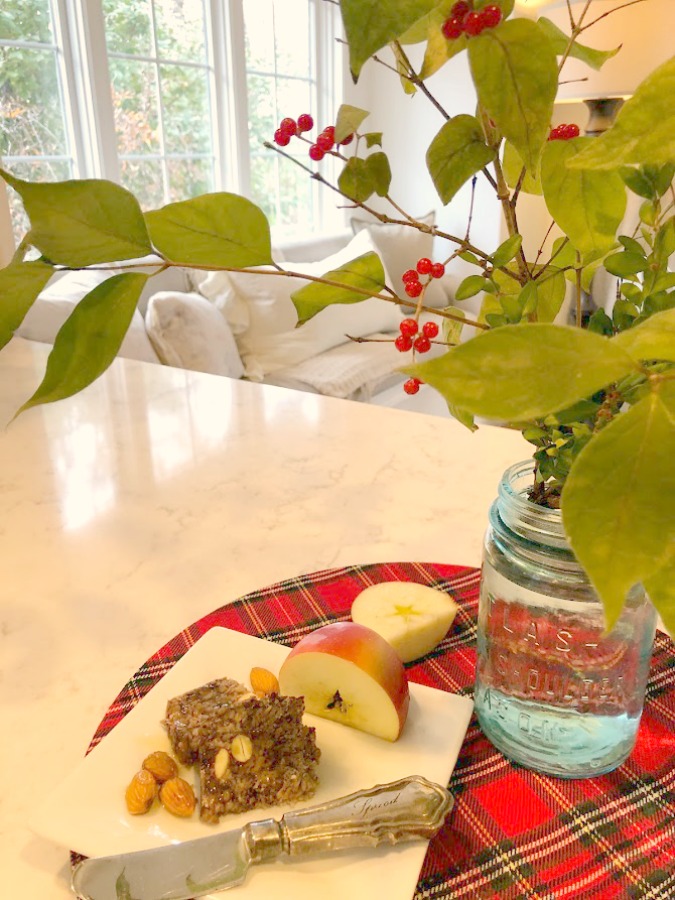 Antique Silver Pieces from Pottery Barn
I love using Pottery Barn's antique silver sentiment pieces everyday. The salt and pepper shakers look beautiful out on the kitchen counter and make an awesome hostess gift.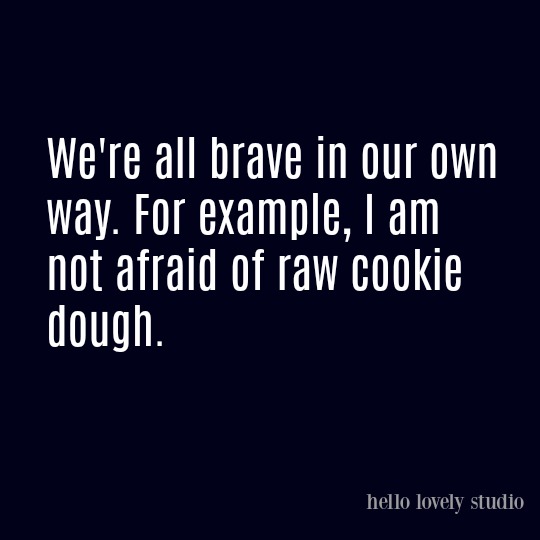 Looking for another awesome and easy g-free recipe, I shared my pistachio crinkle cookie recipe here!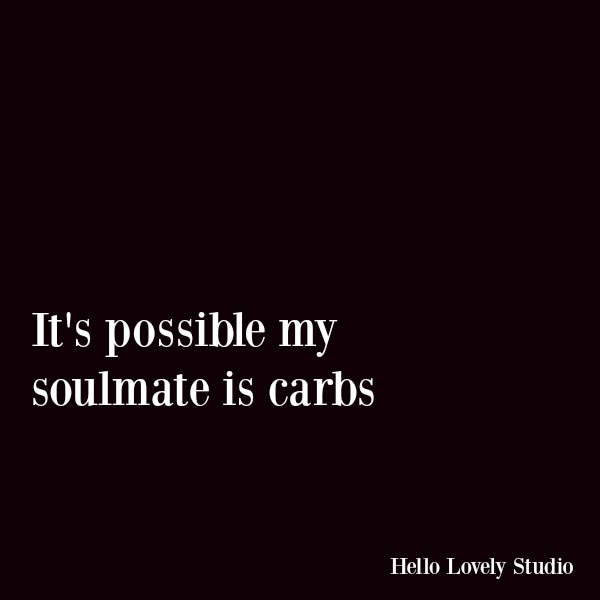 If you make this, YOU MUST COME BACK TO THIS POST AND TELL ME ABOUT IT. Should you run into any trouble or don't understand what the heck I'm talking about…feel free to ask in the comments since I answer every single one.
Peace to you right where you are.
-michele
Shopping for items you already intended to buy on Amazon RIGHT HERE (not just items mentioned in posts) or home decor keeps decor inspiration flowing on Hello Lovely!
Hello Lovely is a participant in the Amazon Services LLC Associates Program, an affiliate advertising program designed to provide a means for sites to earn fees by linking to Amazon.com and affiliated sites.
no products