If you have admired the work of Steve and Brooke Giannetti for many years, then I bet you would love to visit Leiper's Fork and Patina Home and Garden. Today's your lucky day, because I'm taking you with me and sharing photos! We loved the wares, mood, location, and aesthetic of the shop. We also enjoyed the opportunity to chat with the Giannettis in October when the colorful trees, autumn temperatures, and Southern hospitality warmed us to the core.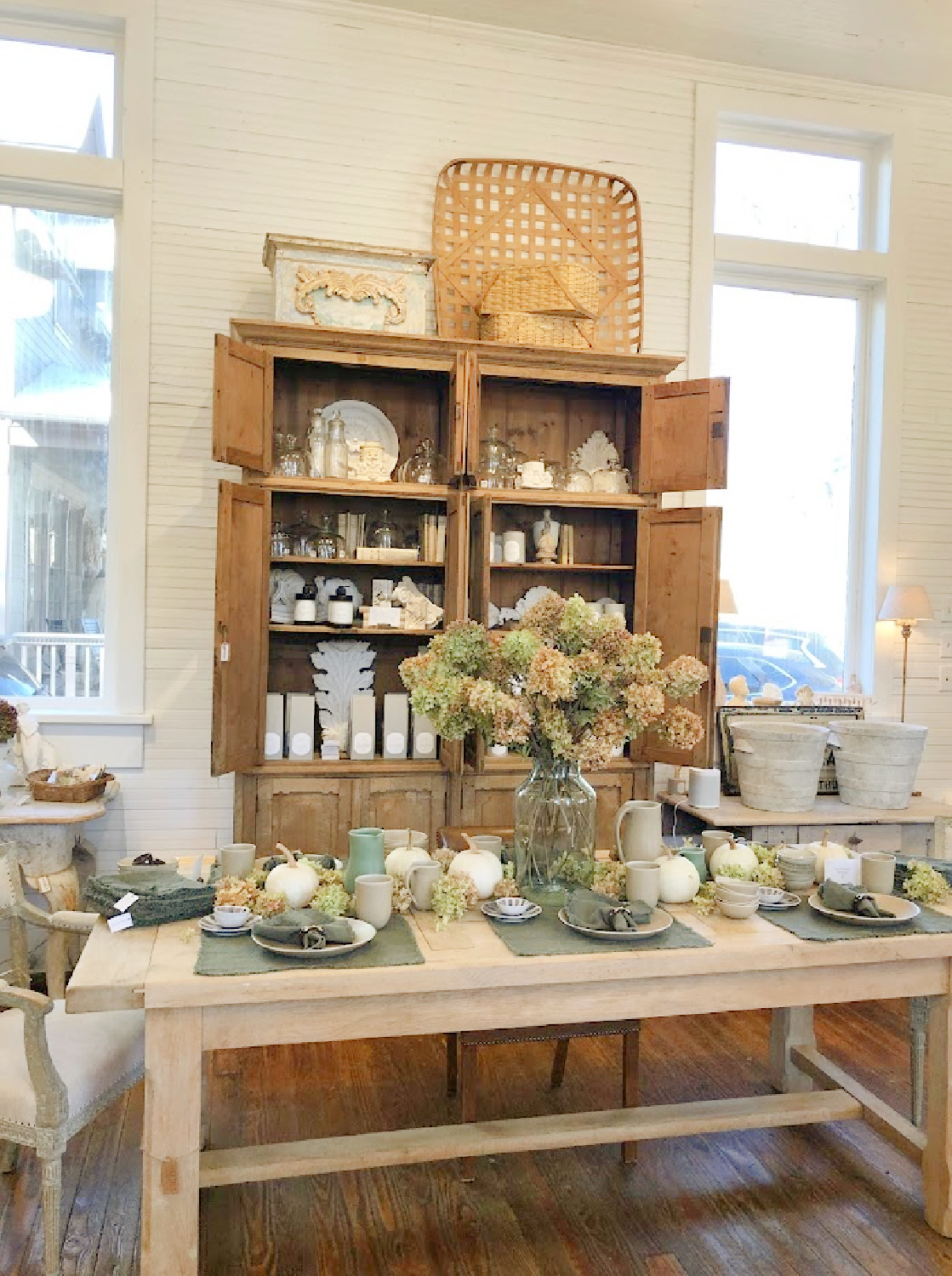 Leiper's Fork: Patina Home and Garden Photos
Patina Home & Garden (4149 Old Hillsboro Road, Leiper's Fork, TN 37064) is a store in an amazing old structure near shops, restaurants (visit Fox & Locke!), and art galleries.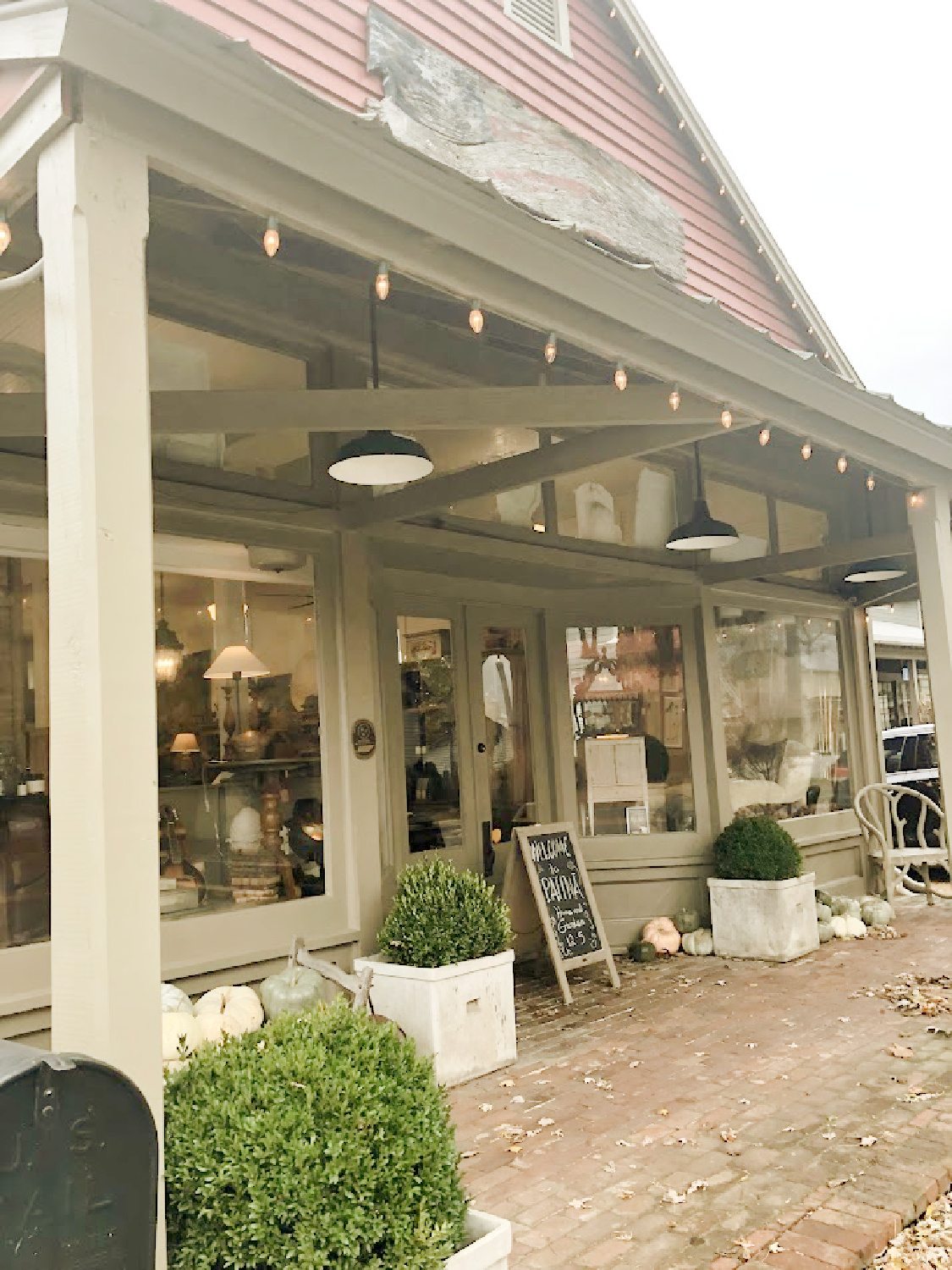 You may recall that after building and nurturing their dream home in Ojai (Patina Farm), the Giannettis decided to part with it and begin a new adventure in Tennessee.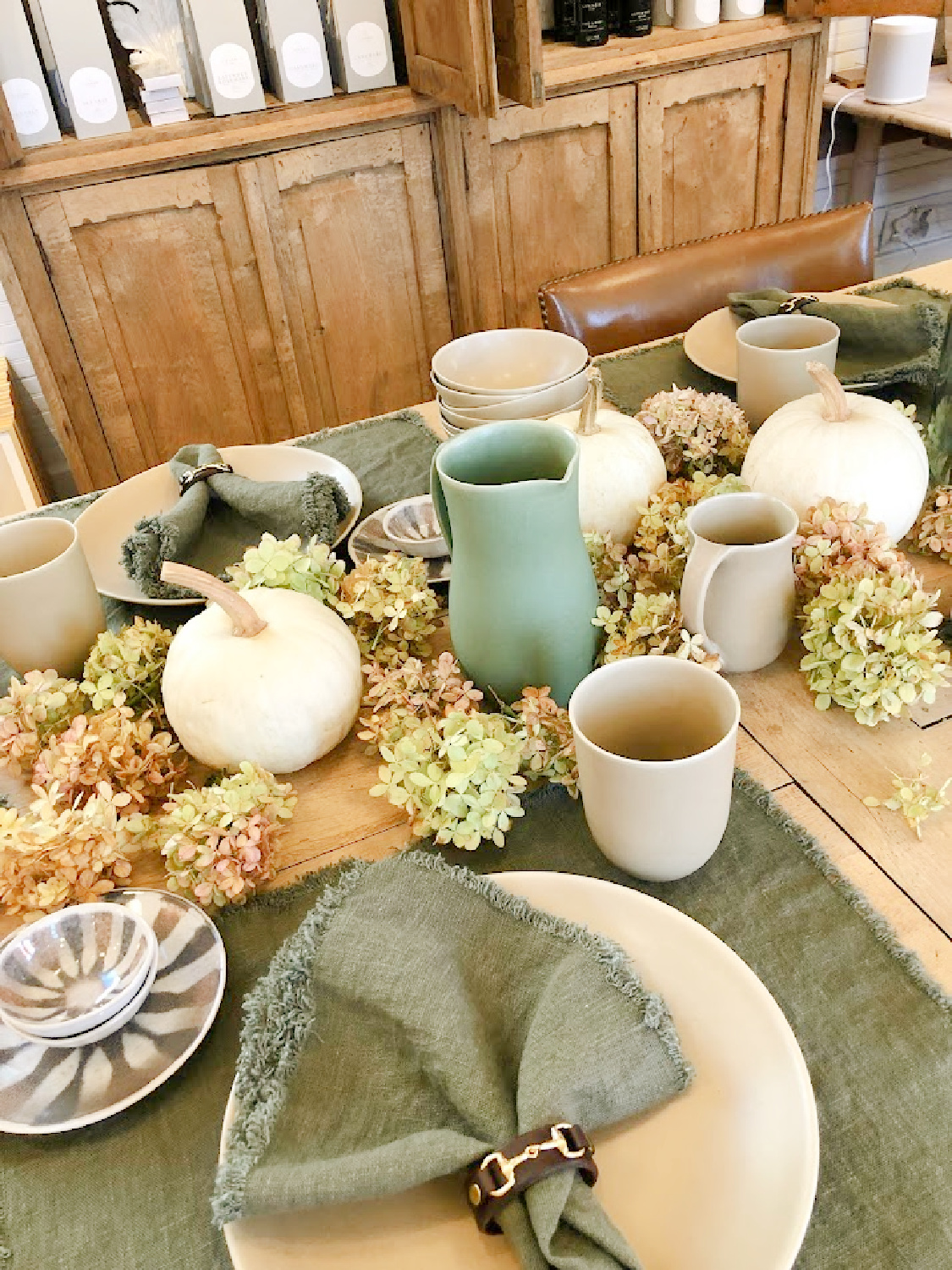 Patina Meadow is their new home base, and all the precious cows, potbellied pigs, babydoll sheep, donkeys, pygmy goats, and farm animals from Patina Farm journeyed to Leiper's Fork as well.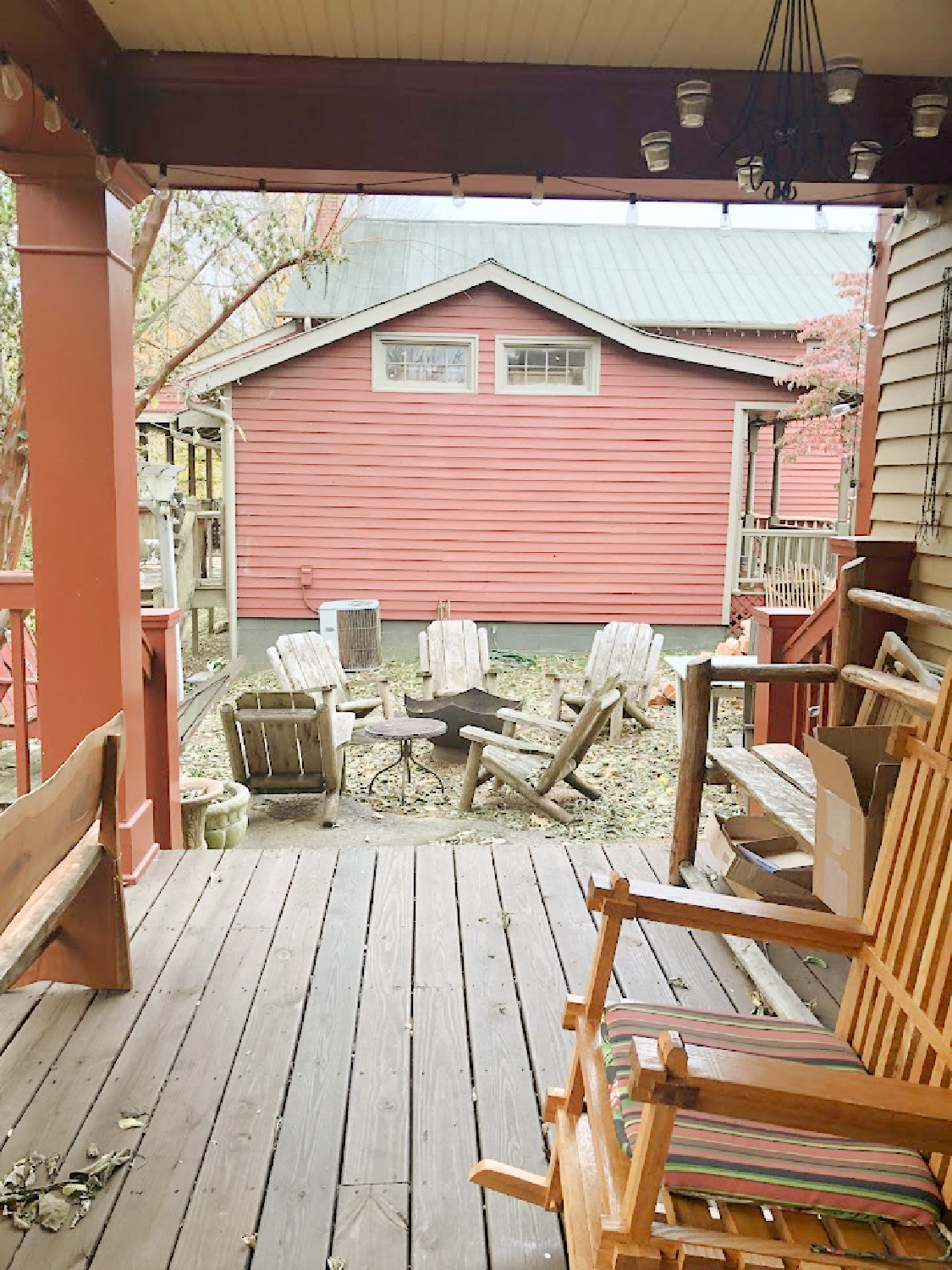 Steve and Brooke Giannetti Opened Patina Home in 2022
When I spoke with Steve Giannetti on our visit, he said Patina Meadow (located 10 minutes from the shop) will also be open to the public. They are truly committed to building community and sharing beauty. I can't wait to visit someday!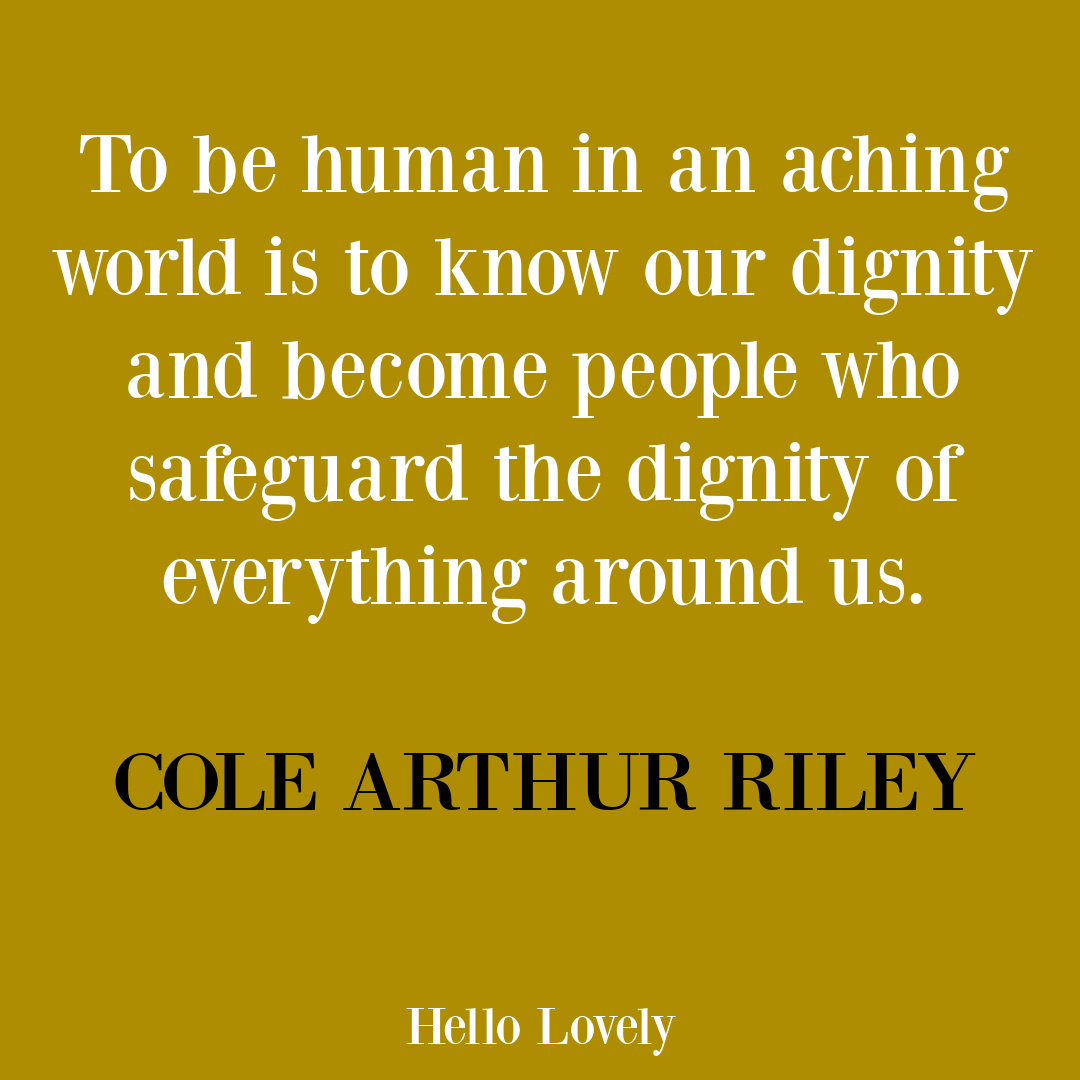 By the way, poor Brooke must have felt ambushed when I showed up! I am a not-shy Chicago girl who boldly greeted her refined self, and of course, she had no clue who this patina-fan was! She embraced me just the same after I mentioned the blog, and what a joy to connect in person. (Brooke, should you be reading: I apologize for not giving fair warning before our visit – I suspected Patina's crew would likely be swamped with the store's opening.)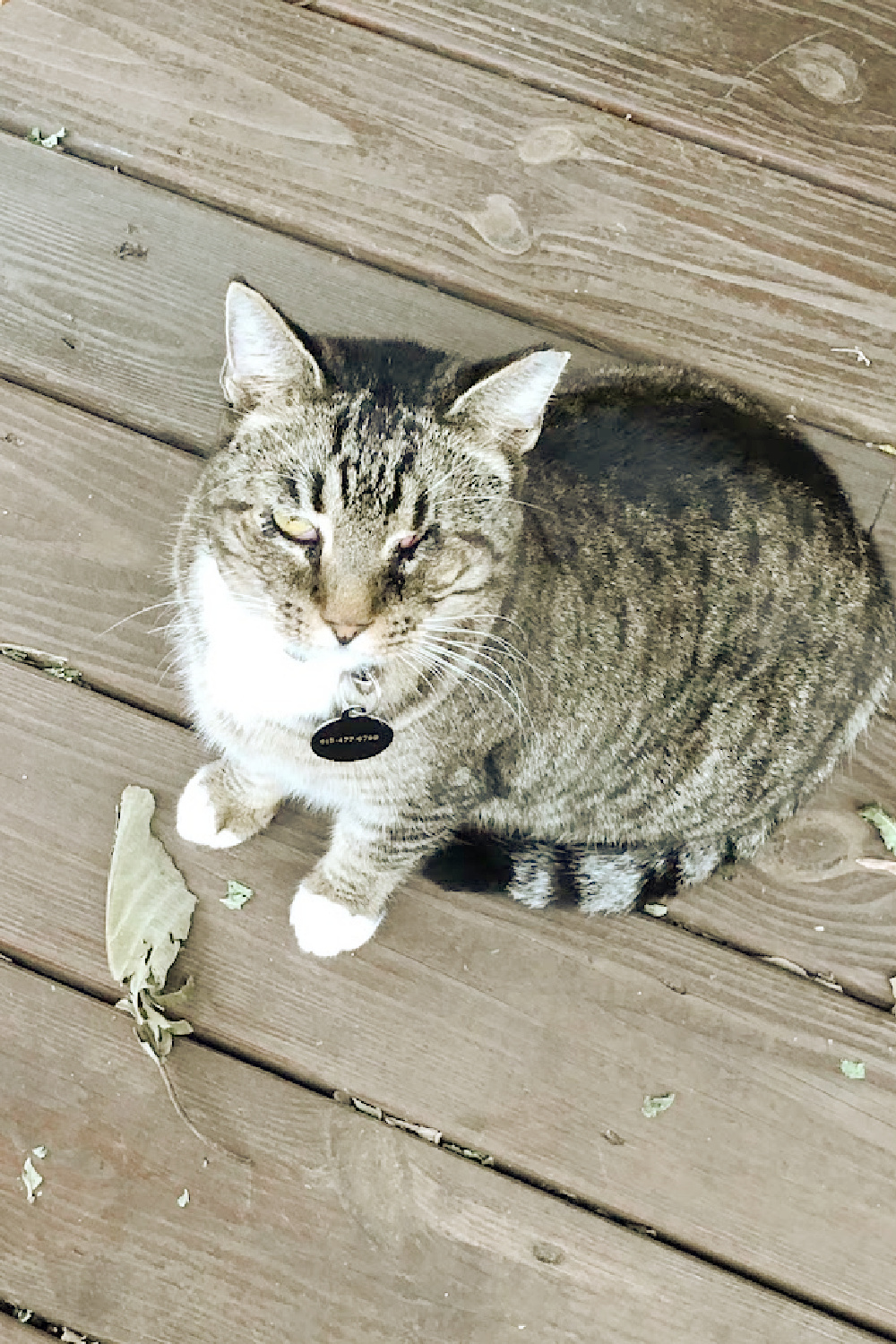 It is only when I travel to places beyond the North that I discover I am so direct. While introverted, I have an outgoing personality and never meet a stranger. 🙂
Brooke shares Patina Meadow's progress, meditative glimpses of life on the farm, and their journey to a new hometown on her popular site Velvet and Linen.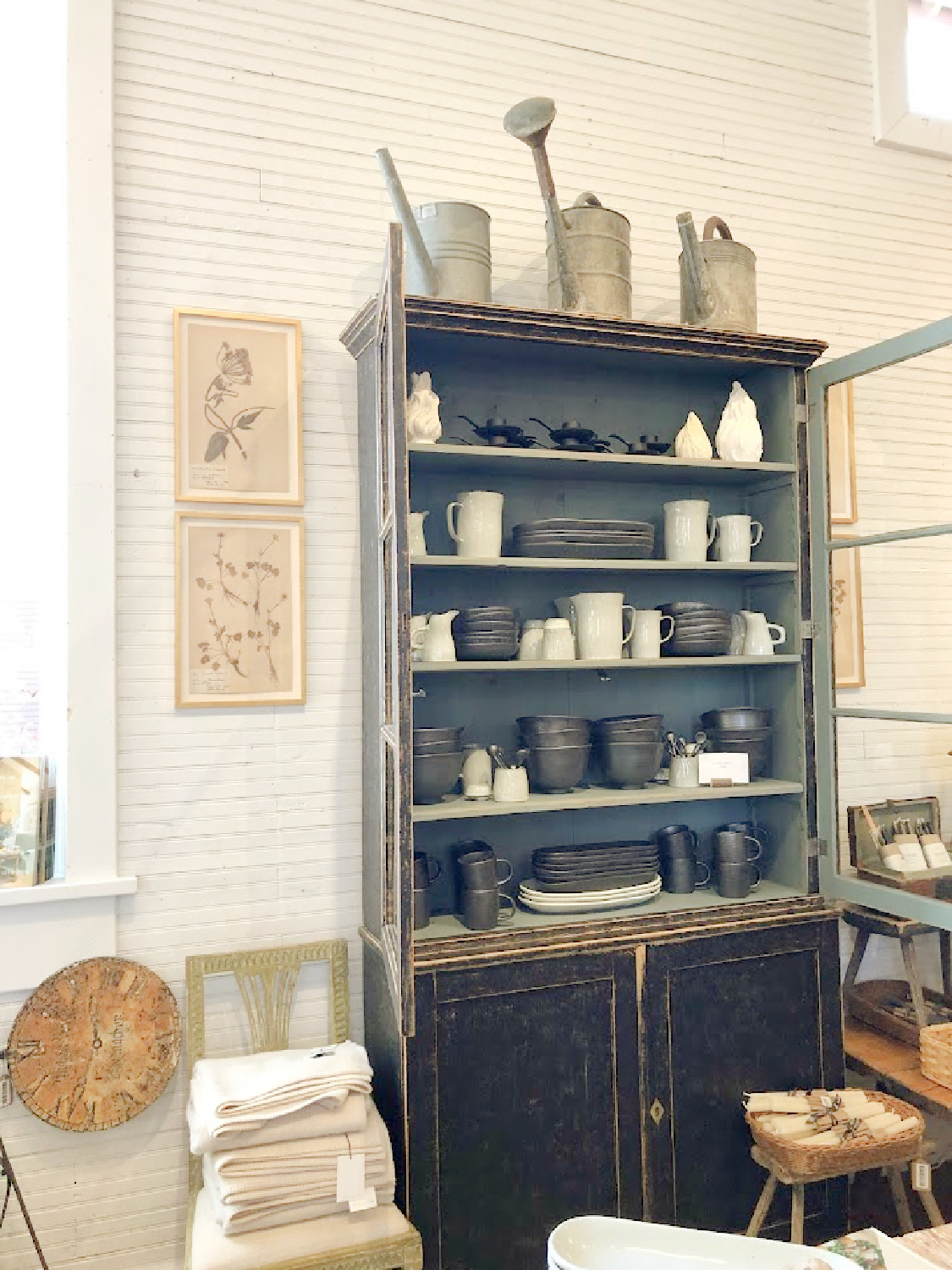 Handmade Pottery, Antiques, and Home Goods
If you have followed Brooke's blog or IG, you may recall she began creating handmade pottery pieces. What a delight to see them in person, and I must tell you that photos of the pieces do not fully capture their beauty. They are delicate, understated yet utterly lovely and will take your breath away.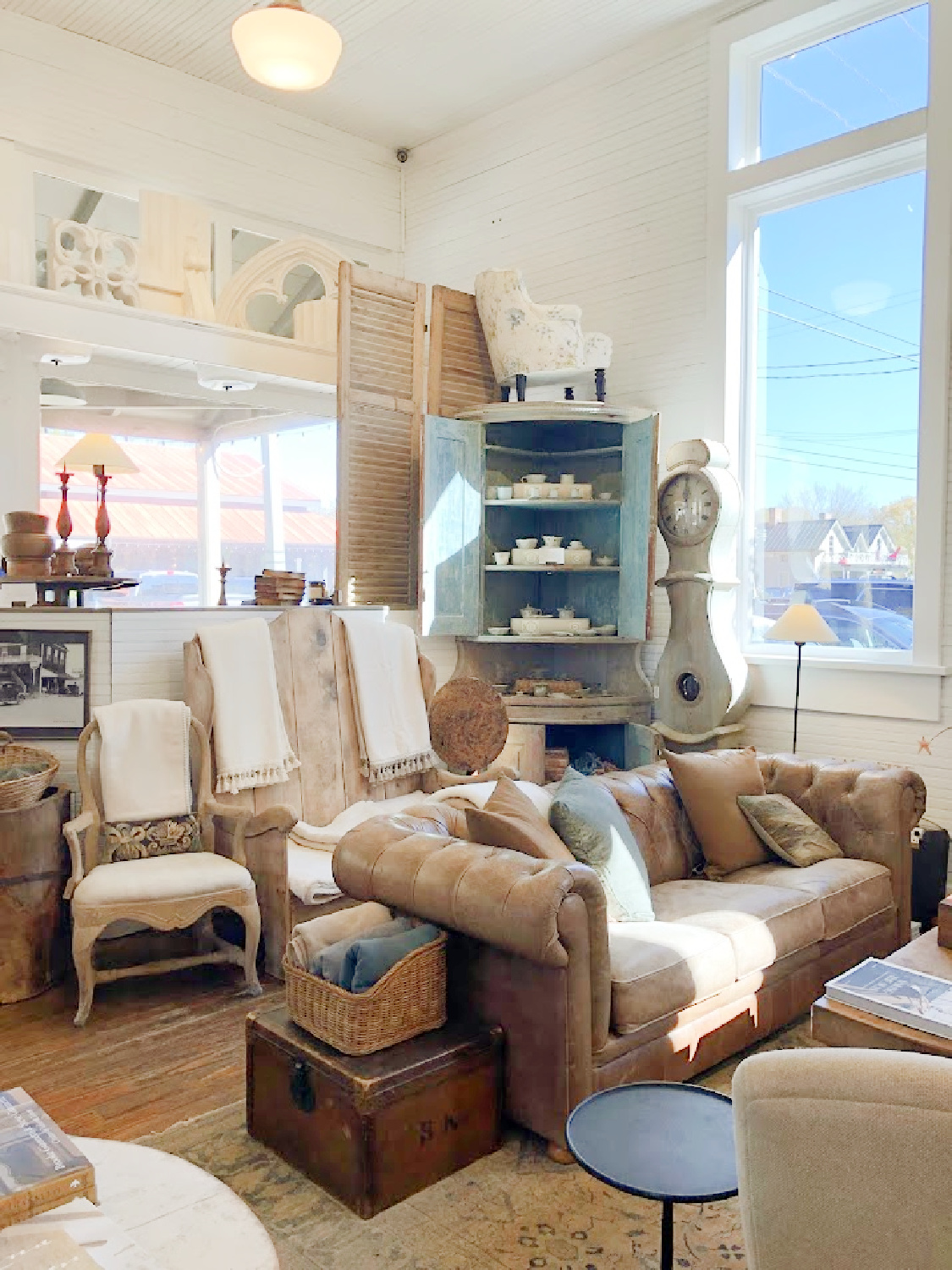 Since I don't have the privilege of seeing so many fine Swedish antiques in person, it was quite a treat to see painted chests, cupboards, desks, baskets, chairs and more.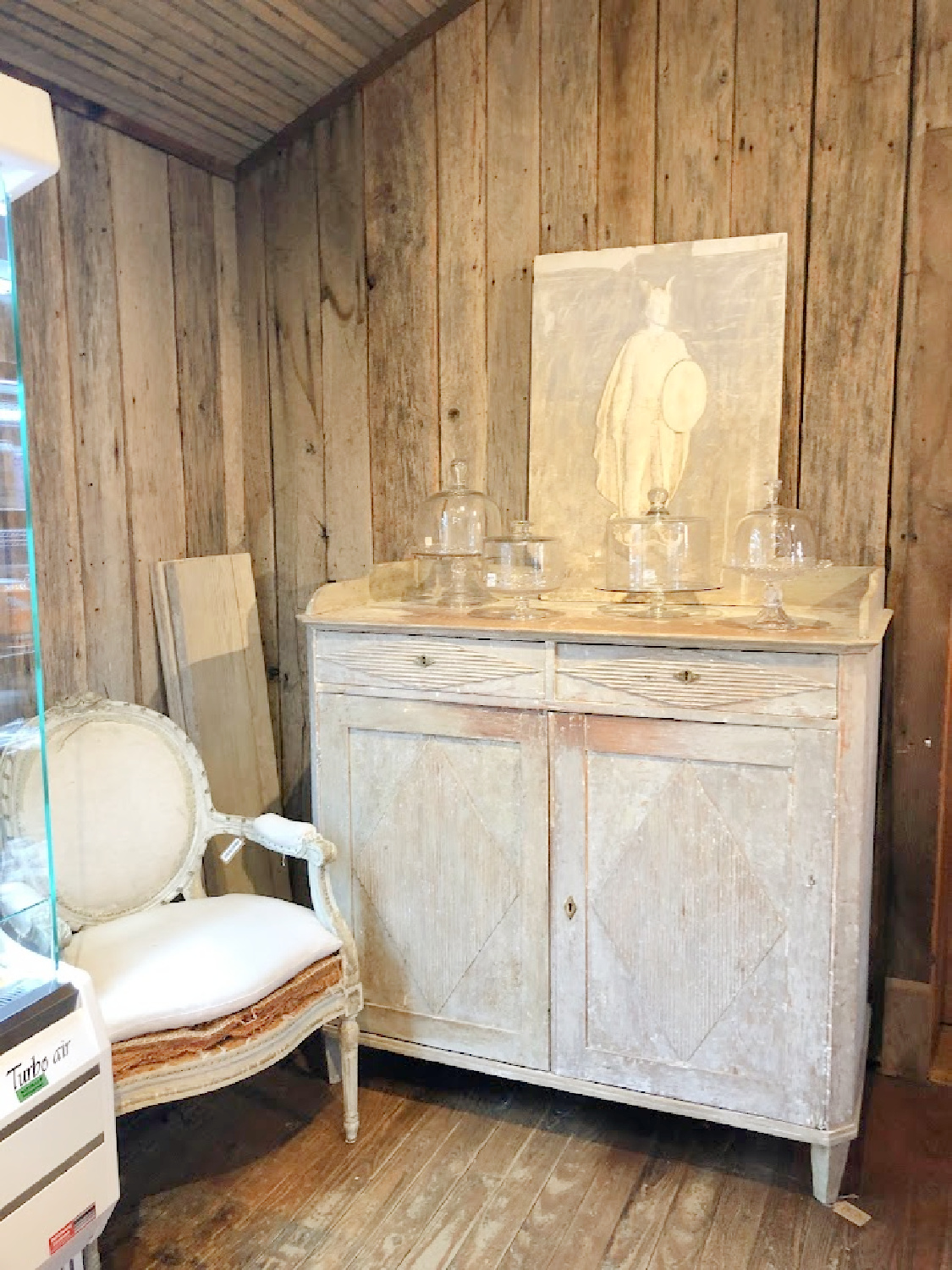 Here's a perspective from the back of the shop looking toward the front door: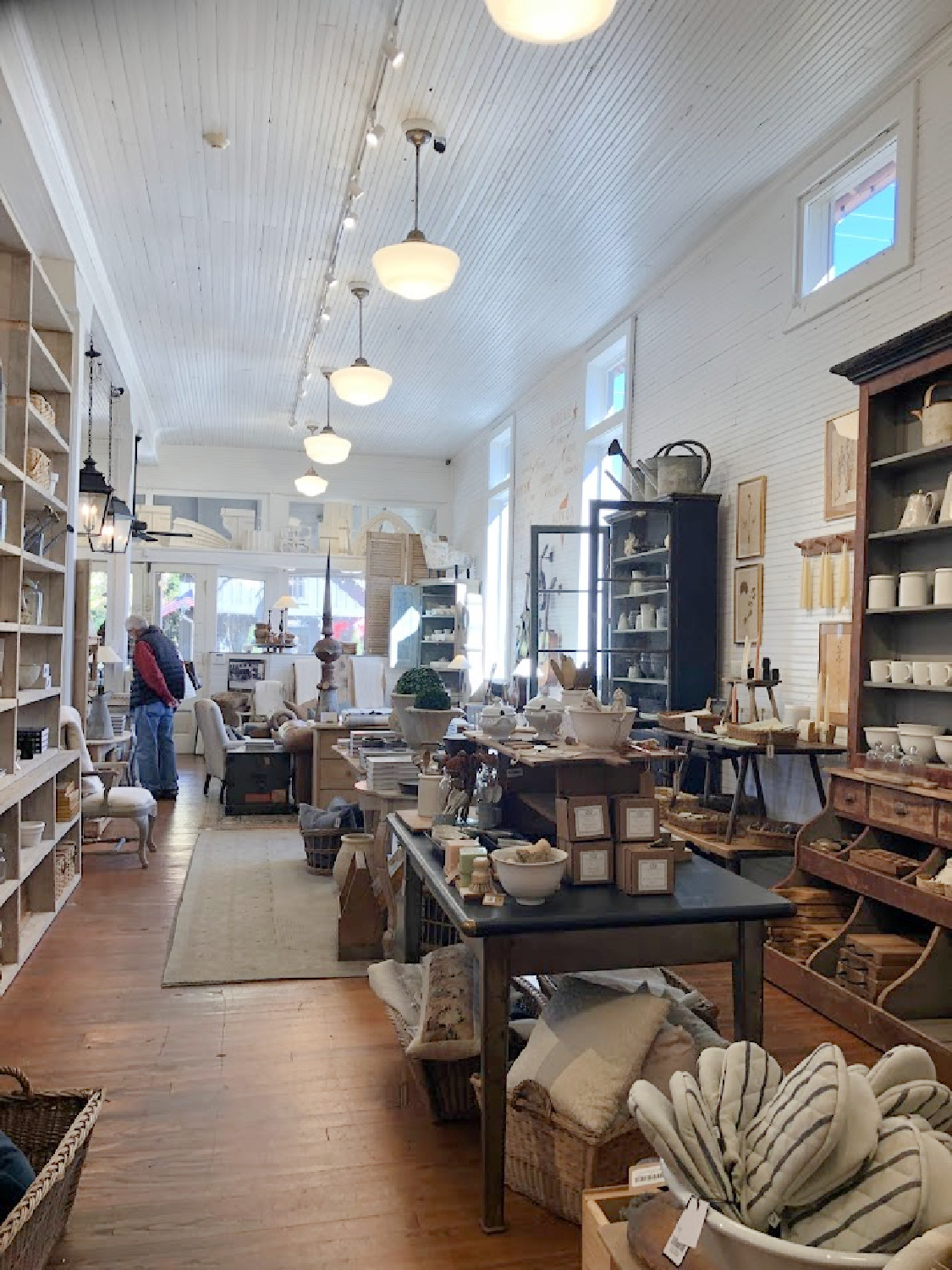 The interior's rustic wood walls and floors are perfect backdrops for the mix of vintage and new creations from the Giannettis.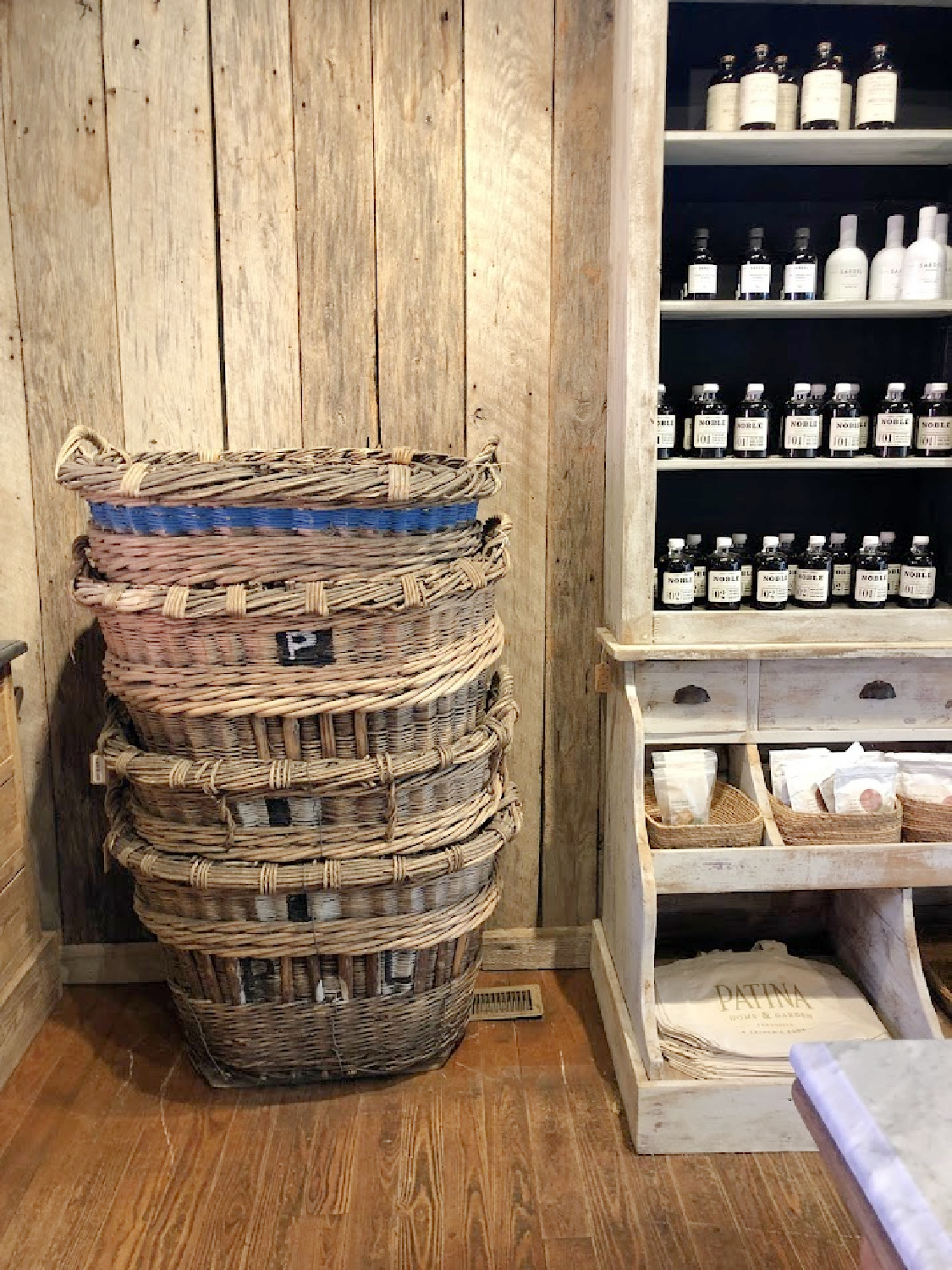 Gathering Spot for Conversation and Music
One of the priorities Brooke and Steve set for the shop is community. They hope their business will become a destination for connection. And you'll sense this even if you simply peek in the front window of the shop since you'll glimpse this gathering spot.
You never know who you may hear performing inside. The shop is near Nashville after all, and this area near the front of the store is the perfect cozy space for sweet acoustic serenades.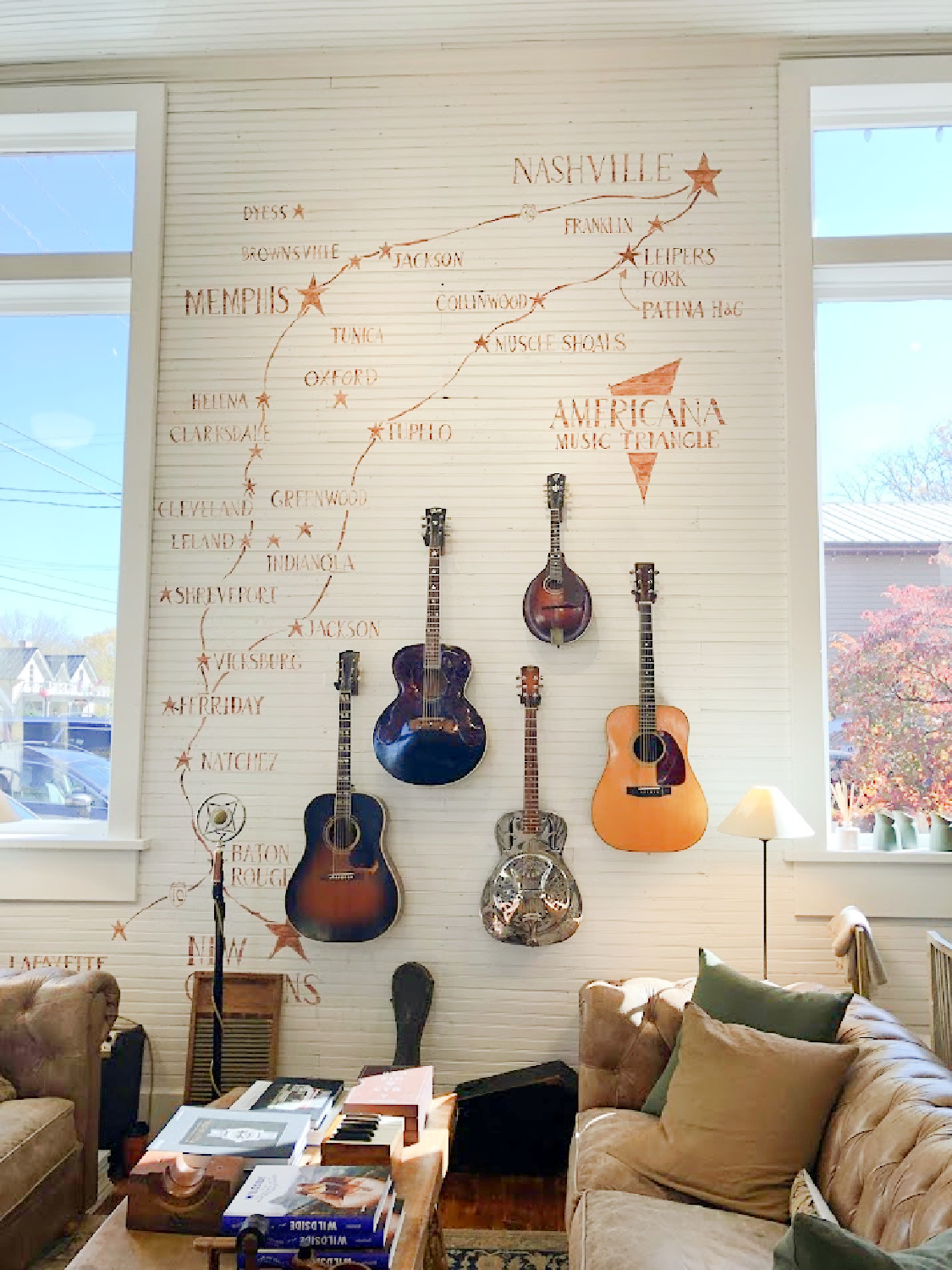 Patina Home & Garden Has Furniture & Textiles from Patina Farm!
For fans of the Giannetti's former property, Patina Farm, multiple European country antiques and textiles from that farmhouse are for sale here! Seeing them (and touching them!) in person was a thrill.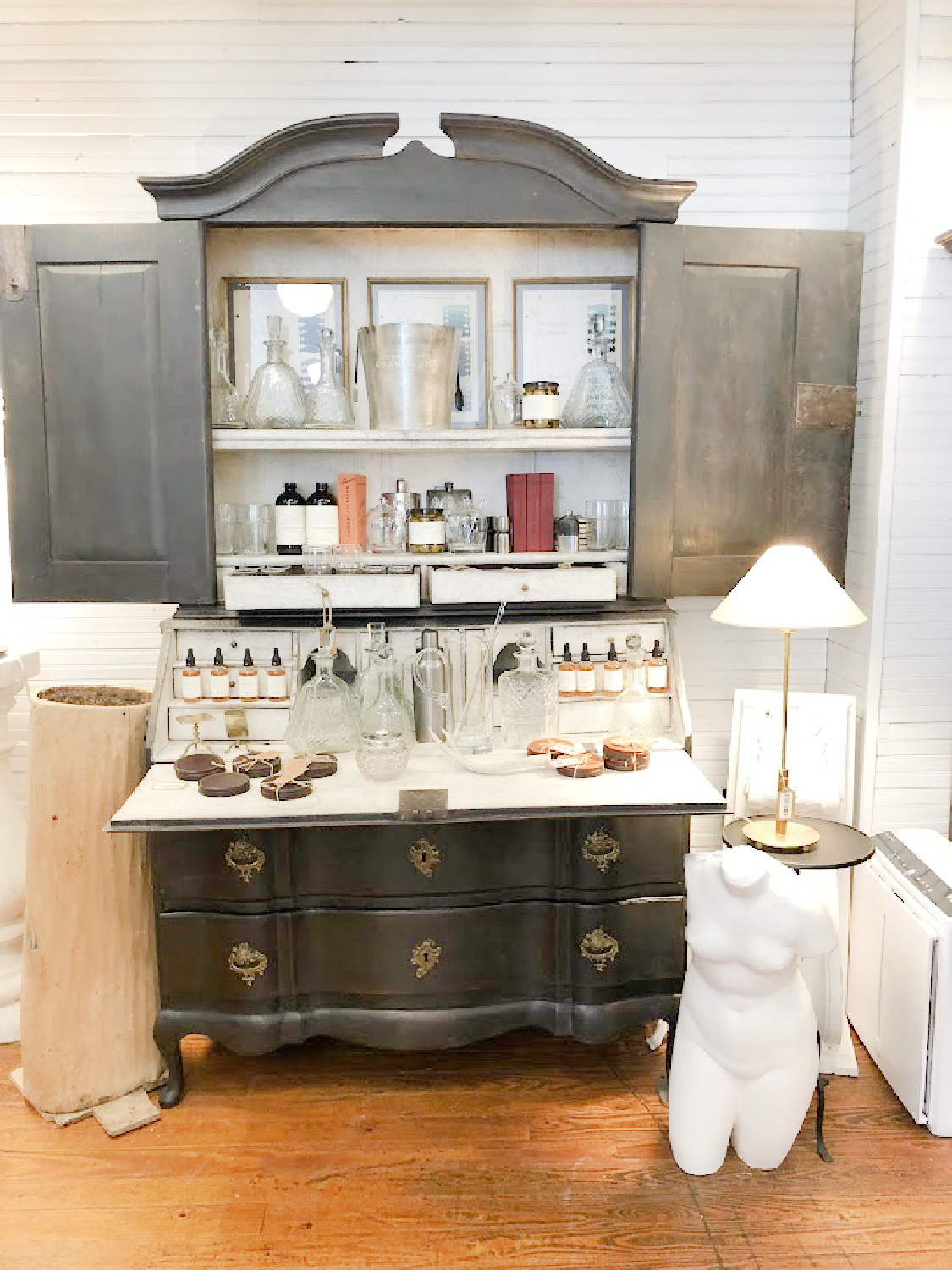 It truly is an eclectic mix of lovely wares for home! You'll find framed botanicals, plaster pieces, and new accent tables alongside pretty and practical kitchenwares.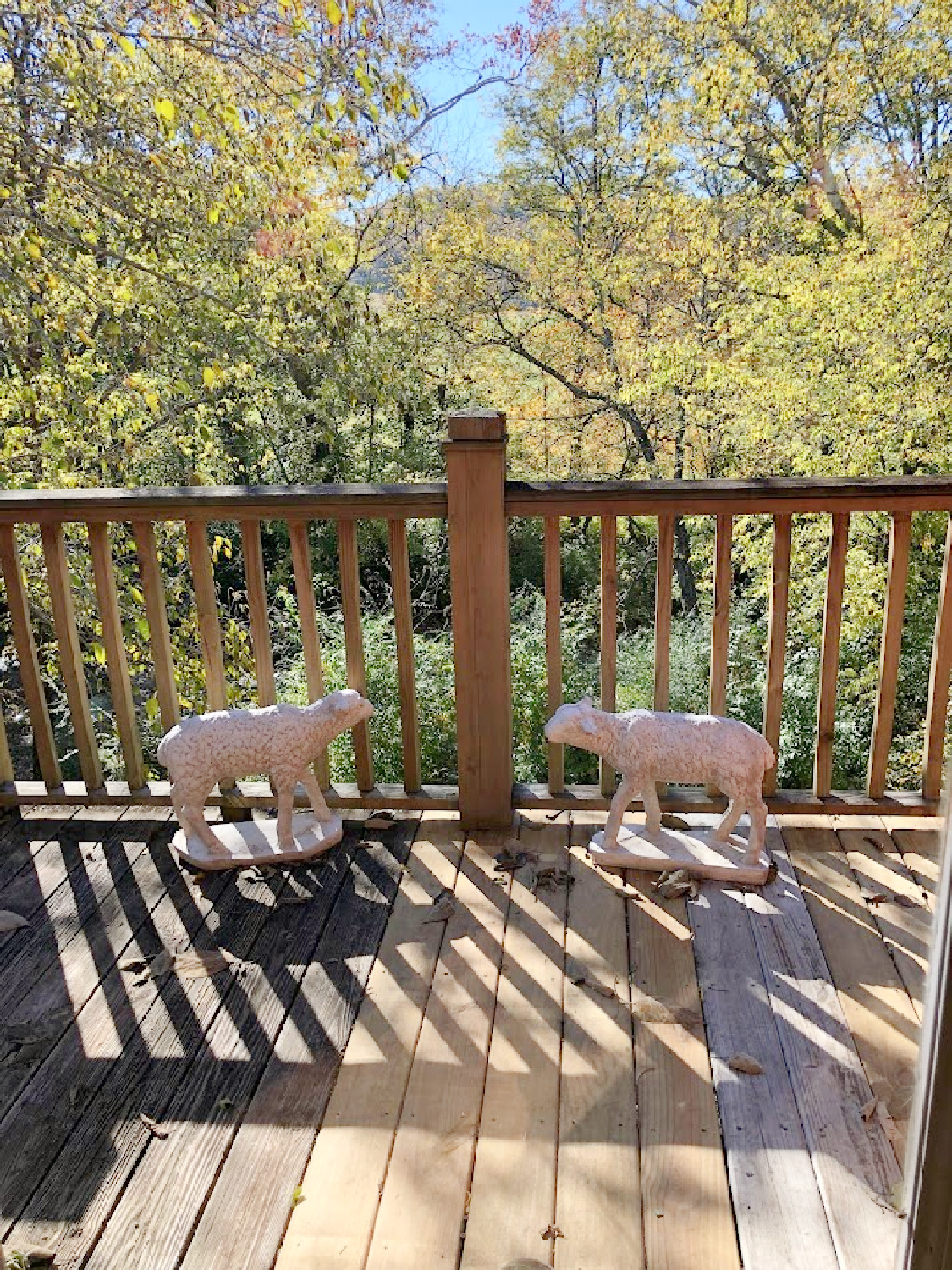 These lambs just outside on the deck (above) stole my heart! They would be right at home at my house! So would this buck: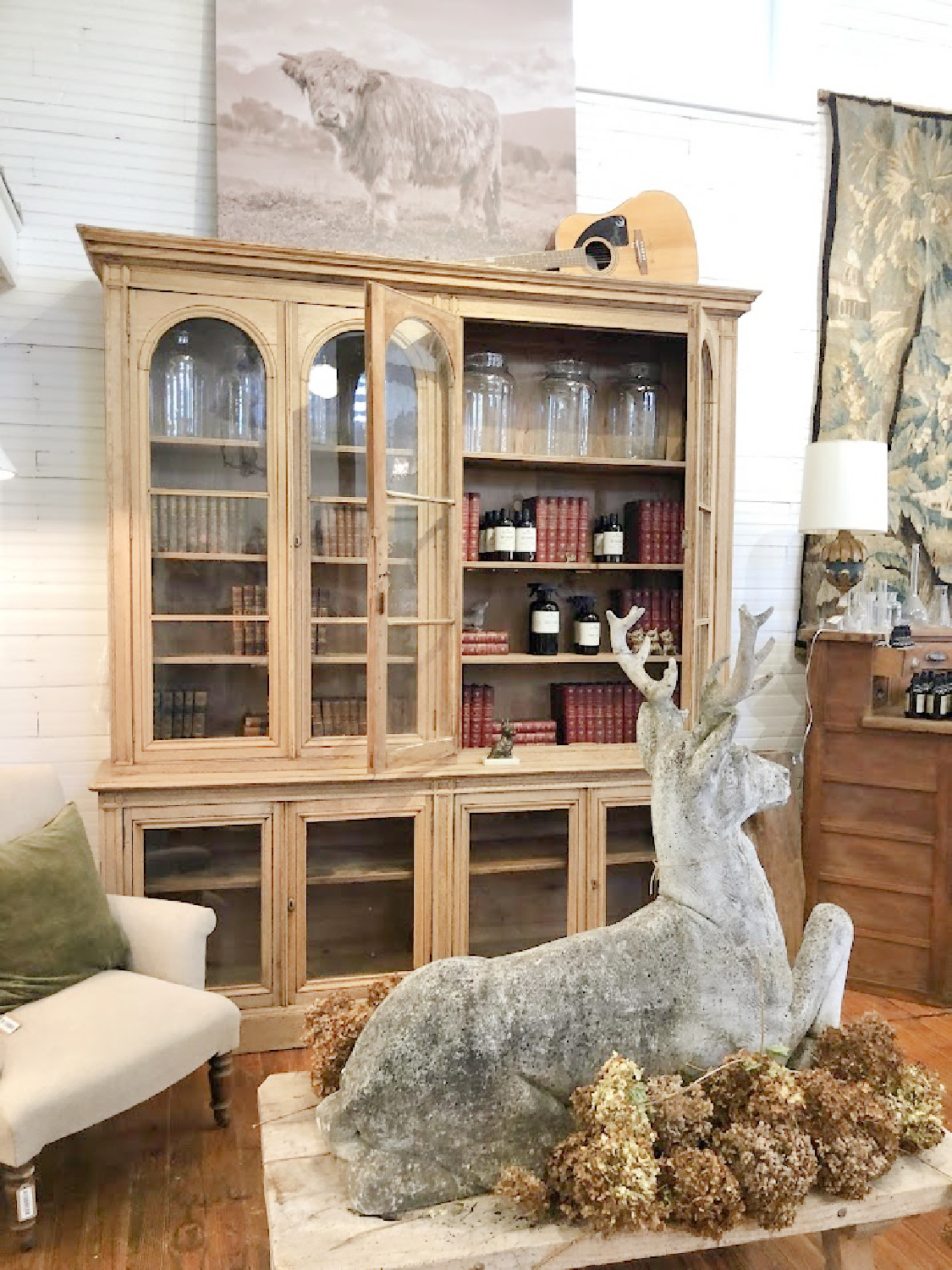 Garden Items at Patina Home in Leiper's Fork
There are plenty of charming garden items in the shop as well. (And do you recognize the stunning tapestry below which decorated Patina Farm!?!)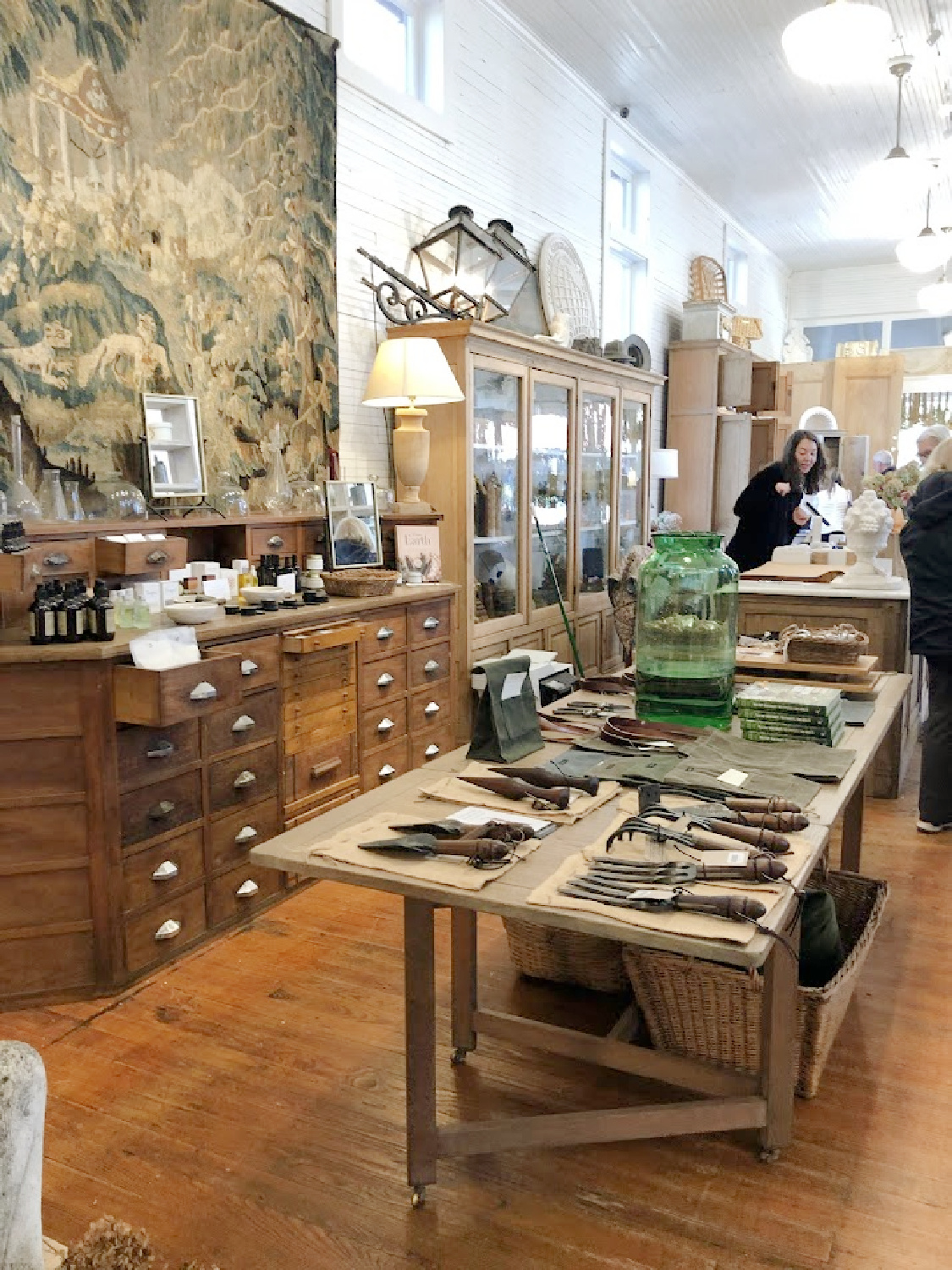 Baskets, tools, and even apparel appropriate for work and gardening are inside the shop.
Local Farm Fresh Food & Ingredients
In a special section of the shop, you can find delicious ingredients from local makers as well as fresh food and snacks from local farms in or near Leiper's Fork. Enter it through this doorway you see near the wing chair below: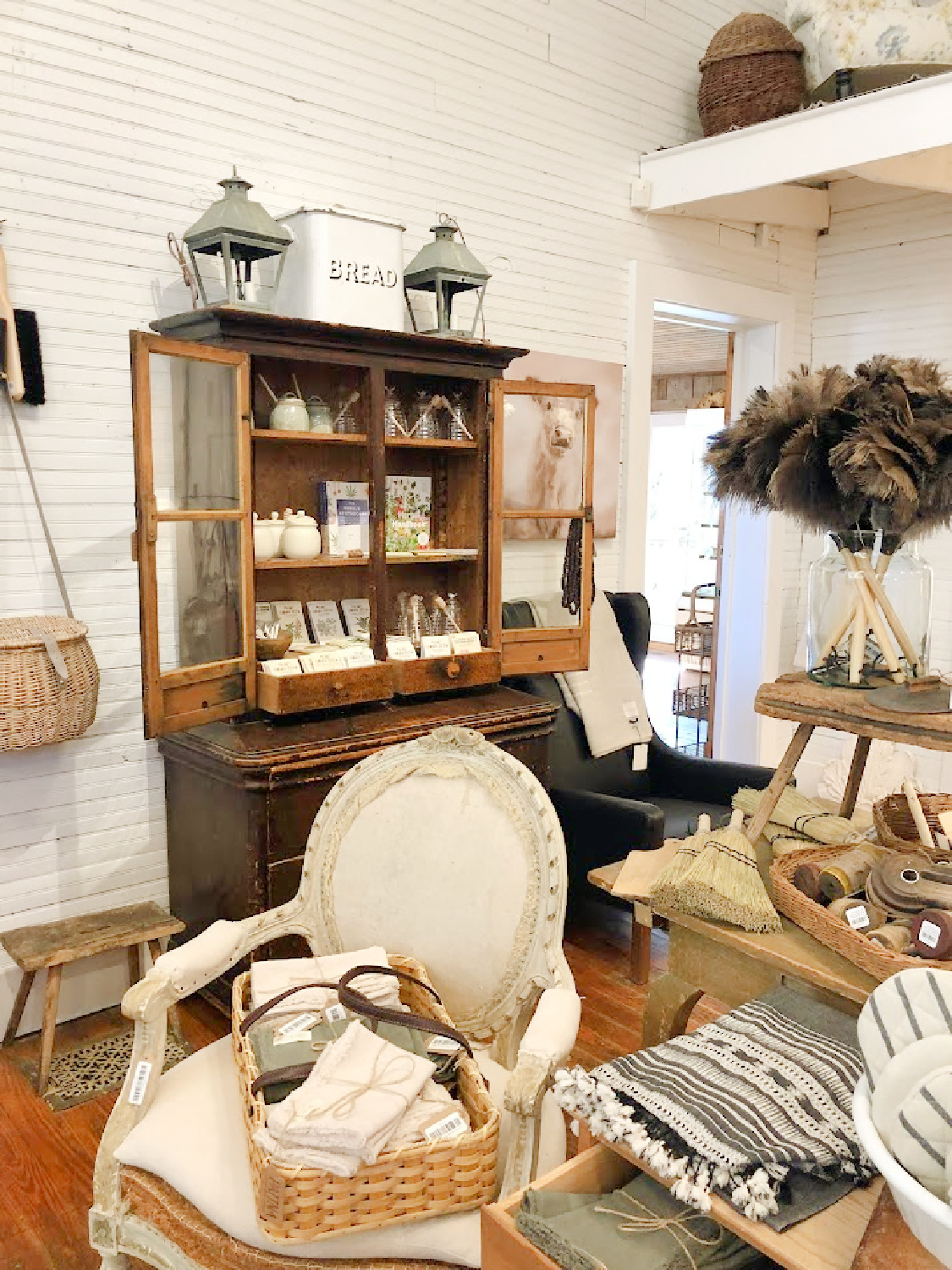 Fresh lettuces, heirloom tomatoes, and wonderful goat chees studded with fruit await in and near the cooler.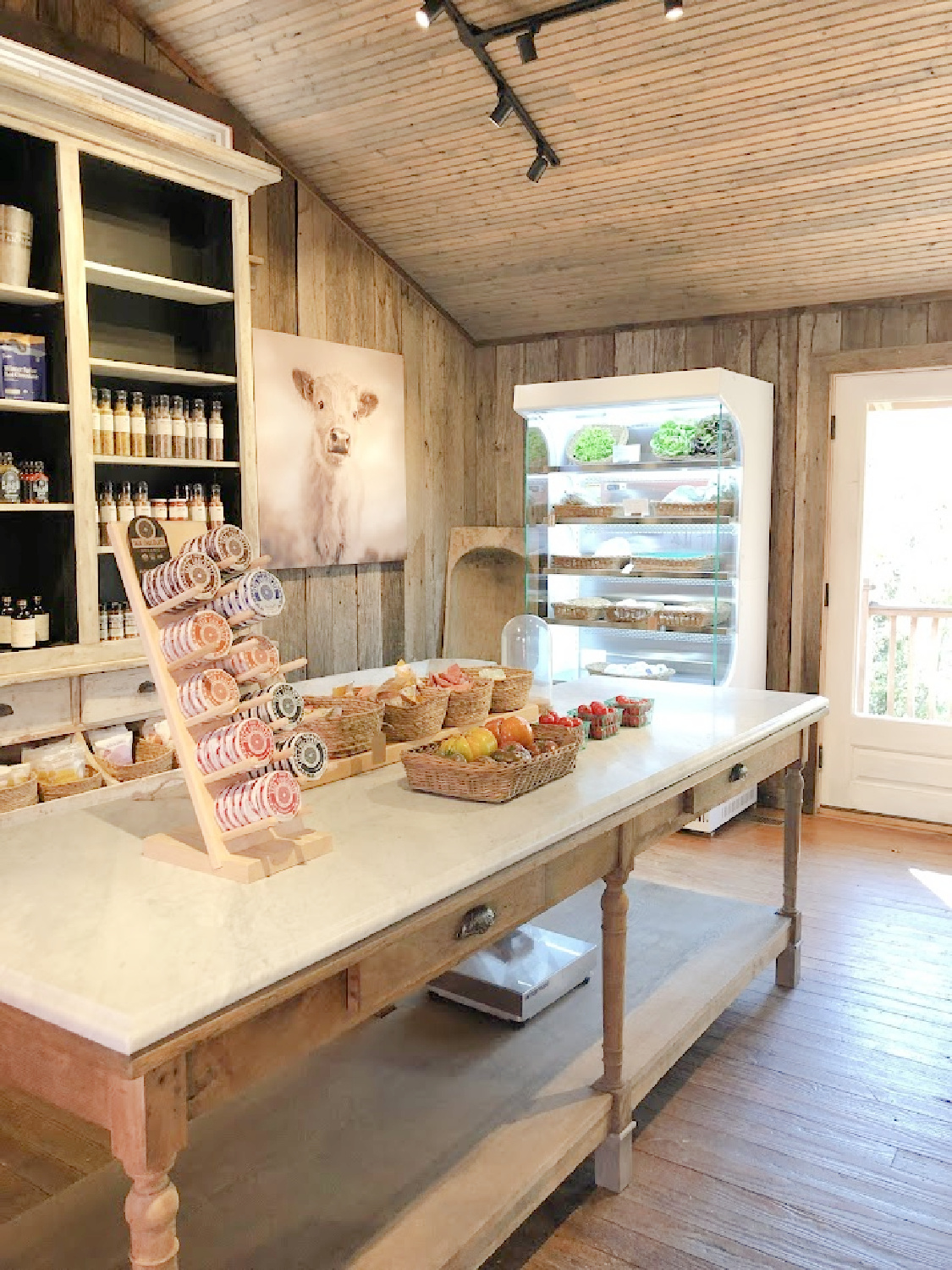 Such an old fashioned, country store vibe happening, and it could easily inspire others to open their own little country shop!
Giannetti Designed Apparel in Patina Home & Garden
You may be familiar with the velvet and linen clothing we often see Brooke wearing around the farm, and I can attest to its wonderful versatility and quality.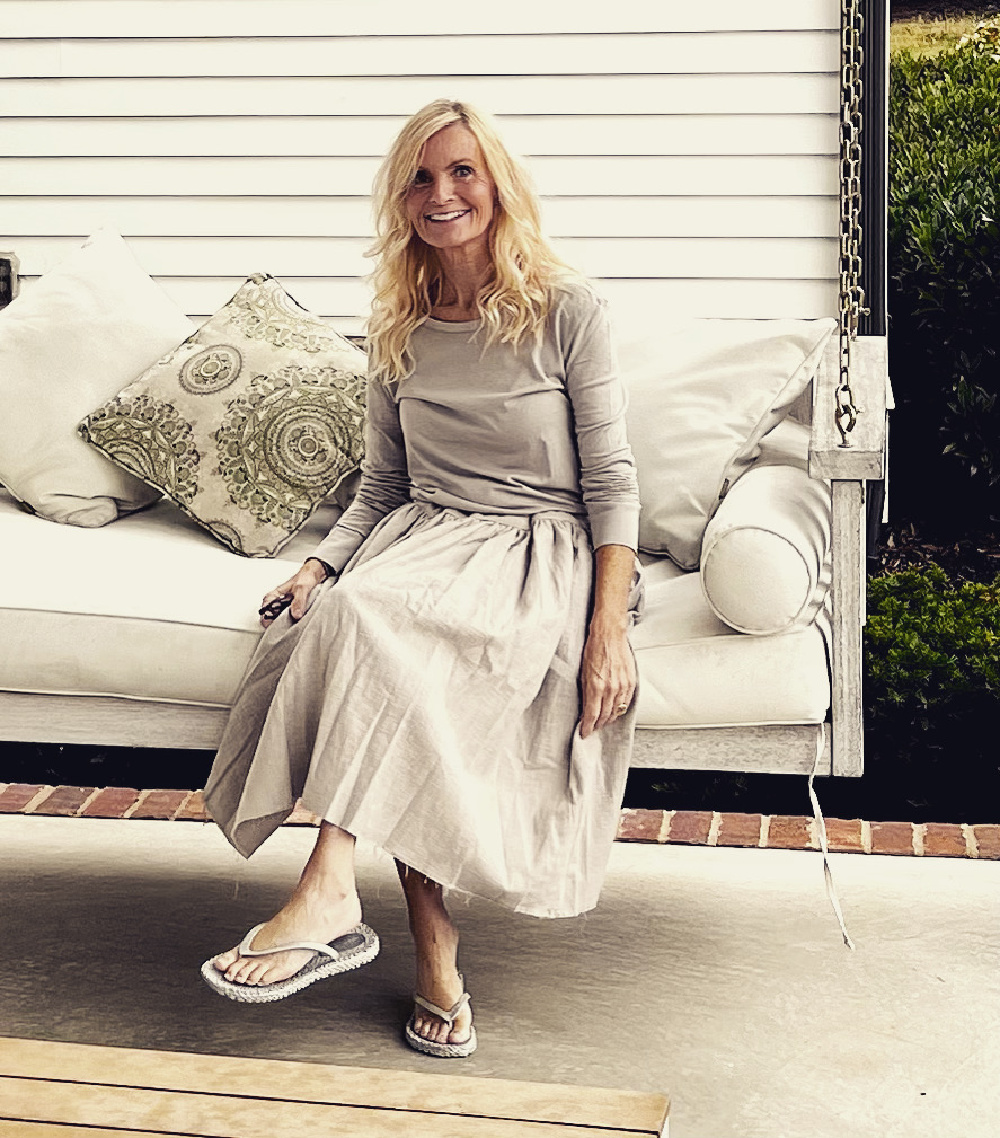 Enter the back section of the shop (just to the left of the shutters you see below) to find cashmere sweaters, velvet dresses, pima cotton tee shirts and much more.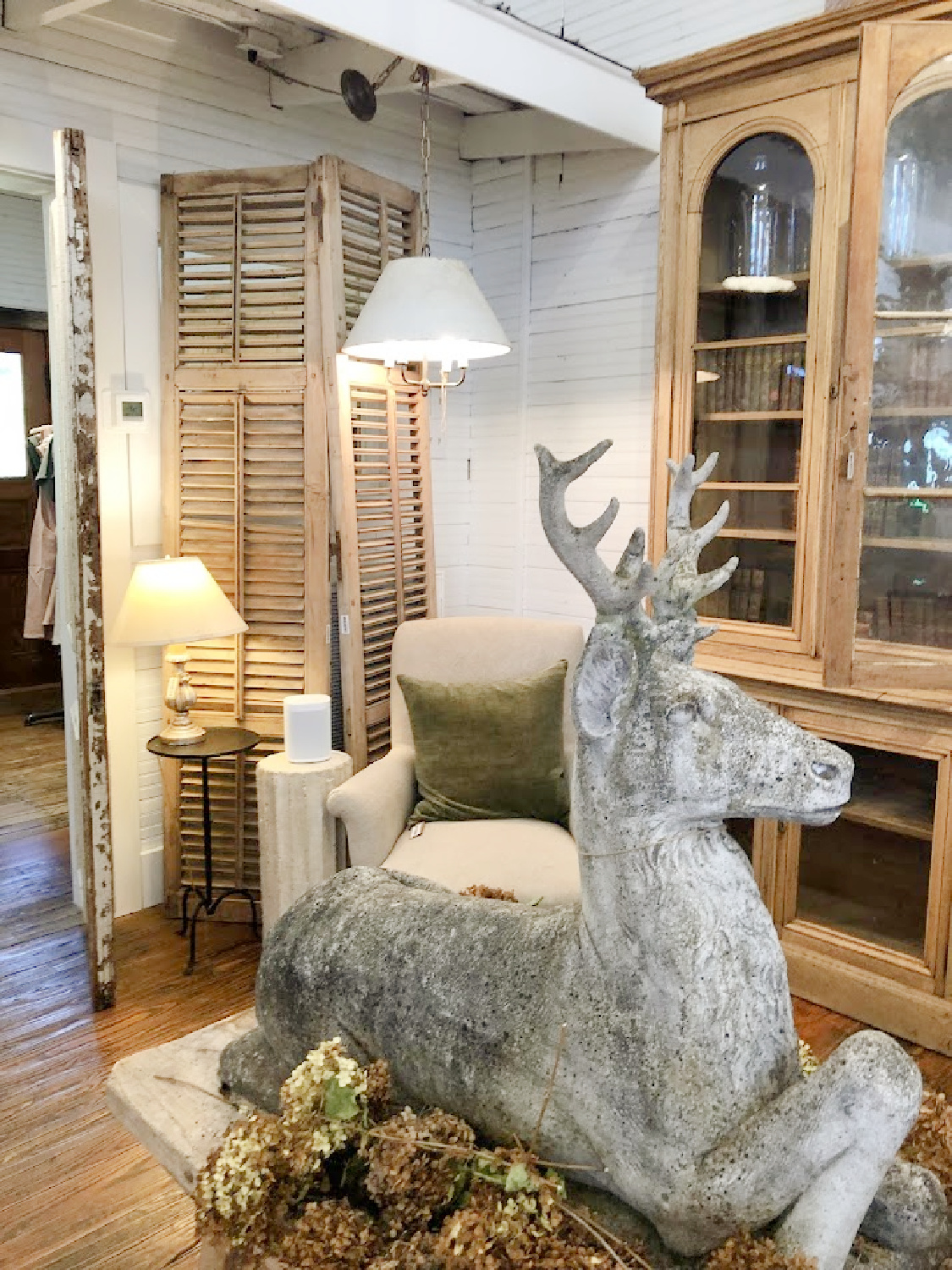 If you have shopped at Giannetti Home's online shop in the past, then you know about the gorgeous designs from Charlie Giannetti.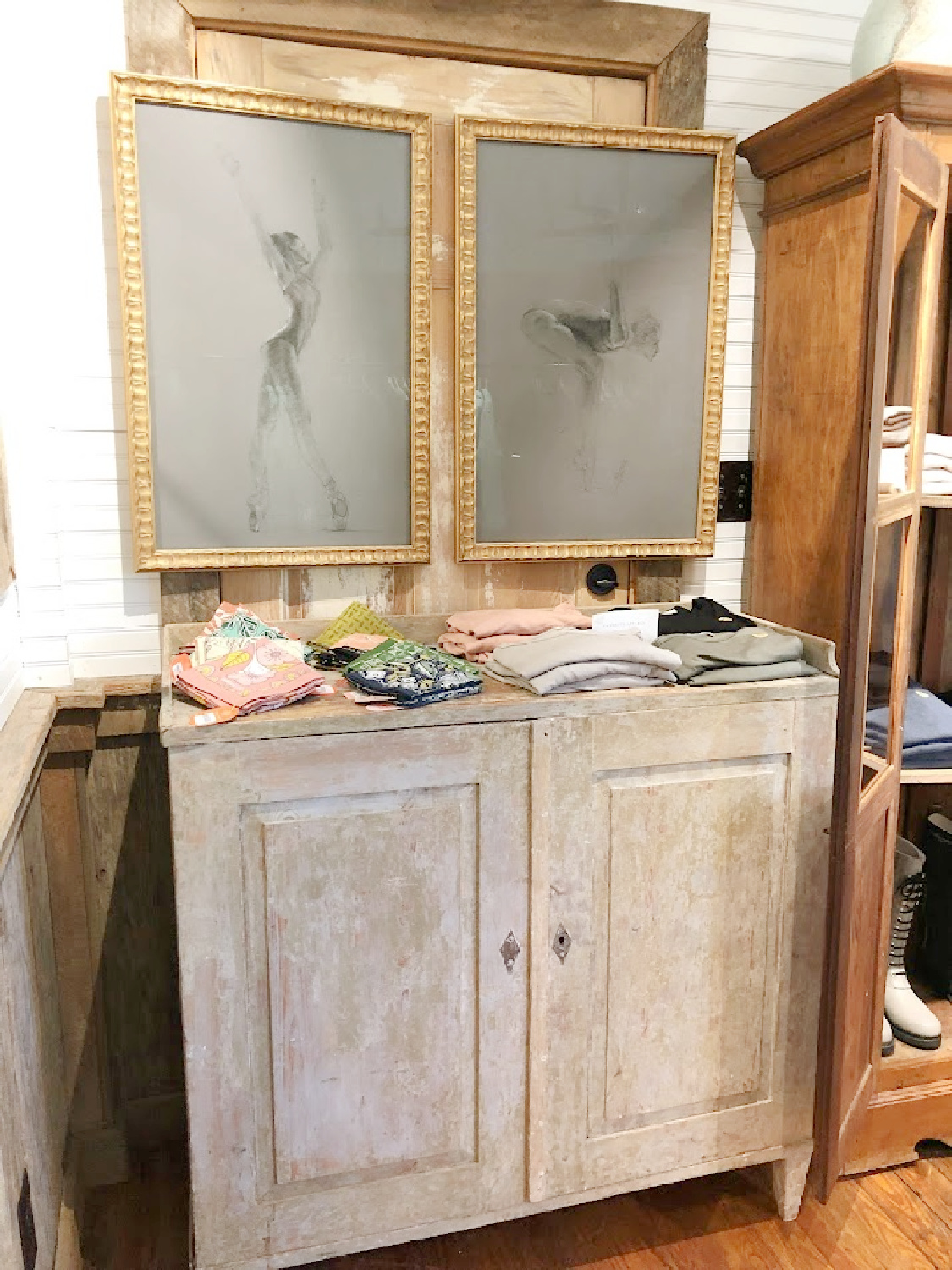 Seeing it all in person was so helpful, and I cannot wait for the online shop to re-open in a few weeks!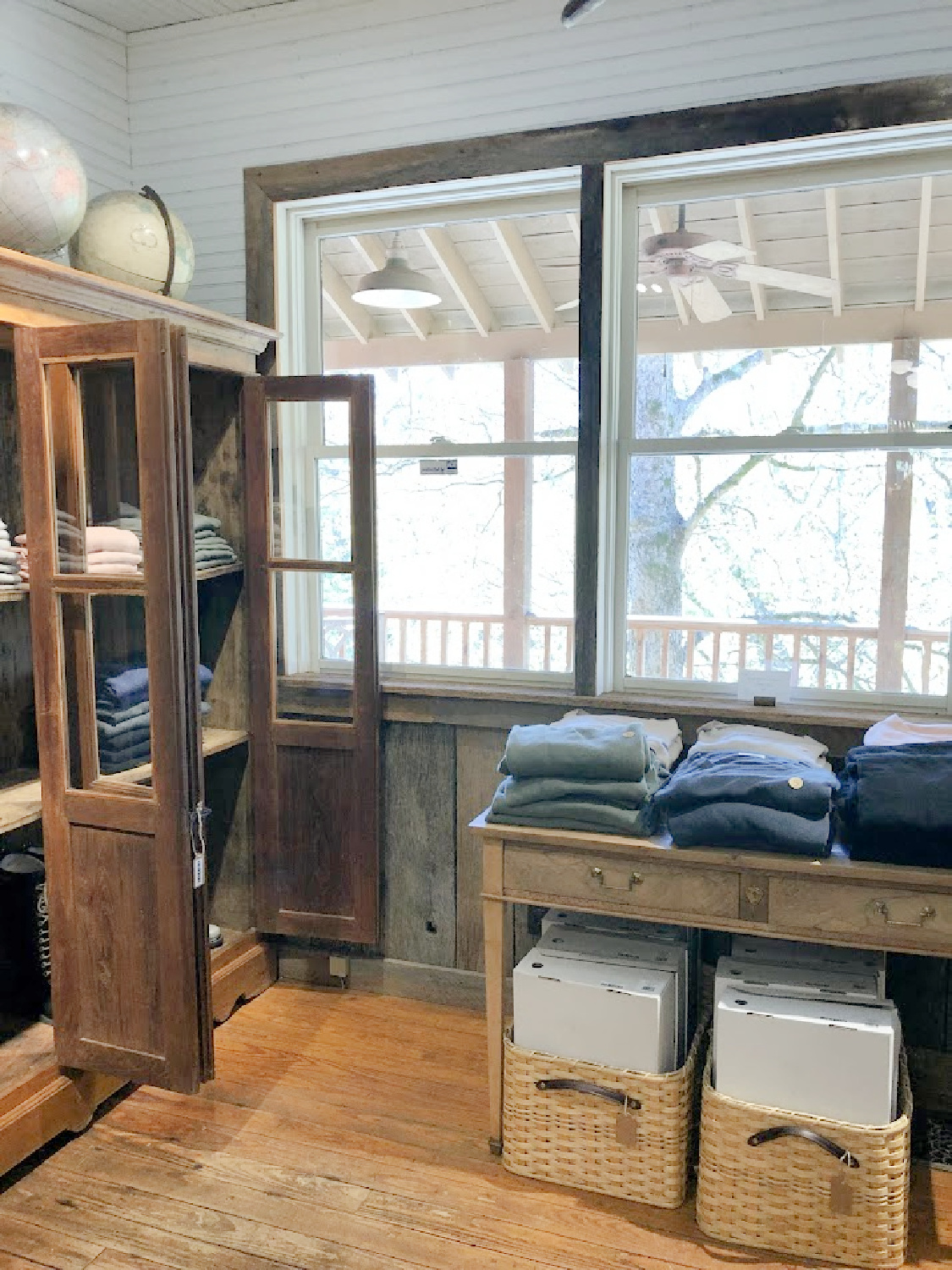 The weather here lately has been perfect for their Patina Farm hoodie which I own in green.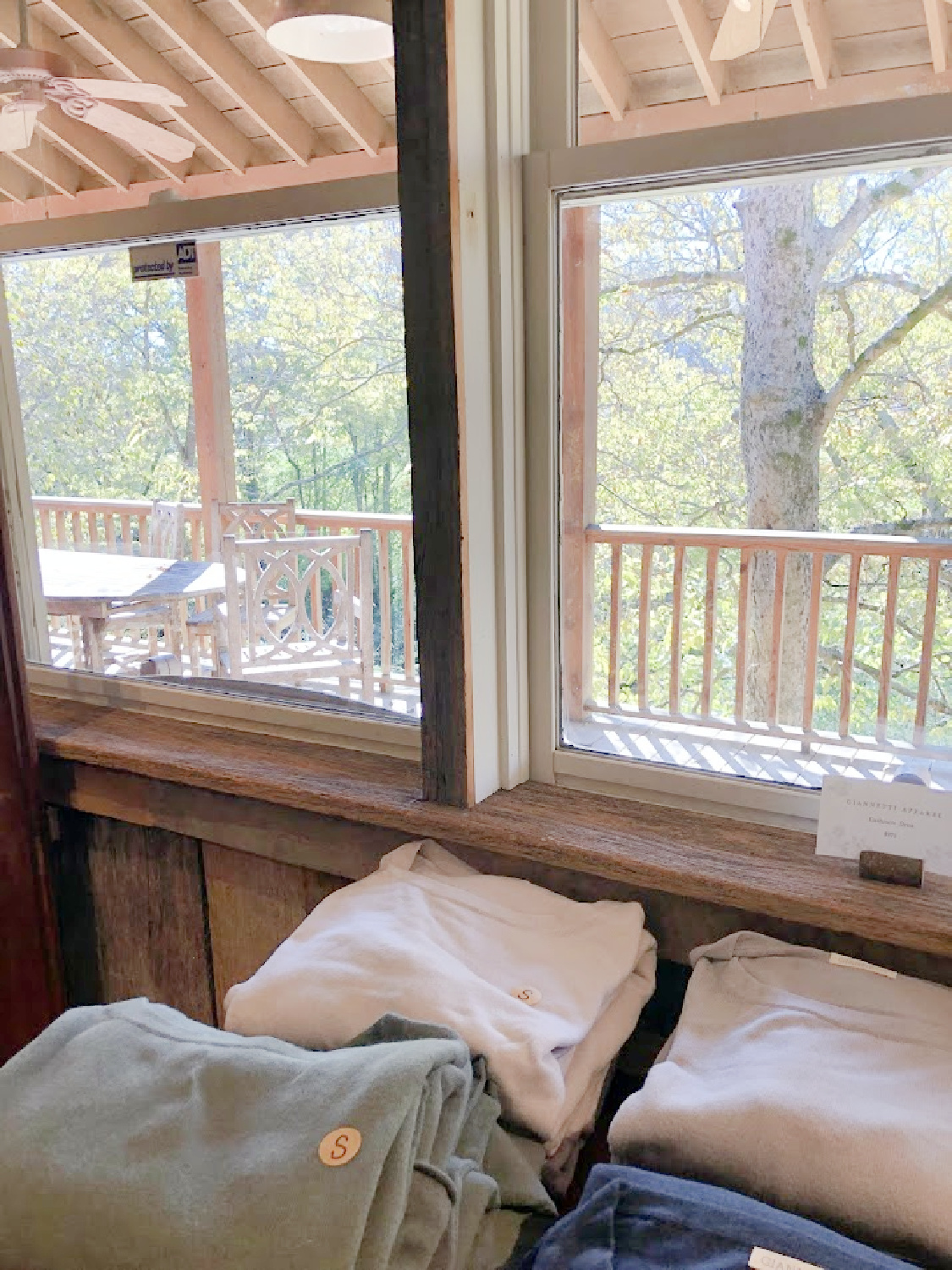 One of the things you will love about the Giannetti's apparel is how the pieces work wonderfully together, and the colors mix beautifully. You can truly invest in a time capsule wardrobe that will be wearable across seasons for many years because of its high quality.
Rustic Furniture & Decorations With Timeless Style
There are plenty of investment furniture and decor pieces inside the shop, and it is worth noting that there is nothing trendy I noticed inside. You'll have to mosey elsewhere for signs proclaiming "laundry" or "bless this mess." Hahahahaha.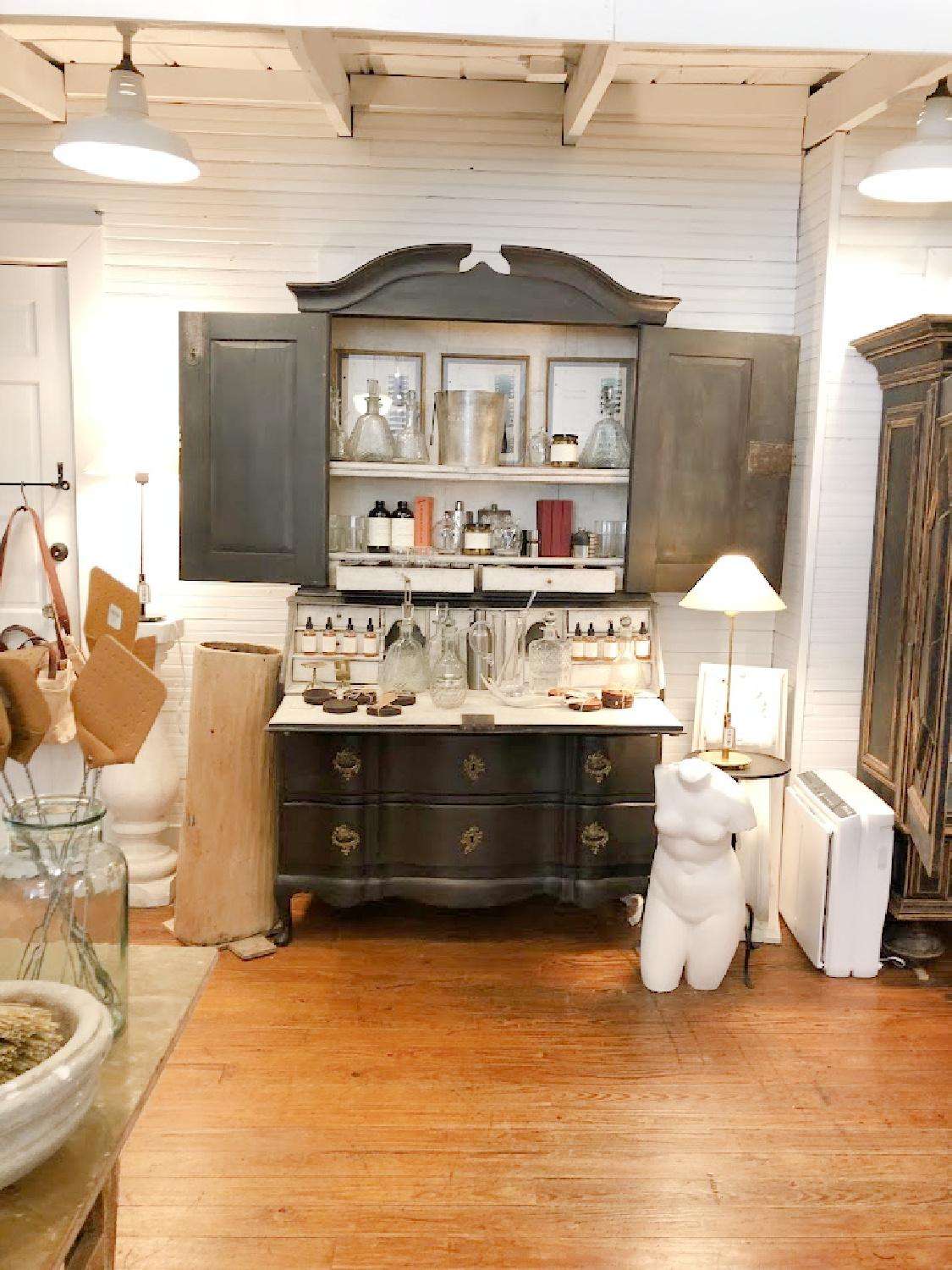 As a result, no chance for worry about wares that could seem irrelevant or dated in a few years. In fact, country antiques are becoming more scarce and only increasing in value.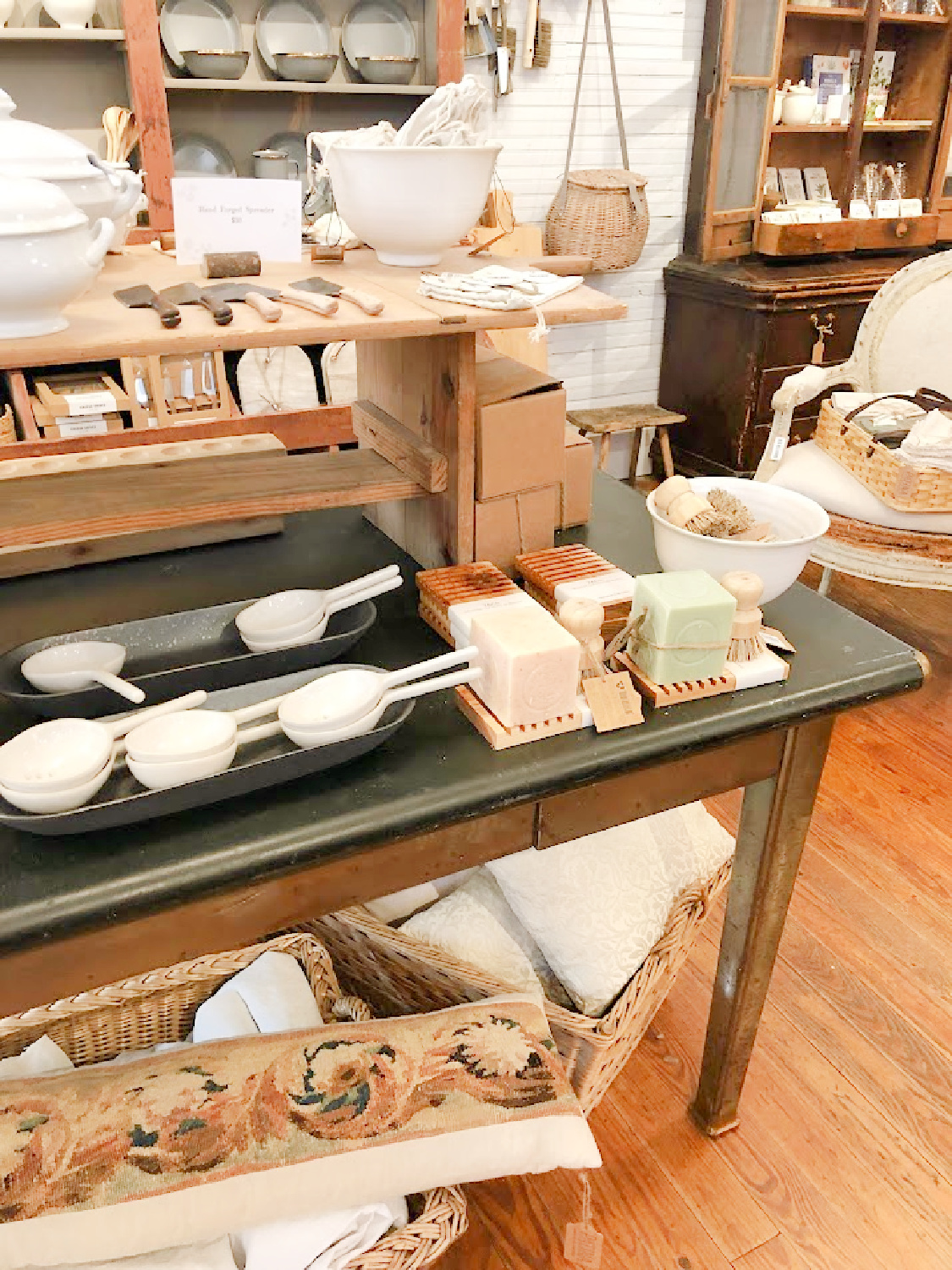 How did I miss that pillow in the basket under the table! I did buy the big chunk of blush pink lemon-infused dish soap, cedar stand, and scrub brush. They look great at our farm sink and get the job done!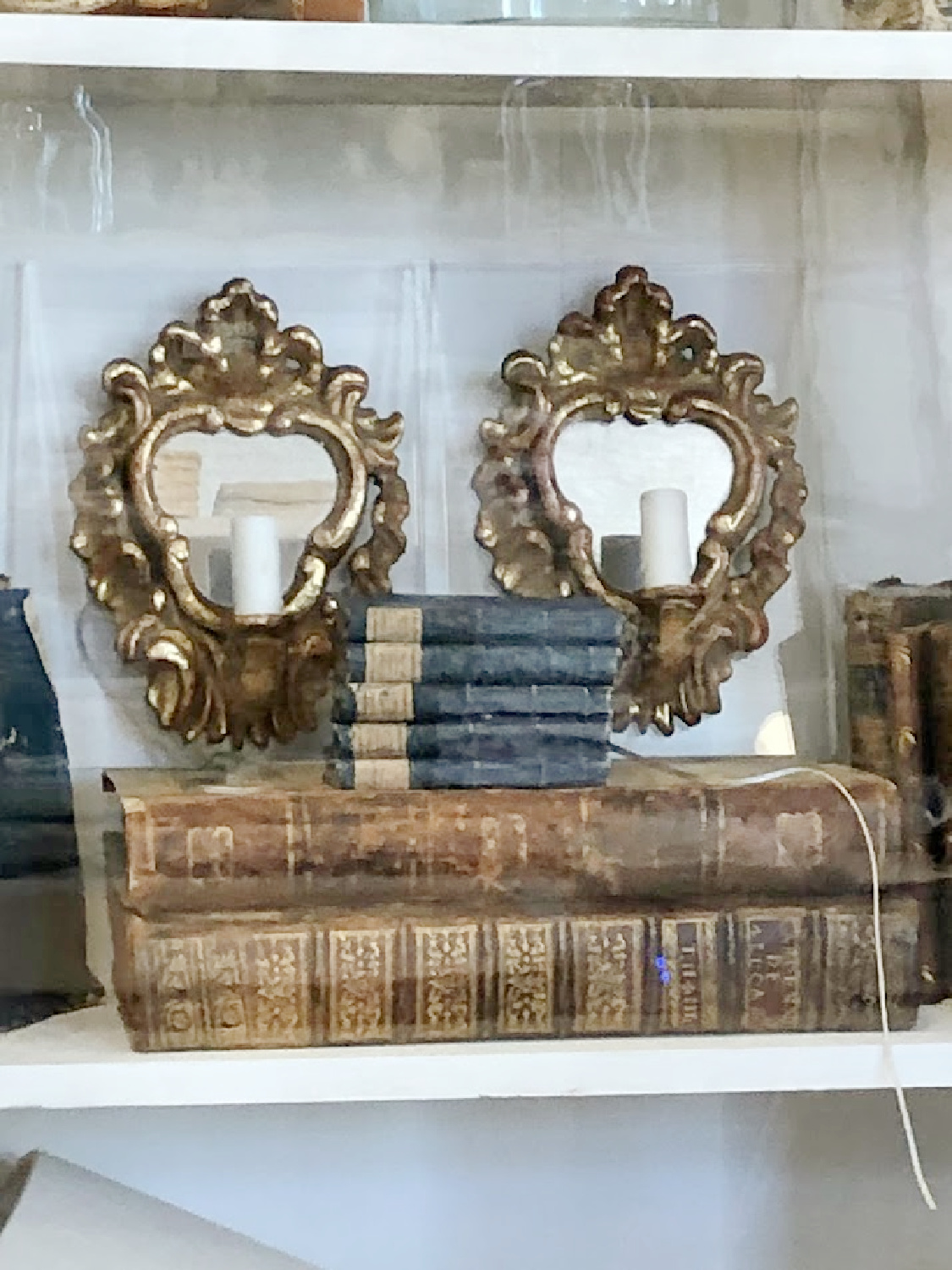 I could hardly believe the excellent condition of the sconces (above) in the glass cabinet behind the register! Didn't need to ask the price as I can imagine, but I would gladly give those beauties a good home if a money tree springs up in our yard!
Handmade and One of a Kind Items in the Giannetti's Shop
I visited Patina Home & Garden twice on our visit, but I still didn't examine every pretty item. So many beautiful handmade wares including candles, kitchen essentials, textiles, art, and dishes.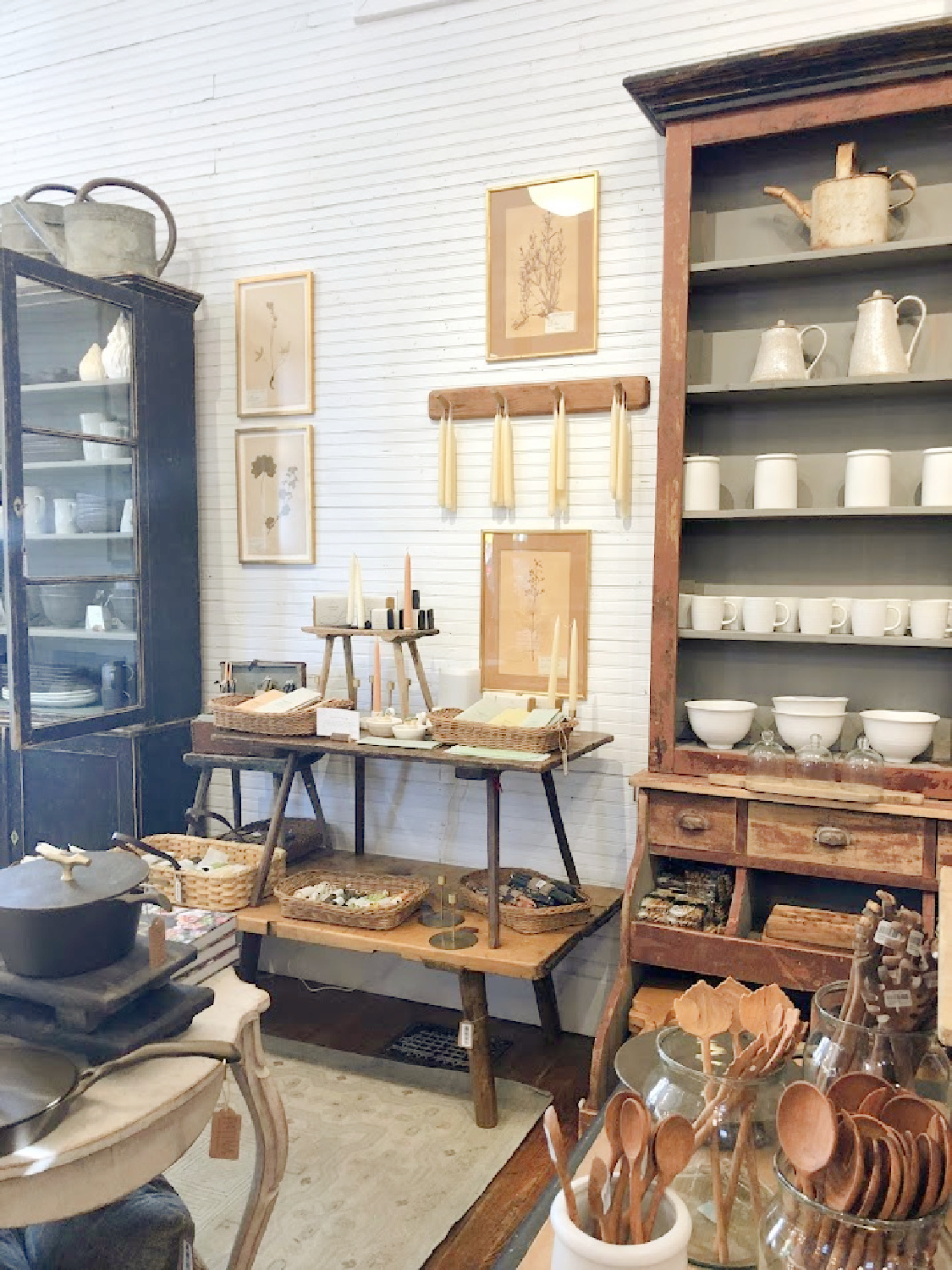 Even the spicy Hoff hot sauce I bought at the shop is hand-batched in Tennessee!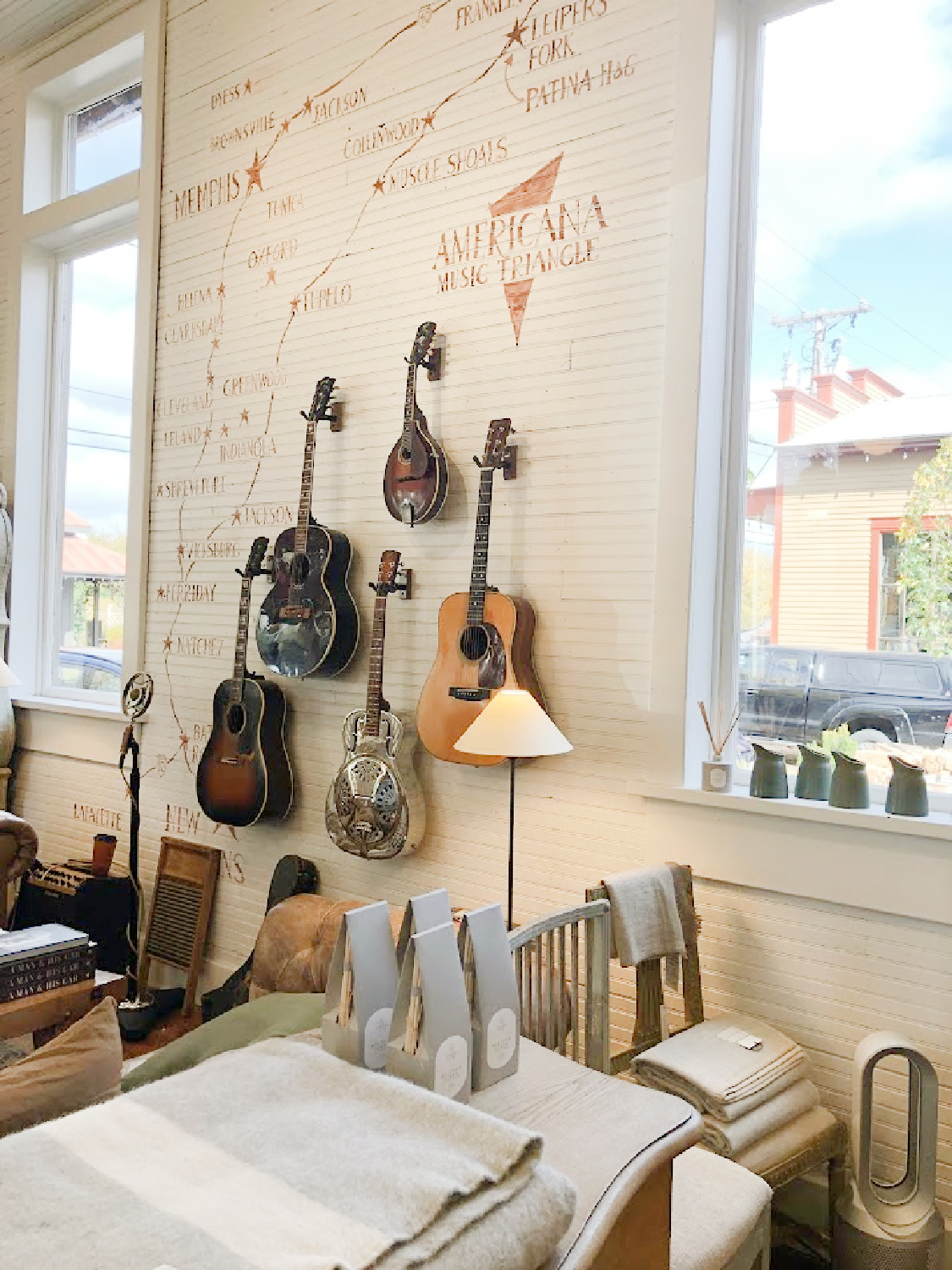 Thanks so much for shopping in Tennessee with me today! See more personal reflections about our visit to Franklin HERE. Are you ready to visit Leiper's Fork, Franklin, and this lovely von lovely shop?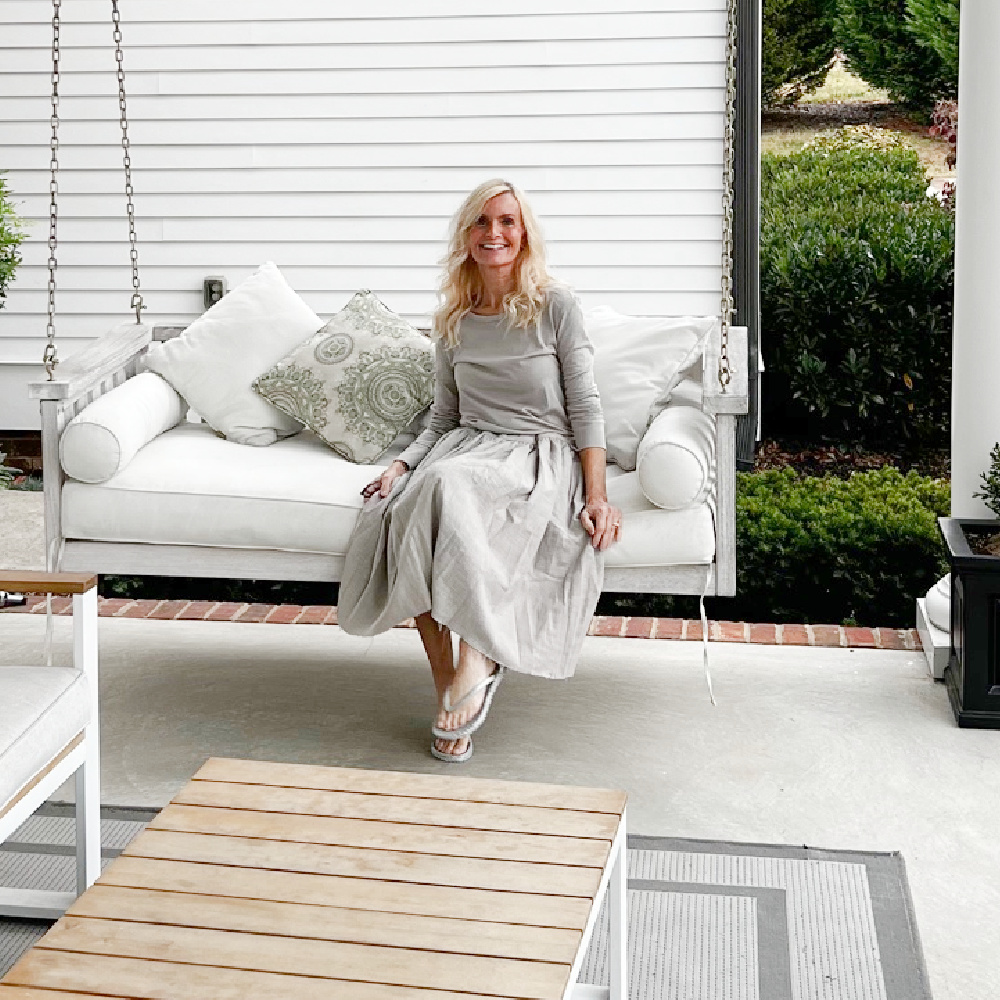 Let's meet there in person, friends!
I independently selected products in this post—if you buy from one of my links, I may earn a commission.
Peace to you right where you are.
-michele
Shop for items you already intended to buy on Amazon RIGHT HERE, and also find home decor here to keep decor inspiration flowing on Hello Lovely!
Hello Lovely is a participant in the Amazon Services LLC Associates Program, an affiliate advertising program designed to provide a means for sites to earn fees by linking to Amazon.com and affiliated sites.