We'll revisit this fantasy tour of a chateau in my neck of the woods which was on the market when first I discovered it. The home was renovated and appeared on the market again in 2020 before it sold about a year ago. Known as the David Adler La Lanterne Mansion or Carolyn Morse Ely Estate, no matter what you call the breathtaking French country home, it's a treasure!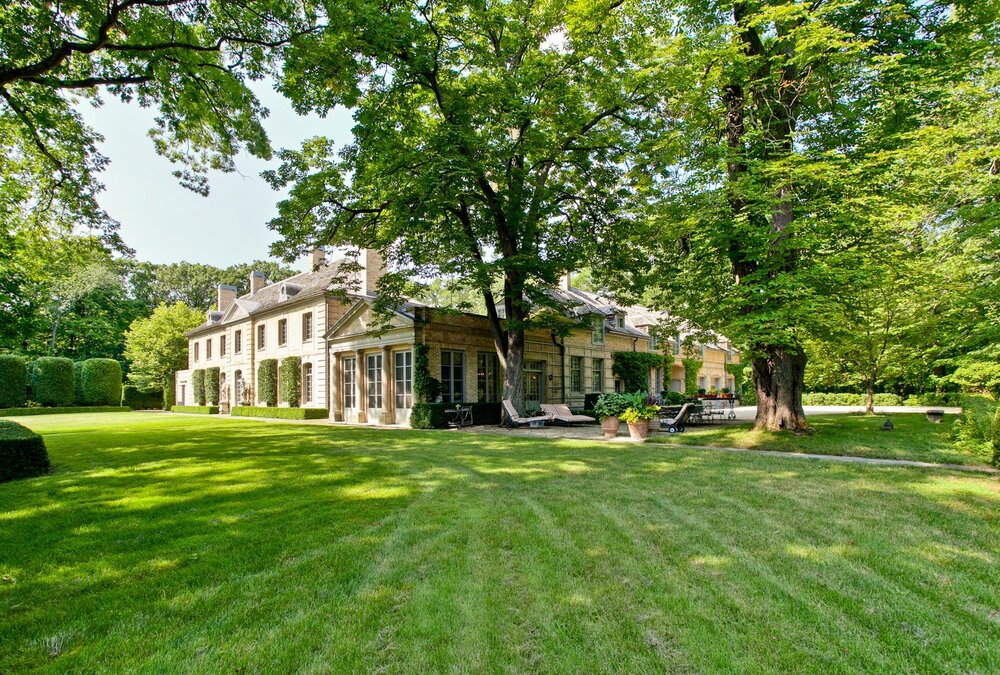 David Adler La Lanterne Mansion: Carolyn Morse Ely Estate
Photos: JS Eckert
This sprawling estate in Lake Bluff, Illinois sold in January 2022, and you can peek inside (below):
This magnificent historic Lake Bluff home by David Adler is also known as La Lanterne: The Carolyn Morse Ely Estate.
Curious about the original La Lanterne property inspiring Adler to build this home for a wealthy Chicagoan in the 1920s? Me too! Here it is in France: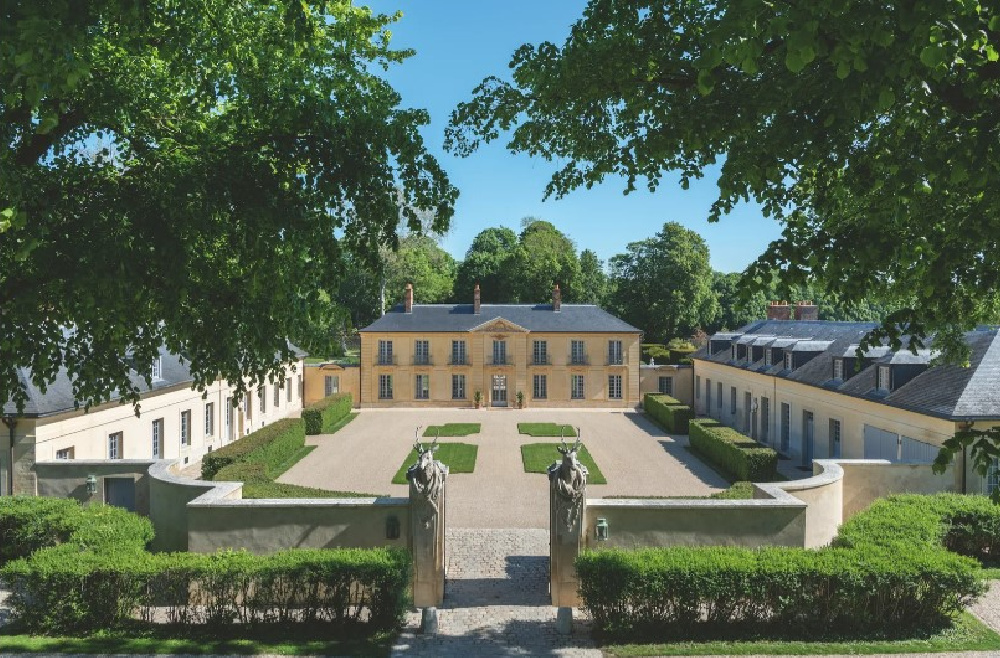 Its name came from the amount of light it welcomed through the many windows and French doors. I'm anxious to see more of this beautiful if not mysterious Presidential residence which is one of the gems inside this book: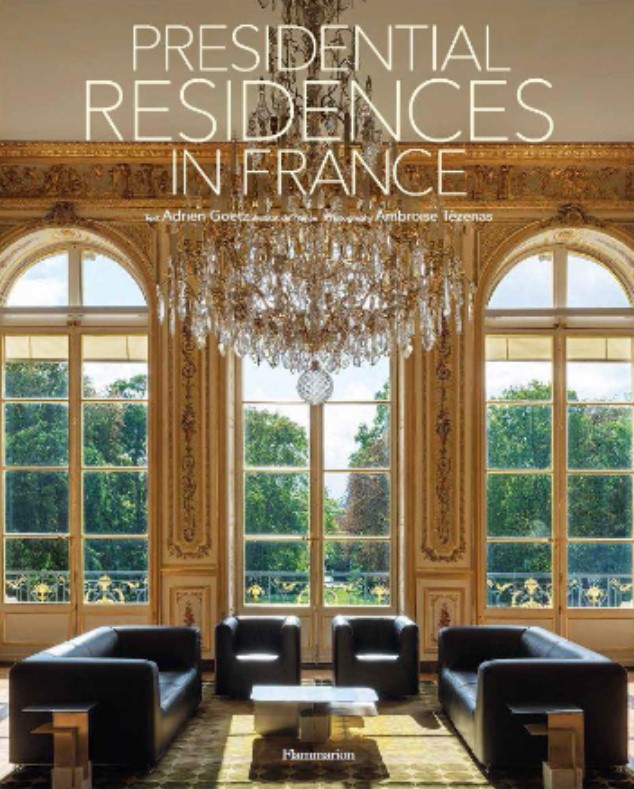 Carolyn Morse Ely, this Lake Bluff home's original owner was the daughter of steel tycoon Jay C. Morse, who commissioned Mr. Adler to build it.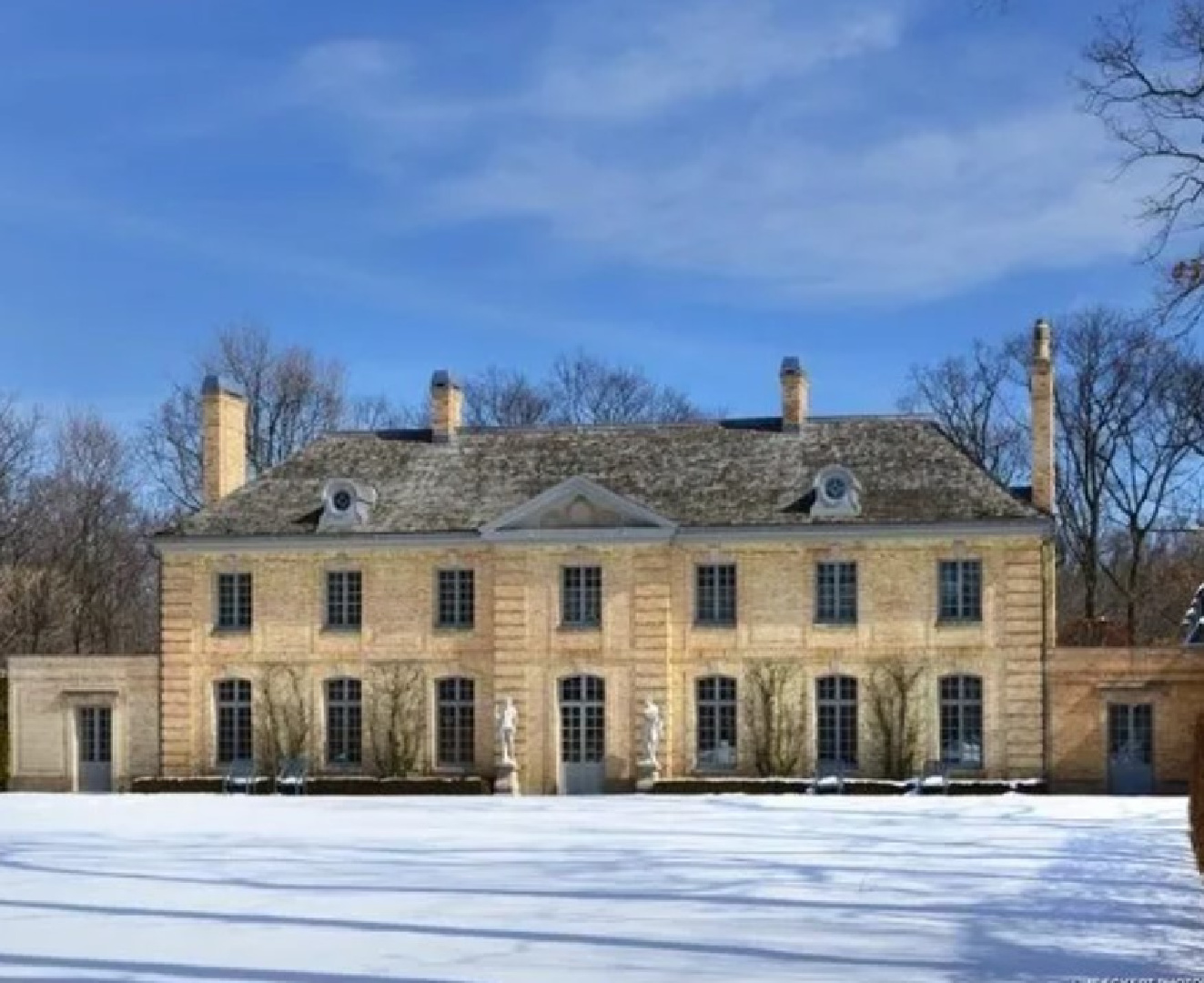 Here is a more detailed glimpse of the front entrance: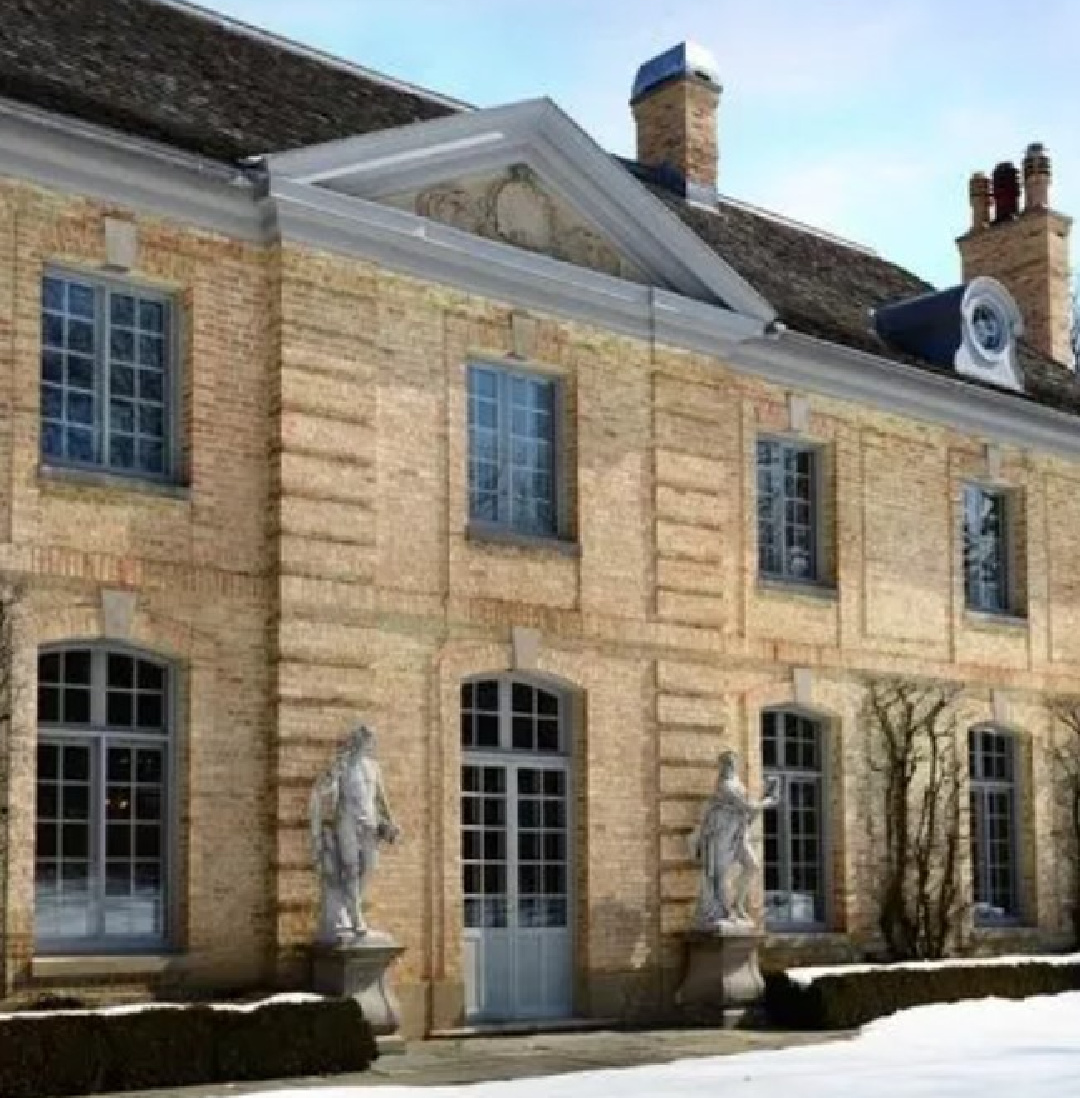 Have another peek…
Such grand proportions and expansive outdoor areas!
House Tour: Chicagoland Chateau Entry
The home was renovated and re-decorated with more modern French style, and it's interesting to see how it changed. Paint colors in the entry changed from this before: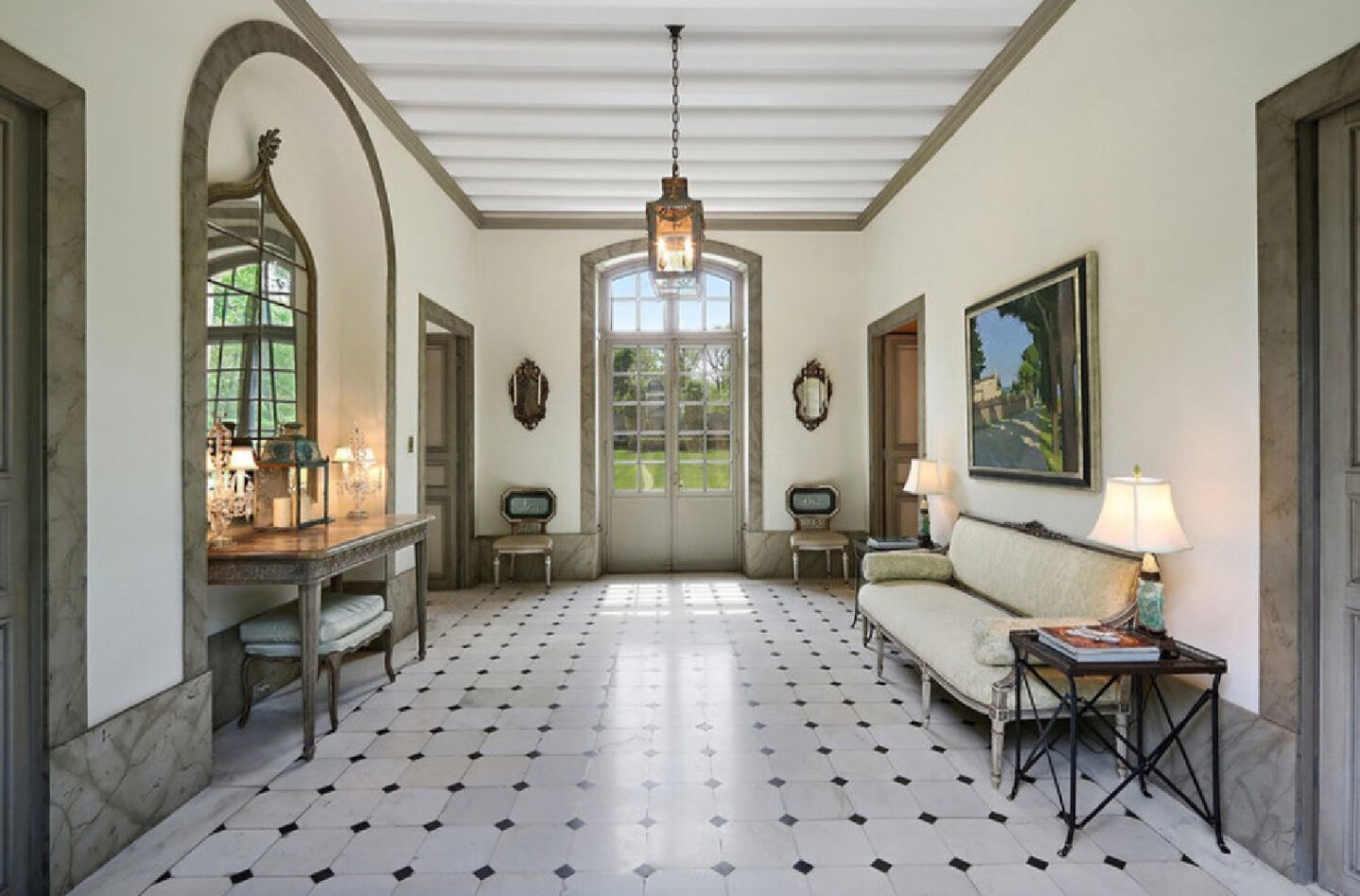 to this more modern take:
That lantern in La Lanterne! What a difference trim color changes make!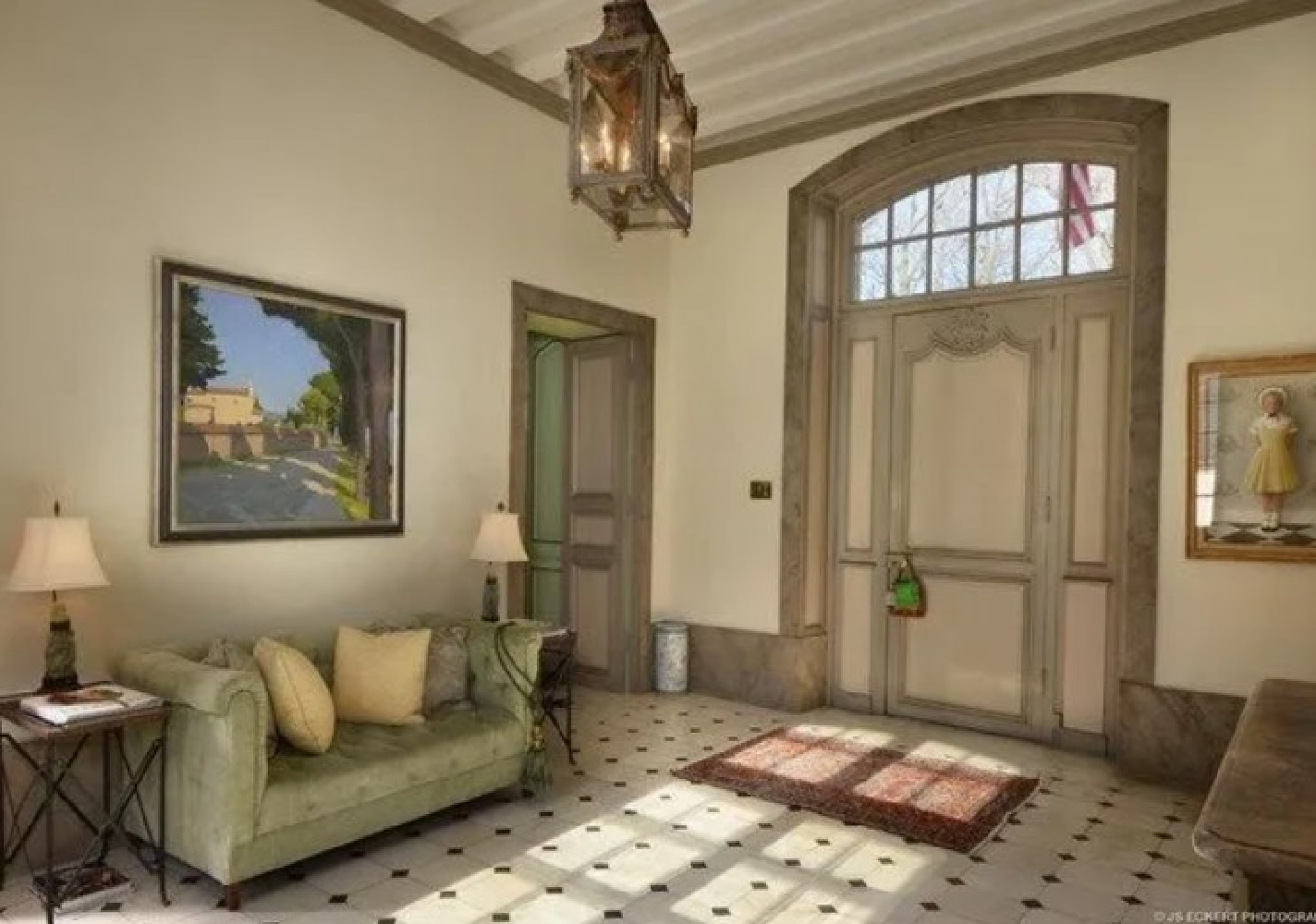 The History Center of Lake Forest-Lake Bluff notes:
"The footprint for the main house was based on the Pavilion de la Lanterne, an 18th-century hunting lodge at Versailles." Hunting lodge? La Lanterne may have started life as a modest three room hunting lodge, but it bloomed into something far more grand in the forests of Versailles. Decades later, La Lanterne was expanded and eventually became a secondary residence for the Prime Minister.
Back to Illinois…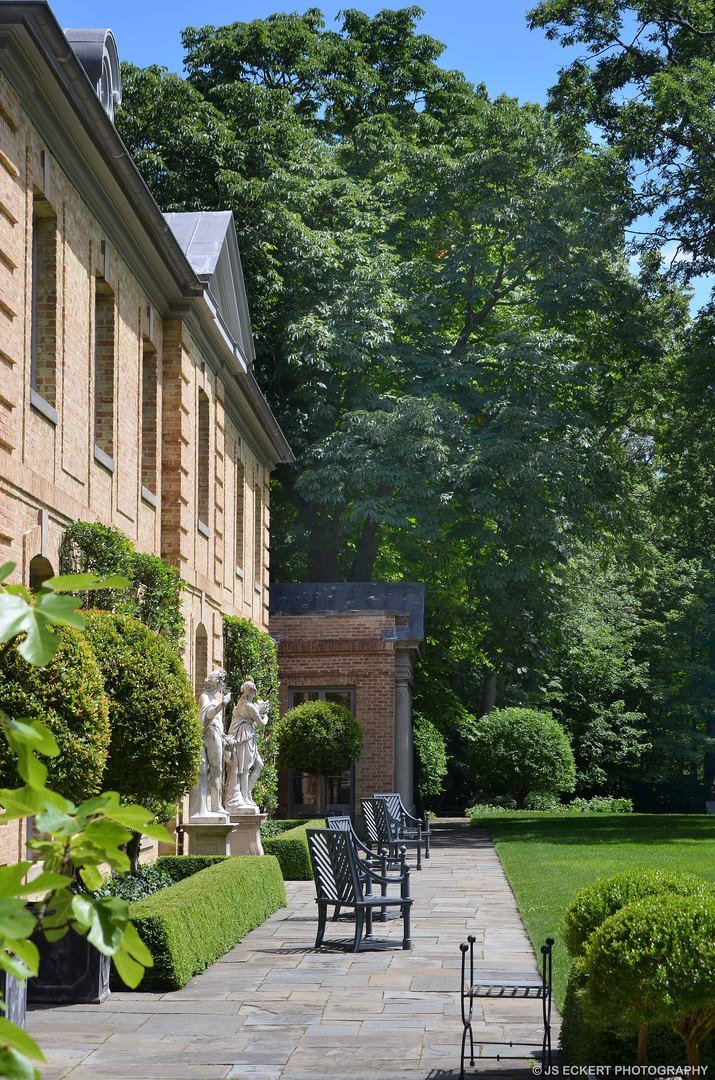 "Formal rooms are en enfilade, or long line, as the public part of the house is only one room deep."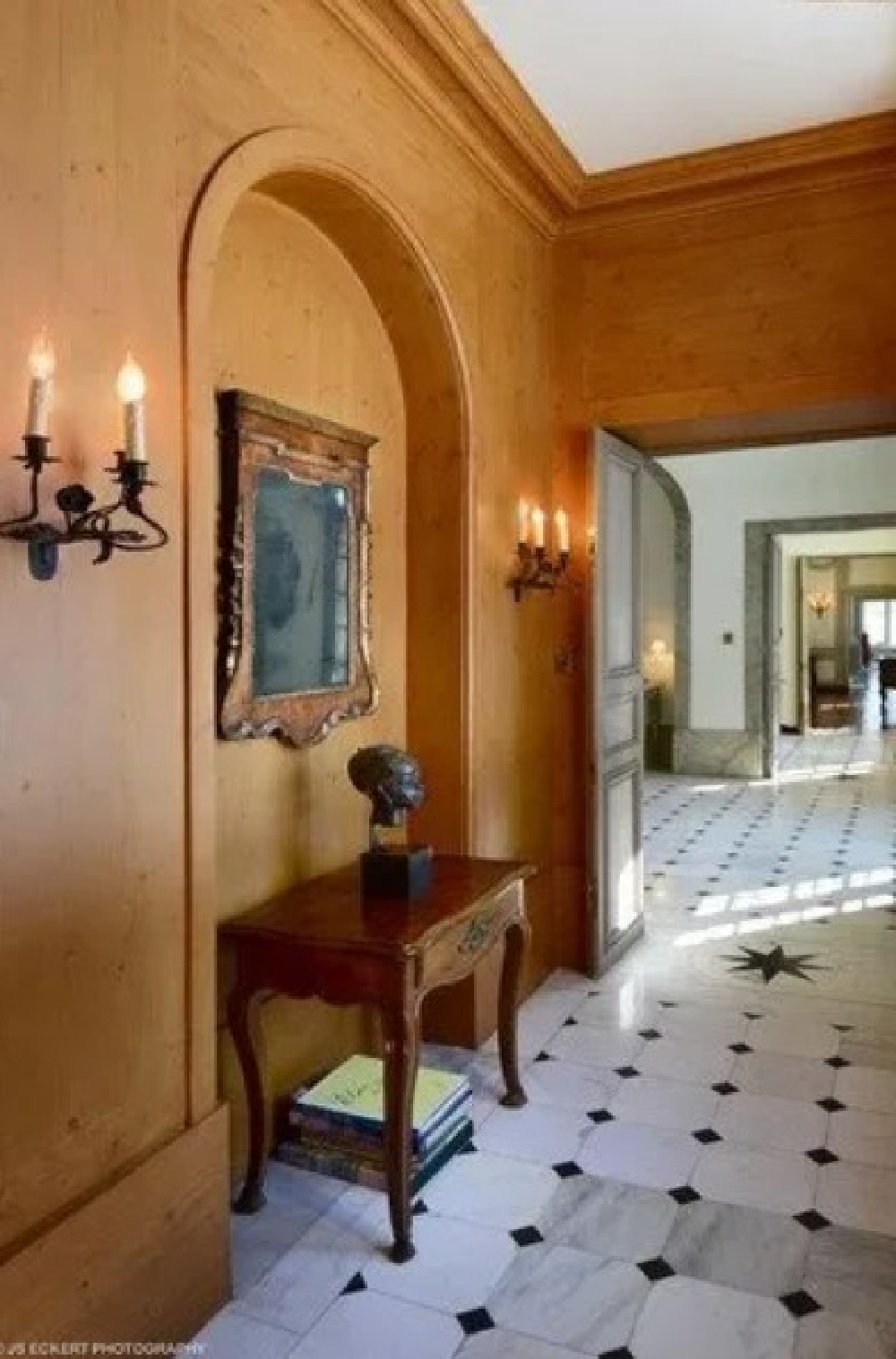 "Adler filled the 7,200-square foot mansion with items he picked up in Europe including French paneling…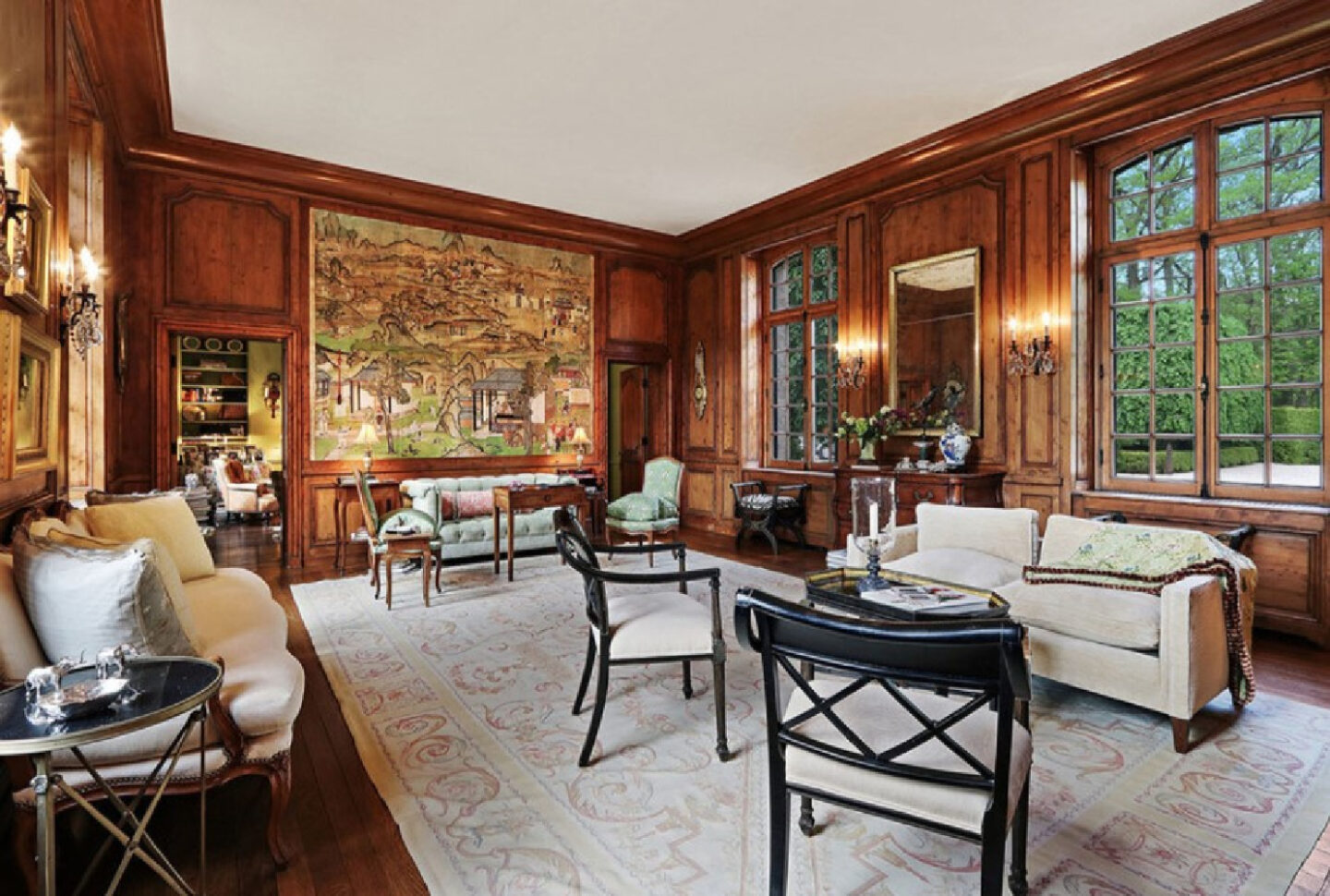 limestone mantels…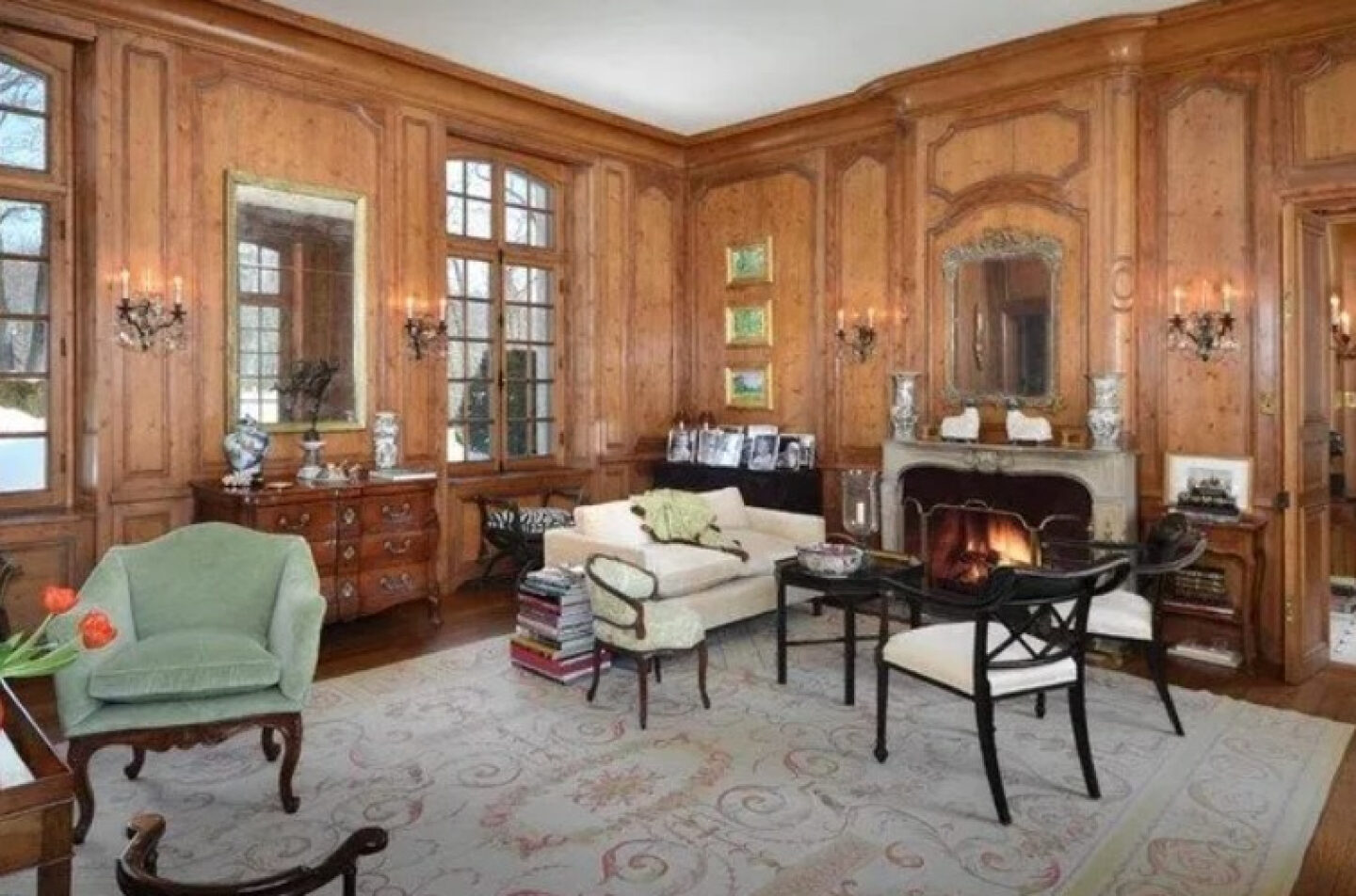 and antique Chinese wallpaper."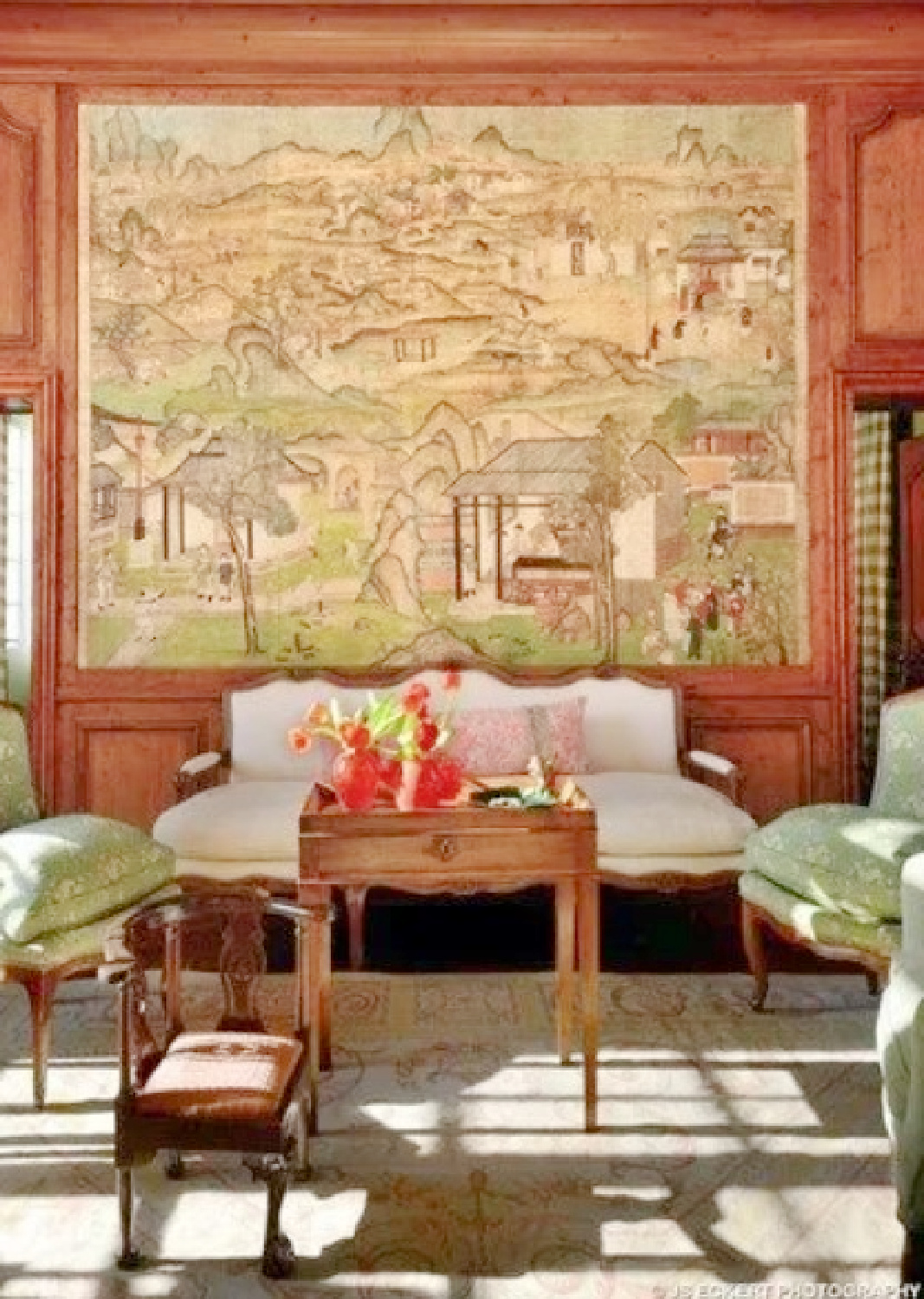 What an amazing collection of treasures for this home.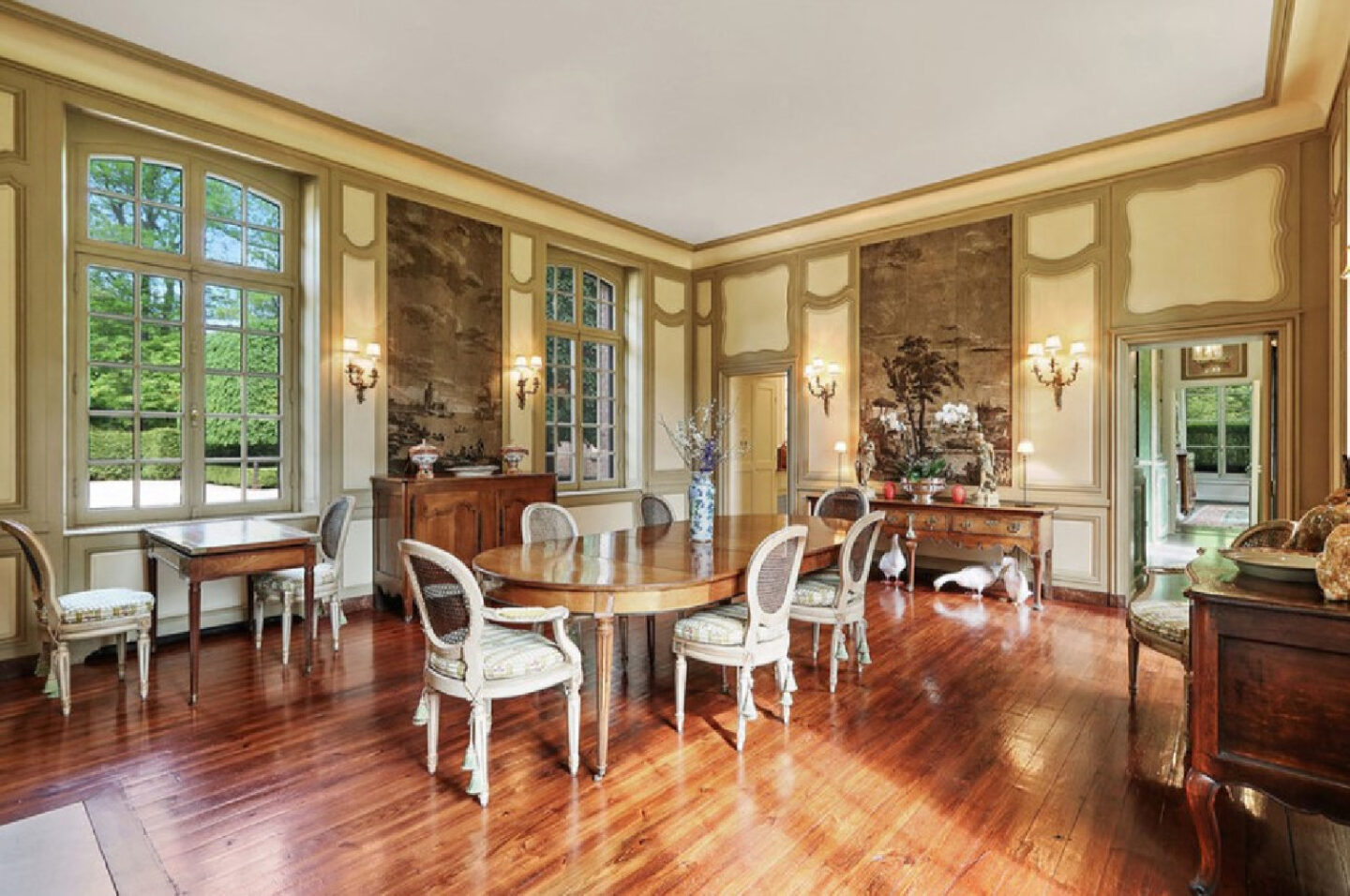 After studying for three semesters at Technische Universität München in Germany, Adler attended at the École des Beaux-Arts from 1906-1911.
An avid cyclist, he traveled to the countryside of France, Italy, and England to visit country houses and collect postcards.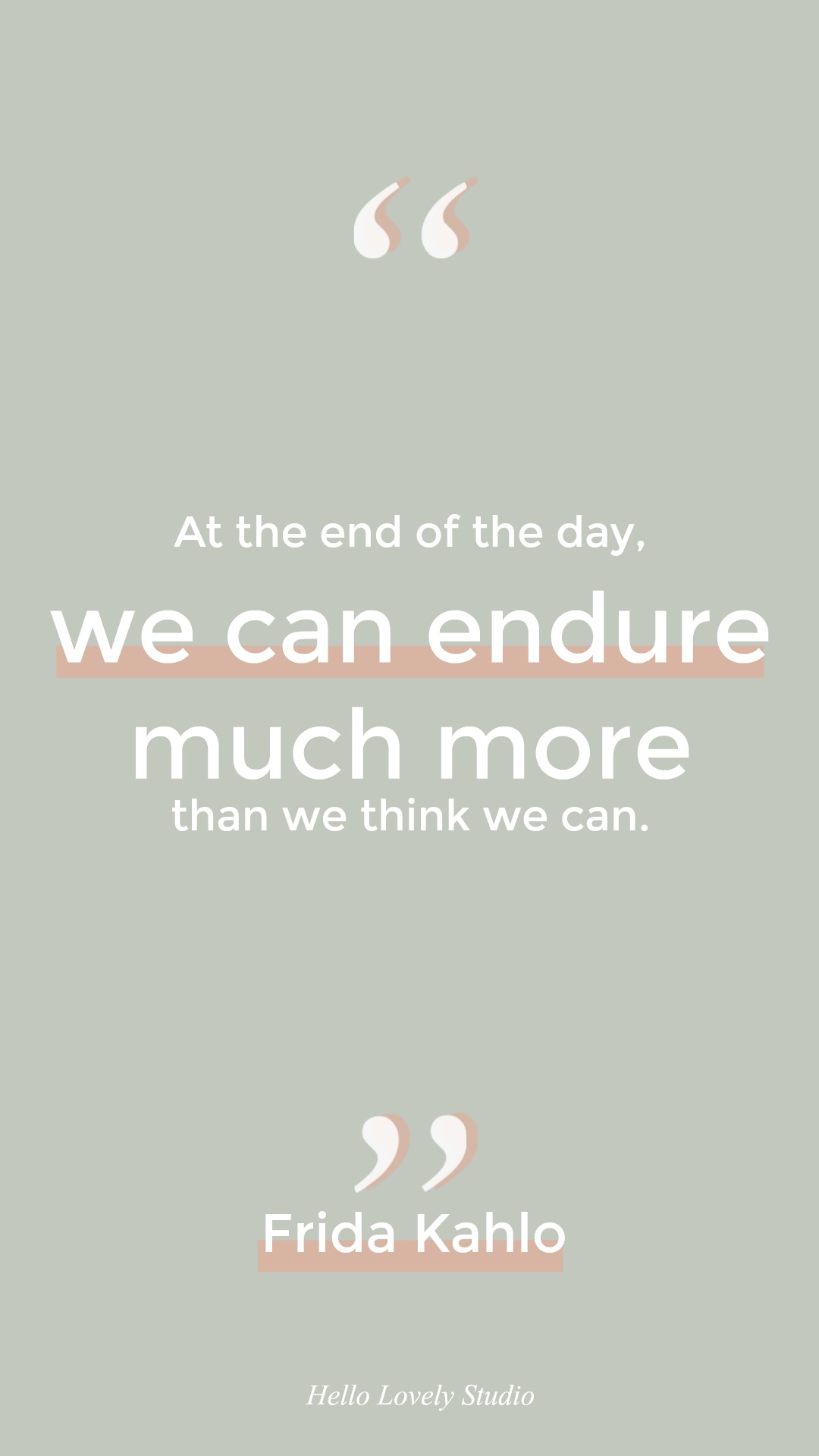 Who is David Adler?
Adler was an American architect born in 1882, who largely practiced around Chicago. He attended Princeton for college then traveled around Europe studying the architecture.
Over his career, he designed 45 country houses, 27 of them in Chicagoland.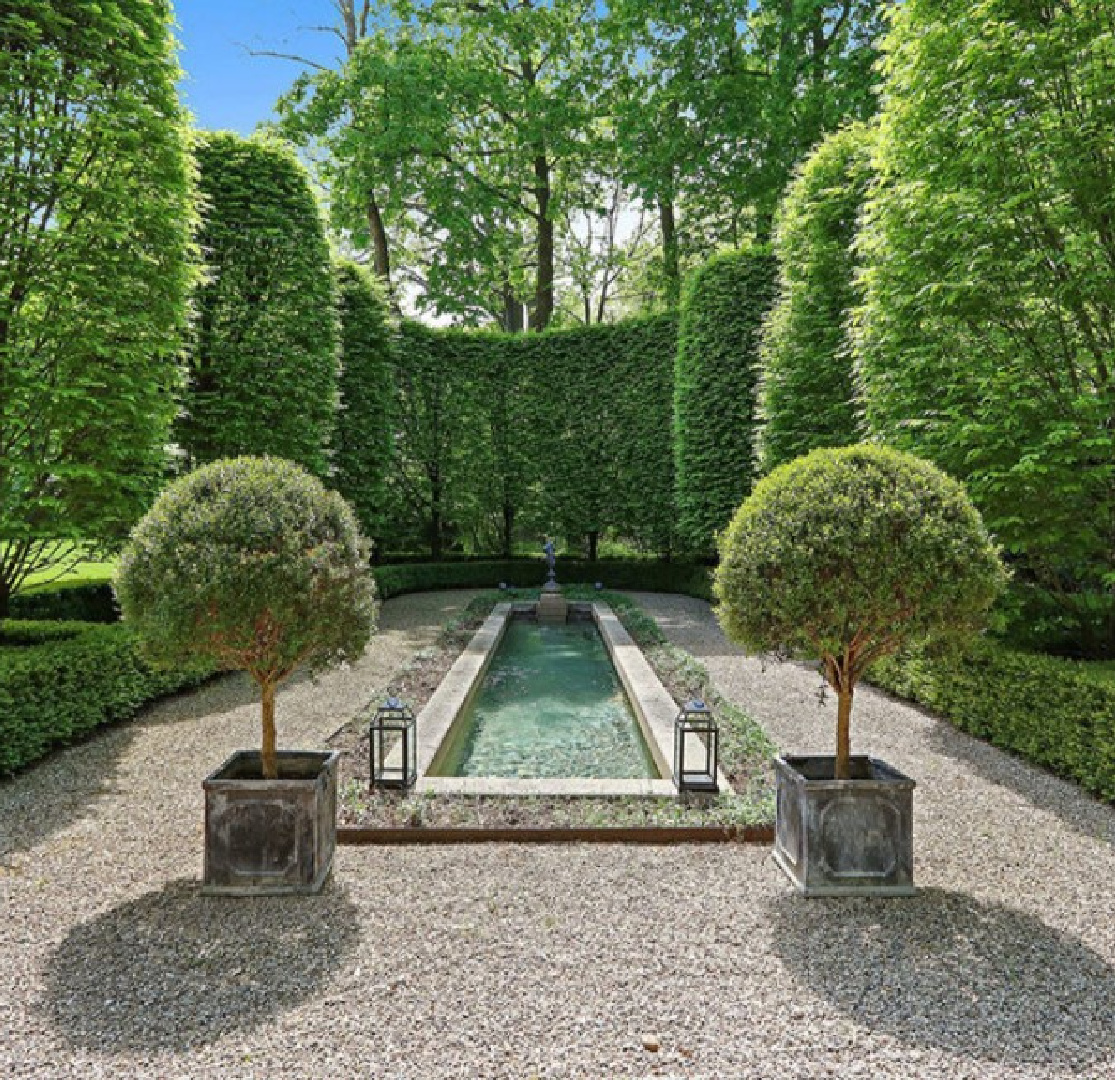 The gardens and lawns are just breathtaking.
Exquisite Wood Paneling in La Lanterne
So much patina-ed beauty from the paneling and limestone fireplaces which remain.
The Roaring Twenties were David Adler's most prosperous season. Adler donated his home (a renovated farmhouse in Libertyville, IL) and acreage to the Village of Libertyville, and the Adler Arts Center is now a community treasure.
French Stone Fireplaces
This dining area may be a breakfast room near the kitchen: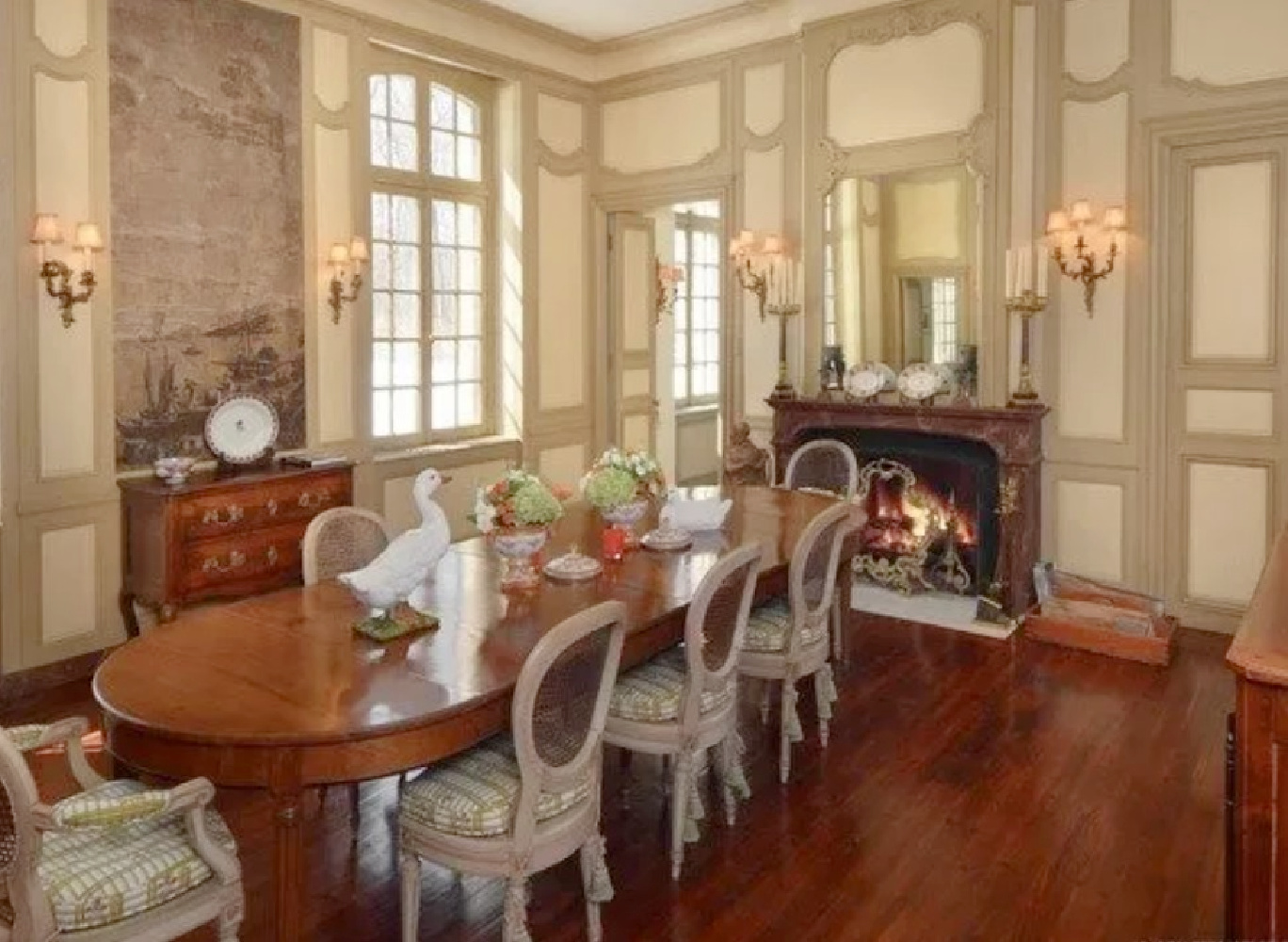 What a difference freshening the wall colors can make. After the renovation, this cozy fireside space:
Here's the space in an earlier iteration: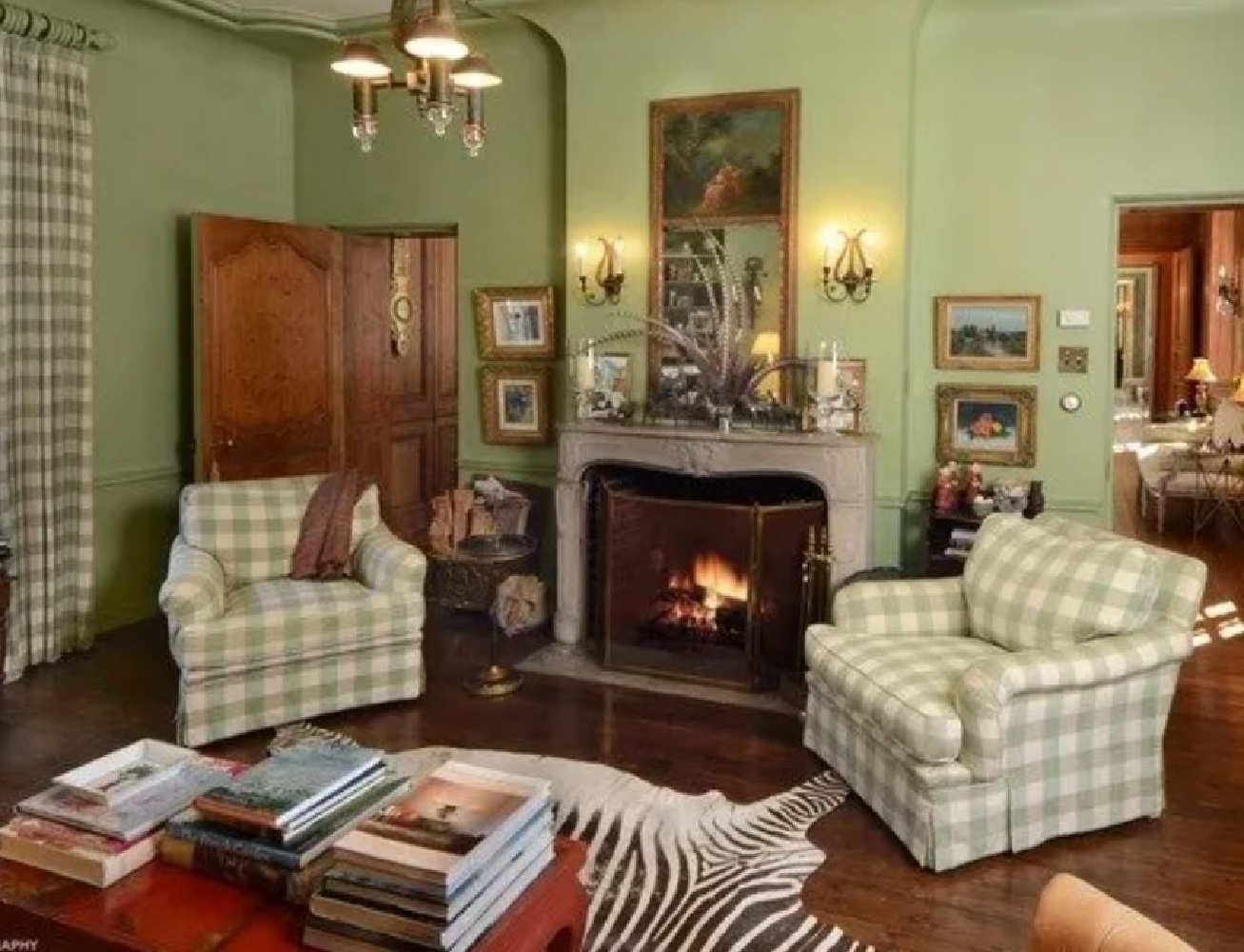 Still cozy with those green checks! And speaking of coastal French blues and greens…
Delicious Pastel French Blue-Green at the Chateau
These pastels bring to mind pretty elegant colors favored by Marie Antoinette, Ritz Paris or Laduree bakeries…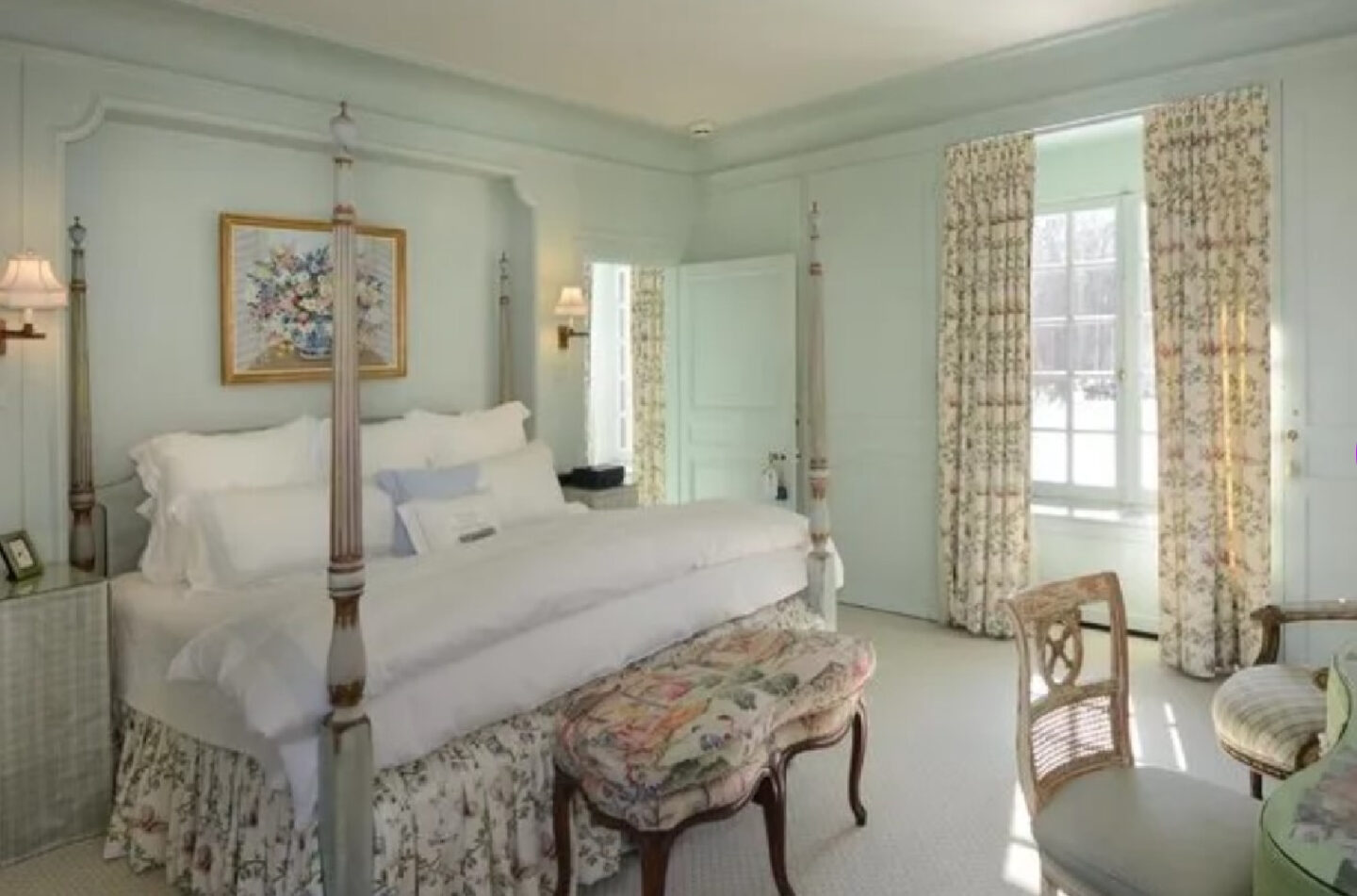 As scrumptious as macarons and so historically feminine and romantic.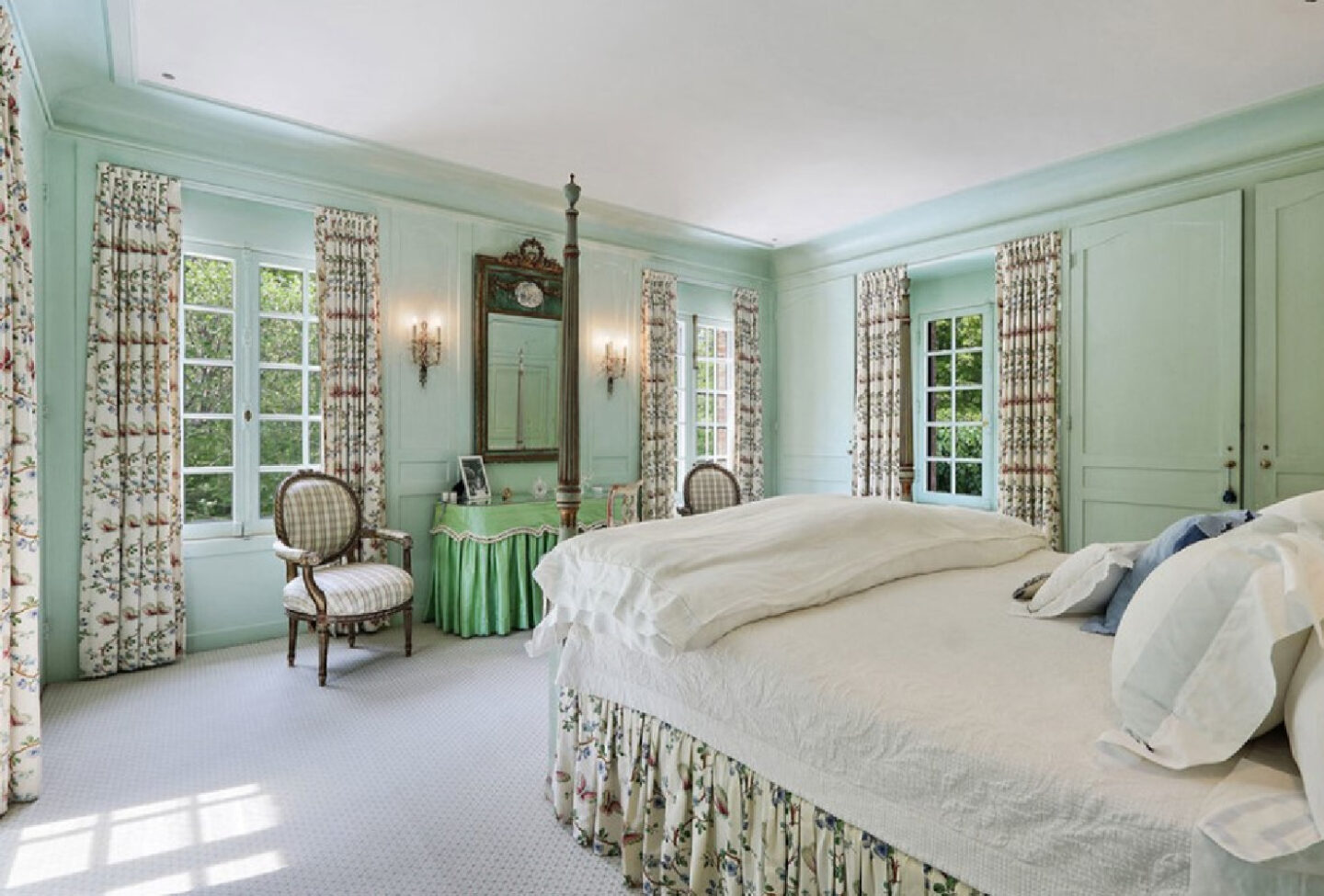 Would you, could you, imagine painting a space in your home this hue?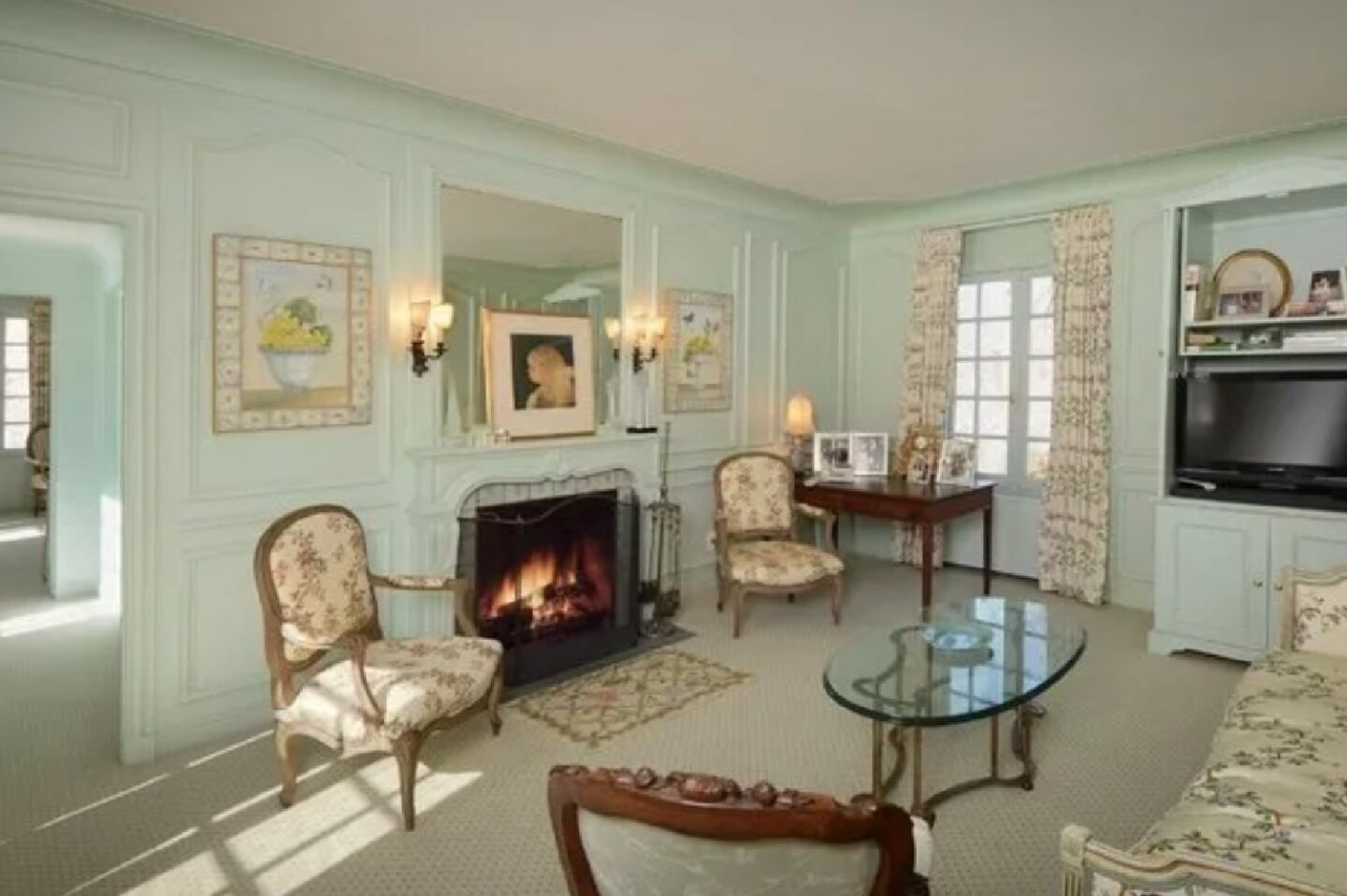 See THIS for ideas for greens if you love European inspired examples.
Modern French Renovation in David Adler Mansion
I wonder what David Adler would think about this gorgeous modern French renovation?
While the sun room appears to be staged with under-sized furnishings, you can't miss the beauty of this simple space with all those glorious windows. And the lantern pendant!
Here's how this room looked in years prior: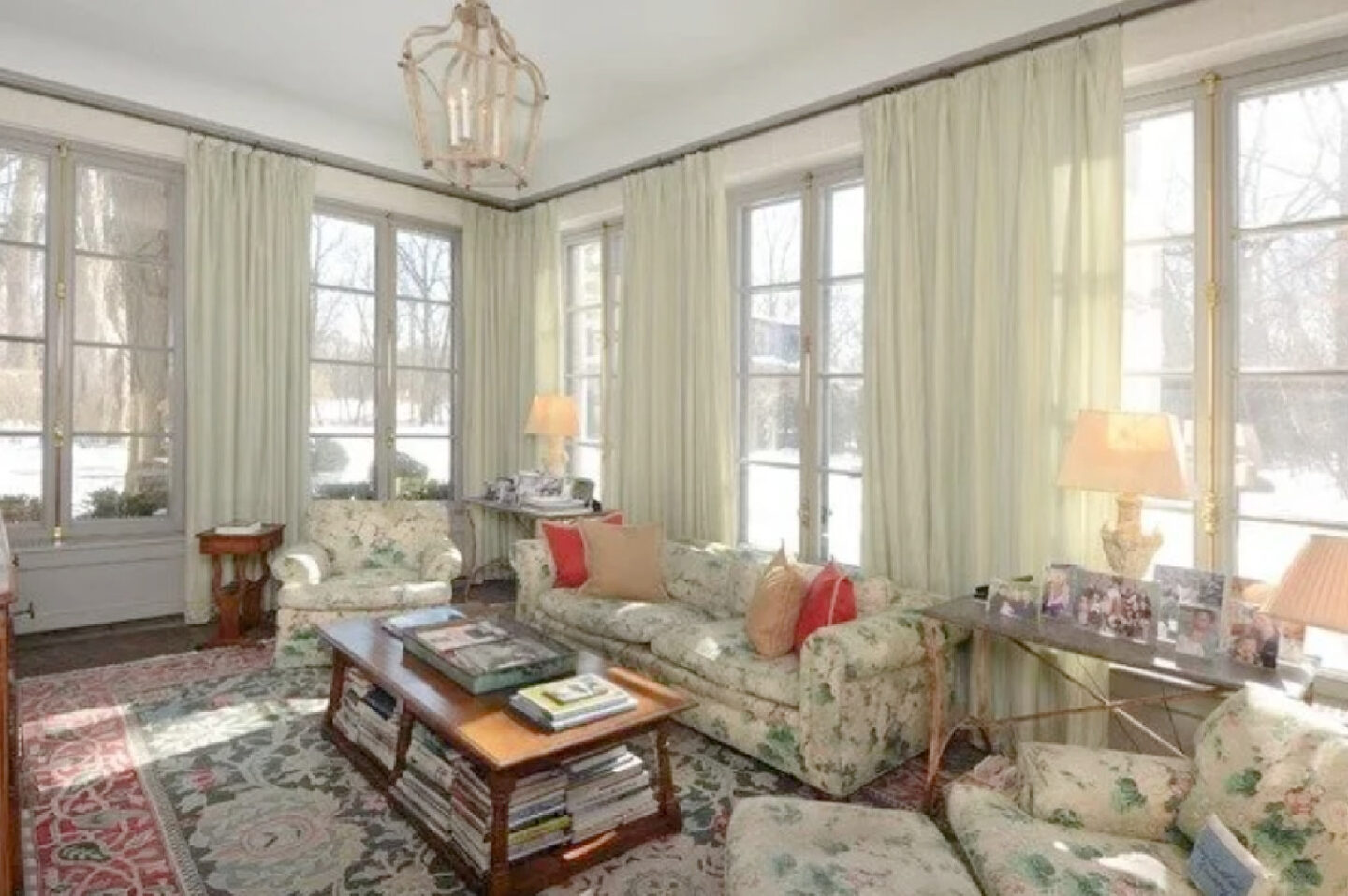 Understated Elegance
This lantern pendant reminds me of VC's French Market one I have long admired:
In fact, much of the lighting chosen for the renovation looks classic, European inspired, and consistent with original fixtures.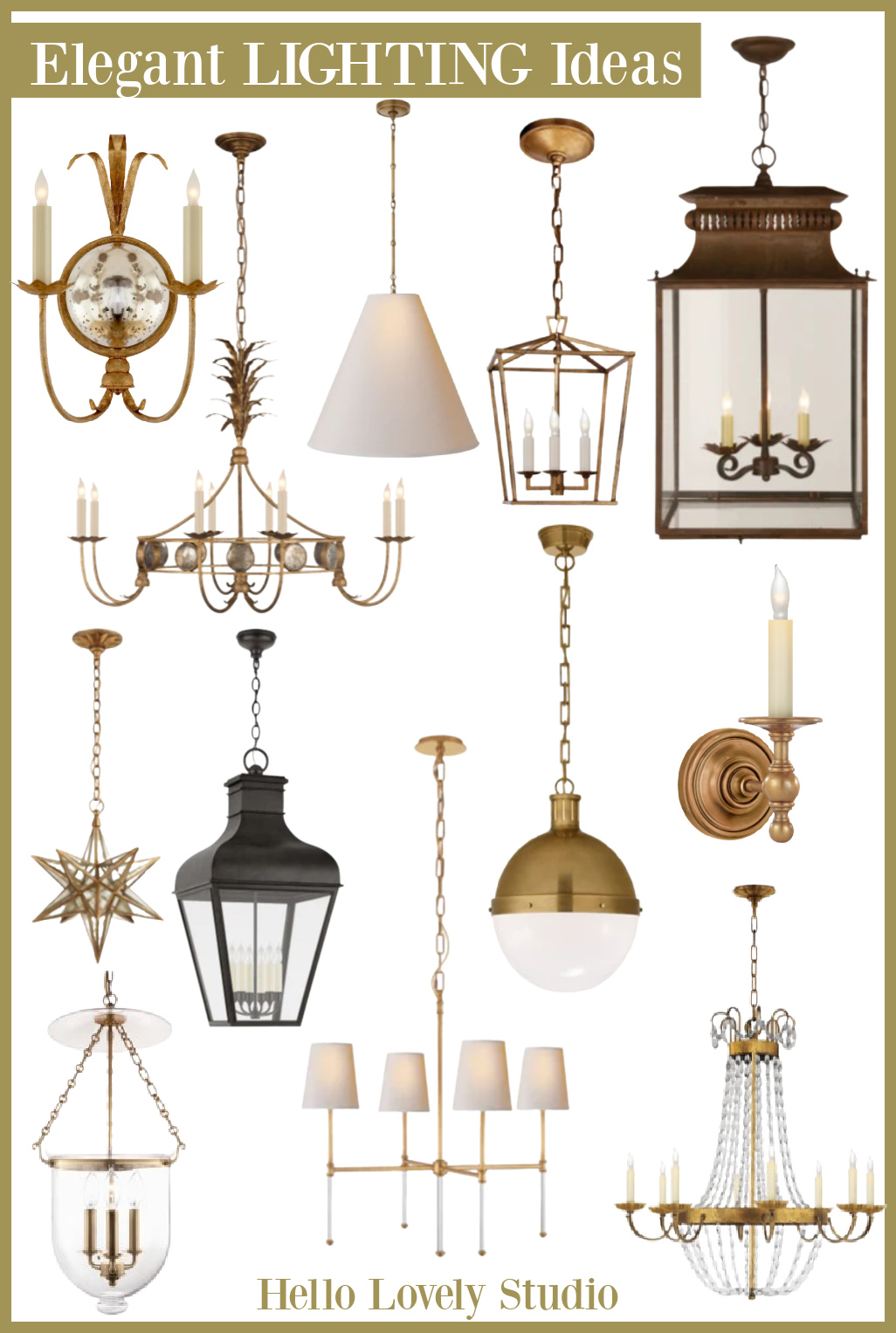 After graduating from Princeton in 1904, David Adler traveled extensively, mostly to study the architecture of Europe.
He brought back all of that passion for French country houses. Here is how the modern French renovated kitchen looked before renovation: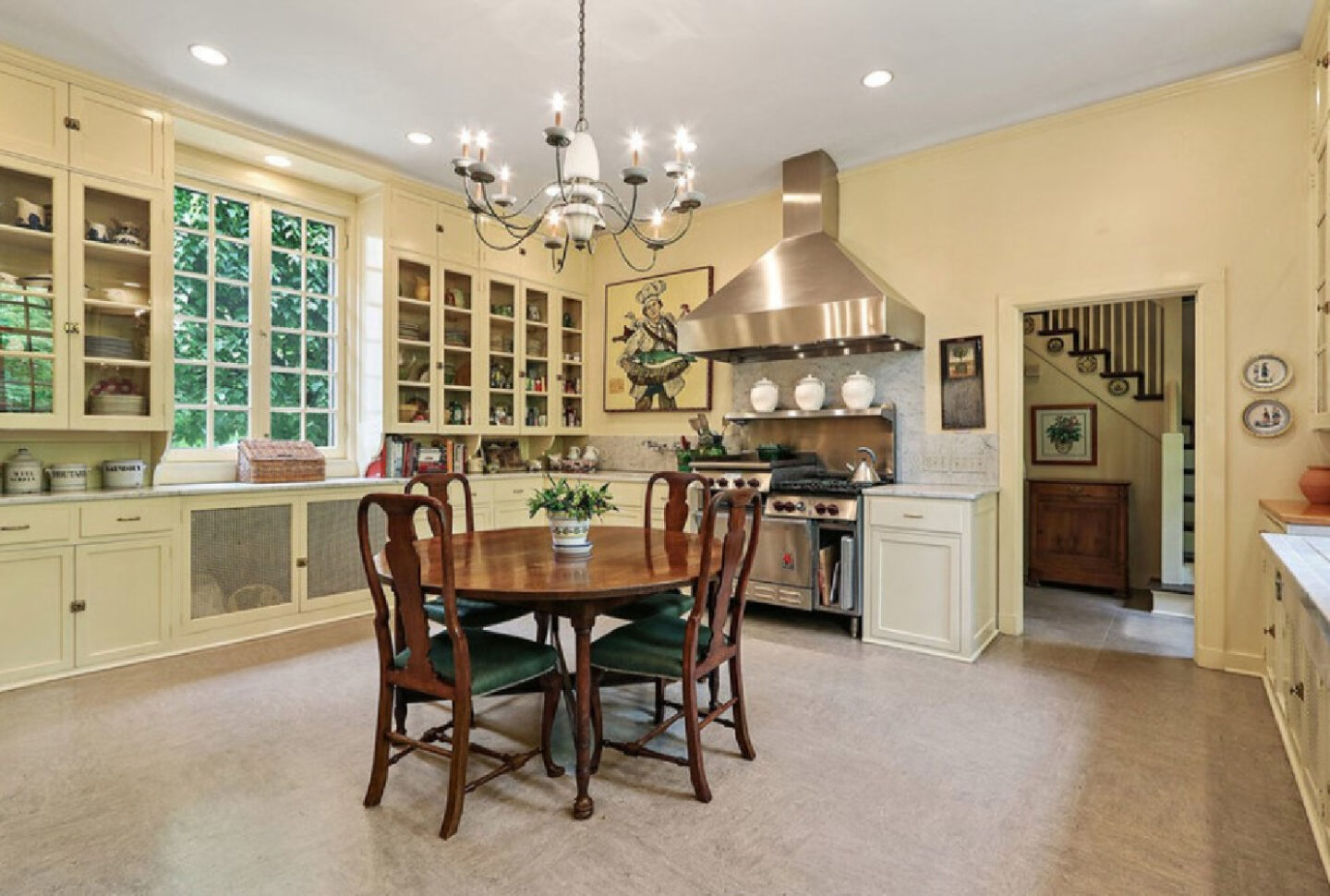 It appears the original cabinets were salvaged for the renovation…what an undertaking!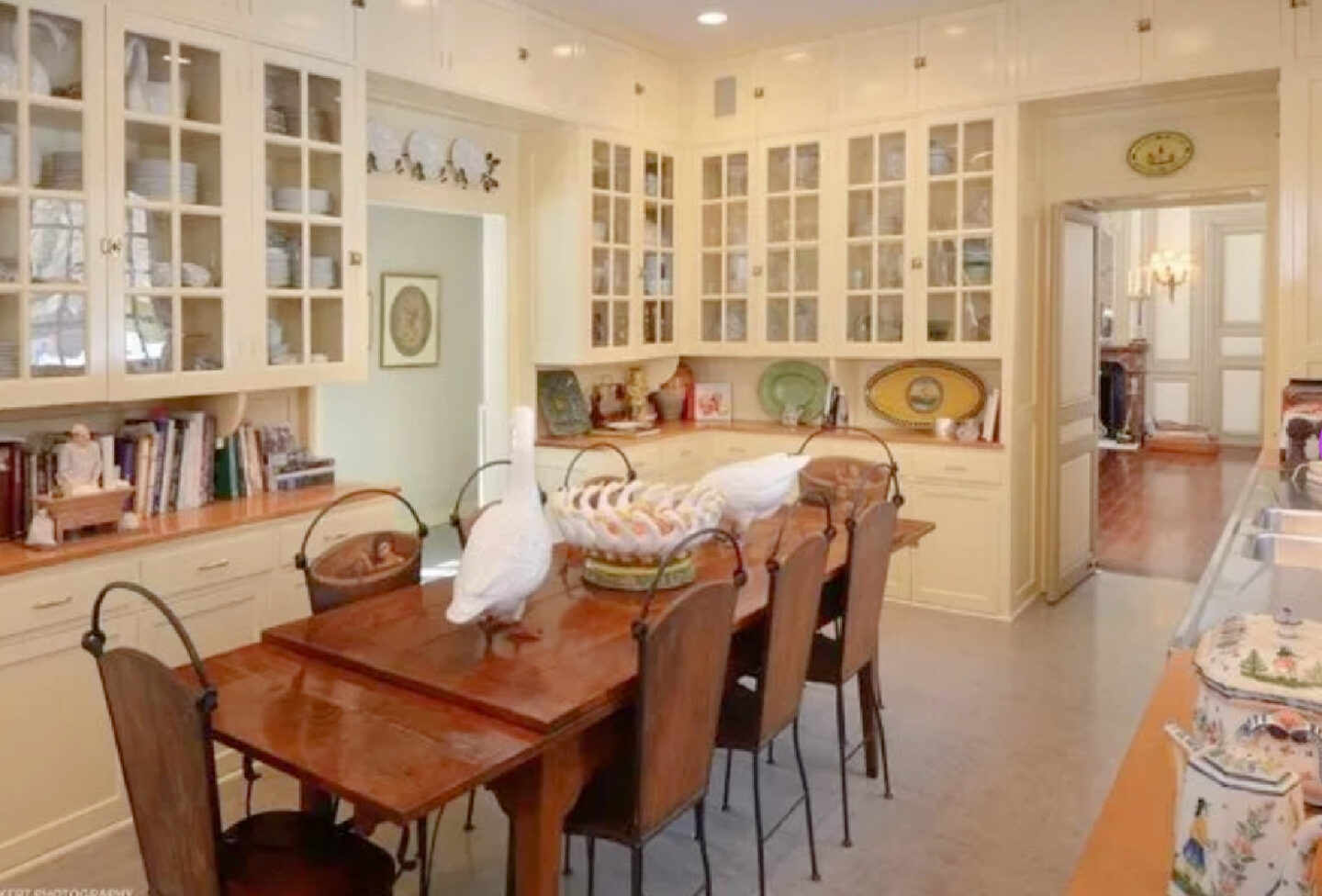 Beautiful Original Kitchen Sinks
Are we seeing double? How do you feel about the modern feel of this home's kitchen?
The palette is very restrained, and what a dream to work in this kitchen.
Psst. I recognized the Kelly Wearstler designed Precision pendants (above) over the island immediately.
Where was I in our history lesson about Adler's early career? When the architect returned to the United States, he joined Howard Van Doren Shaw in Chicago.
Shaw was considered the foremost architect of country houses in the Chicago area. After six months, Adler opened an office in Orchestra Hall with Henry Dangler, a friend from Paris.
Graceful & Modern Renovated Staircase
The architects secured commissions for country estates for William E. Clow, Jr., Ralph Poole, Benjamin Niels, Morris E. Berney, David B. Jones, and Charles B. Pike.
Since Adler never received an architectural license (he failed the exam in 1917), Dangler signed off on his drawings since he was not legally a registered architect.
Charming Gardens at the Mansion
After Dangler's death in 1917, Adler partnered with Robert Work.
The following year, Adler purchased and remodeled a farmhouse in Libertyville built in 1864.
The state board for Illinois finally recognized Adler with an honorary license in 1928.
By that time, Adler had thirty commissions to his name. Some of them are now open to the public, and his own home (the farmhouse in Libertyville) is an arts center and event space.
Properties by Adler
Dewey House (1913), Veterans Administration Medical Center North Chicago, IL, NRHP-listed
David Adler Estate (1916-18 remodel), 1700 N Milwaukee Ave. Libertyville, IL, NRHP-listed
Castle Hill (1928), E of Ipswich on Argilla Rd. Ipswich, MA, NRHP-listed
Lester Armour House (1931), Lake Bluff, IL, NRHP-listed. One of Adler's "purest" houses.[11]
Mrs. Isaac D. Adler House (1931 remodel), 1480 N. Milwaukee Ave. Libertyville, IL, NRHP-listed
Waverly (1940 remodel), S of Middleburg on VA 626 Middleburg, VA, NRHP-listed
William McCormick Blair Estate, 982 Sheridan Rd. Lake Bluff, IL, NRHP-listed
Mrs. C. Morse Ely House, 111 Moffett Rd. Lake Bluff, IL, NRHP-listed
Field Estate, Field Rd. and Camino Real Sarasota, FL, NRHP-listed
One or more works in Green Bay Road Historic District, Roughly, area surrounding 10 S to 1596 N Green Bay Rd. and Ahwahnee Rd. Lake Forest, IL, NRHP-listed
Mrs. Kersey Coates Reed House, 1315 N. Lake Rd. Lake Forest, IL, NRHP-listed
William E. Clow, Jr. House, in Vine–Oakwood–Green Bay Road Historic District, Lake Forest, IL, NRHP-listed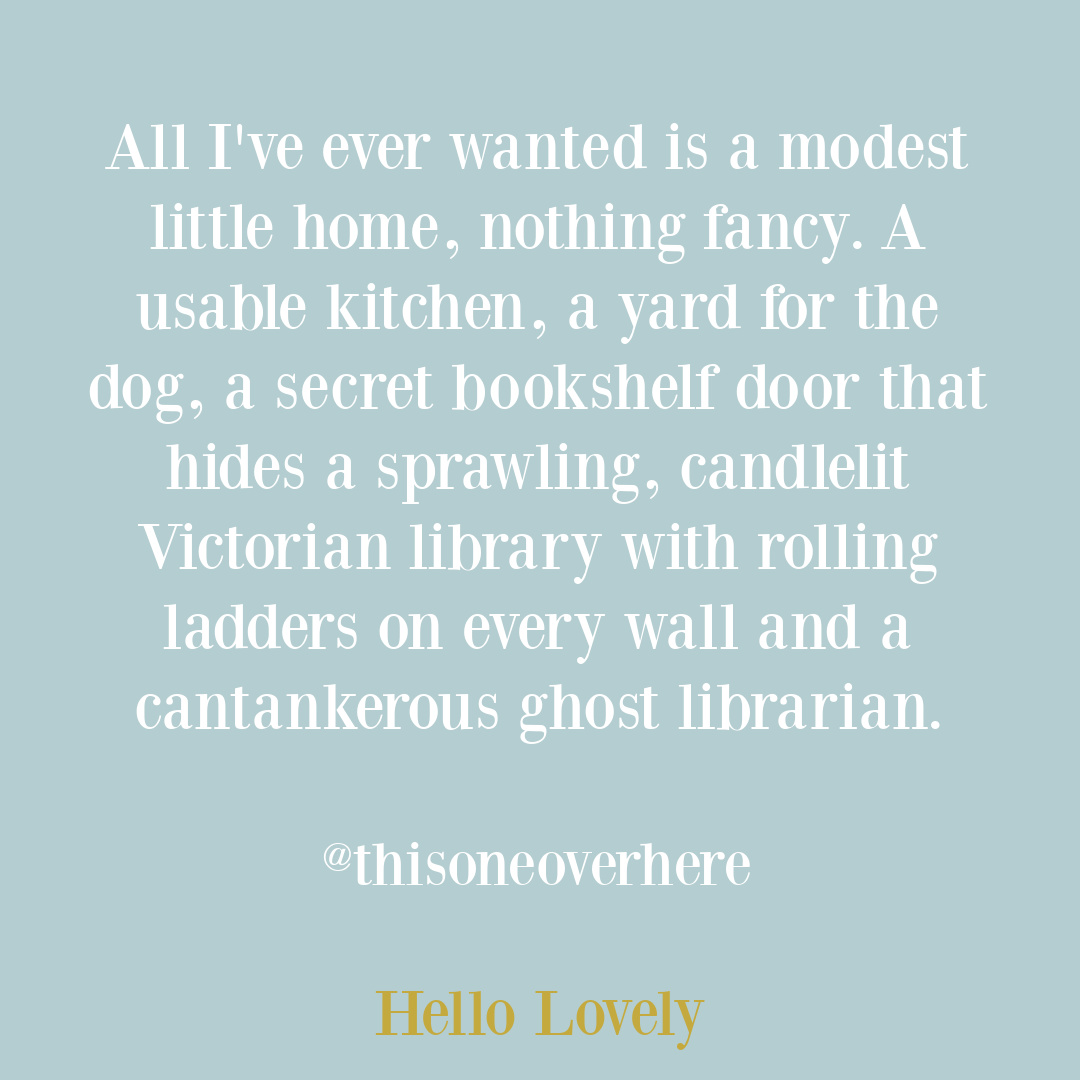 Peace to you right where you are.
-michele
Shop for items you already intended to buy on Amazon RIGHT HERE, and also find home decor here to keep decor inspiration flowing on Hello Lovely!
Hello Lovely is a participant in the Amazon Services LLC Associates Program, an affiliate advertising program designed to provide a means for sites to earn fees by linking to Amazon.com and affiliated sites.