We're revisiting a parade of brilliant inspiration, decorating ideas and shopping resources in Rustic Kitchen Ideas: Timeless European Country Designs to discover how to get the look! You'll soon see the possibilities for adding charm with: English Country style, French Country loveliness, Nordic French beauty, and Belgian chic. As you'll note, a serene mood and character are achieved not with a singular or simple formula. And there certainly are no rules for a color palette! Rather, a range of diverse design strokes and freedom from design formulas rule.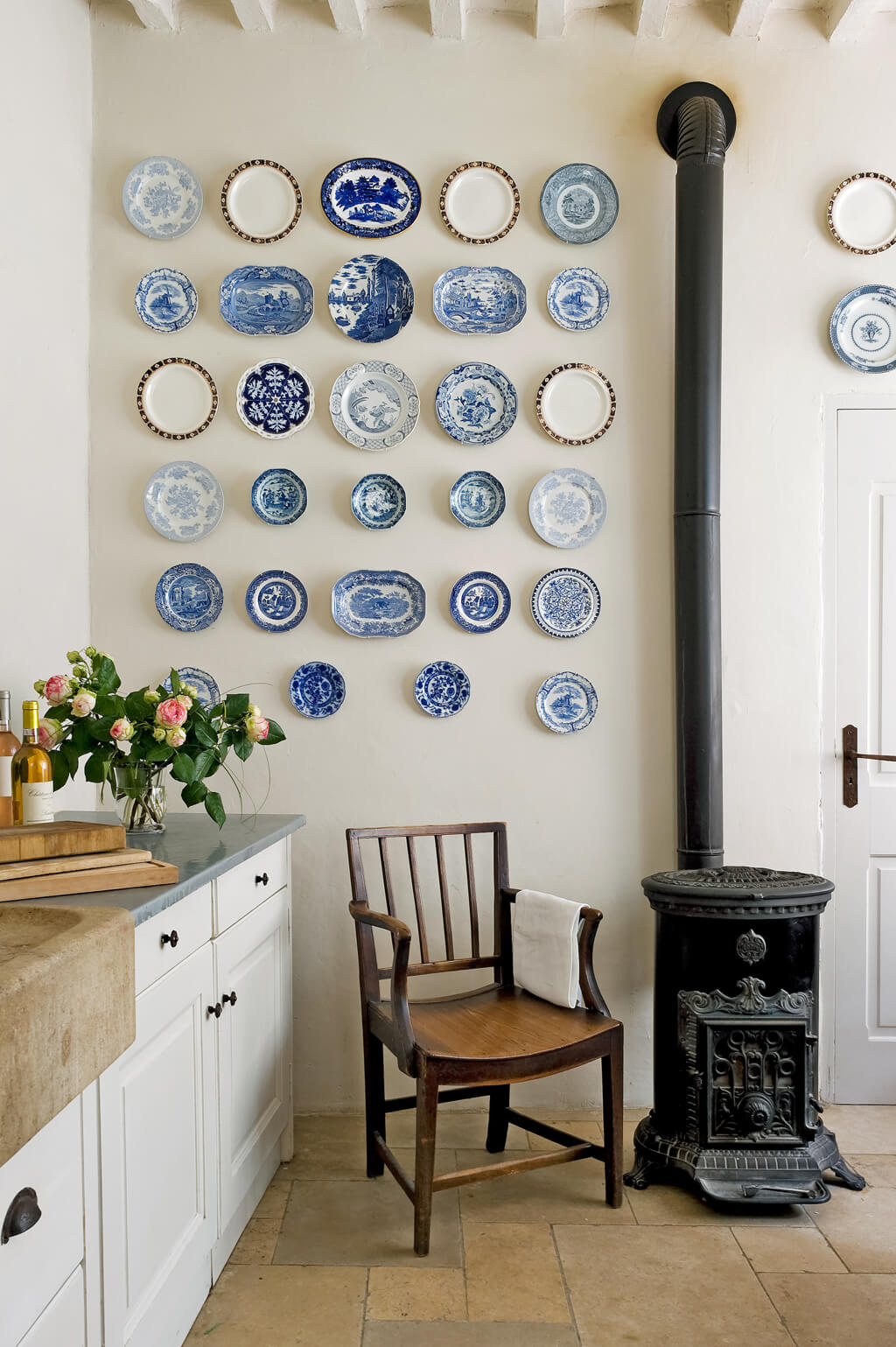 European Country Rustic Kitchen Ideas to Inspire
Today is a kitchen love sort of day with a breathtaking mix of romantically rustic country farmhouse style kitchens across Europe and beyond.
Pssst…meet me at the finish line with your thoughts on how European kitchens differ from those commonly seen in the USA.
Rustic Open Wood Shelves in Lieu of Upper Kitchen Cabinets
If you were imagining that floating shelves in rustic kitchens were a flash in the pan, think again.
This sensible concept for organizing kitchen essentials and decorative items has staying power for good reason.
There's a laid back ease and sensibility about being able to simply reach for a drinking glass or book or bowl on a shelf.
And plenty of folks have an organizational style in which they like to see their belongings in the open. (Dusting those items? I suppose that is another topic of debate!)
Rustic Wood Topped Worktables
It is becoming increasingly common to see butcher block on counters.
Unfitted Kitchen Design
While American kitchens typically have walls of built-in cabinets, a European country kitchen with authentic Old World style might look like this:
Terracotta or Stone Tile Floors
More homeowners who love authentic rustic kitchens are choosing pricey reclaimed stone for their flooring.
What a timeless choice that will only get better with more time.
Wood Countertops for Warmth
Linen Skirt for a Sink Base
This is a rustic design look I loved enough to incorporate into my own kitchen design. All of the natural wood, open shelves, wood cabinetry, Old World light fixtures, and a dreamy range hood, combine to make this contemporary kitchen in a new build feel timeless.
It is an informal rustic design element to add softness and a more unfitted look to the kitchen.
Rattan Woven Pendants & Natural Materials
When it is texture you're after – here's a lovely way to infuse a kitchen with a rustic pendant.
There's something so casual and vacation-like about these coastal shades and repetition of natural materials even if the property is far from the coast.
My favorite woven pendants with a rustic look are found HERE.
Wood Stoves
What a bonus if you can incorporate a handsome wood stove or fireplace in the heart of a home for rustic style.
Green Glass Bottles
I'm crazy about blues and greens for European accents, and recycled green glass is readily available everywhere for jars, vases, bottles, and jugs.
Pottery, Vessels, Urns & Decorative Accents
If you're lucky enough to travel to Europe to purchase ancient olive jars, do it! But how lucky are we to be able to source such beautiful imports closer to home too.
In my own kitchen with white backsplash, quartz countertops, and marble backsplash, I live with just a few decorative accents.
Have you seen the beautiful examples curated by Jenni Kayne for Olive Ateliers?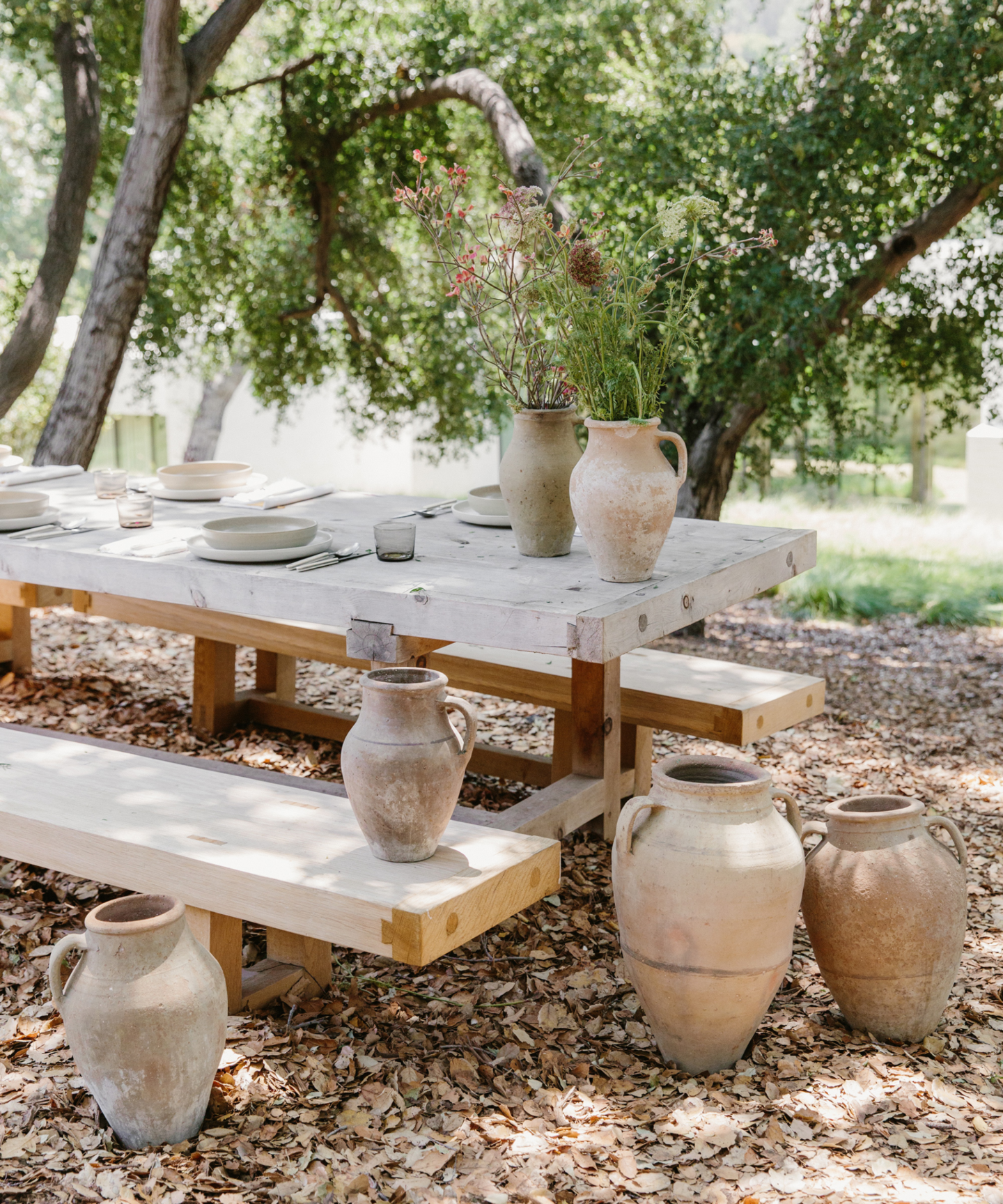 I found my own urn from Shabby Chic Couture by Rachel Ashwell.
Brick Wall Accents
Whether it's original or not, brick can be beautiful as a backsplash, statement wall or ceiling. Here it lives with wooden ceiling, marble countertops, and lantern light fixtures.
Rustic Artisan Farmhouse Lighting
There are so many wonderful handmade fixtures that can add whimsy or artful personality to your space.
Lighting can truly be one of those layers of the kitchen design that can set your space apart and become a conversation piece.
Find a lovely farmhouse table RIGHT HERE and also similar wood chairs RIGHT HERE.
French Wicker Baskets
Their workhorses and the well-made ones will last forever!
Additionally, it's fun to hunt for them at the flea market, when you're overseas, or even online. I found some incredible antique baskets from the 1800s which were handmade and put into service for many years on a farm before they came to live with me. Where did I find them? Facebook Marketplace from the granddaughter of the maker of the baskets. I even got to pick them up at the historical farm!
Freestanding Cupboards for Storage
What a good looking alternative to the standard built-in pantry with pull-out shelves, functional though they be! So much more cozy, and it's easy to find large wardrobes (often they are knotty pine) these days…everyone is parting with them!
Lots of folks are bidding adieu to entertainment centers from the 1990s so it's easy to find them (along with tall heavy armoires). In fact, they are often offered online for free.
Fireclay Farmhouse Sink
Farm sinks add instant nostalgia, age, and charm to country French and farmhouse kitchens.
Such a lovely traditional fixture to set a tone with rustic style.
For lovely apron farm sink options GO HERE. Kitchen faucet: Cuissimo. Find similar…RIGHT HERE.
Rugged Farmhouse Dining Table
Before "island life" became so popular in American kitchens, farm tables and wood work tables graced them.
I have such fond memories of meals shared with my Swedish gram in the kitchen at a table which also served as a workspace. It's a humble, uncommon, memory maker for sure.
Why not spring for an oversized table if you need it as a work surface? You could store the extra dining chairs to be able to host a large group even if your kitchen's on the small size.
There's a warmth that comes from a wood table in lieu of a stone-topped island in the kitchen.
My own huge 7′ harvest table made from antique reclaimed barn wood was way too big for my breakfast nook yet I moved it in there from time to time anyway! I love it too much to ever be separated from it for too long. It's our family table where we ate all our meals and worked on homework so I make it work!
No Fuss Country Linens
In case you haven't noticed, Grandmillennial style and traditional touches like tablecloths are back.
Even if it is just a temporary flirtation with vintage style, why not embrace it and see if it elevates your everyday?
Lovely European Country Rustic Kitchen Inspiration
It's easy to see the appeal of kitchens that feel more like living spaces than utilitarian workspaces.
They can even feel like My Petite Maison's serene sanctuary of a kitchen above.
There are plenty of ways to achieve the feel of a warm, living room-like kitchen that isn't one-note. (So if you find yourself without granite countertops and stainless steel appliances, maybe it's a good thing!)
Sometimes it's about simply gathering your favorite elements together and trusting that they will find harmony with each other…
Mix of Metals, Marble Countertops & White Backsplash
I love it when I come across beautiful kitchens where there is a mix of metals for hardware and fixtures yet it doesn't feel fussy or out of place. Here's a kitchen with gold and brass tones, copper, matte black, and possibly even silver tones. The countertops are my favorite feature!
Rustic Wood on Ceiling
While this is certainly not the easiest feat or an inexpensive tweak, covering the ceiling with wood (reclaimed and aged is best!) can add so much character and set a mood.
There are plenty of companies who make faux beams now that can fool anyone.
And think beyond stained wood beams or dark painted ceilings – Vivi et Margot chose a soft gray for her French farmhouse ceiling above.
Painting exposed rafters and beams white is also a fresh option. Oak and knotty pine are not the only options for wood. Alder (the material we used for all of the interior doors and front door of our prior home) is wonderful for rusticity.
And if you have the budget, hire a professional finishing company (Segreto is my favorite Texas-based biz!) to do the artisan work.
Vintage Earthenware & Pottery
When you are thrifting or at the flea market, keep your eyes peeled for rustic pottery in earthy tones.
Don't worry if the color is not quite right since you can tweak it if it is an inexpensive piece.
Oyster Baskets
If you're lucky enough to find European coastal elements, go for it!
Pieces that have history AND can be brought into service on a daily basis are perfect for a more authentic European country kitchen.
Painted Wood Floors
While painted floors may not work for every household, it is an option when the floors are in bad shape or just cannot be sanded down and changed.
Rather than aim for a pristine, high gloss, sleek look, lean into a forgiving, distressing look that will only improve with age and use.
If you follow Loi of Tone on Tone on IG, then you may have seen he painted his kitchen floors a light grey (BM Shoreline). The floors are standing up to use even with a furry baby in the house.
Rustic Charm from Repurposed Crocks
This is one way to score instant rustic charm: bring an old marmalade jar, crock, or shaving pitcher into service near the kitchen sink.
Open Storage
There isn't just one way to design open storage in the kitchen. There are plain floating shelves, plate racks, wine racks, and even cabinet boxes without the doors.
Hope you found promising kitchen design inspiration, and I'm always happy to field questions from you!
For a peek at beautiful French farmhouse kitchens, visit here, and to see a collection of beautiful white kitchens, check out this.
I independently selected products in this post—if you buy from one of my links, I may earn a commission.
Rustic Cozy Finds to Shop the Look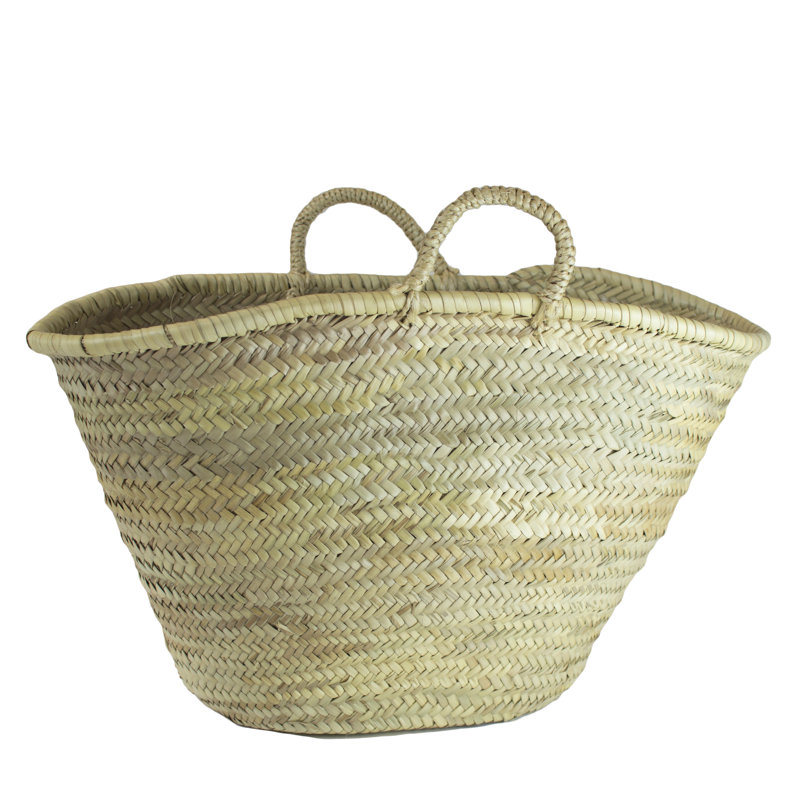 Market Basket: FIND HERE and find even more lovely options for baskets RIGHT HERE.
Tips for Designing a Kitchen With Old World Style
I independently selected products in this post—if you buy from one of my links, I may earn a commission.
Peace to you right where you are.
-michele
Shop for items you already intended to buy on Amazon RIGHT HERE, and also find home decor here to keep decor inspiration flowing on Hello Lovely!
Hello Lovely is a participant in the Amazon Services LLC Associates Program, an affiliate advertising program designed to provide a means for sites to earn fees by linking to Amazon.com and affiliated sites.