Because you hunger and thirst for beautiful design, behold Luxurious Bespoke Kitchen Design From Artichoke today!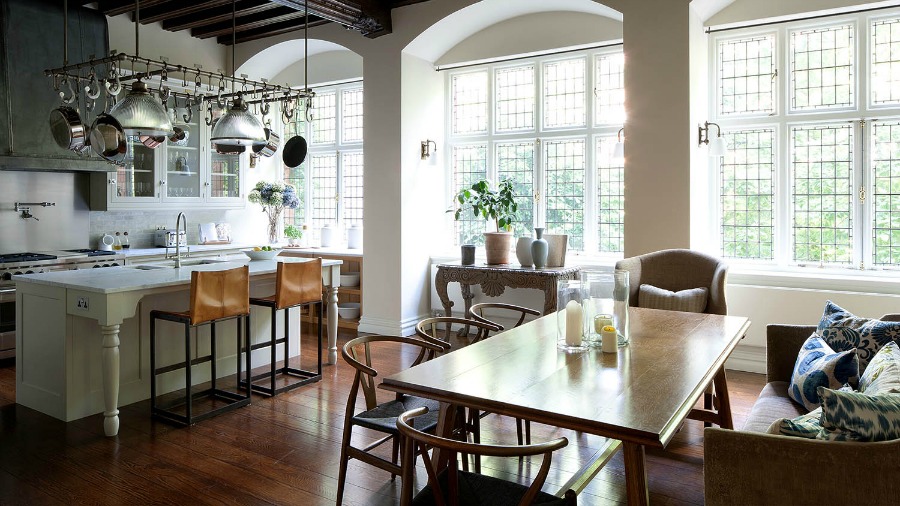 All images used with permission from Artichoke.
Luxurious Bespoke Kitchen Design: 4 Artichoke Kitchens
Mission of a Luxurious Bespoke Kitchen Design Firm in Somerset
"Artichoke are specialists in bespoke kitchen design, calling on more than 25 years of experience to create kitchens for a wealth of clients in a stunning range of homes and architecture. Every project we take on is entirely unique and personalised, and by using only the finest quality materials, we have cultivated a reputation for excellence and meticulous attention to detail." ~Artichoke

Artichoke's Artisans
A team of 25 bespoke kitchen designers and cabinet makers are skilled artisans. They succeed in designing for function according to each client's unique lifestyle.

Nods to New England and Hampton style are apparent. A batterie-de-cuisine over the island accommodates lighting and preserves the beauty of the ceiling.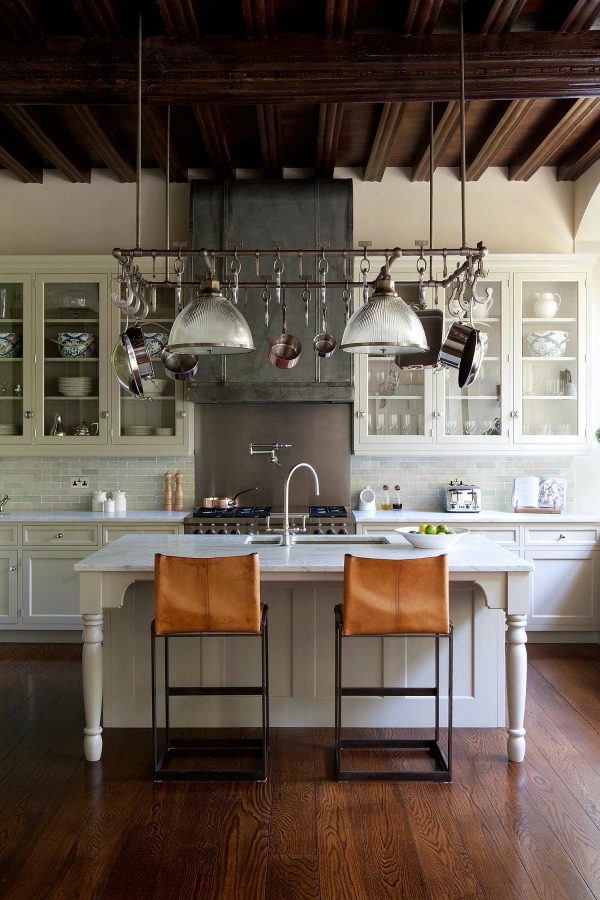 Artichoke and renowned interior designer Michael Smith developed the style of this luxurious bespoke kitchen.
Designed alongside interior designer Michael Smith, this bespoke kitchen is influenced by the American East Coast. Hamptons style in London? Yes, ma'm! The design incorporated chromed door catches and glazed wall cabinets which are typical of New England and coastal kitchens.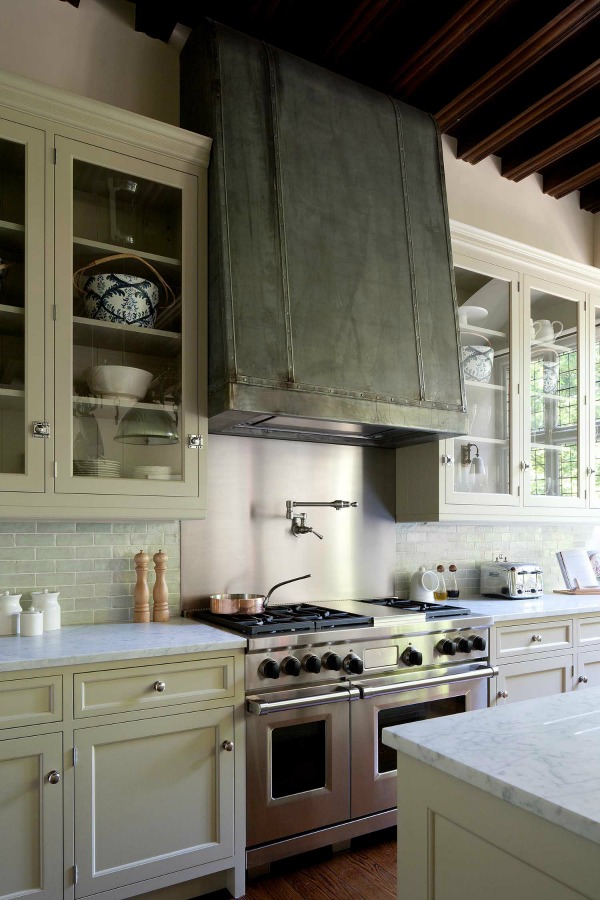 Above, New England style kitchen cabinetry flanks a Wolf range. Chromed door catches, simple glazed wall cabinets, and extraction canopy clad in zinc. The canopy is antiqued with acid and wax.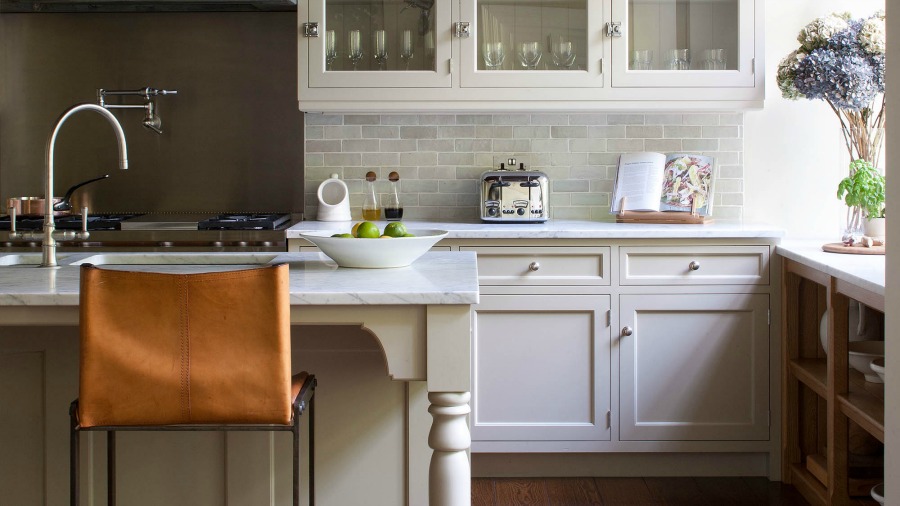 Hand Painted Cabinetry, Steel and Antiqued Zinc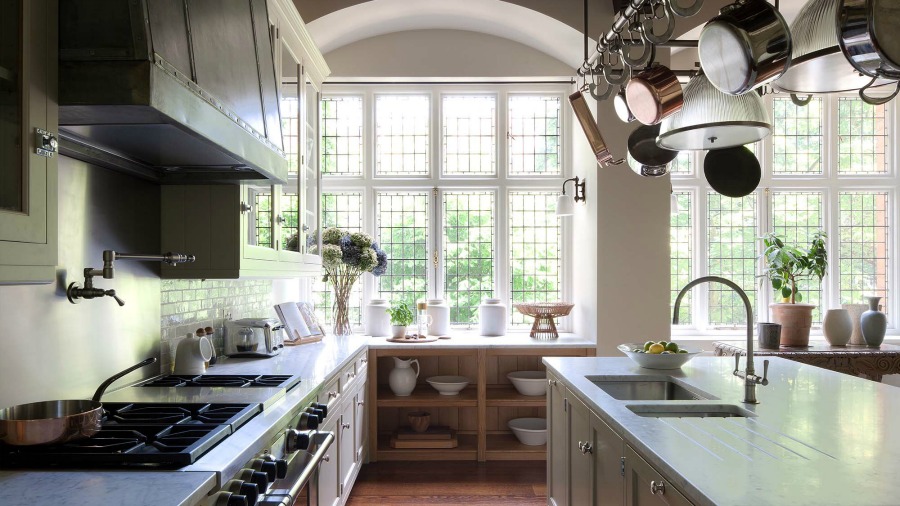 According to Artichoke, the pot hanging rack (above) resolved a lighting issue over the island. A timbered ceiling was saved from unsightly lighting.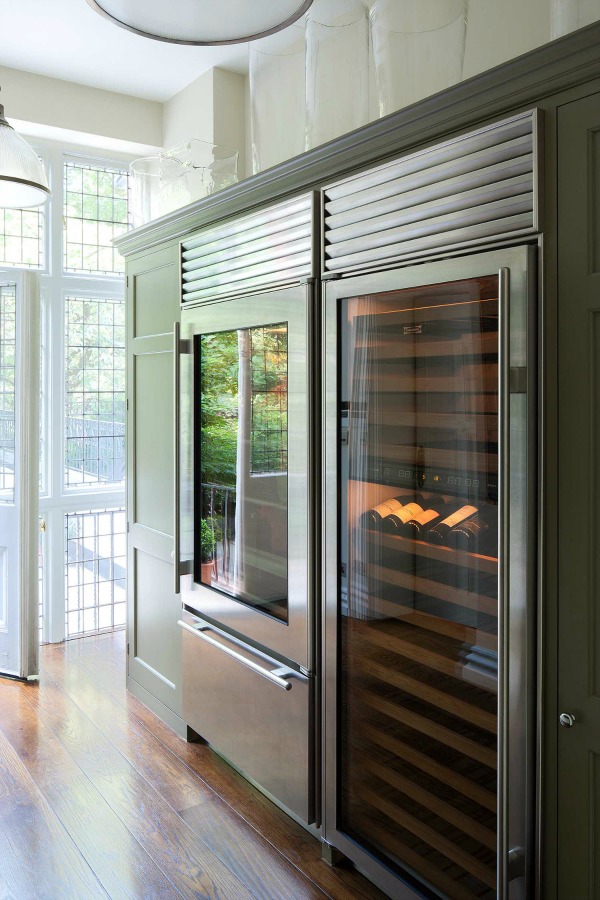 A green painted kitchen larder (above) cabinet contains pantry storage and a refrigerator. The cabinet's mouldings are more classical in style and inspired by a piece of Dutch antique furniture.
A bespoke modern rustic kitchen in a new build country house with Flemish design influences by Artichoke is a vision of bespoke kitchen design beauty.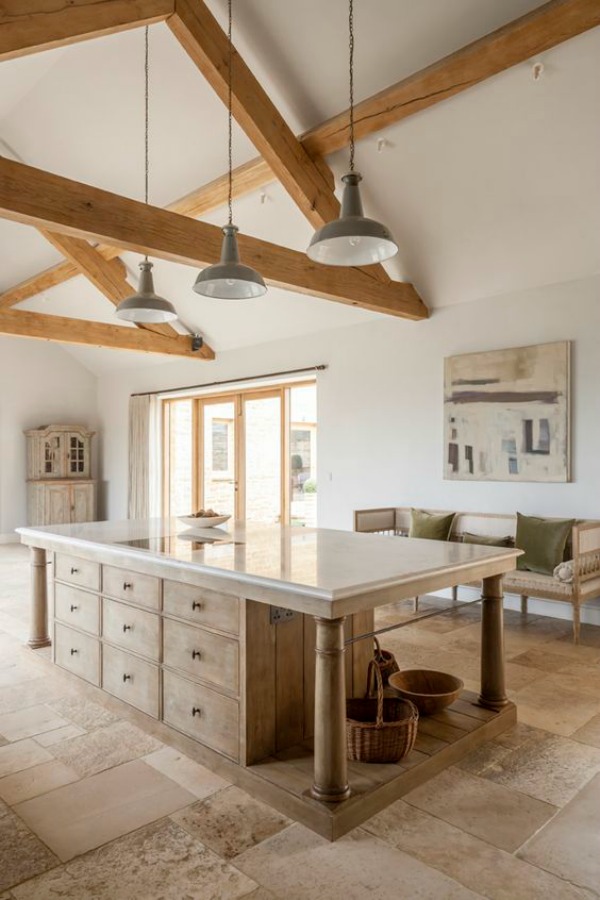 This glorious bespoke kitchen in Gloucestershire has a large kitchen island (with a special finish to age the material and give it a more rustic feel), Flemish design details, painted kitchen cabinetry with classic raised and fielded panel doors.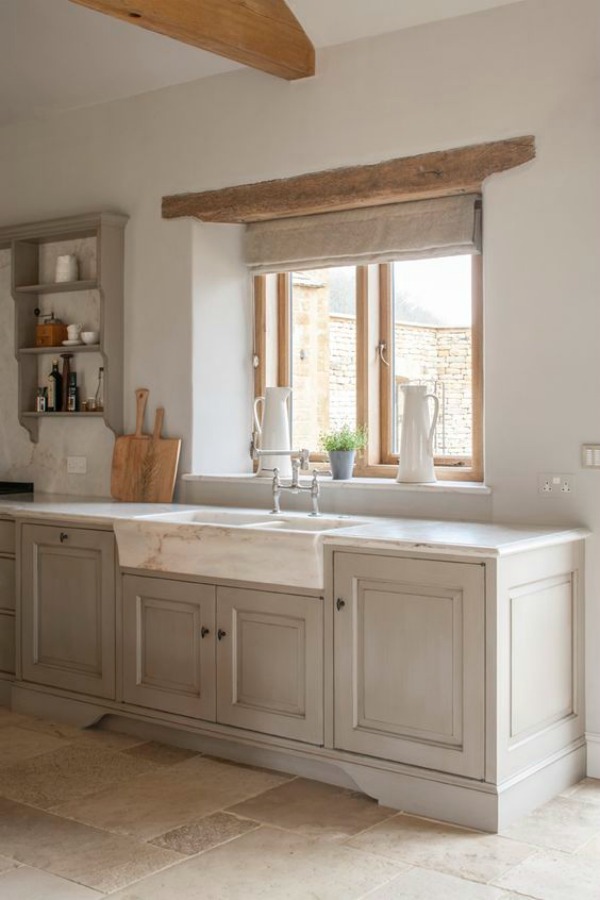 The primary materials used in this luxurious kitchen design were oak, Bental White marble, hand painted kitchen cabinets, and bronze hardware.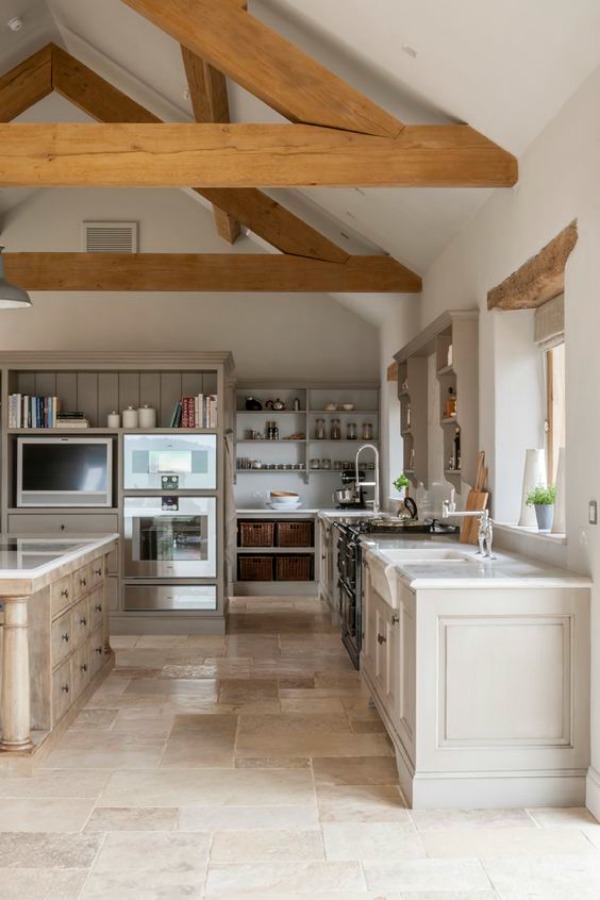 Large central kitchen island with special finish to age the material and impart a rustic feel.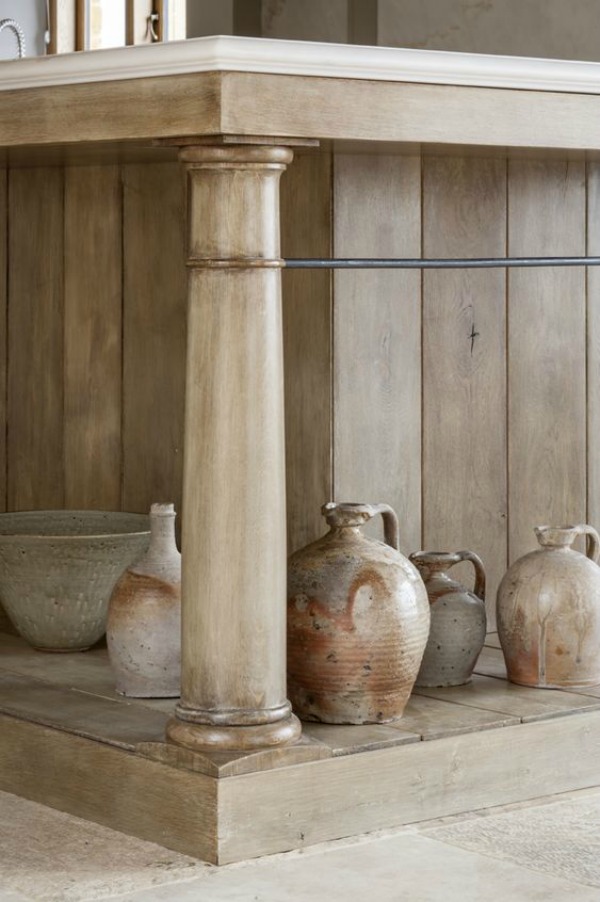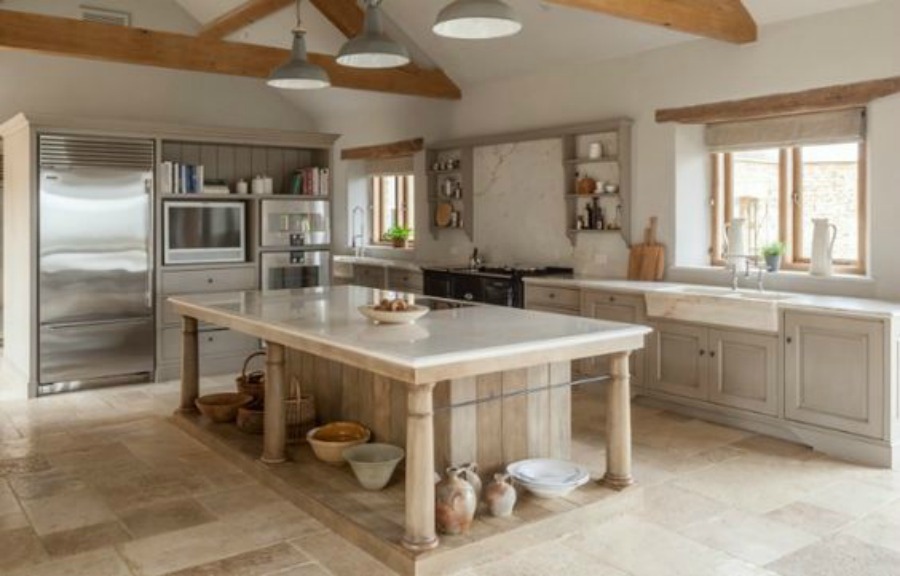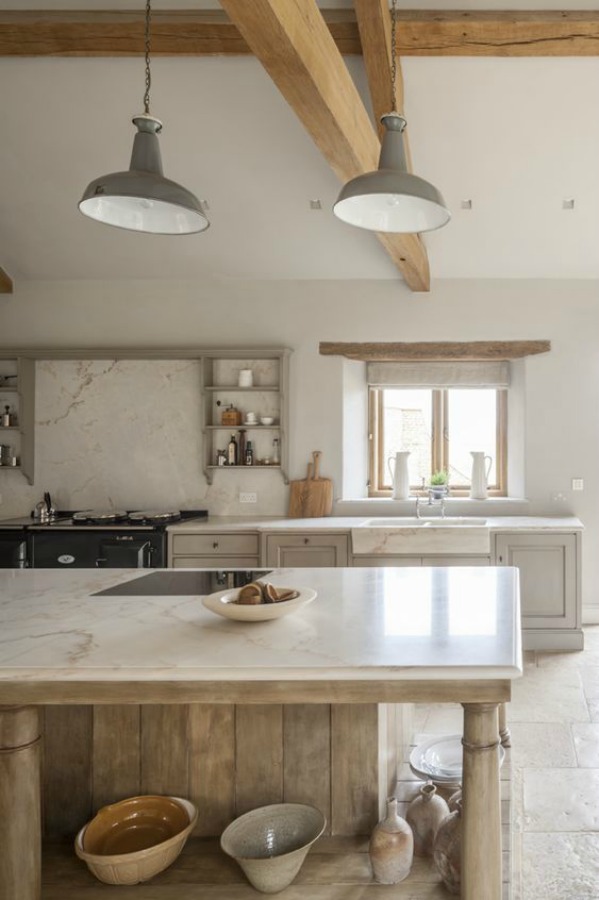 The painted cabinets form a backdrop to the island.
Classical Details With Raised and Fielded Panel Doors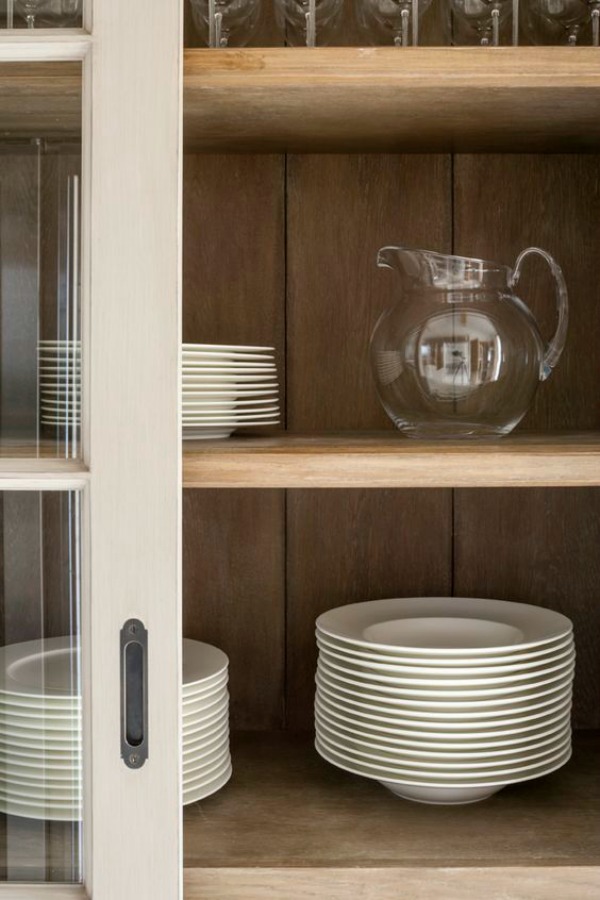 Luxurious Bespoke Kitchen Design Details from Artichoke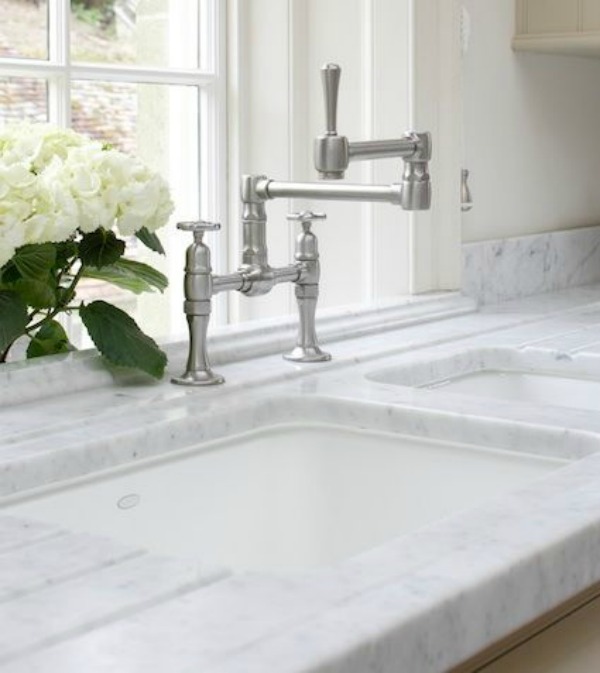 Part of an addition to a Cotswold barn, Artichoke brought an urban rustic kitchen to life. Classic yet fresh, Artichoke utilized distressed oak, stylish stainless steel, and handsome Calacatta Oro marble. Worktop made from solid stainless steel. The steel was welded and chased dry into the rubble wall.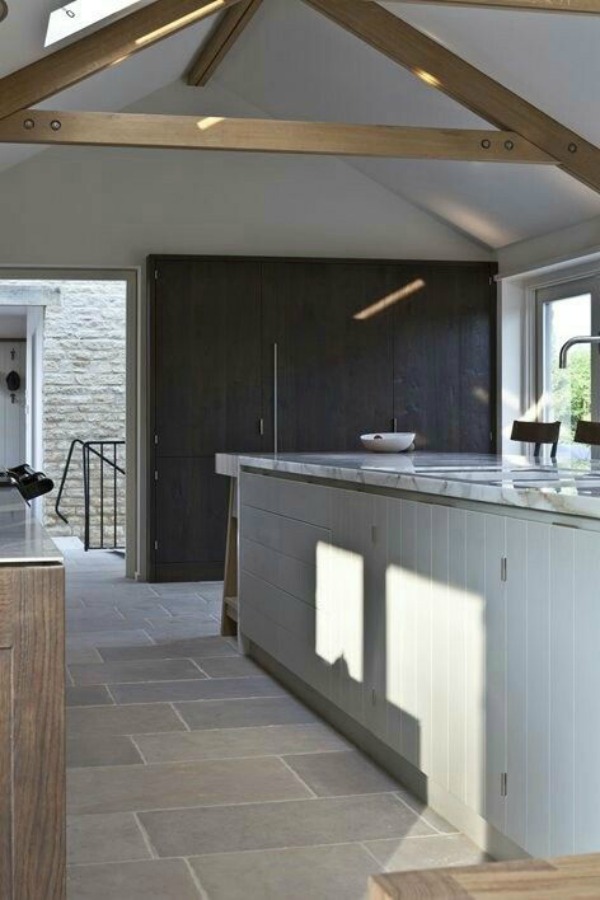 Work surface either side of the Aga is made from 5mm solid stainless steel.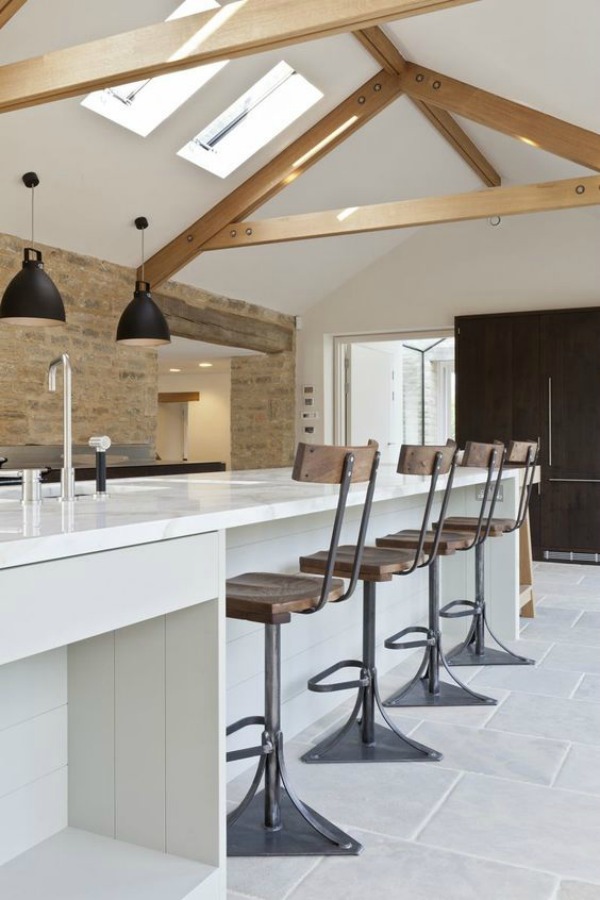 An urban rustic bespoke kitchen fit into a new build extension of a Cotswold barn.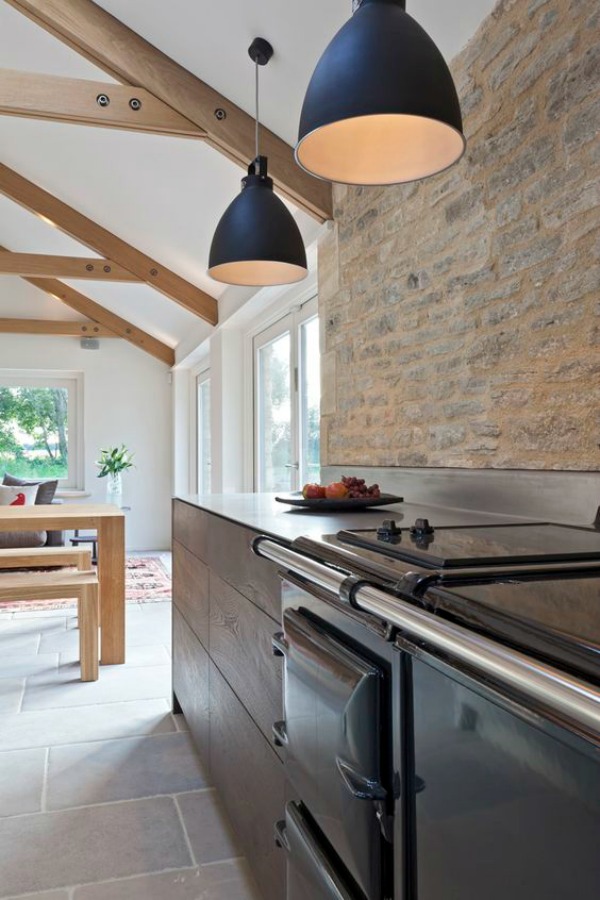 Distressed Oak, Stainless Steel, Painted Tulipwood Planking & Calacatta Oro Marble
Furniture fits against the old outside wall of the original barn.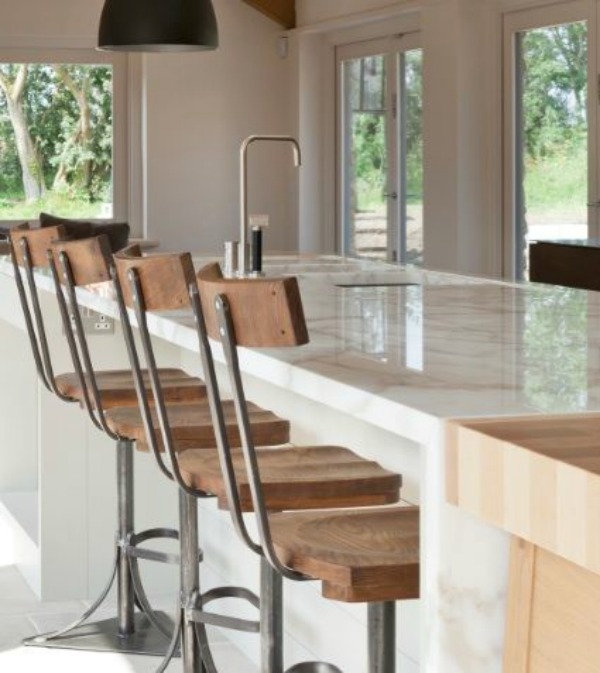 Furniture facades made from heavily distressed and antiqued constructional oak panels.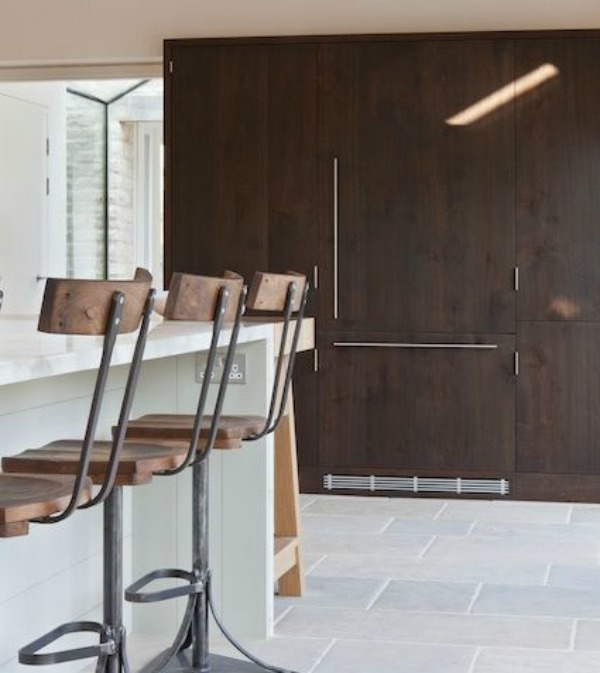 Painted island cabinetry is made from planked timber.
Luxurious Bespoke Kitchen Design: Tuscan Villa
Artichoke undertook the interior architecture and interior design for this kitchen. Groined ceilings were designed and set.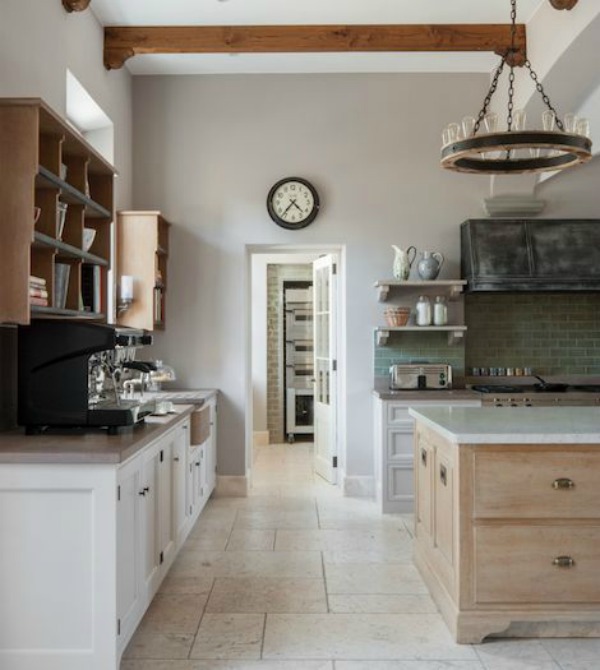 Primary materials include handpainted tulipwood, rift cut French oak, chestnut, and acid etched zinc.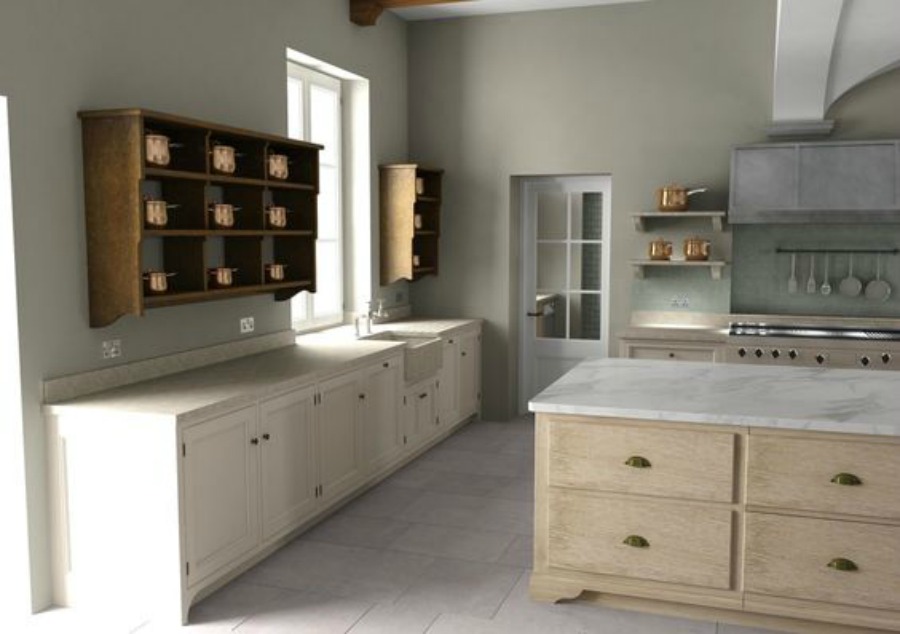 Central islands designed in brick and plaster. Hand planed and finished arched chesnut doors grace the ends. Doors are hinged on bespoke wrought ironwork, typical of the local vernacular.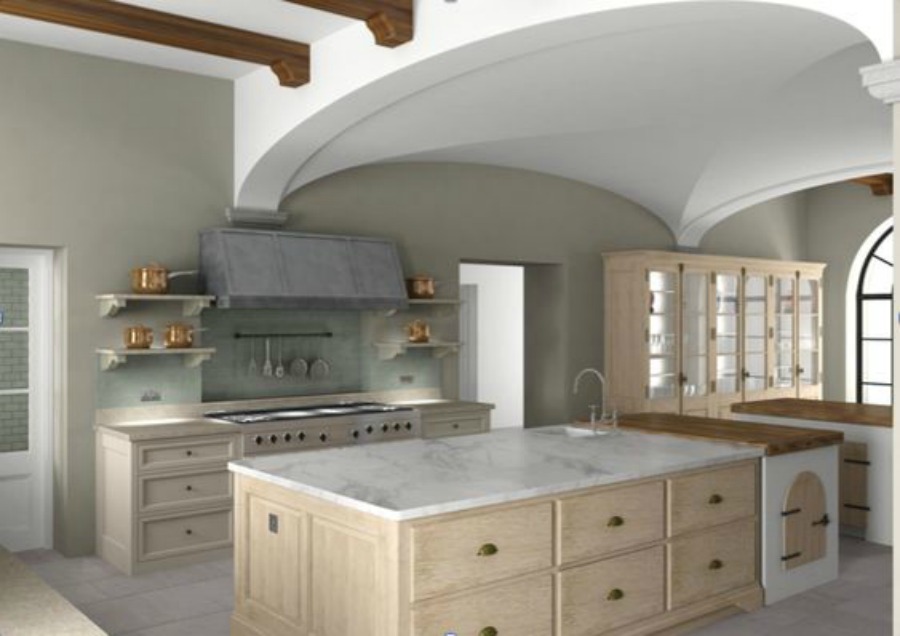 A variety of furniture styles deployed! The room appears to have evolved through various owners over time.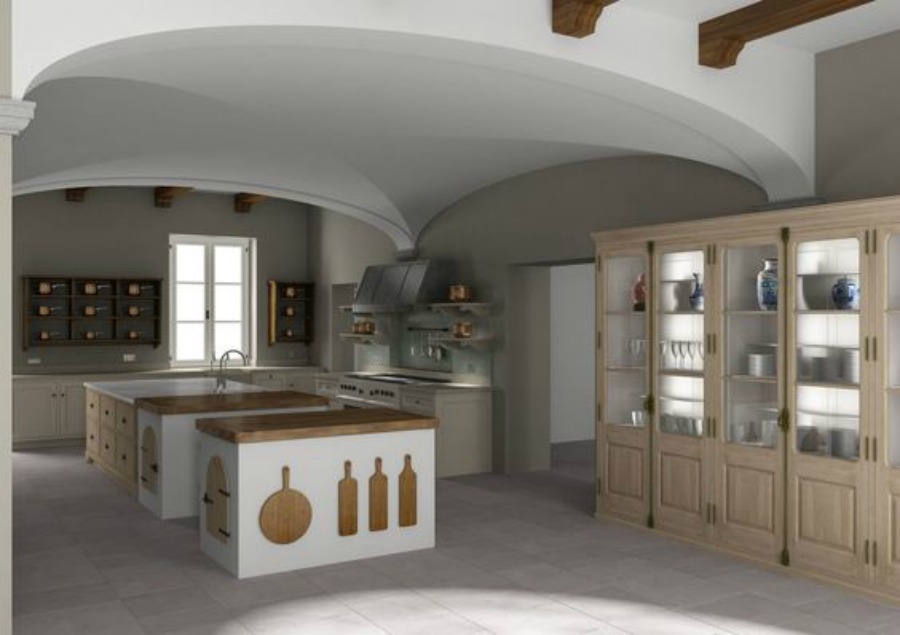 The dresser features bespoke espagnolette ironmongery with rounded inside joints on the lay-on door frame.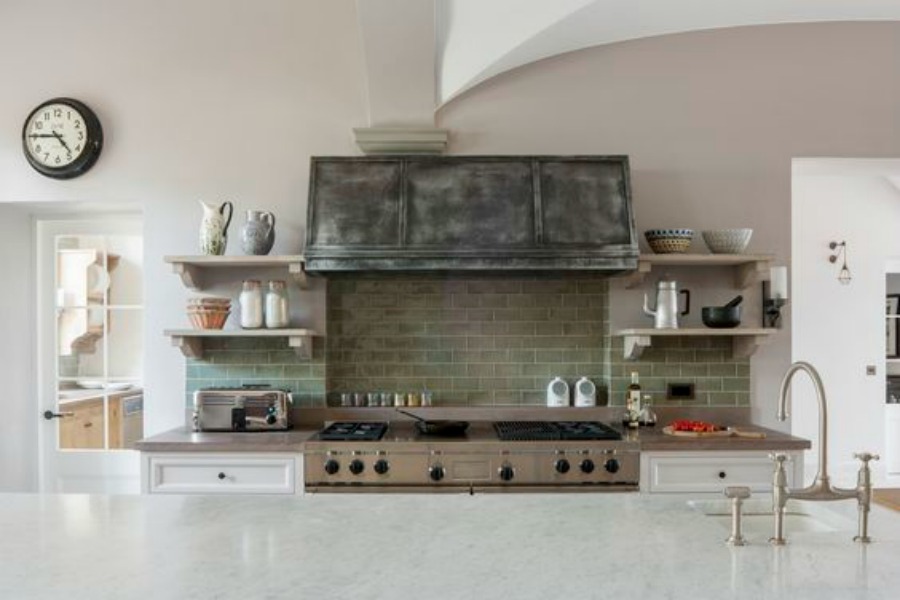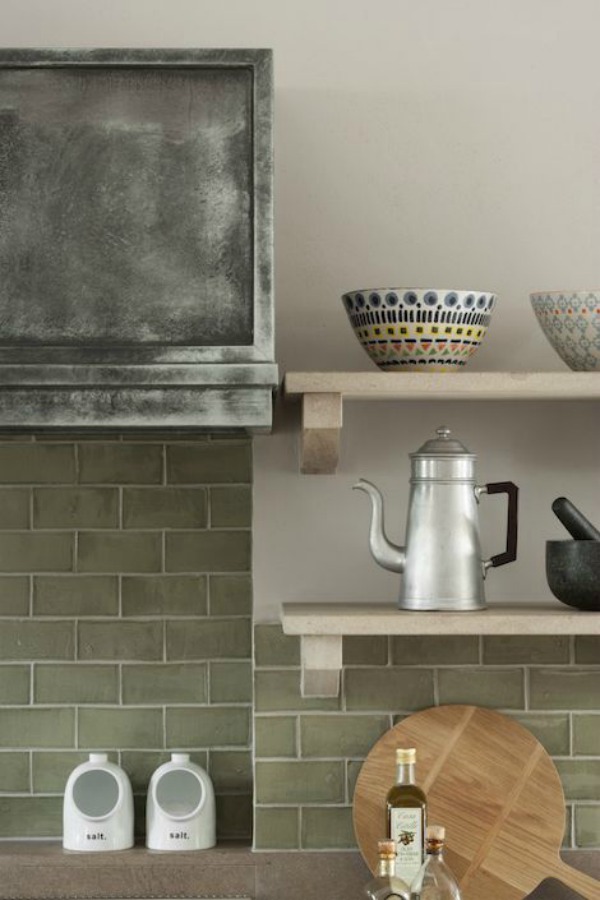 Bespoke Scullery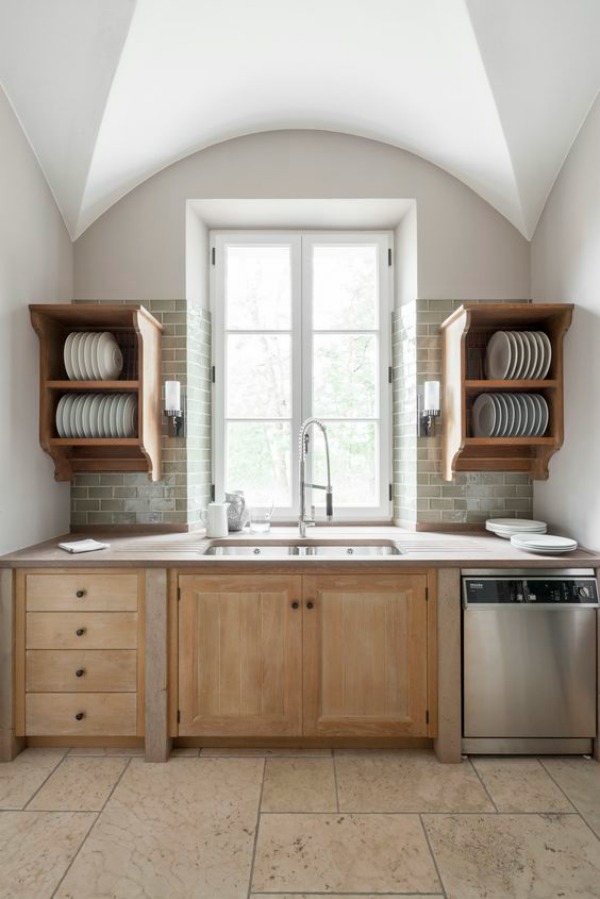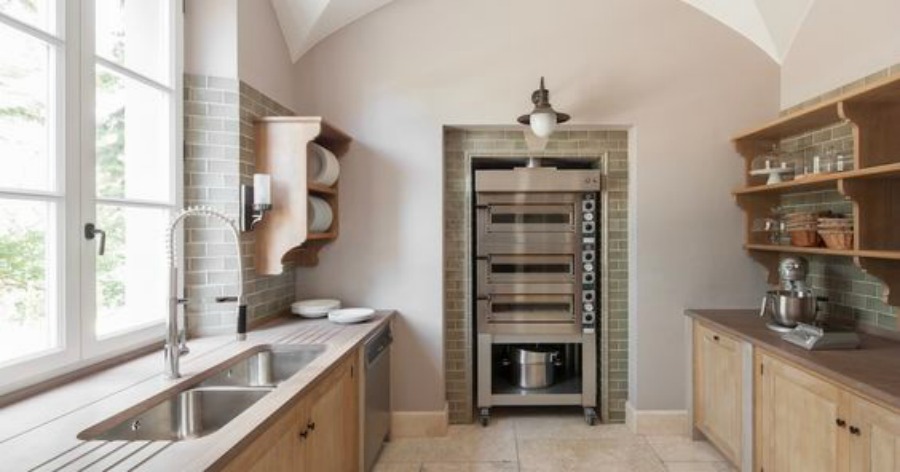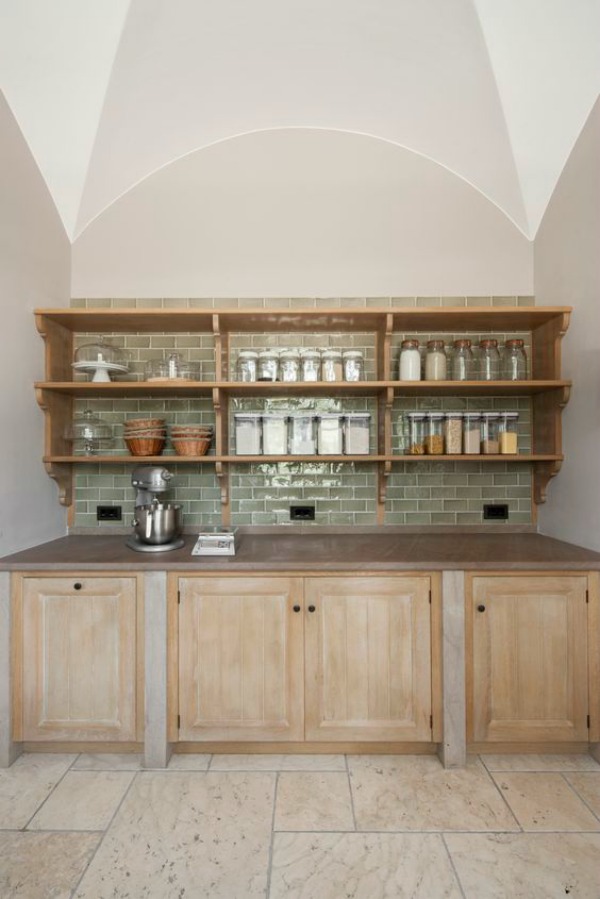 Behind the Scenes
Creative Director, Bruce Hodgson describes company culture in the video, and his vision for Britain's future heritage inspires. Peek behind the scenes of the Somerset workshop where bespoke dreams become reality.
Visit Artichoke!
Even more lovely kitchen design inspiration can be savored here, here and here.
Peace to you right where you are.
-michele
This post contains affiliate links which I hope you will use since they won't cost you a penny extra yet may earn this blog a small commission.
Support Hello Lovely by shopping Amazon RIGHT HERE for anything (not just products mentioned here) to keep the inspiration flowing!
I'm a participant in the Amazon Services LLC Associates Program, an affiliate advertising program designed to provide a means for me to earn fees by linking to Amazon.com and affiliated sites.
Click HERE to find cost conscious furniture and decor for your home too!