In Fixer Upper Club House Living Room Decor: Get the Look, you'll find French inspired decorating ideas and paint colors as well as shopping resources to get a similar relaxed yet elegant Country French room! No problem if you missed the Club House episode (Season 5, Episode 11)…lovely decorating ideas ahead!
Fixer Upper Club House Living Room Decor: Get the Look!
We also considered an inspiring French country entryway, and this will cover the Country French farmhouse inspired living room in a renovated Texas home called "The Club House."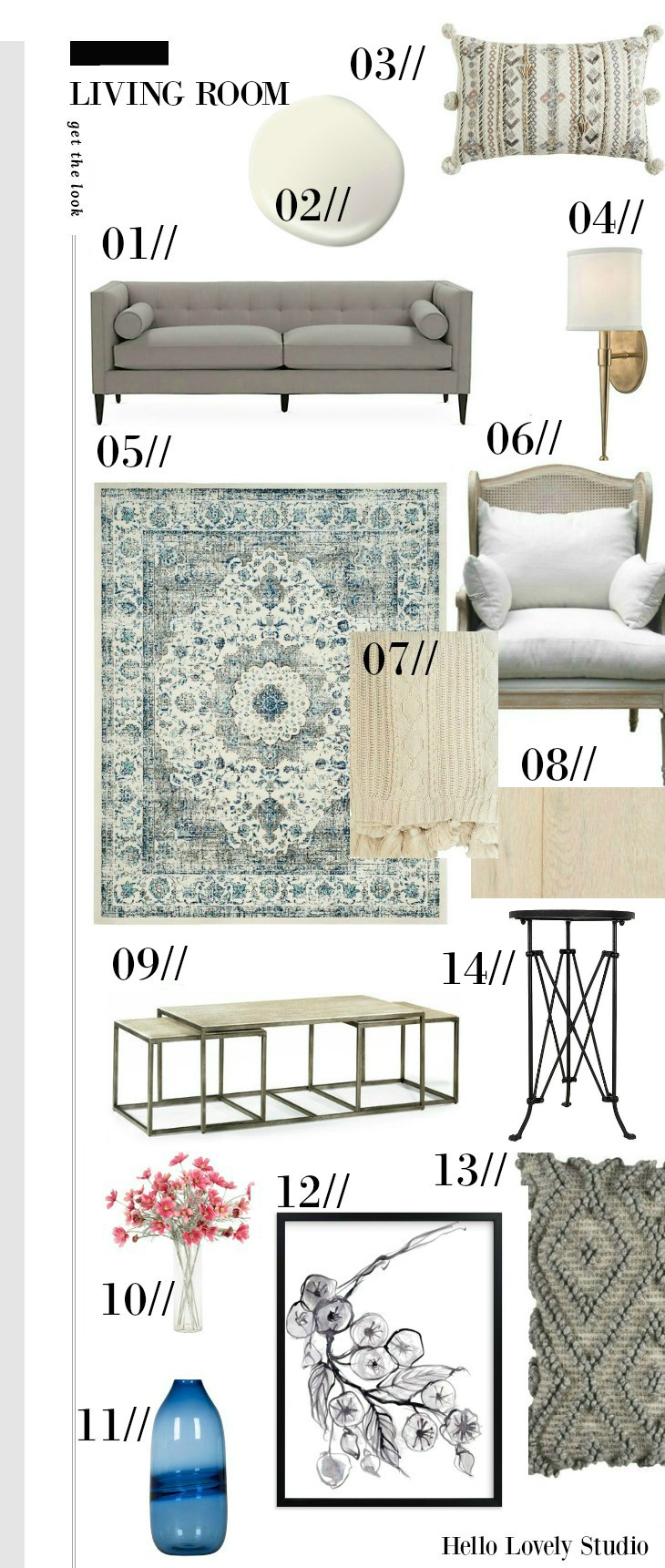 01: Tufted Grey Sofa // 02: Paint color: BEHR Crisp Linen // 03: Accent Pillow // 04: Sconce // 05: Rug // 06: Wingback Chair // 07: Knit Throw // 08: White Oak Flooring // 09: Nested Coffee Table // 10: Pink Calliopsis // 11: Blue Vase and also Here // 12: Art // 13: Pillow Cover // 14: Side Table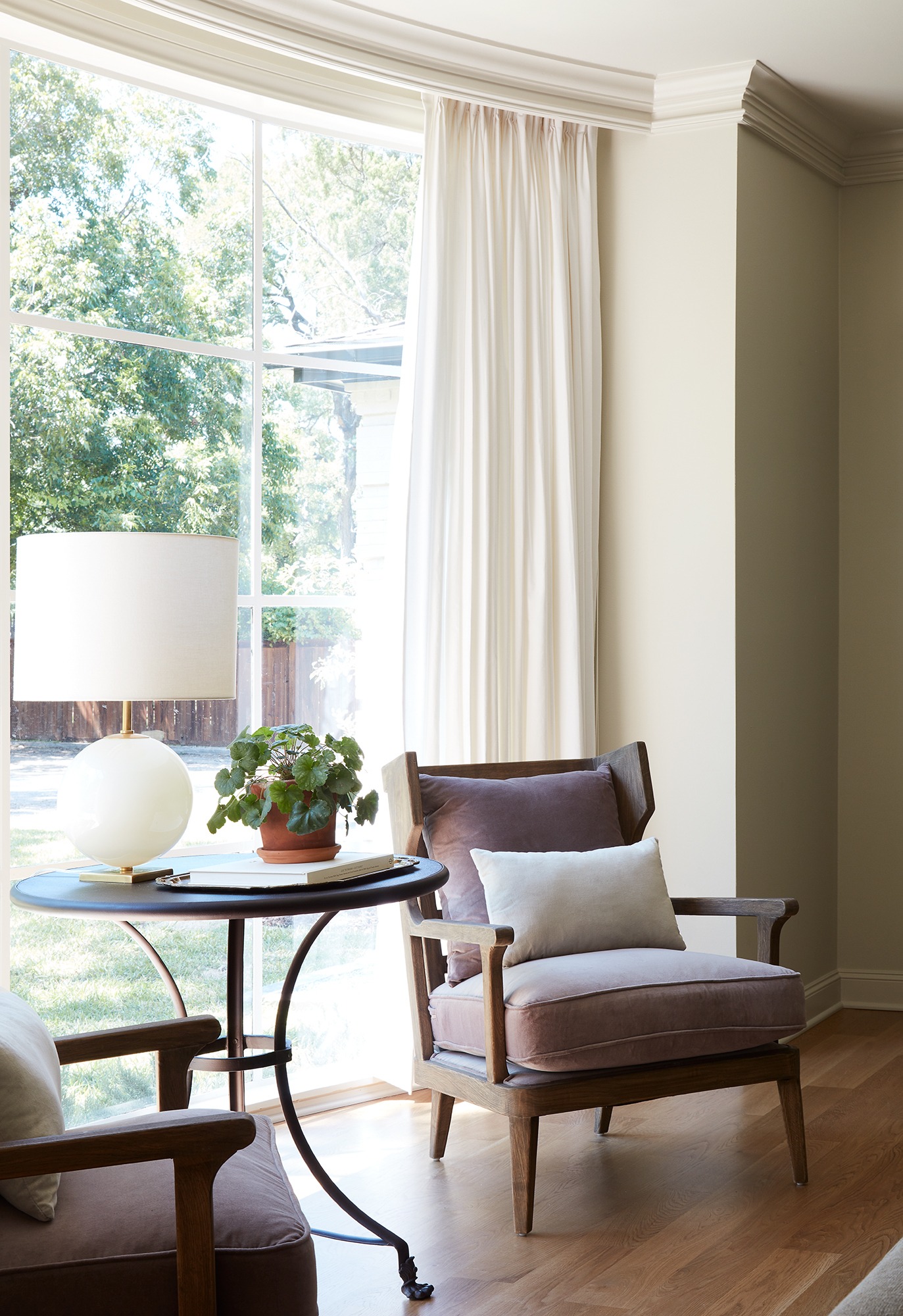 This post contains affiliate links which I hope you will use since they won't cost you a penny extra yet may earn this blog a small commission.
In the episode, a young family (Matt and Leigh Ellen) seek a fixer upper with potential as well as French flavor. They indeed hit the jackpot with the help of Chip and Joanna! I was certainly inspired by how Joanna Gaines approached this extensive makeover project. Today we'll explore realistic options to get the look in case you admire it.
European Country Style Living Room
Here's a Joanna living room that surprised me on several levels. First, the space is indeed elegant, and we more often see rustic interiors on Fixer Upper. Livable, casual style and shiplap as well as reclaimed wood pieces are the norm. So are custom coffee tables and also turned wood candleholders.
Our Inspiration Room: The Club House Living Room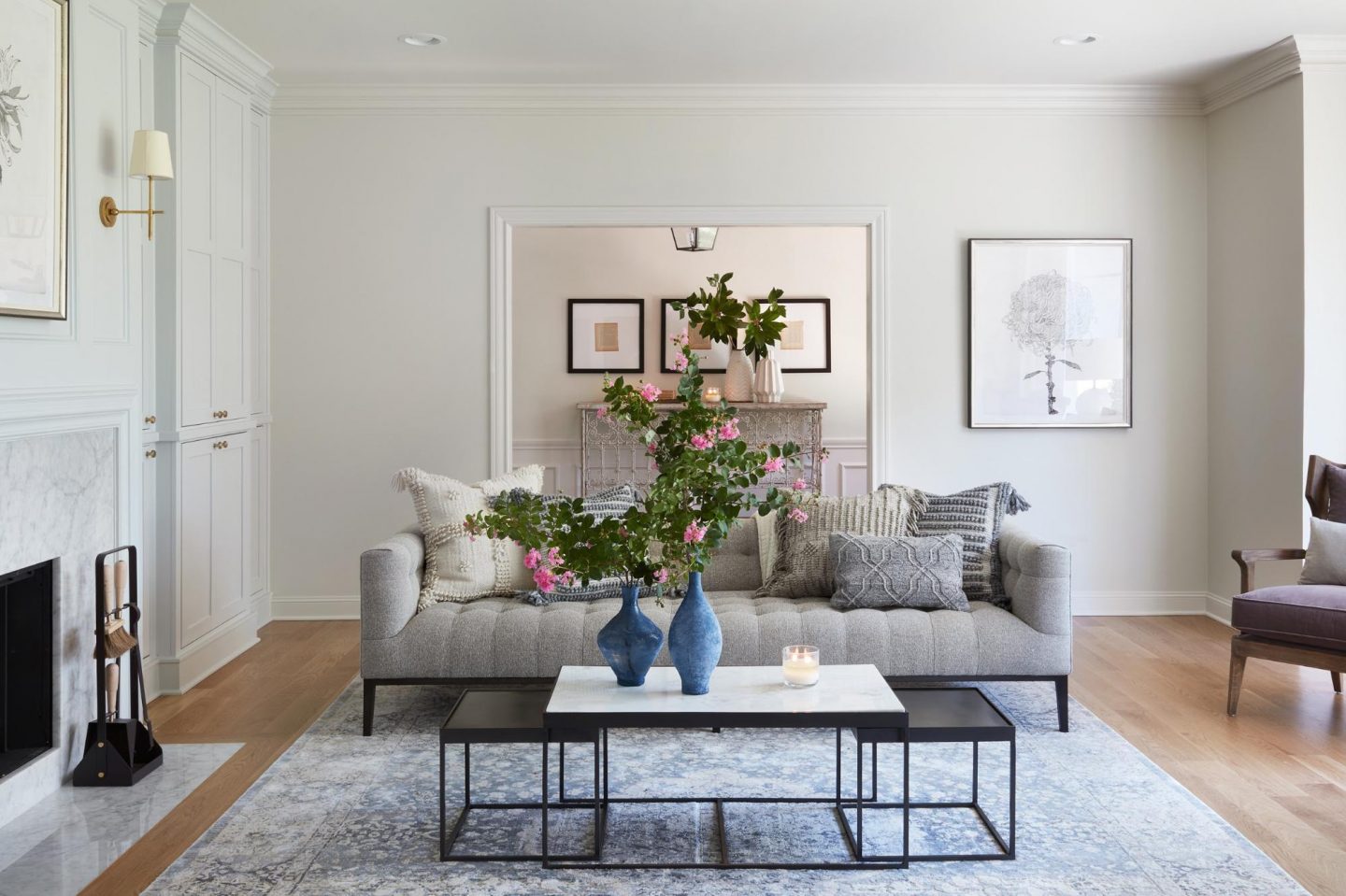 Did you see my mood board for this home's entryway (it is partially visible in image above)?
Timeless & Elegant & Less Rustic
This traditional French country living room is not one note with obligatory Bergere chairs or a limestone fireplace. In fact, no painted grandfather clock in sight!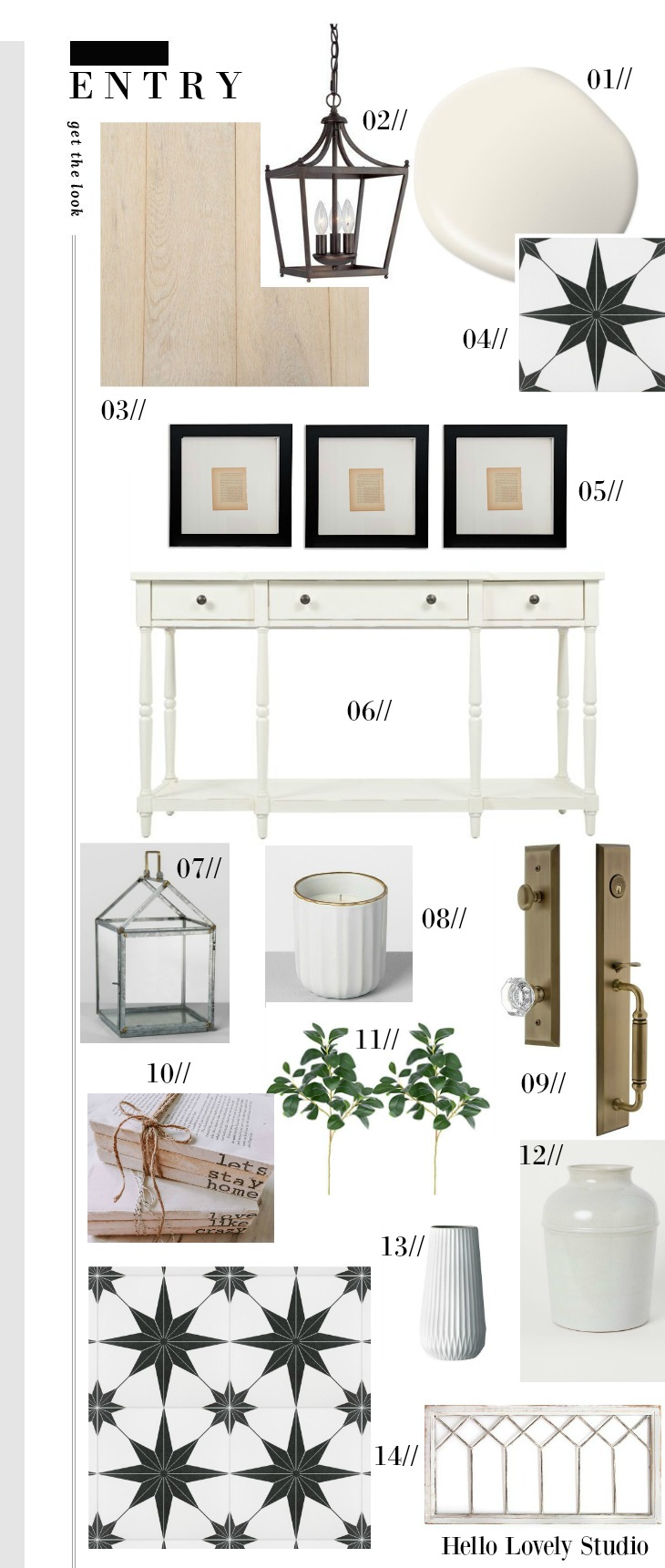 Not Your Granny's Old Fashioned French Country
The mood remains elegant and also serene. So maybe it will not strike you as Country French as much as California modern farmhouse or dialed down Parisian chic. (Later in this post is a video which is also a hybrid of sorts…a more interesting, layered, custom design!)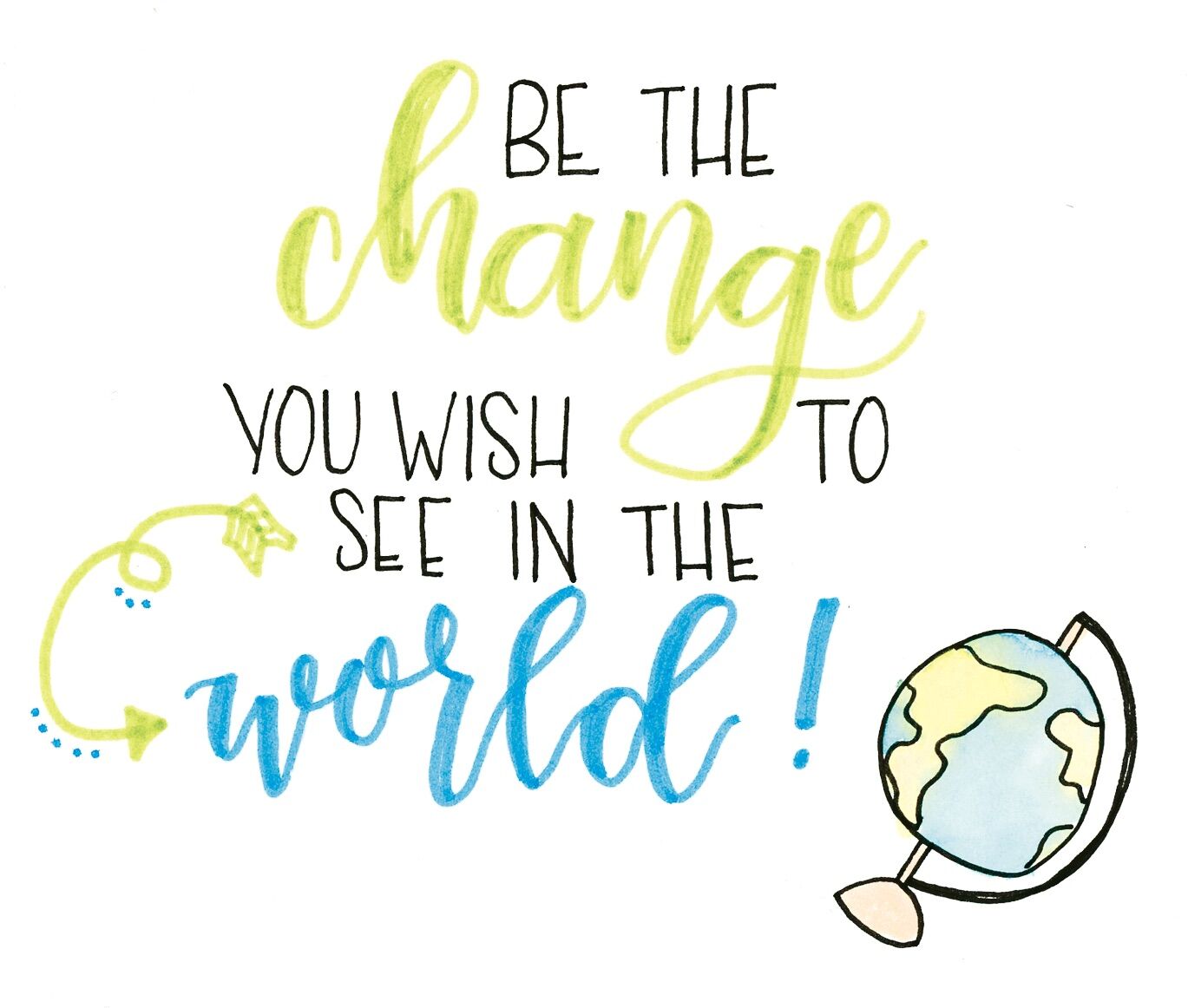 Grey Tufted Sofa Ideas
The tufted sofa selected is not overstuffed and slipcovered but is rather simple with clean lines. It strikes me as both comfortable and understated, while also softened with boho style Moroccan pillows.
You'll notice the fireplace is also understated. A metal nested coffee table is a tad unexpected since we might expect an expanse of white marble or an oval shape. The pop of indigo for the vases is also a surprise, and pink flowers add pretty factor.
These sofas look rather formal and dull without a mix of interesting pillows.
Budget Friendly Tufted Loveseat
Paint Color Idea
While the exact paint color is unknown, this first option is in the same lovely spirit.
Sherwin-Williams Alabaster is a color Joanna Gaines uses in many of her design projects, and it's a great option to get the look of our inspiration room. When you compare it to Behr Bleached Linen (above), you can see it may contain more green undertones.
Accent Pillow Ideas
The Club House living room sofa is charmingly accented with a mix of nubby texture. Think wedding blanket, boho chic, Moroccan inspired pillows in neutral tones of charcoal and also ivory.
Target is a natural shopping source to turn to since they offer Hearth & Hand With Magnolia, and I have provided other Target finds as well.
Anthropologie is another excellent source for these textural and tribal pillows and throws.
Wall Sconce Idea
Understated, simple, and classic, the aged brass sconces chosen for the living room in this Fixer Upper renovation glow with warmth in a space enveloped by white.
Here's a gorgeous one which may work in any number of spaces across a range of design styles. For me, it has a traditional style French inspired feel as well, making it a contender to get the look.
Area Rug Ideas
There are a couple of different directions you could lean for the area rug. More grey or more blue? So many pretty options, and no need to be matchy!
This next indigo/denim distressed rug is a stunning option as well, and I think it would look sensational with white sofas and gold accents in a more beachy living room, oui?
Armchair Ideas
For me, the chairs chosen for this living room miss the mark a little (you can watch it for a small fee HERE in its entirety to see more of the space).
There is something a little clunky and less refined about them, but maybe they are super comfy and just what the owners were after in terms of function.
What chairs would you choose for this space? Because I like both of these options. Do you like these more than the chairs in the inspiration room?
And while this photo doesn't do it justice, and it needs a pretty back cushion:
Throw Blanket Ideas
In our inspiration living room, there's an ivory throw over the grey sofa, and you'll find plennnnnty of examples in the marketplace HERE, here, and HERE.
Wouldn't this be an outstanding pairing with a grey sofa that is maybe taking itself a bit too seriously for your more free-spirited taste?
Hardwood Flooring Ideas
White oak hardwood flooring is a natural anchor for a French country space, and I never tire of it in our own home.
Nested Coffee Table Ideas
As I perused the options for nested coffee tables, I noticed they can get very busy visually and clunky looking rather than pleasingly geometric.
Here are a few possibilities.
These next two tables may be my favorites for pulling together the look of the inspiration room since they are minimal, simple, and look far more expensive than their price tags!
Pretty Pink & Blue Decor Accents
Fresh pink flowers are a beautiful accent in a pretty Country French inspired living room, and everlasting pink floral arrangements can be stand-ins when fresh isn't available.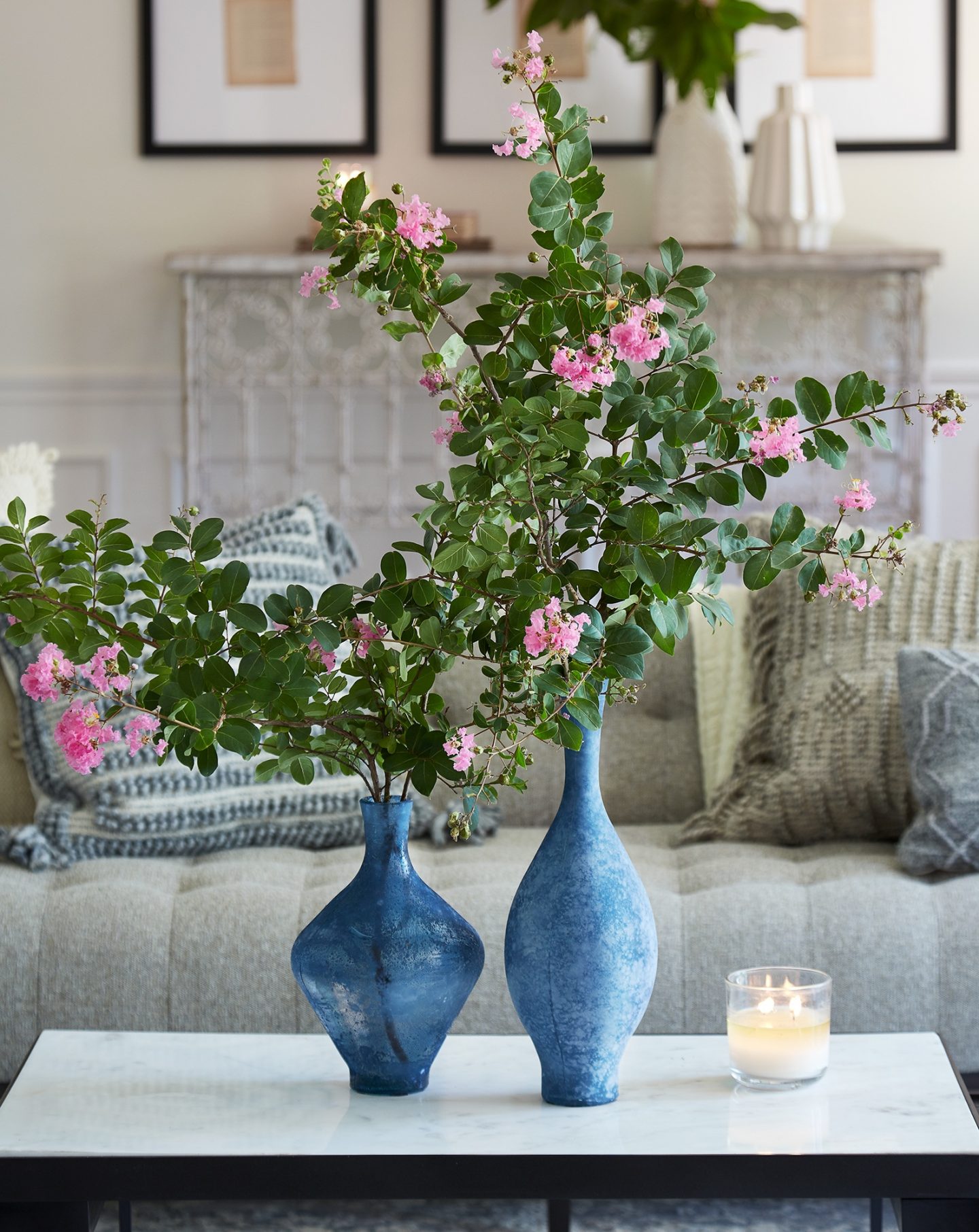 Indigo Blue Vase Idea
Floral Art Idea
To get the look of this lovely living room, look for more subdued tone-on-tone art work or black and white photography.
Side Table Ideas
This is one of my favorite accent tables of all time, and you have seen the style in my home where I have an antiqued silver version as well as one with more of a champagne finish!
They're so inexpensive! Here it is in black.
And the bronze is also fabulous.
For an antiqued silver table, I'm big time crushing on THIS ONE, and the price!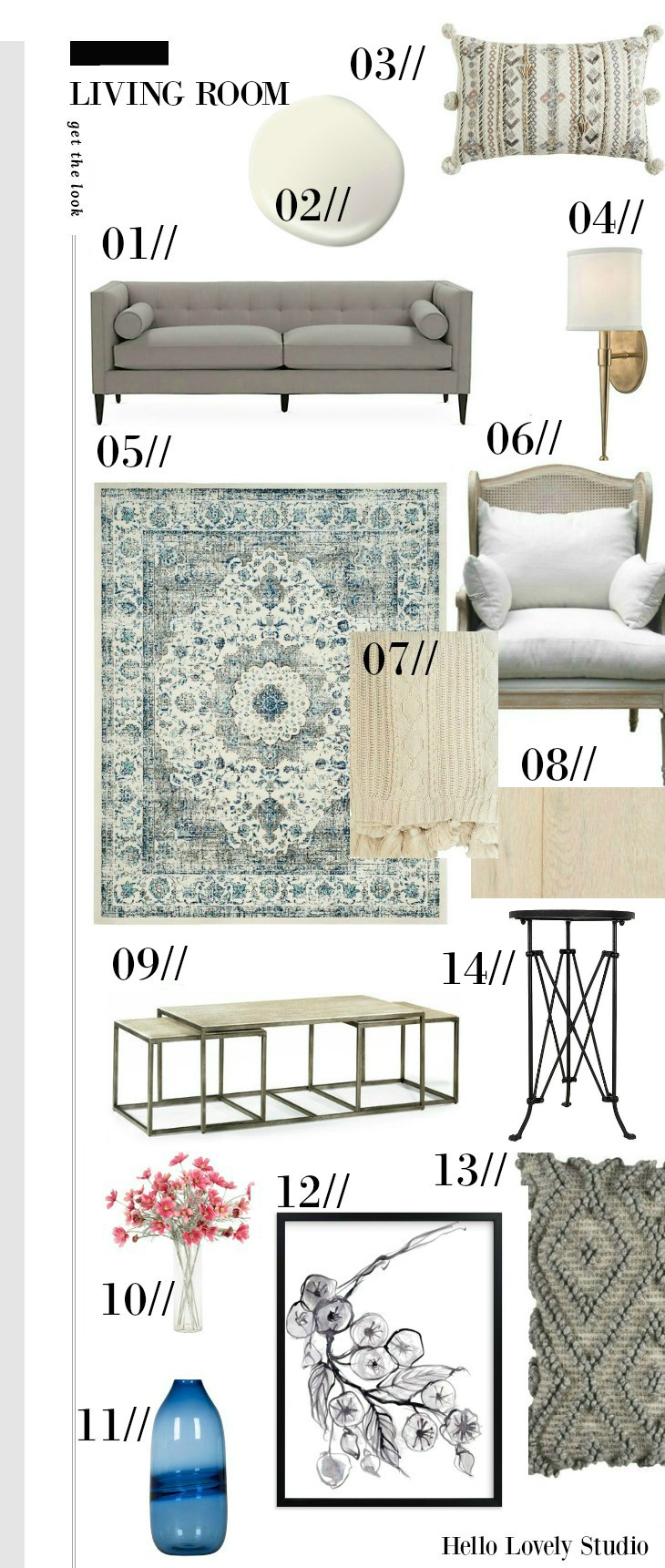 If you love this project, don't miss the story on how to get the look of the Club House entryway as well! Find mood boards for the club house kitchen, dining room, and family room too. And visit more Fixer Upper decor inspiration from past episodes: the Scrivano's tudor and the Ignacio hot sauce house.
Country French Interior Design Inspiration
For even more French country interior design inspiration from a seasoned pro, go inside the home of Kathryn Ireland where you'll find Moroccan influences (as well as all sorts of European country farmhouse style nods!) and an expertly eclectic mix of lovely.
Care to watch the whole Fixer Upper whole episode and be treated to the whole renovation of this French country meets traditional home renovation? GO HERE and scroll down the list.
Thanks so much for tuning in, and I hope you took away an idea or two!
See an authentically executed Country French living room here for more lovely inspiration and shop for pretty French inspired pieces at friendly prices RIGHT HERE!
I independently selected products in this post—if you buy from one of my links, I may earn a commission.
Peace to you right where you are.
-michele
Shop for items you already intended to buy on Amazon RIGHT HERE, and also find home decor here to keep decor inspiration flowing on Hello Lovely!
Hello Lovely is a participant in the Amazon Services LLC Associates Program, an affiliate advertising program designed to provide a means for sites to earn fees by linking to Amazon.com and affiliated sites.