How to Choose White Paint for Your Interiors is for anyone gearing up to paint a room white…which is to say EVERYONE. Presently, I am exhausted from all the priming and painting around these halls. And yet there is at least another week or two more of white paint in my future! As a true ambassador for white and neutral interiors and tone on tone decor, I'm passionate about paint colors. White paint, in particular, is a happy place. Always has been. And since we all want to discover the best white paint colors, help for choosing the BEST WHITE SHADE is on the way.
This post contains affiliate links which I hope you will use since they won't cost you a penny extra yet may earn this blog a small commission.
Please pin this post to save it for future reference!
How to Choose White Paint for Your Walls?
You'll find folks who say white paint is white paint. And here is what I say to that:
One Shade Does Not Fit All
Plentiful shades of white paint exist for good reason: they vary in terms of undertones, interaction with light, and warmth. A white paint you used in a former home may look all wrong in your present one.
Why is that?
Because your room's unique lighting, exposure, decor plan, objects, furniture, etc. impact the complete design picture.
Rooms throughout your home vary in their exposure and location does indeed matter.
So is there indeed a WHITE PAINT out there to best enhance your particular walls?
Yep.
So what the heck.
Let's find it.
How This Advice Will Help
Advice for choosing the best white paint color for your walls flows from: (1) my history and love affair with carefully chosen, sophisticated, tried and true, best white paint colors,
(2) expert advice from color professionals, and (3) well earned design wisdom from talented designers and decorators who know their way around white.
Personal Tips for Choosing the Best White Paint Color
Dozens of years spent painting rooms and furniture with white paint earned me my white decor card and trained my eye for color.
Since I also work with paint colors as an artist, yep…I'm particularly color savvy.
With confidence, I can report that the best white paint color for your room is highly subjective, psychological, and even a scientific matter…a white paint perfect for a particular space could spell disaster for another.
1. Geographical Location Matters
Since I live in Northern Illinois where the light is wholly different from the light in the Southwest, white paint colors here take on a completely different quality due to the light.
2. Don't Fixate on Just One Color
To choose the BEST WHITE, don't become obsessed with just one color you see in an image or on Pinterest and assume it will be perfect without trying a sample.
Why?
First, professional photography often involves editing. Second, the room's location and lighting likely varies significantly from your own. Third, we often experience an emotional reaction to the NAME of paint colors!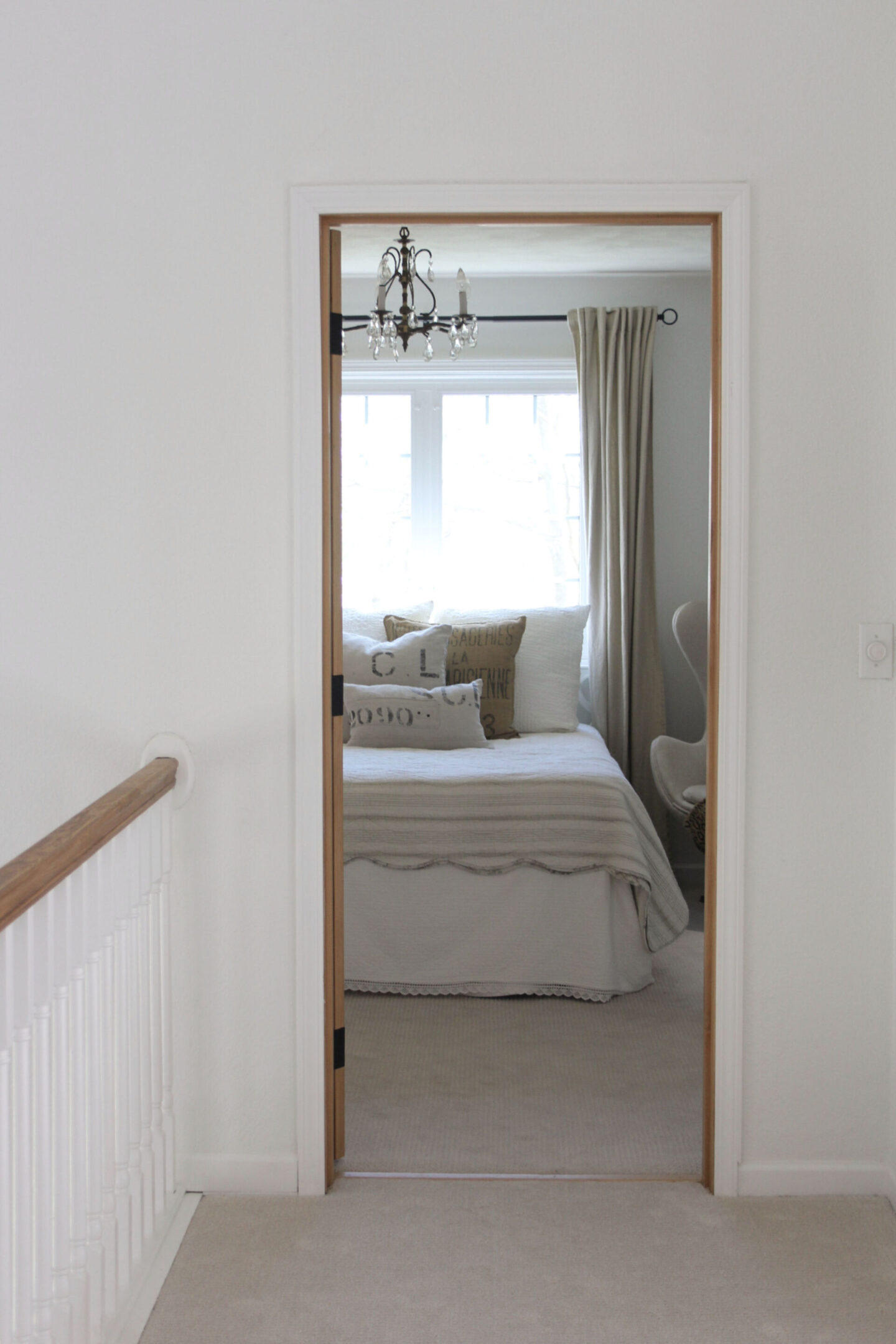 3. Sample Several White Paint Colors
Begin with a handful of tones to sample on your walls. From there, you'll narrow down your search to the white paint that is just right.
In our home which was entirely renovated by us DIY style, I first selected about five different pure white paint color contenders.
4. Analyze the White Paint Samples
After painting large expanses of walls throughout our home with the samples, I scrutinized. I took time to notice how the white changed or didn't change throughout the day.
5. Keep in Mind White Paints Have Undertones
All whites have subtle undertones of grey, pink, yellow, brown, blue, etc. which influence the white's appearance in varying light.
You'll develop an understanding for such undertones as you compare different white paint samples and notice how they vary in your home with your lighting.
6. Choose the Best White Paint Color
From my samples, a white paint color clearly emerged as the best white paint to my eye. It has a cool, modern, gallery-like, slightly monastic and ethereal feel and did not feel overly cool or stark for my taste.
It Really is Just WHITE
We painted all the walls, trim, and ceilings in our North-South exposure home (which receives intense yellow sunlight) BENJAMIN MOORE White. Five years later, it remains and certainly feels just as right.
What a transformation when we painted over yellow walls!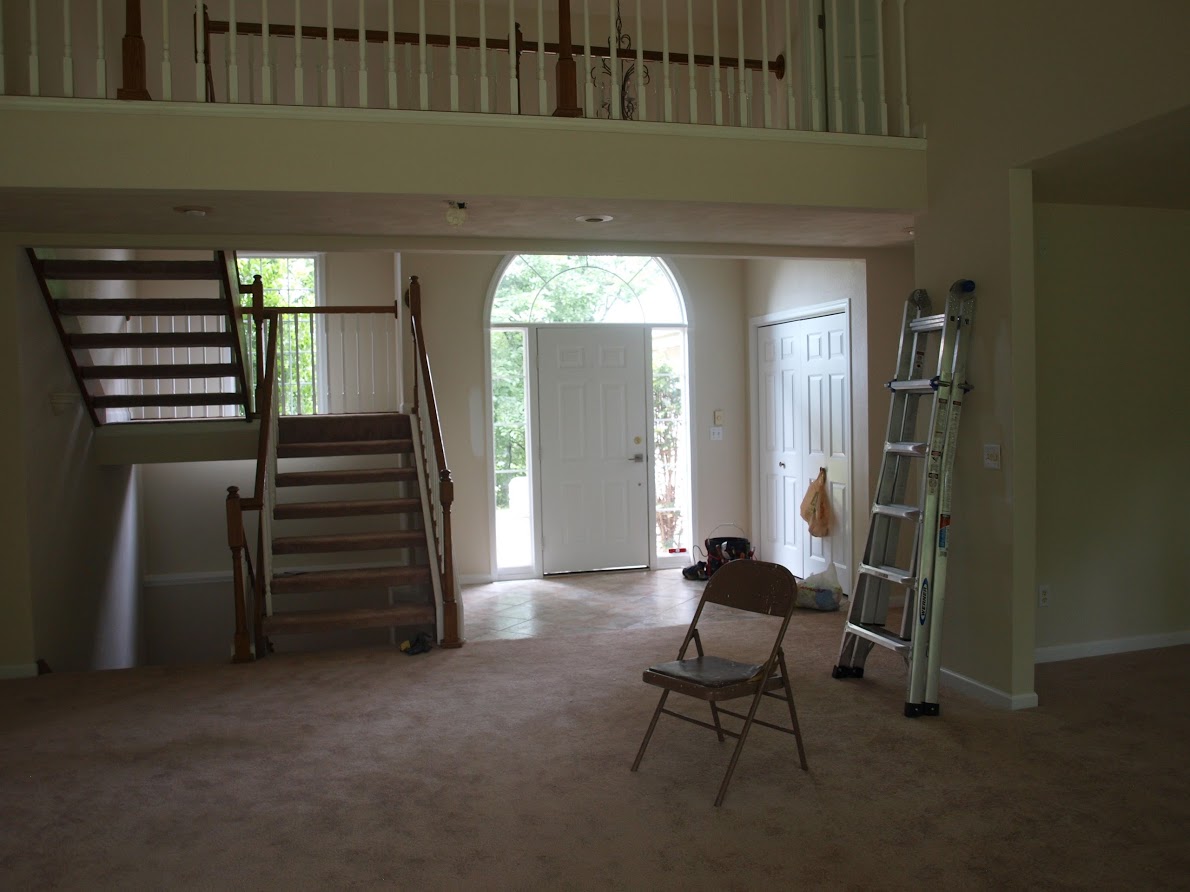 The minimal simplicity of the name of this Benjamin Moore white means there's no chance we'll forget the color's name!
7. Choose the Flattering White for Your Unique Space
BM OC-151 White is not for the faint of heart since it's decidedly bright white and not nearly as gentle as white paints I have used in other homes. However, it's the right white because it both appeals to my eye AND COMPLEMENTS OUR HOME'S ARCHITECTURE AND DESIGN STYLE.
Here is the white I used throughout our prior home which had a very different mood:
The trim was painted BENJAMIN MOORE Dove Wing.
8. More White Paint Colors I Admire
BENJAMIN MOORE White Dove remains a favorite of mine for vintage furniture and what I chose to paint my family piano.
For our second home in Arizona, with its intense sunlight, I chose the creamy, warm, putty-like white with green undertones, VALSPAR Salute for all of the interior walls.
You can more easily recognize the green undertones in Salute when you compare it to another Valspar white like Honeymilk:
Easiest way to see if a paint color will work? Order samples with Samplize and have them delivered straight to your door.
9. It Helps to Review Photos of Rooms Online
While there are paint color experts who may advise against stalking Pinterest and blogs for paint color ideas, I have my own opinion (however biased it is as a blogger!).
Collecting images of beautiful white painted rooms online or in shelter magazines (where the paint color name is provided) can be far more helpful for securing initial samples than deliberating over teeny pieces of cardstock under fluorescent lighting at the paint counter.
I AM OBVIOUSLY passionate about WHITE PAINT and paint everything…ask the family! Ever considered painting wood cabinets to brighten up your kitchen, bath, or laundry room?
Here's a tutorial.
10. Pinterest for Paint Color Search
I have a Pinterest board HERE and HERE devoted to paint colors to which I'm drawn.
It may be wise to create a board devoted to just white paint colors.
You can truly make Pinterest work FOR you instead of the other way around!
The pinnable graphic below includes favorite white paint colors and neutrals I like to use.
Classic Gray, for example, is actually more of a white (and I give the magnificent Loi of Tone on Tone full credit for turning me on to this hue which we painted a bathroom here.)
Pin this post for future reference!
White Paint Color Favorites of Joanna Gaines
If you're a fan of HGTV's Fixer Upper, you know Joanna Gaines has a keen eye for neutral palettes. This story in Country Living revealed the white paint colors Joanna Gaines tends to use again and again in renovation projects.
1. White Paint Color: Sherwin Williams Alabaster
Fixer Upper's creative dynamo's favorite white? SHERWIN WILLIAMS Alabaster, which she chose for her own home (above as well as multiple interior design projects on the show.
2. White Paint Color: Kilz Wedding Band
For a soothing grey paint color, Joanna likes KILZ Wedding Band.
3. White Paint Color: Kilz Shiplap
Is it any wonder, another white paint favorite of Joanna's is known as "Shiplap?"
White Paint Color Advice: Remodelista
Turning to the talented design experts at Remodelista revealed a helpful and highly researched story about how to choose the best white paint colors.
These were some of the highlights of the piece for me:
1. Consider Nuance
As I echoed earlier, Remodelista asserts it is helpful to understand the varying nuances of white paint colors (is it cool, warm, bluish, pinkish?).
2. Note the Warmth of Objects in the Room
According to these experts, if the objects in a room you will be painting are cool, narrow your white paint color search to cool whites. When objects are warm, turn to warm candidates.
3. Assess Natural Light
If a room receives plentiful natural light, the experts recommend a pure white; while a lack of natural light should steer you toward more pigmented whites.
4. Turn to Interior Designer Picks
Whereas their advice is to start with a handful of samples and whittle possibilities down to a favorite, if you get stuck, turn to paint color picks from interior designers.
So that's what we did RIGHT HERE!
If you're ready to get painting, here are tips for painting a room like a pro! And see these stories if you need ideas for the best BLUE GREY PAINT COLORS or tranquil paint colors!
I independently selected products in this post—if you buy from one of my links, I may earn a commission.
Peace to you right where you are.
-michele
Shop for items you already intended to buy on Amazon RIGHT HERE, and also find home decor here to keep decor inspiration flowing on Hello Lovely!
Hello Lovely is a participant in the Amazon Services LLC Associates Program, an affiliate advertising program designed to provide a means for sites to earn fees by linking to Amazon.com and affiliated sites.