I hope 23 Timeless Kitchen Design Ideas and Decor to Freshen Your Traditional, Farmhouse, or French Country Kitchen brings you fresh ideas whether you're designing a kitchen from scratch or simply zhushing the decor a bit.
Do you have a favorite room in your home? You may have already guessed that mine is the kitchen. I love to bake and cook so naturally I linger in here and long for it to feel more like a cozy living space than a room for the stove. While the function and aesthetics of our kitchen have improved dramatically since we gutted and renovated it ourselves, I find I'm always tweaking it. Is any lovely kitchen ever truly done!?! 'Make it Timeless and Tranquil' has always been my mantra on Hello Lovely, and today's topic echoes it.
23 Timeless Kitchen Design Ideas and Decor to Freshen Your Traditional, Farmhouse, or French Country Kitchen
I independently selected products in this post—if you buy from one of my links, I may earn a commission.
Zhushing is just what I spent a few minutes doing in the kitchen when I snapped these for us today.
With so much bright white in our kitchen, I'm still seeking ways to bring natural elements and warmth without adding too much weight or visual busy-ness.
A few hydrangea stems plucked from the yard help.
Just a Momentary Whim!
Ideally, my urn would be full of white roses (a la Pamela Pierce!), but since these images were taken on a whim and not as a styled shoot, you'll have to forgive.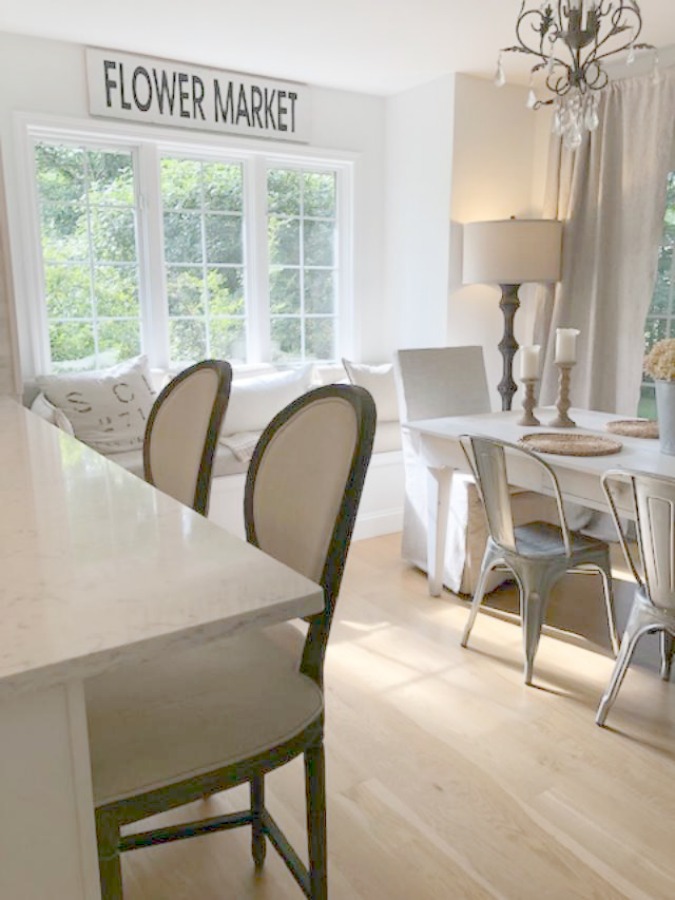 Vintage Crocks Love
I'm still crazy about vintage jam jars and crocks like the Dundee marmalade ones here on my counter (the white quartz is Viatera Minuet).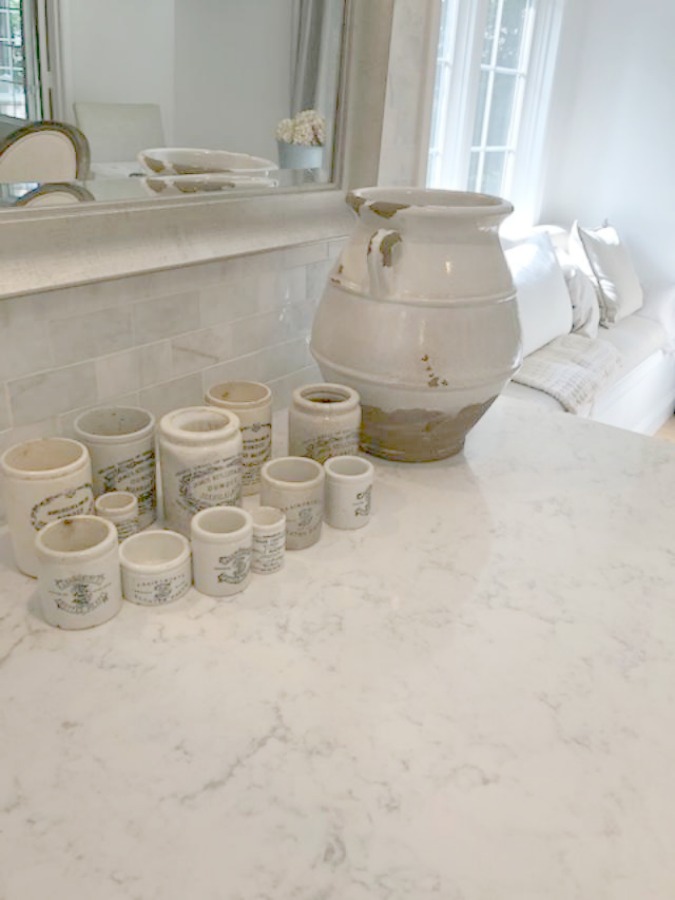 Thinking Ahead
I gathered the jars since I plan to incorporate them into holiday decor. Each December I tuck little candles, greenery or white roses inside, but I have always scattered the crocks.
I am living with the collection together for a few days to decide how to proceed.
Countertop Material
Almost daily I am asked how the white quartz from Viatera (Minuet is the color) is holding up, and I don't think the 4 years of abuse were any match for this durable surface.
Appliances in the Kitchen
Our cooktop and stainless Italian vent hood are modern design elements chosen for the kitchen to stay on budget.
Since we renovated the entire home, including three bathrooms, that budget needed to stretch.
We also weren't sure how long we would live here.
A Girl Can Dream
Were money no object or were this a forever home, a pretty range and custom hood would be at the top of my list for capturing timeless style.
I think you know what I mean by 'pretty range,' oui?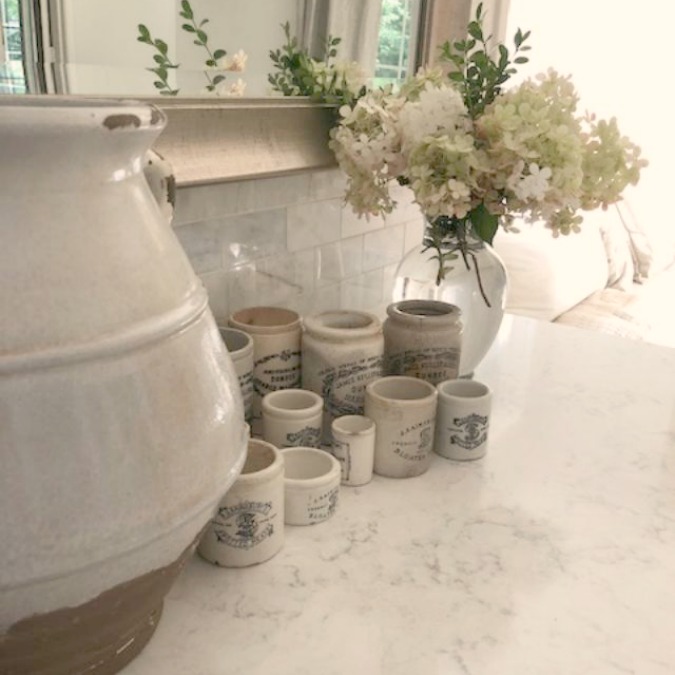 I mean, there are professional style ovens, commercial style ranges, and then there are those beauties that function as art as much as cookers.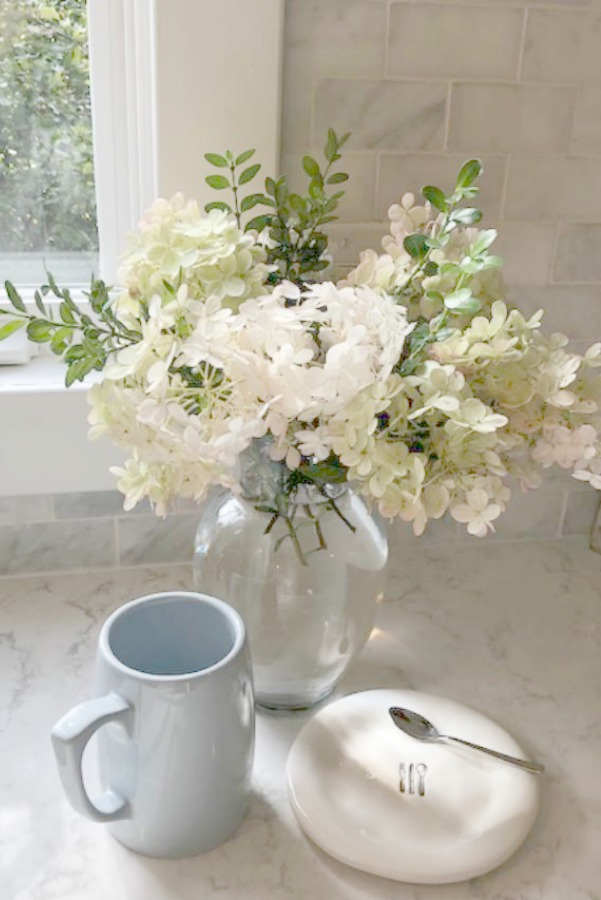 Sometimes Temporary Becomes Permanent
The mirror is still on the wall! It was supposed to be replaced by decorative shelves, but we became accustomed to it, and it functions as sort of a window.
Since our kitchen isn't blessed with abundant natural light like our former kitchen, the mirror helps…so that's my first idea for you today:
1. Consider a Mirror for the Kitchen
2. Think Beyond White Cabinets
So many kitchens to inspire us these days in social media land, and just when you think you have glimpsed your favorite French farmhouse style kitchen (mine happens to be one near Bordeaux belonging to Charlotte Reiss of Vivi et Margot), it gets a makeover you admire even more!!!
Charlotte recently had her kitchen cabinets painted this rich green, and with the pretty white Ilve range…what a timelessly elegant space!
If you love Charlotte's style, then you will fall hard for Vivi et Margot's selection of traditional French homeware including vintage and the loveliest French baskets!
3. Add a Pillow or Seven
Pillows in the kitchen? Maybe not in a galley style without seating. 🙂 I have piled our kitchen's window seat with pillows, and to keep it feeling hushed and tranquil, the hues are pale shades of cream, light grey, and putty.
4. Grey and White Accents
5. Simple Stoneware
What I love about European country and French farmhouse kitchen style is how every decor object must also function. Here's a simple piece that isn't just for show.
See this for more farmhouse decor ideas scored from Target.
6. Vintage Style Dinner Bell
How darling is this bell to alert the roost it's time to dine? It's certainly in my own cart!
7. Rugs & Runners With Quiet Color
8. Clean-Lined Accessories
9. Timeless Silhouettes
10. Warm Metals in the Mix
11. Unfussy & Understated
12. Classic Pendants
13. Essentials That Work Hard
Visit this for: ideas for French baskets.
14. Luxurious Focal Points
15. Breezy Yet Traditional Lanterns
16. Shaker Simplicity
17. Organic Warmth
18. Glorious White Decor
19. Rustic Vintage Accents
20. A Modern Surprise to Mix With Vintage
21. High Quality Kitchen Faucet
22. Glazed Texture
23. Warm Touches
Bonus Kitchen Inspiration
Pretty please mosey over to my KITCHEN INSPIRATION BOARD and pin like there's no tomorrow to help increase exposure for Hello Lovely so I may keep dishing up the inspiration and resources!
Tour a Timeless Yet New Kitchen
Here's designer Gillian Gillies' own kitchen featuring a slew of lovely design details, and if you're like me, you'll also love her gorgeous accent!
Visit kitchen design inspiration here and also see these lovely kitchens for more beauty.
Thanks so very much if you have a moment to vote, and do find the nomination of Hello Lovely for Best Written Blog RIGHT HERE!
Peace to you right where you are.
-michele
Shopping for items you already intended to buy on Amazon RIGHT HERE (not just items mentioned in posts) keeps decor inspiration flowing on Hello Lovely!
Hello Lovely is a participant in the Amazon Services LLC Associates Program, an affiliate advertising program designed to provide a means for sites to earn fees by linking to Amazon.com and affiliated sites.
Click HERE to also discover lovely cost conscious furniture and home decor!