Happy New Year, friends! (If this is your 14th year of following Hello Lovely, you're getting a medal! That's amazing. I had no idea on January 1st of 2010 when first I posted that other human beings would engage with all of the curation from a simple fairy on the prairie.) Hope your holidays were just the way you like them. I loved the quiet of today after a rowdy, laughter-filled night out with our son and his friends. Guess I always feel a bit of relief when the overwhelm of Christmas subsides, and the focus turns to organization and interior projects. Not that interior projects have been on hold for a moment up in here! Goodness gracious, our DIY bath remodel is quite the undertaking. Can't wait to have a bathroom! Kindness Quotes, Lovely Spaces & Sunday Prayer are ahead, and I'm so grateful you're here to enjoy them.
Kindness Quotes, Lovely Spaces & Sunday Prayer
All of this may feel a bit random, but you never know what these inspiring glimpses may inspire for someone stumbling on them.
Have you taken down your decorations yet? I plan to start the process tomorrow and then reward myself with some quiet, cozy, hygge time with books and candles.
I'll also be browsing online for sconces for our bath renovation. Something simple and not too wide like these:
What I imagine the bathroom will feel like is very Nordic and luxe yet simple.
Knowing this, I'm trying to veer from tile that seems too glammy or too NOW.
I'm drawn to white marble, but there are so many options! Look at this gorgeous herringbone:
We just picked out the vanities and went for simple Shaker style like the cabinets above.
I probably won't be experimenting with much color in the bath since I want to feel like I'm stepping into a cloud.
I can imagine it being dreamy to paint the ceiling a gorgeous soft blue though!
I seriously considered including a fireplace in the design because I found a gorgeous vintage French mantel/surround.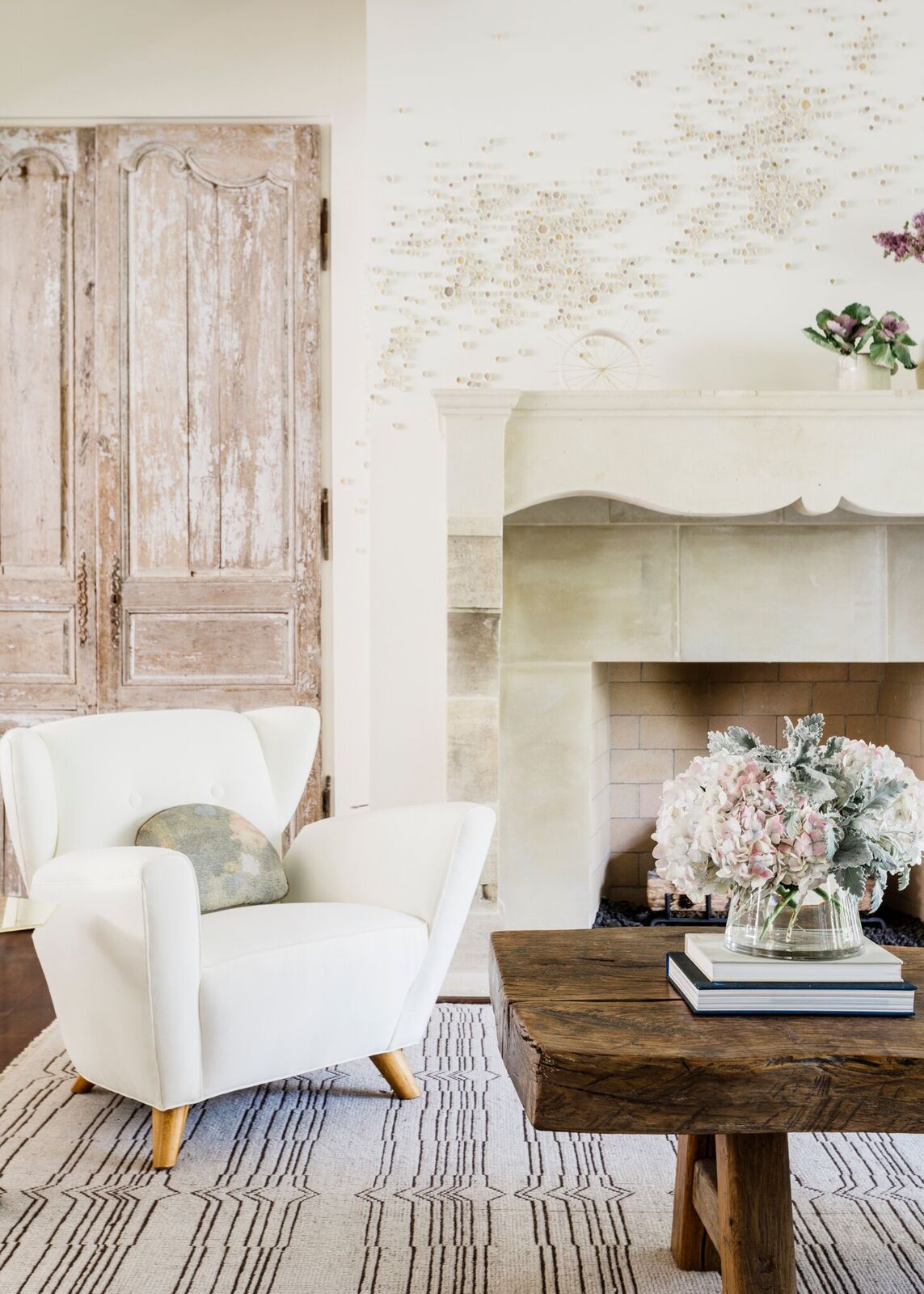 I bought it, but because it is so ornate, I'll use it elsewhere. In fact, it may inspire my whole secret garden/courtyard plan in the backyard.
Also playing with the idea of adding a chandelier to the bathroom but I'm a little stumped as to where it would go. Don't you love this empire style example:
The natural place for a chandelier would be over the tub, but the ceiling is dropped there so that isn't ideal for anything but recessed or flush.
Also, I am discovering plenty of things have changed since last we did a whole house DIY makeover. Halogen lighting is disappearing. They will be completely gone by August of 2023!
And I am sort of a halogen puck light freak – just crazy about the sparkly light they cast. Had my heart set on them for this bath so I'm not sure that will happen since they have disappeared in the marketplace.
These are Lovely, Kittens
This post contains affiliate links which I hope you will use since they won't cost you a penny extra yet may earn this blog a small commission.
Isn't this lovely too:
Another design thing I am mulling over is herringbone flooring for the bath. Do I go herringbone marble or staggered larger marble tiles? I'm a little concerned I'll get tired of the herringbone pattern, and it is quite the investment so we will NOT be changing it after a few years.
Seeing Desiree's vintage lantern in her former home makes me wonder if that could work with my lower ceiling height.
I never tire of these beautiful lantern pendants, and I have noticed I'm not the only one who removes the glass from them. Easier to dust for sure!
When shopping for freestanding bathroom vanities, I noticed a few with cremone bolts like the ones on these French doors in the Paris apartment that was our home away from home:
Such a charming detail!
Are you the type that loves texture added to the ceiling?
Because I don't have experience living with beams or exposed rafters.
So opposed to any ceiling texture at all, in our last home I plastered the ceiling myself!
The craftsman/artisan who put in our white oak hardwood flooring was so impressed and encouraged me since we were working in there at the same time!
I'm also trying to decide if I want to add texture to our bedroom on the wall behind the bed. I plan to keep our furniture the same, but it's super boring right now after living with the beautiful Stikwood Hamptons accent wall.
Lovely Home Decor to Add Smiles to the Everyday!
Adding wallpaper to a bath in our former home was something I hadn't done in many years. We absolutely loved it, and I highly recommend this Thibaut Lizette pattern in silver:
A big leaner mirror like the one in my friend's house below would be so perfect for our bath's makeover:
Thanks for chatting with me about all of the happenings happening this very moment. As I think about what I long to do and be in 2023, what springs to mind is LIVE FREE. Barbara Brown Taylor articulates perfectly what it means to fully and truly liberate those around us:
You may want to re-read it a few times to let the wisdom sink in.
Prayer of St. Francis
Oh, Francis, thank you for these words. Your prayer can be our prayer, and maybe just maybe our hearts and minds can be made new this day.
Lord, make me an instrument of your peace:
where there is hatred, let me sow love;
where there is injury, pardon;
where there is doubt, faith;
where there is despair, hope;
where there is darkness, light;
where there is sadness, joy.
O divine Master, grant that I may not so much seek
to be consoled as to console,
to be understood as to understand,
to be loved as to love.
For it is in giving that we receive,
it is in pardoning that we are pardoned,
and it is in dying that we are born to eternal life.
Need a great podcast? On Being! You'll love this episode with a favorite poet who brings comfort.
Sunday Prayer & Reflections from a Poet
While I have shared them before, I'm reflecting on these thoughts from poet and theologian Pádraig Ó Tuama:
"These are some of the things that prayer is. Prayer is rhythm. Prayer is comfort. Prayer is disappointment. Prayer is words and shape and art around desperation, and delight and disappointment and desire. Prayer can be the art that helps you name your desire. And even if the desire is only named, naming is a good thing, surely. Naming is what God did, the Jews tell us, and the world unfolded. Or perhaps naming is what the Jews did, and God unfolded. Either way, I'm thankful. Naming things is part of the human impulse. Naming the deep desires of our heart is a good thing, even if those desires are never satisfied."
Here's the book where I found the words above: Daily Prayer with the Coorymela Community, and here are a few more reflections on prayer before I share my own at the finish line:
Thanks for joining me on this journey, friends. I pray your 2023 opens you in fresh ways to the Mystery.
HOLY HEALER, thank you for radiant beams streaming from your Word, for hope flowing from springs unseen. In this new year, may we seek your love to steady our slipping feet. May we carve a bit of stillness and quiet from each day to consent to your presence. May we be held in your loving gaze, hidden and absorbed in your glory. May we daily surrender every hurt, lonely, and anxious corner of our hearts knowing all will be recycled for your purposes. May we turn to your beauty and comfort for holy favor and ever find it. Bless the work and play of our families, neighbors, and towns. Pour out streams of mercy on the poor and the weak in our midst. Bid us strength as we respond as your hands and feet. Grant us courage and faith, oh loving keeper of our souls, as we become shelter and healing for each other.
We pray this from a humble place of unknowing and deep trust. AMEN.
Peace to you right where you are.
-michele
Shop for items you already intended to buy on Amazon RIGHT HERE, and also find home decor here to keep decor inspiration flowing on Hello Lovely!
Hello Lovely is a participant in the Amazon Services LLC Associates Program, an affiliate advertising program designed to provide a means for sites to earn fees by linking to Amazon.com and affiliated sites.