Did you miss French country ingredients for a kitchen and sun room inspired by a French inspired Joanna Gaines/Fixer Upper renovation project? Even if you're not a huge fan of farmhouse, there may be something unexpected and lovely awaiting. And it's all budget friendly! In that "get the look" themed post, I shared lovely rustic French baskets. Today we will explore even more French Country Basket Inspiration: Resources for Rustic, French Market, Boulangerie & More!
Thank you so much for holding our family in prayer. I'm sharing an update at the end of this post.
I independently selected products in this post—if you buy from one of my links, I may earn a commission.
French Country Basket Inspiration: Resources for Rustic, French Market, Boulangerie & More!
My Antique Baskets
I recently purchased two antique handmade baskets from the great granddaughter of the man who made them in the mid 19th century.
For more than 150 years, they were put to use at a beautiful farm 90 minutes from our home. It was extra special for me to see the property and buy them directly from the family. It wasn't a moving sale…they were simply organizing and decluttering.
I found these stripey seagrass baskets (below) HERE.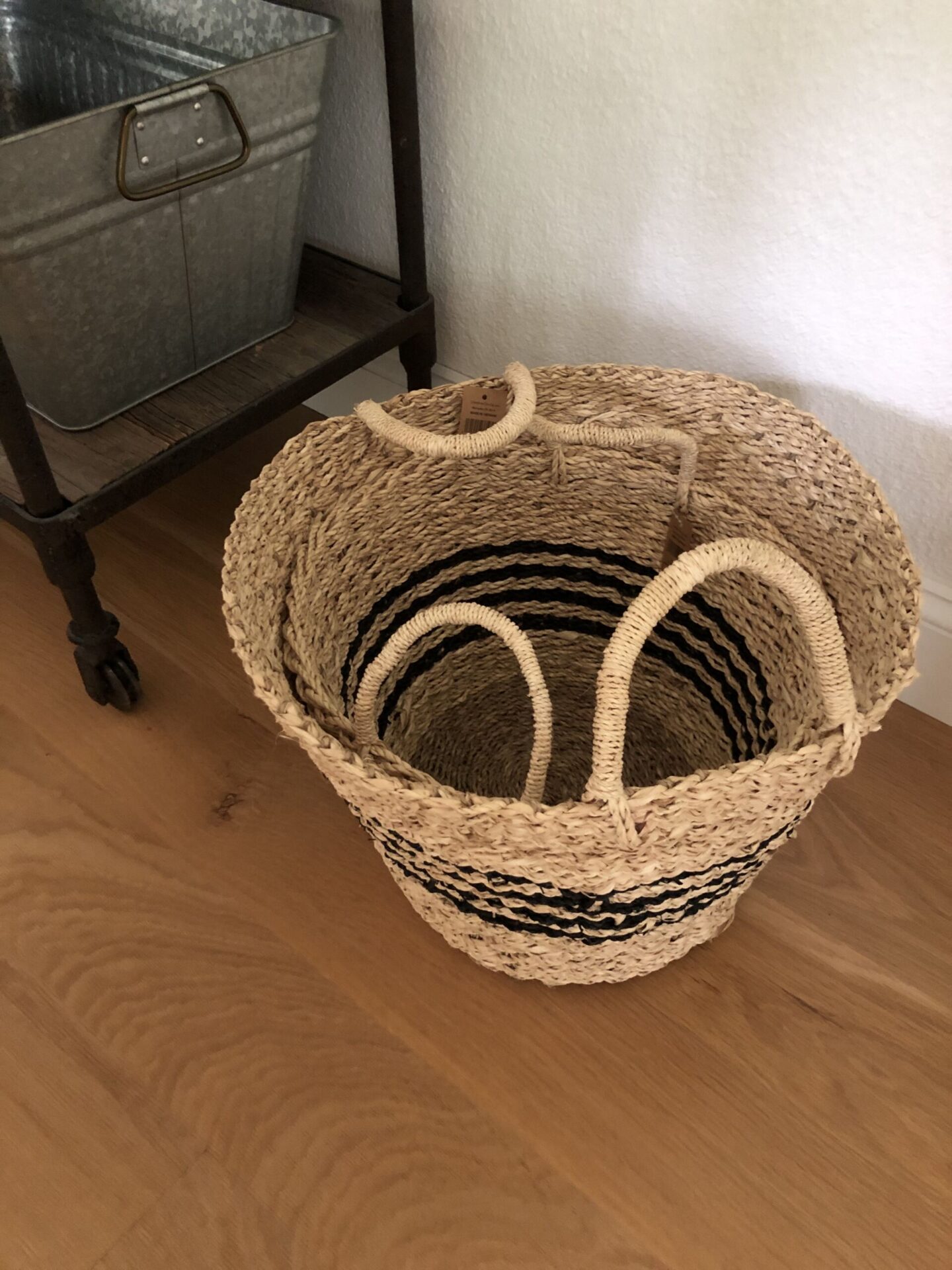 If they are out of stock, I thought these stripey market baskets were also very Frenchy.
A Favorite Frenchy Set That Only Appears to be Old!
Rustic French farmhouse style is a passion of mine that seems to grow as I joyfully train my eye and venture deeper into its charm.
Vintage French Boulangerie Baskets
Two Beautiful Online Sources for French Market Baskets!
My favorite online shops for vintage French wares and French market baskets? Vivi et Margot and Dreamy Whites Atelier. If you are familiar with Dreamy Whites blog, you will love the French homewares in the shop!
You'll find favorite picks and links to find them below.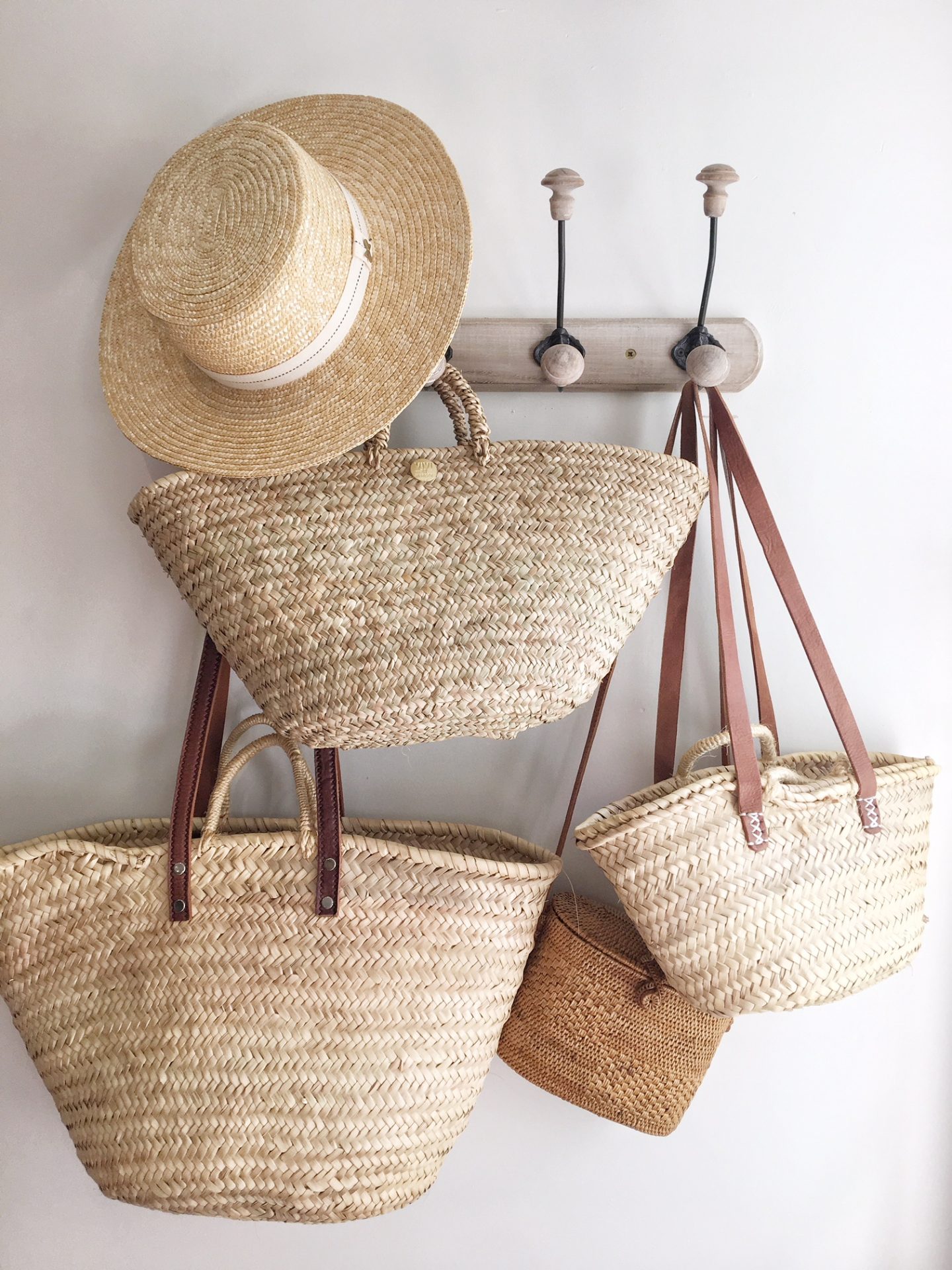 Charming French Baskets for Bicycles, Home Decor, Shopping and Organization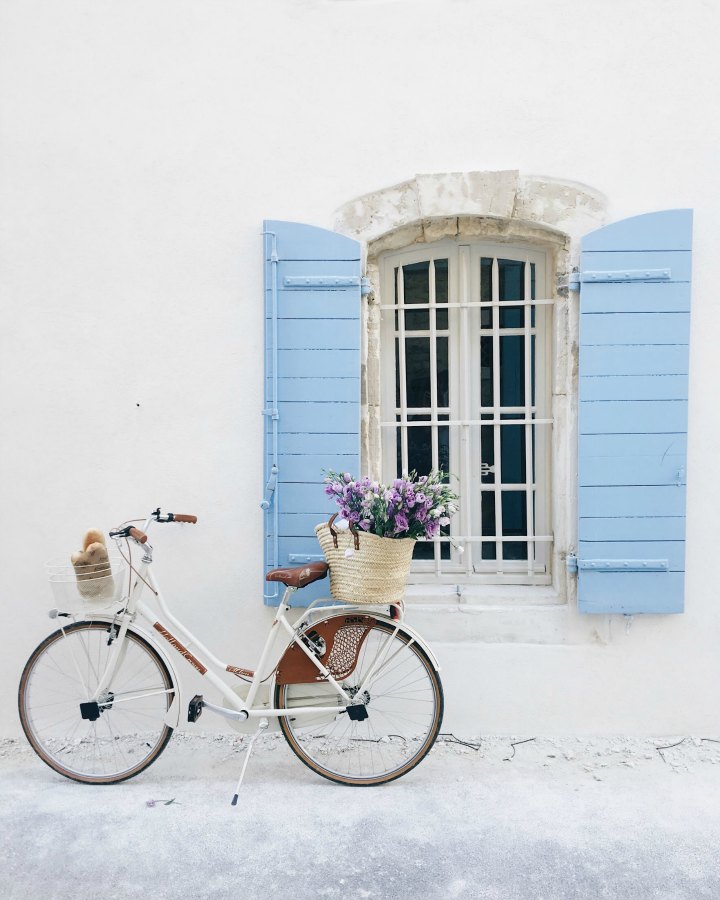 French Farmhouse Baskets to Inspire
More Ideas for French Inspired Storage
Rustic French Basket Inspiration from a Favorite Designer
French Baskets for Storage in a Powder Room
Brooke Giannetti has inspired us for years with European country sensibilities that make living with wabi sabi style natural, beautiful, and also practical. Years ago before Patina Farm, Brooke designed this breathtaking powder room with rustic French baskets for storage. Sometimes built-in contemporary cabinetry is not the look we're after!
Isn't this a gorgeous example of how to live with collected antiques and vintage treasures from Europe? In the Giannetti's Patina Farm laundry room, Brooke demonstrates the functionality of collected pieces.
Rustic European Baskets in an Inspiring Laundry Room at Patina Farm
In this lovely understated laundry room at Patina Farm, Brooke mixed a new purchase (drying rack from Ballard Designs) with old baskets to store essentials.
Even the location of the Giannetti's laundry room is genius. Mirrored doors separate it from the master dressing room, and notice how pretty baskets maintain order while harmonizing with white shelves.
I always find much to admire about Patina Farm and Brooke's relaxed, unfussy, European inspired style. Why not place art you love on laundry shelves to enjoy their beauty every single day? This is just the sort of European country sensibility to which my spirit is drawn.
Baskets Bring Style & Function to Every Room in the Home
There isn't any space in a country house or farmhouse style abode where the woven charm of a basket isn't welcome! Baskets are truly an essential ingredient for keeping objects orderly or hidden while looking fabulous all on their own.
Baskets are Especially Indispensable in the Laundry Room
A Dreamy Example in Provence
We toured this beautifully country chic French home, and here's a reminder of what simple rustic baskets can bring to a heavenly room.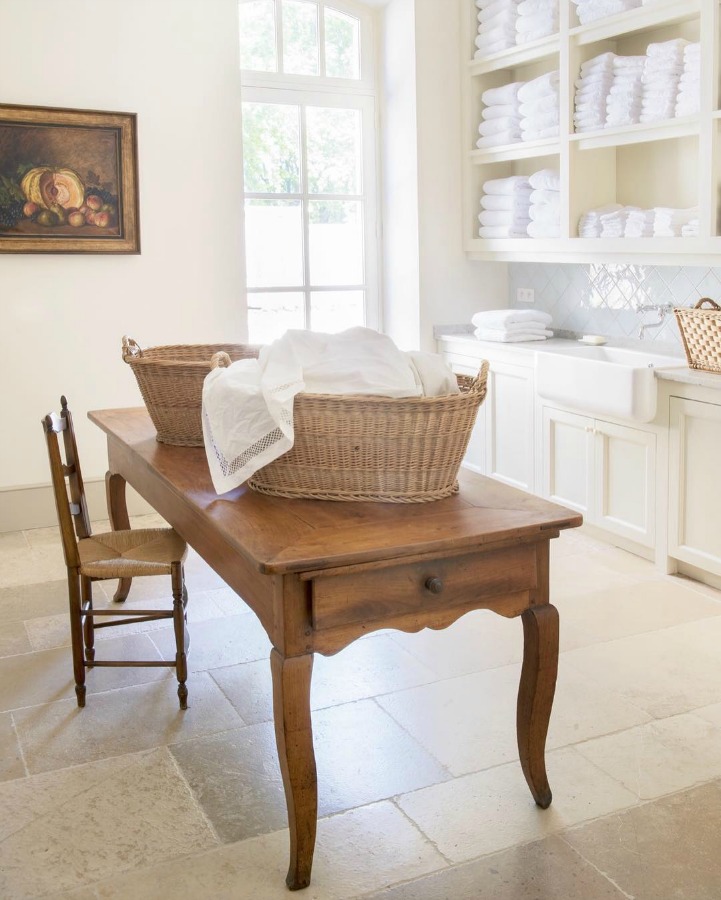 Who can stop at the laundry room in the Varvels's gorgeous South of France fantasy home? Let's peek inside this unforgettable renovated French Country estate in Avignon!
We also explored more French farmhouse style ingredients including Belgian linen, galvanized decor, French country sconces, and linen seating.
Life Lately
We are thanking God for answered prayer as our son came home from the hospital. He is battling TTP/HUS, a rare blood disorder which nearly claimed his life a little over a week ago. For 13 straight days, we witnessed him suffering from relentless pain. It was critical that he be able to report changes and keep moving to prevent mini blood clots to form and travel to lungs, heart, and brain.
He is essentially doing chemo right now, taking a mega dose of a steroid to shut down his immune system. He still requires plasma exchange treatments so the catheter in his neck must remain until his platelets are in a healthy range.
This will be a journey for him, and we will join him on it. Please pray that he will remain safe from germs and infection during this vulnerable time when he cannot fight them.
Grief & Hope
I am very sad that it's not likely I will be able to pay my respects to Tina, a dear member of our family who died from Covid on July 25th and will be laid to rest. The distancing at critical times like this is heartbreaking.
At the same time Tina and our son were fighting for their lives, I was undergoing tests and ultrasounds to find the cause of painful daily attacks. We received wonderful news that while the pancreas may be involved, it is not pancreatic cancer. It may be SOD (muscular valve of the pancreas doesn't function properly) which can cause pancreatitis and/or a nerve damage issue.
I'll need to see another specialist but started new prescriptions to prevent spasms. Hopefully I'll find effective treatment and someday eat normally again. The medicine makes me tired so please pray my body will get used to it soon.
This is Holy Ground
I am living moment by moment these days, surrendering all my cares and desires to my Father. While there have been many moments of anxiety and grief, I have not felt alone or abandoned. When panic comes, I turn to prayer and request it from loved ones. It is well with my soul, friends, and I need only stare into eternity to recognize that all this pain will pass, will be recycled, will reveal His glory.
You may be thinking "this is too much for such a sensitive fairy," and it is a lot. But my past experience with living in the valley prepared me and emboldened me with courage. With divine help, I have done very hard things in the last few weeks. I truly feel like a vessel, reliant on grace.
I suppose this is what kingdom living looks like, and it's all holy ground.
I independently selected products in this post—if you buy from one of my links, I may earn a commission.
Peace to you right where you are.
-michele
Shop for items you already intended to buy on Amazon RIGHT HERE, and also find home decor here to keep decor inspiration flowing on Hello Lovely!
Hello Lovely is a participant in the Amazon Services LLC Associates Program, an affiliate advertising program designed to provide a means for sites to earn fees by linking to Amazon.com and affiliated sites.