You already know I'm a fan of classic and timeless design that pays no mind to what is trending. That said, I'm not a strict traditionalist. I don't like the idea of design rules or rigidity when it comes to feathering your unique nest. But when I do like something, I tend to be loyal to it maybe because it begins to signal familiarity and a sense of home. So here are a few tried and true design elements I fancied enough to introduce in our last two kitchen renovations. You'll find a host of Hello Lovely's kitchen resources as well as ideas to shop the look.
I independently selected products in this post—if you buy from one of my links, I may earn a commission.
Hello Lovely's Kitchen Resources & Renos
Apron Front Farm Sink
It's one of those kitchen design elements you cannot simply add on a whim, and plenty of folks would say it's too trendy since farm sinks happen to be enjoying a season of popularity.
But apron front farm sinks have been around for a very long time and added so much character to our last two kitchens. Also, as a lover of bright white, I love the sense of clean they bring to the overall look.
Remodeling or designing a kitchen from scratch? A fireclay sink is a lovely feature for a variety of design styles, and farm sink ready sink base cabinets are widely available to accommodate them.
Marble Subway Tile Backsplash
Choosing a quartz countertop for our last kitchen's remodel proved to be far more difficult than deciding on a marble backsplash. But just a reminder, it's wiser to select a backsplash AFTER the cabinetry and counters are decided upon.
Before we installed the polished venatino marble subway mosaic tile backsplash (from counter to ceiling), I laid every tile on the floor just as I wanted it on the wall. Then I sealed the marble before my husband installed then grouted it. That was a particularly straightforward and simple process since each mosaic tile was roughly 11×11.
The process was not nearly as simple for our recent kitchen renovation where I chose 3×6 Calacatta Gold marble subway tiles for the backsplash:
The kitchen was so torn up at the time that I couldn't easily lay out all the tile and seal them. Instead, we separated them into piles (bright white, creamy, heavy veined, grey, etc.), and my husband varied them. What was unexpected (and terrifying!) was how they all looked yellow once installed! It took a full week for them to dry and look warmly white as we wanted.
Remember that choosing a natural stone for your backsplash comes with some uncertainty. Stone is porous and permeable. Within natural stone are minerals and substances unseen that may become activated when wet. Likewise, there are minerals and deposits in the water used for the wet saw and installation. Finally, there are pigments in mortar and grout which can possibly interact. But don't freak out if things look off while they are wet or ungrouted. Dry time varies, and grout always transforms and unifies the overall look.
Terracotta Urns & Ironstone Accents
More white for a white or mostly white kitchen?
Hahahaha – yes, indeed.
This particular rustic terracotta urn was great on my wonky vintage steel cart and works in our new kitchen too. Branches, dried hydrangea, white roses…they're all gonna work in this baby.
White ironstone pitchers are also right at home in traditional and country kitchens of any style. I use them to hold scrub brushes, Mr. Clean erasers, and of course as vases too.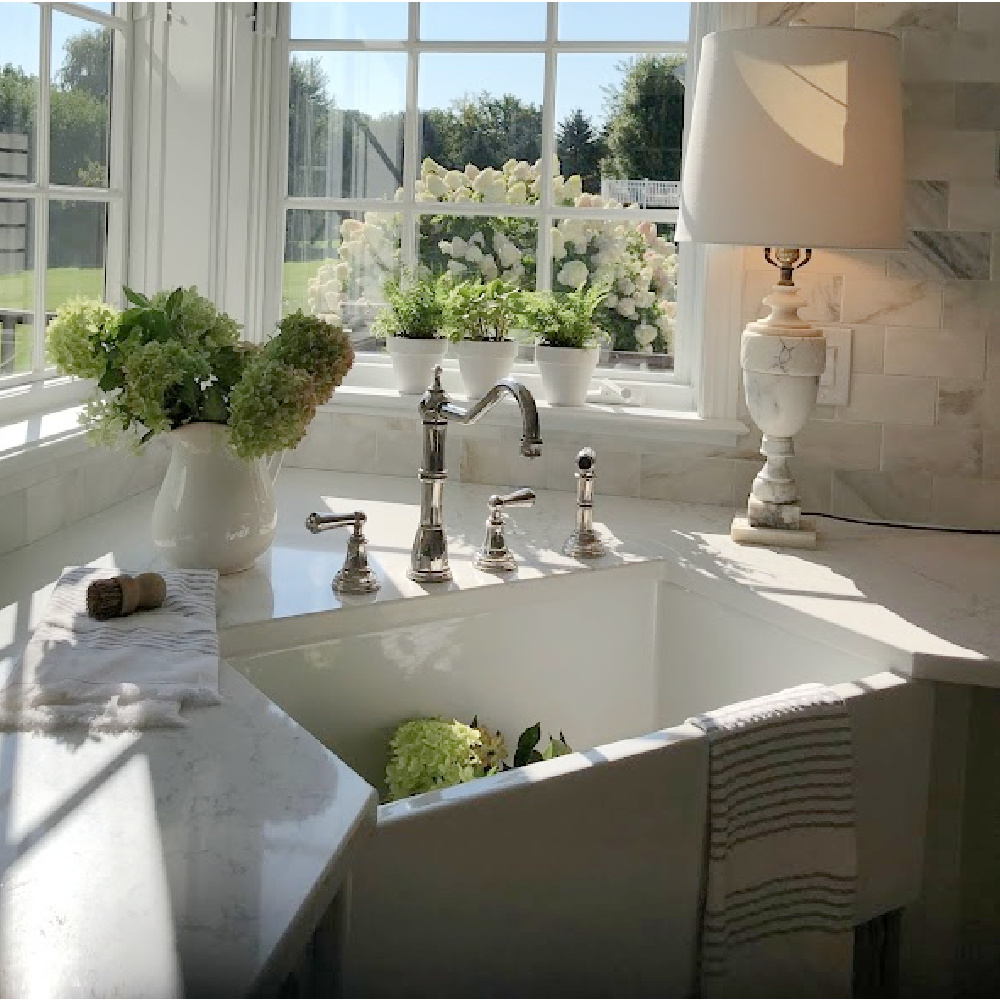 My glazed terracotta urn is designed by Rachel Ashwell and may be retired. Similar options including vintage examples HERE: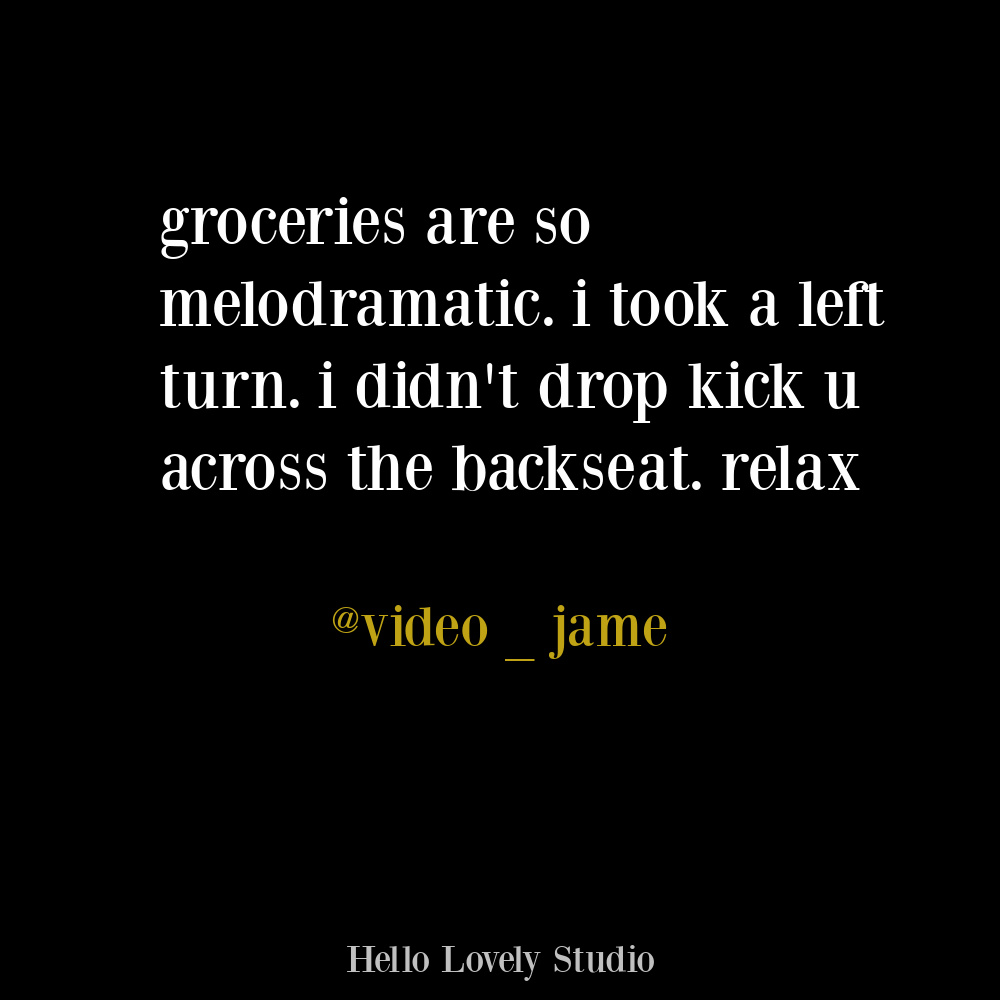 For slightly smaller examples, you may be able to snag the real deal from France (18th century):
Video of Hello Lovely's Prior Kitchen
No vintage ironstone for you? How about something new that functions and looks lovely?
I use this 11″ white ruffle bowl for everything! If you have a smallish kitchen with limited storage, no butler pantry, no scullery, and no china closet, multipurpose pieces are a must. This bowl can be brought into service for everyday, for entertaining, and for display.
Bosch Stainless Appliances
Our former Fixer's kitchen needed all new appliances, and I loved the modern European look of Bosch and hoped they would perform well.
They worked well for my needs so I bought the exact cooktop and wall oven for our current kitchen to replace the used up existing appliances.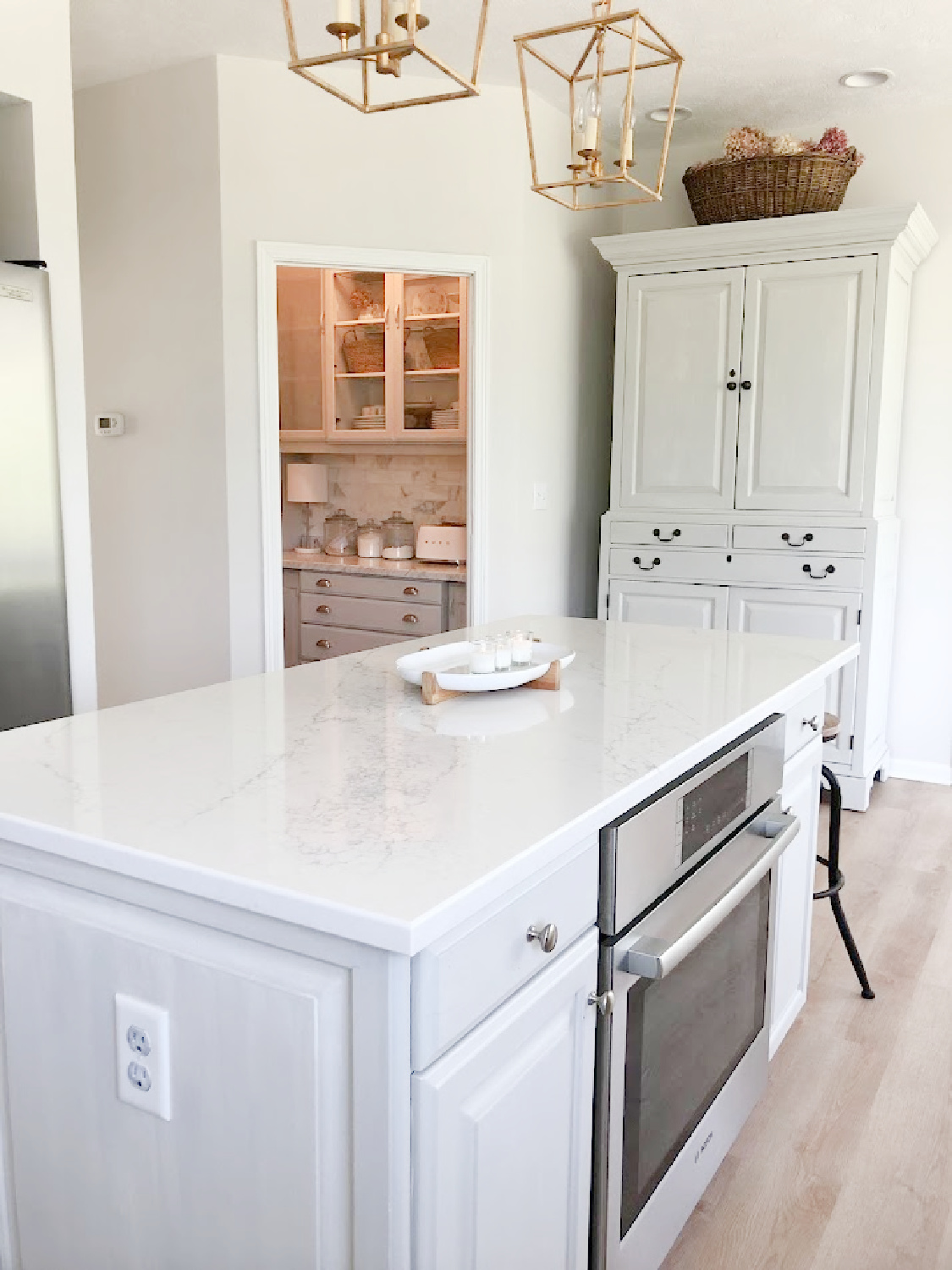 I was tempted to look at those beautiful European statement ranges…
But I wasn't ready to commit to something fancy that may come with surprises. I stuck with the tried and the true and love the modern layer of tension it brings in a sea of traditional.
Cooktop vs. Traditional Range
There are moments I long for the look of a traditional range, but an added bonus of a cooktop? Storage underneath the cooktop's cabinet for pots and essentials.
I'm the type of organizer who likes everything hidden including the microwave. So in the new kitchen, the microwave is on a cabinet shelf below the cooktop. Below that shelf is room for very unpretty pots and pans.
Light Toned Wood Flooring
The white oak hardwoods an artisan installed in our former home played a starring role in the entire house design, and they were wonderful to live with.
But our next kitchen came with a red ceramic tile floor that was too hard underfoot and too bold for the tranquil look we wanted. Our first choice was a wood floor, but we were curious about LVP since it can be comfortable underfoot as well as durable and good looking.
We also liked that as DIYers, we would not have to deal with the mess or added work of refinishing more hardwoods (if you have not done it yourself…just don't!). So the verdict is still out as far as our opinion of LVP. While I like the look it, it's a little too perfect for my taste. I also appreciate the comfort and how we don't have to baby it, but still miss authentic wood floors that develop patina and character. So, yep, if we stay here, we can imagine RENOVATION 2.0 down the line.
Viatera White Quartz Counters
I love this brand and was willing to pay top dollar to use Viatera white quartz once again in our current home. I chose a larger scale veining pattern this time around called MUSE.
Muse has a similar if not more modern feel than MINUET which I put in our former kitchen:
A crisp white background characterizes both of these Viatera white quartz options, but Minuet's veining is busier and more delicate than Muse's bold broad strokes. In the image of our current kitchen below, you can't detect the veining since natural light is washing it all out. However, it isn't a solid white mass by any means.
Despite a few scratches on the Minuet Viatera white quartz after 7 years of heavy daily use, we never seemed to notice them! I still field questions about how our counters are holding up or if I would do them again. And, I actually did! (No one paid me to say these glowing things – we have simply become loyal customers).
Belgian Linen Slipcovered Dining Chairs
I devoted a whole post to the topic of Belgian linen and how I like to live with it HERE and also HERE.
We have owned these Belgian slope arm slipcovered linen dining chairs for ages, and they are too comfy to change! I moved them around from time to time in our former house. Sometimes they were in the breakfast nook, and other times they were in the adjacent dining room.
Woven Textures
Along with nubby Belgian linen upholstery on chairs and cushions, I also like a bit of seagrass, jute, sisal, or any number of natural materials for interiors where a sea of white and neutrals prevail.
I don't tire easily of accents that are natural and neutral. These placemats are summery but work with seasonal dishes of all colors and styles.
We had a window seat in our former kitchen which was another opportunity to introduce natural texture.
If you have a window seat or banquette area, what a bonus to be able to add softness with pillows!
Who knows? We may add a custom banquette at the windows of our new nook since we got so much mileage out of the last one:
Romantic Chandeliers
I was excited about the higher ceiling height in our new kitchen since it adds a sense of spaciousness and means there are more options when it comes to lighting.
The romantic gilded quartz chandelier I found adds a layer of elegance and opulence in an otherwise understated kitchen.
In our prior kitchen's breakfast nook, a petite antiqued silver chandelier I collected years ago was small but mighty. This one's similar:
Are you torn between gold or silver?
It didn't take me any time at all to get used to the gold-toned lighting in our new design. (And just a reminder, I chose gilded iron lighting fixtures, not brass – not sure if I would feel as satisfied with brass options.)
White Paint for Walls
The new kitchen's paint color was not one I chose – it was already freshly painted, just right, and waiting for us.
I didn't intend to keep this color initially. Remember, the kitchen was a sea of dark brown cabinets, dark brown trim, darker brown counters, and red floors…see the before here:
and AFTER:
But after painting the cabinets, I loved the way it worked with other elements.
In our prior home, I painted all of the walls, trim, and ceiling BM White OC-151, and side by side, you can see how much more warmth Eider White has.
I think this bright white appealed to me in 2015 when I designed our former kitchen after living with antique whites for many years.
It felt more modern and youthful.
And today, I'm in more of a greyed-white, plaster-white, and even pink-tinged-white phase.
Creative Kitchen Design Inspiration
Think your own kitchen is too hopeless to be improved? What if you rent an apartment but long for a more romantic, custom kitchen?
Thanks so much for tuning in and taking time to leave comments – I love hearing from you!
Peace to you right where you are.
-michele
Thanks for shopping RIGHT HERE to keep decor inspiration flowing on Hello Lovely!
Hello Lovely is a participant in the Amazon Services LLC Associates Program, an affiliate advertising program designed to provide a means for sites to earn fees by linking to Amazon.com and affiliated sites.