When last I wrote about my journey to find the best white quartz for our kitchen countertops, I never anticipated the amount of interest in the topic. Every single week, I hear from someone who is shopping for white quartz and feeling overwhelmed by the color options. How to Choose the Right White Quartz for Kitchen Countertops offers help for everyone agonizing over or considering white quartz for their kitchen design.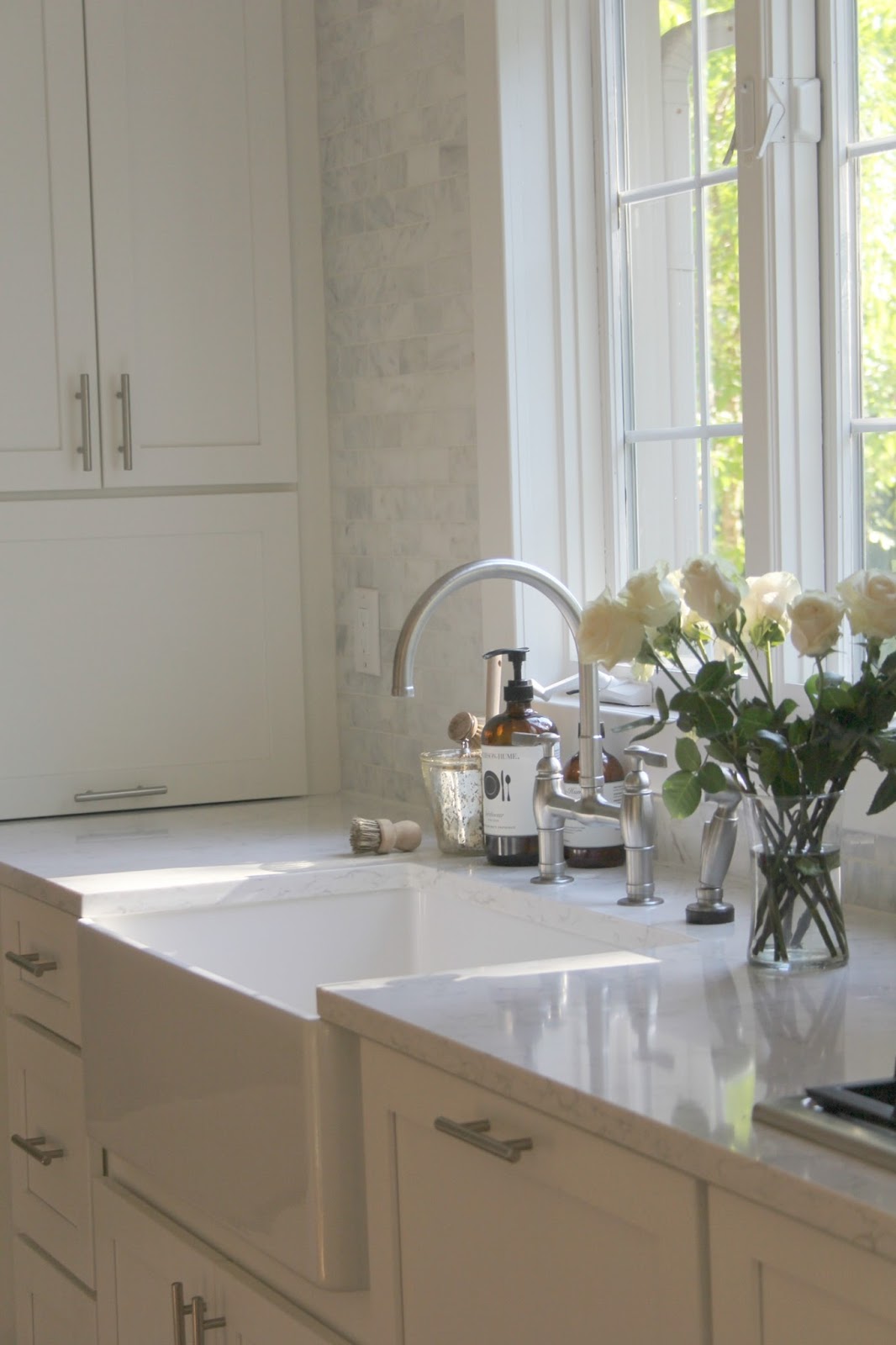 How to Choose the Right White Quartz
This will be an update about our experience with the Viatera Minuet quartz countertops in our Chicagoland kitchen. (Still no stains, and still very happy in spite of a few scratches that don't bother me enough to have them buffed out.)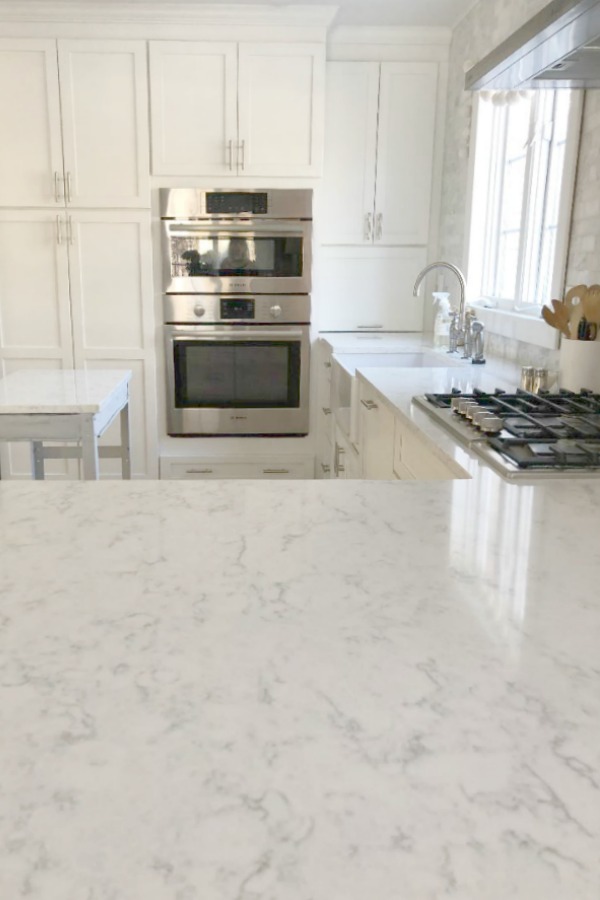 If you'll be in the market for white quartz in the future, do pin the images below of some favorite options from various brands…this is not a sponsored post.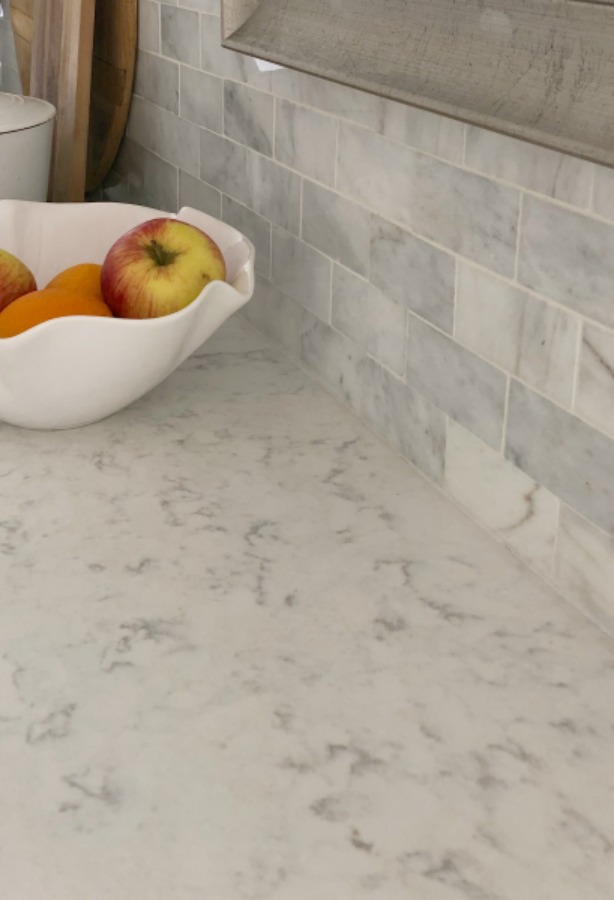 There Are LOTS of White Quartz Options
Even though this post concentrates on varieties of WHITE quartz, it may help with deciding on any hue of quartz countertops for your design…Here's our kitchen with Viatera Minuet quartz countertops.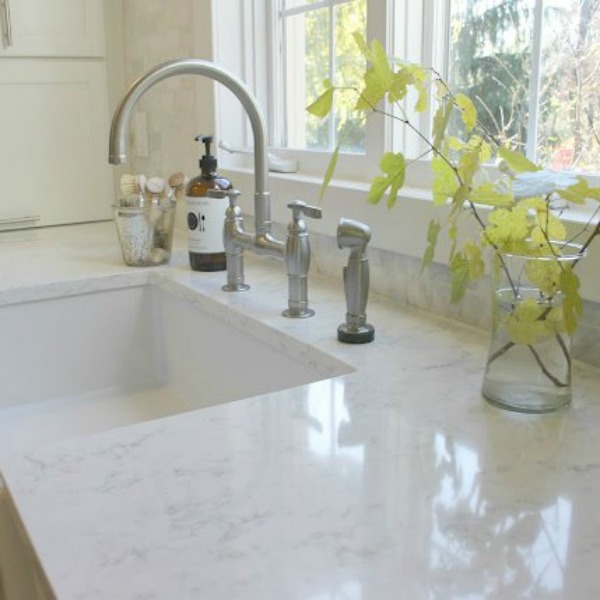 Here at our fixer upper, deciding on the perfect white quartz color was challenging in spite of knowing just what we desired: a clean, crisp, white to complement pure white cabinets and lighten the mood.
I visited every local design showroom offering quartz, looked at giant quartz slabs at warehouses, and brought home sample after sample to see with the cabinetry.
Here's the thing.
Even when you get narrow down the look you are going for (i.e. Carrara, Granite, Calacatta), you're still left with a host of options and more than 50 shades of white quartz options
with hues spanning quiet grey to sand to alabaster, which frankly can reduce well meaning DIYers to:
My Experience Choosing Quartz
I honestly thought the perfect quartz for our kitchen was Caesarstone Calacatta Nuvo since it is absolutely gorgeous with dramatic, not-too-busy veining and a beautiful finish.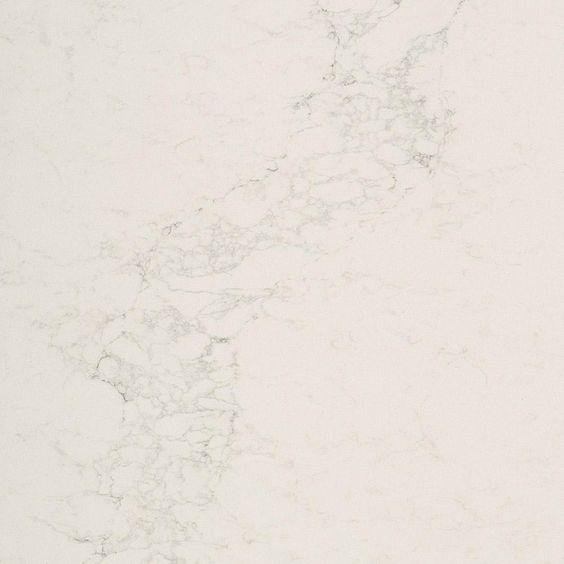 I fell in love with pics online and how it looked at the showroom.
Then I brought the sample home.
Nope.
It was too creamy for the tone on tone look I was after with the white cabinets.
The Quartz Struggle is Real
I brought at least 10 more white quartz samples home to
see in my kitchen and ran into the following issues maybe you can relate to:
*A quartz color sparkling gorgeously in the showroom came off completely wrong in my humble, Northwest exposure (not showroom lit) kitchen.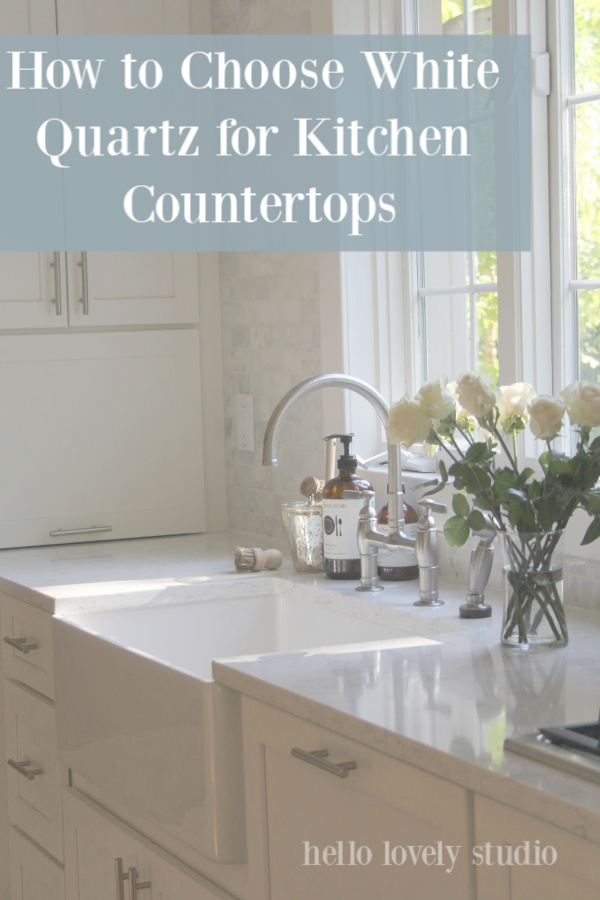 *A quartz color appearing gloriously pure white in images online fell flat in person, placed near the white kitchen cabinets.
*A quartz color which seemed just right when viewed as a giant slab in non-fancy lighting… well, that certainly did me no favors (but obviously it helps to view a full slab of natural stone or granite you are considering.)
Sound familiar?
My second choice? Silestone Lagoon quartz. It's gorgeous.
Loved it in the showroom and online, and even staring at the sample on the passenger seat next to me the whole drive home.
I do love you, Lagoon.
No cigar.
Back at home in our kitchen with limited natural light
and ultra white kitchen cabinets (these are my first super white cabinets, BTW), Silestone Lagoon quartz read too drab, too putty, and too wrong.
Keep Narrowing Down Quartz Options
I am obsessed with how well Silestone's Lagoon quartz works in every single kitchen design by deVOL, yet it just wasn't singing with the "White Icing" painted finish of custom Schuler cabinets here at the fixer upper.
(We chose the same Schuler custom cabinets design star Sarah Richardson chose for her cottage-style kitchen because…Sarah's endorsement of them was good enough for me.)
Narrow Down Quartz Options to 2 or 3
Butter my biscuit!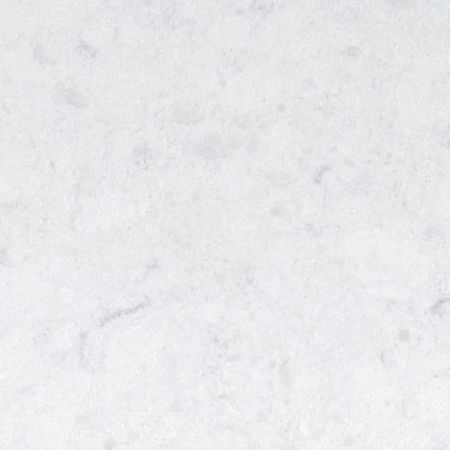 LG Viatera's Cirrus and Minuet white quartz colors to the rescue!
Option 1: Viatera Cirrus Quartz. (above) Cirrus is serene, with an ethereal, marshmallow-y, subtle painterly feel. I was almost certain Cirrus was my dream quartz color for my white kitchen…
..until I discovered Option 2: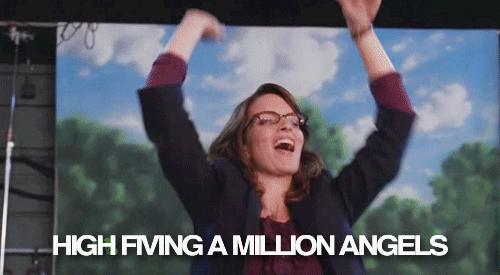 Here it is in our kitchen: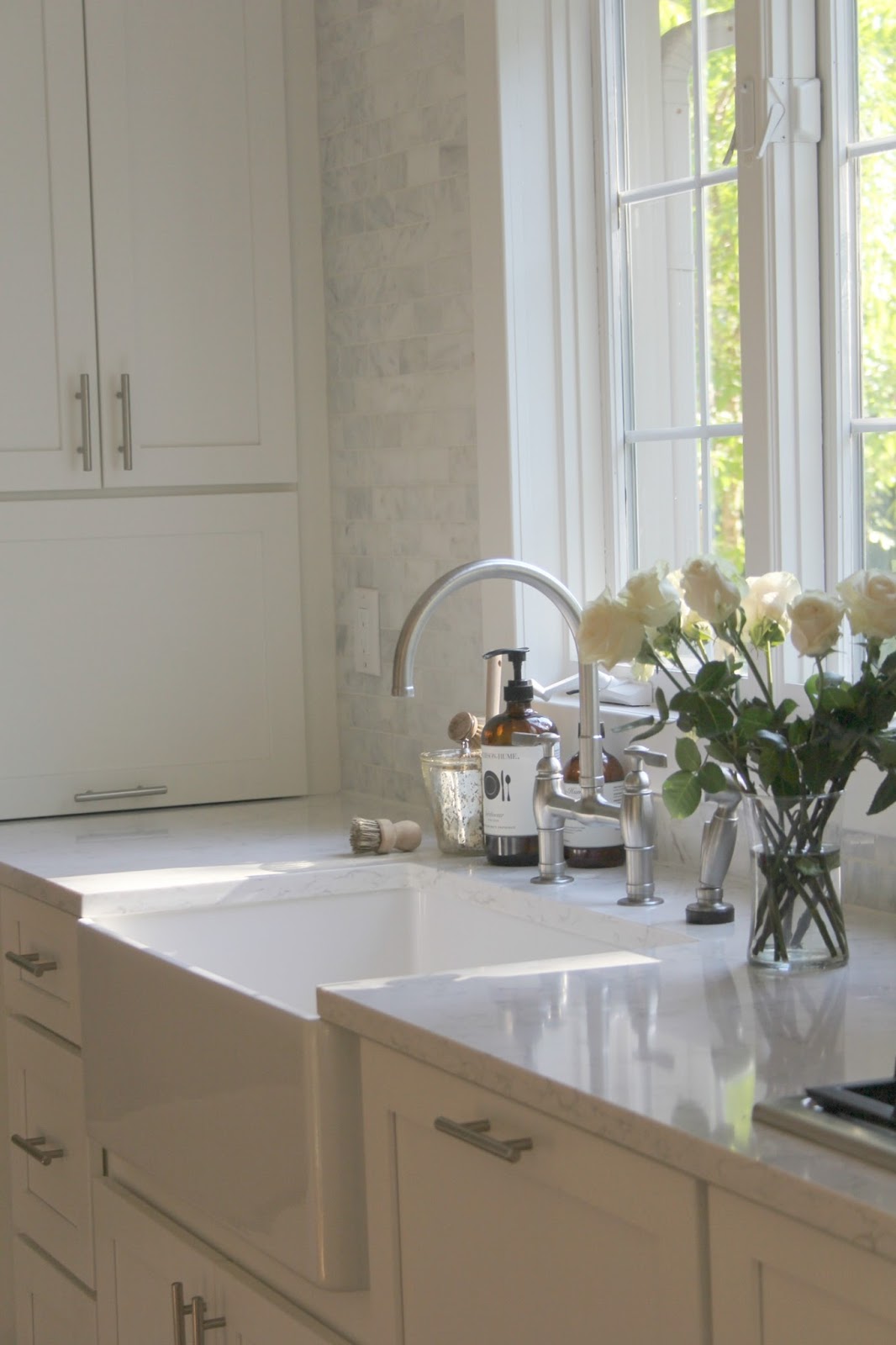 Minuet won me over with its:
amazingly pure white and bright,
slightly-more bold-than-Cirrus,
Parisian French bakery-like,
sweet reflective beauty.
Here are recent photos of our quartz countertops with Viatera Minuet (backsplash is polished venatino marble mosaic tile).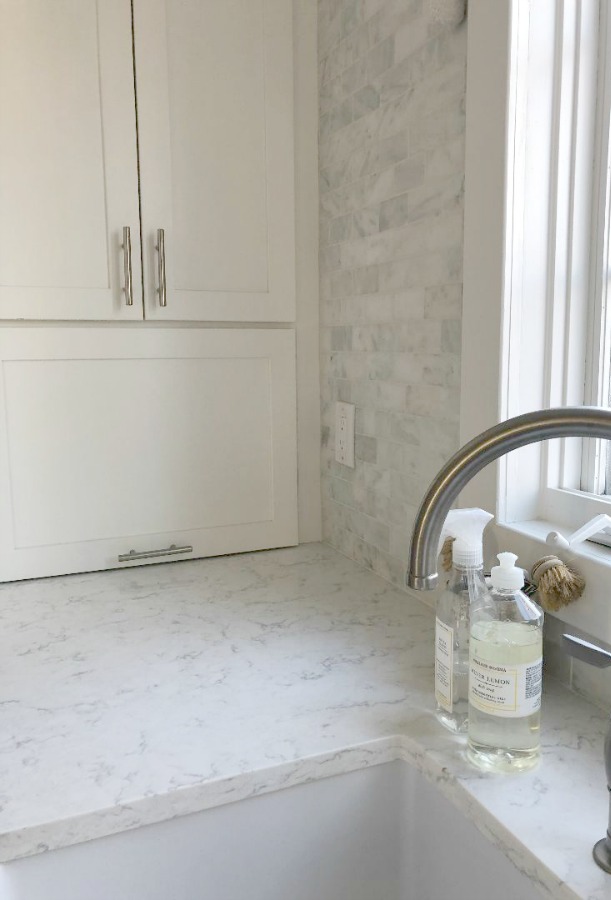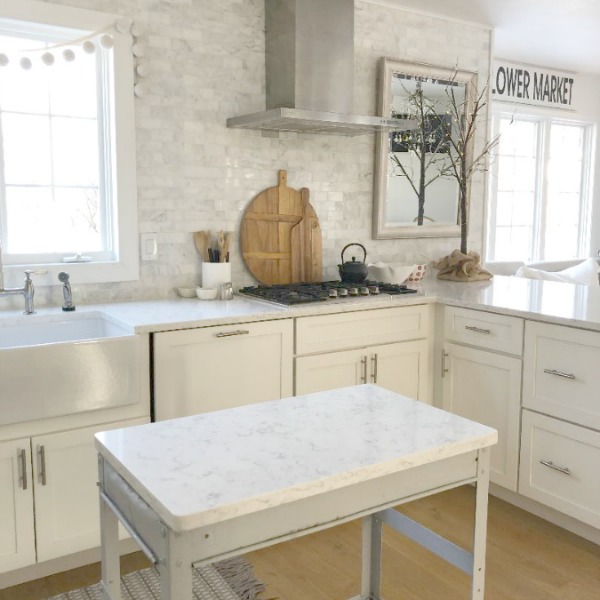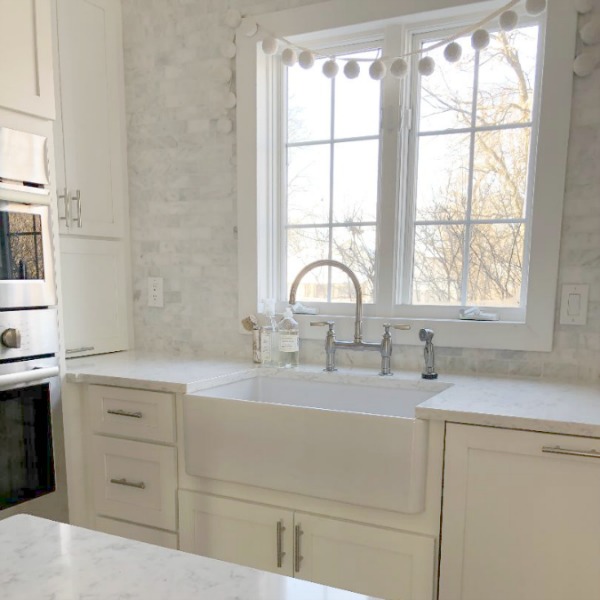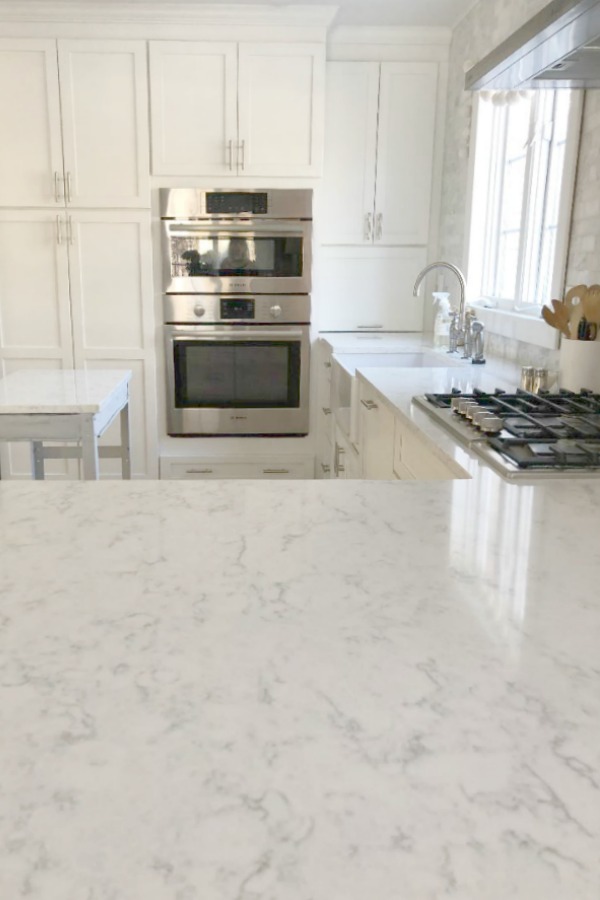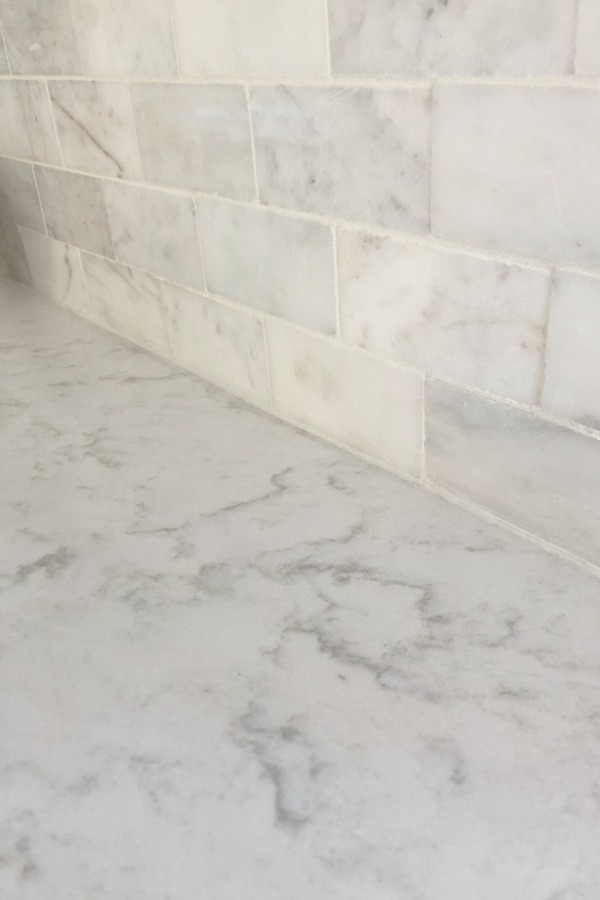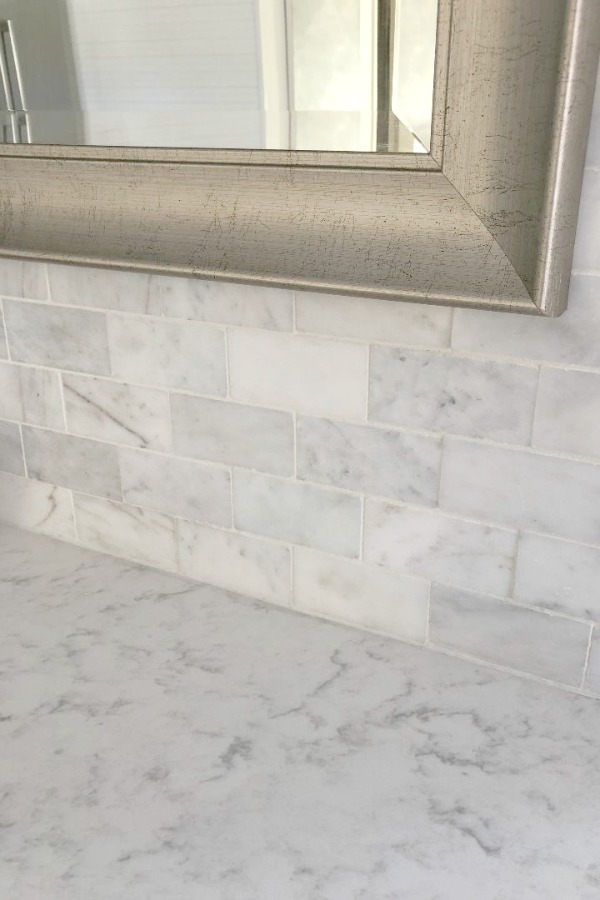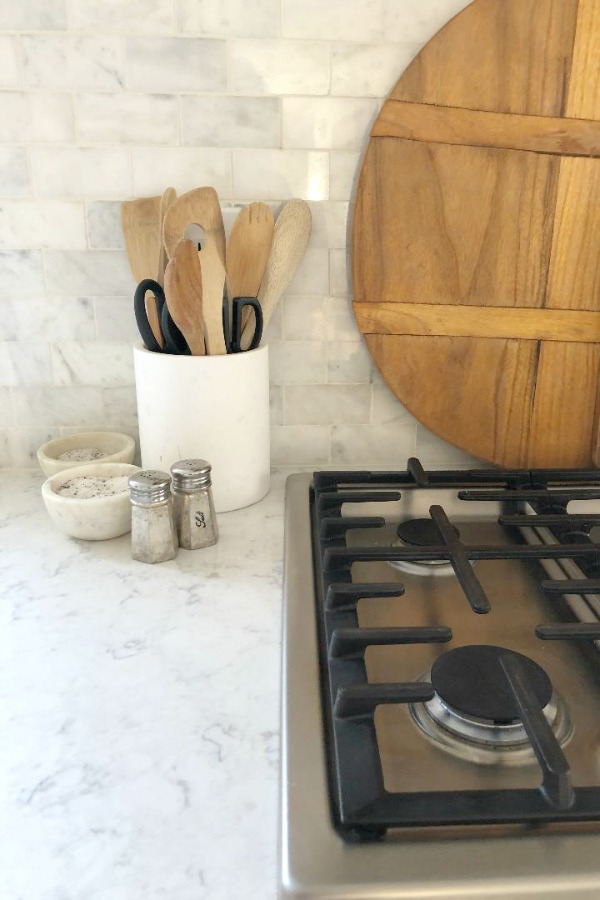 LG named this quartz Minuet because of its harmonious perfection of tones, reminiscent of the marriage of notes in a minuet, and it does sing in here.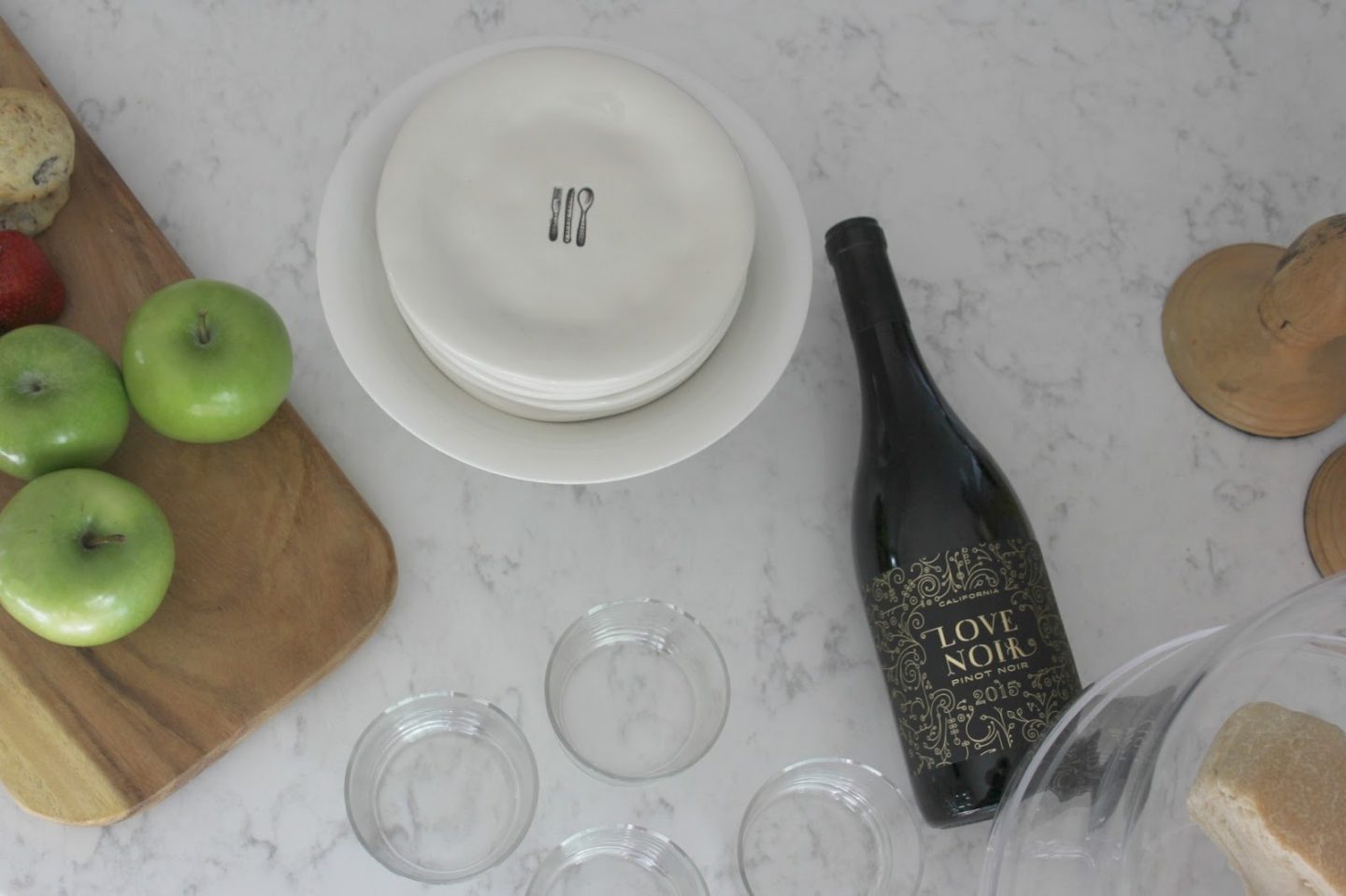 affiliate links follow and won't cost you a penny extra yet may earn this blog a small commission.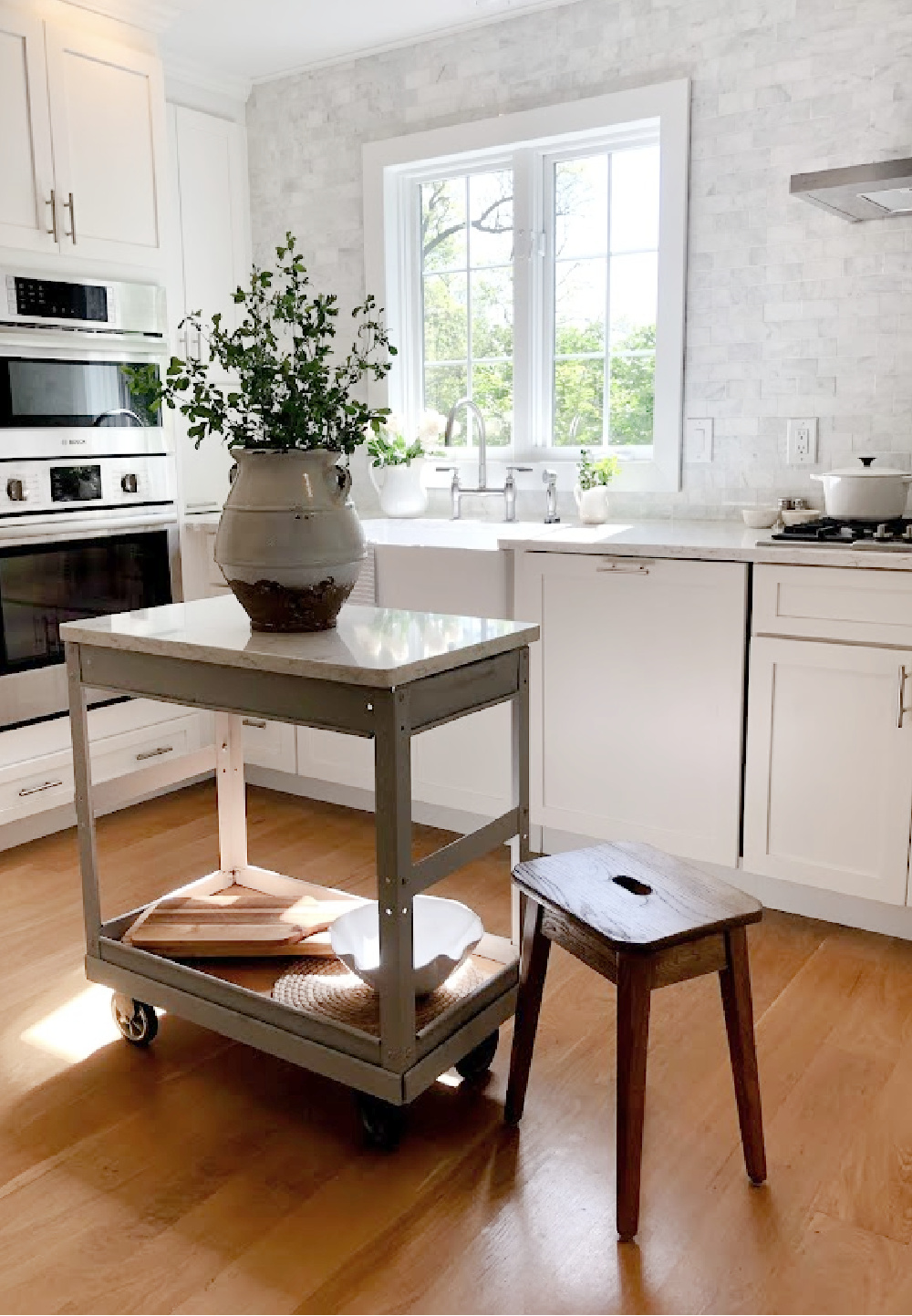 White Quartz Color Considerations?
1. Color over Cost.
Our kitchen design budget was tight, and the price of quartz varies. At the time, Caesarstone Calcatta Nuvo cost significantly more than Viatera Minuet, but we would still have pulled the trigger had it been the perfect color choice.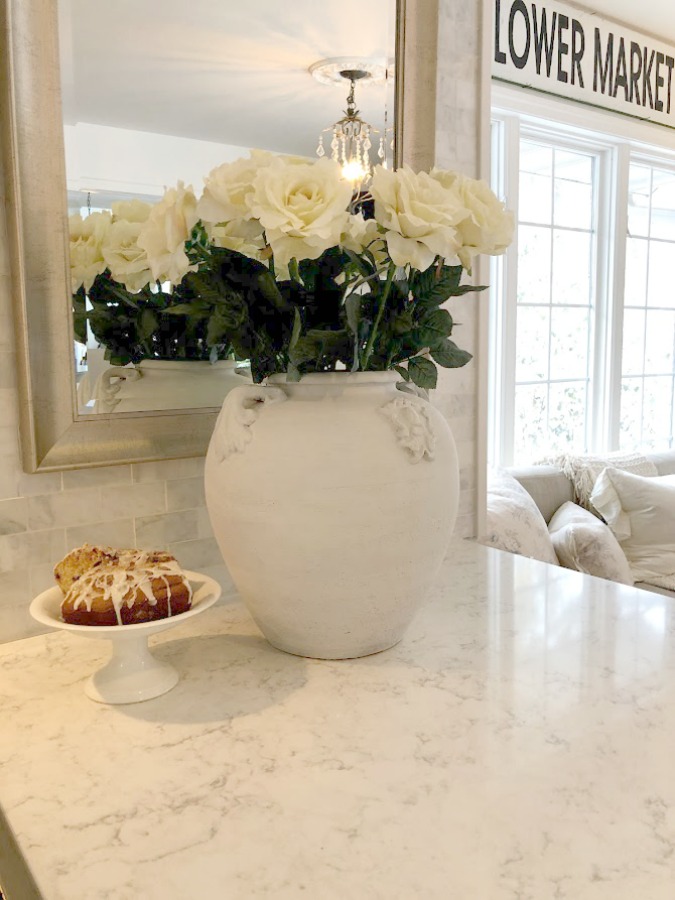 You're going to live with your color choice for a long time so try to see beyond slight price variations.(BTW, the cost of quartz is sometimes determined by demand.)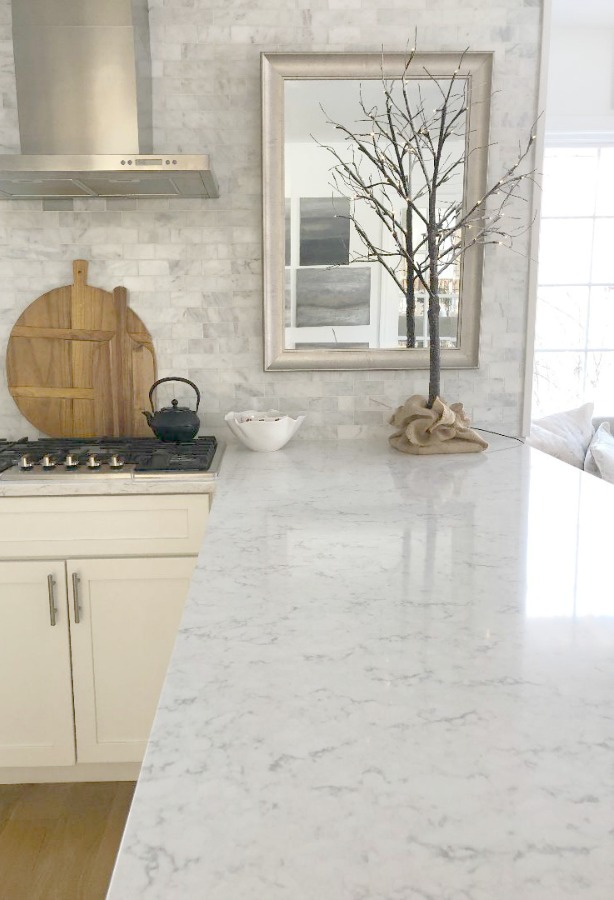 2. Tone on tone or pleasing contrast?
The right white depends on the result you're after. Browse Pinterest and really study the kitchen images to notice if your eye prefers a little, a lot, or no contrast at all. We wanted a bright effect, but a grey quartz would be gorgeous with these white cabinets.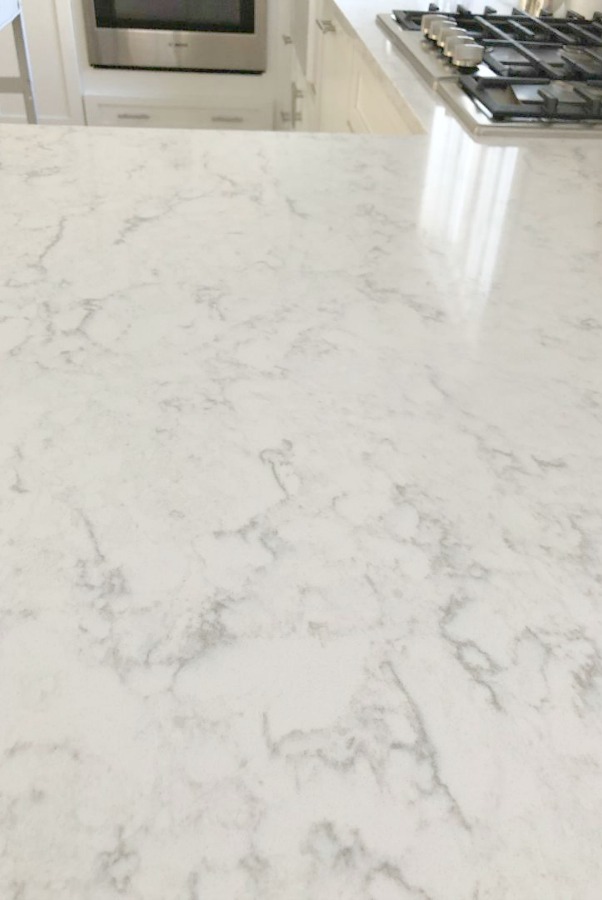 If you have lots of natural light in your space, you may want to lean toward quartz colors with cooler undertones (like greys) rather than warm creamier hues. But there aren't any rules, and it helps to look at the sample in the space at different times of day.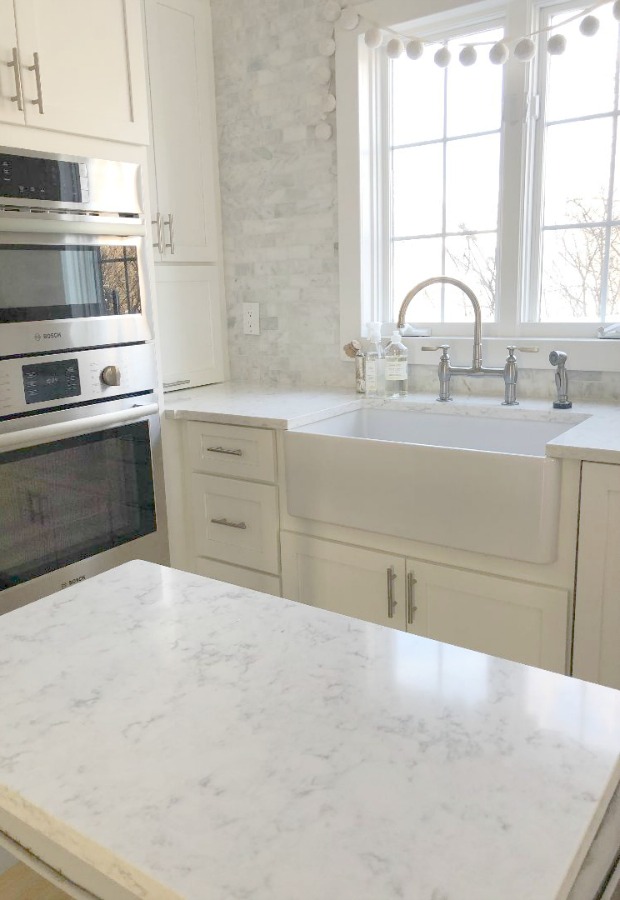 Secure the largest sample possible of quartz to view in your kitchen with your cabinetry and light. Solid white can work beautifully in the right modern kitchen design, but if your design style is not modern, solid white may not be the best choice.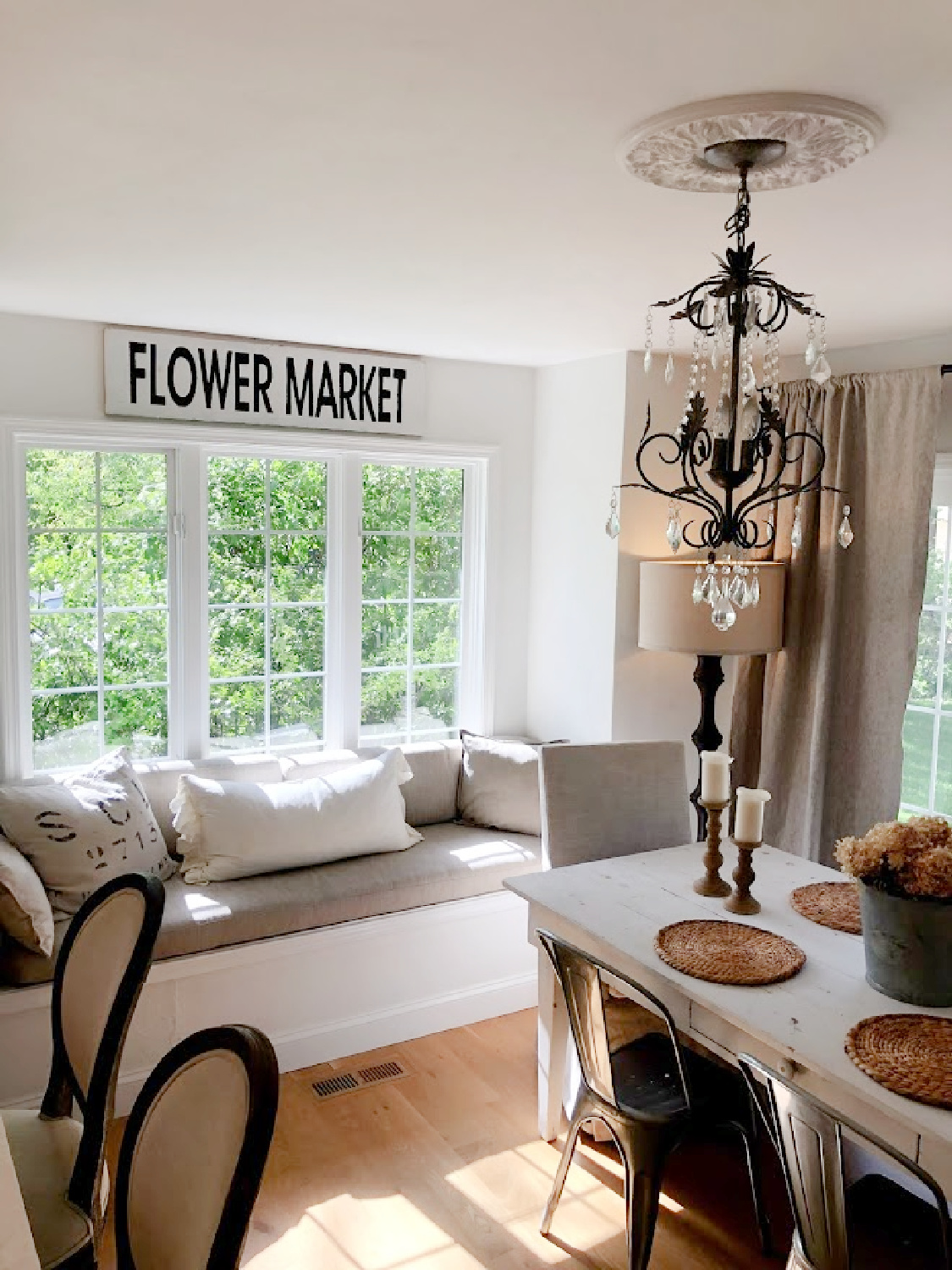 3. Consider Your Kitchen's Lighting.
I wanted to capture the maximum amount of light in our dim space and Minuet was the whitest white. It also has a semi-polished sheen which bounces the light around.
Here's our kitchen BEFORE…
4. Consider the backsplash.
We chose polished marble subway mosaic tile for the backsplash/statement wall, and it is a beautiful marriage with Minuet since I wanted low contrast. Minuet worked with Carrara, Grecian, and other natural stone samples I brought home to try.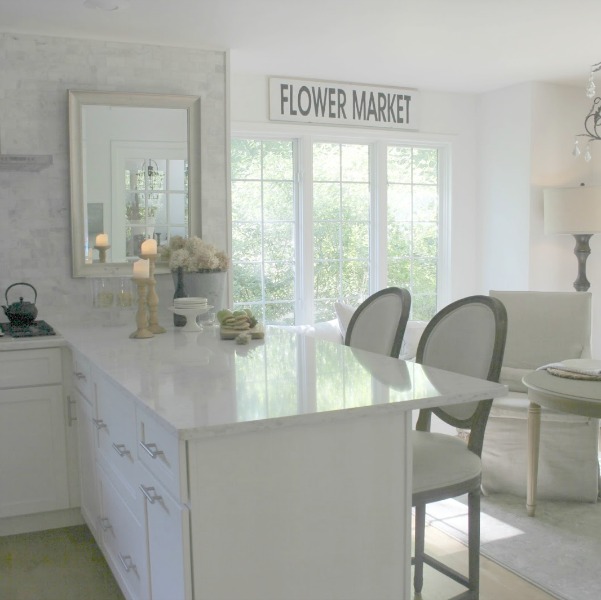 5. Try to see expanses of your color choice.
My sister was designing her own kitchen and baths about the same time we were renovating, and since she chose Minuet, I was able to see expanses of it installed which is MONEY.
Here is Viatera Minuet Quartz in Jody's kitchen:
Quartz Vs. Marble
One more little thing…regarding quartz for countertops vs. marble.
I have used quartz for counters in multiple kitchen designs, in no way attempting to fake the look of natural stone or granite…quartz is awesome for being quartz and ain't foolin anybody as a marble poser.
Ye shall not stain thy countertops!
Quartz was chosen for its: stain resistance, uniformity, strength, non-porous surface, no-maintenance, antibacterial properties, and lovely live-ability.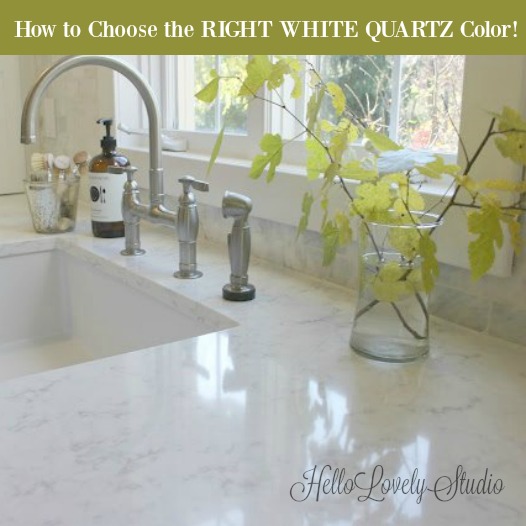 If potential red wine or coffee spills or lime slicing on naked kitchen counters are in your kitchen's future, QUARTZ MAY BE YOUR NEW BEST FRIEND.
Pin the image below to save this article for later!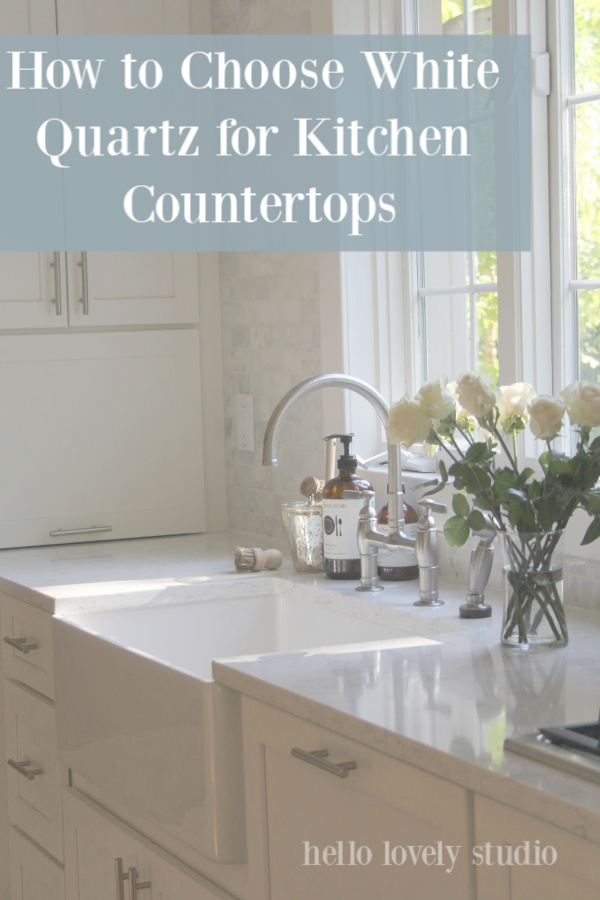 Have more questions about choosing the best color of quartz for your countertops? Leave me a comment as I'm happy to help!
See this story to shop my home and kitchen.
Peace to you right where you are.
-michele
Shop for items you already intended to buy on Amazon RIGHT HERE, and also find home decor here to keep decor inspiration flowing on Hello Lovely!
Hello Lovely is a participant in the Amazon Services LLC Associates Program, an affiliate advertising program designed to provide a means for sites to earn fees by linking to Amazon.com and affiliated sites.