The other night I was extra inspired watching Fixer Upper on HGTV since the renovation project revolved around a French inspired home. The couple (Matt and Leigh Ellen) favor French country and with the farmhouse aficionado, Joanna Gaines steering the design, the result was a lovely marriage of those styles. French Farmhouse Decor on Fixer Upper [Get the Look! The Club House Entryway] offers ideas for creating a similar look for a foyer. Have you seen this Club House episode (Season 5, Episode 11) yet?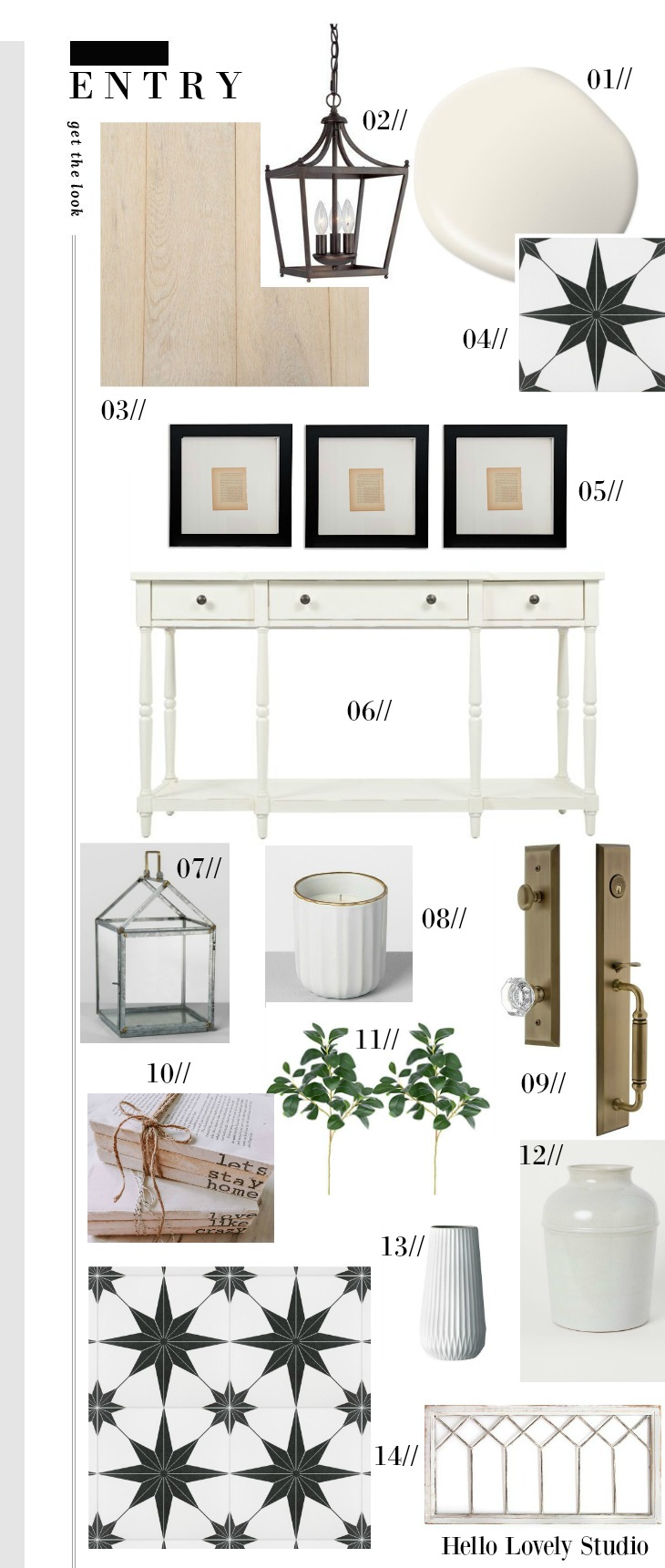 01: Paint color for walls: BEHR Bleached Linen // 02: 3-Light Lantern Chandelier // 03: Prefinished Oak Hardwood Flooring // 04: Encaustic Look Porcelain Tile // 05: Square Floating Frames // 06: 60″ Wood Console Table // 07: Galvanized House Lantern // 08: Cardamom Vetiver Candle // 09: Vintage Brass Grandeur Handleset With Chambord Knob // 10: Rustic Stamped Books // 11: Faux Magnolia Stems // 12: Earthenware Vase // 13: Ceramic Fluted Vase // 14: Distressed Window Panel Wall Decor
This post contains affiliate links which I hope you will use since they won't cost you a penny extra yet may earn this blog a small commission.
French Farmhouse Decor on Fixer Upper [Get the Look! The Club House Entryway]
The Inspiring Entryway!
It's a serene, neutral, calm entry with beautiful panel mould (find panel moulding ideas here) and a dramatic statement with encaustic tiles and wood on the floor. White vases, a candle, vintage books and framed vintage book pages are the simple accessories in the space.
What's the Warm White Paint Color in The Club House on Fixer Upper?
The paint color chosen for this renovated entry way in The Club House on Fixer Upper is likely in the family of one of Joanna Gaines' tried and true warm beige-y whites. She has used Sherwin-Williams Alabaster in a great many projects, and I have noticed this is a go-to color for many designers. Did you see the French country house tour of a newly built home in Texas? That's Sherwin-Williams Alabaster on the walls in the entry!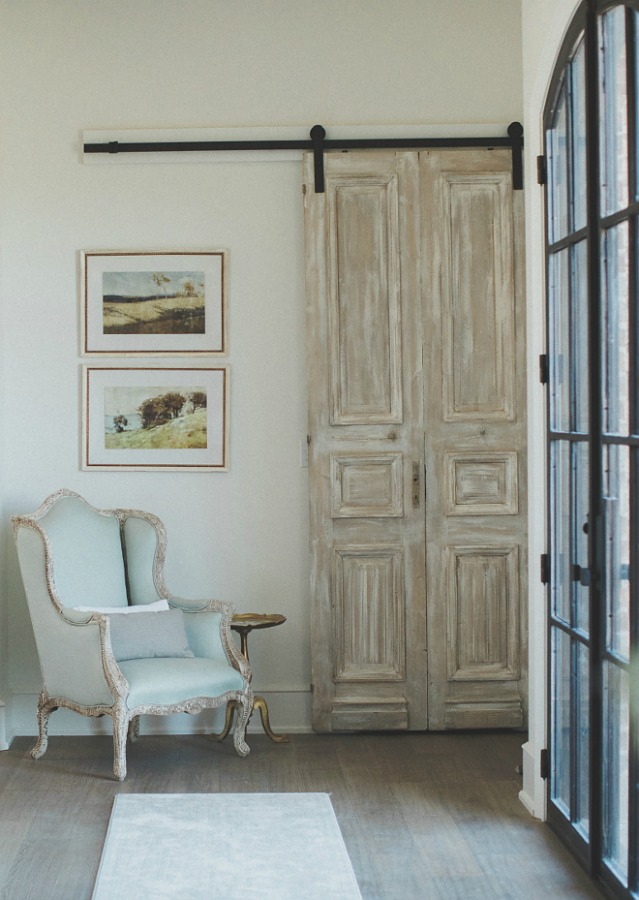 Is It a Color from Magnolia Home?
Since this Fixer Upper episode is from season 5, it's more than likely that the Magnolia Home paint line of paints here was used for the project.
Could the wall color be MAGNOLIA HOME Blanched shown in the mock up rendering below from Magnolia?
Or could the color in The Club House be MAGNOLIA HOME Soft Linen?
Since I can't decide, I looked closer at photos and expanded a section of the wall to arrive at this swatch for you. Here's the thing. Shadows. Time of day the space was photographed. Photography lighting. Obviously colors and rooms photograph with variation, and who knows how photos are lightened up, warmed, or brightened in the editing process!
A Best Guess for Getting the Look!
The wall paint color appears to be closer to Soft Linen than Blanched when I scrutinized the image. So what warm white paint color is out there which strikes a lovely balance between "blanched" and "soft linen?"
Would you believe (because I care so much about you and your quest for beautiful neutral paint colors!) I arrived on this hue: BEHR Bleached Linen? It is beautiful and looks just like it sounds!
So you might try a sample of BEHR Bleached Linen to see if it's right for your own space given your unique lighting and exposure. Here's a great primer with ideas for warm whites.
Lantern Chandelier for Entryway in The Club House on Fixer Upper
If you're looking for something classic, timeless, and rustic yet airy, here's a great contender. An interior designer favorite lantern is this one I adore from Pottery Barn. Find more high quality, gorgeous lantern pendants in the same spirit HERE as well.
Flooring Ideas for Entryway in The Club House on Fixer Upper
Joanna chose white oak hardwood flooring for this beautiful French country home to stay consistent with a French look. The wood appears to be left natural (which is what I did here at our own fixer), and there are beautiful options for getting this look. In our own house, our hardwood was finished on site. However, you can avoid dust, toxic fumes, headaches, and mess by choosing a prefinished product. Engineered oak flooring is also a possibility, and I discuss engineered vs. solid hardwood here.
In the entryway, Joanna chose to do a tile inlay within the white oak with encaustic cement tiles. To get the look, you could use a porcelain tile that only looks like cement tile like this one:
Look at how beautiful the blue version is!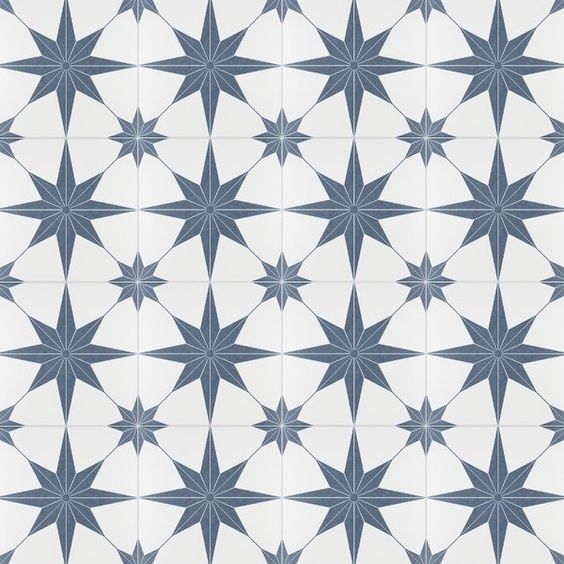 White Console Table in Entryway of The Club House on Fixer Upper
The pretty white console chosen for the entryway is not too deep, airy, and perfect for setting down mail or keys. There are so many pretty options, and I chose the one below since it also sports drawers (just think how handy those would be!) and a shelf in case you like the look of decorative vintage books a la Joanna Gaines' design.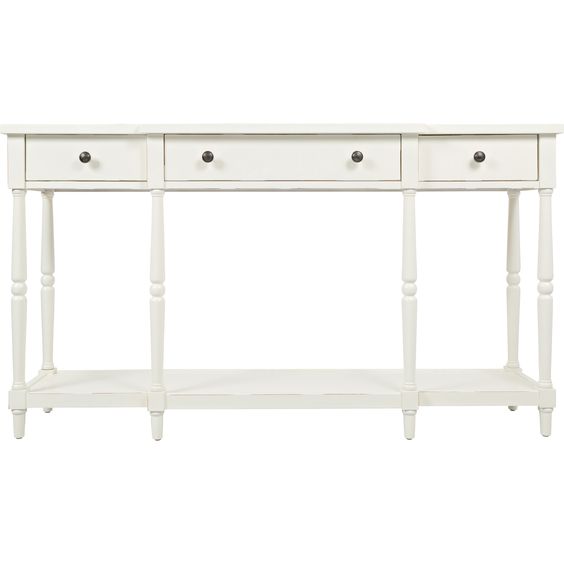 If your entry is on the small side, this 48″ good looking console is priced right!
Accessories in Entryway of The Club House on Fixer Upper
The first accessory idea to get the look of the art in the entryway is to simply layer a vintage, aged, yellowed old book page on white in a simple black frame. HERE is a square black frame which might do the trick. The bonus of this one I'm suggesting is it is a floating sort of frame so you could always let the wall color behind the glass be the mat for the vintage page. Think about framing a page from the favorite book of each family member…wouldn't that be special?
Do you love the smell of cardamom? Omg, it takes me back to my childhood and my favorite babysitter, my Swedish Gram!
Vintage Books are easy to score at the flea market, eBay, and antique malls. And these sweet stamped books would be perfect on a white console shelf, purchased on Etsy or made by your sweet hands.
Real branches are best, but everlasting ones are practical and may do the trick for your vases.
Idea to Get the Look of the Decorative Scroll Front of the Console Table in Entryway
There's something so beautiful about the lacy scroll ironwork in our inspiration space: the entryway of The Club House. You could certainly hunt for an iron architectural fragment and give it a whitewash or opt for something like this below. A piece like this could be layered on a console table, hung on a wall or used as a springboard to create a new piece.
Another Idea for Framed Art
Here's' an impressionistic painting of a countryside landscape that would be lovely with the other pieces shared here yet bring earthy color to the mix. I have several framed fine art prints like this that I treasure!
Front Door Vintage Brass Hardware
The arched front doors painted black play a starring role in the beauty of the entryway at The Club House, and the hardware chosen has a vintage brass finish. I looked for beautiful vintage brass handlesets and found these below which will add serious WOW factor to any front door. The first one features a very traditional vintage glass interior door knob:
And this next very similar option has slightly more beveled detailing on the plates and a Provence style interior knob that is lovelier than I can say!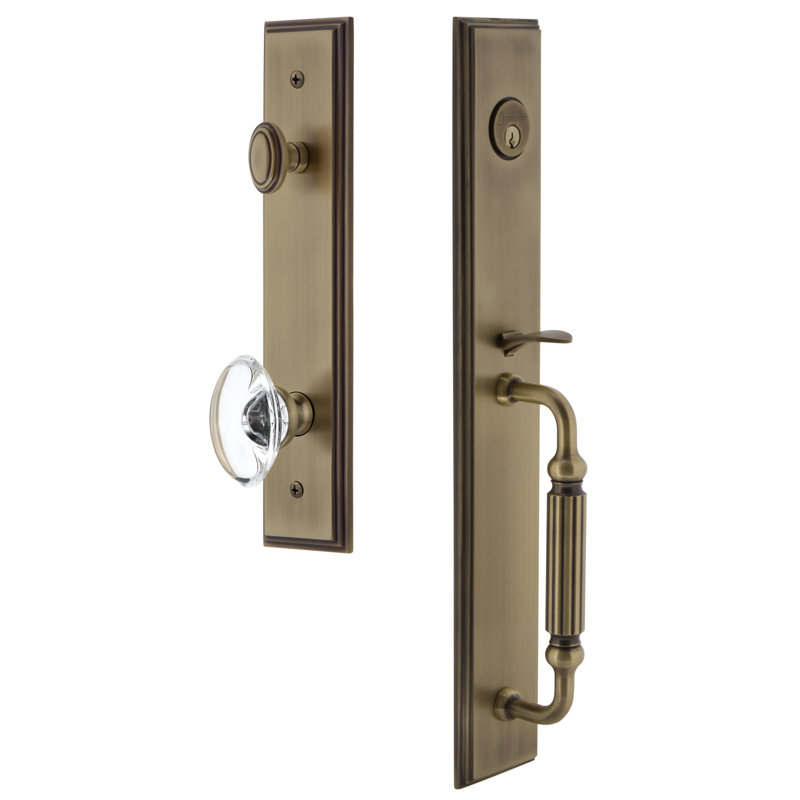 More Inspiring Ideas for French Farmhouse Design
Here's a quick look at how Joanna Gaines likes to achieve a European farmhouse kitchen design:
I hope to create more of these mood boards for some of the other spaces in this French country home, but it is TRES time consuming so we will see! If you realllly want to see more resources then CLICK HERE to PIN THIS POST FOR FUTURE REFERENCE do let me know in the comments and pin everything you can so I will have an idea of whether it's worth the time. MERCI BEAUCOUP!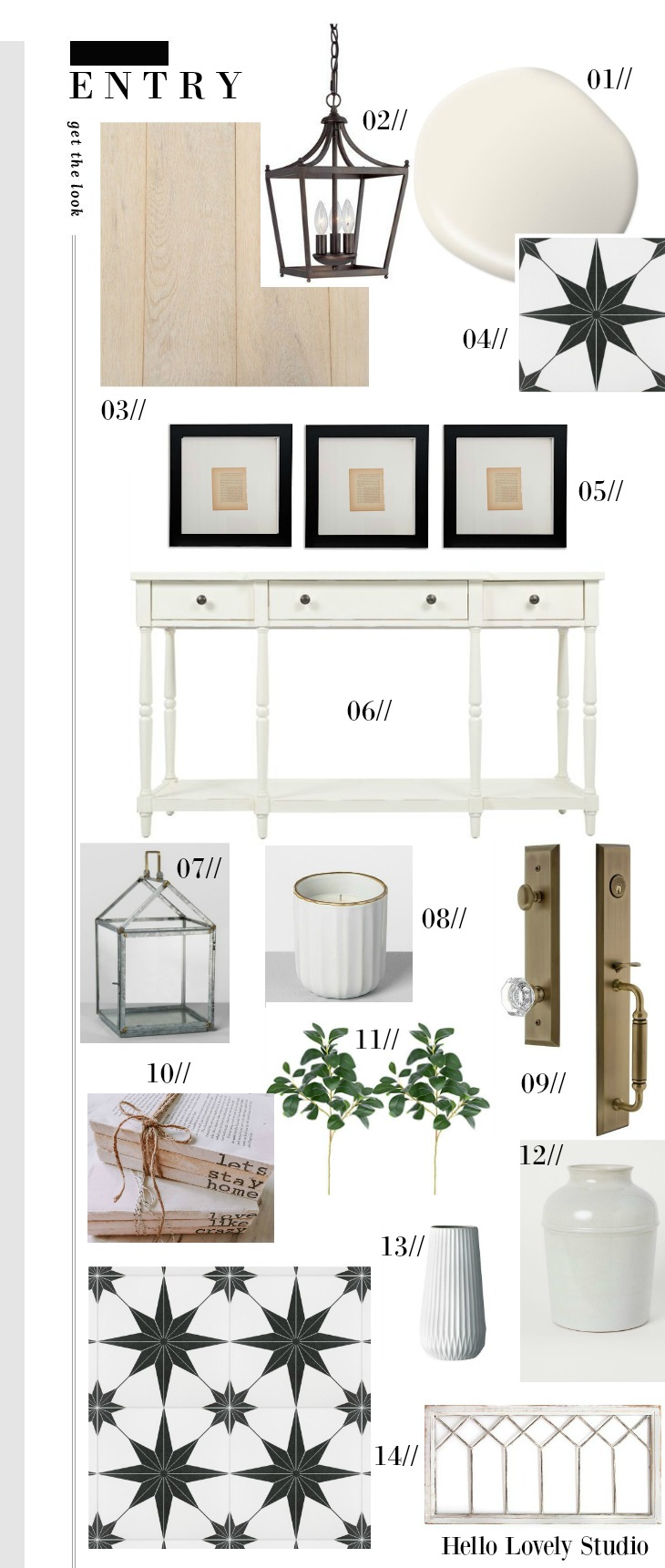 More Fixer Upper decor inspiration from past episodes: HERE and HERE.
Want to get the look of more rooms from this episode? Check out the living room, the dining room, the club house family room, and also the kitchen with sun room.
See the full reveal of this lovely French country home RIGHT HERE, and to see the episode in its entirety (they charge a small fee… GO HERE.
Peace to you right where you are.
-michele
Support Hello Lovely by shopping Amazon RIGHT HERE for anything (not just products mentioned here) to keep the inspiration flowing!
I'm a participant in the Amazon Services LLC Associates Program, an affiliate advertising program designed to provide a means for me to earn fees by linking to Amazon.com and affiliated sites.
Click HERE to find cost conscious furniture and decor for your home too!