BEST WHITE PAINT COLORS is one of my favorite topics, and the one I am serially emailed about everyday! 7 Warm White Paint Colors For Home Decor aims to not simply share a bunch of warm white paint color possibilities, but also help you think critically about the process of how to choose the right white for YOUR particular space.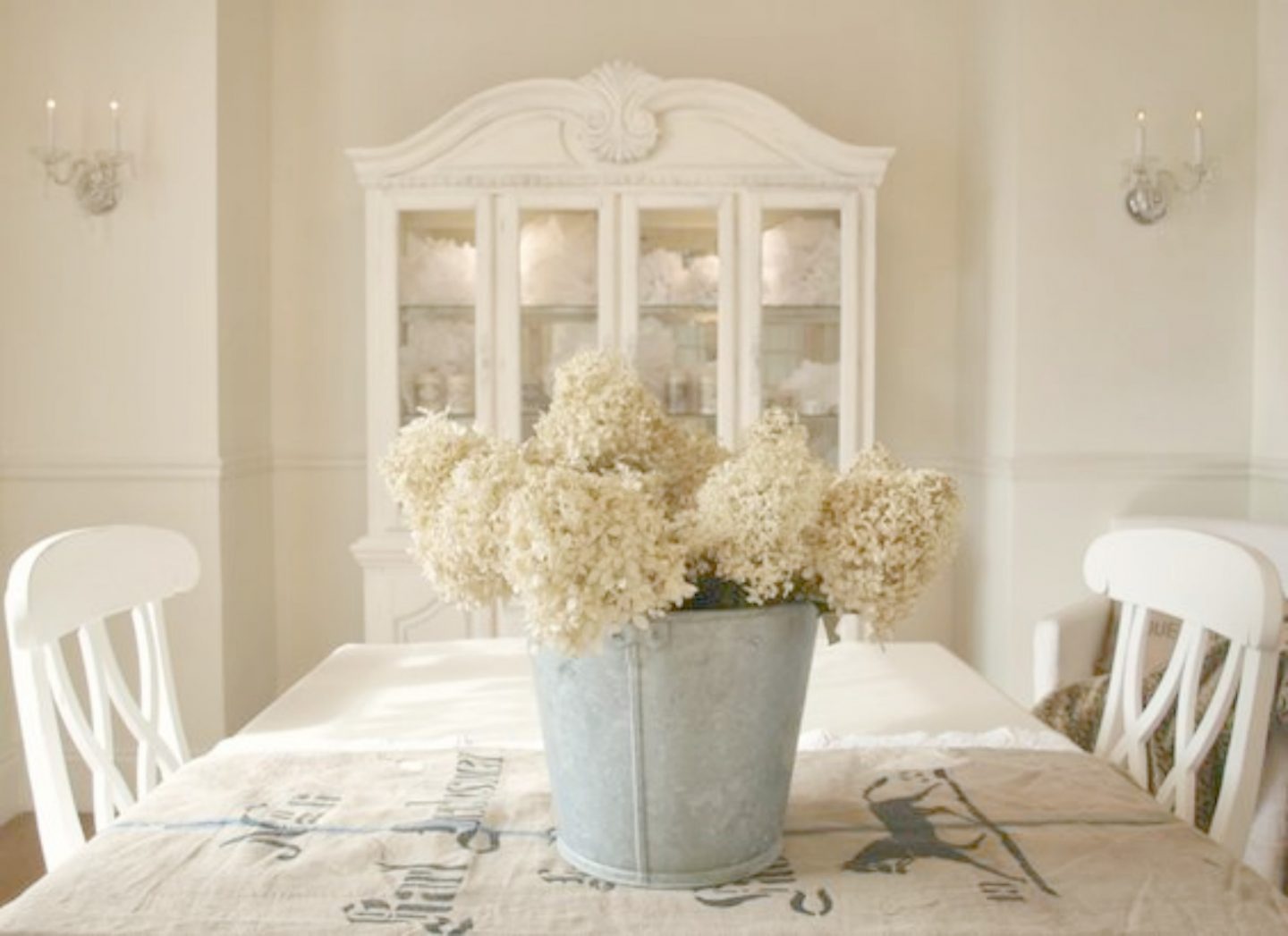 This post contains affiliate links which I hope you will use since they won't cost you a penny extra yet may earn this blog a small commission.
Warm White Paint Colors: Gorgeous, Tried & True!
1. BENJAMIN MOORE White Sand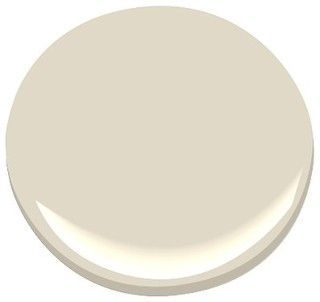 A Personal Favorite Warm White Paint Color
This warm white paint color is one I discovered as I sought the perfect shade of white when we were designing and building our first home: a European country inspired manor home on a huge lot bordering a forest in a country neighborhood.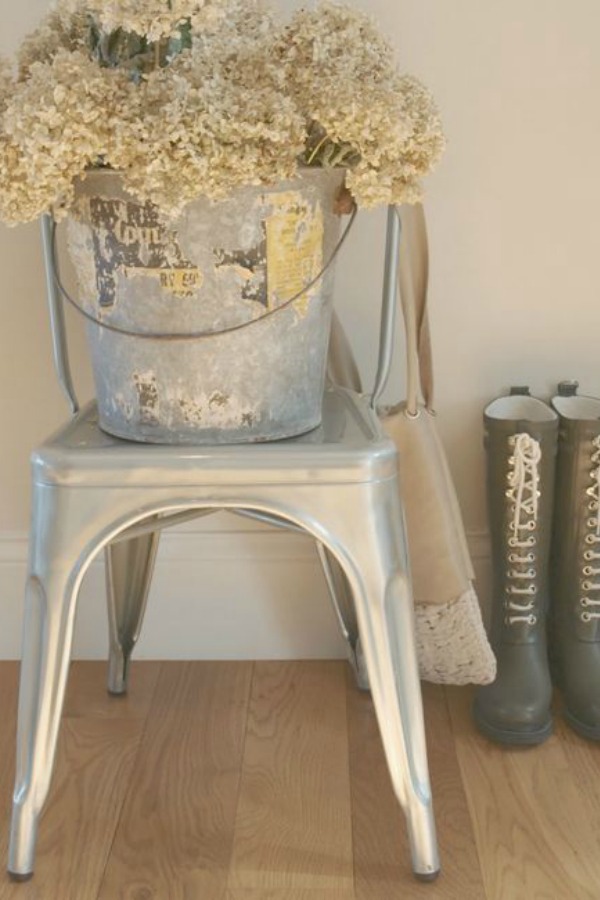 I'm not a fan of brown decor so I didn't want a white color that made me think of cocoa. I was after a soft and gentle beachy white that reminded me of seaside vacations, luxuriating on the shore with toes in the sand, and the sound of white capped waves breaking.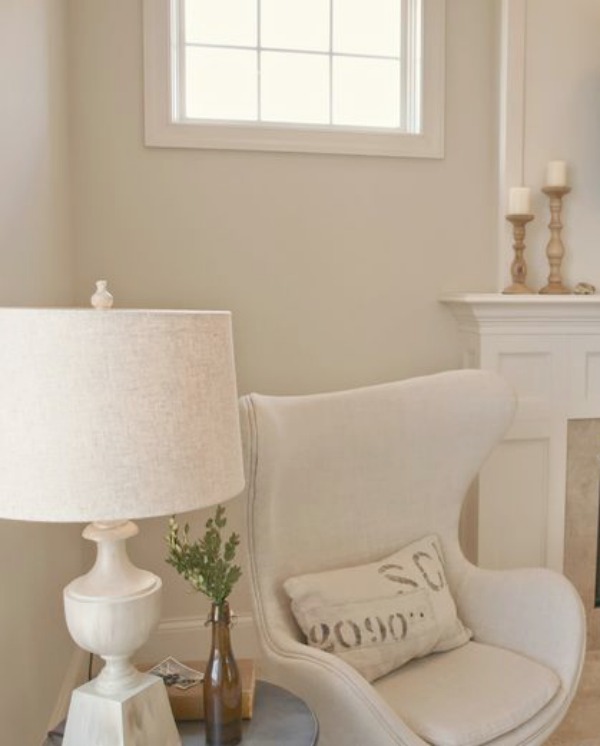 The color I fell in love with was BENJAMIN MOORE White Sand, and it was an important commitment since that paint color went in every room except for the boys' bedrooms.
If you're a fan of Belgian linen, you just may be a fan of BENJAMIN MOORE White Sand.
Tone on tone is not for everyone, yet this color story worked wonders in our newly constructed home which we wanted to feel serene and peaceful yet warm.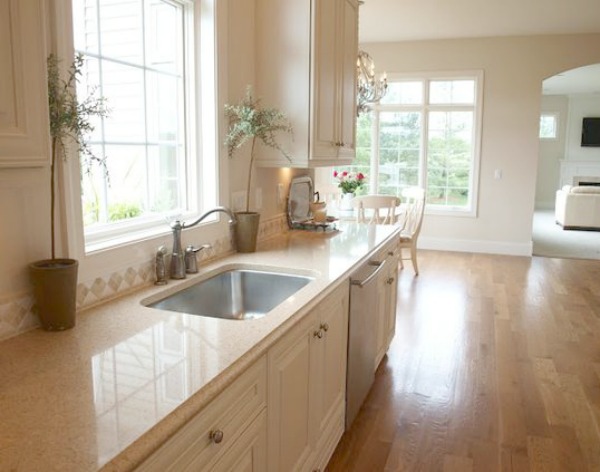 This Same Warm White in Another Home
Sometimes it is helpful to see how the same paint color looks in a completely different home in a different part of the country. We'll journey from Chicagoland to central Arizona, where my mom loves BENJAMIN MOORE White Sand as well. In her previous home, she went for a slightly subdued lighter version of White Sand called Ballet White since her amount of natural daylight was limited. But when she retired and renovated a Mediterranean style home in Arizona with plentiful sunshine, she opted for White Sand.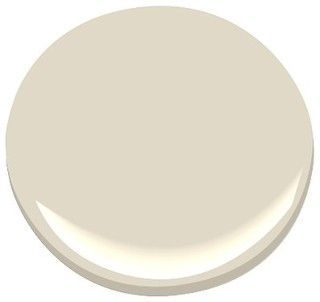 What's helpful is seeing the same paint color in different rooms which have different exposure. Here it is in a bedroom with Southern exposure with a Shaker style dresser with an antique white finish: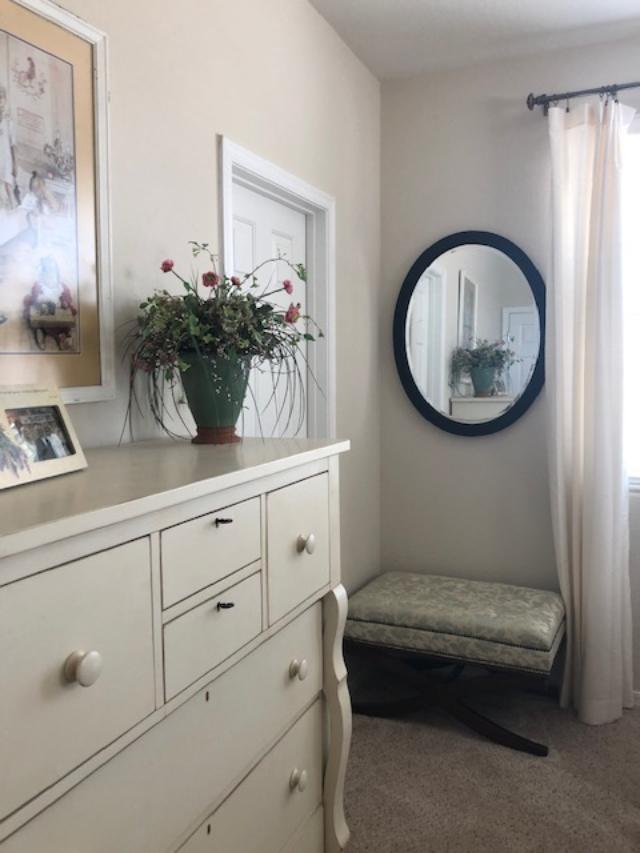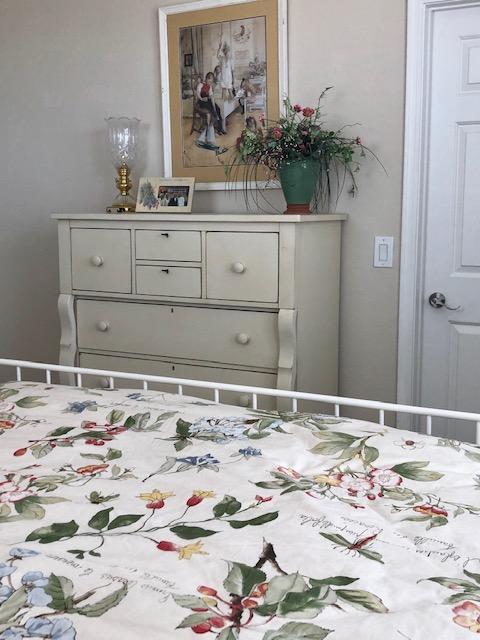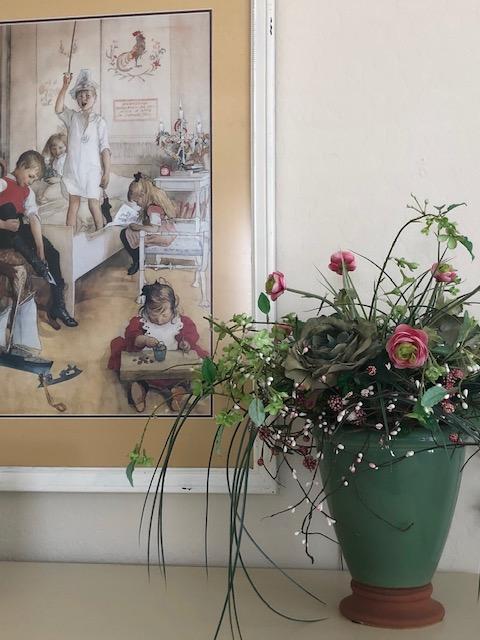 Here is the same color on the walls just around the corner from this bedroom is a small sitting area in a loft.
White Sand Paint Color in Space with Low Light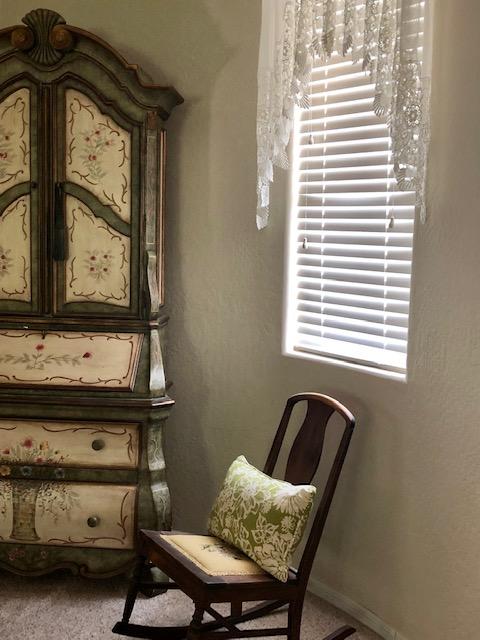 Benjamin Moore White Sand can also be seen in her library area.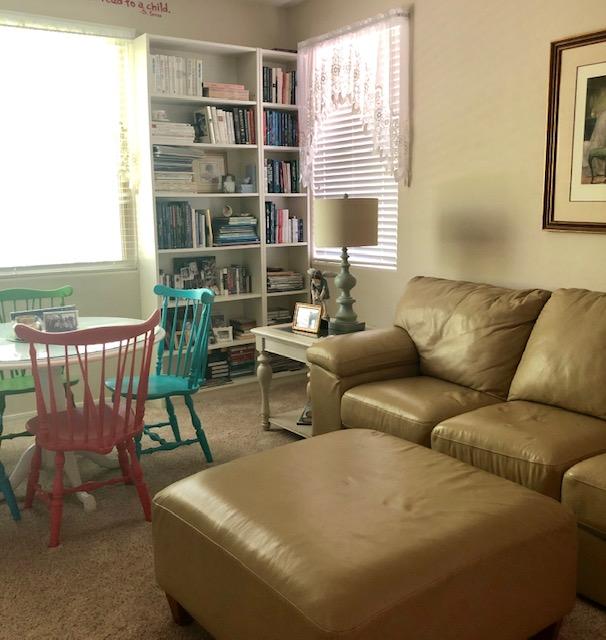 Note the contrast with bright white baseboard trim and book shelves.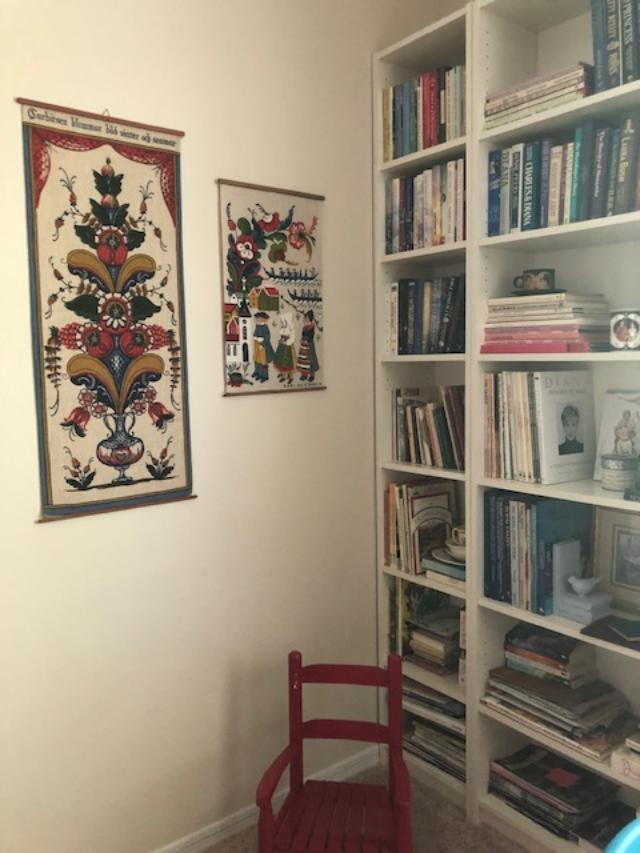 Warm White in a Living Room With Blue Grey & Pink
In this living room, you can see how Benjamin Moore White Sand works with soft blue grey and pink and gilded picture frames as well as the antique white of the dining hutch.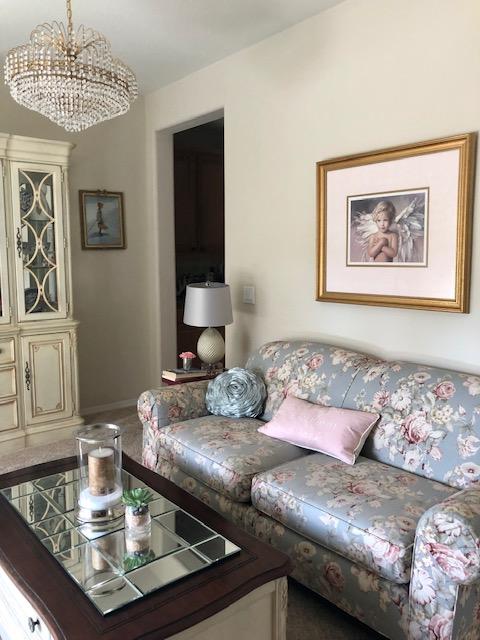 This room, like the bedroom above, receives Southern exposure.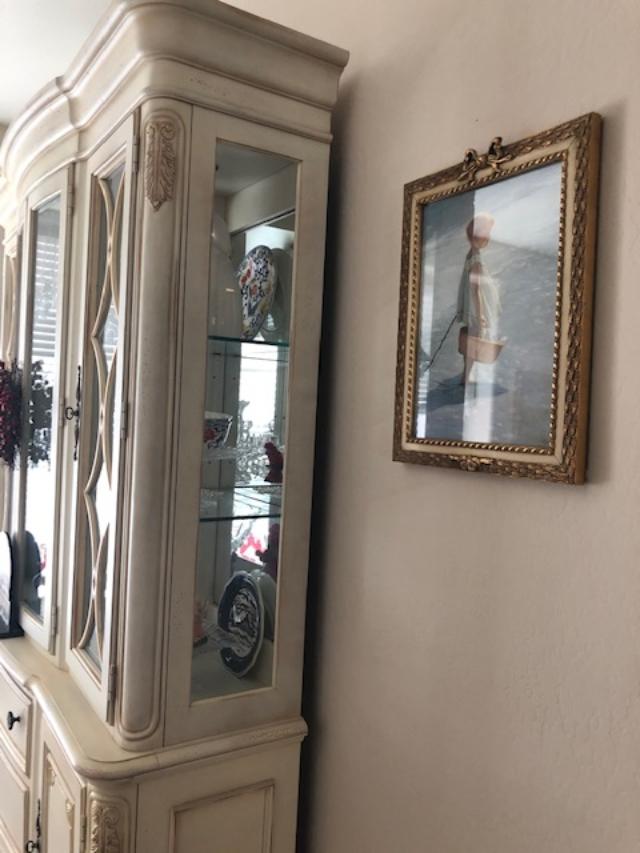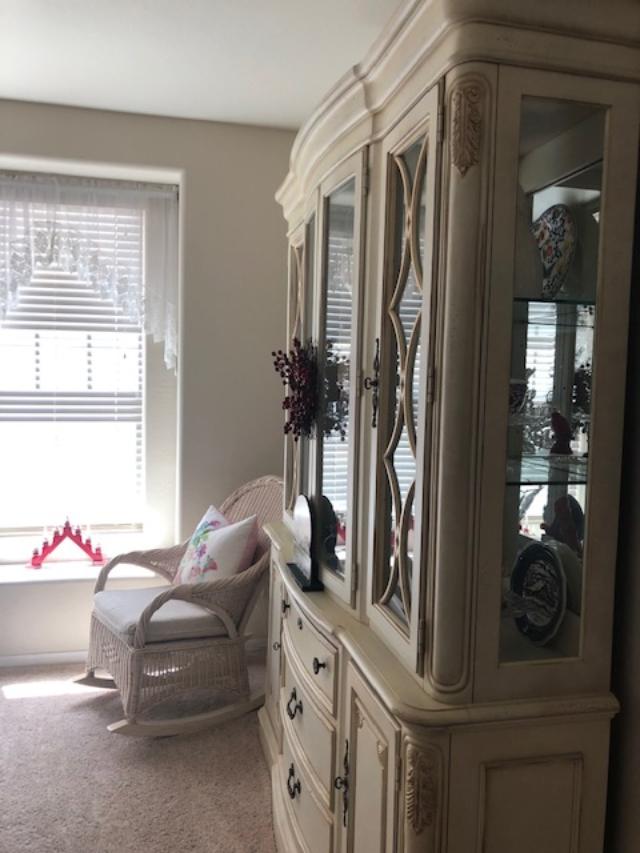 Warm White in a Family Room With Northern Exposure
In the family room with North facing windows and light turquoise and teal accents, Benjamin Moore White Sand looks more like a natural linen color.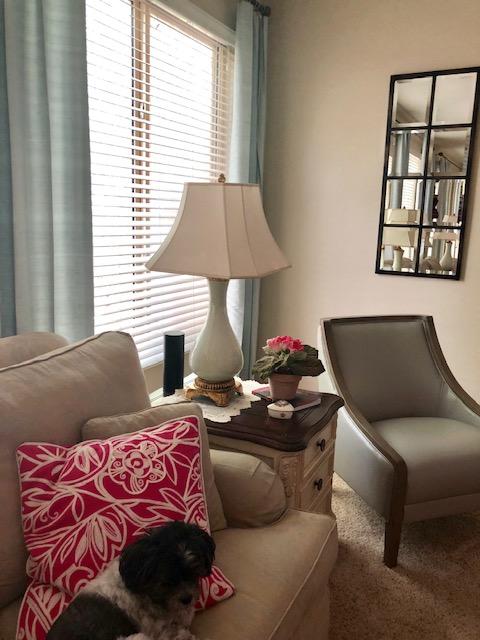 I especially love how my mom's use of black accents brings a pleasing contrast.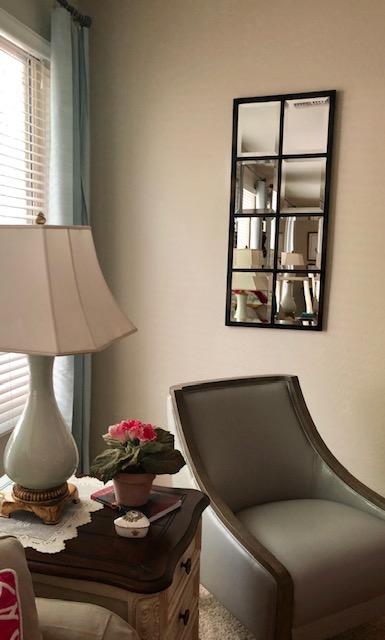 In the dining area, windows facing east mean morning sunshine pours in.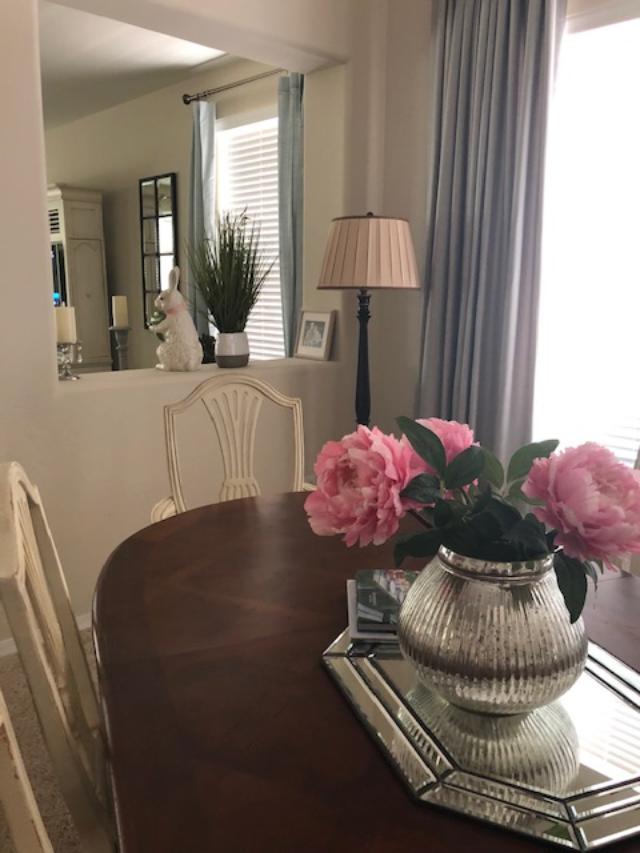 In another bedroom, the warm white of White Sand is gentle with off white French country furnishings.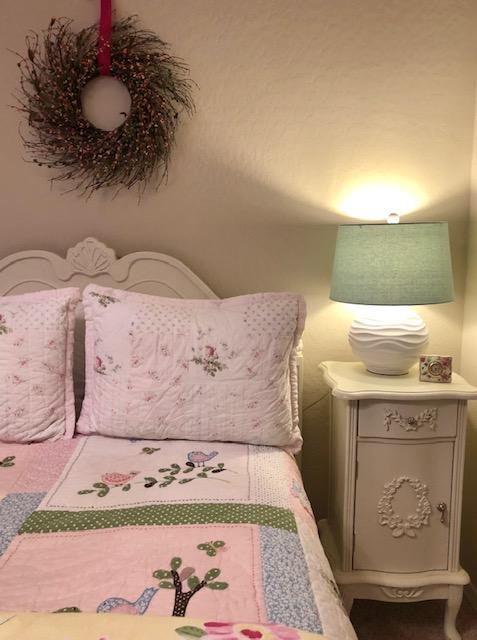 2. SHERWIN WILLIAMS Alabaster
Beautiful Warm White Paint in a Showhouse
Sherwin Williams Alabaster is similar to White Sand above and has a cult following with both designers and decor freaks lauding it. Who can forget how this beautiful warm white paint color created a canvas for the 2017 Southeastern Designer Showhouse?
ALABASTER…Sherwin Williams named this the 2016 Color of the Year. Alabaster creates an atmosphere of ease and contentment for many spaces.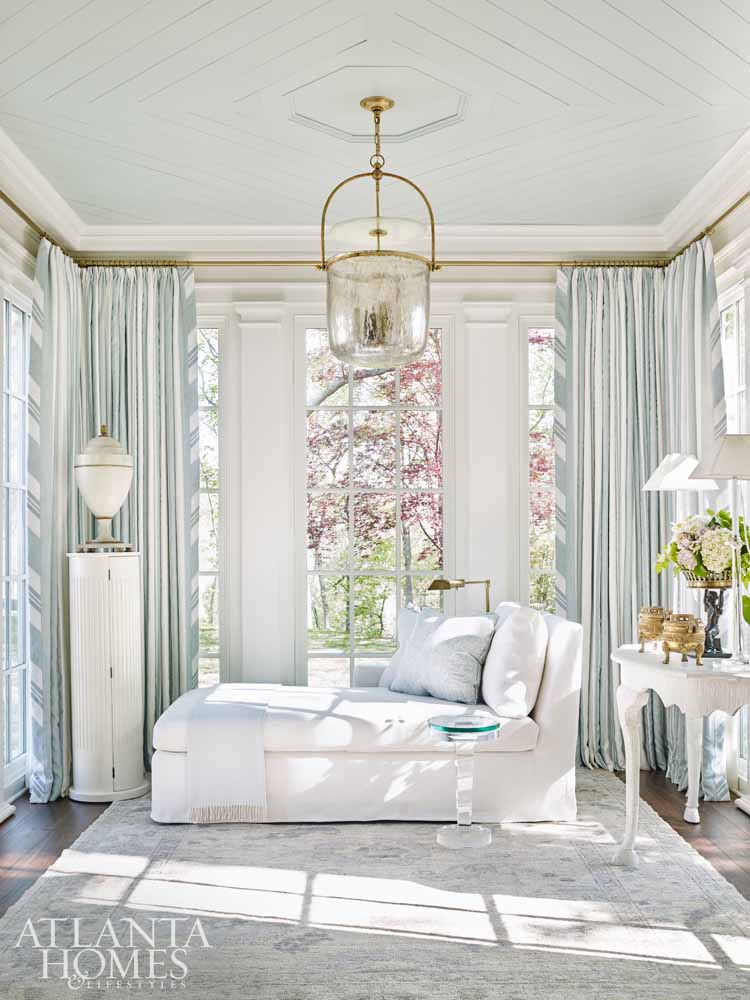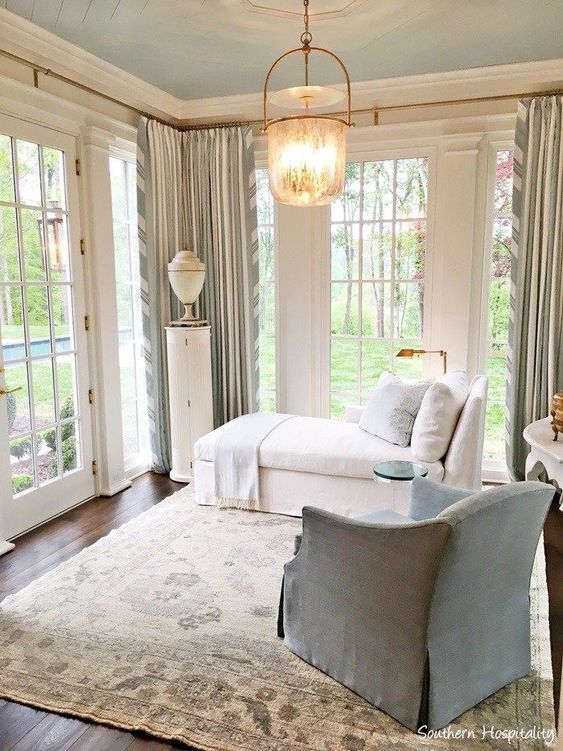 Sherwin Williams Alabaster in a Laundry Room
In a blogger's home (she created this pet palace laundry area for ORC!), Sherwin Williams Alabaster was the paint chosen for the walls, with a custom light grey for cabinetry and trim. That's a custom kennel in a pretty space under the counter!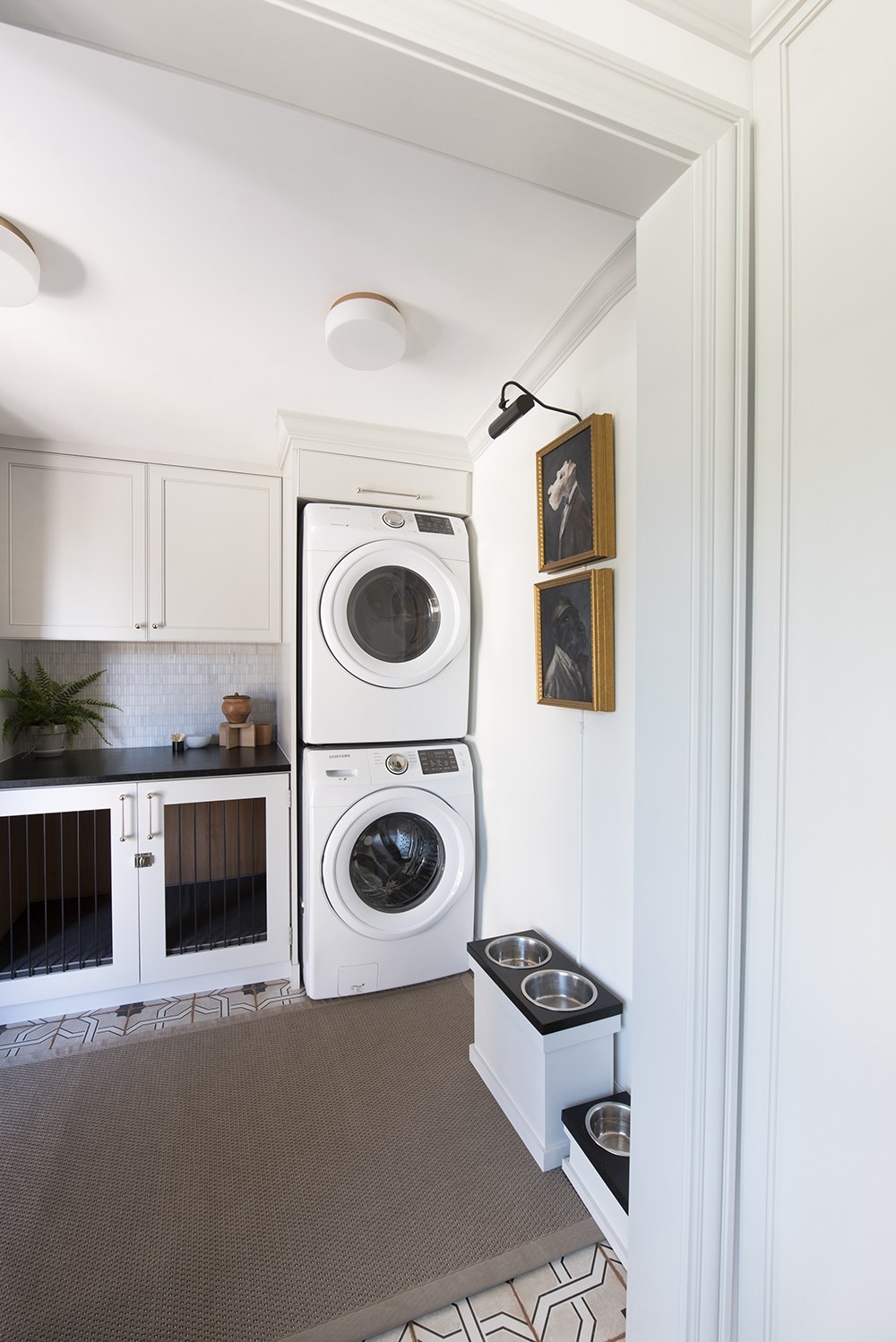 Sherwin Williams Alabaster in a Bedroom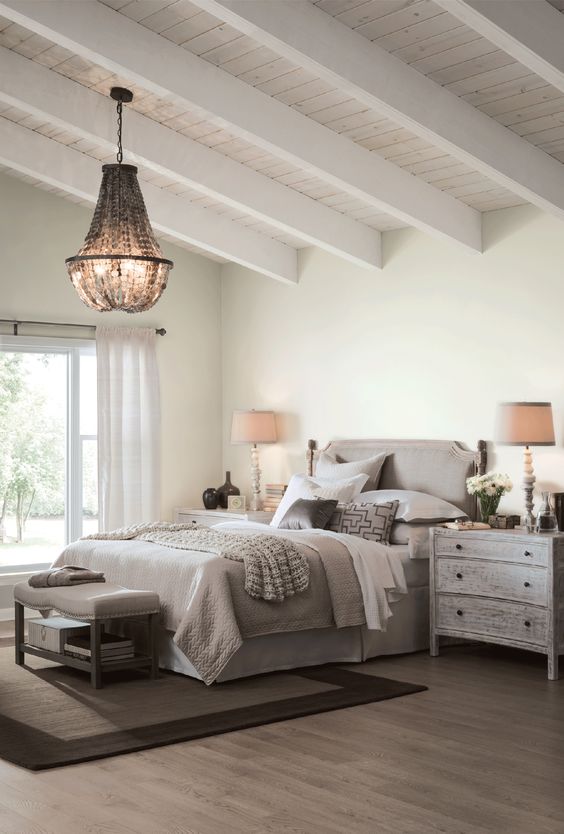 3. BENJAMIN MOORE Revere Pewter
Revere Pewter Paint Color for Trim & Furniture
I think of Benjamin Moore Revere Pewter as the color of soft natural linen or gentle garden stone. It works wonders in a variety of spaces, and it's the paint I chose to use as a glaze to wake up my tired, antique white bedroom furniture. Now the furniture feels light, fresh, and less dated.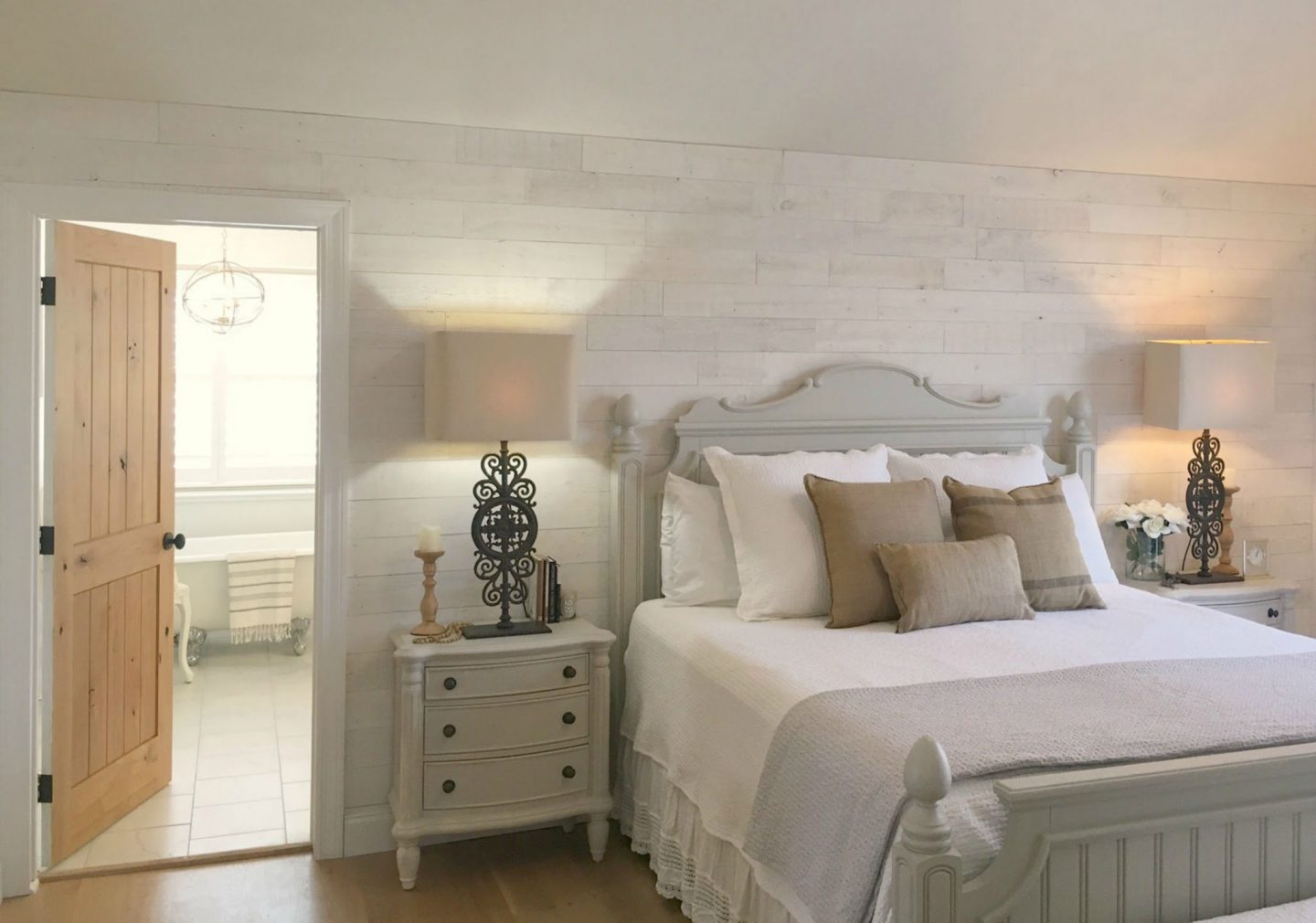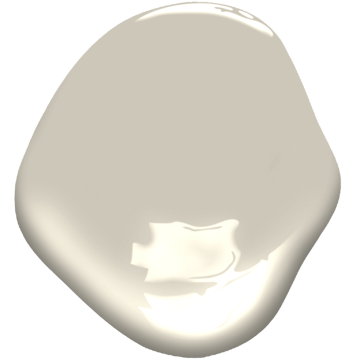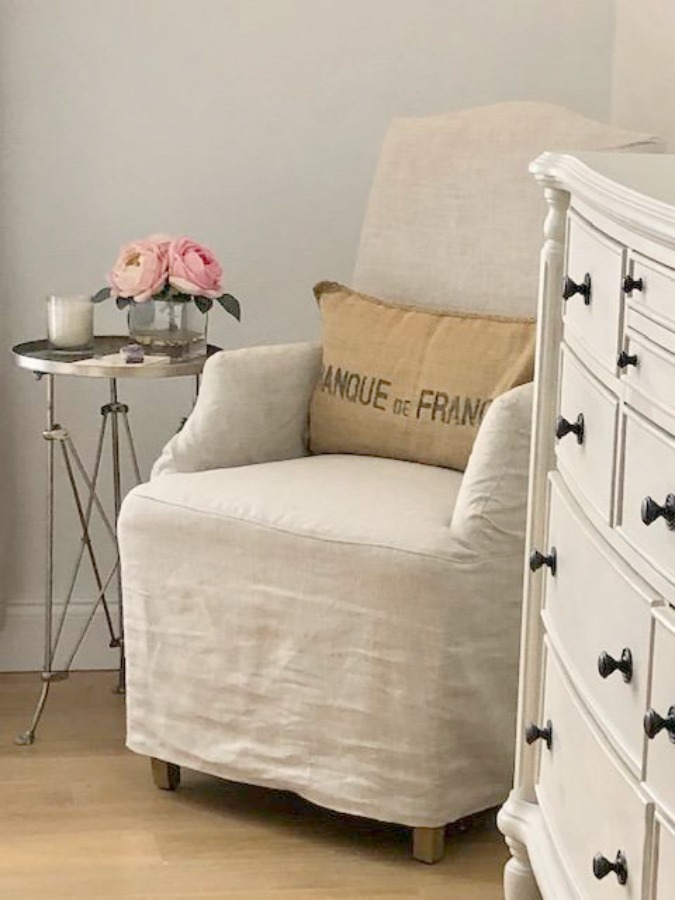 Revere Pewter Paint in Bedroom
But let's see how it looks on walls.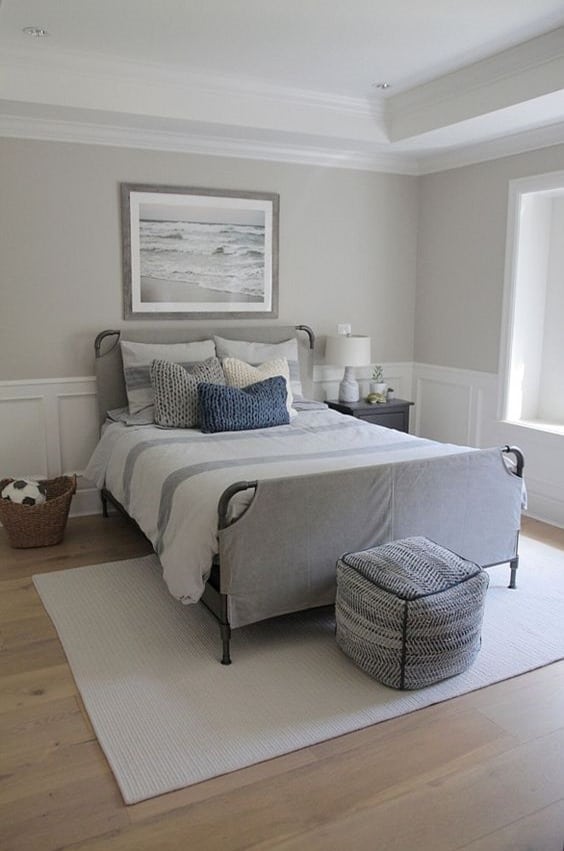 Revere Pewter in Bathroom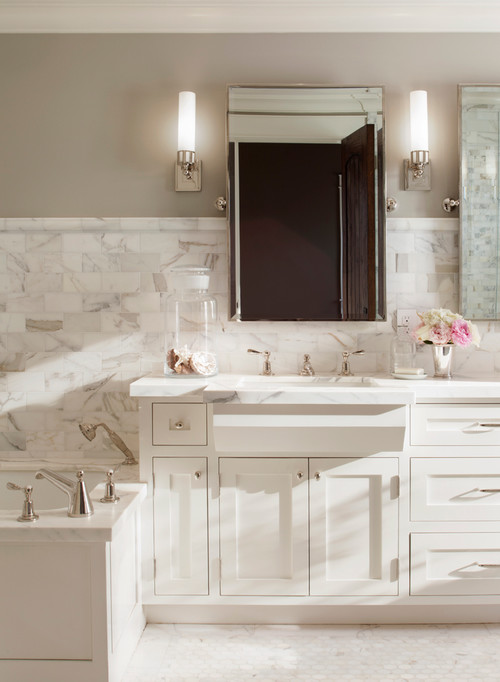 Warm White Lovely Things!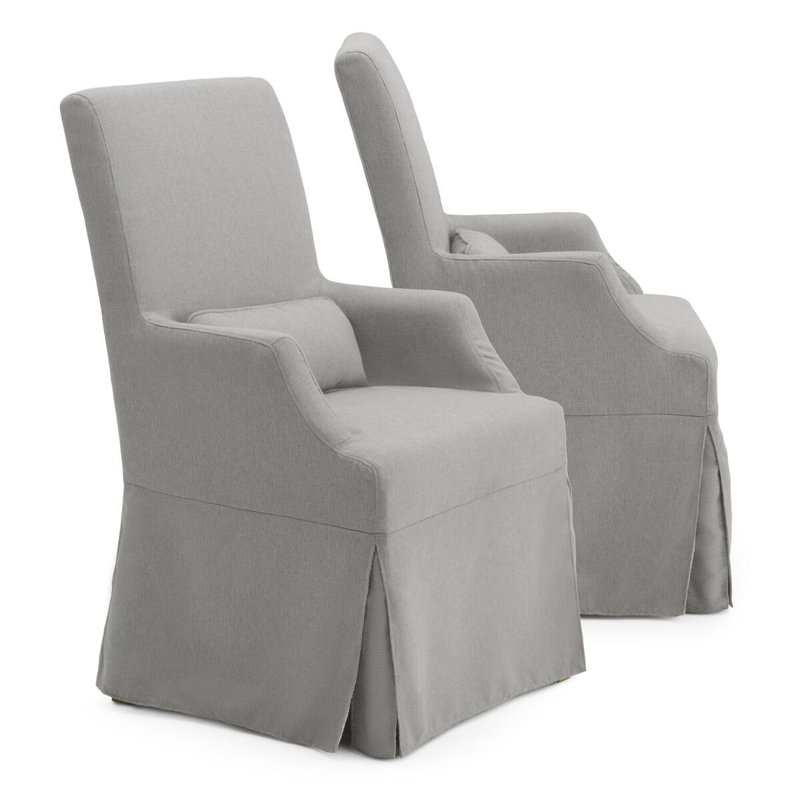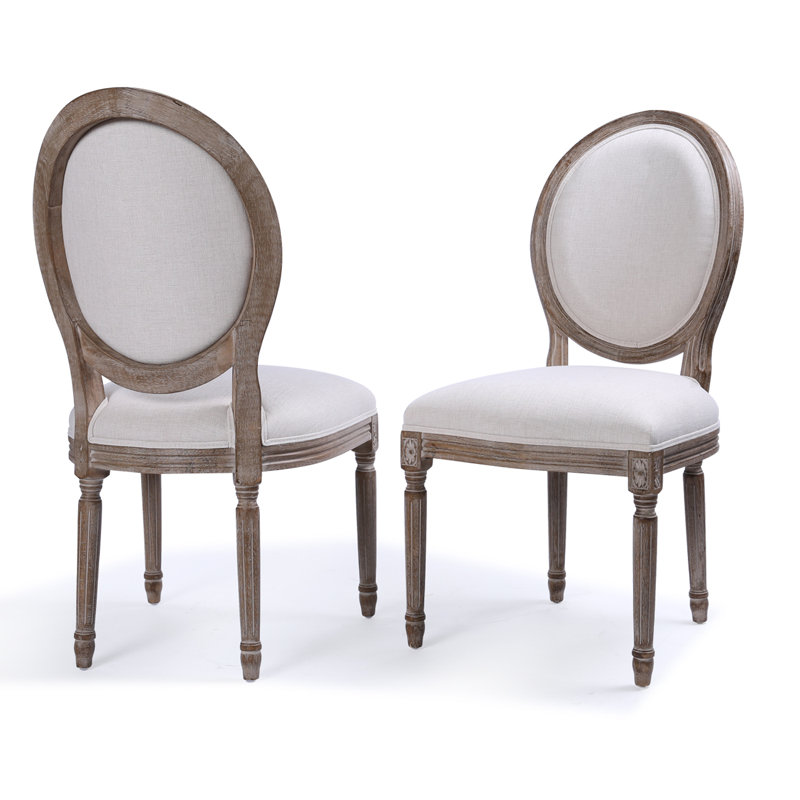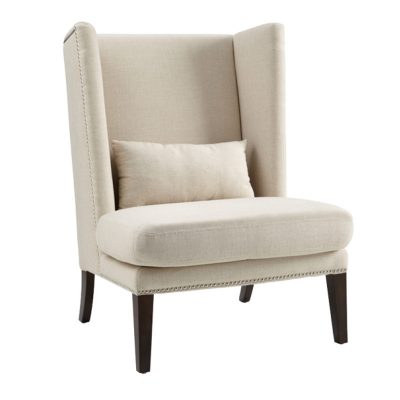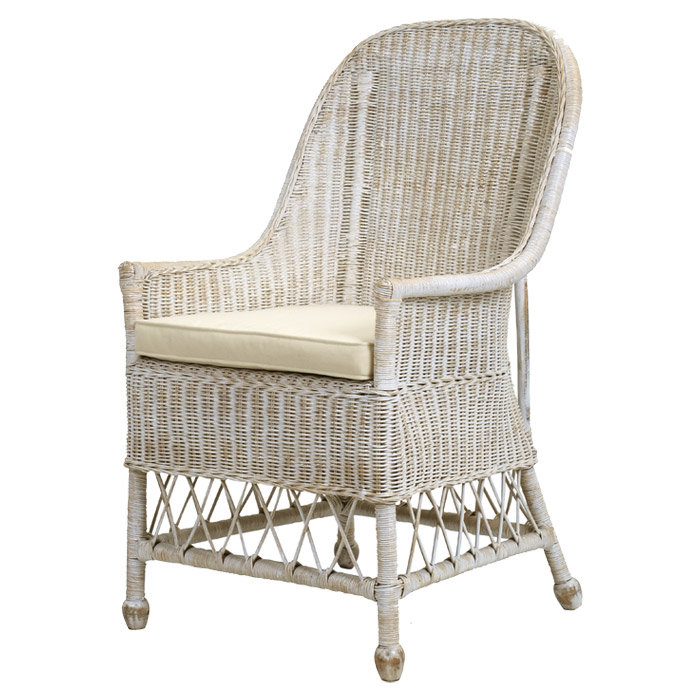 How to Choose the BEST Warm White Paint Color
In both my experience as an artist working with color and in designing and decorating many interiors for myself, family, and friends, I have trained my eye for paint color. Do bear in mind that the perfect white paint color for a particular space may be completely wrong for another space. The light in Northern Illinois where I reside is quite different from the Southwest. So as you search for the just right white paint, don't forget YOU'LL BE SELECTING A HANDFUL OF OPTIONS and then will SAMPLE THEM TO BE SURE.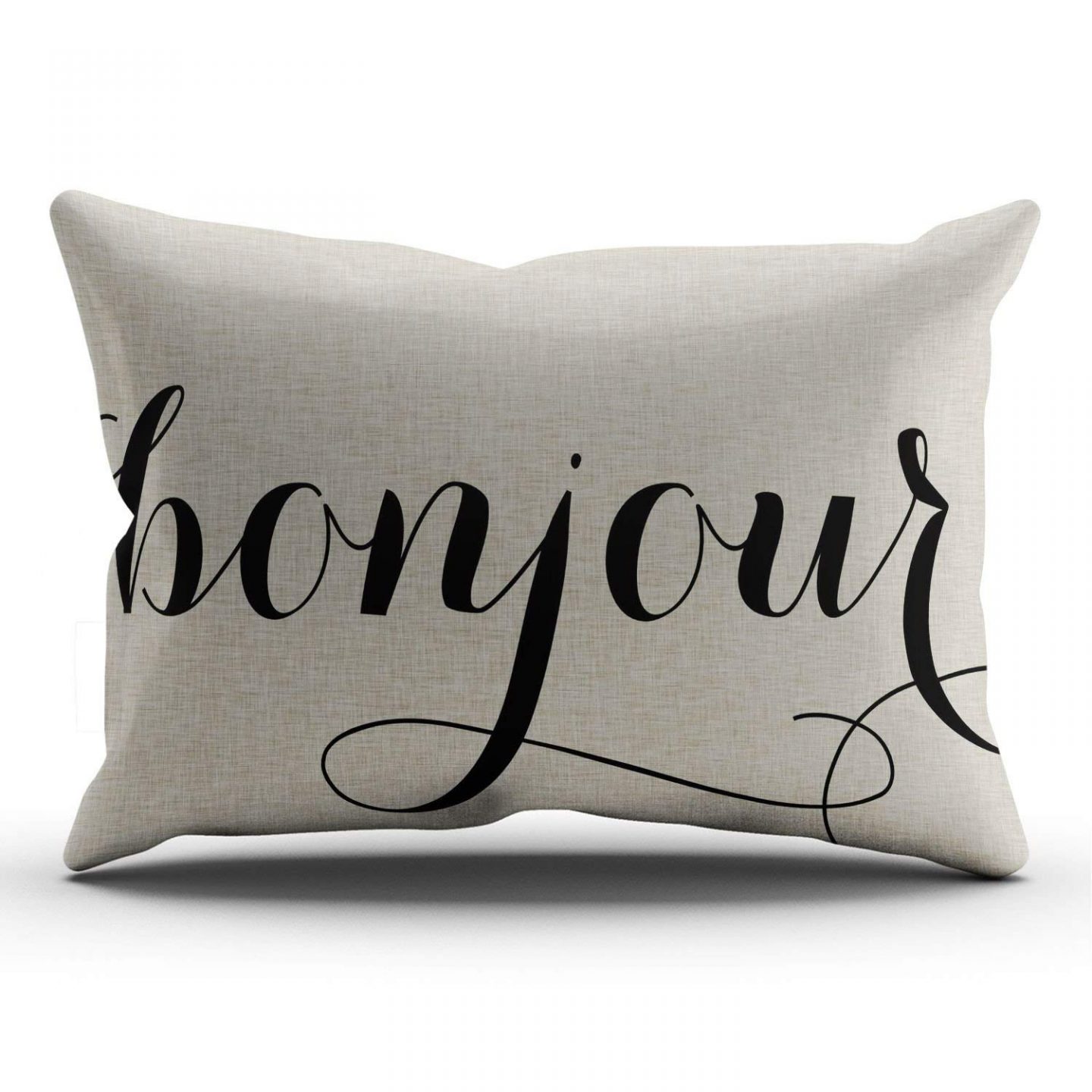 Warm or Cool White Paint Color?
Here's a COOL White So You Can Sense the Difference
If you understand the difference between a warm and a cool white, you'll have an easier time sifting through the possibilities. Warm whites tend to have warm undertones of green, brown, etc. Cool whites may have blue and grey undertones.
Sometimes it is helpful to clarify what is even meant by warm vs. cool white paint. For example, in our current home, almost all of the walls are painted a very cool and bright white (Benjamin Moore "White"). This cool white might be all wrong in a different home since it was chosen to counter the harsh yellow light we receive here. The cool white tempers the color and mood and because of the yellow light, does not read too sterile or blue.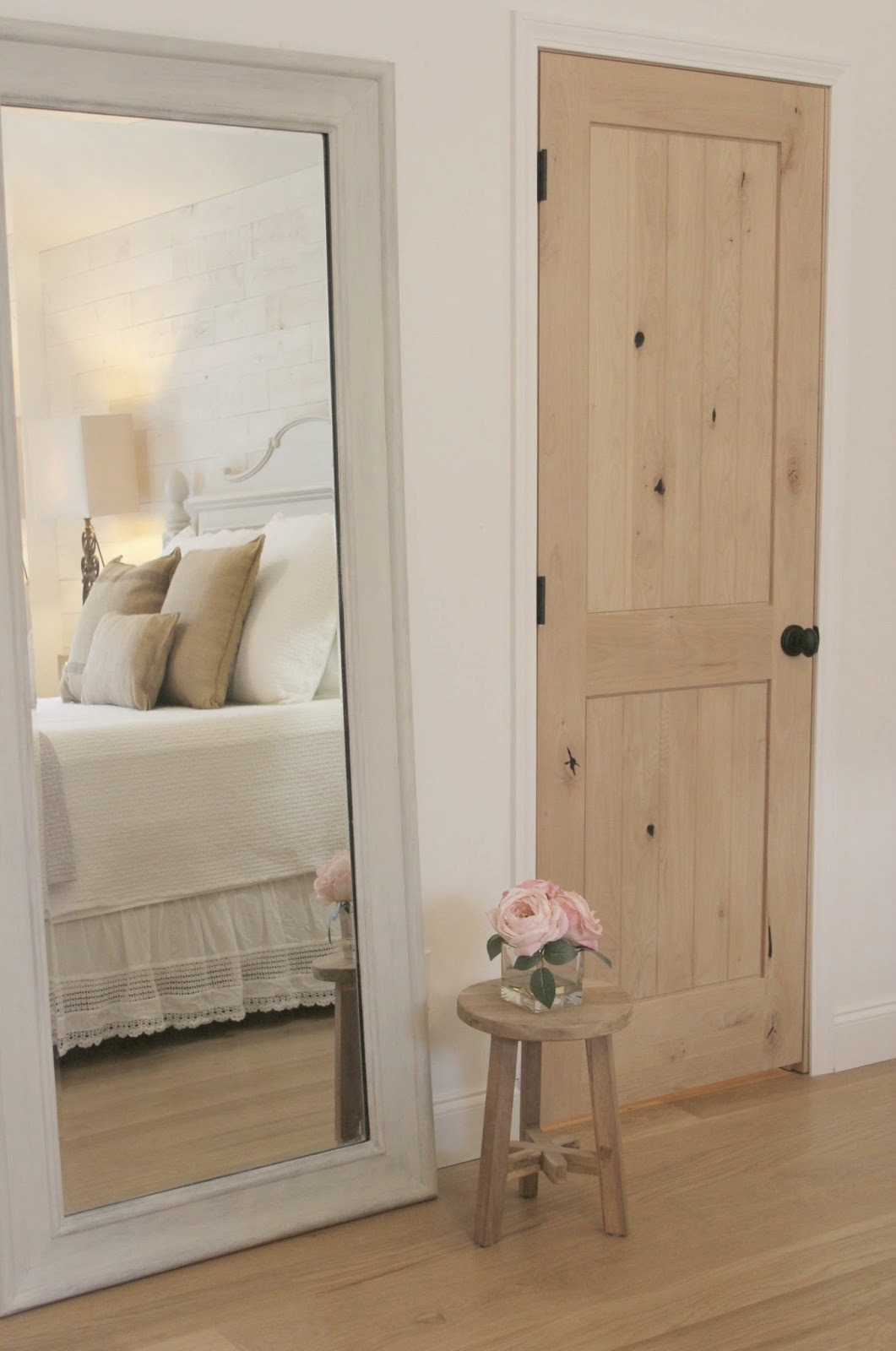 Should You Use Pinterest to Pick a Paint Color?
While plenty of paint color experts may advise against searching online and on Pinterest for the best warm white, I have my own perspective.
I find it is helpful to begin your search for the right white by viewing photos online where the paint color used is provided. It truly beats standing in a box store underneath fluorescent lighting and nervously leafing through little cardstock swatches.
Have a Pinterest board devoted to your favorite white paint colors yet? Create a devoted board and PIN THIS POST there to have a handy list of paint names you can refer to when you head to the paint store to buy samples (I'm sure I don't have to remind you to bring your phone).
More White Paint Color Ideas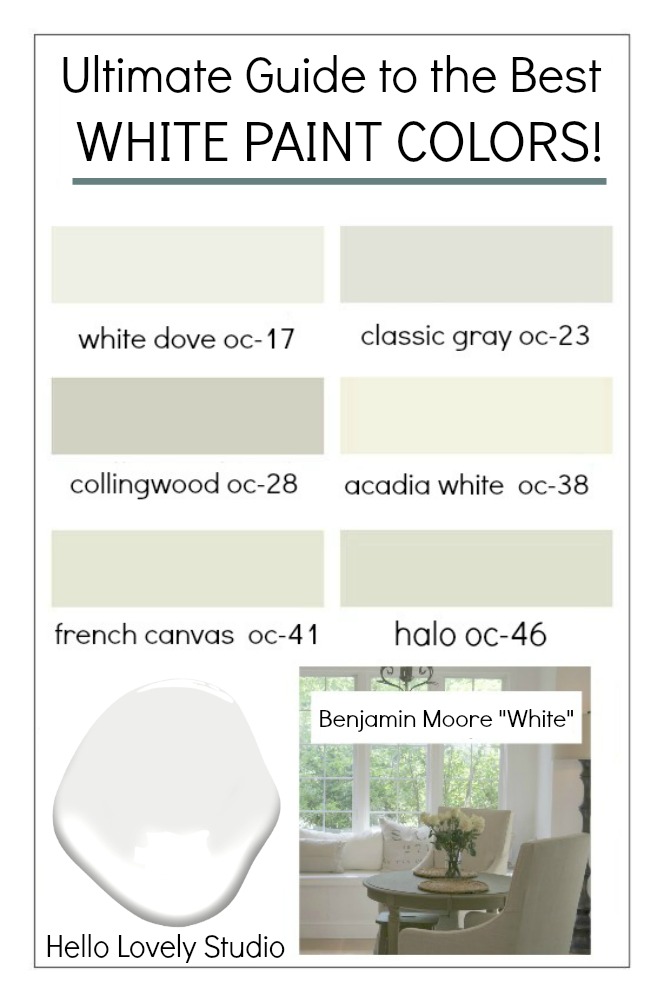 Here is a warm white that we used for trim and doors in our prior French Country home.
4. BENJAMIN MOORE Dove White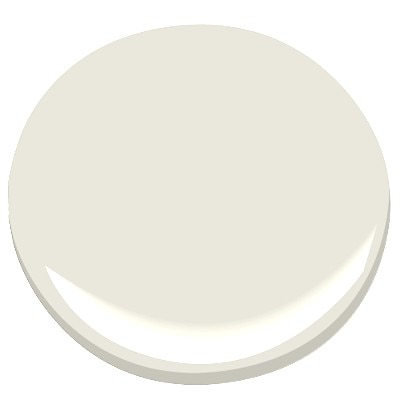 Pick the Right Warm White Based on Objects in the Room & Natural Light
Make sure you take into account the temperature of the objects and furnishings in the room you'll be painting. If they are mostly cool, in most cases you'll want to lean towards cool whites. Are they warm? Then a warm white is likely the wise direction to head.
Does your space receive a lot of natural daylight? You'll probably want to stay in the more pure white zone with minimal undertones. However, if light is limited, a warm white with more pigment is probably your friend.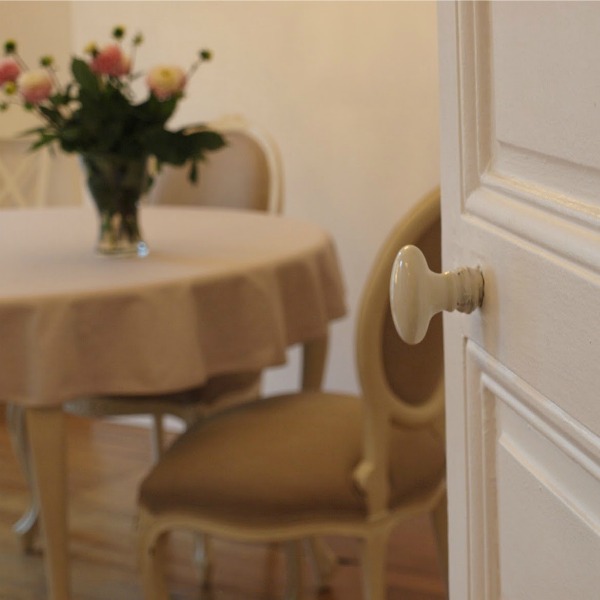 5. KILZ Shiplap
Warm White Paint Colors Designers Choose
Is it any wonder, a white paint favorite of Joanna Gaines has a name like "Shiplap?"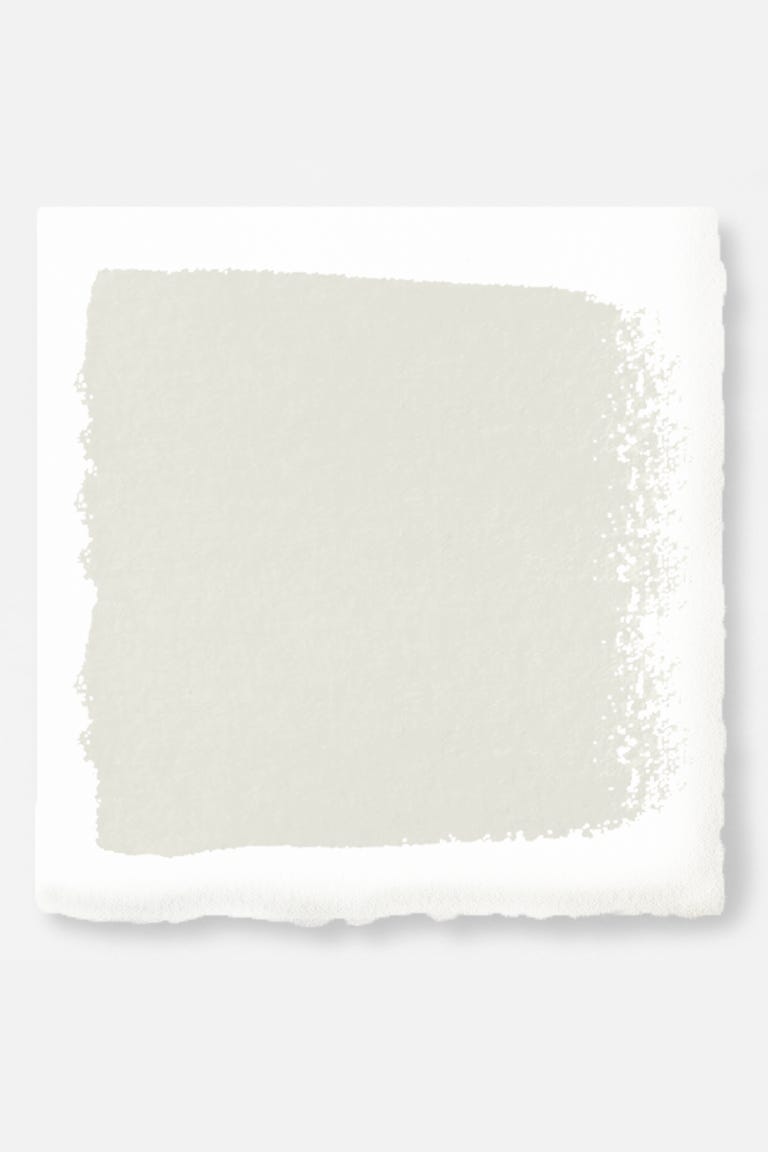 6. FARROW & BALL Pointing
Designer Greet Lefevre of Belgian Pearls loves Farrow & Ball Pointing. She says:
"It is hard to name a favorite white as using the right color of white is dependent upon the room that has to be painted. Is it a small or a large room? Is there a lot of light coming in or not? Another factor….fabrics to be used in the room for curtains and upholstery. But I often turn to FARROW & BALL Pointing White"
7. FARROW & BALL Ammonite
Megan Pflug notes: "My favorite white wall color is FARROW & BALL Ammonite. It is a fantastic changeable color. It looks more like a stone material than a flat wall color. Its a great alternative to a standard white."
AMMONITE…Farrow & Ball. Ammonite is named after the treasured fossils often found on the Dorset coast. It has a fantastically understated quality, and sits effortlessly with our Easy Neutrals. Neither too warm nor too cool, its subtle grey tone creates a hushed and calming feel in homes both old and new. Try pairing with All White to accent its light grey feel.
Your advice, design opinions, and experience with white paint colors is always welcome here, friends! Hope this helps.
For related stories see these:
I independently selected products in this post—if you buy from one of my links, I may earn a commission.
Peace to you right where you are.
-michele
Shopping for items you already intended to buy on Amazon RIGHT HERE (not just items mentioned in posts) or home decor keeps decor inspiration flowing on Hello Lovely!
Hello Lovely is a participant in the Amazon Services LLC Associates Program, an affiliate advertising program designed to provide a means for sites to earn fees by linking to Amazon.com and affiliated sites.