If you're like me, you hardly need a nudge to spring for a beautiful basket when you see a well-made one to add texture. They're timeless workhorses to fill with laundry, hang on a door or wall, sit in the bath for towels, corral a stack of magazines, and the list is endless. Woven baskets (no matter how they are marketed: rattan, wicker, seagrass, water hyacinth, jute) are an effortless way to warm up casual spaces with rusticity and natural beauty. Love a mostly white or neutral interior? Unless you're a strict modernist, you probably rely on baskets for rustic decor and organization. Cucko for French country? Oh my fellow basket cases, let's get inspired and also peek at pretty resources.
Textural Beauty From Baskets for Rustic Decor
Think if you've seen one French market basket you've seen 'em all? Find the prettiest examples at my favorite source for French homewares: Vivi et Margot.
Charlotte has the best eye and gathers well-made baskets and pretty things for home including vintage.
I independently selected products in this post—if you buy from one of my links, I may earn a commission.
I have been attracted to French country baskets and aesthetic for so many years now. Baskets with stripes are harder to find, and I love my seagrass ones which work in every room of the house. Here they are in our former bath:
outdoors:
(just so perfect for picnics or the everyday!)
in our primary bedroom's closet:
and in my dressing room closet:
and even in our former dining room:
Baskets as Planters & Textural Interest
I love using baskets as pretty receptacles for plants whether they are real and potted or faux.
I have used these basket planters for plants as well as wastebaskets.
Baskets on the Wall or a Door
Familiar with Nora Murphy and her incredible country decorating book?
Don't you love the idea of changing out a dramatic floral arrangement seasonally in a wall basket? Here's that basket with hydrangea:
And a bonus basket near the table! So much rustic charm in one fell swoop. (And don't get me started on those whimsical checks on the floor.)
Not sure the receptacle above qualifies as "basket," but the idea of tying it simply on a door is so charming.
I bought an old fisherman's basket that was in rough shape and filled it with fresh greenery and faux berries in lieu of a Christmas wreath.
Woven hats or baskets on the wall feel a bit bohemian, a bit island chic, and charmingly French in a farmhouse.
A Provence Look With Baskets
The formula is a no-brainer and delivers big time. Fill a market basket with blooms and watch it steal the show anywhere you place it.
And if blooms are unavailable? Baguettes will do!
I have never had much luck with a lilac harvest, but if I did…
I could only hope they would look half as dreamy as the ones in Dreamy Whites' kitchen.
Until we can visit or live in a French chateau, we can get this Provence look with a pretty basket for our bicycle.
And have you noticed how many different styles of market baskets are available these days? I shopped Urban Farmgirl's Main Street Market recently and loved the French market basket backpacks from a lovely vendor there.
Best of all, a pretty basket is also perfect as a shopping bag casually hung on a hook. Empty or full, it's purposeful decor!
Baskets to Hold Small Objects
Depending on your unique organizational style, open or lidded baskets maybe perfect for keeping you more organized. I prefer open baskets since I like to see the contents and toss objects inside them.
They're so perfect on shelves whether they are smallish (above)…
or large (above). In our primary bedroom walk-in closet, woven baskets not only keep order, but they add so much textural interest with the sea of white modular units:
Even if you have a standard, builder's grade bedroom closet or linen closet, don't underestimate the power of rattan, wicker, and seagrass baskets or even wooden boxes to transform the look of plain ol' white shelves.
Rustic Baskets for Bath Storage
Love a basket for towels, toiletries, and bath potions in the bath?
Me too! Here's where I have been storing bath linens for a couple of years now (see above). A soft jute round handled basket on an old Louis style chair with tufted upholstery. The combo is rustically elegant and works just as well in my newly renovated bath as it did in our former home's bath.
Sometimes baskets are critical when they do double duty as vanity storage:
This gorgeous basket is an investment, but if you know Jenni Kayne quality, then you know.
Kitchen Decor & Storage Baskets
They will hold your herbs from the garden, fruit, and all matter of things. Or nothing. Because baskets just hanging out in the kitchen are pretty dang beautiful…
I love how Jennifer Lincoln-Cutler's beautiful French kitchen lives large, and notice the basket on the bottom shelf of her work table:
I can imagine hiding linens, cutting boards, potatoes, ugly tupperware, and any number of items in that beautiful rustic basket!
So many options for baskets large and small to keep things orderly in the kitchen.
Of course, no need to hide contents as lovely as gorgeous fresh green veges or colorful citrus from the market!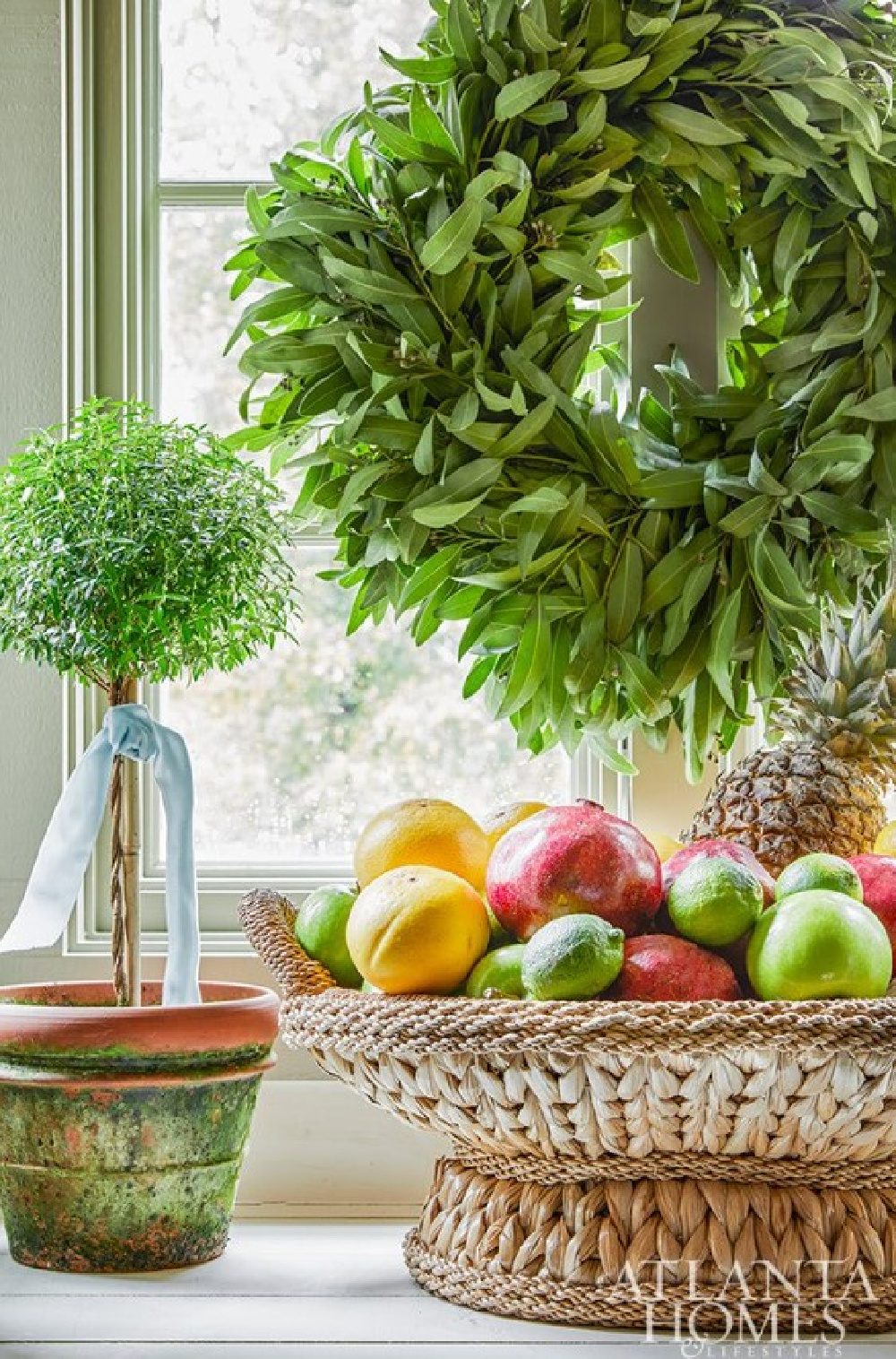 I have always loved the produce baskets from Jenni Kayne for kitchens to offices to dresser tops:
French Country Baskets for the Holidays
I have always wanted to place a Christmas tree in a basket for a beautiful French look like this:
Authentic antique French baskets are pricey, but they make such a statement and can be pulled into service all year long.
How charming is a basket for holding gifts near the tree?
Baskets to Elevate the Everyday
Favorite Antique Baskets at Home
A couple of years ago, I bought two antique handmade baskets from the great granddaughter of the craftsman who made them in the mid 19th century. I showed you the larger one above.
For more than 150 years, they were used on a beautiful farm 90 minutes from here. It was extra special to see the property and buy them directly from the family.
What I love about using pretty baskets I have collected over the years is how they add a layer of lovely to my everyday. Plastic storage containers are functional, but a basket made of natural material just looks and feels healthier.
If I'm going to be looking at it and touching it every single day or nearly everyday, why not make it pretty?
If you rely on plastic laundry baskets but prefer a woven variety, have fun hunting for the perfect one when you're out and about shopping.
If you find authentic examples from Europe…score!
I even use a French market basket like this in my laundry room for small loads:
Pretty baskets like this look so great you may not even be sad should your home not include a mud room:
And if you DO have a designated mud room…I just love the look of baskets on hooks:
Lovely Ideas for Basket Shopping
Curious as to which baskets followers of Hello Lovely admire most?
These lidded French baskets! It's easy to see why, and if they should be in stock, you may want to snag them since they run out of stock quickly!
I find the quality of baskets at Pottery Barn to be wonderful. These remind me of my favorite fisherman-knit sweater:
and isn't this particular one handsome?
Now that the owner of Vivi et Margot lives full-time in the South of France – who knows what loveliness will soon join her inventory!?!
Just imagine what these could hold in a closet!
And who can resist the picnic hamper look of these?
Does your kitchen need a bit of texture?
These are so handy for more rustic industrial style spaces, kids rooms, and utility rooms:
Brooke Giannetti's Rustic European Baskets at Patina Farm
Brooke Giannetti has always inspired with how she uses Old World pieces for an everyday luxe look. Even before Patina Farm, Brooke designed this breathtaking powder room with rustic French baskets for storage. Sometimes built-in contemporary cabinetry is not the goal!
Isn't this a gorgeous example of how to live with collected antiques and vintage treasures from Europe?
In Patina Farm's laundry room, Brooke demonstrated the functionality of collected pieces.
So brilliant to use mirrored doors!
A Dreamy Example in Provence
Who can stop at the laundry room in the Varvels' gorgeous South of France fantasy home? Let's peek inside this unforgettable renovated French Country estate in Avignon!
I independently selected products in this post—if you buy from one of my links, I may earn a commission.
Peace to you right where you are.
-michele
Thanks for shopping RIGHT HERE to keep decor inspiration flowing on Hello Lovely!
Hello Lovely is a participant in the Amazon Services LLC Associates Program, an affiliate advertising program designed to provide a means for sites to earn fees by linking to Amazon.com and affiliated sites.