We interrupt your regularly scheduled holiday decor inspiration and serene house tours to bring you Secrets from the Amara Interior Blog Awards. In case you are just tuning in, I traveled to London about a month ago to attend the awards as a shortlisted nominee for Best Written Blog.
I didn't win a thing, but an impromptu week in London with your best friends is one heck of a consolation prize!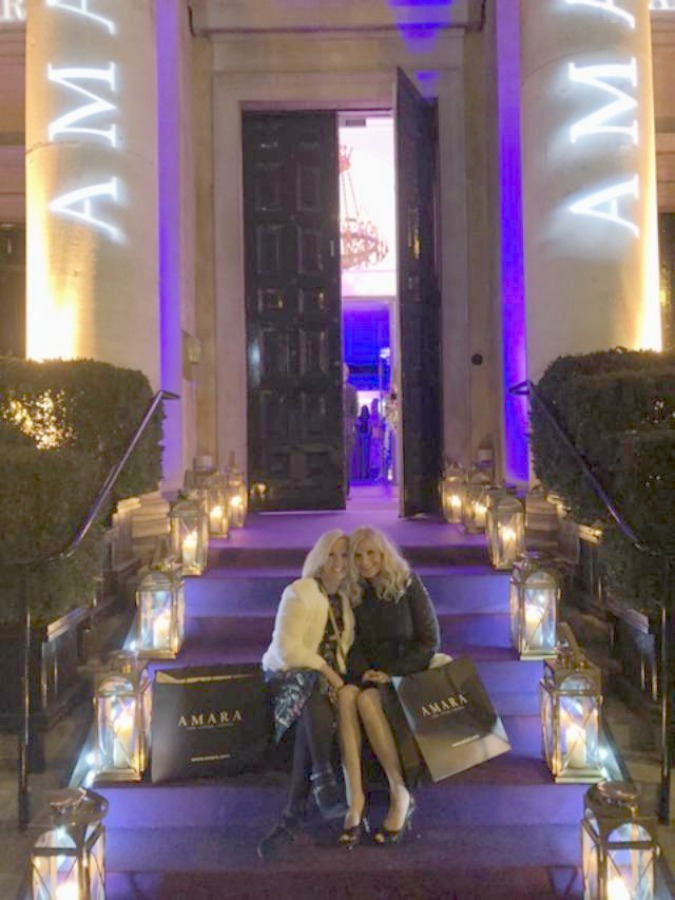 Yep.
When my: partner in crime, most loyal supporter of Hello Lovely, favorite photographer, and beloved sister, Jo, decided she should accompany me to London since it is her happy place – I was thrilled. With my husband unable to get away from work that week, it was slated as a girl trip. When Jo's husband decided he wanted in on the shenanigans, the trip was fast turning into a friendfest. Then, just days before departure, my husband's schedule opened up so he was suddenly free to party!
10 Secrets from the Amara Interior Blog Awards
Wait, secrets? I don't know. They're kind of random and cheeky (and may not make a lot of sense to non-bloggers).
SECRET NO. 1
Cherish the awesome blog readers whose votes landed you on the shortlist and on the plane for an across the pond vacay with best friends who just happen to be family.
We decided to rent a home in Holland Park and live like the locals there while exploring history and sites of the city (and taking photos of doors in Notting Hill!).
While the husbands attended a concert in London, the sisters attended the Amara Interior Blog Awards.
Here we are posing for a few photos on the balcony of our Holland Park flat before we headed to One Marylebone for the ceremony.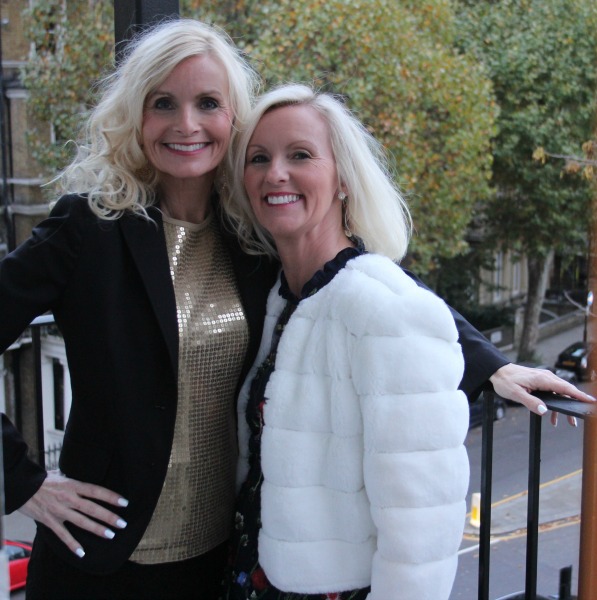 I have two younger sisters, and it is Jody and I who tested positive for BRCA2 genetic mutation and embarked upon a previvor journey together, undergoing prophylactic surgeries and reconstruction TOGETHER...read about it here.
SECRET NO. 2
No need to dress conservatively for the event!
I had chosen a purple gown for the evening but changed my mind when I felt like sort of a frumpy mother of the bride. So I went for comfort and conservative. My outfit was simply pulled from my closet (black lace pencil skirt which unfortunately was ill fitting due to weight loss so the waist was rolled down, and I look like I have a belly; sequin shell by Michael Kors; blazer from J. Crew; shoes are Kate Spade).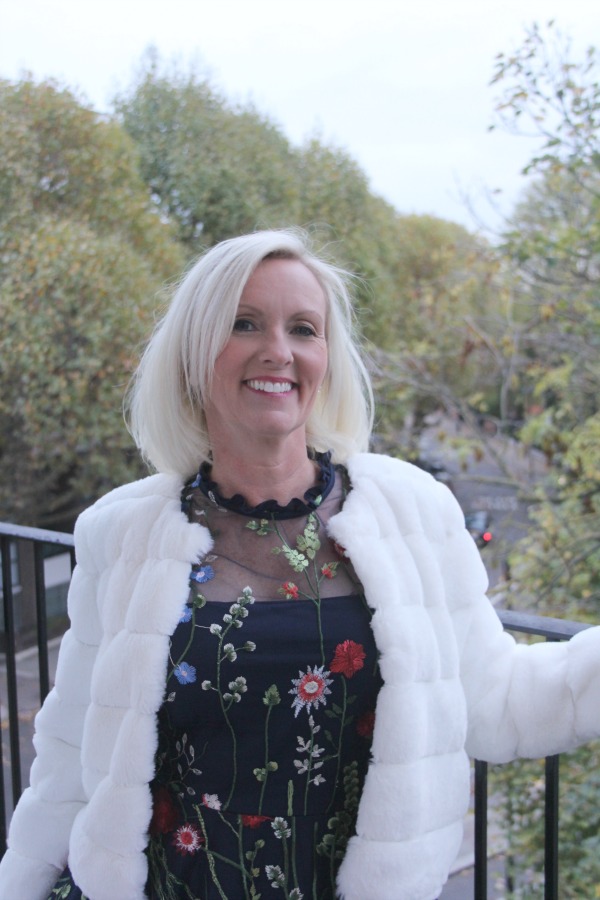 My cutie little sister wore a navy floral dress, super chic navy ankle boots, and a fleecy white jacket. It had 'party' written all over it and was just perfect. Jody used to run a designer showroom at the Merchandise Mart in Chicago and now enjoys selling posh apparel from her closet.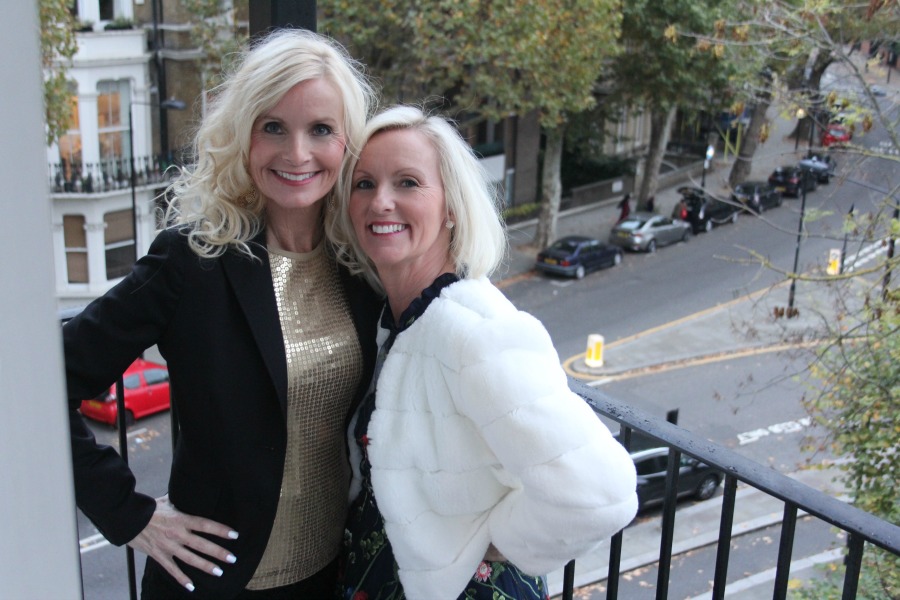 Getting Ready for the Event
No glam squad and not much fussing – just pure fun getting ready together in the vintage apartment which had horrible lighting!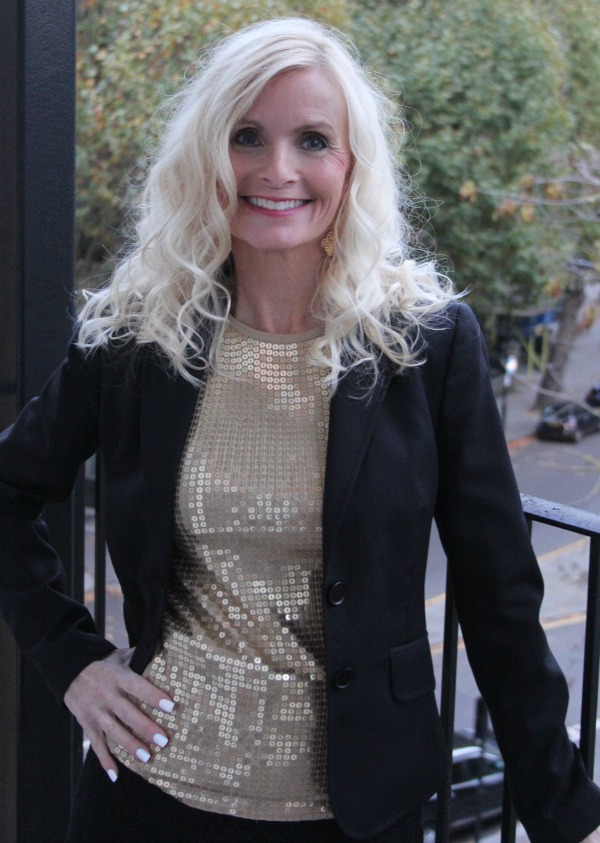 We double checked to make sure we got a decent photo before heading to the tube.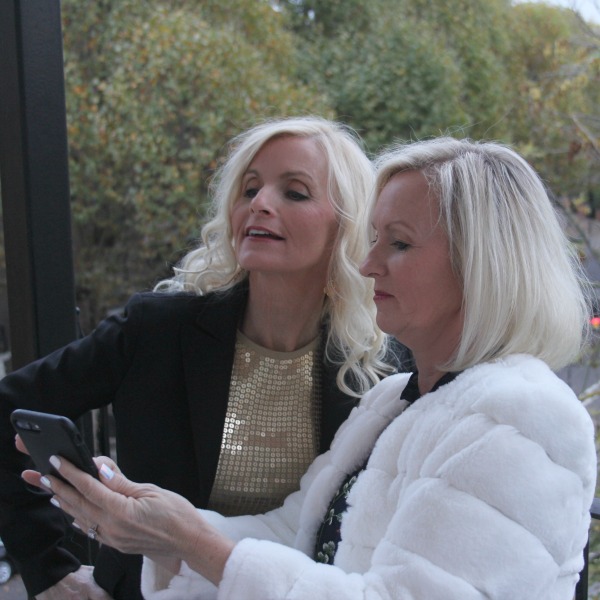 Yes, indeed, these sisters walked their tootsies off in London! It was FUN in spite of the fact I was only a few weeks post-op.
Aside: I wore pantyhose. Had not worn those in decades, but I was going for a grownup look, and I mean…what if I ran into Meghan or Kate?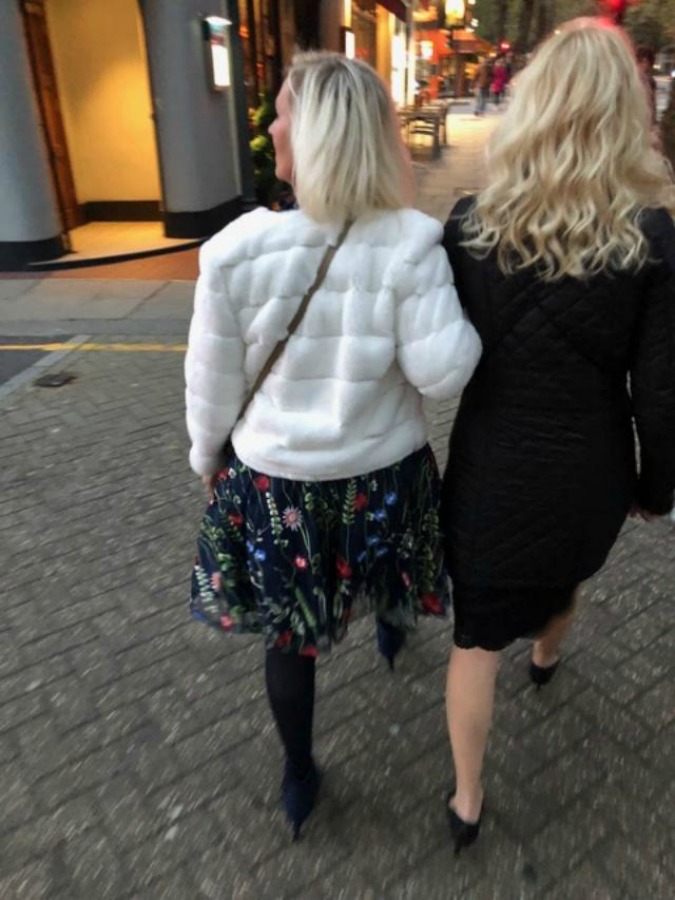 We were awestruck when we arrived to the venue…violet gorgeousness!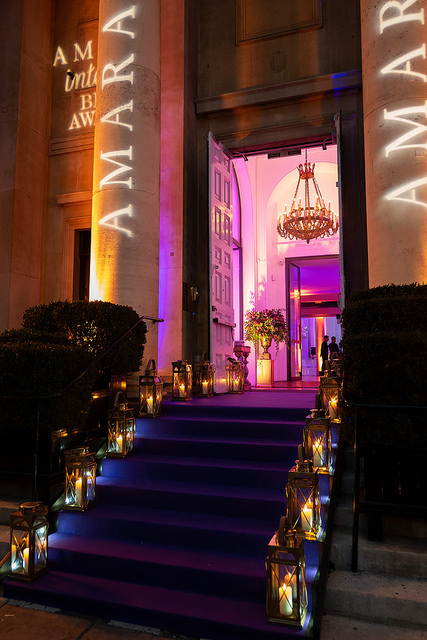 Isn't it romantic?
SECRET NO. 3
Amara attends to all of those details which make design savvy invitees feel honored and special. Amara founders, Sam and Andrew Hood truly embrace the world of interiors and the creatives moving within it.
We knew the evening would be beautiful when we were greeted by these lanterns and those lovely doors at One Marylebone (a landmark former church designed by Sir John Soane, with smart spaces for events including weddings).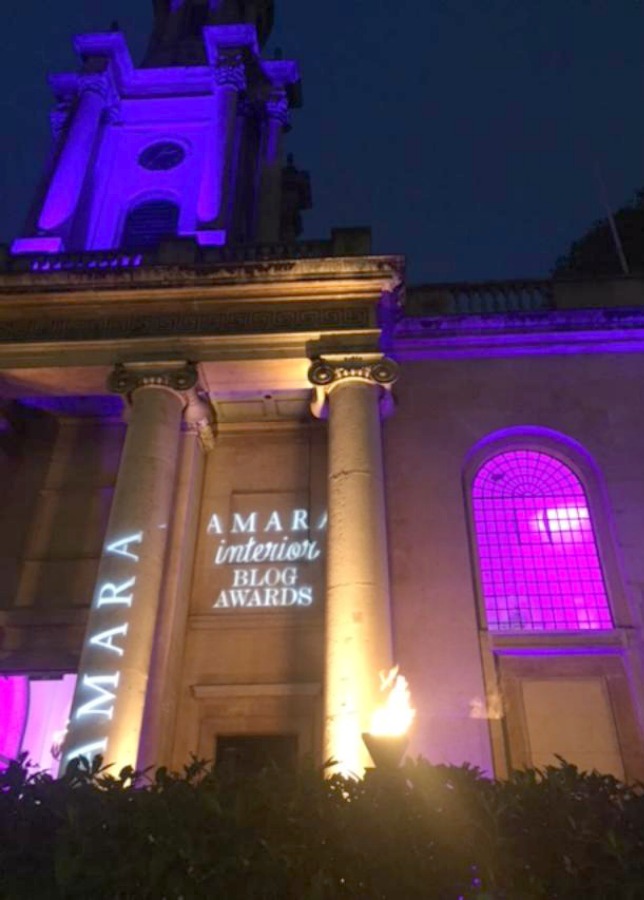 Isn't the glow chic and club-like?
The neo-classical building was formerly Holy Trinity Church, built in 1826-28, and designed by famed architect Sir John Soane.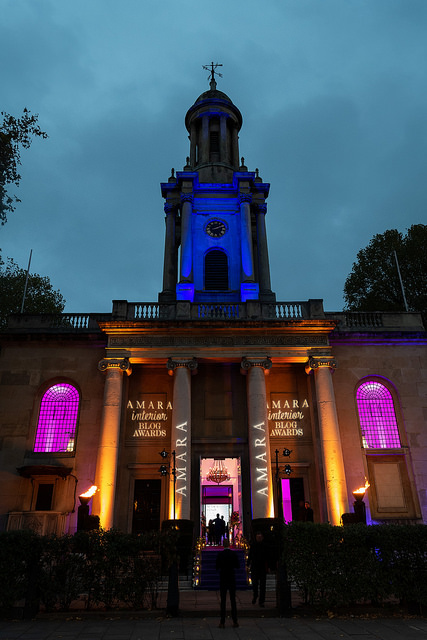 How in the world did this Midwestern mama end up in a historical London church illumined like Prince's Purple Rain with a congregation of likeminded bloggers?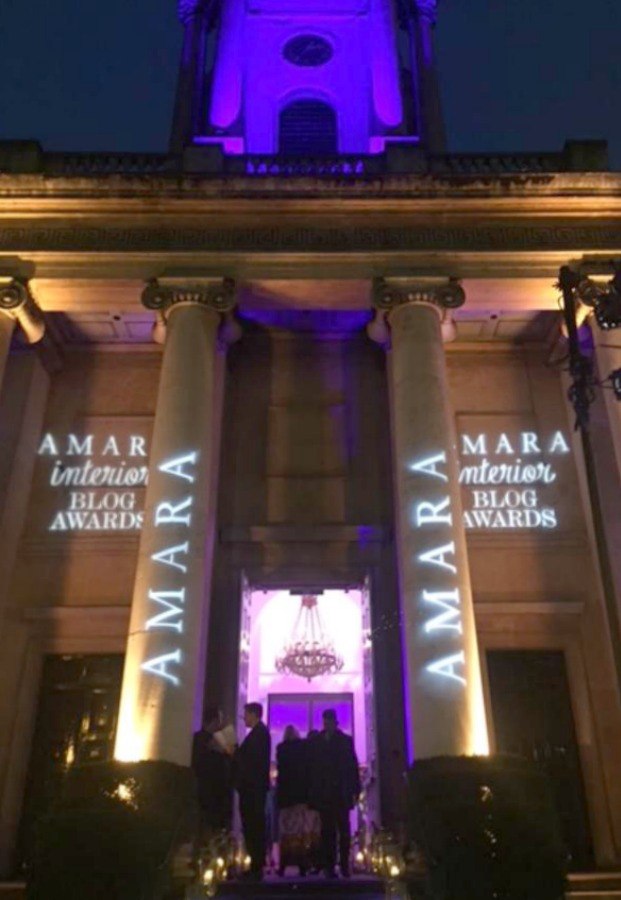 We snapped a few selfies straight away.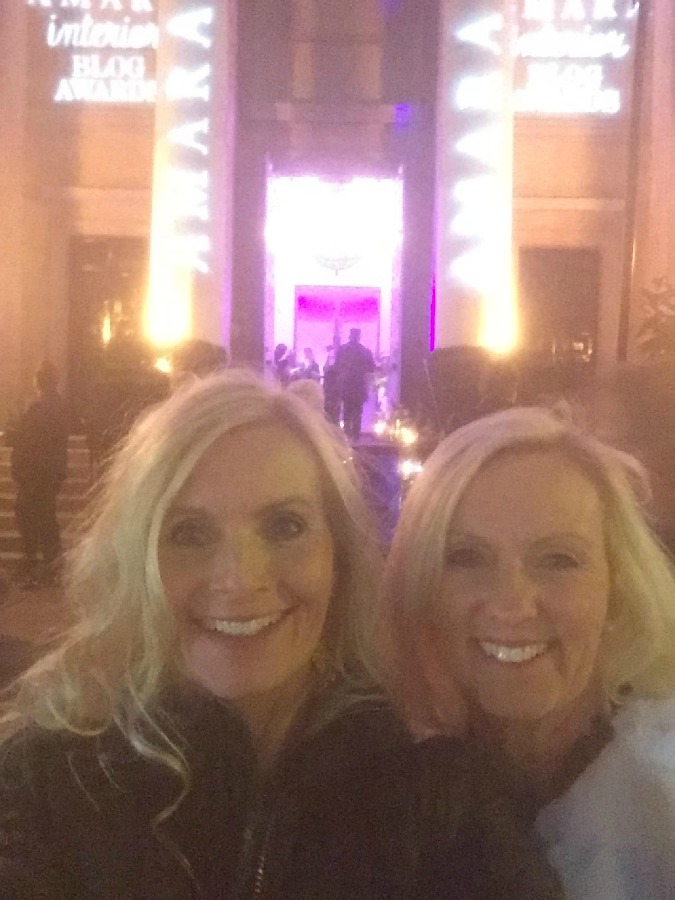 Then we explored One Marylebone's architecturally brilliant interiors a little on our own, stopping at a mirror for a moment of sass.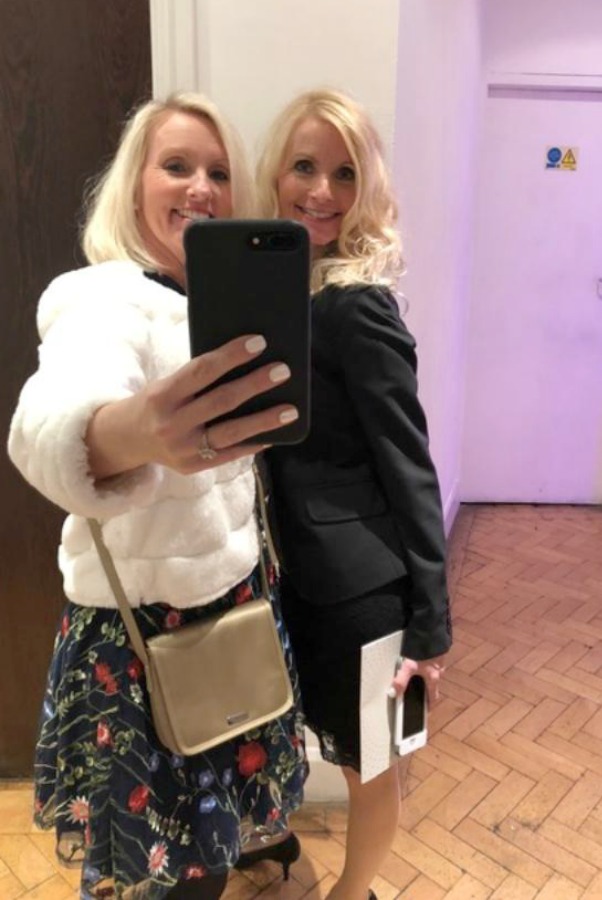 Sparkly chandeliers and all sorts of classic design elements to admire.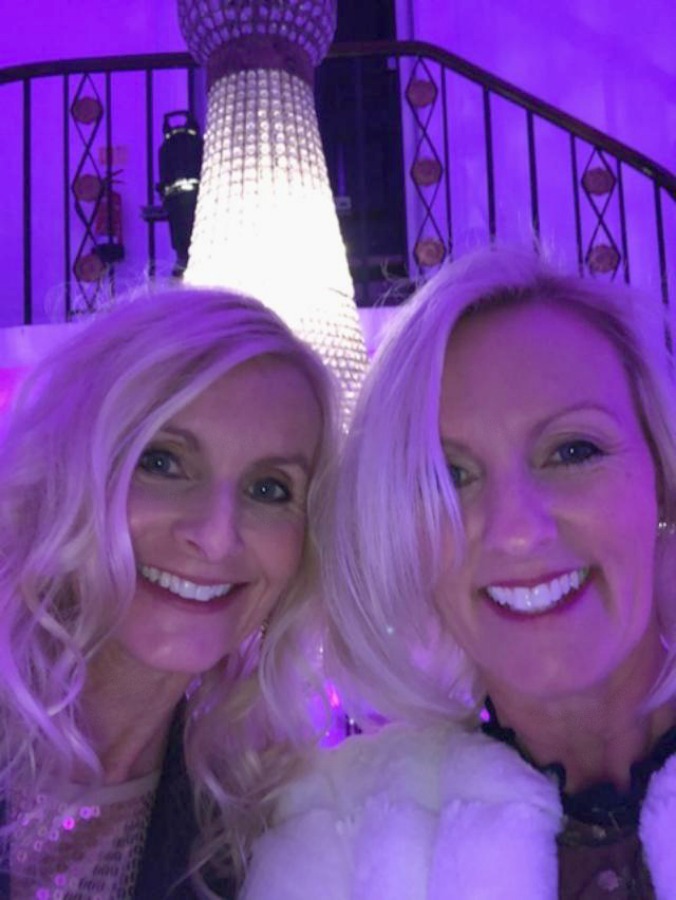 Is there a slightly more hip way in late 2018 to say "Jo's brows are fleeky?"
After our exploring, we made our way to the cocktail party where all the nominees and designers gathered. We found a table just like the one below as the room began to overflow with guests.
SECRET NO. 4
Arrive on time to get a great spot at the party – the fashionably late thing would have prevented us from feeling as though we were in charge…ha!
We sipped Prosecco, nibbled mystery treats like these salmon lollipops, and chatted with new friends.
Which new friends?
In particular, these two gorgeous Brits (by all calculations, they were likely the youngest attendees), who were gracious enough to share laughter with the Over-the-Hill-Olsen-Twins!
SECRET NO. 5
Age matters not when bloggers of interiors and design enthusiasts gather…there's a language we all understand.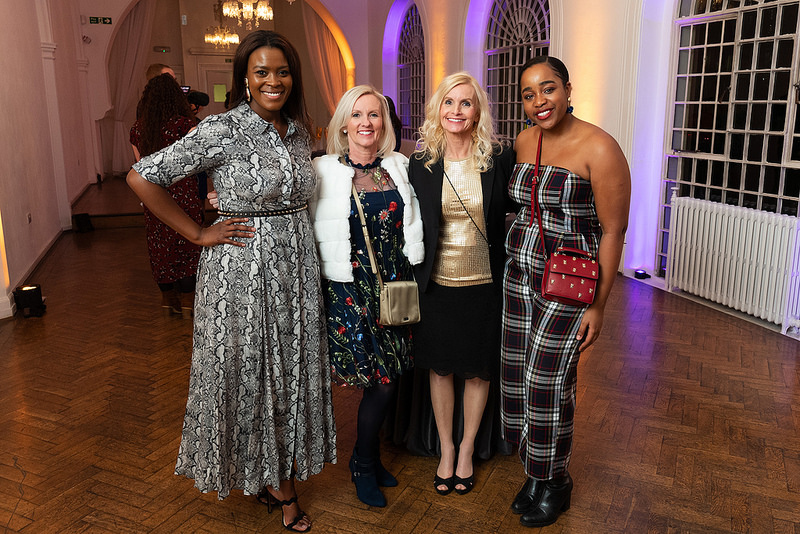 And below is my favorite photo of the night from Clément Lauchard!
Can you feel the love?
Merci, Clément!
(I think I may have been lobbying for my new friend to go on a date with our eldest son.)
SECRET NO. 6
Don't negotiate an arranged marriage at a cocktail party. Just don't.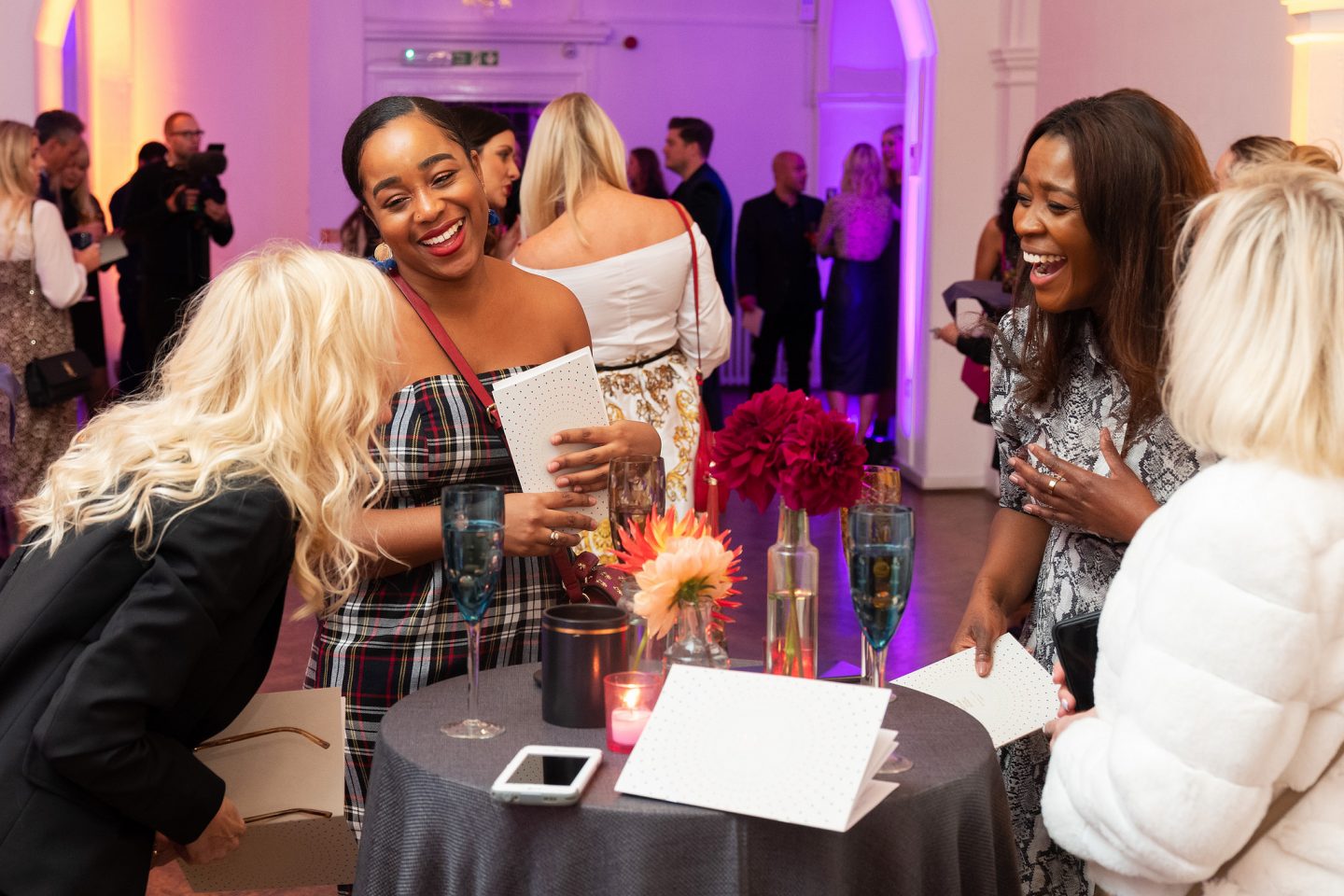 We met some wonderful magazine editors, designers, and art curators before the ceremony as well before heading into the main event. Just before the ceremony, we finally ran into an American nominee from Texas!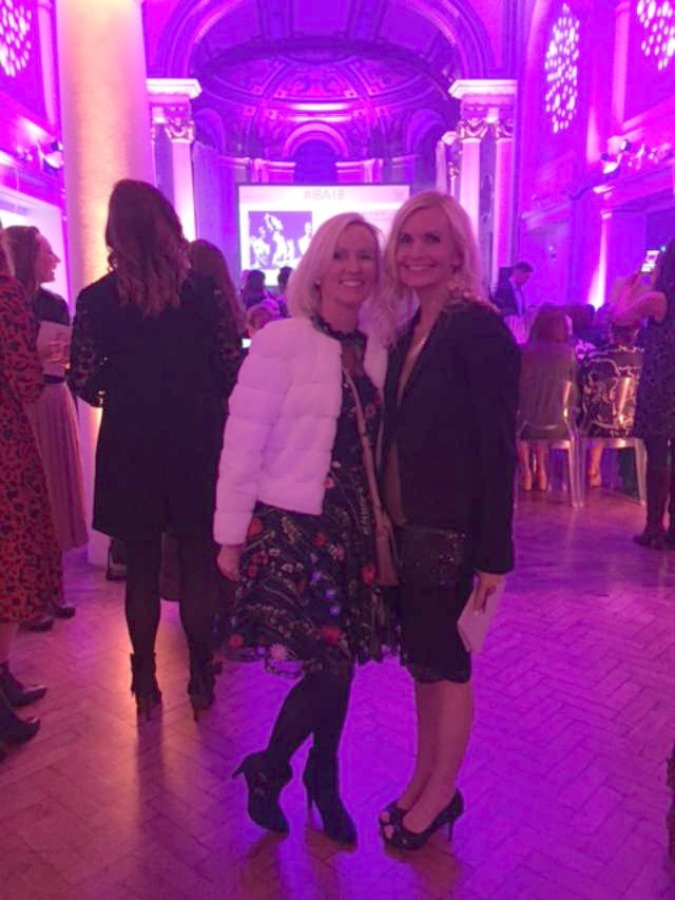 SECRET NO. 7
Keep track of the time as you sip so you can snag seats together with your pals in the gallery for the awards!
Time for church, brothers and sisters.
In lieu of pews, it was Louis Ghost Chairs – with violet glowing royally in the chapel.
The host of the awards, Michelle Ogundehin, was polished, eloquent, funny, and a true fan of interior blogs. Bravo!
SECRET NO. 8
The event is international in scope, yet few nominees outside of the UK were present…which is one of the reasons for writing this post!
The after party provided more fun people watching, and though my sis and I tried to get a moment and photo op with the Design Twins, they were much too in demand, and we were not about to stomp on their sweet buzz.
Can you spot us in the crowd below?
After the awards, we chatted with two charming friends of the lovely Greet Lefèvfre – a Belgian art-historian and her daughter, Yasmine Naghdi, a principal ballerina with The Royal Ballet. They were representing Greet for the event since the award-winning Belgian Pearls was up for another award and she had a prior commitment. How sweet of Greet to arrange for the meet! (See what I did there?)
Watch beautiful Yasmine in a rehearsal for "Sleeping Beauty" here:
SECRET NO. 9
Do a bit of research and plan to connect with bloggers and designers you admire. A high percentage of bloggers I know are introverts, but awards night is a friendly safe haven for shy folks too.
Before saying BON SOIR, it was time to swing by the coat check for goodie bags.
SECRET NO. 10
Amara's yummy designer swag bags are not at all skimpy or shabby, sister…you'll not mind schlepping this one home.
We made time for a few more selfies.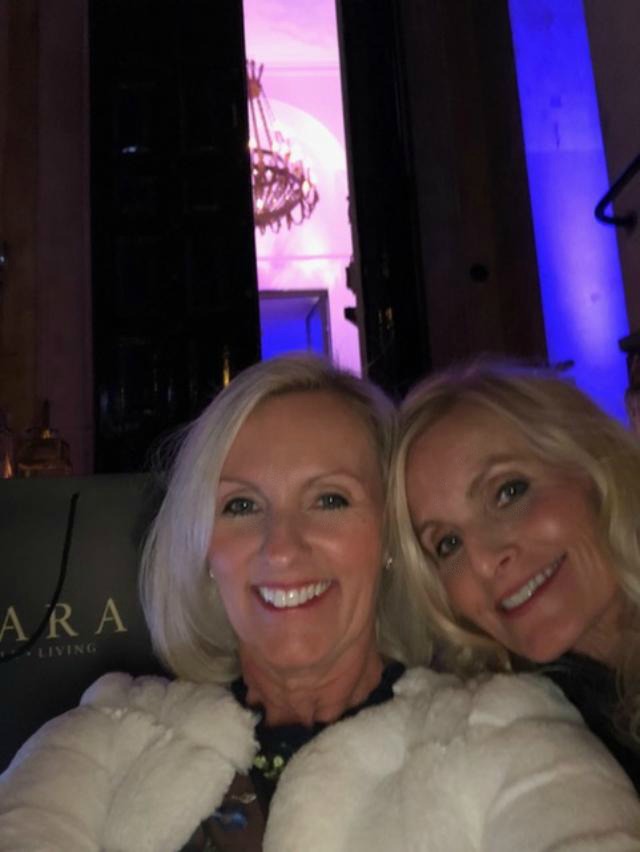 Finally, don't miss this insider recap of the awards for 2018…you'll sort of see us (look for Jo's white jacket!) out of focus at around 2:50 when the show's host is interviewed:
A huge MERCI BEAUCOUP to the blogger who snapped this photo of us just before we left in which our legs look extra long and Barbie-like. That is MY kind of photography voodoo, lovely blogger!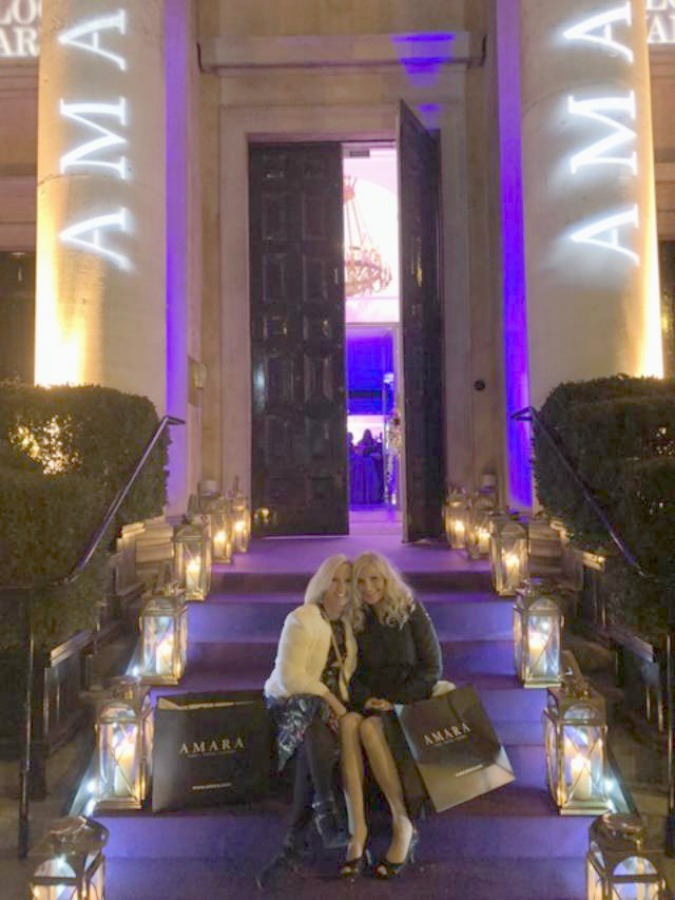 I am grateful to AMARA for orchestrating such a memorable event for the nominees and their guests.
Interior blogging is frequently an isolating venture without any company spa days or holiday dinners, so a night of smiles, sparkle, and solidarity is a welcome treat for the community indeed.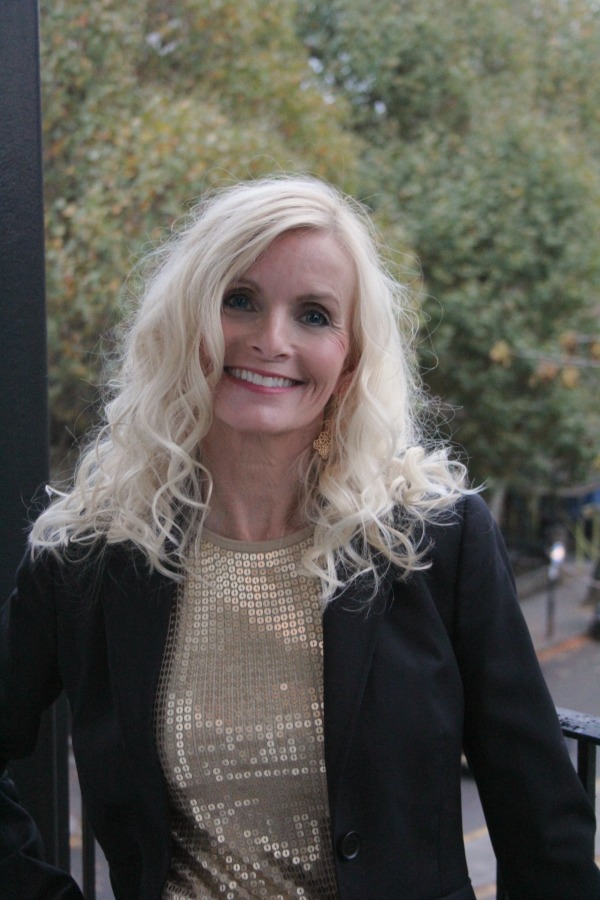 Stay tuned for more from London, and if you're in the mood for English lovely…
I independently selected products in this post—if you buy from one of my links, I may earn a commission.
Peace to you right where you are.
-michele
Shop for items you already intended to buy on Amazon RIGHT HERE, and also find home decor here to keep decor inspiration flowing on Hello Lovely!
Hello Lovely is a participant in the Amazon Services LLC Associates Program, an affiliate advertising program designed to provide a means for sites to earn fees by linking to Amazon.com and affiliated sites.