You met my sister Jo in my last post recapping the interior blog awards in London we attended, and I thought I would share a few peeks of her beautiful Chicago townhouse decorated with a light touch for the holidays. We didn't style any photo shoot…these are simple iPhone shots when I was there a couple days ago. I'm also sharing some of YOUR favorite Christmas movie picks as shared with me on Facebook.
Townhouse Holiday Decor + Christmas Movie Favs
My sister's townhouse represents a big downsize for her and her husband who are emptynesters like us. (Well, sort of like us. Our nest is not empty since our son in law school moved home for a few months until he graduates and buys a home.)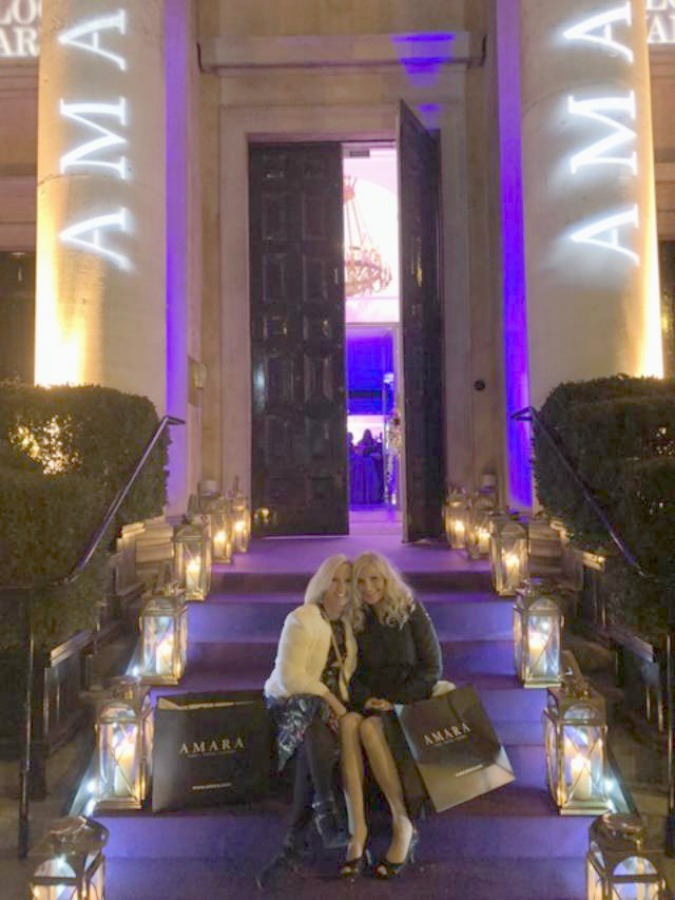 White With Grey is Her Jam
I think her pup inspired the combo.
My niece, Jess getting a teeny taste of a marshmallow from a skillet cookie.
Jo favors a mostly white and grey palette, transitional and Scandinavian decor, and zero clutter. At Christmas, she layers on more grey and pops of vibrant color.
The grey stripe on the wall is relatively new and a DIY for her. A manual laser line thingamabob made taping off the area easy work, and it's a great way to break up an expanse that lacks architectural interest and add modern flair for pennies.
Lots of fuzzy wuzzy pillows and throws warm up the room for winter.
Grey Paint Color for Stripe
She has slowly collected the vintage dishes on the counter in the kitchen. You may remember she chose Viatera quartz in Minuet for the kitchen and bathroom countertops in the townhouse, and I copied her for our fixer upper.
Guest Bedroom
In a guest bedroom, a cheerful tree is decorated in jewel tones and crowned with peace.
I love the bold Scandinavian snowflake pillow.
There's a theme of peace running through the townhouse and running through her tender heart.
Below, a peace sign pillow feels modern yet retro. I am very envious of her iron and wood staircase railings which would be so welcome in my own home! I just haven't been able to think about ripping out our much-too-ornate-country ones since we have a million baluster spindles.
Here's a pillow that would feel right at home in Jo's townhouse.
The other day on the way to Iceland…
I don't know what I would do without my sister's love for me. She has been a light since the day mom brought her home from the hospital, and I was the happiest big sister on the earth. That July morning, before we met for the first time, the preschooler me helped our grandma make homemade biscuits and a big country chicken dinner to celebrate. It is one of my top 5 favorite days EVER. Oh, the joy of a baby fresh from heaven and the womb of God! She had a head of dark reddish hair that eventually turned platinum and the sweetest turned up nose. She's a tiny creature with a big personality, and I still carry her around when she asks.
7 Christmas Movie Favorites
When I recently polled you friends on Facebook HERE, here were a few of the standouts (I'll share more in the next post, and if you haven't responded on the thread…do leave your favorite movie or a GIF!):
Please watch the clips to remember, smile, discover, and at the same time support the blog (time spent on this site= support to keep this blog afloat).
I'll be sharing more in the next post, and from the list of Christmas movies above, No. 5 is my favorite…and yours?
Scroll to the bottom of the post for the movie titles…how many of these have you seen?
7 Lovely HOLIDAY DECOR Finds
1. Pillows
2. Christmas Stockings
3. Stocking Holders
4. Christmas Tree
5. Christmas Wreaths
6. Sleigh Bells
7. For a Mantel
Make Sure to See This HOLIDAY INSPIRATION from The French Nest Co!
Those Christmas Movies From Above
CHRISTMAS MOVIES: 1. Love Actually 2. It's a Wonderful Life. 3. A Christmas Story 4. White Christmas 5. The Family Stone 6. While You Were Sleeping 7. Christmas Vacation
I independently selected products in this post—if you buy from one of my links, I may earn a commission.
Peace to you right where you are.
-michele
Shop for items you already intended to buy on Amazon RIGHT HERE, and also find home decor here to keep decor inspiration flowing on Hello Lovely!
Hello Lovely is a participant in the Amazon Services LLC Associates Program, an affiliate advertising program designed to provide a means for sites to earn fees by linking to Amazon.com and affiliated sites.