Benjamin Moore Blue Nova 825 is a violet blue or starry blue (though I see it as a porcelain or chinoiserie blue) paint chosen by Benjamin Moore as its 2024 Color of the Year. Psychologically speaking, this shade of blue (a purple-blue) is associated with a range of positive qualities. Think: mystery, dignity, femininity, devotion, royalty, creativity, independence, peace, whimsy, spirituality, harmony, stability, and balance. It is one thing to accent with a strong color like Blue Nova, but would you paint your walls this hue? We'll explore interior design ideas where a medium blue plays a starring role.
Benjamin Moore Blue Nova 825 & Starry Blue Interior Design
Lots of folks name blue as a favorite color and may even associate it with integrity and contentedness, but what makes some of those folks cover walls with the color?
Similar to BM Kensington Blue, Blue Heron, and Evening Dove, Benjamin Moore Blue Nova 825 is a violet blue described as an alluring mid-tone with depth, intrigue, and classic appeal. Blue Nova's light reflectance value (LRV) is 16.98. Does it strike you as a cosmic sort of hue?
I see Blue Nova as more of a Swedish Blue or a Chinoiserie Blue like this…
or this…
or this:
and even this:
Is it a coastal shade?
Blue Nova is a hue that may bring to mind a bright navy blue…
or a medium denim blue…
or an inky not-quite indigo…
It's not as bold as this shade used by Beata Heuman in this newly designed Paris boutique hotel: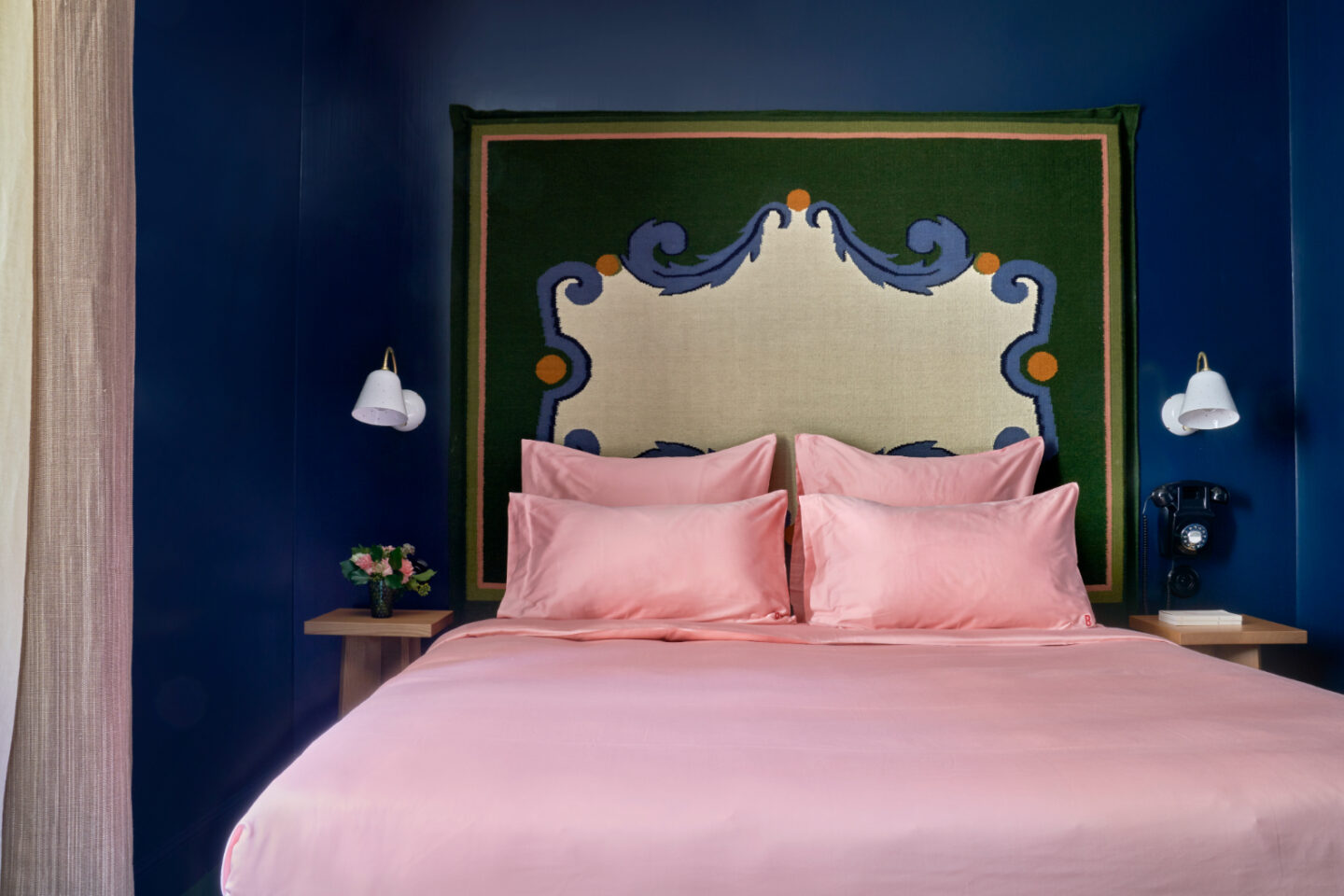 But what's your take? Is it More of a French Blue Toile kind of blue?
Interior Design Inspiration With Starry Blue
Does this blue shade cause you to think of starry nights and astronomical events or something more down to earth and natural like pretty blue flowers?
Because it's interesting that depending on how it is used, you can evoke feelings of nighttime:
or coastal locations…
or the South of France!
Here's a wallpaper with a medium blue similar to Blue Nova that feels classic:
And isn't it stunning in a mud room with gorgeous millwork?
Medium Blue Indoors and Out
If you are thinking about painting your front door blue, maybe a bold blue is on your radar.
Blue bunnies on a bedroom wall combined with a bold yellow velvet and red pendant feel magical.
But back to my original question…are you more inclined to accent with blue than start with it as a foundation on walls?
Because while I have loved living with a number of blue wallpapers, I haven't been able to tolerate blue painted walls in my bedroom. (A color close to Blue Nova back in the mid-90s lasted two weeks in our little bungalow primary.)
I love how designers have been using color and wallpaper boldly in halls and landings just outside of living spaces…
And others are wrapping the ceiling in the same blue boldness as the walls!
Just in case you need some ideas:
Ideas for Accenting With Blue
I think my favorite use of blue (beyond porcelain accessories) is gingham and Buffalo checks.
There's just something so classic and timeless about blue checks!
Ever lived with navy or starry blue walls? Did you tire of them?
I independently selected products in this post—if you buy from one of my links, I may earn a commission.
Peace to you right where you are.
-michele
Thanks for shopping RIGHT HERE to keep decor inspiration flowing on Hello Lovely!
Hello Lovely is a participant in the Amazon Services LLC Associates Program, an affiliate advertising program designed to provide a means for sites to earn fees by linking to Amazon.com and affiliated sites.