Even though attempts were made to pace myself yesterday, a bit too much stress, labor, and "unexpected adventure" have caught up with me this morning! Every muscle aches, and I must have awakened ten times last night with something or other cramping. Also, the barometric pressure has shifted. Astrologically inclined peeps say it's a day for productivity and an upcoming new moon in Libra will bring opportunities and growth. You've got to love optimism. But productivity is a subjective term, and in 2023, I have aimed to shift my focus from productivity to wellness and freedom. Which is why I'll be curling up with books as the rain falls and the skies stay grey. If such an afternoon of "productivity" awaits you too, here are 4 design books to join you.
Rainy Autumn Afternoon & 4 Design Books
Maybe I did too much outside in the garden yesterday (frantically along with the squirrels!) because I could sense nature's changes emerging much too quickly.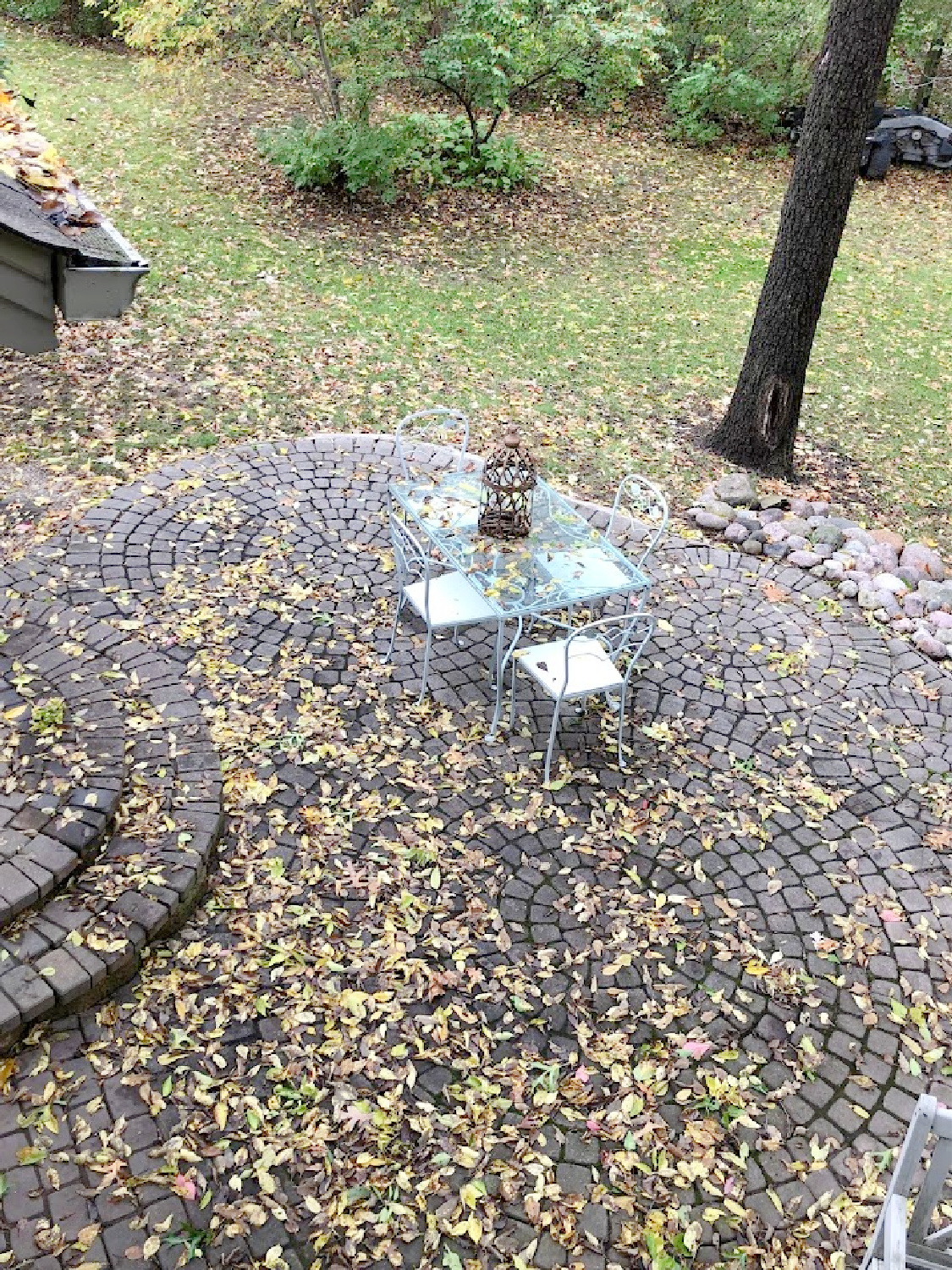 One day, you notice just a little change in your Black Walnut trees, and the next day…
well, the next day those trees are nearly bare! It's that season where it feels entirely right to get cozy, to slow down and to simmer things on the stovetop. To have books nearby to keep you company.
Nora Murphy's Country House Style (Vendome, 2018)
With photography from DuAnne Simon, Nora's book is a celebration of her own lovely home plus five more gorgeous ones.
Some of the beautiful country homes spotlighted in Nora's book are old, while others are new.
We're treated to a range of inspiring styles which include: Swedish, Americana, French country, English country, and upscale cabin.
There's so much to admire about these various country flavors. One of my favorite elements of beautiful country style is the ease.
Photos of Country Simplicity
The thing is, even ease involves countless details and restraint. Country simplicity certainly doesn't indicate a less thoughtful approach to design than other decorating styles.
In Nora Murphy's dining room (above), an iron tuteur gives shape to plumes of catmint in an old Swedish herring bucket.
It is pure delight me to see how seemingly disparate decor details can magically work together to create a unique identity for a country house. Sometimes we can appreciate such details while browsing a blog or Pinterest, but with actual pages in our hands…
well, old school has its charms. Throughout the country home tours in Nora's book, we're treated to studies in classic style…
and it's never a one-size-fits-all or formulaic classicism. Rather, it is rooted in nature with pleasing proportions and nostalgic nods to the timeless.
Oh, and any book featuring the work of my pal, Amy Chalmers (Maison Decor)? That book is a friend of mine.
Living Well By Design (Vendome, 2021)
You'll cherish this book.
In fact, as you make your holiday gift lists, add this one! Here it is on my favorite cozy reading chair:
While I love my design picture books, make no mistake! This title is much more than pretty pictures in which to escape.
In fact, I recommend scheduling an appointment with your interiors lovin' self to spend a few hours to engage with it.
You may notice your pulse quickening at times, your eyes widening, and your passion for design reigniting.
Melissa Penfold's First Design Book
This is Australia-based stylemaker Ms. Penfold's first book, and goodness, I rarely feel the need to read every word of a design book. However, this one's different.
Seeking timeless design wisdom to apply to your own home? No matter the style or size, there's a wealth of design advice along with plenty of secrets.
Pressed for time? I won't tell if you first simply flip through the glorious photography (Abbie Melle) of interiors designed for living well. These designs aren't meant to be copied…but they just may inspire and energize you to scheme and dream.
I independently selected products in this post—if you buy from one of my links, I may earn a commission.
Living Well at Home
There is so much in the 2020s that binds our hearts and minds. But home. Home is still full of promise as a sanctuary for rest and regrouping. It's where seeds of hope are planted, where it has a chance to bloom.
As the planet changes and cultures shift, the future depends on us to be a people of hope.
Is feathering a nest a frivolous, superficial, silly thing when more important matters heed our attention? Sometimes.
But planting yourself in beauty can be a fruitful enterprise. Freedom to uniquely feather our nests creates opportunities for self-expression and lovely moments to bring us back to our senses, bring us back to ourselves.
Are There Secrets to Living Well?
Living well means something different to each of us, and Penfold's book repeatedly asserts it has little to do with budgets or square footage.
For example, if you have only 500 square feet in which to live well? While this home tour is not from the book, it's illustrates the point. Secret doors, streamlined everything, and a minimalist aesthetic are reminders creativity is true wellth.
Wasn't that apartment a lovely example of innovative design honoring the past yet feeling freshly timeless?
Diversity in Design
Living well looks and feels different to each of us. Still, you're sure to score ideas for possibilities that may suit you on these pages. (Bonus; we're treated to never before seen spaces from design royalty such as Bunny Williams!)
Above is the legendary designer Bunny Williams' New York apartment kitchen featured in the book. While we don't know the custom paint color of the kitchen cabinets above, peek at these ideas for a similar look:
"Following the latest fashions will not necessarily bring you happiness in your home, but embracing its setting certainly will."
Embracing Your Unique Setting
"Embracing its setting?" It need not mean installing a second bank of windows above your existing bank of windows to increase the joy of a picturesque mountain view.
Rather, consider mindful strokes to welcome in more natural light, to screen the view from your windows, and to connect with nature.
If you admire timeless design, stunning interiors from around the globe, and secrets demystifying the process, you're in business!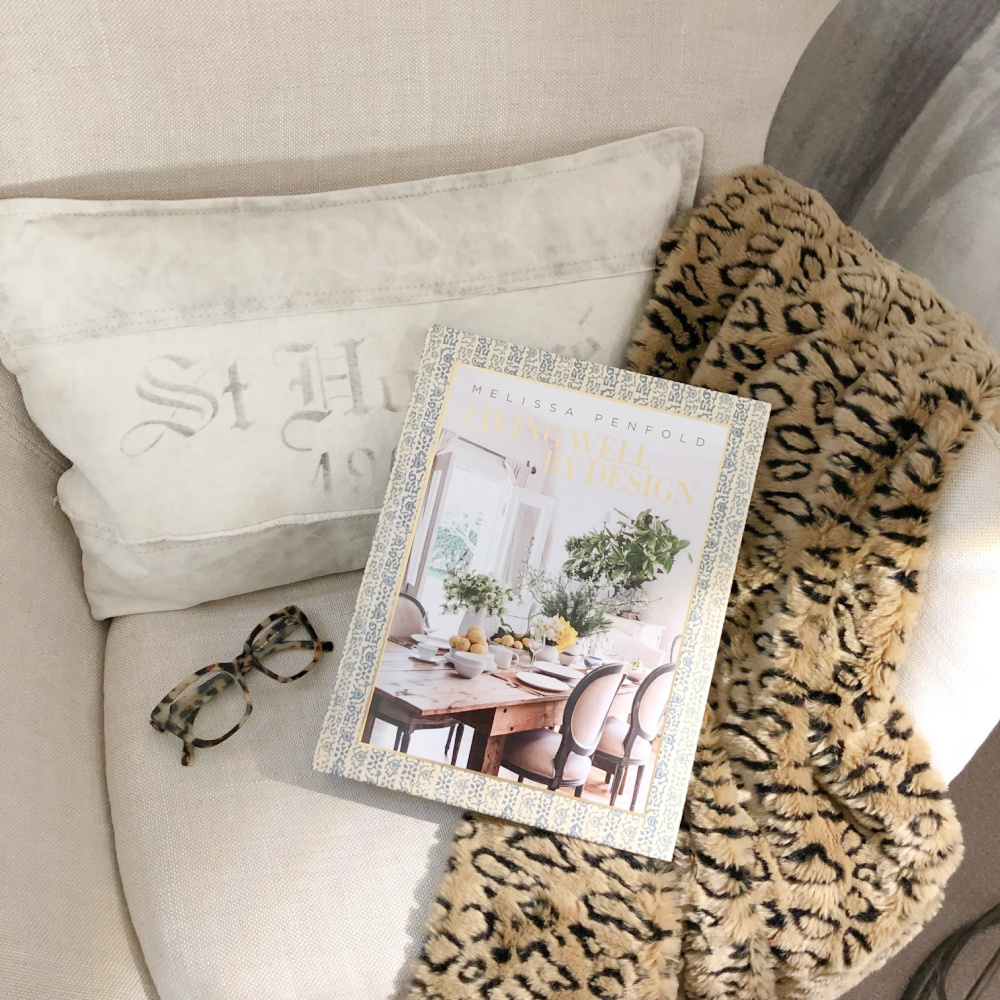 CASA CABANA (Vendome, 2021): Joyful Italian Fabrics, Color & Style
You're in for such a treat as CASA CABANA spotlights a gorgeous collection of photography, personal essays, and Italian recipes.
The author, Martina Mondadori is the founder and editor of cult interiors magazine Cabana.
She grew up in Milan, where her father was chairman of one of Italy's biggest publishing houses.
After an early career in publishing and luxury branding, she launched the limited-edition designer magazine Cabana in 2014.
What Contributes to #cabanamood?
To understand Cabana's mix of pattern, texture, and color, one must look to the tastemakers who inspire it.
Patrick Kinmonth, William Kent, Studio Peregalli, François Halard, DiMoreStudio, Marian McEvoy, and Robert Kime, Kozumi Yoshida, Rifat Özbek, and Pierre-Louis Mascia are legendary masters and muses behind #cabanamood.
Is CASA CABANA a Decorating Book?
Yes, it is indeed a visual feast with incredibly stylish interiors and home decorating, but it's so much more.
You'll also find entertaining ideas as well as Italian recipes.
The tablescapes and place settings are unlike any you'll see elsewhere. Tablecloths, china, glasses, and a mix of patterns keep the mood high volume and joyous.
Speaking of Those Tablescapes…
While my own color style is decidedly pale, I cannot deny the sophistication! Plus, there are more subtle moments. Just look at this more subdued mix:
More quiet sophistication here:
Decorating With Color
Cabana style is about adding character and spirit, not perfection and the expected!
Listen to Martina speak with India Hicks about the beauty of imperfection (spoiler alert: India is hilarious!!!).
You will feel as though you are on a delicious voyage as you taste each page of Martina Mondadori's lovely volume.
And it is all so effortlessly chic that you will warm up to the idea of becoming more experimental. Whether it is laying a table or layering textures or infusing a room with #gemütlich!
New York Interiors (Vendome, 2021) by Simon Upton
In this book, get ready to welcome unique home design by architects, designers, stylists, writers, and free spirits across New York.
These home tours form an amazing collection within a book of stories (editor Karen Howes) and photography by Simon Upton with a forward by Rupert Thomas. Some spaces and homes in NEW YORK INTERIORS have never been seen before!
Unique New York Homes Celebrate Diversity
It's doubtful you'll see interiors spotlighted here that remind you of your own home! Whether located in the city or countryside, all were dreamed into existence from decidedly personal and bold points of view.
Nothing close to ordinary appears on its striking pages. Consider how Miles Redd describes the process of assembling the bath in his New York townhouse:
"My bathroom I discovered in a salvage warehouse. It came from the Lester Armour House, designed by David Adler, in Lake Bluff…It is by far the biggest room and, from time to time, doubles as a dining room."
Bathroom as flex room? The largest room? A dining room! See what I mean about letting go of your preconceived notion of design laws!?!
Don't look for floorplan inspiration or resources for your own schemes. Rather, you'll discover interiors that are a testament to freedom from rules.
Artfully Soulful Interior Design Without Rules
Playful scale, odd pairings, traditional-yet-modern gestures. Eclectic collections, quirky architecture, and artful objects become backdrops for daily living. It's a treat to tour such private abodes that elevate the everyday and are so very cherished.
I am smitten with this New York kitchen:
As you might imagine, the photography is exquisite as Upton captures poignancy in the homes of friends, not strangers. Magic tends to happen when simpatico, hospitality, and a reverence for artful living inform the dynamic.
You'll discover plenty of depth and intimacy within NEW YORK INTERIORS. I wonder how this book will inspire you to adjust your lens. Will you see your own nest with fresh eyes as you consider the spaciousness creative freedom affords?
New York Energy Inspires Wonder
Perhaps you'll find yourself awakened by the level of restraint in some of these designs. By the celebration of abundance in others.
I wonder if your senses will fill with wonder as you turn the pages. There is just so much beauty and breadth in how humans express their passions and imagine spaces they call home.
It rings dramatic, but journeying through NEW YORK INTERIORS feels creatively lifegiving. Who can say what fruits will come?
Creatives connect in deep ways with their shelters. For example, Aerin Lauder discusses the most important element within a space:
"For me, light is the most important element in any space. It brings warmth and life, while the play of shadows, as the light moves around a room, introduces a constantly changing energy."
Let Yourself Be Surprised by New York Interiors
I found myself repeatedly surprised and stirred by the heartfelt reflections shared by New Yorkers. Owner of one wildly over-the-top Hudson Valley country house filled with art, Simon Lince writes:
"Our most treasured piece of art is actually a letter from our niece, Katie, who lives in England with her family. She sent us the note when she was learning to write, and it is such a sweet, unabashed expression of love–the perfect emblem for our country home."
Similarly, this book is a love letter to New York.
Tour a Serene Brooklyn Home
So many incredible design books available, here are a few I recommend for a rainy autumn day like today.
And what the heck, a few eclectic FALL FINDS for good measure.
Peace to you right where you are.
-michele
Thanks for shopping RIGHT HERE to keep decor inspiration flowing on Hello Lovely!
Hello Lovely is a participant in the Amazon Services LLC Associates Program, an affiliate advertising program designed to provide a means for sites to earn fees by linking to Amazon.com and affiliated sites.