While Labor Day weekend may bring 80-something days, wintry cheer here will cool you right down! Collect Holiday Ideas This Holiday Weekend includes pretty images of Christmas decked halls across a range of design styles. Whether you admire French farmhouse or American country style, bet there's something to ignite your creativity. Wouldn't dream of rushing you into Christmas spirit (ahem…even though there are worse things) or steal your autumn vibes. At one point in time, I was consumed with "back to school" in mid-summer. Nowadays it is "how might I prepare and prevent inevitable mid-December overwhelm?"
Collect Holiday Ideas Months Ahead of the Falala Frenzy
Did you know a fair amount of folks collect Christmas decorating ideas the whole year through? Yep. If you have holiday boards on Pinterest with trees, holiday wreaths, and festive tablescapes, it is a great way to organize all of the inspo.
Find my own dedicated boards HERE and also HERE and HERE.
Tour This Home for Scandi Christmas Goodness!
Curly Branches & White Lights!
What an enchanting way to bring nature indoors and create a woodland feel with sparkle. I can imagine this idea feeling very chic in a certain style home and rustic in another!
I can also imagine young children loving the idea of an installation like this on their bedroom ceiling. Who doesn't want to fall asleep to little snowflakes or sparkly lights (on a timer?) dripping from the sky?
Festive Bold Colorful Christmas Wreath
Have a stash of vintage Christmas bulb ornaments like me? Aren't the pink ones glorious? I love these wreaths so much because they feel timeless and whimsical. No two will ever be the same!
If you find yourself fresh outta vintage, there's plenty of old fashioned contenders HERE and:
Handmade Paper Snowflake Decorations
I'll never tire of them – how 'bout you? It is so relaxing to cut them, and if you have been saving paper grocery bags for this purpose…good job!
BONUS TIP: When your room is decorated for the holidays, sit on the floor and point your camera up for a lovely alternative perspective we rarely capture.
Build a Fort & Invite the Kids or Pets to Cozy on Down
Do you love watching THE HOLIDAY? I'll never get over that beautiful fort, and it stirs up all sorts of childhood memories. I think a fanciful fort is perfect for winter days when kids are stuck inside!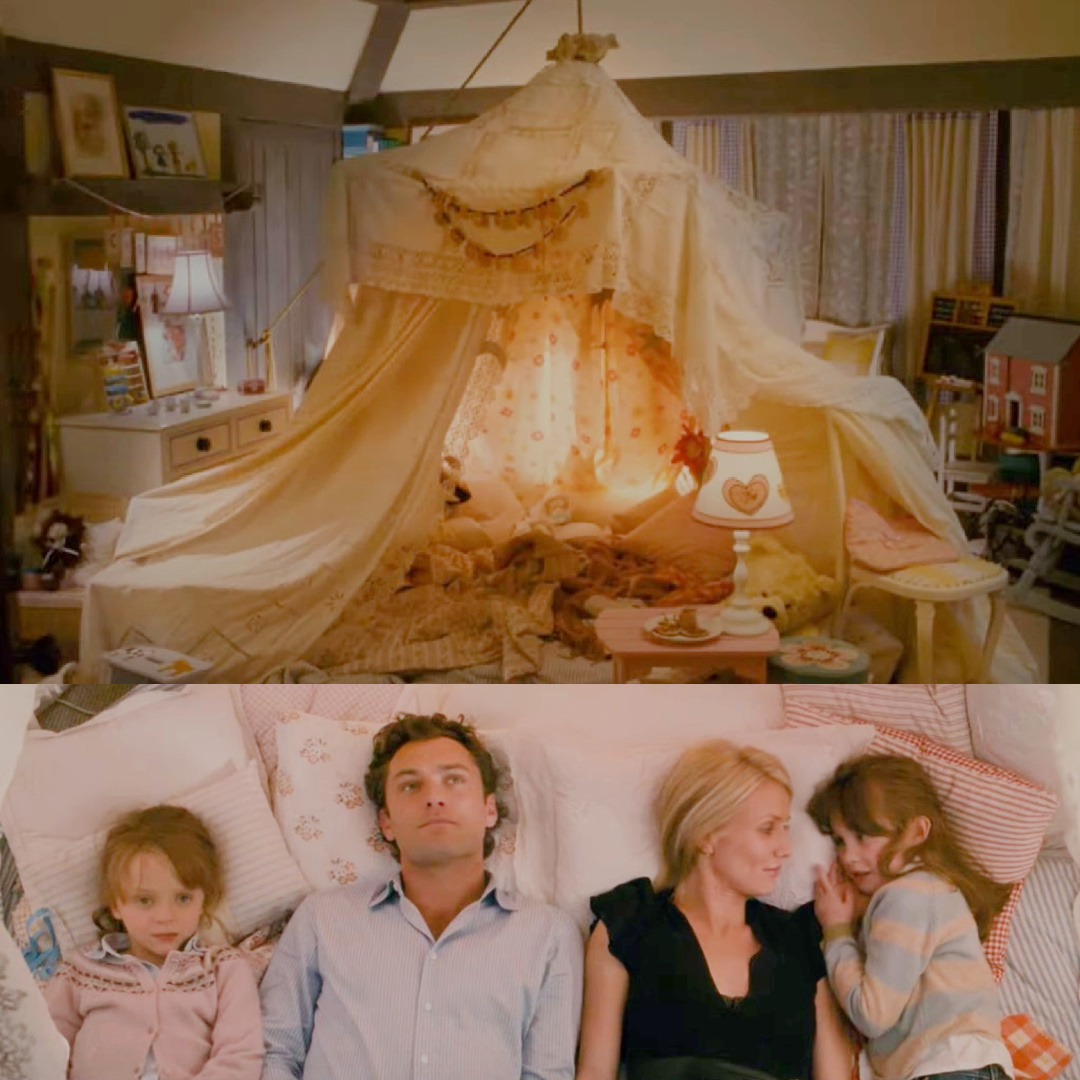 Don't you love the suspended stars inside it? What kids (of all ages) and pets wouldn't be thrilled to snuggle and listen to Christmas music under the stars?!
Mass the Brass Candlesticks
Aren't you glad I'm reminding you of this stuff in August so you can hunt for more vintage or not so vintage brass candle holders for the holidays?
No fireplace mantel? Not a problem. They are perfect massed on a tabletop, dresser, shelf or kitchen counter!
Create a Fresh Christmas Wreath!
Have you ever tried to make your own?
I think I like petite wreaths even more than the great big ones!
My favorite homemade wreaths were made with a mix of fresh greenery and faux so don't feel as though you must choose one or the other.
Real Candles Glowing at Christmas
Maybe not realistic if there are rambunctious kids and animals racing around, but for an adult get-together…ahhhhhhh!
Elegant White Christmas With Roses
Since I can never have enough white roses in my life, I see no reason to ignore them during the holidays even though red is perfectly acceptable.
Birch in Buckets
If you have a cottage or country style home, I bet these would look perfect on a porch or even near a fireplace.
Christmas Pinks & Pretty Pastel Holiday Decor
If you decorate your trees even remotely as thoughtfully and thoroughly as this, I bow to you. Truly. My mom and sisters have the gift, whereas I struggle.
Even if pink only comes out at Christmas, this is a wonderful way to add feminine romance to the season.
Dress Up a Tuba or Vintage Instrument
Because who wouldn't smile if they walked in and saw this:
(Now you know what to do with that vintage violin you have stashed away in the attic!)
Tone on Tone at Home for the Holidays
Not everyone feels merry around the color red, and here's proof positive, it's okay to skip it inside…
and out:
These plushy logs made me smile!
Collect a Christmas China Pattern
It's fun! Plus, no one knows what to buy for you – choose a pattern and let 'em know.
Peek Inside a Fantasy Home Decorated for Christmas
Have a Window Box?
Who knew that a simple red bow could pack such a punch?
Suspend Three Mini Wreaths
Remember what I was saying earlier about mini wreaths? They can be so cute in threes!
Childhood Reminders at Christmas
Toys are not something we have lying around, but when I see this, I think I need to change that!
Simplicity of Ornaments in a Bowl
Is this the oldest, easiest holiday trick in the book? Definitely. Gather favorite Christmas tree ornaments and display them simply.
Rustic Driftwood Christmas Tree!
Not everyone who celebrates Christmas has the space or desire for a traditional Christmas tree.
But that's okay since a little bit of creativity goes a long way!
Awwwwww.
So clever!
Oh my!
Aren't these perfect for coastal style homes?
Minimalists are destined to smile!
Wispy Window Wreath
There's something about this gold chandelier too! So perfect with all the white.
Learn to Make Pom Poms!
Find more pretty ideas for the holidays to pin to your boards right HERE!
I independently selected products in this post—if you buy from one of my links, I may earn a commission.
Peace to you right where you are.
-michele
Thanks for shopping RIGHT HERE to keep decor inspiration flowing on Hello Lovely!
Hello Lovely is a participant in the Amazon Services LLC Associates Program, an affiliate advertising program designed to provide a means for sites to earn fees by linking to Amazon.com and affiliated sites.