Get the Look: Scrivano FIXER UPPER Cottage Decor is for HGTV Fixer Upper show fans of the beautiful renovation work and interior design of Chip and Joanna Gaines! Also for lovers of DIY design, cottage and vintage style decor, and folks who like to get geeky about renovation and designer inspired decorating ideas. Click here to PIN this post to save it for later!
Get the Look: Scrivano FIXER UPPER Cottage Decor
If you loved the Scrivano episode where charming Tudor cottage interiors were freshened and upgraded for a modern family, then keep reading to explore furniture and home decor sources I discovered in greater detail to pull together the look for ourselves!
Ever considered visiting Fixer Upper land in Waco? I was able to visit Magnolia Market at the Silos as well as Magnolia Table and shared 22 Tips to Know Before You Go!
I'm crazy about this historical project for Waco residents Courtney and Joey Scrivano, who fell in love with a 1927 Tudor-style home whose interiors were in desperate need of upgrades, renovation, function, and style.
One of the major priorities expressed by the couple to Chip and Joanna was the desire for a lovely and luxe master bedroom suite. Their healthy renovation budget of $200,000 was smartly applied to the architecture and interior design of this cottage style home, and in the end, the home's historic charm remained intact.
FIXER UPPER Scrivano Tudor Cottage Decor!
If you are ready to explore the shopping sources, paint colors, and decorating ideas to get the look of this beautiful home into which the FIXER UPPER crew breathed new life, LET'S GO! (Affiliate links follow, and using them won't cost you an extra penny yet may earn this blog a small commission.)
You can buy the Fixer Upper episode right here and see it in its entirety!
Paint Color Ideas – FIXER UPPER Scrivano Tudor Interior
Interior Paint color palette? The color palette incorporated in the Scrivano house renovation entailed painting the walls a light color and painting the trim a few shades darker (yet still light and airy!).
Joanna Gaines has her favorite classic paint colors she returns to again and again (they became her own Magnolia paint line!) so while these are just guesses for the interior colors, they are well informed guesses!
For the interior walls, it appears to be MAGNOLIA HOME Silos White.
For the interior trim? It looks like MAGNOLIA PREMIUM INTERIOR PAINT: Wedding Band. While these hues vary, it is hard to pinpoint the light grey color without seeing it in person!
Another more subdued possibility is:
Exterior Paint Colors (Guesses!)
The creamy white on the exterior of the Scrivano Tudor above the brick appears similar or exactly this:
For the exterior trim, this color from Magnolia's line looks like what they may have used:
HGTV Fixer Upper Decor: Scrivano 1927 Tudor Remodel!
Vintage & charming CLASSIC kitchen design elements
Ms. Scrivano revealed that her favorite element of the whole renovation is the banquette in the kitchen.
And are we even surprised? That custom banquette bench is truly a design triumph since the original 1920's kitchen is narrow! By building it into the corner (like a private cozy nook in a favorite restaurant!), it became this timelessly special place for a tranquil breakfast for two. It also lends itself to pulling in a couple more dining chairs for more seating.
What do you think of the brass and gold accents?
Scrivano Kitchen: Banquette or Bench Ideas
Custom built-ins can get pricey very fast because of the cost of labor, and there is also the consideration that they are semi-permanent. An alternative is purchasing a banquette or bench, and here are some ideas.
Bear in mind (1) the depth of these pieces (will you have enough room in your nook or space?) and (2) the potential to customize these pieces with paint and/or upholstery (don't write off a piece just because you don't like the stain finish…you can always paint!).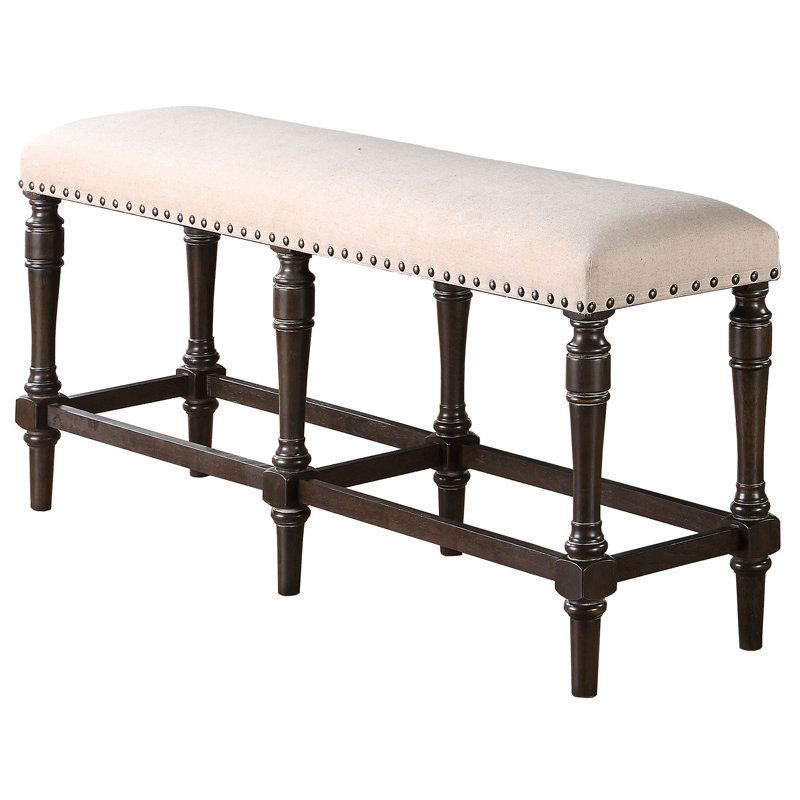 Find even more ideas for kitchen banquettes and benches HERE.
Scrivano Kitchen: Round Dining Table Ideas
If this was my own kitchen, I might choose a very French inspired cafe table like this one:
Find more round dining table options HERE.
Pendant
Cream Pillow for Banquette
Scrivano Kitchen: Kitchen Accessory Ideas
Don't you love the classic design and style of these kitchen canisters spied in this Fixer Upper kitchen? I found the source, so you can snag the exact canisters!
Scrivano Kitchen: Kitchen Island Ideas
You may recall in this HGTV Fixer Upper episode with the Scrivano house, Joanna initially had not planned to add an island. However, when the other fixtures were in place, she added an airy mobile petite work island.
If you have the space, this one could work in a variety of settings:
I made the same decision in my own kitchen when I added a vintage industrial steel work cart with casters to give myself extra work space…read about it HERE.
If you have ever designed a kitchen from scratch and ordered kitchen cabinets (ready made or custom), then you know how expensive it is to create a kitchen island or work table. If you're on a budget AND to create a more interesting and less cookie cutter look, consider a freestanding island or work table you can snag for much less expense.
Here is another example of a friendly priced mobile island:
Get ready to find GORGEOUS kitchen islands and work tables in this story with sources!
Listen to Joanna talk about how she creates a more open kitchen and dining space…
Scrivano living and dining room decorating ideas!
This fixer upper cottage came with so many gorgeous Tudor details, including Gothic archways and beautiful trim. The decision to paint all the trim with light grey paint to subtly contrast with creamy white walls resulted in a traditional yet fresh vintage style mood.
The Scrivanos mentioned in an interview with Magnolia that they admire more than one design style (including industrial farmhouse and European inspired style).
Scrivano Dining Room: Dining Chairs
Do you have to have those dining chairs? The black appears to have been discontinued, but brown, cream and gray may be available.
Here's another stackable ghost chair option:
Find even more black side chair options RIGHT HERE.
Scrivano Dining Room: Dining Table
Scrivano Dining Room: Chandelier Ideas
Scrivano Dining Room: Rug Ideas
Scrivano Dining Room: Accessory Ideas
If you are in the market for gold toned flatware, here are some gorgeous options…
Scrivano Living Room Ideas
These Mongolian pillows would be gorgeous on the sofa as well.
How about the exact coffee table used in here!?!
In my research, I located a couple of contenders for the French linen upholstered armchairs in the Scrivano living room.
Option no. 1 is very affordable, and the second, while more costly appears to be worth every penny!
Scrivano Fixer Upper: Hardware Ideas
In terms of hardware within this beautiful Tudor home, it appears quite similar to the exact oil rubbed bronze oval knobs I put in my own home. I can't sing their praises enough, and photos just don't do these knobs justice. The hand feel is superb!
Did you notice the lovely coat tree in the Scrivano home? In a small 1920s cottage, you can bet there is a shortage of storage space.
Here's a great idea to hang coats in an entry when you want an airy, modern pop of black.
Find more lovely coat tree options RIGHT HERE.
Tranquil Master Bedroom Suite
Since the Scrivano's original master bedroom was not huge, here were some challenges posed for the master bath. The owners were adamant about incorporating a freestanding soaking tub in the little space so extra creativity and innovation was required.
The finished master bedroom suite is simple, timeless, and tranquil…a testament to smart, small space design.
Scrivano Master Suite Ideas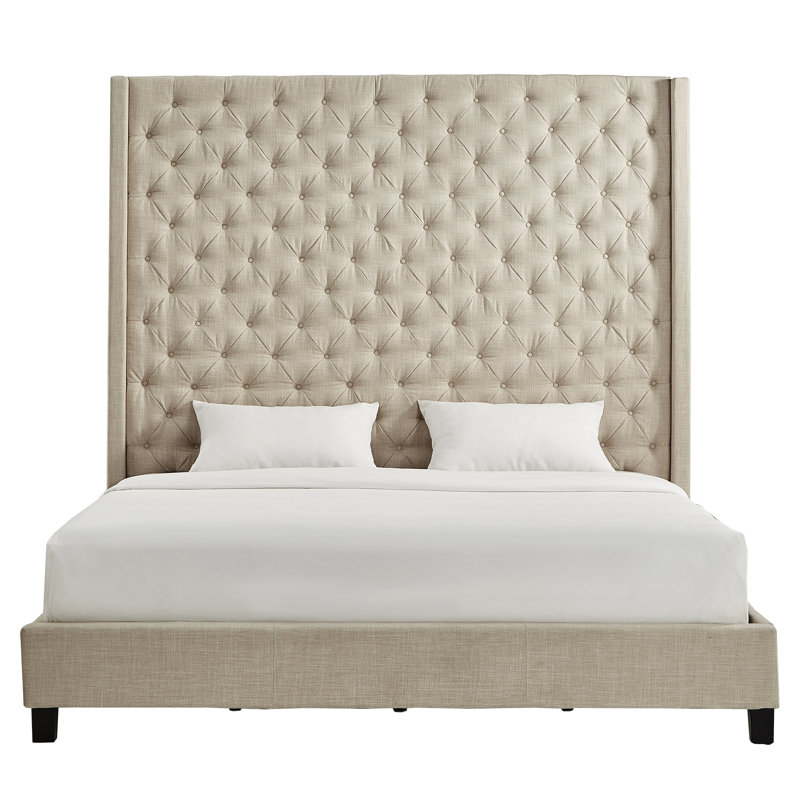 I recognized the shower fixtures right away since they are the same ones we put in our master (Kohler Purist)!
The trim kit doesn't include the valve, which you purchase separately:
Master Bathroom Calacatta Hex Tile
You can order this calacatta gold marble hex tile in a 2″ or 1″ tile configuration. I was just explaining to my friend Denise yesterday that tiling with mosaic sheets is the frackinBOMB for DIYers since you're not buttering each of those individual tiles and spacing them. Instead, the 12″ sheets go up a lot quicker. Here's the tile: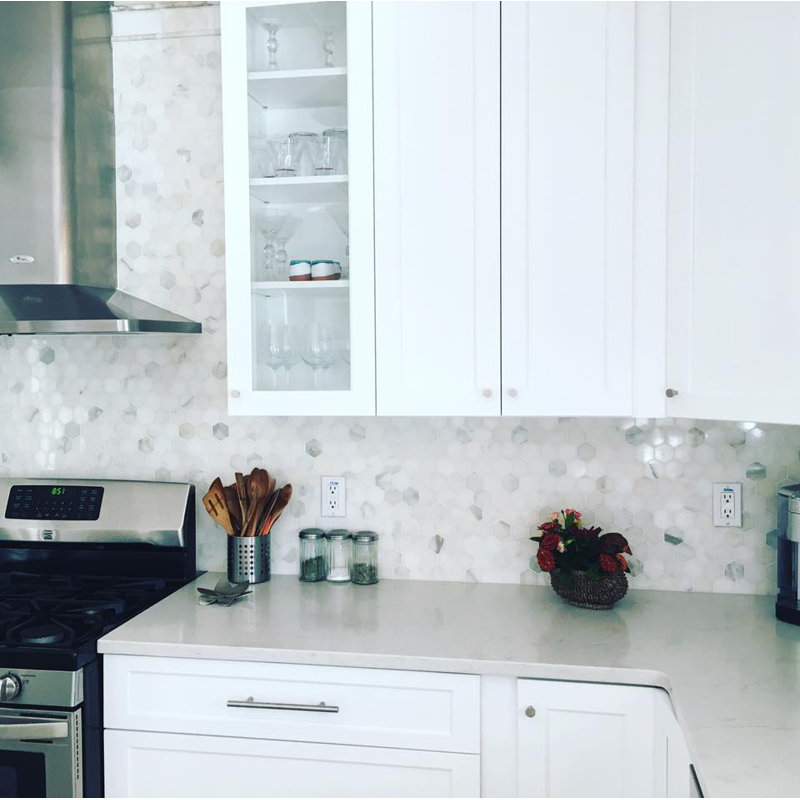 What did you think about the design decision to inlay tile with the wood floor? I would have preferred just the wood with a cozy rug. To me that is a more conservative and timeless choice, but what do you think?
Scrivano Porch Ideas
Isn't the porch renovation and how they opened it all up, amazing? I have always adored this woven chair which would be right at home on the porch:
Don't miss my tips for visiting Magnolia Market at the Silos and this story about Magnolia Table!
For a small fee, we can see this entire episode with this beautiful home renovation (Season 5, Episode 4)…GO HERE!
Did you see my other post featuring my favorite Fixer Upper renovation?
Click here to PIN this post to save it for later!
I independently selected products in this post—if you buy from one of my links, I may earn a commission.
Peace to you right where you are.
-michele
Shop for items you already intended to buy on Amazon RIGHT HERE (not just items in posts) or for home decor here keeps decor inspiration flowing on Hello Lovely!
Hello Lovely is a participant in the Amazon Services LLC Associates Program, an affiliate advertising program designed to provide a means for sites to earn fees by linking to Amazon.com and affiliated sites.